Fantastic getaway on beautiful Smith Mountain Lake! This roomy one bedroom top floor condo is perfect for a relaxing break or an adventure! Activities include boating, swimming (indoor and outdoor) exercising and relaxing in the hot tub and more!
What guests are saying:
"Our stay at Smith Mountain Lake was perfect. It was just what we needed for a long weekend getaway. This location is right on the water and has everything that you need to enjoy your time away. You are close enough to everything to enjoy all that Smith Mountain Lake offers but not once was it overly crowded. The condo was very clean and comfy, everything about it was great! We hope to be back again with our kids. The back porch overlooking the mountains and lake was so peaceful to sit out on in the evenings. The WiFi is a little hard to connect to, that just meant I had to do little work. It was actually a win win for me!"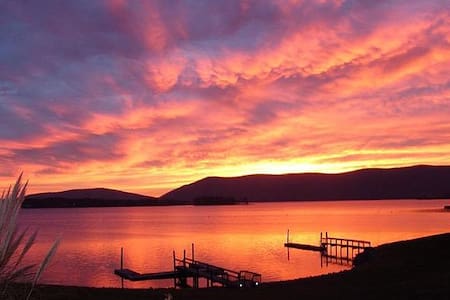 SUPERHOST
Entire apartment · 2 guests · 2 beds · 1 bathroom
Lake Lover's Paradise (All Pools Are Now Open!)
Come to the lake! This spacious one bedroom top floor end unit is uniquely located between The Landing Restaurant and a large outdoor swimming pool. Fantastic views of the lake from the large deck! Sleeps two adults and two small children (under three). The following amenities are provided to all guests during their stay (Subject to season and repair): 2 Outdoor Pools Exercise Room Boat & Jet Ski Rental Steam Room& Sauna Courtesy Boat Slips Beach & Boat Launch Area Tennis & Pickleball Courts
What guests are saying:
"Wow! Beautiful views of the lake! Very cozy living space with a mini bar. Canoeing can be an option for just $10 extra dollars ( so worth it!) Joshua, the excellent host ensured that my stay would be pleasant and was very responsive and attentive. Will not think twice in where to stay on my next visit to SML."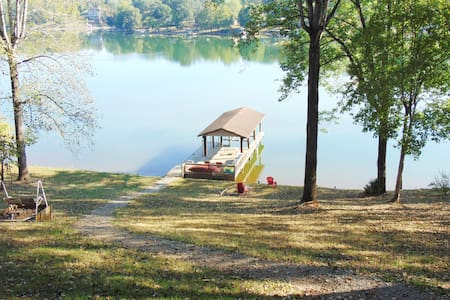 SUPERHOST
Entire house · 8 guests · 7 beds · 2 bathrooms
$198/Special...Lakefront w/Sunday Free. Best Deal!
Lakefront House...Fall Special $198/Mon.-Wed. $298/Thurs.-Sat. w/Sunday free. Swimming, Water Mat(12ft x 6ft), Boating, Kayaks, Games & Fishing@Private Dock. Linens, Towels & WiFi free. Pets free. Big yard and secluded w/wide deep clean cove. Kayaks(2(single) & 1(double) w/vests), boating (covered dock w/boat hoist/cleats, electricity)& firepit @shore. Close to stores, restaurants, boat launch. Gas & Wood Fireplaces. Relax/eat on deck. Gas grill. Check in Mon-Fri thru Sat.night & Sunday free.
What guests are saying:
"This vacation goes down as one of my families all time favorites. Fred and Anne were so nice when we arrived and made the home feel as if it was our own. Great hosts!!. So all about the stay, the house was just what we needed, it had comfortable beds, a kitchen which I may add was used many nights, the grill (which made me feel at home) and the dock down the hill was simply amazing. We rented a Pontoon during our stay and the dock just added to one of the best benefits of staying at Smith Mountain Lake. No trailering needed, just after a long day on the lake the ability to pull up and tie off of the dock put the icing on the cake on the place. What a great perk! My wife's cousin has a place in Penhook and the dock at Fred's house was able to accommodate both boats, ( it would even fit three with the lift). This made the lake so much enjoyable. The house location was excellent. Being just a 3 minute boat ride to Bridgewater Marina was perfect as we spent many of our evenings there. So let's talk about the house now which is the reason for the review. Let me just sum it up with one word "Incredible". As you walk into the house you immediately believe that you have just been entranced in a lake house. Cute sail boat decor throughout the house. Fred and his wife left plenty of towels and washcloths for our family for the duration of our stay. The utility room downstairs with the washer and dryer was an added benefit as we did our laundry during the stay so we wouldn't have to spend days when we came back home to catch up. There were two televisions in the house which I don't believe we ever turned on from the excitement of just being at the lake. The dock area at the house was another great perk. From docking the boats, swimming around the dock, fishing and on the last night we even used the fire pit to roast marshmallows. There are actually two areas on the back side of the house which we used in the evening hours to watch the boats and birds over the lake.... the upper level and lower level deck area was amazing as we didn't even know we were going to have a bottom level. Two full bathrooms in the house was another welcomed addition to our stay. If any one is reading this review and is on the fence about booking at Fred's house..... Just go ahead and do it as you will not regret it. Lastly, if I were to make any critique about the place it would not be due to the house or Fred as they were both out of this world for my family. The hill going down to the dock, ( I call it a hill but in reality it is probably a mini mountain lol. By the end of our stay we were all adjusted to walking up the hill as it is makes one realize if they are out of shape or not. I told my wife I would mention to Fred that he should install a ski lift to get up the hill lol. In all honesty though as we navigated the lake throughout the week we quickly realized that there are plenty of houses surrounding the lake that have hills up to 4 times bigger than at Fred's place. I guess when you visit the mountains one should expect some hills lol. I am so thankful that I came across Fred's house on Airbnb as this was just a perfect place for a vacation, especially with all of the craziness going on in the world. Our family is truly blessed as we had a perfect vacation and met great hosts in Fred and his wife. Thanks again for everything."