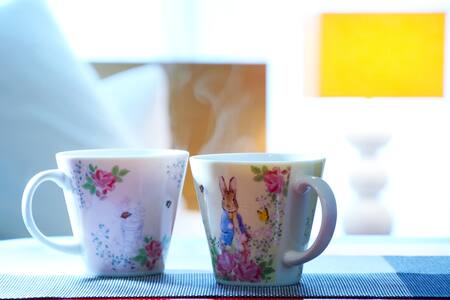 SUPERHOST
Entire apartment · 6 guests · 4 beds · 1.5 bathrooms
★★★Very near Dotonbori!★高層コンドミニアム❤1名様から完全貸切!❤
鍵の受け取りの手間なく、キーボックスでセルフチェックイン出来ます。 プロの完全クリーニング★清潔感あふれるお部屋★「日本橋」駅 徒歩1分 ❤❤道頓堀100メートル。階下にコンビニ有。高級コンドミニアム❤❤ なんばウォーク1分★ NEW ^ o ^ ❤❤Dotonbori 100m。Convenience store 5m。Luxury apartment ❤❤1min Nippombashi station! ★ ★Luxury Condominium Dotonbori★WiFi !★ ★1min Nippombashi station!❤ ★Nippombashi station100 meters!★ NEW!OPEN★ Dotonbori in front Pocket WIFI! ★Recently built luxury apartment 1 min Nippombashi sta★ 1 minute 24 hours Super. 100 yen shop. ★Convenience store 1 floor★
What guests are saying:
"It's a great place. The location is close to Dontonburi and Kuromon. Only 1 minute walk to the train station. Host recommendations will be given in order of arrival date. Host cares about the safety of the epidemic. Prepare a mask for us and snacks and fruit juices to welcome us Although the place is too small for 5 people, it can be rested peacefully. There are many restaurants in the apartment. Next time May be i go back again. i love japan"
[The measures against COVID-19] 1. Cleaning staff wears a mask during cleaning 2. Sanitize everything especially places which are often touched 3. Ventilate the room by opening the windows and turning the fan on 4. Put an automatic hand sanitizer spray at the entrance of the building 5. Using a small ozonizer during cleaning-up to sanitize air 6. Self-check-in by using a key box We follow the measure guideline against COVID-19 which is announced by Airbnb.
What guests are saying:
"Kazuma's airBNB is very comfortable and cozy, with soft bed sheets and very clean living space. The hosts provided a pamphlet of good restaurants in the area and other important information that was really helpful! The airBNB itself is so cute and has a convenient location since it is near a station that is just one stop away from Shin-Osaka, where we departed and arrived. If you have a big suitcase it might be a tight fit but I think that is a small matter compared to the comfort of this place! Check in was easy and Kazuma replies very fast. Be sure to visit the hosts' restaurant as well if you have the time!"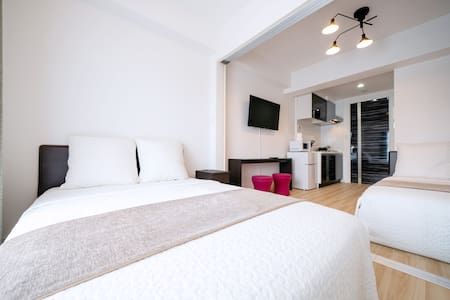 SUPERHOST
Entire flat · 4 guests · 2 beds · 1 bathroom
Grandouce Shin-Imamiya☆Namba 4min/Build in 2019
1. Good Location!! 2. Spacious Room!! 3. Operated by professional [Good Location!!] Just 4min to Namba You can access from Kansai airport and bullet train without transfers. You ca walk to Shinsekai just 15min. [Spacious Room!!] New apartment build in 2019. You can stay with max 4 ppl in spacious 30㎡ room. Amenities and towels are available in your room. [Operated by Professional!!] We Grandouce Corp. are officially authorized by Airbnb. We produce "Luxury Space and Great Experience" for you.
What guests are saying:
"You can expect a great space that is easy to check in and out-you can also do laundry! You will have to talk 5 or more min to stations but it was a very clean, tidy apartment that made me feel comfortable with the cooking necessities and the attention to comfort. I highly recommend this location for those staying long term. 10~ min walk to Shinsakai was also fun!"