As featured on HGTV! Quiet, private, jungle setting & short walk to a stunning beach! Tropical gardens surround this 3-unit villa. The studio unit has a fully-equipped kitchen, full bathroom, dining nook, outdoor living room, and outdoor spa shower, and a plush queen-sized bed with state-of-the-art, quiet split-unit A/C. Separate, covered grill patio with dining table and lighting for quiet, romantic evenings. Beach chairs, towels, umbrella & cooler are provided for your island adventures!
What guests are saying:
"Casa Baraka is such a special and unique place. Ed is a fantastic, accommodating and friendly host and we loved getting to know him during our stay. He gave us so much information about things to do on the island which I always love when an Airbnb host goes out of their way to ensure we have a great time. The Casa Baraka property is beautiful with all the lush plants and trees and very well taken care of. The outdoor sitting / lounge areas were so pretty to chill at night and so peaceful to sit at in the morning as we drank our coffee. Ed provided us with everything we needed for the beach too- chairs, towels, snorkel gear, beach umbrella, and a cooler. The room we stayed in was super clean and very spacious. Kitchen had all the basics needed. The ONLY thing that was kind of a bummer was the spring-y mattress, making it hard for us to sleep comfortably, but it still was very clean with fresh linens etc. Other than that, everything was great! Thanks Ed for everything!"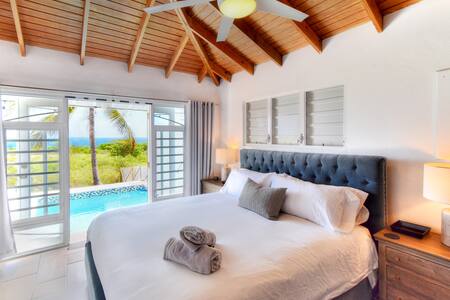 SUPERHOST
Entire cottage · 4 guests · 2 beds · 1 bathroom
Casa Corona - Amazing Views, Pool, Secluded Beach
Experience this newly renovated home with constant ocean breezes and breathtaking views of the Corona Reef, Culebra and the "Big Island." This cozy cottage offers 'casual luxury' with premium furnishings and cool, comfortable linens and fabrics. Enjoy the ocean-facing plunge pool and outdoor shower, or take a walking trail down to an exquisite secluded beach. Located just past the W Resort on a private fenced/gated lot that's minutes from everything (airport, ferry, restaurants and shopping).
What guests are saying:
"Casa Corona exceeded all of my parties expectations. From the minute we booked our stay to the day we arrived on Vieques, the communication and check in process was superb. Auriello, the property manager met us at our car rental place where we followed him to the property. He walked us thru and showed us every detail of the home and offered us many valuable tips and pointers for maneuvering the beautiful island of Vieques. The location was absolutely perfect offering easy access to both Isabel and Esperanza. The private beach was stunning and was always full of wild horses to view from the back deck or pool. We were able to explore almost every beach and restaurant with our time on the island. Our favorite beaches were Navio, Caracaus and La Chiva #8. Do not forget to snorkel Mosquito pier to swim with the sea turtles. As far as the restaurants go, the staples like Bili and El Quenepo are always amazing, however this trip we fell in love with Bigotis and the Vieques Food Park. Don't forget to stop at the airport to have the best hand made daily dumplings and crab rangoons, you can thank me later ;)! Thank you to our gracious hosts and awesome property manager. We loved every minute of our trip and look forward to staying at this beautiful property again on our next visit!"
Encantada Vieques is a five acre estate bordering the Caribbean Sea, just west of Esperanza on the southern side of Vieques. The home is a luxurious renovation of a 2br/2bath casita, supremely located on gorgeous Coco Beach. The property includes electronic gate access.Stay in this newly renovated, luxury home and walk to your own beach that was literally the set of Victoria's Secret Swim 2015. You've never seen better sunsets. Yes, come to Vieques. Yes, stay here. You will not regret it.
What guests are saying:
"My partner and I had an amazing stay in Vieques in this beautiful house, which is very elegantly designed and provides extremely comfortable accommodations. Walking distance from the popular eating and nightlife spots in Esperanza. Karen was very helpful in getting us situated and sorted out with the logistics for arriving from San Juan. We were only two for this stay, but hope to come back with friends or family for a longer visit in the near future."