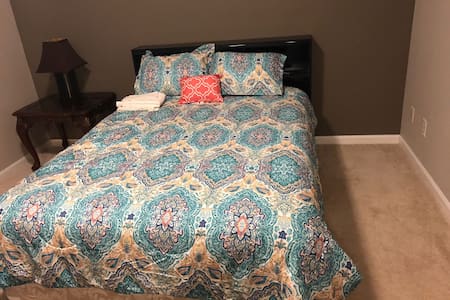 SUPERHOST
Private room · 2 guests · 1 bed · 1 private bathroom
A quiet private room 18 miles to the airport.
A spacious clean large room with a comfortable queen bed. The bedroom has a large closet, a microwave, refrigerator, smart TV (with cable) and Internet. There's computer table and bedside lamp. Additionally, the room has beautiful wall hangings. It's walking distance from several stores and places to buy food such as Publix, Family Dollar, Dollar Tree, Marcos pizza, Subway, and MacDonald. Nearby are gas stations such as Shell, Race Trac, and Chevelon. The neighborhood is very quiet.
What guests are saying:
"My stay at Elizabeth's was GREAT! The "suite" had ALL the comforts of home within arms reach! I was greeted and given a tour despite checking in late, as she wanted to ensure my comfort. If you're in te area, this is the perfect location as it's not too far from the interstate and several restaurants and shops in the area."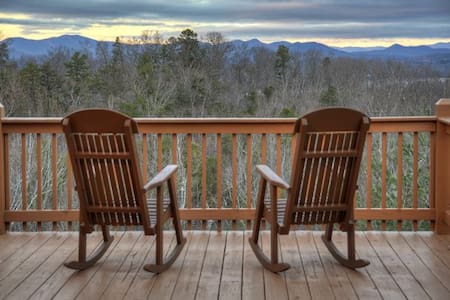 SUPERHOST
Entire cabin · 6 guests · 4 beds · 2 bathrooms
NEW! WAS $235, TOP OF MTN, LAKE BR ACCESS, FIREPIT
L-I-V-I-N. That's what you do in this authentic log cabin so high in the sky it'll give a bald eagle a nose bleed. Step out to an ASKA TRAIL access point or stay in and enjoy ENDLESS PANORAMIC VIEWS from FOUR BALCONIES above LAKE BLUE RIDGE. With BIG-OLE rooms & HIGH ceilings you can't escape the view unless you're cozied up to the 100" PROJECTOR. Outta popcorn? Downtown BR's only a 15-min PAVED drive away! So stop waiting, bring yer DOG(s), yer BOAT & start L-I-V-I-N.
What guests are saying:
"Just what we needed for a quiet and peaceful vacation. Beautiful view of the mountains! My kids and fiancé loved the card table and ping pong, and we enjoyed relaxing in the hot tub and by the fireplace. The dogs loved the outdoor area for potty, the wrap around porches they could hang out on (without the fear that they could get out since both sides shut), and they even loved the rope toys they found with the board games :) We would definitely stay here again!"
The Cabin at The Old Parrott Place is ideal for one or two adults to stay overnight or for a week. It's rustic, but clean and comfortable, has a queen bed, a claw-foot tub to soak in, an outdoor shower, a microwave, small fridge and complementary coffee and tea. Rocking chairs on the porch allow you to spend a little time outdoors enjoying the country air. You'll have access to the separate cookhouse and dining room as well., Please, No Children.
What guests are saying:
"If you are looking to get away from the hustle and bustle of the world then this spot is for you! This cozy little cabin is tucked away and you are certain to find peace and quiet. Enjoy a cup of coffee rocking on the front porch or a relaxing bath in the claw foot tub... I did both! And Jekyll Island is only about a 45 min drive away so I literally experienced the best of both worlds: Woods and Water!!! The host, Ms.Mary, is just so kind and incredible. She was quick to answer messages/questions. When I arrived Friday night it was POURING rain and she met me at an alternate driveway so I could follow her in a different way so i wouldn't get stuck in the mud. The rain was very soothing to listen to pelting on the tin roof of the porch on the cabin. I love taking pictures of things outdoors and there is plenty to photograph around the property! I didn't get a chance to check out the lake and Kayak but I will most certainly come back and do so."