My Place is called Xavier's Guest House and is located in the South part of Anjuna, near the Flea Market. It is approximately 200 meters from the Beach where shacks like Shiva Valley, Curlies exist.
What guests are saying:
"1.Great location, just near to curlies. 2. Safe stay as owner leaves in the property. 3. Tasty food @infouse restaurant. 4. John(owner) suggests nice places to eat, drink n shop which is added benefit 😊 5. Rooms n washrooms are clean with basic amenities. 6. Ample parking space, scooty for rent available. I recommend this listing !"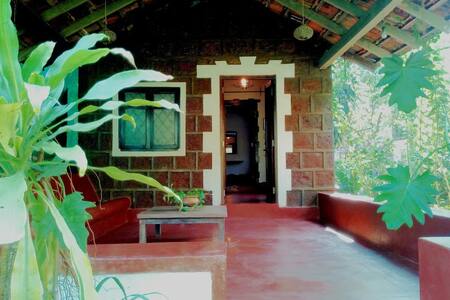 SUPERHOST
Entire cottage · 3 guests · 1 bed · 1 bathroom
Cozy Cottage very close to South Anjuna Beach
Very spacious yet cozy and tastefully decorated Portuguese style cottage set amidst greenery. Well furnished and private. Just 2 minutes walk to the South Anjuna Beach, Wednesday Flea Market, famous Beach Shacks and Restaurants, etc.
What guests are saying:
"Malcolm's place will blow you off your feet. The moment you step into the property, you are welcomed by three adorable dogs. The cottage is surrounded by lush greenery and kept immaculately clean. Malcolm was extremely hospitable. He went out of his way to accommodate a last minute change in our schedule without even informing us. From renting out a two wheeler to us to giving perfect local tips, he couldn't have done a better job. An absolute bang for the buck, this is the property that you've got to choose. Stop looking and make the reservation!!"
beautiful and specious,blissful and luxurious.....The villa is coverd with lushy greenery,coconut trees,cashewnut trees,chickoo trees,avacado trees,beautiful Gulmore flower trees,bananas trees,juicy Papaya trees in the garden,and lots of trees around... The villa is located in very prime location,if you wanna chill from the hustle and bustle,this is perfect place,majority my wonderful guests never goes out,because they dont feel like going out,the way house is super positive,positive vibes and energy around,of course they found the house super Romantic😊😊 Hospitality is passion of my Wife and me,thats the reason we design the places through our heart,we make it super simple,specious and luxurious. And Villa TIMEOUT 72 VAGATOR is entirly designed of Waste and Junk,Fantastically Eco friendly...we make sure that each of our guest must enjoy the place fullest,with joy happiness smile and lots of fun...the place will always bring huge happiness on your face,you will never feel guilty paying.. Hosting above 80k beautiful people so far brings lots of ideas and genuine experiences within us,hosted all sorts lovely people... Cleaniness and hygenicness is our first priority,the place is always sparkling clean,many my guests said,"they dont feel like walking in the house,as its super super clean,their legs might make it dirty😁😁huge pure compliments for us..... If you are party lover,all happening places are just no time away from the villa... Hilltop is 2mins walk Thalasha is 7mins walk Antaras is 7mins walk Curlies is 10mins International Hippes Flea Market is just walking... Most of the supermarkets and shopes are walking as well... You can go to the beautiful small vagator beach walking,through vagator hills....vagator anjuna area is all in one,you have beautiful Hills,we have beautiful beaches,we have wonderful lushy green fields...these all things together makea this valley more energitic and more beautiful....😊😊 The villa is just like your home away home,This beautiful place alwags welcomes you with your smile...COME AND BRING YOUR SMILE,AND ENJOY YOUR BEST HOLIDAYS IN VILLA TIMEOUT 72 VAGATOR... Best Regards....D&P....Love And Light.x
What guests are saying:
"When it comes to hospitality the host (Pradeep) went above and beyond to ensure we have a comfortable check-in even if we checked way late in the nigh and throughout the stay he ensured that we had the best experience ever. Also talking about the place, the property was sparkling clean and had a very tranquil vibe to it overall. All in all to say, the experience was worth every penny we paid. We felt like it was our second home :) Good Job Pradeep!"