A quaint little 1 bedroom cottage nestled in the Colo-i-Suva forest reserve. The cottage overlooks the rainforest and gardens. Occasionally the peace and tranquility is disturbed by the calls of the large bush parrots and pigeons. The smaller parrots (Kula) join you in the gardens for breakfast and sundowners.
What guests are saying:
"This place is absolutely the cutest place to stay I'm sure in all of Suva! It's nice to be able to stay in such a serene location amidst the business of the city! Great place to stay, with great host! I would definitely come back again! Highly recommend this place if you are looking for a place with a feel for home but in the middle of the rainforest this is it! The sounds in the morning are amazing and the sound of the rainfall will put you right to sleep! Absolutely charming!"
Newly renovated, this beautiful 4 bedroom welcomes you to your home away from home. Fully air-conditioned with Queen beds in each room - this would be ideal for a family or a single working professional on the go. Washing facilities available.
What guests are saying:
"Awesome location, house is beautiful didn't even feel out of place because it felt just like home. Staff was more then welcoming and super nice they were there in a second if we needed anything but also gave us our space and privacy so it didn't feel like we were being watched or anything. Rooms are spacious and beds were super comfy, bathrooms were gorgeous and big, kitchen and lounge room is definitely the heart of the house. Overall really enjoyed the stay and how conveniently close it was to town, literally the bus stop is right infront of the house so transport wasn't an issue at all. My family and I enjoyed our stay and the location was perfect and safe. Vinaka vaka levu for opening your home up to us, we will be back soon!"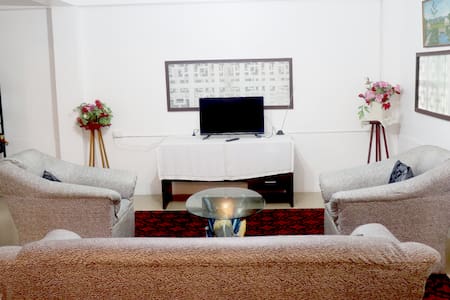 Entire guest house · 5 guests · 3 beds · 1.5 bathrooms
Spacious, Alarm Secured, Free Parking, A/C Rooms
Our listing is a ground floor flat, situated in Naranji Street which is just 10-15 mins (max) drive from the Suva City. Spacious Living room for the kids to play around, Open Kitchen with cooking amenities, Fridge, Washing Machine, Indoor parking, Air Conditioned Rooms and Fully Alarm Secured Compound makes it perfect for a small family of 4 or 5 members.
What guests are saying:
"Prashant and his mother are made for the Hospitality and Tourism Industry.Please allow me to give a testimony of this. While searching for a flat for my in laws to stay for an emergency trip to Suva,I queried 5 different homeowners&got a reply that they would reply to me within 24hours.Some declined (maybe because I wasnt going to be the one staying there), some took a day but Prashant was the second to reply and he had enough patience to answer all of my 5million questions,one after the other.🤣It was then that I decided to book their flat.As I was booking,my card wouldnt go thru.I tried different cards from different countries and none would go thru. Prashant was kind enough to wait until my card hassle was sorted so I could pay for the flat. All along, assisting whenever needed. Check in was supposed to be at 2pm but they allowed early check in at 11am. Both rooms were air conditioned,living room was spacious,bathroom was clean,beds were comfortable. Amenities were all provided as stated.In fact,it was better than some of the hotels we have been in. Vinaka vakalevu and a big thank you Prashant. You are simply amazing. Your customer service is notable and we appreciate all the effort shown. You have given our time and money's worth.And we hope to continue using your services for as long as you are a part of AirBnB."