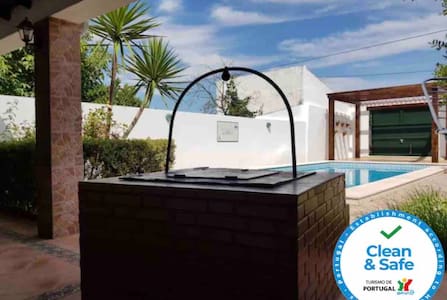 SUPERHOST
Entire house · 5 guests · 3 beds · 1 bathroom
Casa da Aldeia com piscina, Casa Branca, Alentejo
T3-Casa típica alentejana com jardim, piscina, pérgola, churrasqueira, sala com lareira, cozinha equipada, com ar condicionado e wifi. Localizada a 20 minutos de Estremoz e da Barragem do Maranhão. Venha ser feliz no Alentejo...! Typical alentejana house with a 9 meters swimming-pool, in Casa Branca (Alentejo) It's a typical house with a swimming-pool, a garden with porches, a barbecue, a pergola, a kitchen, a living room with a cosy fireplace, bathroom, a study, 3 bedrooms and wifi.
What guests are saying:
"Great place to be with friends. Great hospitality, I recommend it to all people who want to spend time with friends and family there."
Se procura fugir do stress da cidade e aproveitar o sossego do interior alentejano este é o espaço ideal para repousar e repor todas as energias , e claro aproveitar o calor e o sol à beira da piscina e entretanto ir preparando um delicioso grelhado na nossa churrasqueira. É sem dúvida um espaço bastante agradável para casais e famílias (com crianças).
What guests are saying:
"I've stayed at Isabel's place with a group of 5 adults and one baby for 3 nights and let me say that we had the greatest weekend since I can remember. Isabel's house is located in a small village in the interior of Portugal but there's no need to worry about isolation. In the village you have a small grocery store where you can get food and preety much anything you'll need for your stay. There is also a big shopping mall across the border just a 1 hour trip away (Badajoz) if you're looking for something more specific. The main house itself is larger than the pictures might let you know. both bedrooms are spacious so don't worry if you have a lot of luggage; you won't feel crammed. The bathroom is clean and the shower has great pressure with hot water in a heartbeat. Regarding the kitchen, although it's been renovated, it's still missing some light but that won't stop you from using its full potential to cook a delicious meal: there's a stove, small refrigerator, microwave and a mini oven. No need to worry about dishes or cups, the house is equipped with anyting you might need. Isabel's place also has an outside barbecue grill which is perfect for those hot summer days when you just want to grab a quick meal by the pool (we'll get to the pool subject in a second). Near the barbecue there's another refrigerator (a big one this time), a dishwasher and a washing-machine. The dishwasher is a blessing seeing as you won't need to worry about dirty dishes during your stay. Trust me when I say you'll never want to go to a place without a dishwasher for your vacations ever again. There is also a smaller house in the back which is prepared for 2 adults that has its own bathroom and a small meal area. If you're trvelling in a group with a child, this is the perfect room for the family because it will give you a bit more privacy. Regarding the pool, words cannot describe how much we loved it. We've spent most of our time relaxing in the pool under the hot Alentejo sun and couldn't be happier. This was the main reason for us to pick this house and it didn't let us down. If you're looking for a house with everything needed to have a no-worries-weekend, Isabel's place is the perfect choice for you."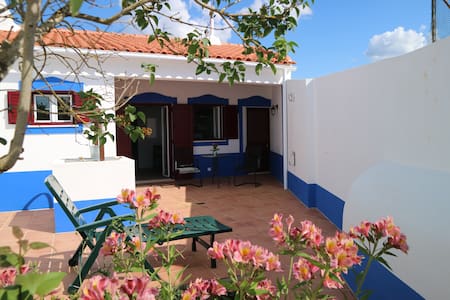 SUPERHOST
Entire house · 4 guests · 3 beds · 1 bathroom
Casa de São Sebastião - Cano, Sousel, Alentejo
Casa rústica recuperada com todas as comodidades no centro do Alto Alentejo(Évora,Vila Viçosa, Extremoz).Quintal, barbecue e anexo para guardar bicicletas. Piscinas municipais e praias fluviais perto.Venha acompanhar a época das vindimas. Typical house,fully recovered with all the ammenities. At the center of a little quiet village in Alto Alentejo.Backyard, old well with security lockers,garden and covered terrace spot.Laundry and space to guard bikes.Some public pools and river beaches nearby.
What guests are saying:
"Maria's house was in a very convenient location for us to explore the north and the center of the Alentejo. The house is well equipped with all the necessities and was very clean, it's a lovely welcoming home! As a bonus we met the absolutely lovely neighbor who was very helpful to us and gifted us with her homemade olives! Maria communicated with us well and was very helpful when we needed her help. Thank you Maria! To those visiting during the winter, the Alentejo gets very cold during the night (it droppes to 2-3C / 35-37F) and homes are typically not equipped to it, there were space heaters in the house that really helped but I recommend bringing warm clothes for the night."