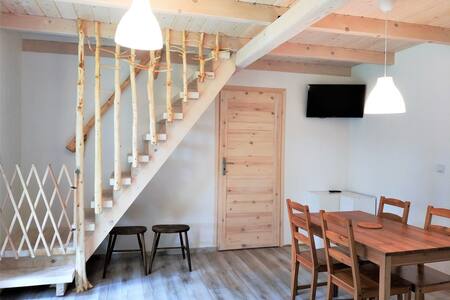 SUPERHOST
Entire cottage · 8 guests · 7 beds · 1 bathroom
Drewniany DOMEK przy Ojcowskim Parku Narodowym
Rezerwując nasz domek całoroczny możecie Państwo poczuć się komfortowo, korzystając z całego budynku, w którego skład wchodzi salon z kuchnią, łazienka, pokój na parterze a także dwa dwuosobowe pokoiki na poddaszu. Obiekt posiada prywatną sieć WIFI. Domek mieści maksymalnie 8 osób, natomiast istnieje możliwość rezerwacji na wyłączność także dla mniejszej liczby gości.
What guests are saying:
"The cottage met our expectations 100%. The place is very clean and tidy, the basics are available (including towels, soap, bedding, dishes, cutlery ...). The cottage is located a short distance from the national park, there is also a public transport bus stop nearby, so access for non-motorized people is also not a problem. We will definitely come back here again on our next trip to this area."
Serdecznie zapraszamy wszystkich, którzy cenią spokój, ciszę i lubią przebywać na świeżym powietrzu. Wokół domków jest bardzo dużo wolnej przestrzeni oraz cudowny widok na las i Łysicę. Jest to miejsce idealne i wymarzone dla osób chcących zrelaksować się na łonie natury, wsłuchiwać się w szum drzew, ptasich koncertów czy rechot żab. Posiadamy do wynajęcia trzy całoroczne bielone drewniane chatki. Każda chatka ma swoją swoją nazwę - Lawenda, Róża, Słonecznik.
What guests are saying:
"The arrangement of the houses is brilliant - terraces located so that nobody would look into anyone. A beautiful house, stylish, with thoughtful accessories. Inside (also in the bathroom) very warm, and this we were a bit afraid despite the warm winter. The interior is cozy, even home. A great base to explore the Świętokrzyskie Mountains. A grocery store nearby, also open on non-trading Sundays. A large green area, after which the dog could ask at will. All three of us are very happy to stay :)."
Drewniany dom położony w małej wsi pod lasem w Sieradowickim Parku Krajobrazowym. 170 km od Warszawy (12 km od S7). Ogrodzony teren daje przestrzeń, a zarazem intymność. Nie ma tu wielkich atrakcji turystycznych, a co za tym idzie, nie ma turystów. Jest za to piękny widok na Święty Krzyż, sklepy objazdowe oraz duży basen ogrodowy. 2 sypialnie na piętrze. Dwa tarasy (zadaszony i z żaglem), grill gazowy, kociołek, leżaki. Przyjazny dla czworonogów.
What guests are saying:
"A wonderful, warm and atmospheric place for people who want to rest in silence, regenerate, drink coffee on the terrace in the morning and enjoy absolutely amazing views from the window :) The well-equipped house, clean. Attention to the smallest details can be seen. A pool with clean water, a goat where you can light up on cooler days, a barbecue, deckchairs, a cauldron, a hammock. Very efficient contact with the hostess. Around a lot of forests good for walking - and full of mushrooms as it turned out. I recommend and regret that we could not stay longer!"