Located in Corong-Corong beach, facing the spectacular Bacuit Bay, our villa offers all the necessary comfort (aircon, hot water,...) in a stylish decoration. Its nice garden is right in front of the sea. We are at walking distance from nice restaurants, tourist attractions, booking office, high-end hotels, and at 10 minute-ride to El Nido town. We can accommodate 4 persons max. If you are more than, we suggest you to check if El Nido Garden Villa is available, it is behind this villa.
What guests are saying:
"We had planned to spend the last three nights of our vacation in the Philippines in El Nido at Isabelle's charming Beachfront Villa. Isabelle was very communicative before our stay about how to find the place, the check-in procedure, details about the house, and where to eat/shop in the local vicinity. She went so far as to provide options for transportation and gave us tons of information on local activities and tours. While she notified us that she wouldn't be there during our stay, her co-host Kevin would be there to greet us and show us the ropes of the house. Upon arrival, the house was even more beautiful than we imagined. Set on Corong Corong Beach, it is a gorgeous little property nestled between small resorts on a pristine white sand beach dotted with mountainous islands on the horizon and bangkas (traditional Filipino boats) lining the turquoise waters of the bay. The view from the house is stunning. The location is also perfect. My wife and I rented a scooter and explored the island, visiting the upscale resorts at Lio Beach, exploring the downtown area and its beaches, and we both agreed that this is the place to be in El Nido. You have a real sense of community here. It feels safe, and everything is within walking distance. Furthermore, the boat tours departing for the islands, and lagoons leave steps from your backyard gate. Kevin was an outstanding host. Our trip was unfortunately cut short due to the outbreak of the Covid-19 virus, and in a time of need, he bent over backward to help us out in an uncomfortable situation. His flexibility and understanding left a lasting impression on us. We will be back to fully explore the islands, bays, and lagoons and soak in the rays of this little slice of paradise. We wish all of the local workers, small businesses, and tour operators the best during these difficult times. Salamat!"
Our Villa is located at Corong-Corong beach, in a lively and friendly neighborhood. A private way leads you to the beach, from where you can admire stunning sunsets. Fully furnished, modern, safe and confortable : hot water, quality bed, aircon, ping-pong table, games… The kitchen is fully equipped too. Next to the villa you will find beach restaurants, island hoppings departures, kayak, boat sailing rentals, and others activities. It's located at a 10 minute trike ride from El Nido town.
What guests are saying:
"If You consider place in El Nido, do not look further. Just book Isabelle's place. This is great located, cozy, fully equipped and well designed place very close to everything in this part of the island! Here is everything. Superb house, cleaned everyday. Restaurants. Tricycles. Beach. Private boats tours. Great breakfast next to the house. Hoasts are very, VERY helpful with everything. Firts they answer very fast and provide You full information. Second rhey help You to arrange EVERYTHING (private boat tour and delibery to Puerto Princessa) they even sent postcards to my Mum, cause i left El Nido before post office were open again ;-) (THANK you Kevin!). Long story short - this was the best place we could imagine in El Nido. Do not look further, just book!"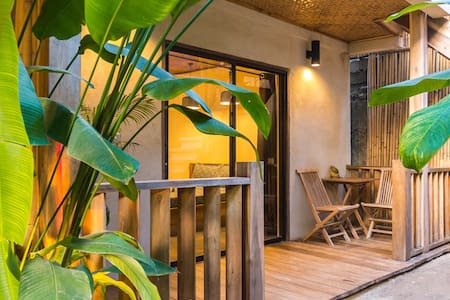 SUPERHOST
Hotel room · 2 guests · 1 bed · 1 bathroom
Fisheye The Rooms Luxury en-suite room El Nido. #2
Enjoy the comfort and styling's of a 5 star resort but in your own personal area. This Spacious private room with balcony area and large bathroom is located in the middle of El Nido. Please NOTE: due to the CORONAVIRUS we can no longer offer breakfast.
What guests are saying:
"Pauline's place was nothing, but amazing! It's located in a super convenient area so getting around isn't an issue. We basically walked everywhere in the town. The place is sparkling clean and the room was just as pictured. The only issue we had was a couple days of blackouts which happened in the morning, and they were having generator issues, but it wasn't much of a big deal since we left to do the tours and by the time we got power back. Other than that I would rebook this place. It's also 45 mins from Nacpan beach and 20 mins to vanilla beach via tricycle or you can rent a motorbike."