Accoglienza ottima, trattamento perfetto
Davide
2017-04-05T00:00:00Z
Room Type
Entire home/apt
---
Property Type
Apartment
---
Accommodates
4
---
Bedrooms
Trofarello, Piedmont, Italy
Apartment with two bedrooms, living room, kitchen, bathroom and private garden with gazebo and barbeque. Guests have access to a garage for two cars. 5 min walk to the station from which you can reach Turin in 10 min (2 stops)
Private garden with barbecue and gazebo where to eat. There is a private garage for two cars
What can I say about my best stay in Airbnb? Andrea is an amazing person, very helpful and super friendly. He confirmed very fast my resquest and setting everything was super easy. About the apartment, it's a very strategic location, close to everything, city center, train station, super market, motorway exits. Its an amazing apartment the kitchen has everything, the bed is great, big bathroom, huge living room and an amazing barbecue are on the garden. If you had the chance the be hosted by hin you will enjoy it for absolutely sure!
Rafael
2016-03-08T00:00:00Z
Room Type
Entire home/apt
---
Property Type
Apartment
---
Accommodates
3
---
Bedrooms
Trofarello, Piemonte, Italy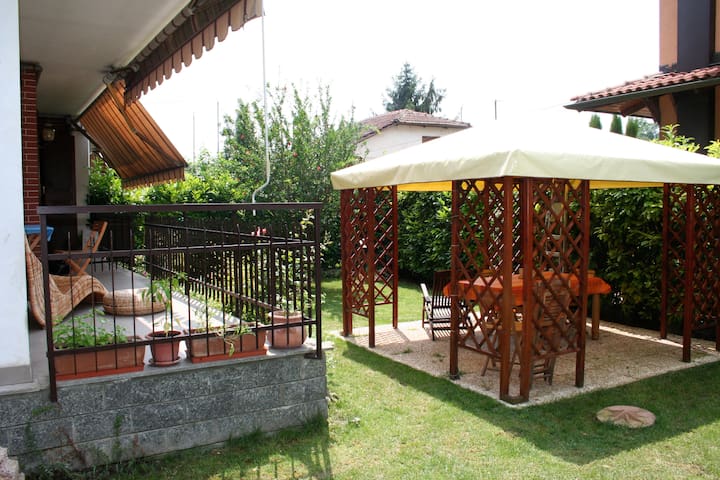 Cozy and modern one bedroom apartment, with wi-fi available, located in a quiet and convenient to be able to easily reach Turin in a short time both by car and by public transport.
L 'apartment is very bright and has a large bedroom, a comfortable living room with a sofa bed (single) and a full kitchen with all appliances and kitchenware. There is also a spacious terrace.
The apartment is located in a very quiet area.
moderno e confortevole
Mylene
2017-03-08T00:00:00Z
Grazie Maurizio..sei stato molto gentile e disponibile,la tua casa è esattamente ciò che mi aspettavo..calda e accogliente.. ti ringrazio anche per la tua cortese attenzione di farci trovare tutto ciò che ci serviva per la prima colazione frutta fresca compresa mi sono sentita a casa...non avrei potuto scegliere meglio
marianna
2014-11-12T00:00:00Z
Io e la mia famiglia abbiamo apprezzato tantissimo la disponibilità di Maurizio. L'appartamento è molto carino e accogliente e al nostro arrivo abbiamo trovato tutto in perfetto ordine e pulito.... ci ha pensato nostra figlia di un anno a spostare tutto!!! :-) È stata una piacevole esperienza e consigliamo a tutti un soggiorno a Trofarello.
Michele
2016-01-06T00:00:00Z
Casa molto accogliente e con tutti i confort che servono per trascorrere al meglio il proprio soggiorno e un letto fantastico su cui dormire!!!! Maurizio è una persona molto gentile e (URL HIDDEN) consiglio di scegliere lui se per caso dovete andare a Trofarello :)
Katiana
2015-03-04T00:00:00Z
Experiencia muy positiva. El piso muy acogedor y Maurizio siempre presente por cualquier cosa hemos necesitado.
Giancarlo
2015-07-19T00:00:00Z
Il nostro soggiorno è stato molto positivo. La casa è davvero speciale, tutto come nella descrizione. Inoltre è molto accogliente, luminosa e con dei particolari artistici, creati da lui, che danno un tocco in più! La posizione della casa è molto strategica, a pochissimi minuti dalla stazione di Trofarello e vicina a diversi centri commerciali, tra cui Decathlon, Carrefour, Unieuro, Cinema Uci... Ci siamo trovati molto bene anche con Maurizio in quanto è una persona molto disponibile, premurosa e alla mano. Ci ha fatto trovare biancheria pulita e di ricambio, stoviglie e persino del cibo! Infine, è stato molto gentile ad indicarci dei locali carini, posti dove andare e giri da fare. Consigliatissimo!
Paolo e Laura
2014-05-12T00:00:00Z
Room Type
Entire home/apt
---
Property Type
Apartment
---
Accommodates
2
---
Bedrooms
Trofarello, Piedmont, Italy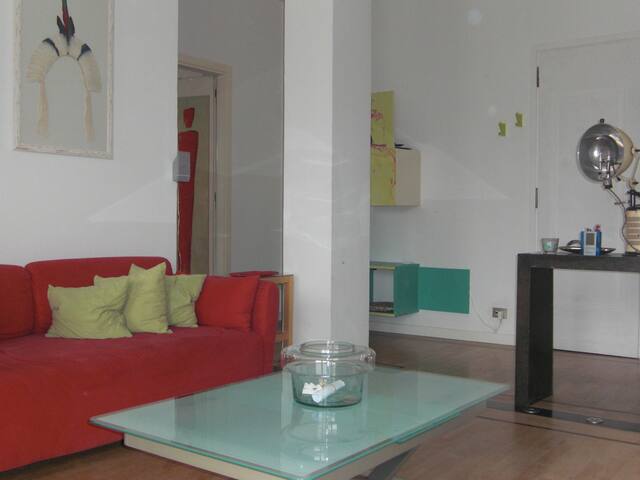 Eccellente esperienza! Attenzioni, accoglienza e disponibilità egregie. Alloggio encomiabile: spazi, pulizia, comfort, tutto al TOP! Opzione da tenere assolutamente di conto in caso ci si debba recare non solo a Trofarello, ma anche nelle vicine zone come Moncalieri o Chieri.
Tamara
2016-05-30T00:00:00Z
Room Type
Habitación privada
---
Property Type
Apartment
---
Accommodates
3
---
Bedrooms
Trofarello, Piemonte, Italy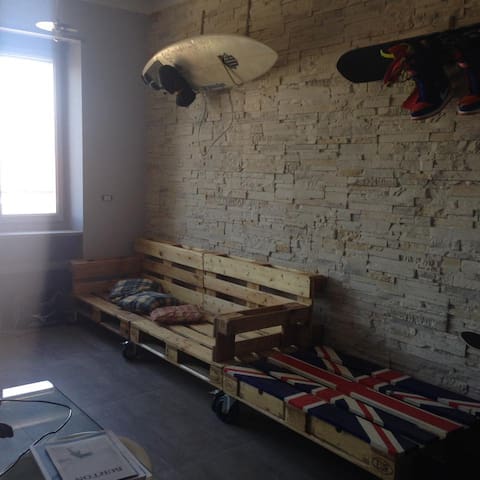 Charming attic studio a short walk from Turin. bus stop under the house a few stops from the metro station. Nearby: Park Vallere and Valentino, Lingotto Fiere, Mauto, Pala Vela, FCA and area hospitals. The apartment has a warm and welcoming, a lovely balcony, sleeping area divided by a sliding curtain, kitchen and sofa bed for 2 people and is in a century-old building with no elevator. In the street there are many shops and you can park for free.
Tout est super.l'appartement est grand,beau et confortable. Les hôtes sont supers gentils et souriants.Nous avons adoré....
Karine
2016-12-30T00:00:00Z
Ho soggiornato in questo appartamento per cinque giorni. È decisamente spazioso e ben arredato, dotato di tutto quanto io potessi avere bisogno. La posizione è molto comoda: il supermercato è vicinissimo e il parcheggio si trova con facilità. Infine, l'ospitalità e la gentilezza di Federico e sua moglie sono state la conferma di quanto Airbnb sia un ottimo servizio. Davvero consigliato!
Stefano
2017-01-20T00:00:00Z
L'appartamento è molto curato, raffinato e comodo, abbiamo soggiornato 3 giorni e ci siamo sentiti come a casa. Federico è ospitale, cordiale, estremamente disponibile, ci ha fatto sentire da subito a nostro agio con la sua simpatia ed è venuto incontro ad ogni nostra esigenza. Torneremo!!
Tiziana
2017-02-12T00:00:00Z
Che dire..è stata una piccola oasi di tranquillità e calore..sui tetti di Moncalieri! E' una mansardina molto confortevole che ha tutto ciò che serve per farti stare come se fossi 'a casa tua'... compresa una terrazzina molto 'poetica' con i sei comignoli ad arredarla :). Un piccolo nido..praticamente.. Federico e la moglie Francesca veramente lodevoli per le premure, le attenzioni, i consigli. Posizione comodissima per chi come me lavora nel teatro..una passeggiata di 15'/20' per raggiungere il Teatro Fonderie Limone. Per chi invece deve recarsi a Torino e altrettanto comoda perché sotto casa passa il bus n.35 e dopo 7 fermate, scesi a Lingotto, con la Metro via.. verso Porta Nuova..e un baleno sei nel cuore di Torino ( e tutto con lo stesso biglietto!). Il quartiere dove è ubicata la casa è dotato di tutto: cé la posta sotto casa, banche, farmacie, ristoranti/pizzerie di ogni tipo. .supermercati tra i quali Esselunga dotata di ogni ben di dio! La consiglio vivamente a tutti. Grazie Federico e Francesca.. e spero ad una prossima volta!
Federica
2016-12-04T00:00:00Z
El apartamento es muy bonito y está bien ubicado, hay un supermercado cerca y una pizzería al lado, la parada del bus está frente al edificio. Federico es muy amable, nos recibió en el apartamento aunque llegamos de noche y se preocupó porque tuviéramos todo lo necesario. Recomendado!
Maria Jose
2017-02-08T00:00:00Z
Tutto perfetto. L'appartamento è un gioiellino al quarto piano di un condominio. La pulizia era ottima. È ben servito dai mezzi pubblici avendo la fermata dell'autobus proprio sotto casa. Federico è veramente una persona corretta, molto disponibile ed educato. Se avremo modo di sicuro torneremo. Super consigliata!!!!!
Giacomo
2017-04-09T00:00:00Z
Ottimo!
Igor
2017-01-13T00:00:00Z
La mansarda di Federico e Francesca è un incanto, davvero romantica, sembra di stare in un piccolo angolo di paradiso. Oltre ad essere bella, la mansarda ha tutti gli agi che si possono desiderare in un appartamento, dalla cucina confortevole, al bagno ampio, alla lavatrice. Gli host sono eccezionali, disponibili, cortesi e affabili. Non ho trovato appartamento più bello in tutta Torino. Grazie Federico!
Giorgia
2017-01-08T00:00:00Z
Room Type
Entire home/apt
---
Property Type
Apartment
---
Accommodates
4
---
Bedrooms
Moncalieri, Piemonte, Italy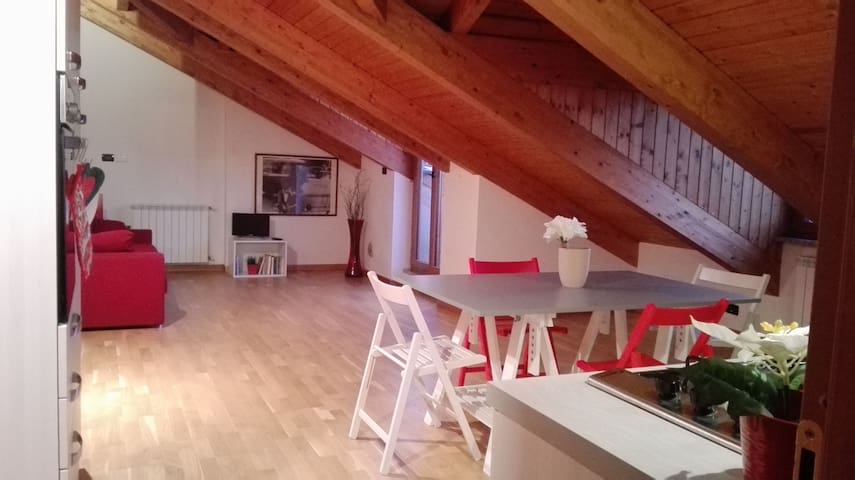 50 sqm apartment, furnished in modern minimalist style with a Zen touch, bright kitchen is equipped with all amenities included. Suitable for two people, it is located a few kilometers from Torino Lingotto station.
The apartment is quiet, inviting, completely free for guests.
The neighborhood is a safe place, strategic to visit every part of the city of Turin and its surroundings. A few kilometers there is the ring road that allows you to reach any destination without passing through the center. I point out the house of neighbor Stupinigi in Moncalieri.
I strongly recommend the appartment ! Very nice conditions, friendly atmosphere and super kind landlady ! If there is any problem it's fixed right away :) .
Joanna
2015-11-28T00:00:00Z
We have enjoyed our three-days stay at Marinella's apartment. The apartment is spatious and very clean. Marinella is an irreproachable, informative and non-intrusive host. There is no direct connection to Torino city centre. One has to drive to Lingotto train station, park the car there (free parking available) and take a train. Alternatively, there is a bus to Lingotto or to the Carducci metro station. If there's no convenient train to/from Lingotto, then one can walk for about 15-20mins between the Lingotto train station and the Lingotto metro station.
Sorin
2016-03-30T00:00:00Z
Persona cordialissima, veramente molto alla mano, piacevole nel conversare con lei. Disponibilissima per qualsiasi cosa, l'appartamento è veramente molto bello è come da descrizione .Minimalista come piace a me .
junior
2016-03-22T00:00:00Z
Marinella è stata sin da subito disponibile e puntuale. Ci ha accolto con gentilezza e ci ha spiegato ogni cosa riguardo ciò che ci poteva servire durante la nostra permanenza. L'appartamento è davvero stupendo, pulito, luminoso e caldo. Marinella ci ha fatto trovare anche il necessario di base per cucinare. Abbiamo trovato facilmente parcheggio nei posti liberi fuori dalla casa. Wifi disponibile. La casa è completamente attrezzata per dormire/cucinare/lavarsi/pulire. Siamo stati davvero bene! Grazie! Denisa e famiglia
Denisa
2016-01-30T00:00:00Z
Tutto perfetto. Marinella simpatica, premurosa e gentile.
Paolo
2016-10-09T00:00:00Z
Marinella é gentile e disponibile per ogni chiarimento. Casa accogliente e pulita, parcheggio facile. Consigliata.
daniele
2015-11-20T00:00:00Z
Benissimo. Estremamente disponibile cortese Marinella e casa "particolare" ma pulita e accogliente
Matteo
2016-10-31T00:00:00Z
L'accoglienza puntuale e calorosa e il quartiere è silenzioso.
Sandra
2015-12-06T00:00:00Z
Room Type
Entire home/apt
---
Property Type
Apartment
---
Accommodates
3
---
Bedrooms
Moncalieri, Piemonte, Italy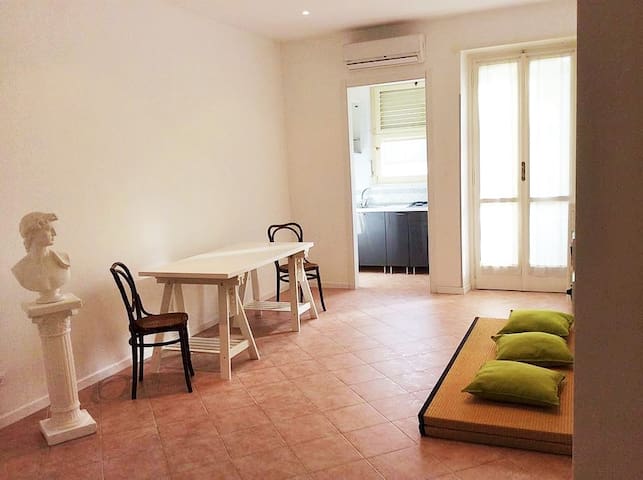 Modern and cozy one bedroom apartment on the outskirts of Turin, convenient to both the ring road to public transport, can accommodate up to 4 people is equipped with all comforts: TV, washing machine, microwave, air conditioning, oven, hairdryer and assorted appliances.
Furnished apartment in a modern and pleasant way, you will feel at home! Located on the ground floor, so bring your luggage will not be a problem! can accommodate up to 4 people, using a double bed with mattress in ergonomic memory foam, a comfortable sofa bed and a single bed, kitchenette equipped with all the comforts of your home and maybe even more! The apartment is equipped with: - Bed linen and towels and kitchen - Dishes - dishes - cutlery - pots - Fridge and freezer - hairdryer - washing machine - Heating / air conditioning Parking is on the street and it's free.
The apartment is located in Moncalieri, near Turin, in the small village of San Pietro district, in front of the bus stop and 50 meters from a supermarket offering everything; in the surroundings you will also find bakeries, newsstands, delis, bars / tobacconists, pharmacies, pubs and restaurants ... Basically everything you might need.
Wonderful apartment! spacious with fully stocked kitchen. Paola was extremely generous and accommodating. She even let me borrow a bike for the whole month I was there. Great stay!
Jeff
2015-08-12T00:00:00Z
I heard that we were only the second guests in the flat. I'm impressed!!! There was really everything one needs. The communication was very uncomplicated and friedly. To travel with public transport to the city is a bit a way but Paola sent us quickly all the informations. And there is a possibility to parc the car in front of the house. Thanks! I hope you will have a lot of guests soon:-)
elina
2015-04-09T00:00:00Z
Everything was according to description. It was a pleasure to stay at Alex & Paola. Thanks.
Mihály
2016-08-29T00:00:00Z
This is a very good place. The description is accurate. The apartment is very well equipped and frankly the pictures do not do complete justice to the place, it is much better in reality. Alex is a fantastic person and does everything to make your stay comfortable. He goes out of his way to make people comfortable. I needed extra keys , he got them. There were some issues with the wifi and when I called him I got to know that he just had an operation, so I told him to not worry about it and I can make alternate arrangements, yet he asked Paola to drive him and got another wifi router. My parents came to stay with me and he did not charge any extra fee, when I wanted to check in he was willing to pick me up. He is an exceptional person. The apartment is great, it has been very thoughtfully furnished and there is more than what you will need. Kitchen is very well equipped , with utensils of all types. There is detergent, soap, shower gel. We stayed for 2 months and there was nothing lacking. The location of the apartment is very good. It is near the UN campus, there is a bus stop at the gate of the building and you can go anywhere using public transport. There are 4 big supermarkets within 100 meters, several small shops and a fantastic gelato shop nearby. There are several pizzeria's near by and a kebab shop. This is a very good place, possibly the best place in Turin with the most wonderful host. The apartment in itself is great but the host really adds up to the experience by being so kind.
Sana
2016-06-19T00:00:00Z
Great stay at this cosy apartment in Torino south. The place looks even better than in the pictures. Kindly welcomed by the host at a very late time, thanks for that, we had a pleasant stay and enjoyed the weekend. The apartment was clean, warm and well organized with everything needed at the handy place. Parking was easy in front of the street and having access at ground floor was a great help with the kids. I come back for sure as soon I will be back in Torino. Great choice if you need to go/work at Lingotto.
Vito
2015-04-13T00:00:00Z
The location of Alex's apartment in Moncalieri is in close proximity of the city, parks and access roads to surrounding areas. There is also very ample parking, 2 supermarkets and a number of specialist retail stores close by. The apartment is well maintained. We were 2 adults and 2 children and the apartment was suitable for our purposes. Good for a young family, but perhaps not as practical for 4 adults. Alex looked after us very well- accommodating us with breakfast and maintaining contact to ensure we were fine. It was a good comfortable stay of 10-days.
James
2016-07-21T00:00:00Z
Ottima posizione dell'appartamento, ad un passo da Torino. Comunicazione perfetta e veloce. Consigliato.
Alessio
2017-01-02T00:00:00Z
Alloggio perfetto, accogliente, mi sono sentita a casa. Ottimo il rapporto con i proprietari. Lo consiglio!!
Elisa
2017-01-07T00:00:00Z
Room Type
Entire home/apt
---
Property Type
Apartment
---
Accommodates
4
---
Bedrooms
Moncalieri, Piemonte, Italy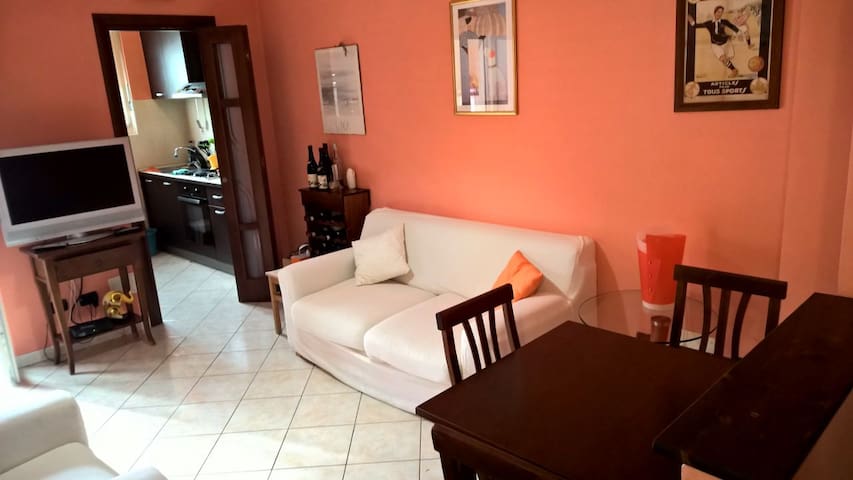 The accommodation is located near the arc of entrance to the old town of Moncalieri and the bus station, so it is very convenient for travel by public transport to and around Turin. It 'also convenient also to the hospital in Moncalieri seen which is around only 800 m. The apartment consists of a kitchen - dining room connected with the living room, a double bedroom and a bathroom. The apartment has a washing machine and dishwasher.
The accommodation is located near the arc of entrance to the old town of Moncalieri and the bus station, so it is very convenient for travel by public transport to and around Turin. The apartment consists of a kitchen - dining room connected with the living room, a double bedroom and a bathroom. The apartment has a washing machine and dishwasher.
Moncalieri is a town in the province of Turin situated in the first around Turin. It has a beautiful old town and is also an important industrial and commercial city. The center of Turin city is just a few minutes away by car, it is a town that has good facilities to serve the citizens, including clothing hypermarkets and food business. From its hills you can see much of the Alps and some snow-capped peaks during the summer, including evident 'trademark. To visit: The Castello di Moncalieri, (since 1997 in the World Heritage List of UNESCO) has a horseshoe-shaped structure and extends over 10 hectares of parkland. Nowadays home to the police station. What to do: The pedal lovers have the opportunity to take trips with the bike racing on the streets of Turin hills, or you can go through several well-marked trails through the woods to reach the Basilica of Superga.
Muy bien situado en Montcalieri. Lugar tranquilo, con opciones turísticas y no excesivamente lejos del centro de Turín. Ideal para parejas.
Albert
2016-12-09T00:00:00Z
Room Type
Entire home/apt
---
Property Type
Apartment
---
Accommodates
2
---
Bedrooms
Moncalieri, Piemonte, Italy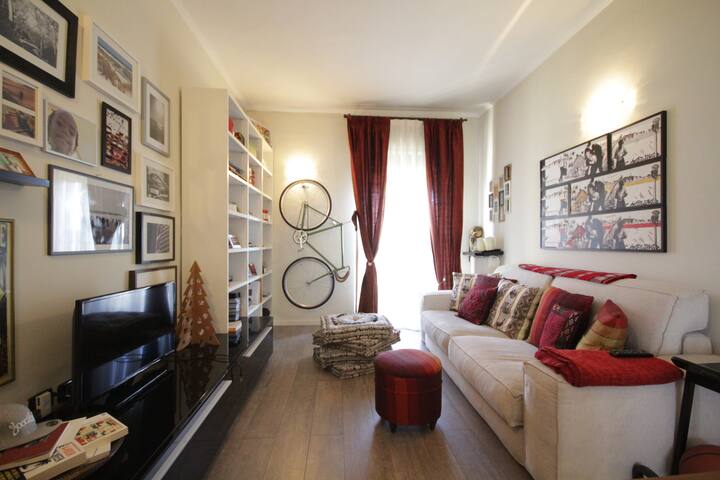 Immerso nella verde collina di Torino a 20 minuti dal centro di Torino. Collegata con mezzi pubblici. Circondato da maneggi, percorsi collinari, frutteti e campi coltivati. Vacanza cittá e collina. Vista panoramica sul Monviso.
L'appartamento é situato al piano terreno di una casetta in mezzo al giardino con piscina di un villa "settecentesca." Di rifinitura rustiche e essenzialmente attrezzata
Ambiente naturale collinare a poca distanza dal centro cittá di Torino. Moncalieri ha un centro storico caratteristico di tradizione culinaria eccellente e negozi di prestigio. Sorge sulla collina di Torino con gradevole vista panoramica. Facilmente raggiungibile con l'autostrada. Moncalieri fornisce grandi centri commerciali e di intrattenimento.
Great location and apt. Very clean with a swimming pool just outside door. Car definitely required to get around/ get there but worth it. Had lunch is restaurant about 1 km from location and amazing experience. My 2 kids loved it- swimming all day and 25 min drive into Turin in the evening.
ray
2015-07-17T00:00:00Z
If you are looking for a charming retreat that won't cost you an arm and a leg, and don't mind a few backroads to get there, this place is it. Situated 5 minutes from the town of Moncalieri, and only around 25 minutes from Torino by car, you will find access to pool, parking, your own little kitchen + bathroom and shower, wi-fi, and a nice garden with deck chairs, in a one-room ground floor apartment next to fields, and Italian countryside. Nicoletta, the host and owner, was very welcoming and helpful during the stay.
Morten
2015-08-12T00:00:00Z
Nous avons été chaleureusement accueillis par Nicoletta dans ce petit paradis perdu sur les hauteurs du Piémont. Le matin au levé, nous avions la piscine à nos pieds, des fruits ou des gâteaux étaient discrètement offerts par notre hôte. Nous reviendrons, nous l'espérons. Un grand merci.
Fabienne
2015-07-13T00:00:00Z
Location molto carina anche se internamente un po' rustica. La piscina a un metro dal letto è senz'altro un grande valore aggiunto. Ospiti molto disponibili, contatto assai facile e efficiente. Probabilmente ci torneremo...
Paolo
2015-07-21T00:00:00Z
Nous avons passé 2 nuits super, pour un rapport qualité/prix excellent ! La piscine est très agréable car la chaleur est de mise !!
Marion
2015-08-07T00:00:00Z
Super, rien à dire. Nicoletta et sa famille sont géniaux. Appart conforme au descriptif, seul "hic" la chaleur, prévoir un ventilateur. Sinon calme total, idéal pour un bon repos et ce détendre.
loïc
2015-07-08T00:00:00Z
Non ho conosciuto Nicoletta di persona ma il posto è davvero una favola. Sono stata accolta in modo caloroso e allo stesso tempo riservato. Il monolocale è assolutamente come lo aspettavo.Ho avuto a disposizione la colazione e la piscina, che con questo caldo non fa male. L'unica pecca è stata un po' di caldo la notte, ma niente di invivibile. Come ultima cosa, se posso permettermi un consiglio, sistemerei le tende di modo da avere un po' più di privacy, qualche spiraglio rimane sempre aperto! Sicuramente tornerò, consigliatissimo per qualche giorno di relax.
Alessandra
2015-07-23T00:00:00Z
Bel posto immerso nella campagna ma molto vicino al centro di Moncalieri. Relax ed ottima ospitalità!
Vuccirìa
2015-05-17T00:00:00Z
Room Type
Entire home/apt
---
Property Type
Apartment
---
Accommodates
4
---
Bedrooms
Moncalieri, Piemonte, Italy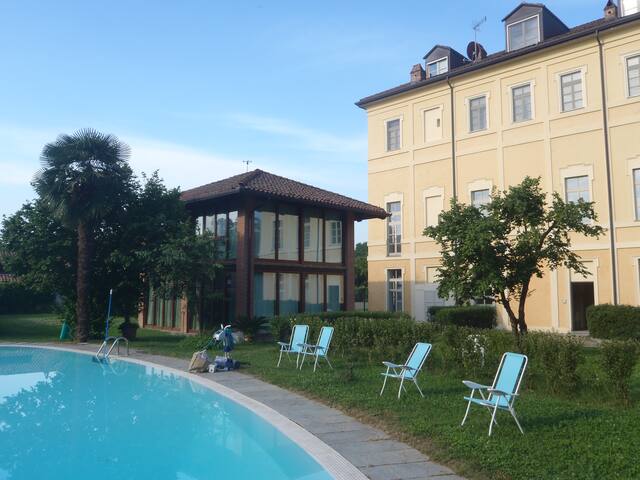 Medieval castle on the hills of Turin. 15 minutes away from the city center. There is a big natural green park that creates a wondeful and peacful atmosphere. Perfect place to relax and enjoy some good italian food. Very nice in every season.
The apartment has a common access but then it is totally autonomous. It has an antique key internal closure.
You are surrounded by nature and there is a wonderful view on the Alps. Moreover, this will allow you to live the atmosphere of how it is to stay in a castle of the IX century.
After a warm welcome from the whole family with a "guided tour" around the garden and the property we saw our apartment; beautiful. It was a good "starting place " for us to go to Turin. The town of Moncalieri was very nice to have dinner in the evening. All en all, we loved being there!
Govert
2016-04-29T00:00:00Z
This appartment was great and unique! You feel welcomed by the big entrance leading to the most beautiful gate to the appartment. The appartment was nice and clean, overall fully equipped . And the view was amazing. Roberto and his family welcomed us very kindly so overall a great experience.
Dorieke
2016-07-08T00:00:00Z
We had a lovely stay in this beautiful castle. The owners are very nice and helpfull and speak very well English. From the castle you can walk down to the busstop in 20 minutes and get the bus to the Torino city centre. The appartment was clean, quiet and beautifully decorated! This is certainly a house we would visit again. Thank you, Roberto and family
(EMAIL HIDDEN)
2016-07-03T00:00:00Z
Formidabile! Great castle with stylish romantic interieur and a beautiful view into the ancient courtyard one side and moitainview on the other side! Recommendable! Very helpful and charming hosts! A challenge to mount uphill by bicycle
Henk
2016-07-30T00:00:00Z
Very nice stay, in a quiet environment, great welcome from the owners, who offered twice to drive me to Moncalieri - and once to the congress center in Torino! Thank you
jean xavier
2016-05-04T00:00:00Z
Roberto and his wife enabled us a once-in-a-lifetime option to live in a castle :-) Roberto'son welcomed us and he was very nice. He showed us everything and explained the things so everything was totally clear. For breakfast we had a nice choice of good tea. Roberto had a lot of recommendations for the region. The ones where to go eating were great, thank you very much for this! As we stayed only two nights there was few time to learn to know each other. But one morning Roberto and his wife were very attentive to catch us in order to talk a bit with us. They took time for us, are totally simpatico, open minded and explained us things about the castle they live in, showed us other rooms which was very interesting. We appreciated very much. So for us it's clear to come again! Thank you very much!
Marc
2016-07-17T00:00:00Z
If you ever have the opportunity to stay in this place, book immediately! The apartment of Roberto and his wife is actually worth taking a detour for. I absolutely loved it. This castle is the real thing: from the thick walls, to the towers, the big green terrain surrounding it and the winding road full with villa's and old city walls where the place is located. The town nearby (Moncalieri) is nice with good restaurants and coffee places (the hosts give good recommendations) and Torino is about 10-15 mins by car. The apartment is a treat to stay in: wonderful views of both the castle and its surrounding hills, comfortable bed, amazing shower, well equipped kitchen, comfy sofa, beautifully decorated, lots of privacy. Everything very clean. On top of it, Roberto and his wife are the best of hosts. They are super friendly, kind, communicative and they are open to give a full tour of the castle, share on the history and their own story. This is probably the most remarkable and unforgettable stay that I have had with Airbnb. I would love to return very soon and experience the castles in all 4 seasons! Thank you so much for sharing this extraordinary place.
Charlotte
2016-07-25T00:00:00Z
Roberto and family were fantastic hosts; thanks to an airstrike, we could only get there in the middle of the night, but they patiently waited for us and welcomed us warmly. The castle (as well as the area around it) is beautiful, what a place to stay in … The apartment is not medieval at all, but equipped with all amenities one could wish for, and not only coffee, a small snack, but also an impressive assortment of wine awaited us when we got there. Wonderful place, wonderful hosts, one cannot hope for more.
Martin
2016-06-27T00:00:00Z
Room Type
Entire home/apt
---
Property Type
Apartment
---
Accommodates
3
---
Bedrooms
Moncalieri, Piemonte, Italy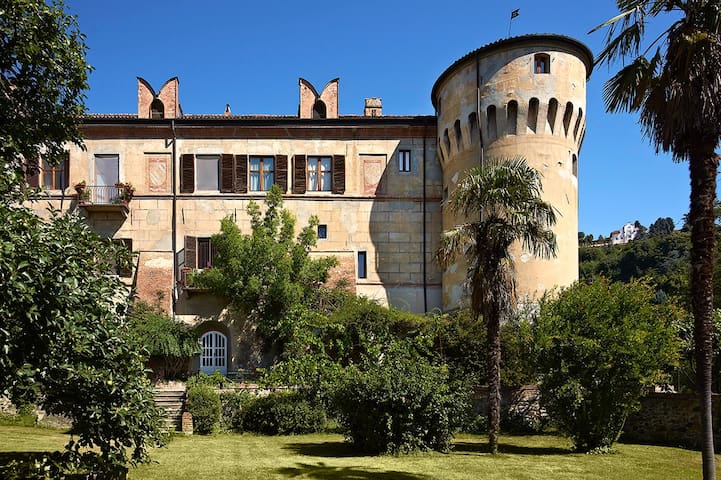 Well lit apartment perfect for couples, families, friends and business trips, but above all, for wine lovers. Quiet area and easy to commute around the city. LINGOTTO FIERE+EATALY: 5km - 8min (auto) - 20min (car) PIAZZA SAN CARLO: 9km - 16min (car) PORTA NUOVA STATION: 8,2km - 13min (car) LIMONI THEATER: across the street MONCALIERI HISTORIC AREA: 1km - 2min (car) MONCALIERI TRAIN STATION: 1km - 2min (car)
A corner of the house is reserved to an excellent wine selection of local and international wine. The bottles may be consumed and be paid when you check-out. There is also a relaxing reading corner where you can enjoy a good book and taste great wine.
Esperienza fantastica! Proprietari disponibili,due persone veramente squisite... appartamento pulitissimo,fornito di tutti i comfort... Mi sono sentita a casa ! Consigliatissimo! Le foto parlano da sole.
Maria
2017-04-03T00:00:00Z
Casa molto curata nei dettagli, pulizia impeccabile, host molto gentili e disponibili. Nulla da dire
Paolo
2017-03-10T00:00:00Z
Fabrizio e la moglie si sono dimostrati davvero gentili, puntuali, precisi e tutto rispecchiava alla grande le aspettative. La casa è meravigliosa, pulitissima e non manca nulla. Anche la veduta sulla collina e su Torino hanno il loro perchè. Di sicuro, se ne avessi necessità, ci tornerò.
Alberto
2017-03-19T00:00:00Z
Siamo rimaste incantate da questo appartamentino, pulitissimo, curato in ogni dettaglio, bello. Ottima accoglienza, tanti pensierini gentili tipo snack, tisane e cioccolatini. Non potevamo veramente desiderare di più.
Isabella
2017-04-09T00:00:00Z
OTTIMO! Appartamento ristrutturato, ampio e curatissimo nei minimi dettagli, dall'originale tematizzazione messicana. E una spettacolare vista sulla collina di Torino :) La cucina è fornita di tutto quanto possa servire, dalle stoviglie al caffè. Fabrizio è gentilissimo e molto disponibile. Ci torneremo !!!
Carla
2017-03-12T00:00:00Z
Fabrizio è un ottimo host. L'appartamento è molto carino ed efficiente. Ottima posizione per lavorare alle fonderie limone.
orlando
2017-03-26T00:00:00Z
Room Type
Entire home/apt
---
Property Type
Apartment
---
Accommodates
4
---
Bedrooms
Moncalieri, Italy
The loft is located right in Moncalieri, bordering Turin, with most bus stops on the doorstep to reach different parts of the city. From the small terrace you can enjoy the beautiful view of the hill. It's 10 minutes away from 'ITC-ILO in Turin.
The attic is located exactly in Moncalieri, on the border with Turin, with most bus stops just below the house to reach different parts of the city. From the small terrace you can enjoy the beautiful view of the hill. International Training Centre of the ILO (ITC/ILO) - Turin is situated in 10 minutes walk The attic has 2 beds, a comfortable sofa and a long terrace where on certain days you can see all the mountains of Piedmont and Turin hills always present. Right in front of the house goes with the coach who in 30 minutes you are in the center of Turin! 'S apartment was texturized 4 years ago, so it is like new and furniture (bedroom, kitchen, bathroom, hallway) are practically new! The house also has washing machine. At 10 minutes (walk) away is the Museum of the 'Car of Turin, one of the most' important 's Europe. Downstairs there are all the shops for the necessary, the bakery at the grocery store pharmacy to taccheria. We are always available for any kind of help or information. In front of the building, across the street there is a 'green area, a communal garden where you can read a nice book to' open air.
In front of the building, across the street there is a 'green area, a communal garden where you can read a nice book to' open air.
The host canceled this reservation 7 days before arrival. This is an automated posting.
Romero
2016-12-23T00:00:00Z
The host canceled this reservation 40 days before arrival. This is an automated posting.
chiara
2015-11-25T00:00:00Z
All the combinations and informations provided by the host were provided quickly and precisely. The apartment is really clean and cozy :-) I caught a great weather in there during my stay and the outside area was perfect. The suite is very useful and chic. I had a great time. Barbara and Andrea were very organised- called to let me know anything about this house and the city of Torino. They are very easy to reach and get help from when necessary. Also, they are so sweet for preparing some snacks, foods and drinks to me. They are very kind and thoughtful hosts. Recommend Barbara and Andrea's place for anyone looking for a quiet and well-designed place.
Yangdiexu
2016-09-18T00:00:00Z
It's a great apartment, particularly if you're planning to spend your time in the southern parts of Turin (Lingotto, Nichelino, Moncalieri, UN buildings). By transit, it takes about 45min to get to the Latin quarter, and 30min to Porta Nuova/San Salvario - although once the new metro line is complete, it will be very convenient. The apartment is modern and renovated, with a nice balcony that has a view of the Alps. When issues arose (burnt lightbulbs, heating problems) they were quick to fix it. It's great for independent people and there are lots of amenities in the nearby streets and piazza. Overall, a great place!
Nyiri
2016-12-18T00:00:00Z
The place was very clean. It was a comfortable stay. Transportation means were ok. The best part was that Andrea was very kind and helpfull. He has been very responsive when I needed. Overall, I think that this apartment is a good alternative in Torino.
Bahadir
2015-12-01T00:00:00Z
The reservation was canceled 8 days before arrival. This is an automated posting.
Linda
2012-10-15T00:00:00Z
L'appartamento è nuovo e molto carino. Per noi non è stato un problema, ma forse è utile sapere che ci sono molte scale da fare... Anche se un pò distante, il centro è raggiungibile comodamente con bus e metro. Andrea e Barbara sono stati molto disponibili ed elastici con i nostri orari. Consigliato!!
Eva
2014-11-10T00:00:00Z
alloggio moderno molto pulito e accessoriato ho passato un fine settimana con la mia ragazza abbiamo pranzato e cenato non ci è mancato veramente nulla. in una posizione perfetta per i mezzi a soli un 15 minuti dal centro. host molto disponibile a qualsiasi richiesta.
Simone
2017-02-06T00:00:00Z
Room Type
Entire home/apt
---
Property Type
Apartment
---
Accommodates
2
---
Bedrooms
Moncalieri, Piemonte, Italy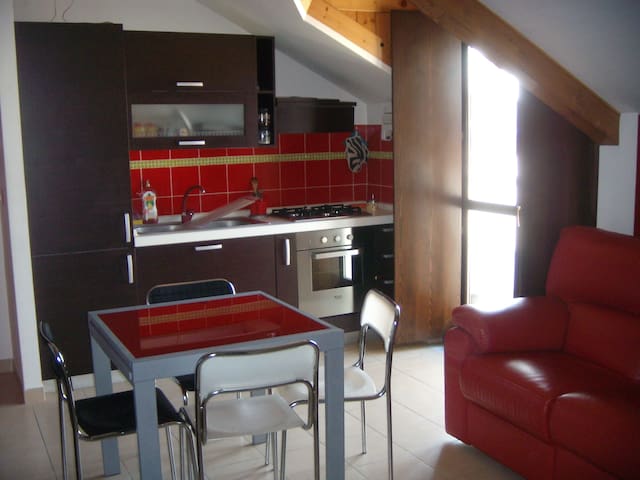 Bright and cozy apartment in the historic center of Moncalieri completely renovated comfortable services with bus stops under the house that connect Torino, hospitals and Lingotto fairs in minutes. Train station at 20 meters.
The accommodation located in a beautiful period building end 800 completely renovated, on the 3rd floor, lift, living sitting area hallway 2 bedrooms kitchen bathroom balcony square meters. 70 renovated and furnished with quality. Convenience of parking. It can accommodate up to 4 people.
And 'it situated nel'incantevole old town that is rich in mansions and architecture artistic value and historical value with alleys, corners and streets that bear in their tradition, culture and prestige that over time have become one of the Piedmont and northern pearls Italy. Within walking distance of the Royal Heritage Castle, one of the most important architectural works of our country. There are several churches that are worth a visit. There are many local bars and restaurants in addition to the antiques market this first Sunday of every month
The apartment was absolutely beautiful ! Well layed out,two large double rooms. A nice bathroom and a large kitchen with a communal balcony. Breakfast was layed out ready for the morning with large fresh bottles of water in the fridge along with orange juice and yogurts. On route to the apartment from Nice France we experienced car troubles and were substantially late but we were made feel at ease as soon as we got here. I would highly recommend this apartment for anyone to stay in, nice quiet area during the night and busy during the day with a supermarket located directly beside the entrance. Perfect ! Thank you very much for our wonderful stay
John
2016-08-24T00:00:00Z
Sono stato accolto con grande cortesia, l'appartamento è molto confortevole e ben arredato, è stata un'eccellente sistemazione per il mio soggiorno a Moncalieri.
Luigi
2015-11-14T00:00:00Z
Marco Cinzia dono persone molto accoglienti e davvero molto disponibili. l'alloggio è davvero molto bello, pulitissimo e accogliente. Cinzia ha grande cura e premura per i suoi ospiti.
Annabella
2016-12-01T00:00:00Z
Marco und Cinzia haben die Wohnung technisch modernisiert und sehr geschmackvoll eingerichtet. Zudem sind sie ein absolut nettes Gastgeberpaar. Cinzia hat die Wohnung während meines dreimonatigen Aufenthaltes dort regelmäßig mit frischer Wäsche versorgt und besser geputzt, als ich es je gekonnt hätte! Die Wohnung ist per Bus und Bahn sehr gut ans Zentrum in Turin angebunden, die Versorgung ist durch Geschäfte in unmittelbarer Nähe und Bars wie auch den wöchentlichen Markt bestens gesichert. Einziger Nachteil ist die stark befahrene Straße, die am Haus vorbeiführt, die Schallschutzfenster halten den Lärm jedoch sehr gut ab, solange sie geschlossen sind. Ich habe mich jedenfalls in der Wohnung und vor allem als Gast von Cinzia und Marco sehr wohl gefühlt und. Vielen Dank für die vielen netten Gespräche über Italien und anderes, liebe Cinzia!
Ute
2016-07-17T00:00:00Z
Vi var meget glad for vores ophold i Marcos lejlighed . Marco og hans kone er meget søde,gæstfrie og hjælpsomme.Lejligheden var ren og pæn og havde alt hvad vi havde behov for. Vi fik Marcos telefon nummer så vi kunne ringe hvis havde brug for noget i lejligheden. Det fungerede godt. Vi kan varmt anbefale Marcos lejlighed.
Mariann
2014-10-01T00:00:00Z
Logement parfait avec des hotes tres gentils. je recommande
Gregory
2017-04-07T00:00:00Z
Abbiamo alloggiato nell'appartamento di Cinzia e Marco per tre notti. Al ceck in ho conosciuto Cinzia che si è dimostrata molto gentile e disponibile. L'appartamento era molto pulito e dotato di ogni comodità. Al nostro arrivo abbiamo trovato una tavola imbandita per la colazione e Cinzia ci ha lasciato delle ottime brioches! Lo consiglio anche per l'ottima posizione centrale, ma in un condominio molto tranquillo!
Paola
2016-11-28T00:00:00Z
Grazie a Marco e Cinzia per la loro cortesia. Durante il nostro soggiorno, durato tre settimane per motivi di lavoro, non ci hanno mai fatto mancare la loro disponibilità. L'appartamento è appena stato ristrutturato ed è ideale per gruppi fini a quattro persone. Si trova davanti alla fermata di numerose linee dei bus che collegano il centro di Torino, il parcheggio notturno è agevole ma attenzione al mercato del venerdì mattina che occupa tutta la piazza antistante e impedisce il parcheggio il giovedì sera (bisogna ricordarsi altrimenti ti trovi l'auto tra le bancarelle, Nel complesso, anche per chi vuole visitare Torino, può essere un soggiorno ideale. Grazie ancora Cinzia
Patrizio
2017-03-11T00:00:00Z
Room Type
Entire home/apt
---
Property Type
Apartment
---
Accommodates
4
---
Bedrooms
Moncalieri, Piemonte, Italy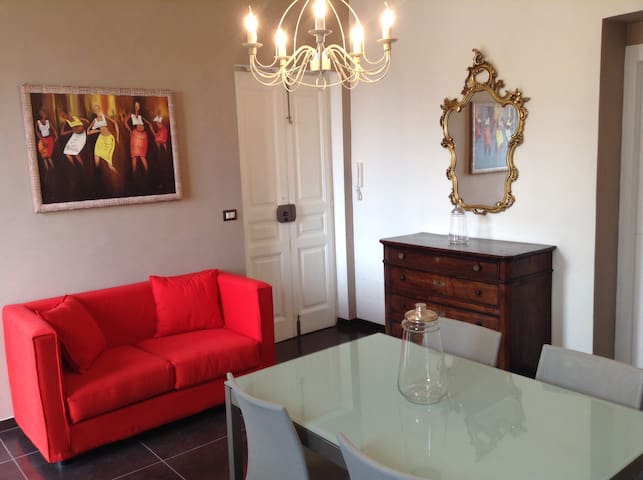 Consisting of double bedroom, kitchen, bathroom, living room with sofa bed and two balconies. Near Molinette / CTO, at the Lingotto / Eataly, the Valentino Park and the museum dell'automobile.E 'convenient to the ring road and highways. Bus stop under the house with which in a few minutes you reach the metro which connects to the city center and stations Torino.Vicino of the old town and the Moncalieri station (10mins walk), supermarkets and services. Ample free parking underneath.
Квартира большая, светлая, теплая и комфортабельная. Полностью укомплектована всем необходимым для жизни. До центра города 25 мин. (Автобус+ метро).Нам очень понравилось пребывание в гостях у Джулии. Ее папа Джанни очень приветливый и отзывчивый. Надеемся встретиться с ними вновь!
Alex
2017-02-09T00:00:00Z
ottimo soggiorno - abitazione spaziosa per tutta la famiglia - comoda - a pochi km dal centro della citta e ottima per esplorare torino. si parcheggia facilmente - cortesia e disponibiità da parte di Giulia
Andrea
2017-01-07T00:00:00Z
Bell' appartamento caldo e luminoso, io avevo la macchina ed è stato semplice spostarmi;il papà di Giulia che ci ha dato le chiavi è gentilissimo.
Erika
2017-01-03T00:00:00Z
Room Type
Entire home/apt
---
Property Type
Apartment
---
Accommodates
4
---
Bedrooms
Moncalieri, Piemonte, Italy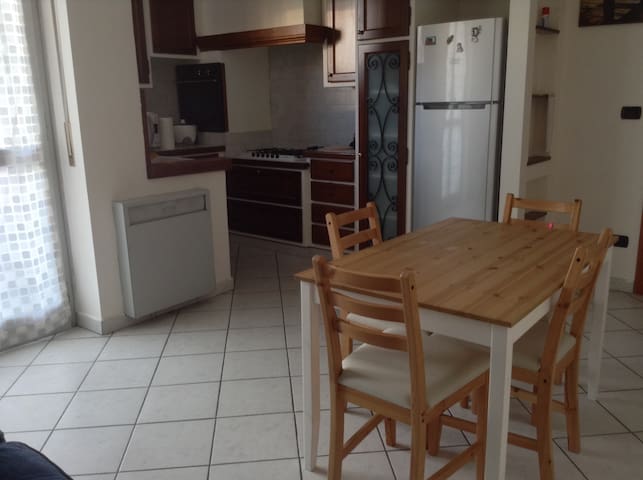 L'appartamento è stato sottoposto ad una ristrutturazione appena terminata. Abbiamo cercato di renderlo il più confortevole e piacevole possibile. Avrete a disposizione il bagno con doccia idromassaggio, una zona per mangiare e una grande camera da letto matrimoniale (possibilità di aggiungere un terzo letto).
Avrete una cucina completa e attrezzata a vostra esclusiva disposizione. Troverete qualcosa da bere e da mangiare, la possibilità di farvi un buon caffè o the'.
L'appartamento si trova nel centro storico di Moncalieri, ad un passo dalla piazza principale, una della
Room Type
Entire home/apt
---
Property Type
Apartment
---
Accommodates
3
---
Bedrooms
Moncalieri, Piemonte, Italy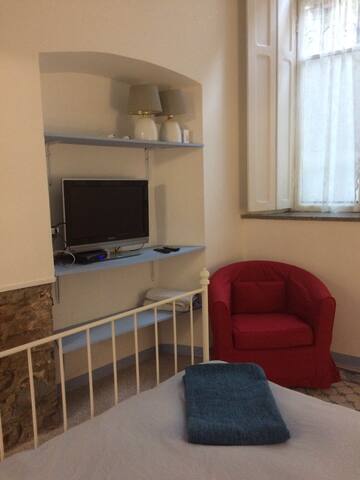 Квартира расположена в очень тихой улице в старой части города Монкальери, в нескольких шагах от замка; в пределах досягаемости больших ресторанов, пиццерия и отличное качество продовольственных магазинов; Квартира светлая и дружелюбная.
В историческом центре города Монкальери, в 10 минутах езды от Турина, в старом доме мух найдут уютный и яркий полностью перестроен. Две спальни гостиная с кухней. Удобная транспортная развязка, магазины, рынки (местный рынок каждую пятницу и каждое первое воскресенье месяца на рынке антиквариата).
Это старый район, с богатой историей и очарованием, в ясный день у вас есть прекрасный вид на Альпы
We stayed at Casa di Anna for four days with our two children, 4 and 6 years old, and we absolutely loved it! The appartment had everything we needed, was very tidy and cosy, felt like home! Anna welcomed us warmly and gave all the information we needed but also checked during our stay several times if we needed anything. We would definitly come back here! Moncalieri was very charming, very nice pizza restaurant and icecreamshop nearby. Torino was a real discovery. The city itself but also a lot of musea were excellent. We also enjoyed 'Aperitivo': Between 6-8 h you get some 'tapas' with your drinks at several places, very nice atmosphere!
Ruth
2014-08-21T00:00:00Z
We had a very pleasant stay at Anna's appartment. Its location is right in the little historical center of Moncalieri, which is a very pleasant and quiet old place with a lovely square and the best ice-cream shop ever (Gasprin). 5 minutes walk is a free car-park. At the same time, in 10 minutes drive, you'll be in the center of Torino. The flat itself is very spacious, light and comfortable, with a large living area, open kitchen and 2 large bedrooms. It is decorated in a pleasant way to make you feel at home. Anna is friendly and helpfull, and very patient, as we arrived more that 1 hour after our estimated time and still plenty of smiling! All in all one of the best appartment rentals we have enjoyed. Highly recommended!
David
2013-11-12T00:00:00Z
We had the most perfect stay at La casa di Anna! Before the arrival the communication was fast and clear. At the arrival we was meet by Anna who showed us the beautiful apartment, the parking, the surroundings and gave us useful tips. Anna is truly the perfect host! The beautiful and spacious apartment is situated in a safe and exclusive spot with a fantastic view with all you need in a short walk. We easily took the bus (15 minuts) to Torino to visit the Terra Madre (slow food) fair. In the morning we drank coffee at Rivetti in the towns square and in the evenings we had delicious meals at the local restaurants. We have a lot of experience of traveling in Italy and this was absolutely one of the best stays ever!
Malin
2016-09-25T00:00:00Z
We had a very nice time in Moncalieri and most of it was because of Anna's apartment :) I travelled with my two colleagues for a music competition and the apartment was perfect for us. Very warm and cozy and still quite big. The location is the best in Moncalieri, in the old town next to the main square and very close to restaurants with delicious food - we enjoyed very much Anna's recommendation of a very nice pizzeria in front of the old castle. Delicious. You'll be in good hands if you stay here. :)
Victor
2013-10-23T00:00:00Z
We spent a nice short holiday stay at Anna's place. We were 2 adults, 2 kids - 9 and 3 : one room for kids with two real single beds and one room for the parents with a large real bed. The appartement is spacious, bright, exceptionnaly clean and well furnished. The place is well positioned, two minutes walking to several restaurants, galetaria or panetteria; also it is a very quiet neighborhood. Bus stop for Torino : 5 min walking, train station : 10 min walking. Great ! Anna is very welcoming, she took time to explain us everything about the appartement and she was very accomodating.
Laurent
2014-06-02T00:00:00Z
Anna's house was wonderful - the photos don't do it justice! I stayed with three other adults and there was heaps of space. Wonderful views of the sunrise over Moncalieri from the balconies. The area is so charming as well. Highly recommend!
Ali
2013-12-08T00:00:00Z
Anna is an amazing host. She met us the first day and provided us with all the tips we needed for a marvellous stay. The flat was amazing - beautiful, large and tastefully decorated. Moncalieri is a historical quaint town and we loved our daily visit to the coffee shop. The shops were gorgeous, the townspeople very friendly! Can not use enough superlatives to describe our time there!!
Janet
2014-10-29T00:00:00Z
Solo una cosa ...andate sul sicuro!
Mariano
2016-11-01T00:00:00Z
Room Type
Entire home/apt
---
Property Type
Apartment
---
Accommodates
4
---
Bedrooms
Moncalieri, Piedmont, Italy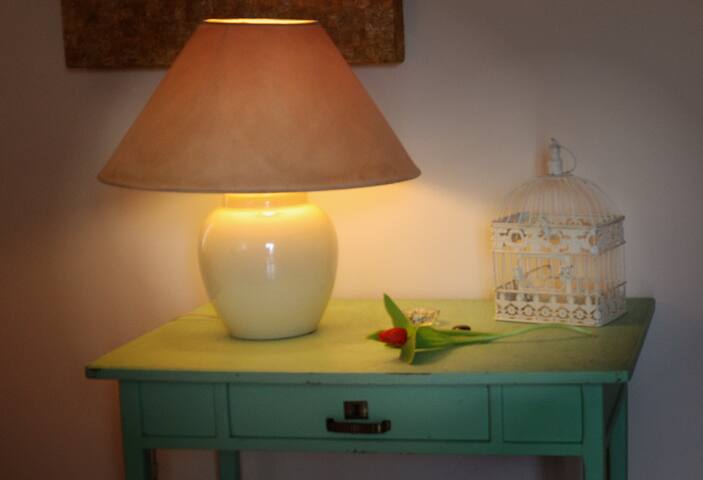 entire apartment in Moncalieri Borgo San Pietro, in the square area Benghazi (Turin South). Very bright and can comfortably accommodate 2 people + ev sofa bed for third person. Convenient services (supermarkets ..)
A 1-minute walk from the main streets of the neighborhood (Via Sestriere / Corso Roma). A 1-minute walk from the bus stop for Turin (bus + metro 20 'from the center) and hospitals (15' by the CTO / Molinette). 1 minute walking from headquarters main streets (Via Sestriere / Corso Roma). 1 minute walking from the bus stop to / from Turin (bus + metro 20 'to Turin Center) and to hospitals (15' to CTO / Molinette)
very friendly and she went out of her way to come and find us when we got lost! (oops) Lovely and apartment and fairly easy to get to the main centre, its a nice walk there (long but nice once you reach the river and can walk along the river back towards the city) definitely recommend staying here
Lauren
2015-09-21T00:00:00Z
We were greeted with a warm welcome by the host. The apartment was situated on a very quite side street. It comfortably accommodated 3 people. It has been well renovated and is located with local amenities and has easy access to public transport to the centre of Turin. We highly recommend it and would definitely consider staying there again.
roberto
2016-03-30T00:00:00Z
Elisa was very helpful and accommodating when my flight was delayed by five hours and I got into town well past midnight – she stayed up to give me a lift to the apartment, even though she had work in the morning :) The large supermarket right nearby was also very handy.
Zoë
2016-10-15T00:00:00Z
As always we had a very pleasant time! Thank you.
roberto
2016-10-25T00:00:00Z
Perfect, as usual
Fabio
2015-08-27T00:00:00Z
Perfect, as usual
Fabio
2015-09-11T00:00:00Z
Elisa made her best to make us feel welcome and we appreciate that.
Adrian
2016-05-30T00:00:00Z
Impeccabile
Fabio
2015-09-25T00:00:00Z
Room Type
Entire home/apt
---
Property Type
Apartment
---
Accommodates
3
---
Bedrooms
Moncalieri, Piemonte, Italy
Trofarello - Airbnb
:
Average

4.83

out of

5

stars from

198

guest reviews
1

–

18

of

188 Apartment Rentals
Enter dates to see full pricing. Additional fees apply. Taxes may be added.