..in the heart of an ancient village of the Ligure, in the spaces obtained by revisiting the interior of the old house, you will find all comforts without losing the charm of its centuries-old history awakening within them with the flavors of local products
Among the narrow streets of the village of Roussillon, in the Ligurian Apennines quiet, you will find a comfortable bed one step away from the sea. In the midst of two unique national parks in the world you choose to venture on foot or bike on the trails in the high street, or take a train and in just half an hour to reach and explore Genoa, La Superba
Very beautiful place in a small town very wonderfull. Our host was very friendly. The breakfast was excellent. A nice place close to Genova.
Matthieu
2015-08-21T00:00:00Z
Andrea è stato di una cortesia e di una disponibilità assoluta. Sotto ogni punto di vista, dall'accoglienza alla sistemazione, il soggiorno è stato perfetto. La camera è bella e pulita con un bel bagno. Ricca anche la colazione offerta. Consigliatissimo!
fabrizio
2015-08-17T00:00:00Z
Alles Bestens Danke
Tamara
2016-08-22T00:00:00Z
Fue una muy buena experiencia gracias por su simpatía y amabilidad
Veronica
2016-08-08T00:00:00Z
Super accueil!! Logement propre avec salle de bain privative. Andrea a mis en place des lits supplémentaire pour mes enfants et a été de très bonne compagnie avec nous. Nous avons même eu la chance de gouter au Tiramisu de la "Mama": parfait!!
Cynelle
2016-08-15T00:00:00Z
In questa casa ho trovato un'accoglienza calorosa , il posto è tranquillo, situato in punto dove raggiungi il mare se vuoi o la montagna se vuoi,ottima pulizia,colazione naturale, ci tornerò presto
Susi
2016-08-20T00:00:00Z
L'accoglienza è stata perfetta. La Mamma di Andrea, Olga, è molto premurosa e disponibile. La descrizione della stanza e del posto corrispondono alla realtà. La casa è rinnovata bene. Complimenti ad Andrea per il lavoro effettuato!
Clara
2015-09-17T00:00:00Z
Ottima ospitalita' è simpatia in questo Borgo caratteristico, grazie di cuore per l'accoglienza
Daniele
2016-07-30T00:00:00Z
Room Type
Habitación privada
---
Property Type
Bed & Breakfast
---
Accommodates
2
---
Bedrooms
Rossiglione, Liguria, Italy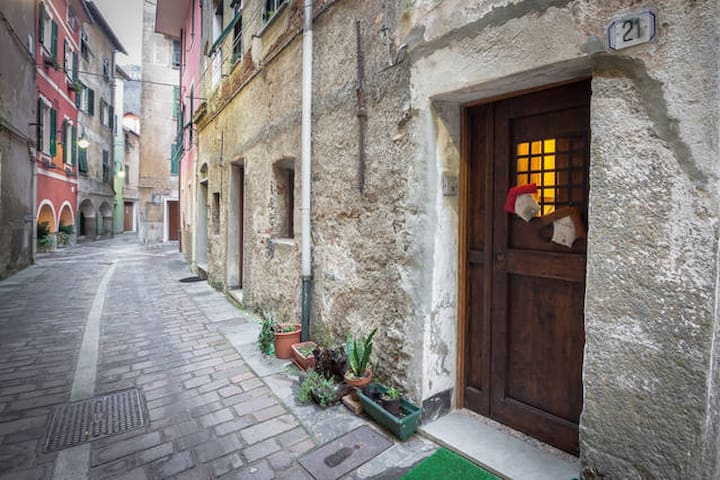 The house is located in the historic center of southern Lower, fully renovated hotel offers comfortable and welcoming environments. Breakfast is prepared with local products (milk, yogurt, honey, jam) Just five minutes from the train station and there are no parking problems. Pets are welcome! The entrance to the Beigua Geopark, a UNESCO heritage site, is just a 15 minute walk. There are excursions with a guide and training TRAIL (FIDAL athlete).
The Green Room, for guests only, is located upstairs in the attic. The bathroom for the guests is in the hallway next to the room.
Around the corner is a great restaurant with local cuisine Ligurian / Piedmontese and excellent wines, just beyond a Pizzeria / Trattoria. The oven behind the house bakes the best focaccia whole Stura Valley!
Room Type
Habitación privada
---
Property Type
House
---
Accommodates
2
---
Bedrooms
Rossiglione, Liguria, Italy
We offer a big home, vintage style but completely renewed up to 7 people, in Rossiglione - a small typical Ligurian village in the Appennino area (mountains) 30 km from Genoa and the sea. Milan is 120 km far away and the shopping paradise - the outlet village in Serravalle - around 40 km along the way to Milan. Our home is on the ground floor with two terraces and a garden in common with other apartments and parking. Wi-fi free. Washing machine. Welcome breakfast. No final cleaning fee.
Our home is with indipendent entrance on the ground floor, completely renovated in 2014, with two terraces and a garden in common with other apartments and free parking. We also offer free wi-fi and no final cleaning fee. You will find a big kitchen equipped with stove, fridge, dishes, moka, kettle and pots and a terrace, 3 bedrooms (1 double room, 1 tween and 1 single room), 1 bathroom with shower, 1 living room with double sofa bed and access to a huge terrace. Our facilities: - free wi-fi connection - bath towels and bed linen - TV (digital – only Italian channels) - washing mashine (detergent available) - welcome breakfast (coffee, tea, milk, jam, biscuits, mineral water) - welcome kit (soap / shampoo) and hairdryer - cloth slippers - for your dog: mat and bowls - free outdoor parking For babies: cot available free of charge. For any help my parents will be at your disposal on request.
On foot: market at 200 m, bakery at 150 m and other food stores in 200/300 m. By car: the nearest restaurant is at km 1,5 and others in the area. Pizzeria at km 1. It's also possible take away. Rossiglione is a small village 30 km away from Genoa, from the sea and 36 km from the Outlet Village. You can enjoy the typical non-touristic atmosphere of Liguria, the bar in the main square with old people playing cards, order a private home dinner, discover the woods, rivers and nature in the surroundings or reach the seaside in 30 minutes.
Our stay was fabulous! The location is perfect, clean and in the best of taste. Marinas parents are so keep me and helpful. It is a place to feel homelike. Even with 2 small kids we felt very welcome. The destination, near to the beautiful natural park is outstanding and gives you a taste of the real Italy, with its small pictorial villages and towns. However if you search for beaches and some tourism it is only a 30 minutes drive. This holiday was beautiful!
Lisa
2016-08-23T00:00:00Z
We though fly enjoyed our stay at your place. My family & I fell in love with your parents. Our only regrets was we could not speak their language. Would have loved spending more time to hear about their lives. Your Dad went up & beyond our expectations as a host when he drove his bicycle to the local pizzeria to show us the way their. Your place was very accommodating & comfy. We were sorry we didn't get the chance to meet you. Take care. Tom, Lynn & Laina - USA
Lynn
2015-06-22T00:00:00Z
A wonderful home, each room was decorated so well with 'retro' artifacts. Marina met us at the door with her father, they helped us with our bags and showed us through the lovely home and were available for us throughout the stay. We ate in the restaurant Marina recommended in town, it was not ranked the highest on trip advisor, however it was a really nice meal for our family of 5. A lovely hidden gem, very peaceful and quiet
Steve
2015-01-01T00:00:00Z
The apartment was great- very clean and with a lot of retro details. Lots of charm and very cute! Marina's father was very friendly and has also provided us with drinks in the fridge and breakfast cookies etc. Our dog also felt very welcome and they provided her with some goodies too (very nice touch!). We highly recommend this accommodation to other travelers- not only because it's very nice and impeccably clean but also because the hosts really take care of details and they made us feel welcome.
Ivana
2016-04-17T00:00:00Z
This is a a beautiful spacious place with style and perfectly clean. You feel the old Italy from the 70's all around you. Try the espresso Italian style and get some fresh bread from the local bakery just a few hundred meters from the apartment. The apartments are part of the old family house with high ceilings and beautiful stone floors. You receive a warm welcome upon arrival. Even the people at the pizzeria and the bakery were very friendly. You really feel the Italian style when you walk through the village.
Erwin
2016-08-06T00:00:00Z
Despite clear instructions from Marina, we still managed to get confused but the accommodation is actually easy to find and we were actually parked outside when Marina's father came to the rescue. This is a small village and very quiet with not too many tourists passing through. The apartment is as the photos depict. It is spacious and immaculately clean. Good coffee and a coffee maker with instructions is supplied as well as some biscuit treats which were yummy. As this is a small village there are not to many options for shops and restaurants. The closest restaurant is in the town square about 15 mins walk. It was booked out with a children's party the night we were there so we ended up at another place 1 or 2 minutes further away down a lane. This was not the best place to dine as the menu is confusing and unless you are Italian forget it. Overall Marina's place is is a little out of the way, but quiet. It is probably typical of northern Italian village.
Leah
2016-05-09T00:00:00Z
Our host was waiting for us at the gate of the property ready to show us around the spacious and spotlessly clean home. The big kitchen was well stocked with utensils and necessities such as coffee and milk (etc etc) breakfast biscuits and even snacks for the dogs. The dogs had a great time in the garden and for us it was a perfect retreat while attending a 3 day dog show in Genova. The balconies either side of the house are perfect for breakfast or drinks "al fresco". Rossiglione is a lovely, typical unspoiled village with a great bakers, butchers,small supermarket and even a market on Mondays. Our hosts suggested a couple of local restaurants all were good and incredibly inexpensive compared to the prices we are used to... The modern bright bathroom (shower) came compete with towels and toiletries. To resume, everything was perfect and I wouldn't hesitate to recommend this home to anyone looking to stay in the Genova area.
Oriel
2016-05-24T00:00:00Z
We were greeted very warmly by Marina's father, who showed us the apartment and made us feel at home. There were breakfast snacks and cookies waiting for us and a baby cot and chair for our little daughter. The apartment was fantastic, very spacious and clean, with lots of stylish decors and accessories. It was a pure pleasure to stay there. We had very nice and relaxing time and we can totally recommend it! Wish we could stay longer!
Krzysztof
2016-05-20T00:00:00Z
Room Type
Entire home/apt
---
Property Type
Apartment
---
Accommodates
7
---
Bedrooms
Rossiglione, Liguria, Italy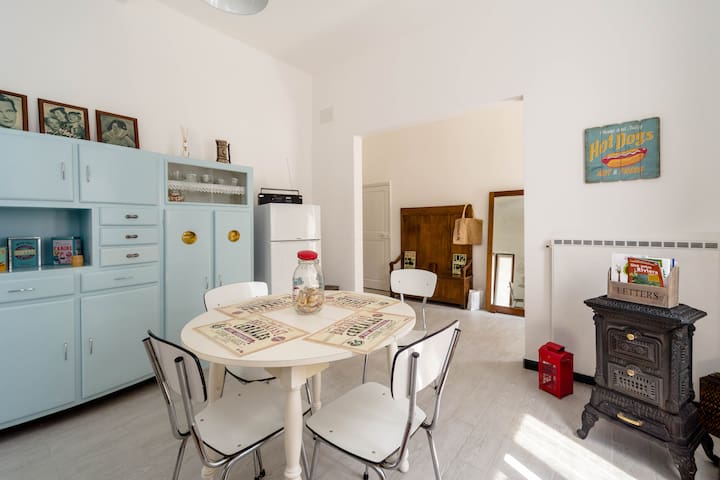 ..in the heart of an ancient village of the Ligure, in the spaces obtained by revisiting the interior of the old house, you will find all comforts without losing the charm of its centuries-old history awakening within them with the flavors of local products
visita il sito (URL HIDDEN)
Among the narrow streets of the village of Roussillon, in the Ligurian Apennines quiet, you will find a comfortable bed one step away from the sea. In the midst of two unique national parks in the world you choose to venture on foot or bike on the trails of the High Street, or take a train and in just half an hour to reach and explore Genoa, La Superba
This is a place with great potential, good to stay to visit Genova or go to the beach, great hosts.
Antonio
2015-08-16T00:00:00Z
Andrea and his mother were great hosts during our stay here in Rossiglione! We would like to thank them and Andrea's sister for very kindly helping in planning our walks in the nearby Valle Gargassa, as well as giving tips about nice places to visit during our rainy day. The room and location were great and everyone was very friendly and welcoming. We we were also treated to some lovely breakfasts with delicious cakes! Grazie mille!!
Lee
2015-10-29T00:00:00Z
I loved my stay in Rossiglione. I booked at the last minute but Andrea was very accommodating. I did not get to meet Andrea but his mother was very kind and welcoming. And Andreas sister, Simone, who spoke English very well came by to be sure I was doing well, make recommendations and answer questions for me. I really appreciate all the kindness. The apartment was amazing, a true work of art. It was very comfortable and had lots of extra touches.
Ken
2015-11-11T00:00:00Z
Very nice place. Warm and calm. Andrea was very kind. He and his mother welcomed us and made our breakfast ready in 4 AM because we had to leave early. The room was very nice, felt like home.
Alba
2015-08-09T00:00:00Z
It`s a really small village a little away, but in half an hour you are in Genova., and the special spirit there is great. We had a warm welcome and the room was great. I`d like to come back during sommer just to relaxe and see national parks with the great nature around. Thanks a lot
Benjamin
2015-10-12T00:00:00Z
Very nice house/room in Rossiglione. We were very well received by Andrea's mom at night and Andrea the following day. The room is nice and comfortable and the home made breakfast is amazing. I totally recommend this place and I would definitely come back if I had a chance.
Lucas
2015-10-10T00:00:00Z
Andrea, thank you very much for the warm welcome! I was really amazed by this great, almost 200 years old !!! - and just renovated house. Andrea has "golden" hands. I adore the smell of wood and the sense of peace the house is giving. This is undoubtedly a great deal for the money! The dining room at the last floor is great ... and there are more wonderful things still to be completed on the mansard - this will be great when finished ... unless Andrea decides to keep it private :) The village of Rossiglione is so lovely - a great place for relax and retreat. I only regret i have so less time to spend around. There is un UNECSO protected ancient forest, you should visit, they say :).
Martin
2015-08-20T00:00:00Z
Simple and clean room in a nice village. It was nice to stay
Lucas
2016-05-04T00:00:00Z
Room Type
Habitación privada
---
Property Type
Bed & Breakfast
---
Accommodates
2
---
Bedrooms
Rossiglione, Liguria, Italy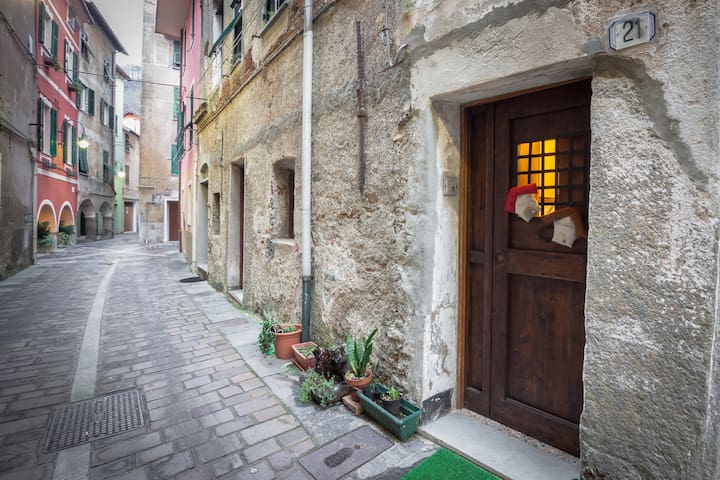 "La Maliarda" offers two bedrooms with private bathrooms, 9 places available, B&B service, half-board or fullboard, a warm inn heated with a wood stove and a sunny terrace for parties. There is also a funny Adventure Park!
The uniqueness of my offer is the contrast between the ancient walls of the farmstead, with its nineteenth-century tester bed, and all the comforts of our century: personal bathroom, satellite tv, Wi-Fi. The room can house up to five persons, with three beds in the loft.
My valley is beautiful because it's rich of woods, streams and small lakes. Along the road you can see breeding farms: it's like a small Switzerland. My guests should absolutely experience: the adventure park, the orienteering paths in the wood, the magic summer nights with dinner at dusk and stars-watch
Exelente lugar. Biancamaría una persona encantadora, muy dulce y amable. La habitación muy confortable, limpia, buena calefacción y muy buena señal de wifi. El desayuno preparado por Biancamaría con pan y tortas caseras muy ricas. El Parque Aventura muy completo vale la pena visitarlo. La única complicación fué que en (SENSITIVE CONTENTS HIDDEN) no está bien ubicada la casa, es mas lejos de lo que marca el mapa por lo que nos costó un poco llegar, de todas maneras estabamos comunicados con Giulia que nos ayudó a llegar sin problemas. Giulia que trabaja con Bianca es encantadora y ya que habla varios idiomas ayudó a que nuestra estancia fuera perfecta. Prometimos volver !!
Virginia
2015-04-06T00:00:00Z
Room Type
Habitación privada
---
Property Type
Bed & Breakfast
---
Accommodates
2
---
Bedrooms
Rossiglione, Liguria, Italy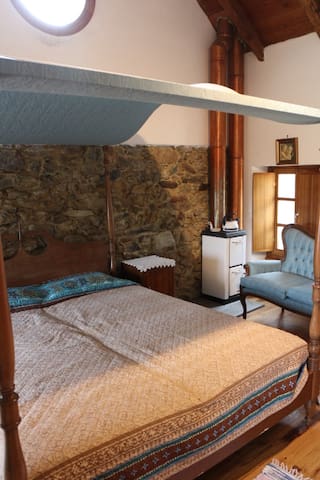 The house offers two large bedrooms, a living room / kitchen with sofa bed, a spacious bathroom. Fully furnished and equipped is an excellent solution for those who love nature. And 'situated in Roussillon in Stura Valley, the Beigua Natural Park.
Fully furnished and equipped. Private parking. Bed linen and towels are included. It is not included breakfast. Me and my family we use it as a holiday home one week a year.
Roussillon is located in the valley Stura and is part of the Beigua Natural Park. 40km from Genoa, 30km from the sea, 12 km from Ovada and 10km from Masone. It offers spectacular scenery and relaxing walks. It 'great for those who want to spend a few days in nature and relaxation.
Very friendly and helpful, even brought us clean towels in the middle of the week.
Bas
2016-08-14T00:00:00Z
Room Type
Entire home/apt
---
Property Type
House
---
Accommodates
5
---
Bedrooms
Rossiglione, Liguria, Italy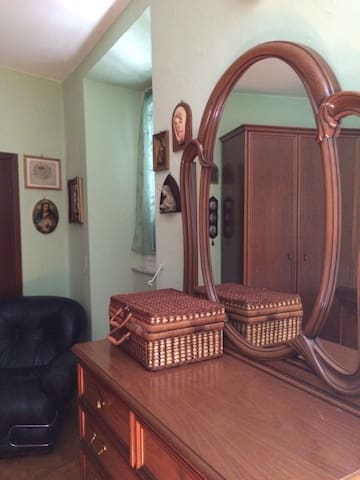 My accommodation is close to Citta'di GENOA. My accommodation is suitable for couples, business travelers, families (with children), large groups and furry friends (pets).
Room Type
Entire home/apt
---
Property Type
House
---
Accommodates
9
---
Bedrooms
Rossiglione, Liguria, Italy
Our welcoming room, obtained from a Medieval farmstead loft situated on the Francigena course toward Santiago De Compostela, it can comfortably house two persons. Peaceful area, far away from the traffic, 15 km far away the A26 highway and 5 km from Rossiglione FF SS station, Genova-Acqui Terme line. Half hour from the spa of Genova.
The uniqueness of my offer is the contrast between the ancient walls of the farmstead, with its nineteenth-century wrought-iron beds, and all the comforts of our century: personal bathroom, satellite tv, Wi-Fi. The room can house up to four persons, with two beds in the loft.
You can reach the agritourism by car from the state highway. You can reach Rossiglione town by train, Genova-Acqui Terme line. We provide a shuttle service. If the guest arrives at the airport of Genova or at the maritime terminal, we can do the shuttle service with fee.
Room Type
Habitación privada
---
Property Type
Bed & Breakfast
---
Accommodates
2
---
Bedrooms
Rossiglione, Liguria, Italy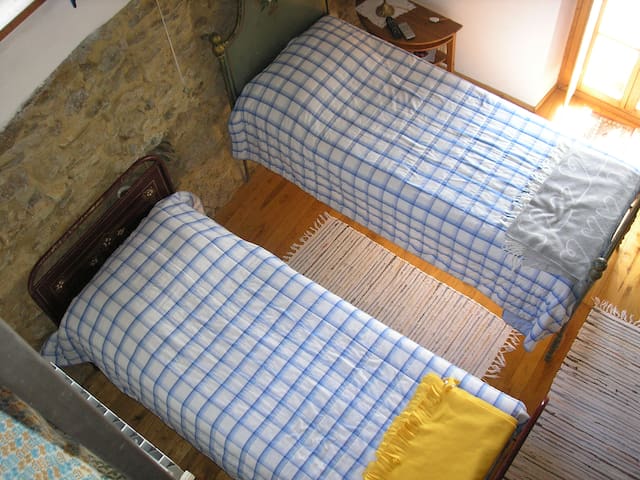 Enter dates to see full pricing. Additional fees apply. Taxes may be added.