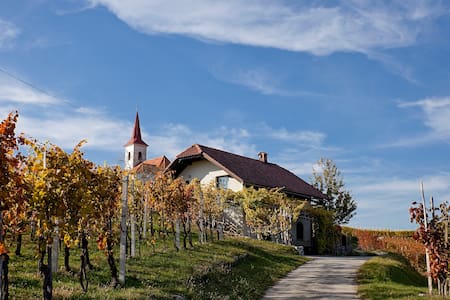 SUPERHOST
Entire house · 4 guests · 1 bed · 1 bathroom
Cottage in the vineyard, airport transfer,car rent
Warm vineyard cottage located 8 km from Metlika and river Kolpa between the vineyards. Peaceful place, no neighbours, quiet time for yourself enjoying pure nature. We can arrange you a car during your stay here so that your experience in Metlika is even better. Also we can arrange you airport transfer to Vidoišiči. You can go swimming to the river Kolpa, go around with our car exploring beautiful Bela Krajina or go hiking to different places around Metlika.
What guests are saying:
"Eva's place was sensational . A perfect little house for a Bela Kranjia escape. The place was super clean and has everything you need. There is a beautiful terazza with vines draping down and divine fig tree. You can walk through the rolling vineyards and stroll up to the neighbouring vineyard Sturm for a tasting. Metlika town is nearby ( a 10 minute drive) and the local castle has the best wine bar in Slovenia. Metlika has everything you need supermarkets etc. If you get sick of the Vidiosici views ( which is nearly impossible) you can spend your afternoons down at Primostek on the River Kolpa to relax and swim or doing wine tastings at the nearby wineries. Eva recommended her cousin Francie who does airport transfers and driving around the region – he was excellent and highly recommendable for any transfers or long commutes you may need. Francie helped us with Airport transfers and transfers to the Coast. Just a handy note if you stay in Vidosici you really need a little car – Vidiosici is a tiny village with no shops so Metlika is closest for buying food but you need a car – it is too far to walk. But as a base in Slovenia it is great – 1 hour to Zagreb, 1.5 hours to Ljubljana and 2 hours to the Croatian Coast or Slovenian Coast. We didn't get to meet Eva as she was away but she left the Keys at the Wine bar and we grabbed them there and we are familiar with Vidosici so find her place was no problems. Visiosici is now on GPS so you can also just punch the address in. I would highly recommend staying at Eva's Zidanica (little house) for relaxing by the vines or for exploring the beautiful region of Bela Kranjia. Thank you Eva , we will see you next year when we return to Vidosici! Hvala Lepa Eva ! ! Martina & Michael"
Nice private room next to the river Krka. It is in the centre of Novo mesto. Under the room there is a restaurant Gostišče Loka with great food and the best desserts in this part of Slovenia. You can also have all meals there for extra price. You can also rent a boat for free in our place.
What guests are saying:
"Clean, nice room with a little balcony over a restaurant which is directly on the Krka river. Large French doors, so its full of light in the afternoon; in the morning the sun rises behind the building so it doesn't get too hot. Exciting selection of cakes in the restaurant below and yummy pancakes with fruit. Just a note: because of liability issues/new regulations, the boat mentioned in the listing is no longer available to borrow and in fact no canoes or rowboats are available to rent anywhere on this beautiful stretch of river."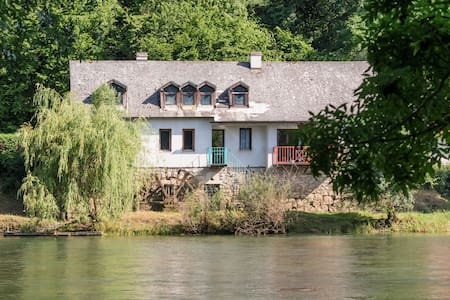 PLUS
Entire house · 6 guests · 4 beds · 1 bathroom
Savor the Seclusion at a 19th-Century Riverside Mill
Meditate in the bamboo grove at an artist's retreat on the banks of the Krka river with no immediate neighbours. Head out in the boat for a relaxed morning of fishing, then gather on the terrace for sunset views and curl up by one of 2 fireplaces.
What guests are saying:
"We stayed at the mill for one week and enjoyed every single day. Booking was effortless and smooth as Vid was very responsive and helpful. The mill is literally located in the middle of nowhere, facing the Krka river on one side and a forest on the other. So if you plan to spend some time for unwinding this might be the perfect place for you. The region offers opportunities for swimming, fishing, going by boat as well as hiking or biking. The property includes a large garden with a beautiful relaxation zone and an extensive kitchen garden. The house is fully equipped (especially the kitchen) and tastefully decorated, the facilities though are more functional than luxurious. Parents of toddlers might be concerned about some spots on the property, e.g. the terraces without guard railing. For us, this was of no relevance and we spend a relaxing and restful time at the mill!"