Całoroczny domek do wynajęcia w atrakcyjnej części Bieszczadów, w Ustjanowej Górnej. Jest to nowo wybudowany, dwupoziomowy domek wakacyjny. Na dole salon z aneksem kuchennym, kominkiem, rozkładaną, dwuosobową sofą oraz łazienką. Na górze dwa przestronne pokoje z widokiem na góry. Każdy pokój posiada po jednym łóżku dwuosobowym oraz jednym jednoosobowym. Z salonu wyjście na ogród gdzie znajdują się meble ogrodowe, leżaki, trampolina, piaskownica, grill oraz miejsce na ognisko.
What guests are saying:
"Маленький затишний будиночок недалеко від прикордонного переходу з Україною. Прекрасне місце відпочити перед подальшою дорогою. Самостійне поселення дає вам можливість не переживати з приводу розрахунку часу по проходженню кордону. Andrzej був постійно на зв'язку і його чіткі інструкції допомогли нам швидко дістатися до будиночка і розтопити камін. Камін (пелети) швидко прогрів кімнати і створив особливий затишок. На вулиці йшов сильний дощ, тому ми не скористалися двором, але є можливість розпалити багаття, зробити барьекю. Для дітей є дитячий майданчик. Дякуєм, Andrzej!"
Cypel Werlasu znajduje się nad jeziorem solinskim. Jest to cicha i spokojna miejscowość z dała od zgiełku i hałasu. Idealne miejsce na wypoczynek rodzinny z bezpośrednim zejściem do jeziora. W miejscowości Werlas są tylko prywatne domki wypoczynkowe, nie ma dużych ośrodków. Jest jeden bar gdzie serwowane są gorące posiłki oraz Zagroda Żbyr z dobrym piwem, muzyka, oraz posiłkami.
What guests are saying:
"Cottage in a great location - close to go down to the river, close to shops and nearby restaurants. Well-kept place, with full garden equipment: grill, table, chairs, deckchairs. Cottage uniquely equipped - with all necessary equipment in the kitchen and other rooms, and additionally beautifully furnished and comfortable. A sensational, unprecedented addition are modern books in every bedroom - in Polish and English. A perfect place to relax. The guest feels at home! * The house is well located: near the river, local shops and bars. Backyard with grill, sunbeds and everything needed. Inside, house is great equiped - kitchenware, tableware - every room beautifully decorated and comfortable. Books in every bedroom - in Polish and English - are a great surprise. Perfect place to relax. The guests feel like they were at home!"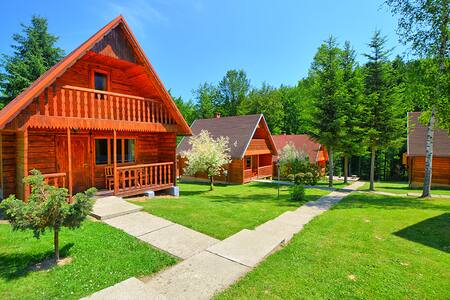 SUPERHOST
Entire cottage · 6 guests · 3 beds · 1 bathroom
Wyjątkowe domki w Bieszczadach. Piękna lokalizacja
Obiekt Bieszczady Resort usytuowany jest w malowniczej miejscowości Werlas, położonej w Bieszczadach nad jeziorem Solińskim (odległość od ośrodka do jeziora 400m). Bieszczady Resort to miejsce dla tych którzy szukają spokoju, bliskości jeziora i parku krajobrazowego. Obiekt jest ogrodzony, składa się z pięciu domków rozmieszczonych na powierzchni 0,7 ha, co zapewnia komfort i prywatność. Na terenie obiektu miejsce specjalnie przeznaczone na grilla i ognisko.
What guests are saying:
"I definitely recommend it! The houses are very atmospheric, it is VERY clean inside and the interior (bathroom and kitchen) are modern. A big plus deserves a barbecue in front of each house and the fact that upon arrival there was no WiFi in the house. When I asked the owner about it, he immediately brought us a router! For this a great big plus! We will be back 100%."