Comfortable house in Lajares on the island of Fuerteventura with hidden swimming pool. Fully furnished kitchen and wash machine. Hot water from the sun. Order healthy bottled water for your stay.
What guests are saying:
"If you are looking for an authentic, attractive and comfortable home near rugged coasts, quiet beaches, delicious food and surf vibes then you've come to the right place. The house is built in a very natural, authentic way and with a lot of love and you can feel it. It is nice and spacious inside and out and the swimming pool (not heated) is a picture. Fuerteventura is rugged, desolate and beautiful in its simplicity and beauty. Lajares is a perfect base to visit the central and northern part of the island. In the four days we were there we climbed the volcano in the back garden, made a mini cruise with snorkeling to Los Lobos, had a delicious dinner in the old harbor of El Cottilo, gazed at the popcorn beach and felt completely at home in the artistic and free Lajares. We will definitely be back."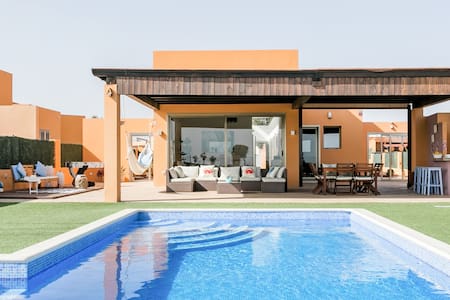 PLUS
Entire villa · 9 guests · 9 beds · 3.5 bathrooms
Exclusive Family Villa. Ocean-View Heated Pool Playground
Lounge poolside on a pearly-white cabana, while the kids play on slides and swings. Spot shooting stars from a hammock on a south-facing garden terrace. Enjoy hours of fun with your loved ones with the stylish outdoor pool table or the table football. Bright, simply-styled interiors, peppered with coastal-themed prints, have a fresh, Scandi feel. Families with little ones enjoy the relief of a certified pool fence and a list of available gear: car seats, strollers, cots, toys, etc. All just 10 minutes walk from an incredible sand beach and a large Shopping Centre in sunny Fuerteventura.
What guests are saying:
"We were 6 adults and 3 toddlers visiting the Canaries for the first time and can thoroughly recommend this listing as a perfect base for a week or two in the sun. The villa is ideal for young families with a private play park in the front garden and good sized heated pool in the rear. With the pool being gated and the front-garden being private and secure the set-up is perfect for families with young children. As part of a golfing complex the location is perfect; quiet, safe and only a 15 minute walk along the sea front to the nearest supermarket, shops and restaurants. Being only a 10 minute drive from the airport was an added bonus. Our host left lots of personal touches that make a difference when searching for somewhere to stay and if we return to Fuerteventura then this villa would be our preference each time. Thank you very much Mone."
A dream house built by the artist and architect Antonio Padrón, architect inspired by the famous artist from Lanzarote, Cesar Manrique, situated on one of the most beautiful beaches of Fuerteventura. Surrounded by peaceful little bays, sand and the Atlantic Ocean, this beach house is an oasis for all those who love the sea and are looking for a holiday far away from mass tourism. The house is located right on Los Lagos beach. It is a charming and special house, with a beautiful organic architecture. It consists of an open dining room at the entrance, bathroom, kitchen and sleeping room with 2 beds on the first floor, and another double bedroom on the second floor, with a beautiful little balcony for relaxing moments watching the beach or reading... One of the nicest spot of this house is the dining area in the garden, built below the floor level! It offers privacy and lets you enjoy the peace of this place... The house works with a solar system for energy supply, so we will very much appreciate awareness of its consumption! About El Cotillo ……El Cotillo is a fisherman village on the north west coast of Fuerteventura. It offers beautiful and very different beaches on both sides of the village. The area around the old harbour is particularly pleasant with its restaurants, cafés and few shops. The village is very quiet and has fortunately not been "invaded" by mass tourism, as some other places in Fuerteventura. Having long walks on the sand, biking on small roads or hiking on volcanoes are some of the activities you can enjoy from here. El Cotillo offers all basic facilities (supermarket, shops, restaurants, bars,...) and is only 20 km away from more touristic places like Corralejo. Finally, please note that renting a car is the best option in order to visit the island and to come to this house! We look forward to welcoming you!
What guests are saying:
"WOOOWWWW !!!! Well below what I expected! What to say ?... You want a romantic spot ? -> It's the Perfect place !! Don't trust the pictures... They can not transcribe the experience to live on this small beach! ... And speaking of beach! ... There is definitely a little lagoon right in front of the house ... Just a few meters! The place is extremely calm and relax! The house is surprising, a real Cocoon of Love! Only 35 minutes from the airport. The upper part of the village is nice with a few small restaurants and cozy bars. -> If you are looking for Big Fiesta go away! -> Here it is a proper Sea, Sex and Sun way of Life! ... Not like the human tide of Ibiza! For a stay in mid September the average temperature was 27 °! The water is absolutely not cold in the lagoon ... There are many fish ... Do not hesitate to take your mask and snorkel to go give them some bread! Back to the house! The way it is built is amazing! It is built around the sun and the wind! The sun ... For the energy ... And the wind to refresh! What a pleasure to have that little breeze that rocks you when you're in bed! BTW... People are used to be naked in the area so don't be surprised ;) About the area... it was a "shock" ! It's rocks and sand... Looks like you are on Mars ! -> Rent a Jeep ! And feel free to get lost along these magnificent beaches Guess what ? I will come back again to this place... Could even live here ! Listen ! I could write 10 pages about this place... Now it's YOUR turn to write yours ! Thanks Mark and for sure see you soon !"