If you want to enjoy a peaceful and quite place- this is the place for you! This cozy cottage is placed 7 minutes walk down a hill from Kasar Devi road, in Papersali village. It is located in nature. There are three rooms, 1st-Two bedroom cottage with kitchen,fireplace and bath. 2nd-New rooftop cottage with kitchen and bath. Himalaya and nature view from rooftop. From here you can go on daily hikes between villages, temples, mountains, Eco park, watch birds and listen to them from the balcony.
What guests are saying:
"A lot has been said about this place already. So I will talk about things that are not mentioned. I am a budget traveller and always on a hunt to stay at places that are away from the crowd and commercialisation. The property is located in the premises of Simtola Eco Forest which is in a village called Paparshali. The village is 10 kms away from Almora and is quite secluded by the din of the market. If you are looking to stay away from the crowd, this is the place. The view from the balcony is great. You can spend an entire day just sutting here doing nothing. But I wont suggest that. Coz there's a pine forest waiting to be explored. You can even ask Harish Ji to accompany you for the trek. There's a nominal fee he charges. About the house. It's a two storey house. Floor one has two rooms with a patio/balcony. And second floor has one room with an open terrace. Both offer mesmerising views. The place is sparkling clean and kept in really good condition. It's minimalistic. And has everything one needs to survive in the woods. So don't expect anything fancy. Do carry your own toiletries. About Harsh ji. He's a wonderful host. The thing about him is, it comes to him naturally because he loves doing it. Unlike other hosts, he's the one who is actually managing the property. And is available for you. I never had to call him even once. He respects your space and privacy. What i love about this trip is our conversations. We had had endless conversations; from politics to farming to city life to his passion for chess. You can always challenge him for a game which you will lose in less than ten minutes. About food. They say when traveling you should explore the local cuisine. And Harish ji do spend a lot of time preparing for your meals. So do ask him to cook local authentic food for you. How to reach the place If you are a budget traveller, you can take a share jeep from Almora. Almora is easily reachable from Haldwani and share cabs charge around ₹300/ From Almora you can take a share Jeep. I spent two nights here. But they didn't seem enough. I wished I had stayed longer."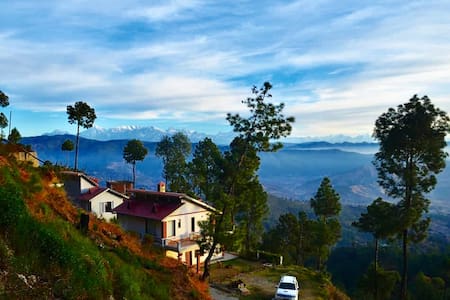 SUPERHOST
Private room · 5 guests · 2 beds · 2 bathrooms
10, Nautical Miles -Mountain Cottage of a Mariner
10, Nautical Mile - as the name suggests, this is a Mountain Cottage of a Mariner. This has been made out of love for the mountains and a wish to slow down the pace of life. Ideal for family and 'me' time, this is a home away from a home; tucked away in the lush green forest 15km away from the cantonment Town of Ranikhet at Uttarakhand.
What guests are saying:
"In a bit of a quandry, whether to pick the host or the space for an exceptional experience. Been to a lot of Airbnb's/Hotels but this wins hands down on being the perfect getaway with amazing location, views, hospitality by Ganesh/Rajesh with a awesome food experience served with a lot of love. The icing on the whole experience was AJ, guiding us and always making sure that our every need was taken care of. Simply put - it was a holiday that ticked all boxes. Not to be missed and for sure - Im going back SOON !!"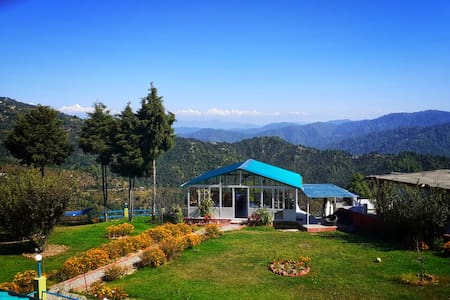 SUPERHOST
Private room · 4 guests · 2 beds · 1 private bathroom
Mukteshwar Orchard Stay - Family Suite (Sunbird)
Located in Mukteshwar our orchard home, is perched on a ridge, amidst endless fruit garden, surrounded by valleys and guarded by the Himalayan peaks. The orchard is a roosting place for several birds, who feed on the peach, plum, apples, pear fruits.
What guests are saying:
"Anupam is a fantastic host. He has an amazing team of support staff who ensure your stay is comfortable and they attend to all your requirements. I loved the property. It is beautiful and one gets to see the majestic view of the Himalayas. The rooms are clean, well-maintained and the decor is minimal, but very eclectic. The dining hall is also tastefully done and gets a lot of sunlight and is looks equally lovely after sunset when all the lights are on. And how can I not mention about Brownie, the handsome Himalayan dog who lives in the property and is such great company. He is the best thing about the place (I cant help being biased for obvious reasons). Among the many things that I loved about this place, was the small hike to the nearby village accompanied by Nihal bhaiyya (one of the support staff, a really sweet man). They are really simple people. The cafeteria (Chirping Birds), a few miles away, towards main Mukteshwar is also very pretty, done up very tastefully and has a nice European feel to it. The chocolate brownie and the malta juice was super delish! We also met Barfi (a cute small pup who stole our hearts). I wish I had stayed a little longer. I am definitely going to recommend this place to anyone who is looking for a quiet time in the hills and likes exploring offbeat places. Kudos to Anupam, his sweet family and team for doing such a good job! I hope to be back very soon :)"