Designed by spanish architect Angeles Mira, this romantic country house is overlooking the valley of Ancient Olympia (the palce were the Olympic Games were born), just 200m away from the Museum and Archeological site. A unique property set on green, peacefull hill where cultural heritage, nature and human passion have joned forces to create a wonderfull small House for 2 persons (+1 kid). Cozy old furniture, cave bathroom, relaxing small pool, TV, WIFI, AC, fireplace, beautiful gardens, create an ideal environment, so our quests enjoy unparalleled feeling of privacy, hospitality and warmth. The owner Thanos runs a local reastaurant just a few meters away, offering delicious breakfasts, greek delicacies and cooking courses. Ancient Olympia was the site of the ancient Olympic Games, which were celebrated every four years by the Greeks. Olympia is situated in a valley in Elis, in western Peloponnisos (Peloponnesus), through which runs the Alpheus River. It was a sanctuary with buildings associated with games and the worship of the gods. Olympia was a national shrine of the Greeks and contained many treasures of Greek art, such as temples, monuments, altars, theaters, statues, and votive offerings of brass and marble.
The highlight of our Greek vacation, we were tempted to stay an additional night at Thanos' cottage. We were met by Thanos' mother who showed us everything about the cottage. The kitchen had been stocked with many staples, and was so pleasant that we decided to go to the local market to get a few more things to cook so we could spend more time in this lovely space. We could not have asked for anything better for our night in Olympia. We want to return to Greece partly to get the chance to stay in Thanos' cottage again!
Dawn
2013-08-24T00:00:00Z
This is a really beautiful house hidden up on a hill, but a five or so minute walk to the restaurants of the village of Olympia. It is a really lovely place, very convenient, relaxing and stylishly designed. Although it is a private house, the owner is connected to a hotel around the corner, so picking up keys, etc, was easy and the staff really helpful and friendly. We were also greeted with a lovely bottle of red on arrival. It is rather more rustic than the photos show, but my only complaint is that it lists having a pool in both the amenities and in the description but the pool did not have water in it. I didn't complain about this at the time, thinking I must have gotten this wrong. And on closer inspection, the photos show the pool to be empty, but then the pool probably shouldn't be listed in the description. To some people that might be a big deal, but the other positives made up for it, hence the five stars.
Richard
2014-05-16T00:00:00Z
This is the perfect location to enjoy the city of Olympia. All museums and cafes are within easy walking distance. The outdoor kitchen is great for watching the sunrise and easy star gazing can be enjoyed from the hammock. Thanos is a great host!!
Jessica
2017-02-28T00:00:00Z
This was an incredible place to stay for two people!! It was a whole to ate cottage close to town and the ancient Olympic ruins. We spend one night here and would have loved to stay longer. It was clean and perfectly described on Airbnb. We did not meet Thanos, but we arranged to pick the keys up at his restaurant just down the hill from the cottage. It was a very smooth transition! I highly recommend this place!! We would stay here again. Thanks Thanos!
J
2015-06-30T00:00:00Z
Thanos warmly met us and showed us the place. First impression was "Wow!" Just as was written. Very rustic. The privacy in openness of the place makes it simply romantic. There is a full kitchen but not fully functional. The fridge, the stove and the kitchen sink work well. But the pots and pans are a little rusty. There's a coffee maker but no water boiler. Perhaps it's not intended for cooking to keep the unbeatable romantic ambience.
See Onn
2016-05-31T00:00:00Z
Excellent location and very nice place. The house is full of charm, and the swimming pool is more than welcome after a day of sightseeing ! Thanos was not here when we arrived, but we get the keys at the restaurant nearby. We met him on Sunday, and he was very friendly. We had a small problem with the sink in the outdoor kitchen but Thanos managed to send somebody right away, and it was fixed within 10 minutes. I strongly recommend.
Caro et Raph
2015-05-19T00:00:00Z
One of the best vacations ever. A perfect place for romantic escape for two. Very worm and friendly hosts. We loved it and would be back gladly.
Dalit
2013-08-02T00:00:00Z
Well this is a very cool, funky looking place. In it favour are its location, unique style and some nice touches like a bottle of wine and a nice cake on arrival. On the other side, there is no handrail for the steps leading to the bedroom (dangerous after drinking that bottle of wine) and a fireplace with a chimney that doesn't work and causes the entire place to be filled with smoke. I kind of enjoyed this quirky place but I'm not sure I'll be back. Very dodgy internet.
David and Sally
2013-12-14T00:00:00Z
Room Type
Entire home/apt
---
Property Type
House
---
Accommodates
2
---
Bedrooms
Archea Olimpia, Peloponnisos Dytiki Ellada ke Ionio, Greece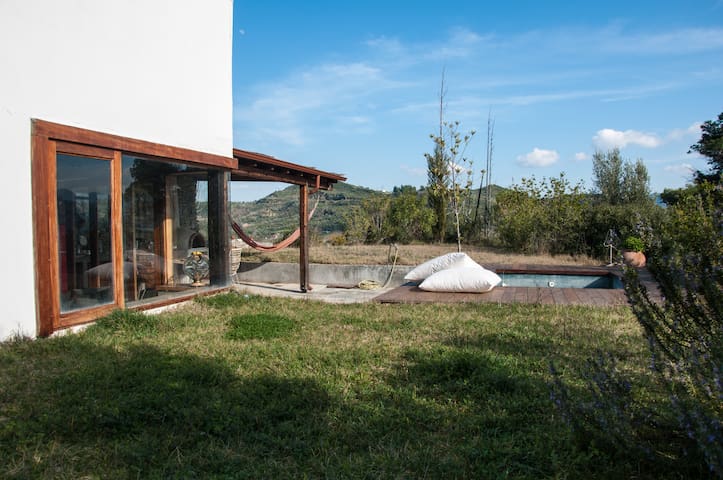 Ο χώρος μου είναι κοντά σε κέντρο πόλης 1,5km απο τον Πυργο και 10km απο διάφορες παραλίες και 17km από την Αρχαία Ολυμπία. Έχει 2 στρέμματα κτήμα με συκιές, κλιματαριά, πλάτανια, δέντρα, etc. και έχει πολύ πράσινο περιβάλλον, δροσιά και ησυχία. έχει γίνει ανακαίνιση το 2011 αλλά έγινε μετά από τις φωτογραφίες και δυστυχώς δεν έχω τραβήξει νέες ακόμα. Σύντομα θα έχω και απο το κτήμα και από το εσωτερικό του χώρου. Ο χώρος μου είναι κατάλληλος για ζευγάρια, οικογένειες (με παιδιά) και κατοικίδια.
Room Type
Entire home/apt
---
Property Type
House
---
Accommodates
6
---
Bedrooms
Agios Georgios, Peloponnisos Dytiki Ellada ke Ionio, Greece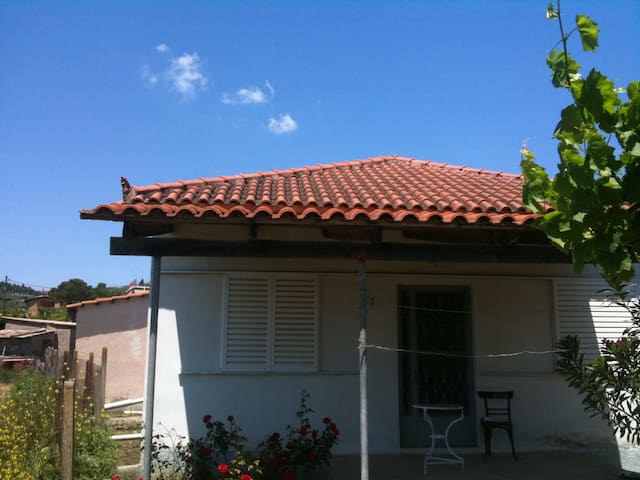 This small, romantic, remote guest house in an olive grove of 20,000 square meters is the perfect place if you want to be near the ancient site of Olympia. It is in pure nature, total tranquility, by the river Alfeios. It's the perfect retreat for artistic or solitary minds, couples, and travellers who are seeking something simple and modest but cosy and aesthetically pleasing.
The cottage is about 70 sq. meters, secluded in a big olive grove , surrounded by nature, next to Alfeios river. Also near the ancient site of Olympia, birthplace of the Olympic games and the Olympic flame. It easily fits 4 adults or a small family; It has one large double bed, one small sofa bed that pulls out into a large twin bed or a semi - double bed (for which I provide a mattress topper), a fold up cot bed with mattress topper as well, and a comfy couch . There is a mezzanine space, where the large twin or semi-double bed is and where the cot bed can open, its very cozy. There is one small kitchen and a toilet. The kitchen is in one space with the living room. A wood stove for winter with two electric radiators. All amenities are provided, including linen, towels and fire wood. Some snacks too.
There is no neighborhood really, the house is located at about 2,5 km from the village of Ancient Olympia, 2 km from the ancient site of Olympia (where you can walk) and 2 km from Linaria village where you can eat amazing food at the local tavernas - my favourite, "To spitiko tis Fotinis". Also, it is near Miraka/Archea (Ancient) Pissa village where you will find a small mini market and a very good restaurant as well - "Bacchus". The nearest amazing sand beach, Kato Samiko, is only a 30 min drive.
Beautiful but remote location in olive grove and very quick drive to Olympia. Saw more stars than in a long time. Cute little cabin but upstairs bed (a pull out twin) not quite comfortable for adult.
Ward
2017-02-28T00:00:00Z
Room Type
Entire home/apt
---
Property Type
House
---
Accommodates
4
---
Bedrooms
Archea Pissa, Peloponnisos Dytiki Ellada ke Ionio, Greece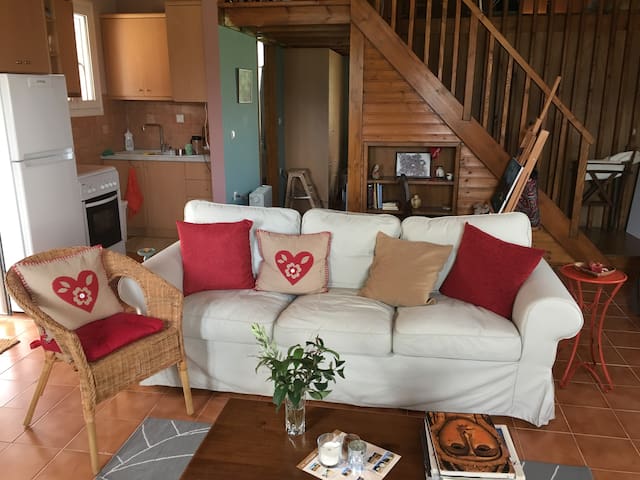 Perfectly situated at Ancient Olympia Village, walking distance to the Museum, Ancient Stadium, restaurants, patisserie, cafes, mini markets. Fireplace and central heating for Winter vacation, Air Conditioning for the Summer.
Room Type
Entire home/apt
---
Property Type
House
---
Accommodates
5
---
Bedrooms
Archea Olimpia, Peloponnisos Dytiki Ellada ke Ionio, Greece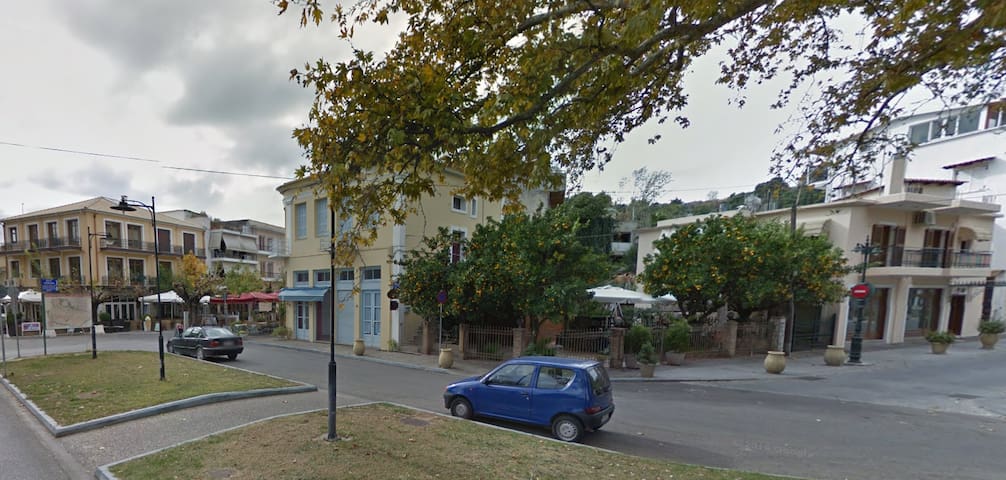 Archea Olimpia - Airbnb
:
Average

4.5

out of

5

stars from

127

guest reviews
Enter dates to see full pricing. Additional fees apply. Taxes may be added.