DO NOT COME BEFORE 17.00: room is not ready. Pets or other people than those recorded are not allowed. Double room + third bed with windows overlooking the garden and Lake Garda to the West. Living room, kitchen, bathroom, balconies, 1500 sqm natural garden with panoramic view of Garda Lake and climbing Belvedere are shared with the other guests
DO NOT COME BEFORE 17.00: room is not ready. Pets or other people than those recorded are not allowed. House is not fit for babies. Double room + third bed with windows panorama Climbing Belvedere. Living room, kitchen, bathroom, balconies, barbecue and 1500 sqm natural garden with panoramic view of Garda Lake are shared with the other guests of the villa. House is on the main road on top of the hill and parking is only 50 meters from it. House is equipped with everything you need, sheets, towels etc., except the food. In town there is almost everything: pharmacy, two gas stations, bakery, despar market, tobacco and newspapers, ice cream, some bars and four restaurant-pizzeria. Nago is just 800 meters from Torbole and is served by bus, but it is only 15 minutes walking. Home and garden look to the south and west of Lake Garda and the Monte Baldo; north behind the garden, cliff climbing wall Belvedere of Nago and to the East the Nago Village.
Scenic and quiet neighborhood just steps from the lake, with excellent restaurants and pizzerias.
Alessandro was there when we arrived and welcomed us into the house with a tour of everything. The area and facilities were really good apart from the internet not working very well at times. Overall, a very pleasant stay and Alessandro was very helpful. I would recommend the place to others.
Mario
2016-08-27T00:00:00Z
Very nice house, with shared kitchen and bathroom. Very nice view on the lake, difficult to have better ! Nice terrace to have breakfast/lunch/dinner. Very clean, a lady is coming every day to clean to shared parts. Alessandro was there when we arrived and he was very nice, he answered all our questions. There is also lot of documentation in the house about what to do in Garda Lake. I really recommend this house, we had a very nice stay !
Margaux
2016-09-25T00:00:00Z
We were warmly welcomed by Alessandro and he provided us with all the information needed about the region. The place was clean and there was everything (kitchen ware, parking spot, WLAN etc) needed for a comfortable and easy/uncomplicated stay. I recommend Alessandro's place, because I know he cares about his guests and the house.
Elisabeth
2016-07-14T00:00:00Z
awesome place in nago, great garden with great view over the lake, good starting point for climbing, biking, etc. alessandro is very nice, he has many recommendations regarding restaurants etc. rooms are simple but ok and you don't spend as much time in the room anyway :)
Katharina
2015-09-03T00:00:00Z
This place is more like a youth hostel with several separate bedrooms on the same floor and a shared kitchen. It is great for meeting other people but feels very social and public. The location is hard to find, especially at night. In Italian Alessandro mentions being across from Tex-Mex restaurant which is what helped us finally.
Erin
2015-08-29T00:00:00Z
Very nice place, easy to find. Room, kitchen and bathroom nice and clean. The view is great! Mexican restaurant, parking and store are near the villa. Alessandro and his brother are cool with lots of recommendations for trips and restaurants...
Jan
2015-09-08T00:00:00Z
This was perfect for our stay there!! Place was clean, amazing location and Alessandro was perfect host-helpful, friendly, and helped us when we couldn't find house, tho it was in front of us:) make sure you check the photo of the house, then you will find it easily. Loved it and gona come back!! Thank you, Alessandro!!!
Monika
2016-08-03T00:00:00Z
Alessandro and Felippo were great hosts! A lovely stay, a lot of practical information and a friendly smile! A nice room, perfect apartment and a perfect base to get your sporty lifestyle at the lake! We have enjoyed our stay and especially the family party..
Patrick
2015-08-27T00:00:00Z
Room Type
Habitación privada
---
Property Type
Villa
---
Accommodates
3
---
Bedrooms
Nago-Torbole, Trentino-Alto Adige, Italy
Welcome to Lake Garda! The apartment is located in a small and quiet village Nago, just one kilometer from the center of Torbole, is the ideal place for nature lovers and sportsmen.
The apartment is about 55m2 and consists of 2 large bedrooms, living room with couch and TV, kitchen with cooker, fridge / freezer and coffee machine, a bathroom with shower and a large closet. The apartment also has wi-fi, heating, central vacuum, small cellar and adjacent car.
Ideal place for nature lovers and sports fans, thanks to the many bike paths, the cliffs, the mountain bike paths and trails.
These are the best hosts i ever came across Airbnb. Waiting for you on the street and showing you everything you need to see in and around the house. Car park is perfect. The house is new as if it was built less than a year ago. everything in the house Works perfectly and is brand new, and i mean everything. We stayed for one night and had the best time ever. Maurizio is wife and their little sun greeted us with a few kinds of drinks and biscuits. The house was clean as well as the towels and beds better than many hotels. Perfect location twenty minutes walk from the water, right where all the cafes bars and atractions are. I Will definitely stay there again. THAT IS WHAT REAL HOSTS LOOK LIKE!!! Thank you so much.
chaim
2016-04-27T00:00:00Z
Nice and clean apartment. Has practically no wishes left open. Comfortable beds (no saggy mattresses!). The apartment was exactly as described. There was free Wifi and a private parking place for the car and we got two keysets! The host was very friendly and welcomed us with some sweets, fruits and drinks. All in all it was a great apartment. Thank you for the nice days!
Martin
2016-05-30T00:00:00Z
We had a nice stay in Maurizio flat. He is a very kind host and the flat is clean and nice decorated. Recommended!
Arkadiusz
2016-07-14T00:00:00Z
Wonderful stay in a beautiful apartment. The apartment was perfectly clean, the bed was comfortable, and the kitchen had everything necessary to cook. We enjoyed having an afternoon cocktail on the pretty little deck. Also, the little town of Nago is perfect if you like a small, charming town that is set apart from the touristy towns of Torbole and Riva. If you enjoy hiking, there is a short hike nearby which takes you up to the ruins of an old castle with tremendous views. We loved it there and can't wait to come back!
Blake
2016-05-23T00:00:00Z
We had a good time at Maurizio apartment, it was good to be outside the hub of Torbole and find peace in the mountains at night. The apartment is big enough for 4 persons and well equipped though there is no appliances like dish or washing machine. It was practical to have a parking.
Katia
2016-07-05T00:00:00Z
We had a lovely time in Nago! Maurizio was waiting for us when we arrived, the flat was as described but also we were supplied with a travel cot, high chair, changing mat and toys for our little one! What a pleasant surprise.
Cinzia
2016-07-24T00:00:00Z
My girlfriend and I arrived in this beautiful apartment and stayed a few days. Honestly, we pretty much fell in love with it! We had everything we needed a part for a hair dryer which we forgot (it was said that there would've been none). The place in located at an absolutely affordable distance of car from all main locations such as Torbole, Arco and Riva del Garda. Beautiful bnb: worth it!! PS: needles to say Maurizio is a great host!!
Federico
2016-04-18T00:00:00Z
We stayed with Maurizio for two and a half weeks and had a fantastic time. The apartment was as described and is perfect for 4 people. Maurizio met us promptly to drop the keys off, two sets of keys was nice, and was around to answer any questions and to check and make sure we didn't need anything. Sheets and towels were changed out twice during our stay. There is private parking and free WIFI. Nago was a perfect town to stay in close enough to everything, but outside of the craziness of Torbole. There are plenty of great restaurants in walking distance and if you want to stay in a take away pizza place right next door. We were afraid it would be to hot, but the apartment stays cool during the day and is very comfortable at night for sleeping. I would highly recommend Maurizio's apartment and hope to stay again on our next visit to the area.
Tim
2016-08-27T00:00:00Z
Room Type
Entire home/apt
---
Property Type
Apartment
---
Accommodates
4
---
Bedrooms
Nago-torbole, Trentino-Alto Adige, Italy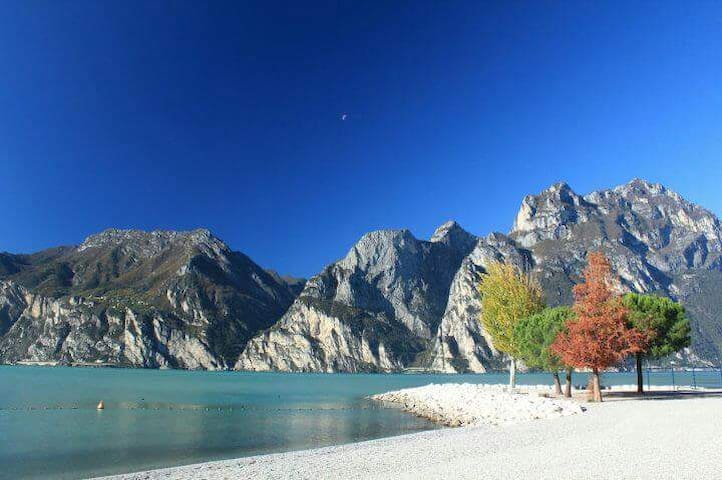 The house is located 500 meters from lake Garda and it is surrounded by a big garden. A healhty breakfast is served every morning. The room is equipped with a 40" flat tv, blue tooth speakers, hair drier. This room has a shared bathroom.
The Bed and Breakfast "Carly's Rooms" is located just 500 meters from from Lake Garda, very close to the center of Torbole, 10 minutes walk to Riva del Garda and about 4km from the center of Arco. The house has been recently renovated and the forniture is new, it is surrounded by a big garden with tables and sun beds, there are also 4 parking spots available inside the property. There are three rooms: two which share a bathroom and one with private bathroom. There is a common space in the middle, with coffe and tea machine, a small fridge if you need to store something and a microwave.
The location is one of the best things about this house. The neighborhood is very green, the house is surrounded by vineyards. it's located in-between Torbole and Riva so they are both super close to reach. There is a supermarket two minutes down the road. Right next door there is a beautiful spa with pool and whirlpool on the roof, called Garda Thermae, which is a perfect and relaxing activity for a rainy day. 2 minutes walk there are a few restaurants offering local cuisine as well as the wine cellar Madonna delle Vittorie.
Carlotta is a great host! Me and my friend spent two nights at her place while discovering Lake Garda by car. The room was big and the beds were really comfortable. It was easy and safe to park in the yard. Carlotta made us a truly great breakfast both mornings and gave us good tips for where to go for day trips and where to have dinner.
Annakaisa
2016-07-01T00:00:00Z
We spent good time with Carlotta. The reality corresponds to description. Clear room , calm garden, close to Torbole. Moreover everyday Carlotta prepared unbelievable tasty and well served breakfast! Also we have unlimited access to coffee :-)) good restoran is also close . What's more...Carlota very freandly , interesting and hostable person. Good conversation, a lot of fun! Thank you a lot!
Kseniya
2016-06-08T00:00:00Z
The house is well-designed, very comfortable and clean. Carly provided everything needed. If you do not like the crowd in big city such as Rome, you must come here and stay for a week, there are many things could do, hiking, cycling, sight seeing with fresh air and good wine and restaurant nearby. Hope I would come here in the near future.
Ming
2016-10-19T00:00:00Z
Very clean room, great breakfast, extremely cool host.
P-L
2016-06-19T00:00:00Z
Everything was great. We had a lovely stay in a clean, big room and shared the bathroom with other guests, what was also totally okay. We arrived a bit later than expected as there was a traffic jam but that was no problem for Carlotta. Great breakfast everyday and an excellent coffee machine! We would definitely come back.
Lisa
2016-09-21T00:00:00Z
One of the best holidays ever :) Carlotta is very nice and helpfull woman. Rooms are very clean. We felt like at home :) Hope to come back there one more time.
kinga
2016-07-30T00:00:00Z
We loved and enjoyed our stay at Carlotta´s room a lot! Every morning delicious breakfast was waiting for us, every day someting different, homemade cake, pancakes and lot of fruits. Room was specious, very clean, bathroom was shared with other room, but it was not a problem. Carlotta lent us bicycles, we did not need to pay for them. She gave us all information about Lago di Garda, where to eat, what to see etc., she is very friendly.
Lucia
2016-09-02T00:00:00Z
We stayed in Carly's room for four nights and enjoyed it! The room and bathroom were clean and the breakfast was very delicious. Thanks for hospitality! Richard and Isabell
Richard
2016-08-24T00:00:00Z
Room Type
Habitación privada
---
Property Type
Bed & Breakfast
---
Accommodates
3
---
Bedrooms
Torbole, Trentino-Alto Adige, Italy
Cozy apartment of 55sqm located in the center of Torbole sul Garda, 40 meters from the picturesque harbor and the lake promenade. super area served. Ideal for 2 max 4 people.
Cozy apartment of 55sqm located in the center of Torbole sul Garda. The apartment, completely renovated, is located on the third floor of a building located just 40 meters from the picturesque harbor and the lake promenade. Nearby there are supermarkets, bakery, tobacco shop, pizzerias, restaurants, ice cream parlors, clothing stores and sports equipment, self-service laundry, banks and the post office. At about 50 meters there is a large public parking. Also in the proposal we make available to our guests a city bike and a mountain bike. Ideal for 2 max 4 people in the apartment consists of: Fully equipped kitchen with comfortable dining table, refrigerator with freezer, oven, gas stove, kettle, toaster, extractor hood, crockery, cutlery, ladles, pots and American. Lounge with satellite TV, sofa bed, wardrobe, bookshelf and desk. bedroom with double bed or, optionally, two single beds, wardrobe, bookcase, desk and ceiling fan with remote control. Cot (children up to 3 years) and high chair. Windowed bathroom has a toilet, bidet, shower cubicle and a hairdryer. First aid kit, and security paper. Guest Card Trentino and information material.
Carolina is a great host, very friendly and helpful! She was easy to access in case of any questions and the apartment is a wonderful place to have a great vacation at lake Garda. The rooms are beautiful and clean, just as described. The neighbourhood is fantastic, directly in the old town of Torbole. Absolutely recommendable. Thanks again for everything, Carolina.
Claudia
2015-08-21T00:00:00Z
Everything was exactly as it was described. A wonderful and very nice appartment in the center of Torbole. Interior design was very tasteful and the appartment was well equiped. We stayed there for a week as a family of for and also had the chance to leave our bikes in the house. The panorama parking lot is some stairs away, but it is possible to unpack the car right in front of the entrance. Carolina was a very friendly host. We would definitely decide to stay in the Blue Nest again, next time, we come to Lake Garda.
Anja
2016-03-26T00:00:00Z
Carolinas Appartement is wonderful in many ways. The location is great - in the heart of the city, 1 minute to the late, 5 minutes to a supermarket, great restaurants around and bets of all a ice store in the neighborhood. The apartment is very new, modern style a great kitchen and natural light in all rooms. The bathroom is new and has a bid shower. Everything is very clean and friendly designed. Carolina is very helpful and nice and we were able to communicate with her at all time and she helped us with restaurant and other recommendations I can recommend the apartment for 2 couples as maximum and all have enough space Thanks again for hosting us and we will definitely come back
Peter
2015-06-27T00:00:00Z
Great location and perfect for our stay. Generous apartment and well furnished. We had a fantastic time - definitely recommend!
George
2015-08-12T00:00:00Z
Clean apartment in a great location. Lake Garda is absolutely stunning at the north end and carolina's apartment will definitely let you enjoy the best the lake has to offer. Apartment is nice and clean and well equipped. Great stay!
Emily
2016-04-02T00:00:00Z
Location couldn't be better and the apartment was lovely. It had everything we needed and Carolina was very helpful in showing us around and giving information about the local area. While there was no wifi in the apartment it was easy to get on free local wifi so no problem there. The building itself was a little noisy with lots of echoes from noises on other floors and from other apartments but it wasn't a big problem at all. If we come back to Torbole we'll definitely try and stay here again!
Andy
2016-05-26T00:00:00Z
A great apartment only 2 minutes from Lake Garda. The apartment is on the third floor, and has spacious rooms which comfortably fit three of us. Carolina was very helpful, and responsive. There is a bakery about 100m from the front door, and - slightly dangerously - a gelateria literally next door. Carolina also had a bike which we could use to cycle around the lake to Riva del Garda. Overall, a very enjoyable experience in Torbole.
Em
2015-05-25T00:00:00Z
Everything was perfect. Caroline waited for uns and show us the appartement. I really liked what she did with the place. 2 min walking distance to the lake. I can definitely recommend her/this appartement.
Moritz
2016-06-06T00:00:00Z
Room Type
Entire home/apt
---
Property Type
Apartment
---
Accommodates
4
---
Bedrooms
Nago-torbole, Trentino-Alto Adige, Italy
this apartment is on the top floor of a private villa, in the most beautiful and peaceful areas of Torbole sul Garda. The house is completely new, benefit from an exceptional view ,the rooms have a private bathroom, it is equipped with all modern facilities WI-FI
Room Type
Entire home/apt
---
Property Type
Apartment
---
Accommodates
4
---
Bedrooms
Nago-torbole, Trentino-Alto Adige, Italy
The apartment has a living room with kitchenette and a comfortable sofa for the third guest, large balconies overlooking the lake, a 20 square meter bedroom with double bed and 50-inch Smart TV. Another room serves as a walk-in closet and possible bicycle parking or sports equipment. The apartment is equipped with the main services: Wi-Fi, washing machine, dishwasher, and private parking. Located in a scenic and quiet but served by all services at less than 1 km from Torbole.
Nago is a small but charming town where, however, no shortage of main services: bar, supermarket, ATM, newsagent, restaurants and pizzerias fruits and vegetables. Surrounded by unspoiled nature is ideal for those who practice sports such as trekking, climbing and bikeing. In the nearby Torbole it is a must enjoy wind surfing and sailing.
Arianna is a wonderful host, she introduced us to the city and gave us valuable tips. Her apartment is well equipped and clean. I can fully recommend taking her apartment. Thanks for the good time :)
Daniel
2016-08-15T00:00:00Z
Arianna was a gracious host, who knows the area well. The apartment doesn't have air conditioning, which we didn't realize, and it was really hot so we had to leave the windows open. But, this created a problem because the apt is right above a busy highway, so the traffic noise in the evening (when you are trying to cool the apt) and early in the morning (when you are trying to sleep) were not acceptable to us so we actually left after our first night, leaving the apt empty for two paid nights because we couldn't sleep in the environment.
Eddie
2016-09-04T00:00:00Z
Nice apartment with great view to Garda and Arco valley. Great placement of apartment, within a few minutes there are couple of restaurants, shops and coffee shop. Also a placement of apartement is great start point for climbing trips. Arianna is a great host, She is very nice and she is trying helps with any stuff what you have. I recommend it.
David
2017-04-07T00:00:00Z
Dear Arianna, Thank you everything. Good location, great view , nice home.
Janos
2017-02-21T00:00:00Z
Arianna ist eine sehr freundliche und aufmerksame Gastgeberin gewesen. Die Unterkunft war gemütlich und sehr angenehm für uns. Der Blick in die Berge und die Aussicht vom gegenüberliegenden Castell auf den Lago herrlich.
Ina
2016-10-05T00:00:00Z
Arianna ist sehr nette, freundliche Frau. Wir sind sehr zufrieden. Die Wohnung ist schőn und da gibt es alles was man braucht. Die Nähe ist wunderschőn.
Rafal
2016-08-05T00:00:00Z
Arianna è una persona molto disponibile e simpatica. Si è messa a nostra completa disposizione fornendoci anche utili informazioni su posti e località da visitare oltre che consigli sui migliori posti dove mangiare. l'appartamento è spazioso ed accogliente e dotato di tutti i servizi necessari. le principali località turistiche sono facilmente raggiungibili con 5 (Torbole) 10 mins (Riva) di auto, in condizioni di traffico regolare (in verità alquanto raro nel periodo estivo). l'appartamento è come si vede nelle foto, ed il pezzo forte è la camera da letto ed il balcone da cui si può ammirare la vallata e uno spicchio del lago di Garda, davvero suggestivo. In definitiva lo consiglio vivamente , e se dovessi ripassare da quelle parti tornerei volentieri. P.S. con l'avvertimento agli uomini di non indugiare troppo nella libreria situata nel soggiorno perché potreste imbattervi in pubblicazioni non proprio benevole per il genere maschile (ovviamente è una battuta :)...
Profess
2016-08-18T00:00:00Z
Arianna nous a chaleureusement reçu.L'appartement est très bien équipé et bien situé ( calme , vue imprenable sur le lac de Garde et tout l'environ . Très bon sejours
claude
2016-08-11T00:00:00Z
Room Type
Entire home/apt
---
Property Type
Apartment
---
Accommodates
3
---
Bedrooms
Nago-torbole, Trentino-Alto Adige, Italy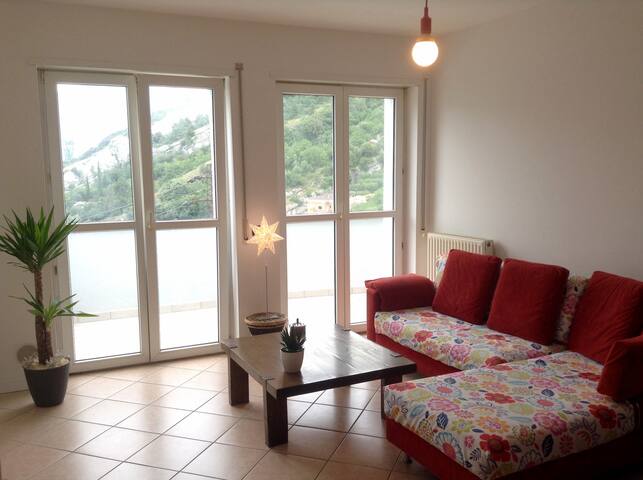 Wohnung im ersten Stock mit Balkon, Wohnzimmer und Schlafcouch, Küche, 1 Schlafzimmer mit Doppelbett, Bad mit Dusche, Waschmaschine, Wi-Fi, TV. Wohnung im 1. Stock, Balkon, Wohnzimmer und Schlafcouch, Küche, Bad, Dusche, Waschmaschine, Wi-Fi, TV.
Bettwäsche und Handtücher in dotazione.Possibilità halten Fahrräder innerhalb dell'appartamento.Ampio kostenlose Parkplätze auf 200 Meter. Willkommen dall'abitazione.Cesto. Bettwäsche und Handtücher supplied.Possibility zu halten Fahrräder im Inneren des unit.Large kostenlose Parkplätze 200 m away.Welcoming Geschenk.
We had a very good experience, the apartment is very nice, clean and practical. It is very well kept. The building is also very well kept and relatively new. You have a couple of restaurants (one pizzeria just below, which happens to be the best in town), and a Tex Mex restaurant. Also, there are free parking spaces just about 100 feet from the apartment and a gas station. To get to the Lake you do need to do about a 10-15 minute walk going downhill, and a bit more of course going up. However the apartment is very well located anyway. Neighborhood is absolutely quiet and safe. I do recommend this place. Michelle was in contact all the time, very very good host.
LUIS
2016-09-04T00:00:00Z
Our family stayed one night in Michelles apartment. We booked the apartment quit late same day as our arrival but Michelle responded quickly. The traffic to Riva del Garda is really slow this time of year. The apartment is nice, clean and modern. Some noice were heard from traffic. The distance to the see is just a couple of kilometers but you nead a car unless you are in good condition.
Jan
2016-07-11T00:00:00Z
We enjoyed our stay at Michelle's apartment. Although she was not there to let us in, she was very easy to communicate with and gave excellent instructions. She was also very accommodating and let us leave our bicycles inside the apartment. The apartment was clean and as per the pictures, and well stocked with amenities in the kitchen. Overall a great place to stay!
Alim
2016-10-04T00:00:00Z
Wir, zwei Kletterer, hatten diese Unterkunft gebucht, um in Nago / Arco klettern zu gehen. Die Wohnung war dafür gut gelegen, da einige tolle Felsen zu Fuß erreicht und unzählige weitere per Auto in wenigen Minuten erreichbar sind. Die Wohnung war bei Ankunft sehr sauber und aufgeräumt. Die Bilder in der Beschreibung sind zutreffend. Für zwei Personen ist die Apartment Größe vollkommen ausreichend und bietet genug Stauraum in den Schränken. Michelle hat uns bei Ankunft einige Lebensmittel zur Verfügung gestellt, so dass wir den ersten Tag in Nago entspannt beginnen konnten. Die Kommunikation mit Michelle hat auch sehr gut geklappt! Ich hatte durchweg das Gefühl, dass wir uns auf sie verlassen können, wenn es Probleme gegeben hätte. Bei der An- und Abreise war sie sehr flexibel. Nago war ein super Ausgangspunkt für unseren Kletterurlaub! Michelle war eine tolle Gastgeberin und wir hatten eine großartige Zeit in Nago :)
Martin
2016-05-24T00:00:00Z
Appartamentino carino e curato in zona comoda e tranquilla. Dettaglio importantissimo: davanti c'è un ampio parcheggio dove si trova sempre posto. Michelle è proprietaria di casa perfetta: flessibile e per nulla invadente. Casa consigliatissima!
virginia
2016-05-02T00:00:00Z
Michelle ist sehr nett und hilfbereit. Das Appartement war sauber und alles wichtige vorhanden. Ein paar Restaurants und Bars sind direkt in der nähe. Sehr Empfehlenswert ist das Restaurant direkt unter dem appartement. Auch ein späterer Check out war kein problem. Danke dafür!! Ich kann michelle jedem mit gutem Gewissen weiterempfehlen!
Nathalie
2016-05-29T00:00:00Z
Room Type
Entire home/apt
---
Property Type
Apartment
---
Accommodates
4
---
Bedrooms
Nago-torbole, Trentino-Alto Adige, Italy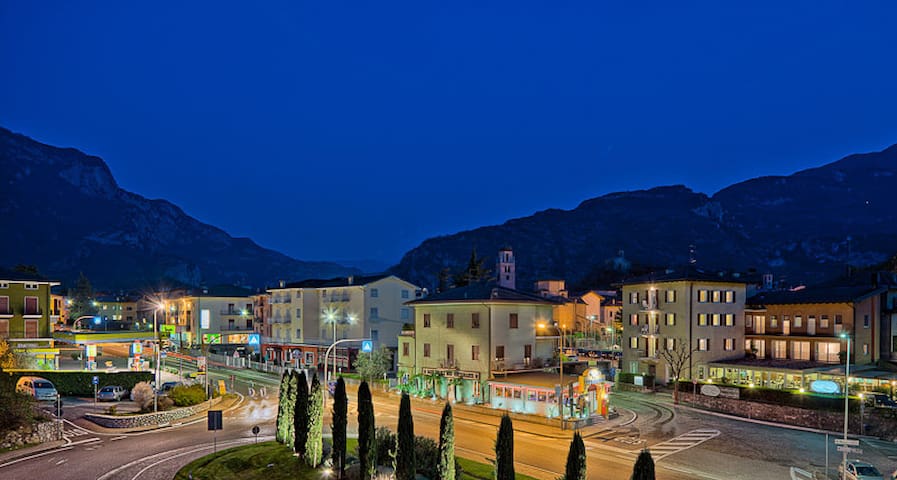 Historical building located in front of the harbour. The apartment overlooks the main square of Torbole. It has a living room with cooking area and a comfy sofa bed, bathroom and bedroom. It provides a TV, washing machine and bikes and sport equipment storage.
Room Type
Entire home/apt
---
Property Type
Apartment
---
Accommodates
4
---
Bedrooms
Nago-torbole, Trentino-Alto Adige, Italy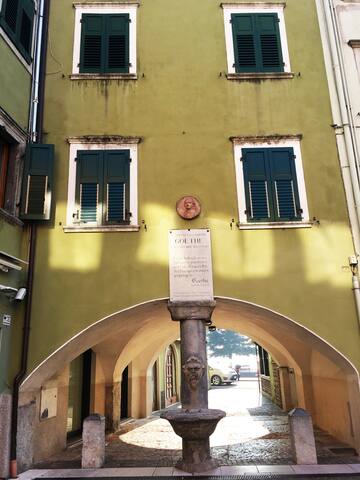 Placed in a very sunny, quite and nice area close to the Garda Lake, the apartment offers a big living room with a kitchen, a bedroom and a nice bathroom. A nice terrace giving a plus value to the apartment. Free Bike&Equipment deposit.
The apartment is at the second floor of a beatiful Liberty style house renovated in 2014. The spacious terrace expose to the south, is a place to relax!
The district of S.Alessandro where is situated the apartment is well link with the entire area of Riva del Garda. Bike&walk path and public transport make the district a close area to the Garda Lake. Close to the house you will find a shop where you can buy newspaper but also some foods.
This apartment was fantastic. Roberto was a great host, lovely and friendly. Nothing was a problem to him. As stated in previous reviews his parents live downstairs who were really nice and asked if we had everything we need but at the same time kept their distance so we were left to our own. The apartment was exactly like the photos and spotlessly clean. The terrace was my favourite part with a great view. Would 100% stay again.
George
2017-03-20T00:00:00Z
Staying at Roberto's house was a real pleasure! Hospitality and spirit of pure Italy surrounded us from the very beginning of our trip up to leaving this amazing place. Brand new and well equipped apartment comfortable enough to stay with two children . 15 min walking to the lake and 20-25 to the center. Astonishing view from the terrace. Highly recomend.
Булкин
2014-09-15T00:00:00Z
What a fabulous experience we had. Everything about this Airbnb is wonderful, from the greeting we got from Roberts parents, the beautiful apartment with everything g you could need, comfy beds wonderful shower to the incredible terrace. Such a joy to sit with a cool breeze watching the mountains and the sky. A most wonderful experience with a brilliant helpful host. We will returns from highly recommend it!
Brigid
2016-07-01T00:00:00Z
Roberto and his Family are the Perfect hosts. We had very nice Time in Riva Del Garda and Roberto helped us also To find some good Restaurant. The Apartment Looks exactly like on the pictures and it was modern and Clean. Thanks a lot!!!
Bastian
2016-04-02T00:00:00Z
We have stayed at this beautiful place from 5 - 7th June. Roberto was a great and very friendly host and he assisted us all through of our stay and made sure that everything was ok. Upon our arrival we are immediately welcomed to this amazing, modern, clean and fully equipped apartment. This place is really cosy. We really loved having our breakfasts and dinner in the spacious balcony facing some great mountain view. Lake Garda and Riva del Garda are simply magical places. I would recommend anyone to visit this beautiful place on earth. Keep up the good work Roberto and send regards to you beautiful family !
Claudio
2016-06-08T00:00:00Z
The apartments are wonderful, comfortable, clean. Very nice place, awesome view from terrace. I can advice this host to anybody.
Artem
2014-04-29T00:00:00Z
everything was exactly like the pictures roberto and his family are very helpful, beautiful place recommendable with a great view from the terrace. Radek
Radek
2016-07-13T00:00:00Z
We had really beautiful vacation at the Roberto's home. Nice view, comfy and quiet place. House good located in the Riva and easy reachable by car if you follow Roberto's instruction :) Roberto and his family are very friendly and helpful. Apartment is big enough and very good equipped, especially kitchen. Very clean. Good beds. Big terrace and the garden is a super plus. Car parking in a few steps. Thank you very much, Roberto. Thank your parents too.
Mikhail
2015-06-11T00:00:00Z
Room Type
Entire home/apt
---
Property Type
Apartment
---
Accommodates
4
---
Bedrooms
Riva del Garda, Trentino-Alto Adige/Südtirol, Italy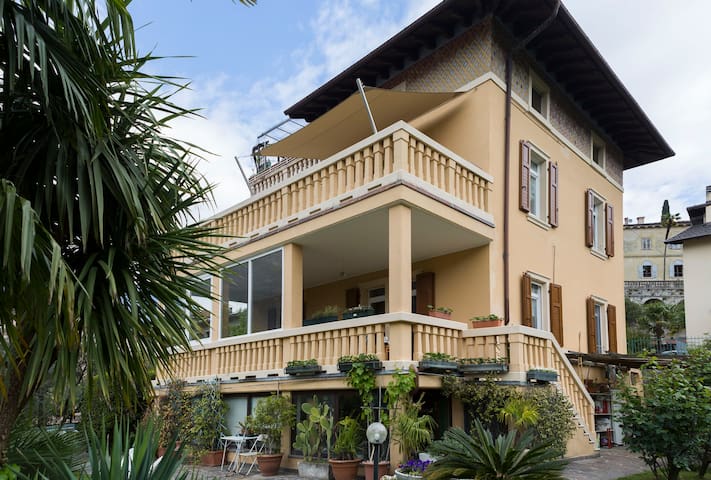 The beautiful apartment is in the residential area above Torbole in a very Quiet area, with a fantastic view of the mountains. Week € 490 € -700 for 4 people. Sheets and towels are Included in price.
is composed of a double bedroom, a bedroom with two single beds, a bathroom with shower, bath and hairdryer; living room with sofa bed and TV, exit to the terrace; a full kitchen, stove, refrigerator and dishwasher. Bicycle storage.
The apartment is an excellent starting point for mountain biking and hiking. Only 100 mt. is the "Park the Busatte" and its attractions: BMX track, mountain bike trails and the "Adventure Park"
This is the 'home away from home' when you want to holiday in Torbole! The unit is spacious, with comfortable bedrooms and large bathroom. There is a lovely garden area as well. The family are most welcoming, with cold beer, a little wine and traditional bread on arrival. You won't be disappointed!
Jim
2016-07-04T00:00:00Z
Thanks to our car breaking down we only got to spend 1 night in BEAUTIFUL Torbole on the gorgeous Lago Di Garda. Wished we had had our 4 nights as this is a great holiday destination. Aurelia was very good at communicating and the apartment is set up with everything you need. We will have to go back!
Sally
2015-06-17T00:00:00Z
We had a great experience staying at Aurelia's place. We stayed in Torbole 6 nights together with our 15 month old baby. Aurelia and her family were very nice and welcoming and helped us with everything we needed. The area of the house is nice, very quite and there is a big park with a good restaurant nearby- perfect for little children! It's about 7 minutes walking from the center of Torbole in a descending path with some stairs. The house itself is fully equipped, clean and comfortable, and Aurelia helped us with everything we needed for the baby. There is a very nice garden with beautiful view of the lake. We really enjoyed our stay in Torbole and Aurelia's house was perfect for our needs. We would recommend it very much!
Neta
2015-05-30T00:00:00Z
The apartment was beautiful and comfortable. Being able to wake up to the magnificent view and see how the colors of the mountains and the water changed during the day was very special. Walking up the steep path to get there took about 20 minutes which was a consideration. Once there, I enjoyed the peace, tranquility and privacy. Being able to sit outside in the garden was lovely. The owner clearly cared that I had a positive stay. Torbole is a wonderful area for people who enjoy outdoor activities. I recommend highly both the apartment and the area. I was using only public transportation and found I could get to where I wanted to go.
Laura
2016-09-11T00:00:00Z
It was stunning! Aurelia and her daughter were very helpful and nice to us. We enjoyed every thing in apartment-view, kitchen, beds. It is located in mountains and area is quiet and nice! Would like to come back!
Linda
2015-11-10T00:00:00Z
We spent five wonderful days in Aurelia's apartment. The apartment was spotlessly clean and the gardens immaculately kept. Our hosts were incredibly helpful with anything we required or wanted to ask about the area. Their daughter Milena gave us wonderful tips for restaurants and areas to visit. We felt they went way and above what we would expect from hosts. We cannot recommend this apartment highly enough. Grazie Mille to all the family
Carol
2015-09-19T00:00:00Z
We were met by Aurelia and her daughter who were gracious hosts immediately. The apartment is spotlessly clean and the photos represent it perfectly. The views from the back garden are spectacular and it is so lovely to relax with a coffee out the back. They had left a lovely bottle of wine and a couple of beers in the fridge for our arrival which was so thoughtful. Everything you need is in the apartment and while we stayed they were so helpful with anything we needed and we were even brought some bbq food from a family party they were (URL HIDDEN) lovely!!! The apartment is quite high up, so if you have any health issues or don't have a car you may struggle with the walk to it. Loved staying there and loved Aurelia and her family who were really wonderful hosts. Thankyou so much Natasha and Emma
Natasha
2016-06-10T00:00:00Z
Aurelia made us feel very welcome. The apartment is very clean with a beautiful view. We had everything that we needed for our stay. We enjoyed the location above the town of Torbole one of the days we were there we didn't use our car and just took a short walk to the Parco delle Busate up the street where we did an amazing hike, enjoyed the cafe and went to the adventure park. It was a great stay!
Cara
2015-10-18T00:00:00Z
Room Type
Entire home/apt
---
Property Type
Apartment
---
Accommodates
5
---
Bedrooms
Nago-torbole, Trentino-Alto Adige, Italy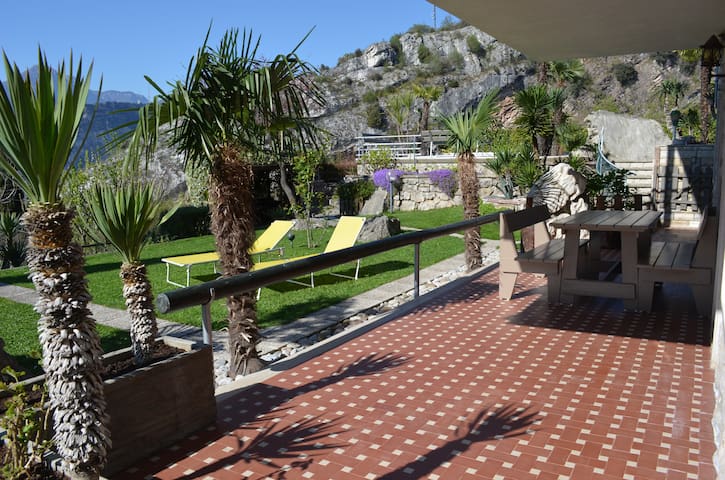 House located in the village of Nago-Torbole, in the center of Nago (2 km. From Torbole), close to the village square, where there are a small supermarket, a bank with ATM, a few bars and restaurants- pizzerias; the house is very close to the bicycle path that leads to Lake Garda. The house, called Casa dei Foini, has been recently renovated with Florentine terracotta floors, and covers a total area of 180 square meters. The house is on 3 floors.
The house is on 3 floors. The 80 square meters attic on the third floor includes a large kitchen with living room and a room with a double bed and with a characteristic Tyrolean style oven called Stanza dei Girasoli. On the second floor there are two rooms with double bed and two bathrooms: the larger one with a relax bathtub, the other with a big shower. On the first floor there is a wide entrance hall where guests can leave bicycles, surfing and all sports equipment; the flat is protected by an armored door located on the main entrance to the house. The house is very safe, quiet and cheerful, with many windows and two large balconies from which you can admire the beautiful nineteenth century roofs of the village Nago. The Casa dei Foini is in the town of Nago Torbole, in the historic center of Nago, and can be easily reached from the Brennero motorway, exit Rovereto Sud - Lago di Garda Nord, direction Riva del Garda. Going down towards Nago, a small medieval church rises up near a car park. At 100 meters from the car park, set in an ancient square in the arcades near Via dei Forni, is the Casa dei Foini, in Boemia and Moravia Street, number 22. From the Casa dei Foini you can easily reach Lake Garda. Bikers ride down along the scenic route of old Nago and reach Torbole in 10 minutes. If you prefer to walk, at 100 mt from the Casa, depart all the streets and paths leading to the slopes of Monte Baldo, to the cliffs for climbing, or to the Marmitte dei Giganti where there are several climbing routes.
The village of Nago, quiet and well maintained, is within a stone's throw from Lake Garda at the foot of Monte Baldo, and is characterized by adjacent houses, typical of medieval villages, from which you can see the ruins of Castel Penede, an old medieval fortress. Nago is surrounded by prestigious olive groves from which we get an excellent olive oil, as well as vineyards producing grapes for sparkling wines. Some bike paths that connect Lake Garda with Vallagarina and Monte Baldo, whose peak (Monte Altissimo) is the destination of the most famous bikers of the world cross the village of Nago. To reach Lake Garda there are several streets that start from Nago: the most famous and used is the old road of Santa Lucia, an ancient Roman road, which was also used in 1439 by the army of His Majesty the Doge of Venice to reach the galleys to the lake where shortly thereafter would begin the battle against the Grand Duchy of Milan that prevailed in the nearby Riva del Garda and the Lake. This road can be traveled by mountain bike or on foot. In this area the famous German poet Goethe wrote some verses to praise the beauty of the place.
We stayed in this beautiful apartment for 5 nights and would definitely recommend it! It was equipped with everything we needed, we especially enjoyed the balcony where we had breakfast. The apartment really was "biker's paradise", as it offers plenty of space in the entrance area for the bikes. Torbole can be reached by foot or bike - but be prepared for some workout on the way back uphill. :-) Andrea & Tanja were very nice&helpful. All in all - great place - would love to come back!
Fabienne
2015-08-15T00:00:00Z
The host canceled this reservation 286 days before arrival. This is an automated posting.
Eva
2015-10-04T00:00:00Z
We had a wonderful time. The location was great, very peaceful away from crowds of Torbole but walking distance to cafes, supermarket etc also very close to cycle tracks. The house had plenty of room, was very clean and tidy and really well equipped. On the ground floor their was a large area to store our bikes. There were maps and pamphlets on all the the activities, sites and things to do in the region. Andrea and Tanja were fantastic hosts, met us when we arrived to show us around and tell us of events happening. They couldn't have been more helpful or friendly.
Jenny
2016-08-31T00:00:00Z
There were four of us staying at the house and it was an absolutely perfect venue for us. The space is great for relaxing and cooking and as we had bikes with us the area at the front door was great for all our gear. Nago is such a perfect place to stay, a great position to explore around Lake Garda and further north up to the Dolomites. Parking just round the corner. Much quieter than being down the hill in Torbole but with a few great places to eat and not too far to walk down to the lake either. We would recommend the accommodation highly. Great views from the back balcony with a few hours wasted with a glass of wine and a book! Andrea and Tanja were perfect hosts and really helpful with finding our way around. Thank you!
Aileen
2016-07-10T00:00:00Z
My family have recently had the pleasure of staying in Casa dei Foini Apartment as guests of the beautiful Tanja and the very cool Andrea. The apartment is very large and extremely comfortable set in the the village of Nago which is so nice with a real community feel about it. It has everything you need they supplied us so many things like milk and juice just to name a few it was like home. Other areas close by of Torbole and Riva are amazing as is Arco all easily reached by car,bus,bike or walking. The lake Garda region in the north is all about sport and incredible sights and Tanja and Andrea gave us all the information we needed to have a great holiday. I can't write this review without saying that we will never forget the kind and generous experience we had with Tanja and Andrea as our hosts, we will miss them and look forward to seeing you both again. Fully recommend the apartment and the region as a holiday. Also it's very easy to get to from Verona and Milan by train.
Tony
2016-07-01T00:00:00Z
What a great apartment, on a very good location. The apartment is specious, it is actually bigger then the pictures show. All facilities are available, including internet connection. The owner is very, very helpfull and always ready to give advice. I would recomment this apartment to anyone who would like to stay in this region!
Gerwin
2015-08-30T00:00:00Z
We justed loved the place! It is a beautifully refurbished Italien appartment right in the center of Nago. we went climbing during the day and found some good rest in these excellent beds. Tanja and Andrea were really helpful and made us felly very welcome. We will definately come back. Thank you very much!
Niels-Christian
2016-05-31T00:00:00Z
Casa dei foini is the best place we've ever lived!!! Andrea and Tanja are the best hosts we've ever met!!! According to photoes we couldn't imaging that this house could be so spacious, homely, very-very comfortable for two couples. Everything was absolutly ideally! Andrea and Tanja are very communicative, energetic, sportive and helpful! And of course there were so many activity!!! Windsurfing, mountain bike, hiking! The most wonderful nature we've ever seen!!! We really enjoyed staying here and we'll visit that place again for sure! Thank you very much!
Nick and Aleksandra
2015-09-29T00:00:00Z
Room Type
Entire home/apt
---
Property Type
House
---
Accommodates
6
---
Bedrooms
Nago-torbole, Trentino-Alto Adige, Italy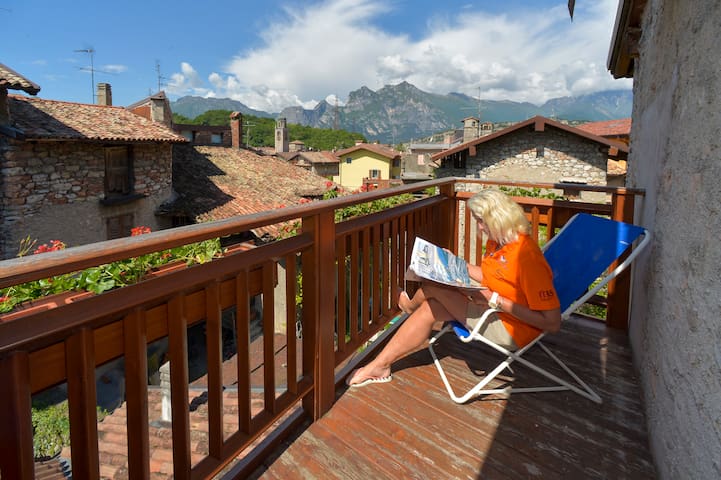 This apartment is near to a beautyful panorama from Garda lake, restaurants and other outdoor activities. This house is perfect for couples and families (pets too!).
Beautiful place. Friendly and simple contact. Best value
Finn-Niklas
2016-09-26T00:00:00Z
Very simple and friendly contact with Stefany. Large and well-located apartment in Nago-Torbole (approx. 200m above the lake) Perfect basis to go mountainbiking at Monte Baldo.
Max
2016-09-21T00:00:00Z
The host canceled this reservation 29 days before arrival. This is an automated posting.
Alexander
2016-07-28T00:00:00Z
The host canceled this reservation 10 days before arrival. This is an automated posting.
Tiziana
2016-07-31T00:00:00Z
Stefany è stata davvero gentile. alla sera dell'arrivo ci ha aspettati nonostante fossimo in consistente ritardo, ci ha aiutati nel trovare l'alloggio ed è stata premurosa nell'assecondare le nostre richieste. La casa rispecchia le aspettative, c'è tutto quel che serve e la posizione permette di raggiungere facilmente in auto Torbole e Riva del Garda.
Alessandro
2016-09-05T00:00:00Z
Wir sind erst nach 22:00 Uhr angekommen und wurden trotzdem sehr herzlich empfangen. Uns wurde rasch das notwendigste in der Unterkunft gezeigt und erklärt. Alles super. Gute Lage, Restaurants zu Fuß erreichbar. Schöne Aussicht. Alles an Einrichtung vorhanden was man benötigt. Ein großer Obstkorb wurde zur Begrüßung hergegeben, der uns durch unseren Aufenthalt begleitet hat.
Mathias
2016-11-01T00:00:00Z
Bella vacanza, merita per chi ama la natura e camminare perché è vicino a un bellissimo parco con panorami mozzafiato!
Patrizia
2017-01-02T00:00:00Z
Zur Wohnung: Sehr hübsche Wohnung mit großem Wohnzimmer und sonnigem, großen Balkon. Es gibt ingesamt 6 Schlafmöglichkeiten wobei 4 im selben Raum sind. In der Küche mit Gasherd ist alles vorhanden und man hat einen Parkplatz direkt vor der Tür. Für manche wichtig: Die Dusche hat genug Wasserdruck. Zur Lage: Die Wohnung liegt in Nago in einer sehr ruhigen Privatstrasse. Ca 20m vor der Haustür gibt es einen wunderschönen Aussichtspunkt über den Gatdasee. Man ist ca. 200 höhenmeter über Torbole. Möchte man zum See muss man also erst den Berg runter und später wieder hoch. Es gibt hierfür auch einen Fahrradweg. Zur Vermieterin: Sehr nett und Hilfsbereit. Man kann sie jederzeit anrufen wenn etwas sein sollte.
Fabian
2016-08-07T00:00:00Z
Room Type
Entire home/apt
---
Property Type
Apartment
---
Accommodates
4
---
Bedrooms
Nago-torbole, Trentino-Alto Adige, Italy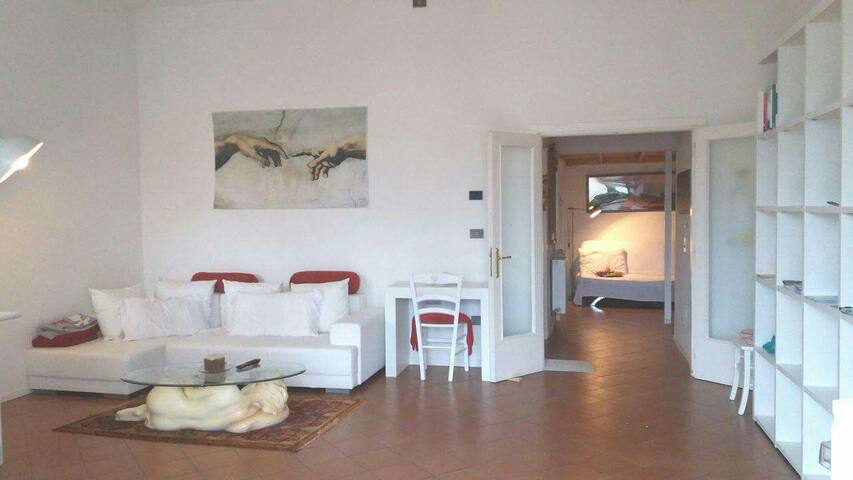 Exclusive, private and quiet, fully furnished, lake view home with spectacular views in to get away from the crowds. Nearby Parco Ricreativo Le Busatte, offers restaurant/bar, Adventure Park, hiking trail towards Tempesta, bmx course. The cover picture is not a marketing ploy, it's the actual view from the patio!
1 king size bed, 2 single beds. Sheets and towels are provided. Outdoor round table for up to 5 people, plus 1 extra square table for 4 people, 3 lounge chairs in large covered porch area plus surrounding garden. Indoor stube syle eating area seats up to 6 people. Fully furnished kitchen and free wifi. BBQ available upon request and should be used in the open air, outside of the terrasse area. Private street and bike parking, large back porch for playing and relaxing. Baby swing available upon request.
Parco Le Busatte area offers a bar/restaurant/park and is where the mtb bike trails lead up to Nago/Mori/Rovereto and the Dos Casina/Monte Altissimo/Monte Baldo trail. Bmx circuit, hiking trail to Tempesta, Adventure Park, free climbing, vie ferrate, picnic tables, olive groves and World War I tunnels and artifacts with spectacular lake and mountain views.
The apartment was perfect. The beds were comfortable and the fully equipped kitchen came in handy. But the best part was the amazing view from the back porch. We could have spent our entire vacation just on the porch. It's a great location. A 10 minute walk with beautiful views takes you into town where you can find delicious food, shops and beaches. Piergiorgio and his family were excellent hosts. They were extremely friendly and made us feel at home and helped us find all the great things to do in the area. There is such a variety of activities to do near by that any type of traveler will find exactly what they are looking for. This place was paradise. Highly recommended.
Sam
2016-08-29T00:00:00Z
The host canceled this reservation 2 days before arrival. This is an automated posting.
ana maria
2016-08-31T00:00:00Z
Wspaniałe miejsce z ogromnym tarasem i pięknymi widokami. Czysto, spokojnie. Przywitano nas domowym ciastem :). Miejsce godne polecenia.
Joanna
2016-08-20T00:00:00Z
L'accoglienza dell'host è stata eccezionale, ha atteso il nostro arrivo dopo aver indicato con precisione i dettagli per arrivare alla casa. Ha spiegato dettagliatamente la struttura che ci avrebbe accolto e le regole a cui prestare attenzione. Hanno inoltre lasciato un tocco di personalità che abbiamo apprezzato: Laura ha fatto una torta di benvenuto apposta per noi e nel frigorifero èLa zon stata lasciata una bottiglia di vino per accompagnarla. Ci siamo sentiti a casa nostra fuori casa. L'ubicazione non poteva essere migliore di come è stata. Zona tranquilla e lontana dal traffico dove il silenzio fa da padrone e nel contempo raggiungibile il centro cittadino. Posto ideale per rilassarsi. La casa perfettamente in ordine e pulita e ben fornita per le nostre necessità. A nostra richiesta Piergiorgio ha comunicato cortesi informazioni per un buon ristorante dove poter mangiare ed poter fare acquisti di buona qualità. Consiglio vivamente questa struttura ed il suo host.
Silvia
2016-08-26T00:00:00Z
Wunderbar ruhig gelegenes Appartment mit traumhaftem Ausblick zum See. Perfekt zum Entspannen und Erholen! Das geräumige Appartment ist gut ausgestattet und die große Terrasse einfach der Hit! Wir kommen sehr gerne wieder!
Sylvia
2016-09-11T00:00:00Z
Vi har haft fantastiska dagar i Torbole Piergiorgio är en mycket trevlig värd, som ställer upp och ordnar med allt Lägenheten har ett fantastiskt läge högt ovanför Gardasjön. Lägenheten är väldigt bra och har allt man behöver.
Mats
2016-07-15T00:00:00Z
Ottima esperienza! Tutto come da descrizione, Piergiorgio è un Host sicuramente affidabile
Riccardo
2016-08-23T00:00:00Z
Wir wurden sehr warm empfangen und fühlten uns willkommen, alles was in der Beschreibung angegeben war stand auch zur Verfügung! Die große Terrasse, die von zwei Zimmern aus zugängig ist, ist toll, ein wunderschöner Blick auf die Berge und den See! Für vier Leute gut geeignet, es gibt ein Bett für zwei Leute und dann noch zwei Klappsofas. Da die Straßen teilweise sehr eng sind ist es praktischer zu Fuß in die Stadt herunter zu gehen. Der Rückweg den Berg hoch ist etwas steil und ein bisschen anstrengend, aber wirklich nicht sehr lange und absolut machbar.
Franziska
2016-08-17T00:00:00Z
Room Type
Entire home/apt
---
Property Type
House
---
Accommodates
4
---
Bedrooms
Nago-torbole, Trentino-Alto Adige, Italy
The flat is positioned next to Torbole center, just 300 m far from the beach. It lies at the top flor (second flor, presence of a lifter) and owns a big terrace, a confortable living room and a full optional kitchen. The rent includes the flat (5 beds) and a big garage. Possibility to rent 4 city bikes for 10 euro/bike per week. Flat Wi fi connection is guaranteed, as well as air conditioning in every room, a lifter to get to the flat. The owner is going to welcome you at the check in and he is going to present at the check out. For any question or problem emails or phone calls will keep you in touch with him. Spots of interest: Beach 300 m; Market 50 m; Torbole center 200 m; Riva del Garda 2 km. Closest airport: Verona Catullo; Hiway A22 Brennero-Modena, exit Rovereto sud; Busses run to Torbole and Riva del Garda from Trento and Rovereto. Torbole is a great spot where to practice sports; some of the most practiced are windsurf, sailing, mountain bike, down hill, hiking, climbing and paragliding.
Spots of interest: beach 300 m; supermarket 50 m; Torbole town center 200 m; Riva del Garda 2 km.
I rented the apartment for my son, who has lived in Torbole and has many friends there. Maurizio was great ahead of his visit..sent several messages and was there to check my son in. The apartment is in a great location, close to the center of town and the lake. My son , Randy, said the apartment was "the best ever!" With a great kitchen well set up for the dinner parties he had during his visit. He Said I should give it 6 out of 5 stars!
Carol
2015-09-28T00:00:00Z
Maurizio's flat in Torbole is superb. Very bright with excellent views of the surround mountains. Easy check-in & very well appointed with everything you could possibly need. We rented the whole place for 10 days while at a sailing regatta on the lake. Very close to shops, restaurants and the waterfront. Everything is within an easy 4-5 minute (flat & level) walk. If you go to Torbole, you must stay here.
Rod
2016-05-23T00:00:00Z
The flat is exactly as dscribed and exceeded all our expectations. Mauizios Mother gave us a warm welcome incl. a small present :-) ) and gave us a short introduction how to use keys, remote control etc. ... The flat is super equipped, i.e. cooking makes fun, hifi adapters, WiFi and so on. We especially enjoyed the terrasse, which is partially sheltered! Big thanks again to Maurizio and his family! We did enjoy our stay in Torbole and will definitely com back :-) Ciao, Daniel & Anke
Daniel&Anke
2015-09-17T00:00:00Z
We loved Torbole and the apartment was lovely, clean, big and comfortable. We felt safe and the location was perfect.
Natasha
2016-07-01T00:00:00Z
Great host, nice flat
Michael
2016-09-11T00:00:00Z
Good Check in Very nice, clean, quiet and elegant flat
Michael
2015-09-06T00:00:00Z
All good!! Would go back !!
Mihkel
2015-10-12T00:00:00Z
Modern appartment with a good price and very nice host family. Highly appreciated!
Michael
2016-10-21T00:00:00Z
Room Type
Entire home/apt
---
Property Type
Apartment
---
Accommodates
5
---
Bedrooms
Torbole, Trentino-Alto Adige/Südtirol, Italy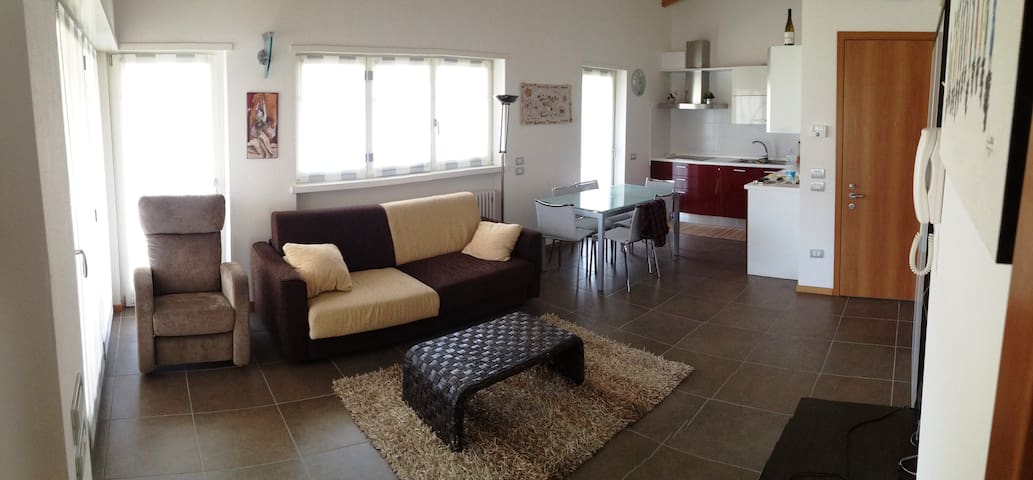 Torbole center, beautiful furnished apartment for 2 max 3 persons (double bed and sofa) just 100m from the lake and a short walk from the center. The apartment has everything and is ideal for a short break. Private parking included.
The flat is near the center of Torbole and has everything in it you need. It is on the quiet backside of the building and you have a nice view on the trees and mountains out of the windows and the big balcony. It is a perfect spot to explore Torbole and the cities around the lake Garda. The only thing missing to make it perfect is WIFI. But there is free WIFI in some spots in the city. We were 100% satisfied!
Felix
2014-09-21T00:00:00Z
Giacomo is a great host . The apartment is very practical and the view from the balcony is great too . I would always stay there again.
Jan
2016-05-30T00:00:00Z
Nice apartment!.close to center village and with all you need.good deal.
Rafa
2016-05-24T00:00:00Z
This apartment is perfect! The apartment is clean, cozy. You've got everything what you need. I will definitely recommend staying here!
Anton
2016-08-11T00:00:00Z
Das Apartment war wie beschrieben und der Vermieter sehr nett und entgegenkommend. Trotz der zentralen Lage ist es sehr ruhig, alle wichtigen Geschäfte sind gut erreichbar. Wir buchen es gerne wieder, danke!
Ulrike
2016-04-02T00:00:00Z
Wir wurden sehr freundlich von Giacomos Eltern in Empfang genommen. Auch Giacomo selbst war immer freundlich und hilfsbereit. Die Wohnung ist klein und einfach eingerichtet, aber sehr gemütlich und für zwei Personen perfekt. Alles ist sehr sauber. Der Balkon bietet einen schönen Blick in die Berge. Den See selbst sieht man leider nicht. Die Lage ist sehr Zentral. 5 Minuten zum Zentrum von Torbole oder an den Strand zu Fuß. Die Wohnung ist für Pärchen ganz klar zu empfehlen. Wir hatten eine schöne Zeit.
André
2016-08-16T00:00:00Z
Abbiamo fatto una azzeccatissima scelta! La posizione centralissima, il parcheggio privato prezioso...tutto perfetto per questo soggiorno dedicato alla pratica del windsurf!
laura
2016-06-20T00:00:00Z
Wir wurden sehr freundlich von Giacomos Bruder in Empfang genommen. Das Appartement ist klein, aber mit allem wichtigem ausgestattet (sogar ein Ofen ist vorhanden) und ist sehr sauber. Der Balkon ist einfach toll, dort kann man super sein Essen genießen. Leider verdecken die Bäume den Blick auf den See, dafür hat man aber eine super Sicht auf die Berge um den See herum. Die Schlüsselübergabe am Ende verlief trotz eiliger Abfahrt sehr gut. Dieses Appartement kann ich echt empfehlen. Gerade für Pärchen, die gerne selbst kochen, ist das ein gutes Angebot.
Theresa
2016-09-11T00:00:00Z
Room Type
Entire home/apt
---
Property Type
Apartment
---
Accommodates
3
---
Bedrooms
Nago-torbole, Trentino-Alto Adige/South Tyrol, Italy
3 large bedrooms in a stylish flat, which is a mixture between a typical 60s and modern flat. Large shared living room (with sofa bed) and dining room with fully furnished kitchen. 1 bathroom (with shower and washing machine).
What makes this flat unique is the style, which is a mixture between 60s flavor and modern feeling. But the most amazing aspect is the unforgettable lake view, that you have from 2 of the 3 bedrooms and from the dining room, which has a large balcony. The house has been recently renovated and is located in a heavenly valley, full of olive trees and vineyards. Another interesting aspect is the wind (the famous Torbole "Peler" and "Ora"), refreshing and mild in the morning, while strong and warmer in the afternoon: you will never need a fan, nor Air Conditioning! ;) Free access to fast internet wifi is provided. TOURISM TAX: all guests (older than 13) will have to pay the Local Tourism tax, 0,70€ per person per day for maximum 10 days. This is not included in what you pay with Airbnb. You will have to pay cash upon arrival.
Key words: peaceful, well-kept, lake view. Suggestions: - go hiking in the mountains - try windsurfing in Torbole - visit Riva del Garda - ride your bike! - have a walk to Torbole via the ancient Roman path - visit the center of medieval Nago - take the cable-car in Malcesine and have a look of the lake from the top of the Baldo mountain - visit Limone sul Garda
Matteo was very prompt responding to any inquiries, which was great! The apartment was very clean and comfortable. The location is a bit of a walk to Torbole, but it is beautiful. His mother met me at the apartment & showed me the maps & where everything in the kitchen was, she is so incredibly sweet (and has the cutest puppy!). I made good friends staying at Matteo's apartment, it was a great 3 days!
Kelly
2014-09-14T00:00:00Z
AAA
Jochen
2014-10-03T00:00:00Z
My experience with the host was good. Matteo is very fast to respond to queries up until the arrival. We actually never met Matteo, as he was working in Verona. However, his mom came and picked us up at the bus station in Nago. She was very accomodating and helpful. She also arrived to clean when there was new guests expected. Regarding the flat it's very nice. There are three bedrooms which are rented separately, living room, hallway, kitchen, and bathroom. The rooms are spacious and beds are large and comfortable, and it's very clean. There was a washing machine, shower, stove, fridge, tv, and stereo to use. There is no dishwasher. We spent quite a lot of time on the balcony, which has a very nice view of the lake and the surroundings. As we did a lot of bike riding, it was helpful that there was a hose outside that we could clean the bikes with after a mtb ride. The area and the surroundings are awesome for bike riding and outdoor activity. Torbole is also famous for wind sailing on the lake. The flat is located in Nago, which is a bit of a walk upwards from Torbole. It's possible to walk up a stony path (we called it the roman trail) from Torbole to the house. It takes about 10-20 minutes, depending how fast you walk. However, it's quite steep, so you will definetly break a sweat coming from Torbole to the flat. It is not meant for normal biking, so if you have a bike, you will typically have to walk down the path if you are not a mountain biker. This is really the only good option walking up and down from Torbole. The other option is to take the bus (public transport is limited) up the main road, which takes about 2-3 minutes. We also tried walking to Riva from Nago, and in our experience this took about an hour. Our travel route was from Bergamo to Nago. I counted 4 connections with busses and train, which was quite tedious. The public transport system is quite limited, so I'd recommend renting a car. There is a parking space outside of the flat. So to summarize, the host is accomodating, the flat is fantastic, the location so so in terms of accessability to Torbole and Riva when walking, and the public transport is very limited. Therefore I'd suggest renting a car when staying in Nago. The area is great for outdoor activity.
Joachim
2014-07-14T00:00:00Z
We very much liked our stay in Matteo's flat. The flat is spacious with 3 sleeping rooms, each with a double bed, one living room and a separate kitchen, and a bathroom. The balcony is large enough to sit confortably with 3 or 4 people and the view is fanatasic as shown on the pictures. Nago is a little nice quite village in the mountains with a supermarket, grocery shop, a bakery and some nice bars and restaurants. The flat is located on a quiet road, the old road leading toward Torbole. Walking down the old road to Torbole (no vehicles alowed) takes you around 15 minutes, walking up a bit more as it's pretty steep. Matteo's mum welcomed us warmly and explained everything (with Matteo translation into English on the phone :) ). We absolutely recommend the flat for everyone who looks for a nice and quite place to enjoy the Lago di Garda!
Katja
2015-10-09T00:00:00Z
Hi all, I stayed here with my friends in June'14. Matteo's discription 100% matches with reality: stylish rooms, amazing views from windows, way to lake is really very shot. Matteo was a very carefull host. He thought over all for your convinience: shampoo and shower gel were included, sweet starters were on the kitchen, flat was tidied, we could park our car. So I hope I visit this place again in the future)
Sergey
2014-06-15T00:00:00Z
The flat is really wonderful, the neighborhood is very beautiful, the view is amazing! Matteo respond very quickly to any mail or sms at any time, he welcome us on the arrival (even though we were late 2 hours) and took care for food and drinks for the evening and the next morning. A great place and host.
yossi
2014-09-10T00:00:00Z
Matteo was a charming, friendly and attentive host. The house is charming in a beautiful town overlooking the lake. There are a few different rooms to host, and it was a pleasure to meet with other travellers staying there with us. Matteo gave us some excellent local restaurant recommendations and was only too willing to accommodate our whims. A delightful experience, definitely one to recommend.
New
2014-06-26T00:00:00Z
Everything was great! The rooms were clean and the view from the balcony was impressive! A quiet location, where you can relax for a good price! Matteo and his mum were very kind to us! Thank you!
Michael
2014-07-22T00:00:00Z
Room Type
Entire home/apt
---
Property Type
Apartment
---
Accommodates
8
---
Bedrooms
Torbole, Trentino-Alto Adige, Italy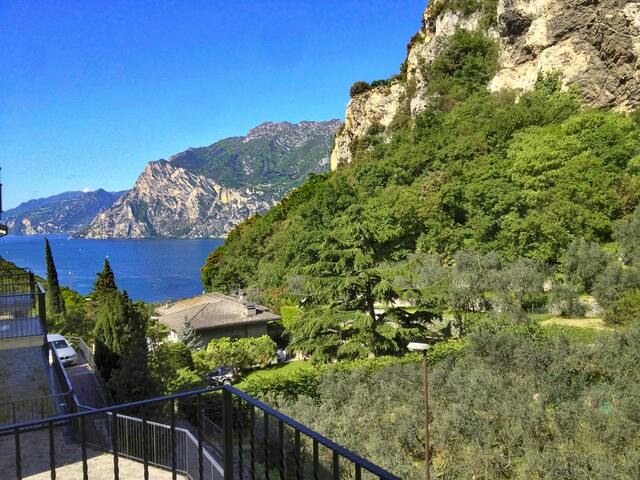 Bilocale arredato mq. 40: soggiorno/cucina, camera da letto matrimoniale, bagno con doccia, disimpegno lavanderia + terrazzo mq 10 + garage/box chiuso per auto 260 X 520 + cantina chiusa per bici, surf ecc. 260 X 160. Appartamento, terrazza, garage privato, deposito protetto per l'attrezzatura sportiva
Il bilocale completamente arredato situato al 2 piano in un palazzo di 3 piani con l'ascensore. Composto da una camera da letto (con armadio grande, letto matrimoniale), salotto (con divano letto, tavolo da pranzo, cucina attrezzata) e 1 bagno (con doccia, bidè). C'è inoltre un letto pieghevole per gli ospiti. È possibile ospitare una famiglia con 2 bambini sotto i 12 anni. Tutti i servizi essenziali sono inclusi: cucina attrezzata con fornelli a gas, forno elettrico, frigorifero, ferro e asse da stiro, TV grande satellitare, riscaldamento, lavatrice, parcheggio gratuito in un garage coperto, deposito protetto per bici e altra attrezzatura sportiva. Inoltre sono inclusi: asciugamani, lenzuola, coperte, carta igienica, sapone, shampoo, phon.
L'appartamento è situato in un quartiere molto tranquillo, In un palazzo di 3 piani e di pochi appartamenti in totale, sulla strada interna lontano dal traffico e dai rumori della città.
Room Type
Entire home/apt
---
Property Type
Apartment
---
Accommodates
3
---
Bedrooms
Riva del Garda, Trentino-Alto Adige, Italy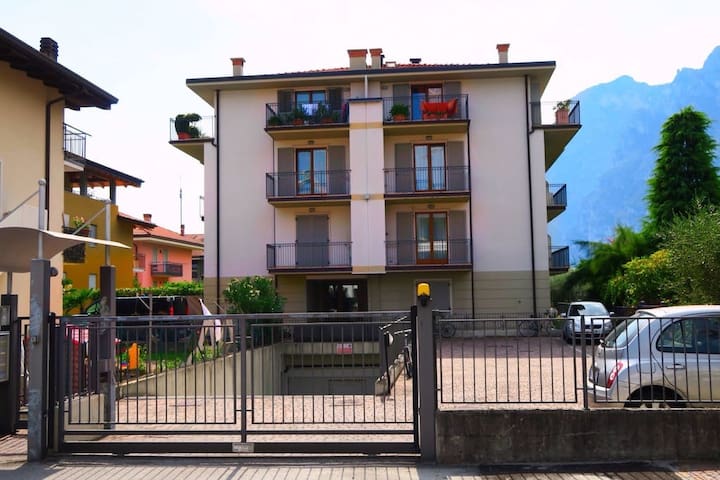 A pochi metri di distanza dalla spiaggia, la Casa Sandra Bertolini offre camere ampie e luminose, ed appartamenti per vacanze con una splendida vista del Lago di Garda. Servizi: rimessaggio windsurf in riva al lago; deposito MTB, wi-fi gratuito.
The highlights of Casa Sandra Bertolini are the unique view to the lake and the characteristic inner courtyard. The rooms are about 25/30m2, for 2 to 3 persons, all have its own bath with shower and air dryer, Sat-Tv, Wi-Fi.
From Casa Sandra Bertolini along the beach in just few minutes on foot all our guest can reach our "Prato al Lago" a private closed meadow of approximately 3000 square meters with direct access to the lake, car park place, showers, toilet, storehouse for windsurfing and sailing material, park place for boat trailers, windsurfing rental and MTB depot. Casa Sandra Bertolini is the starting point for many leisure activities but also a place to relax yourself far from the everyday stress.
Having just returned from a week at Casa Sandra I have to say the place is sensational! The whole place is immaculate and the beds are amazingly comfortable. The location is ideal as it's off the main road and literally a minutes walk to the lake, we had no noise issues at all. Torbole has to be one of the best locations on Lake Garda. The host met us and showed us round explaining how everything works, after waiting for us to unload our car Barbara then took us to the secure parking facility which is ideal. We have already made plans to return next year and cannot wait. This has to be one of the best holidays I have had in a long time!
James
2015-09-27T00:00:00Z
Alles in allem Top Location,gute lage, ruhig,nette Gastgeber. Fahrradabstellmöglichkeit ist klasse! Wurden auch spät um 22Uhr am ersten Abend noch empfangen. Allerdings war es etwas schade, dass die Gastgeberin uns am letzten Tag unterstellt hat, dass wir auf dem für Gäste vorgesehenen Parkplatz mit noch einem anderen Auto geparkt hätten und auch andere Leute von uns(meine Mutter!!) hier anwesend seien. Dass sie anwesend war, stimmt, dennoch verstehe ich nicht ganz was das Problem daran war... Sonst alles in Ordnung!
Corinna
2016-10-03T00:00:00Z
Wir waren von Anfang an begeistert über die herzliche Begrüßung, die saubere und gemütliche Unterkunft. Alles wirkte freundlich und zwanglos, ein super Ausblick zum See und zentral gelegen. Wir können es auf jeden Fall weiter emphehlen.
Carolin
2016-09-17T00:00:00Z
Sehr nette Gastgeber, das Hotel ist absolut sauber, man hat eine Küche mit gemeinsamen Kühlschrank für alle Gäste, die man für das Frühstück nutzen kann und es gibt einen Parkplatz zur freien Verfügung. Problematisch ist es nur nachts, da es in Torbole (zumindest in der Hochsaison als wir da waren) gerne mal lange recht laut ist und man ohne Klimaanlage im Zimmer die Fenster offen halten muss und deswegen nicht wirklich gut schlafen kann. Das war aber auch der einzige Kritikpunkt, den wir hatten.
Rudi
2015-08-02T00:00:00Z
Room Type
Habitación privada
---
Property Type
Bed & Breakfast
---
Accommodates
3
---
Bedrooms
Nago-torbole, Trentino-Alto Adige, Italy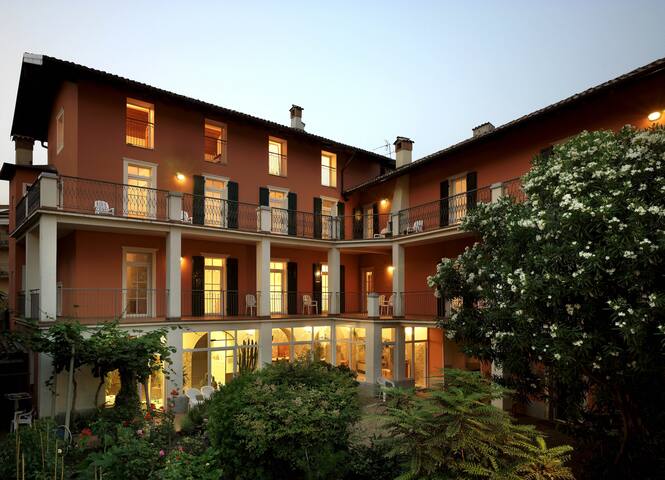 Enter dates to see full pricing. Additional fees apply. Taxes may be added.