Casetta interamente costruito in legno ,immerso nel verde più assoluto nella campagna faentina , Tanta tranquillità ,dove ancora si ha la ricchezza di sentire i suoni della natura (grilli , cicale , uccellini , ranocchie), Raggiungibile a soli 5km dall ' uscita dell ' autostrada di Faenza ...
Questo spazio è' unico per i dettagli di come è' stato realizzato,curato nei dettagli ambient , c e la possibilità di avere musica diversa in ogni stanza e anche all'esterno , è' ubicato in una posizione facilmente raggiungibile dall autostrada e comodo per chi vuole fermarsi dal lavoro o si sposta per il lavoro ma anche per raggiungere mete come cotignola , lugo , Bagnacavallo , Brisighella , faenza e la vicinissima Ravenna . Ho elencato paesi dove le sagre e gli eventi sono di fama nazionale ,e Faenza è ' famosa città d'arte per le sue ceramiche ...
La casa è' ubicata vicino ad un altra casa molto bella e quindi in campagna ma con un vicinato di buon gusto
This is a lovely modern light and airy place in a rural location. We were greeted by Valeria's mother who showed us everything, including some tasty baking and cold drinks in the fridge, thank you! Description is accurate, bathroom great and bed very comfortable.
Sally
2016-09-18T00:00:00Z
We had a really nice stay at Valeria's. Although we haven't met her personally, her sweet mother welcomed us and showed us around. The place is huge, clean and full equiped, bed was also very comfortable. They go the extra mile to please their guests. Thanks for the cookies :)
Reinhard
2016-09-11T00:00:00Z
A super modern house in the heart of the Italian country side. We really loved it, the locality was beyond our imagination.
Frantisek
2016-09-16T00:00:00Z
Valeria è una host fantastica, disponibile e discreta. La casa che ci ha messo a disposizione è spaziosissima, curata nei minimi dettagli, moderna e con tutti i comfort immaginabili (aria condizionata, WiFi, sistema hifi separato per ogni stanza), con un grazioso giardino per i momenti di relax durante la serata. Consiglio la sua ospitalità a chiunque voglia passare qualche giorno in questa meravigliosa terra accogliente e piena di sapori.
Sandro
2016-07-18T00:00:00Z
Un'oasi dove il tempo non viene scandagliato da delle lancette di un orologio, ma dalla natura stessa. La sera come ninna nanna concerto di ranocchie e cicale. I padroni di casa sono veramente splendidi. Il loro cane Bush veramente molto affettuoso e giocherellone, ma senza essere invadente. La casa tutta i legno meravigliosa e piena di ogni confort. Come varghi il cancello di casa, non vorresti più uscirne. Anche se ha piovuto, siamo potuti stare in giardino perchè comunque ci sono spazi dove vedi la pioggia cadere senza bagnarti. Che dire: spero di tornarci presto!
maria teresa
2016-07-25T00:00:00Z
La casa e il luogo sono bellissimi. Le foto non rendono giustizia. Accoglienza, disponibilità e discrezione assoluta! Complimenti!
Diana
2016-11-05T00:00:00Z
La casa è veramente bella e l host molto comunicativo e gentile
Nicola
2016-08-15T00:00:00Z
Soggiorno fantastico! Io e la mia amica cercavamo un posto tranquillo e immerso nella natura per un ritiro meditativo per riprenderci dalla vita di tutti i giorni... e questo posto è stato una manna dal cielo! Un loft arredato con buon gusto, molto zen e minimalista, un giardino bellissimo, sistema per la musica, anche dei pasticcini gentilmente lasciati dalla signora... il tutto incorniciato dalla bellissima campagna faentina, dove ci siamo addormentate cullate dal gracchiare delle rane e dei grilli e svegliate con il soave canto degli uccelli!! Davvero ottimo ottimo ottimo posto dove staccare la spina. Dieci più!
Ksenia
2016-06-05T00:00:00Z
Room Type
Entire home/apt
---
Property Type
House
---
Accommodates
2
---
Bedrooms
Faenza , Emilia-Romagna, Italy
Modern Vintage Villa. 5km from Faenza. Vineyard.countryside.INSIDEdouble room w/ private bathroom( shower+bath). Study room. Fitness area. kitchen and living room w/ firepit. OUTSIDEcovered balcony which enters botanic garden. break included:)
The house was built in 1998, its a modern minimal style of Villa with a touch of the old rural house of Romagna. Guests have their bedroom with bathroom on the upper floor, going down the stairs you encounter the living room and separately the kitchen. going outside you have the covered balcony on a different level and then the garden.
Serenità e tranquillità' in campagna
Our stay was fantastic! We regretted that we didn't stay more than one night even though the weather was bad. Everything was perfect! we felt very welcome, the location was absolutely extraordinary and stylish but also clean, we received excellent recommendations on what to do that night, in the morning we were surprised with fresh fruit from the garden and home-made honey and jam! Andrea even took some time to give us a drum session. We can absoluetely recommend this place.
katja
2015-10-01T00:00:00Z
Andrea and his parents were very friendly and welcoming; nothing was too much trouble; the house and surrounding countryside were lovely. It was slightly inconvenient being 5km outside Faenza, which was not shown on the Airbnb site, although Andrea did his best to make it easy by giving lifts.
Judith
2015-11-02T00:00:00Z
What a great place to stay near Ravenna. Faenza is a true heart of Italian style. The house was specious, beautiful, clean and full of good emotions. This vine area is a real Italia. Andrea was a super host - nice and helpful. Our room was beautiful and bed was huge and comfy! We could eat local fruits, hobey and homemade jams. We absolutely recommend Andrea's house, especially garden. We hope to cone back and stay there again. Thank you Andrea and Marina!
Kamila
2015-07-28T00:00:00Z
Hi everyone! We have book this appartment in the midnight and Andrea was quickly. He organised a car to pick up us from station. For free! Great family, oh my hy husband and Andrea now are friends, they have some similar interests in agro farming. We have taste the fruits that grow on their huge gardens... It was so delicious! If we will be in this area we will defenetly stay in this house! It was very clean, and also well disigned house. Maria (Andreas mother) also very kind person who cares about guests she assisted in all questions! We recommend you to visit this place! Ciao
Olga
2015-09-29T00:00:00Z
Our hosts vibrated sensitive, creative, insight. The welcome was generous and hospitable and the accommodation more than could be asked for, or expected.
Tony
2016-09-21T00:00:00Z
I had really good and frequent contact with Andrea. He even understood my plane was delayed and I was forced to arrive at teally late evening. Also Andrea mother who was the boss of our staying at house was perfectly kind, polite and always smiled. I loved the jasmin smell at their garden. I guess next time I will be there I will ask for possibility spending some nigjts outside. Other thing I really liked is it was my first chance to stay at real Italian casa with real Italian family. Thanks to all of you ! I will come again one day ;)
Lukasz
2015-05-23T00:00:00Z
My boyfriend and I spent four wonderful days with Andrea and his family in Faenza. We were only supposed to stay for two days but extended because it was so great. You couldn't ask for a nicer family or a better house. Andrea picked us up from the train station and invited us to join him in all sorts of activities and events. My boyfriend went to a soccer game with him, we harvested some grapes on their vineyard/farm, played basketball with him and his friends, and partook in the local Oktoberfest celebration. His parents are adorable, especially his mom. And they have two friendly dogs - Lina and Chiano. Andrea lent us bikes so we could go to the market and lunch. We had the best meal we've had in all of Italy at a little restaurant down the street. They even gave us rides to/from the train station so we could explore nearby towns on day trips. The house is spacious and has everything you could ask for. They gave us tons and tons of fresh fruits and veggies grown on the farm. We would go back in a heartbeat.
Jessica
2015-09-24T00:00:00Z
It's a beautiful house! The family took us very warmly and sincerely, we had a good chat and we were fed delicious homemade food! Thank you very much for your hospitality and friendliness :) Next time we will try to stay longer! ;)
Oleg
2015-09-13T00:00:00Z
Room Type
Habitación privada
---
Property Type
House
---
Accommodates
3
---
Bedrooms
Faenza , Emilia-Romagna, Italy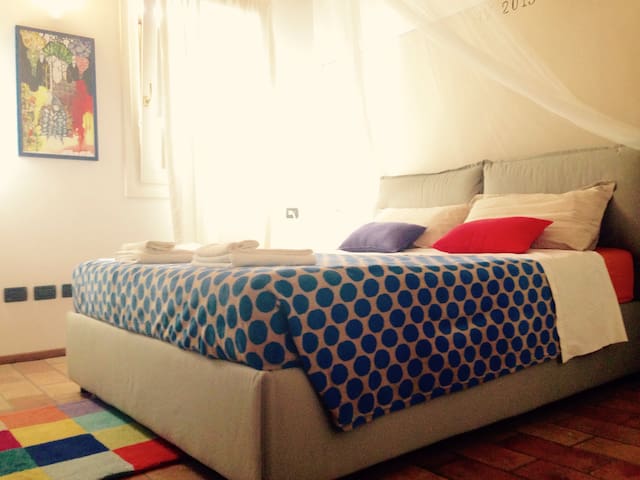 Former farmhouse , still see the old animal barn now converted and furnished as marvelous hall . Dwelling on 2 levels also fantastic barn open on its sides always accessible through the park of the house .
The house is nestled in the countryside a few kilometers from Faenza Faenza fantastic city with hundreds of years of history and world famous for its ceramics , a must see Brisighella and its Borgo . opposite side of the Via Emilia a few kilometers in the most famous cities and certainly show as Forlì - Cesena and Bertinoro ovviaemente famous worldwide for its wine . And Ravenna port city with very ancient roots . all reachable in time ranging between 7 min drive you 25 min . Then there is a pearl Forlì in Romagna plain , with ancient origins and its peculiarities as the Museums San Domenico which attract thousands of visitors each year .
tranquillo e appartato, uno dei pochi posti in italia dove la sera si vedono ancora le stelle.
We had a nice week in this unique beautiful house! It is a quiet Area, very cetrally and it's in the mittle of Forli and Faenza. The garden is very big, so you can spend a lot of time there! The house is spacious and well equipped. Michele and his parents are very nice and friendly, the communication was quite perfect! Thanks a lot and we will return as soon as possible :)
Martina
2016-08-22T00:00:00Z
La villetta è davvero stupenda, grande ed arredata con gusto in ogni minimo particolare! michele è stato davvero molto gentile e ci siamo sentiti a casa; ci siamo rilassati immersi nel silenzio della campagna ma vicinissimi a faenza, forlì, ravenna... Esperienza positiva! dovessimo tornare a Faenza, sapremmo già a chi rivogerci!
Roberta
2015-10-06T00:00:00Z
Nous avons passé un agréable séjour avec nos 2 enfants en bas ages. la région est très belle. il y a beaucoup de chose à faire. La maison et le jardin très grands et agreables.
Agathe
2016-08-16T00:00:00Z
Siamo state accolte dal babbo di Michele, che fu molto simpatico! In quanto riguarda la casa proprio un "havre de paix", in campagna, calma, con un giardino bellissimo! Poi, abbiamo conosciuto Michele che anche lui è stato molto accogliente e disponibile.
Eve
2016-07-25T00:00:00Z
Ottima esperienza! Host molto corretto che ci ha avvisato in anticipo di tutte le peculiarità della casa, che è veramente molto bella e davvero grande, in piena campagna e a meno di un quarto d'ora da Faenza. Purtroppo il periodo dell'anno in cui abbiamo soggiornato non è stato climaticamente clemente (metà ottobre), ma credo che in primavera questa villa di campagna sarà un vero spettacolo!
Mirella
2015-10-20T00:00:00Z
Proprietario molto molto simpatico disponibile grande cortesia e flessibilità. Casale in campagna in mezzo frutteti in località tranquillissima. Non isolato poiché adiacente costruzione abitata da cordiali vicini. Casa rustica arredamento particolare con cose di campagna e antiche. Servizi puliti e funzionali.
Alessandro Emidio
2016-08-26T00:00:00Z
Room Type
Entire home/apt
---
Property Type
House
---
Accommodates
6
---
Bedrooms
Faenza, Emilia-Romagna, Italy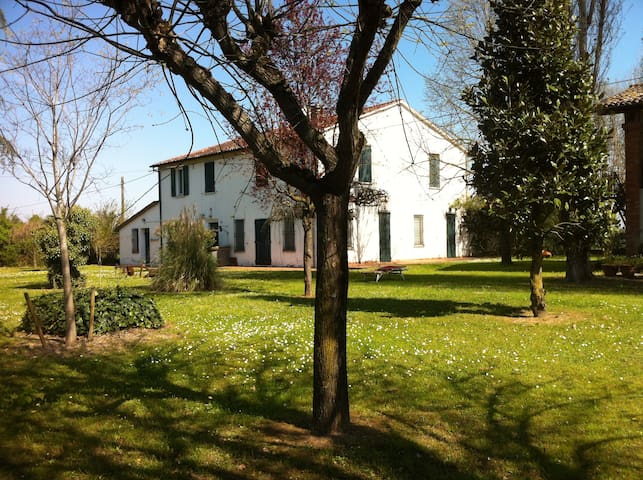 A 100 metri dalla Piazza del Popolo e dal Museo Delle Ceramiche, silenzioso, indipendente, con tutti i confort, aria condizionata, divano letto in sala, angolo cottura,terrazzino. Asciugamani e biancheria, 1 cambio nella settimana, pulizie.
Appartamento indipendente
100 metri dalla Piazza del Popolo, 100 metri dal Museo Internazionale delle Ceramiche, 15 km da Brisighella e Parco Naturale del Carnè,35 km da Ravenna, enoteche e ristoranti del centro storico raggiungibili a piedi.
The apartment is very central but at the same time in a quiet residential street. It has been recently refurbished and tastefully decorated. It was spotlessly clean. Ideal for a couple. Lisa was there to meet us and was on hand next door for anything we needed. The check in and out was very simple and easy.
Fiona
2016-05-31T00:00:00Z
Soggiorno perfetto, come essere a casa... Posizione a 2 minuti a piedi dal centro, parcheggi ovunque...sicuramente da tenere come riferimento per i prossimi viaggi.
luca
2016-04-17T00:00:00Z
Lisa si è rilevata sin dalle prime comunicazioni sempre disponibile, precisa e personalmente anche molto simpatica. L'appartamento si trova in zona centralissima in una via molto silenziosa con un affaccio interno ad una gradevole fiorita chiostrina. L'interno è spazioso curato e molto pulito, in piena rispondenza alla descrizione e alle immagini proposte. La ringrazio ancora per l'accoglienza
luigi
2015-07-10T00:00:00Z
Ottima accoglienza, la casa è bellissima ed in pieno centro di Faenza. Sono stata molto bene, grazie Lisa.
Martina
2015-07-25T00:00:00Z
Io e mia moglie siamo stati a Faenza per il fine settimana, l'appartamento é a due passi dal centro, al primo piano, indipendente, comodissimo. Lisa ci ha accolto e gentilmente illustrato i particolari della casa. Consigliatissimo.
Aldomarino
2015-10-04T00:00:00Z
Consigliato
Alessia
2016-10-31T00:00:00Z
Room Type
Entire home/apt
---
Property Type
House
---
Accommodates
2
---
Bedrooms
Faenza, Emilia-Romagna, Italy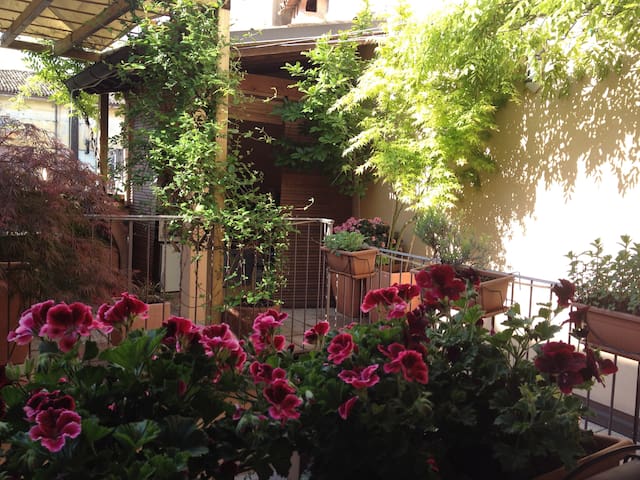 The villa is surrounded by the Romagna's hills, 30 minutes from the beautiful beaches of the Adriatic Sea and close to the most famous artistic cities such as Ravenna, Ferrara, Bologna, Modena, Parma... At the end of the day your garden will be the perfect setting for relaxing moments.
The house is located at the foot of the Romagna hills, 30 minutes from the beautiful the Adriatic Sea beaches, close to the most famous art cities such as Ravenna, Bologna, Ferrara, Modena, Parma ... It is a green oasis of tranquility, 800 meters from the center of Faenza and close to everything you need for a perfect vacation :, sea, hills, history, culture, sports, nightlife ... The apartment, located in the east wing oh the house, with private entrance and garden for exclusive use, consists of a living room with sofa bed, TV, dining area and kitchenette equipped with everything you could possibly need for a pleasant stay. Beyond a hallway is the master bedroom with a double bed and a bathroom with shower.
La zona nella quale abitiamo è una zona residenziale ricca di verde, vicina a un piccolo centro commerciale con supermercato, e altri negozi. A 100 mt dalla nostra casa c'è la fermata dell'autobus che in 5 minuti vi porta in centro. La nostra casa resta all'interno rispetto alla via principale di scorrimento, quindi in zona assolutamente silenziosa ed appartata. Dopo aver varcato il cancello ci si ritrova in un'oasi di verde, come se fossimo in piena campagna. L'ideale per rilassarsi e sentirsi davvero in vacanza.
Nice place, peaceful and comfortable. Ideal situation if you wanna get some rest. Thanks the host for being so friendly
MARIO
2015-07-10T00:00:00Z
The host canceled this reservation 5 days before arrival. This is an automated posting.
Claudio
2016-12-25T00:00:00Z
Pier Cesare is a wonderful host. We arrived very late and he was waiting for us. The apartment is clean and peaceful in Italian style. They have such good pillows that one does not want to get out of the bad . Very cosy bathroom and bedroom. We could BBQ and Pier gave us all necessary staff for this! His wife made a delicious cake for kids. Pier provided us with the lists of restaurants and cafes and recommended where to buy perfect Italian bio fruits. The location is very peaceful and secured. Anyway vocation was as a real Italian vocation due to nice apartment and host! Thank you Pier again! P.S. Important factor for ITALY= Pier speaks perfect English what is very supportive fact!
olga
2013-08-21T00:00:00Z
É stata un'esperienza bellisima...Pier Cesare e Patrizia grazie per la vostra accoglienza, siete persone stupende e ci avete fatto sentire come a casa!!! Un ambiente rilassato nel mezzo della natura e a due passi dal centro di faenza, é stata la nostra prima esperienza con airbnb e la veritá siamo stati benissimo, servizio efficentissimo.. Grazie Pier Giorgio e Patrizia per darci la possibilitá di vivere questa bellissima vacanza!!!!! Ritorneremo Presto:))
Ettore
2015-07-03T00:00:00Z
Wir haben eine sehr schöne Ferienwohnung in einem großen und ruhigen Garten bei Pier Cesare am Stadtrand von Faenza vorgefunden. Sie ist sehr geschmackvoll und mit viel Liebe eingerichtet. Die Herzlichkeit, mit der wir von Pier Cesare und seiner Frau Patricia begrüßt (ebenso von Hündin Lou), betreut und verwöhnt wurden, ließ uns den Aufenthalt wie ein Besuch bei guten Freunden erscheinen. Wir würden jederzeit gerne wiederkommen und können die Unterkunft nur bestens empfehlen.
Rudolf
2013-08-26T00:00:00Z
Nasz tygodniowy pobyt u Pier Cesare był bardzo udany. Apartament jest wygodny i komfortowy, otoczony pięknym ogrodem. W ogrodzie można jeść posiłki. Pier Cesare jest bardzo gościnny i pomocny, umie doradzić gdzie smacznie zjeść i co warto zwiedzić. Ponieważ mieszka na miejscu (apartament jest połączony z jego własnym domem), komunikacja z nim jest bardzo łatwa. Jest bardzo inteligentną osobą, mieliśmy wspaniałą dyskusję przy kolacji, na którą nas zaprosił! Był bardzo elastyczny w kwestii godzin naszego przyjazdu i wyjazdu. Ponieważ dotarliśmy bardzo późno wieczorem - na powitanie przygotował dla nas pyszny omlet, owoce, słodycze oraz butelkę znakomitego wina. Przygotował dla nas nawet środki odstraszające na komary! Bardzo dziękujemy! Wszyscy następni goście z pewnością będą zadowoleni z pobytu. Trzeba tylko pamiętać, że apartament jest użyteczny dla 1 rodziny, maksymalnie dla 3-4 osób. Nasza rodzina liczy 3 osoby i było nam bardzo wygodnie. Łazienka jest bardzo komfortowa (prysznic jest super), łóżka są wyjątkowo wygodne, część kuchenna jest zamykana jak garderoba, co jest zabawne i pomaga utrzymać porządek. Dzięki radom Pier Cesare widzieliśmy wiele pięknych miejsc w okolicy Faenzy. Trzeba jednak pamiętać, że zwiedzanie okolic jest trudne bez własnego samochodu. Nasze wakacje były znakomite i chętnie przyjedziemy jeszcze kiedyś do Pier Cesare!
Zbigniew
2015-08-28T00:00:00Z
Ci siamo trovati molto bene da Cesare e Patrizia a Faenza, sono molto simpatici e accoglienti. L'alloggio è carino e molto pulito. Il giardino è grandissimo, una bella oasi per riporsarsi e godersi le serate mangiando fuori. In più, abbiamo ricevuto molte informazioni interessanti da parte di Cesare e dai prospetti sui luoghi da visitare e consigli per dei buoni locali dove mangiare. Ci è stato molto utile. Es hat uns bei Cesare und Patrizia in Faenza sehr gut gefallen. Sie sind sehr sympathisch und gastfreundlich. Die Unterkunft ist hübsch eingerichtet und sehr sauber. Der Garten ist sehr gross, eine schöne Oase, man kann sich gut erholen und die Abende draussen verbringen. Wir haben von Cesare sehr viele Informationen und Prospekte erhalten über interessante Ausflüge von umliegenden Orten und gute Restaurants zum Essen, dies war sehr nützlich.
Sonja
2016-08-14T00:00:00Z
Wir haben uns in der Wohnung im Nebenhaus des Eigentümers sehr wohl gefühlt. Der Gartenbereich für die Gäste ist sehr großzügig. Wir sind oft in die Stadt gelaufen - ca. 20 Minuten. Wir kommen gerne wieder. Die Empfehlungen für Restaurants und Ausfüge sind mit viel Engagement zusammengestellt und sehr hilfreich.
Ralph
2015-09-12T00:00:00Z
Room Type
Entire home/apt
---
Property Type
House
---
Accommodates
3
---
Bedrooms
Faenza, Emilia-Romagna, Italy
Our home relaxing at the foot of the hills is very close to the center and to the most beautiful cities of art in Romagna and Tuscany. It is suitable for a family or group of friends who can share the spacious interiors and garden.
The single storey house has all the doors to the garden and a pergola for exclusive use. Casa Fiore has a double room and a big living room with 3 sofa beds, a huge kitchen and a shared bathroom. The apartment is suitable for a family or group of friends wanting to have fun together.
The house is located in a pre hill area, very close to the city center. strategic point to visit cities in the surrounding area, finding the back relaxation of the campaign.
Great Host. We received a very warm welcome. The Host went the extra mile to make us feel at home. The apartment and location exceeded our expectations. The apartment was very clean and fully equipped with all appliances required for a longer stay with children. Located 5 minute drive in the country side just outside Faenza, it is relaxing and safe. Ideal location for exploring this beautiful corner of the world. We definitely recommend it.
Luca
2016-01-02T00:00:00Z
Nous avons passé une très bonne semaine chez Silva grâce à son accueil, ses attentions (quelles confitures !) et la commodité des lieux. Une très bonne adresse pour rayonner vers Bologne, Ravenne, San marin, Rimini, sans oublier les jolies balades de Brisighella conseillées par Silva. Le petit jardin est bien agréable le soir pour prendre le frais...
Marie
2016-08-27T00:00:00Z
Room Type
Entire home/apt
---
Property Type
House
---
Accommodates
5
---
Bedrooms
Faenza, Emilia-Romagna, Italy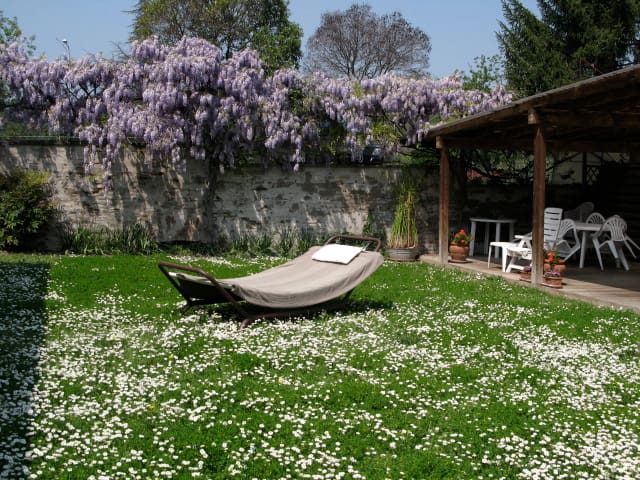 Camera superior all'interno di un Casale sulle prime colline di Faenza. È' dotato di mini bar,bollitore per The e caffè . La camera è provvista di aria condizionata ,TV sat,cassaforte,bagno con doccia e asciugacapelli. Nella casa c'è un grande soggiorno accessibile ,giardino esterno e porticato con barbecue
Camera accogliente di grandi dimensioni con bagno doccia privato ,condizionatore ,mini bar e TV sat. Wi-Fi gratuito, Piscina comune con gli ospiti dell'agriturismo.ristorante a 300 metri
Il casale è all'interno di una azienda Agricola fra le vigne e in azienda si producono vini e spumanti è possibile utilizzare la Piscina dell agriturismo
Room Type
Habitación privada
---
Property Type
House
---
Accommodates
3
---
Bedrooms
Faenza, Emilia-Romagna, Italy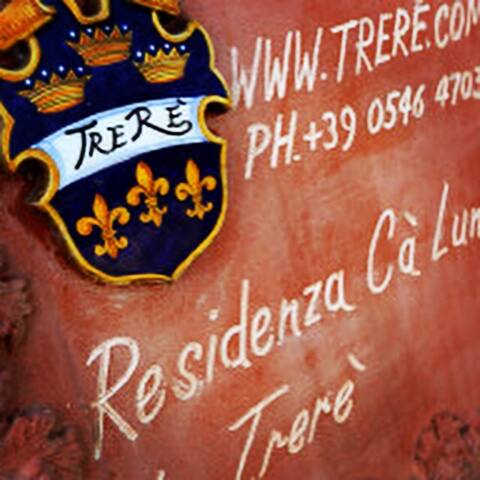 Casale 13 HolidayHome is in the countryside Faenza and has 18 beds. It caters to all types of customers and in particular to families with children of all ages, reserving a pleasant relax to adults and children and doing a great base to explore
Charming terrace and garden,3 bathrooms, 3 nice double-bedrooms and a wonderful and funny bedroom with 6 bunk beds will be at your full disposal.
We are in the middle of a wonderful countryside.
Abbiamo passato un magnifico ponte del 2 Giugno nel Casale di Francesca. La sistemazione si presta perfettamente per gruppi di famiglie con bambini. La casa è usata dai prorietari con i loro figli in estate e tutti i giochi e il giardino sono a disposizione degli ospiti: biliardino, ping pong e casetta dei giochi per i più piccoli. Per i grandi barbecue e tranquillità in mezzo alla campagna. Francesca ed i suoi familiari sono gentilissimi e ci hanno lasciato proprio un bel ricordo. Consigliatissimo!!!
Vittorio
2016-06-06T00:00:00Z
Room Type
Entire home/apt
---
Property Type
House
---
Accommodates
16
---
Bedrooms
Faenza, Emilia-Romagna, Italy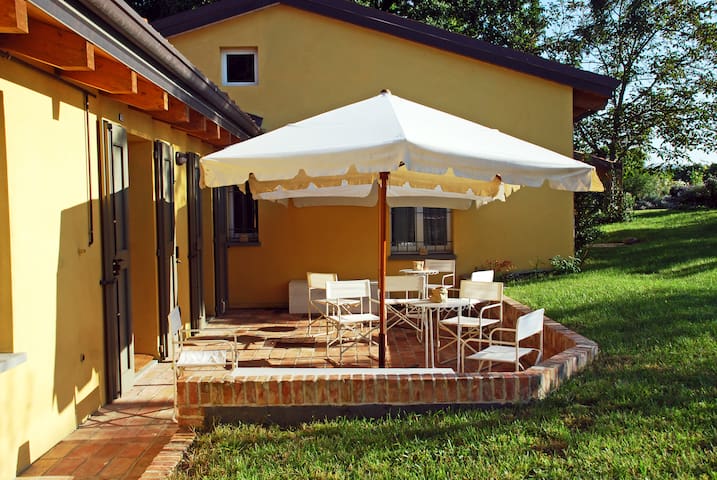 The house stand in a silent country away from the main road. You can have space inside and outside.
Marco was a wonderful and considerate host. We had nice chats over breakfast pastries he brought from the town. The house and garden are special and beautifully kept. Everything was very clean and even the smallest detail was thought of to make our stay smooth. It is a great place for an Italian countryside getaway but not too far from services in Faenza although a car is necessary.
Henrik
2016-08-23T00:00:00Z
Room Type
Entire home/apt
---
Property Type
House
---
Accommodates
4
---
Bedrooms
Faenza, Emilia-Romagna, Italy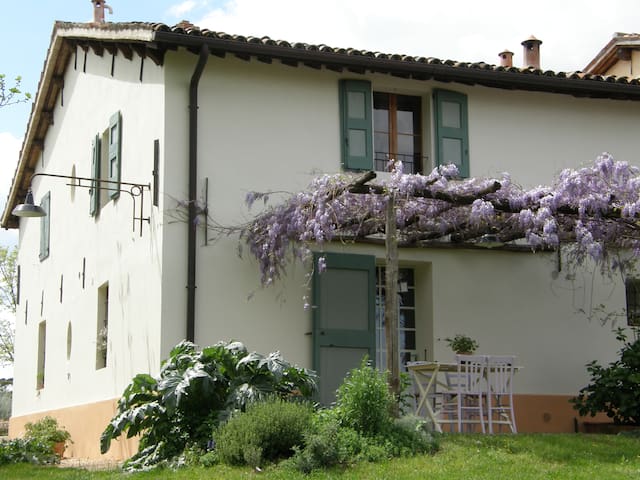 Modern minimal house outside faenza, surrounded by our botanic garden, fruit orchard and vineyard. You find a zen atmosphere, tranquillity and cheerful family. Upper floor two double rooms with bathroom and a studio. First floor with a living room, kitchen and Huge balcony outside that face the garden.
Uno spazio verde, soffiti alti e ambiente caldo d' inverno e fresco d estate.
Zona di cassanigo, perfetta per rilassarsi, fare sport o semplicemente esplorare
Thanks for these great 4 days. The house is amazing and so quiet ! The beaches are just at 30 mn and many things to visit around ! Andrea and marina will give you many good tips !
william
2015-08-10T00:00:00Z
Andrea gave us a warm welcome with a tea and a smile. The house is simply beautiful, decorated with taste and space. We savored a delicious breakfast prepared by Andrea at the time requested and got tips for places around. A pity we had no more time to enjoy the quiet, secure, cordial place..
Ana
2016-11-13T00:00:00Z
Out stay at Andrea's place was simply amazing. The house was far beyond our expectations! It was spacious and very clean. We were treated with fresh fruits and tasty farm products. Everthing was just perfect. Nothing could be a better place to spend an unforgettable vacation in Italy. Andrea and Marina - we thank you so much :)
Marcin
2015-08-29T00:00:00Z
It's was the most amazing experience I have ever .. Staying at the country's house of Andreh enjoying the unique decorations and Italian warm welcoming of his lovely family and dogs was extremely appreciated , The sleeping room was perfect and bathroom as well , seating area inside and outside, with kitchen fitted with everything u may need , My kids enjoyed the garden and space, We had great fresh breakfast with fresh honey and fruits .. Surrounding the area the original Italian country side , even the local restaurants and historical area to see ,, I believe it's the best selection, For me I really come again ..thank you for your hospitality
Nour
2016-05-01T00:00:00Z
We had a really nice 7 day stay. Hosts made us feel at home in the large 3 double bedroom house in the Faenza country side. Would recommend this for either families with children or couples wanting to taste the Italian country side while being a few kilometres from a lively city. We had a car and would recommend this to anyone looking to stay.
Albert
2016-06-12T00:00:00Z
This is a beautiful, architect designed house set in a landscaped garden out in the abundant farmland near to Faenza, with a backdrop of the Appenine hills. Andrea and his parents live on site in the lower part of the house, were totally welcoming and made our stay very special - we were met with a basket full or black cherries from their farm, honey from Andrea's bees and seasonal flowers. For the discerning cook there is a herb garden and the run of a fully equipped kitchen. The house is spacious with a luxurious feel and the garden is perfect for yoga, reading or just lounging around. The location is an easy drive to Ravenna, the Po Delta and inland, not far beyond Faenza (a must for ceramic lovers) are hill towns like Brisighella with fabulous views. We loved it and were sorry to leave!
Frances
2015-06-22T00:00:00Z
What an amazing 5 weeks. Warmly welcomed by Andrea and Marina with a quick tour of the house and gardens. The house is great, large, well equipped kitchen, plenty of room for everyone, 3 large doubles, one with an extra single bed, 3 bathrooms, all spotlessly clean, good, fast WiFi throughout the house. The garden is fantastic, securely enclosed to keep the kids and dog safe. Hammocks for lounging around in which the kids loved, loads of fresh herbs growing around the garden which we made full use of. The farm beyond the garden is great. many hours spent walking around with the kids and dog, picking and stuffing our faces with the best tasting juicy peaches, nectarines and apricots. The farm also produced many generous meals for us - almost every day we received a new box of goodies: fruit, cucumbers, tomatoes, zucchini , aubergine, garlic, onions, potatoes, honey. All tasted fantastic, and very much appreciated - we have never eaten so well. Fresh bread provided every morning, along with home made jams, honey, and fresh fruit from the farm - we couldn't have asked for more. But as amazing as the house, garden and farm are, this is all secondary to the hospitality of Andrea, Marina and Paulo. Nothing was too much trouble, we have 2 kids and a dog and we felt at home, Marina was fantastic with the kids, they adored her and helping around the garden (giving us parents some precious time to ourselves!). From recommending places to visit, their generosity with the farm produce, organising delicious cake for my birthday, taking my wife to the beach for the day and helping with the kids, taking us to the Vet to organise the pet passport, and so much more - there was nothing more we could have asked for, they all went over and above expectations, without ever being intrusive. Genuine, lovely people. What more can I say...? Fantastic house, fantastic garden, fantastic farm, fantastic people.
Bradley
2016-08-07T00:00:00Z
Het huis was boven alle verwachtingen. Het was erg fijn om hier te verblijven. Fijne mensen en een geweldig huis. We voelden ons meteen thuis. We verbleven hier met onze twee kinderen (7 en 10). De omgeving heeft genoeg te bieden strand en cultuur. We vonden het erg leuk om het werk op de boerderij te mogen zien. Lieve familie, dank voor de gastvrijheid. We komen terug.
A
2015-08-05T00:00:00Z
Room Type
Entire home/apt
---
Property Type
House
---
Accommodates
7
---
Bedrooms
Faenza, Emilia-Romagna, Italy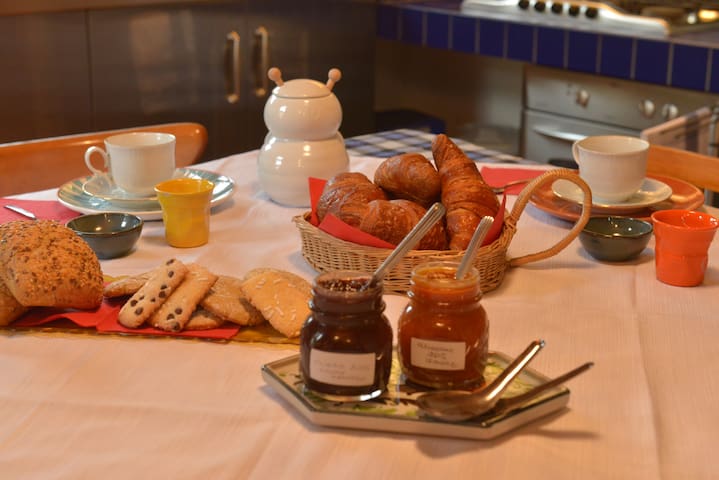 Casa nel verde luminosa tranquilla. Parcheggio auto difronte. La camera e' accogliente con televisore wifi servizio prima colazione. Bagno spazioso. Vicino al mare e a Ravenna citta' del mosaico, dei monimenti paleocristiani. Sapori della romagna.
We spend one night in Paolas house. It was very nice, friendly, bright and clean. Really good. But it was a bit difficult to find the house with the navigation system.
Tobias
2016-01-03T00:00:00Z
Wooow what a place. Really we stayed well. Very clean. Paula was really helpful for us. Thanks for everything.
Sheron Mark
2016-08-21T00:00:00Z
Paola is very welcoming with a lively personality. She picked us up at the station. A lovely home and lovely little dog that is playful like his human companion. Immediately felt at home in comfort. No hesitation on recomending her for staying in a home away from home.
Garth
2016-09-05T00:00:00Z
The nice appartment of Paola is very clean and stay on a good central place. She is a touristgay for Ravenna, so she can give you good advices to travel. It was nice to stay at Paolas house, we would come again.
Murat
2016-08-19T00:00:00Z
Paola warmheartedly welcomed us in Bagnacavallo and made us feel at home instantly. We will be back!
Jürgen
2016-10-30T00:00:00Z
Great hospitality , such a warm person and a lovely little house next to the city center at a reasonable price . I advice everyone to visit Paola !
Apostolos
2015-12-21T00:00:00Z
Paola couldnt provide a better service. The room was clean, the house was super well located. We had our privacy and silence when needed. We just rented the room but we could also use the kitchen, which is beyond what we had expected. Furthermore she is the best host for visiting Ravenna, as not only she told us how to get there easily by train and what to see but also she is a tourguide and explained us evrey detail. The best mosaiks we saw just because she told us about them while we had breakfast! Also her dog Mancha is a very cute Chihuahua. Highly recommended!
Stella
2016-02-14T00:00:00Z
Паола - очень гостеприимная хозяйка, в назначенное время встречает и провожает гостей, предлагает завтрак. В выходной день отменили электричку, а мы с женой опаздывали на марафонский забег в г. Русси. но Паола подвезла нас до места на своем автомобиле. Район, где она живет, исторический, удалось все посмотреть, но информацию о нем надеемся почерпнуть из интернета. В остальном все так, как сказано в описании жилья.
Агишев
2016-04-06T00:00:00Z
Room Type
Habitación privada
---
Property Type
House
---
Accommodates
2
---
Bedrooms
Bagnacavallo, Emilia-Romagna, Italy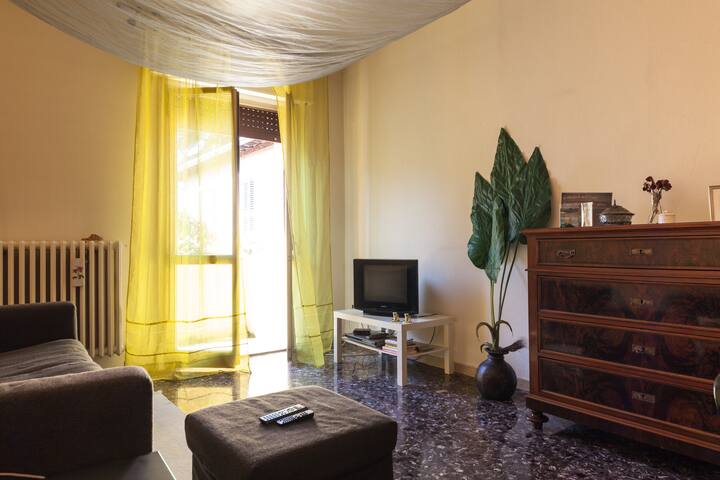 casa di campagna completamente ristrutturata, arredata con gusto e semplicita' ma con molta originalita'. Ingresso privato, parcheggio auto, giardino privato. Camera da letto matrimoniale con bagno annesso e divano letto in sala . Siamo a pochi km dal mare, parchi divertimento ( Mirabilandia ), da citta' d'arte ( Ravenna, Faenza, Forlì, Bertinoro e tante altre......)
super nice and clean appartment. very good equipt and very nice host. but there is no bus going to the city center
Mandip
2017-03-31T00:00:00Z
Great place, a lot of space for 4 persons, fully equipped kitchen, lot of food for breakfast. Near church, quiet place for good rest, private parking. Very nice host.
Goran
2017-03-26T00:00:00Z
davvero un gran bel posto.
Matteo
2017-03-19T00:00:00Z
Abbiamo alloggiato due giorni da Nadia con i nostri tre bambini. Una casa accogliente, super accessoriata ideale per famiglie e coppie di amici. Colazione offerta che include ottime marmellate fatte in casa. Casa pulita, grande, comoda e arredata con gusto ed originalità. Supermercato, farmacia a pochi minuti. Nadia è stata un host premuroso e flessibile che ha accomodato le nostre numerose richieste. Torneremo sicuramente e raccomandiamo questo alloggio.
Simona
2017-03-05T00:00:00Z
Casetta fantastica con tutto il necessario per sentirsi come a casa. Cucina attrezzatissima con tutto il necessario per cucinare(presenti anche prodotti per la colazione!), una casa calda con tantissima personalità e tanti confort che rendono il soggiorno molto piacevole. Una menzione particolare a Nadia, host attenta e scrupolosa...è stato tutto perfetto..consigliatissimo!!!
Alessandro
2017-02-02T00:00:00Z
Room Type
Entire home/apt
---
Property Type
House
---
Accommodates
4
---
Bedrooms
Villafranca-San Martino, Emilia-Romagna, Italy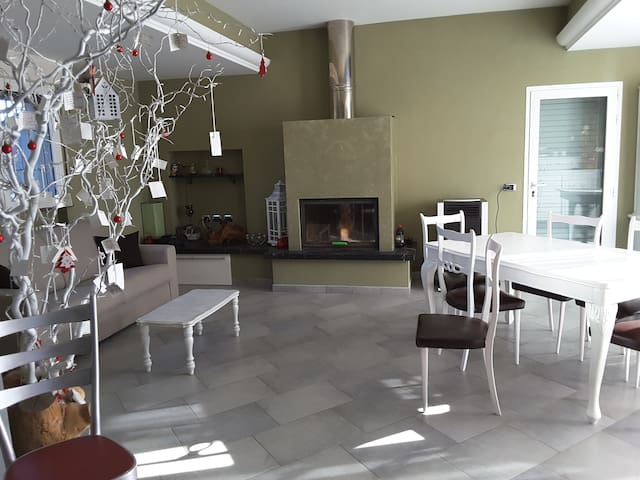 Il mio alloggio è adatto a coppie, chi viaggia per lavoro e famiglie (con bambini). A pochi minuti dalla stazione e al centro storico di Bagnacavallo piccola e graziosa città medioevale. Casa singola con due appartamenti.piccolo giardino orto per le aromatiche e grande terrazzo x relax.
Room Type
Shared room
---
Property Type
House
---
Accommodates
3
---
Bedrooms
Bagnacavallo, Emilia-Romagna, Italy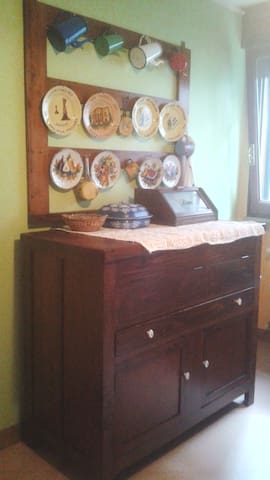 Camera privata a Mezzano vicino a Ravenna (con cui è collegata tramite linea ferroviaria) e al mare (Casal Borsetti, Marina Romea, Marina di Ravenna, Punta Marina Terme). Dotata di ingresso indipendente e bagno privato con vasca idromassaggio.
Room Type
Habitación privada
---
Property Type
House
---
Accommodates
1
---
Bedrooms
Mezzano, Emilia-Romagna, Italy
Our accommodation is located in the countryside 8 km from Ravenna, close to public transport, amusements parks and arts and culture. You will like our accommodation for these reasons: outdoor spaces and the atmosphere. Our accommodation is suitable for couples and lone adventurers.
"Mignon" is just a small bungalow in a large courtyard where there is also our house, is made up of a double bedroom and a private bathroom, all windows have mosquito nets. Bed linen and towels, hair dryer are included. Guests will receive the keys of the gate and the key of the room to make you completely independent, and have no time restrictions.
The exact locations where we are, Ghibullo is a small village about 8 km from the center of Ravenna
Room Type
Habitación privada
---
Property Type
House
---
Accommodates
2
---
Bedrooms
Ravenna, Emilia-Romagna, Italy
Apartment in contry house 4 km from Forlì; it consists of one bedroom with large loft bed , living room whit large sofa bed, bathroom , tea room . Car parking and garage for 2-wheel vehicles .
You can sleep 4 in the bedroom on the spacious loft be(URL HIDDEN)and 5 (2 sofa bed+2 double bed+1 travel cot) in the living-room . In one corner of the living-room there is a little tea room , where you can prepare a hot drink offered by Host , have breakfast or a dinner . The apartment is available for overnight only , then the check - in and check-out time does not only refer to the day of arrival and departure, but to every single day. Ask me if you want to change the check-in and out times: maybe we can find an agreement. Are included : sheets, pillows , blankets and small towels. The apartment is on the first floor and is for the exclusive use of the guests during the night . All rooms are well ventilated and lighted by a large window . Few degrees lower than the city center makes the summer nights more pleasant. Car parking and garage for two-wheeled vehicles .
Silent house.
Amazing place ! Room is spacious and bed very comfortable.
Steve
2016-07-17T00:00:00Z
The location was nice and quiet. Home was very clean and tidy. Carmelo was very friendly and helpful. All very good.
Milan
2015-07-29T00:00:00Z
Very nice host. WE arrived very late and he was very understanding.
German
2016-07-18T00:00:00Z
Carmelo welcomed us with coffee! The house was lovely out in the country surrounded by nectarine orchards. It is shared with Carmelo, and he graciously let our big family use his kitchen. One bed is an inflated mattress. Good value!
Joanna
2015-08-05T00:00:00Z
The house is in a very safe and quiet area. Carmelo was very kind and helpful to us (asked us for coffee). Very big kitchen.
Jan
2015-08-12T00:00:00Z
Very quiet and nice place, surrounded by quite beautiful fruit fields. Very clean and basic amenities, it was a very good stay!! The host Carmelo was extremely helpful, available and ready to help :) thank you!
Jorge
2016-07-02T00:00:00Z
Lovely place
Isabel
2016-06-06T00:00:00Z
Carmelo's place is very artistic and interesting - with nice details and accents, music records, showing his delicate esthetic taste. Very clean and cosy, with private space for quests. Carmelo is really warm and helpful host, he pleased us with a very tasty coffee in the morning.
Daina
2015-12-22T00:00:00Z
Room Type
Entire home/apt
---
Property Type
House
---
Accommodates
9
---
Bedrooms
Forlì, Emilia-Romagna, Italy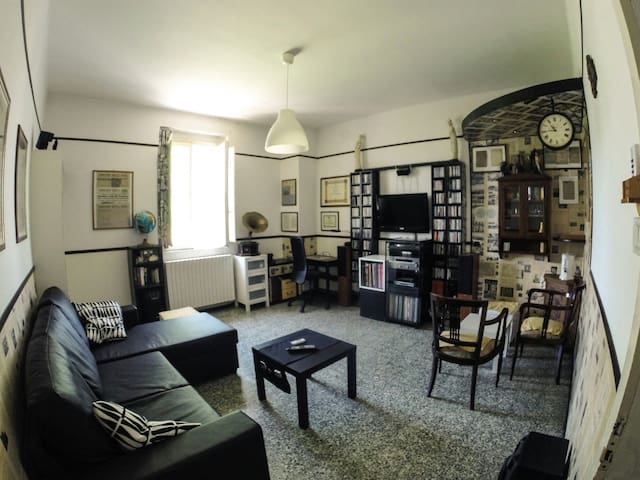 Casa Indipendente all' interno di una proprietà' privata con giardino e piscina. La casa a piano terra si affaccia sul giardino, da dove si accede alla piscina privata con un porticato attrezzato per pranzare o cenare in completo relax. A disposizione degli ospiti un moderno barbecue. Le camere sono ampie e spaziose, allestite per 2 persone ciascuna. E' disponibile un divano letto matrimoniale nel soggiorno, ed un divano letto singolo nella camera piu' ampia.
la casa é dotata di tutti gli elettrodomestici per ogni confort.
Room Type
Entire home/apt
---
Property Type
House
---
Accommodates
5
---
Bedrooms
Ravenna, Emilia-Romagna, Italy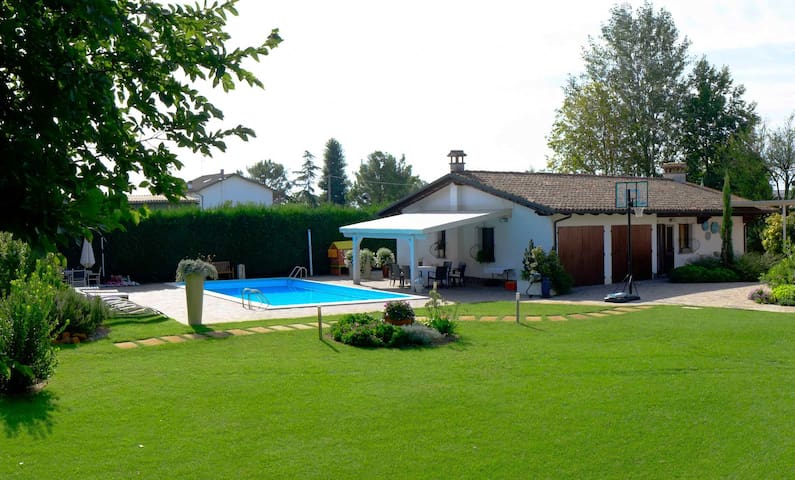 Il mio alloggio è vicino a il centro città, arte e cultura e splendide viste panoramiche. Ti piacerà il mio alloggio per questi motivi: la luce, gli spazi esterni, la comodità del letto, la cucina e il quartiere. Il mio alloggio è adatto a coppie, avventurieri solitari e chi viaggia per lavoro.
La stanza è silenziosa ed essenziale e può ospitare comodamente due persone .
La casa è in bioedilizia e si trova all'interno di un quartiere di case dall'architettura molto particolare circondate da molto verde a circa 10/15 minuti a piedi dal centro.
The host canceled this reservation 80 days before arrival. This is an automated posting.
Ambra
2017-03-22T00:00:00Z
A friend of mine and I had stayed ar Marzio's place for 3 days and it was amazing. The house was very neat and well organized, the environment of the house was perfectly calm to take a rest. Marzio was the best host who gave us every info we needed and helped us a lot. We had very good time and definitely want to go back to his place. Thank you Marzio so much! :-)
Chloe
2016-10-09T00:00:00Z
Accoglienza perfetta, Marzio molto gentile e disponibile. La casa è situata in campagna nella periferia di Faenza, molto piacevole. Soggiorno gradevolissimo.
lucia
2016-10-05T00:00:00Z
Room Type
Habitación privada
---
Property Type
House
---
Accommodates
2
---
Bedrooms
San Martino, Emilia-Romagna, Italy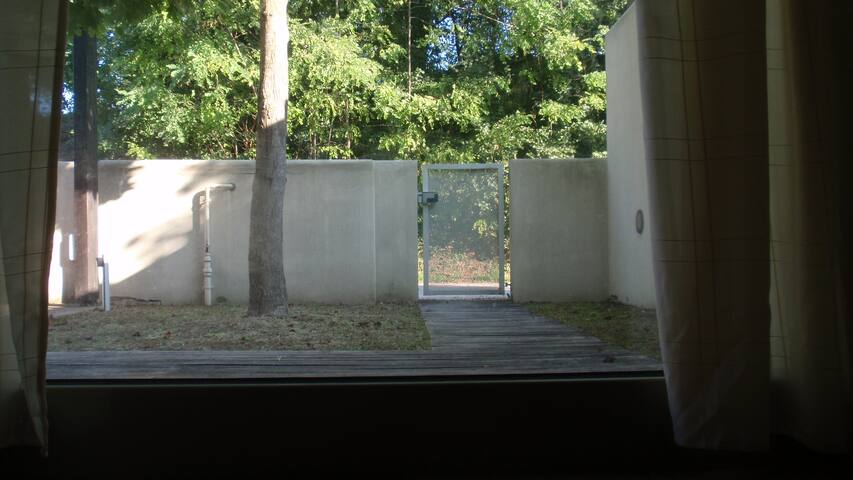 Cotignola - Airbnb
:
Average

4.38

out of

5

stars from

191

guest reviews
1

–

18

of

31 Home Rentals
Enter dates to see full pricing. Additional fees apply. Taxes may be added.