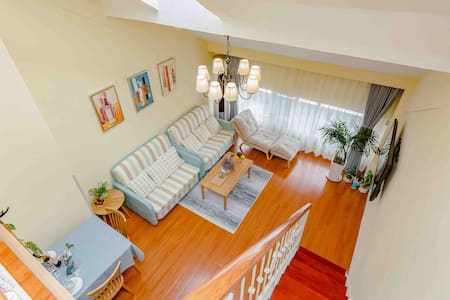 SUPERHOST
Entire apartment · 4 guests · 3 beds · 1 bathroom
东家.初见-台儿庄古城Loft复式精品公寓,临古城西门300米,车位电梯暖气,适合亲子、情侣商旅入住
【东家初见民宿】台儿庄古城精品Loft复式公寓(网络购票西门进古城,步行3分钟距离300米)东家初见,待客一如初见,初心不改,用心不变! 位于金光路如家酒店7楼私人公寓(车位、电梯、暖气、安保),台儿庄大酒店东100米,城区中心位置,美食、购物、出行方便,距台儿庄古城300米,距台儿庄大战纪念馆1.2公里,距李宗仁史料馆、双龙湖湿地观鸟园、贺敬之文学馆1.5公里,距运河国家湿地公园2.7公里…使你深入游,让你体会旅行的感觉,而不是旅游的匆忙。东家.初见,简约风格,亲民价格,来台儿庄自由行的小伙伴可以关注一下。 一楼为开放式厨房+客厅+独立卫生间(热水是妥妥哒!)厨房设备、浴室洗漱用品一应俱全,是您放松休憩和体验的理想居所,市政集中供暖,冬天屋子里暖暖的,很舒适。二层为卧室,配备超星级的床垫及棉织品,相信会给您带来一个极佳的睡眠体验,所有客用品均按星级酒店模式配备。 带您体验高品质的江北运河古城人文气息,为您提供台儿庄及周边的旅游攻略,期待您的惠顾! 老板人很好哦,请提前预订。
What guests are saying:
"The environment is warm and comfortable, and the rooms are fully furnished. Convenient transportation, super close to attractions, shopping malls and places to eat, store service attitude is very good, very recommend the surrounding food. I have the opportunity to go to Taierzhuang again, and will continue to visit, thank you very much~"
This house is located on the north side of Longtan Park. There is no shelter in the south of the room. It can be seen from the whole park, microwave, tree-lined, holding a cup of tea, sitting on the terrace and relaxing. There is also an attached room, plus an extra bed, plus 50 yuan per day, face to face.
What guests are saying:
"Very satisfied with the experience of staying, the whole family drove to Taierzhuang Ancient City and Weishan Lake to play, stayed at the place in the evening, the room was clean and tidy, the whole family was very satisfied, and the landlord communicated quickly and the attitude was very friendly."
The Jane-European style is decorated with a large bed and a comfortable mattress. The small bedroom is fitted with tatami mats. I believe that you and your family will definitely have a good night's sleep! The bedroom is also equipped with air conditioning, the room has a wardrobe, LCD TV, wireless, separate toilet, water heater, hair dryer, fully automatic washing machine, to solve the trouble of not being able to wash clothes! If you want to cook, the kitchen is free for you to use, so you can eat delicious meals when you go out!
What guests are saying:
"Driving into the community entrance in Chang'an Garden, not the Sunshine, this landlord did not explain clearly, took a circle and asked the security to find, other aspects are good, a street next to the community is a place to eat, very cheap and good to eat."