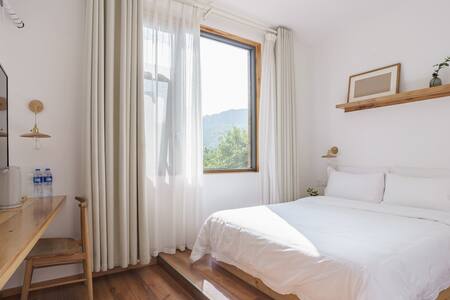 SUPERHOST
Private room · 2 guests · 1 bed · 1 private bathroom
Hill inn-阅山间民宿(三)-万达广场3公里-火车站200米-雅安职业学院800米-舒适大床房
房间风格简约简单,每个部分都被用心设计,材料也是精心挑选。装饰用木料都是见证了过去两代人的成长,且拥有着150多年的历史。 如果喜欢的房源已被预定,点击房东的头像即可显示全部的房源。 快来开启自然之旅吧~ The room has been carefully designed in Nordic Simplicity. Decorative material has been selected elaborately. The wood used in the room has a history of at least 150 years. And this is all for offering you a good accommodation experience Click on my home page for more housing source with equally high quality if your favorite room has been booked. Journey of nature is waiting for you !
What guests are saying:
"The landlord is very enthusiastic, and the host sister is also very caring and has prepared snacks for the children. The environment is also very quiet, especially close to the high-speed rail station."
SUPERHOST
Room in boutique hotel · 2 guests · 1 bed · 1 private bathroom
【万事屋民宿陆号】火车站车程3分钟/美食街步行10分钟/万达广场800米/轻奢大床房
If you like our listing but the date you need is already booked, you can click on the landlord avatar and other listing options. We have two listings, one has six rooms, and the second has seven rooms. Every room is carefully designed by us. As a professional design husband and wife file, 'Wanshiwu' also witnessed our growth, I hope you can feel our intentions, like our design. If you like the room we offer and find it unavailabe on your itinerary, please click the Host's avatar for other rooms available.Ething Hostel has 6 rooms, while Minsuku Ething City Inn offers 7 rooms . They are of original designs of ours, we are a professional designer couple, 'Ething' has seen our growth and we sincerely hope you like our dedication and our work.
What guests are saying:
"The room is very warm and comfortable, the surrounding environment is very good, very quiet, the location is also very close to Wanda Plaza, the price is high value recommendation."
SUPERHOST
Entire apartment · 4 guests · 2 beds · 1 bathroom
【其舍•摩洛哥】套二高层江景房/巨幕投影/近熊猫主题公园、女娲补天喷泉/停车方便/近川农大、万达广场
亲爱的朋友,你好!你将结识一个对雅安深度了解的local girl ,爱旅行爱生活爱分享。为了能给您带来好的入住体验,【其舍】民宿的每一处细节都是由我和爸妈一起用心设计和挑选的。民宿的主体风格为摩洛哥风格,让您不出远门即能感受异域风情。 这里四面环水,背靠青山。空气清新,舒适宜人。我们家的阳台外是绵延的周公山,能给您带来舒适的感官享受。清晨可以漫步于西康码头青衣江边,傍晚可以去熊猫主题公园散步,晚上可以去熊猫天街的酒吧感受都市夜生活。 小区交通非常方便,步行5分钟就有公交站台,可以直达万达广场、川农大和闹市区。距离高铁站、汽车东站不到15分钟的车程,到碧峰峡风景区40分钟车程。有地下停车场,江边停车也很方便。我们有专人为您打扫房间,床上用品保证一客一换。 如果您在入住期间有任何问题,都可以直接联系我,我会十分热情的为您解答。
What guests are saying:
"The house is very beautiful and clean. It is next to the Tsing Yi River, and you can walk along the Tsing Yi River for a night view of Ya'an. I took my mother to the homestay for the first time, and my mother was super satisfied. It would be better if the landlord was preparing some spare quilts, because the elderly were more afraid of cold."