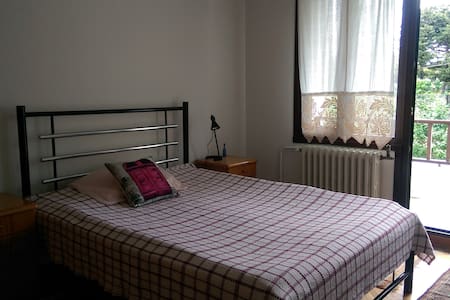 Private room · 2 guests · 1 bed · 1.5 shared bathrooms
Şile bezi motiflerinden "Yıldız" bu odanın adı
We love Şile and the sea, sand, forest, cloth, handiwork pattern and motifs of Şile cloth. We would like to share this and such beauties with you. We gave the names of Şile cloth motifs to our rooms. We would like to introduce this cultural heritage to you. And We are sensible to the environment! For us, for Şile, for our country and for all Word, for you. Water, electricity, natural gas and so on. to be used up to the need, we ask you not to be wasted. Thank you for attantion of this.
What guests are saying:
"Thanks to Fatma Hanım and her sweet house, we had a great time, the house was much more beautiful than it appears in the photos. He was also very hospitable. We can even say that we forgot that we were guests :) Thank you very much for your pleasant conversation and everything else :)"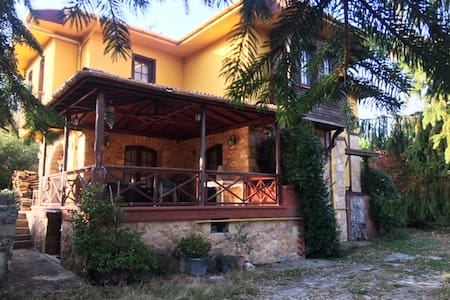 SUPERHOST
Entire cottage · 8 guests · 14 beds · 2 bathrooms
Taş ile ağacın kaynaştığı deniz ve yeşil harmonisi
in an environment where you can breathe mountain, forest and sea air at the same time. You can enjoy the common Pool between the two houses. At the temperature of the fireplace, 30 minutes from Istanbul. in the heart of green. A village house surrounded by stone walls and covered with stone and tree is waiting for you. 2.5 km walking distance. The beach road to the sea and 8km away. Would you like to have a holiday with nature along a valley?
What guests are saying:
"Many thanks to Aytekin Bey and Mrs. Gül for their interest and concern. The house was beautiful and everything we needed was available. It was very clean. A barbecue was prepared, firewood was ready for the fireplace, and the house was heated before we entered. We went as two families, we were very pleased and we plan to go again. I recommend it to those who are thinking of going."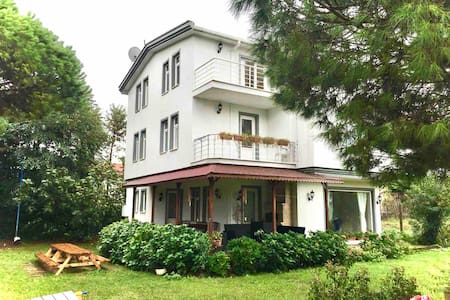 SUPERHOST
Entire villa · 10 guests · 6 beds · 2 bathrooms
Müstakil 4 oda 1 salonlu 1dönüm arazi içinde yaşam
4 odalı her odada 2 kişilik yatak. Doğal gaz ile ısınan sıcacık ev. İsterseniz şömineyi yakabilirsiniz . Sahile 7 dk yürüme mesafesi,en üst katta bilardo ve masa tenisi var. Kalabalık ailelerin çok keyif alacağı doğa ile iç içe geçe dalga sesi odanıza kadar geliyor.Şile Merkeze 30 dk. Bahçede mangalımız vardır, Mutfak eşyası olarak herşey mevcuttur...Şile sahil köyün en nezih yeri diyebilirim
What guests are saying:
"This year we welcomed the New Year with our friends in this wonderful house. Everything in the house, from the fridge bag to the apple peeler. The house was cozy, very peaceful, especially the fireplace. The host Gürol Bey waited until our arrival, entertained us very nicely. The garden is very pleasant. Although the weather was cold, we also enjoyed coffee in the garden. I would recommend the house with my eyes closed. Great for your conversations. We also had a very nice holiday with our dog since it was a pet friendly house. Thank you very much."