Hand crafted off-grid yurt near 7,500 acre state forest. Wood stove, small fridge (no freezer), gas cooktop, cold water sink and outhouse. 3 season wood-fired hot tub/outdoor shower (not available in winter). Hosts on site. Kayaking, fishing, and forest trails for running, biking and skiing nearby. Our homestead is a comfortable get-away for quality time. Seasonal activities: x-country skiing, snow-shoeing, maple sugaring, campfire, picking apples, wildlife viewing. 2 hrs to BOS, 1.5 to HFD.
People love our yurt and the surrounding countryside. They call it "magical" , "amazing", "quiet", "a unique experience we always wanted to try".
Wendell is a unique community with many owner built, off-grid homes, small farms and self sufficient homesteads. It may be possible to introduce you to our friends.
We loved our experience staying in the yurt! the soaking tub was so relaxing and the surrounding nature is beautiful. It was the rest we needed and were looking for!
kim
2016-11-10T00:00:00Z
The yurt was amazing! The property was well kept. Judy and Alistair were very kind and welcoming. They gave us a tour of the yurt and surrounding property as well as instructions for the wood stove (which was a piece of cake to operate). The yurt is so spacious, we never could have imagined how big it was inside. The soak tub was incredible after a week of hiking, and the bed was very comfortable. We were able to relax and unwind in complete peace. I highly recommend checking out this renal for yourself. You won't regret it.
Will
2016-10-02T00:00:00Z
I had a very positive experience. The host and the location was perfect for a relaxing weekend away from the city.
Tatiana
2016-11-06T00:00:00Z
Judy and Allistair have an incredible place. We felt so comfortable and cozy in the yurt, and loved spending time by the fire pit and in the hot tub. The woods walk was lovely, as was our time on Wickett Pond in the canoe. We're all very interested in what it takes to maintain a small living space off the grid, and this place was the perfect example of how practical and magical the experience can be at the same time. Thanks J&A! We'll be back.
Addie
2016-11-14T00:00:00Z
Judy is a wonderful host and was very accommodating, especially with our late arrival. The hot tub was amazing, Judy had it already hot and ready to go. The yurt is a uniquely special place to spend a few nights. We wish we could have stayed longer!
Audrey
2016-09-27T00:00:00Z
Judy was extremely welcoming and thoughtful throughout our trip. She made sure we had everything we needed (and more) to enjoy our stay. She even welcomed our furry canine friend into the yurt without any hesitation! The yurt was wonderful - so cozy and and relaxing in itself. We spent most of our time hanging out there, kayaking, wandering through their acres of land, and stargazing in the beautiful Japanese hot tub. If you feel like venturing around town, Judy has plenty of great suggestions! She recommended a great brewery that was just down the path, as well as Diemand Farm, which was just unbelievable! At the farm, we were able to pet all sorts of animals, from mini-horses, donkeys, sheep, and very friendly goats! The fire place inside the yurt was awesome as well, it was so nice to throw a couple of logs in there and feel how much heat can be generated without one of these modern machines. Ask her and Alistair about the history of their place too. It's very interesting and makes the experience even better. We're looking forward to coming back again soon.
Daniela
2016-09-29T00:00:00Z
The yurt itself is stunning, comfortable, and highly equipped. There is a large cooking area with so many supplies, interesting guide books, tons of warm blankets, and a very very warm and easy wood-burning stove to keep the place cozy. If that weren't enough, Judy and Alistair are both extremely kind and generous. Judy invited us into her home to chat and Alistair shovelled out a path for us to easily get to our car at the end of our stay. It was a beautiful experience. OH- and the wood burning hot tub is MAGICAL!
Arielle
2017-03-15T00:00:00Z
We had a great time in the yurt! Freezing cold New England early winter weekend with temps well below freezing overnight :) We went on some great hikes, got to spend time together with old friends, soaked in the tub which was perfect after a long traipse through the woods. Judy & Alistair were fantastic hosts, friendly but they gave us our space, we ate delicious local turkey soups that Judy was kind enough to bring home from work for us! We definitely would like to try it out again in the spring or summer! Thank you for everything!
Elizabeth
2016-12-11T00:00:00Z
Room Type
Entire home/apt
---
Property Type
Yurt
---
Accommodates
4
---
Bedrooms
Wendell, MA, United States

Welcome to the Miller's view Inn! Newly renovated ranch home, located on a 2 acre property with 1100 sq-ft abutting the Millers river. Popular for fly-fishing, kayaking, rock climbing and hiking (Farley Ledges is a 5 minute walk! )
Welcome to Miller's View Inn! Charming 2 bedroom, 1 bath home with WiFi along side the Miller's River. Access the river right from the backyard, and fish for small mouth bass and trout. Take a warm bath in the Jacuzzi tub and expect to be amazed at the possible sightings of bald eagles, blue heron, ducks, deer and other wildlife! Enjoy your meal outdoors with the views of the Hermits cave, and the winding Miller's river from the deck. The Farley Ledges, according to the Western Massachusetts Climbers' Coalition, has THE best climbing in all of New England. The ledge is a 5 minute walk from the house and is visible from the property. The backyard is equipped with a charcoal grill ( charcoal and wood can provided for an additional fee),fire pit and hammock for your relaxation. Full eat-in kitchen with a large Fridge, dishwasher, microwave and toaster WiFi (for browsing and emails only), Cable,65" LED flat screen TV/ Playstation 3 with a couple of games and movies. The Master bedroom has a King Bed with a sliding door for more great views and outdoor access. The master bedroom also has a queen/full futon. The second bedroom is smaller but has a queen bed with an incredible view. This property was part of a Mill that was destroyed in 1890 and you can see some of the old structures on the premises. Come in, close the door and have your own experience!
Erving State Forest/Laurel Lake is just 3.6 miles across the historic Farley bridge, Barton's Cove is a 10 minute drive and Greenfield is just 20 minutes away. Deerfield and Amherst are 25 and 35 minutes away. There are several restaurants only 5 minutes from the house including The French King Entertainment Center( bowling alley/arcade). The Deja Brew Cafe and Pub (5 min drive) has live music, local beer/cider. Our favorite eateries are the Brass Buckle a southern Mexican fusion restaurant located in Greenfield and Mission Cantina a Mexican located in Hadley. The Freight House (5 minutes) offers local coffee, home made soups, deli style sandwiches and baked goods as well as great antiquing.
This house is a great location for a private getaway in the woods! The views from the bedrooms and bathroom looking over the river are breathtaking. My husband is a train buff so getting to see the trains come through was an added bonus for us and really not that loud when you are inside with windows closed. The queen bed in the smaller room was the most comfortable! The internet was intermittent at best. The restaurants in the area were fabulous we recommend Christinas (Italian), The Rail Yard (breakfast was so good), and The Wagon Wheel a little ways down the road. The oversized bathroom with jetted tub next to that gorgeous window view was a small slice of heaven after a long day of hiking! The linens and towels were high quality. This location is very private and perfect for someone who loves nature but doesn't want to camp. The fact that we were allowed to bring our dog was a huge plus and she really enjoyed the yard and river! Erving State Forest is only a 10 minute drive and had some lovely short hikes and a lake for swimming in the summer. We had a great time and would recommend this home to a friend looking for a private place.
Teigan
2015-10-10T00:00:00Z
This house was perfect for a few relaxing days away from the city! It was exactly what we needed. It was clean and had everything you could need. The location was wonderful for hiking and just enjoying being outside. There was a train track right outside the lot but we only heard about 4 trains the entire time we were there. My small dog really enjoyed exploring the yard and having all of that space to herself! Thanks so much and we do hope to make it back again this fall!
Brooke
2015-08-15T00:00:00Z
This was a very relaxing place to stay. We noticed the train the first night, but hardly noticed it after that. What a peaceful and beautiful setting! The place was very clean! There were three deer out in the river early one morning. It was so serene!
Mike
2015-09-30T00:00:00Z
We had an amazing stay at Supreeth's place. It is beautiful and everything you need is available. Me, my wife and daughter and our dog all had a great time! Supreeth is helpful and answers fast when you have a question for him. He also is a nice guy, you can tell not only from being in contact but it shows in the love that he put into the place. Great location! Lots of nice hikes near. I was swimming with my daughter (3 1/2) in the river and she loved jumping on the big trampoline in the garden. We were making fires in the evenings and watched the stars at night! We would have stayed longer if our work schedule would have allowed us, will go back!
herman
2016-09-19T00:00:00Z
Miller's view inn was situated beautifully overlooking Miller's river. The house is cozy, but very clean and comfortable. Our party of six particularly enjoyed breakfast on the deck outside overlooking the beautiful view.
Andrew
2016-06-13T00:00:00Z
Great cabin. Great price. Beautiful view. Great communication. I'd recommend this place in heartbeat. Thanks for the stay!
Garrett
2016-07-16T00:00:00Z
Supreeth was awesome. He answered all of our questions prior to our arrival and during our stay. The place is clean and beautiful. The beds were super comfortable and what can I say....the view waking up was AMAZING. Eating outside was so much fun.Thank you and we hope to go back soon.
Adriana
2015-08-20T00:00:00Z
Supreeth responded very quickly to my questions and was really helpful! The house was just as described and was quite perfect for a weekend get-together with friends.
A.J.
2016-01-03T00:00:00Z
Room Type
Entire home/apt
---
Property Type
House
---
Accommodates
6
---
Bedrooms
Wendell, MA, United States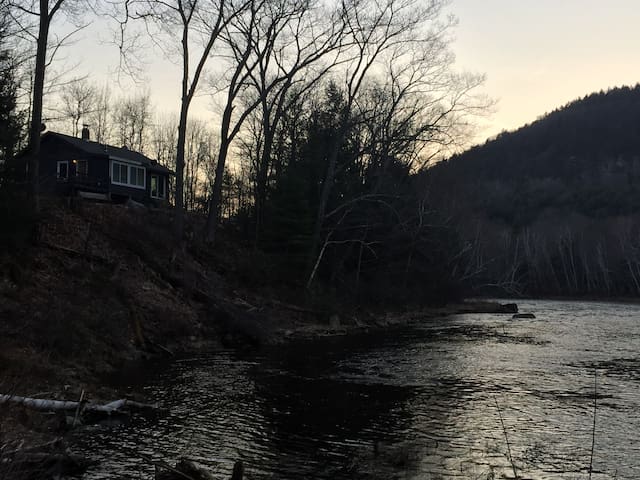 Quiet, comfortable room in beautiful finished barn space with bathroom, adjacent yoga/stretching/dance space, luxurious outdoor shower on 10 acres next to state forest! Apple trees, grapevines, maples, trout stream with swimming hole! Log sauna available for fee. Hike, bike, swim, rest! Optional custom-designed retreat program available.
Rural Oasis! Cozy bedroom with a large yoga/dance/stretching/bodywork studio adjacent. Bar and tea area, local hardwoods throughout. Lots of light, ventilation, Vermont Castings gas wood stove, beautiful views of our little hollow.
Our 10 acre property is nestled in historic Mormon Hollow in the country town of Wendell, MA, adjacent to 7000 acres of state forest. Country homes and small working farms dot the area. Heavily wooded, lots of open space. Design your own experience! See custom retreat details below.
Joe and Sarah's place is in the best location: a wooded hollow nestled next to the Millers River and encircled by gorgeous hills and forests. If you're looking for a refreshing and rejuvenating stay somewhere close to nature, look no further. Not only are there plenty of options for hiking, snowshoeing, mountain biking, etc. within walking distance of the site (a hiking trail cuts through the woods right behind the house), Wendell State Forest is also just a short drive away, with 7,000 + acres to roam through. The loft style apartment is a spacious yoga studio with a bedroom/bathroom attached. It's very comfortable inside, with hardwood floors and a propane fireplace, a comfortable futon bed, and huge windows that let in lots of light. There is a compost toilet, a water cooler, WiFi connection, a teapot and plenty of tea. Everything on the property is eco-friendly and sustainable. There's no running water inside but we were welcomed into Joe and Sarah's home to shower. Overall, we had a great time and would definitely come back again. This is one of my favorite airbnb stays so far.
Travis
2017-02-11T00:00:00Z
It was a beautiful spot but the listing didn't say anywhere that there was no running water. If we had known that, we would have come more prepared. Also, it said there was wifi but the signal was so weak we couldn't get online, even for the basics but if you don't care about either of those things it is very secluded and quiet and the welcoming was fine. Otherwise, it was very clean and comfortable.
Leigh
2015-08-02T00:00:00Z
The space is beautiful and very clean! Joe is very kind and helpful! The surrounding woods are great for hikes and there's a lot of quaint eating places within a 10 mile radius.
Olivia
2017-03-11T00:00:00Z
Our stay at Joe's was great. The place is in a lovely location with huge windows looking out into the woods. The place was very clean and comfortable. It was too cold to use the outdoor, so they made access to their own indoor one available. There was also a wash basin provided in the room. We were perfectly warm and comfortable and would happily come back again! Joe also gave us a tour of his sugar house and lots of great info on maple sugaring in the area. It was very cool to see. Thanks for a great weekend!
Caitlin
2017-03-05T00:00:00Z
The location was just as promised. Secluded, clean, and very open. It was a cozy respite from my hectic and stressful daily grind.
Bart
2017-02-19T00:00:00Z
Room Type
Entire home/apt
---
Property Type
Loft
---
Accommodates
2
---
Bedrooms
Wendell, MA, United States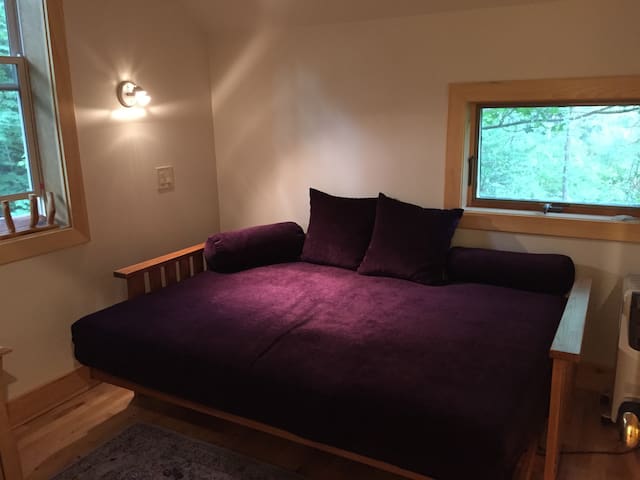 If you are seeking a retreat from city life or a place to unplug or a place where your dog or cat is always welcomed, look no further than this charming guest cottage on a private lake in Wendell, Massachusetts. Depending on the season, you can boat, swim and fish in the lake. Take a hike. Take a nap in a hammock. Watch the birds. Enjoy a camp fire. Read. Rest. Exhale.
Lauren and Bill were incredible hosts and went above and beyond every step of the way. I cannot overstate how welcoming they were. When we arrived everything was set up (cookies, brownies, snacks, and drinks!) and Bill greeted us with a fire by the lake. We hung out for a few hours with him and had a great conversation before heading into their awesome guest house. The next day, Lauren and Bill let us use their boats to explore the lake, set up the grill to BBQ some steaks, and lent us their camping equipment so we could camp out on their private island. To top it off, Bill taught us how chop wood. To top it off, the property itself is beautiful. Amazing hiking and boating highlighted by abundant wildlife.
Dario
2016-10-09T00:00:00Z
The host canceled this reservation 120 days before arrival. This is an automated posting.
Matthias
2017-01-19T00:00:00Z
We had a little trouble finding the address and our hosts were "on it" giving us guidance by phone to help us arrive. Once we arrived, everything was in place (including some extras we weren't expecting--I don't want to narrate everything because that will ruin the surprise) and we got a quick tour of the magical property. Our dog had a great time as well! Highly recommended.
Dan
2016-09-18T00:00:00Z
Room Type
Entire home/apt
---
Property Type
House
---
Accommodates
4
---
Bedrooms
Wendell, MA, United States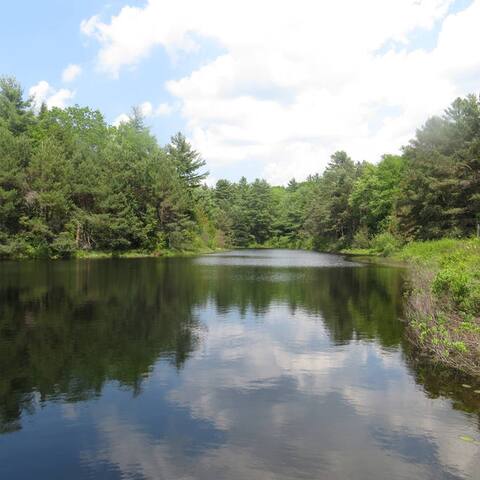 Our 1880's Farmhouse is the perfect retreat for artists, couples or families. Situated only ~25m to Amherst/Greenfield, within an eclectic rural community & surrounded by nature and privacy. Private trails, fenced yard, wi-fi. Local music+produce!
This is a true country get-away setting surrounded by nature and many outdoor activities. There are also unique local cultural events within a few miles. Access to the academic and cultural center of Amherst is a 20-25 min drive, and it's just a bit further to Northampton.
We had a wonderful stay in this beautiful home. You can tell Kristina and her family put allot of love and effort into every detail, the pictures do not do it justice. Kristina made me feel welcome and provided everything we needed for our stay. The area is beautiful, with many lakes and hiking spots nearby. Cell phone service was spotty in the area (at least for verizon), but internet and a landline were available to receive calls at the house. I would highly recommend this place if you're looking for a peaceful country getaway.
Julien
2015-05-17T00:00:00Z
We enjoyed our stay in Krsitina's home. We felt right at home including her sweet and cuddly cat. Everything was as we saw in the pictures. Kristina and her husband were quick to reply to any questions we had.
Maria
2015-06-04T00:00:00Z
The home was so comfortable and easy to "move" right into the rhythm of the lifestyle. The chickens and garden were a throw back that helped tone down my pace and just be.
Sally
2015-06-24T00:00:00Z
I just spent a lovely weekend on Western Mass in Kristina's beautiful home. It was a great place to host friends, stay in and cook a meal, and go for a hike. The home is even more beautiful than shown in the pictures, Kristina was very helpful and made it all easy, and I would highly recommend it. Looking for a romantic getaway? Or a great place to spend time with the family in the country? Go to Wendel!
Owen
2015-05-25T00:00:00Z
We had a wonderful stay at Kristina's farmhouse this past weekend. A colleague and I were in the area to photograph a wedding at the Montague Retreat Center and decided to look for a more personal option for lodgings than the suggested list of hotels and B&B's. The farmhouse was not only incredibly convenient (a mere 15 minute drive from the center), but it was a destination in and of itself! From the beautiful antique furniture to the lovely gardens and chickens on the property, the house just begged to be relaxed in. We enjoyed our short stay immensely, and hope to find a reason to visit again in the future. Their book collection alone could keep a reader occupied for days! Pair that with a well-stocked kitchen, a cuddly cat, and the beautiful Wendell State Forest woods at the property's edge, and you have the makings of a truly restful and healing escape.
Alexandra
2015-07-05T00:00:00Z
Terrific stay at Kristina's farmhouse. The home and location were perfect. It was great to get away from it all but still have Wi-Fi when needed. The home had everything you would ever need for a weeks stay including washer/dryer. The cycling in the area was fantastic with some of the best dirt roads I have ever been on. The added bonus was her cute little cat that lives at the farmhouse. She's very affectionate and tends to greet you at the door when you return home.
Ryan
2015-08-26T00:00:00Z
This was my favorite! The kitchen had everything we needed. I felt at home with so many books that are also on my shelf. The handcrafted herbal tinctures, molcajete, and herb gardens were all like home too. We loved the house as well as being in the hills and woods of Wendell Massachusetts.
Millie
2015-09-01T00:00:00Z
We loved this place! The house was spacious, had everything we needed, and great books! We loved wandering around the property and hanging out with the chickens! Would definitely come back!
Seth
2015-05-31T00:00:00Z
Room Type
Entire home/apt
---
Property Type
House
---
Accommodates
6
---
Bedrooms
Wendell, MA, United States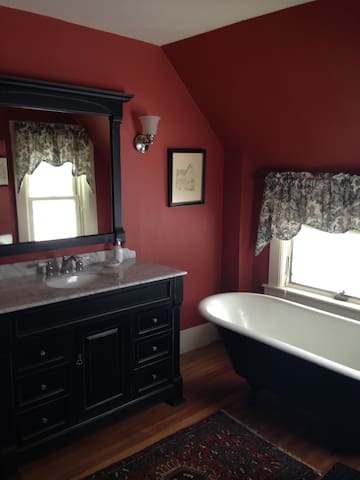 Cozy New England Lakeside Cottage 2-bedroom cottage at beautiful Lake Wyola. Sleeps 4 (one double bed, one twin bed with a trundle). 1 bathroom, living/dining room, fully equipped kitchen, fireplace, large sun porch overlooking the lake. Outdoor firepit. Private beach and dock.
Room Type
Entire home/apt
---
Property Type
House
---
Accommodates
4
---
Bedrooms
Shutesbury, MA, United States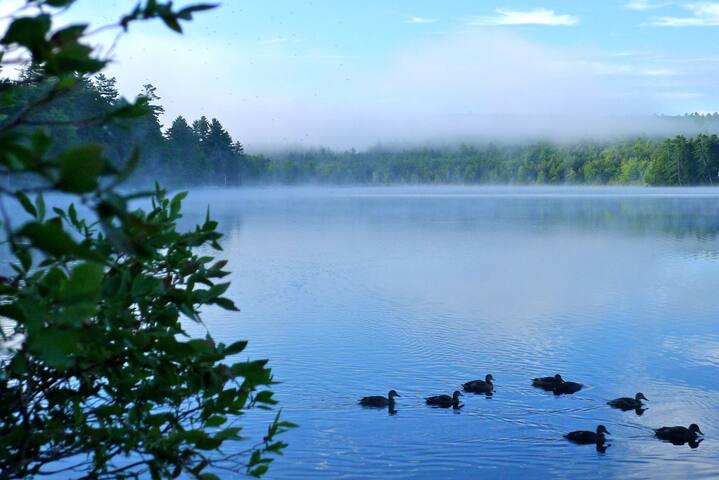 UMass faculty offering rooms in my large colonial home in Shutesbury: a suite with 3 rooms and private bath. Shared gourmet kitchen, bright and spacious shared living/dining, fireplace. Wifi. Cell coverage.
This house looks like a large colonial saltbox, but once inside there are many surprises. It is very bright with high ceilings, exposed beams and wide pine flooring throughout. Gourmet kitchen is a delight to share with loads of counterspace and table. Adjacent dining room seats 8+ next to a roaring fireplace. Lots of windows look out onto the garden, lawns, fields and woods. One bedroom has a Queen bed and a window seat single bed. Second bedroom has another single bed. A "between" room has another single bed.
A quiet country lane close to Amherst. Neighbors are mostly Five-college faculty and professionals.
Wayne was terrific. It was very easy to make arrival & departure arrangements with him and he was accommodating when our party size changed. He is sociable and easy to talk to and happy to offer help with directions or whatever else you might need. The house is beautiful and comfortable and Wayne was pleased to discuss its design and architecture with my husband who is knowledgeable and interested in the subject. We had a great time cooking in his lovely kitchen, admiring the view and playing with the cats. The rural setting is gorgeous and quiet. While it is completely rural it really is only 15 minutes to the center of Amherst. We will definitely stay with Wayne the next time we are in the area and highly recommend him as a host.
Sally & Bruce
2014-05-19T00:00:00Z
A great experience staying at Wayne's beautiful, unique house in Shutesbury. We were in town for a music festival, and found Wayne's place to be a comfortable refuge our group of four to sleep at night. Great communication as well. We'll definitely look for Wayne's place again the next time we're visiting the area. Thanks!
Julie
2015-07-12T00:00:00Z
Simply Amazing. Wayne is the man!!!
Brian
2016-08-26T00:00:00Z
The house is an architectural gem on a beautiful wooded lot. Wayne is a friendly and gracious host. He even gave us clothes for our newborn grand-daughter we came to Shutesbury to visit. The setting is so quiet that we slept an hour later than we do when home in our city.
Joseph
2015-12-14T00:00:00Z
Listing was accurate. Was worried we'd be snowed in--did get about 14" of snow--but the owner has the driveway plowed out right away, so that was fine. The wi-fi let us watch movies, and we used the fireplace, and we prepared several meals. The living room couch was a treat, it was so comfortable. Liked the cats. We had a fine time.
Michael
2014-12-01T00:00:00Z
Wayne was an awesome host! He and I had great communication before and during our stay. The house and land are beautiful, we were able to use the fireplace, and the two feline residents of the house love to meet new people! This was my first airBnB experience, and if I find myself needing a place out in western MA, I would absolutely stay again. Thanks Wayne!
Jared
2016-04-10T00:00:00Z
We had a lovely stay in Wayne's home. He went out of his way to get a travel crib for our daughter so that we didn't have to bring one on the plane. He also pulled out a wonderful collection of wooden children's toys that our almost 2 year old daughter enjoyed playing with. In addition, there is a great play structure in the yard that she with swings and slides that kept her entertained. The suite was a great set up so that we could put our daughter in a private room but also be close by. This is a great house for families with young children. We were easily able to find restaurants and grocery in Amherst within about a 15 minutes drive. The fully equipped kitchen made it easy to prepare meals. The house is also on a beautiful lot with lovely views from the many windows. It worked perfectly for us for our weekend stay.
Stephanie
2016-05-17T00:00:00Z
We appreciated having space and use of the large kitchen and lots of toys for the children to play with. The rooms were comfortable. Wayne was not there much. The house is in a sparsely populated area in which there are a lot of trees. The cats are very friendly.
Sally
2015-06-27T00:00:00Z
Room Type
Shared room
---
Property Type
House
---
Accommodates
5
---
Bedrooms
Shutesbury, MA, United States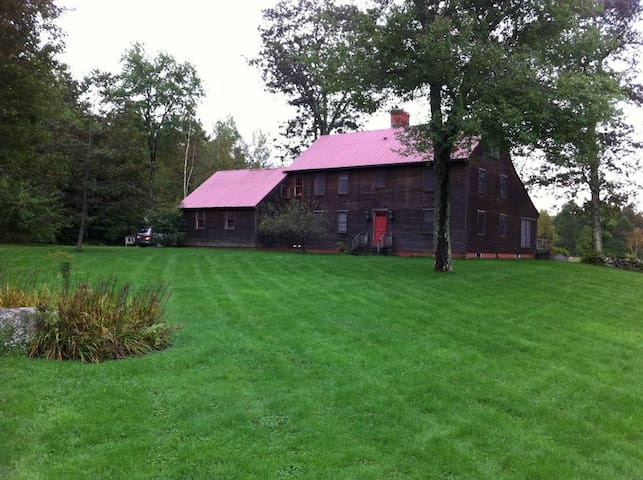 I have two beautiful rooms in a wonderful, wooded area near Amherst / Northampton MA. One room serves as a library and meditation room when not being used by guests. The second room, with beautiful bamboo floors, and large picture windows, is typically rented by longer term guests. My home is quiet with a reflective atmosphere. I am a Buddhist and yoga practitioner and a contemplative musician. The rooms are comfortably furnished with either a full/double, or queen-sized futon bed, reading chair, night stand, interesting library, and floor space for yoga. Wireless internet is provided. The price for longer visits is negotiable. The floor space in the bedrooms can also be used for other members of your party. A couch is also available in the living room. Let me know if your group will need both rooms, or the couch, because I charge a little extra/ night to use a second room. (Details upon request.)
My unusual neighborhood, known as Hearthstone Village, is home to musicians, craftspeople, progressive educators, meditators, and visionary thinkers, and features nearby Sirius Community, an 80 acre eco-village and permaculture site.
John was a fantastic host and is also just a genuinely nice person. My husband, son, and I stayed with him for a month while we moved to MA and he was helpful, friendly, and knowledgeable about the area. His home is beautiful and is in a peaceful location while still being convenient to Amherst. He was kind to my son and very patient with my husband and I coming and going at odd times for work. We highly recommend John's house if you're visiting the Amherst area!
Kellee
2015-08-28T00:00:00Z
John was a great host, friendly and welcoming. I needed a place to stay for 2+ months for a local internship. I used the 1st floor room, which was sufficiently private for me and I liked being surrounded by books. The closet was outside the room, but worked fine. Bathroom was near the closet and easy enough to access. Shutesbury is surrounded by trees and it's a winding road to get to towns like Amherst, but only about 12 minutes, so you are away from it all, but not that far away. Both of John's sons stopped by. John and I went to see one of them perform music, which was a fun time. Overall, a nice relaxing place that was just perfect for me this summer.
Seth
2016-08-22T00:00:00Z
I was most comfortable in John's house and he was a considerate and attentive host. His roommate and her daughter were also great company but privacy was respected by all. One note - GPS took me on a unpaved road through the woods so follow John's directions!
barbara
2013-11-18T00:00:00Z
John's place was very comfortable, quiet and relaxing. He has a nicely decorated house which is in a relatively remote but nice location. As a host he was very friendly and addressed all needs. He provided me with a tasty and healthy breakfast along with an exceptionally good cup of coffee. He also provided good company and gave me hints for places to check out in the area. I would definitely recommend his place for others who are looking to stay in the area.
Ayhan
2014-07-28T00:00:00Z
I was attending a last minute conference in Amherst and my husband suggested airbnb. I contacted John, he responded quickly and was very helpful and welcoming. His home was very comfortable and relaxing. The house is surrounded by woods and I enjoyed the Fall colors relaxing in the sun one afternoon. The room was perfect for me and the futon comfortable. The atmosphere was just right for me and I enjoyed nice conversation with John and another house guest that was staying there at the same time. I would highly recommend it. Andrea
Andrea, John and Kids
2013-10-07T00:00:00Z
I stayed with John for my 2 month program at U Mass Amherst and was very pleased with my experience. It was a very comfortable quiet environment which was great for getting my work done. I especially loved the wood stove which was ideal for the winter months. John was a great host and very easy to get along with. I would highly recommend his place for anyone needing to stay in this area.
ryan
2016-02-19T00:00:00Z
My husband, daughter, and myself stayed at John's for one night. The occasion was my younger daughter's college graduation so it was a very special weekend! John made us feel comfortable, his home was exactly as described, and it was fun getting to know him.
lisa and john
2015-05-17T00:00:00Z
I found John to be a gracious host and I'm glad to have had the opportunity to meet him. His home is in a beautiful spot. It feels quite secluded but is only several minutes' drive from Amherst. A nice combination that made for a very pleasant stay.
Stuart
2015-09-30T00:00:00Z
Room Type
Habitación privada
---
Property Type
House
---
Accommodates
2
---
Bedrooms
Shutesbury, MA, United States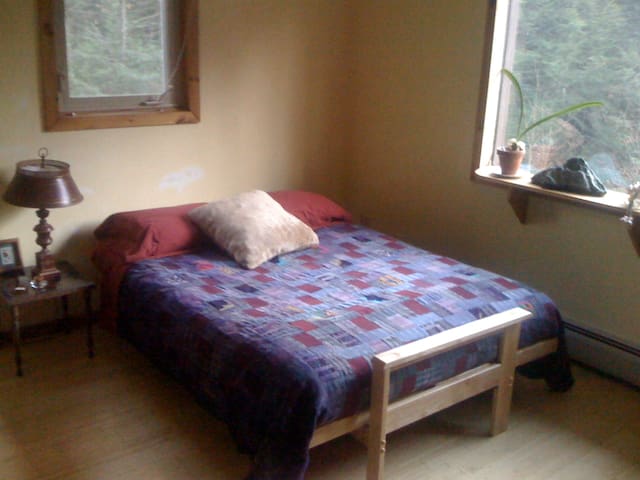 Whether you are a business traveler looking for affordable accommodations near 5 colleges or here to enjoy all that west MA have to offer, you've found the right place! The homey cozy sunny room serenity for 2, ideal for 3 or family. Suitable for relaxing,reflecting, rejuvenating & simply enjoying the sights and sounds of nature - feel the trees, hear the leaves and birds, enjoy the forest seasonal views and peace, stay in nature.
Huge master bedroom with queen mattress. Fluffy down dubet comforter/pillows & Quilts will keep you warm and cozy. Decor is warm between modern and classic. Wooden and tile floors. Private, secluded seating overlooking the forest.Share all the common spaces, you will share upstairs shower. Free parking, Free WIFI. A place for thinking, writing, biking, hiking, dining, dreaming... Lots of natural lighting and animals. why stay in a small hotel room when you can share a comfortable, clean house for less.
Friendly, quiet, and intelligent neighbors.
Angela's place was clean and comfortable and exactly met our needs.
Bill
2016-10-23T00:00:00Z
Great house! Friendly and helpful :)
Elizabeth
2016-10-18T00:00:00Z
Nice private room with views of the woods.
Michael
2017-01-18T00:00:00Z
The description fits the home perfectly! Went here for a get a way with my boyfriend and it's everything we wanted. The home was cozy, yet our room had just enough space. Angela was really friendly and nice. Would highly recommend this home!
Madalena
2016-10-16T00:00:00Z
Room Type
Habitación privada
---
Property Type
House
---
Accommodates
3
---
Bedrooms
Shutesbury, MA, United States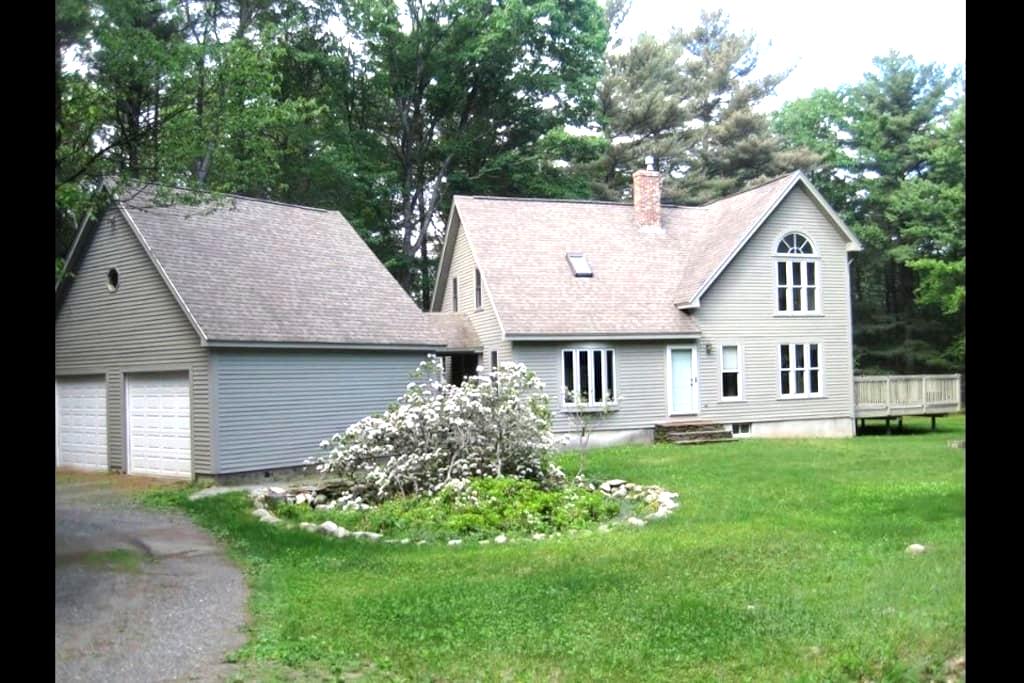 Lush flower and vegetable gardens, beautiful home of world renown organic gourmet vegetarian chef; privacy, in the woods; 6 Miles to Amherst Center, easy drive to all 5 colleges. 2 rooms available; One palatial master bedroom with queen sized comfortable bed next to the bathroom for $85. And I have another bedroom with a super comfortable double bed in a smaller room that I sometimes offer. Private cooking classes and organic gourmet meals- extra fees
Master bedroom suite for 1-2 people. 2 private rooms available and 2nd room accommodates 1-2 persons. Optional organic vegetarian breakfast, lunch and/or dinner for extra fee No pets or smoking
Hiking trails out the door, also great for cross country skiing, snowshoeing, and biking. Bring your own snowshoes, skis, bikes and hiking boots. Pond and lake swimming is a short drive away. Home is in a great neighborhood in the woods, lots of privacy, and mountain views across the street with great sunsets.
Lovely home and great breakfast!
Julie
2016-09-25T00:00:00Z
Great stay. Just as described. Beautiful wooded area. And we Leslie made a wonderful vegan breakfast. Highly recommended!
Julie
2016-11-11T00:00:00Z
Leslie is such a great host! She's welcoming and very informative. I would definitely stay with her again if we visit Amherst again.
Bao Kham
2016-10-16T00:00:00Z
Leslie's place was perfect for us for a weekend getting way. She was very accommodating of our last minute booking. Her place is cozy and in a gorgeous spot- perfect for hiking nearby trails or tooling around Amherst- which has bookstores, great restaurants and an independent movie theatre. Next time hope to sample her cooking. By the way, her nature photos are beautiful.
Jen
2016-11-13T00:00:00Z
Great place to stay if visiting in Ahmerst area. Leslie was accommodating and on point with directions and places to go. Would definitely stay here again. Wish I had reason to stay longer.
Carol
2016-10-15T00:00:00Z
Everything was wonderful, top notch.
Philip
2016-10-02T00:00:00Z
Very nice room & bathroom. Leslie was a very friendly host.
Martin
2016-07-18T00:00:00Z
What a beautiful place! I loved the location (set in the woods) and the simplicity and grace of the furnishings. Leslie was very warm and easy to communicate with - which was good because we didn't get to her place until fairly late (about 10 pm). The room is clean and uncluttered, and the bathroom is spacious with plenty of room to put your toiletries. Highly recommended!
Meredith
2016-10-23T00:00:00Z
Room Type
Habitación privada
---
Property Type
House
---
Accommodates
2
---
Bedrooms
Shutesbury, MA, United States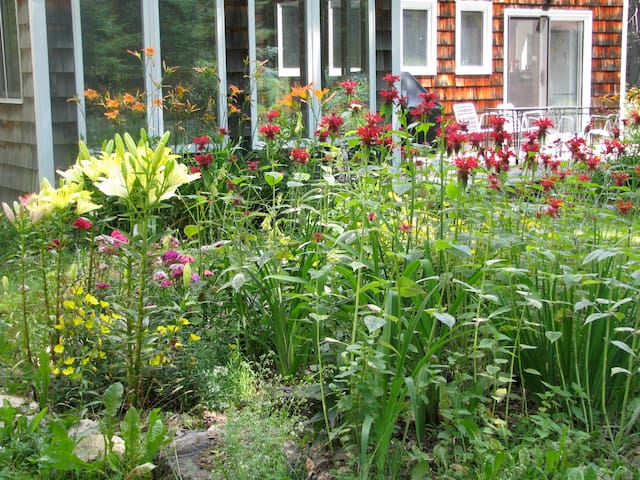 Nestled in the woods on a quiet country lane, our house is five miles from UMass and downtown Amherst. Spacious room with king-sized bed and windows on three sides. Full bathroom with laundry facilities. Open kitchen, living, and dining room area.
We built and have lived in our home for 23 years. Downstairs in the living area there are maple hardwood floors while upstairs the bedrooms are carpeted. Enjoy our shaded deck for outdoor lounging or dining. There is plenty of off-road parking and free Wi-Fi.
Our house borders over one hundred acres of protected woodlands with many miles of trails perfect for hiking, mountain biking, or cross country skiing. Laze on the deck or in the backyard hammock. Fall asleep at night to the babbling of Dean Brook, the gentle hooting of owls, and the peeping of frogs. In winter, allow the sound of pure, hushed silence to envelop you.
Laura sent us a very welcoming email, and gave us a nice tour of the house when we arrived. The flower arrangement on the night table was an especially nice touch. The description was quite accurate, the room was comfortable and very quiet. We signed the guest book on the bureau and discovered we were the very first customers.
Ted
2015-10-05T00:00:00Z
Laura's description was completely accurate. The level of detail she included matched up exactly with the place, so we felt comfortable from the very beginning. Laura and her husband were very warm, welcoming, and easy-going. We only stayed for a short time, but it couldn't have been nicer.
Matthew
2015-10-26T00:00:00Z
We had a great experience at Laura's house. Everything was better than advertised. The hosts were extremely friendly and made us feel right at home. The accommodations were very comfortable and extremely clean. The setting was great; a real New England experience.
Tom
2016-10-23T00:00:00Z
Room Type
Habitación privada
---
Property Type
House
---
Accommodates
2
---
Bedrooms
Shutesbury, MA, United States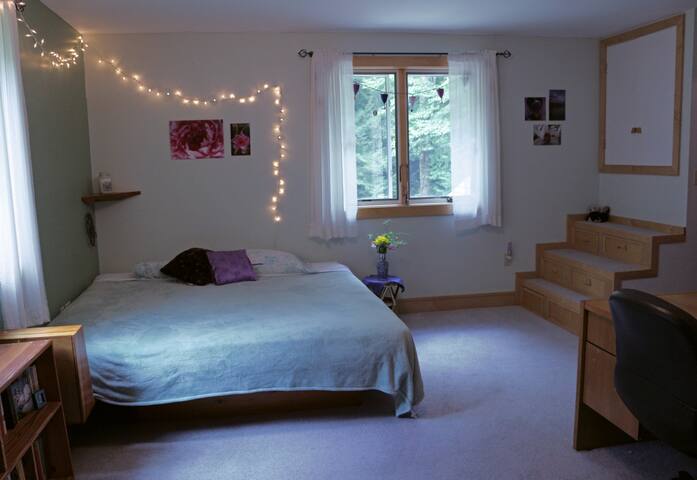 The homey cozy sunny room serenity for 2, ideal for 3 or family. Suitable for relaxing,reflecting, rejuvenating & simply enjoying the sights and sounds of nature - feel the trees, hear the leaves and birds, enjoy the forest seasonal views and peace, stay in nature.
They are friendly,nice, quiet and educated
Room Type
Habitación privada
---
Property Type
Bed & Breakfast
---
Accommodates
3
---
Bedrooms
Shutesbury, MA, United States
Whether you are a business traveler looking for affordable accommodations near 5 colleges or here to enjoy all that centure MA have to offer, you've found the right place! The homey serenity room ideal for 1 or possibly 2 guests. Enjoying the sights and sounds of nature.
Serenity bedroom with twin mattress. Fluffy down dubet comforter/pillows & Quilts will keep you warm and cozy. Decor is warm between modern and classic. Wooden and tile floors. Private, secluded seating overlooking the forest. Share all the common spaces, you will share upstairs shower. Free parking, Free WIFI. A place for thinking, writing, biking, hiking, dining, dreaming... Lots of natural lighting and animals. why stay in a small hotel room when you can share a comfortable, clean house for less.
Friendly, quiet, and intelligent neighbors.
Room Type
Habitación privada
---
Property Type
Bed & Breakfast
---
Accommodates
1
---
Bedrooms
Shutesbury, MA, United States
Marvelous get-away for deep relaxation in a completely private location. With 20 minutes to Amherst and 30 to Northampton, you can enjoy cultural and social activities then return to a hot tub, professional kitchen, game rooms, and beautiful zen like gardens and koi pond. This is the place!
Secluded and gorgeous enviorment
Dear John, Thank you VERY MUCH for letting us into your wonderful home, for the 2017 New Years weekend! Your home exceeded by all the accommodations your house has to offer. Thanks again for this wonderful weekend and letting us into your home, and the amazing memories we made there!
Yakov
2017-01-02T00:00:00Z
Our group had a great time at Evergreen over Xmas weekend 2015. Some tips for would-be renters: The house is 4 bedrooms, 2.5 bathrooms. The ground floor master bedroom has a king bed and en suite bathroom (standing shower only). There are 2 bedrooms with queen beds and a full bathroom (shower/tub combo) on the 2nd floor. The 4th bedroom is in the finished basement. There is another half bath on the first floor. Probably 3 additional sleepers could be accommodated on sofas. The house has a full laundry room. Evergreen is great if your group likes to cook. The kitchen is huge, with ample counter space, a large refrigerator (with automatic ice), 5 burner Wolf range/oven with hood, dishwasher, microwave, and two sinks. All cookware, kitchen knives, kitchen prep equipment, dinnerware, silverware, glasses and cups are provided. The kitchen also includes a combination drip coffeemaker/espresso maker, Crock Pot, two food processors, and a Vitamix blender. There is also a wine refrigerator and dorm-size fridge in the basement. E-mail the owner if you want to confirm anything very specific, but odds are his kitchen has it. As far as indoor recreation goes, Evergreen has a large living room, dining room, kitchen combination room. The kitchen has a large island with stool seating. The dining table can probably accommodate at most 8 comfortably. The living room has seating for six and a ~55" HDTV with SmartTV functions (Netflix, HBOGo, etc.) and a DVD player. There is no cable service. The living room also has a stereo (with multi-disc CD player) with speakers in the living room, kitchen, master bedroom, and back deck. Unfortunately, the stereo does not have wireless connectivity for streaming music, but if you have a headphones/RCA converter cable, you can hook up your devices to the stereo. The living room also has a stove-style fireplace and plenty of firewood. The finished basement has its own stereo (with CD/cassette player), pool table, and ping pong table. For outdoor recreation, there is a 4-person hot tub (be sure to keep it covered whenever not in use), an outdoor dining table, gas BBQ grill, a fire pit, and gardens and trails to walk on. The grounds are lovely. One thing to be aware of is that cell phone service in the area is basically non-existent. You will not get that text. There is a land line telephone if you need to make a call. There is also wifi internet, but it is not high speed, and does not extend very far outside of the house. We found it possible to watch streaming video on the SmartTV, but only after much buffering, and only when few people were on the network. If your group has a lot of connected devices, you'll feel the lag. All in all, Evergreen was great. The owner was very helpful and communicative throughout the process. The house and grounds were very comfortable. Highly recommended!
Jesse
2015-12-28T00:00:00Z
John's house is phenomenal. My husband and I stayed for 3 nights with 2 other couples for my husband's Birthday weekend. The house is gorgeous, peaceful, and extremely lovely. It has every amenity you could ask for. We enjoyed cooking meals together in the gorgeous kitchen, using the hot tub, fireplace, pool, ping pong, feeding and watching the koi fish and the birds in the AM. We had lunch in Montaque at Alvah Stone and dinner in North Hampton - both were wonderful meals. The weekend was truly relaxing and restorative, we hope to stay here again soon!
Ashley
2016-11-13T00:00:00Z
We had such a wonderful stay at the Evergreen estate in Shutesbury in January! The house is gorgeous and perfect for a tranquil get away. We really enjoyed the warm fire place, the hot tub, the fantastic kitchen, the hiking trails through the woods behind the house, and the pool table! It was also such a nice treat to be able to have our dog with us! John was a fantastic host, with a great response time and helpful instructions on the many features of the house. I'm sure a stay during the summer months would be wonderful as the landscaping around the house is very beautiful and thoughtful.
Anne
2015-01-20T00:00:00Z
This was our third stay at Evergreen, and, as usual, everything was wonderful. Highly recommended for scenic getaways!
Jesse
2016-12-26T00:00:00Z
It's a wonderful place to have a wonderful time. John was so helpful and kind.
Gloria
2015-12-01T00:00:00Z
John's home was perfect for our stay. The grounds are great whether you want to hike, or if you just want to chill. For those who love gourmet cooking, this is the place.
Dan
2016-03-15T00:00:00Z
This house is even more luxurious than it looks in the pictures! We had a great time and took full advantage of the hot tub, ping pong table, pool table and spacious living room. It was the perfect winter getaway (probably would be the perfect summer getaway as well)! John was quick to get back to me with all the details. Two thumbs up! I hope to come back next winter!
Zoe
2015-03-09T00:00:00Z
Room Type
Entire home/apt
---
Property Type
House
---
Accommodates
8
---
Bedrooms
Shutesbury, MA, United States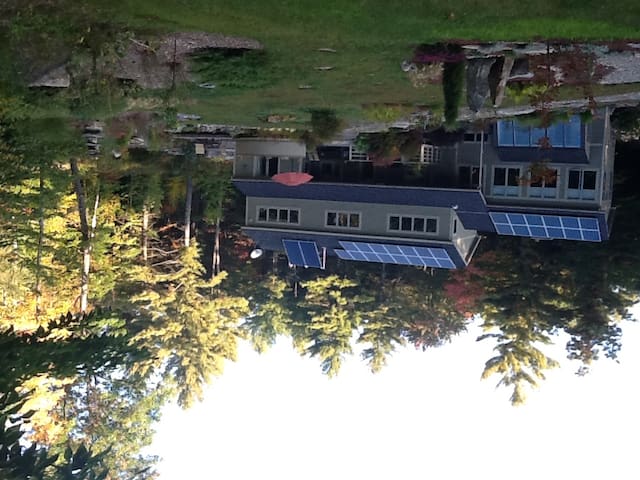 Cozy, vintage, eclectic, artsy cottage in the heart of the village. Central, yet quiet, relaxed, and comfortable. Lush gardens in season. Library Room is small but comfortable with double bed, small desk, book cases, and ample closet.
Host is a worldly working artist, writer, collector, gardener. Home is filled with art and objects of interest.
Cottage is located in the heart of the village yet is private and quiet. Set back from the Avenue by gardens and sheltered by mature trees. Walk out the door to good restaurants, interesting shops, the beautiful Connecticut River, power canal, bike path, and cove. Banks, library, post office are all a few steps away. Abundant nature, good hikes, skiing, live music within few minutes walk or drive. Borrow a bike from host to roam about the village and bike path.
It is hard to find though its street address is right on the main street. It is accurately described in the listing.
Richard
2017-01-23T00:00:00Z
Edite is a great host and is very accommodating. She answered all my questions, and gave great tips for things to do around town. Her house is in an excellent location to walk around the town. I enjoyed my stay at her house and the city of Montague.
Allison
2017-02-11T00:00:00Z
Warm bedroom, warm host, and a lovely town. Especially comforting to a writer on the road.
Alex
2017-01-07T00:00:00Z
Edite's small, cosy house is filled to the brim with excellent books, and creativity. She has gathered an eclectic artist's eye-full of interesting objects she has collected in every nook and cranny. It still feels spacious! My room was warm and comfortable. She pointed me in the direction of good places to eat and drink, and I felt comfortable being there. My stay in this small town was more attractive because of her welcoming ways.
Martha
2017-03-11T00:00:00Z
Edite's place was cozy comfortable. Perfect for my needs. A quaint place to sleep for a last minute ski day. Very nice town with good eating choices, nice laid back morning coffee and breakfast spot nearby. Edite is a hospitable host , offering tea on my late arrival. Thanks Edite!
Marc
2017-03-18T00:00:00Z
This was a wonderful find and would gladly recommend it to anyone making a venture out that way. Edite was an excellent host....great with communicating and coordinating arrival and having back up plans if needed, making you feel comfortable in the space, and offering up whatever you might have needed within reason. The room itself was quite comfortable. After coming down with a random quick bug that decided to manifest itself during the trip, I got to grow more acquainted with the space than I was originally intending to. But, no matter if it was the middle of the day or at (URL HIDDEN) was easy as anything to be able to fall asleep and not feel disturbed in any way, even with being on the main drag in Turners Falls (though set back a little from it). All in all, this place has all you could need. Comfort, convenience, cleanliness, a few other positive "C" terms that might well be applicable but elude me at the moment....you can't ask for a better place, really. Always highly recommended.
Michael
2017-01-17T00:00:00Z
Room Type
Habitación privada
---
Property Type
House
---
Accommodates
1
---
Bedrooms
Montague, MA, United States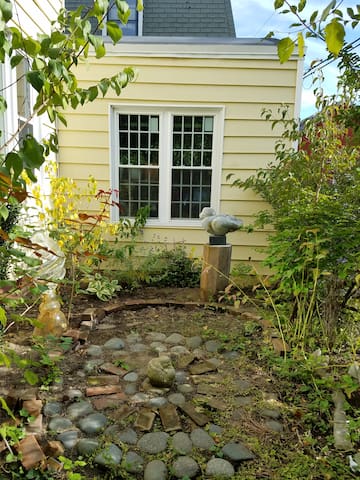 My place is close to The river and town. You'll love my place because of lots of privacy.
Extended my stay based on first day's experience. Don and Elaine are very gracious hosts. Please see previous review.
Kshitij C.
2017-03-18T00:00:00Z
Elaine was a wonderful host. Communication was fast and easy. Her home was warm and comfortable, and very tidy. I'll stay here again when I visit this area again.
Patricia
2017-02-05T00:00:00Z
Beautiful, bright house, and the room was incredibly comfortable. Elaine is a gracious host. One of the best places I've stayed at.
Lisa
2017-02-11T00:00:00Z
A clean, well-lighted place and kind hosts. Highly recommend.
Johanna
2017-04-07T00:00:00Z
Thanks Elaine!!!
George
2017-02-14T00:00:00Z
Don't be fooled by the sparsity of this listing! This is a warm and cozy space with all the comforts of home. Elaine and Don were extremely welcoming and courteous. The room is upstairs in the main house with a semi-private full bath right next door. A perfect spot to sleep in after a long day snowboarding, and waking up under one of artisan Elaine's handmade quilts was a special kind of New England luxury. Good bars, brunch, and a bookstore are all convenient to this quiet spot.
Simone
2017-02-04T00:00:00Z
Great home and very accommodating.
Kaley
2017-04-01T00:00:00Z
Very pleasant stay!
Tobias
2017-03-19T00:00:00Z
Room Type
Habitación privada
---
Property Type
House
---
Accommodates
1
---
Bedrooms
Montague, MA, United States
There's an excellent bakery at the end of the street, and the house is a short walk away from the Shea Theater, bus stops, the Connecticut River, the bike trail, shopping, great restaurants and night life, grocery store, banks, as well as being only half an hour away from the cultural centers of Northampton, Amherst, and Brattleboro, as well as scenic areas along the Mohawk Trail. Ten minutes from Greenfield. If you love a funky, creative and eclectic bohemian environment, you will love it here!
This is an old house and full of art objects and colorful, funky style. It can be a bit drafty in winter. It has high ceilings and plaster walls, so will tend to be dustier than a modern house. Nevertheless, people find it very comfortable, and interesting, to visit here! As far as stays longer than one week, I prefer to meet you first before committing to such an arrangement, unless there are exceptional circumstances which we will work out together in advance. Please contact me with your request.
The Central Street neighborhood is very diverse. It is one block up on the Hill above the downtown. There are triple decker apartment buildings, single family homes of varying vintage from the 1870s to the 1930s, and a headstart preschool in an old school building. In this neighborhood are published authors and poets, experimental musicians, single mothers and children, business people, people with disabilities in group housing, artists, bikers, and all types of people. Generally this is a quiet street and people are friendly. It is very convenient to all of the town.
lovely stay at nina's nook. laid back, easy going environment. the house is big and very comfortable. decorated fantastically. the room/ bathroom were perfect for my two nights stay in town. recommended it to a traveler i met at the 5 eyed fox.
Sandra
2016-11-04T00:00:00Z
Nina's nest was the ideal location for me visiting the Pioneer Valley. Nice location central to all the best the Valley offers. Can't wait for my next visit.
Rob
2017-02-28T00:00:00Z
Nina's house provided a place to stay while I visited with friends less than a mile away; The house is wonderful and the room was a much needed respite. I didn't see much of her while there, but I believe that she would've helped me with anything that was needed. I also enjoyed meeting her gorgeous cat, Rusty, who is very friendly.
Heather
2016-11-27T00:00:00Z
Nina's place was very comfortable and convenient as a place to stay over between Boston and Vermont. The single room was warm and comfortable. I didn't have a chance to meet Nina but our email correspondence was great, and there is an easy self check-in procedure. Would be happy to stay again.
Paul
2017-03-17T00:00:00Z
Nina's place is great.. She has been a graceful host and very friendly.
Gopi
2017-02-20T00:00:00Z
Very nice and homey - this was a great visit. Despite my late arrival the host was very nice and wellcoming.
Raffi
2016-12-29T00:00:00Z
I arrived exhausted from a long drive, and barely met Nina, but the place has a tremendous vibe. It's full if creative energy, which seems to reflect the fact that it's located in a classic former mill town. If you are traveling to Western Mass or southern Vermont and want to avoid cookie cutter hotels, or cutesy pie BnBs, this is the place for you. I hope to come back when I'm not sleep deprived!
Frank
2017-01-11T00:00:00Z
Clean, quiet, beautifully-decorated (seriously... pics are good but don't do it justice) home! Often these old New England homes are drafty, but this room stayed warm all night despite outside temps in the teens. I didn't run into Nina and her son that much, but when I did they were welcoming and warm. Nina is an artist and everything about her home emanates from her creative spirit. Really felt at home here. 10/10 would stay again.
Annie
2016-12-11T00:00:00Z
Room Type
Habitación privada
---
Property Type
House
---
Accommodates
1
---
Bedrooms
Montague, MA, United States
Relax with the simple comforts of our 1865 Montague Center farmhouse. Enjoy your own bedroom and bath with private entrance and porch. Steps to the Book Mill cafe, the Arts Co-op, and acres of conservation land. Easy drive to the 5-college area.
The room is bright, clean and comfortable with simple furnishings including a queen size bed, a small TV, overhead fan, wi-fi and air-conditioning. It has a private bathroom with a shower/claw-foot tub.
Montague Center is known as a fun and quirky village nestled in the farmland of the Pioneer Valley and is home to the renowned Bookmill, housing a café and pub, and named by the LA Times as one of the best bookstore cafes in the world. The Bookmill is a five-minute walk from our house and a great place to sit by the Saw Mill River and enjoy a coffee or a craft beer or to browse the Saw Mill River Arts Coop. The Alvah Stone restaurant is located in the same charming riverside complex. The area attracts visitors for many reasons: Many cultural offerings are hosted by our local colleges, and outdoor sport enthusiasts enjoy the scenic 240 mile Franklin County bikeway, kayaking or riverboat cruises on the Connecticut River, zip lining, hiking, and cross-country and downhill skiing. Montague also offers a variety of local events including the annual May Day celebration, The Mutton and Mead Medieval Festival, the Franklin County Pumpkin Festival and several nearby corn mazes. We are within an easy drive of the five-college area, which offers diverse dining, music, arts and other cultural experiences.
I had a lovely stay! I arrived late and Judith was there to greet me and show me my room. In the morning, she left a tray with delicious, hot coffee, an apple, a banana, and almonds. The room was perfect with a private bath in the hallway. This part of the house is separate, so I had total privacy, which I really needed. And yet I knew that Judith was just a text away. I had some food items that needed refrigerating and Judith kept them in her refrigerator until I was ready to leave.
Elena
2016-06-01T00:00:00Z
We visited Jusith's lovely home in Montague and once again had a delightful visit. We will be back!
Shameela
2016-05-08T00:00:00Z
My husband went to a wedding in Montague, and stayed here over the weekend. We had a great experience! Judith was super helpful, friendly and communicative. She really went above and beyond to make sure we had a great stay. The house is also very sweet and comfortable. It was perfect for the two of us. I would definitely recommend staying here!
Lorraine
2016-09-05T00:00:00Z
Judith was a great host and really helped our visit be a memorable experience. This was our first AIRbnb so we had no expectations. We enjoyed the private entrance and beautiful garden and neighborhood. The fresh coffee waiting for us outside our room made for a nice fresh start.
Joseph
2016-06-20T00:00:00Z
The house fits the image of an old colonial New England farmhouse and is located in a wonderful, peaceful Massachusetts village. However, I would imagine you will need a car for this place to be an option for you. The room is comfortable and clean with a private bathroom. The host, Judith, is welcoming, friendly and informative. She was really helpful with arranging a check in time that was convenient for us. Additionally, she left hot tea and coffee in the downstairs hallway the next morning. Post-arrival, our only interaction with Judith was during check-in, which was fine for us but this is worth noting if interaction is high up on your list.
Alex
2016-10-26T00:00:00Z
We felt welcome. Our stay was a great experience. It was a good location in a very cute and friendly town. It was great to walk around and see all the beautiful old homes in the neighborhood and the book mill was fantastic. We had a lot of privacy and our own private entrance. Everything was clean. Judith left us towels, shampoo, barsoap, conditioner, and hand moisturizer. We were given tea and coffee in the morning. Judith was flexible on letting us stay during check out day until 4 pm for when we needed to go attend a wedding.
mavissar
2016-05-09T00:00:00Z
Judith is a lovely host. She was responsive and courteous. It was so nice of her to ask our preference for Tea or Coffee in the morning. Sure enough there was a carafe of Coffee left in Hall way. We appreciated her hospitability. Air bnb place was a page out of history in a quaint little town. The house is next to a church with melodious ringing bells every hour. As a concerned host she even had fresh pair of Earplug if needed. Room is on second floor room with a private access. The room was spacious, clean, and a private bathroom next to it. The bed was comfortable. Sheets, bedspread and towels were nice and fresh. Wish I had more time to explore around the town. Thanks Judith for making our stay comfortable.
Pankaj
2016-10-23T00:00:00Z
What a beautiful area of the state. I was welcomed with a smile and a sincere, professional owner who showed me to a beautiful room. It was exceptionally clean, large, decorated well and well beyond my expectations. Planning on another trip it was so awesome. Thank you for your hospitality, it was very appreciated. I wasn't sure of the address of the event I was going to and there was immediate help with an address and directions. The claw tub was so pretty and it matched this beautiful old home with tremendous charm. I highly recommend this room "In the heart of the village." you will not regret deciding to do so.
Kathleen
2016-06-06T00:00:00Z
Room Type
Habitación privada
---
Property Type
House
---
Accommodates
2
---
Bedrooms
Montague, MA, United States
Enter dates to see full pricing. Additional fees apply. Taxes may be added.