Welcome to Island life in the Pacific Northwest! A quaint & comfortable cottage, featuring delightful coastal ambiance, & kitchenette. Cruise the island on beach bikes, kayak, or walk to the beach to enjoy the dock, fire pit, park, & sand dollars.
We have two beach bikes and three kayaks that our guest may use. As shown in the picture, it is an open concept living area. There is a queen bed with a bookshelf dividing the living area. The couch is a sleeper sofa. The cottage is located in the side backyard of the main home.
Carrie was an excellent host! She was very responsive and easy to coordinate with. The guest house was beautiful and had everything we could need/want. Certainly saved it in my favorites and would love to stay again!
justin
2015-10-25T00:00:00Z
After 25 amazing years as residents of Gig Harbor, a change in employment takes us away from the Great NorthWest. We spent our last night in the harbor @ Carrie's cozy 'Fish Tales 2'. The morning we left was a picture perfect day on Raft Island...after 25 years the view across the water to Dead Man's Island and the Olympic Mountain Range still takes my breath away. You'll love Carrie and "Fish Tales 2' :-)
Debbie
2016-04-02T00:00:00Z
We arrived around 8 so we didn't meet the host.
Brianna
2016-09-25T00:00:00Z
We arrived when Carrie was out, and showed ourselves to the cottage (this may have been inappropriate, but we weren't sure what to do, so we walked in). Upon first glance, we were enamored, and never once were we disappointed. The space was roomy, with tall ceilings and very well decorated. The bed was comfortable, and we both slept soundly both nights. I woke the second morning to a beautiful array of color out the back window as the sun rose. Both days were beautiful and just a tidbit chilly, but we thoroughly enjoyed our time away and felt completely refreshed. We would recommend this space to anyone looking for a great jumping off point while exploring the puget sound area, but also if you need respite.
TirzahJoy
2016-02-22T00:00:00Z
This was our second attempt at using AirBnB and what a find. The Raft Island cottage was perfect. The island was lovely as was the well appointed and beautifully decorated cottage. Carrie and her family were fabulous hosts and their restaurant recommendations were spot on. Nestled in the trees, the cottage was so cool on such warm days! Our only regret was scheduling too many activities, not allowing us to spend more time exploring the island. Bicycles and kayaks were offered to us by our host. Next time we will spend more time at the cottage! Thank you Carrie for a memorable visit!
Karen
2015-07-09T00:00:00Z
Carrie was very welcoming and made me feel right at home. The listing was accurate and so adorable. I loved exploring the island and spent most days at the community beach. Gig Harbor is only a ten minute drive and a wonderful little downtown to do some shopping and site seeing.
Anna
2015-08-28T00:00:00Z
We absolutely loved staying at the Raft Island Cottage. It's beautifully decorated, pristine, and well taken care of. The location is perfect for a couple's get away -- very quiet and tranquil, yet close enough to Gig Harbor's restaurants (about 5-8 min drive). A lot of the furnishings seemed custom made for this space and the host clearly takes care of the smallest details to make your stay special - beautiful sheets, high end soap & lotion, games to play, WiFi code on the fridge, parking permit for your car (if you want to park at a private beach nearby). We were very happy with our stay at this charming cottage.
Magdalena
2015-08-03T00:00:00Z
We had a wonderful time in this charming cottage!
Bonnie
2016-08-21T00:00:00Z
Room Type
Entire home/apt
---
Property Type
Guesthouse
---
Accommodates
4
---
Bedrooms
Gig Harbor, WA, United States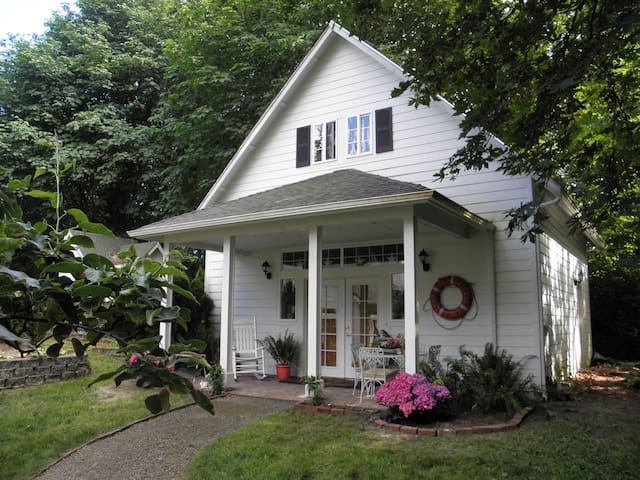 Bedroom & bathroom with a private entrance and deck. Access to additional waterfront deck, dock & property. Home is quiet & peaceful with amazing wildlife. We especially love seeing Bald Eagles and other Burley Lagoon birds daily.
We remodeled our home 10 years ago to accommodate Beth's medically fragile parents. The bathroom is wheelchair accessible, but has a low ceiling in the shower. We have a tendency to lean towards earth-tones in our decorating. The bedroom has a batik that our youngest daughter created along with Northwest Native American pieces that John collects. There is also a small refrigerator, toaster and coffee maker in the room.
We live on a long shared driveway with 10 other homes. It's a rural setting with quite a few families. Children ride their bikes and scooters around the loop and play baseball and soccer in the neighbors field. Our neighborhood is a great place to go for walks!
Beth texted us each day and we saw her regularly. Very interested in making sure we felt welcome.
Jeff
2015-10-12T00:00:00Z
We had the most wonderful albeit short weekend stay at the bungalow. Though we arrived during the wee hours of the morning, Beth greeted us and welcomed us with open arms, making sure we were comfortable and could find everything and any thing we needed for our stay. Thank you so much for a nice getaway, our only regret was that we could not stay longer
Todd
2016-06-27T00:00:00Z
Great stay! Beth was very nice and hospitable. The bungalow was clean and exactly as described. WiFi worked well and the bed was absolutely comfortable. We would love to stay again. Next time more than just 2 nights. Spitze! Beth war sehr nett und gastfreundlich. Der Bungalow war sauber und exakt wie beschrieben. Die WLAN Verbindung funktionierte gut und das Bett war total bequem. Wir würden gerne wieder kommen. Nächstes Mal mehr als nur 2 Nächte. Greetings from Germany San & Mona
Sandra
2016-09-08T00:00:00Z
This room was a breath of fresh air & a peaceful retreat! Close to Gig Harbor & amenities. We were blown away by her thoughtfulness in every detail, literally providing us with every item we would need during our stay. We had our infant with us and without us asking she provided us with a pack n play crib, baby blankets, high chair, toys, etc! The room & bathroom were extremely clean & the information she provided us with on the area was a huge help. I could not recommend this more highly!
Melody
2016-07-11T00:00:00Z
Beth is a great hostess and made us feel very welcome by her cheery demeanor and hospitality. The room was very clean and comfortable for our weekend stay. I was happy to be able to take advantage of the kayaks that were available, though the tide wouldn't cooperate with our schedule most days.
Stephanie
2016-08-01T00:00:00Z
Our hosts went out of their way to help us in what was really a fairly challenging trip in terms of logistics. They were just lovely as was the room and the location.
Michael
2016-08-07T00:00:00Z
Beth was a wonderful hostess and the bungalow was perfect for the two of us. It was very clean and had everything we needed and even some things we didn't realize we needed!
Kay
2016-05-31T00:00:00Z
My husband and I enjoyed our stay at Beth and her family's lovely home on the lagoon. The location is ideal-- quiet and secluded with a gorgeous view of the water, frequent sightings of herons, kingfishers, and other water fowl, and yet an easy drive into Gig Harbor for tasty food and local distilleries and breweries. Beth and her husband welcomed us into their home on their 30th anniversary, shared fresh produce from their garden with us, and provided us with the perfect balance of privacy and accessibility if we needed anything from them. We enjoyed quiet meals on the deck, an evening kayak and morning kayak, and fresh strawberries from their garden! If we hadn't already had reservations in Victoria and Sequim, we would have happily spent a week here at the Burley Bungalow. It was a lovely place to begin our vacation celebrating our 8th anniversary, and an inspiration for where we might be when we celebrate our 30th! In the meantime, we certainly hope to come back next summer!
Lora
2016-08-06T00:00:00Z
Room Type
Habitación privada
---
Property Type
House
---
Accommodates
2
---
Bedrooms
Gig Harbor, WA, United States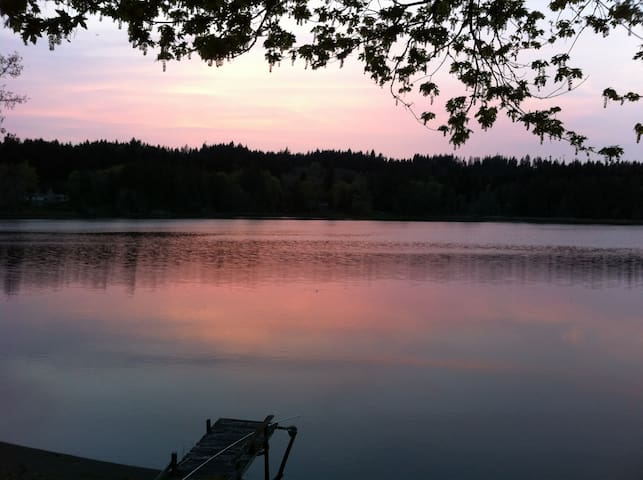 Gig Harbor, Washington quaint fishing Village and close to Tacoma or Port Orchard Luxury fully furnished upstairs Accommodations Daily, weekly, monthly. Ideal for: Business Traveler, Visiting Family, Vacationing, Visiting Academic, 3 Miles from St. Anthony's hospital & YMCA Close freeway access Convenient - inviting - comfortable- relaxing - clean Tired of hotels? Looking for safe, comfortable affordable lodging? If you're visiting the charming Gig Harbor area and are in need of accommodations, try our private comfortable upper level studio apartment nestled on four peaceful acres. Tastefully decorated awaiting your visit. Fully Furnished including luxurious linens & towels just bring your toothbrush. Heavenly bed with Pillow top Mattress with a cushy down comforter Private Bathroom, stall shower Fully equipped Kitchen Cable T.V. WiFi Internet service available for your laptop Washer and Dryer available Barbecue 2 Night Minimum Please
Wonderful host. Accommodated our checkout. Was available on property. Great facilities!
Brandon
2013-08-12T00:00:00Z
This is a MARVELOUS condo located just west of Tacoma. Don't let the Tacoma Narrows bridge scare you off - the traffic isn't bad at all. It's easy to find (great directions!) and nestled in the woods on several acres. The landscaping includes plenty of eye treats and there's a ready-for-grilling BBQ downstairs. Oh, and a 40x40 patio area for entertaining if you want to invite friends over. (OK, we don't have THAT many friends, so...) The deck off the bedroom area has comfy chairs, around a table with an umbrella and it's perfect coffee in the morning... We're clean freaks so the quality vacuum's, brooms, whisk brooms, Swiffer's for floor and dusting, regular mops, all sorts of cleaning products canned and bottled, was ideal, too. The washer and dryer were of good quality. Inside the apartment the art that is hanging on the wall's makes one feel they are in a art gallery! Seriously, get Kelly to tell you the art stories behind each picture - and about that hand-stretched native drum.... Serious art. Goose down comforter graces the bed. The floors are laminate and tile. The furniture is quality and tastefully married so too are the rugs. There is electric heating and a window A/C unit. Opening skylights in the bedroom area for those who like fresh air at night. Dishes, pots, pans, potholders, kitchen towels, every kitchen gadget including corkscrew and some that are unique. (New quality cooking pans arrived the day after we did...totally unexpected!) The refrigerator was totally acceptable and came pre-stocked with three beers left by previous visitors. The kitchen and bathroom are small apartment size - but nevertheless - usable! There is a ton of shopping available: One exit back on Highway 16 is an Office Depot, a Target, Albertsons, and a decent Chinese & Teriyaki joint across the parking lot. Very good Asian food. Harbor Lights over in Tacoma for really great sea food, but Anthony's in Gig Harbor is OK and closer, but a bit on the noisy side for our tastes. Our only mistake? WAY over-stocking on food. We left many goodies behind for the next folks. But who can't use some semi-sweet chocolate bits for their coffee, right? On the business end of things, they have very good Wi-Fi. (SENSITIVE CONTENTS HIDDEN) video-conferencing works fine. Some cell services get sketchy due to terrain (not their fault, of course) but considering what microwaves do to people - that's a good thing, lol. (Maybe we should upgrade from our cheap TracFone, hmmm...but it did work on the deck and in the recliner inside...) Will we be back? Absolutely! When Kelly's not dealing with migrant Texas refugees, she runs a phenomenal wedding cake specialty bakery on the property (more at (URL HIDDEN) This is by far the best value available in the Pacific Northwest and we'd highly recommend it to anyone traveling to the Seattle-Tacoma area. If it's available when you travel and you don't snag it and love it, time for an IQ check...
George
2014-09-19T00:00:00Z
I stayed at Kelly's delightful place for almost seven weeks. It was so quiet and peaceful. The space was HUGE, nicely furnished, and provided several different spaces-kitchen, dining, living, and bedroom areas. In addition, a washer and dryer were available. The kitchen was well-equipped, and the bed was really comfortable. Kelly was friendly and responsive to my questions and Danny quickly fixed two items during my stay. Highly recommend.
julie
2016-12-15T00:00:00Z
Very private, clean and comfortable. Nice walk-in shower. Will definitely stay again.
John and Sharon
2012-03-02T00:00:00Z
Kelly's place is great. We booked last minute, and she was very accommodating. This place was very clean and comfortable. Gig Harbor shops and restaurants are only a short drive away. Kelly was always available to answer questions and requests. Highly recommend her countryside getaway.
Julio
2016-10-23T00:00:00Z
Kelly's place was perfect for my 10-week stay in WA. Being from New England and never having ventured to the Evergreen State, I didn't know what to expect. The location is a little off the beaten path (you have to travel over the Tacoma Narrows bridge to get to Tacoma/Seattle from the apartment), but Gig Harbor is such a pretty little place only about an hour to Seattle and less to Tacoma (I worked in Tacoma while I was there). Downtown historical Gig Harbor is beautiful in the nice weather and has several little boutiques/shops. There are also grocery stores, office supply stores, Starbucks, Target, etc. nearby. The apartment is set back a little bit from the road and very private and safe. Kelly was also very accommodating. While going out for a late-night errand around 10 p.m. one night, I locked myself out of the apartment. I walked across the way to Kelly's home (thankfully, she and her family were awake!), and she gave me a spare key - no problem at all. I felt badly to disturb them that late, but they were very pleasant and helpful. Check-in was easy and she even gave me some farm-fresh eggs when I got there! The place was clean and had everything in the kitchen/bathroom I needed - I personally don't cook too often, but there is a kitchenette with pots and pans, a microwave, a small oven/stove, and a coffee maker. There is easy access to the laundry room downstairs, and it is clean. There is also a small private deck right outside. The pictures of the apartment are accurate. Thanks so much for everything, Kelly! I really enjoyed my stay in Gig Harbor!
Lindsay
2016-09-25T00:00:00Z
Kelly was a wonderful host and her property is gorgeous. Very clean, comfortable and convenient. Highly recommend it.
Kevin
2011-08-29T00:00:00Z
My husband and my two Norfolk Terriers stayed at Kelly's for 45 days. The apartment met our needs and it was very clean. It has a nice deck where to have coffee in the mornings and sunbathe in the afternoons. Kelly is fantastic! So attentive to our needs. We stayed in July and August and there were a couple of days when the weather turned very hot and being that the apartment is on the second floor and it has western (EMAIL HIDDEN) it got extremely hot. When we realised that there was going to get extra hot again, I talked to Kelly about putting an AC unit to fight the heat. To our delight we had an air conditioner installed the very next day! Now that is what I call customer service! The property is lovely and our dogs were able to run and played with Kelly's dogs. Over all it was such a lovely experience and the apartment is also very private. We are looking forward to returning to this beautiful place and I highly recommend staying here. It is lovely!
ena
2012-09-06T00:00:00Z
Room Type
Entire home/apt
---
Property Type
Apartment
---
Accommodates
2
---
Bedrooms
Gig Harbor, WA, United States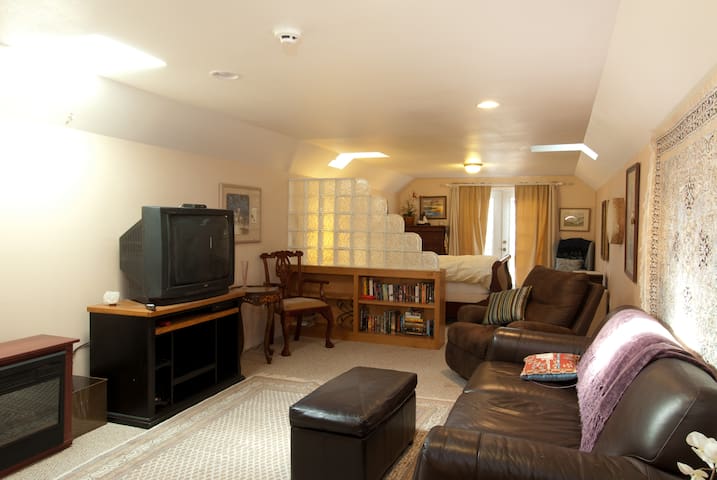 Master bedroom with private keypad entry, private bathroom, and independent heat pump. Approximately 300 sq ft with plenty of dresser and closet space. House is located on a park-like private five acres, on a dead end street. We have an infant so the house is not always quiet.
Room includes brand new queen Sealy Posturepedic mattress, private bath, two dressers, closet and mini fridge. Ideal for two but could also accommodate small children with travel mattresses. Connected to its own heat pump for independent temperature control. Room for parking, including boat or RV.
Our house is situated on a private five acres in a very quiet neighborhood, but only 5-10 mins away from stores, restaurants and hwy 16.
Very private and as described. Chocolates were a nice touch. We would stay again if in the area.
Claudette
2016-01-09T00:00:00Z
They made me feel great! So welcoming and nice! I really cherished my time in their luxurious estate!
Jared
2016-08-18T00:00:00Z
This is a GREAT space! We stayed here for 9 days while we were in the process of moving (and waiting for our home to become available). Crystal and her family were very accommodating, even bringing in a rollaway for our 11 year old daughter and leaving us an iron and ironing board to use. The house is convenient to all that Gig Harbor has to offer but it is also very private and felt as if we were a world away! The room itself is completely separate from the main house with it's own entrance and bathroom. It also has a mini fridge and microwave. Just enough to get you through. The linens are all high end and it feels very much a fancy hotel (but for a quarter of the price). We would highly recommend this location and in fact we will use it again when we need extra space for guests that come to town to visit us. Thank you Crystal!
Julie
2015-07-15T00:00:00Z
This was our second stay with Crystal. We communicated via text and email prior to both visits, Crystal answered my questions. The area is very peaceful and quiet. The room is comfortable and clean. We will stay here again!
Mary
2016-04-29T00:00:00Z
I had a great stay! I felt very welcomed, the room was very clean and beautifully decorated. The description was spot on and it was just as lovely as the pictures made it seem. It is tucked away, surrounded by trees, very peaceful! I would definitely stay here again and recommend it to friends.
Katie
2015-07-19T00:00:00Z
We thoroughly enjoyed our stay at your house! The entry system was so convenient and easy to use. The bed was so comfortable and the towels were nice and plush. The chocolates were a great surprise and we were glad to see the toothbrushes as we forgot to pack ours!!
Shannon
2015-08-30T00:00:00Z
The room was a perfect AirBnB experience. It looked exactly as described, was spacious and pretty, and immaculately clean. The bed was comfortable and warm. We loved the shower, which was modern and beautifully designed. In addition, there were 'all mod cons,' meaning a microwave, refrigerator, coffee maker, etc. All in all, a great place.
Ruth
2016-02-07T00:00:00Z
The apartment was a nicely appointed bedroom with a very clean bathroom and a fantastic shower. The location of the house itself was in a pretty community surrounded by trees. If you have a car and a GPS it is easy to locate. Access was by private entrance with a combination lock on the door which was very convenient. We stayed only one night and had a great breakfast in Gig Harbor itself-very nice.
thomas
2015-06-27T00:00:00Z
Room Type
Habitación privada
---
Property Type
House
---
Accommodates
2
---
Bedrooms
Gig Harbor, WA, United States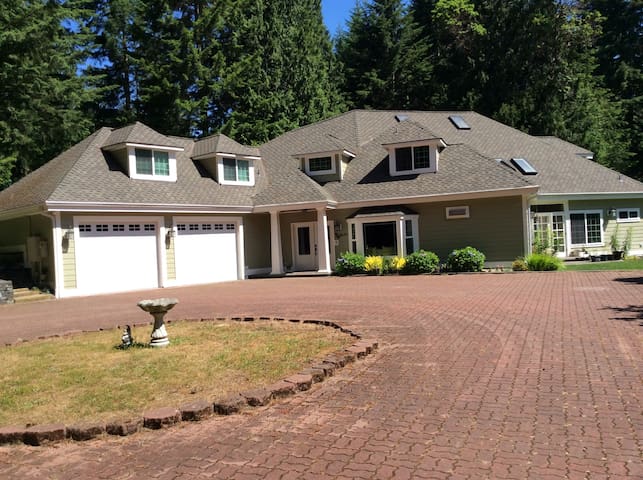 This mid-century beach house has been lovingly renovated and is very clean and comfortable. You can't beat the location - less than 5 minutes to amenities like Costco, Starbucks, groceries, etc, easy access to Hwy 16 & under 10 minutes to downtown Gig Harbor - yet, it is tucked away at the end of a private road. There is plenty of room for more than 1 family to spread out, and in the summer the Western exposure gets a lot of sun. Enjoy swimming, kayaking, paddle boarding & beachcombing!
This home comes well-equipped with kitchen appliances, dishes, spices, cooking oils and more.
This home is located on half an acre in a residential neighborhood. We have several great parks nearby, including Sehmel Homestead Park, McCormick Forest and Donkey Creek Park. In the summertime, the vibrant community of Gig Harbor has free concerts in the park, farmers markets, an art festival, film festival, beer festival, and a food and wine festival, just to name a few. We are a 20 minute drive to Tacoma, less than an hour to Seattle, and within 1-2 hours of ski resorts like Snoqualmie Pass and Crystal Mountain(depending on where you go). We have amazing hikes nearby in the Olympic National Park and Forest, as well as the Cascade Mountains, Mount Rainier and Mount Saint Helens. Some fun towns to check out nearby include Port Townsend (plus cideries along the way), Poulsbo, Bainbridge Island, Downtown Tacoma and many others. You won't get bored if you crave adventure. We also have a large library of books, games and have a fast Wi-Fi connection.
Room Type
Entire home/apt
---
Property Type
House
---
Accommodates
12
---
Bedrooms
Gig Harbor, WA, United States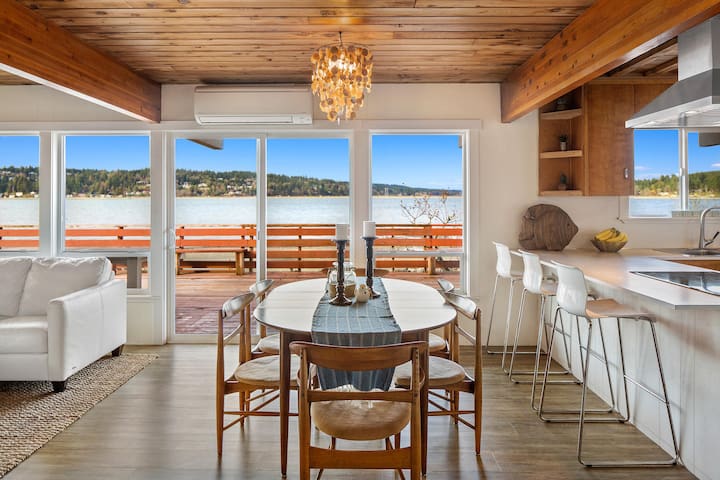 Newly fully furnished 1 bedroom up-dated apartment for your enjoyment… You will be able to wake up to a view of the water and Mount Rainer when not clouded in. Parking available with easy access to shopping and the freeways when you're ready for explore. There is a ton of things to do in this area from the big city of Seattle to the cost line of our beautiful Peninsula, and in between. Enjoy a comfortable sleep, with the convenience of cooking, large refrigerator to keep things cold, washer and dryer, cable TV, and Wi-Fi We will be there for ideas, things to do and how to get there, we are committed to make your stay as pleasant as possible not just in the apartment, but in this area of the world. YOU-WILL-LOVE-IT
Hugh was great. apartment was really nice with killer view of Puget sound and mount Rainier. Gig Harbor is so beautiful.
Andy
2015-06-30T00:00:00Z
Hugh's place was great! The view was gorgeous and it's so private...just what we were looking for! Thank you!
Lacie
2016-06-16T00:00:00Z
Our stay at Hugh's apartment was absolutely fantastic! He and Christiana were very friendly and accommodating, the apartment was exactly what we needed, and the view was stupendous! We are already telling our children and friends that if they travel to the Seattle area, this spot of Heaven is the place to try to snag--and if (I mean, WHEN) we come back, we will definitely want to stay here again.
Amy
2016-06-08T00:00:00Z
Hugh was a fantastic host that made our stay even that much better. We were pleasantly surprised by how clean and well maintained the living quarters were. We had a great view of the harbor and Mount Rainier. The bed was a little small for my taste but that's only because I'm used to my California king. :) When I do come back, I will be staying here again. Loved it.
Darryl
2016-05-15T00:00:00Z
Hugh was so sweet and welcoming! We had everything we needed in our spot and the view was simply amazing! Parking was perfect, we were able to prepare a meal with all of the dishes and cookware we needed, we had wifi and cable, we had tons of clean sheets and towels, and a washer and dryer, plus much more. This is the best Airbnb experience we have had thus far. The only issue I had was unclear communication in the beginning. Prior to booking the Airbnb , I messaged Hugh to ask how far he was from downtown Seattle. He told me it was 40 minutes, but he didn't mention that we had to pay a toll and even with the toll it was actually over an hour of a drive. Without the toll, the trip to downtown Seattle was over two hours. We wanted to spend a lot more time in Seattle, but that distance and toll fee really discouraged us from doing so. Other than that and some issues with noise above our heads early this morning (which was adjusted after I texted to express concern), the stay was perfect! I would for sure recommend staying here.
Rashidah
2016-11-13T00:00:00Z
We felt right at home at Hugh's place - clean, bright and welcoming with a gorgeous view of Mt Rainier - and it was just a short drive to restaurants and bars. Do not miss Sunrise Park just a few blocks from the house and beer lovers should def check out 7 Seas brewery and tasting room. Kid-friendly with the most hardcore Jenga competition I have ever witnessed.
Carol
2014-08-29T00:00:00Z
Hugh was great! He stopped by at the beginning of the stay to introduce himself to us, and then let us be for the rest of the weekend. The listing was exactly as described and shown in the pictures! My girlfriend and I loved the openness of the living room and kitchen, and the bed was quite comfortable.
Justin
2015-05-25T00:00:00Z
I had a very nice stay at Hugh and KO's apartment and even though the weather did not cooperate and I was there for too short a time, it was a relaxing and comfortable spot. I would love to come back for a longer period of time. My hosts were very friendly and accommodating.
Carol
2014-08-31T00:00:00Z
Room Type
Entire home/apt
---
Property Type
Apartment
---
Accommodates
2
---
Bedrooms
Gig Harbor, WA, United States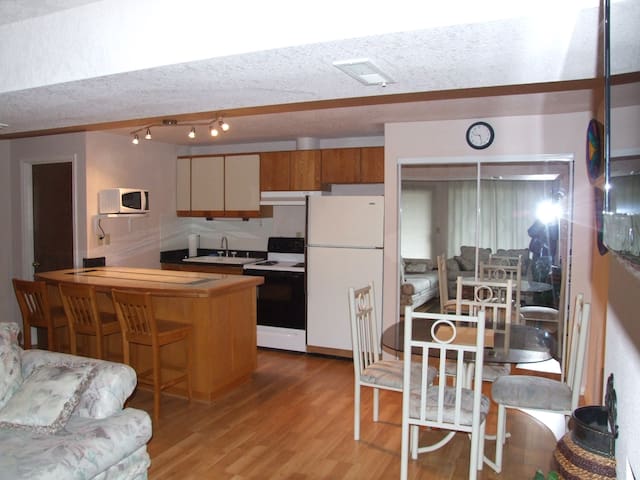 Vacation with a view at this private oasis located steps away from downtown Gig Harbor, WA. Whether you're looking for a romantic get-away, family vacation, or think pad during business travel, this home offers a range of amenities that will appeal to all. Stunning waterfront views Fully stocked kitchen Outdoor fire pit Large living and dinning area Hot tub (Up to 2 people) Less than one mile from shops & restaurants Biking & jogging trails
The view from the living room alone was worth the price of admission! Britnee was great, quickly answering any questions we had. Short walk to downtown Gig Harbor. The fire pit and hot tub out back were wonderful. Great big kitchen. Comfy bed. Wonderful weekend getaway. Highly recommended!
Joe
2017-02-12T00:00:00Z
We had a great vacation here with the view, the walk to Historic Downtown Gig Harbor, well-equipped kitchen, and March Madness Basketball Games. (Go Ducks and Go Zags). Thank you!
Londa
2017-03-27T00:00:00Z
This place was exactly what it claimed to be a little oasis. Beautiful view and a very private feel even though we are close to town. We stayed here for our anniversary and it was just the relaxing getaway we needed.
Jan
2017-03-20T00:00:00Z
Location! Location! Location! Home with a spectacular view of water and Mt Rainer! Everything you need is at your fingertips and decor of house is beautiful! Britnee is a perfect host. She is available and accommodating if you have an inquiry or request...yet not in your space at all while you stay. House is within walking distance of downtown Gig Harbor. I didn't want to leave and can't wait to visit again in the near future. It is an extra special place.
Lynda
2017-04-05T00:00:00Z
What a wonderful place with one of Gig Harbor's best views overlooking the water. We enjoyed the hot tub on the deck overlooking Puget Sound. Our 5 day stay met our needs perfectly. Great place!
Mike
2017-02-08T00:00:00Z
We had a great stay in this beautiful, yet comfortable home with an amazing view. Very relaxing to watch the Vashon ferry crossing and boats coming into the harbor. It is also conveniently located near Gig Harbor's downtown waterfront and easy highway access. Britnee quickly responded to our questions. Only wish the weather had been better to enjoy the outdoor deck and fire pit!
Sharon
2017-02-28T00:00:00Z
This house is the perfect relaxing getaway. Clean, cozy and beautifully decorated. Our family enjoyed preparing meals in the well stocked kitchen and eating together at the gorgeous, large wooden table. The view was sensational, including the landscaping. Loved this property!
Jill
2017-02-20T00:00:00Z
Beautiful house with breathtaking views. House is well stocked and in a great location while still being private.
Schubert
2017-03-15T00:00:00Z
Room Type
Entire home/apt
---
Property Type
House
---
Accommodates
6
---
Bedrooms
Gig Harbor, WA, United States
We have a lovely home on 4 acres of Puget Sound Waterfront. You would live like our personal guests with access to our bikes and canoes. We have a small guest bedroom with a double bed and bath for your private use.
Our guest room is small with a comfortable double bed and the bathroom is "retro 80's". I collect folk art animals and I'm sure you'll notice them. We do have three real cats and a sweet yellow lab so you must like animals if you plan to stay with us.
This is a wonderful area with many things to do and we would be happy to help you plan your time here.
Very nice, as I stayed a few days earlier here last week
Richard G
2015-08-05T00:00:00Z
Beautiful and private lagoon location. This is the place to be if you want a natural refuge located on the saltwater of Puget Sound. A very rare property. Ten minutes to the Narrows Bridge. Great and caring hosts.
Richard G
2015-07-31T00:00:00Z
We were welcomed by our hosts in a gracious manner. They promptly showed us our room and where the kitchen was as well as inside and outside amenities available to us. They also invited us to go on a canoe trip with them to meet the neighbors that was taking place the next day. They also told us where the town, dining and shopping was located. The hosts were really fabulous. We felt like we were visiting family. We shared meals, had a campfire, toured their gardens, property and had an AMAZING stay. It was a restful, peaceful lovely weekend. We felt very comfortable and at home with the hosts. The home views Puget sound, and has sweeping lovely grounds and trees. A haven of peace. A true heaven on earth.
Abbe
2015-08-10T00:00:00Z
That was a last minute reservation and it went perfectly. We were very lucky to stay with Claudia and Steve in their beautiful home facing an amazing and peaceful panorama. The room is nice and as described and our hosts took very good care of us with the right distance, making us feel both sharing good moments with them and being independent. We will remember the breakfast on the terrasse, Steve's talent for growing incredible cactus and making ceramics, Claudia's curiosity, very good advises and life stories.
Matthieu
2015-08-19T00:00:00Z
We had a very nice visit to this beautiful Gig Harbour bnb. The hosts were very helpful interesting and friendly. Their 3+ acre property was gorgeous. The breakfasts delicious. The bed comfy, the bedroom a bit small, the bathroom a little dated but certainly fully functional. I'd recommend the place without hesitation.
Robin
2015-06-21T00:00:00Z
When we arrived for our getaway weekend we were greeted by Claudia Casebolt. Host and wife of our other host Steve. Right away she showed us to our room, told us to get settled and then asked us to join her at the waterfront dock for a chat. That is when our lovely weekend experience began. She was interested in hearing a little about us and asking us some basic questions about what we hoped to do and see while we were visiting Gig Harbor. Later in the evening we met her husband Steve and continued to chat and get to know each other better.
Claudia
2015-09-07T00:00:00Z
I had a weekend get away of my life!!! We arrived a little late but my bf and I notified the couple ahead of time and they were understanding. My favorite was waking up early enough to watch the tide come in the morning from the dock with a cup of hot tea in my hand. May I say what a joy it was to receive advice from Claudia on where to go for art galleries and where to eat! Bed was comfy, big property and private, respectful couple so respect them, coffee & tea available in morning, room is cozy, and bathroom is retro and fun. MUST LOVE ANIMALS! Canoes and bikes available must sign release and contract before use. Must see green house and garden in summer! Fresh Towels and New Luffa available. Beware of tolls when leaving.
Stephanie
2015-08-24T00:00:00Z
Great stay! Really friendly hosts and scenic house.
Chris
2015-08-03T00:00:00Z
Room Type
Habitación privada
---
Property Type
House
---
Accommodates
2
---
Bedrooms
Gig Harbor, WA, United States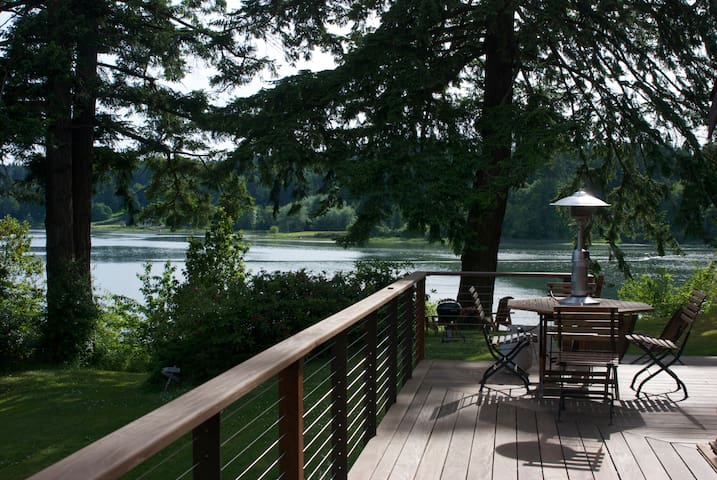 Beautiful, sprawling, family friendly rambler. Property is backed by 10 acres of forest with tall cedars. 2 minute drive to Purdy Sand Spit beach. Unwind on the expansive deck w/ fireplace, forest views, sunsets, stars & bird songs. Well stocked kitchen, gazebo, pool table, gym, & Wifi. Master w/ King bed, private bath, bidet, walk out to deck. Comfy home invites you to take it easy. Pacific Northwest living at its best. Nearby hiking, beaches, seasonal berries & fresh eggs from our chickens!
Beautiful, one acre property borders 10 acres of forest, maximizing your privacy. Quiet, peaceful, private setting on a lovely cul-de-sac. Barbecue on the deck and make s'mores in the outdoor fireplace while you enjoy some fantastic star gazing! Spacious rambler provides plenty of room for your group to spread out. Two living rooms, large kitchen with bar seating and breakfast nook, game room and home gym. Tranquil master bedroom with private bath, king size bed and slider that leads to deck with planter gardens and forest view. Second bedroom has full size bed, flat screen TV with DVD player. Third bedroom with twin bunk beds, lots of great toys including a large LEGO building station, flat screen TV with DVD player. There are also two big comfy couches for a total of 8 sleeping spots. For over 8 guests we can provide sleeping cots or air mattress with bedding.
Home is located on a lovely, quiet cul-de-sac surrounded by tall cedars. Seasonal fresh berry picking right on the property (blackberries, raspberries, blueberries.) Chickens provide complimentary fresh eggs for your morning omelet (seasonal). A great Italian restaurant Mossimo is nearby & has a beautiful view of the water. There is also a medium size Food Market, a few espresso stands, Burger King, Seabeck Pizza, and the local Las Torres taco truck which is quite popular. Minutes from shopping including Target, Costco, Kohls, Marshalls, and lots of interesting shops at Uptown or Downtown by the water.
Kenny and Kelly were welcoming hosts and their house was a nice, enjoyable place to stay. Clean and well laid out home. We had fun feeding the chickens and jumping on the trampoline outside, awesome yard. They have a cool secluded spot to sit as well, my Dad and I brushed off a few pine needles and hung out there for awhile. Also cooking there went well, the kitchen is well stocked and organized with pots, pans and cooking utensils. They live a no waste lifestyle, which I really admire and enjoyed doing, definitely something I aspire to. It meant no paper towels, but they had plenty of rags, so no big deal. Overall it's a beautiful, peaceful setting and comfortable home - we had a great time. Definitely recommend it if you want to relax in a woodsy place and still be close enough to town so you're not isolated. We're we're thinking of doing it again next year so we can have a blast hiking in the Olympics.
Vineet
2015-07-19T00:00:00Z
Cozy house, perfect for families looking for somewhere to call home base. Plenty of things to keep little ones entertained inside and out. My kids never got tired of the chickens and raspberries. The house was tidy, clean and had everything we needed to cook meals, bathe, do laundry, etc. Kelly was very responsive to any questions we had. Beautiful area, would definitely stay there again.
Lorrie
2016-07-02T00:00:00Z
thank you Kenny and Kelly. Our stay was memorable one. We would always love to come back.
Prashant
2016-12-05T00:00:00Z
Beautiful place. Kenny & Kelly were very helpful.
Valerie
2017-03-05T00:00:00Z
This listing is exactly as described. We appreciated the numerous pocket doors that enabled us to close off parts of the house from our dogs:). We spent the majority of the stay in the kitchen/living room area.
Lauren
2015-11-08T00:00:00Z
Kenny and Kelly were amazing hosts. Their home was large and comfortable with ample room for our large family. The large lot was wooded and serene, in a wonderful neighborhood. We were undergoing construction on our home and needed to have a place to relocate to for an extended time. Kenny and Kelly were very flexible with our dates and even extended an additional month when our construction had delays. Our family was made to feel completely at home and the hosts even went out of their way to rearrage furniture to accomadate my disabled mother. I would not hesitate at all to recommend this location for either a long term or short term stay. It's a beautiful, quiet location in a wonderful area. The home is expansive clean, well appointed and open, while still somehow being cozy, and I hope to visit again at some point.
Ayrial
2016-06-01T00:00:00Z
The place was great. It had all the amenities that was advertised. Place was in great condition and the house was all to ourself.
Sam
2015-09-21T00:00:00Z
Kelly and kenny were very friendly. They welcomed us in their home and we had to use it as our own.
Manuela
2015-07-25T00:00:00Z
Room Type
Entire home/apt
---
Property Type
House
---
Accommodates
8
---
Bedrooms
Gig Harbor, WA, United States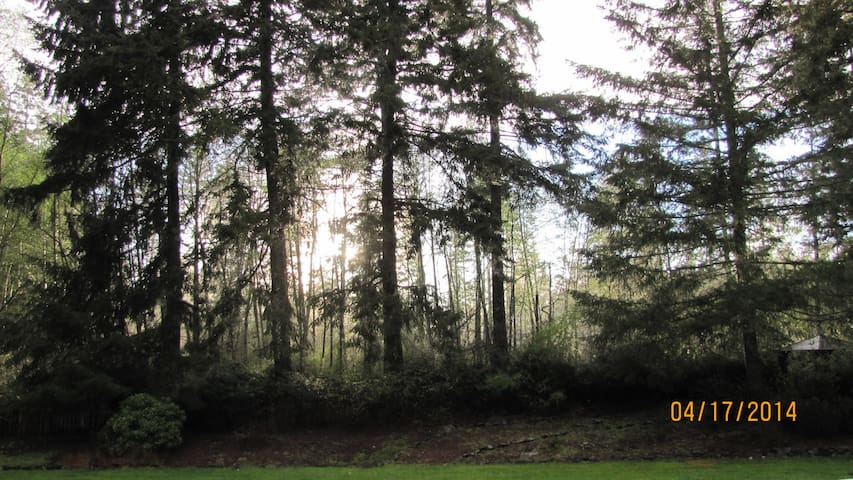 This waterfront property vacation rental is located in Wauna, a small waterfront community on Henderson Bay. A charming Northwest artist cabin with a separate guest house nestled in a small community of nine beach houses.
Room Type
Entire home/apt
---
Property Type
House
---
Accommodates
6
---
Bedrooms
Gig Harbor, WA, United States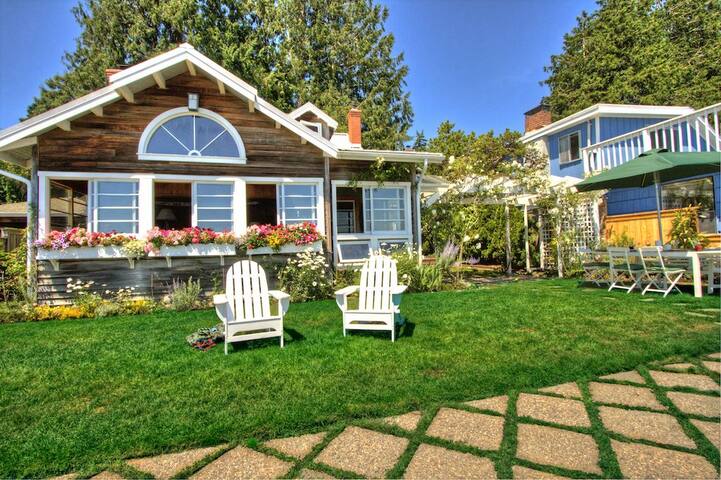 My place is close to This extremely private beach cabin is perfect for your next getaway! The eclectic cabin sits on a huge lot on the water in Gig Harbor. It is 7-10 minutes from everything you need. The beach feels private and with trees surrounding the property you will feel like you are the only ones around. Entering on the main level you will be greeted by a large living room which has plenty of seating for all your guests, accompanied by spectacular views.
The living room seating also centers around an awesome wood stove. The kitchen has adjoining seating (or eat outside!) and is fully equipped so you'll have everything you need for you winter meals or summer barbecues. The cabin is surrounded by deck and a large outdoor table that seats 6 in the front of the home facing the water. After taking a dip in the Puget Sound (only try that if it is summer!!) you'll be able to rinse off the salt in the outdoor shower. The property also features a large deck right over the water and fire pit and huge grass lawn. There are two bedrooms on the main floor, both have queen beds. The bathroom is also on the main floor (a combo shower and tub). The upstairs has a large room with a double bed and two singles. This beachfront cabin and property is everything you could want for your getaway. My place is good for couples and solo adventurers.
Stunning views from a beautiful character filled house. Grab your drinks and watch the sunsets. Loved it here
Michael
2017-03-25T00:00:00Z
Room Type
Entire home/apt
---
Property Type
Cabin
---
Accommodates
6
---
Bedrooms
Gig Harbor, WA, United States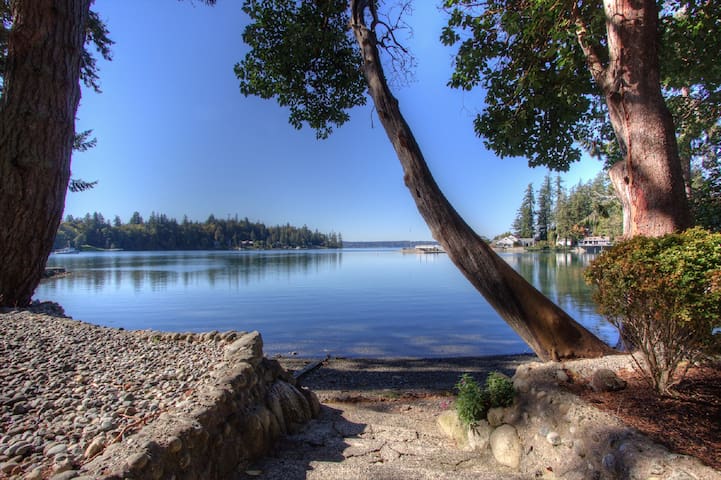 Located in picturesque Gig Harbor, Washington, the Harbor Fish House features panoramic views of Gig Harbor Bay, downtown Gig Harbor, and beautiful sunsets. Perched above the street, you will enjoy gorgeous views from many rooms in the house. Enjoy morning coffee or afternoon happy hour on the deck overlooking the Harbor while you watch the boats go by.
The house has three bedrooms, each with a queen bed, a full bathroom, kitchen, living area, spacious deck, and washer and dryer. It sleeps six comfortably. The house is suitable for couples, families, girls' getaways, or business travel. Local wine, soaps, and wild salmon (with a four-night stay) await your arrival. Upon entering the house on the lower level, you will be greeted by a large entry area. Two bedrooms, each with a large mirror and artwork, are located on the first floor. Stairs lead you to the second floor and main living area. The open concept second floor includes a fully stocked kitchen, dining area, living room with flat-screen TV, and door to the deck. A third bedroom, with french doors to the living area, as well as the full bathroom with penny tile, wainscoting, a pedestal sink, and a tub/shower combo, are located on the second floor. The deck is large and includes a gas barbecue and a dining table and seating for six with umbrella. You will have a prime seats for the seasonal Thursday night sailboat regattas from the deck! There is off-street parking at the top of the driveway. Come experience Gig Harbor and all it has to offer. Whether you stay in or venture out and explore, Harbor Fish House will serve as the perfect home base for this unforgettable Pacific Northwest destination.
Room Type
Entire home/apt
---
Property Type
House
---
Accommodates
6
---
Bedrooms
Gig Harbor, WA, United States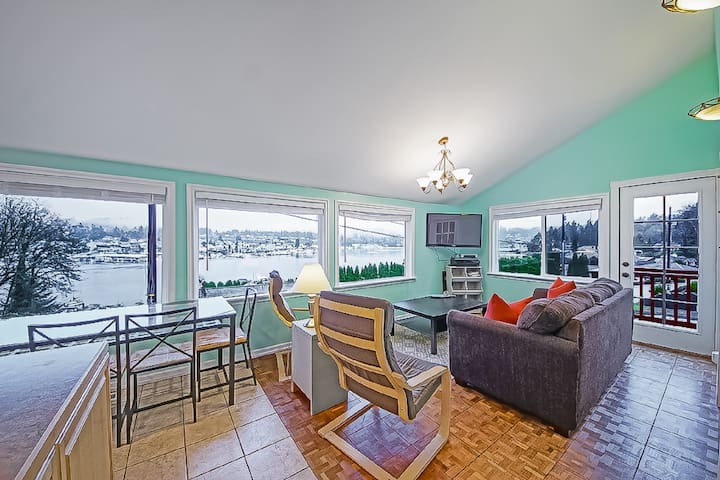 My place is close to great views! You can see Mt. Rainier from porch. You'll love my place because of the neighborhood, outdoors space, comfy bed and the clean house. It's good for couples, solo adventurers and business travelers.
It's quite and comfy. I keep it clean always.
Safe and friendly people
Our hosts were very gracious and warm opening up their home to us. They made us feel very welcome!
Julie
2016-08-15T00:00:00Z
Room Type
Habitación privada
---
Property Type
House
---
Accommodates
2
---
Bedrooms
Gig Harbor, WA, United States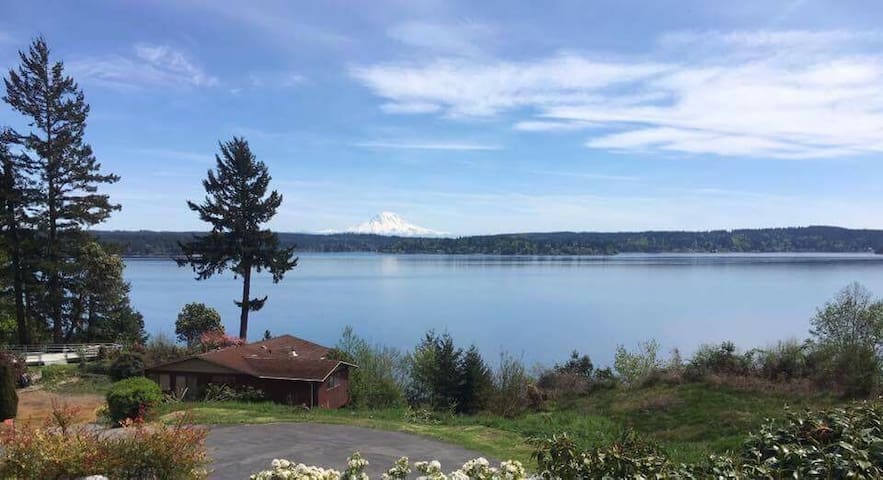 Original waterfront home on 12 acres, in a cove (with a creek to the bay) on Carr Inlet, overlooking Puget Sound. Majestic sunsets, views of the Olympic Mountains, quiet bay, kayaking, swimming, great yard for games, 10 min from downtown Gig Harbor.
4 bedroom, sleeps 8 brand new kitchen, granite counters, new appliances 2 full bathrooms, 1 half bath 2 queens, 2 twins (extra long), 1 full bed wood stove spacious DR & LR DR seats 8 brand new flat screen tv in LR wi-fi gas bbq large deck overlooking water large yard great for games, relaxing, playing
Lovely and cozy house on the bay. Exactly as described. Large enough to accommodate everyone. Great kitchen for making big meals for the family. Nice to hear the sound of the tide coming in from the bayside bedroom. Central heating system warmed the place up quickly during the cold winter days we were there. Would love to come back during the summer. One note, the driveway is long, narrow and dark at night which was hard on some of our older family. Definitely advisable to arrive in the daytime for those folks.
Tami
2015-12-28T00:00:00Z
Charlie was very quick responding to our questions and checking us in once we booked his home. The property is very beautiful and relaxing. We would definitely stay there again and recommend his home for anyone coming to the Gig Harbor area.
Timothy
2015-06-21T00:00:00Z
This is a lovely and quiet spot on Gig Harbor. The house is set up with everything you need, and spread out nicely for a large group. Great views! Very relaxing!
Melody
2015-08-28T00:00:00Z
The view from the porch is incredible! Location is only 10 min from downtown GH. Easy access to the bridge to get into Tacoma. Charlie is great with communication if you have any questions. Wonderful house for a family or group of friends to spend some time in beautiful Gig Harbor.
Mandy
2017-04-04T00:00:00Z
We plan on coming back to this lovely spot. It rained most the time and we still enjoyed every minute of it. Perfect place to spend time with our adult children who live out of state.
elizabeth
2017-03-27T00:00:00Z
The house is story-book special - you can feel that it has been well loved by generations. The view looks just like in the picture - except that in real-time, you will also see the tide ebb and flow and eagles circling overhead. Charlie was easily accessible when I had questions. Kitchen was equipped for cooking. Beds were comfy.
Miriam
2015-05-18T00:00:00Z
Beautiful home right on the water with lovely views.
Barbara
2015-12-08T00:00:00Z
What a great place! Everything was as described and the view and property were exceptional. You can tell that this property is imbued with love and filled with the joy that only a family home can exude. My family loved spending time together watching the sun set, sitting on the back deck and walking down by the water. Thank you for allowing us to understand why this home is so important to you and your family.
Andy
2016-05-17T00:00:00Z
Room Type
Entire home/apt
---
Property Type
House
---
Accommodates
8
---
Bedrooms
Gig Harbor, WA, United States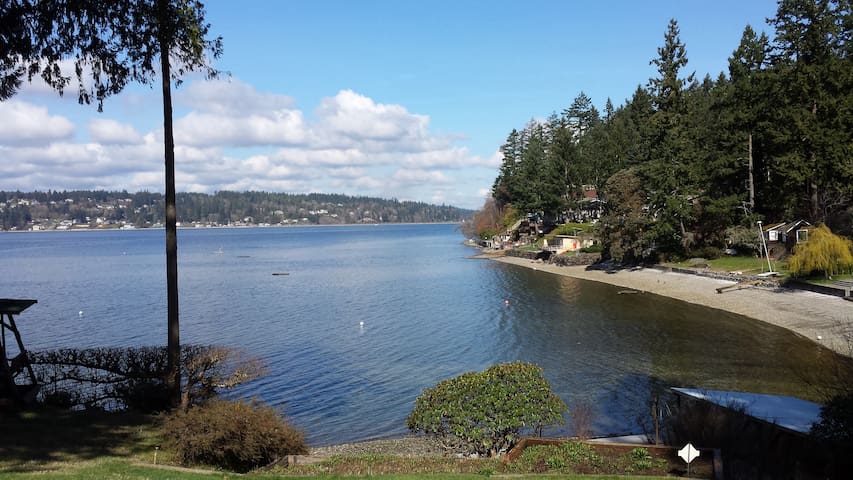 A small house on 1.1 acres of wooded land with garden and large lawn .A wrap around porch with welcoming views .1 mile from Gig (URL HIDDEN) excellent place for a quite retreat . Washer and drier open kitchen and living room with large T.V. screen 420ok
A great retreat to get away for our friends wedding weekend. So glad we didn't get a hotel! William's home is located just off the main road but secluded and private enough so that you feel like you're in a cabin the the woods. His home was big and clean and had all the amenities of a home away from home. He's a friendly guy too! Thanks, William!
Sam
2016-07-05T00:00:00Z
Wonderful weekend, couldnt have been more perfect and peaceful. The hostess was super friendly and so gracious. Would definately stay again!
Amy
2016-08-15T00:00:00Z
This place is hands down the best secluded airbnb to be at in gig harbor. The pictures barely scratch the surface of this home. Very friendly nice host and everything felt like we were at home. Highly recommend this house to anyone trying to take some time away and breathe. This house rocks! Thank you
Camille
2017-02-15T00:00:00Z
When I arrived, I was greeted warmly and shown around the house. The house had everything I needed plus some! I felt like I was home, and my little dog was also warmly welcomed. I would recommend this place for anyone who wants to visit Gig Harbor or just have some peace and quiet.
Sheryl
2016-11-17T00:00:00Z
William was a wonderful host and his home is tranquil, surrounded by beautiful gardens and wildlife. It was absolutely perfect for our family and he accommodated our wish to have a place to hang out together on Father's Day with a flexible checkout. We hope to return in the near future. Thank you William!
Penny
2016-06-20T00:00:00Z
William's home was absolutely the best. It was exactly what I needed for my mini-vacation. Close enough to downtown gig harbor, but far enough away that I felt like I was in my own little sanctuary. William was nice and quick with replies. I definitely would recommend to everyone I know, as well as want to come back again. I honestly could not have asked for a better place or host! Thanks William for sharing your home.
Deisi
2016-07-19T00:00:00Z
We had a great stay. William's sister, Cecelia, met us and was a warm and thoughtful host. The house is comfortable with a large serene garden. Wish we could have stayed longer than one night.
Ying
2016-08-04T00:00:00Z
Was a lovely home the host's sister welcomed us to the home she was so sweet. Loved everything about the home spacious beautiful coloring heated floors everything you needed very quiet which was a plus and very private the host sister was on hand if we needed anything it was all around one of the best experiences we had love love love must stay !:)
Nikki
2016-08-07T00:00:00Z
Room Type
Entire home/apt
---
Property Type
House
---
Accommodates
3
---
Bedrooms
Gig Harbor, WA, United States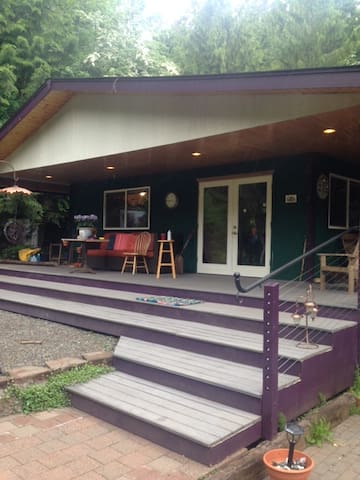 Our quiet and comfortable Gig Harbor home is perfect for families or couples looking for an escape. Beautiful landscape with fire pit, hammock, relaxing deck and large yard for various activities. Very close to downtown Gig Harbor. Easy access to highways and centrally located to explore Seattle and the beautiful Pacific Northwest. In addition to the 3 bedrooms, I also have a queen size aerobed and 2 very large bean bags in the second TV room.
You should find everything you need to feel at home in our house. This is our primary residence, so you will find it set up as such.
This home is wonderfully amazing! It's very nicely decorated but more importantly its welcoming hospitality shows the commitment to an enjoyable stay that Brooke, your host, and her family have made to you. Our stay was perfect and our expectations weren't met, they were exceeded! Thank you doesn't seem sufficient at all but a profound thank you is extended to Brooke for offering such a lovely, relaxing, enjoyable stay in her home.
Cindi
2016-08-08T00:00:00Z
This home was a great find. My family and I loved everything about it: from Brooke, the chickens, the yard, the home itself to the neighborhood, the town and the proximity to various sights. It was very comfortable, inviting and beautiful. It was such a nice place to come home to after a long day of exploring. Brooke's home had everything you could possibly need to feel at home, every space just had such a positive and calming feel to it. Loved, loved, loved it!!! My kids thanked me from the moment we pulled up to the driveway until the moment we said goodbye to the house. Being able to gather their breakfast (fresh eggs) each morning is something they will never forget. Thank you for the memories!!
Cynthia
2016-07-11T00:00:00Z
Brooke's home was absolutely gorgeous and perfect in every way! Definitely much more than we ever expected as first-time Airbnb clients. That's right! Her home was our introduction to Airbnb and we couldn't have asked for a more perfect initiation. Brooke has just made it a little bit harder for all Airbnb hosts by setting the bar incredibly high. We're totally spoiled now! I can't even fathom living any other way during any future travel after this experience - hotel stays are certainly out of the question now unless absolutely necessary. The house had more than enough room to accommodate our party of ten, which included six adults and four children (ages 1 to 11). As soon as we pulled up into the driveway, the kids' eyes (as well as ours) just lit up with wonder and excitement. It looked like something straight out of a Better Homes & Gardens magazine - like a model home that gets shown to perspective buyers. From the artwork on the walls; to the set-up of every room; to the utensils, dishes, appliances, linen, and bath & body products she has made available for use; down to the charming welcome sign you see hanging on the banister as you enter the house - Brooke has thought of everything! The atmosphere in the entire home is overflowing with warmth and love. We felt right at home as soon as we crossed the threshold. The game room with oversized bean bags; the chickens in the coup and egg-gathering each morning for breakfast; the bubble baths in the large whirlpool tub; the soccer ball with the rebound screen; and the hammock kept our children busy and entertained our entire stay. They loved looking at all the flower plants and fruit trees/plants (apples, blueberries, raspberries and more). The landscaping in the front and especially the back yard - was lush and expertly manicured. It was just a dream. So quiet, serene and incredibly private. Brooke is impeccably organized and detail-oriented - her home and her prompt, thorough, and gracious responsiveness to questions and concerns are evidence of this. Everything had its place, which made it so easy for us to find things that we needed. She even left a variety of coffee and teas for us to enjoy, along with a box of delicious dark chocolate covered toffees with Sea salt (she's a woman after my own heart, lol). I just can't say enough about this place or Brooke. There's absolutely no doubt in my mind that if we're ever in the Seattle area again, we would never stay anywhere else - unless we had to due to Brooke's home already being occupied by another renter... in which case I would be so sad and disappointed because I can't even imagine being content anywhere else. My family and I are so incredibly grateful to her for making our trip so special. We will forever cherish our experience and look forward to creating more memories there in the future.
Shevawn
2016-07-18T00:00:00Z
Brooke made us feel very welcomed. Her home was very inviting. It was beautiful inside and out. We enjoyed everything about the backyard. What we loved the most was that there was a seating area at almost every corner of the home. The home was beautifully decorated and landscaped through-out. Cleanliness was a plus. The location was perfect, even though the drive was a little farther than expected from Seattle. The serenity of Brooke's home made it worth it! We would definitely consider coming back.
Pangcha
2016-07-05T00:00:00Z
Such a beautiful house ! So charming and only a 5 ish minute walk down to the water ! No complaints at all about the house or owner !
Chris
2016-08-01T00:00:00Z
Our stay w Brooke was amazing ! She was a great communicator and gave us a "old fashioned welcome" when we were delayed in arriving ... Allowing us the flexibility we needed. The house was spotless and gorgeous as well as welcoming. Every room very comfortable even with the unusually hot weather for the Northwest - she provided extra fans for all! Having fresh eggs from her chickens was such fun and a real treat! The neighborhood was so quiet and was very beautiful. We felt like it was a retreat area with the sound just a short stroll away. Wish we had stayed longer!!
Catherine
2016-08-22T00:00:00Z
Room Type
Entire home/apt
---
Property Type
House
---
Accommodates
6
---
Bedrooms
Gig Harbor, WA, United States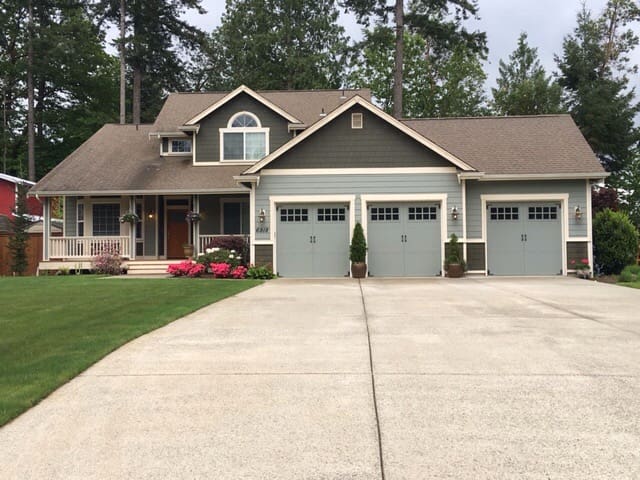 Cool studio with queen bed, hide-a-bed, Herman Miller chair, hi-fi with turntable (keyboard/ acoustic guitar available if requested ahead of time), great view of Gig Harbor, between Tides Tavern and 7Seas Brewery, full shower, minimal kitchen (2 burner, toaster oven, microwave, fridge, sink, plates, French Press, utensils), cozy! Great location for downtown Gig Harbor shopping, kayaking, and dining. You can even go to the Gig Harbor Audio website and request any type of Hi-Fi!
Beautiful, clean and centrally located. A perfect place for a one night getaway with my family!
Sarah
2016-12-03T00:00:00Z
We had a great stay at Erik's place. Very convenient, unique place. Great for music lovers. My little guy loved playing the keyboard! Would recommend for a fun stay in Gig Harbor.
Mike
2016-05-23T00:00:00Z
Stayed in the loft for 5 nights while visiting family and friends in Gig Harbor. Place was perfect for 2 and well located. Easy walks to the harbor and local businesses, mere steps away from 7 Seas Brewing too. The loft is clean and modern and comfortable and well-stocked with audio equipment. Access was easy and parking was never a problem. Erik was a wonderful host. Easy to communicate with and he thought of everything. Major bonus was loaning records from Gig Harbor Audio too! What a cool shop. Looking forward to our next visit as we already know where we'll stay!
Jenny
2016-06-06T00:00:00Z
The host canceled this reservation 188 days before arrival. This is an automated posting.
Jose
2017-01-15T00:00:00Z
The loft is clean, quiet and very comfortable. Easy walking distance to shops/restaurants on the harbor. It's an excellent choice. I'll book again next time I'm in Gig Harbor. Erik was a great host and very easy to contact.
Paula
2017-03-27T00:00:00Z
Great location in the heart of the marina area within very short walk to shops and restaurants. Well-designed loft makes good use of the space and is a comfy place to hang out in the evenings. We were only there a short time so we didn't cook or use the kitchen, but it seemed very functional and well-equipped. The bed was smaller than we prefer and is up against the wall so it wasn't easy for 2 people to get in, but that's my fault for not paying attention to that before booking.
Jill
2016-09-17T00:00:00Z
Erik was a great host and very accommodating. The interior of the loft is clean and modern. The loft is cozy, yet very spacious and roomy. We really enjoyed having the keyboard and vinyl record player since we are music lovers, and it kept us entertained throughout the stay! We love to make home cooked meals, even on vacations. So, one thing to note (for people who plan on staying in and cooking) is that there are no cooking appliances besides a refrigerator/freezer and a microwave. However, it wasn't a big deal as the loft is located right by the waterfront near many shops and restaurants. I'm glad we found this place and I'd recommend staying here. We would stay here again if we're in the area!
Danny
2016-05-30T00:00:00Z
Cute loft in a great location. This was a perfect last-minute stay for us, and Erik was friendly and communicative.
Katie
2017-01-10T00:00:00Z
Room Type
Entire home/apt
---
Property Type
Loft
---
Accommodates
2
---
Bedrooms
Gig Harbor, WA, United States
We live in a beautiful new home on Raft Island in Gig Harbor, Washington. We are a 45 minute drive to Seattle, Mt. Rainier, and the rainforests of the Olympic Mountain range. It is a one hour ferry trip to Seattle if you prefer to sail to this world class city. Be sure to partake in everything Gig Harbor from our quaint downtown with lovely boutiques and great restaurants. Sail boats, paddle boards even power boats are available in the harbor for your enjoyment.
The neighborhood is quiet and has easy access to the neighborhood tennis court and community dock. The walk around the island is 1.4 miles. Our home has two master suites . On the main floor is one master with a king bed and on the first level is another master with a queen. Each suite has an adjoining bathroom. Enjoy our spacious open kitchen, living room, and incredible water and mountain views. We also have three kayaks you can use to enjoy the water surrounding Raft Island.
This is a quiet family neighborhood, although our deck is very private. The views will take your breath away. Have fun at our community dock and come home to enjoy the amazing sunset. Make yourself at home; please remember this is our home.
EVERYTHING WAS FABULOUS. The deck was where we spent a good deal of our time . My family and I were there for my brothers celebration of life. My Mother and I cooked up food in the wonderful spacious kitchen as we watched the sun set .It is comfortabul and spacious and was very clean.I reccomend this place for any family (URL HIDDEN) only regrets is I didn't get to meet Betsy.But her instructions were clear and were very welcoming.
Elizabeth
2016-07-25T00:00:00Z
Betsy was a wonderful host and the house was exactly as described – spacious, beautiful, and relaxing!
Serena
2016-09-06T00:00:00Z
This place is amazing. The photos don't do justice to this beautiful place. Betsy is amazing host. She helped me throughout the stay. A hidden gem in raft island.
Ha Na
2016-07-31T00:00:00Z
Room Type
Entire home/apt
---
Property Type
House
---
Accommodates
4
---
Bedrooms
Gig Harbor, WA, United States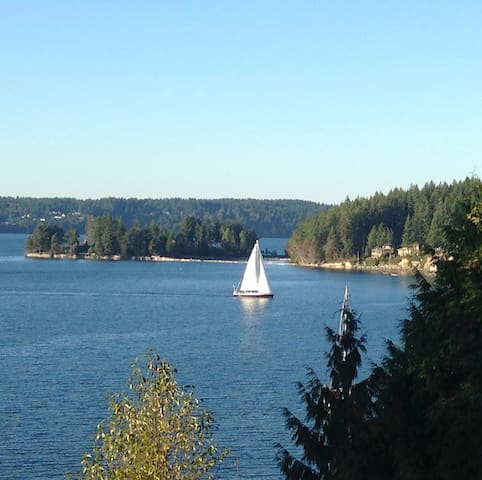 Enter dates to see full pricing. Additional fees apply. Taxes may be added.