Small apartment with a beautiful terrace overlooking the Koralm. One Bedroom, kitchen with dining table and sofa with bed function. SAT-TV and radio. Extremely quiet location in the middle of the hiking and skiing area Koralm. 1000m above sea level.
Trahütten is a small town in western Styria and is located in Korapengebiet at about 1000 meters above sea level. Graz is only 45 minutes away by car. Ideal as a starting point for hiking and skiing. The Weinebene ski area is only 12 kilometers away.
The apartment is comfortable, tastefully organised and super clean. The kitchen had everything we needed, with quality appliances and utensils. We particularly loved the terrace and the open view on the mountains. The place couldn't be quieter. We didn't meet Petra, but it was easy to communicate with her. We would rent it again and recommend it to anyone.
Maude
2016-08-16T00:00:00Z
We spent 4 peaceful days in Petra's apartment and it was a perfect mountain experience. The place is perfectly located in a picturesque mountain village close to hiking routes. The hikes in the surrounding hills are adventurous with 2000 meter peaks and clear mountain creeks. The grazing cows everywhere and the Amlhüttes along the completing the mountain experience. The apartment is really cosy with a good size terrace where you can spend your morning and evening meals surrounded by the peaceful view of the hills and you can even spot deers in just below the balcony. Thanks Petra for your hospitality, we would be happy to come back again next summer!
Milán
2015-08-15T00:00:00Z
We've spent few days with small kids in Petra's apartment, and we liked the apartment as it has nice design, well equipped and clean, so just as our expectation based on description of ad. Communication with Petra was easy, and she was helpfull already before our booking, and also during our stay. There was some problem with one of the electric radiators, but after i've informed Petra they were coming in few hours with heating engineer + brought the mobile electric heater too, to be sure, if can not fix that radiator. In additional they made generous offer to compensate us because of inconvenience. So i would recommend Petra's apartment for anyone, who would spend time with hiking or skiing in the region. By car both shops in Deutschlandsberg, and both Weinebene ski center is easily reachable with few minits drive.
István
2017-02-13T00:00:00Z
It was very nice to stay in Petras place. The house Is older but the appartment Is new and fully furnished. Thank you Petra very much.
eva
2016-08-10T00:00:00Z
Wir haben uns sehr wohl gefühlt und kommen jederzeit wieder.
Familie
2016-09-12T00:00:00Z
Petra und ihr Mann sind sehr aufmerksame Gastgeber. Die Wohnung ist in einem ganz tollen Zustand und es fehlt einem an nichts. Die Terrasse ist sehr schön groß mit einem traumhaften Ausblick auf die Berge. Wir waren sicher nicht zum letzten Mal hier und können Gastgeber und Wohnung nur wärmstens empfehlen.
Michael
2017-03-11T00:00:00Z
Room Type
Entire home/apt
---
Property Type
Apartment
---
Accommodates
4
---
Bedrooms
Trahütten/Kruckenberg, Steiermark, Austria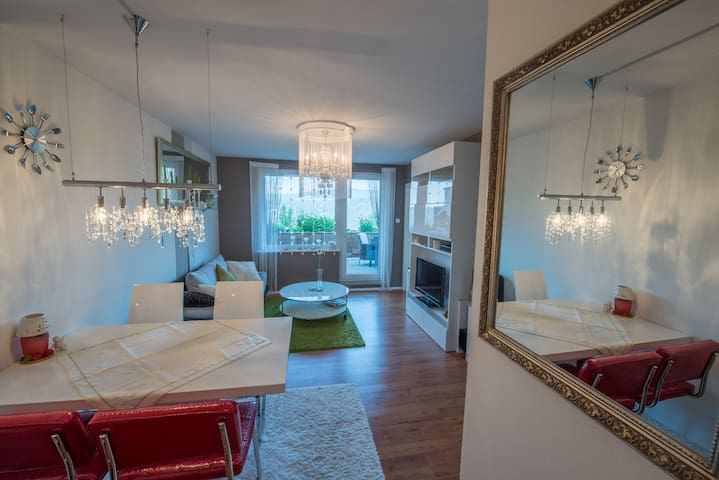 Our charming, idyllic west Styrian wooden house with its beautiful garden is the perfect place for a nice relaxing holiday.
The apartment (78m²), which accounts for the left part of the house, can accommodate up to 5 people. The price is for 2 people, for each additional guest will be 5 € / night charged. On the ground floor invites the "Stubn" (28m²) for common eating, drinking, chatting and resting one, because it includes a very well-equipped kitchen, an inviting dining area and a large bed. The bathroom (shower, washing machine, hair dryer, ..), toilet and a small storage room are also within Pattere. The large master bedroom with a balcony on the 1st floor would amply provide room for an additionally present folding bed next to the king size bed. The heart of the apartment is our lovingly landscaped garden offers plenty of space for play, fun and relaxation with its individual cookies. (Some games and sports equipment such as table tennis, slackline, badminton, ... are available) About the presence of children, we always look forward to most! Our house is located in the southwest of Styria, 40 km from the historic capital of Graz and 20 km to the summit of the Kor, where you will find beautiful hiking trails in summer and in winter to invite well-groomed slopes for skiing. Also well signposted jogging and cycling trails are in the immediate vicinity as well as many wine taverns that invite you to linger and strengths.
The best holiday ever! Loved every minute here. Eva and Othmar and their family are just lovely and welcomed us into their family with open arms. They spoilt us with delicious home-cooked goodies as well as showing us the neighbourhood and local attractions. There is lots to do in the area: we explored beautiful Graz, climbed a mountain (my children will never forget their first mountain cross!), swam in a lake (some great slides here!), whizzed down the summer sledging track and of course relaxed in the beautiful flower gardens at the house. But as others have said before the best thing was spending time with this lovely, creative family, our late night chats and roasting freshly picked corn around the fire. We look forward to coming back! Thank you for everything.
Tanja
2016-08-09T00:00:00Z
me and my family had very nice time at eva's house.very warm and friendly family,we filled more than guests.thank you eva for everything and hope to come back again.i was very happy to meet you and your lovely family.highly reccomended for families with small children.
catalina
2015-01-04T00:00:00Z
This place is charming to say the least, and would be great for a couple or family wanting to visit the countryside. Eva is a wonderful host, who goes over and above to make you feel welcome. The place is great, but you should really come for Eva who is wonderful. We had a great time staying there, and with no hesitance would we recommend other travelers to stay.
Lukas
2016-01-03T00:00:00Z
Vochera an der Lassnitz has become our second home thanks to Eva and Othmar and their fantastic family. We stayed in their beautiful Austrian chalet-style house for a month and absolutely loved every single minute. It's difficult not to get too carried away but it was perfect for us. The house is completely separate from Eva's with a great living area, kitchen, toilet, bathroom, and huge bedroom with very comfortable bed. Practically it's completely self-contained and has everything you need. The setting is quiet and relaxing and the views awe-inspiring. Beautiful garden too. Small vilages within cycling distance and 5 minutes drive to the larger town of Deutschlandsberg. This isn't the whole story however. Our stay was made so enjoyable by Eva and her extended family taking us in and looking after us completely. So many days out and fun evenings together made us both feel part of the family. We were sad to leave and hope that we can now stay good friends with the incredible people that we met in Vochera. They made our stay unbelievable and we will never ever forget it. I would recommend this to everyone.
Jon
2015-09-01T00:00:00Z
This is simply the most gorgeous place and Eva, the hostess, is the nicest, most helpful person we've ever encountered. The hospitality of the entire family greatly exceeded our expectations. We wish only we had booked a longer stay!
J. Allen
2015-09-17T00:00:00Z
If you want to explore Steiermark and learn its people, this is the right place to start. We had wonderful 8 days with Eva and her nice family. They are born hosts - very open and friendly. We felt right way as being part of Eva's family and like knowing them for years. The location is very good in every aspect and everyone will find things to do - would it be the outdoor or indoor activities, sports or culture. Steiermark's capital Graz is located only 40-50 min drive away depending on the type of transport you use. This city is our suggest to visit as personifies what we thought a true Austrian city can be. But the most advice is to reserve some of your time talking to Eva and her husband Ottomar - this way you will learn a lot about Austria and you also will spend the time in very warm and pleasant atmosphere.
Peteris
2016-07-13T00:00:00Z
Nous étions attendus par Eva et son mari qui nous ont offert un rafraichissement. Accueil extraordinaire dans un superbe chalet typique et un merveilleux jardin. Nous faisions vraiment partie de la famille! Nous avons assisté avec eux à une fête styrienne avec orchestres, bière et vin à gogo...Nous sommes vraiment devenus amis et attendons la venue de la famille chez nous en France. Un séjour idyllique!
marie
2016-05-29T00:00:00Z
Die Unterkunft und ihre Gastgeber sind großartig. Wir haben uns hier sehr wohl gefühlt, denn Eva und Ottmar und ihre Kinder waren überaus gastfreundlich, sehr kinderlieb, hilfsbereit und hatten stets außergewöhnlich gute Tipps für Ausflugsziele, Kulinarisches und Kulturelles in der schönen Steiermark. Die Unterkunft ist so (gut durchdacht) eingerichtet, dass sie sich auch für einen längeren Aufenthalt eignet. Sie ist ein guter Ausgangspunkt für Wanderungen und Ausflüge in die nähere Umgebung und insbesondere auch Ausflüge in das nahegelegene Graz.
Jan
2015-07-23T00:00:00Z
Room Type
Entire home/apt
---
Property Type
Apartment
---
Accommodates
5
---
Bedrooms
Vochera an der Laßnitz, Styria, Austria
Room Type
Entire home/apt
---
Property Type
Apartment
---
Accommodates
8
---
Bedrooms
Deutschlandsberg, Steiermark, Austria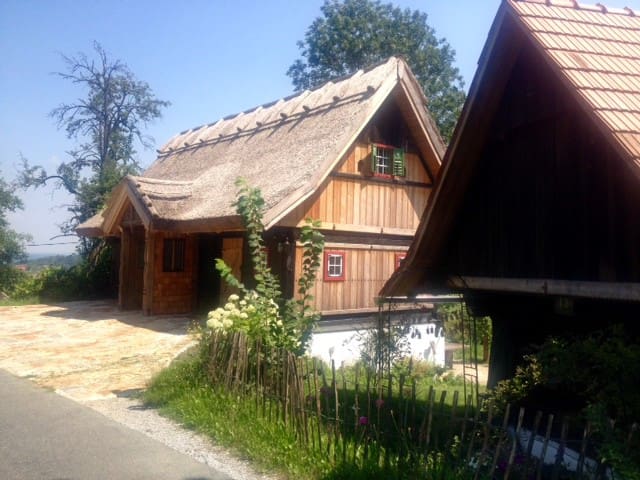 Our house is located at the foothills of the Rose mountain. Here you have a wonderful view to the West Styrian Schilcher wine route and the Stainzer pool. The comfortably furnished apartments; / large living room (fireplace) / WLAN / spacious bathroom / WHIRLPOOL/WC etc extra / satellite TV / two bedrooms / full kitchen ausgstattete / Nesspressomaschine / private parking place; extends over the entire top floor of the newly built house (2012) to 120 sqm In the vicinity lies a long walks; Market Stainz / Stainz Castle - former Augustine monastery, about 5 km Numerous taverns and inns in the vicinity ...
Hervorragende Location. Die Ferienwohnung ist geschmackvoll designt und hervorragend ausgestattet mit viel Liebe zum Detail. Kalte und warme Beleuchtung, Fernseher im Schlafzimmer, Kamin, Whirlpool-Badewanne - alles was das Leben angenehm macht. Dazu kam ein sehr angenehmer und freundlicher Gastgeber, der viele Tips für die Umgebung bereit hatte und zum Schluss sogar noch ein kleines Geschenk für uns. Das alles zu einem mehr als annehmbaren Preis. Wir werden bei Gelegenheit auf jedenfall noch einmal die Gegend besuchen und bei Johann einkehren.
Sandro
2013-06-17T00:00:00Z
Wenn Geschmack und Sachverstand zusammen kommen, entsteht etwas, wie in dieser Wohnung, Schönes. Wir durften in einer wunderschönen, mit jeglichem Komfort ausgestatteten Wohnung verweilen und haben uns sehr wohl gefühlt. Unser Vermieter Johann war super! Klug und unglaublich freundlich und hilfsbereit und wir sind mit dem Gefühl abgereist, unbedingt wieder zu kommen. Es war perfekt. Dasa-Julia und Stefan
Stefan
2014-05-31T00:00:00Z
Mooi huis, fantastische afwerking en alles wat je maar wenst was voorradig. Van nespresso tot kaasschaaf tot alle mogelijke pannen en mooi servies. Hier is echt aandacht aan besteed. Ook de verhuurder wil het allemaal goed doen en is zeer hulpvaardig. Brochures in overvloed, de VVV is er niets bij. Dank je Johan!
Thijs
2016-06-06T00:00:00Z
Room Type
Entire home/apt
---
Property Type
Apartment
---
Accommodates
4
---
Bedrooms
Marhof, Styria, Austria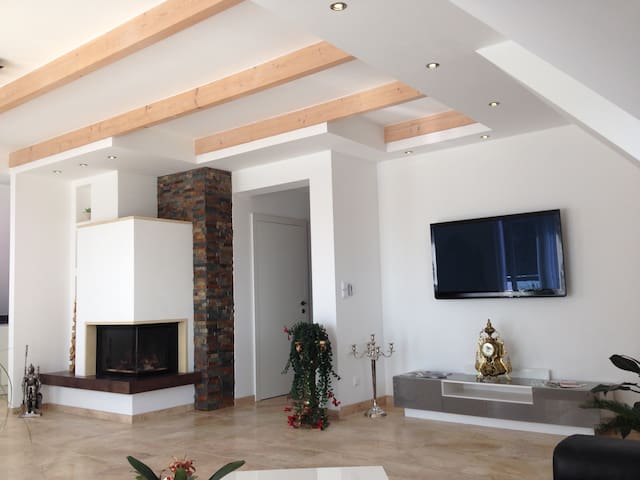 The apartment is very well equipped, located in the center but is nevertheless quiet. Wiesbaden is the Schilcher (wine) region, but there are also the surrounding very well your excursion mountains to reach and Graz quickly as the state capital.
Welcome to the middle of the Schilcherland in Styria! The Weststeiermark still is a hot tip. The lovely hilly landscape to Koralpe (2140m) for walking or hiking invites seduce typical culinary and wine to enjoy and helps the proverbial comfort of my home for the final relaxation. The apartment is located in Wiesbaden, the center of a 4500 municipality that everything infrastructure provides (general practitioners, dentist, pharmacy, post office, banks, grocery stores, bakeries, gas stations, inns, Roman Catholic. Church, police ...). Behind the house is located a walking / bike path or a stream, where you can sit and in summer for swimming (max. 20 ° C). Consisting of a bedroom, living room and dining room, and a bathroom with a bath / toilet, and a kitchen. An extra bed for a child is possible. Access is via an entwined with vine leaves hölzeren balcony to invite seating for breakfast or coffee. A parking lot is available for one car. The garden is to use only by prior arrangement, as this is also a private relaxation area. Garden furniture, chairs, umbrellas are available. The apartment is very well equipped! The fireplace creates cozy warmth during the cool season. Internet is available via Wi-Fi. A 42 "3D TV incl. DOLBY surround system, BlueRay 3D player and Satempfänger help in bad weather.
To start off, this was by far my favourite part of my two month trip in Europe. Wies is a quaint small town with tons of culture. If you are looking to get away from tourists (as I was) then you have found the right spot. As for Stefan, he is an amazing host. He was in Nairobi when I wrote him (the night before) and he responded quickly and made it all possible by 8am the next morning! I was so overwhelmed that it all worked out. Once he got back, he came to Wies and showed me around the area. We went to a water reserve up in the mountains, went and had lunch and he even took me to his cousin's vineyard. He definitely went above and beyond as a host. What a great guy! His parents are adorable as well! His father met me at the train station and lugged my heavy bag around. (They do live very close to the S-Bahn Station, so that is great if you want to head into Graz for the day etc.) We all went out on the last night I was there and polka'd, waltz'd and enjoyed the traditional music.
Suzanne
2014-08-11T00:00:00Z
The home is clean, spacious and well maintained with everything in good working order. The kitchen is well equipped for preparing and serving meals with many essential kitchen tools available. The entire home is comfortable and we enjoyed the photos Stefan has of his own adventures around the the globe. The location is well situated for exploring the Stiermark wine regions. Stefan's parents, who greeted us, are active members of the community of Wies and offered suggestions of things to do broadening our experience in one of the loveliest countryside we have been to. The five star rating we are giving is well earned.
Christopher
2016-05-13T00:00:00Z
Es war sehr schön bei Stefan in der Südweststeiermark! Wir haben uns mit unserem Baby sehr wohl gefühlt, viele Wanderungen gemacht und die Kulinarik genossen. Seine Eltern waren auch total nett und hilfsbereit, was Ausflugs - Tipps in der Region betrifft. Danke Stefan und Familie!
Dinah
2016-11-01T00:00:00Z
Unser Kurzaufenthalt in Stefans Wohnung war einfach ideal. Stefan hat per E-Mail alle Fragen beantwortet und in jeder Hinsicht - und das äußerst nett - weitergeholfen, vor Ort haben uns seine ganz reizenden Eltern - die im selben Hause wohnen - die Tage in Wies außerordentlich angenehm bereitet. Besser kann es gar nicht sein. Die Wohnung hat alles, was man sich wünscht und ist absolut ruhig, gemütlich eingerichtet und geräumig. WLAN, Satellitenfernsehen und Blurayplayer sorgen für beste Unterhaltung. Einkaufsmöglichkeiten, Wirtshäuser und S-Bahn nach Graz sind um die Ecke - und sogar ein Garagenstellplatz steht zur Verfügung. Zur Begrüßung gab's von Stefans Eltern Marmelade und Traubensaft (selbstgemacht). Es fehlte an absolut gar nichts. Bei nächster Gelegenheit würde wir sehr gerne wiederkommen. Danke für alles!
Reinhard
2015-09-16T00:00:00Z
Wir entschieden uns spontan zu einer Wanderpause und suchten deshalb sehr kurzfristig eine Unterkunft. Das stellte für Stefan, trotz später Stunde, gar kein Problem dar. Da er noch nicht vor Ort war, begrüßten uns seine Eltern und sein Bruder sehr herzlich, zeigten uns alles in Ruhe und erklärten uns wo die nächsten Einkaufsmöglichkeiten zu finden seien. Wir blieben insgesamt drei Nächte und hatten jederzeit die Möglichkeit Kontakt mit Stefan oder seiner Familie aufzunehmen, die uns ebenfalls erlaubten ihren traumhaften Garten zu nutzen. Fünf Sterne für den gelungenen Mix aus Erholung und schönem Erlebnis! Gerne wieder!
Tim
2016-08-30T00:00:00Z
Stefan hat sich intensiv um die perfekte Anreise gekümmert. Beu unserer Ankunft waren Eltern und Bruder da und haben uns alles Nötige erklärt und gezeigt. Die Wohnung ist sehr geschmackvoll eingerichtet und geräumig. Tolle Infos für Ausflüge lagen schon bereit. Die Eltern waren sehr nett und haben uns jederzeit eigene Infos zur Umgebung gegeben. Es war ein komplett gelungener Aufenthalt in einer herrlichen Umgebung. Besonderer Dank und viele Grüße an Deine besonders gastfreundlichen Eltern!!!! Der tolle Garten des Hauses hat uns sehr beeindruckt. Eine echte Weiterempfehlung !!!!!!
Christina
2016-08-28T00:00:00Z
Das Kneippen im kleinen Fluss gleich nach dem Garten - also Badeschlapfen (rutschfest) mitnehmen!!! Die Nähe zur Weinstrasse, zB Kitzeck aber auch zur slowenischen Grenze (Marburg waren wir nicht, ist aber nicht weit!), nach Graz. Auch Wandern auf der Koralm oder ein Abstecher zu den Kärntner Seen ist in 1 - 1,5 Stunden möglich.
Gerhard
2016-09-11T00:00:00Z
Alles war super, der Empfang, die Wohnung und das ganze Umfeld. Die Herzlichkeit und das Bemühen der Gastgeber war einzig. Es hat sehr viel Spaß gemacht, dort zu wohnen. Wir werden wiederkommen!
Wolfgang
2015-06-06T00:00:00Z
Room Type
Entire home/apt
---
Property Type
Apartment
---
Accommodates
2
---
Bedrooms
Wies, Styria, Austria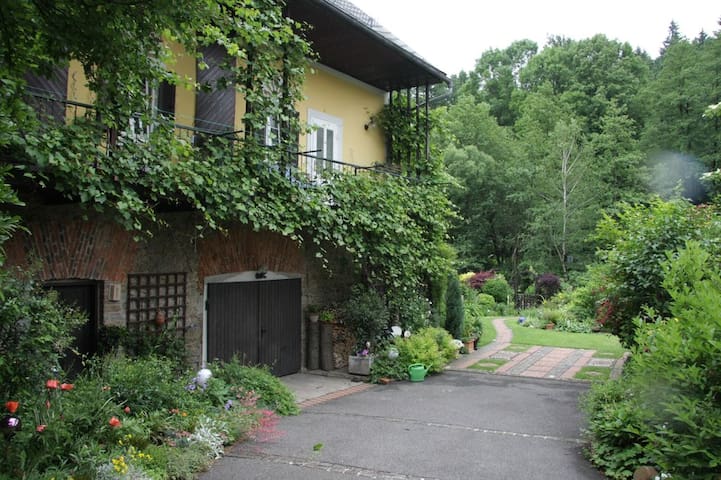 My place is close to great views, nightlife, and restaurants and dining in graz My place is good for couples 10 min.to Graz by Car great thown ,the house is on the edge of the wine-Yards (buschenschenke)etc.third person free
Room Type
Entire home/apt
---
Property Type
Apartment
---
Accommodates
2
---
Bedrooms
Tobisegg, Steiermark, Austria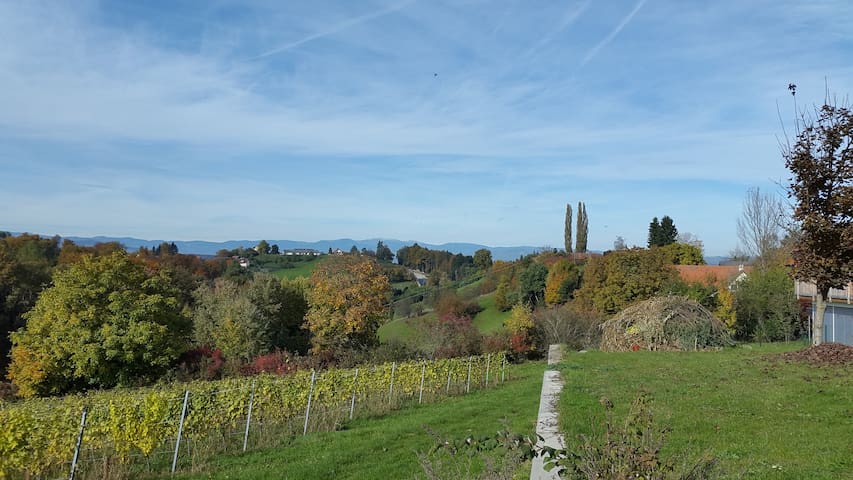 Grosse, moderne, neue Wohnung in ruhiger Umgebung ideal für Ruhesuchende welche auf Komfort nicht verzichten möchten. Die grosse Terrasse mit eigenem Swimmspa welcher das ganze Jahr beheizt wird ist ein Highlight. Ganze Wohnung mit WIFI und Kabel-TV.
Die Wohnung liegt in einem ruhigen Wohngebiet in Dietenberg / Ligist. In Ligist betreibt man "sanften Tourismus" - was das heißt? - Ligist ist ein Geheimtipp und nicht überlaufen, der große Vorteil für Sie.
Een prachtig groot appartement om zeer prettig in te verblijven. En te ontspannen bijvoorbeeld in de grote jacuzzi. Schoon en zeer ruim. Goed bereikbaar en gelegen in een mooie rustige omgeving. Willem.
Peter
2017-03-25T00:00:00Z
Ein wunderbarer Ort um zu Entspannen. Schöne Wohnung. Hochwertige Ausstattung. Sehr freundliche und nette Übergabe und Abreise (Danke Kathrin), ebensolche Kommunikation mit Renate per Email. Die Wohnung ist schöner als die Fotos! Wir kommen gerne wieder!
Julia
2016-12-30T00:00:00Z
Room Type
Entire home/apt
---
Property Type
Apartment
---
Accommodates
6
---
Bedrooms
Ligist, Steiermark, Austria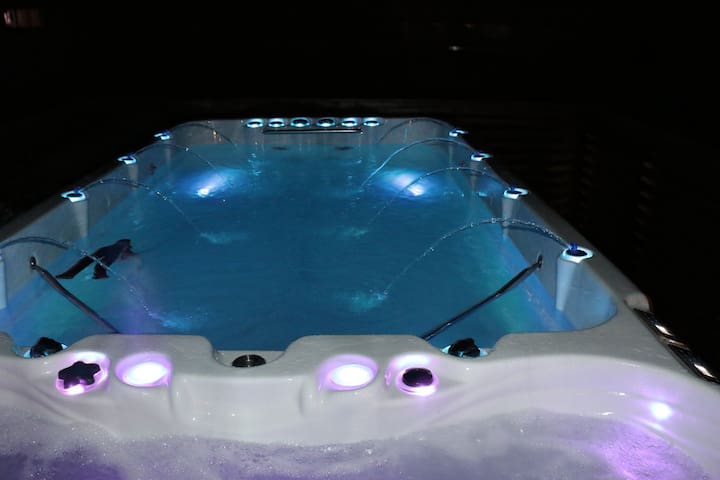 Unser Apartment ist mit einem traumhaften Doppelbett, schönem Badezimmer, Flat-Screen TV, WLAN,usw. ausgestattet. 4 Personen finden hier bequem Platz.
Das Apartment war sehr schön und sauber! Es gab Handtücher, eine Vollautomat-Kaffeemaschine und sogar der Kühlschrank war mit Frühstück gefüllt. War echt top!
Sebastian
2016-04-10T00:00:00Z
Room Type
Entire home/apt
---
Property Type
Apartment
---
Accommodates
4
---
Bedrooms
Heimschuh, Styria, Austria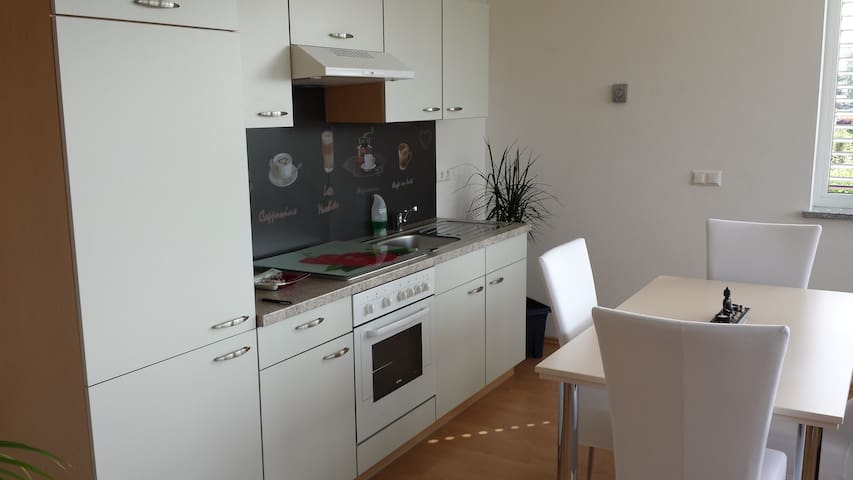 I offer a room in my spacious, comfortable flat 15 minutes from Graz. Close to destinations in Western Styria (Lipizzaner, thermal bath in Köflach, Barbara chruch, 'Buschenschänke'). Large rooftop terrace with whirlpool and roofed parking spot is available. Perfect for single travellers and couples. Bringing your pet is possible on request.
Ein Highlight der Wohnung ist definitiv die große Dachterasse mit Grillmöglichkeit und Whirpool, die sich auch zum Frühstücken oder einfach nur zum entspnnen anbietet.
Great host, clean, nice and comfortable place to stay, exactly what we needed. Dog friendly and beautiful, quiet area for a dog walk. Highly recommended.
Paulina
2017-02-26T00:00:00Z
Sabine
2017-02-08T00:00:00Z
Bardzo miło i spokojna okolica. Chrostof jest bardzo pozytywna młodą oba, uśmiechnięty i gotowa do pomocy, bardzo dokładnie wytłumaczył nam drogę dojazdową bez nawigacji spokojnie byśmy trafili. Jeśli chodzi o dom, naprawdę piękny i czysty.
Grzegorz
2016-09-25T00:00:00Z
Christof war ein herausragender, zuvorkommender und freundlicher Gastgeber. Uns hat es an nichts gefehlt. die Unterkunft war sauber, geräumig und modern. Herausragend ist die Dachterrasse, wo wir ein wunderbares Frühstück bei strahlenden Sonnenschein genossen. Jederzeit wieder. Danke für die Gastfreundschaft.
Florian
2016-10-01T00:00:00Z
Bei meinem Aufenthalt war Christof selbst nicht vor Ort, hat mir aber im vorhinein alles genau beschrieben. Habe daher alles gefunden was ich brauche und mich sehr wohl gefühlt.
Sandra
2017-03-26T00:00:00Z
Room Type
Habitación privada
---
Property Type
Apartment
---
Accommodates
2
---
Bedrooms
Stein, Steiermark, Austria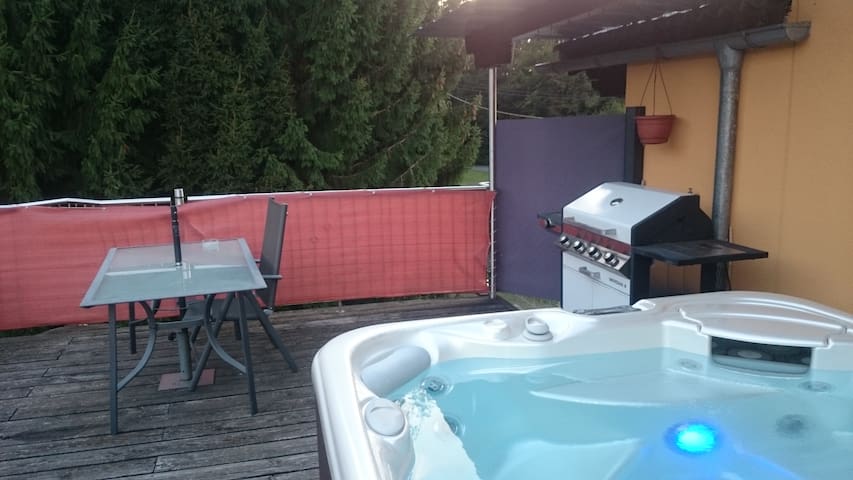 My apartment is close to railway station Leibnitz. Reachable with ÖBB trains from Graz or Maribor (Slovenia). The city Leibnitz called the heard of South Styria. From my flat is it possible to walk in 10min. to the centre with a lot of nice shops and bars. My apartment is useable for couples, families with max. 2 kids and groups with max. 4 people.
My flat is direct reachable over an elevator. So now problems with heavy luggage. The apartment has 3 balconies to south, west and east. The area is really silent. The house has a sharable swimming pool which is open from Mai till September.
The apartment is great! Jorg is very kind and polite host. The apartment is looking exactly like the pictures, it's near the city centre, it has everything you need and it is beautiful!
Daria
2017-01-02T00:00:00Z
Jörg ist ein super hilfsbereiter Gastgeber. In seiner besucherfreundlich ausgestatteten Wohnung habe ich nichts vermisst und komme gern wieder!
Christina
2017-01-22T00:00:00Z
Room Type
Entire home/apt
---
Property Type
Apartment
---
Accommodates
4
---
Bedrooms
Leibnitz, Steiermark, Austria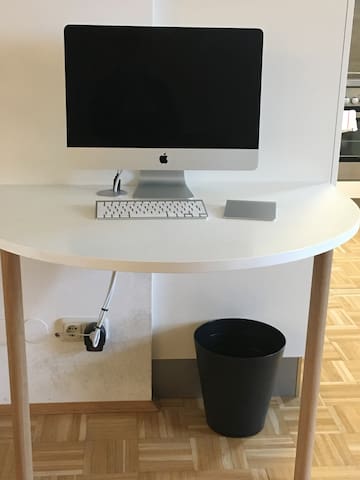 Ruhige romantische Unterkunft mitten in der Natur Nähe Golfplatz Murstätten. Im Umkreis von nur 25 km erreichst du Graz mit Oper, Kultur, wunderschöner Altstadt, sowie die südsteirische und slowenische Weinstraße.
Sonniges klimatisiertes Appartement mit Doppelbett 160x180 und kleiner Ausziehcouch mit eigenem Bad und Küche.
Einige Bauernhöfe mit Selbstvermarktung in der direkten Nachbarschaft, also gute Jause sowie das beste Kernöl vor der Haustür.
We highly recommend this lovely flat in a small village. We received a truly warm welcome from our hosts - coffee and schnapps were waiting for us! They gave us some excellent advice about where to visit in the area and were always happy to answer any questions. We had a wonderful holiday. The flat was comfortable, immaculately clean, and thoughtfully planned so we had all we could need. We enjoyed the balcony over-looking the garden and views of the hills. The generosity, kindness and friendliness of Maria and her husband Walther was truly appreciated. We had plenty of privacy but if we wanted advice on where to eat, where to swim, where to explore, where to cycle, what routes were great for the motorbike, for example, they had superb suggestions. We hadn't expected this but the fridge was generously packed with things for our first breakfast and drinks - and the locally produced ham was absolutely delicious! As you can tell, we were very happy. And we'd love to visit again. Highly recommended!
Caroline
2016-08-31T00:00:00Z
Accoglienza strepitosa di Maria e suo marito...persone squisite e disponibili che ci sono venute a prendere in quanto l'indirizzo inserito su airbnb non coincideva perfettamente e c'era molta nebbia. Ci hanno accolti con un brindisi sotto al gazebo, spiegandoci tutto dettagliatamente. Ci hanno fatto trovare una vasca idromassaggio grande, esterna, anche se non abbiamo usufruito. Per accedere all'appartamentino, che in realtà è una mansarda recentemente ristrutturata, bisogna salire su una scala a chiocciola che, causa ghiaccio, era un po'scivolosa, ma una volta entrati alla mansarda ne meritava davvero! Ottima pulizia ed arredamento, frigo colmo di provviste, non mancava nulla! Peccato essere stati solo una notte da Maria e suo marito!
Marta
2016-12-08T00:00:00Z
Der Arbeitsalltag hat uns für ein Wochenende in die Steiermark zu Maria geführt und wir wurden sehr freundlich und herzlich empfangen. Das Appartement war wirklich toll und ist zu zweit völlig ausreichend. Wir konnten sogar den Garten und das Wirlpool von Maria mitnutzen. Am ersten Abend haben wir eine leckere Jause mit Schinken, Obst, Gemüse und frischem Gebäck bekommen, es war alles vor Ort, was man für das tägliche Leben benötigt. Die Anreise war über airbnb sehr gut beschrieben und somit sind wir direkt angekommen. Preis-Leistungsverhältnis absolut toll!!!
Manuela
2016-05-30T00:00:00Z
Maria hat und sehr herzlich empfangen. Die leckere Jause und das Angebot den Whirlpool zu benutzen waren eine schöne Überraschung. Die Kommunikation (Anreise etc.) war reibungslos, schnell und unkompliziert. Es wurde alles dafür getan, dass wir uns wohl fühlen. Klein, fein und absolut weiter zu empfehlen.
Johanna
2016-10-24T00:00:00Z
Wir haben fünf schöne (Urlaubs-)Tage in der Nähe von Graz verbracht. Wir wurden von unseren Gastgebern sehr freundlich mit einer Brotzeit begrüßt. Die Unterkunft war sauber, gepflegt und entsprach in vollem Umfang unseren Vorstellungen. Unsere Gastgeber standen jederzeit für Fragen und Informationen zur Verfügung. Alle für den Alltag wichtigen Dinge waren vorhanden. Die Anreise erfolgte ohne Probleme. Der gesammte Aufenthalt verlief komplett reibungslos. Wir können das ruhig gelegene Appartment absolut weiter empfehlen und werden gerne wieder bei Maria zu Gast sein.
Daniel
2016-10-15T00:00:00Z
Room Type
Entire home/apt
---
Property Type
Apartment
---
Accommodates
2
---
Bedrooms
Allerheiligen bei Wildon, Steiermark, Austria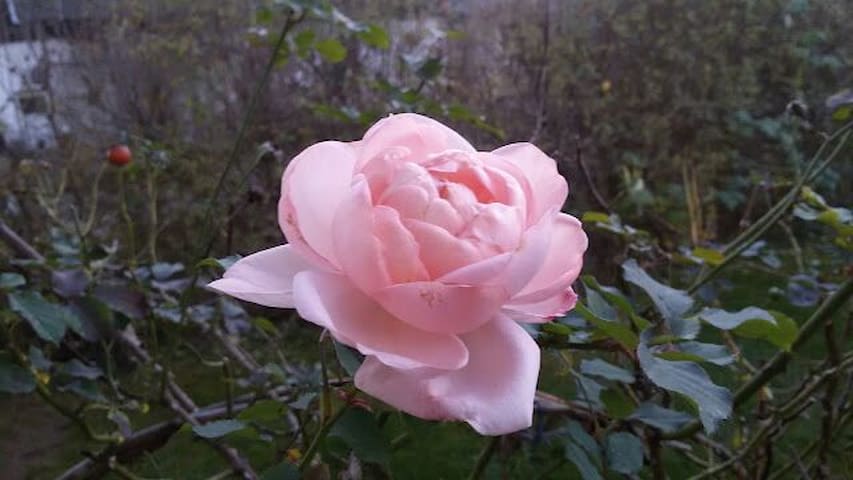 Comfortable, spaciously designed apartment for 2 to 4 persons (70m²). Two bedrooms, large living-room-cum-kitchen, free Wi-Fi, bathroom with shower and tub, WC, large sun terrace with hammock to let your soul swing, and magical view onto the vineyard
Come and have a holiday of the very special kind! Sleep among the vines in our comfortable Winery Apartment. Surrounded by vineyards. Experience the special features of nature. Recharge your batteries with energy and new zest for life. Designed with love of detail and your perfect well-being in mind. Furniture of solid wood, oiled wooden floors, wine chest, Sat. TV, stereo set, free Wi-Fi, hairdryer, cosy and warm with underfloor heating. Non-smoking rooms for a pleasant, home-living atmosphere.
The region is an invitation to breathtakingly beautiful walks and the grandeur of scenery vantage points – where you can marvel at our magical and idyllic landscape.
Room Type
Entire home/apt
---
Property Type
Apartment
---
Accommodates
4
---
Bedrooms
Leutschach, Steiermark / Südsteiermark / Leibnitz, Austria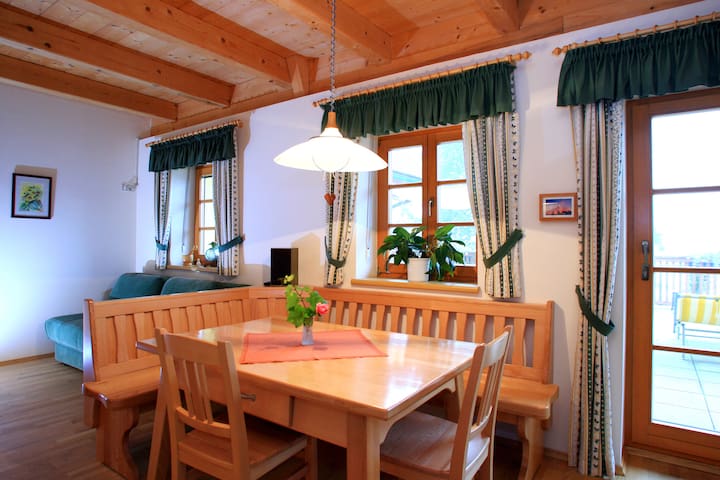 ferienwohnung mit 2 schlafzimmern, 1 wohnzimmer, grosse kueche mit esstisch, 3 badezimmer, waschmaschine, terrasse zum relax, mikro, kaffeemaschine, geschirrspueler. einkauf 2 km, graz 40 km, therme bad radkersburg 40 km... ideal fuer ruhesuchende
Room Type
Entire home/apt
---
Property Type
Apartment
---
Accommodates
6
---
Bedrooms
kitzeck im sausal , steiermark, Austria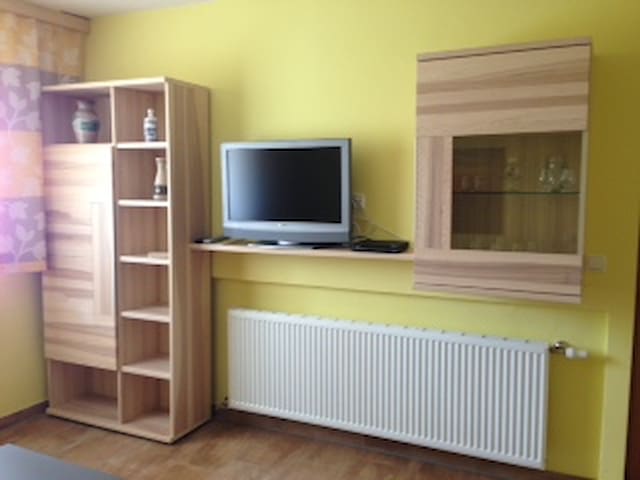 What is special about the PIA apartments that none of the five apartments are alike, but each apartment has been furnished to a separate line and each apartment has been furnished to a separate line.
Once again really relax properly collect breathe new forces find themselves again, enjoy comfort and actively experience during a vacation in the open nature. In short, once again really feel how beautiful life is and once again really relax.
Hiking and cycling trails right on the property. After 40-minute drive from the ski resort Gaberl. The Thalersee and Grazer Golf Club Thalersee located 5 km away. Tennis courts and a riding stable can also be found nearby.
Among the best place I've been staying. Very quiet place. Beautiful view over the Styrian valley. Every morning you can pick up your fresh eggs directly from the "Hen hotel"
arnaud
2016-05-17T00:00:00Z
Already approaching the property we loved country side surrounding. Fields of corn, sheep farm etc. The very modern and clean accommodation as very comfortable luxurious retreat in very lush and beautiful surrounding.
Petr
2016-07-23T00:00:00Z
Unfortunately we had only a transfer night in this place. It would be a perfect place to relax in a wonderful environment, but we had to go further. We regret not to stay longer... Everything was wonderful, the communication was clear and quick. The appartment was extremely clean and well equipped and very stylish, everything operated... We arrived late in the evening, but it was not problem, we knew the code to open the door, no need to wake up the landlord. We booked a breakfast, it was in the refrigerator (fine ham and various cheeses with local vegetables and fruits) and in the morning we received fresh local bread. In the evening we saw a rabbit near the appartment and when we opened the door in the morning three goose stood there. It was so cute... I would absolutely recommend it for those who love the nature. We enjoyed it very much!
Eszter
2016-10-01T00:00:00Z
EMPFEHLENSWERT! ich war eine Nacht im Appartement Scandinavia! Sauber, freundlich, Ablauf ganz unkompliziert, Antwort kam prompt, Appartment wirklich schön, Pool und Garten mit Liebe gepflegt - TOP TOP TOP
Beatrice
2016-06-17T00:00:00Z
Room Type
Entire home/apt
---
Property Type
Apartment
---
Accommodates
2
---
Bedrooms
Graz Umgebung, Steiermark, Austria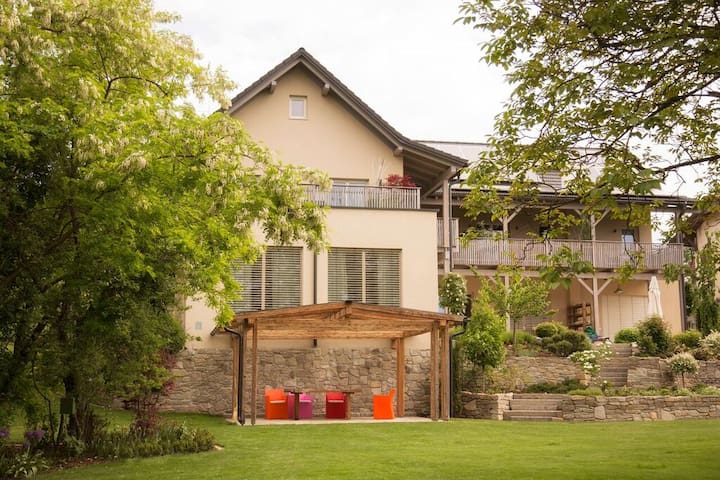 I'm renting my flat in a calm neighborhood, just 15 minutes from Graz. Very good reachability of destinations in western styria (Lipizzaner stud, Barbara church, thermal bath Köflach, Buschenschänke). The flat offers 2 bedrooms for 2 people each and a open gallery for an additional person. You will also find a beautiful terrace with whirlpool and possibility to BBQ. Bringing your pet is possible after consultation.
Room Type
Entire home/apt
---
Property Type
Apartment
---
Accommodates
5
---
Bedrooms
Stein, Steiermark, Austria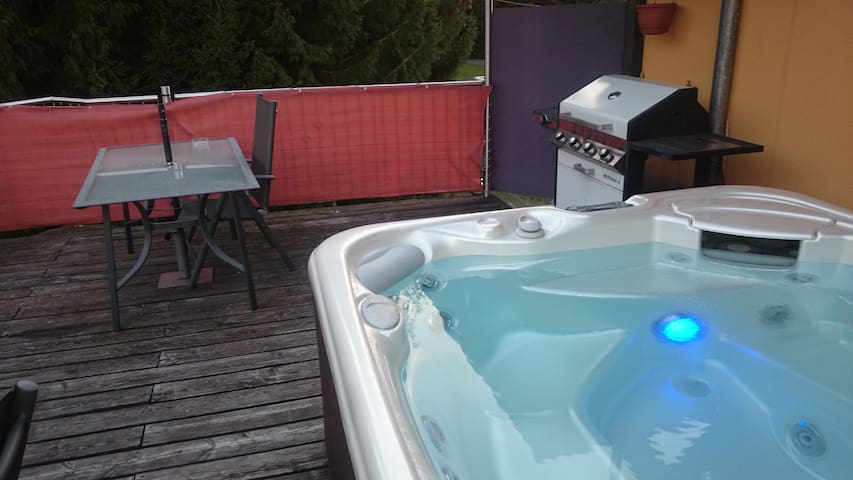 3-Zi-Wohnung: Küche, großes Wohnzimmer mit Ausziehcouch, Schlafzimmer, Badezimmer, WC, Abstellraum, Arbeitszimmer (kann auch als Kinder-, Gäste-, Lesezimmer etc verwendet werden) Südwestlage, 2 Autostellplätze, 1 überdacht
Sonnige Wohnung mit Balkon Richtung Süden, voll eingerichtet, ausgestattet mit Bettwäsche, Handtüchern, Geschirr usw.
Room Type
Entire home/apt
---
Property Type
Apartment
---
Accommodates
4
---
Bedrooms
Kalsdorf bei Graz, Steiermark, Austria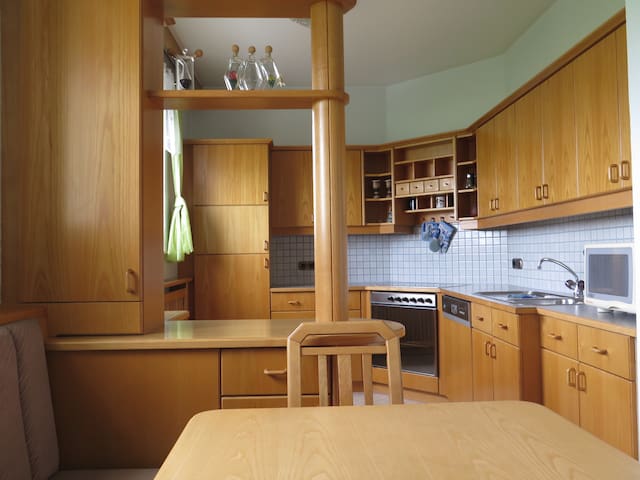 This newly renovated apartment with balcony is located in a small apartment building directly in the center across from Schloss Gamlitz. It is 66m² plus 8sqm Balcony large and divided into anteroom, toilet, bathroom, kitchen, living room (sofa bed 150x200) and bedroom (double bed 180x200) and offers enough space for up to 4 people. Towels, linens, kitchen fully equipped, TV, wireless internet, air conditioning, wine refrigerator, ... make the stay really comfortable
This newly renovated apartment with balcony and the guests disposal carport is located in a small apartment building directly in the center across from Schloss Gamlitz. It is 66m² big plus 8m² balcony and is divided into hall, toilet, bathroom, kitchen, living room (sofa bed 150x200) and bedroom (double bed 180x200) and offers enough space for up to 4 people maximum version - ideal is for 2 adults plus 1-2 children - towels, sheets, soap + shampoo, kitchen fully equipped with a Nespresso machine, toaster, egg cooker, kettle, dishwasher, .... satellite TV, Unlimited Internet via Wi-Fi, air conditioning, wine refrigerator, ... make the stay right comfortable. Our guests should feel completely in our apartment. This means, for one, that they should relax and enjoy, and on the other that it should go forth sociable quiet times. Athletes and sports enthusiasts all get their money's worth. The surrounding vineyards are ideal for long walks, jogging and mountain biking excursions. For all those we have an small shoe washer front of the house.
Wine Museum Schloss Gamlitz Opening times: daily 9:00 to 18:00 For more information, click here: Wine Museum Schloss Gamlitz Motor Gamlitz Park - Europe's motor park Lower Main Street (PHONE NUMBER HIDDEN) Gamlitz (URL HIDDEN) Minigolf Gamlitz 18-hole miniature golf course Opening times from April to November daily from 10am Information: Tourist Office Gamlitz, Riding in Gamlitz Eckberg (PHONE NUMBER HIDDEN) Gamlitz ponds Gamlitz When motor park Gamlitz there are spacious landscape ponds that invite our guests to swim. The ponds are in a few minutes walking distance.
Jen+Isa were great hosts – very flexible with scheduling and late check out. Really nice cozy apartment right in the village centre of Gamlitz. Very nice and modern bedroom and a brand new kitchen with even a free NESPRESSO.. Jen+Isa were really nice and helpful hosts ! They even picked me up when I was lost in the vineyards jogging and trying to find the apartment and gave me good recommendations where to go next time, etc. As someone travelling abroad by myself I was not sure if I had already crossed the border to Slovenia or not and what to expect but I felt safe with their advice. They welcomed me in their more than complete apartment. Great spot for getting a feel of living like a local in the beatiful region of Southern Styria ! When there again I will definitely stay here again. Totally recommended :)
Bud
2017-03-28T00:00:00Z
Jen+Isa were the perfect hosts and made our stay in Gamlitz amazing! Nothing was a problem for them and even when we needed somewhere to put our luggage due to a late flight from Graz and a daytrip to Maribor, that we wanted to make - they arranged this for us! Their food recommendations at the "Buschenschanken" were also great and the wine ! They took the time to explain how to get to attractions and what to see in the area which was a great help for us. The apartment itself is exactly like the pictures, my husband and I had such a lovely stay and it was just what we needed, perfect for the two of us. It is very tastefully decorated and unlike most carefully angled photographs one normally comes across, it was more spacious and airy as it looks in the pictures. Lovely features and a real sense of space in every room. The kitchen is more than well equipped with everything one should need. Even a wine refrigerator ! The washer and dryer we also much appreciated as we had been traveling for a while before arriving. Location wise you couldn't get better, so central to everything we didn't need to get the car once. Literally round the corner from all the wine producers but down a quiet residential street with no noise at all. I would definitely recommend Jen+Isas apartment to anyone, we will look no further! We will definitely be back!
Alexandra
2017-03-12T00:00:00Z
Ein entzückendes Appartment, in dem wir uns sofort wohlgefühlt haben. Check-in und check-out mit Jen & Isa waren super-unkompliziert, es hat alles sehr gut gepasst. Der Blick über die Weinberge ist sehr schön, wir hatten alle Wetterverhältnisse wie Sonnenschein, Nebel, Regen und Schnee innerhalb weniger Tage und es war eine wahre Freude, dies vom Bett aus über den Balkon zu beobachten. Also die Lage ist wirklich ein Traum, das Ambiente und vor allem die Liebe im Detail laden einfach zum Wohlfühlen ein. Die Ausstattung ist perfekt, da wurde wirklich an alles gedacht. Auch Broschüren über Gastronomie und Wanderwege liegen auf. Die Gastgeberin hat mich vor der Ankunft angerufen, die Gespräche während des Aufenthalts waren so nett und unkompliziert. Die Beschreibung "Das Paradies an der Weinstrasse" trifft 100%ig zu. Das ganze Örtchen Gamlitz ist ein kleines, feines POSTKARTEN IDYLL ! - wirklich traumhaft,... ein gemütlich eingerichtetes und liebevoll detailreich dekoriertes Appartment, perfekt zum Ausspannen und Relaxen, für ein romantisches Wochenende nur weiterzuempfehlen - Vielen Dank für Eure Gastfreundschaft, Leider konnten wir nur eine Nacht bleiben, beim nächsten Mal, bestimmt länger.... Jen+Isas Unterkunft und die malerische Landschaft der Schilcherregion laden durchaus zum längeren Verweilen ein..... ein richtiger GEHEIMTIPP!!
Bernd
2017-02-27T00:00:00Z
Das Apartment ist super zentral gelegen gleich gegenüber vom Schloss Gamlitz (150m) und es war super schön, wir haben uns wohl gefühlt wie im Hotel – und das alles zu 35% vom Hotelpreis vermutlich. Das Weekend war grossartig mit echtem Postkartenwetter und blauem Himmel. Der Empfang durch meine Gastgeber war herzlich und freundlich und der CheckIn und die Übergabe hat entsprechend unserer Abmachung perfekt funktioniert – Der Autoabstellplatz dazu ist auch spitze. Das Apartment war sehr sauber vorbereitet und ganz neu geschmackvoll eingerichtet, identisch mit den Bildern des Inserates, eher noch schöner als auf den Bildern weil die Räume grösser sind als sie auf den Fotos wirken. Zu zweit kann man sich auf 65m2 plus Balkon einfach toll ausbreiten und ausleben ! Zu den einzelnen Buschenschenken kann man überallhin gut zu Fuss gehen, und die Gastfreundschaft und das tolle Wein+Speisenangebot vor Ort haben uns begeistert. Danke Danke an die Gastgeber und wir kommen gerne im Herbst 2017 wieder!
Wolfgang
2017-02-13T00:00:00Z
Es war ein wunderschöner Kurz-Urlaub bei euch! Die Unterkunft passt perfekt für zwei bis drei Personen :)! Die Wohnung ist sehr liebevoll und durchdacht eingerichtet, wir hatten alles was wir brauchten um wunderbare Tage zu erleben ! Die Wohnung ist sehr stimmig und wirkt grösser als beschrieben und alles war recht neu und komfortabel und sogar am Balkon gibt's abends Licht wenn man draussen lesen will. Es gab angenehme Überraschungen, wie etwa eine NESPRESSO Kaffeemaschine inklusive Tabs. Gamlitz ist ein ruhiger kleiner Ort mit netten Heurigen, auch ist es perfekt als Ausgangspunkt für eine Radtour durch die schöne Landschaft. Die Gastgeber Jen+Isa waren zuvorkommend und bei Fragen schnell und unkompliziert erreichbar! Sehr nett und hilfreich stellten sie alle Informationen gerne zur Verfügung. Die Abwicklung verlief schnell und unkompliziert und sie gingen flexibel auf unsere Wünsche ein. Kurz vor dem Aufenthalt gab's noch eineMail- Nachricht mit ausführlichen und sehr nützlichen Infos zur Umgebung. Wir können diese Unterkunft uneingeschränkt empfehlen und kommen gerne wieder :)!
Gudrun
2017-02-16T00:00:00Z
Jen+Isa sind perfekte Gastgeber und alles ist so wie im Inserat beschrieben und zum Teil noch besser wie es drin stand. Für den Preis ist das ein sensationelles Top Angebot. Die Gegend um Gamlitz ist zudem wirklich traumhaft. Eigentlich sollten wir nur eine Übernachtung für die Fahrt nach Kroatien sein, aber wir sind dann doch noch nicht sofort losgefahren und haben auf einen Tipp von den beiden noch die Umgebung abgeradelt. Das Panaroma während der 1,5 Stunden Radrunde ist der Wahnsinn – inmitten der Weinberge mit all den schönen malerischen Hügeln. Und die Einkehr und Verpflegung bei den Buschenschenken war so köstlich und günstig. Dieses Erlebnis hätte man mit einem Stadt-Hotel oder Autobahn-Hotel nicht gehabt. Jederzeit gerne wieder.
konrad
2017-02-19T00:00:00Z
Das lange März-Weekend war einzigartig mit echtem Frühlingswetter und blauem Himmel. Man konnte schon die Schneeglöckchen sehen ! Der Empfang durch die beiden charmanten Gastgeberinnen war herzlich und freundlich und der CheckIn und die Übergabe des Appartments hat entsprechend unserer Abmachung mehr als perfekt funktioniert. Das Apartment war sehr sauber vorbereitet und sehr geschmackvoll eingerichtet, identisch mit den Bildern des Inserates, eher noch schöner als auf den Bildern, weil es vielmehr zu bieten hat als im Inserat aufgezählt ist. Vor allem ist es viel grösser als man annimmt und es hat auch noch einen tollen Balkon dazu! Zu den einzelnen Geschäften und Bäckereien (man sieht sogar rüber zum Billa) sowie zu den Heurigen in der Umgebung kann man überallhin gut hinlaufen, und die Gastfreundschaft und das tolle kulinarische Wein+Speisenangebot vor Ort haben uns echt begeistert. Hier bekommt man noch tolle Qualität und grosse Portionen für sein Geld - Wir haben für die Jausen echt wenig bezahlt und sind nie hungrig vom Tisch aufgestanden. Danke an Jen+Isa für die tolle Gastfreundschaft -wir kommen gerne später 2017 wieder mal für ein langes Weekend retour !
Gernot
2017-03-17T00:00:00Z
Wir haben ein paar Tage in der Südsteiermark in Gamlitz verbracht und wurden herzlich von Jen+Isa empfangen und in der Ferienwohnung herumgeführt. Die Wohnung war sehr sauber, sehr großzügig (wir waren eh nur zu 2.) und mehr als ruhig gelegen. Das Highlight war der Balkon. Ein absoluter Ruheort mit Blick auf schöne Blumen und Bäume. Da wir am 1. Abend etwas müde von der Anfahrt waren, nutzten wir gleich die Möglichkeit eine Superjause beim nahen Buschenschank einzunehmen und haben den Abend mit einem Flascherl Wein auf dem Balkon ausklingen lassen. Jen + Isa hatten auch Korkenzieher und passende Weingläser zur Verfügung gestellt, sodass wir dies nicht extra besorgen mussten. Sie hätten uns auch beim Bäcker jederzeit frisches Brot besorgt, wenn wir dies für den darauffolgenden Morgen gewünscht hätten. Leider hatten wir am 2. Tag eine Autopanne und die beiden waren äußerst hilfsbereit und haben uns stets ihre Hilfe angeboten, wie zum Beispiel Fahrten zum Mechaniker oder zum Busbahnhof nach Graz (da unser Auto leider streikte). Die Hilfsbereitschaft haben wir wirklich sehr geschätzt!! Alles in allem, ein wunderschöner Aufenthalt in einer super schönen Wohnung im Ortszentrum. Highly recommended! :)
Stefan
2017-03-31T00:00:00Z
Room Type
Entire home/apt
---
Property Type
Apartment
---
Accommodates
4
---
Bedrooms
Gamlitz, Steiermark, Austria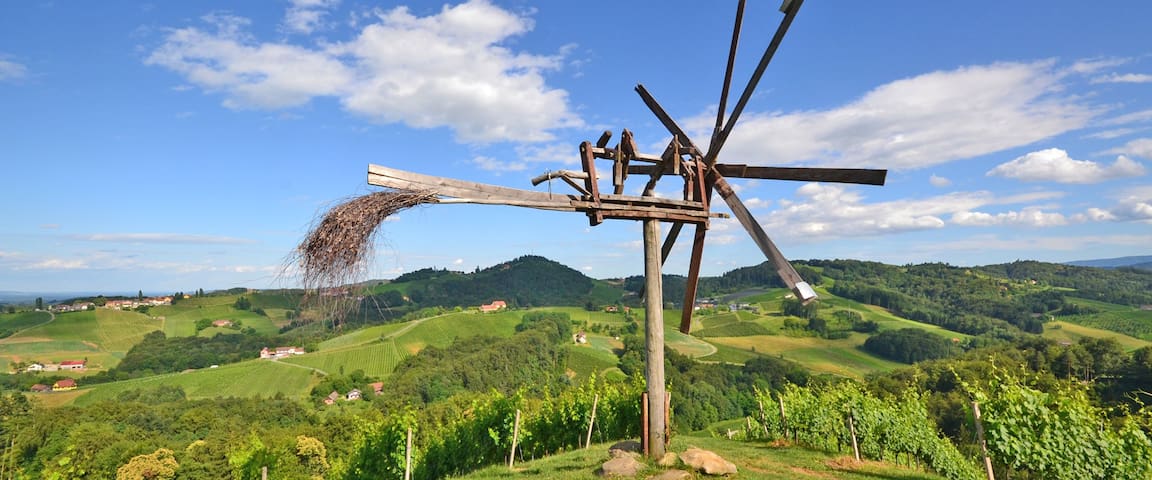 Gemütliches nettes Ferienhaus mit eigenenem Küchenblock .
Great host. All the best!
Samir
2016-09-24T00:00:00Z
Habe sozusagen "in letzter Sekunde" bei Agnes gebucht, aber alles ist perfekt gelaufen. Sie hat mich über die Schlüsselübergabe informiert, war zuvorkommend und hat mir einen sehr guten Parkplatz angeboten!
Filip
2017-01-26T00:00:00Z
Alles hat gut geklappt, wenn ich nochmal nach Graz komme, dann würde ich gerne bei Agnes wohnen.
Neetesh
2017-01-06T00:00:00Z
Es war werklich alles da Parkplatz vor der Tür 50 Meter weiter noch ein grosser öffentlicher in der Wohnung würde auch an alles gedacht vom Erste Hilfe Kasten Gewürze Kaffee Zucker frische handtücher selbst Shampoo fals man seines vergessen hatte bis zur S-Bahn geht man nur 5 Min
Bert
2016-10-27T00:00:00Z
Room Type
Habitación privada
---
Property Type
Apartment
---
Accommodates
3
---
Bedrooms
Feldkirchen bei Graz, Steiermark, Austria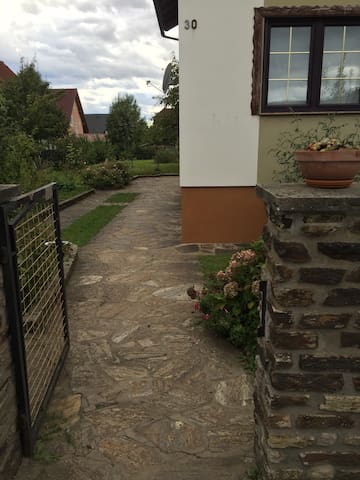 1

–

18

of

300+ Apartment Rentals
Enter dates to see full pricing. Additional fees apply. Taxes may be added.