Our Mini Camper is a relaxing option to explore Norway. The Volkswagen Caddy Maxi offers a larger and fixed bed (140 x 200) for two people, a fully equipped camping kitchen, wifi on board and a parking heater. You rent your apartment on wheels!
The Mini Camper is perfect for 2 persons exploring Lofoten and Northern Norway. You will book your rental car combined with a small cozy apartment. The camper is equipped with a camping kitchen with a 2-flame-gas stove, pots, pans, cookware, cleaning tools, dishes and cutlery. Also a 32 Liter refrigerator and a water container with sink. You will have a fixed and large bed for 2 people (140 cm x 200 cm). All cars are coming with a wifi router with internet access. A diesel parking heater heats the camper up in minutes and a large compartment under your bed will fit all your luggage. You can pick up the car at the Arctic Campers office in Leknes. Or we deliver the camper for you to the Leknes Airport (500 kr.) You can also drop off the camper at those locations for the same costs. We are also providing extras, just ask us and we will send you a list.
The Mini Camper Van is a fantastic way to experience the beautiful Lofoten Islands. The camper van is an amazingly designed space, well thought out and very comfortable. We had a fantastic four days and are already wishing we could go back!
Thomas
2016-07-26T00:00:00Z
The minicamper is a good way to see lofoten and enjoy the beautiful nature. It is well organizzed. we reccomend It!
Miryam & Lorenzo
2015-08-16T00:00:00Z
This is a good way to explore Lofoten. The sice of the veacle is realy good. The roads are somwhere wery narrow.
Wenche
2016-07-15T00:00:00Z
Tutto perfetto, il camper é la soluzione ottimale per visitare le Isole Lofoten. Campeggi e aree attrezzate molto diffuse. Henning ci ha fornito di tutto quello di cui abbiamo avuto bisogno. Perfetto!
Maurizio
2015-08-20T00:00:00Z
Room Type
Entire home/apt
---
Property Type
Camper/RV
---
Accommodates
2
---
Bedrooms
Ramberg, Nordland, Norway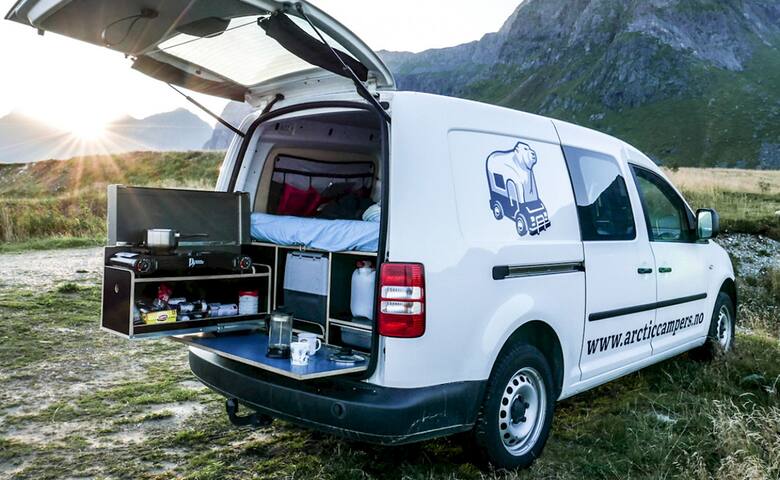 Hov Holiday Home is the perfect base for your enjoyment of Lofoten's diverse and beautiful natural surroundings, together with the historical and cultural attractions that the region has to offer. The local area offers a wide range of hiking opportunities in the mountains or along white sandy beaches, together with abundant bird life. There is good sea fishing from land or boats. Midnight Sun between May 25 and July 25.
Velustyrt og koselig hus meget sentralt i Lofoten. Ideelt utgangspunkt for besøk i hele Lofoten. Huset vender mot nord og man kan nyte midnattsol fra kjøkkenvinduet.
100 meter til hestegård (islandshester) og golfbane (400 meter)
Room Type
Entire home/apt
---
Property Type
House
---
Accommodates
7
---
Bedrooms
Vågan, Nordland, Norway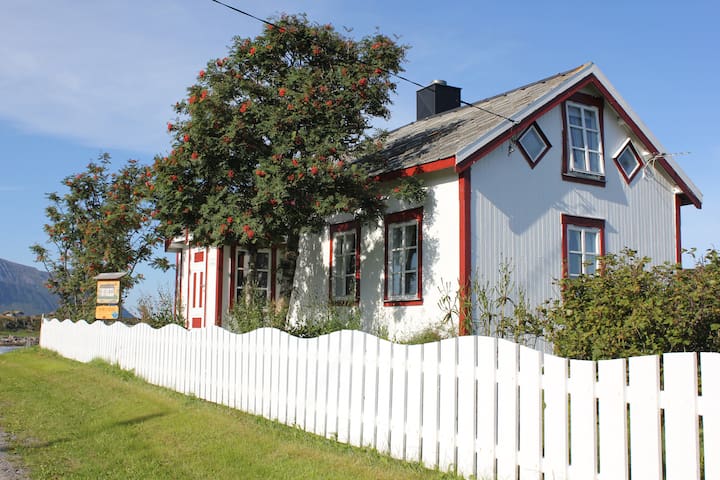 The house is close to Lofoten beautiful mountains with a short distance to the sea Here are plenty of opportunities for all kinds of activities. Valberg located in Lofoten and you can reach easily by car or bike further east and further west. Access to the house's common room.
15 km to the municipal center.
Olav was a great host having great hospitality and is really approachable. His place has a beautiful view that you can enjoy while taking the breakfast. We spent some time talking to him and we got a great time with interesting conversations. We were interested to rent a car and he drove us to the place and helped us out to book it. I relly recommend this place.
Miguel
2017-04-08T00:00:00Z
Great stay! Upstairs bedroom was private, quiet and simple. Shared bathroom and kitchen downstairs. It had everything we needed for a relaxing, convenient one night stay. Per Olav was a wonderful host. We enjoyed talking with and learning from him.
Sheriess
2017-03-27T00:00:00Z
Per is a very kind person and was very helpful for the night we stay there, has everything the necessary to have a pleasent night
Mario
2017-03-26T00:00:00Z
The place was nice and clean. Per Olav was a super host, relaxed and helpful. The whole prosess was really quick and easy. I would recommend staying at his place!
Arian
2017-04-09T00:00:00Z
Room Type
Habitación privada
---
Property Type
House
---
Accommodates
3
---
Bedrooms
Vestvågøy, Nordland, Norway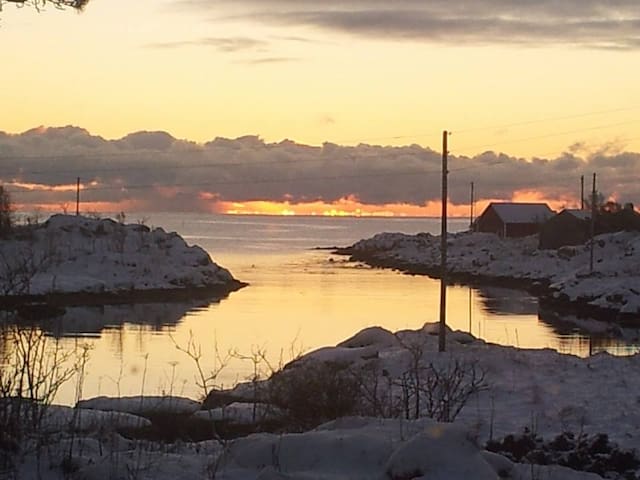 Wonderful views, hiking, climbing, able to see northern lights during winter time or the midnight sun during summer in the wonderful Lofoten Islands. You'll love my place because of the light, cozy space, the mountains, the sea, my dog, my cat and my chickens! My accommodation is good for couples and adventurers. FREE WIFI in all the house. Well connected to the Hurtigruten, buses from/to Leknes and to the Leknes Airport. We speak english. Vi snakker Norsk. Hablamos español. Parlem català.
The house is a old house from the 50' built by two neighbors. It makes it cozy and special. It's located in a very familiar and quiet neighborhood called Myklevik
As on the rest of the Lofoten Islands, Stamsund is surrounded by the ocean and the mountains. Is a nice start point to know them. And Stamsund is maybe the only place on earth with more theaters than bars! Right now there're 3 theaters, 1 bar and 1 restaurant :). We also recommend to visit the art galleries and photo galleries, specially Galeri 2 and Oona Photo Galeri, both near the Hurtigruten harbor. For activities in Lofoten, please, check (URL HIDDEN) . They have all the information about all kind of activities here, from hiking, to scuba diving, feeding the eagles or even watching northern lights while riding horses!
The hosts were really nice and gave us some great tips what to do! The place is very norwegian, comfortable and they have adorable pets!
Jule
2016-12-19T00:00:00Z
May and Alberto was an awesome host. As soon I stepped into their house I felt warm welcome. They are very friendly and helpful. Alberto looked after if it was possible to see the northern light from Stamsund during my stay. But they also recommended me places to see and restaurants to try out. In the morning we had breakfast together and had a nice chat. Last but not least their lovely dog Maco was amazing!
Nhi
2016-09-23T00:00:00Z
I stayed for two nights here and I loved it. The room was perfect and the hosts were super nice! However, the walking distance to Stamsund (supermarket/centre) was around 25/30 minutes, so that was a bit further than I thought (not really a problem if you have a car though). Furthermore, the surroundings were beautiful over there. So I would definitely recommend this place.
Manon
2016-10-09T00:00:00Z
I stayed for 3 days with my wife for our honeymoon. Alberto and May has been fantastic hosts, really made us feel at home and really accommodated all our needs. The room is cozy and had good lightings, love the fast internet. May also cooks breakfasts for us, which we always look forward too every morning! Alberto will make sure your stay there is safe, he will be checking the weather forecasts to make sure it's safe for hiking, and checks the forecast for northern lights to make sure you have a chance to see it. We were unlucky we didn't get to see one, but the amazing stay at Stamsund's Orange House compensated for everything. Would highly recommend your stay here :)
Lutfi Fadil
2016-09-17T00:00:00Z
The friendly family, comfortable house. It is a pity that because of the work could not talk longer. Everything was wonderful.
Alexander
2016-10-24T00:00:00Z
The stay by May & Alberto whas great I'm the first guest over Airbnb. There make a great job I filled my like home. The Haus is very charming and nice decorated and clean. We have nice chatting on the evenings.
Michael
2016-08-21T00:00:00Z
May and Alberto are two of the most welcoming people I've ever met. Even their pets were very sweet. The room itself was very charming, cozy, and clean. We were able to have full use of the kitchen to make dinner. Our last morning there, we were treated to muffins and fresh eggs from their chickens. But by far the best part of our stay were May and Alberto themselves. Their genuine kindness made us feel so at home.
Jessie
2017-03-23T00:00:00Z
We thoroughly enjoyed our stay at May & Alberto's beautiful little home!!! It was lovely getting to know the hosts and their pets they were so accomodating and welcoming. Their house was warm & cosy, it had everything we needed, it was perfect. Loved the high speed internet. Alberto was great with responding & had such a passion for the beauty of the islands. Being tour guides in the summer time they could offer information on anything you need to know & May has a thoughtful attention to detail. Awesome hikes and views in every direction. (They let us walk their dog) We loved Lofoten and hope to come back some day soon.
Hannah
2017-04-10T00:00:00Z
Room Type
Habitación privada
---
Property Type
House
---
Accommodates
2
---
Bedrooms
Vestvågøy, Nordland, Norway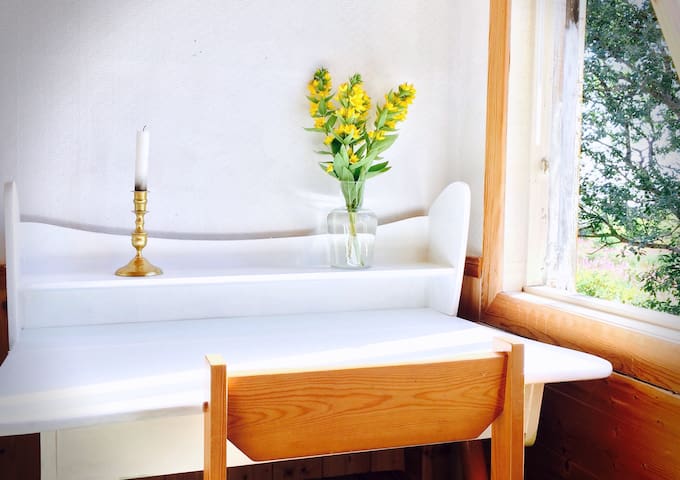 Renovated house from 1909, with sunshine almost all day. Closely Viking Museum, and 10 minutes driving distance to Unstad Beach, famous for surfing. 50 m to the bus stop. Parking. 12 km from the city center. Sunny porch. I have room for a third person in your party for 200 kr.
Old renovated house where the creaks in the stairs and small rooms but here is the large-heartedness. Have a room for an additional third person in your party for 200 kr.
Free, airy and rural. Sunny.
Amazing experience in all ways. She is lovely and helpful and even invited us to have some desert with her. Her dog is the cutest little thing, the views are awesome and the house really nice, clean and cosy. 10/10!
Laia
2017-02-17T00:00:00Z
Victoria is a wonderful host and we had such a great time during our stay! Her house is lovely and we felt like home! Everything's very clean and comfortable and we had everything we needed. Our rooms were great, the location is perfect to reach nearly everything on Lofoten and Victoria's dog is the cutest one on those islands :) Thank you, Victoria, for having us! We'll be back one day!
Franzi
2016-08-25T00:00:00Z
Our night at Victoria's place was really great. She was nice and welcoming. Beds were really comfortable and the dog was cute and friendly ! Really enjoy the night there !
Corentin
2016-06-15T00:00:00Z
Victoria is a very calm and kind-hearted person and she made everything to make our stay as pleasent as it could be! It's a very cosy warm place and Victoria and her lovely dog conny are very nice to have company with....
Nikolaus
2016-12-29T00:00:00Z
Stayed at her place for two nights. Great location, most attractions within reach with car, and parking at her lot. Tidy and clean accommodation, a nice and welcoming host with a lovely dog! No housenumber in the ad, but easy to recognize the house from the picture. No wifi, but there's signal ;)
Nelkeen
2016-07-31T00:00:00Z
Victoria's house is a sweet place to stay, it really feels like home. The house is located 10 minutes (drive) from Unstad beach, and it has plenty of space for drying your wetsuits and storing surfboards. (See the balcony in the picture.) Kitchen is great, shower is hot, bed is comfortable and everything in general works very well. Moreover, Victoria is a really friendly and easygoing person and it was a pleasure to spend some time in her company.
Mark
2016-10-20T00:00:00Z
Victoria is a perfect host. We stayed one week with her and in her house and had a great time. In the house was everything we needed. She offered us to use all the equipment, in the kitchen, bathroom or in the livingroom. We could use the washingmashine as well. The house is modern and everything is new. A great Thank you goes to the dog! This cute and nice dog gave us everytime a warm welcome in the house. We felt like home during our stay! Thank you very much and we will come back. This place is the perfect location to start daily trips to all the great hotspots on the Lofoten.
Mirco
2016-07-30T00:00:00Z
it is a pleasant stay with an easy going, helpful and friendly host ! thanks.
Carol
2016-09-11T00:00:00Z
Room Type
Habitación privada
---
Property Type
House
---
Accommodates
2
---
Bedrooms
Vestvågøy, Nordland, Norway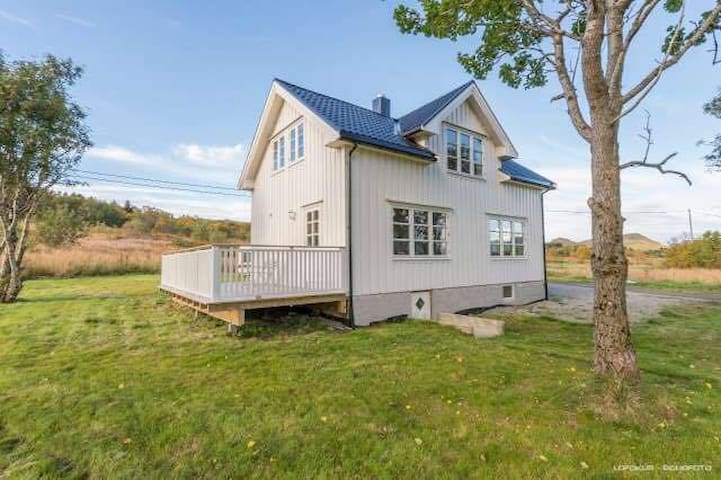 We are situated in the harbor of Stamsund. The hurtigrute (coastal steamer) is 250 meters away. Stamsund is in the middle of Lofoten and it is the perfect place to stay for exploring Lofoten. Steep stairs. Second hand car is for hire on the adress. Very safe area and no problem parking beside the house. Ask us before you order tickets/car. PS: Direct flight with Widerøe from Oslo Gardermoen to Leknes airport/Lofoten.
We have three single bed rooms and two with king size bed. We look forward to sharing our cozy and comfortable house with guests from around the world. Ask us before you book tickets and rental car. Please be aware that we can have available room even if the calendar says something else.
It is close to the coastal steamer and it is interesting to walk around in the harbour. Galleries and restaurant/pubs in the neighborhood. Local grocery is one minute walk away. (URL HIDDEN) (URL HIDDEN)
Kenneth and Angela's place was the perfect spot to spend my first couple of days on the islands. It's in a super-convenient location - right by the Hurtigruten port and close to a couple of convenience/grocery stores. My room was clean and comfy, and I enjoyed relaxing in the spacious lounge/study area. There's one shared bathroom, but I never had to wait for it. Kenneth was super responsive to all my emails and also helped set me up with a car rental, which made my life much easier. Overall, great value, especially if, like me, you're traveling solo.
Siham
2015-09-02T00:00:00Z
They were waiting for us and guided us to their house. Very warm couple. Communication with Angela was always great and helpful The location of the house is really good with grocery store nearby and stunning landscape just a few minutes walking. Was so good that we were considering to ask them for the possibility to stay again with them during our trip when we have already booked something else.
Pedro
2016-08-30T00:00:00Z
Just like I said before, everything is perfect,this is definitely what you expect for:)
Qingqing
2016-09-13T00:00:00Z
Lovely place. Grocery store and ferry terminal are both next door to their home. Short drive from Leknes. Angela was warm and hospitable and provided amenities above and beyond the essentials. Kenneth was informative and able to give us suggestions of towns to see in the area and scenic drives. Highly recommended!
Amber
2016-04-30T00:00:00Z
Thanks to Kenneth and Angela's hospitality, I had an excellent time in Stamsund! The house and room was even better than expected, very cosy and clean, almost like a hotel. Angela had prepared hot water for tea when I arrived which was very nice. Both of them are almost always available if you have questions. There's lots of space in the house, you can use the living room, the well-equipped kitchen, and the bathroom-facilities were currently renovated which seems to be a much better solution than before. The house is located just a few meters from the busstop which is very convenient. The view on the waterfront is fantastic! There's a supermarket and restaurant just around the corner. I felt very relaxed after those two days and can recommend this accomodation very much!
Sarah
2015-08-07T00:00:00Z
Close to the harbor, the house is very easy to find. It's a nice place to stay and to enjoy the area. The room was clean and the common parts roomy. Kenneth and his wife were also easily available for any questions or informations. They provided us good documentations that helped us for all our stay in Lofoten. I recommend this accomodation.
STEPHANIE
2016-08-18T00:00:00Z
Welcome
Kyle
2016-06-29T00:00:00Z
Had a great stay with Kenneth and Angela! Their home is seriously RIGHT around the corner from where the Hurtigruten stops in Stamsund. Their next door neighbor rents cars (400 NOK/day) and the grocery store is right around the corner as well. It is a fabulous location for these reasons. Kenneth and Angela welcomed us and helped us with various requests - they know a lot about the area and have suggestions for where to hike and what to see. The house is warm - the bed was very comfortable - we could see the northern lights from the window in our room! What more can you ask for?! :) It was great to get to know Kenneth and Angela as well as the other guests staying there while we were there. The kitchen and living room were great for cooking and making plans.
Elizabeth
2017-03-24T00:00:00Z
Room Type
Habitación privada
---
Property Type
Dorm
---
Accommodates
2
---
Bedrooms
Stamsund, Nordland, Norway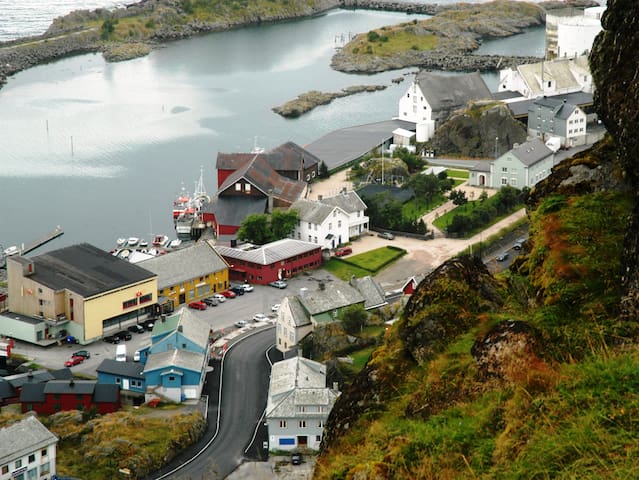 A charming and spacious apartment that can be your relaxing home, as you will dispose entirely for yourselves. Perfectly situated in the middle of Lofoten, with easily accessible to explore spectacular scenery and exciting attractions. It is about one hour driving to Å at west, and to Svolvær at east. Also situated in walking distance to Leknes center. Welcome :)
60 sq.m with separate entrance, comfortable heated floors and modern amenities mixed with charming vintage decor. It contains two spacious, pleasant rooms, where each room have comfortable double beds with down comforters, satin sheets and handknitted bedspreads. One of the beds, if desired, can be divided into two single beds. The biggest room have a nice sofa group and a 42 " TV, and the other room consist a smaller lounge. You will also have a kitchen with cozy dining area, a large bathroom with great shower zone, and a hallway with space for outdoor clothes and shoes.
The flat is in the ground floor of a detached house, situated peacefully at the edge of a quiet neighborhood. There is a 5 minute walk to a well-stocked grocery store, and 12 minutes walk to the center of Leknes, which is the commercial center in Lofoten.
The location is just perfect. Away from main road so the house is quiet. Some hundreds meters away from a supermarket Rema 1000, which is really convenient to buy everything you need. Heidi is very helpful and reply really fast. The house is large with two bedrooms and one kitchen. Everything is very clean. I'll come again next time visiting Lofoten.
Nan
2016-12-31T00:00:00Z
Heidi is amazing host. We had nice and easy communication. Good value for the money. We will be back definitely
Konsing Group
2016-10-04T00:00:00Z
Very Nice room and very Nice host ! Thanks for all Heidi
Alexia
2016-09-15T00:00:00Z
This place is recommended. Nice and clean. Very nice and helpful host. And instead: Lofoten is the most beautiful spots in Norway. Apartment location is right in the center of Lofoten, nestled at Leknes - there you have everything needed.
Christian
2016-10-12T00:00:00Z
Lovely lady and the place is nice. I would recommend staying here. She even help us with a hike and researched booking the ferry for us
Andrew
2016-10-10T00:00:00Z
The house is wonderful !! really nice and big! Heidi is a really nice host. It was really easy to communicate with her. I strongly recommend to stay there, you will not have any regrets.
Antoine
2016-10-08T00:00:00Z
Heidi and Svenn are great hosts. They welcomed us very kind and gave us good tips on the Lofoten. The acommandation was like described and we had everything we needed also for a long stay. Leknes is perfect to explore the Lofoten and see the northern lights. We would love to come back and stay here again. We enjoyed it very much!
Mark
2017-03-10T00:00:00Z
Great apartment with excellent decoration. Heidi is so kind that she helped us a lot on each part of our travel. A little bit weakness is just the Wi-Fi signal is not strong enough,but it's fine to use.
Yifan
2016-12-21T00:00:00Z
Room Type
Entire home/apt
---
Property Type
House
---
Accommodates
4
---
Bedrooms
Leknes, Nordland, Norway
From the apartment it`s walking distance to Leknes centrum. You find everything you need , like banks,post office supermarkets. It`s close to the airport and bus station. You have your own parking place outside the apartment. Me and my wife live in the same house upstairs. But you have your own private entry downstairs. One bedroom with a double bed, and in the living room there is a settee (sleeping sofa ) wifi and kabel tv. pets are welcome to stay .
The location it`s a good start to explore the island. In the summer time you have the midnight sun, In the winter time you have the northern light. It`s easy to get round to see the attraction Because the location of the apartment.
This is a quiet aria , but it`s close to coffee shops and restaurants . Walking distance 10-15 min and you are in the centrum.
Roffe is absolutely the perfect host! He helped me and Roberto to find a lot of solutions for our trip because of bad weather in Leknes in these days.. and we decided to stay one day more.. the house is really nice and well equipped.. we also cooked something and the kitchen is really big!Thank you so much Roffe! You are the perfect host! :) see you in Italy
katy
2016-12-28T00:00:00Z
Lovely place, very clean and well equipped. Perfect!
Sara
2017-01-02T00:00:00Z
A perfect home to spend a couple of days over the holiday. Roffe is very helpful with communicating and helping us get around. We are grateful!
Kiki
2016-12-26T00:00:00Z
It was our first Airbnb, but Roffe's place was so perfect than we expected. Everything you need was prepared and I loved the cozy atmosphere there:) We couldn't ask for better. The place is a little distanced from the Leknes bus station but Rodfe offered to pick us up! It was so nice of him. We thanked a lot because we had huge luggage. The supermarket was walking distance. I highly recommend to stay Roff's!
Haruka
2016-08-25T00:00:00Z
Roffe is a wonderful host. Very kind, friendly and communicative. Had a great stay there. If you're looking for an affordable, comfortable apartment in one of the most beautiful places in Europe, this is your pick!
Bas
2016-07-08T00:00:00Z
Roffe was really nice and welcoming. His place is really cozy and convenient. Highly recommended!
Daniel
2016-09-09T00:00:00Z
Great host with a really charming apartment. Roffe is very helpful and friendly. thanks for letting us stay at ur place!
Ronny
2017-02-24T00:00:00Z
Warm host, great house! What else do you need?
Furkan
2017-03-14T00:00:00Z
Room Type
Entire home/apt
---
Property Type
House
---
Accommodates
4
---
Bedrooms
Vestvågøy, Nordland, Norway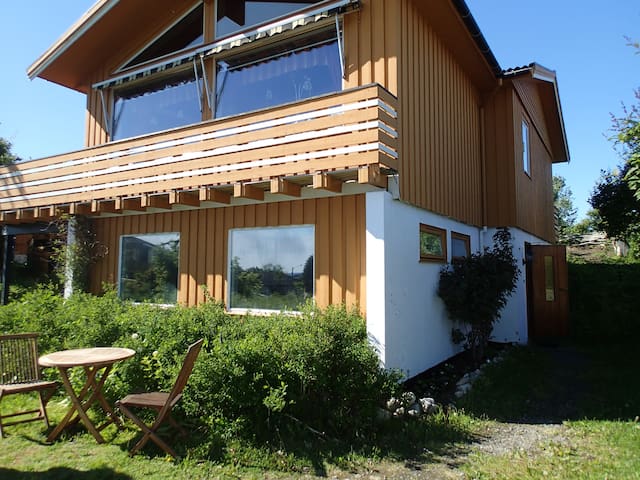 Comfortable and well equipped cottage in beautiful and peaceful surroundings. The cottage is located close to the sea. Here you can relax and enjoy the view, go hiking or try your luck fishing. Excellent as a base for trips around the Lofoten. Approximately 10 km to the trade Leknes and 4 km to Bethesda.
This place is great for a getaway right on the shoreline. It was very cozy and welcoming. 10/10
Zach
2016-09-26T00:00:00Z
We stayed 4 days in Nora house...was much too short! I put 5 stars to qualify our stay there but it was rather 10 stars!! Nora was very kind with us and very arranging. Her house is just beautiful really cosy confortable and well equipped! The location is no less than fantastic..we will never find another place like this (URL HIDDEN) we will come back there...thank you so much Nora for renting your house!!!
eliane
2017-03-07T00:00:00Z
What a view! Nora's cabin is absolutely beautiful and no matter which way you look out from the deck of this quaint cabin, there's something unique you'll find in each glance at the surrounding landscape. I was visiting Lofoten during the first week of November, and I was happy to find that this cabin was warm and cozy, just as the pictures illustrate. Everything about this place felt authentic to the feel and look of Lofoten, and I was so glad Nora allowed me to stay with her because I felt at home and a bit like a local--waking up to this incredible view of the mountains each morning and enjoying a cup of coffee on the deck with a slice of toast and lox. One night, I even saw the Northern Lights from the deck, twisting above the mountains--again, absolutely incredible. Nora's a wonderful host. And this cabin was the best place to serve as home base for traveling all throughout Lofoten. It's only a couple of minutes from other local shops, neighboring cities, and perfectly situated in all of Lofoten.
Rachel
2016-11-04T00:00:00Z
Very nice house. Nora is a lovely person, available and friendly. Nothing to say just enjoy your trip in Lofoten Island.
Carole
2016-08-20T00:00:00Z
Me and my friends had a wonderfull stay at Noras cabin. It's superbly located, with breathtaking views from the terrace so you dont have to go anywhere else to spot the Northern Lights. The cabin is cozy and has a very nice atmosphere. It's a great place if you want to relax and get away from the city. You dont have to go far to enjoy the beauty of the Lofoten. Nora was a very helpfull and kind host. Absolutly recomended! :)
Mateusz
2017-01-05T00:00:00Z
Together with my girlfriend I had a really wonderful time in Gravdal and our stay in Noras house was absolutely perfect. The house is clean and really well equipped with comfortable beds, kitchen with dishwasher and a beautiful living room with a large dining table. Noras mother was there when we arrived and prepared everything for our stay. The house and it was easy to find by car. Next supermarket is about 5 km away and there are a lot of hiking possibilities in the area around the house. The wonderful huge veranda with a breathtaking view over the fjord is really a highlight! Once again thank you for the great time, Nora!
Rainer
2017-03-13T00:00:00Z
This is the sweetest BnB! It was unbelievably cozy and had a beautiful view. It's perfectly located if you'd like to explore the islands because Gravdal is right in the middle. Nora was wonderful & super helpful :) Would definitely recommend!
Ellen
2017-01-19T00:00:00Z
Excellent cabin- functional and great location. Would recommend to friends, and would stay again. Had a great time.
Phillipa
2017-02-19T00:00:00Z
Room Type
Entire home/apt
---
Property Type
Cabin
---
Accommodates
6
---
Bedrooms
Gravdal, Nordland, Norway
Cottage - rorbu style. Well equipped. Superb view. Big tide area for walking. Perfect for relaxing, birdwatching, and as a base for exploring Lofoten. WiFi, bedsheets and towels included. Small boat available.
The cottage, Bua, built in 1987, in original fishermen cottage style, is well taken care of. Close to the sea/tide area, on the ground of a little farm, where the hosts are staying, and are available for their guests. From the terrace you can watch the sea coming slowly, staying – and leaving slowly - (twice during 24 hours). Fantastic view! An excellent place for birdwatching! Or enjoy the view from south - west and north. From middle of may to middle of august: daylight all night through. The big tide area invites you for slow walking; getting relaxed, recovered, inspired - for drawing, painting, taking photos, fairytales, new challenges , - or to just feel the surroundings by using your senses - . When the weather invites to a sea trip, it is a small boat and some equipment available, and you can go fishing, or - visiting a beach – close to historical ground – just across the small fjord. (can see the beach from the terrace). The host`s husband is a biolog, with great interest for plants and birds, willingly to answer any questions you may have. The hosts background was to deal with horses for different purposes. The surroundings of the cottage, including the farm, are very suitable for children. All photos are from the immediate surroundings of the cottage – the very best tide area of Lofoten! Close to mountain area for walking or skiing. Inside the cottage you will find one bedroom with four beds. There are two comfortable mattresses (made into a double/ or separate) - on top of the bedroom (the "hems"), and sleeping space/hems for two in the living room, as well. But we do not want more than 4 people stay at the time in the cottage, this for your own comfort. In the living room there is an oven for wood heating (and some wood), in addition to electric heating. There is one small bathroom with a shower. On the terrace there is a barbecue, (not wintertime). And, of course, most of what you need for a household. Free WiFi. The tap water is really good. In Norway we usually drink the water coming from the tap. So the tap water in the cottage, is better than water on bottles. No pets allowed. The after check out–cleaning is included in the price, so are towels and bedsheets, but we will very much appreciate, that you leave the cottage nice and tidy. The rent depends on the amount of guests (1)2-4). Wir sprechen auch ein bischen Deutsch. Velkommen til Lofoten :)! Willkommen nach Lofoten :)! Welcome to Lofoten :)! Bienvenue à Lofoten :)! Distances from Bua/the cottage: to Leknes airport: about 5 km to town center Leknes: 4 km to ferry Stamsund - Bodø, ((URL HIDDEN) ca 15 km to ferry Moskenes - Bodø, ca 60 km From Leknes to Å (the end of E 10): 70 km From Leknes to Svolvær: 70 km
The tide area, and every day a new experience. The spectacular view to the mountains westward in Lofoten. Afternoon- and evening- sun on the west -facing part of the terrace. Close to nice mountain-walks and skiing. Gangavstand til fine fjellturer.
This is a beautiful, private site, on the side of an inlet bay. The cottage is spacious and well thought out. The kitchen is well equipped with everything we needed to stay in and cook, or have a BBQ on the deck. We found it to be very comfortable and relaxing. It's location outside of Leknes provide a wonderful starting point to explore the Lofoten islands. The are fun placed to eat in town. Books found in the cottage gave us great hiking information for the nearby mountains. Reidun is a gracious host who was there to greet us and introduce us to the property. She was very happy to answer any questions and made us feel welcome. We look forward to the time when we can come back again!
Bob
2015-09-01T00:00:00Z
Reidun and her family are some of the most thoughtful and considerate people we have ever met. We were picked up at the ferry port and invited to join them for dinner - a complete feast of their own catch and vegetables...Wonderful company and interesting to hear about their experiences. The cottage itself was amazing and the views stunning...We can't think of anything that you could possibly need that was not provided. Reidun had even text us a few days before arriving to see if we wanted her to buy wine for us as the wine store was going to shut over the Easter break, the fridge was also pre-stocked with some goodies to see us through...Everything was over and above our expectations, so relaxing and our only regret was we couldn't stay longer. The Islands are so beautiful and we did manage to drag ourselves out of the cottage to travel around. With the central location of the cottage, it's remote feel but easy access to Leknes, it was simply perfect!
Rebecca
2016-03-30T00:00:00Z
Reidun's cottage was our favourite place to stay on our honeymoon - private and very beautiful but also close to everything you need. The cottage itself is very warm and cosy and Reidun had very kindly left a fridge full of breakfast and fresh bread. Reidun was always around to ask questions if we needed it and also lent us their bikes and rowing boat. I can't recommend Reidun and her cottage enough - best place in Lofoten!
Rebecca
2015-06-19T00:00:00Z
It was perfect, what a lovely place to be. If you are looking for the perfect homebase for your stay on the Lofoten, this is it. Perfectly embedded in the heart of Lofoten, calm, near the "city" of Leknes. Raidun is the perfect host. We will come back for shure.
Pascal
2016-06-16T00:00:00Z
We had a very pleasant stay at Reidun's cottage. Reidun ensured us a warm welcome and she had also filled the fridge with a lot of local delights, plus home made bread and jam. The cottage is located in the most beautiful place we have ever had a chance to stay. Everything is quiet over there, there are many birds that can be watched directly from your window. There are even binoculars available! The cottage is very convenient and was totally clean. The atmosphere is warm and peaceful. And all this only a few minutes drive from Leknes where all kind of shops are available. We can warmly recommend this place and we would like to thank Reidun once again for having made this discovery possible.
Agnès
2016-06-23T00:00:00Z
Our stay at Reidun & Johan's cottage was amazing! The cottage is in the middle of a dreamlike landscape, in a very quiet place. Every morning you wake up to see the mountains surrounding the fjord of Leknes... Magic. And that would be perfect enough, but Reidun and Johan are also perfect guests! They made sure we had a good time in the Lofoten islands, and payed attention to the tiniest detail. That made this place really welcoming :-) I would come again without an hesitation ! Cheers and see you Reidun & Johan, Marc
Marc
2015-03-31T00:00:00Z
I liked the cottage the first time I saw the Pictures on airbnb. But in reality it topped all my expectations. It´s so a beautiful house, very clean, everything you need you can find there. Although it was quite cold outside, it was warm and comfty in the house. Leknes was a good Position to start many different trips - to Reine and A, to Henningsvaer, to Haukland and Utakleiv Beach (very recommendable), to the Viking Museum,... and then come back to this wonderful house, sitting in or in front of the house, watching the tides. Reidun and her husband were very friendly, even offered us some homemade bread, butter, milk etc when we arrived on sunday at the cottage. Also they gave us good tips about what to do in the surrounding. Thank you so much for sharing this beautiful place with us! We´d like to come back any time.
Andrea
2016-09-05T00:00:00Z
Reidun was the perfect host, and the cottage was absolutely lovely! Where to begin? Reidun was so thoughtful and friendly to communicate with even before my arrival--and the cottage was a dream come true, cozy and spotless, with countless kind touches (a fridge full of food!) The view was superb from the deck, and the location is the BEST in the islands, with excellent hiking very nearby and the convenience of a good shopping town, although the cottage is as private and secluded as could be. This was one of the most beautiful places I've ever stayed, and Reidun and her wonderful family made it a terrific week. Topped off by the Northern Lights on my last night! Thank you Reidun and Johan for this little piece of paradise, and all your warm hospitality!
Melita
2015-09-25T00:00:00Z
Room Type
Entire home/apt
---
Property Type
Cabin
---
Accommodates
4
---
Bedrooms
Leknes, Nordland, Norway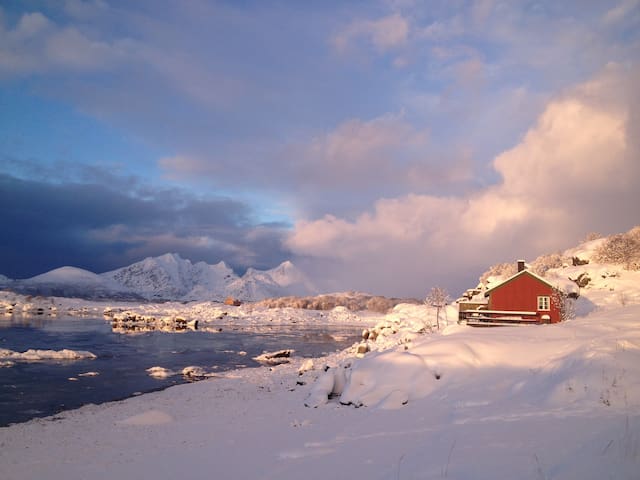 Terasse beliggende på påler ut i vannet. Fin hems med 2 madrasser, i tillegg til soverommene. Koselig innredet stue og godt utstyrt kjøkken med kaffetrakter, mikroovn, oppvaskmaskin. Vaskemaskin på badet. Flott turterreng i umiddelbar nærhet. Fiskemulighet på stedet: leie av proffe fiskebåter mulig ved ledighet.
The best place to stay on the Lofoten! The cabin was amazing, we even were lucky enough to see northern lights directly from the terrace. Lise was a very nice host and easy to communicate with. :)
Philip
2016-09-12T00:00:00Z
Good location and fully equipped rorbu
Hsi En
2017-02-16T00:00:00Z
Wonderful stay in Lise's rorbu :)
Marie
2017-04-10T00:00:00Z
This cottage is very charming, the view is so beautiful and the place is very comfortable ! I highly recommend it !
Camille
2017-03-28T00:00:00Z
The house is pretty nice and lise is easy to Talk with even in spontanious Situations. Really nice and helpful.
Robert
2017-03-14T00:00:00Z
Perfect stay! Lise's rorbu has everything that's needed. Not just the kitchen, also the whole rorbu is well equipped. Whenever we had questions Lise just answered them within a short time. We saw many beautiful northern lights from the living room and terrace. It' a place to relax and feel home!
Bianca
2017-03-23T00:00:00Z
This rorbu is beautiful and the views are just gorgeous. The location is pretty perfect: 15 minutes to Leknes where the airport and big grocery stores and such are, near the Lofotr Viking Museum and some great beaches (including Uttakleiv, where you can get a great view of the midnight sun and also labeled the most romantic beach in Europe by The Times), and right in the middle of the Lofoten Islands so it's within about an hour and a half if everything (and stunning drives all along the way!). Just enough utensils and such on-hand that we were able to cook some good meals there. One thing to note is that there is NO TV even though it shows one in the pictures. Everything else is basically exactly as shown. There is a washer which made things very nice as we had a lot of dirty clothes by this point in our trip! Lise was also extremely accommodating with our circumstances—I broke my ankle while we were hiking in the mountains and we had to stay in Lofoten longer than planned while I was getting surgery and recovering in the hospital, and she was able to rearrange when some workers were coming to the rorbu so that we could stay longer. This meant a lot during a very difficult time. She was very pleasant to work with in all our interactions. Thank you!!! 3
Kaela
2016-06-14T00:00:00Z
This stay was amazing! The communication with Lise was easy and fast and we were fully satisfied with all. The Cottage has a beautiful view and a great Location to do several hiks. We didn't want to leave this place, because it was so great!
Lena
2016-10-19T00:00:00Z
Room Type
Entire home/apt
---
Property Type
Cabin
---
Accommodates
6
---
Bedrooms
Leknes, Nordland, Norway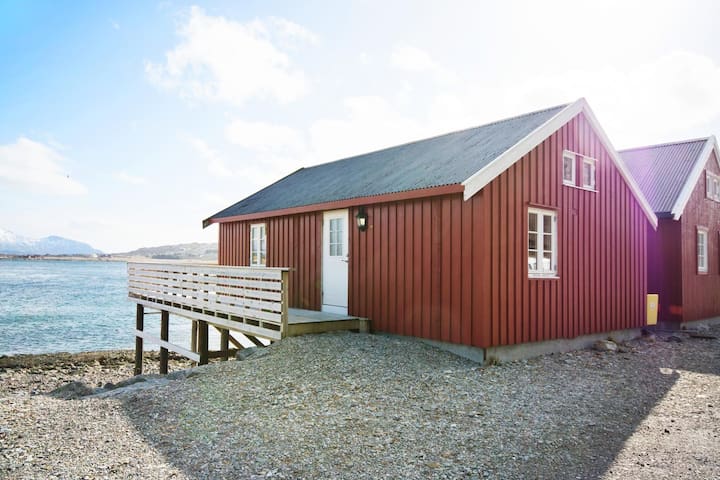 A small outbuilding with a private bathroom and kitchenette. Wood burning stove and two beds. Ocean and beach access / ebb. 10 min driving distance from Leknes airport. 15 min driving distance to Stamsund with Hurtigruten. Quiet location.
A small outbuilding for 2 adults and a child with great location.
Closely Leknes and geographical center in Lofoten. 15 min from Stamsund with Hurtigruten run and 10 min from Leknes airport
Room Type
Entire home/apt
---
Property Type
House
---
Accommodates
2
---
Bedrooms
Leknes , Nordland, Norway
Flott, velholdt og idyllisk bestmorhus midt i Lofoten, ved havet. Et sted for folk som vil ha sitt eget sted, med stor plen og platting. Kai og flytebrygge. Barnevennlig med sandkasse, lekestativ og på sommeren trampoline.
Huset ligger veldig idyllisk til i et privat område. Frodig hage. Barnevennlig. Vi samarbeider med to hus som ligger rett ved. På den måte kan vi huse grupper på 20 personer (16 senger). Eller 23, hvis de er veldig gode venner.
Sparsommelig bebygget.
Amazing and cosy house and the hosts are so nice, polite and friendly. This was our first experience with airbnb and it couldn't be better. I fully recommend!
Jakub
2017-03-05T00:00:00Z
We had a wonderful time at this house by the fjord. The location is perfect to explore Lofoten. Elin had prepared everything for our baby (crib, chair, bathtube and even changing mat). The house is really charming and it has an authentic and warm atmosphere. We highly recommend staying at this place.
Isabelle
2015-04-01T00:00:00Z
The place was lovely. It was very cozy and the area was very peaceful. We had everything we needed and Elin and Hans was very responsive to anything we asked them. Thank you for a wonderful stay!
Luna
2016-09-21T00:00:00Z
We had a great stay at the cabin of Hans and Elin. Everything we needed was there: well equipped kitchen (even with coffee, salt, woods for the chimney, fruits etc.), enough space for everyone and comfortable beds. The surrounding was amazing as the cabin is located directly at the sea without any noise or annoying neighbours. Since we had problems with the WiFi, ten minutes after writing Elin she called us (from the US!) and delivered a solution to our problem - perfect service! We absolutely enjoyed our stay and we were really fascinated by the beautiful landscape at the Lofoten. Thank you very much, Hans and Elin!
Dariush
2015-11-02T00:00:00Z
We are coming from Shanghai and stayed here for 3 days. Well, we prefer to stay here forever. :-) it is a really fantastic house, well-equipped and nicely-furnitured. The view is amazing. Elin also prepared us all kinds of cooking utensils and sweet fruits. This is a house with long history, decorated with cute and charming stuff which makes us feel really at home. We met Hans, Elin's husband, a cool and nice guy. Neighbors here are sweet too. It is really worth coming and staying here!! And we'll definitely come back again.
wang
2015-08-27T00:00:00Z
Shortly after we arrived Hans greeted us at the home and made us all feel very welcome! The home was perfect and exactly as advertised, the surrounding area is beautiful as well. I can't think of a single complaint about the location or our hosts as they were great!
Ryan
2015-11-09T00:00:00Z
The House is in beautiful nature, Elin and Hans are available and very friendly. They have a lot of equipment one can use, such as bikes and kanou or rowing boat, which is nice. There is also a BBQ grill on the terrasse. You do need a car out here. It was expensive for us, but I compared with other places, they are the same. Norway is in general a bit pricey. I can only recommend this place when you are in the area.
Kris
2016-08-05T00:00:00Z
We had a wonderful time in Elin and Hans house at the sea. They were very kind and helpful. We got a warm welcome and best recommendations. The house has everything you need in offer. We really would love to come back! :)
Laura
2017-03-27T00:00:00Z
Room Type
Entire home/apt
---
Property Type
House
---
Accommodates
5
---
Bedrooms
Leknes, Nordland, Norway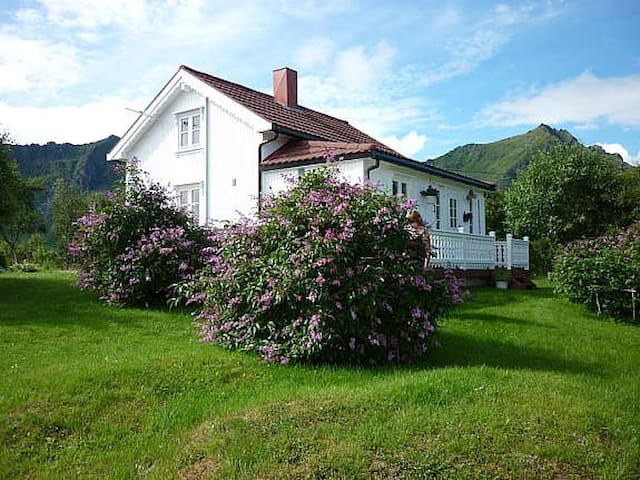 My place is close to the beach and family-friendly activities. My place is good for couples, solo adventurers, families (with kids), and big groups.
This a fantastic place for both achieving peace and relaxation, and a perfect base for activities. There is midnight sun view (end of May-mid July) and 40 meters to a private beach. The land is 15 decar. There are country side qualities with neighboursing horses and sheep, wild mountain hiking, trout lakes, and the ocean with small islands just outside. Leknes is 20 km, Lofotr Viking museum, main road E10 and Bøstad with supermarket are 6 km. And famous Eggum is 3 km. There are 2 kayakks and 2 bicycles to borrow. Enjoy! :)
Look no further - you've found your Accomodation! This house was great. Amazing views, beautiful location and close to the best sights in the Lofotens. We stayed for 4 nights and were lucky enough to be outside watching the northern lights on our own private beach and then inside in front of the cosy Woodburner. Margrethe was a great help before we arrived and during our stay and I can honestly whole heartedly recommend staying here. It's a brilliant house in a gorgeous place with a helpful host.... What more could you possibly ask for.
Kevin
2016-10-04T00:00:00Z
Great stay at Margareth's house in Eggum. Superb location with beach and midnight sun. House provided with all basics, including kids toys! Margareth was in touch with additional info and making sure all was fine.
Eveline
2016-07-13T00:00:00Z
The charm of Lofoten ! House perfectly located , nice , with beautiful openings to the outside for great view . A country look !
Alban
2016-08-15T00:00:00Z
Cool house and great location. Margrethe is communicative and very helpful.
Carl
2016-08-27T00:00:00Z
We loved the quaint old farmhouse and all of the amenities. Finding the correct bed linens and towels took some sorting out. We loved the Horse neighbor across the road who loves carrots! Such a beautiful area and we really loved the peace and quiet.
Jan
2016-08-17T00:00:00Z
Cute cabin on the beach. Wonderful views of the water and mountains. Extremely clean and cozy. Margrethe communicated so well with me before and during the trip. I had lots of questions, and she guided me as I planned our trip. She is extremely friendly and easy to work with. I look forward to coming back in the future. We got to do everything we wanted to do (see the Northern Lights, go fishing, the aquarium, and the Viking Museum). Thank you for a wonderful first Ari B&B experience!
Rayshell
2017-04-04T00:00:00Z
Wir waren für eine Woche in diesem gemütlichen Haus und es war super! Es war alles da, was man brauchte, der eigene Strand ist total schön und ab und zu kamen uns sogar ein paar Schafe besuchen. Wir konnten vom Haus aus zwei mal Nordlichter sehen. Vielen Dank, Margrethe!
Lisa
2016-09-26T00:00:00Z
Flott beliggenhet på hytta! Helt supert å få låne kajakkene og syklene. Fikk gode tips om hvor vi kunne sykle og padle. Stranden er kjempefin med masse små skjell. Perfekt for barnefamilier. Standaren på hytten er enkel, men hadde det vi trengte. Anbefales!
Åshild
2016-08-01T00:00:00Z
Room Type
Entire home/apt
---
Property Type
House
---
Accommodates
8
---
Bedrooms
Vestvågøy, Nordland, Norway
Renovated house with very good standard situated on a private peninsula with amazing views in all directions. In the middle of Lofoten. 15 minutes by car from Leknes airport. Perfect for families and small groups seeking adventures, all year round
NO EXTRA CHARGE FOR CHILDREN THE HOUSE: Ground floor ; Entrance hall; Bathroom; Spacious kitchen and living room with big windows facing out to the sea and a door leading out to one of the 3 verandas in the house. Radiant (waterborne) heating in the floor 1st floor/attic: 1 room with kingsize bed, big (28m2) living room/sleeping area with 3 single beds, windows facing out to the sea and a door leading out to a veranda with roof, loft room (hems) with a double bed. Small beds for children available Grocery store: 6-7 min by car, drive to E10 , turn left towards Svolvaer, after around 800-meters, the shop is on your lefthand side, SPAR BORG, it has all the things you usually need, the other option is Leknes 15 min away Activities Summer: Relaxing and enjoying the view Kayak: 2-person fishing kayak available for guests Hiking ; Endless and fantastic opportunities, every level Midnight sun; When the skies are clear…. Surfing; 5 min from Unstad, the best surf beach in Lofoten. My friends Line and Kristian are running the worlds northernmost surfshop and rental. Courses are available. Every level. Fishing: Salt and freshwater, ask for info; Boats are available for hire nearby; ask for info (subject to availability) Traditional fishing boat available for hire with an experienced captain; ask for info; trips are subject to availability and weather Viking museum: 8-10 min by car. Copy of the the largest Viking house ever found. (URL HIDDEN) Festivals: Among others; Classical: Lofoten International Chamber Music Festival and Piano Festival ((URL HIDDEN) ) Art Galleries Diving Berry picking ( autumn ) Climbing ( Henningsvær 50 min; Eggum 15-20 min ) Horse riding +++ Winter: Northern lights /Aurora borealis (Autumn/winter ; Sept-March , the house is in a perfect location) Backcountry/Off-Piste/Randone; Endless and fantastic opportunities, weather permitting….. Every level (we can provide trip info for skiers/snowboarders with mountain experience, for others we strongly recommend guided tours, ask for info) Surfing; 5 min from Unstad, the best surf beach in Lofoten. Ask your II contact/host Line for information. Line is together with her husband running the worlds northernmost surfshop and rental. Courses are available. Every level. If you are an experienced surfer, September-April is the time to visit. Fishing: Lofoten fishing(skrei/cod) is from January to April; ask for info ! Hunting: ( autumn ) small game, ask for info. Its more about the scenery and the trip, than the catch. Ask for info. Museums and Art galleries Whale Safari Mountain ski walking(fjellski) trips: Alstad- Hagskaret is a fantastic trip, ask for info Cross country +++
We spent five wonderful days at this house. The views are spectacular, the kitchen very well equipped and the beds comfy. Vladimir was a very attentive yet unobtrusive host who provided us with loads of useful information about hiking in the area. Would definitely come again.
Michelle
2016-08-01T00:00:00Z
Beautiful location, very private.
chris
2017-03-07T00:00:00Z
This place is beautiful! Has everything you need to be comfortable after a long trip. The views are more than breathtaking! We were very lucky to have seen the northern lights dance, in the sky, over the house. Vlad was very responsive to all of our questions. He email and called to answer our questions in such a timely manner. He was nice and a real super host. Overall, we had a wonderful stay and wish we had stayed longer.
Carolyn
2016-10-24T00:00:00Z
If we could give a 10 we did it! Fantastic house with well equipped kitchen, nice view and a quiet location. We had a really nice stay and could recommend this place to everybody! The host was really helpful and give good information about the area. We loved the hikes in the mountains!
Edo
2017-02-18T00:00:00Z
Vlad's house is stunning. It is right on the water edge and offers beautiful 180 degree views from the porch - whether it is a crisp early morning, a delightful sunset or even a stormy afternoon, you can really appreciate all that Norway has to offer from his place . The interior was the perfect melange of wood, white, and cozy. We would highly, highly recommend this place to anyone that wishes to travel to Lofoten, it was the highlight of our stay.
Virimchi
2016-09-22T00:00:00Z
The house has a fantastic location with views that made us never want to leave. The location of the house on Lofoten itself is also great and we didn't have to drive very far to be able to enjoy great mountain or coastal walks and it is even close to the Viking museum which is definitely worth a visit. Vladimir is a reliable and friendly host, very quick to reply to questions and even gave us tips on good walks and beaches. The house had everything that a family needs and has what we consider the most important things: very comfortable beds and nice duvets, a really well equipped kitchen in great and modern condition and a bathroom complete with a massage shower! Great floor heating and fabulous newly built terrace to enjoy the midnight sun on. Our family was very happy during our 11 day stay here and we would love to come back. We could recommend it to anyone!
Johannes
2016-07-05T00:00:00Z
We had five wonderful days at Tangstad. The location is amazing, the same can be said about the house. The host, Vladimir, is also a great guy! Very helpful and service minded. Hopefully we'll be able to re-visit.
Erik
2016-07-10T00:00:00Z
We stayed in this piece of paradise for 8 days. Vladimir was the best and did everything to make our stay a wonderful experience. Weeks in advance he was very helpful with directions for great hikes and all kinds of ideas to make the most out of our trip to Lofoten. Once there, Vladimir made sure our way to the house went smoothly and that we had everything we needed on arrival and during our stay. The location of this house is amazing, very private. The terrace is nice to be no matter what time of the day and just be amazed by the stunning view. Inside it's comfortable and spacious, very well equipped kitchen, nice audio system, great beds and very clean. And then even from inside the house there always the view which didn't stop to impress us the whole time. Although we were just the two of us, the house would also be very nice for a family with children, lot's of space inside and outside. Lofoten as a destination is the great. It was our first time and even with 30 years of traveling experience this comes very close to the top of the list. Magnificent nature and super friendly, hospitable people. We went hiking, kayaking, horseback riding on the beach and not to forget the midnight sun experience is incomparable to anything. Real Bucket list stuff!
Linda
2016-07-19T00:00:00Z
Room Type
Entire home/apt
---
Property Type
House
---
Accommodates
7
---
Bedrooms
Vestvågøy, Nordland, Norway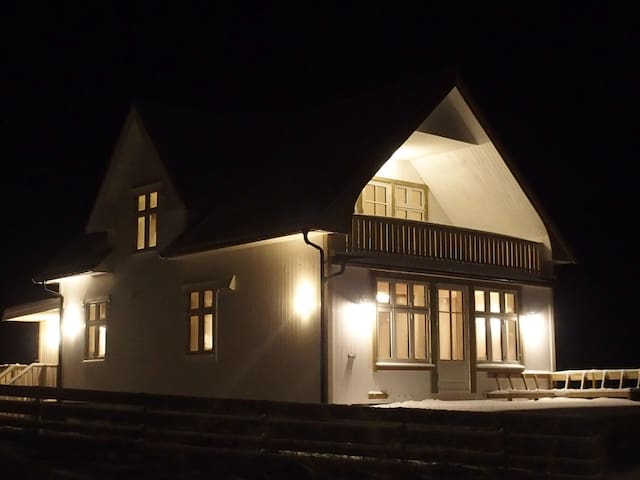 This cozy house was originally an old school from the early 1900s. It is renovated and in good condition , while the old style has been preserved . In addition, it has a wonderful location, overlooking the mountains , beach and ocean .
This house is the perfect place to stay in Lofoten. Its in the middle of Lofoten and its close to the nature. The house is 117 square meters, with large living areas for families and friends traveling together on a trip, but also nice for a romantic vacation.
The white, well-known beach at Haukland is located approximately 700 meters below the house. Here you can rent a sea kayak in summer or use beach volleyball court. Otherwise, there are many fine hiking right nearby, within walking distance or short drive from the house. Uttakleiv is 3 km away from the house, and in summer, this is a very popular place for watching the midnight sun , while in winter it is a nice place to see or photograph the northern lights. It is just 7 km drive to the airport and the city center Leknes is one of two cities in Lofoten.
Spacious sitting room, kitchen and one bed room. The kitchen could be more better. The house is located in a quite quiet area with great sunset view. A very lovely house.
Sabrina
2016-08-12T00:00:00Z
Communication with Rebekka was great right from the start, and we really appreciated that she came out to the house to meet us after we had settled in. The house itself is just gorgeous - spacious and full of light, yet warm, and decorated very stylishly and simply. We lacked for nothing. The location is good - just a few minutes walk down to the beach but also not far from shops and so on. It's a very short drive to Uttakleiv beach, where we were lucky enough to see the midnight sun. All in all, it's a very special place and we feel lucky to have found it. Thanks, Rebekka!
Nicky
2016-07-14T00:00:00Z
The house is in a beautiful location, with truly amazing and wonderful views. It is comfortably furnished but perhaps better described as light and spacious rather than cosy. However beware the "hidden ' extra charges for bed linen and towels, and cleaning these are 'buried' in the House Rules and are in Norwegian. The 600 kr cleaning charge is hefty addition to the already high daily rate!
Adrian
2016-07-03T00:00:00Z
Thank you for the stay rebekka the house and communication was amazing
Eivind
2016-10-23T00:00:00Z
Wonderful place , great hus , kitchen is great and the view is amazing !!! Super super recommend ! Also the communication with rebekka was super good , we had wonderful stay there !
Hsiang Hsiang
2017-03-16T00:00:00Z
The view is absolutely amazing and close to some amazing beaches. The house is wonderful and thoughtfully remodeled. I stayed during a storm and it was a great place to stay and bunker down. Rebekka was a really great host responding quickly to my messages and was very flexible. I would definitely stay here again.
Renee
2017-01-20T00:00:00Z
What a magical place! Rebekka's house combines the charm and coziness of an old wooden house with all the perks and conveniences of a modern apartment. The attic in particular is stunning, with large windows and skylights that offer lots of light and fantastic views of the bay and nearby mountain peaks. The kitchen is very well stocked with everything you might need for cooking. The location is perfect for exploring Vik, Haukland, and Utakleiv beaches; hiking trails for climbing Mannen, Himmeltindan, and Holandsmelen are also nearby. Overall, I can't recommend this place highly enough, and I hope to be back sometime soon!
Hunter
2017-02-19T00:00:00Z
A nice secluded place out of the way in Lofoten. Rebekka was great with communication, especially when we arrived during heavy snow!
Connor
2017-02-24T00:00:00Z
Room Type
Entire home/apt
---
Property Type
House
---
Accommodates
7
---
Bedrooms
Vestvågøy, Nordland, Norway
The apartment is located in Nesveien 1 in Gravdal about 6 km from Leknes airport in the middle of Lofoten. You can view the mountains and sea, close to nature.
We had a perfect holiday at Rune's place. The house was clean and well equipped with a washing machine and a oven. The apartment was well located. Rune gave us very kindly all the informations regarding our stay in Gravdal and it was very easy to communicate with him. Very nice holiday!
Sandrine
2016-07-17T00:00:00Z
We had a wonderful time in Lofoten. The apartment was well equipped and comfortable as described. It was centrally located so one day you could explore the northern part and the other day explore the southern part. I highly recommend that visitors rent a car in order to move freely and enjoy Lofoten. The walk to the lighthouse from the apartment was quite nice. Unfortunately we did not meet the host however our check in and check out went very smoothly without any problems. Thank you
Nadia
2015-08-13T00:00:00Z
We had a great stay at this cosy house!
Ana
2015-08-02T00:00:00Z
The little house of Rune is fantastic. My husband and me were there for 2 days, everything was perfect, clean and fully equipped. There is also an electric fireplace. Wifi is available and outside you can park your car. We were by motorbike and supermarkets and shops to buy wine and beer. Near the house you can do many trekking and go to the beach. Le Lofoten islands are amazing but this part were is situated the house of Rune is the best. We left the house very sad because we wanted to stay longer. Thanks Rune! High raccomanded!!!!
donatella
2015-08-05T00:00:00Z
The house is spacious and comfortable. It was clean and tidy. We didn't meet Rune but he made us able to find everything we needed by message. Thank you!
Marta
2015-08-09T00:00:00Z
We found the flat small but comfortable; good showering, kitchen facilities and laundry area. The bed is cozy for 2! It was very peaceful and near to the sea for pleasant evening walks. We enjoyed a concert in the near by church, especially as the weather was very wet and we didn't get to see very much of the scenery in Lofoten, sadly! The town was in a good position to tour around the island.
myra
2016-07-20T00:00:00Z
Dette var en koselig, liten leilighet som var godt utstyrt på kjøkkenet . Leiligheten var ren å komme til og henting av nøkkel var godt organisert. Vi takker for noen fine dager!
Lone
2016-07-28T00:00:00Z
Nous avons été tres bien reçu par Rune qui nous a même prêté une bouteille de vin en arrivant. les magasins vendant de l´alcool ferme tôt en Norvège...... le logement dispose de tout le nécessaire et les alentours sont charmant surtout avec le soleil de minuit. Petite balade au phare conseille.
franck
2015-07-14T00:00:00Z
Room Type
Entire home/apt
---
Property Type
Apartment
---
Accommodates
2
---
Bedrooms
Gravdal, Nordland, Norway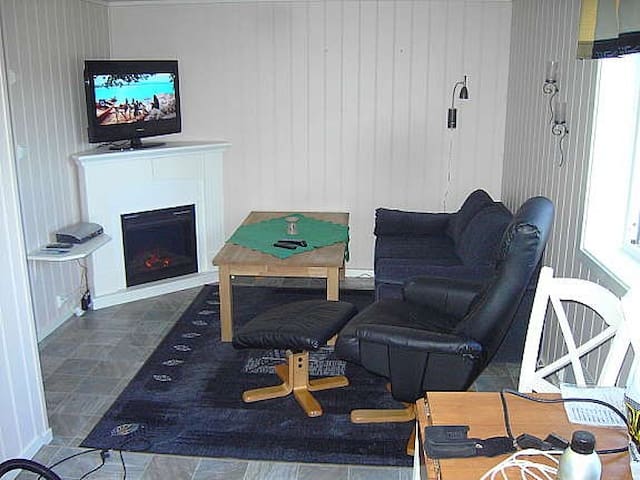 Sennesvik is a small and cozy Place in Lofoten. It lies between the Mountains and the ocean, and there are plenty of hikes to experience. The nature is right outside the door, and the People are loving and welcoming. The room is cozy With simple Cooking possibilities, and a small bathroom. The room and the bathroom was renovated in march 2017, so there is good standard. 10 minutes bus-drive to the city, Leknes.
Our stay went fine, Isabell is an available host. Nice and clean bedroom, the little kitchen and the fridge are very convenient!
Nicolas et emilie
2016-07-23T00:00:00Z
Very welcoming and nice, amazing scenery close by and cute pet kitten :)
Arabella
2016-09-26T00:00:00Z
The host canceled this reservation 8 days before arrival. This is an automated posting.
Emilie
2017-01-23T00:00:00Z
A great room with your own bath and everything you need for cooking. Isabell is a very decent host, who does everything to make you feel comfortable, even washes your dish. The place is perfect situated for trips around the Lofoten and I totally recommend it.
Janus
2016-10-03T00:00:00Z
Absolutely perfect little stop on our way through Lofoten. We had a great night's sleep, Isabell's place had everything we needed. Highly recommended.
Jamie
2016-08-29T00:00:00Z
The host canceled this reservation the day before arrival. This is an automated posting.
pierre
2017-03-01T00:00:00Z
The host canceled this reservation 8 days before arrival. This is an automated posting.
Yannick
2017-03-01T00:00:00Z
Really nice place to stay.
Florie
2017-04-12T00:00:00Z
Room Type
Habitación privada
---
Property Type
House
---
Accommodates
2
---
Bedrooms
Sennesvik, Nordland, Norway