Private room: Quiet and bright. You can also enjoy free parking and two old bicycles (you can view photos in the ad). The bikes are old but are separate and free. Some guests love and not others. If you prefer modern bikes just 5 minutes you can rent the. Easy access from the airport, the train station and bus (Read options to arrive at the location tab).
Hello! Recently we have started to build a home on this floor can be, if you like, also yours during your stay in Seville. Centrally located in one of the most bohemian areas of the capital, known to all as "La Alameda de Hercules". We live in the center, in the area known as Alameda de Hercules, the best to eat, drink, go out and share with people living in Seville. A 15 to 20 minute walk (and bike less) is the monumental area (Cathedral, Alcazar de Seville ...) With (SENSITIVE CONTENTS HIDDEN)maps can see it. In the historic area as in any better city not eat because it is expensive and bad, prepared just for tourists. Easy access from the airport, the train station and bus, as we are close (3 minutes) to an artery main, street TORNEO (stop all bus lines that cross the city). Read options to arrive at the location tab. However our apartment is very quiet, you can relax without noise. The bedrooms are yours, ours and a third. All rooms are spacious and will be a pleasure to enjoy them to feel like in your house. Cooking is not allowed, you should ask permission. It also has a garage (parking is difficult in the area) and can explore the city on two old bikes vintange prepared for you (can see the pictures in the ad). It is important to tie the bikes in places of the city ready for them. Never leave them alone tied between them or not will be at your back. The bikes are old but are separate and free. Some guests love and not others. If you prefer modern bikes just 5 minutes you can rent the. See any doubt be happy to help. We spent much time away from home, but answered quickly through the app Airbnb. We are a young couple we love cycling, walking around our neighborhood to enjoy its attractions like the Market Street Feria: go for tapas and enjoy whenever we can. It's easy to share our home with other couples. And we are always available on the phone. Here we hope, Rose and Antonio. Do not make noise in public areas of the building. Do not wear heels after 22.00h. Close the door with keys. Leaving ride leave the windows closed and shutters down (at least halfway up) If you use the bicycles must respect the rules of the building: always lower them in the elevator and both leave to enter must open the two main doors of the building and then close them. No Smoking. No loud music. The washing machine if you use should use the program 7 (ecological, fast and 30º). Dishwasher: All you do is load Have to it, put the soap square (box under sink) and start it. Make sure the drying setting is Set to ECO. Electricity in Spain is very expensive, please make responsible use. When you leave turn off lights and appliances. Also for the environment. Water: Please try to use less water During showers, brushing teeth and washing items while staying in my flat. In overall, water use is the highest utility and I ask my guests to not leave water running when not Necessary. We are well aware of the environment in our home. Let's make responsible use. Please our plants need water, it would be great every two days. Home is easy access by public transport from the airport, the train station and the bus station only until 22.00h, then it should take the taxi. Nearest hospital: Hospital Universitario Virgen Macarena (walking 15 minutes)
One of the most unique neighborhoods in Seville that had an awakening about ten years ago and has become a must visit if you come to town. Breakfast at any of the bars; a beer in bars and taverns listening to their parishioners; street and local art; good music; new shopping streets in the trendiest artisans; its light and orange is something that makes this new district, formed mostly by people from other neighborhoods, we all want to make each and every day in our neighborhood.
Stayed at Rosemary's place for 2 nights. The location is perfect, walking distance from the lively neighbourhoods and bars. The place is clean and very comfortable. Rosemary is a fantastic host. We had lovely conversations with her. The bikes they have for the guest is an added bonus. Had a great time and will recommended it to everyone visiting Seville.
Koustubh
2015-12-02T00:00:00Z
Lovely and super clean stay. So helpful having the bikes available to use - it's the only form of transportation we needed other than getting to and from the airport. Rosemary and Antonio were great hosts. Highly recommend staying at their Airbnb :)
Bianca
2016-09-24T00:00:00Z
Wonderful place, in a very good position, owned by a lovely couple! Everything was perfectly clean and cosy, definitely more than comfortable. The free parking is very convenient, as it is difficult to move by car in the city, and security-monitored car parks are fairly expensive. On top of it, you can use the bikes, which are perfect for visiting the city, as it is just the right size for that and full of bike lanes. Rosemary is also very helpful and kind, always ready to give excellent suggestions on what to do or where to go and how to get there. I definitely recommend this place, I will absolutely try to book it again if I go back to Sevilla in the future.
Federica
2015-02-27T00:00:00Z
Rosemary and Antonio are definitely nice people ! And the room they offer is just perfect. It is very clean and silent. The bed is very confortable and they supply towels (and even slippers !). I think they have all the equipment one could need on holiday! They also have a parking, which is so useful in Sevilla. The neighborhood is really nice, trendy, with many bars and restaurants. It is very safe also. Rosemay and Antonio know their city very well and they suggested many excellent places to us (bars, restaurants, markets, rooftops...). These suggestions were not touristic at all. This is priceless! They are really nice : we met them randomly in a bar and they immediately introduced us to their friends. We had such a very good moment with them ! No doubt I completely recommend staying at their place.
Clément
2014-04-09T00:00:00Z
The stay and location were perfect! We would stay here again. Both our hosts Rosemary and Antonio were great with communication and explained about the things to do in Seville and how best to get around. The house was clean and tidy, and the bed very comfortable!
Amanda
2016-09-27T00:00:00Z
Great place, spacious room, easy parking and convenient for City centre.
Inecha
2017-03-18T00:00:00Z
wonderful room in a great location. Rosemary was helpful and her flat felt very comfortable. The bikes were super fun and we appreciated her recommendation. I would highly recommend her place!
Lisa
2016-10-10T00:00:00Z
Super great experience staying in Seville at Rosemary's and Antonio's apartment! They are both literally the two nicest people you will ever meet. I cannot say enough about how warm and welcoming they are. And the apartment is beautiful! Such a nice place and so close to everything you could wanna go see. The bikes are a huge bonus and I had a blast riding around exploring. I would love to go back and stay again! Thank you!!
Jason
2016-04-03T00:00:00Z
Room Type
Private room
---
Property Type
Apartment
---
Accommodates
2
---
Bedrooms
Sevilla, Andalucía, Spain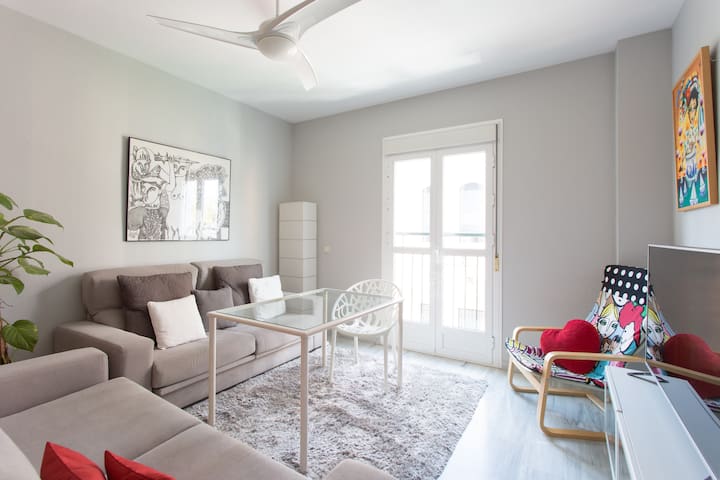 Bright room and fully equipped apartment near the Alameda de Hercules and the Basilica of the Macarena. Very good area to enjoy the atmosphere of Seville during Easter (from the balcony you can see several steps)
Ideal to attend the steps of Holy Week Brotherhoods as Bitterness and Hiniesta (Sunday). Javieres (Tuesday). El Carmen and La Lanzada, (Wednesday). Montesión (Thursday). La Macarena, (Dawn) and Risen.
everything was perfect at Filippo and Noemi's place! the flat is in a very central position and they have been super nice! Filippo gave us useful tips and recommended a great place to eat!! 100% recommended!
Camilla
2016-08-13T00:00:00Z
Filippo is such a genuine person and great host. He gave us a warm welcome and made us some tea when we first arrived. Every interaction we had with him was very attentive and kind. He took time to hear about our trip and offer advice for what we should see while in Seville. The room itself was comfortable, clean, and had access to good wi-fi. The living room was comfortable as well and had access to a small balcony which was great for sitting and smoking. There are plenty of things to do nearby and walking to the main attractions of the city is doable. We definitely recommend this stay to anyone who is looking for an easygoing and inexpensive stay while traveling in Seville.
Erik
2016-11-25T00:00:00Z
Filippo was very nice and helpfull. We enjoyed to stay in his place which was very near of the city center. Thank you very much and hope to see you again.
Kerstin
2016-11-22T00:00:00Z
Filippo is a great guest! He works as a tour guide so he gave us some tips to walk in the city and about the main points to know in Seville. Unfortunately we had just one and a half day there, but it was a lovely stay.
Flavia
2017-01-12T00:00:00Z
Filippo and his family were very nice and it was a good location. We could use the kitchen and store stuff in the fridge and he was a good resource for directions in the city. He was flexible about checkout time and let us leave our belongings before our car. Downsides were that I don't know if the sheet on the mattress was clean because I found another woman's hairs, we were only provided one pillow, and we weren't provided towels upfront. I asked for towels and an extra pillow and eventually got the towels, but we never got an extra pillow. Best ask for basic amenities up front! It was pricey for what it was but it was during semana santa.
Caroline
2016-03-28T00:00:00Z
Great host! Very friendly and gave us a bunch of advice about what to eat, what sites to see. He let us know about the palace and torre del oro being free on Monday. All around it was a fantastic experience and we would do it again in a heartbeat. The bedroom is large and the living room is a nice cool place to hang out during the midsummer heat. I'm only upset that we did not go on the free walking tour he offered us because it would have been great to learn more about Sevilla! Great place great host!
Arianna
2016-08-26T00:00:00Z
Fillipo was very helpful throughout my stay in his apartment ,the guy himself works as a guide in the city and knows basically everything about interesting places to visit, talkative and smart guy, didnt get bored spending my time talking to him. About the room, the room itself was warmy and nice with the heater inside the room i would recommend the room to anybody who would like to come to Seville for a visit :)
Abdullah
2017-01-16T00:00:00Z
Filippo is a fun and entertaining host! The place is perfect size for traveling alone or with one other person and he welcomes you as part of the family from the beginning! Added bonus* Filippo is a walking tour guide and I highly suggest taking them! They're fun and full of information about Sevilla that you might miss if you're just exploring on your own.
Ashley
2017-03-10T00:00:00Z
Room Type
Private room
---
Property Type
Apartment
---
Accommodates
2
---
Bedrooms
Sevilla, Andalucía, Spain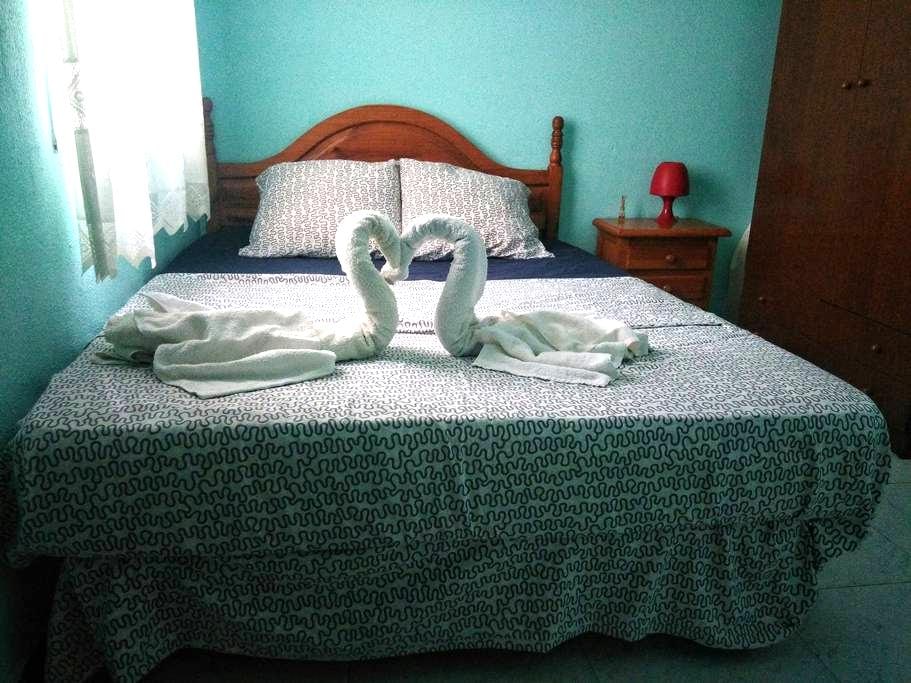 For rent apartment in villa with garden, in a quiet, enjoying nature and close to all services. Twenty minutes from the center of Seville. Private pool, garden.
It is an independent apartment of my house within the same plot, in which there is a pool and garden, which they will enjoy. The apartment is independent but the pool and garden is shared. In the common areas you can enjoy the contact with the earth and help with tasks in the garden, as well as enjoy the products you have in the garden. The apartment is only a space with kitchen, the bathroom is outside, has a porch where you can also cook outdoors. If you want during your stay you can receive alternative therapies of acupuncture and Reiki.
It is a quiet residential area.
Curro and his Mother were the perfect hosts, even inviting us to share their lunch when we arrived. Curro speaks perfect English which was very helpful as he was able to help us with bus information for the 20 minutes ride into Seville. Their house is part of a modern development bordering olive groves with a Mercadona supermarket just over the road. There is a swimming pool and large garden. Our accommodation was spotlessly clean and had a small kitchen with fridge-freezer and microwave. I would recommend this place highly for anyone travelling to Seville who doesn't want to drive in the city, the traffic is extremely hectic!
Steven
2016-09-21T00:00:00Z
Really amazing place to relax and just 20 minutes from the city!
Patricia
2017-03-17T00:00:00Z
This is a nice quiet place. Curro was always helpful. If I come back to Seville I will be happy to stay here again!
Dishant
2016-11-06T00:00:00Z
Beautiful tiny house, perfect base for citytrips to Sevilla. Curro is host and handyman together, doing a great Job.
Wim
2017-03-11T00:00:00Z
We have come for visit Sevilla for two days and Curro's place was the great to be for this time. It's a quiet quarter and the studio have all the necessary things. It's clean, safe and beautiful. We suppose that the temperature inside the studio is agreeable in summer. However, it is a bit cold for the winter. Good location for people that come by car....
Sébastien
2016-12-19T00:00:00Z
Genial! Muchas gracias!
Jamie
2017-01-04T00:00:00Z
Proprietari gentili e precisi,mi sono trovata benissimo casa ben organizzata r pulita,a pochi km dal centro in automobile,ho soggiornato per tre notti il prezzo è ottimo,la consiglio!ho avuto il piacere di conoscere anche il simpatico è adorabile gatto che hanno i proprietari di casa!
Veronica
2016-10-14T00:00:00Z
Fui para realizar un curso en el centro CPM de Espartinas,y el alojamiento estå muy cerca del mismo,tardaba unos 3-4 minutos (URL HIDDEN) zona es muy tranquila,perfecta para lo que yo buscaba.El apartamento estaba muy limpio y tenia todo lo necesario para cocinar y comer alli mismo sin necesidad de tener que salir.A la espaldas de la casa hay un mercadona.Y Sevilla capital no queda lejos en coche si quieres hacer un poco de (URL HIDDEN) ha gustado la estancia.Curro nos recibio muy atento y nos explico todo muy bien antes de marcharse.
Olga
2016-10-02T00:00:00Z
Room Type
Entire home/apt
---
Property Type
Apartment
---
Accommodates
2
---
Bedrooms
Espartinas, Andalucía, Spain
In the very center of Seville, the apartment is located in the building known as the "Corral del Coliseo" . It is a construction of the century XVII , which was the theater of comedies and then reconverted in building homes in the well-known "Mushrooms of the Encarnación" fashionable area of the city. You will find all kinds of restaurants, national and international organizations and much atmosphere both during daytime and nighttime. The study has a lovely light and is really quiet.
In the apartment you will find clean clothes of bed, towels, gel, shampoo, shower caps, etc. cleaning products, and basic to cook: oil, vinegar, spices... You will also have fresh milk and cocoa, coffee or tea and some sweets for your arrival. The apartment has a lovely light and is located in a very quiet street so you will rest without hear any noise.
Is located in the trending area of the city. The "Mushrooms of the Encarnación" they have become the nerve center of the city with constant cultural and sporting activities, etc.
We had a great time in Sevilla! The location of the flat is perfect; it's walking distance to everything in the city center. The building it's in is beautiful and we loved the courtyard area. The bed was really comfy, you just have to watch your head going into the loft. The only negative thing was the humidity and as a result, the smell. We got used to it, but there was a constant musty damp smell. Despite this, Alvaro was a great host and we would stay there again if given the chance.
Elizabeth
2017-03-15T00:00:00Z
Alvaro and Pepa were very communicative prior to our arrival to make sure they would be able to meet us to give us keys and show us around. The building is historically interesting and centrally located, within walking distance to all the sites and halfway between both the bus and train stations. This apartment was perfect for our time in Sevilla - would definitely stay here again if we're lucky enough to come back.
Sara
2017-02-17T00:00:00Z
Alvaro and Pepa are very sweet and welcoming. They gave us a map and a very organized book of sites and recommendations. The apartment was very clean and had everything we needed for our stay. The location is prime! and made it easy to explore the lovely city of Sevilla.
Moriah
2017-01-10T00:00:00Z
We love Alvaro and Pepa's place! The location is perfect, it's so central that getting everywhere is a breeze. The location is basically where the metropol parasol or the 'incarnation mushroom' is, so plenty of places to eat and people watch around. There is also a farmer market, which we sadly missed, if you want to get the delicious local produces. The flat door is underneath a big Seville orange tree which when in season, has a strong citrus fragrance. And of course, we don't mind the free oranges to infuse our water with! Alvaro and Pepa also gave us loads of tips on Seville, which was really handy as this was our first trip to Seville. Basically, we highly recommend Alvaro and Pepa's place. The place is lovely and they are lovely too. We're coming back soon and will definitely stay with them again!
Rizki (Kiki)
2017-02-13T00:00:00Z
Alvaro Y Pepa's place was great. it was very clean and perfectly placed for a comfortable and relaxing stay in Sevilla. The apartment had everything I needed for my stay and Pepa was very helpful with everything I needed including information about Sevilla. It was a little small but actually perfect for a stay in the city.
jeremy
2017-02-20T00:00:00Z
Well located apartment but quite small
Teppo
2017-03-23T00:00:00Z
Staying in this studio next to 'las Setas' in Sevilla was very relaxed. The studio offers all you need during a long weekend away, and it is a nice a quiet place to come home to, at a great location (always easy to find, just ask for 'las Setas'!). Alvaro and Pepa offered me a warm welcome, including tips about Sevilla: highlights, nearest supermarket, etc. They were always reachable and very willing to assist wherever needed. True hospitality! Thank you Alvaro and Pepa, this was just great for my four night stay in the most stunning city of Spain!
Guusje
2016-11-21T00:00:00Z
Really unique and different apartment with a great location. Alvaro and Pepa were lovely hosts even picked us up from the airport and provided tips for the city. They also have a very cool looking restaurant just around the corner which I will definitely go to when I come back to Sevilla!
Pavan
2017-01-06T00:00:00Z
Room Type
Entire home/apt
---
Property Type
Apartment
---
Accommodates
2
---
Bedrooms
Sevilla, Andalucía, Spain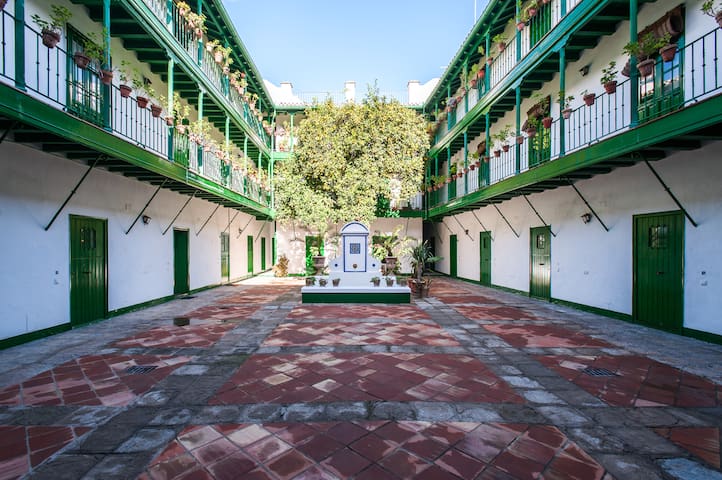 El piso esta situado al lado del centro (Plaza Huerto Paco), bien comunicado con la lineas de autobuses (linea 4 y 6), cerca de supermercados. Habitación doble grande y luminosa.
Cama muy cómoda, habitación grande y luminosa con armario amplio.
Nos trataron fenomenal desde el momento en que nos pusimos en contacto con ellas, nos dieron todas las facilidadesmy la casa estaba muy limpia. La habitación muy comoda y limpia, pero lo mejor sin duda el trato que recibimos por su parte. Totalmete recomendable.
marta
2017-03-05T00:00:00Z
Room Type
Private room
---
Property Type
Flat
---
Accommodates
2
---
Bedrooms
Huelva, Andalucía, Spain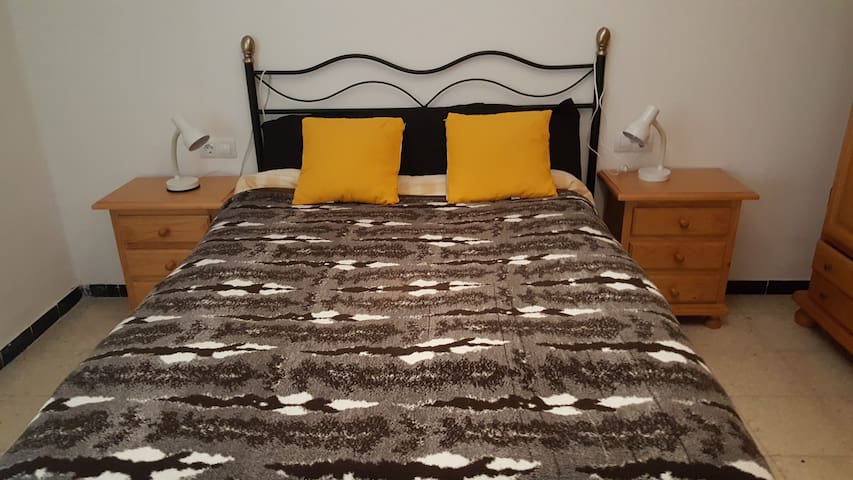 Tengo una habitacion libre en un piso compartido de 3 habitaciones. Habitacion con cama de matrimonio,mesa de estudios,silla giratoria,doble armario empotrado,internet-wifi,Tv. El precio es de 250e/mes con todo incluido. El piso esta ubicado en la C
Room Type
Private room
---
Property Type
Apartment
---
Accommodates
1
---
Bedrooms
Sevilla, Andalucía, Spain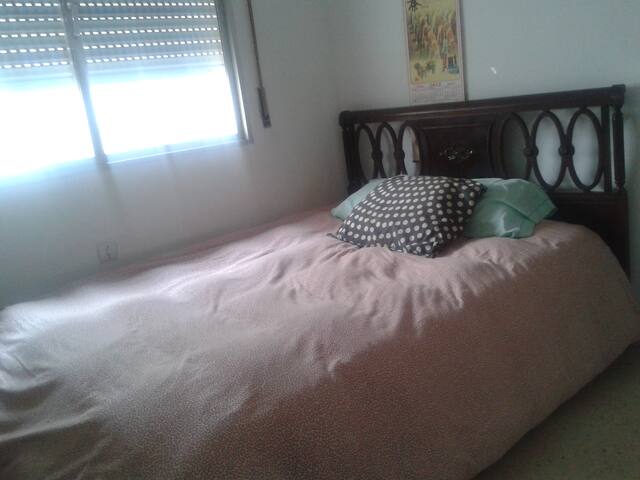 Brand new studio overlooking the garden, kitchen and bathroom privado.Suelo porcelain tiles, windows with double acristalamiento.Cocina with Community vitroceramica.Jardin with (URL HIDDEN) location is perfect as the metro stop is just 5 minutes walk and the Metromar shopping center, 2 minutes from the stop bus.Aparcamiento.El private study is not shared with nadie.Caben two people.
Lo mejor, María, sin duda. La única pega, el espacio disponible y la cama
Juan Ignacio
2017-03-24T00:00:00Z
El apartamento es coqueto y en espacio reducido no falta de nada. La casa, por su parte, es acogedora, decorada con gusto, ordenada y con una zona de jardín muy agradable. Por último, si hay algo imposible para que tu estancia sea más confortable, descuida, la anfitriona, María, lo consigue.
Fernando
2017-04-05T00:00:00Z
Room Type
Entire home/apt
---
Property Type
Apartment
---
Accommodates
1
---
Bedrooms
Mairena del Aljarafe, Andalucía, Spain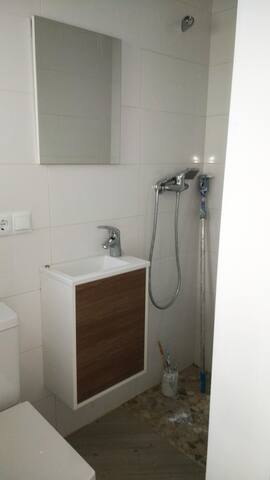 Our place is close to 15 minute walk from city center, located in Isla Chica with restaurants, bars, cafes and supermarkets everywhere around us! great views from your private terrace. you have your own side of the house if you enjoy your privacy (bedroom, balcony, toilet, kitchen) and your more than welcome to join us or spend time on our chill out balcony :) we love socialising but we also respect some people want privacy. We also have pull out double bed and extra mattress if needs be :)
we have a full private double room with private terrace attached. If you need we have an extra mattress and duvets and a pull out double bed. Just get in contact with us and we will be happy to arrange sleeping arrangements. Our house is your house!!!
Holiday rental. Were away from june to september and are renting the full apartment for people on holidays. Please enquire about this if interested
We enjoyed our stay with James and Charlotte immensely. They are helpful, friendly, and kind, and the room, beds, and balconies are great. Would highly recommend!
Katie
2016-10-16T00:00:00Z
James was very nice. Room was a bit cold but the views were amazing.
Ana
2016-12-17T00:00:00Z
All went very well at James' place. He and his girlfriend where really helpful!!! Had a good time there .... !!!! No complaints what so ever ... !!!!! Thank you! Very Best. M.
Michael
2016-10-22T00:00:00Z
Nice and simple accommodation about 15 minutes walk from the center. James and his girlfriend were really nice hosts, would recommend staying here.
Gyorgy
2016-10-31T00:00:00Z
James is a very friendly person, everything was okay.
Rolf
2016-11-30T00:00:00Z
A very nice young couple, ready to share whatever they have! Like most young people it is the easy comfort and simple way of live, indeed lovely.
Jannecke
2017-01-19T00:00:00Z
James was great with directions over the phone after I got lost on arrival. The AirB&B map puts his place in the middle of a park but his place is just across the street southeast of there. Room was a bit cold but we made it work. Overall, James was hospitable, accommodating and we are happy to have been able to share his place for a night. Thanks!
Tara
2016-12-20T00:00:00Z
The host canceled this reservation 4 days before arrival. This is an automated posting.
Maria
2016-12-31T00:00:00Z
Room Type
Private room
---
Property Type
Apartment
---
Accommodates
2
---
Bedrooms
Huelva, Andalucía, Spain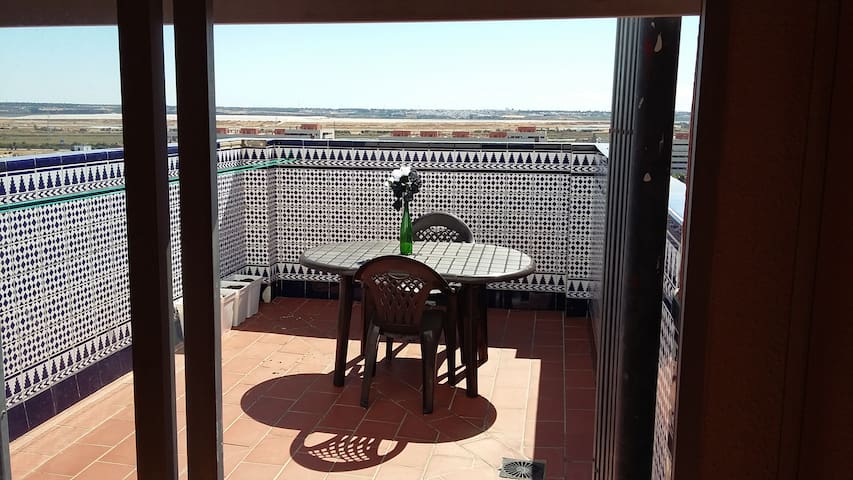 First Floor Apartment Overlooking The 8th Green, Spectacular Sunsets From Furnished Terrace, Preferential Rates for Golf On Local Course, Quiet Location With Easy Access To Beach And Town. Sleeps 4 (2 Bedrooms)
Extremely spacious luxury 2 bed/2 bath apartment, set in a gated complex with swimming pools, tennis courts and playgrounds, overlooking the 8th green of the Isla Canela Golf Course – 5 minutes to beach, marina and bars. Isla Canela is located on the beautiful and unspoilt Costa de la Luz (The Coast of Light) in south-west Spain near the border with Portugal, an area known as the Spanish Algarve. Renowned for its traditional charm and hospitality, whilst remaining free from mass tourism, with the typically Andalucian town of Ayamonte nearby, it is the ideal place to discover the real Spain, whilst enjoying a relaxing holiday suitable for all the family. With 4 miles (7K) of sandy beaches, a marina with water sports, an 18 hole golf course, a mixture of modern and traditional shops bars and restaurants, Isla Canela must be experienced to believe. It also boasts a climate that has an average yearly temperature of 18c and over 3,000 hours of sunshine throughout the year.
We have been holidaying in our apartment 3 times a year for 10 years and absolutely love it. It boasts such a variety of activities that we know you will love Ayamonte. I play lots of Golf, we eat in local and authentic Spanish restaurants down the town and my son in law kite surfs on the beach. We know all of the local restaurant owners but also love discovering new places each time we visit. Although Ayamonte is not on the international tourist trail, it is very much frequented by Spanish tourists who come down from Madrid to escape the heat. Over the years it has become more popular and therefore new bars and restaurants are opening up all of the time. Even in the winter Isla Canela Golf Course is a very popular destination for northern Europeans. If you are looking for a relaxing beach holiday, in an authentic Spanish town, with plenty to do if you feel like it, then this is the place for you. Please get in touch!
The apartment was fantastic- really well located in the beautifully kept complex in Isla Canela. The terrace was lovely for breakfasts and dinners in the evening, overlooking the golf course. Marc was so helpful and very friendly- we will definitely be staying here again next time we holiday in this area! Thank you Marc!
Tori
2016-09-20T00:00:00Z
Un apartamento precioso con todos los detalles precisos para que se pase una estancia perfecta. Acogedor y práctico al mismo tiempo. La urbanización tranquila y en muy buen estado. Realmente recomendable para descansar.
Esther
2015-08-29T00:00:00Z
Zona tranquila y agradable. La casa muy bien equipada (en cocina, salón, baños, etc) cómoda y limpia. Marc estuvo muy atento y Corinne que se ocupó de nuestra llegada y salida fue muy simpática. Si volvemos a esa zona sin duda repetiríamos!
Sofia
2016-08-06T00:00:00Z
O apartamento foi perfeito para descansar em família, já que o local é muito calmo e seguro para as crianças.
Mário Antonio
2016-09-03T00:00:00Z
Room Type
Entire home/apt
---
Property Type
Apartment
---
Accommodates
4
---
Bedrooms
Ayamonte, Andalucía, Spain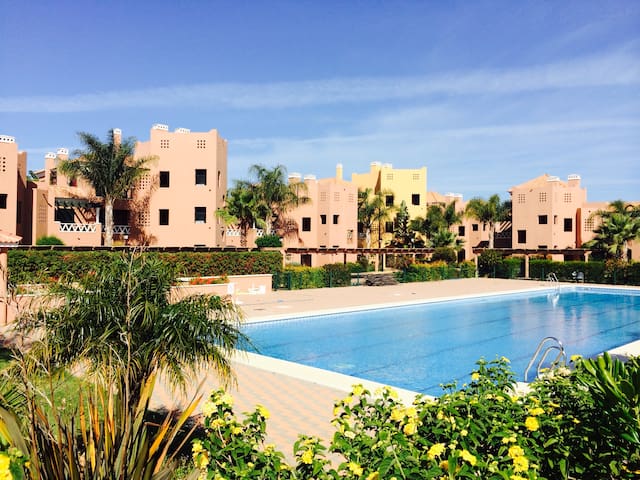 Lugares de interés: vida nocturna, el centro de la ciudad, y transporte público. Te va a encantar mi lugar debido a el ambiente, el barrio, la luz, y las zonas exteriores. Mi alojamiento es bueno para aventureros.
Hi! My name is Miguel and I´m 30 years old. I work in the tourism industry. I will be very delighted to have you as a guest in my apartment and I will try to ensure that your stay in Seville is an unforgettable one. The most important monuments such as the Cathedral, the Alcazar Palace, the Gold Tower, the Real Maestranza Bullring, etc., are only a 10-12 minute walk away. The shopping areas with the best stores in the city are just 3 minutes away. Close to the apartment you will find a wide range of bars and restaurants where you can have drinks or try the local "tapas" and cuisine. The nearby areas of Arenal, Alfalfa, Alameda, Paseo Colón, etc. offer a very good variety of nightlife options
The apartment is located in the heart of the city centre. It is less than a one minute walk away from the Metropol Parasol (the Mushrooms) situated in La Alameda, one of the liveliest and most peculiar districts of the city. A place full of young people, artists and a wide variety of bars. During your stay you will be able to find everything you need here: supermarkets, pharmacies, souvenir shops, etc.
Miguel is such an awesome host and friendly person. He will go for extra mile to make you feel like home. He first went out to pick me up to make sure I got to his airbnb safely. When I needed something extra, he borrowed a hairdryer from his sister to make sure I'm happy. Also he would make sure to present his breakfast very nicely for you every morning. I really want to come back again to Seville and visit Miguel in the future! Thank you very much for making my trip so wonderful!
Karen
2016-12-09T00:00:00Z
Quiet nice room in perfect central location in the heart of Sevilla. Very nice and caring host.
Julio
2017-02-04T00:00:00Z
Miguel was an excellent host! He is so warm and hospitable. Breakfast was great and communicating with him was effortless. The space was perfect and exactly as described. If I ever find myself in Seville again I will definitely be staying with him.
Maryann
2017-01-04T00:00:00Z
I thoroughly enjoyed my stay at Miguel's. Even though he was unavailable when I arrived in Seville, Miguel arranged for someone to meet me and tell me everything I needed, and ensured I arrived without problems. The apartment and room are well located, clean, and decorated nicely. But most of all, Miguel is a great host. He gave me tips on where to go, what to eat/drink, chatted with me about my day, and really made me feel at home during my stay. If you're looking for the real AirBnB experience, I couldn't recommend Miguel's room more.
Allison
2016-11-28T00:00:00Z
Miguel met me outside and helped carry my backpack! He is very welcoming and extremely helpful host. His English is great! The place was clean and it's in the city centre. What more do you want? Enjoy Seville:)
Hanan
2016-10-23T00:00:00Z
A room in a perfect location, right in the center of Seville. Miguel is a very friendly host, willing to help with anything (he helped me find permanent accomodation!). Would definitely recommend if travelling alone, to have the wonders of Seville right on your doorstep.
Megan
2017-01-29T00:00:00Z
Miguel is very nice and considerate!His apartment is clean and beautiful, close to Las Setas and very accessible. Warm room with wifi and all equipment I need in kitchen. My first choice in Seville, always!
Xiaoyun
2016-12-04T00:00:00Z
My boyfriend and I had an awesome time at Miguel's! He was extremely helpful and showed us all of the best places to check out in Sevilla. The apartment and room was clean, organized, and located right near tons of shops and restaurants/ cafes. We'd love to stay with Miguel again if we come back!
Kelly
2017-04-06T00:00:00Z
Room Type
Private room
---
Property Type
Apartment
---
Accommodates
1
---
Bedrooms
Sevilla, Andalucía, Spain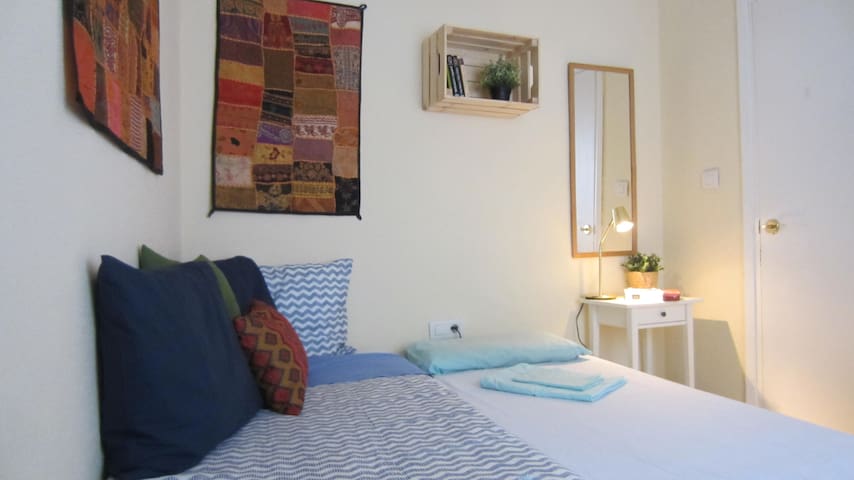 We are offering a bright single room with a perfect ubication. It is 8 km far from the centre of Seville and it has bus stop, shopping centre and other shops just 5 minutes walking.
Our flat is next to the centre of Seville (about 8 km) and closer to a bus stop, a shopping centre and other shops. It is a place really quiet so it is nice to live in. We have a single room with all the needs, a single bed, a wardrobe and a little table with a lamp. We also offer sheets, towels and blankets. We are three young people living in the flat but we have animals too, so we hope you like them. Moreover we are quiet people, so we would like you to respect that.
Es un pueblo de Sevilla, Camas, muy cerca de la capital. Esta tan solo a 8 km del centro de Sevilla y dispone en sus alrededores de paradas de autobus, así como centro comerciales y tiendas varias.
The host canceled this reservation 32 days before arrival. This is an automated posting.
Camille
2017-03-30T00:00:00Z
Accommodation exactly as described. The place was just what i needed for one week stay. 10min of the city center by bus, quiet neighbourhood. Melissa and her friends were very friendly. I highly recommend this apartment !
Remi
2017-01-24T00:00:00Z
Thank you to Angel and his brother for hosting me! I managed to spend some time with them too, and it was really nice chatting with them. Their pets are lovely! Especially their doggies! Thank you for letting me use the kitchen, and also for letting me join the language combio too! It was nice meeting other people from english countries.
Clarissa
2017-03-25T00:00:00Z
Propietaria atenta y amable. Habitación cómoda , limpia y espaciosa
Manel
2017-02-05T00:00:00Z
Para mi que estaba al lado del trabajo, muy bien, en realidad no he visto prácticamente a los anfitriones, por la misma razón. Pero en general bien.
Cristobal
2017-02-10T00:00:00Z
Habitación limpia y luminosa, en un lugar silencioso. Fácil aparcamiento.
Miguel
2017-01-26T00:00:00Z
Room Type
Private room
---
Property Type
Apartment
---
Accommodates
1
---
Bedrooms
Camas, Andalucía, Spain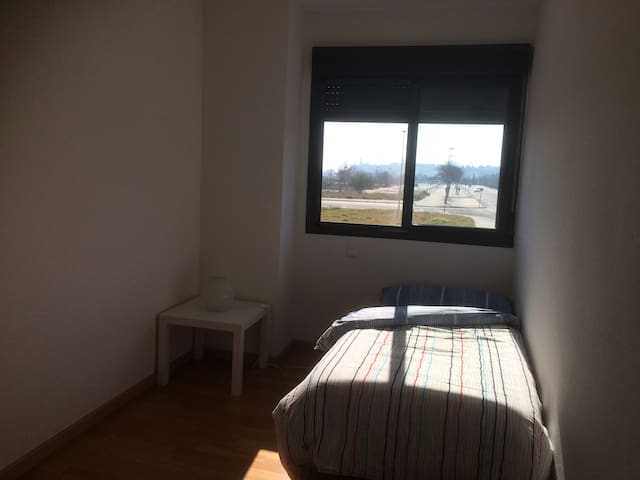 Fantastic penthouse in the center of Seville, a few minutes walk of the most important places to visit in Seville. The Penthouse is located in the famous San Lorenzo district, a safe neighborhood, quiet and typical of Seville. You have a large terrace for breakfast or dinner as well as a spacious lounge with relax and dining area. It has a full kitchen, bathroom and two bedrooms with double bed in both, a dressing room and an ironing room with pleasant views over the city for your inspiration.
INCLUDING PRIVATE PARKING IN THE BUILDING WITH DIRECT ACCESS. The penthouse is in a fantastic neighborhood just minutes from the historic center and less than a minute from the mall and the famous Eslava bar, next to the Church of the Great Power. It has parking in the same building with direct access by lift. Access from highway, airport and train station vehicle is very simple and has parking.
The neighborhood of San Lorenzo is where the church is located the famous Christ of the Great Power. It is full of bars and restaurants "for local" so the atmosphere is very open and relaxed. It is a very safe and quiet neighborhood
It's lovely place
HAO CHENG
2017-02-10T00:00:00Z
Diamond in the rough..great location with free parking available underground.Apartment furnishings are comfortable and we had great sleeps at nite. The outdoor space is a nice change to being stuck indoors. Comfortable walking distance to all major attractions.
Lorne
2017-03-10T00:00:00Z
Location is great! Stay wasn't that great, perhaps if you'd go summer time and you don't need to use a heater. Otherwise,it was a quite call at night.Heater didn't reach bedroom, blanket was sooooo sick ,so you'd literally boil under and freeze without it. Bathroom needs better curtain to prevent water to spill out to the floor and then you'll have to mop it. Overall is a good place,but needs some facelift to be the great!
Vlad
2017-02-26T00:00:00Z
Very nice place!
amalia
2017-01-23T00:00:00Z
Very clean and spacious, really good location only a couple minutes walk from alameda
Sarah
2017-03-25T00:00:00Z
Very nice place, great bed, great terrace, and safe parking for our rental car. Close by the city but still quiet. We enjoyed our 3 night stay very much! We recommend it and we will choose it again when we come back to Seville
Sofie
2016-06-25T00:00:00Z
We were greeted by Alejandro's niece who was attentive and communicative. The arrival time was not very flexible i.e. We were told we could not arrive between 3pm and 9pm which was odd. The apartment was modern and clean with a great terrace and very comfortable beds. At first we had no hot water but we eventually figured out how to turn the gas system on. the aircon is a must in summer. The location was quite good with a 20 minute walk to the main attractions like the cathedral.
Bianca
2016-06-29T00:00:00Z
A very well presented flat in a fantastic location. It was very easy to walk to the centre of Seville and you can spend hours walking and sampling tapas. There's also bars, restaurants and a small supermarket very nearby with a larger supermarket within a mile. Free parking was brilliant although the entrance to the car park is very tight!
Simon
2016-12-16T00:00:00Z
Room Type
Entire home/apt
---
Property Type
Apartment
---
Accommodates
2
---
Bedrooms
Sevilla, Andalucía, Spain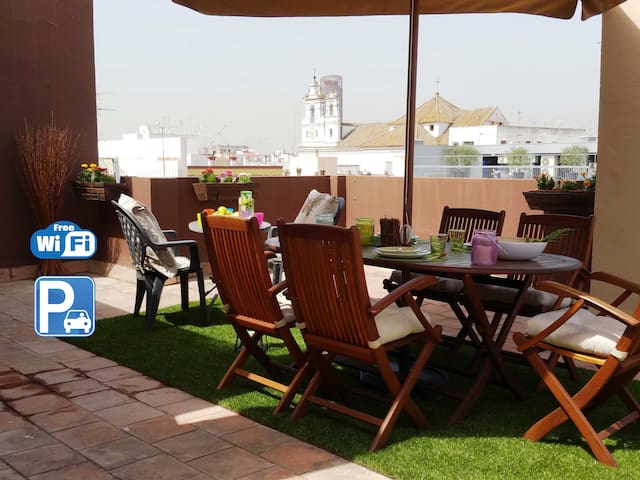 The apartment is newly renovated. All rooms are on the exterior and they are light and airy. It is a very comfortable, cosy and good decorated place, and you would be able to enjoy the city as it is situated in the center. We rent 1 room
Trendy area full of restaurants and shops.
Perfect location, perfect host. Virginia gave us wonderful recommendation what to see, where to eat and have coffee in order to feel real Sevilla. Thanx
Sylvia
2017-03-03T00:00:00Z
Virginia's apartment is just amazing!She lives with her sister,two lovely and beautiful Spainish girls.The apartment is highly decorated with style.The location is just perfect,everthing is so nearby.We spent two nights in Virginia's house and it is an amazing experience.I highly recommend Virginia and her apartment with five stars!!!!!ʚ̈ɞ
sJIAYU
2016-12-17T00:00:00Z
Beautiful home and central location! You'll have to climb a few flight of stairs but perfect if you are traveling light.
Rachael
2017-01-06T00:00:00Z
Perfect! Virginia and her sister were great hosts, took care of everything we needed and gave us privacy and peace. The location is amazing, right in the middle of everything. The room and the house were very clean and well equipped with a great shower, kitchen and washing machine.
Yoav
2016-11-20T00:00:00Z
Virginia was very nice and respectful. The house is very clean and well maintained. We couldn't check in until 8pm as she was away and we didn't know until we arrived at the flat. The bedroom is very hot but the fan helps a little bit. Very convenient position.
Alessandra
2016-08-12T00:00:00Z
We loved staying at Virginia's place. The location is great, within walking distance of the major attractions and restaurants. The house is cute and cosy.
Chris
2017-04-01T00:00:00Z
Jasmine Virginia apartment is clean, pretty, easily accessible and located in a safe neighborhood. You can see the Metropol Parasol from the apartment. Virginia and her sister are welcoming.
Técia
2016-09-10T00:00:00Z
Wonderful location, nice and helpful host, cute decor. AC doesn't work, which is tough during Sevilla summers. Some dust bunnies on the floor of our room. Overall good value.
Eric
2016-06-11T00:00:00Z
Room Type
Habitación privada
---
Property Type
Apartment
---
Accommodates
2
---
Bedrooms
Sevilla, Andalucía, Spain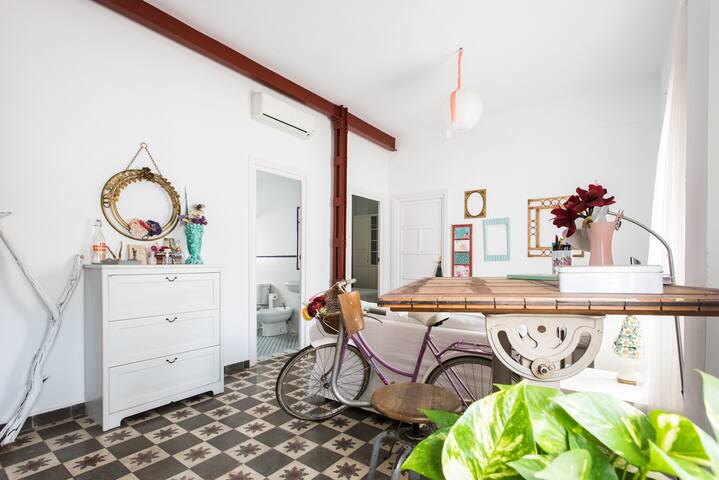 Nice newly renovated apartment in the historical center. Located in the Plaza de San Marcos. It consists of two rooms, a double bed of 135cm and a single bed of 105cm. Possibility to add an extra bed of 80cm. Living room equipped with sofa bed 140 cm, 32 '' t.v., armchair, table and 6 chairs. Kitchen with fridge, oven, ceramic hob, washing machine and basic cooking utensils. Bathroom with shower, fully equipped with basic elements. RTA: VFT / SE / 01190.
Located in front of the Chapel of Los Dolores, it is unique to witness the departure of the Brotherhood of Los Servitas in Holy Week.
Located in a quiet neighborhood with multiple options a few meters from all kinds of services: bars, restaurants, pharmacy, health center, bakery ...
Abraham's apartment was perfect for our short stay in Seville - ideally located (near the gorgeous Metropol Parasol!), spacious and nicely appointed. Check-in was effortless and Abraham responded swiftly to all our enquiries.
Lim
2017-03-14T00:00:00Z
Abraham is a great and very kind host, his English is perfect so communication was easy, and his appartment was conform the pictures and the description, and spotlessly clean. The neighbourhood is a nice and cosy one, about a 10 to 15 minutes walk to the centre. I was surprised by the perfect combination of lively atmosfere and tranquility. And I loved the fact that in every room there are windows, that can be opened. And even in such a small street the view was great, an ancient tiled image of Maria. ;-)
Joos
2017-02-27T00:00:00Z
The flat is well located, clean, with a very nice atmosphere. A lot of fruits and everything else available for a good breakfast. ABRAHAM was very kind too and we had a good communication. We will be happy to book this flat again when coming back to Sevilla.
Thomas
2017-03-17T00:00:00Z
Abraham is a great host, very friendly and helpful. His flat is spotless, bright, quiet and accurate to the pictures. It has all the equipment you need. Abraham provided us coffee machine with coffee pad, breakfast breads, fruits and milk. He is auwsom. Thanks again, we really had a great stay there. Definitely high recommend this flat! Qian
Qian
2017-03-07T00:00:00Z
Abraham was an amazing host. He was very communicative and gave great recommendations. He was also very flexible regarding checkin. The apartment was the perfect size and fit 5 people comfortably. All of the necessities were there (coffee machine, dishes, water, etc) the location was great as well. 15 minute walk from everything. I would highly recommend this booking!
JOLENE
2016-12-15T00:00:00Z
Excellent host, perfect location and 5 stars apartment. Highly recommended.
Jean
2017-02-10T00:00:00Z
Abraham was fantastic. We arrived early and he took our bags. Apartment was exceptionally clean with breads,milk , fruit, water, meats and danish for breakfast. Heat and plenty of hot water. Abraham provided a wealth of knowledge to make our trip the best it could be. He took our bags at the end so we could explore the city a little more and then aided with the taxi to the airport. Would highly recommend.
Bill
2017-01-07T00:00:00Z
Abraham is an outstanding host. He went the extra mile to make our stay in Seville wonderful. He included pastries, milk and bread which a helpful touch. The apartment is clean and comfortable. The kitchen is fully equipped with a nice coffee machine. The beds are comfortable and the apartment is in a central location for exploring Seville.
Jennifer
2016-12-27T00:00:00Z
Room Type
Entire home/apt
---
Property Type
Apartment
---
Accommodates
6
---
Bedrooms
Sevilla, Andalucía, Spain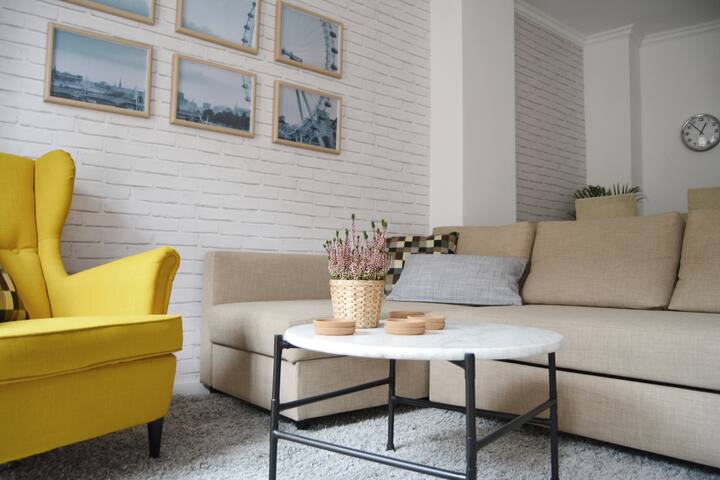 Cosy loft apartment in the historic center of the city in a 1905 building which retains the vaulted ceilings Sevillian s early XX. The apartment is newly renovated and equipped with everything you need to spend a few days in the city, it has a double bed and a sofa bed, refrigerator, microwave, coffee maker, TV and air conditioning. It is also perfect for relaxing after visiting our city, as all the windows face interior courtyards. CTC-(PHONE NUMBER HIDDEN)
The location of this apartment is perfect for exploring the city. It is located in one of the neighborhoods most charming and picturesque, just a few meters from the Basilica de la Macarena, near the food market street fair (the oldest in the city), become entertainment and restoration gourmet. This street, besides being the most commercial district, is known for its famous flea market "Thursday" where you can find antiques, books and curios. Following this street you can stroll through the historic center of the city to reach the Cathedral and the Real Alcazar in just 25 minutes. The Alameda de Hercules, full of restaurants and cultural sites is only 5 minutes and the Isla Magica theme park just 10.
Amazing! I really loved staying at this place. I received the warmest welcome and was accommodated even at a very late notice. The place is close to everything, quiet and gorgeous. Such a lovely flat/loft. The bed was very comfortable, kitchen was the perfect size, wifi was great and it was easy to get to and from all the main areas in the city on foot. I would stay here again and plan to in the near future.
Sarah
2016-11-20T00:00:00Z
El piso esta bien, sobre todo por su ubicación.
Sole
2016-11-12T00:00:00Z
Apartamento muy acogedor y con una localización muy buena. El trato recibido fue muy bueno.
Gerard
2016-10-20T00:00:00Z
Muy buena experiencia.Trato muy acogedor.Lo único es que por la tromba de agua por las noches retumbaba en el techo y hacia mucho eco.Por lo demás, muy limpio y localización inmejorable.
Juan Manuel
2016-10-23T00:00:00Z
Très gentil appartement, très bien situé, calme.
Dominique
2016-12-12T00:00:00Z
El piso es agradable y responde a la descripción. La ubicación es estupenda. Es un poco oscuro pero si lo que buscas es conocer la ciudad y descansar en el loft no supone un problema.
Julia
2016-09-25T00:00:00Z
Todo bien
Laura
2016-10-28T00:00:00Z
Tive um fantástico fim de semana em Sevilha e adorei a estadia na casa do Javier. A Araceli foi responsável pela receção e foi muito comunicativa. Recomendo vivamente para quem procurar um alojamento agradável em Sevilha.
Alan
2017-03-26T00:00:00Z
Room Type
Entire home/apt
---
Property Type
Apartment
---
Accommodates
4
---
Bedrooms
Sevilla, Andalucía, Spain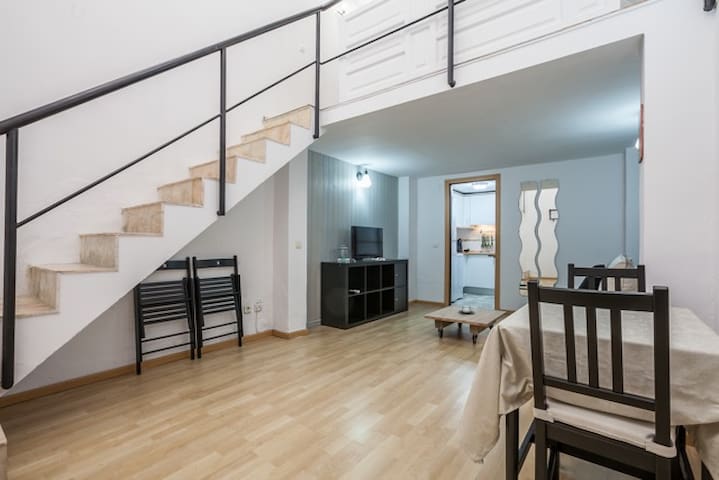 ¡¡PRECIO ESPECIAL RESERVANDO ESTA SEMANA!! Somos estudiantes y trabajadores tenemos 24 y 25 años, nos gusta conocer personas nuevas y compartir experiencias! El piso esta situado en un barrio muy tranquilo sin trafico a 10minutos del centro en coche. Acojemos huéspedes en nuestro salón que tiene dos sofás donde incluso hemos dormidos algunas ocasiones cuando hemos recibido amigos. También tenemos un colchón hinchable si lo prefieren. Estamos dispuestos ayudaros en lo que necesitéis.
The building is old but the apartment is restored. The neighbors are very nice and are aware that I am Airbnb host. The apartment has 2 bedrooms are for guests. We also have a balcony for smokers and the building has a communal terrace around the block can also enjoy our tenants.
The apartment is located in the Cerro-Amate, a working class neighborhood very quiet both day and night and the neighbors are nice. It is well connected with the center and with good accessibility by road and the airport. It has supermarkets nearby and some tapas bars. Easy parking.
I stayed here just one night, but it was perfect. Álvaro is very kind and he will let you know everything to make you feel comfy. The station is close enough to walk. He is also very interested in making his hom better so.. you will never regret visiting here.
혁순
2017-03-20T00:00:00Z
Me and two of my friends stayed at Alvaro's place for two nights. He and his flatmate are amazing, hosts, the communication with them was fast and everything went without problems. The flat was clean, breakfast delicious and hosts were hospitable and helpful. The metro stop is only 5 minutes from the flat. We definitely recommend staying at their place! :)
Iva
2017-03-13T00:00:00Z
Alvaro was very kind. He should inform clearly that the bed is inflatable and the sofa is not convertible. It is not convenient for sleeping.
Ladislas
2017-03-18T00:00:00Z
If you want to get away from Sevilla's overpriced hostel circuit, this place is perfect. Alvaro and Ismael are exceptional hosts. They are very kind and attentive. I felt right at home in the apartment. Everything was clean and tidy. I quite enjoyed the tranquil neighborhood of La Plata, and te metro station is only a block away. I wish I had stayed here the whole time. Highly recommended, great value.
brandon
2017-03-05T00:00:00Z
Alvaro and Ismaël are superhosts, they are very caring interesting and offer you a very nice moment in their company! The neighbourhood is also interesting to visit with little houses and their terrasses! I recommand !
Marie
2017-03-15T00:00:00Z
We were there just for one night because our flight departured at 6:40 am. It is a quiete and clean place and we slept very well. Alvaro is a very friendly host so i would defintely recommend him.
Визор
2017-03-21T00:00:00Z
The host canceled this reservation 95 days before arrival. This is an automated posting.
Yaw
2017-03-14T00:00:00Z
Una opcion muy barata y con una calidad aceptable. Los anfitriones fueron muy atentos con nosotros y simpaticos.
Júlia
2017-03-27T00:00:00Z
Room Type
Shared room
---
Property Type
Apartment
---
Accommodates
3
---
Bedrooms
Sevilla, Andalucía, Spain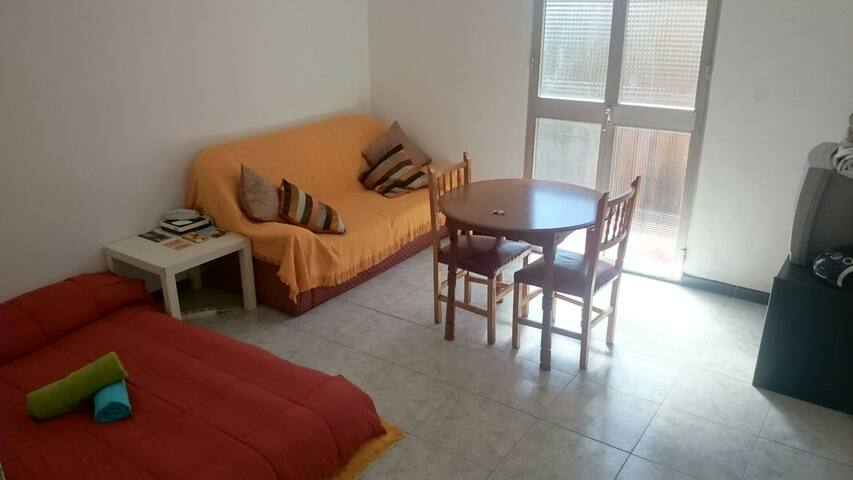 Apartment 60 meters, terrace 2 minutes from the cathedral. New 2008 in one of the most important streets in Seville. Fully equipped, air conditioning hot / cold.
It is a privileged place, next to the cathedral
It is the best neighborhood in the city, safe, comfortable and close absolutely all the sights.
Room Type
Entire home/apt
---
Property Type
Apartment
---
Accommodates
5
---
Bedrooms
Sevilla, AL, Spain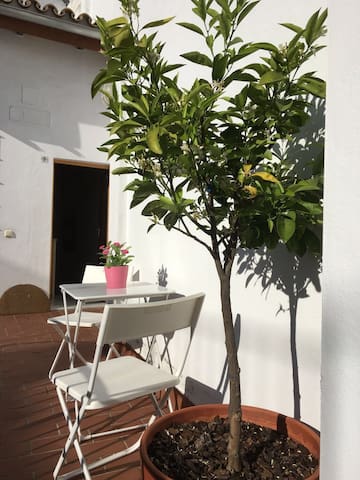 Floor quiet room in downtown Seville. Just 15 minutes walk from the main tourist attractions of the city and very well connected by public transport.
Natalia and her mom was welcoming and kind that made my stay comfortable. I only met Natalia upon check-in, and she generaously gave me tourist information of the city and explained about the facillity. Even though her mom didn't speak English at all, Natalia was quick to help me through text and then her mom did help. The room had big enough space and bed was comfortable too, and the bathroom was always clean. I would stay here again if I visit Sevilla.
Yoshimasa
2015-10-29T00:00:00Z
It's a great experience to live in the house. Natalia and her mother prepared everything before I arrived. The house is clean and tidy. And they are all very nice people. Really recommend their house.
Yunyun
2016-10-02T00:00:00Z
very kind and good location:)
Mijin
2015-05-26T00:00:00Z
I really like Natalia's flat because: 1) the location is pretty good that it is in the old city district and you can access to famous attractions by walk; 2) the room and bathroom is clean, and cozy and quite. It's just like what you have in your own flat; 3) and the most important is, you will feel you are living in a big family. Natalia and her mother will make you feel welcomed and comfortable, and you can see they enjoy their life with many friends (or relatives nearby). Anyway it's a pretty good family feeling
Shanshan
2016-07-01T00:00:00Z
I enjoyed my stay with Natalia. The location is excellent. There were some some small problems around meeting up in the first week but it went fine. The room is small but has all the necessities. Natalia and her mother were kind hosts and I felt welcome in their home.
Geoffrey
2015-10-08T00:00:00Z
Natlia and her mother were very kind and made me feel comfortable and welcome in their clean and suited home. The apartment is located in the center, where everything is close. I thank them for their hospitality.
nofar
2015-12-09T00:00:00Z
I enjoyed my stay at the flat very much. Natalia and her mother were very friendly and helpful. The room was quiet and private. Location was as advertised, a short 15 min walk to the cathedral.(the centre). Other guests were also staying so it was a good opportunity to meet others.
James
2015-04-24T00:00:00Z
Natalia and her mother are two very warm people and they made me feel home. The flat is clean and spacey, the bathroom is clean too, the rooms are good, just as described. Would recommend.
Renato
2016-05-20T00:00:00Z
Room Type
Private room
---
Property Type
Apartment
---
Accommodates
1
---
Bedrooms
Sevilla, Andalucía, Spain