Buastova Hyggeleg, lite feriehusvære i gardstun. Frå husværet har ein fin utsikt utover dalen og elva Vosso. Staden er godt utgangspunkt for turar i fjella rundt både sommar og vinter. I elva Vosso er det mogeleg å fiska laks og aure.Buastova ligg ved hovedvegen E 16 mellom Bergen og Oslo, 1.5 km frå jernbanestasjon/buss stopp på Bolstadøyri. Henting på stasjonen kan avtalast.
Om feriehusværet. Buastova har ei sitjegruppe , lite kjøkken og ei familiekøyeseng med plass for 3 personer. Det er bad med dusj og toalett og varme i golvet. Buastova ligg vegg i vegg med ei gamal røykstove. Visning er mogeleg etter avtale. Bygda Bolstad Attraksjonar på Bolstad som er verdt å sjå er det gamle gjestgiveriet bygd i Louis Seize stil, eldste delen er frå 1663, Flåtemuseet som ligg ved Bolstadfjorden (1,7 km), Postvegen mellom Bergen und Kristiania med ei steintrapp hogd inn i fjellet (1,5 km), og "Slottet" på Horvei bygde i dragestil 1.5 km.
Room Type
Entire home/apt
---
Property Type
Apartment
---
Accommodates
3
---
Bedrooms
Voss, Hordaland, Norway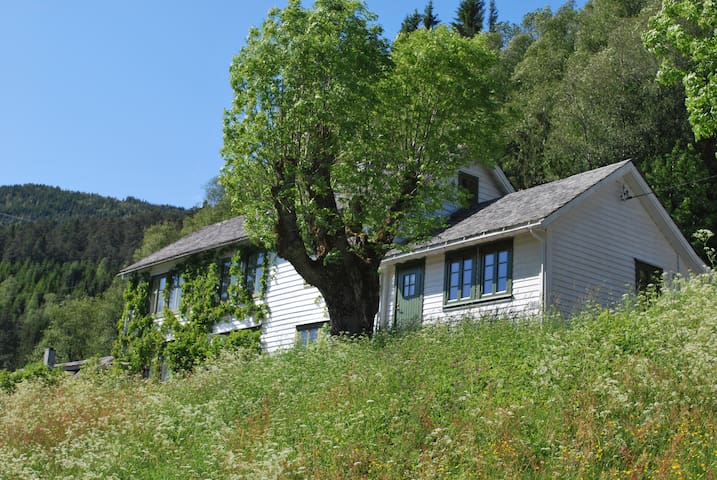 Tilltalande leiligheit, i unikt og ærverdig bygg i idylliske Sandviken.Gangavsand til det urbane bylivet og de majestetiske byfjellene like bak.
Room Type
Entire home/apt
---
Property Type
Apartment
---
Accommodates
2
---
Bedrooms
Bergen, Hordaland, Norway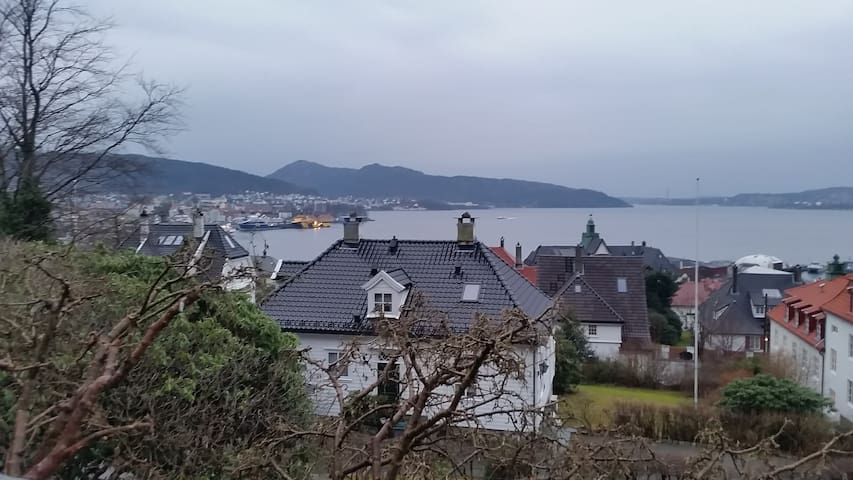 Velkommen til denne nyrenoverte leiligheten med en fantastisk utsikt over Hardangerfjorden, Norges nest lengste fjord. Leiligheten ligger 10km fra Kinsarvik , 55km fra Trolltunga og 40km fra Voss. Du har ellers lett tilgang til Hardangervidda Welcome to this newly renovated apartment with a beautiful view over the Hardanger Fjord, Norway´s second longest fjord. The apartment is located 10km from Kinsarvik and about 55km away from Trolltunga. Easy access to Hardangervidda National Park.
perfect, Nice view
Julien
2016-10-23T00:00:00Z
The most stunning place I've ever stayed!! The views are phenomenal! Right in the middle of nowhere! The apartment has everything you need and a very comfortable sleep!
Lucy
2017-02-23T00:00:00Z
A beautiful cosy place with a lovely view! We really appreciated such a great place to stay in and to rest for a while. Thank you!
Tereza
2016-09-10T00:00:00Z
It was great ! My friends and me came to a warm, clean, beautiful house in a perfect location ! We absolutely loved it ! Thank you Knut for your hospitality
Selma
2016-09-11T00:00:00Z
Room Type
Entire home/apt
---
Property Type
Apartment
---
Accommodates
4
---
Bedrooms
NO, Norway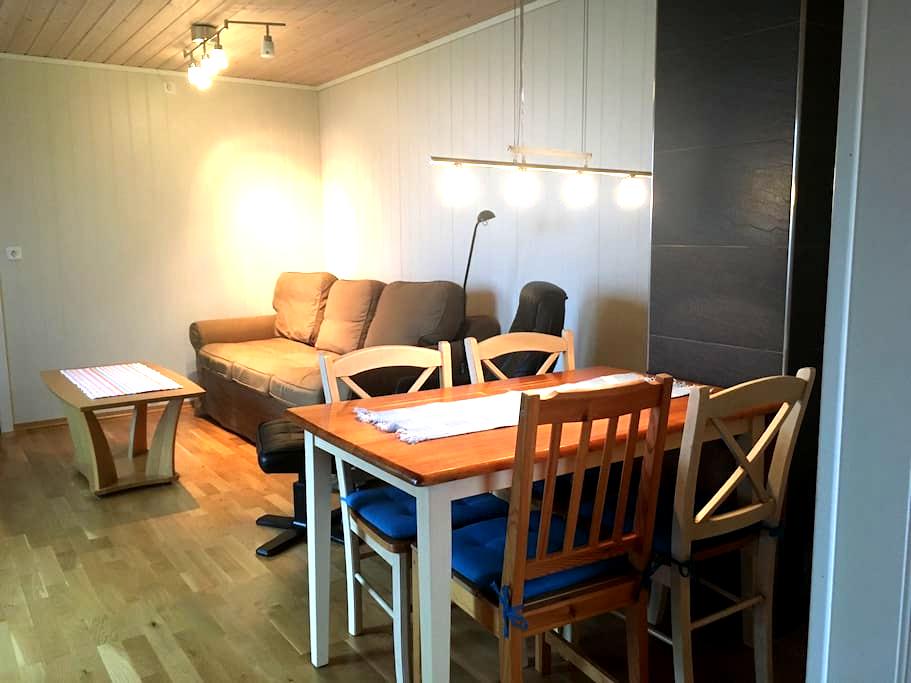 Lovely location right in Hardanger, with access to fjords and mountains, and golf, summer ski day trip to Trolltunga, or much more like Hardanger has to offer. Search happy to various web pages about Hardanger and Learn more. Close to the center of Øystese and Norheimsund with shops and eateries. All equipment to cook even exists. Bring food and clothes, and be welcome. You live on a small farm with house and outbuildings.
Suitable gladly best for couples or singles, but the possibility of an extra bed if required.
Quiet and peaceful neighborhood.
Room Type
Private room
---
Property Type
Apartment
---
Accommodates
2
---
Bedrooms
Kvam, Hordaland, Norway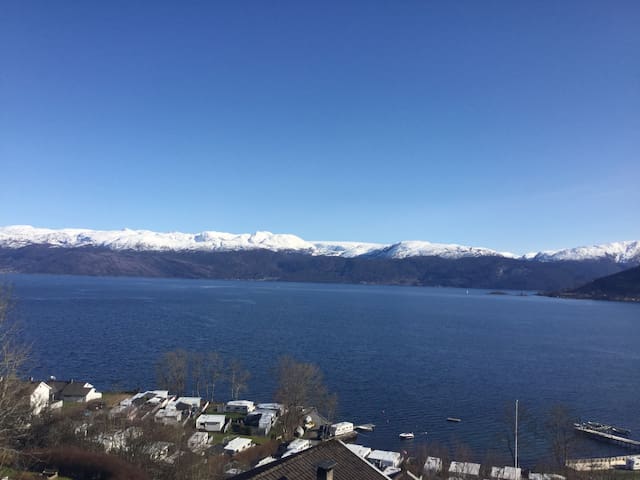 Enjoy the spacious Icehouse and the calming view over Hanevik bay on Askøy - 30 mins outside Bergen. Relax and gain energy to explore Bergen, the fjords and the beautiful west-coast of Norway or to attend your business in the area.
Welcome to the Icehouse in Hanevik, the basement of the house was used for storing ice about 100 years ago. Enjoy the spectacular view over the fjord through the glass-doors. A rebuilt house (2006) containing all you need for self catering. All floors are water-heated, the fireplace gives the extra heat needed on a freezing winter night. It now contains a bedroom with glass doors, bathroom, kitchen in connection with the large, open livingroom. In the attic there are two beds. A small garden is connected to the icehouse. We are situated on the island of Askøy, 30 minutes by car (27 km) from the center of Bergen. Very conveniant for visiting town and then leaving the buzz to relax, to make a barbeque in the garden, to go fishing or walk in the woods. Bergen has a lot of attractions and it is also possble to use our place as base for visiting the more spectacular fjords north and east of Bergen on daytrips. We are in a rural area so the closest foodshop is 5 km away. Askøy is also called "little Norway" for its varied landscapes. It is rocky and barren in the north-west and green and fertile in the south-east. It has its own attractions, such as nice walks in the woods, lakes and small mountains. There is golf-course on the beautiful, connected island Herdla. The Askøybridge connect our islands to the mainland. There are 20 buses pr day, leaving from the main bus-station which is next to the railwaystation and where the bus from the airport also stops. The bus takes one hour. We have two houses for rent, the other one is listed as "Seafront refuge close to Bergen". Please make sure that you book the one you want.
The Icehouse sits in a tranquil village at the seafront. The neighbourhood consist of private houses and cottages. The business next door is a sheltered workshop with working hours 8-15.
All was very accurate on the description. Had an amazing time. Hosts were as a welcoming as could be. HIGHLY recommend staying here
ben
2014-09-09T00:00:00Z
Ingrid and her husband Per were great. Extremely responsive, almost always responded within 1 minute. Per let us use his boat and cruising around the fjord in the boat was an unexpected highlight of our trip.
Jack
2016-07-01T00:00:00Z
Ingrid, Thank you for allowing us to enjoy your Ice Cottage and look over the bay to see the amazing views of the sea. We appreciate your support and help in providing a lovely retreat. Linda, Kevin, Russell and Jade.
Linda
2015-05-12T00:00:00Z
We enjoyed our stay at Ingrids and Pers Icehouse to the outmost. A beauty house, perfect surroundings, like nature, the water, the silence the beauty. The sleeping room upstairs is only useable for young people. The steep stairs to it are not that fine for elderly people. Everything else in this beautiful and perfect house is perfect! Absolutely fabulous... You need a car though to get there ;-) we will definately return to this fantastic house.
Michel
2016-08-30T00:00:00Z
Ingrid provided us with very accurate location and arrival information, and it was a pleasure getting to know her and her husband. They also provided good information on places to go to and things to do close by and in the wider area. The Ice House is beautifully set at a small fjord with a wonderful view across the water. The apartment is well equipped and very comfortable. Being able to take the small boat out is an added boon. Beautiful short walks in the vicinity, on Askoy and neighboring islands. We gladly recommend the Ice House to anyone looking for a place to stay from which to discover Bergen, Askoy and the wider area.
Linda
2015-08-12T00:00:00Z
This is a beautiful, well-equipped little cottage by the Sea. The view is fabulous and there are lots of great hikes in the area. We were glad to have this peaceful little spot to rest after seeing the sights in Bergen. It's very convenient to the city, but feels remote and is very quiet. We are so thankful we had a chance to experience this place! Ingrid and Per are lovely people and were very helpful. DO book this one if you have the chance!
Leah
2016-06-12T00:00:00Z
Ingrid and Per were wonderful hosts ! They give us some advices, help us whenever we need... Their house is just incredible, the view awesome and the area beautiful ! You can easily fish, swim, go for a walk... and it's always a great experience ! Bergen is at about 1h30 by bus, and the schedules are convenient ! My friends and I really enjoyed our stay and recommend the house !!
Germain
2016-07-30T00:00:00Z
Ingrid and her husband were lovely hosts. They accommodated many of our needs, especially since most of our luggage was misplaced by the airlines along the way in. Ingrid also helped communicate with multiple taxi drivers in order to get us smoothly to and from her home. The cottage itself is absolutely beautiful and clean in a remote enough destination from the city to feel like you are "away" from it all, but still within driving distance. Without a car? Take the bus which stops right by her home--although it's about an hour bus ride to the city. There are lovely hiking trails around her home too. You can take the bus to the nearby grocery store, but its too far for walking. Overall we had a lovely and relaxing stay in a very family friendly location. The rooms are not very sound proof, but if you are with your own family this should not be much of an issue. Thank you, Ingrid.
Stephanie
2015-06-10T00:00:00Z
Room Type
Entire home/apt
---
Property Type
Apartment
---
Accommodates
6
---
Bedrooms
Askøy, Hordaland, Norway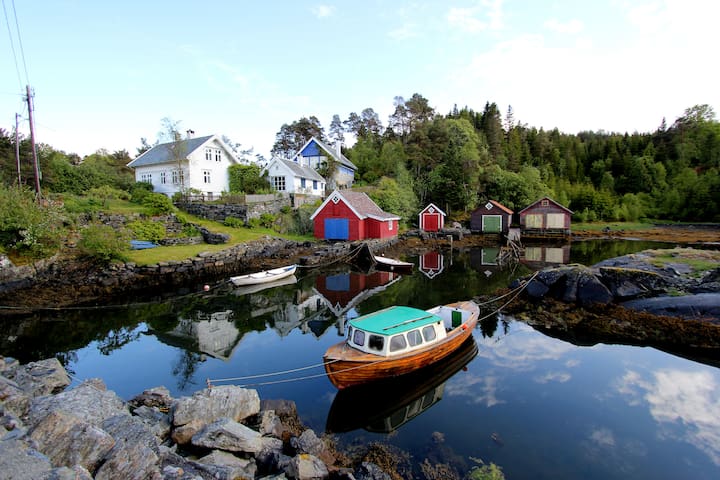 The apartment is close to the sea, public transport, the airport, and family friendly activities. The place is perfect for families with children, couples or friends.
Beautiful view overlooking the sea.
Very quiet area, with the sea as your closest neighbour.
We booked this appartement really late in the afternoon and appreciate the quick response of Hege and Christian. They hurried to make the appartement ready and we met around 21.45 h! The appartement is very spacious, huge kitchen with all commodities and lies in a quiet groupbuilding with other appartments in a harbour at the see 40 min south from Bergen. We could use the dishing gear and bike. This appartment is a good place if you like to visit Bergen and surrounding areas. Hege and Christian thanks for your warm welcome and hospitality.
Karen
2016-08-12T00:00:00Z
The apartment is amazing. Its in 2 floors with 3 bedrooms and a beautiful terrace facing even more amazing seaside sunsets. We were 4 adults and a child and it was a perfect for us. We had complete privacy. Everything was provided, clean bed sheets, towels. Christian and Hege were very nice and welcoming.
Syed Hassaan
2016-08-17T00:00:00Z
The hosts went out of their way to get the keys to us after a mix up on our part. They were very helpful with advice on the local area, offering lifts and providing more than was mentioned on the list (bike and fishing tackle). The apartment was very clean and was in a such a beautiful spot. We had a wonderful stay. We could have done with instructions on how to use the heating, and a kettle would be handy.
Andy
2016-08-26T00:00:00Z
Apartement is in a quiet area about 45 mins drive away from Bergen. For us a good place to stay. Hosts were friendly. Only downside was that the wifi didnt work. Everything else was good
Tim
2016-07-31T00:00:00Z
Everything was ok. Thank you for our stay.
Marek
2016-08-29T00:00:00Z
Lovely quiet spot, great hosts, perfect stay!
Silke
2016-08-09T00:00:00Z
Appartement spacieux traversant avec 2 vues mer , bien rénové . Une table de salon de jardin serait bienvenue sur la terrasse Quartier isolé très tranquille! Idéal pour se reposer
Fabienne
2016-07-24T00:00:00Z
Hege en Christian hebben ons ontvangen en rondgeleid. Appartement ligt in een jachthaven met uitzicht op fjord. ruim appartement met drie slaapkamers. Ruim balkon boven. Alle keukenvoorzieningen aanwezig. Prachtige locatie om te verblijven. Goede uitvalsbasis voor Bergen (1/2 uurtje). Winkels op 10 minuten. Strand in de omgeving. Prima verblijf gehad.
johan
2016-08-15T00:00:00Z
Room Type
Entire home/apt
---
Property Type
Apartment
---
Accommodates
7
---
Bedrooms
Os, Hordaland, Norway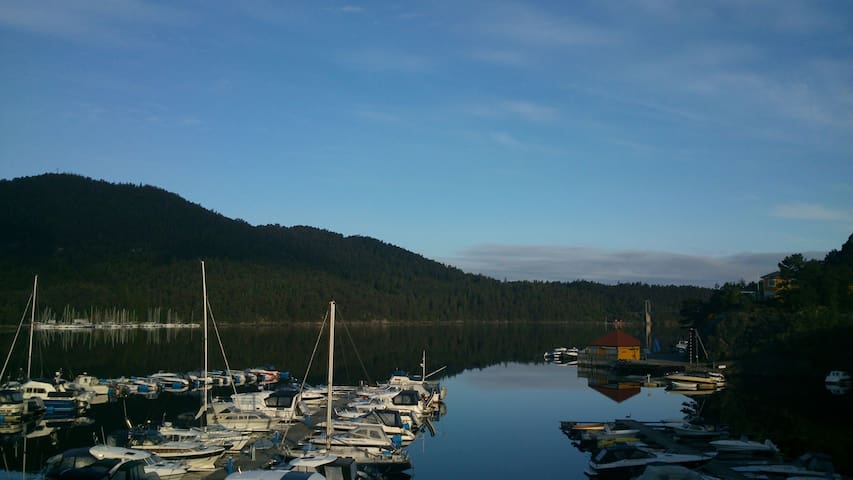 En stor og romslig leilighet i Bergen sentrum. Kort avstand til alt.
Room Type
Entire home/apt
---
Property Type
Flat
---
Accommodates
4
---
Bedrooms
Bergen, Hordaland, Norway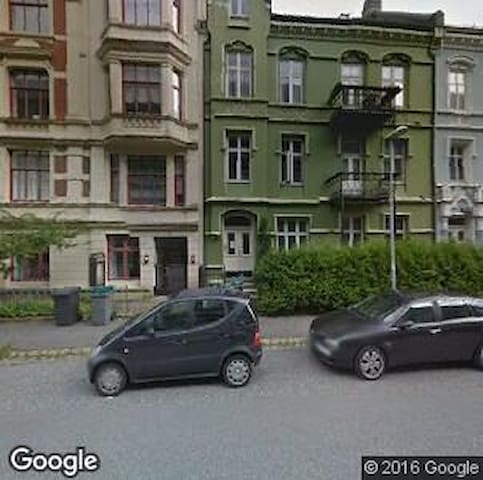 Dette er ein god plass for dei som er glade i naturopplevelser. Fine turmuligheter både i fjell og båtur på fjorden. Tilgang til robåt for fjordfiske. Ein halvtimes køyretur til start for tur mot Trolltunga.
Room Type
Entire home/apt
---
Property Type
Apartment
---
Accommodates
4
---
Bedrooms
Kvinnherad, Hordaland, Norway
Description The apartment is located in Alver Marka Lindas Municipality. 30 min to the city center. Close to mini-pitch and a beach volleyball court. Great hiking and fishing opportunities. Pretty and modern apartment with good standard. The apartment consists of an entrance hall, lounge, kitchen, 3 bedrooms, bathroom. Terrace and parking in public parking. Getting there: Exit at Alver Marken Nord, the third exit on the left, large brown four-family houses on the right side just after the mailbox stand.
Room Type
Entire home/apt
---
Property Type
Apartment
---
Accommodates
6
---
Bedrooms
Lindås, Hordaland, Norway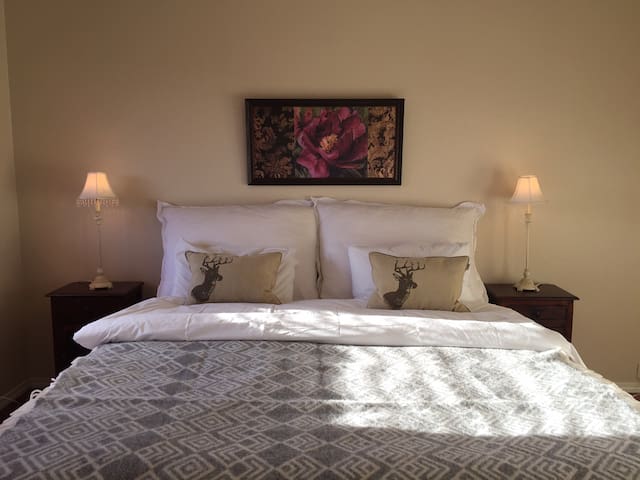 Thank you for considering my Private Room in the Center of the heart of Bergen City. King Size bed for excellent quality sleep. The room contains a Smart TV 50"4K to your service during your relax time :) To top it I also have an IR-Sauna here and it can be facilitated by minor extra charge. You are welcome :)
My Place Is A Big Apartment +100 Sqr Meters Where We Share Kitchen And Bath Room. Sometimes Other AirBnBers and visitors Will Be Around :) A perfect place to rest between you exploring our beautiful part of the World! Your Welcome!
40 Metes To STARBUCKS. Everything Within Walking Distance!
Room Type
Habitación privada
---
Property Type
Apartment
---
Accommodates
2
---
Bedrooms
Bergen, Hordaland, Norway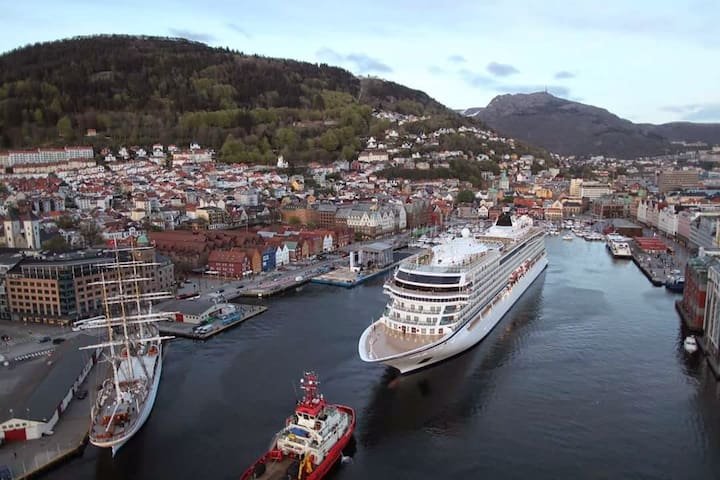 Charming apartment with a splendid view over the Hardanger fjord. Only a 8 minutes' drive from Norheimsund. Welcome at Homlagarden and our organic farm and art gallery. Always a beautiful view to wake up to.
The apartment is a charming open-plan loft built of pale wood and decorated with artwork. One of the double-beds sits against a set of windows that offer a view over the farm and out into the beautiful fjords. The first floor of the apartment is the living room with an open kitchen. One level up (4 stair steps you have a double bed with the beautiful view. On the same level you have a separate bedroom with another double bed. This bedroom has ventilation but no windows. The third level, also open, has a single bed. Here again is a little stair.
There are beautiful hikes to walk directly from the farm or close by. From the farm you can take easy walk through the lands and forest. Also very suitable for an evening walk. For longer tracks, I personally recommend a walk to Krokavatn. It is a 10 minutes drive and then up to a lake, a beautiful walk and landscape, and fantastic views. Also Torafjell and Kvamskogen are nearby and have beautiful tracks to walk.
The best holiday experience we have ever had. Amazing apartment with the nicest View you can imagine. Elizabeth was the perfect host. She welcomed us with the farm's products in our fridge and she took us to the nicest trek in the mountains. Really recommended.
Moti
2015-09-17T00:00:00Z
Communication with Els was excellent and she gave us lots of tips and advice on places to see and walks to do. The place is spacious, tastefully decorated and has amazing views of the fjord, not to mention the private art gallery that you have access to. We had light organic supper waiting for us. Els is a super-friendly host and made us feel at home. We would definitely revisit in the near future.
Reza
2016-06-27T00:00:00Z
We had an enjoyable and relaxing stay. Spacious yet cosy apartment located some hundred meters above the 'main' road provides for an excellent view as well as peace and quiet. Good starting location for various hikes. Friendly received by the owner Els with some local delicacies. Helpful in need (in our case stuck with the car in the snow). Number of restaurants open and activities organised are limited end of April/ early May.
Angela
2016-05-05T00:00:00Z
We had a wonderfully relaxing time at Els' place. She is the perfect host, makes you feel really welcome and looks after you with little touches that make you smile. The views from the apartment are nothing short of incredible. A couple of nights here can take years off you!
Alison
2016-06-13T00:00:00Z
Excellent unique apartment in a stunning setting. In a must see area if traveling through Norway. The apartment had everything we needed and had an amazing panoramic view of the fjords. The hosts were extremely friendly and welcoming, even providing a couple extra fresh eggs from the chicken farm. We would highly recommend to anyone this charming place to stay!
Kristin
2016-05-11T00:00:00Z
We had wonderful days at the beautiful studio apartment at homlagarden. Elisabeth introduced us to the studio, the farm itself, her stunning art gallery and had some very useful and nice infos about the surrounding with tipps for nice cafe's, hiking trips and more. She also provided us a very warm welcome with some tasty products from the homlagarden farm. Eben our dog felt very good the days at homlagarden. We want to thank you, Els! We felt like visiting some friends, not strangers :) See you soon again!
Johannes
2015-08-18T00:00:00Z
The apartment exceeded all expectations; it is beautifully and tastefully decorated. It offers a stunning view over nearby Fjord and turkeys. Elizabeth is warm, friendly and went the extra mile to assist us with our touristy requests. We highly recommend staying here.
Jessica
2015-08-13T00:00:00Z
We were welcomed to Homlagarden with not just spectacularly beautiful views, but with open arms from Els, the sweetest person alive. She left us fresh turkey and butter from the farm in our fridge to snack on after our long journey, and then invited me on a lovely long walk with her two dogs through the woods behind their home. Idyllic doesn't even begin to describe the setting in which we stayed. The loft is decorated with Els and her Husbands artwork and pottery, the furnishings are cozy, and the windows looking out on the fjord and farm below are stunning. The apartment was very clean and private. I would book this again in a heartbeat, and you should too!
Eva
2016-06-02T00:00:00Z
Room Type
Entire home/apt
---
Property Type
Apartment
---
Accommodates
5
---
Bedrooms
Norheimsund, Hordaland, Norway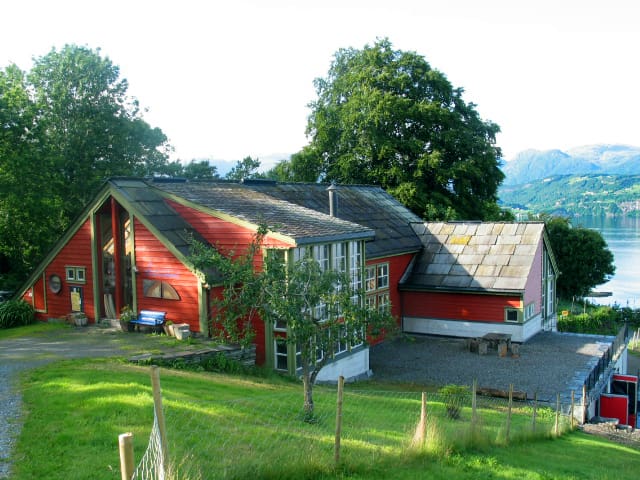 Apartment with normal standard. 5 pers, one single bed + one 120cm bed + sleeping coach for 2pers. Swimming in the fjord. Daytrips to Trolltunga, Folgefonna, Vøringsfossen is recomended. Breakfast not included but you can bring food and make your own in a fully equiped kitchen.
Located in the heart of Hardanger, with good views of Sørfjorden. Børve lie on the east side of the fjord, about 25 km from Odda and about 15 km from Kinsarvik.
Their house is really a big apartment and wonderful sea view outside. The host is very nice to us and they point the details address which just located by No.13 road. Highly recommended you can have a try!
Amie
2014-09-23T00:00:00Z
Nice place to stay before trekking to Trolltunga. only 30 min drive. We had a good night sleep and a good selection of different DVD´s.
Andreas
2015-09-20T00:00:00Z
We had a great time in Solrun's beautiful home with waterfront views to the fjord. Trolltunga is very close by car and loved getting up early to watch the dolphins swim by in the fjord.
Vicente
2014-08-22T00:00:00Z
Kim made us feel welcome to their place, even when we arrived much later than expected. Their place is exactly as described, and the location is great if you are planning on hiking on Trolltunga. We are confident to recommend staying at Solrun and Kim's place.
Alfredo
2016-06-24T00:00:00Z
The apartment is located directly on the Hardangerfjord. It has a great view! Nice hosts :) Highly recommended if you like to enjoy the Hardangerfjord's beauty.
Oliver
2015-08-31T00:00:00Z
This is a nice appartement with a beautiful view on the fjord. Everything we needed was there.
Andrea
2015-07-09T00:00:00Z
Me and my boyfriend stayed at Solrun's flat for one night before hiking to Trolltunga. It was the perfect place for two people (and more), could cook our dinner meal and had breakfast in the morning. Except that it was a little bit cold, we totally enjoyed our stay.
Shadya
2015-10-27T00:00:00Z
Great view,Warm and clean apartment,everything equipment but quite difficult to find.
Zin
2015-10-01T00:00:00Z
Room Type
Entire home/apt
---
Property Type
Apartment
---
Accommodates
5
---
Bedrooms
Børve, Hordaland, Norway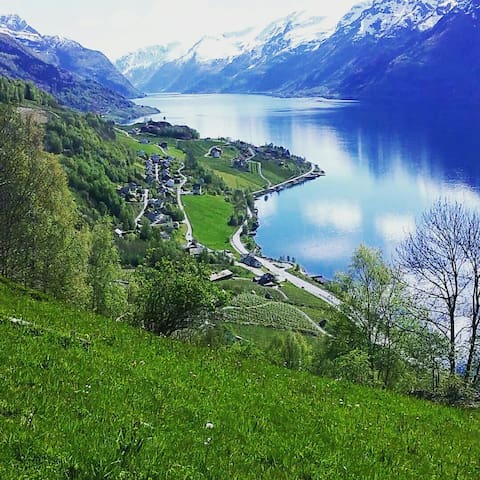 Cosy holiday apartment just on the scenarios fjord. Surrounded by beautiful Norwegian nature, but easy to get to the city.
Great hiking and fishing possibilities! Or, you can explore Bergen City going by local train half an hour.
Room Type
Entire home/apt
---
Property Type
Apartment
---
Accommodates
3
---
Bedrooms
Bergen, Vaksdal kommune, Hordaland, Norway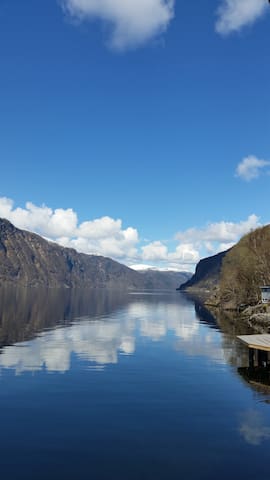 The best thing about the apartment is the amazing terrace with the beautiful view over Bergen city! Excellent location just 2 minutes walk from the train station and downtown main Bus terminal. There is a supermarket and a great bakery right outside the house! The apartment is located on the 6th floor of a cobblestone walking street so even if its in downtown Bergen you escape traffic noise and loud party people. Perfect place to enjoy Bergen!
My place is on the 6th and last floor of the building witch gives it a very beautiful view over Bergen city. Its surrounded with a large private terrace witch makes its a very nice place to stay especially if the sun is shining! From the terrace you will see Lille Lungegårdsvann, Mount Ulrikken, Fløyen mountains and main city streets of Bergen!
Room Type
Private room
---
Property Type
Apartment
---
Accommodates
2
---
Bedrooms
Bergenhus, Hordaland, Norway
Available before 9th of May. 14m2. Near to NHH/supermarket/buss stop. Buss to center 12m. Private bathroom. Shared kitchen have everything you need for cooking. Quilt @ pillow can be provided. Price negotiable. Key hand over any place within city train like city center or airport. Contact +(PHONE NUMBER HIDDEN) or (EMAIL HIDDEN)
Room Type
Shared room
---
Property Type
Apartment
---
Accommodates
1
---
Bedrooms
卑尔根, Hordaland, Norway
This is a great base to explore Bergen from. Close to the city center, bus nr 19 stops literally right outside the house both ways. You can be in the city center in 7 minutes. Beautiful nature and view to the sea. Free parking and wifi. The sofa and the gardrobes won`t be there as it is a period between moving out and moving in. There is a double bed (120 cm, which is good for couples :) and madrasses are thick (20 cm) and very comfortable. That is why we can give it on such a good price.
Room Type
Entire home/apt
---
Property Type
Apartment
---
Accommodates
4
---
Bedrooms
Bergen, Hordaland, Norway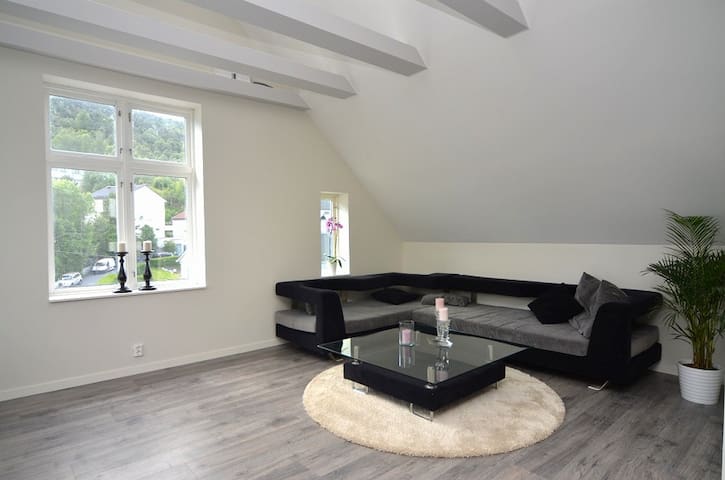 Modern apartment just 10 minutes drive from the parking for the Trolltunga hiking startpoint in beautiful Hardangerfjord. This is as close as you can get. 1 hour drive from the Folgefonna Skicenter.
Room Type
Entire home/apt
---
Property Type
Apartment
---
Accommodates
5
---
Bedrooms
Tyssedal, Hordaland, Norway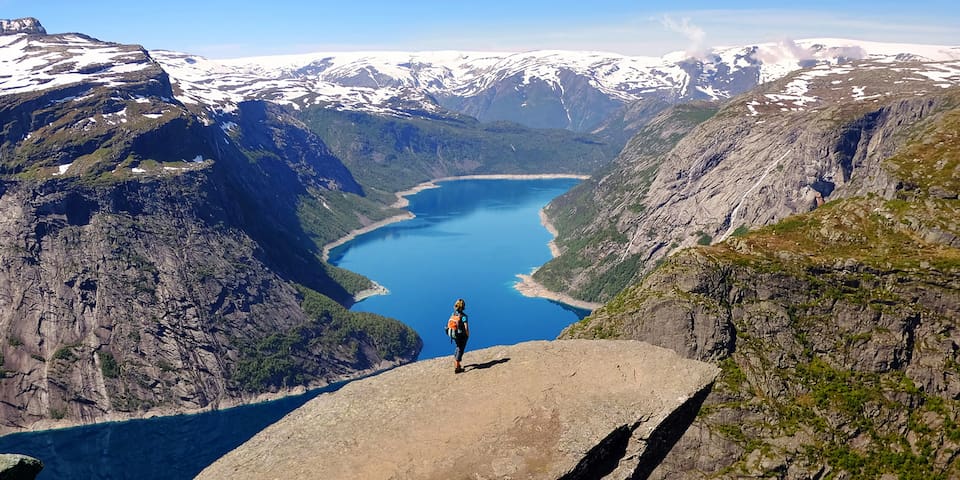 Big and modern apartment in City Center. 2 living rooms, 2 bedrooms, bathroom/toilet and big kitchen. High standard with all facilities. Location is close to Johanneskirken and Bergen Cinema. 3 minutes walk to Torvalmenningen. "Everything" is close by.
This is an apartment from the late 18 century with 3,2 meters to the ceiling. The old style is kept, but the facilities is up to date.
Room Type
Entire home/apt
---
Property Type
Apartment
---
Accommodates
6
---
Bedrooms
Bergen, Hordaland, Norway