Double Room in the country side of San Gimignano, at 5 minutes by car from town center. The room is inside Montegonfoli Farm, a farm of the 17th century made of some building, a sort of a "micro town", sourrounded by property olive trees (about 1000), vineyards, private forest with a small river. For many months, usually from mid April to mid October, the swimming pool is available for the guests. The room has a 160x200cm large bed, a large bathroom with bidet and shower, a nice area outside.
The Montegonfoli Farmhouse is placed on top of an hill with an amazing view on San Giminano and on Tuscany hills. The farmouse is made of some ancient buildings of the Seventeen century, and it's featured by about 1000 olive trees, 2.6ha of vineyard (Vernaccia di San Gimignano, Chianti Colli Senesi, both DOCG), 5ha of "fields of gold" and 9ha of amazing forest featured by a small river for "in house" nice excursions and light trekking activities. The town of San Gimignano is very close, and Siena and Florence can be reached very quickly, as well as all the other attractions of Tuscany. Roma city center (Saint Peter church) is 2,5h from Montegonfoli. This room is on the ground floor and can host up to 2 people with a 160x200cm large bed, a large bathroom with bidet and shower, a wonderful view from all the room windows and from the "private" terrace over the San Gimignano Hills. The pictures can't show in its beauty, its wide angle view at 180°. We are on the top of the highest hill, and in the clean days you will see hills and mountains for hundreds of kilometers/miles. All the guests tell us that the place is more beautiful than what they imagined watching the pictures.
Our neighbours, 50m far from us, have a big horse riding school and each hour start an horse ride into the wonderful surrondings. They have a "social and typical" restaurant too. Other neighbours have cattle husbandry (Chianina type), bees, and other interesting things to see.
The room is clean and comfortable,it is too cold outside so we didn't try the pool. Paolo made us breakfast and reserved horse riding for me, and it has a lot fun! Many thanks!
Chen
2016-10-08T00:00:00Z
The description of the place was exact - maybe even better in person! Paolo was wonderful by being very responsive and clear beforehand and explaining that we would be received by Bruno. Bruno was also a gem, very friendly, welcoming, and helpful. The place itself was stunning. The views, the property, the room, the patios. Everything was breathtaking. If I had to make the trip over again, I would have spent far more of our time here. Moreover, Bruno made a dinner reservation (last minute, but wasn't a problem) for dinner with the group of guests at the next agristurismo (just a three minute walk down their shared driveway) and that was also a real highlight from our trip. Thank you, Paolo and Bruno!!
Elizabeth
2016-05-01T00:00:00Z
Amazing stay! Great views and very helpful staff.
Rick
2017-04-05T00:00:00Z
Paolo's place is amazing! Although it was already October, I even took the chance to go swimming in the pool. The view is excellent and the rooms are very clean and cozy :) It was the best accommodation we've ever had with AirBnB.
Veronika
2016-10-08T00:00:00Z
The location of this accommodation is lovely, about an hour's walk from San Gimignano, with a great view out over the vines, olive groves and stunning country side. There's a variety of rooms here, and we had the smallest on offer, which was nicely fitted out with a new bathroom and it was surprisingly quiet. Unfortunately we had a pretty nasty smell in our room when we arrived, which we eventually tracked down to the draining tray at the back of the fridge after 24hrs or so. Once we got rid of the smell, our stay was greatly improved!! Haha! Facilities are pretty basic - there's no kettle or cooking facilities (none are promised) - but the location is excellent and really makes this place. Make sure you have dinner at Titziana's place, just next door, make a booking. It's worth it!
Chris
2016-09-22T00:00:00Z
We were very comfortable throughout our stay at la Margherita, the property is really beautiful, we get wonderful sights everywhere we look at around. Paolo was very helpful and fast at responding any questions and messages I sent from the beginning. He wasn't at the property at the time of our stay, but friendly Bruno was the one in charge of taking care of the guests, which went fine. Tuscany is beautiful, the food is amazing. It was a very nice and pleasant experience, we would happily visit again.
Patricia
2016-05-31T00:00:00Z
Host Bruno was fantastic and did way and above what was required of him. Beautiful location. Rustic charming rooms / apartments / private terraces. Immaculately clean. Made to feel welcome. Fantastic views of San Gimignano and Tuscan hills. Gorgeous property. Will look forward to visiting again and have already recommended the property to others who will be booking there next year.
Heather
2016-10-20T00:00:00Z
I have stayed in Tuscany several times over the past years and Apartment 1 ranks among my favorite places. Everyone at the house was surprisingly friendly and pleasantly engaging. The apartment and private room were both immaculately clean and everything was comfortable. But it is THE VIEW that makes this place special. The views around the Tuscan valleys and up to San Gimignano are wonderful, and it is fun to watch the horses play. This is a wonderful place to stay for tranquility and to soak in the Tuscan beauty. If you are staying in the apartment with a kitchenette make sure you bring everything you need to cook, because although all the utensils and such are supplied, there are no staples like oil, salt, pepper, etc. Check in and out was very easy and efficient (be sure to have a little cash on you for the local tax). This is a wonderful location and I hope to return some day to enjoy the place and the people for longer!
brian
2016-04-18T00:00:00Z
Room Type
Entire home/apt
---
Property Type
Apartment
---
Accommodates
2
---
Bedrooms
San Gimignano, Tuscany, Italy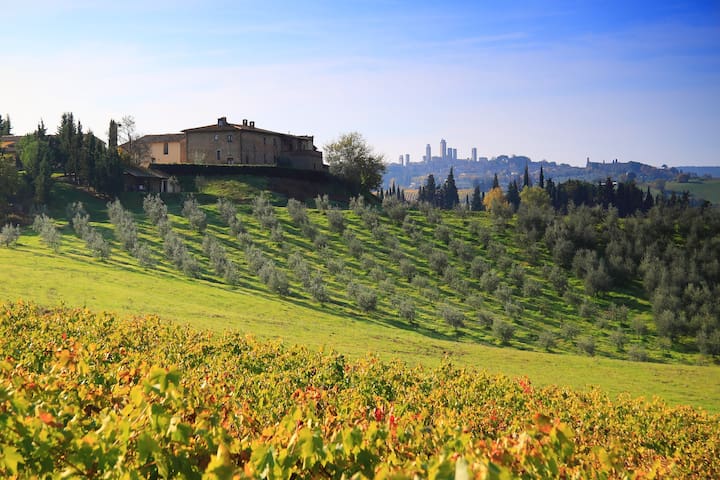 After having visited S.Gimignano, Florence or Siena, here you can relax, recharge your batteries feed off our delicious breakfasts with home-made bread, marmelade, jam and eggs froms the hens who live as happily and well at 'Podere Orto' as we hope you will!
If you are visiting Tuscany and would like to experience all its natural glory come and see us at 'Podere Orto' ! Podere Orto is a small garden farm where the people, plants and animals live in harmonious respect for each other. At the front of the house is a lovingly tended vegetable garden. The surrounding grounds are planted with fruit trees and vines, pear, apple, cherry, peach, fig, blackberry and persimmon. Each day there are dark-yolked, fresh eggs laid by the contented inhabitants of the chicken run. Once a week you will be greeted by the lovely smell of home baking, since we make fresh bread in the wood-burning oven; of course all the ingredients are organic. Your own corner of Tuscany in the heart of its beautiful countryside!
Tuscan beauty ...
We are very thankful to have found Manuela's retreat for our short stay in the tuscan countryside. The farm house is lush and cozy with lots of land of fields and trees and nooks and crannies to relax in - right in the midst of the iconic hills. Manuela's breakfast was a real treat with fruit from her garden, served fresh and as a delicious jam, bread that she baked, and eggs from her chickens! She recommended towns and restaurants in the surrounding hills that we would have never found on our own. We will never forget our 48 hours in real tuscany. This is the kind of experience airBnB was made for!
Angelo
2014-07-19T00:00:00Z
Manuela was the perfect host and it was exactly for places like this we decided to do Airbnb in the first place. The house is very well located beside a tiny tuscan village in the Val d'Elsa region, close to Barberino Val d'Elsa and San Gimignano. She gave us great tips on what to do, eat and visit. The house was very clean, comfortable and even the smell made us think of Tuscany! Breakfast was great with delicious homemade bread, fresh tomatoes from the garden, eggs... in the amazing patio looking over the fields and wineries.. With Manuela, we found common interest that we could share and talk about. If you are looking for a quiet place to relax, not far from some very nice villages to visit and you want a real tuscan experience, this is the place to go to. Thank you so much Manuela, you made our trip even better! Hope to come back soon...
Catherine
2014-08-13T00:00:00Z
I'm so happy about my stay with Manuela and her sweet dog Dudi. I only wish my friend Kate and I could have stayed longer! Manuela is kind, generous, and went out of her way to ensure our comfort as if we were longtime friends. It's hard to write a review that perfectly describes what a lovely and amazing experience we had at Podere Orto that hasn't been written. I gleefully confirm the listing details and all the glowing reviews are true to form. Through this review, I add to the collective appreciation for Manuela's hospitality. It was an honor to be a guest in her home.
Holly
2016-03-23T00:00:00Z
Manuela is a really nice person who offers a genuine experience in an authentic and charming location. I especially loved Manuela's bread recipe with the home-made marmelade and fresh egg 'à la coque' in the morning. There is plenty of information available on the region and Manuela is always happy to share her favourite places like Volterra, Radicondoli, the hot water sources of Petriole or a good address for bying organic wine. A superhost indeed!
Marie
2015-06-16T00:00:00Z
This place is really charming and picturesque! Perfectly located between Florence and Siena, in the heart of Tuscany, and even with a view towards San Gimignano..! In the center of everything, though in the countryside. (There is also a train station only a kilometer away.) Beautiful colours and details in the house and the hostesses Manuela (human) and Dudi (dog) made me feel welcome and at home. Lovely..! The breakfast was really nice, everything homemade - freshly laid eggs - and even the cheese was local..! My room was nice and clean, everything was just perfect for a few days off from daily life. I highly recommend this place!
Vanilla
2016-10-28T00:00:00Z
FANTASTIC place to relax!! I stayed four nights in Manuela`s place and I only have good words about it. Ideal location for doing one day trips to Chianti, Siena, San Gimignano, Volterra... Manuela (and her dog, Dudi) are fantastic hosts, always ready for giving you indications or just a nice conversation (even in Spanish). And the breakfast is AWESOME, including her own eggs and home—made mermelades!! Muchas gracias por todo Manuela!!
Jaime
2014-08-07T00:00:00Z
Manuela's place was rustic and quaint, very rural feeling. Breakfast was great and although we arrived later than expected, we were happy to have a comfortable place to sleep.
Shaun
2015-06-11T00:00:00Z
Manuela's farmhouse was the perfect stay for my trip to explore Tuscany. Manuela is such a warm person. She made my stay very comfortable. The farmhouse is rustic but exactly what I was looking for. So much history and Tuscan culture is in the place. I would recommend Manuela's farmhouse to anyone traveling in the area.
Mike
2017-03-24T00:00:00Z
Room Type
Habitación privada
---
Property Type
Bed & Breakfast
---
Accommodates
2
---
Bedrooms
Vico d'Elsa, Toscana, Italy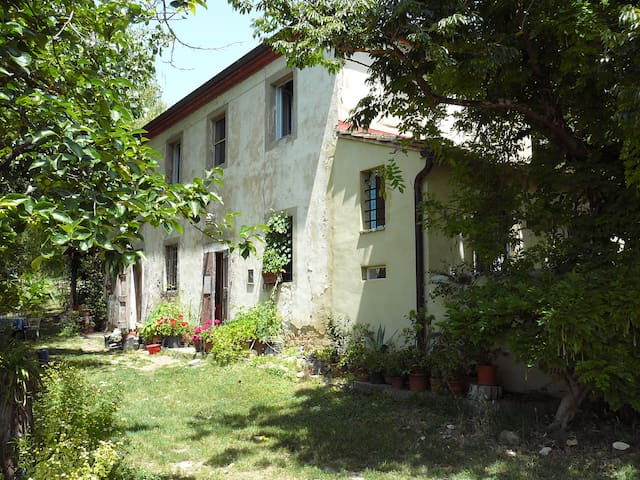 "Casa Macchi" is a beautiful and cozy apartment elegantly furnished with a mix of country and modern style. Here you can enjoy a relaxing holiday in the heart of Tuscany surrounded by nature and peace. Very close to San Gimignano, from here you can quickly reach the most important Cities of art, villages and castles located in the beautiful Tuscan hills
The apartment is located in a typical Tuscan hamlet composed of several units. The access is independent, directly into the garden with a barbecue, where you can enjoy a wonderful view and relax on hot summer days under a large pergola. The interior consists of two floors: the ground floor is the living room with TV, a kitchen with fridge, oven, dishwasher and stove. Here is also a utility room with washing machine and everything you need to clean the house. On the first floor there is a bathroom, a master bedroom with view over the city of San Gimignano and a second bedroom with mezzanine, equipped with a sofa bed and a single bed. All windows have mosquito nets. The apartment has free WIFI internet and LAN access in every room, private parking and swimming pool open from June to September.
The apartment is located in the countryside, in the woods, vineyards and olive groves, which guarantee peace and tranquility. Only 8 km away are the towns of San Gimignano and Poggibonsi. Here you will find the cheapest supermarkets, shops, pharmacies, cinemas, banks, gas stations and all you need!
Room Type
Entire home/apt
---
Property Type
Apartment
---
Accommodates
5
---
Bedrooms
San Gimignano, Tuscany, Italy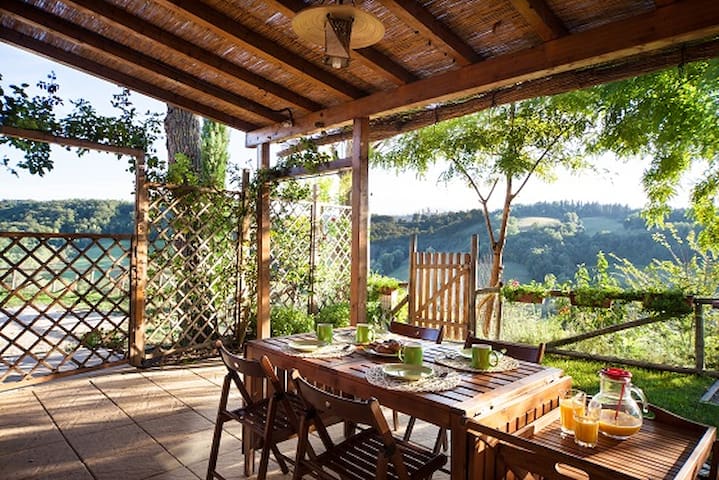 welcome to our family country house, near San Gimignano between Florence and Siena. Cloe flat can host 6 people. you could enjoy the house and the garden. Welcome to the country house of our family, near San Gimignano, Florence and Siena. The Cloe apartment can accommodate 6 people. You'll enjoy the house and the garden.
House Cloe and 'composed on the ground floor of 2 living rooms, a dining room, a kitchen and a bathroom with shower, on the first floor three bedrooms, two with double beds and one with two single beds, and another bathroom with shower . All 'Outside there is a beautiful garden with pergola. House Cloe shares with Casa Mira the wood oven and barbecue places in the garden and the laundry room.
Our stay in Grazia's place has been really great. The house is big and beautiful, just like the pictures. The kitchen is full equipped and the patio is amazing, it's a pity we went in late October and couldn't enjoy it as much as we would have wanted to! The house is in a quiet location, so you know you need a car to move around the region. Grazia was very accesible and she even had a cake for us upon our arrival- a very nice gesture of hers.
Laura
2016-10-18T00:00:00Z
The villa is situated in a wonderful spot on top of a hill with an impressive view of the surroundings. The house itself is huge and very comfortable, with a nice garden that we enjoyed every morning. Grazia provided us with all the info we needed and she was very helpful with tips on how to best get there from San Giminiano where we spent the day, and she was also available on the phone if we needed her. The house is only 3 kms away from a small village with a mini market for goods, though Grazia left us everything we needed for breakfast, even a freshly backed cake! Beautiful place to relax and close to Siena, Florence, and other beautiful cities easily accessible with car. Highly recommended.
Luz
2016-10-06T00:00:00Z
A wonderful location wish we would have had more time to completely enjoy. Great home for a large group
ron
2016-09-08T00:00:00Z
Amazing home with a lot of history and room to move around . Grazia left us a lovely tart on our arrival and the home was well stocked with all the utensils to cook from home .
Renee
2016-10-03T00:00:00Z
Grazia was a great host. Highly recommend her
Chloe
2016-09-07T00:00:00Z
Mi sono trovata molto bene, la casa di Grazia e' accogliente e situata in un punto strategico per visitare varie splendide localita' della Toscana.E'circondata da vigne e la vista dalle finestre delle camere al primo piano e'favolosa e rilassante. Ottima la crostata di fichi e noci.
Maria Sole
2016-10-10T00:00:00Z
Wir wurden herzlich Empfangen und mit vielen netten Kleinigkeiten wurde dafür gesorgt dass wir uns sofort wohlfühlten. Das Haus und der Garten sind traumhaft. Liebevoll eingerichtet mit viel Platz für die ganze Familie. Schaut die Bilder an und freut euch auf euren Aufenthalt. Sehr zu empfehlen! Wir danken Grazia und ihrem Bruder Massimo für die schöne Zeit .
Nadine
2016-09-01T00:00:00Z
Una vacanza strepitosa!!!!! L'annuncio corrisponde perfettamente con la realtà. Grazia è un host eccezionale, disponibile e attenta ai suoi ospiti. La casa è davvero bellissima, curata nei dettagli, molto pulita e si trova tutto il necessario in cucina, nei bagni e nelle camere. Il giardino grande e curato dove rilassarsi è perfetto, il bersó col tavolo ideale per le cene, il barbecue apprezzatissimo e utilizzato parecchio. La zona è molto tranquilla, il panorama è mozzafiato. Dista 15 minuti da san gimignano e le altre località sono facilmente raggiungibili. Unica nota negativa: la vacanza è finita troppo in fretta. Consigliato a chi cerca pace e relax!!!!! Ci siamo sentiti veramente a casa!!!!
Alice
2016-08-20T00:00:00Z
Room Type
Entire home/apt
---
Property Type
House
---
Accommodates
6
---
Bedrooms
San Gimignano, Tuscany, Italy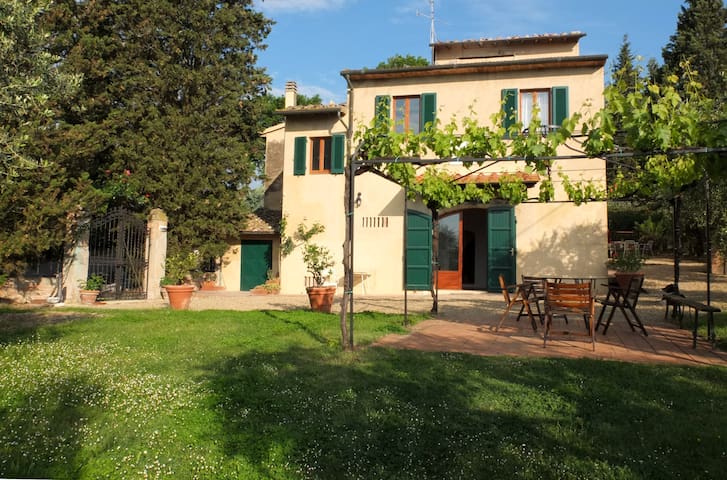 In a real farmhouse 2-3 km far from San Gimignano. One basic room on ground-floor with private bathroom, a small front garden with parasol, table, sunchairs, wi-fi In a near, small, shared room, you'll have your fridge, hobs, pans and cutlery.
Basic, but well located silent, bedroom with private bathroom and equipped garden with wi-fi. It's a basic accomodation, but in summer it's well appreciated. In Poggio Muleti farmhouse we also can offer 3-4 rooms apartments (weekly in summer, 3 days in other periods) From 60 to 100 Euros. In front of the towers of San Gimignano. Near Florence, Sienna and the Chianti area. Swimming pool, bbq, relaxing pamoramic area. Poggio Muleti is nestled on a hill facing the charming medieval town of San Gimignano. Our agriturismo is surrounded by 52 hectares of its own vineyards, olive groves, crop fields and wooded areas. Our unique location will make it easy for you to explore Florence (37 km), Sienna (Siena) (30 km) or go for a stroll in the nearby ancient villages of interest such as Volterra, Certaldo and Colle val d'Elsa. Together with the culture, history, good food and wine that you will experience nearby you can relax by our swimming pool or enjoy your holiday having a peaceful walk within the splendid countryside of Tuscany. The Agriturismo Poggio Muleti will welcome you wi-fi for free
The landscape! Always the same, never the same at the second glance. You've not to crash your car becouse we're 150 meters from the asfalted, but pretty trafficless, public road. We're 5 min. driving far from San Gimignano village in which you'll find shops, all kind of restaurants and wine bars, a supermarket, pharmacies, clinic, veterinary, children play ground, pubblic swimming-pool. Wine tastings and cooking classes are very near to our farm
We had a very nice stay - everything was just as descripted and seen on pictures
Julia
2015-05-20T00:00:00Z
We loved our stay at Poggio Muleti farm. The room was clean and cozy and we liked having breakfast at our own little terrace. The kitchen needs some improvements, but it was nothing that would make our stay worse. The best thing is definitely the swimming pool with stunning view, where you can just relax and watch the view forever. We were welcomed with bottle of wine from the farm own produce, which was very nice and we bought more after as a gift for our family and friends.
Lucie
2015-08-21T00:00:00Z
Our stay was great & perfect! Valentina was very kind (even we didn´t see each other). The communication with Valentina was very easy and she was always helpful. We had to change our dates (because of me). It was no problem to stay 4 days later the two day we booked. Her uncle Giancarlo gave us a big welcome :) We can recommend this beautiful place to everyone!
Vivien
2013-05-28T00:00:00Z
One word: AMAZING! We really loved the view, the swimmingpool, our lovely room and the very friendly people. This one will stay on our wish-list! We will absolutely go back to this place. Many many thanks!
Ruud
2013-08-06T00:00:00Z
A beautiful property overlooking San Gimignano. Sunset and sunrise was amazing. A great place to relax by the pool or drive into town. We would love to go back :)
Kate and Jay
2015-10-09T00:00:00Z
We loved staying at Valentina's farmhouse--gorgeous scenery and great location. Both Valentina and her uncle were so kind and gracious when we arrived, and Valentina was very helpful with suggestions for getting around, where to eat, etc. The room we stayed in was clean and tidy, and we appreciated having access to some basic kitchen equipment for storing breakfast items. The location was perfect for day trips to San Gimignano, Siena, and Florence. We hope we can go back someday! Thank you, Valentina!
Jane
2011-09-26T00:00:00Z
Great location close to San Gimignano, with Sienna, Chianti and Florence all not far. It was lovely to have a dip in the pool and having San Gimignano on the horizon! Valentina was a wonderful host and greeted us with a bottle of their wine! Thanks very much we had a wonderful time. Gareth & Emma
Gareth
2012-07-26T00:00:00Z
Beautiful rural farmhouse in an awesome location. Great swimming pool with an amazing view of San Gimignano. About 5 mins drive to medieval town centre. Room 2 a little hot on first night and no aircon or fan so would maybe try for different room next time but would definitely go back!! Great relaxing place to stay. Lovely staff.
Matt
2013-07-12T00:00:00Z
Room Type
Habitación privada
---
Property Type
House
---
Accommodates
2
---
Bedrooms
San Gimignano, Tuscany, Italy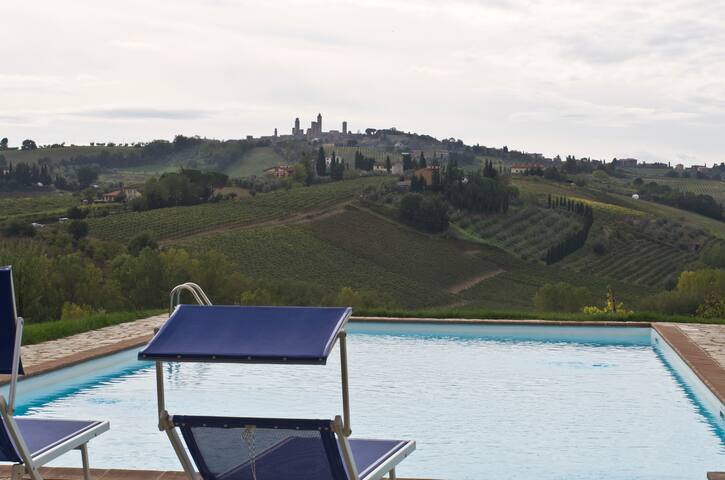 Typical Tuscan country house where you can relax enjoying exclusively the magnificent panorama of San Gimignano , "the city of Towers". The ideal place to spend a holiday in close contact with nature , suitable both for a couple that for a larger family, if you want even in the company of your pets .
The apartment which is accessed by a large porch , is finely furnished and is composed on the ground floor kitchen , living room dining room and a bathroom on the first floor are the bedrooms and an additional toilet. The whole environment is in typical Tuscan style with brick and exposed stone and also has private garden partly paved and equipped with wooden pergola where you can dine or enjoy the tranquility of the place. Guests can freely park your car in front of the (URL HIDDEN) it's not included in the price. Heating is 10 euro per day to be paid in cash upon your arrival.
The view is enjoyable from inside the area that from the outdoor area allows you to see perfectly the skyline of San Gimignano , characterized by its famous towers and the surrounding countryside alternating wonderful vineyards and olive groves.
This is fantastic country house in part of Italy where country houses in the vineyards are best one can imagine. Beatrice is very very polite host! We stayed only 5 days but when we where leaving we already thinking about our next holiday in Tuscany and most probably we will be back right in Beatrice's house!
Bratislav
2016-09-14T00:00:00Z
Lovely farm style house in a lovely location. We had no faults or complaints. Beatrice was absolutely fantastic and very welcoming. Would highly recommend this place to anyone looking to stay in the area.
Kevin
2016-07-29T00:00:00Z
Beautiful, country farm house. Clean, quiet and good location to explore the surrounding towns. A good option for a family. kitchen was well appointed and great for home cooking.
Mark
2017-04-03T00:00:00Z
It's hard to go into someone house and they make it a home for you. Beatrice and her family did just that. The home is beautiful and the location is breathtaking. I highly recommend speaking with her if you're going to be in the area.
Charles
2016-07-06T00:00:00Z
Beautiful and very clean Tuscan house in the country side! Amazing view, location and nature! Beatrice is really friendly and nice.
Alexandra
2016-10-07T00:00:00Z
Beatrice was warm and welcoming. Don't change a thing , the property show Tuscany its best.
Mark
2016-09-25T00:00:00Z
It was a lovely stay at Beatrice' place. Enough has been written about the house itself. It's perfect as an authentic but modernised house neigbouring an uncle on the one side and a brother on the other. Beatrice and Roberto are living a couple of kilometers away. It's a lovely couple which guided us to the house from the supermarket the day we arrived (pretty late...). Very helpful with nice little treats. The terrace is a nice place to hang out and when you walk 25 meters away from it, there is this lawn with lazy chairs and the view of San Gimignano... Hope, Beatrice, your place is available next time I travelle to Tuscany.
fen
2016-09-30T00:00:00Z
Thank you Beatrice for the lovely stay at your beautiful house in Tuscany! My family and I felt very comfortable and happy there, the house was lovely and the view was incredible. We enjoyed playing games and eating yummy pasta on your patio. Our favorite place we stayed at by far! We did have some struggles with the wifi but it was quickly resolved so we appreciate that greatly. If we make it back out to that part of the world we will be sure to stay here again, thank you :) highly recommend!!
Amanda
2016-08-01T00:00:00Z
Room Type
Entire home/apt
---
Property Type
Apartment
---
Accommodates
6
---
Bedrooms
San Gimignano, Toscana, Italy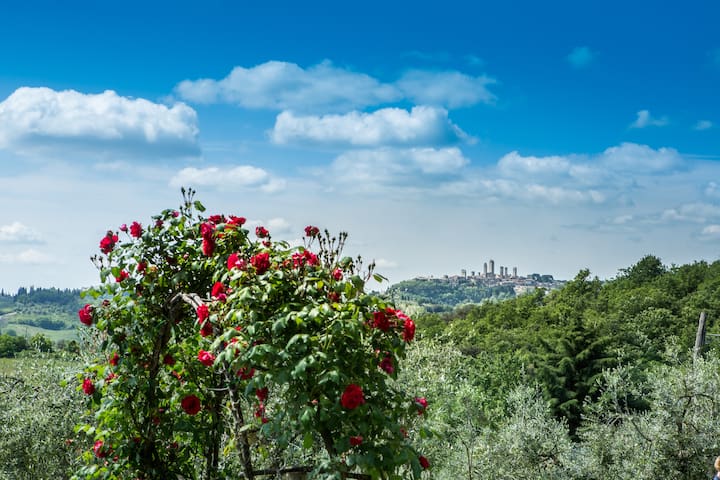 The apartment has its own entrance , large living room with well equipped kitchen , 3 bedrooms and 2 bathrooms. It has a private garden with BBQ and gazebo , which offers a beautiful view of Vico d' Elsa , San Gimignano and the sunset. Swimming pool from 25/04 to 31/10.
It can be considered as the "heart" of the farm as it is part of the 16th century farmhouse. This is a completely and finely renovated apartment of 130 square meters. The living room-dining room is on the first floor and it is a large area with a kitchenette and a typical ancient marble sink. There is an entrance hall with a sofa, a double bedroom with an en-suite bathroom with shower, a bedroom with two beds and a bathroom with bathtub. On the second floor there is a double bedroom which was once the ancient "dovecot". From here and through an arch window you can enjoy a splendid view on San Gimignano and the valley. The kitchen is equipped with microwave oven, fridge, freezer, dishwasher, toaster. Large exclusive equipped yard with barbecue and private parking.
The apartment La Colombaia is located in the Tuscan countryside , thanks to its central location and proximity to roads of communication, it is an ideal starting point to reach San Gimignano ( 10km ) , Certaldo (7.5 km) , Colle Val d ' Elsa (14 km ) , Siena ( 35km ) , Florence (40 km) and Volterra (40 km) , Pisa ( 80km ) . It is advisable to have a car, but 10min walk there is a train station that connects Barberino Val d' Elsa to Siena and Empoli . Vico d' Elsa , is our small country village, even within walking distance (1km) , features two restaurant / pizzeria, a grocery store , a bar and a post office and a pharmacy . 4 km there is a well stocked supermarket.
Our Hostess Letizia did everything possible to make our stay feel like we were fully at home, fully responsive to all our needs and questions. The home is charming and with a fully equipped kitchen and decorated with good taste. Everything in the home is maintained at a very high standard. Everything absolutley clean. Two bathrooms (one with bath and one with shower) enable privacy and convenience for tenants. The home is located in a good vicinity for travel and sight-seeing. It is in the middle of Toscana, close enough for daily trips to all areas of interest in Toscana. The swimming pool is located just down some steps from the garden. Very convenient. We stayed in the main house and we highly recommend this accomodation for large families or for three couples. There is an additional smaller home on the propery for two couples with up to two children as well. To summarize our stay and experience in one word : "excellent"
Haim
2016-10-21T00:00:00Z
We spent one week in La Colombaia. Thoroughly enjoyed its Tuscan atmosphere, fully furnished comfort an cleanliness. Its pool in simply wonderful! And Letizia was a perfect hostess, nice and helpful in every possible way. We hope to return next year and I can only recommend her apartments!
Judit
2015-06-26T00:00:00Z
Bellissimo soggiorno al Podere Villetta! La casa è molto grande, antica pero ristrutturata da poco, con un bel soffitto alto. Il soggiorno è molto grande è piacevole (anche s'è un po scuro), e la terrazza è anche molto gradevole, con una bellissima vista: da un lato su San Gimignano, dall'altro sul picolo borgo di Vico d'Elsa circondato dai cipressi. La situazione è ottima per ammirare il tramonto sulle colline! Letizia è gentilissima, ci ha accolto con una bottiglia di vino, è stata sempre disponibile per noi, sia prima che durante il soggiorno. La ringrazio molto per la sua accoglienza. Magnifique séjour au Podere Villetta ! La maison est très grande, de construction ancienne avec un intérieur rénové très récemment (tout est nickel), avec un plafond d'une belle hauteur. Même si l'intérieur est un peu sombre, le séjour est très vaste et la terrasse est aussi très agréable, avec vue d'un côté (au loin) sur San Gimignano, de l'autre sur le petit bourg de Vico d'Elsa entouré de cyprès. La situation est parfaite pour admirer le soleil couchant derrière les collines ! Letizia a été très accueillante, elle nous a offert une bouteille de vin à notre arrivée et a toujours été disponible pour nous, avant et pendant le séjour. Je la remercie particulièrement pour son accueil.
Benoît
2015-04-17T00:00:00Z
Accoglienza e disponibilità di Letizia e famiglia eccellente!! La casa bellissima in mezzo alla natura e fornita di tutto e pulita. Posto ideale per passare delle belle vacanze in relax nelle campagne toscane. A due passi da San Gimigliano e a 30 miuti, 1 ora da tutto. Firenze, Siena, Volterra, Lucca, etc.. Consiglio vivamente di transcorrere delle vacanze a casa di Letizia:) Un saluto Fausto
Fausto
2015-04-05T00:00:00Z
Letizia est une hote merveilleuse, accueillante et elle a tout préparé comme il faut la maison d après nos besoins . La maison est tel que montre sur le site mais en plus beau: l appartement est très grand, le salon, salle à manger et çuisine est grande et bien éclairée, très bien équipée pour une grosse famille avec lave vaisselle, un atout pour paresseux. Les chambres sont immenses, très belle vue et aussi très bien meublées . Dans l ensemble, la maison extérieur, intérieur est décorée de très bon goût, respectant la rusticité recherchée et la modernité lorsque requis. Le coin jardin et pergola extérieur est simplement magnifique ! Çette maison est très facile d accès et est au centre de toutes les activités, mi chemin entre Florence et Sienne, a 15 min de San Gimignano et Volterra. Merci Letizia pour l accueil et bonjour à la petite poupée de la famille !
Kim Chi
2016-06-05T00:00:00Z
La maison est incroyable, spacieuse et décorée avec goût. Les finitions de la maison sont qualités, ça peut paraître inutile comme information mais cela est tellement frappant quand vous y séjournez ! La localisation est idéalement vous avez d'ailleurs une vue incroyable sur San Gimignano. Vous êtes à moins d'un km de Vico d'Elsa pour voir la serre de Cactus et du Resto Vico furbo ! Vous trouverez également sur la place une épicerie qui peut dépanner pour l'apéro que vous prendrez sur la terrasse pour admirer un magnifique couché de soleil. Encore merci à Letizia pour son accueil agréable même à 23 h passé !
Alexis
2016-04-15T00:00:00Z
Très bel appartement rénové avec goût, spacieux et confortable. L'emplacement est idéal pour visiter la Toscane, pratique pour se rendre à sienne, Florence, San gimignano, Volterra,... Nous avons passé un très bon séjour, merci à Letizia!
clement
2015-10-30T00:00:00Z
Nous avons été tres bien accueillis lors de notre séjour. La Colombaia est une magnifique demeure parfaitement équipée et tout est nickel ! Le charme de l'ancien et la vue imprenable sur la campagne toscane et les vieux villages typiques nous ont conquis. Nous avons aussi bien apprécié la terrasse et le joli jardin fleuri. Tous les principaux sites touristiques de Toscane sont à proximité de voiture (Florence, Pise, Sienne, San Gimignano, etc...). En résumé, tout est parfait pour un super moment en famille ou entre amis.
Vrastor
2016-04-24T00:00:00Z
Room Type
Entire home/apt
---
Property Type
Apartment
---
Accommodates
7
---
Bedrooms
Barberino Val D'elsa, Toscana, Italy
Double Room in the country side of San Gimignano, at 5 minutes by car from town center. The room is inside Montegonfoli Farm, a farm of the 17th century made of some building, a sort of a "micro town", sourrounded by property olive trees (about 1000), vineyards, private forest with a small river. The 13x6m swimming pool is common to all the guests. The room has two 80x200cm beds that can be joined upon request, a large bathroom with bidet and shower, and a nice area outside.
The Montegonfoli Farmhouse is placed on top of an hill with an amazing view on San Giminano and on Tuscany hills. The farmouse is made of some ancient buildings of the Seventeen century, and it's featured by about 1000 olive trees, 2.6ha of vineyard (Vernaccia di San Gimignano, Chianti Colli Senesi, both DOCG), 5ha of "fields of gold" and 9ha of amazing forest featured by a small river for "in house" nice excursions and light trekking activities. The town of San Gimignano is very close, and Siena and Florence can be reached very quickly, as well as all the other attractions of Tuscany. Roma city center (Saint Peter church) is 2,5h from Montegonfoli. "Oleandro" room is on the ground floor and can host up to 2 people. It includes a large bathroom with shower and a terrace with amazing views shared with the next room "Margherita". Each room has there a table and two stairs. The standard bed configuration is "Twin bed", but beds can be joined upon request.
Our neighbours, 50m far from us, have a big horse riding school and each hour start an horse ride into the wonderful surrondings. They have a "social and typical" restaurant too, where all the guests share the same tables and the food is very good. Other neighbours offer other interesting activities, and the same the villages and towns in our surroundings. in few hundred of meters there are several wine makers, every one making wine with its own features, and lots of interesting things to see and taste, like "Chianina" cows and "Cinta Senese" pigs.
We have had a great stay, would definitely return!
Michiel
2016-07-23T00:00:00Z
The place is great. Amazing sunrises and sunsets. 6 min drive to San Gimignano. Had a super nice social dinner at the neighbors. Highly recommend it. Bruno is the administrator of the place. He is such a kind and helpful person! We were taken really good care of! We might just come back some day :)
Jens Eirik & Oda
2016-10-20T00:00:00Z
Paolo was unable to be there during our stay but he made sure we were given all we needed and his friend Bruno made us feel like we were part of the family! The location of the Oleandro room is stunning, with views of vineyards just underneath our bedroom window, in the quiet of the countryside interrupted only by the occasional cricket. The Montegonfoli Agriturismo is really close to San Gimignano, and it is very easy to just pop by to the historic UNESCO world heritage site for dinner or a delicious take-away pizza. ;) We really can't exaggerate how much we enjoyed our stay - it was perfect and Paolo will definitely see us again soon.
Michael
2016-09-22T00:00:00Z
We didn't meet Paulo but his staff were friendly and helpful. The location is beautiful with a lovely view of the iconic town of San Giminano in the distance. It's the first time I've stayed in a 'resort' via airbnb which wasn't run by the family so it didn't have the homely and personal feel I prefer, but, as the location was so lovely it didn't really matter just for one night.
Can
2016-06-07T00:00:00Z
The village is perfect with great room both Morden and Ancient building. The dinner nearby is pretty local and good. The wine and pasta is nice! We love the place with sunshine, swimming pool and nature. Wish to come back again l.
Young
2016-05-28T00:00:00Z
Hello everyone My wife and I were staying for one night at Paulo . Nice and tidy place , the room was clean and tidy . Paulo did not have his employee greeted us kindly and explained us everything Was a bit cold and there was no heating in the room and that was the only problem
שלום
2015-10-11T00:00:00Z
Higly recommended! We only had one night there, but the experience was great! The property is large and quiet, while the room was cozy and cleam. Unfortunately we didn't meet Paolo, but Bruno helped us with everything. It was an absolute delightful experience waking up in a farm like that in the middle of Tuscany.
Lucy
2016-05-05T00:00:00Z
What an amazing property and stay. This was by far our favorite place to stay during our 2 week vacation in Italy. Paolo was so kind and quick to respond with the planning leading up to our trip. He was out of town when we were staying there but Bruno and Georgiana were fantastic hosts. I speak some Italian so it was fun to be able to practice with them but they also were great with other german and japanese guests who were staying at the time. The room itself was perfect. Clean, beautiful views and exactly what we needed. The pool was amazing as well, so peaceful and relaxing. Best part of our trip was sitting by the pool sipping Rose that was made from those grapes! We also set up to have dinner made two of the nights and it was spectacular. Just can not say enough good things about this Airbnb. Book now, you will be so happy you did! :)
jamie
2016-08-03T00:00:00Z
Room Type
Entire home/apt
---
Property Type
Villa
---
Accommodates
2
---
Bedrooms
San Gimignano, Tuscany, Italy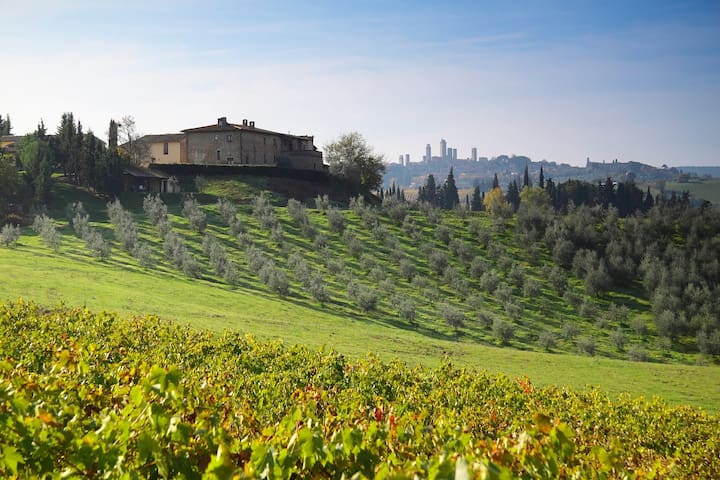 Lovely room in pure Tuscan style, with double bed, bathroom and separate entrance in the beautiful countryside of San Gimignano. Spacious garden, private parking atmosphere calm and quiet in pure Chianti style. It reaches well the major cities such as Florence, Siena, Volterra and is just 7 km from San Gimignano. Dog lovers are welcome! To welcome you with so much love our German Shepherd Ugo ... the good and gentle dog in the world! A short can accommodate your furry boxed in private courtyard.
Room Type
Habitación privada
---
Property Type
Apartment
---
Accommodates
2
---
Bedrooms
San Gimignano, Tuscany, Italy
This simple but charming place is perfect for those looking for sonething out of the ordinary. Enjoy the peaceful tranquillity of the tuscan countryside whilst remaining close to the main tourist attractions like San Gimignano.
One wing of this house dates from the 14th century when it was in use as an observation tower.
Robert and Monica's house is in the countryside, in a a beautiful and calm enviroment and close to Florence, Siena and San Gimignano...wonderful place to stay if you look for calmness in the middle of crazy touristic chaos that rules all around. The room fulfills its description. Robert and Monica are very nice and welcoming hosts.
Karolína
2016-07-07T00:00:00Z
What a location. Yes, this is a bit out of the way when you are considering frequenting Florence, but if you want to split your time between the big city and the countryside - you couldn't ask for a better spot. The room comes as advertised, although the only concern I would voice is that the windows do not have screens. I made the mistake of keeping the window open at night and ended up with a few mosquito bites on my neck and face in the morning. The next night, I used the super-powerful fan they provided and shut up the windows tight to avoid a repeat. It is truly rustic, but the water is hot, the room is large, and the bed comfortable. For someone looking for a bit of an adventure, this is your spot!
Ted
2015-06-11T00:00:00Z
While I was in Tuscany for the first time with my family, the journey proved to be as a wonderful experience. We were impressed by the cities, beautiful countryside and extremely hospitable people. Among them, surely stand out Robert and Monica as a wonderful hosts. Their home is in the heart of Tuscany, in the middle of vineyards. And from windows you can see beautiful San Gimignano. House is decorated with refined taste of the artist, there is nothing too much or too little. Full of warmth, as the owner. "Thank you Robert and Monica. Within your delicious breakfasts and excellent coffee, we spent wonderful days. Because of you we will be certainly back in Tuscany, soon." Grega
Grega
2014-08-19T00:00:00Z
Beautiful place in the wonderful Hills of tuskany! We recommend this place in any way! The nature, the house and the fantastic atmosphere were outstanding great! We loved the two "tigers", the 2 cats of Robert and Monica! The outlook at the lovemade breakfast was phenomenal! The hosts were very helpful, nice and very friendly! We recommend that for everyone who want to make a break from the touristik stress in the citys!
Jochen
2016-08-11T00:00:00Z
The host canceled this reservation 2 days before arrival. This is an automated posting.
Lorenzo
2016-08-08T00:00:00Z
Wonderful hosts, friendly and helpful. The space was clean. Off the beaten path with beautiful views. They have two of the friendliest cats I have ever met!
Taryn
2015-04-22T00:00:00Z
La casa di Robert è l'ombelico del chianti. Per arrivarci occorre fare un po' di attenzione perché c'è una discesa non asfaltata. Ma una volta scesi ti si apre davanti un posto incontaminato, immerso tra valli e vitigni. Al centro, si erge una bellissima casa in pietra, una casa che trasmette un senso di libertà e di calma, in cui abitano due persone speciali, Robert e Monica. Persone sorridenti, gentili, accoglienti e molto disponibili. La stanza è molto carina e il letto è un futon, l'ho trovata calda nonostante utilizzino una stufetta. Le stanze che intravedi sono colme di libri e ti trasmettono subito un senso di pienezza. I servizi sono nuovi ed efficienti. Nonostante la mia permanenza sia stata di una notte sola per poi lasciare la stanza al mattino presto, ho avuto modo di scambiare delle chiacchiere piacevoli con Monica che alle 7,00 del mattino, mi ha preparato una colazione casalinga, molto buona e ottima per la gara di bicicletta che mi stava attendendo da lì a poco. In questa casa di campagna, il tempo mi è sembrato si fosse fermato e tutto si fosse fatto più quieto e sereno. Il profumo del mattino, il pane tostato, nessun rumore della modernità, le pareti colorate e l'arredamento vissuto. Davvero un posto unico e amichevole. Sembra davvero di essere andati a trovare due vecchi amici e i loro gattoni. A dire il vero sono allergico ai gatti, ma l'armonia è sempre sopra a tutto e sono stato benissimo. p.s. (Grazie Monica della mela, buonissima! E non hai idea di quanto mi sia servita durante la pedalata!)
Aimone
2015-03-08T00:00:00Z
Robert e Monica ci hanno accolto calorosamente nella loro bellissima casa in campagna in mezzo ai campi e a una calma assoluta e piacevolissima. Il casolare si raggiunge attraverso una via sterrata un po' impervia (attenzione in bici), ma una volta arrivati ci si può godere un luogo paradisiaco. Se si cerca un po' di calma in un bel paesaggio toscano, questo è il posto giusto!
Laurent
2016-08-01T00:00:00Z
Room Type
Habitación privada
---
Property Type
Bed & Breakfast
---
Accommodates
2
---
Bedrooms
certaldo, Tuscany, Italy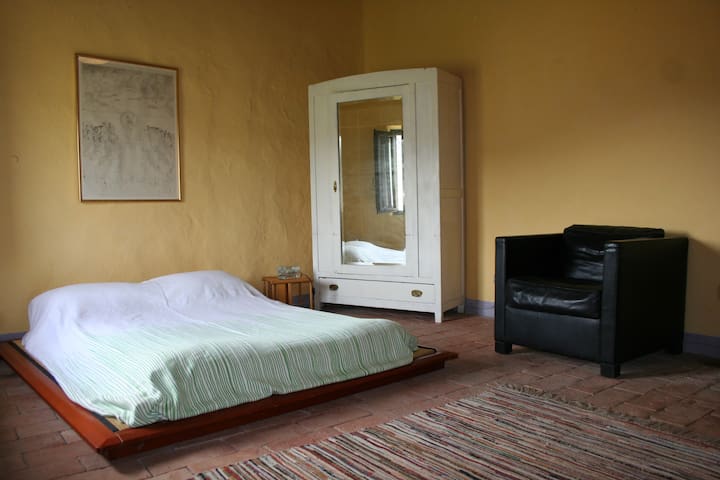 Private apartment in agriturismo farm house. This is a small apartment suitable for 2 adults and possibily a baby or young child (cot available if requested). The living room and kitchen are in the same room, spacious, with a sofa bed and dining table. adequate wardrobe and drawer space for two people. TV, bathroom with shower, w.c., bidet and washbasin. Gas cooker with oven, sink, fridge, overhead cupboards, small table and 2 kitchen chairs, microwave. Washing machine available in the house and a big washing sink. You will have free access to your own small private garden, a shared swimming pool, and to all our property. Cleaning not provided during stay. a lot of fruit trees, apricots, cherries, peaches, grapes, berries, and figs, depending on the season. we have more than 1000 olive trees next to our house. we make pizza and bread in a our brick oven. The house is situated 3 km (1.8 miles) outside of San Gimignano, in the middle of vineyards and oilive oil trees.(longitude N43.29.57 latitude E11.02.30). very peaceful and relaxing, but yet very close to the main tourist destinations in the area: 1 hour drive to Florence, 50 minutes drive to Siena, 1.20 minutes drive to Pisa, 1 hour to the coast. You can reach San Gimignano by car or by bus. The nearest train stations are Poggibonsi and Certaldo, we offer car or van services, pick up from the airport and we organize trips around the countryside and to the main tourist destinations. contact me for more information.
It was a great stay at Leonardo! We will definately come back again when we're back. Relaxing place, clean apartement, lovely garden en great swimmingpool!
Georgette
2014-06-14T00:00:00Z
My husband and I with our 11 yr old daughter stayed for a week at Graziella Agriturismo in June and had a wonderful time. Leonardo was very helpful especially as we didn't have a car. Loved the fact that we could see San Gimignano in the distance from our doorway in the flatlet. We did manage a trip to Siena, and a few to San Gimignano which is walkable - though not in the heat of the day. Most of the time spent relaxing by the pool and eating. We had a great meal with others guests on our first night which Leonardo organised, and a memorable day out on our last day with Leonardo, his brother and friend. We would love to return one day, maybe with a car next time.
Susan
2013-07-09T00:00:00Z
We had such a wonderful time on Graziella and Fernando's Farm. The place is gorgeous. The flat is well appointed with everything you'd need and the bed is comfy. We were made to feel so welcome and loved the local olive oil and wine on offer as well as the company when Graziella invited us to join her and her grandson for bruschetta one evening getting to practise my rusty Italian. We would love to return one day.
Alice
2014-09-27T00:00:00Z
What a fantastic find! The location is heavenly , it has a gorgeous pool surrounded by Olive trees with unbroken views over the glorious Tuscan countryside. The apartment has all you need for a perfect stay. Leonardo and his family are the perfect hosts and could not have been more friendly and welcoming. Very highly recommended indeed! Lynne and Tom
Lynne
2015-08-10T00:00:00Z
We had a wonderful week at your place in Toscane. A very good base to discover this part of Italy. We liked San Gimignano very much. From here we visited Lucca, Pisa, Sienna and the Chianti-region. The house was comfortable and complete. It was a pity your grandparents and brothers were ill during this week, so we missed the contacts with them as other guests described in your guestbook. We are still enjoying the olive oil and wine from your place!
Fréderique
2014-10-15T00:00:00Z
People here are talking about a farm, but this is not really a farm, for a farm and also for "agriturismo" needs a little more "goodies" as only two chickens around. Fernando and Graziella are wonderful and hospitable people, both are very friendly, but because of old age they are not able to manage an agriturismo as such. We have meet Fernando on the first and also on the last day. We used the flat as a base to visit nearby places of interest and it's ideal for this purpose. The apartment is well equipped, for that what we need, but not more, a small sofa with a micro tv… to sit outside it would be perfect in summer, but not in April, because in the evening it is cold, if you want, you have to pay additional for the heating. So I wish to have a comfortable place to be, when I come back "home" ! Perhaps Leonardo consider to change the offer about "agriturismo" in the website to: "This is a beautiful mansion, with a beautiful garden, very quiet that you can enjoy the silence and discover the landscape with a walk.... Nonetheless, we had a wonderful time in tuscany :) Meaning of Agritourism: give hospitality in accommodation or in open spaces intended to stop campers ;deliver meals and drinks consist mainly of own products and products from farms in the area with a preference for local products and characterized by the PDO , PGI , IGT , DOC and DOCG or included in the national list of traditional food products ; organize tastings of farm produce ; organize, even outside of the landed property in the availability of the firm , recreational, cultural , educational , sports practice , as well as hiking and ippoturismo , also by means of agreements with local authorities , aimed at the development of the territory and heritage rural. Kind Regards, José & Carolina
José
2015-04-12T00:00:00Z
Nice appartment with everything you need. The WiFi access was limited. Friendly hosts! Lovely sunsets available around the corner ;)
Desirée
2014-06-06T00:00:00Z
Had a great Tuscan visit staying in the beautiful and perfectly located home of Graziella and her family. Was the perfect home base to visit Siena, Florence, San Gimignano, Volterra and Tuscan wineries. Graziella and her grandsons (who are more fluent in English) were quick to help with any questions and offer their delicious olive oil. Graziella is very genuine and welcoming! I would highly recommend this place for your visit.
Eric & Kathleen
2015-06-20T00:00:00Z
Room Type
Entire home/apt
---
Property Type
Apartment
---
Accommodates
3
---
Bedrooms
Sant'andrea, Tuscany, Italy
LA FINESTRA SUL VIGNETO ("the window overlooking the vineyard"), peaceful and quiet apartment in the heart of the Chianti area, situated in a delightful medieval village surrounded by vineyards and olive trees, a stone's throw from the towers of San Gimignano, on the Via Francigena, halfway between Siena and Florence. Between the history, the legends, the colours, the flavours and the scents of the wonderful Tuscan countryside.
"The window on the vineyard", peaceful and quiet apartment in the heart of the Chianti countryside, situated in a delightful medieval village surrounded by vineyards and olive trees, a stone's throw from the towers of San Gimignano, on the Via Francigena, halfway between Siena and Florence, between the history, the legends, the colours, the flavours and the scents of the wonderful Tuscan countryside. The apartment is located in the historical centre of the small medieval village of Vico d'Elsa. It is an historical building by the end of the Eighteenth century, with large rooms and very quiet. Light and peacefulness are the two primary characteristics, together with the splendid panorama which can be enjoyed overlooking the big windows located in the master bedroom. It consists of a large kitchen, a large living room (with a single sofa bed), a bedroom with two single beds and a nice loft used as a double bedroom (with a double bed), with a window of over 4 metres overlooking the vineyards and the olive groves of the Tuscan countryside. Complete the whole the bathroom (with shower) and the closet. It is equipped with heating, air conditioning, television, all appliances. There are no parking problems. It il located in a very strategic position, perfect for touring holidays, because it is at the very center position of many interesting tourist routes, both from a cultural point of view, as well as wine and food interestings: Siena, Firenze, Certaldo, San Gimignano, Volterra, Monteriggioni, Castellina in Chianti, Montalcino. In the square where the apartment overlooks there is a great pizza restaurant and a grocery store that prepares sandwiches for memorables snacks, using and selling very good products of the Tuscan countryside.
To help our guests to discover the artistic, cultural and food riches of our Tuscan countryside, we have prepared a valuable collection of information, tips and ideas for unusual and curious itineraries, festivals, events, as well as useful information to move, eat and shop.
From the minute we started communicating with them, Francesca and Pierpaolo were fantastic hosts. They met us (late) on our arrival and helped us feel very welcome and very well informed about that house and the surroundings. The apartment is as described, and was actually a lovely surprise. There was plenty of space for us (2 adults, 5yr old and 2 month old) and it's a nicely decorated and very well supplied house. F &P left us a lovely welcome package of treats and coffee and pasta/sauce we could cook if needed which is great if you arrive late like we did. Also, the pizza place right in front of the house (20 second walk!) was great and made pizzas you could take back tot he apartment, and the alimentari downstairs was small but had all you needed and Stefania was super friendly/helpful. Also, we managed to mess up the settings on the washing machine and Francesca, when she realized we wouldn't be able to do it ourselves in time, was lovely enough to wash and dry our clothes for us at her home and bring them back to us. Negatives: Though it's clearly noted, the house would be even more perfect if it had internet/wi-fi. Especially considering that the phone signal in the area is weak if you bought a surfing package on your phone. Also, the living room could use just a bit more seating. There is a two person couch only and a couple of larger ottoman-like things to sit on. If you're more than two adults, you'll need to use kitchen chairs for seating. This is not a location that you want to try to reach without a car, but if you do have a car, it's perfectly located to explore Tuscany.
Viviana
2016-05-08T00:00:00Z
Francesca and Pierpaolo's apartment was lovely and we really enjoyed staying there. They had everything we needed in the apartment and more! Francesca left some wonderful beauty products to try and there was many food items to sample as well! The view from the window in the bedroom was magnificent and so wonderful to wake up in the morning to the beautiful Tuscan countryside. We parked right outside the apartment in the square and also had a delicious meal at the Vico Furbo, a restaurant right across the piazza. We really loved staying here and would definitely go back again if we ever traveled through Tuscany another time!
Jill
2016-10-17T00:00:00Z
My parents spend a week in Francesca&Pierpaolo's apartment and they admired staying. Extremly nice and helpful host, quiet village, heart of Tuscany's vineyard hills, close to Siena, Florence and other old Italian cities. Comfortable place to stay. If you just want to take a rest - nothing better :)
Aleksandra
2016-08-14T00:00:00Z
What an incredible stay! I'll begin with or hosts, who warmly welcomed us into their home and gave us a thorough tour of their home. Francesca has compiled what can only be described as a dossier of local attractions as well as instructions on how to use appliances. The layout and amount of information was a great resource. The home itself is absolutely gorgeous, a combination of rustic and modern. Exposed wooden beams meet a thoroughly contemporary decorating style. The upstairs windows look out over the Tuscan countryside and the nearby church. Highly recommend a stay to anyone.
audrey
2016-03-27T00:00:00Z
Vacanza perfetta, non c'è molto da aggiungere alle precedenti recensioni. Tutto perfetto, consigliatissimo!
Martino
2016-06-20T00:00:00Z
L'accoglienza è stata fantastica: non solo al nostro arrivo abbiamo trovato pensierini tipici per noi, ma anche delle schede preparate apposta per noi con consigli su cosa visitare, dove mangiare e a quali eventi partecipare. L'appartamento è pulitissimo e bellissimo con vista meravigliosa, equipaggiato di tutto quello che serve: dalle salviette struccanti all'aria condizionata. Francesca e Pierpaolo sono disponibilissimi e gentili e rispondono subito ai messaggi. Insomma lo consiglierei a tutti senza aucun dubbio. Non avrei potuto aspettarmi di meglio.
BENEDETTA
2016-08-19T00:00:00Z
I proprietari sono stati molto disponibili, accoglienti e molto ben organizzati. Bellissima casa, da poco ristrutturata, in pieno centro al paese e con una vista bellissima. Ottima la pulizia e gli accessori della casa (elettrodomestici, asciugamani, coperte, ecc.). Con un po' di fortuna si trova parcheggio proprio sotto casa. Posizione strategica per visitare la zona di San Gimignano, Firenze e Siena. Assolutamente consigliata.
Federica
2016-01-05T00:00:00Z
Perfecto lugar con encanto para usar como base para discubrir la Toscana. Francesca ha sido muy amable y nos ha ayudado mucho con sus consejos. Muy recomendable. Lovely place very close to the main sightseeing places in Tuscany . Francesca has been very kind and helpful. Highly recommendable.
David
2016-08-23T00:00:00Z
Room Type
Entire home/apt
---
Property Type
Apartment
---
Accommodates
5
---
Bedrooms
Vico D'elsa, Toscana, Italy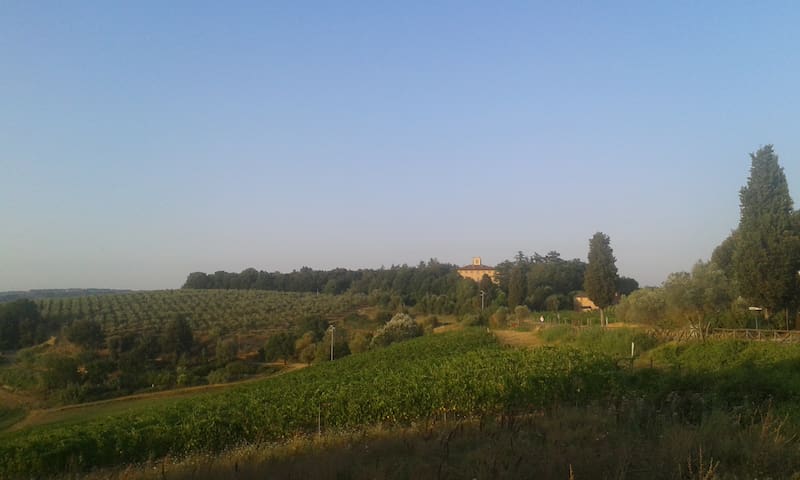 A charming and new rustic house, 50 minutes from Florence and 35' from Siena, with large garden and spectacular views of the typical landscape of the Sienese hills of Chianti with the background the ancient city of San Gimignano.
Brand new residence in country style typical of the Tuscan countryside. Large living room with stone floor, face-brick arches, wood ceilings with handmade bricks and large fireplace with wood stove for pizza. Kitchen with dishwasher and contemporary design furnishings complete the ground floor. The first floor has a sleeping area with two large bedrooms and a toilet. Behind the house there is a large garden with a spectacular breathtaking view of San Gimignano and the surrounding countryside. Internet wireless included.
The house is situated in a small village where silence and tranquility are, consisting of villas and cottages for holidays.
My sincere thanks to Cosimo for his care! We had unforgettable marvellous holiday in his wonderfull and very beautifull house! I'd like to visit this place once again. I think we was the first Russians in S.Maria and I shall reccomend Cosimo's house to my friends with pleasure! San Jiminiano places near and autostrade too. Everything is very comfortably. Thanks, Cosimo, very much! He is very friendly man! Огромное спасибо Козимо за его чудесный приём в красивом и удобном доме! Дом обставлен с большим вкусом, имеется всё необходимое, а также красивые старые вещи из крестьянского быта. Из спальни восхитительный вид на Сан-Джиминьяно (до которого всего 6 километров)! Мы с дочерью провели незабываемые 4 дня в идиллической итальянской провинции с возможностью быстрого приезда во Флоренцию. С удовольствием порекомендую этот дом и Козимо как собственника своим друзьям. Спасибо, Козимо! Всё отлично!
Галина
2015-04-16T00:00:00Z
Very quiet place. Silence absolute. Arround very pictirial Toscanian hills, vineyards, olive groves. Beautiful countryside. House very comfortable, many cosiness give fireplace. Thank you Cosimo.
Vadim
2015-11-01T00:00:00Z
Cosimo was a great host. Fully available for us if needed. The house is wonderful and it's a great place to stay if you want to visit this wonderful area that is Toscany. We wish to come back at Cosimo's place in the coming years.
Maxime
2016-08-13T00:00:00Z
Perfect vacations in Tuscany! The house is great, got everything you need and more (except there's no laundry). We wanted to be in the heart of Tuscany and that's what we got. The view on San Gimignano is just terrific. Car is essential.
Patrick
2015-09-10T00:00:00Z
We had a very nice experience in Cosimo's place. The check in and checkout were easy and the place was true to the pictures and description. Very nice location to travel Tuscany by car
Almog
2016-06-20T00:00:00Z
Cosimo and his place are both wonderful!!! Firstly his communication and directions were very clear - he has been always polite and accommodating. The location is totally off the beaten track (you need a car) but designed by his engineering father and is gorgeous! The view from the master bedroom and from the outside are stunning rolling hills - totally picturesque :) :) :) Also, the fireplace rocks! Cosimo also has a lot of the basic amenities you need - and goes above and beyond (for example additional pillows/blankets, cologne, even pasta).... he is the most exemplary host and the place is how one hopes all airbnb places would be like! :) Thank you Cosimo for a wonderful holiday home!
Diana
2016-01-11T00:00:00Z
Great overall experience, nice location and amenities, caring and responsive host.
Marina
2016-09-15T00:00:00Z
This is a very comfortable space with lovely views. The host was friendly and responsive to our needs.
Sandra
2016-09-19T00:00:00Z
Room Type
Entire home/apt
---
Property Type
House
---
Accommodates
4
---
Bedrooms
San Gimignano, Tuscany, Italy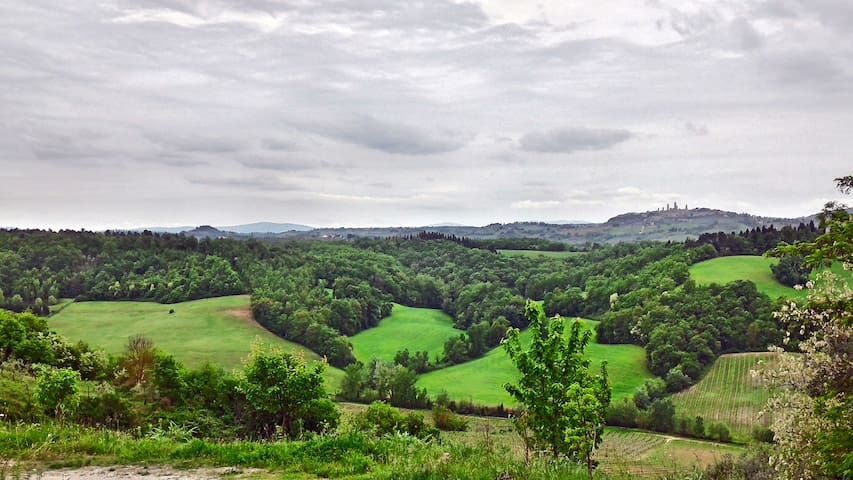 The apartment Salvia is located on the ground floor of a characteristic barn consists of only two apartments in the Tuscan nature, in the property three beautiful donkeys graze and there is a small lake where you can fish.
The Salvia apartment is on the ground floor in a building with two apartments (Salvia Timo) realized in an ancient barn recently renovated. Both can accommodate 4 people and consist of a bathroom, a bedroom with bathroom, a bedroom and living room. The apartments also have a large garden and parking for guests. There is a swimming pool of 8x4m depth 1,2m. If you want to spend the holiday with friends you can rent both apartments that may be connected. Near the barn, in addition to the garden, there is a private pond where you can fish and a portion of land where three donkeys graze. ENERGY CLASS E
The property is located in the heart of Tuscany close to the streets of major communication but at the same time it is immersed in a relaxing nature.
Room Type
Entire home/apt
---
Property Type
Apartment
---
Accommodates
5
---
Bedrooms
San Gimignano, Toscana, Italy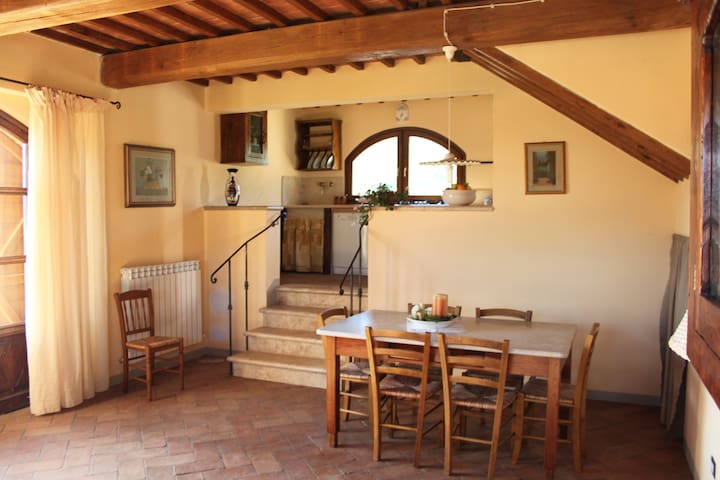 Elegant and comfortable apartment for 4 people with 2 bedrooms (double and twin), bathroom with shower and dining room with kitchenette. Outside terrace, private parking and shared pool.
The apartment La Roccaia is located in a typical Tuscan hamlet with 16 accommodations. It features at the ground floor dining room with kitchenette equipped with hob, oven, microwave, fridge and washing machine, at the first floor one double bedroom with view of San Gimignano, another bedroom with twin beds and bathroom with shower. All the window apart the door of the entrance have mosquito nets. Outside cover terrace with garden table and chairs and BBQ. Free wifi, free parking just 50 mt from the apartment and shared pool open between June and September.
L'appartamento si trova immerso nella campagna, tra vigne e oliveti, nelle vicinanze del paesino di Ulignano a soli 8 km da San Gimignano. La sua location permette di raggiungere facilmente le famose città di Siena e Firenze mediante la comoda supestrada che si trova a soli 3 km dalla sistemazione.
The host canceled this reservation 158 days before arrival. This is an automated posting.
Puvaneswary
2017-01-24T00:00:00Z
Room Type
Entire home/apt
---
Property Type
Apartment
---
Accommodates
4
---
Bedrooms
San Gimignano, Tuscany, Italy
I Nidi, part of La Ripa property, is the perfect solution for a big family or two couples. It has the perfect position to reach the most popular tuscan art cities. In the middle between Siena and Florence, it is only 7 km far from San Gimignano and 10 minutes by car from Certaldo. You'll reach the closest food store is 5 minutes. Interested in horse riding or tasting tours? You'll have a lot of choices closeby. Don't forget the terrific view on San Gimignano's towers!!
This unit is situated on ground and first floor with view of the small village of Ulignano and its church. It consists of a kitchen/living-room with sofa and its own bathroom with access to the garden. On the first floor you have a large double bedroom, a bedroom with twin beds and a second bathroom with shower. It is furnished in the typical age-old style of the Tuscan countryside. A staircase brings down to the garden from the balcony at the first floor.
La Ripa is a farmhouse nearby San Gimignano where you can spend your country holidays in very comfortable apartments and where you can buy extra virgin olive oil produced on the estate. The pool, nestling on a grassy slope, is away fron any noisy environment and guarantees full relax in the hottest hours of the day.
Room Type
Entire home/apt
---
Property Type
Villa
---
Accommodates
4
---
Bedrooms
San Gimignano, Tuscany, Italy
"Casa Bondi" is a beautiful apartment, recently renovated and elegantly appointed with the right mix of Tuscan style combined with most of the modern facilities. It's located in the hamlet of Borgo La Roccaia which is 8 km from the village of San Gimignano, famous for its history and for its medieval towers. Suitable for couples or families with children, and for those who like to relax in the Tuscan countryside, but stay close to tourist
The apartment has a private entrance from the garden that offers a lovely pergola useful in summer days for relaxing and convivial moments. Located on the first floor, it features a spacious master bedroom with views, a modern bathroom with shower, a large living room with three windows that overlooking the town of San Gimignano, a kitchen with dishwasher, oven, fridge, kettle and filter coffee machine, a utility closet with washing machine and vacuum cleaner. A nice mezzanine overlooking the kitchen and the living room area has a comfortable sofa bed suitable to accommodate children up to 14 years. The loft has a skylight. The apartment is decorated with a well-maintained furnishing in detail, with paintings by local artists, a beautiful parquet floor and exposed beams. Available for cooler days a comfortable floor heating that can be used on request with additional cost.
The ancient rural complex of Roccaia after a few years of renovation, offers several different apartments with shared pool and parking. A great view over the town of San Gimignano can be admired from Casa Bondi and also from many common areas of the hamlet. The location between vineyards and forest, guarantees tranquility and relax for peaceful moment.
Room Type
Entire home/apt
---
Property Type
Apartment
---
Accommodates
3
---
Bedrooms
San Gimignano, Tuscany, Italy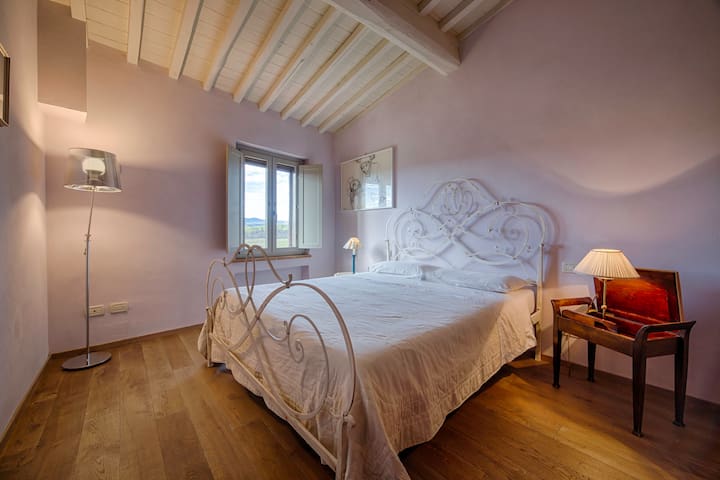 Offer March - April: for guests staying 3 nights 5% off + bottle of our wine!! *Excluding weekends and holidays
Room Type
Habitación privada
---
Property Type
House
---
Accommodates
2
---
Bedrooms
San Gimignano, Tuscany, Italy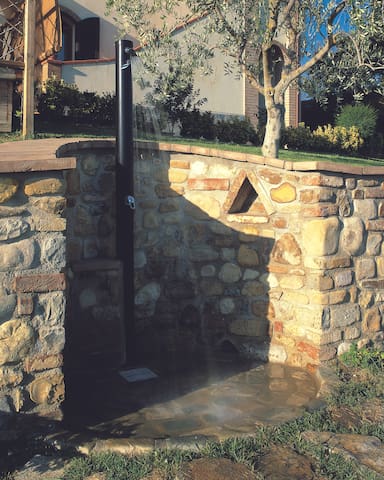 Ulignano - Airbnb
:
Average

4.72

out of

5

stars from

508

guest reviews