================================= In November new construction opened guest house (apartment), high-speed equipment necessary for the wireless LAN and life has been equipped, you can host a comfortable guest. -------------------------------- The guests of this recently built guesthouse can enjoy a nice living environment with free high-speed Wi-Fi access and everyday commodities. --------------------------------- November 份新 Jiancheng 并开 started 营业 basis inn 为住 Yadoteki Yoshimi宾 provide high-speed WI-FI 以及 life Required 设备, possible peace of mind 舒适 basis Nyuju. =================================
================================= The rooms, amenities of course includes a free WiFi, washing machine, refrigerator, microwave, TV, facilities such as such as air-conditioned and equipped so that guest is ready for use. Here, at a distance of just a 6-minute walk from the nearest subway (Tsukiji Station), you can access to a number of different routes for Oedo Line (kachidoki station) within a 5-minute walk to! Guest. Ginza, Shiotamari, Shinbashi and Tsukishima, Toyosu, Ariake, Odaiba also Asakusa, you can move in a short period of time, such as where you want to go sky tree anywhere. -------------------------------- Apart from the free Wi-Fi service, our guesthouse also provides all the amenities needed for an enjoyable stay, including a washing machine, a refrigerator, a microwave oven, a television, and air-conditioning devices. These appliances are available to the guests after check-in. Just a 6-minute walk from the nearest subway stations (Tsukiji, Katidoki), you can choose where to go according to your travel plan. Sightseeing spots like Ginza, Shiodome, Shimbashi, Tsukishima, Toyosu, Ariake, Odaiba as well as Asakusa can be reached without spending much time. -------------------------------- Other than the inn Satojo Men费 WI-FI, Araikoromotsukue, 冰箱, Binamiro, 电视, sky 调等 life home electric one 应俱 all, Jia 宾入 living This heaven immediately possible use. Bed location distance recently manner underground 铁车 站 (Tsukiji 站), Oe 户线 (KATIDOKI 站) 步行 6 minutes 钟以 in the immediate Allowed Reach. Jia 宾可 Ne据 travel 计划 optional 选择 车站. Ginza, Shiodome, Shinbashi, Moon Island, Toyosu, Ariake, Odaiba, Asakusa, etc. Tourist Scenic point capital Allowed short - Reach. =================================
================================ Next year relocation plan and will now have the Tsukiji market! Finally last Maguroseri field tour will be held during this year! Participation is free! Tsukiji market which was scheduled to be relocated next year! Finally the last tour of the parking lot is finished this year I will start from January 16th. ================================ What is to say also Tsukiji market! Tsukiji market tour !! "Auction House visitor reception of tuna" and Fish Promotion Center will arrive at 1-minute walk away. -------------------------------- The famous Tsukiji Fish Market is located near our guesthouse. The Osakana Hukyu Center, where you can apply for the tour of tuna auctions, is only one minute's walk away. -------------------------------- This inn maximum basis 卖点 Shi given Tsukiji City 场相 邻, participants 观築 land market. (Ref 观拍 卖金 枪鱼 basis monkey 请处 步行 1 minute 钟即 Allowed Reach) ================================ Tour Hours: 5: 00 am~ tour time 5:25 am~6:15am (as soon as acceptance deadline it becomes capacity) recruitment capacity 120 people limited -------------------- ------------ The time for application is 5:00 am Tourists may visit the market daily between 5:25 am and 6:15 am Only 120 people are allowed in the market per day. -------------------------------- Participation 观申 请时 间早 on five points - participation 观时 intermediate 5 points 25 minutes -6 points 15 minutes (monkey 请人 number 每天 120 people) ================================ ※ Because really a long line of more than 120 people at 4:00 am every day, even sometimes I visit NG side by side to come at 4 o'clock. (It might be better to come with the intention to wait for two hours at yell) For your reference··· --------------------------------- The queuing starts at 4:00 am daily. It's convenient to go there from our guesthouse. --------------------------------- 每天 从早 on a 4-point 开始 urban waste 队申 请参 观, Tokoro 以从 inn De发 convenient enough. =================================
Very pleasant experience at the Guest House's place. Next to Tsukiji fish market and walking distance to Ginza area. The flat is very new, cozy and secured with all the comforts. Very prompt and flexible communication. Thank you so much!
Erika
2017-01-02T00:00:00Z
This guest house is more than perfect! I will definitely stay in here again if I come back to Tokyo. The building is newly built and clean, and the room is fully equipped with all the things you need. It even has the laundry machine. Also, the bed was very cozy. I could easily get to Tsukiji market which is only 5 minutes far from the house, and avoided the long queue. Also, Ginza is in walking distance. Highly recommended!!!
Yu
2017-02-16T00:00:00Z
The place was right in front of Tsukiji Fish Market, and fun to watch the Tuna Auction. The place offers everything you need for the short trip. I recommend everyone who is looking to stay in Tokyo at affordable price.
Hiro
2017-02-06T00:00:00Z
The rooms have honestly everything you will need in them. Both cosy and packed with utilities yet somehow still spacious feeling, very clean and the owner gives weather reports for check in and check out so you know what to expect if flying in. I let myself in after being sent the procedure for getting the room key (remember to lock when you leave the room). All in all I found it really worthwhile staying there and would again. I did have to ask a friend which buttons turn on the heating though so that's worth looking into.
Jamike
2017-03-08T00:00:00Z
There were some glitches with my check-in, but otherwise it was a fantastic stay, with a new and exceptionally well-appointed room. The location is quiet, yet remarkably close to Ginza, which is the Rodeo Drive of Tokyo. Of course it's also close to the famous Tsukiji fish market. To help future guests, I rewrote the check-in instructions, so everything should now be OK!
Mike
2017-02-09T00:00:00Z
Thank you! Your kindness!
진견
2017-03-01T00:00:00Z
The service and place is good, really enjoy to stay there. The place is so closed to Tsukiji market and Ginza. She even lets me check out at 12 instead of 10am, due to my flight in the late afternoon.
Tracey
2017-03-17T00:00:00Z
連絡もスムーズできれいな設備です
Yoshi
2017-01-27T00:00:00Z
Room Type
Entire home/apt
---
Property Type
Guesthouse
---
Accommodates
1
---
Bedrooms
Chūō-ku, Tōkyō-to, Japan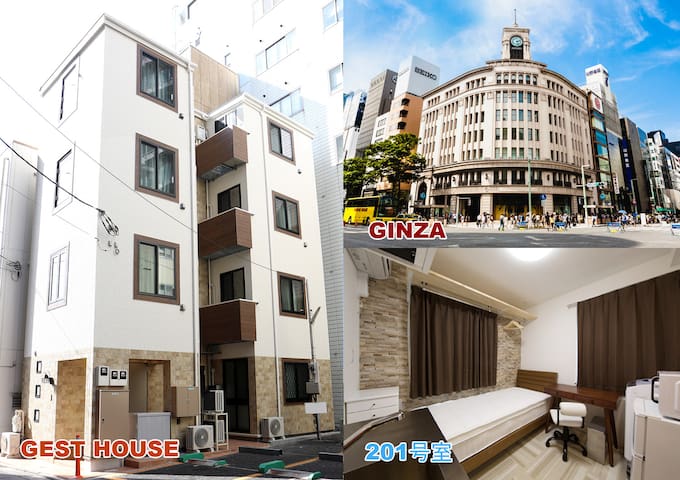 A cozy studio located very closely from the famous Tsukiji Market! This room works for both single and couple trips. Suitable for business stay, too. The nearest subway station is Tsukiji on Tokyo Metro Hibiya Line, which is just 6 minutes walk from the studio. This property boasts one of the best locations, with the famous Tsukiji Market only 4 minutes away by walk. Around this apartment is a variety of restaurants and cuisines. Easy access from both Narita and Haneda international airports.
==UNIT== --1 Room (Studio) --1 Kitchen --1 Bathroom and Toilet --Balcony ==BEDS== 1 Double Sized Bed 1 Sofa ==ACCOMODATION== MAXIMUM – 3 Adults *Usually for 2 Adults ==FREE MOBILE WI-FI== Stay CONNECTED while you are in Tokyo!! You can carry it with you and connect to the internet anytime in Tokyo for FREE! It is very useful for the travelers to explore around Tokyo, although the recommended volume is 1 GB per day, as it may cause a serious speed limit. The portable router and PASSWORD will be at the apartment when you arrive. ==EQUIPMENT / GOODS== --Pocket Wi-Fi --Bath and shower with hot water --Body soap, shampoo, conditioner, toilet paper, and facial tissues --Hand towel and bath towel --Hair dryer --Washing machine with dryer --One-stove gas cooker --Fridge and microwave --Pans, plates, glasses, cups, silverwares, and chopsticks --Desk --Small table --Air conditioning
==AREA== The nearest station from the studio is Tsukiji on Tokyo Metro Hibiya Line. Popular attractions such as Tsukiji Market, Tsukiji Honganji Temple, and Ginza are within walking distance. The market is quite energetic throughout the day, especially in early morning when the market can easily erupt its verve into the peak. You can even hear the sound of activity in the market early in the morning and might hear a tiny noise of that, but you should also feel the vibe of a lively market through that. It is also popular because of a wide variety of meal choices ranging from sushi and seafood bowls to ramen and soba noodles. Hibiya Line can take you through to various popular attractions and is therefore quite convenient. For instance, you can even try one-day Hibiya-Line tourism by heading to the zoo and park in Ueno, hanging out in electric town of Akihabara, shopping around in Ginza, and enjoying nightlife in Roppongi
Excellent location, right in the heart of Tsukiji. Very handy for the fish market if you fancy an early start. Easy access to the metro system and easy walking to the Ginza shopping district too. Instructions from the host were excellent and they were on hand with very quick replies to emails when we weren't sure about something. The apartment is as described and as in the pictures. Would highly recommend it to anyone visiting Tokyo. Portable wifi was very handy, especially when we needed (SENSITIVE CONTENTS HIDDEN) Translate!
Harry
2016-03-08T00:00:00Z
The apartment was a nice place to stay. The location was not too far from the subway line and close to Tsukuji fish market. It was a good size for 2 people staying a few days. Our host Tokyo Explorer was fantastic. She checked up on us a few times when we arrived and was available to answer any queries. She gave us a fantastic recommendation for dinner one night and now I'm afraid I won't find sushi like that now that I'm back home!
Roslyn
2016-05-02T00:00:00Z
The apartment is clean and comfortable as the pictures shown in the Airbnb's website. It's near to Tsukiji Market with 3 to 4 mins walking. The host is helpful and gives us advice of travel info via Airbnb's message. Although we can't meet the host in the trip, we felt the host is very nice. One thing you may notice - no television in the room.
Wai
2016-09-18T00:00:00Z
It's really a great place to stay!!! Very well located in Tokyo and the place is in excellent conditions. Everything works fine and its very clean, which is highly appreciated. Finally, you get a quick response from the host every time you need something or have a question. Thanks again!
Jose
2015-12-02T00:00:00Z
Really nice place, very convenient to some of the to visit places in Tokyo. Really enjoyed our stay.
Philip
2016-06-09T00:00:00Z
We had a lovely second stay with Tokyo Explorer. Michiko, Natsumi & Kato were all so helpful! Nothing was too much trouble. We'd recommend to anyone looking at their apartments. Great hosts, great location, lovely clean modern room! Thank you for having us!
Rachel
2015-10-16T00:00:00Z
Host is exceptionally organized and detail oriented. Place is spotless and beautiful. Hands down the best AirBnb experience by far. Only complaint was theres no dryer in the apartment and felt rush out of the apartment with our wet clothing.
Steve
2016-07-11T00:00:00Z
Super convenient location, very clean and cozy. Would happily stay here again!
Michael
2016-11-06T00:00:00Z
Room Type
Entire home/apt
---
Property Type
Apartment
---
Accommodates
2
---
Bedrooms
Chūō-ku, Tōkyō-to, Japan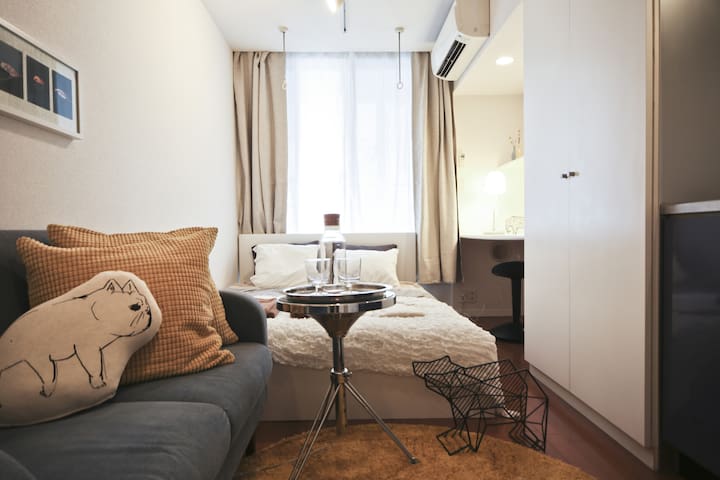 The house is located between Ginza and Tsukiji. The 4-minute walking distance to Tsukiji Market, where you can enjoy the freshest seafood in Tokyo. Walking to Ginza (銀座) is just 6 mins. It is a popular upscale shopping area of Tokyo, with numerous internationally renowned department stores, boutiques, restaurants and coffeehouses located in its vicinity. I hired a professional interior designer to do a new design. 1 double bed and a very comfortable double-size sofa bed, max 4ppl in the room.
All new furniture apartment: -Washing/Drying machine-Refrigerator -TV -Air Conditioner/heater 2 brand new Double Beds Up to 4 people can stay There is no bathtub in the room, shower only
The house is located between Ginza and Tsukiji. The 4-minute walking distance to Tsukiji Market, where you can enjoy the freshest seafood in Tokyo. The market opens most mornings (except Sundays, holidays and some Wednesdays) at 3:00 a.m. with the arrival of the products by ship, truck and plane from all over the world. The auctions start around 5:20 a.m. Bidding can only be done by licensed participants. Walking to Ginza (銀座) is just 6 mins. It is a popular upscale shopping area of Tokyo, with numerous internationally renowned department stores, boutiques, restaurants and coffeehouses located in its vicinity. Ginza is recognized by many as one of the most luxurious shopping districts in the world, attracting visitors and regulars alike from across the globe.
The listing promised wifi but it was missing. The host claimed the previous guest took it. All she did was apologise but there was no help to find me a replacement or guidance on convenient ways to get a pocket wifi. My family has used airbnb quite a lot in Japan and around the world but this is the only time we've had to use the resolution centre. Aside from that, we were happy with the location and the condition of the apartment. It would have been good if the host were able to help us more.
Nick
2017-03-19T00:00:00Z
Comfortable,conveniently location,mints walk to many SUBWAY nearby.Young and fashion decoration and interior design.We enjoy a good time in Ying's sweet (URL HIDDEN) to stay here again.
Sasha
2017-03-11T00:00:00Z
Really great experience. Near of Tukiji market (5 mins for walk), and Subway station. If you find clean House, Choose Ying house. That will be best choose. House size is perfect for couple or 3 ~ 4 friends. Host Ying is always fast answer to my request.
Seong-Hwan
2016-10-08T00:00:00Z
Ying was a great host. The apartment is very well located, right near tsukiji fish markets, ginza and multiple subway lines. The apartment is cozy, modern and clean. We thoroughly enjoyed our stay and would recommend to anyone traveling in Tokyo
Ashil
2017-02-28T00:00:00Z
Great place - just off Ginza. Nice sized apartment for Tokyo, and good communication. A little restrictive on the check in times, but it didn't affect us much. They have a little pocket wifi that you can take around the city with you, which was really useful All in all, a good place to stay Ray
Gordana
2016-11-03T00:00:00Z
Clean and modern apartment, very confortable. In a very nice safe area and close to Metro Station.
Nina
2016-11-24T00:00:00Z
Very nice flat, clean and well located. Perfect for 2 people!
Marc
2016-10-18T00:00:00Z
Prime location as it is a 3-min walk to Tsukiji Fish Market. However, the apartment is on 2nd floor and noise from the street can be clearly heard.
Jennifer
2016-12-29T00:00:00Z
Room Type
Entire home/apt
---
Property Type
Apartment
---
Accommodates
4
---
Bedrooms
Chūō-ku, Tōkyō-to, Japan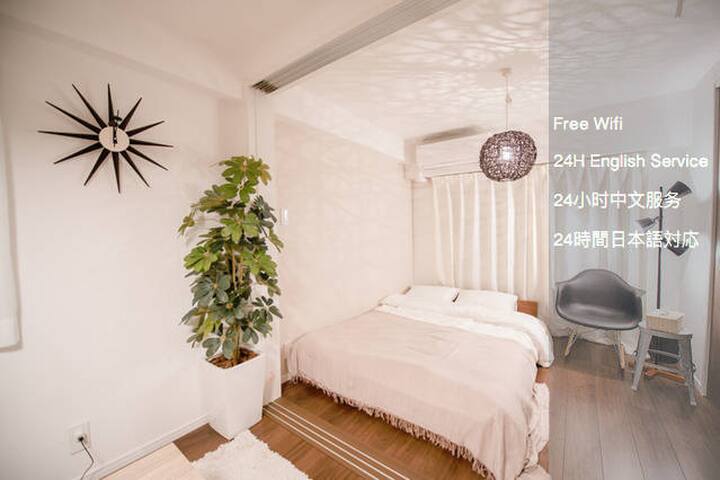 Stay the apartment as if you live in the center of Tokyo. It is located betweenTsukiji Fish Market and Ginza shopping streets. It closes to many stations such as Higashi-Ginza, Ginza and Tukiji Station. Many good neighborhood restaurants and 24 hours open convenient stores. Convenient location to go anywhere in Tokyo, such as Shibuya, Ueno, Asakusa and Shinjuku by one train. A little roomy one room apartment (40㎡・430sqf) with a full size (URL HIDDEN) suits to one, a couple, or business trip.
A little spacey as a studio which has 43 ㎡ , facing Harumidori street and very bright windows
The area is a center of Tokyo, Ginza and Tsukiji, and locates very convenient place to access most popular spots either on foot or taking a subway without transfer within 10~30min, such as Shibuya, Shinjuku, Asakusa, Ueno, Roppoing, Meiji-Jingu, Akihabara and etc.
Highly recommended ! Excepting for all the good conditions of this apartment, as all you can see in the reviews, Mr.Hrio is a very kind and warm-hearted Japanese Gentleman. He keep contacting us before we arrived and pick up us at Tokyo Station in case we cannot find the way. He is very considerate to foreigner tourists and will give you all suggestions if you need. I was so touched that he always offering the most convenient transportation whenever come or go. I am so appreciated to had a good stay here! 地点很好,如果去筑地市场下楼过个马路就是。在银座这么大面积的公寓应该也是稀有品吧。 Hiro先生人超级好,有问题都会很快回复,如果你人生地不熟他也会很详尽地介绍给你。以后来还可以住! 去吃寿司大或看金枪鱼拍卖都是不二之选!棒呆~
Linna
2017-03-03T00:00:00Z
Hiro was a fantastic host who went out of his way to make sure I had a great time in Tokyo. His apartment is super spacious, and comes equipped with basically anything you'd need for the duration of your stay. I would definitely stay here again the next time I'm in Tokyo, and would recommend anyone else do the same.
Nolan
2017-02-07T00:00:00Z
The host canceled this reservation 10 days before arrival. This is an automated posting.
Matt
2017-03-20T00:00:00Z
Once we had booked our static with Hiro, his communication was amazing. He provided clear instructions and on the day we landed he collected us from the train station having helped guide us from the airport to central Tokyo. The apartment was perfect and as was displayed in the pictures and description. It had everything we needed for our stay and was very comfortable. The location was excellent as it was a few minutes walk from the fish market and very close to several metro stops. We found there we a great number of places to eat and the supermarket at the Base of the apartment proved useful to pick up some essentials during our stay. Hiro went the extra mile by taking us out for a half day tour of Tokyo in his car, showing us key places to visit. He made our trip to Tokyo perfect and would stay with him again if we return to Tokyo.
Manpreet
2017-03-16T00:00:00Z
The host canceled this reservation 18 days before arrival. This is an automated posting.
Hui
2017-03-18T00:00:00Z
The host Hiro san is a decent and thoughtful gentleman. He retired from New York so he speaks fluent English. He picked us up from Ueno station and took subway with us to escorted us to the apartment, after he knew that we arrived from Narita Airport so we wouldn have no confusion about transferring from lines. The studio is well equipped-toiletries, hair dryer, washing machine, tableware, kitchen kits, microwaves,freege fill up with bottles of water and sparkling, capsule coffee, tea bags and instant noodles. Even more, he provides a pocket wi-fi and Suica. The studio locates in an excllent location, the Tsukiji Fish Market just takes 1 mins across the street, and he department stores street of Ginza is 3 mins away. Convient stores downstairs. We had a great time during the stay and we definitely recommend this cozy studio to anyone who is visiting Tokyo.
tody
2017-01-01T00:00:00Z
Hiroyoshi was one of the best Airbnb hosts we have ever had. He was so kind and thoughtful - guiding us from the airport, finding good restaurants for the food we wanted to eat, checking in every day to see if we needed anything...really exceptional service. He's new to Airbnb and I hope he keeps doing it so that others can have the same great experience were did. And the apartment itself was perfect for a visit. It was clean and had everything we could have needed. And it's just a couple blocks from tsukiji market and Ginza. Thanks again, Hiroyoshi!
Bonnie and Michael
2016-12-09T00:00:00Z
Hiro is an amazing host and the apartment is bright, well located and comfortable Hiro provided with very nice extras like fruits, toiletries, coffee capsules and visit ideas. Hiro is a first class pick!
Yona
2016-12-26T00:00:00Z
Room Type
Entire home/apt
---
Property Type
Apartment
---
Accommodates
3
---
Bedrooms
Chūō-ku, Tōkyō-to, Japan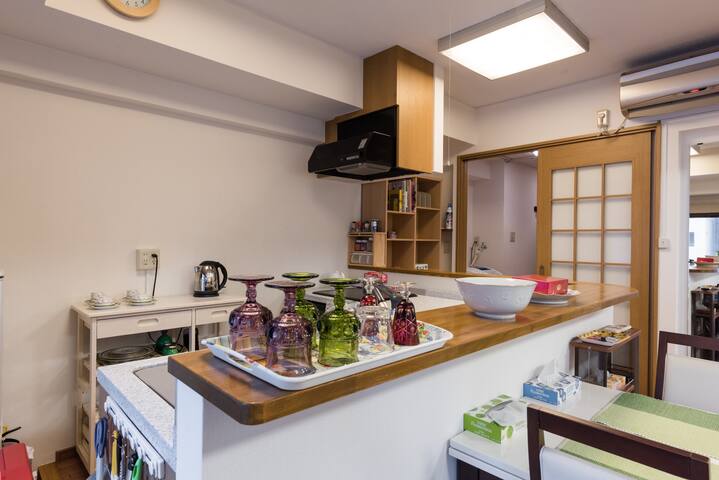 宽敞和豪华公寓在完美的位置。轻松进入全市所有地方。房间位于银座区。 在步行距离之内: - 2分钟到筑地鱼市场 - 10分钟至银座 火车访问: - 8分钟至曙(东京塔) - 12分钟到浅草 - 25分钟新宿 我们提供: - 袖珍无线没有数据流量上限 - 设备齐全的厨房 - 在所有的卧室和客厅的空调 - 所有必需品准备(洗发水,护发素,牙刷等...)
★About the space: - 2 bed room, 1 living dining room, 1 bathroom, 1 toilet - 3 beds in the room which will fit up to 4 guests ★Room Amenities: - High speed portable WiFi (No data limit) - Air conditioner in all rooms - Microwave / Oven - Kettle - Large Flat TV screen - Bathroom essentials including Shampoo and shower gel - Bath towels - Kitchenware and flavoring
- Very quiet area with excellent public safety which you don't see a lot in Ginza area. - 2 convenient stores and 1 supermarket opening 24h/d within 5min walk
Great central place to stay very clean, spacious with all the utilities. Only 5 minute walk to tsukiji metro and just opposite tsukiji market!! Pocket wifi was super handy too.
Jamie
2017-04-01T00:00:00Z
Awesome experience! The apartment is super clean with an adjustable shower head, easy to use washer, and private toilet. The space can accommodate four people comfortably in my opinion. We had two people and there was a lot of room for personal space. There isn't much of a view but we spent our day and night roaming Tokyo. The modern design made it easy to relax after along day of sight-seeing and afternoon naps. The location is perfect for foodie/sushi lovers wanting to visit the famous Tsukiji Market since it's literally around the corner!! We visited the market at least twice a day since we would always pass by it to get onto the Hibiya Line (Tokyo metro/Transit). A great location for foodie lovers since you're steps from great sushi and local markets! Our host, Shinka, was extremely accommodating with our arrival time since our flight was delayed by 7 hours getting to Tokyo. I would def recommend this Airbnb to any of my friends and family traveling to Japan!
Dona
2017-01-24T00:00:00Z
The location is good,near to 银座 and 筑地. Especially near to 筑地. If you would like to have breakfast in 筑地,like 寿司大. This is a very suitable choice. Only 5 minutes away.
晓时
2017-03-29T00:00:00Z
Highly recommended. The place was awesome to begin with. Shinka's apartment was thoroughly prepared for us. I will come back for sure
Thanaree
2017-03-23T00:00:00Z
nice experience!everything is good and host Shinka is helpful.
嘉怡
2016-12-29T00:00:00Z
Very clean and modern apartment. Room for a family of 4 with 2 teenagers. Very easy to deal with and the Wifi makes getting around very easy.
Justin
2017-04-09T00:00:00Z
Kouta's place was spacious and clean and perfect for staying with my family of three. Kouta's associate was very helpful and came to greet us and explain the apartment in person upon our arrival. The location is approximately a 10 minute walk from Higashi-Ginza station and is located right next to the Tsukiji Fish Market. I highly recommend to any travelers that are travelling with 3+ members for a reasonable price within a central area of Tokyo. Thanks again, Kouta!
John
2017-03-05T00:00:00Z
A lovely, modern, very clean apartment in a quiet street, perfectly situated for exploring the fish market and very near a subway station with access to all wonders of Tokyo. We loved stating here and I do highly recommend!!
Lukas
2017-02-08T00:00:00Z
Room Type
Entire home/apt
---
Property Type
Apartment
---
Accommodates
4
---
Bedrooms
中央区, 東京都, Japan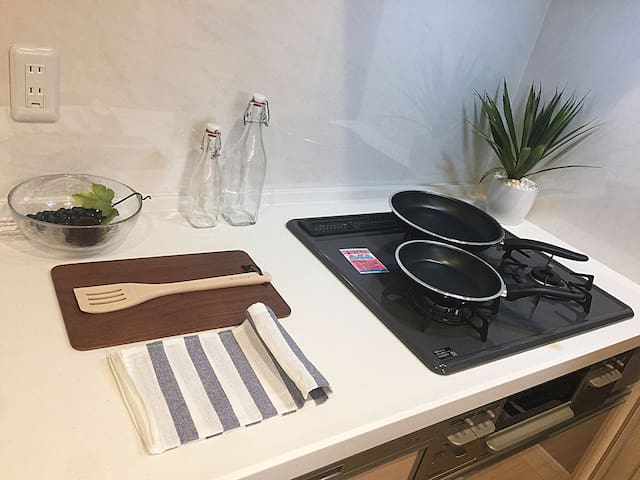 ・Easy access to Ginza area (within walking distance) ・Closest stations are ''Tsukiji''and ''Shintomi-cho'' ・1 Queen-size beds!! And a pull out couch ・Total of 4 people can stay ・Early check-in and late check out costs EXTRA CHARGE. Even just want to leave your luggage, Please check-in early or check-out late. ・★NO SMOKING ★ ・銀座徒歩圏内、最寄り駅は築地、新富町。 ・クイーンサイズベッド1つ、ソファベッド1つ ・最大収容人数4人 ・早めのチェックイン、遅めのチェックアウトは追加料金が発生いたします。恐れ入りますが荷物だけを置きたい場合も、早めチェックイン、遅めチェックアウトをお願いいたします。 ・★禁煙★
[BEDDING] -1 Queen Bed (170cm × 200cm) -1 Sofa Bed (140cm × 200cm) Comfortable & enough space for 4 adults with fresh linens. [AMENITIES] -Fresh towels, shampoo, conditioner, hand soap, tissues -hair dryer, washing machine with detergent, slippers, shoehorn -micro wave, fridge, kettle, plates, cups, glasses, cutlery -clothes hangers, vacuum cleaner -some Tokyo guide books on the table [Pocket Wi-Fi] We provide you a pocket wifi. You can take it outside during your stay. There's a speed limit, please use it wisely. 滞在中、ポケットWi-Fiを無料で貸し出しております。 スピードに制限がございますので節度をもってご使用ください。 [Check in/out チェックイン/チェックアウト時間] Check-in is after 17:00 Check-out is by 11:00 If you're planning to check in early or check out late, please let us know. You might access to the room earlier or stay late with an extra charge if the room is available. ※Can't just leave your luggage before check in (5PM) & after check out (11AM). チェックインは17時以降ならいつでも大丈夫です。 チェックアウトは11時です。 早めのチェックイン、遅めのチェックアウトは追加料金が発生いたしますが、お部屋の予約状況により可能です。お気軽にお問合せください。 ※チェックイン(5PM)前、チェックアウト(11AM)後、お部屋に荷物のみを置くことはできません。 [TRANSPORTATION] We'll send you a file of directions in detail after the booking or simply ask us. We're all happy to help you. ご予約確定後に道順を記載したファイルを送信いたします。
Very quiet. Convenience store is right in front of the apartment!
Room was clean and comfortable. Good for 4 pax. Very close to tsukiji market (good spot for breakfast) Host provided very detailed instruction for check in and direction to the apartment ;) Great stay!
Ying
2017-03-24T00:00:00Z
This place was convenient and very comfortable. The location was great and the hosts had amazing furnishings and great instructions for all the equipment in the house. Would highly recommend!
Shelley
2017-02-25T00:00:00Z
Place was great!! It is on the 9th flr and gets a lot of sunlight in the morning. Kaori provided exact details w/pics getting to the place. It was very clean and had everything we need. If you are looking to stay around Tsukiji market and next to train station, this is the place. Also, there was a great wine bar next to the apartment.
Edward
2017-01-13T00:00:00Z
Kaori's place was very nice and in a great location. We enjoyed staying there and the communication was perfect.
saleh
2017-04-05T00:00:00Z
This apartment has an excellent location - 3 metro stations nearby (3 different lines) and easy walk to the fish market, Ginza and Kabuki-za areas. The apartment is spacious and perfect for 3 people to stay while enjoy certain level of privacy. The hosts ( four girls) are very responsive and helpful. 地理位置优越,房间舒适,3-4人旅行住宿推荐。
Hazel
2017-02-02T00:00:00Z
I have to say this house is really good and beyond my expectation. Firstly, the location is only about 100m from the nearest subway station. And the gate of aparatment is obvious enough to find in the fist sight. Secondly, the equipment of this house is complete and morden. All necessary electrical equipments can be found in this house, and even cooking tools. Last but not the least, the decoration of the room is pretty nice. The land lord have paid intension to it so that people feel at home in the house. Anyway, without any obvious disadvantage, the house is undoubtedly a nice choice for living in tokyo!
亢俊
2017-02-10T00:00:00Z
This house is clean, comfortable, and very cozy. There's a 7-11 across the street and another family Mart within 5 mins walk so you can always go grab a beer whenever you feel like it. It is close to multi subway lines so you can access to mostly all sightseeing spots easily.
Kate
2017-02-19T00:00:00Z
I will give a highly 5-star recommend. when i open the door , i am definitely shocked. This is definitely THE dream room you want to live in Tokyo! I would say it's the best room with best price you can choose from. Everything in room is modern ,clean , and Humanized. The toilet is so damn soft and warm to sit on. You can walk to Ginza in a very short distance. Host is very friendly and easy to contact. I will definitely come back . Love Tokyo and thanks for your great service!
Teddy
2017-04-06T00:00:00Z
Room Type
Entire home/apt
---
Property Type
Apartment
---
Accommodates
4
---
Bedrooms
Chūō-ku, Tōkyō-to, Japan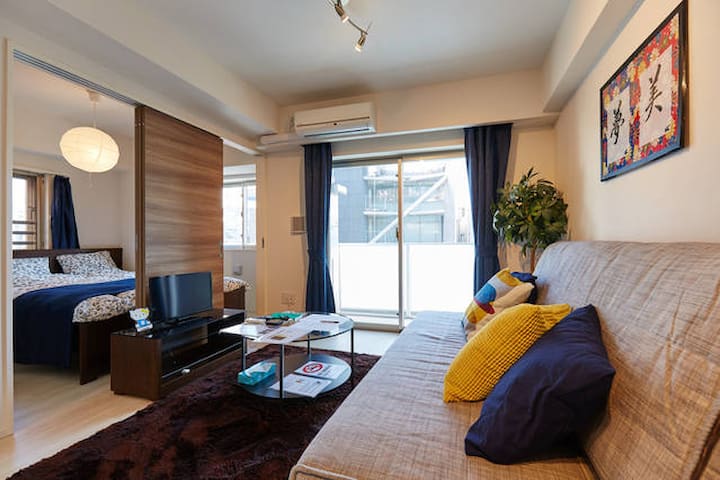 Your instant space, which is designed to have a simple taste and fit its "retro" style. Very convenient to go shopping at Ginza or explore your new experience at Tsukiji fish market, by just walking there in several minutes !
--The room has been renovated recently. The appliances will be prepared step-by-step, however most of things that is necessary has been prepared. Please do not hesitate to ask for the detail-- [Room type] This is a studio-type room equipped with floor carpet, bathroom, toilet and balcony. It is located on the 6th floor(w. elevator). [Room size] 23m2 (or 250ft2) It is perfect for 2 adult guests. (Maximum is up to 4 guests with using of sofa bed. Pls ask for detail) [Non-smoking] Smoking is prohibited inside the unit and the whole building.
It is really a nice room. And it is near the Tsukiji Market, it is a 5mins walk time to the market. I really like that house, clean and big:) Thx for everything.
维佳WEGA
2016-10-07T00:00:00Z
The room is a good location to visit market tsujiki and near Subway higasghi ginza . It is near ginza where Thérè are shops. A good room
Linda
2017-04-02T00:00:00Z
Tanin was very responsive to enquires and he is easily contactable via airbnb messaging and (SENSITIVE CONTENTS HIDDEN). The apartment looked exactly like what was seen in the pictures. Both the room and toilet were clean and simple. All amenities such as hairdryer, towels, refrigerator and air-conditioner were in good working condition. The bed was comfortable for both of us too. The apartment is located very near closed to several subway stations with the nearest being Tsuikiji about 5 min walk and Ginza about 15 min walk. As Tsuikiji station is located midway along the Hibiya Line, this become a good base for traveling to Meguro River, Roppongi, Ueno, Akihabara, Asakusa and even Disney Land! Being very near to Tsukiji Market also means that there was no lack of food choices for breakfast, dinner and supper. We were pleased with the apartment an will highly recommend it to people traveling to Tokyo.
Jun Yu
2016-04-10T00:00:00Z
My friend and I bunked in at Tanin's apartment for 7 days. It was spacious and cosy. The room is well equipped with everything that's required for a week's stay - power points and strips, refrigerator, hangers and reliable Wi-Fi. The location is also ideal as it is close to 2 subways and within walking distance to Ginza and Tsukiji Fish Market. Tanin was friendly and obliging, who went out of his way in assisting us in making an event possible. Great host! Will definitely take up residence here when back visiting in Tokyo.
Aaron
2016-05-02T00:00:00Z
It's a nice apartment which is quite close to Tukiji market where the place I like most in Tokyo! location and the cleanness is good.
moon
2016-10-08T00:00:00Z
It is a perfect place to stay 3nights with my husband and my baby, the location is great and the apartment is just everything convenient for us! Thank you, Tanin!!
mo
2016-04-14T00:00:00Z
Great location near to subway stations, Tsukiji and Ginza. Room was big for an apartment in Tokyo. Host was very thoughtful providing amenities like portable wifi, towels, umbrella, hair dryer, shampoo and body wash
Melissa
2016-06-24T00:00:00Z
The apartment is clean and neat. Close to the subway station. I can get access through password. Tanin is very nice and send me message before I arrived. Very nice trip in Tokyo.
Mick
2016-09-28T00:00:00Z
Room Type
Entire home/apt
---
Property Type
Apartment
---
Accommodates
2
---
Bedrooms
Chūō-ku, Tōkyō-to, Japan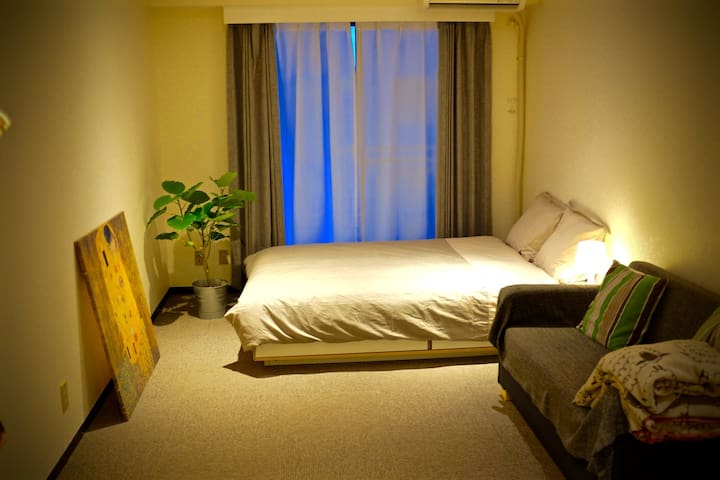 The room is very convenient and comfortable. You don't have to change train from Haneda and Narita Airport. *4 min walk to GINZA and Tsukiji Market.
Welcome to my listing! Great location for sightseeing!! *This room is located Ginza area. This area has many restaurants and shopping spots including Convenience-stores. *1 minute from Higashi Ginza station by walk. You don't have to change train from Haneda and Narita Airport. *4 minutes to central Ginza and Tsukiji Market (by walk) which is the largest seafood market in the world. *My room is different from any other rooms. The room is a special room because you can use some Japanese high quality traditional goods such as Mt Fuji glass, Imabari towel and others free of charge during your stay. Most of them have over 100 years history and have deep cultural background. If you like these goods, you can purchase each of them as a souvenir by informing me until check out. Most of them cannot be seen in cities Tokyo since they are made in Japanese local cities such as Ehime and Hiroshima and other prefecture except for Tokyo and Osaka.
The below is all by walk. Kabukiza: 2 minutes / IPPUDO (Japanese noodle ''Ra-men''): 3 minutes / Tsukiji market: 4 minutes / Ginza 4 Cho-me cross point(Central Ginza): 4 minutes / Ginza Mitsukoshi department store: 4 minutes / Apple store: 5 minutes/
This was my first experience with Air BnB and my first time in Japan. It's never easy to meet a stranger but Haoli welcomed me with open arms. He is very prompt with replies and inquires and most importantly available to contact. Haoli was so kind to meet me at the train station. The location is perfect to anywhere in town. Everything and anything is available within close parameters of the location. The room was tidy, very clean and comfortable. After a long day of travel, this felt like a home away from home. The bathroom was clean. The shower has great water pressure and if you need extra towels they are available. I don't read Japanese but the shower is simple to use by a push of a button. The bed is comfortable and the sheets are soft and smooth. The a.c. works wonders especially because it was so hot. There are plenty of outlets to charge your electronics and the pocket wifi is a bonus. Without a second thought, I would stay here again. I highly recommend this place and will be staying here again.
Melissa
2015-07-16T00:00:00Z
The studio apartment was compact and sleeps two. One on a fold out bed and the other on a fixed single bed. Therefore the room is great for tourist who wish to eat all their meals out and go out for drinks. Pros Great location - five minutes walk to Wako Building and Main Street of Ginza Met at Kabuki Theatre and taken to apartment Portable wifi was very handy Hot water was great Kettle and cups available plus dishes and glasses Plenty of towels etc. Toothpaste was available as was shampoo and shower soap. Plenty of umbrellas in hall cupboard Lots of inexpensive eateries close by Pub in back lane has happy hour 4-7pm with 20% off drinks HIgashi-Ginza subway less than 2 minutes away. Direct train line to Haneda International Airport Cons We were escorted to the apartment via the back entrance and we assume this was because there are issues with airbnb rentals in this complex. During our visit we only used the back entrance. We were unable to use the balcony as the door was locked and there was furniture stored there. Having no coffee table made it a chore to have a cup of tea as there was no place to sit and have the tea next to you. We did not want to put hot tea cups on the polished floor. No teabags or coffee were etc supplied. Difficult to hang clothes as wardrobe was full of pillows and blankets. No tea towels for drying of cups and glasses Combined Washing machine and dryer in studio apartment took over 3 hours to complete a cycle. Australians beware: do not wash/dry clothes which are not met for dryer as clothes will shrink We enjoyed our stay.
Kay
2016-11-01T00:00:00Z
Great apartment, close proximity to subway, kabuki theater, fish market and many, many more. Very quiet and convenient. Haoli is a wonderful host, made our stay stress-free. Thank you very much!
Elina
2016-11-22T00:00:00Z
great location and very helpful host. I stayed in a few places in tokyo in a similar price bracket and this was easily the best experience.
Andy
2016-06-14T00:00:00Z
Haoli is a charming and very responsive host. We had 1 building related problem which he took care of quickly. The location of the apartment, just around the corner from the Kabuki Theatre, is really first rate. We enjoyed breakfast at Pronto, and an amazing dinner at Osaka which we never would have tried if Haoli hadn't recommended it. Haoli provides pocket WiFi which was a great bonus.
Beverley
2016-10-14T00:00:00Z
Haoli very generously met us at the Higashi Gina station. This made it very easy to settle in to the apartment. The location is fantastic, so close to the subway, shopping and many small restaurants.
Barry
2016-07-27T00:00:00Z
I chose Haoli's apartment not because we have the same last name. It's really a good location since I wanna visit 築地市場 only 4 mins by walking. And also this place is near metro station, especially when I got out from metro station, I could see the 歌舞伎座, so I made a decision to visit Kabugi soon! In this building, you could feel the safety, I think this is the most important thing for everyone who wants to stay here. And one thing I want to tell you: Haoli, you know, you don't need to pick up us in person, that made me feel so disturbing you. Although we really really thanked you when you let us check in earlier before 15:00! Too kindness landlord!
Liho
2015-10-08T00:00:00Z
The location was super impressive! Solo was dry clear with instructions and he came to meet us very quickly.
Phillipa
2016-03-18T00:00:00Z
Room Type
Entire home/apt
---
Property Type
Apartment
---
Accommodates
3
---
Bedrooms
Chūō-ku, Tōkyō-to, Japan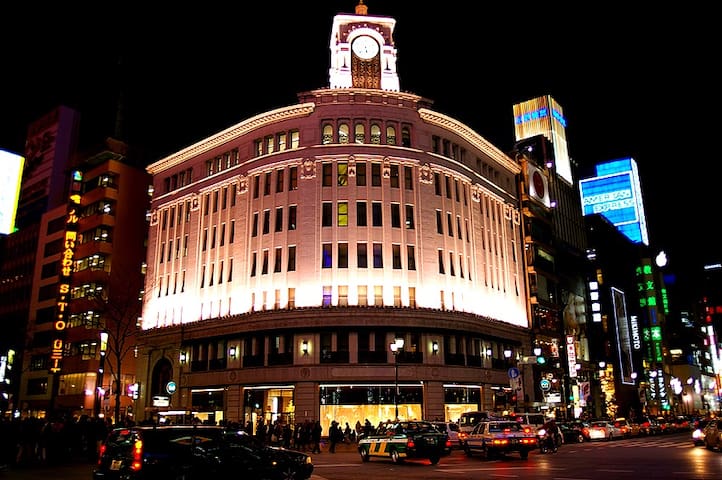 Its Amazing!! 4 minutes walk to TSUKIJI Fish Market & To TSUKIJI station from this beautiful studio. 1 stop to GINZA or 15 min walk, 10 minutes walk to see KABUKI! To Roppongi, Akihabara on the same metro line! Clean and stylish studio. Free portable wifi rental is available!!
The world biggest fish market we proud is only 4 minutes away from this studio and only 4 minutes from the Tsukiji Station. Our studio is in the central Tokyo easy access to Ginza, Roppongi, Old town area too. A Portable wifi rental complementary. This is a studio/18 sqm. Bedroom and bathroom are separated. Mini Kitchen, Bathroom, Washing Machine are available. = ROOM = (18 sqm) -1 Double Bed (140cm x 200 cm) for up to 2 people. -A coffee table and Chairs -Hangers = KITCHEN = -Microwave -Fridge/Freezer -Electric Kettle -Saucepan -Frying Pan -Cutlery -Plates -Mugs -Wine Opener -Dish Washing Liquid + Sponge to wash dishes -Kitchen Knife + Chopping board -Washing Machine + Washing Detergent ( Coin Laundry is about 3 min walk for Tumble Dryer) =BATHROOM = -Shower -Bathtub -Shampoo/Hair Conditioner/Body Soap -Clean Bath towel + Face towel as a set for each person -Hair Dryer = Portable Wifi = -Complementary rental portable wifi is available in the room. You can take it on the go! About the cleaning, we hire Japanese Best Cleaning Company called OSOJI HONPO, so you will be happy with the room. About Bed sheet/Duvet Cover/Pillow Cases are provided by professional linen supply company, they deliver clean sets each time after my previous guests check out.
TSUKIJI is in a district of central of the Greater Tokyo. TSUKIJI is well known as the world's biggest fish market is located by Tokyo Bay. Tuna Auction is one of the 'Must See' things, it is ever so interesting. Tickets will be given between 2AM-3AM, however tickets are usually gone by 2:20AM. This well design studio is located about 5 minutes away from the fish market, take the advantage of staying here. = What you can experience by staying here = 1. TSUKIJI Fish Market -5 minutes walk to the market. Having a rest by midnight, then walk down to join a queue for tickets is available. 2. Gourmet -Many nice Sushi restaurants are available here. The taste of the cheapest Tuna in TSUKIJI is about the same taste of having the 3rd rank of TUNA in the town. Most of all SUSHI restaurants have at least lunch menu for JPY1000-JPY1500, those worth about JPY3000 above in the town. Fresh, Cheap, Real SUSHI Chef! -Ramen shop, Tonkatsu Shop, Egg Rolls.... just come and enjoy Japanese Dishes at JOGAI which means restaurants outside of the market. Cheap and Nice! 3. Close to Ginza. About 20 mins walk. 4. 2 subway lines are available. Easy access to Ginza, Akihabara, Roppongi, Ueno by Hibiya Line. Shinjuku, Azabujuban, Ryogoku by Toei Oedo Line. 5. Enjoy visiting HIGASHI-HONGANJI Buddhist Temple which has very unique architecture.
The apartment is located in a very convenient spot, close to the metro station, convenience stores and market. The apartment itself is small, but cosy and comfy enough for 2 people. The host made a very helpful and detailed guide to restaurants and places of interest so that's a very big plus point! Overall, great stay :)
Su-Yin
2017-01-31T00:00:00Z
Modern and clean appartment on a great location (conveniently located above cheap supermarket). Very helpfull info package and Ichi responses very quickly to questions.
Ulrico
2016-05-26T00:00:00Z
Thanks Ichi for such a pleasant place for us to stay in. Location wise is very convenient and also Ichi has provided us guidance on where to go and how to go about it. It's very near to the train station. Thanks again Ichi.
Elina
2016-10-08T00:00:00Z
Nice apartment, close to the fish market, host responds really quickly.
María Alejandra
2016-11-16T00:00:00Z
Nice stay at Ichi+Shioko place. I didn't meet her but she was available by phone and gave us useful suggestions about the area. Tsukiji will be chanced of place in Tokyo very soon and the visit for tourists are not allowed any more before 10 am, but was still nice. The flat is very small but good location for short stay and nice restaurants around. Great breakfast with sushi at Tsukiji. Thanks!
Roberta
2016-10-08T00:00:00Z
It is very modern apartment located in a quiet street near tsukiji station. The host is good with English. No problem in communication. She is very helpful. The room is quite small and 2 persons is maximum. Will come back next time.
Samantha
2017-02-07T00:00:00Z
This location is really easy to go anywhere...Tsukiji station is only few mins walk...Tsukiji fish market only few mins by walking...there r several 24 hr stores n supermarket in the (URL HIDDEN) go Ginza Mitsukoshi department store only 15 mins walking...walking in Tokyo don't feel tired because nice weather nice people n nice (URL HIDDEN) the way the room is super clean n bed sheet is I think is custom made...
Tao
2016-05-18T00:00:00Z
It was really great room with every thing prepared.( even umbrella and washing machine). The room was clean and convenient. It's really near tsukiji fish market so that yo can visit market by just 5 min walk Station were near by. It was 5min from tsukiji, 10 min from east ginza station. So i could visit any where I wanted with ease. I really recommand this house :D
MinSu
2016-07-29T00:00:00Z
Room Type
Entire home/apt
---
Property Type
Apartment
---
Accommodates
2
---
Bedrooms
Chūō-ku, Tōkyō-to, Japan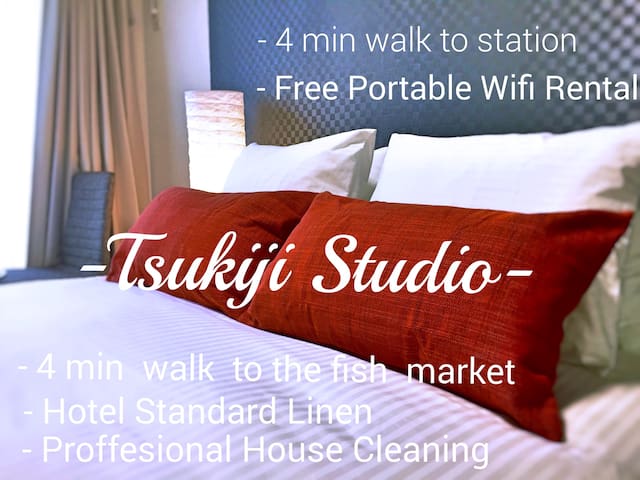 Near Tsukiji Fish Market. Free wi-fi! I've changed the bed which is a semi-double size.(2016) My room's cleaning staff is the professional hotel service staff. You can use a thing of hotel towels and linen in this room.
Just a short walk from Tsukiji Market. Because there was a request from couple of guest, I have changed the bed which is  a semi-double size(Jan 2016). And I prepare single-size mattress. Furnished with refrigerator, washing machine, bed,bedding set and a set of towels and other amenities. Amenities like a shampoo and rinse, body wash, toilet paper are provided, so you can start your stay with a small suitcase! This room is a one room apartment with private shower, toilet, and kitchen☆
Just a short walk from Tsukiji Market. (I heared Tsukiji fish market does not move at least during 2017) There are four stations and one bus stop in the vicinity of this room. Ginza, Roppongi, Asakusa, Tokyo Tower, Akihabara, Shinjuku, Shibuya, etc.. You can reach easily to the Tokyo center and tourist attractions.
I booked this location primarily to visit Tokyo's Comiket event. I booked to stay for three nights and four days, and wanted somewhere that wasn't deep in the heart of Tokyo, but quieter with its own vibe. Boy, was Yuko's apartment the best place to stay. Comiket is bi-annually held at Tokyo Big Sight, and Yuko's location proved to be really great: our bus was outside the apartment near a Yoshinoya restaurant, and only one minute away. The train station was only six minutes to the West, making hauling luggage after the event and to the apartment easy. Each morning was an easy walk to the bus stop, then a five-minute walk back at the end of the day. It made being exhausted less stressful! Yuko's place was very, very clean: she provides a sofa bed that felt quite good and a floor futon set that left my back happy. She also provides basic amenities, including pots and pans, a microwave, wi-fi in the main area and toiletries in the bathroom area. She even had soap for the washer, which came in handy! Furthermore, the guide provided by Yuko really helped us understand what was around us and how to navigate the city and her home. Though I live in Fukushima City, Tokyo is very foreign to me: Yuko took the stress of that away. In terms of location, this was in Tsukiji which is well known for its fish market, and we could see it from the apartment. It never got loud however, but added to the atmosphere. If you're interested, you can wake up very early and pop down to see the market at work: however, don't worry about noise. Even though four floors isn't much, it was high enough that it was never a bother. That, with the things mentioned above, made this stay more vacation than work. I should add that Akihabara is relatively close to this location. It's about a 10 minute train ride up the Hibiya Line. I thought that was really great: I ended up going to Akiba twice during my stay and loved that I didn't have to haul a bunch of stuff super far. I should also add, however, that there are no coin lockers at Tsukiji Station: me and my friend used lockers at Ueno due to our train back home but there's ones at Akihabara if you plan to shop. Of course, this is not on Yuko: this is just something to keep in mind when booking her place. 5/5 stars to Yuko: when I return to Tokyo in Summer and Winter, she'll be the first person I chose for my stay. Clean apartment, easy access to traveling Tokyo, and a great host made this trip to Tokyo a memorable one.
Mercedez
2016-12-31T00:00:00Z
Inoue has a nice apartment, and she was helpful with some nice places in the neighbourhood. She made me feel welcome.
Tommy
2015-08-15T00:00:00Z
The location is brilliant, for sushi lovers the Tsukiji market is definitely a paradise. To other sight spots it is also fast and convinient by either bus or underground. Yuko san provide a detailed Instruction for travelers and the room is bright and spacious.
志超
2015-10-04T00:00:00Z
I enjoyed my stay and its proximity to Tsukiji Market even though it was only for a night. It was priced suitably and overdelivered on value. Strongly recommend!
James
2017-03-06T00:00:00Z
Yuko's place came with everything you would need. It was very comfortable, and a great location!
Genevieve
2017-02-21T00:00:00Z
room is beautiful but too small for four people the house also require real quite
Winnie
2016-06-17T00:00:00Z
The apartment was extremely functional, with more than enough storage space for 2 week's worth of clothing. The second mattress bed is easy to set up, and I found it very easy to sleep in. Yuko gave us an instruction manual that covered all the appliance and allowed us to use it despite not being able to read kanji. The only drawback is a slight lack of spare knives, forks and plates, and the lack of a dishwasher, which meant we had to do the dishes by hand after every meal. If you're feeling lazy, there are plenty of very cheap places to eat just seconds away.
Thibault
2016-06-11T00:00:00Z
The location of this apartment is really great! Near to the subway station, fish market. Well equipped with air conditioner, washing machine, shower and bath. The bed is enough for single, but it is a little crowded for couple.
心航
2017-02-18T00:00:00Z
Room Type
Entire home/apt
---
Property Type
Apartment
---
Accommodates
3
---
Bedrooms
Chūō-ku, Tōkyō-to, Japan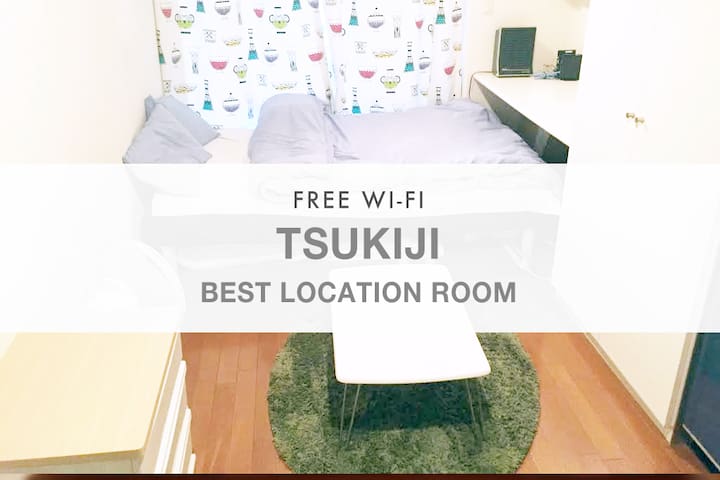 Brand new studio apartment 5 mins walk from Tsukiji, 10 mins walk from Ginza. Building built just last year. Convenient access to Tsukiji Market, Shinjuku, Ginza, Disney, Asakusa, Imperial Palace, Shibuya and Roppongi.
The apartment is brand new! * Free pocket WiFi! * Free washing machine to keep your clothes clean! * Free toiletries - don't lug around your shampoo! The apartment is exquisitely clean and really provides an excellent home base for any traveler to Tokyo to explore from. The room comfortably accommodates 2 adults or a family of 3. We have a double bed and an optional semi-double sized blow up bed. We live very close by in case you need any support or advice during your trip to Tokyo. It is just minutes walk to some of the best sushi restaurants in the world and also is minutes walk way from other restaurants such as Thai, Indian, Italian, and various other Japanese styles of food.
The neighborhood has tons of great local restaurants that unless you live or stay in the area would most likely never find. It is also minutes away from Tsukiji Market which means that you will be staying in the heart of the sushi capital of the world for all you seafood lovers! The apartment is also only 3 minutes away from the Sumida River which is a great location for a leisurely walk (especially at night).
We enjoyed staying at Saya's place for 4 nights during our trip to Japan. It is in a well located area next to Tsukiji Market and a 15 minute walk to Ginza/Tokyo Station. The apartment was clean and cozy for two people and had the essentials. The pocket Wi-Fi was dependable and quick, very useful to use during our trip. Thank you to Saya for hosting us.
Sonya
2016-10-15T00:00:00Z
We fully enjoyed staying at Saya's place. Very well and centrally located close to the fish market in a nice quiet neighborhood, the apt has everything we could wish for.
Ramona
2016-06-23T00:00:00Z
The house is conveniently located in Tsukiji, walkable to Ginza. We did not meet Saya for both of our stays. The house is clean but smaller than what the pictures illustrate. For 2 persons with 2 medium sized luggage is fine. Saya left some bakeries from Orimine which is located on the same side as APA hotel which taste good. Because we didn't have the Japanese home address it's difficult for the taxi driver to find the place. Also we did not have internet connection. The portable wifi signal is really bad as we need to restart it every few hours. The beds and pillows are comfortable. But the hair dryer produces too much heat the leads to burning sensation on scalp but as long as you keep a distant from your hair, it's fine.
Michelle
2015-11-19T00:00:00Z
We had a truly amazing time during our stay in Tokyo. The apartment is brand new, very clean, well kept and in a great location, a few minutes walk from the train station giving great access to explore Tokyo. Basically, their apartment is exactly as described. Saya and Casey were great hosts. They were very responsive to our queries. Also, as they were out of the country during the time we were there, they had made special arrangements to ensure that everything was well taken care of. Really appreciate that. And the manual that they have prepared, it was definitely useful. Thanks once again Saya and Casey, will definitely be back. :)
Suhaila
2015-05-11T00:00:00Z
We stayed here on our 3rd Japan trip. For 9 days. This place is new and nice but poorly furnished. Location is good. But host is not very helpful (according our experience) Its ok if you only stay for 2 or 3 days, more than that it's failed. No extra towel, no extra sheets, no extra matt, no extra kitchen napkin. And the float Bed is just failed, futon is better tho (just our opinion) and the small carpet need some heavy cleaning or replacement. The price is not cheaper than hotel and size also not v big (about 22sqm?) The extra things here is just the washing machine (without dryer) and microwave. There's kitchen but eating is so easy and cheap, wouldn't bother to cook. Hard to find by taxi (few taxi driver couldn't find it) We order rental stroller online but because the apartment doesn't have any concierge or lobby attendant, they have to come back 3 times. I'd say stick with the hotel where you will find professional Room service and professional concierge to help your needs. The area is super. Near metro and tsukiji for eating. Sent from my iPhone
Neti Herawati Dyer
2017-01-03T00:00:00Z
Saya's place is a very nice and cozy apartment. And yes, it's a Brand New building! Saya is a nice host, attended to every question that I've asked. The location is great, close to Fish market, Ginza and Tokyo station. Definitely would come back next time.
Xin
2016-08-02T00:00:00Z
The apartment is simply awesome. We spent only one night but it was everything we were looking for: clean, easy to find, and perfectly located. Saya is an amazing host and will answer your questions promptly. We highly recommend anyone looking for a great apartment in Tokyo to consider staying here. You can walk to probably the best sushi places in Tokyo and experience the fish market first hand since you are right there. We were traveling with our one year old daughter and the place was perfect for the three of us.
Alejandro & Maria
2015-11-22T00:00:00Z
Saya's apartment is very well located and everything is ok even with 1.5 years old baby :)
gorkem
2015-07-04T00:00:00Z
Room Type
Entire home/apt
---
Property Type
Apartment
---
Accommodates
3
---
Bedrooms
Chūō-ku, Tōkyō-to, Japan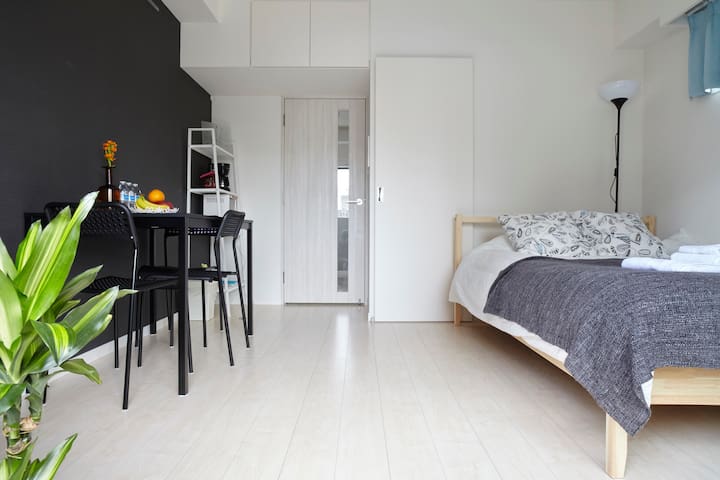 中文 ENGLISH 日本語OK Brand new apartment and just listed online. The price is negotiable please contact me if interested. The room is modernly furnished and is perfect for couples, friend travelers, business trip. Close to shopping & restaurant dist & Tsukiji Fish Market. 24 hours check in, water/heater available. Electronic auto-lock key pad on the door. Professional cleaning! By train from Tsukiji station Ginza 4 min Akihabara 9 min Ueno 12 min Asakusa 17 min Shinjuku 23min Shibuya 25 min
Great location close to fish market and easy access to rest of Tokyo by metro via Ginza (5min walk). Clean and tidy but small. Was a little difficult to heat room on cold nights in January.
Rory
2017-01-05T00:00:00Z
Place is fantastic, short walking distance to 3 subway stations (2 major subway lines) and to the heart of Ginza and Tsukiji Market. It's also close to Family Mart & Lawson (read: easy breakfast & stocking up). It's super easy to check in and Kelvin is always a message away if you have any problems. Pocket wifi is a bonus and very convenient to use. Would definitely recommend this place to people visiting Tokyo. Thumbs up
Ello
2017-03-29T00:00:00Z
You get what you pay for. Very simple very easy!
Lenny
2017-01-13T00:00:00Z
Great place! Kelvin is very friendly and helpful as well!
Alvin
2017-02-05T00:00:00Z
The apartment is very near to Tsukiji market. There is a Lawson nearby also. However, it might not be a comfortable option for 4 people. Also, the air conditioner is not warm enough for us.
Kowin
2017-01-10T00:00:00Z
房间地理位置挺好,就在筑地市场边上,出门就是地铁站,走到银座也很方便。 房间大小合适,但是没有洗衣机,与图片描述也略有不符,没有WiFi 房东人挺热情的,问题都有及时回复
Charles
2017-01-27T00:00:00Z
离房子最近的地铁站是"东银座",在"筑地站"和"银座站"之间,所以离这三个站都很近。很市中心的位置,去逛街很方便,早晨去筑地市场也是快人一步。去远的景点也没关系,地铁四通八达。离我们要离开的羽田机场也很近。房子虽小,五脏俱全,而且干净,喜欢这种简洁明亮的装修,卫生间真的蛮小要有心理准备。而且房东(SENSITIVE CONTENTS HIDDEN)回复很快的,小问题都能马上解决。
Rose
2016-10-23T00:00:00Z
地理位置优越,方便。
Lolita
2017-02-09T00:00:00Z
Room Type
Entire home/apt
---
Property Type
Apartment
---
Accommodates
4
---
Bedrooms
Chūō-ku, Tōkyō-to, Japan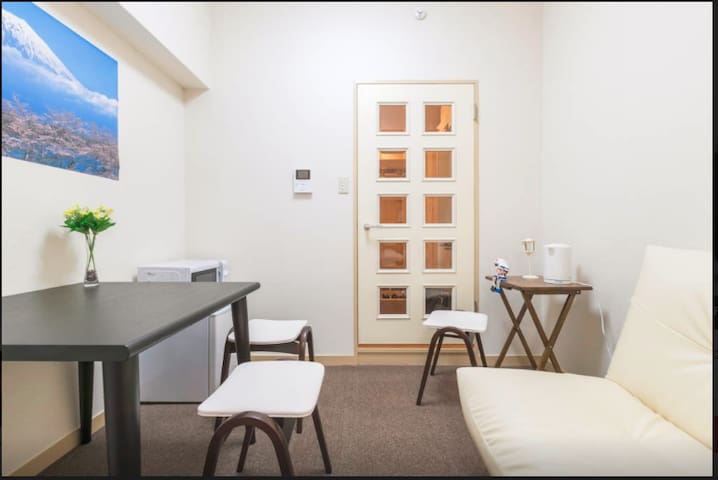 [Big welcome family!] Near the Tsukiji Fish Market; one of the biggest fish market all around the world! Quaint and historical place filled with traditional Japanese housing off-street. Water bus to ODAIBA and ASAKUSA: couple minutes walk from our place. Close to GINZA and Tsukishima Monjya St as well! Easy access to Akihabara, Shibuya and Disney Land!! Japanese "Futon" are provided. Wifi,towel,tooth brush...etc We would very much like you to come over and stay our place!!
NES, Japanese playing cards, mah-jong, reversi
3-minute walk from the Kachidoki gate of Tsukiji market. If you want to look at the auction is a good location room! Around also ran the car of Tsukiji market say Thale! [Ginza] is within walking distance. [Kabuki-za] is close! [Hamarikyu gardens] and within walking distance to! [Hamarikyu gardens] was visited by Prince William. You can go in [water bus] to [Asakusa] and [Odaiba]! [Disneyland Disney Sea] access to is also good!
The apartment was good, as stated in the description. Information was detailed and value added. The apartment is on the same street as the Tsujiki Market auction queue, which would take you 3 mins to arrive. The apartment behind has a good view of the reservoir and skyline.
Lin
2016-06-15T00:00:00Z
Clean, super functional place really close to Tsukiji fish market. Great for shopping trips in Ginza, and easy to get to from Tokyo station (the #15 bus stops right in front of the building). Massive apartment building, but very quiet and safe. Geunil was always available and replied very quickly to messages. We personally weren't too keen on the polyester blankets, but really can't complain overall.
Irene
2016-05-02T00:00:00Z
Geunil is a very responsive host and was quick to answer questions and requests.
Alan
2017-01-18T00:00:00Z
Geunil place is ideally located if you're interested in the auction of Tsukiji fish market. Only 5 min walk to the registration gate. You can also explore Ginza district by foot. I found the Tsukuji subway station a good central point to access other stations like Shinjuku or Asakusa. Geunil is also easy to reach and to communicate with.
adrien
2017-03-29T00:00:00Z
This room is excellent. First of all, the location is perfect. You can visit Ginza or Tsukiji market on foot. Since it took onlu 10 minutes from the room, we could enjoy a special morning meal at the market. Second, the host respond quite quickly. Even though you had a problem, he could fix it soon. Third, the room is ckean enough. The only problem I had was the speed of wifi. The host tried his best by adding 10GB into the plan for us, the speed was limited on my and my wife's smart phones. On our PCs, it works better. There might be some technical problems. 非常に良いお部屋です。 非常に便利な立地で有りながら、静かな場所です。ホストも素早く対応してくれます。 唯一の問題点はwifiスピードが遅いことです。ホストは親身になって対応してくれ、データの上限も上げてくれたのですが、通信速度自体はあまり上がりませんでした。技術的な問題かもしれません。パソコン上ではまだいいのですが、スマホとの相性が悪かったです。
Eishiro
2017-03-22T00:00:00Z
What a wonderful house!
Genie
2017-01-31T00:00:00Z
Nice room, good host, the location is good as well.
Wei Chen
2017-04-03T00:00:00Z
We picked this listing so we could be close to tsukiji market. The location was perfect, a quick walk to the market and tsukiji station. Apartment was spacious, clean, and well stocked. It had everything we needed. Genuil was a great host. He was always quick to respond and very polite. You could tell that he put a lot of effort into anticipating our needs. He cares a lot about his guests!
Danielle
2016-11-27T00:00:00Z
Room Type
Entire home/apt
---
Property Type
Apartment
---
Accommodates
4
---
Bedrooms
Chūō-ku, Tōkyō-to, Japan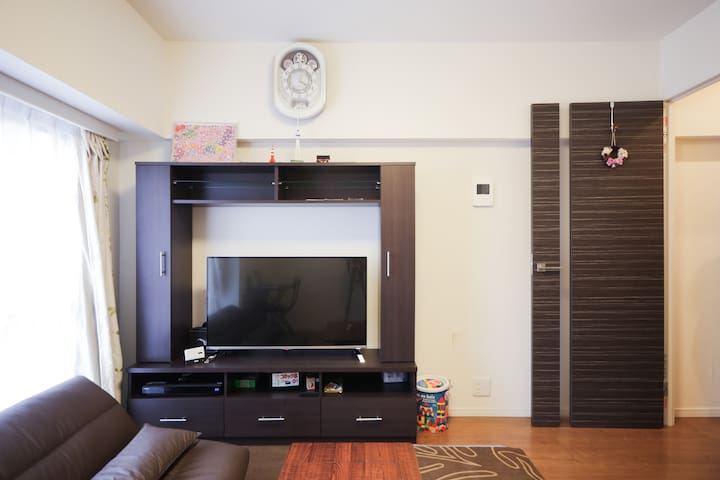 [ Right beside the lively TSUKIJI market ] Welcome to our apt for 4 in TSUKIJI market, Tokyo! This apt is only few steps away from the famous fish market, and only 5min walk to the closest sta.! You can easily get the freshest sushi and local street food, and more! Ginza, the shopping heaven in Tokyo, is also in close distance! Very much recommend this apt to tourists of 4! (The apt is not too close to the fish market so, there is nothing to worry about the noise in early morning)
Located just minutes away from Tsukiji Fish Market, the busiest fish and seafood marketplace in Japan, our home is within walking distance to one of the hottest tourist attraction spots in Tokyo. The fish market auction starts at 5:00am so if you are interested in experiencing this unique event, there is no better location to stay at! The district nearby is Ginza, which is the high fashion shopping district in the city filled with department stores, high-end restaurants and boutique shops.
Atsuro's place was great. Located right in the heart of sushi central. Place was very clean.
Jeff
2017-04-02T00:00:00Z
Perfect place to stay if u wan to visit Tsukiji Market ! Tsukiji Market is just few steps away from Atsuro's apartment . Atsuro's apartment is a traditional tatami with futon style . I am impressed with the kitchen , it has everything we needed . Clean & stylish room . Love it & will be back soon !
Chia Shin
2017-03-12T00:00:00Z
Absolutely amazing! By far the best part of our Japan trip. We loved going downstairs to the outer Tsukiji Market area and talking story with members of the community! Lovely neighborhood. Best sushi from our entire Japan trip!
Clare
2017-03-09T00:00:00Z
The room's location is exceptionally great! there are convenience stores, restaurants and a subway station nearby and the room is barely big enough to house 4 people. The place is mostly quiet and peaceful. Check in and Check out went well, without any problems. Atsuro also provided a portable Wifi device, with a daily volume of 500MB, which was more than enough for our daily use. I'd recommend this room to anyone looking to live near popular tourist attractions in Tokyo. Mind however, that the room is fairly small, so those looking for a spacious apartment should probably look elsewhere. Nonetheless, my family had a very enjoyable stay!
Sol-Ha
2017-04-08T00:00:00Z
This place was great. Literally right next to the fish market and within walking distance from very high end retail shops in Ginza. The place is very clean and things were easy to use. Would recommend.
Alex
2017-03-15T00:00:00Z
地点非常好,很好找,而且在市场外围,早上可以听到市场的广播,但是不会太吵,下楼就可以大吃一顿。各种设施很齐全,屋里非常温暖。 有两点不好的地方:卫生间没有干湿分区,TAP一直在漏水,卫生间门口也没有地垫可以把脚上的水弄干,比较麻烦。另外,被套不太干净。
婷婷
2017-03-20T00:00:00Z
房屋就在筑地市场,吃东西很方便,但到地铁站需要步行10分钟以上。 房租小巧,粗看设施齐全,但细看下来,只能说勉强够用。 马桶没有智能盖(日本唯一一次没有盖板的住宿地), 水龙头不是恒温且漏水,洗完澡后,卫生间地上都是水。 没有牙膏牙刷,有咖啡机没有咖啡粉,有香薰没有火柴,有全套厨具,没有任何调味料。 相对这个价格,更推荐商务酒店。
Chao
2017-03-26T00:00:00Z
房子就在筑地市场边,吃东西太方便了,离筑地地铁站很近,离银座不算远,交通还是很方便的。房子设备齐全,还有电视机,可以收看几套日本电视屏道。睡的是榻榻米,我个人觉得还行吧。房东人挺好的,住的期间出了点小问题,最后还是很好的解决了。总的来说,房子性价比不错,特别适合爱吃的人居住,唯一的小问题就是比较近马路,声音偶尔有点吧,但不吵。
Leo
2017-03-23T00:00:00Z
Room Type
Entire home/apt
---
Property Type
Apartment
---
Accommodates
4
---
Bedrooms
Chūō-ku, Tōkyō-to, Japan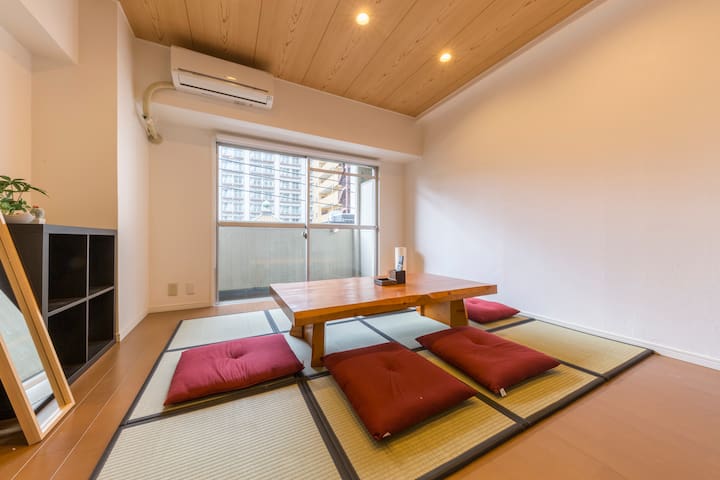 Fully equipped, 1BED comfy with high quality bouble bed. You can walk to Ginza/Tsukiji Fish Market. The apartment located distance 3 min walk from Higashi-Ginza station providing easy access to Roppongi, Tokyo, Akihabara & Ueno or Asakusa.
Please feel free to use the following: Table, Chair, Washing Machine, Refrigerator, Microwave ,TV, Hair Dryer, Tableware, private shower and toilet, Shampoo and Hair Conditioner, Towels, Water Heater. Free WI-Fi are available in the room. This apartment has all you need in trip.
The apartment is located 3 minutes walk from subway Hibiya-Line Higashi Ginza station near by Ginza, Tsukiji and Akihabara. The closest convenience shop is located around the apartment such as Family Mart and Seven Eleven. About 3 minute from the apartment and has almost everything you could need. The neighborhood is a office area but very peaceful and quiet at night. Within a 5min walk from the apartment is a supermarket, drugstore and nice bars&restaurants.
Danny place was very good in ginza! The location was really good. The place itself was good too. As what you would expect from pictures. He was also very helpful in making restaurant reservations. Had no problem at all communicating with danny.
Jay
2017-02-17T00:00:00Z
WARNING: This building has several large signs stating that online short-term rentals are not allowed. The English transcription of the sign reads: "No Private Residence! Travelers are not allowed to stay over at any room in this condominium. If you make a booking through an online lodging reservation site trying to sleep over, it means the host doesn't have any kind of approval and provided you with the room illegally. The residents in this condominium are confused at many and unspecified travelers visiting. We hope you will not agree with the host and choose another accommodation." Additionally, a resident of the apartment sternly advised us to leave the premises when we arrived. We contacted Danny to see if he was aware of the policy, and he advised us not to give out our or his personal information (including the room number) to any building residents or staff, nor to answer the door or phone. We didn't feel comfortable staying at this listing and ended up booking a different AirBNB at the last minute, but from glancing into the room, it seemed very nice and just as Danny described. We just wanted other travelers to know about the signs/building policy in advance so they can decide if they want to take on the risk before booking.
Kadra
2016-11-28T00:00:00Z
Very good location. Pharmacy and convinience store right downstairs. Less than 5 minutes walk to tsukiji station.
Eric
2017-03-05T00:00:00Z
Very close to Ginza and Tsukiji market and convenient access to shopping and public transportation. Highly recommend!
Chuck
2017-01-05T00:00:00Z
If you want to be close to Ginza and Tsukiji, this room has the best location! We did not do a lot of shopping during this trip so we were able to walk to and from Ginza with some shopping bags easily. It is near a train station and very near Tsukiji Market, our favorite!
Hazel
2017-01-19T00:00:00Z
Danny, is super communicative and his place is awesome, close to everything in every way. No noise at all and everything worked perfectly
Iván
2017-04-08T00:00:00Z
The location is close to the JR station and the accommodation is comfy. It's a good experience living here.
Nicholas
2016-10-01T00:00:00Z
Seamless transaction, apartment was nice and convenient to Ginza, but bed was extremely thin, its metal springs were uncomfortable and hard to sleep on.
Travis
2016-09-04T00:00:00Z
Room Type
Entire home/apt
---
Property Type
Apartment
---
Accommodates
2
---
Bedrooms
Chuo-ku, Tokyo, Japan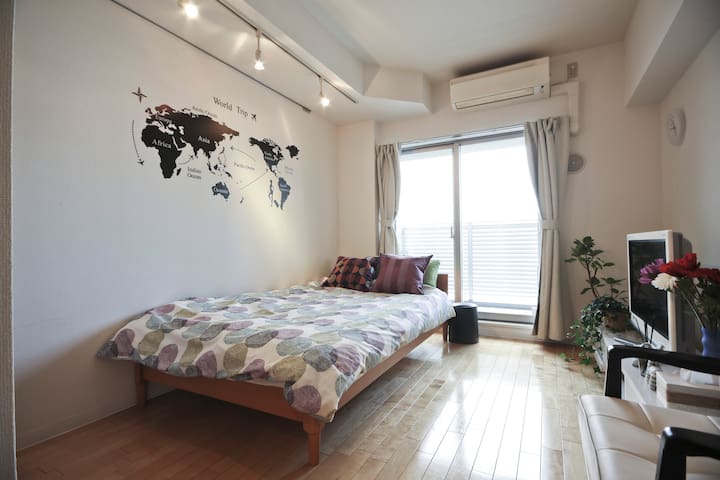 ** Discount for Summer Vacation! ** **The two flats, #6 and #12 are in the same building. My place itself has exclusive traits. It is near downtown Ginza and the shopping area, also Tsukiji fish market is within walking distance. Both places are within walking distance. Moreover, the room is decorated with bright color, especially the fully equipped kitchen offers you to cook for your own. You will definitely love the area, the ares itself is very fancy, and has good accessibility.
**The other flat, #6 is in the same building. Mainly, the room is equipped with a double sized bed, and the sofa bed for an extra person. The room comfortably fits 3 people, and they can easily chill and relax in the room. The house itself is locating in main area of Ginza, and near Tsukiji fish market. I am sure that you can enjoy your time 24/7 around here. The compact size of kitchen is equipped with the stuff what you need for your stay. The separated bathroom and toilet has also a lot of useful functions. If you need 2 houses in the same places, the 2 rooms will be the best choice.
Inner main area of Tokyo life offers you a lot of chances for fun. You can commute anywhere easy, it would be really good for people who travel back and forth regularly.
Sogi's place is perfect. Located in the centre between ginza and tsukiji.
josephine
2016-11-09T00:00:00Z
Very nice host . House is very clean . Easy to talk .
浩然
2016-08-29T00:00:00Z
Check in process was quite smooth and the location is quite convenient. Even it locates in central Tokyo near Ginza, it is quiet as well. I enjoyed staying here very much. Thank you.
masanori
2016-09-24T00:00:00Z
Perfect place. Perfect communication and even waited to greet us when we were late. A light and cozy space, was lovely to come home to. Plus a very comfortable bed.
Alexandra
2016-09-05T00:00:00Z
You will love this place if you're a foodie person. Smack right in the middle of everything, the location is number one to look for if you decide to cover the whole Tokyo. This is my 2nd visit to this lovely city and I should get to stay in this place in the 1st visit!
Lorence
2016-10-23T00:00:00Z
Cozy and convenient place to stay over a night or two. It is a little small for two person to stay but overall is great!
Claudia
2017-03-08T00:00:00Z
This will be my permanent rental whenever I am on my visit to Tokyo. Great place to experience living as a resident of Tokyo. Walking distance to train station and Lawson is just around the corner. One thing I am grateful is Sogi provided transportation for us from and to airport, So no worry lugging your heavy luggages around the train station. Apartment is a bit small for us 3.. but I believe most apartment in Tokyo is alike. Overall a great experience staying here and save a lots of $$$. Thanks Sogi :-)
Steven
2016-12-20T00:00:00Z
great place!
Lok
2017-03-03T00:00:00Z
Room Type
Entire home/apt
---
Property Type
Apartment
---
Accommodates
3
---
Bedrooms
Chūō-ku, Tōkyō-to, Japan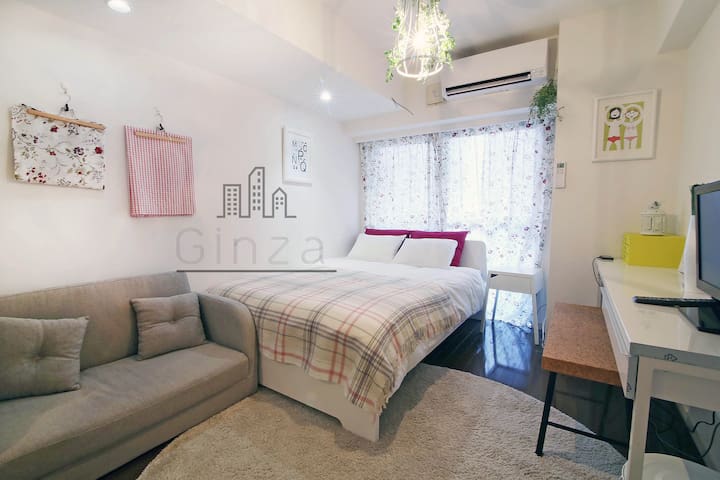 The apartment located in Ginza area, 2 min to the nearest station shintomicho, 7mins walk to the shopping street of ginza. 6mins walk to the tsukiji market. It's a quiet zone next to all the famous sightseeing spots 10mins train to tokyo station, 35mins to haneda airport, traffic is super convenient.
it's a 55m 1living-1dining-1bedroom apartment. There are 2 double beds in bed room and 2 sofa bed in living room, we recommend 4 people group but it can contain 6 people max.
★銀座と築地市場の中間にある、きれいなお部屋です。 メトロ有楽町線「新富町駅」 徒歩2分。 メトロ日比谷線 「築地駅」 徒歩6分。 メトロ日比谷線 「東銀座駅」 徒歩7分。 JR京葉線・日比谷線 「八丁堀駅」 徒歩9分。 都営浅草線「宝町駅」徒歩10分。
Fantastic stay and location. The apartment was comfortable , cute and very well equipped. Couldn't have asked for more from Kimiko
Vidisha
2017-03-27T00:00:00Z
Great host! Great place. Amazing
Bec
2017-04-01T00:00:00Z
The location is great and the housing building is in a quiet area near great shopping and the heart of Tokyo. If you enjoy some exercise during your trip I suggest you take a jog to the river nearby and run next to the water for some great views of the city.
Greg
2017-04-07T00:00:00Z
The location was really good.It was 11 floors so the outlook was good.The host was kind and good at Korean. Recommend.
jeonghui
2017-03-24T00:00:00Z
This is a great place to stay in with access to the train lines just 5 mins away. It was very clean and tidy and everything you need is provided. The host also has a detailed guide about how to get to the location and what you need to know about the place. Highly recommended
Piyachai
2017-03-22T00:00:00Z
位置太方便了!從車站出來兩分鐘就到,很高檔的公寓。房子離銀座走路六七分鐘,晚上附近也很多好吃的餐廳。 第二天一大早去了步行五六分鐘的築地市場,吃到了超級新鮮美味的壽司。太感謝Kimiko這個地方。很可惜這次只住了一晚 ,下次來東京還會選擇住這裡!
Yiting
2017-03-10T00:00:00Z
Room Type
Entire home/apt
---
Property Type
Apartment
---
Accommodates
6
---
Bedrooms
Chūō-ku, Tōkyō-to, Japan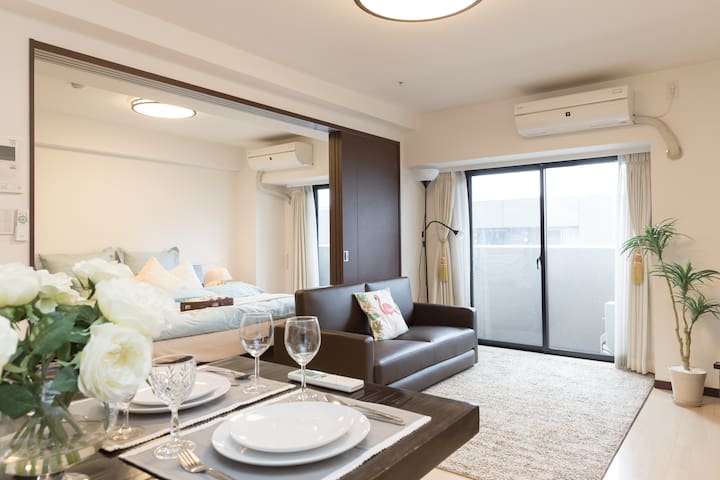 Very convenient location!! You can use 6 routes 6 stations. (JR Yamanote Line, Ginza Line, Asakusa Line, Hibiya Line, Oedo Line, Yurikamome) 5min on foot : Tsukijishijo sta, Shiodome sta 7min on foot : JR Shimbashi sta, Subway Shimbashi sta, Higashi-ginza sta 10min on foot : Ginza sta
April 11, 2016 OPEN My apartment is very conveniently situated though the room is small. It is suitable for business and sightseeing. The quake resistance is high because the structure is steel-reinforced concrete (SRC). My apartment is safe because there are surveillance cameras and the automatically lockable door at the entrance. In addition, I hand the house key to you directly.(I don't use key box for security.)
[Neighboring information] Convenience store : 1min on foot DON-KI-HOTE(Discount store) : 5min on foot Supermarket : 5min on foot Bank : 6min on foot Post office : 1min on foot Drugstore : 5min on foot Fast food : 3min on foot [Central station] "Tokyo" 3min from Shimbashi by train "Akihabara" 7min from Shimbashi by train "Roppongi" 11min from Tsukijishijo by train "Asakusa" 11min from Higashi-ginza by train "Shibuya" 13min from Shimbashi by train "Shinjuku" 15min from Shimbashi by train "Daiba" 15min from Shimbashi by train [Tourist spot] Tokyo Tower : 10min by taxi Tokyo Sky Tree : 15min by train Tokyo Disney Land : 30min by train
My stay at Madoka's place was perfect! She provided me with all the details prior to arrival so it was easy to navigate to her house. I had to check in very late at night due to my flight and she is very accomodating to my needs. She even picked us up at Tsukijishijo Station and walked us to her house which is really appreciated. She responds to messages very quickly. The portable wifi device available is very handy for me to navigate to any place I want. Her place is very near to the fish market which i visited many times in the week for breakfast. Having a tax free discount store nearby is also a plus! If I am going back to Tokyo, I will definitely book her place again! Thank you, Madoka!
Zincy
2016-10-24T00:00:00Z
Madoka's place is just as advertised. It is small but comfortable, with a great shower and good location right near the Tsujiki fish market. Madoka was very friendly and hospitable. Communication was quick and always helpful. The pocket wifi is also a huge perk. Glad to have stayed here for our final night in Tokyo, would certainly recommend.
Sydney
2017-03-28T00:00:00Z
Worthy
ZHANHONG
2017-01-06T00:00:00Z
Madoka might be one of the sweetest people I have met. She was so genuinely nice & welcoming. Her place was tiny & perfect for my stay. There was so much around, easy to walk. She had brochures and a printed guide as well to local restaurants and activities. Wonderful stay! I would absolutely come back!
Tahnee & Conor
2017-02-17T00:00:00Z
It was great stay in Madoka's place! Everything was well organized and I'm happy with her great hospitality. Sending best wishes for Madoka and her brilliant family.
Yuito
2016-12-25T00:00:00Z
Madoka's lave is confortable, has all the equipment that is needed , super central, has tons of restaurants around and I'd very close to the subway stations. Madoka was very friendly, have all the indications on how to get to her place and has great communication before during and after the stay.
Maggie
2017-01-01T00:00:00Z
Madoka was very accommodating and helpful. The location was perfect! :)
Andrea N.
2016-11-20T00:00:00Z
Madoka's house was a very nice place to stay. It was very close to the main shopping area in Ginza and Tsukiji fish markets, all walking distance. The apartment was nice and clean. Perfect for two people. It was a little tight with the queen bed out, but still very good. Thank you Madoka :)
Peter
2016-10-20T00:00:00Z
Room Type
Entire home/apt
---
Property Type
Apartment
---
Accommodates
3
---
Bedrooms
Chūō-ku, Tōkyō-to, Japan