Stay in our 16 m2 "birdroom" in a charming villa close to the city center. Direct bus to NTNU (Gløshaugen) or the city only 2 minutes away. Walking distance to NGU and a short ride with a bike to Statoil.
English and some italian and german spoken! We have 2 bathrooms, so guests can have their own. Shared kitchen for breakfast. We provide a customised bike for travelling to and from the city. 2 minutes walk to the nearest bus-stop which takes you to the city in 5-7 minutes. English and some italian and german spoken!
Great host, he really goes the extra mile! Nice talks, lots of useful information and his bikes are the perfect way to go around Trondheim. Beautiful house and the room is just perfect. 100% recommended
Didier
2016-08-11T00:00:00Z
Øystein and Anne Grethe are lovely and gracious hosts. They will give you a great start in Trondheim, especially if you have never been to Norway before. Their 100 yr old historic house is beautiful and comfortable. Use the bike to get everywhere because it is the best way to get around. They are in a beautiful family neighborhood close to the water. Both are warm-hearted people and have a good sense of humor. They were very kind when KLM misplaced my luggage during my connection in Amsterdam and I had to wait for it to be delivered. Anne Grethe even took me on a bike tour of the city to make sure I knew where the conference was, and Øystein drove me when it was too stormy to ride the bike. That is hospitality! Try the brunost cheese at breakfast -- brown, sweet and salty and very Norwegian. I was in town for a conference at Sør-Trøndelag University and it was quite clear this is much better than staying in a hotel downtown.
Angela
2015-08-17T00:00:00Z
Extremely warm and welcoming people - got the best impression of Trondheim thanks to Øystein and Annegrete.
Katrine
2015-05-22T00:00:00Z
I felt very welcome in what is probably the most beautiful house in Trondheim! The room is so charming and you have access to the upper balcony which provides a great view over the area. Øystein and his wife were lovely, cordial, very helpful and had lots of tips for getting around and what to see. I really hope to come back one day!
Christina
2016-03-15T00:00:00Z
I had the most positive experience staying at Øystein and Anne-Grethe's lovely home for a whole month. They are great hosts and wonderful people. I enjoyed our conversations, and learnt new things about Norway and Norwegian culture. The room was very nice and comfortable. The house is so beautiful. The location is perfect - it is in a 5-minute walking distance from a fjord with beautiful views and a nice trail along the fjord. The largest shopping center in Trondheim is located a 5-minute walking distance away. It was very convenient for me that I could borrow their bike - by bike, you can get to the center of Trondheim in around 10 minutes. I also took the bike to NTNU (Gløshaugen) campus every working day, and it took me around 20 minutes. I enjoyed my stay there very much. I think, this must be one of the best places (if not the best) to stay in Trondheim! Thank you so much for hosting me and being so helpful and welcoming - I really felt at home the whole month staying there. I would love to visit you again when I come back to Trondheim some day!
Inga
2016-05-03T00:00:00Z
Very charming and well maintained 100 years old villa with a big garden. I am quite fond of this old sveitser decorative wooden architecture. Balconies and coloured windows are symbols of those nationalromantic houses in Norway. Very peaceful area, still close to the city center and a big shopping mall. 3 min. walk to next bus stop. Only 20 min. walk to centrum. The hosts are very friendly and helpful, both of them speak fluent english. Magnus.
Magnús
2014-11-09T00:00:00Z
Øystein and his wife Anne-Grethe were very kind and hospitable hosts. I really enjoyed the talks and help provided during my 2-nights stay. The offered room is furnished in a very lovely way. It is spacious and offers all amenities you might need. The house is located in a nice and quite neighbourhood. It is not far to the city center of Trondheim when using the provided bike.
Marcel
2015-07-31T00:00:00Z
I had an amazing stay at Oystein's place. I was there for 4 days. I arrived late and Oystein picked me up at the central station after I took the bus from the airport. He also showed me some spots where I could get some food. My room was very tidy and pretty. Also very warm and I loved the blankets and the bed! I even had my own refridgerator and water cooker! The house is very old and beautiful. Oystein is always in for a chat and he told me a lot of interesting stuff. The house is close to the center. I walked a lot (30 min) but with a bus you are there in 10 min. Also a very tidy bathroom with a nice shower. They even had shampoo and soap for me! (Even tough I brought my own). You can have privacy if you want to. There is fast internet, a close supermarket. Even a desk in the room. There are alot of nice things to see in Trondheim. There is a bike you can use. (But I decided to walk a lot) a very nice cat that sometimes will wait for you in the room when you come! Really friendly and warm people. Also his wife. I was lucky that Oystein and his friends went on a trip so they could drop me off by the airport with a ... Tesla! That was aswome! Thankyou for your hospitality I really had a great time!
Kim
2016-10-22T00:00:00Z
Room Type
Private room
---
Property Type
House
---
Accommodates
1
---
Bedrooms
Trondheim, Sor-Trondelag, Norway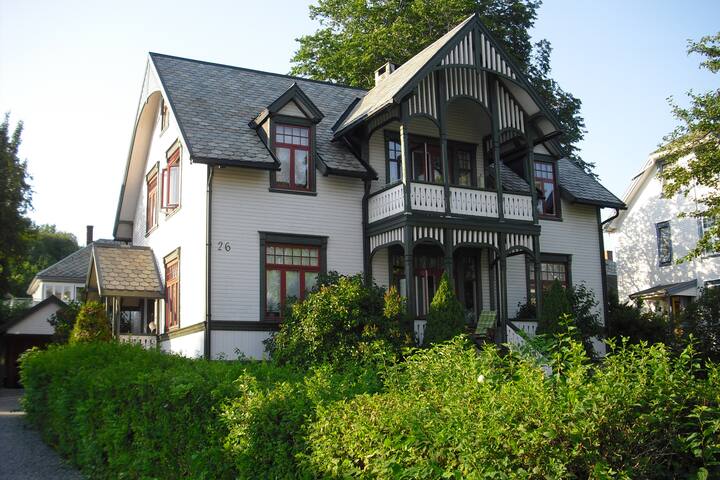 My location is close to public transportation and the city center. You'll love my place because of the outdoor area and neighborhood. My place is good for couples, solo travelers and business travelers. The house has a very good standard, a great bathroom and nice and cozy living room and kitchen
Quiet and calm area near the center and NTNU
It is a quiet and peaceful neighborhood with good neighbors
John was an excellent host! He really went above and beyond the call of duty when I visited. Here's just a few of the things he did for me: Before I visited I mentioned to him that I was having trouble finding a way to buy a bus pass for Trondheim, so he directed me to the bus company's app. The night I arrived I was going to see a concert and he gave me a ride to the venue. Him and his girlfriend (who was also very friendly) made an excellent dinner for the three of us. He even gave me a ride to my bus stop at 3:30 in the morning for my early flight home. I could not have asked for more. John's home is lovely. You get a great view of Trondheim's skyline from his back porch. Everything is very clean. The room you stay in has a large desk if you need to do work. The bed is comfortable and it is bigger than it looks in the photo.
Ian
2016-09-25T00:00:00Z
I'd stayed in Trondheim at John's place for 3 days. During this time I had everything I needed. John' house is moder, cozy, clean and design with good taste. The house is nicely warm, so it's great to come back after long time of being outside (in the city centre or somewhere else). It's easy to get there from city centre. The room for rent is bright with big desk and comfortable bed. Theres also a big terrace with the view of city centre and suburbs. John cares about the atmosphere at his house. What's more, he is very nice and interesting person, and great host. Willing to give tips for travelling, advices for interesting places and to tell about Norwegian tradition and cusine. Highly recommend this place! :)
Martyna
2016-11-29T00:00:00Z
John was an amazing host!! He was able to pick me up from the bus station which really helped since I had a late check-in. The view is incredible and everything was very clean. Enjoyed my stay immensely and I would definitely come back.
Amy
2016-11-25T00:00:00Z
I am glad I could stay at John's place. Not only is it very cozy, but John is also a thoughtful host. Overall, He made my stay enjoyable with helpful tips and he even had time to show me around the city. The house is not in the centre, yet by bus, the centre is in easy reach in 15min.
Markus
2016-12-28T00:00:00Z
John is a very smart and Open Person! It was a nice evening and a nice Talk with him! He is a very nice and helpfull Host and i Would definitiv came back Maybe in September! Nice to meet him
Florian
2017-01-02T00:00:00Z
I was moving to Trondheim for work, and stayed at John's house while looking for a rental. The room and the house were clean and modern, and John was very accommodating throughout the trip, even picking me up from the train station. Very good experience!
Kristjan
2017-01-27T00:00:00Z
Great private room, even greater shared Appartement. Perfect airbnb, super nice Host!
Phillipé
2016-12-02T00:00:00Z
I've had a great stay at John's house and I totally recommend his place to stay in Trondheim. It's a small but beautiful private room with enough space to scatter your things and a desk to work in there. I haven't been there very often as I've visited the city all day long and in the evening we sat together in the living room. But if you want to be on your own you can withdraw there. The house is located in a very quite area so you sleep without any noises or any disruption. The house itself is quite big and living with John works out without any problems. In the kitchen you can use everything for yourself and even have an own compartment in refrigerator. Tea and coffee can also be used so every morning has started quite well. John is very nice and open minded but not intrusive and let you do your things if you are busy or don't want to chat. He answered all my questions about Trondheim, we even made a little tour by car through the city on my first evening so I've got an orientation and first impression of Trondheim and finally he brought me to the bus station to get to the Airport - More than actually expected! It takes some time (15min by bus, 1hour walk) to get to the city center but busses are driving almost every 10minutes.
Lysann
2017-03-24T00:00:00Z
Room Type
Private room
---
Property Type
House
---
Accommodates
1
---
Bedrooms
Trondheim, Sør-Trøndelag, Norway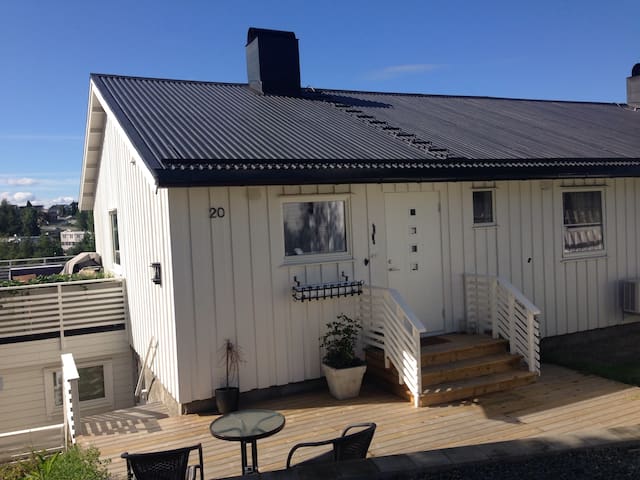 Small single house, 70m2 in quiet area with little traffic. About 4km from city centre. Nice area to go for a walk just across the street. 5 minutes by foot to closest bus stop, 10 minutes by foot to shopping centers. Recently renovated.
Hi, I'm Gunnar and I am married to Brit Elis. We have a property in Trondheim on historical Lade, a place where the Viking kings had their residence. On the property we have two houses, a main building and a guest building. Fagerheim Casa (the guest building) is just renovated and equipped with everything one needs to live - just like at home - you only need to bring your personal effects.
"Ladestien" is a unique hiking trail along the coast that is a favorite Sunday stroll for a lot of people living in Trondheim. Spring comes early to Lade. In summer there are several beaches within walking distance. Across the street you have a small wood with parts of a former park still intact.
Great location if you are looking for a quiet area. The house has everything you need to make you feel like home and it's perfect if you plan to stay for a longer period of time like we did. Brit and Gunnar are great hosts, very helpful and friendly.
Dorin
2017-02-11T00:00:00Z
Everything was perfect! The check in and check out was without any problems! Britt and Gunnar are absolutely amazing, loving and caring hosts! Also the appartment is so gorgeous, it's perfect for couples or for family's, we felt totally like home and really didn't want to leave. I would totally recommend it and we will definitely come back. Thanks for everything!
Franziska
2017-01-02T00:00:00Z
Gunnar and Brit are very friendly and warm hosts. The house is lovely, spotless, comfortable, beautifully decorated and fully equipped. Best accommodation we have had in Norway. Thank you for your hospitality! Highly recommended!
Kasia
2016-06-28T00:00:00Z
It was a brilliant experience! and I can not use any words to describe that how amazing this house is and it makes me feel just like home. Moreover, Gunnar and Brit are kind and considerate, they even prepered red wine for us! Everything's here are fully equipped and easy to parking. Highly recommend!
Xiaomeng
2016-06-05T00:00:00Z
The cottage was just perfecr! The location was great. Gunnar and his wife were so nice. We enjoyed chatting with them. This was an excellent accommodation!
Janet
2016-07-23T00:00:00Z
Really nice stay and really nice persons there.
Adriano
2016-11-03T00:00:00Z
Gunnar and Brit are very generous and warm hosts. Our family of three had the most wonderful week at their home. The best part of the visit were undoubtedly our hosts. We enjoyed our many meetings with them learned a lot about Norway, Norwegian culture, and Norwegian food. The apartment is fantastic - one of our best airbnb experiences. Not only the home had everything (and more) that you need, but Gunnar and Brit also had everything from wine, juice, and milk to pasta and cookies (and more) stocked up. The view from the front of the apartment and the backyard garden are beautiful. Hiking trails start practically right outside their home. Overall warm and welcoming hosts, well-furnished home, and beautiful location. Highly recommended.
Ila
2016-06-24T00:00:00Z
Gunnar is accurate and quick in his communication. He and his wife are very friendly. They did everything to gave us a great time in Trondheim. The guesthouse is well decorated and provides all the luxuries to have a relaxed stay in Trondheim. The guesthouse is situated in a quiet neighbourhood. Opposite to the guesthouse there is a park with some little beaches at the seaside. Trondheim center is easy to reach by bus. If you have a smartphone, I recommend the AtB Mobillet app which saves you a lot of money if you use the bus daily.
Eelko
2016-07-27T00:00:00Z
Room Type
Entire home/apt
---
Property Type
House
---
Accommodates
4
---
Bedrooms
Trondheim, Sør-Trøndelag, Norway
Room in centrum of Trondheim. View to the harbor, fjord, Fosen and Munkholmen. This is an old building from 1872, not high standard. The bathroom is private for you, but you have to walk 5m in a shared hall with anorher room.
Beautiful view to the fjord and sunset.
Close to everything
Very cosy room in the center of Trondheim. In the evening you can see the sun go down behind the fjord. We didn't meet Per, but he was always very quick to respond. He was also very friendly and super flexible with check-in and check-out times. We definitely recommend this place!!
Carl
2015-08-09T00:00:00Z
Very clean and bright room, with a nice view on the bay. Located in a good location in Trondheim: we did everything by foot. We did not meet Per, but his messages we're very clean & helpful. Very recommended for a stopover in Trondheim.
Maxence
2016-07-07T00:00:00Z
Private room with a great view! The ceilings are quite low, so Beverly careful if you're tall! I'm 5'7" and my head barely missed the beams. There's great access to restaurants and the view of the water is wonderful.
Sophia
2017-03-19T00:00:00Z
The stay in Trondheim was great. The flat is right in the center what makes everything much easier. It also has a cool sea view out of the window. The bathroom is shared on the hallway though. We had a great time, thank you :)
Philipp
2016-08-18T00:00:00Z
Nice small flat with an oustanding view of the fjord! I had a great time in Einar's flat! Absolutely recommendable!
Eliana
2016-06-18T00:00:00Z
It was a great home base for walking and exploring central Trondheim. And you can't beat the view of the fjord.
Hannah
2017-01-07T00:00:00Z
The room is very central and from it you can easily walk to almost all places of interest in less than twenty minutes. The sea view is fine. The house is very curious, wooden walls and large wooden beams ceiling give a lot of charm. The equipment is too basic and it could be better, some more kitchen equipment and furniture updating could help. It was a little uncomfortable to have the bathroom outside, but not a big problem because the bathroom is not shared and everything works fine in it. Host responses are quick and indications are precise, no problem on that side. The price/quality ratio is very good. The noise of the trains (although with double glass windows closed the noise is really low) can be problematic for people with very sensitive sleep, that was not my case and I could sleep without problems.
Gaspar
2016-09-11T00:00:00Z
We liked the room, it is simple, cosy and looking out over the water. From the room we could walk everywhere. For us it was perfect, we only had 2 nights so the location, price and staying in an original dockside building rather than a hotel room added to our experience of Trondheim - which is a lovely city.
cassandra
2016-08-04T00:00:00Z
Room Type
Private room
---
Property Type
House
---
Accommodates
2
---
Bedrooms
Trondheim, Sør-Trøndelag, Norway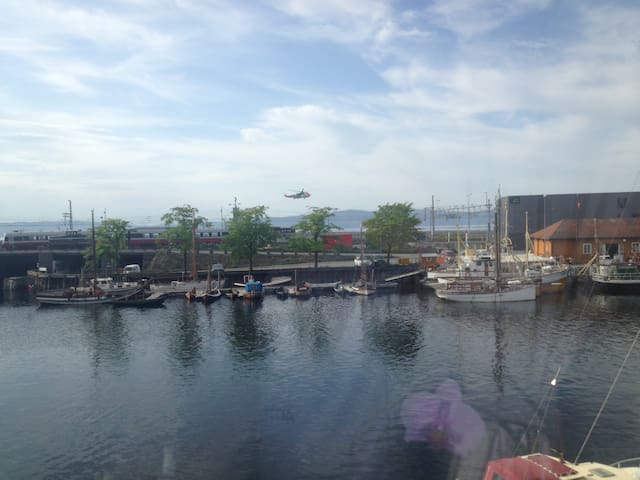 Independent bedroom with lock with access to kitchen and bathroom that both are renovated. Close to shops and bus hold space with frequent departure to sentrun which takes 10 minutes by bus. Independent bedroom with a lock in a shared flat. New renovated bathroom and kitchen available for use. It takes one minute two walk to a grocery store and to the Bus Stop. The bus takes 10 minutes to the town center and theres a bus every 10 minutes.
Great accommodation. Big bed. Private space. 5 stars recommendation.
Luke
2017-01-03T00:00:00Z
I just needed a bed for some days. And that get here.
Lars
2017-01-26T00:00:00Z
Nabin is very kind and helpful. Prefer car or bus to go to the place. The room and the bathroom were not very clean but OK for the price. Just enough place for two. Nabin est très sympathique et prêt à rendre service. Privilégiez la voiture ou le bus pour vous rendre chez lui. La chambre et la salle de bain n'était pas super propre mais on en a pour son argent. La chambre est petite, juste assez de place pour deux.
François
2017-01-13T00:00:00Z
It was quiet and clean place. Everythig was seemed to be quiet new except duvet. We arrived too late in the night but the people who live in the house kindly welcomed us. But the bed and the room was so small for two person. And there is nothing in the kitchen for the guests. Location was nice. It takes around 15~20minutes from central. Not very much close to town but it could be nice to drive. I and my friend were satisfied.
현영
2016-12-30T00:00:00Z
The room was diffent than on the picture, but I got an even bigger room, and it was very clean, tidy and nice. I can definitely recommend it , as it also was very private and calm. The hostfamily was friendly and easy to get along with, but I did not see much of them , since they lived on the upper floor.
Tove
2016-12-10T00:00:00Z
A positive experience. Nabin is a good and hospitable person. Thank you Nabin. He isn't much into small talk, he doesn't respond to all text messages either :), but otherwise there's no problem to communicate with him and everything was arranged as agreed. He's helpful and considerate. I think you can count on him every time. It occured to me we didn't get the room you can see in the picture, maybe they provide more different rooms in the house - our room was quite small and very modest (a bed, a radiator and a chair) and it probably wouldn't be too comfortable to spend a whole week there, but it was sufficient for a night or two - two people max.
Ivan
2017-02-13T00:00:00Z
It is a really small room but the environment is quiet. We didnt have any problem with the host.
Aytac
2017-03-07T00:00:00Z
Enkel og grei sengeplass for noen netter.
Yngve
2017-03-12T00:00:00Z
Room Type
Private room
---
Property Type
House
---
Accommodates
2
---
Bedrooms
Trondheim, Sør-Trøndelag, Norway
Fancy rooms in big house 20 minutts walk from the city centre, still the location is landly in a peaceful neighbourhood, 5 minutes to the bus. Me and my daughter love to have people living together with us..
Welcome to my home in a quiet and safe neigbourhood. I am a 54 years old woman living alone with my 12 old daughter Karoline and our nice cat Rusken. We are very social and love to have people's living with us in the house. The house is spaceful ( 250m2), modernly furnished with a sunny garden around the house and a big terasse with furniture. Bus price approx NOK 50,- Taxi from city centre approx NOK 200,- Supermarkets and restaurants 5 minutes from the house. I will recommend you things to do during your stay in Trondheim. I will pick you up if I'm available.
Quiet an very safe neighbourhood.
Really enjoyed my stay. Fantastic home and a warm and friendly host.
Peter
2016-11-11T00:00:00Z
Thanks Torild for a clean, quiet and ordered house. Thanks for the lift to the university that morning that I was arriving late. Let me give some hints to other travellers: Price is really good. Some considerations: the house is 10 minutes to the bus (with good weather) and other 10 minutes to Dragvoll. Confirm what campus of the university you need to attend. Bedroom is as wide as the bed and small table in the basement of a huge house, sharing bathroom with other guests. Advise that it exists a "Tourist card" for 3 days sold in Narvesen and 7-11.- Also half price if you are older than 60. And pre-paid bus ticket cheaper as well. Thanks Torild for trusting me.
Adela
2015-11-23T00:00:00Z
Nice room in a lovely house! Torild was not home during my stay but really made sure everything was in order. Would absolutely recommend!
Aksel
2016-03-14T00:00:00Z
Torild is the perfect host ! Very available and easy-going. The house is really well decorated and warm. It was a very good trip, I recommend without any hesitation
Pierre
2015-12-04T00:00:00Z
I moved to Trondheim for work and Torilds place was my home for the first week and I could not have wished for a better start. Torild and his boyfriend were extremely friendly, easy to talk to and helpful in settling in to a new environment.
Martin
2016-09-19T00:00:00Z
I had a great stay with Torild for two nights. The house was really nice, with a large cosy kitchen. The communication went well and Torild was very friendly and helpful.
Anna
2017-02-03T00:00:00Z
Very nice room in Trondheim, well equipped and clean. Torild is a nice host and her house conveniant.
Benoît
2017-01-15T00:00:00Z
Wonderful place and amazing family!hope I will come back soon .
Kseniya
2017-01-03T00:00:00Z
Room Type
Private room
---
Property Type
House
---
Accommodates
1
---
Bedrooms
Trondheim, Sør-Trøndelag, Norway
Welcome to my house in quiet neigbourhood! 15 min from the citycentre, bus every 10th min daytime . All at the pictures is included. Dblroom + private bathroom + kitchen, livingroom, breakfast! Parkingplace. Sunny outdoor terrace with wiew. Possabillities for extra bedroom. Perfect place when visiting your student. No stairs to climb inside!
Quiet and safe neigbourhood. Sunny out door terasse with furnitures. Bus stop 3 min walk away, busdep every 10th minute in rush time. Take buss nr 5 direction "Buenget" from Prinsenkrysset in the centre. Your stop is at "Selsbakkflata" Just follow the small path between houses and into my street "Selsbakk Øvre", then to the left and pass some few houses intill number 38 on your lefthand side and you are here!! Bus price aprox NOK 50,- p.p. Taxi from city centre aprox NOK 300,- Airport taxi directly to the house aprox NOK 390 p.p (must be pre-ordered) Trøndertaxi ph(phone number hidden) Supermarket with pharmacy and restaurant 15 min walk from the house. I will recomend you things to do in Trondheim during your stay. I will pick you up for check in if I'm available. I will be staying in the house with you. Quiet and safe neigbourhood. Sunny out door terasse with furnitures for summer times. Price for one or two guests in double bedroom and private bathroom. Parking, washmachine , kitchen and livingroom included. Please note that the host will be staying in the house. ----////------------- I offer my house including breakfast (self-service) Supermarket with pharmacy 15 min walk from the house. I will recomend you things to do in Trondheim during your stay. I will pick you up for check in if I'm available. If interested; You may join mee for cross country skiing, cycling or just a walk in the nice local outdoor area around Trondheim. .
Quiet and safe neigbourhood. Sunny out door terasse with furnitures.
We just enjoyed our stay with Eva. She is a great host and welcomed us from the beginning. She showed us even the beer festival when we were there. If you go to Trondheim for a visit, you have to go to Eva. We highly recommend her and her really cozy place.
Gwenda
2016-08-09T00:00:00Z
If you love design, decoration and perfect place the Annie's house is for you. She welcomed us warmly in her lovely house. Only one regret: not being able to enjoy more of this place. I definitively recommend :-)
Yves
2015-10-27T00:00:00Z
Eva is a superstar as well as being a superhost in a league of her own; she is a very generous and thoughtful host, giving of her beautiful stylish home as well as her time. Her energy and enthusiasm for her guests is truly inspiring. If you are looking for the very best in Trondheim, look no further, Eva is your woman!
James And Tom
2016-08-15T00:00:00Z
our short break in Trondheim with the help of our host, Eva, was incredible. She was so helpful, nothing was too much trouble. The house was beautiful with an incredible picture window in the main sitting area, giving us some wonderful views over the city and surrounding country. Eva, drove us up to a superb winter wonderland where we were able to enjoy a lovely day out, and then gave us a drive round the city to help us get our bearings. This proved invaluable for when we used the bus system to help us find the stops we wanted for the other areas we wished to explore She provided great breakfasts and cook an authentic Norwegian meal with some company and we had a great evening of good food company, some wine and beer and lovely conversation. Without doubt, the host and accommodation far exceeded my expectations and I strongly recommend you give this accommodation and host your consideration Thank you Eva for helping to make this short trip a huge success. Xxx
Phill
2016-02-17T00:00:00Z
Eva Annie was a delightful host who gave us an excellent introduction to her wonderful home. She was away for the weekend so sadly we did not see any more of her! However her communication with us was excellent. We very comfortable, and made to feel at home. We had the use of Eva Annie's kitchen and found everything we needed. Thank you, we cannot recommend her home too highly. Ps the view is great! We did not try the public transport but it is close by and so is the supermarket.
Ian
2015-05-15T00:00:00Z
Eva went above and beyond in every aspect as a host. We stayed for 3 nights over Christmas and felt so at home in her house. She is interesting and lovely to talk to, and she taught us a bit about Norwegian culture and Trondheim and what it has to offer. Overall she was a wonderful guide. The house is cozy and has a great view of the mountainside. The kitchen is stocked well and we were able to make a full Christmas dinner without a hassle. The bed is also REALLY comfortable. It's not near the city center, but it is a VERY easy bus ride into town, perfect for the cozy, Norwegian feel if that's what you're looking for. Overall this was a great Airbnb experience and I've never met a host like Eva.
Emily
2016-12-26T00:00:00Z
What can i say about Eva? I meet here outside here job to get the keys, and we got sitting for an hour just to talk before i needed to go. She is really nice, and the house is perfect. You got everything you need, breakfast from fridge and the last day she also did breakfast for us. What a host! I will definitely book it again!
Vegard
2014-10-30T00:00:00Z
Eva is one of the kindest, most thoughtful, lively and welcoming hosts i've ever had! Her place is absolutely beautiful and spotlessly clean and very well equipped. I can honestly say that i've never felt more at home visiting a place than with her! The moment she picked me up from the airport ... she was a wealth of information, providing great tips and was very thoughtful throughout my entire stay. I can't recommend staying with her more highly!
Mason
2015-04-14T00:00:00Z
Room Type
Entire home/apt
---
Property Type
House
---
Accommodates
2
---
Bedrooms
Trondheim, Sor-Trondelag, Norway
Big house just 10 meters from the sea and just 15 min from the city center. The house have 4 bedrooms, bathroom, a big livingroom, kitchen and a big garden with a Jacuzzi! We also have a rowing boat to go fishing with. The house is fully equiped.
If You like the sea and a great view? Then this is the right place for you? Privat property with a beautiful big garden and a perfect location close to Trondheim city. Enjoy sitting on the portch relaxing, looking out on the ocean and maby catch a glimpse of the sea eagles, otter or whales that live near by. Take a swim if you like or try catching a fish or two by going on a boat trip with our yellow rowing boat You will have Access to the whole house, garden, "beach" and ocean. 42" Flascreen TV with many different chanels and free WiFi is available for you to use. And other Things sutch as a gass BBQ, outdoor dining places, dishwasher, Kitchen suplies, rowing boat with life wests, fishing equipement and office. We wan't our gest's to feel like home. It's important to us that you give us possitive and negative respons so that we can be better. Special requests such as breakfast, lunch or dinner we can arrange. Romantic holiday for two or maby honeymooners. We will make our house romantic until you arrive:) Just ask us. We will help you the best way we can:) Close to the forrest on one side, and the Ocean on the other. Good skiing tracks and hiking possibilities. 15 min by buss from Trondheim city. The buss goes 1 time per hour. Nigth buss in the weekends. Good taxi service offcourse. The property is not suited for unsupervised children. But perfect in every other way:)
Close to the forrest on one side, and the Ocean on the other. Good skiing tracks and hiking possibilities. 10 min by buss from Trondheim city.
The view, the sound of the waves at night, sunrises, sunsets, watching boats go by and an amazing balcony to take it all in. We loved every minute! We were in Norway for a family reunion and Michaels house was a great place to just relax and enjoy each others company. The swims in the ocean and the jacuzzi as well as just relaxing by the fire with a book were just the icing on the cake. It's not in downtown Trondheim but it is as close as you need to be and also close to hiking trails. You will love it
Gina
2016-09-05T00:00:00Z
We really enjoyed our stay at Michael´s house! Living-room and kitchen are spacious, views on the inlet are great, from the porch or through the windows. We loved watching the cruise liners heading for Trondheim or the porpoises swimming in the sunset. (Does it sound to clichéd - it really is like that!) The garden is beautiful, flowers and strawberries were blossoming everywhere. And: If the weather is not to good, there is a cosy place by the fireside. And: Michael is a very caring host! We recommend.
Tina
2015-07-10T00:00:00Z
We didn`t use the living area of the house for the whole holiday. When we were not travelling around we sat on the patio overlooking the sea. We saw porpoises every day, (as Michael said), we saw dolphins, we saw wonderful sunrises and sunsets. We saw the weather change very dramatically, water spouting off the sea and making for great photo opportunities. We were fishing off the rocks at 2 o clock in the morning and seeing the sky in fantastic colours . (We were lucky to have great weather). We watched salmon coming clean out of the water in front of us. We had animal company on the rocks with us we believe were mink. We found beautiful starfish under the rocks at low tide which we carefully did not disturb. We watched old boats going past and used Michael`s binoculars to see who was on board. The best patio we`ve ever sat on. Didn`t really notice the house with all the things we could watch. Marvellous. And finally for a bit of drama into our holiday, we saved the next door neighbour`s boat drifting out to sea after it broke from it`s moorings. He was so grateful he took me for a midnight trip around the Fjord and let me drive the boat. One of best holidays ever.
MrTriumphRocket
2016-07-31T00:00:00Z
Michael was really a great host. He was very caring and helpful. He picked us up at the trainstation and also gave us a lift to the airport. We stayed one week and enjoyed it very much. The bus stop is in front of the house and the bus stopps each hour (on saturdays and sundays is a different schedule). The house was exactly as described: Next to the sea, quiet and beautiful. It was clean and cosy. We highly recommend this accommodation!
Stefan & Verena
2015-08-09T00:00:00Z
We had a wonderful time in Trondheim. The house is in a fantastic location and Michael was a great host. It is a very comfortable house with plenty of room downstairs for dining and relaxing. The veranda is excellent for viewing the fjord and its marine traffic and wildlife through Michael's binoculars. And we particularly enjoyed our little trips out in his rowing boat.
John
2016-08-29T00:00:00Z
Great hosts - speedy responses and useful tips for local shopping and sights. The fjord views are wonderful. We'd love to see it in summer too Thank you
John
2016-11-29T00:00:00Z
Beautiful house with an amazing view. Tastefully decorated in Scandinavian style throughout. Excellent wifi.
Abby
2016-03-06T00:00:00Z
We had a Nice 4 days, the view is beautifull and Michael is really kind. The house is so Nice and comfy. We would love to come back.
Helen
2015-02-20T00:00:00Z
Room Type
Entire home/apt
---
Property Type
House
---
Accommodates
8
---
Bedrooms
Trondheim, Sor-Trondelag, Norway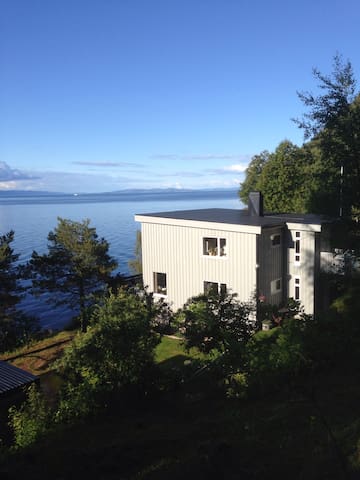 This room is located in the attic and it is a part of my apartment. Just a staircase separates the room from the main apartment. It is not separate door to the room, but you'll still feel private.
You will have a wonderful view over the city and the fjord. During a walk of 20 minutes you will be in the city center, otherwise you can take bus nr 18 to Hammersborg.
Within a short distance you would find the city's attractions as Ila, Bakklandet, Nidaros Cathedral, NTNU and St. Olav's Hospital. If you want to enjoy nature there are beautiful hiking areas close.
Vigdis was very welcoming. The room was cozy and exactly as pictured. The house is about one mile away from the bus & train station and a bit of a hike to get to, but you can take the city bus if you're not up to walk. The view from the window is quite amazing.
Justin
2016-05-18T00:00:00Z
I had a really great 5-nights stay at Vigdis' place. I felt so very welcome from the second I stepped inside. Vigdis proved such a lovely, cosy, friendly and helpful host. We had some good food fun & laughs and interesting conversations. I was even invited along for a beer and a bite, when her family came to visit her. ;-) Thank you so very much, Vigdis! :-) Above all things, the freshed brewed morning coffee, indeed. ;-) :-) Best, Jens
Jens
2016-04-19T00:00:00Z
The place was tidy and clean, the bed was comfortable. The host was lovely; helpful and accomodating. Great place to stay!
Yngve
2017-02-19T00:00:00Z
A wonderful experience! I felt at home for the few rainy days that I stayed, which were as well spent sipping tea and taking in the beautiful view as venturing out into the city below or to the trails and lake wilderness above the apartment. Although it is a bit of a steep hike back to the place (consider taking the bus), the walk into town is briskly downhill and then a pleasant riverside stroll. The space itself is open, clean, quiet, and comfortable with a great kitchen too. But the host really made my vacation special: Vigdis was lovely, interesting, and easy to talk to, and I greatly appreciate her patience and understanding as I tried to string sentences together in Norwegian. She was also so kind as to invite me to join a delicious dinner with her daughter and tenants, who were likewise friendly and helpful. Although it is a seriously steep set of stairs up to the room, which is perhaps not as private as everyone would prefer because of the lack of a soundproof door, I had an absolutely fantastic stay here and will not forget it any time soon!
Jared
2015-06-06T00:00:00Z
It was great staying with Vigdis, a real home from home. Very clean and comfortable. Her kitchen was at your disposal. Car parking was available and it was a pleasant 15 - 20 min walk into town but a cycle was available. We had loads of nice chats. Would definitely stay with vigdis again.
Ray
2014-11-29T00:00:00Z
Quiet house on the hill. The high standard apartment. You can sit at home and contemplate the sea through the window. Well-equipped kitchen. 20 minutes on foot to the center and 10 minutes to the sea. Vigdis lent me a bike for a day trip and added 3 potatoes to my dinner! If someone would ask me now: do you want to go back there? I would answer: yes!
Mateusz
2015-09-01T00:00:00Z
I have been a guest in Vigdis house for one week . I felt completely at home from the first day.Vigdis is very nice person and welcoming as a host . She is always at help when ever information i needed about the city Trondheim. Her house is full equiped with up to date facilities and it is located in quite neighborhood not far from the city center.And the view from the living room is magnificent. I will definitely recommend Vigdis any one who is planning to visit Trondheim. Ermi
ermi
2016-06-02T00:00:00Z
This was my best experience yet. Vigdis made me so welcome with an endless supply of coffee and a welcome ice cream... The house is beautiful, perched on a hill overlooking Trondheim. We spent hours talking and I learned a great deal about the country and its attitudes from her. Great experience all round.
Fiona
2015-09-06T00:00:00Z
Room Type
Habitación privada
---
Property Type
House
---
Accommodates
1
---
Bedrooms
Trondheim, Sør-Trøndelag, Norway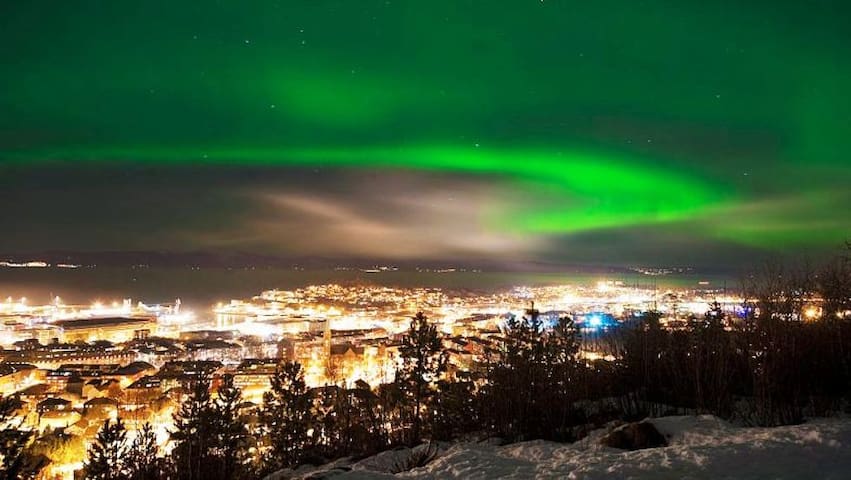 Unique location - small house sited right next Ladestien- with stunning sea views Floor heating and completely new. 100 meters from the bus stop, closest to the Ladestien and walking distance to downtown. Bed room is up the ladder on the "attic" - if bath defender etc I would not recommend it.
No vehicular traffic. Closely center, bus and Ladestien
Very quiet in a small forest close to the sea. No traffic. 5 min taxi / bus to the center of Trondheim. 20 minutes walk along Ladestien.
Room Type
Entire home/apt
---
Property Type
House
---
Accommodates
2
---
Bedrooms
Trondheim, Sør-Trøndelag, Norway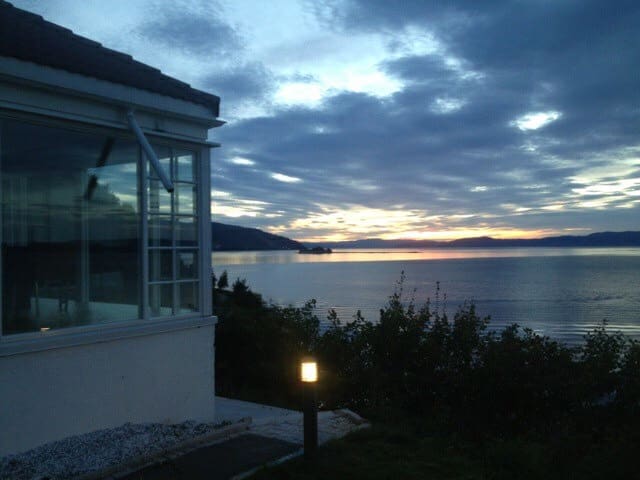 Townhouse with good standard of Ugla in Trondheim. Sunny terrace and 3 bedrooms. Both trams and bus stop in the immediate vicinity, about 15 minutes by tram down to the center of Trondheim. Walking distance to shops, bakery, medical center, kindergartens and sports facilities. The residence is approximately 120 sq with separate utility room and cellar living room with a projector that is perfect for those who love film / soccer. The kitchen has been refurbished in 2016.
Room Type
Entire home/apt
---
Property Type
House
---
Accommodates
5
---
Bedrooms
Trondheim, Sør-Trøndelag, Norway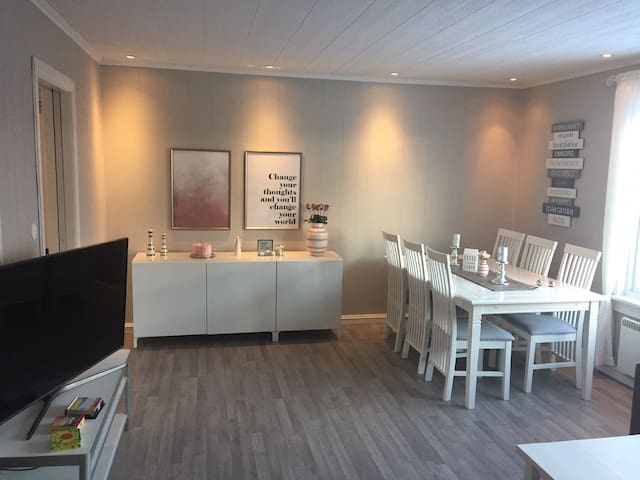 The house is located at Øvre Baklandet/Nedre Singsaker, closeby Norways largest university, NTNU (Norways University of Science and technology). The house' sentral location enables you to easily gain access by foot to grocery stores, restaurants, the city centre and charming Baklandet. Please feel free to contact me if you have any questions
The house itself is a typical old Trondheim timber house from 1870. The interior is completely redone in june 2016 so it meets the requirements of a modern housing situation. It's 'cosiness' makes people quickly feel like home. The house also comes with a private backyard were you can use the outdoor barbeque and eat your dinner in the summersun. The neighborhood is a popular residence for students and families. My place is well suited for couples, a big group of friends, solo adventurers, business travelers and families with kids. You will love the place because of its location, private backyard, mood, light and the cosy homelike feeling you'll get from living there. There are two bedroom with double beds, located on the second floor. In addition there is a sofa in one of the living rooms that can be folded out into a double bed.
Room Type
Entire home/apt
---
Property Type
House
---
Accommodates
6
---
Bedrooms
Trondheim, Sør-Trøndelag, Norway
Lovely room just few steps away from the fjord! The city center can be reached with 5min bus ride (bus stop 100m away) or 25min walk. We have 2 guest rooms (2+1 persons) in the house, and a beautiful view from the big terrace.
The many windows in the house and the view make this apartment unique.
The house is located in a quiet neighborhood, called Lade, just by the fjord.
Room Type
Habitación privada
---
Property Type
House
---
Accommodates
3
---
Bedrooms
Trondheim, Sør-Trøndelag, Norway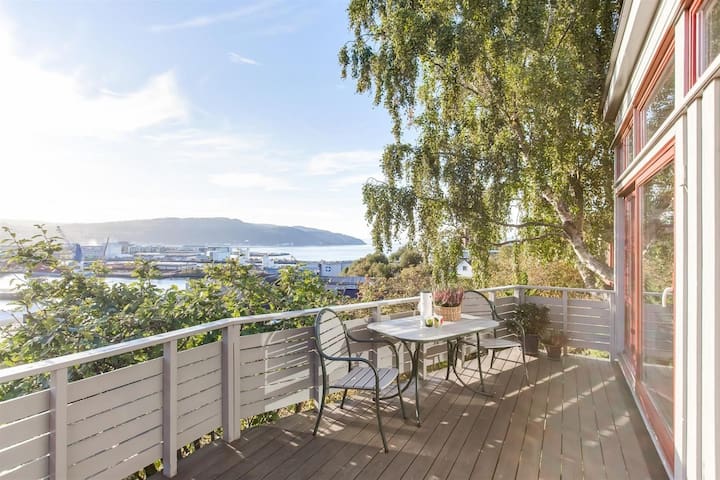 A small room with a good sofa. Tv in the room with the possibility of watching Netflix. Common areas have good views and seating areas where it is nice to relax. This room has a separate entrance with own key. It also has a door to the common areas. Easily rooms with possibility of internet.
Room Type
Habitación privada
---
Property Type
House
---
Accommodates
2
---
Bedrooms
Trondheim, Sør-Trøndelag, Norway
"Huset med sjel og historie" A well known Norwegian author has written several of her bestselling books in this house. Because of its history and look the house is well known in Trondheim. It has three floors and sometimes I stay in the basement while you use the ground and first floor. The beautiful park in front, your own garden at the back, the nice neighborhood, local pubs, the marina, river, grocery stores... You watch the old tram and busses passing by while enjoing your morning coffee.
This is a beautiful part of Trondheim. Close to the city center (15 minutes walk) and a public park, tram- and bus-stop just outside the door. The river is close, and the hills of Trondheim with a beautiful waterfall only few minutes walk away. You get to the harbour and seaside in 2 minutes and then you walk through the old part of Trondheim, small houses and narrow streets. Friendly people everywhere.
Outside your door (in the street Ilevollen) you have a grocery store (open 7am-11pm) to the left. If you tur right you will find the local pub "Ila Brainnstasjon" (The Firestation) with live music every week (you never know when), a hairdresser, art galleri (Galleri Ismene - open every day), the thai-restaurant Thaitanic (!), Ila café. Both the river (Nidelva) and seaside are close and you can walk along both of them to get to the city center, aswell as continue the street Ilevollen that will continue as Kongens Gate (the King's Street) and lead you to the town square and the famous church Nidarosdomen (built in 1070) and lots of cafes and stores. If you continue Kongens Gate you get to the river (Nidelva) and if you cross it walking the red Gamle Bybru (the old town bridge) to the right you get to another beautiful old part of Trondheim, Bakklandet. You can then turn left and walk to the shoppingcenter Solsiden (the Sunny Side). If you then cross the river back on the Blomsterbroen (the Flower bridge) you can walk by the sea all the way to Ilevollen. Recommended walk. :) Enjoy Trondheim! :)
When you are born, raised and have lived in Trondheim a lifetime, you are very aware of where to stay when you're going back to your town. That's why I chose the red house in Ila, and it was a good choice. Not only because Mette gave quick feedback and good service, but primarily because it is a very nice house to live in. Central and charming location, spacious and nice - it's a place you feel home. I'll be back!
Roger
2016-09-15T00:00:00Z
Nice place close to Trondheim city center - 10 min walk. Public transport on the street just outside the door with buss or tram if preferred. Free parking in the close by streets. Pokestop and gym on site... for those interested
Anders
2016-08-13T00:00:00Z
Very nice place. Cosy, clean, centrally located and excellent value for money. Recommended!
trond
2016-08-17T00:00:00Z
Staying at Mette' place was very special and very comfortable. The city centre is closeby, about 15 min walk, or easily reachable by public transport (right outside). We hade the luxury of using the entire house, so we could cook for ourselves and have a really relaxed holiday. Mette was very nice and helpful, the communication and instructions we're clear and simple.
Guido
2017-02-21T00:00:00Z
Cozy little house with everything you could reasonably want in a nice, close-in, neighborhood.
Robert
2016-08-14T00:00:00Z
We had a very nice stay in Mettes little red house. Everything was well organised and easy to find. Mette offered her help if there were any problems. Thank you Mette for the great stay in your house.
Anna
2016-11-06T00:00:00Z
great place to stay! the hosts are friendly and very helpful. it's a lovely house in a beautiful part of the city
Kristine
2016-10-22T00:00:00Z
What a house, this little red house is! Warm, spacious, full of rich details and comfort, we felt greatly welcomed and couldn't believe our luck when we got in late in the night, after a long tiring trip: it was just what we needed. Due to the rainy weather we did exploit all its comforts (URL HIDDEN) regrets!! Mette has been an amazing host, kind and always prompt with her replies, she also gave us a lot of really good tips (great walk to Goat Mountain, starting just a few minutes from the house!). We would definitely recommend the little red house, no matter the season - it's a little gem in a quiet lovely city.
Martina
2016-11-28T00:00:00Z
Room Type
Entire home/apt
---
Property Type
House
---
Accommodates
8
---
Bedrooms
Trondheim, Sør-Trøndelag, Norway

Our house is peacefully located in Steinsåsen in Trondheim. Just outside the house is beautiful Estenstadmarka. A 15 minute drive and you are by the bay or downtown. The bus stop is 1 minute walk from the house. You will like our place because of the nice and quiet surroundings. It is suitable for couples, business travel, families and groups up to 8 people. Cot and extra mattresses are available if needed.
Room Type
Entire home/apt
---
Property Type
House
---
Accommodates
8
---
Bedrooms
Trondheim, Sør-Trøndelag, Norway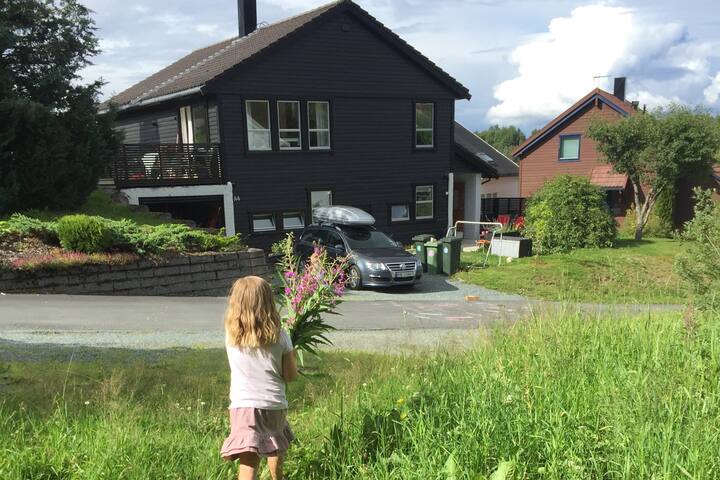 My location is close to public transport and the airport. You'll love my place because of its location and views. My place is good for couples and families (with children).
Et flott sted, der det er god plass til familien. Spisestue der man kan være mange rundt bordet. Det er nært bussforbindelse.
sanna
2017-03-05T00:00:00Z
Room Type
Entire home/apt
---
Property Type
House
---
Accommodates
8
---
Bedrooms
Trondheim, Sør-Trøndelag, Norway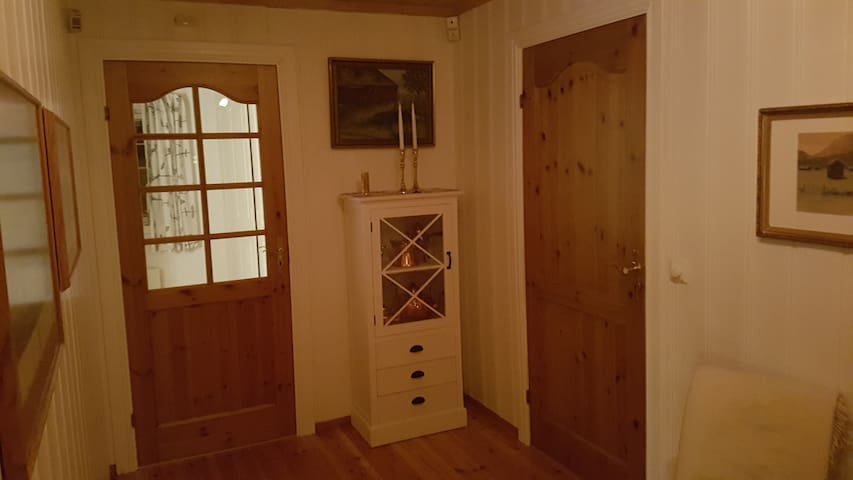 Lys og trivelig leilighet med en ledig hybel, inneholder seng, garderobeskap og arbeidsplass. Felles stor stue, kjøkken og bad som deles med tre andre. Kjøkken med store kjøle- og fryseskap, oppvaskmaskin, komfyr, mikrobølgeovn mm. Baderom med dusjkabinett, vaskemaskin og tørketrommel. Fellesareal stue/kjøkken/bad etc er ca 50m2. Egen inngang, mulighet for å parkere bil, eget uteområde/spiseplass. 150 meter til bussholdeplass. Kort veg til kvelds- og søndagsåpne butikker (nærmeste ca 100m).
Room Type
Private room
---
Property Type
House
---
Accommodates
1
---
Bedrooms
Trondheim, Sør-Trøndelag, Norway
Trondheim - Airbnb
:
Average

4.77

out of

5

stars from

385

guest reviews
1

–

18

of

139 Home Rentals
Enter dates to see full pricing. Additional fees apply. Taxes may be added.