Holiday apartment with 4 bedrooms, 2 bathrooms, aircondition, wifi, satellite TV, swimming pool, playground and barbecue. Ideal for families with kids and pets!
Apartment unit consist of the living room, competely equipped kitchen and spacious dining area with a nice view to the pool, four bedrooms, and two shower/toilettes. Three bedrooms are with double bed and one is with bunk beds. All bedrooms are equipped with SAT TV, and two of those have the exit to the balcony with nice panoramic view.
Apartment Meri is located in small village Sveti Batol, only few kilometers from city of Labin and tourist resort Rabac. The name of the village Sveti Bartol is originated from little church that was built in 1583 and it is still standing in its original form, just next to the apartment. This comfortable apartment is situated on the 1st floor in a family house and it offers to its guests the pool of 34 sqm, sun chairs, table and chairs for dining in the yard, portable grill, covered parking and children's playground. The house is situated on the slightly elevated position with a beautiful view on the greenery and surrounding hills.
Beautiful stay outside the cute town of Labin. Amazing view over the surrounding hills and nature. Friendly owner that lives in the same building.
Lovisa
2016-07-19T00:00:00Z
Room Type
Entire home/apt
---
Property Type
Apartment
---
Accommodates
8
---
Bedrooms
Sveti Bartul, Istarska županija, Croatia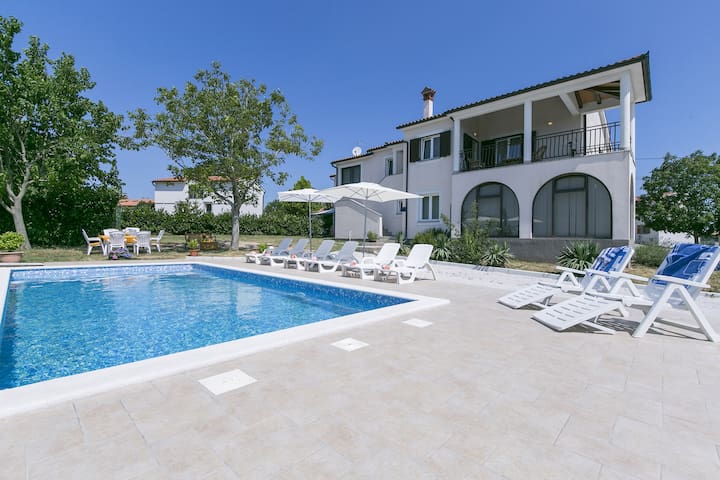 The apartment is located in small Istrian city Raša, 10 km from sea. This is not typical tourist place, but the youngest city in Croatia(URL HIDDEN) With great pleasure we will be your host. Welcome!
Studio apartment Cataleya consists of a bedroom with living room, kitchen and bathroom. It's two person apartment, couch that can be used as bed for third person. Apartment is also equipped with microwave oven, toaster, washing mashine, iron, hair dryer, safe, prepaid phone. It has all the necessities you need for a confortable vacation.
The neighborhood is quiet and safe.
The family loved the place and they felt really welcomed! Thank you Nevres!
Ines
2016-07-16T00:00:00Z
We stayed a night and it was very pleasant. The equipment is complete, spacious bedroom and large bed. It's very clean and hosts are welcoming and helpful.
Évode
2016-06-17T00:00:00Z
Nevres was super welcoming and the apartment was perfect. We stayed only for 1 night but wished to stayed more!
Aina
2016-09-01T00:00:00Z
We had a great stay in the apartment. The welcome was friendly, the apartment was very, very nice and bigger than it looks on the pictures. The kitchen was fully equipped and everything was clean. Also very nice was the terrace. Nevres and his family were very friendly and helpful concerning everything, they even made us some sweets for breakfast once. The location is not that central so it's good to have a car, but therefore it's really calm and idyllic and Labin is only 5mins by car.
Philipp
2016-08-03T00:00:00Z
It was a very good experience to stay in this apartment. It was very clean and functional. The surroundings was beautiful, silent and countryside-like. Our hosts, Nevres and Sonja, were very friendly and helpful as they lived just next door, made us feel welcome, but still with room for privacy. Not far away there is a little beach and two good restaurants serving fresh fish.
Line
2016-07-25T00:00:00Z
Per chi ama l'Istria e ama andare alla ricerca delle calette e dello scoglio più selvaggio, fuggendo i centri turistici caotici e affollati; per chi ama la semplicità e la naturalezza di questa terra e della sua gente..consigliamo vivamente di soggiornare a Rasa in casa di Nevres. L'appartamento, attrezzato benissimo, si trova in una posizione ottima per fare da base di partenza per la scoperta della penisola istriana. E' piacevole rientrare la sera e trattenersi sotto al pergolato tra i fiori e la vigna, chiacchierando coi simpatici vicini, leggendo o sorseggiando un liquore. Nevres e Sonia sono persone di una gentilezza rara (a noi una sera hanno portato un piattino delizioso con dei pesci pescati da loro stessi nel vicino mare di Trget!). Probabilmente non è un posto adatto per chi cerca invece le facili comodità, negozi o il mare di fronte a casa. Per come piace fare vacanza a noi è invece un posto fantastico e ci siamo già promessi di ritornare. Grazie Nevres e Sonia!
Alessandro Furia
2016-08-30T00:00:00Z
Accoglienza ottima! Nevres ci ha guidato in macchina fino a casa sua. Appartamento molto carino e pulito con tutti i comfort. Sul tavolo abbiamo trovato un liquore di benvenuto con 2 bicchierini e un piccolo regalino che ci ricordasse il soggiorno lì. Grazie Nevres!
Rossana
2016-08-27T00:00:00Z
Abbiamo scelto questo posto proprio perchè era un po distante dal caos delle cittadine turistiche dell'Istria, ma allo stesso tempo comodissimo per raggiungere qualsiasi località sul mare, in macchina o in bicicletta. E le nostre aspettattive non sono state deluse, abbiamo trovato un oasi di tranquillità e pace a due passi da spiagge e ristoranti, facilmente raggiungibili. L'alloggio è esattamente come descritto nell'annuncio e provvisto di tutto il necessario, ci siamo sentiti come a casa nostra. Nevres e Sonja sono stati due ospiti fantastici, disponibili per ogni esigenza ma mai invasivi, garantendo la nostra agognata vacanza di pace e tranquillità. Nevres è ben felice di dispensare consigli su itinerari ciclistici, essendo lui un esperto e ci ha perfino aiutati con la manutenzione della nostra bicicletta. Consigliamo sicuramente un soggiorno a Rasa anche di pochi giorni, qualsiasi siano le vostre esigenze!
Silvia
2016-08-20T00:00:00Z
Room Type
Entire home/apt
---
Property Type
Apartment
---
Accommodates
2
---
Bedrooms
Raša, Istarska županija, Croatia
Lovely two-bed bedroom apartment, with a private terrace in small Istrian town Raša, only 5 min walk from the first shop and 9 km from the see. Free WiFi and parking place.
This two-bed bedroom apartment is located on the eastern coast of Istria, in a small and charming town of Raša, just 8 min drive from Labin, old town with restaurants, shops, banks, post office, police, bus station and 15min drive from from Rabac. Rabac offers the most beautiful beaches in Istria with lots of summer activities and local shops.
The area around the apartment is also suitable for mountain bike riding with marked paths or Nordic walking specially in the spring or late summer. Hiking spot Skitača is highly popular place, in the area you will find several hills (from 450 m – 540 m high) surrounded with different hiking paths looking over the beautiful Kvarner bay. Trget is quiet, small fishing village, also 10km from Raša (via Pula) with restaurants and cozy atmosphere.
Room Type
Entire home/apt
---
Property Type
Apartment
---
Accommodates
4
---
Bedrooms
Raša, Istarska županija, Croatia
Situated at the end of village Marciljani, few km from cities of Labin and Rabac, property of 3.500 m2 surrounded by greenery, in a quiet and no stress environment, offers place for games with your children (football, ping-pong, badminton) or pets.
In a quiet and peaceful place, great property of 3 500 m2 with football field, ping-pong table, badminton net, swing, hammock and grill, offers a pleasant holiday to families with children or/and pet and to everyone who wants to escape from everyday hurry and stress. The apartment of 50 m2 on the ground floor of private house consists of: 2 bedrooms (1 with double bed and one with 2 beds), kitchen with living/dining room, bathroom with Shower/WC and wash machine. Exit to the roofed terrace of 20 m2 with the view of the garden with lawn and trees and the forest. Also a great sunny sharing terrace in front of the house. Facilities: SAT/TV, free WiFi, air-condition. There is a great free parking place on the house property.
In the eastern part of the peninsula of Istra 5 km from the sea, the pituresque old town of Labin is located few km from the house on a sea overlooking 320 m high hill. Its beauty and history keeps attracting large number of tourists. You can sit on the coffee terraces and eat in fine seafood restaurants in Labin and Rabac. Rabac offers pools, tennis, rent-a-boats, various kind of watter activities, boat excursions, etc
Room Type
Entire home/apt
---
Property Type
Apartment
---
Accommodates
4
---
Bedrooms
Labin, Istria County, Croatia
What is located near the beach, facilities and activities for families, public transportation, and nightlife. When my accommodation will like: the atmosphere, outer space, comfortable bed, and neighborhood. Who is my accommodation: couples, business travelers, and families (with children).
Room Type
Entire home/apt
---
Property Type
Apartment
---
Accommodates
2
---
Bedrooms
Kapelica, Istarska županija, Croatia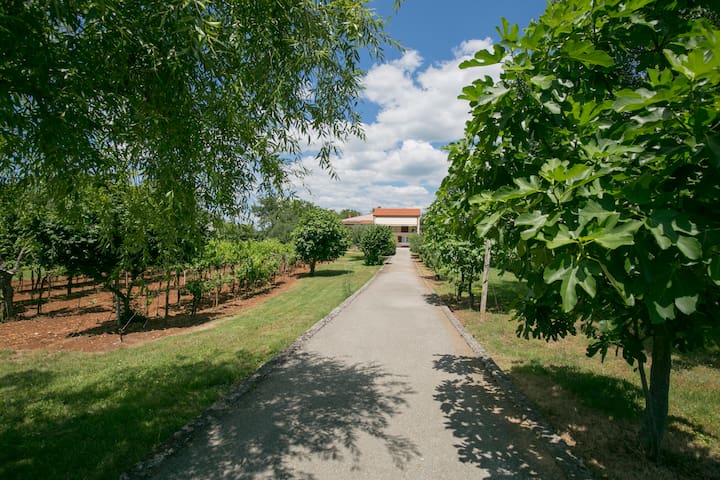 Contemporary and spacious apartment located in the ground floor of a family house with outdoor swimming pool. Rabac with beautiful beaches and crystal clear sea water is 10 minutes driving distance. Huge terrain around the house with barbecue place.
Contemporary and spacious apartment located in the ground floor of a family house with outdoor swimming pool in quite neighborhood, close to the historical centre of city of Labin. City of Labin is famous for his artists and galleries, rich historical landmarks and during summer season well known for cultural events, concerts, exhibitions and all kind of festivities. If you prefer spending time on the beach, Rabac with beautiful beaches and crystal clear sea water, is only 10 minutes driving distance. There you can also find numerous restaurants and caffe bars as well as long seaside walkaway for romantic evening strolls. But if you prefer to stay at home you can relax or enjoy all kinds of activities on a huge terrain around the house. Close to the swimming pool, in the shadows of nearby forest is barbecue, where you can prepair your famous meat or fish dishes.
Pizzeria Napoli and Pizzeria Fianona are well known and recommended. Horse riders club not far away.
Great place with fantastic host! Kristina Dejan and Antonio were worm, polite and helpful. Place is almost new so stay was relaxing and comfortable. It's in isolated part of Labin so who likes relaxation it perfect place. We didn't had luck with weather so we used only 2 times swimming pool,but nevertheless it was cleaned on a daily bases. Even you are in a same house with the hosts you will not notice them. Spacious courtyard helped kids (we have 3) to enjoy and have fun fully even in a cloudy days. It's easy to go on a beach (it is 4,5 km) max 7-8 minutes drive. Labin is small but very nice place Lidl is 1,5 km from house but there are smaller markets cloaser. Restaurant are in 10 min walking distance. This place is highly recommendable and we brought great memories from this vacation.
Marko
2016-06-26T00:00:00Z
We had a great time in this beautiful apartment in Labin. Would highly recommend it. The pictures as shown are exactly 100% as in real life. I give it an excellent score! The house is super clean, spacious and every detail has been given thought. Everything is brand new from furniture to kitchenware so you feel at home instantly. The guests have pool, ping-pong, badminton, football, garden etc… to their disposal. So for all ages, I was there with kids from 17 till 22, there is always something to do. If you want a bbq … just ask Dean for some chunks of wood. Quiet neighbourhood between Croatian family houses. Presika in 20 min walk and coast 5 minutes by car. Nice restaurants nearby. Visits to Pula, Rovinj, Porec is 45 mints away. Best word of appreciation goes to the hosts… So lovely and warm people. Dean, Kristina and Antonio, thank you very much for a great vacation. We enjoyed every minute of it and would have liked to stay another week. Keep up the good work!
Pat
2016-07-24T00:00:00Z
We had a wonderful stay with Kristina, Dean and Antonio in their luxurious and very well situated home just outside Labin Old Town. The family was extremely helpful and gave good tips on local sights and beaches. We had the full lower floor with pool area at our disposal and never noticed that they were around. Local area is priceless, especially we recommend the guided tour in Old Town Labin on Tuesdays during summer. Equally, local restaurant Velo Cafe is worth a visit. A warm thank to Kristina & Co for a great stay.
Henrik Holm
2016-07-31T00:00:00Z
We loved everything about our stay in Labin! We had a warm velcoming and felt at home immediatly. The house was big and very clean, and the pool and garden was so nice. Very quiet surroundings and still close to Labin town, restaurents and bars. Thanks for this time : )
Dorte Flenskov
2016-07-17T00:00:00Z
We arrived early afternoon to be greeted by Kristina, her husband and her son. Despite arriving early we were shown around the stunning ground floor of the house. It was spotlessly clean and tastefully decorated, exactly as shown in the pictures. The location was perfect for us as we love to explore Croatia but equally sitting by the amazing pool was an easy way to unwind and pass the time away. Such a peaceful location where we rarely saw the hosts however if we needed anything they were more than accommodating. A charming couple with a polite, lovely son. Would highly recommend a stay at this beautiful property. We would be more than happy to return in the future. Many Thanks.
Ben
2016-06-05T00:00:00Z
nous avons passé 15 jours dans l appartement de Kristina, c est un appartement superbe ,neuf ou il y a tout ce qu 'il faut, tout ce dont vous avez besoin est la , c est encore mieux que sur les photos, Je voudrais surtout souligner la gentillesse et la disponibilité de Kristina de Dean et leur fils et leurs précieux conseils. Encore merci Dean et kristina pour votre gentillesse ,si nous devons revenir dans la région cela sera chez vous
gerard
2016-09-16T00:00:00Z
We hebben een geweldige tijd gehad in dit mooie grote appartement! Ontzettend lieve, gastvrije verhuurders die altijd voor je klaar staan! Heerlijk zwembad, goede bedden, uitgebreide keukenfaciliteiten. Op loopafstand van het oude stadje Labin en dichtbij badplaats Rabac, waar je gezellige terrasjes kunt vinden. Kristina en Dean geven goede tips over lekkere restaurantjes in de buurt. Wij verbleven 10 dagen in dit appartement met onze kinderen van 14, 16 en 19, zij vonden het hier ook heerlijk! Zou dit appartement zeker aanbevelen!
Pauline
2016-08-24T00:00:00Z
Room Type
Entire home/apt
---
Property Type
Apartment
---
Accommodates
6
---
Bedrooms
Labin, Istarska županija, Croatia
Što se nalazi u blizini: TRGOVINA. Za koga je moj smještaj: parovi and obitelji (s djecom).
Room Type
Entire home/apt
---
Property Type
Apartment
---
Accommodates
6
---
Bedrooms
Labin, Istria County, Croatia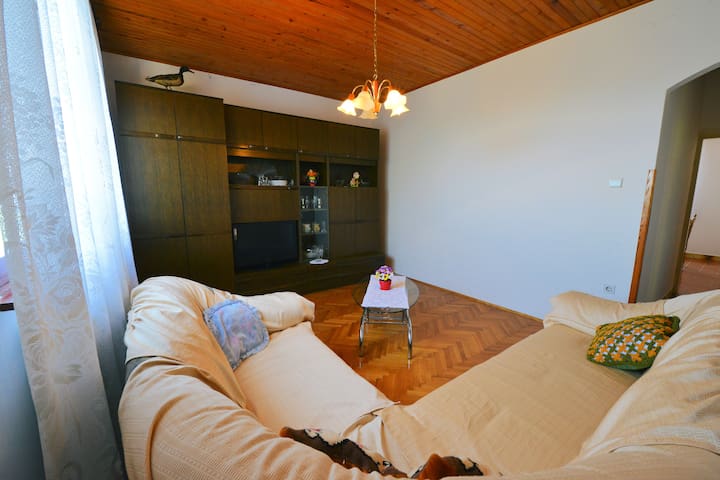 A beautiful, renovated apartment with a separate entrance and own terrace, situated on the outskirts of Labin, with a view overlooking the forest. If peace, nature and rest is what you are looking for in a vacation, that's what you'll get!
A comfy 50 m2 one bedroom apartment on the outskirts of the medieval city Labin, and in the close vicinity of the pebble beach covered tourist destination Rabac. Renting our apartment will get you two in one: a quiet countryside (just next to the forest) place to stay, and a five minute ride to all the splendors of a summer dream vacation. The apartment consists of one two-bed bedroom - a double and a single bed, with a view of the forest. The kitchen, dinning room and living room are a single large space decorated in a modern-rustic manner, also with a soothing view of the woods. The bathroom is spacious with a large shower with a sitting bench in it. A private terrace overlooking the courtyard features shaded garden table and chairs. On the front sode of the house, a childrens' play park with a variety of content. We are dog owners, so guests will need to be accustomed to meeting our lab Tara in front of the house (as well as other dogs from the neighborhood). The neighborhood is quiet and friendly, with the road ending just a 100 meters away. The nearest grocery shop is just 2 km in Labin - a short walk/ride/drive.
Peace, quiet, nature, friendly people :)
Tihana is an exceptionally nice host. Very helpful and our stay was a very pleasant experience. The location is very convenient, close to the sea but quet. We would definately go there again!!
Ásta
2014-07-01T00:00:00Z
Cozy, sunny, and quiet apartment ideally located for exploring Istria. Beaches, mountains, and interesting places to visit are all within easy reach on your own four wheels. However, the hosts are surely the best part. For instance, not only were we warmly welcomed when arriving late, but Tihana went out of her way to get a doctor's appointment for a dental emergency. Many thanks and we hope till soon!
Liviu
2013-09-07T00:00:00Z
Tihana and her family are great hosts and the appartement is very clean and comfortable!! Harco van Dijk and family
Harco
2014-07-31T00:00:00Z
Apartment was great and Tihana was very friendly and helpful. We were given good beach and restaurant recommendations and even a small gift on our departure which was very kind. Short drive to the old town and beaches.We enjoyed our stay very much.
Tim
2013-07-28T00:00:00Z
We spent 10 days in this wonderful apartment and loved every minute of it. Tihana and her husband are the nicest hosts with a cute baby and a sweet dog, very friendly and always helpful when we needed some advice for perfect beaches, trips etc. The apartment is very clean, modern, big and has a very well equipped kitchen. If you are looking for a quiet, comfortable homebase to start exploring the area this is just perfect for you!
Veronika
2013-07-25T00:00:00Z
The apartment was really nice and the couple who gave us the welcome was so lovely and always ready to help us. The place is nice and it was like to be in true family; it's not so far from the fabulous croatian sea. Clean, nice... perfect for vacation!
Sergio
2012-09-14T00:00:00Z
Very nice, comfortable, clean apartment. Surroundings are peaceful, it is a great place to rest. Apartment has own terrace and is just near the forest. Tihana is very nice, helpful host. Everything was fine, I enjoyed my stay there.
Agnieszka
2015-07-16T00:00:00Z
We stayed at Tihana's place and we only have good stories to tell. She and her husband are very nice, helpful and interesting hosts. The place was very clean and spacious, exactly how you see on the pictures. Overall, we had an amazing time and would to love to go back someday. We highly recommend this accommodation!
Lara
2014-06-24T00:00:00Z
Room Type
Entire home/apt
---
Property Type
Apartment
---
Accommodates
3
---
Bedrooms
Labin, Istra County, Croatia
House 7392 in the town of Sveti Bartol, Labin - Istria has accommodation units of type Apartment (1) and is 8200 m away from the sea. A beach is nearby (pebble). You will be this house's only guests during your holiday. Your hosts will be staying in the house during your stay. The house owner is under no obligation to accept additional persons and pets that were not stated in the reservation request and it is necessary to report them in advance.
Apartment can accommodate 5 guests. Beds are situated in 2 sleeping rooms, but also in the living room, within 54m2. Guests can use the private terrace to enjoy the warm summer evenings. Food can be prepared using barbecue which is shared with other guests too. During stay, there is a private pool for relaxation and pleasure. This accommodation unit welcomes pets at an additional charge. INCLUDED IN THE PRICE: tourist tax, final cleaning, air-conditioning, central heating, pool, parking, internet, iron, ironing board, hairdryer, portable barbecue. OBLIGATORY ADDITIONAL COSTS: short stay surcharge. OPTIONAL ADDITIONAL COSTS: pets (€5.00 per night). The availability of additional services for your chosen dates of stay, as well as their prices (if none are listed) must be checked ahead of time. Any additional services not shown in the price calculation are payable directly to the property owner and only if used by the visitor. AMENITIES Courtyard (150m2, Area suitable for children, Sitting area), Parking lot (Number of parking spaces: 3, Distance from the house: In the courtyard), Barbecue (shared), WiFi Internet, Hairdryer, Iron, Ironing board, Portable barbecue LOCATION AND ACCESS Main road between the property and the beach Car access possible: Yes The facility is situated in relatively quiet surroundings The property is surrounded by greenery DISTANCES Sea: 8.2 km Beach: 8.2 km Supermarket: 2.5 km Restaurant: 2.5 km Emergency room: 3.7 km Post office: 4.2 km Disco: 5.1 km Diving Centre: 8.2 km Pharmacy: 3.5 km Internet cafe: 8.2 km Exchange office: 3.4 km Tourist info: 5.1 km No of people can fit in is 5
Room Type
Entire home/apt
---
Property Type
Apartment
---
Accommodates
5
---
Bedrooms
Sveti Bartul, Istarska županija, Croatia
Apartment located in the private house, 95mq, air conditioned, 3 terraces, surrounded by lush greenery, 7.000m from the beach/sea and 3 km meters from the town centre. View on the garden, with possibilities of outdoor grill, setting up baby pool..
Apartment, 95mq includes: 3 bedrooms for 2 people (6 total), brand new air conditioning, new washing machine, satellite LCD TV, wireless internet access, fully equipped kitchen, new microwave and kettle for boiling water, bathroom with toilet and shower, separate toilet, 3 terraces, barbecue(gas), garden and parking. WE ARE BICYCLE-FRIENDLY ACCOMMODATION! We offer for free: secure storage area, bike tools, pump and bike wash area for your bike. Bike maps are also provided for free. Bike shop is located 3 km from us. In the immediate vicinity are: grocery store and restaurant. The sea and beaches are located 7 km from the apartment. The centre of the town, which is located 3000 m can be reached by car and bicycle.
The host canceled this reservation 152 days before arrival. This is an automated posting.
Maria Egholm
2017-02-28T00:00:00Z
The hosts (owners of the appartment) were were friendly and kindly for guests. The description of the house and garden on airbnb web page were detailed and close to the reality. Kapelica is nice place with excellent location. It is close to historical town of Labin (5-10' car, 30' by foot through hills). Kapelica is located in green areas with good access by car. Around 15 km from it with find nice beach at Koromačno - not crowdy, clean and with good access to the sea. Kapelica is nice place for bikers. On other hand, the location of Kapelica is good for longer trips to other towns and villlages in Istria (Rabač, Opatija, Buzet, Pula, Rovinj, Poreč etc.).
Anna
2016-07-29T00:00:00Z
Ottima Location e buon punto di partenza per scoprire Albona e dintorni. A pochi chilometri Brestova per l'imbarco per Cres. Con tutta la mia famiglia ci siamo sentiti come a casa. Splendida famiglia con Valori Veri. Grazie ancora Elio+Natascia & boyscout
Elio
2014-07-27T00:00:00Z
Es war eine großartige Urlaubswoche in Kapelica, ein sehr großzügiges Quartier mit mehreren Terrassen, einen wunderschönen großen Garten zur Benützung, viel Platz für alle. Ideal für Familien mit Kindern. Die Wohnung ist ausgesprochen sauber, die Vermieter wohnen oben im Haus und sind sehr sympathisch und hilfsbereit. Wir haben die Zeit dort sehr genossen und werden gerne wiederkommen.
Andreas
2013-08-29T00:00:00Z
Room Type
Entire home/apt
---
Property Type
Apartment
---
Accommodates
6
---
Bedrooms
Kapelica, Istria County, Croatia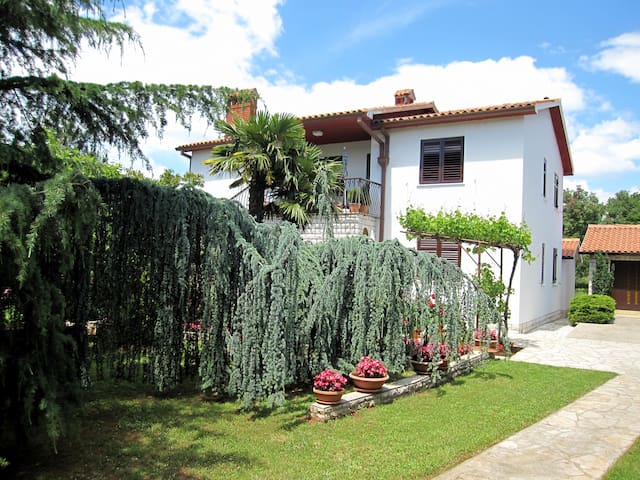 Homelike, warm, fullyfurnished appartment, hidden in a little village nearby the city of Labin, offers a peaceful surrounding and perfectly relaxed vacation. Small valley with swimming pool and barbecue place will make your days joyful. Rabac, with beautiful beaches and crystal clear sea water is only 10 minutes driving distance.
...beautiful people who are always willing to offer you with a glass of fine vine, or a shot of good , domestic rakija ...
Un muy buen alojamiento, calidad- precio perfecto!
Eulalia
2016-08-24T00:00:00Z
Abbiamo soggiornato in questa proprietà immersa nel verde e nella quiete, ma a pochi minuti d'auto dal centro di Labin. In un appartamento spazioso con piscina ad uso esclusivo dove cenare facendo il barbecue che c'è a disposizione degli ospiti. La cosa più bella è stata l'ospitalità che ci hanno offerto. Alen e la sua famiglia sono persone meravigliose, discrete ma al tempo stesso estremamente disponibili. Noi personalmente abbiamo instaurato un bellissimo rapporto che, speriamo di poter rafforzare tornando a far loro visita. Quindi che dire...siamo tornati contentissimi. Ps: il mare di Rabac è fantastico!!!!!
Aleksandar
2016-08-16T00:00:00Z
Appartamento davvero carino a pochissimi minuti dal centro di Labin. Ci hanno accolto in maniera splendida offrendoci vino e grappa, facendoci sentire subito a casa. Una sera ci hanno offerto la cena, una buonissima grigliata di carne. Ci hanno anche portato a fare un giro in barca a Rabac. Davvero delle bellissime persone! Un soggiorno graditissimo che saremmo felici di ripetere l'anno prossimo!
Francesco
2015-08-20T00:00:00Z
Room Type
Entire home/apt
---
Property Type
Apartment
---
Accommodates
4
---
Bedrooms
Labin, Istria County, Croatia
Beautiful apartment in a quiet village 7 km from the sea and 2 km from the city center. Guests have at disposal free Wi Fi, a spacious garden, a swimming pool, a barbecue, table tennis, badminton and a place to play football.
Apartment is situated in a quiet area. Suitable especially for families with children because there are lots of space to play . Due to the location of the terrain in the summer, nights are not too hot and are pleasant for sleeping
Room Type
Entire home/apt
---
Property Type
Apartment
---
Accommodates
5
---
Bedrooms
Labin, Istria County, Croatia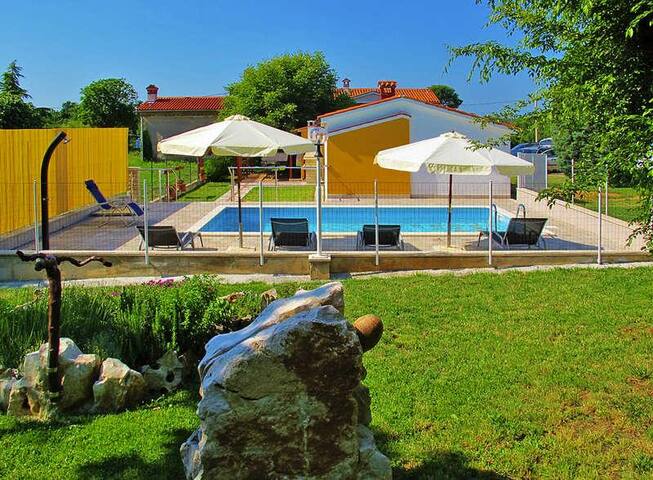 My place is close to the city center of Labin (5km), beaches (from 5km...), surrounded by a big garden and nature. You'll love my place because of the location that provides you peace and quite. The apartment is on the ground floor of the house, we live upstairs and are at your disposal for everything you may need. My place is good for couples, solo adventurers, families (with kids), and furry friends (pets). You can check out our instagram: rina_apartments
I had a fantastic holiday in Labin and the hause was wonderful, very clean and in a good position , not far from Rovigno and Pula . The Host is very kind and helpful. Thanks Aleksandra
Alessio
2016-08-26T00:00:00Z
Room Type
Entire home/apt
---
Property Type
Apartment
---
Accommodates
5
---
Bedrooms
Labin, Istria County, Croatia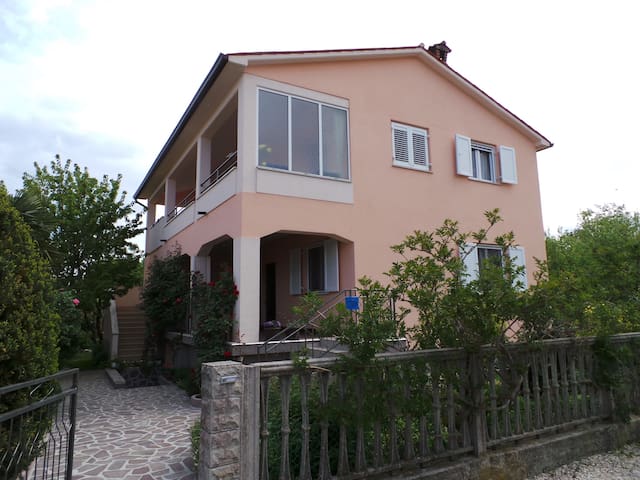 4 km from the sea. 35m2, 4* studio in the heart of the old town Labin on the 1th floor of a renovated family house, in a typical old town building. Double bed can become 2 single beds on demand Cooking area Bathroom with shower and washing machine
Possibility of adding a camp bed ( 80x190 cm) for a child
Our stay at Monica's appartment was a real treat, and probably one of the top AirBnb I've stayed in overall yet! The apartment is renovated and very clean which made it very comfortable. It has everything you need for cooking a meal and she even had complimentary water and soda drinks in the fridge for us. Labon town is very charming and wort a walk around sun set. It's also only 20 minute drive to local and low key smaller beaches - Monica recommended a great on to us. Our trip would not have been the same without visitinh Monica's place in Labin. Thanks for a great stay and for the best hosting!
Mathilde
2016-08-25T00:00:00Z
Monica was a fantastic host and this apartment is amazing!! We have traveled extensively with airbnb and this is by far our favorite place to stay. Labin is an adorable old town on top of a hill with great views and cafes. It is a perfect base for exploring all of Istria. The apartment is super comfortable, spacious, and has everything you might need. It's on the first floor of Monica's home which was recently remodeled into the gorgeous home that it is today. She is incredibly hospitable and warm, and provided excellent details and communication before and throughout our stay. We definitely recommend staying with Monica in this beautiful apartment!
Katie
2015-08-11T00:00:00Z
The appartement is very nice and comfortable and tastefully renovated. We had a really good time also thanks to Monica! She gave us a lot of information about places to visit and recommanded excellent restaurants. Monica is very sympatic and hostile and we really enjoyed our stay!
Birgit
2014-08-19T00:00:00Z
My boyfriend and i were on vacation in Labin. Monicas welcomed us very warmly and friendly! The apartment is so beautiful and we felt very welcome there. It was a pleasure to be monicas guest.
Sarah
2015-08-29T00:00:00Z
The Appartement was really great, in the heart oft the old town of Labin and Monica was such a nice host! We enjoyed our stay very much and would recommend everyone to spend their hollidays there!
Marlies
2014-07-25T00:00:00Z
Monica was a great host. She was so kind and we loved her positive energy! Thanks to her recommendations, we had a great experience during our short stay in Labin. The apartment was beautiful - very clean, new, and modern. We definitely recommend it and would happily return if we come back to Labin.
Annie
2016-07-23T00:00:00Z
Monica is one of the friendliest hosts I've ever met. Her apartment is situated in the old town of Labin and provides all the comfort needed for relaxing holidays. I warmly recommend a stay at Monica's apartment to everyone who is interested to learn more about her beautifully home town than a tourist guide provides on information. Thank you. Dario
Dario
2016-02-27T00:00:00Z
I can really recommend this place. Monica is such a nice and warm person. Her hospitality is overwhelming....you feel like home. And she is also so helpful prior the stay with whatever questions you have. Appreciate that very much. The apartment is great....super clean and fresh. Perfect position in old town. Try it - you will like it !!!
Sandro
2015-08-05T00:00:00Z
Room Type
Entire home/apt
---
Property Type
Apartment
---
Accommodates
2
---
Bedrooms
Labin, Istria County, Croatia
Beautiful and comfortable apartment located 3 km from the town of Labin and 8 km from the seaside .Beautiful green surroundings with a pool, free wi-fi and private parking. Quiet and peaceful neighborhood,very suitable for children.
Beautiful and comfortable apartment located 3 km from the town of Labin and 8 km from the seaside .Beautiful green surroundings with a pool, free wi-fi and private parking. Quiet and peaceful neighborhood,very suitable for children. The Space A unique location which will provide complete relaxation for guests, because of the beautiful green surroundings that is very peaceful and queit Also a very quiet and safe location, perfect for families with children... House consists of 3 separate apartments. Apartment Doris is on the ground floor and apartment Marisa is on the second floor, and each apartment has a separate entrance. Apartment Andreas consists of: - 1 double bedroom - fully equiped kitchen with a dinette - living/dining room - bathroom with a shower/wc - air-conditioning apartments are modernly furnished SAT/TV - plasma heating air-condition free parking place in front of the house microwave We interact with guest based on what the guest wants , but we always try to make the guests feel very comfortable There is no public transport to get to the apartmens o having a car is highly recommendable
Room Type
Entire home/apt
---
Property Type
Apartment
---
Accommodates
2
---
Bedrooms
Labin, Istria County, Croatia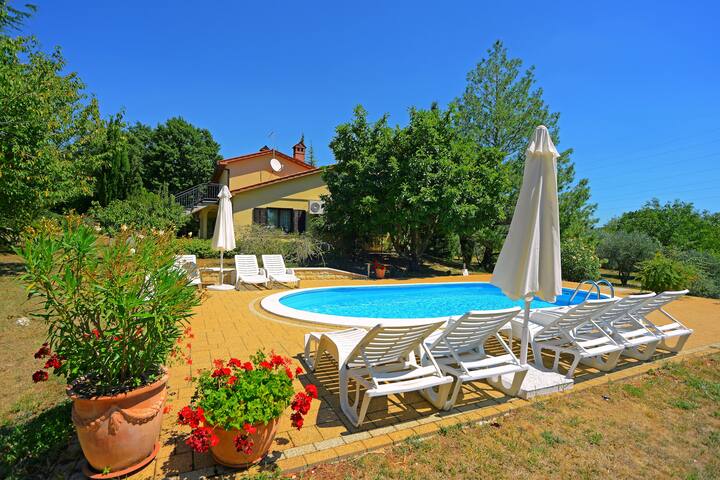 Pink house on a peaceful location,away from traffic(200m from main street),sorrounded by garden, vineyard and meadow.There is enough place for children playing and injoing on the pool and nature.City of Labin is just 2km from us and to sea you may go on difrent location awey cca 5km
Apartment Elina is
Ten stars!!! I can absolutely recommend this nice spacious (URL HIDDEN) was clean and tidy, no need of airconditioning as it has nice clima inside.Two bathrooms were very convenient as we stayed two couples and baby there.Kitchen has everything what you need to prepare food for whole day.Kristina and her family were the nicest hosts I've ever experienced.They welcomed us with drink, during our stay they prepared seafood for us.They were always by the hand while absolutely respecting our privacy at the same time. We loved the surrounding of the house, enjoyed croatian countryside. Various beaches are just few minutes of driving. We had great holiday!
Martina
2016-09-11T00:00:00Z
We had a very relaxing stay in a comfortable, wonderful apartment. The garden is beautiful, and Kristina and her husband are very helpful. The location is a bit hard to find but Kristina picked us up when we called her. Nearby are supermarktes and the old city of Labin with nice restaurants as well as beach and mountains. We can highly recommend this place.
Melanie
2016-08-26T00:00:00Z
The accommodation was nice and clean with friendly host. Inside the house is nice with good sized bedrooms, living room and kitchen. Many thanks for the host
Hassan
2016-07-26T00:00:00Z
L'appartamento è molto bello, spazioso e funzionale. Comodissimo come posizione (basta qualche minuto di auto per arrivare sulla costa), ambienti interni molto curati e puliti, con internet, megaschermo, due bagni e anche lo spazio in giardino... Non si può chiedere niente di più, a maggior ragione con un prezzo così contenuto! Anche l'accoglienza è stata perfetta: ci sono state date indicazioni su come raggiungere le spiagge più belle nei dintorni, gli orari erano molto flessibili ed in generale siamo stati trattati davvero benissimo.
Francesco
2015-08-12T00:00:00Z
Casa grande, nuova, pulita e accogliente. Il rapporto qualità / prezzo è stato eccezionale e ci saremmo volentieri fermati più a lungo. Soluzione ideale per le famiglie, anche con bambini piccoli e passeggini.
Micol
2016-08-21T00:00:00Z
Room Type
Entire home/apt
---
Property Type
Apartment
---
Accommodates
6
---
Bedrooms
Labin, Istarska županija, Croatia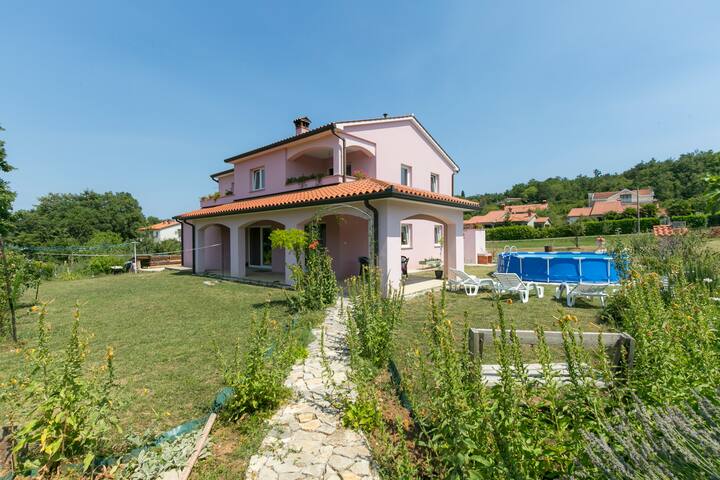 Studio with queen size bed, kitchenette, sliding door cabinets, bathroom and open space terrace, surrounded with greenery and flowers , warm and tidy. Quiet neighborhood.
The studio is on the ground floor of the house, suitable for a pair of adults (sofa can be arranged for a small child). No pets allowed. 40 km to the Pula airport.
Old baroque town of Labin is 10 minutes of walk distance where you can find pizzerias, bars and restaurants, Museum, Art gallery, night club, souvenir and grocery shops, Post office, tobacco shop. During summer this is the spot for various cultural, musical and other interesting events. You can reach beaches in Rabac, Duga Luka, Ravni and St. Marina, which are 5-15 km from the facility.
As we arrived by car and could`t determine an exact time of arrival, Andrej was so nice and let us check-in earlier than booked. Our stay was absolutely fantastic. The arpatement is just as on the pictures and very clean and tidy. Even the garden invites you to sit down, drink a glas of wine, just chill and enjoy the beatiful view. The neighbourhood is totally save and quiet. Labin and it`s surroundings is an astonishing experience, that we can only recommend. We felt very welcomed and were able to calm down and get relaxed within minutes. Andrejs wonderful mother even baked some delisious cake for us. We are definitely coming back next year! 10/10
Jan
2016-08-06T00:00:00Z
사진보다 훨씬 깨끗하고 넓었습니다. 호스트 분들이 매우 친절했습니다. 아침에는 직접 만드신 다과들을 대접해주셨고 덕분에 즐거운 아침을 보냈습니다. 관광지 안내도 잘 해주셨고 늘 따뜻하게 대해주셨습니다. 위치가 높은 곳에 있긴하지만 주변 전망이 좋아서 괜찮았습니다. 차가 없으면 불편할 수도 있지만 아마 시내로 픽업을 나올 것 같습니다. 저희는 차가 있었지만 못 찾을 경우 시내로 마중오겠다고 하셨습니다. If you want to meet another Parents, come here! The hosts very nice, kind, friendly and polite even they elder. The flat is so nice. There is bigger than picture. And clean perfertly. They consider us all the time. On the table, there is some fruits and jelly, very sweet like them, she made. Even they invited us next morning. They treated coffee and delicious jellies and pies. We enjoyed enough!!
Bohyun
2016-11-20T00:00:00Z
Nous avons réellement apprécie le temps passé à Labin. Famille charmante et attentionnée. Il nous ont fourni tout ce dont nous avions besoin pour notre bébé! Chambre agréable et propre, située à une quinzaine de minutes de marche de la vieille ville. La marche pour s'y rendre nous donne accès à un point de vue magnifique de la ville, juste pour cela, le logement en vaut la peine! Situé dans un quartier résidentiel.
Alexandre
2016-05-16T00:00:00Z
Очень понравилась однокомн. квартира у Ангелы и Тоде (родителей Андрея). Тихое место и недалеко до Рабаца - курортного города, однако на автобусе туда наверно оч. трудно ездить - с 8.30 до 11.30 он просто не ходит с Лабина чтобы не создавать пробок. Но на авто весьма удобно, и парковка в Рабаце за 2 евро в день. Кондиционера в 1 комн. квартире нет (есть вентилятор), это удобство только в двух других квартирах Андрея, но сторона дома не жаркая и после обеда прохладно в комнате. Недорогой вариент для путешествующих на авто! очень радушные хозяева, говорят частичто на немецком, на русском чуть. Рекомендую
Valentin
2016-08-17T00:00:00Z
Accoglienza e casa perfette per una vacanza di coppia: il posto è strategico per visitare l'Istria, e Albona è stata una piacevole sorpresa, se avessimo prenotato da un'altra parte non avremmo potuto scoprirla. Angelina e suo marito sono due persone attente e dolci, e hanno fatto di tutto per farci passare una bella vacanza. L'appartamento è ben studiato e ha tutto il necessario. Vacanza fantastica!
martina
2016-08-14T00:00:00Z
Room Type
Entire home/apt
---
Property Type
Apartment
---
Accommodates
2
---
Bedrooms
Labin, Istarska županija, Croatia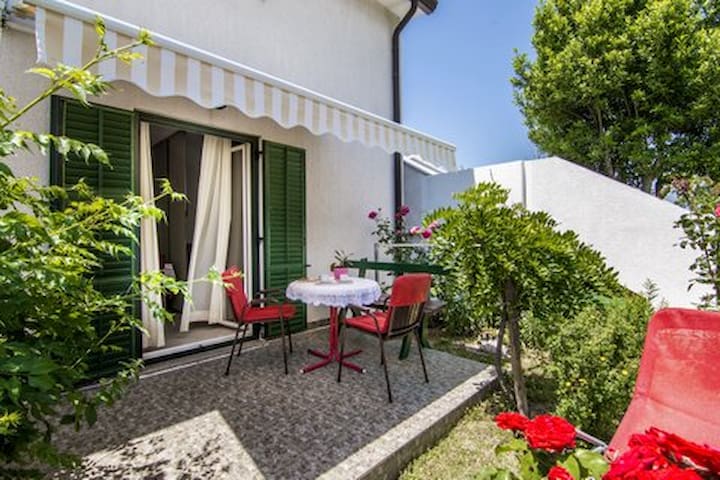 My place is close to art and culture, great views, restaurants and dining, and family-friendly activities.
Room Type
Entire home/apt
---
Property Type
Apartment
---
Accommodates
4
---
Bedrooms
Veli Golji, Zagrebačka županija, Croatia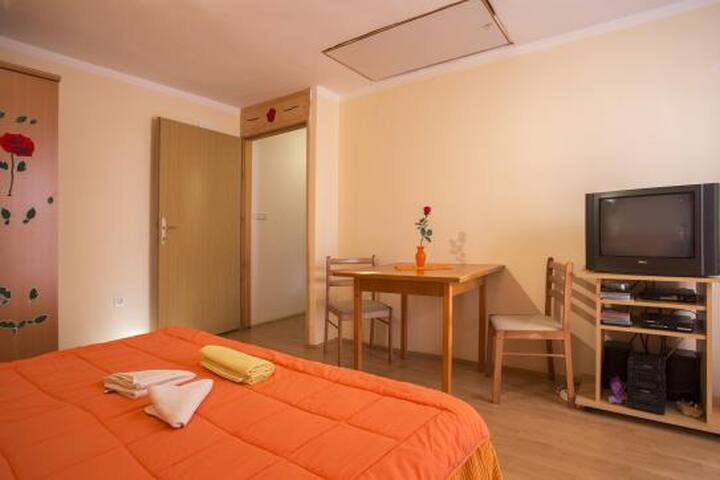 Topid - Airbnb
:
Average

4.91

out of

5

stars from

126

guest reviews
1

–

18

of

300+ Apartment Rentals
Enter dates to see full pricing. Additional fees apply. Taxes may be added.