Our house awaits you at Thunder center located between Burgundy and Champagne regions. private courtyard and closed. A barn for bikes. enclosed garden and very quiet. House ground floor, access by 8 steps. School level English
A house downtown, accessible to the main curiosities of Thunder but quiet. The room overlooks the garden with possibility to access it from the room
heart of Thunder
The place was very nice and cozy. it was like a studio with private bathroom. The hose was very kind. She didnt speak good english but she tried very hard to explain all the details and things to do around the house. i woukd recommand to everyone i know.
도일한
2015-06-02T00:00:00Z
When you go to Tonnerre, you have to stay hier! A beautifull place with very nice and helpfull people. 5***** (at least)
Pavol
2015-09-20T00:00:00Z
Giles and Mireille were excellent host, and made us feel like we were at home. Use of the kitchen was very welcomed, and tea and coffee were made available to us, which was a wonderful treat to take out in the beautiful back yard. The room is even better than the pictures show with a private bathroom, and a door which leads directly to the back yard/patio. The bed was very comfortable, and everything in the house was very clean. It is definitely worth it to go out of your way to stay at this splendid house. We would definitely recommend it to anybody.
Veronika & Joe
2015-06-09T00:00:00Z
My partner and I had a very comfortable and easy stay in this gorgeous house in Tonnerre. We were made to feel at home and our hosts were so friendly and welcoming. We had access to tea and coffee, freshly baked bread for toast in the morning as well as butters and jams. The room is a perfect size, very clean and warm and all of the essentials are provided. A great shower and wifi connection in the room. We even got to do some washing which was very kindly dried and ready for us when we arrived back in the afternoon. Great location, town is small and gorgeous. The house is old and beautiful. We had a perfect stay!
Jaymie
2015-10-21T00:00:00Z
Gilles and Mireille are a wonderful couple and their home is beautiful and stylish. (I must also mention their dog in a cat's body that (who) is a must see!! :-) They are very well prepared to help their guests out with books, maps and brochures - just in the right amount. The room + bathroom is very nice, clean and comfortable with access to a large garden. (Great Wi-Fi connection!)
Rita
2015-08-30T00:00:00Z
Smart, classy couple in a timeless home. I e joyed my time there. Very organized, clean, and beautiful. Very close to Chablis.
Tom
2015-10-22T00:00:00Z
Such a beautiful house! It's massive. Parc the car in the courtyard, totally city centre. The house is big and classy, but also warm and cosy. Homemade jams and homemade bread, local honey... So nice. The bed room is spatious and tastefully decorated. Great bathroom as well. Good bed. There is a closed (big) private garden where you can sit or even lie down. All beautiful. The town is worth a few visits. We visited two restaurants that made us happy. The one at the water (only open in the afternoon) is great. All local produce. Good people. Au tour du Pressoir. Also good people at the Crêperie. So nice. I am sorry I did not try the local cider! Great hosts. Again, also sorry we only stayed one night.
Erik
2015-08-12T00:00:00Z
Gilles was bery helpful and explained things simply and clearly despite our French language shortcomings. Very friendly and so wonderful to feel welcome into his home
Keith
2015-07-07T00:00:00Z
Room Type
Habitación privada
---
Property Type
House
---
Accommodates
2
---
Bedrooms
Tonnerre, Bourgogne, France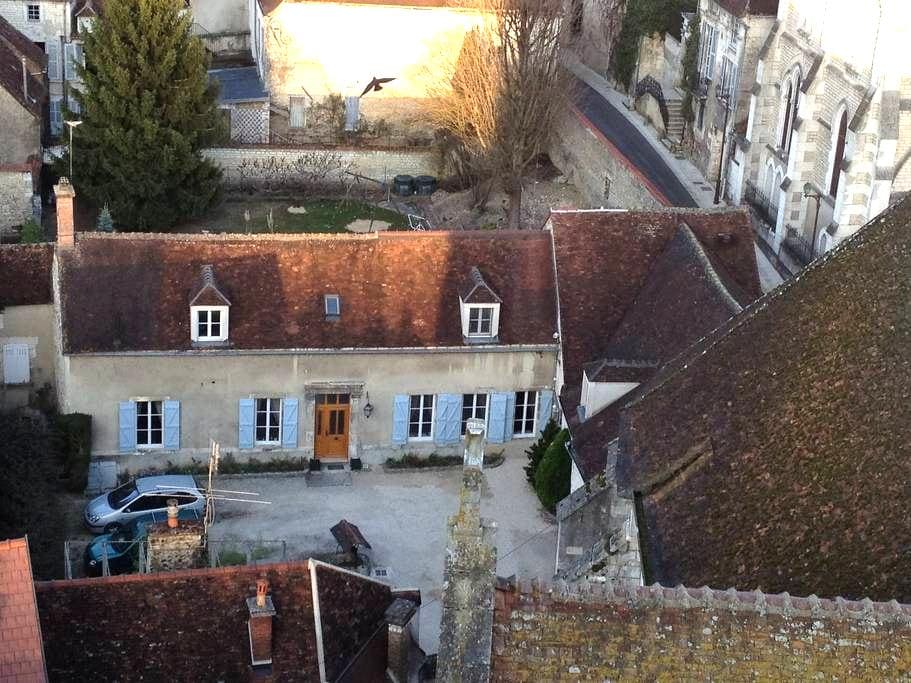 A voir,silencieuse; la possibilité d'hébergement correspond au lieu de vie d'une maison avec cinq enfants.Aujourd'hui, ils ont tous grandis sauf un et nous nous organisons pour vous recevoir avec bienveillance,tout simplement;bien à vous.
Come stay for a few nights in this house located near the Burgundy canal in Tonnerre, in close proximity to Chablis, Noyers and Vezelay, with lots of local wines and cheeses to discover, old castle and abbeys to visit and villages and countryside trails to explore. 3 rooms are available with double or single beds, breakfast included.
Stephane, his wife and his friends were so kind to me! I am grateful for the time we spent together! Stephane made me feel like at home, he invited me to the delicious dinner ( I could taste the soup from the nettle for the first time), we had very interesting conversation in the evening and we played table football. I really enjoyed my time at Stephane's home. And his little son Noe is so lovely! merci beaucoup! Vous etes toujours invite en Pologne :-)
Magda
2016-08-31T00:00:00Z
Stephane was a delightful host - very generous, charming and accommodating. Although he says otherwise, his English is really quite good and we enjoyed interesting conversations on many topics. His house is indeed quirky and artistic, full of character. We thoroughly enjoyed our stay here.
Don
2014-07-19T00:00:00Z
Stephane is a very friendly and enthusiastic host, great house and great spot for exploring the surrounding burgundy wineries. Thank you for letting us share your home Stephane!
Steen
2013-10-17T00:00:00Z
Stéphane was a great host and has a very cool old, but eclectic house We had everything we needed and had a very nice time with our host and his family. The city was just big enough to offer everything we needed.
Myles
2013-10-05T00:00:00Z
I've had a very nice stay in the prettiest house in the village of Tonnerre. Everything was neat and clean and Stéphane and his wife were gracious and hospitable hosts. Also the breakfast was excellent. Absolutely recommendable!
Ric
2015-08-11T00:00:00Z
I had a very warm welcoming and nice stay with Stephane and Vanessa! We enjoyed plenty of good conversation and food together. If given the chance I would stay there again!
Leslie
2013-10-24T00:00:00Z
I had a wonderful stay in Tonnerre with Stéphane & Vanessa. Room with a view, clean, spacious and decorated in Stéphane his own style! Got a special, lovely dinner and great breakfast. Thanks Stéphane & Vanessa, you are great people, loved to talk to you and hope to visit you again one day!
Paul
2015-07-25T00:00:00Z
A quirky and unusual place. The host was friendly and left lovely jams and breads for breakfast. The area is a bit run down but the house is imposing and impressive. The picnic tables in the park opposite are great for alfresco dining. The room itself was OK but the bed creaked and the mattress was old, and the towels quite rough. The floorboards also creak, and it would have been nice to have private access to a bathroom rather than sharing with the host family. The bathroom has splendid views and the house is decorated in a quirky and fun way.
Stephen
2014-07-07T00:00:00Z
Room Type
Habitación privada
---
Property Type
House
---
Accommodates
4
---
Bedrooms
Tonnerre, Burgandy, France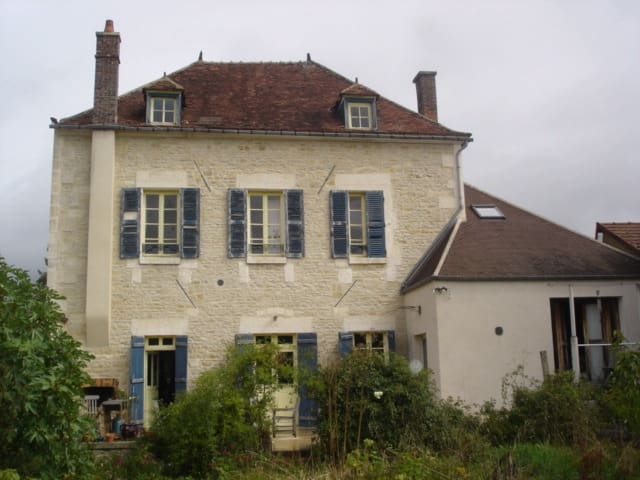 The house faces south, it includes a great room with a double bed with a shape memory mattress. A fully equipped kitchen. A small courtyard very well exposed to have a barbecue with friends. The house is very pleasant.
The whole house is available.
The area is very pleasant because it is very quiet. This will recharge a weekend in the countryside in peace. In summer barbecues in this context are exceptional. Located in a very old street, it gives the impression of wandered in neighborhoods in time. A small bakery nearby allows for excellent good breakfast getaway.
Room Type
Entire home/apt
---
Property Type
House
---
Accommodates
2
---
Bedrooms
Épineuil, Bourgogne Franche-Comté, France
À deux heures de Paris, très belle maison authentique de Bourgogne (dalles, poutres et cheminée) située sur la place de l'église de Commissey. Sa grange, son salon d'été lumineux, son barbecue vous attendent ! Venez séjourner au calme, dans le jardin, terrasse ou salon de la maison. Vous pourrez prendre l'air, vous rafraîchir au bord de l'Armançon (plage à 500m). À seulement 1 km le long du canal de Bourgogne, vous trouverez le château de Tanlay, son golf, des terrains de tennis, les restaurants et commerces accessibles à vélo ou à pied.
LA MAISON A deux heures de Paris,charmante maison de Bourgogne d'environ 100m2 organisée en 3 Niveaux : - rez de chaussée : 1 cuisine équipée, 1 cellier en contre bas, une salle de bain (baignoire, toilette, lave linge et sèche linge) - 1er étage, un double séjour avec cheminée (équipé d'1 écran plat lecteur dvd/usb). Une petite salle d'eau (toilettes et lavabo). Un coin salon et un coin chambre possible avec lit double sur mezzanine. Une petite terrasse juxtaposant le séjour, avec une table et 2 chaises. - Au dernier étage, 2 grandes chambres lumineuses : la 1ère équipée de 4 lits simples (dont 2 lits gigognes) et 1 lit bébé. La 2ème, très confortable, avec un lit double. GRANGE (face à la maison). -Entrée grange (4 vélos,mobiliers extérieurs) -Salon d'été : une salle de bain (toilette et lavabo)/Salon (un tourne disque vinyle, enceinte canapé lit, fauteuils...)/ Grande salle à manger/salle de jeu (bouilloire) JARDIN : - Barbecue,terrasse.
LE VILLAGE La maison est située sur la place de l'église du village de Commissey. Il fait parti de la commune de Tanlay situé à 5 min en vélo (1km) en longeant le canal de bourgogne depuis notre maison. La commune dispose de tous les commerces, d'un joli château en libre accès ainsi que bar et restaurant agréables. Activités: -Baignades/Canoë, dans la rivière de l'Armançon , plages.(500m) -Balade Canal de Bourgogne à vélo ou à pied (200m) -Terrains de tennis et golf à Tanlay LES ALENTOURS A 7 km de Tonnerre (fosse d'Yonne et marché le samedi matin) A 2km du domaine du Petit Béru et ferme (vente de vin de fruits et légumes) A 15 km de Chablis (caves et marché le dimanche matin) A 3 km de l' Abbaye de Quincy A 35km de l'abbaye de Pontigny A 25km de la cité médiévale de Noyers-sur-Serein (25km) A 1 km du château de Tanlay A 45 min de la route des vins. A 1h de route de la région du Morvan (Vézelay à 60 km)
Room Type
Entire home/apt
---
Property Type
House
---
Accommodates
8
---
Bedrooms
Tanlay, Bourgogne Franche-Comté, France
My place is good for couples, families (with kids), and furry friends (pets). Les couples, les groupes d'amis et familles sont bienvenues, les animaux aussi. Les vignobles du Tonnerrois et du Chablisien sont tout prochesk, un peu plus loin les vignobles de Champagne. Egalement, dans un rayon de 10km les chateaux de Tanlay, Ancy-le Franc et Maulnes. Une halte en Bourgogne, la gastronomie (gougères, escargots, fromages locaux) et le vin Tonnerre, Epineuil, Chablis........
Notre maison est une maison de village. Elle est certes un peu rustique en exterieur mais offre un confort chaleureux à l'interieur. Nous vous offrons de louer 1 à 3 chambre. La «suite parentale» seule pièce à l'étage bénéficie d'une salle de bain avec douche et d'un wc séparé. Au rez de chaussé, la cuisine ouverte sur la salle à manger vous permets de partager le petitdejeuner ou les repas de façon conviviale. Frigo, lave vaisselle, micro_ondes,... sont àvotre disposition. Vous y trouverez les 2 autres chambres et une salle de bain et un wc séparé. 1 chambre double, couchage en banquette lit tout confort. 1 chambre avec 1 lit mezanine et 1 lit simple. Un petit salon, coin lecture et jeux de société. Une cour fermée vous permettant de prendre petit déjeuner et repas sous le soleil bourguignon.
Résidence dans un quartier calme voir très calme, possibilité de stationner votre véhicule face au garage ou sur le coté. Accessible à 5mn à pieds, le canal de Bourgogne et la rivière de l'Armançon vous offre la possibilité de faire une marche, une halt au bord de l'eau.
Room Type
Entire home/apt
---
Property Type
House
---
Accommodates
6
---
Bedrooms
Tanlay, Bourgogne Franche-Comté, France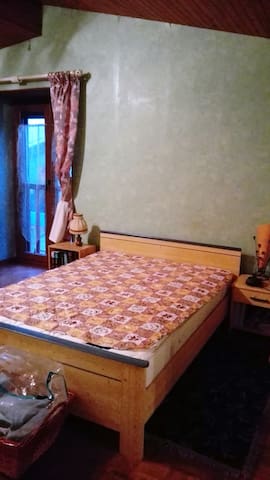 In a quiet village of 110 inhabitants, renovated farmhouse with 4 bedrooms of 20m2 and kitchen, shower room and separate toilet. You will find a quatrefoil church and the vineyard of the emperor having resisted to the disease. A former hospital Thunder Margaret of Burgundy and Dionne pit. All near the castles of Tanlay, Ancy le Franc and the medieval city of walnut trees, Chablis and its vignoble.Plus far Troyes, shops and factories Nigloland amusement park.
the house is a farmhouse, everything is on one floor.
quiet village
Room Type
Entire home/apt
---
Property Type
House
---
Accommodates
10
---
Bedrooms
Bernouil, Bourgogne Franche-Comté, France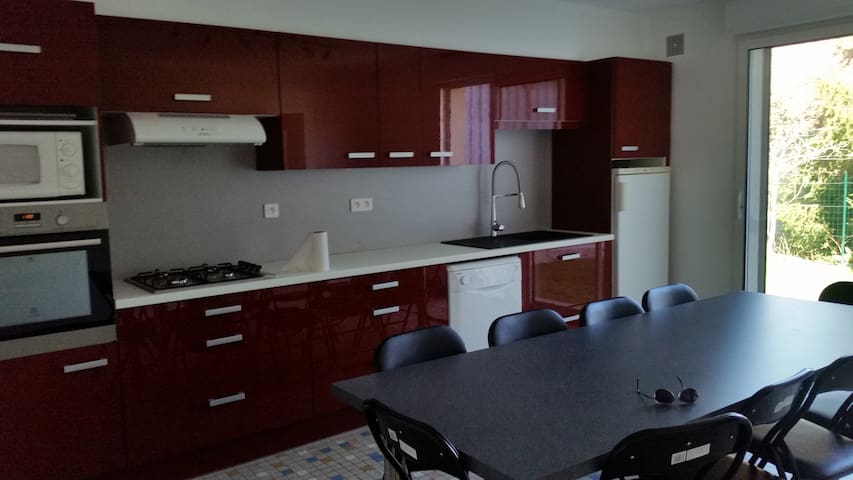 Le Nid des Tourterelles, au Grand-Virey à 7 km de Tonnerre, 25 km de Chablis. Gite mitoyen à notre maison sur notre exploitation viticole et céréalière. Salle de séjour, cuisine équipée, lave-vaisselle, lave-linge, salon, TV, lecteur DVD. Bibliothèque, jeux de société. WC A l'étage, 1 ch 1 lit (PHONE NUMBER HIDDEN) ch 2 lits 90/180, sur le palier, 1 lit 90 et 1 lit bébé. Salle de bain, douche baignoire, WC. Grande cour close avec salon de jardin, barbecue, balançoires et toboggan. Accès internet.
La maison aménagée dans d'anciennes granges est de construction originale, le rez-de chaussée étant indépendant de l'étage que l'on rejoint par un très bel escalier en pierre de Bourgogne et une rampe en fer forgé. Les chambres ne se trouvent donc pas directement au dessus des pièces à vivre, ce qui assure plus de calme et de confort. La cuisine est bien équipée en ustensiles et appareils électro-ménagers. La Vaisselle est en nombre important. Les chambres sont équipées d'1 'armoire, d'un bureau et de 2 fauteuils. Egalement une commode dans la chambre avec les 2 lits et 1 sur le palier. Equipement pour bébé : 1 lit, table à langer et chaise haute. Les draps sont fournis mais il faut apporter le linge de toilette.
Sur la place du village . Très calme. Pas de commerces dans le village. Les courses se font à Tonnerre à 7km. Le village est entouré de champs et de bois, idéal pour les randonnées.
It is perfect stay in a peacfull village. Fabienne providers everything u need. The kitchen is fully equiped and the house is cool when warm outside. Fabienne and Felix make their own wine which you can taste in their cellar, great experience and great wine. The location is perfect for wine tasting with the great Chablis next door.
Harmen
2016-07-24T00:00:00Z
Highly recommended place! We spent a night at Fabienne and Felix's place. It's easy to find, very spacious with private parking, quiet and safe. The hosts were kindly waiting for us even if we were late and I booked the accommodation only the night before. Fabienne speaks English very well, she explained everything to us, only the wifi code wasn't correct, she gave us. It was the 5 of us with 3 kids but the house is so spacious and beautiful, we could even play hide and seek without finding each other easily;) The mattresses are extremely comfortable! We will definitely go back if we are in the area!
Andrea
2016-09-05T00:00:00Z
Une communication simple et aisée, un logement coquet et agréable, une grande cour pour nous tous seuls, pas loin de Tonnerre et des vignobles chablisiens... un vrai bonheur ! Dommage que nous n'ayons pas eu le temps de déguster les vins de nos hôtes, mais c'est une bonne excuse pour revenir ! ;-)
Marion
2016-07-18T00:00:00Z
Séjour agréable, grand gîte spacieux et lumineux. Endroit très propre et convivial.
Marina
2015-10-24T00:00:00Z
Fabienne nous a très bien reçu, elle a été très souple pour l'heure d'entrée dans les lieux et nous avions tout ce qu'il fallait dans le logement.
Marie-Anne
2016-09-25T00:00:00Z
Très bon séjour et bonne communication avant l'arrivée.
Daphné
2016-09-04T00:00:00Z
Très bonne accueil, très belle maison hésité surtout pas à aller passer un petit séjour chez Fabienne
Antony
2016-05-21T00:00:00Z
Fabienne est une hôte formidable et gentille. L'accueil était très chaleureux malgré notre arrivée tardive à 22h30. Son logement est spacieux, lumineux avec tous les équipements nécessaires pour un séjour en famille en Bourgogne. A recommander pour tous ceux qui souhaitent découvrir la région et rester entre famille ou amis. J'y retournerai sans réfléchir si j'ai l'occasion de revenir visiter la région.
Mai Chau
2016-05-09T00:00:00Z
Room Type
Entire home/apt
---
Property Type
House
---
Accommodates
5
---
Bedrooms
Molosmes, Bourgogne, France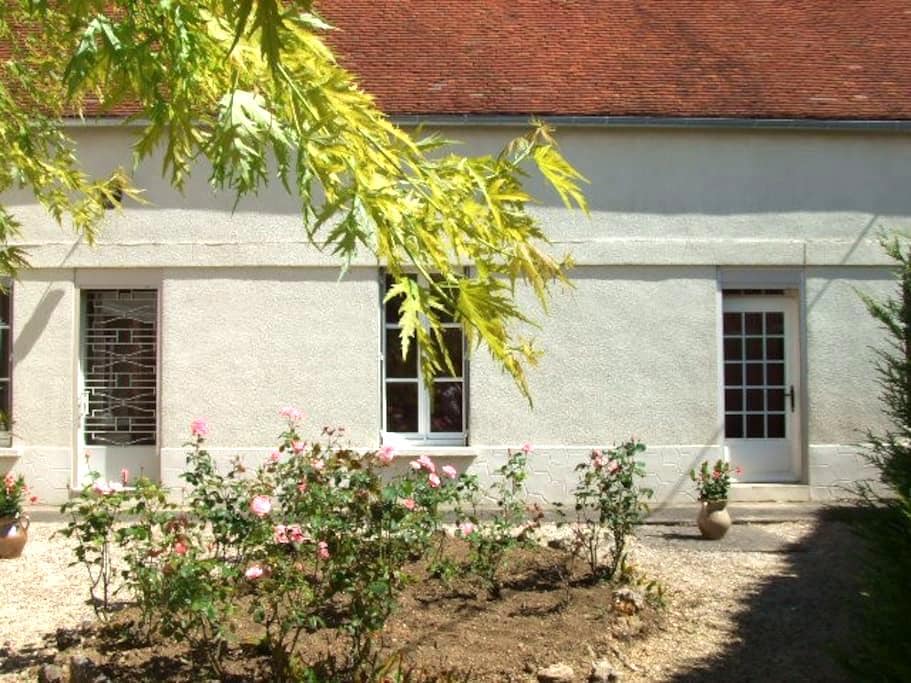 Belle maison rénovée, mariant le charme de l'ancien et du contemporain, au cœur d'un petit village Bourguignon ! L'étage de la maison vous est destiné, avec une chambre et une salle de bain privative. A bientôt :)
Room Type
Habitación privada
---
Property Type
House
---
Accommodates
2
---
Bedrooms
Yrouerre, Bourgogne Franche-Comté, France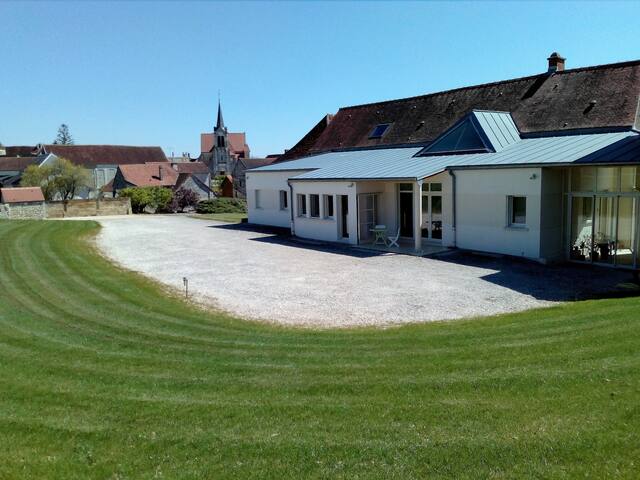 Un lieu pour tout aussi bien se reposer ou explorer la région LOCATION POUR 2 PERSONNES MINIMUM ET JUSQU A 12 PERSONNES MAXIMUM Mon logement est parfait pour les couples, les familles (avec enfants) et les grands groupes. grande cour fermée grande maison de 200 m2 dans un petit village de Bourgogne (15 minutes de Chablis,30 mn d'Auxerre), proche du canal de Bourgogne, des châteaux de Tanlay, Ancy le Franc et à proximité de la Champagne.
The host canceled this reservation 12 days before arrival. This is an automated posting.
Hugo
2016-12-18T00:00:00Z
Room Type
Entire home/apt
---
Property Type
House
---
Accommodates
12
---
Bedrooms
Molosmes, Bourgogne Franche-Comté, France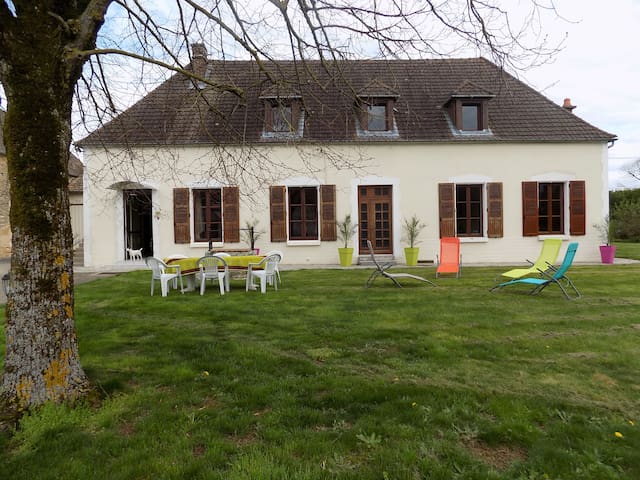 Converted Chapel in Molosmes, near Chablis, Burgundy - 16th Century Chapel in Tranquil Vineyard Village "La Chapelle" is situated in a peaceful Burgundy vineyard village called "Molosmes" about 15 mins drive to Chablis. It is ideally situated for walkers and wine tasters alike. There are many walks around the village which take you through the vineyards and the beautiful countryside which surrounds Molosmes.
Just a perfect house, perfect clean and even the smell is delicious in there house. It's cosy with a very nice garden. We felt home! The kitchen is perfect, the beds are good....thank you so much for a pleasant stay!!!! We felt very very welcome!!!
Jac
2015-08-09T00:00:00Z
We had the most wonderfull time at 'the chapelle' and I would really recommend this place. The house is an extraordinary experiences and we felt so spoiled being in this beautifull, well restored and nicely decorated house. The hosts were welcoming us and they made a great impression on our three kids - they were amazed by the hospitality. Thank you!
Helene
2015-08-03T00:00:00Z
La Chapelle is a very cute, clean and cosy house where you really can feel at home. We stayed for 4 nights and enjoyed the garden while barbequing, reading and seeing the most wonderful falling star we've ever seen! You can hear the owls calling at night. Chablis (lovely town!) is only a short drive away and you can also make nice walks. Thank you Chris for the friendly communication!
Roos
2016-08-11T00:00:00Z
Super nice and cosy place in a really calm village. Christopher was very easy to communicate with. We had a great time!
Hidde
2016-08-06T00:00:00Z
Chris est dispo et tres souple sur la remise des cles en arrivant et au depart. La chapelle est un lieu paisible et reposant, avec toutes les commodités dont on peut avoir besoin dans la maison. Bcp de chateaux magnifiques et de villages authentiques à proximité ! Un lieu que je recommande vivement!!!
William
2015-08-15T00:00:00Z
La Chapelle est un endroit enchanteur, magnifiquement situé et décoré avec beaucoup de goût. L'accueil fut parfait. Merci à nos hôtes.
Antoine
2016-05-09T00:00:00Z
Room Type
Entire home/apt
---
Property Type
House
---
Accommodates
5
---
Bedrooms
Molosmes, Bourgogne, France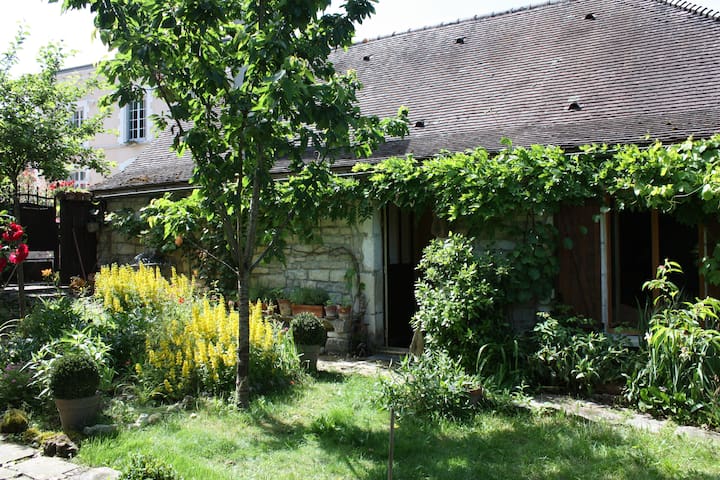 100m2 house on three levels, independent with private fenced garden in a village where the Orangery of the castle is classified. Beautiful sun exposure, ideal for family, friends, quiet romantic ... The nearby park will delight children and adults.
The house is built on three levels. Garden level: kitchen equipped traditionally with fridge, freezer, gas hob, oven and microwave, coffee maker and Nespresso, kettle, etc ... First floor: a room (1 bed 140x190), a reading room with hi-fi video, tnt hd tv, dvd player, and a bathroom with tub and toilet. On the top floor: a through room with 1 bed 140x190 and 2 beds 90x190 and a room with a bed (PHONE NUMBER HIDDEN). All bedrooms and living room overlooking the garden. Direct access from the lounge to the garden with a balcony and stairs. The bathroom is not overlooked. The garden is equipped with relaxation equipment with garden furniture and barbecue. A Baby equipment, including two high chairs, two loungers, a changing mat, a bath and a baby bed (folding), is available on request.
quiet village without trade but with a large park for nice walks around the pond in the company of ducks, with games for children (swing, slide ...)
Un séjour éprouvant pour un enterrement de vie de garçon où nous avons pu retrouver douceur et calme pour la fin de notre excursion... un Home Sweet Home loin de chez nous!
LAURENT
2016-07-04T00:00:00Z
Séjour agréable dans la maison de l'escargot. Accueil sympathique avec un pot de confiture. Une certaine désuétude qui a son charme. Chambres un peu humides.
Fabrice
2016-07-10T00:00:00Z
Toute la famille a été très bien accueillie, un joli bouquet de fleurs du jardin composé juste pour nous ! Suggestions de balades, de restaurants... Isabelle a été à l'écoute de nos besoins en amont et sur place : ce week-end fut très réussi.
Sixtine
2016-05-30T00:00:00Z
Gîte agréable sur la route des vins. Isabelle est très sympa aussi. Je recommande.
Plouzennec
2016-08-01T00:00:00Z
Contacts agréables et efficaces. Grande disponibilité d'Isabelle et son compagnon. Nous avons passé un très agréable moment entre amis. Merci encore pour le prêt d'un barbecue en adéquation avec le nombre d'hôtes gourmands qui ont participé au repas dominical. Belle adresse.
Sylvie
2016-06-27T00:00:00Z
Superbe maison propriétaires accueillant un pur bonheur je recommande
Sebastien
2016-07-25T00:00:00Z
Nous avons passé un super moment dans cette charmante maison impeccable et décorée avec gout. Les hôtes sont très sympathiques et attentifs au moindre désir. Nous recommandons sans aucune hésitation ! Encore merci pour votre accueil et peut être à bientôt !
Céline
2015-10-05T00:00:00Z
Room Type
Entire home/apt
---
Property Type
House
---
Accommodates
8
---
Bedrooms
Yrouerre, Bourgogne, France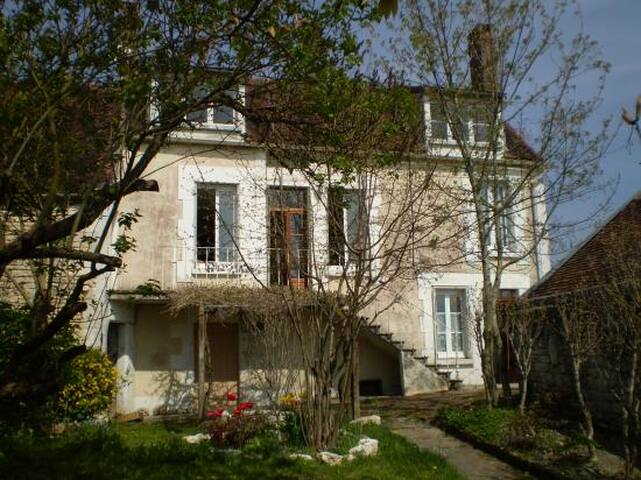 Only for you !!! Ideal for family gatherings, our house for 15 people "LE CLOS DU TRAIT" to Roffey 89700, classified 4 stars, welcomes you in 8 rooms of charm. You will be in free management with an internal kitchen + a summer kitchen. Lounge with TV and WiFi free. Closed garden, barbecue, terrace. Jacuzzi in 38 °, swimming pool warmed of 1/04 in 3/11. Essential vehicle, non-smoking house, dog admitted after agreement. Big free parking lot. Central heated and fireplace Paris 2 h, Lyon 3 h
With private swimming pool heated 1/04 TO 1/11 + Jacuzzi ALL YEAR !!! In Burgundy, to 8 km of Tonnerre, 15 km of CHABLIS, to 1H45 of Paris by A6?, to 3h of Lyon, this old farm of the 18éme, nicely restored in calms of its closed garden and of its beautiful green environment, located at the periphery of the small village of Roffey, will allow you to discover this soil full with richnesses: Castles of Tanlay and Ancy le Franc, Abbeys of Pontigny and Fontenay, chefs d'oeuvres of Burgundian art, old laundrettes, abbayes, churches, classified villages of Tonnerrois. All contributes to allure you. Without forgetting the famous vineyards, the reception of the vine growers and the famous gastronomy of this area. Bathe and fishings in Armançon, walks river on the channel of Burgundy, equestrian tourism, rambles and in V.T.T. Golf with Tanlay (9 hole), Chaource (18 hole) The house, exposed EAST / WEST, is laid out in * L *. Our tariffs are established on the basis of a maximum of 15 people in 8 bedrooms * IN GROUND FLOOR, - a vast stay of 50m2, height of ceiling of 5m20 with beams and beams, stone wall on which leans a large chimney (provided wood). The living room-corner part of fire is furnished with settees and armchairs and profits from a large television set color (reception by satellite), of a video PAL / SECAM / MESECAM and a telephone . A hi-fi system is at your disposal, as well as a radio with reader CD, our collection of 200 video cassettes and many books and games. - a corner-kitchen with 1 plate cooking gas 4 fires, 1 electric furnace revolving heat with pyrolysis, 1 sink, 1 large refrigerator, 1 dishwasher, 1 furnace microwaves. Perfect equipment for kitchen and meal *Un couloir/vestiaire serves - a bathroom with shower, wash-hand basin, bidet and WC - One room " BLANCHOTS" with with 1 bed of two people (160 X 200) with door on the garden *A MIDDLE HEIGHT, in mezzanine, - One room of 10 m2 " VALMUR ", opening on the stay and closing themselves by hangings, with 3 beds of one personne(90) - One room of 10 m2 " FOURCHAUME " with 1 bed of two people (140) *A the STAGE, in the old hayloft (beautiful volume of beams) - One room of 15m2 " LES CLOS " with 2 beds of a person (90 X 200), with - a bathroom with wash-hand basin and WC since this room a staircase led to - One room in mezzanine of 8 m2 " GRENOUILLES " with TV - One room of 13 m2 " LES PREUSES " with 1 bed of two people (160 X 200) *Un corridor leads to: - a bathroom with bath-tub, wash-hand basin and bidet - a separate WC - One room of 15 m2 " MONTEE DE TONNERRE " with 1 bed of two people ((PHONE NUMBER HIDDEN) bed of baby - One room " VAUDESIR " of 25 m2, with very beautiful beams and balcony, with 1 bed of two people (160 X 200)...... + 1 bed of one people "En suite", with this room: - a slightly mansard-roofed bathroom, with shower, wash-hand basin and bidet. - a COVERED TERRACE prolongs the stay. It acts as kitchen-room to be eaten of summer. It is equipped with a built barbecue, of a évier(water cold and hot), of an electric furnace, a mixed hotplate, freezer and a large refrigerator, 1 dishwasher. Large table and tables additional and many garden seats. - closed GARDEN of 1500 m2, with swings, toboggan. - Gaming room with table tennis A swimming pool o(URL HIDDEN)and 1 m 50 of depth, is vis-a-vis the covered terrace It will be heated and made safe and in service of 1th April until end of October (minimum 24°) - a Jacuzzi for 6 persons (37° minimum) - a bathroom with wash-hand basin and WC and washing machine and machine dryer, near swimming pool - a large ground-orchard faces the house, a carpark is arranged there - Central heating with the fuel + electric in 3 room and bathroom - Telephone (local calls free) cellular function in the house INTERNET FREE BY WI FI - CATS NON ALLOWED (dog accepted after agreement, but prohibited in the swimming pool) - Bed lining furnished for 15 people (no towels) -BEDS READY NO SMOKING HOUSE
Grand calme, belle campagne, rivière et canal de Bourgogne à 800 m. Sentiers balisés, voie vélo-canal, circuit des lavoirs et des châteaux et plusieurs abbayes sont à proximité. Vignobles de Chablis à 15 km avec visites organisées. Tous les commerces + 2 supermarchés : Auchan et Leclerc, plusieurs restaurants et un hôpital sont à Tonnerre à 10 km. La belle ville d'Auxerre est à 35 km Notre petit village de Roffey est une étape sur le chemin des pèlerins de Compostelle, ainsi que pour les plaisanciers du canal de Bourgogne ou les vélotouristes. Pour vos séjours de quelques jours, beaucoup de centres d'intérêt pour le plaisir de tous Activités: Roffey est un charmant et paisible village de 160 habitants, niché sur deux collines verdoyantes, dominant la vallée de l'Armançon et le canal de Bourgogne. En saison, baignade et canotage en rivière, pêche au brochet ou à la truite et croisières sur le canal de Bourgogne à 800m. Toute l'année, visite des vieux lavoirs, promenades à pied ou en VTT pour découvrir la voie Romaine, la vigne de l'Empereur et la belle campagne environnant le village Sentiers de découvertes pédestres : la rue Blanche, qui dessert la maison, gravit la colline et se termine dans les champs. Elle offre un superbe panorama et vous y rencontrerez souvent une biche et son faon, dont c'est le lieu de prédilection Tout au bout de la rue Blanche où se situe notre maison, se trouve la voie Romaine à 3 km, qui se dirige sur Bernouil (église classée, en forme de trèfle à quatre feuilles) et la vigne de l'Empereur, grâce à laquelle de nombreux vignobles de France ont été sauvés, suite à leur destruction par le phylloxéra. Le vieux lavoir de Roffey, qui vient d'être restauré est à 700m de la maison, endroit bucolique avec une source VTT : nombreux chemins balisés et itinéraires sélectionnés, voie aménagée le long du canal de Bourgogne, circuit des lavoirs. Location de vélos (voir l'office du tourisme de Tonnerre) Tennis et piscine couverte à Tonnerre Canoë-kayak et activités nautiques sur le canal de Bourgogne, l'Armançon, le Serein, la Cure et l'Yonne. A Chéu (15 km) vols en ULM et sauts en parachute Croisières en péniche sur le canal de Bourgogne, depuis le port de Tonnerre Escalade au rocher du Saussois, parapente (voir l'office du tourisme de Tonnerre) Vides-greniers dans les villages, où l'on peut chiner de mars à novembre En saison, diverses expositions et cours de poterie, tissage, peinture, sculpture Visitez les élevages : d'escargots de Bourgogne à Bernon, de lapins angora, de cerfs, d'autruches Lieux à visiter · Tonnerre : La Fosse Dionne, à l'origine de la ville, sa légende et le mystère de sa source, qui a causé la disparition de plusieurs spéléologues ces dernières décennies Le vieil hôpital Marguerite de Bourgogne dont la crypte abrite une mise au tombeau, chef-d'oeuvre de l'art Bourguignon. Un gnomon et le tombeau de Louvois, ainsi que le musée, s'ajoutent à l'intérêt de ce monument, surmonté d'une toiture en forme de nef renversée, qui a servi de modèle à l'hospice de Beaune La maison du Chevalier d'Eon, célèbre travesti et espion de Louis XV (hôtel d'Uzés) Les églises Notre Dame et Saint Pierre (panorama sur la ville et la vallée de l'Armançon) L'abbaye Saint Michel, où séjourna Jeanne d'Arc, en route pour Orléans. Depuis son jardin, beau panorama sur la ville et la vallée La vieille ville avec ses maisons à pans de bois et ses petites ruelles. · Chablis, le village et les caves. Ne pas manquer la fête des grands vins 4ème WE d'octobre Toute l'année dégustations dans les caves ouvertes ou sur rendez-vous · Célèbres fêtes de la St Vincent en janvier et février dans les vignobles du Chablisien et du Tonnerrois dont celui d'Epineuil, petit village surplombant Tonnerre · Abbayes cisterciennes de Pontigny et de Fontenay, de Quincy et le prieuré de Vausse · Châteaux de Tanlay, de Maulnes et d'Ancy le Franc ( collection de vieilles voitures, faïencerie) · Noyers, l'un des plus beaux villages de France (lieu de tournage de la série TV "une famille formidable") et son musée d'art naïf · Auxerre, superbe centre ville, tour de l'horloge, cathédrale etc... · Troyes, (maisons à pans de bois) où les magasins d'usine sont une aubaine · Vézelay et sa " colline éternelle " · Grotte d'Arcy sur Cure, la construction "à l'ancienne" du château de Guédelon· etc·...etc· A 15 km de Roffey, dans le parc du château de Tanlay : beau golf 9 trous où une initiation gratuite est proposée le dimanche matin (consulter mon mari, il y joue tous les jours!)
We rented the house in relation to a wine trip to Chablis. The house was well equipped and as described in the ad. The owner representative was very helpful. Highly recommended!
Rune
2014-04-28T00:00:00Z
Nous étions 15 amies à célébrer l'enterrement de vie de jeune fille de l'une d'entre nous. La maison est idéalement située à 2h de paris (parfait pour un départ le vendredi soir). A notre arrivée nous avons découvert un magnifique gîte. L'immense salle de séjour avec cheminée est chaleureuse et la très grande table de salle à manger parfaite pour de grands brunchs. Nous avons toutes adorées le jacuzzi dans le jardin! Cette maison est parfaite pour de grands groupes. Vivement recommandé!
Sophie
2015-03-29T00:00:00Z
Nous avons passé un long week end d' hiver chez Madame Ragot en famille + amis et nous en sommes vraiment pas déçus. De très bons repas cuits au barbecue de la terrasse couverte, lectures au coin de la cheminée, quelques séances de relaxation dans le jacuzzi du jardin sans oublier les promenades dans les vignes, qui font le charme des alentours. De quoi ravir des parisiens (tels que nous) en manque d'air frais. Martine et son personnel sont à l'écoute, disponibles et réactifs. L'accueil au "Clos du Trait" est très chaleureux, en effet un feu de cheminée avait été allumé pour notre arrivée. Merci encore pour cet agréable week end. Anais
Anaïs
2015-02-09T00:00:00Z
Un super séjour et ce notamment grâce à la demeure où nous avons séjournés : hyper fonctionnelle et équipée (intérieur et extérieur), très grande, très bien entretenue, tout était prêt et propre à notre arrivée ce qui est très appréciable. Le temps ensoleillé nous a évidemment permis de profiter de la piscine chauffée et du SPA mais également de la cheminée en soirée (une brouette de bûche offerte !) Enfin la localisation permet de profiter de la région (nature et terroir).
Franck
2015-11-01T00:00:00Z
Nous avons passé un très agréable week dans la maison de Martine, qui est très confortable et très bien équipée! Parfait pour un week end "d'enterrement de vie de jeune fille" à 14 copines!! La piscine et le spa sont très agréables et nous avons pu en profiter pleinement, la maison est calme et nous avons pu faire la fête sans gêner les voisins. Seule chose à préciser (qui n'est pas dite dans l'annonce): Martine et son mari occupe une partie de la maison et étaient présents pdt tout notre week end. Ils sont charmants et cela ne nous a guère déranger, mais il est bon d'être prévenus tout de même :)
Marine
2014-06-16T00:00:00Z
Nous avons loué la maison de Martine pour un enterrement de vie de jeune fille et notre séjour a été parfait. La communication avec Martine avant notre séjour était tres simple, l'accueil le vendredi a été tres synpathique et la maison est super. Si nous avons l'occasion d'y retourner pour une période plus longue, nous n'hésiterons pas!
Anne
2015-06-07T00:00:00Z
Accueil sympathique et sérieux. Maison conforme à l'annonce, propreté, équipement complet et de qualité.
Martin
2015-10-29T00:00:00Z
Un très bon accueil! Martine nous a bien présentés la maison à l arrivée et a été présentée aussi au départ. Maison conforme aux photos : beaucoup de chambres et une grande pièce à vivre. Idéal pour un groupe. Indépendant du reste de la maison. La cuisine est très complète et Martine très serviable. Nous avons passé un très bon WE entre amis.
Damien
2015-11-29T00:00:00Z
Room Type
Entire home/apt
---
Property Type
House
---
Accommodates
15
---
Bedrooms
Roffey, Burgandy, France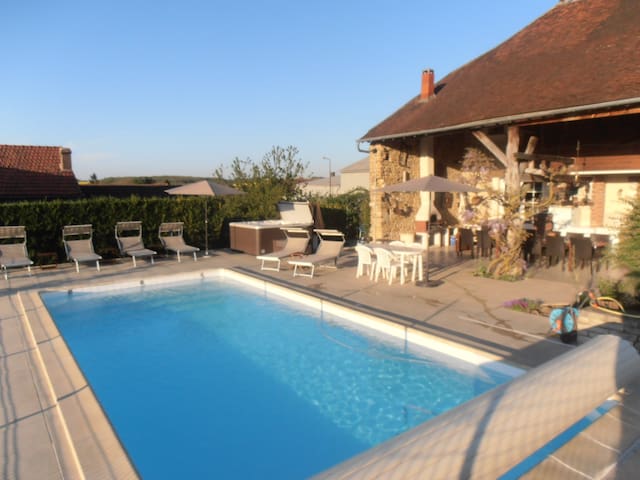 Maison agréable à vivre, chaleureuse, dans joli petit village calme. Voisins très sympas ! Belle région, route des vins, baignade possible dans l'armancon a 5 min en voiture. Toutes commodités dans la ville de tonnerre à 5 min en voiture également. Idéal en famille mais aussi entre amis !
Welcome to Burgundy ! We propose you our charming house from the 13th century. 160 m2, in a nice quiet village, 5 min driving from Tonnerre (all amenities including train station, market, supermarkets, restaurants, sports center, cinema ...) The house consists of 2 large double bedrooms, a cosy lounge, a dining room with open kitchen (spacious rooms) WC, bathroom all on approximately 130m2, and a dependence downstairs external, 30m2 with sofa comfortable bed for 2 persons and WC. 2 spaces for gardens, one in front of approximately 300m2 and another at the rear. The house is cozy and friendly, with all amenities, kitchen, baby equipment, wifi, stereo, BBQ, projector and big screen movies. Ideally located between Paris (1h50 by train 2 hours by car) and Lyon (3h), on the wine route, it is close to various tourist places like Thunder and atypical Fosse Dionne's Hospital medieval Burgundy Canal 5min, château de Tanlay, château d'Ancy le Franc, Château de Maulnes etc ... The house is also situated 20 minutes from Chablis, 20 minutes from Noyers sur Serein medieval village, 45 minutes from Auxerre, 1h Troy, Joigny, but at 50 min the Morvan's Park, the caves of Arcy ... Beautiful walks in perspective, hilly region, bathing in Armançon possible.
We loved our stay at this super charming house! It's a very special place in a tiny hamlet of no more than 20 houses, all of them very old stone homes. Emélie and Etienne's house is beautifully renovated and has all the comforts of modern living with the charm of times past. The kitchen is wonderfully functional for cooking and the internet is the best we found in our 6 weeks of travel in France and Rome (important for us because we are working and studying as we go). The nearby town, Tonnerre, where we went for groceries is cute, and a little sleepy. It was really the perfect place for us to regroup and relax, catch up on our work. The cat was sweet and easy to be around (important for some to know about though). The house is listed for 6 but I'd say it was just about perfect for the four of us. The two bedrooms each have a queen size bed and the master bedroom has a additional couch in it, which perhaps could be made into a bed. If you have more than four people definitely double check with Amelie and Etienne on sleeping details. It's highly possible that the room on the ground floor is another sleeping area but it was locked so we didn't go in and I didn't think to ask about it. In our case, we were lucky to have had Amelie scramble to find someone to prepare the house in response to our very last minute request, which was greatly appreciated. Amelie and Etienne are very responsive and helpful. Highly recommended.
Lisa
2013-05-07T00:00:00Z
Maison très agréable à vivre et beaucoup de villages à visiter dans les environs !
Maya
2013-05-13T00:00:00Z
Room Type
Entire home/apt
---
Property Type
House
---
Accommodates
6
---
Bedrooms
Junay, Burgandy, France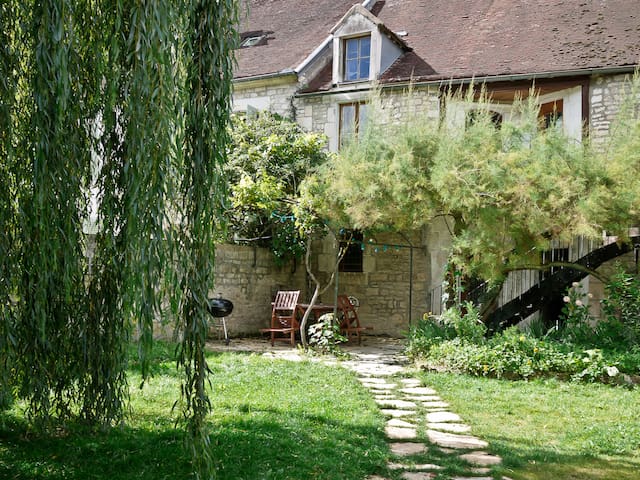 Maison dans un village de la campagne Bourguignonne, au calme, à 50 m du Canal de Bourgogne, idéal pour les balades à pieds, vélo, pêche. Proche des sites touristiques : Châteaux de la Renaissance, à proximité des vignes de Chablis, Tonnerre, Auxerre, Vézelay, Abbaye de Fontenay....
Maison individuelle au rez-de-chaussée : cuisine aménagée et équipée/séjour avec canapé-lit (140) TV, salle d'eau/WC A l'étage : grande chambre avec poutres apparentes (lits 160-90) lit BB. Patio intérieur sans vis à vis, salon de jardin, barbecue, idéal pour la lecture, le petit déjeuner sous un joli figuier. Face à la maison : grand jardin avec emplacement parking, salon de jardin, chaises longues, vue Canal de Bourgogne.
Notre gîte se trouve dans un petit village, au calme, au pied du canal de Bourgogne. Idéal pour le repos, les randonnées, le vélo.
Petite maison parfaite pour un séjour dans le région! Très bien équipée, propre et comfortable! Nous ne sommes restée qu'une nuit mais véronique à été très accueillante!
Alice
2016-05-07T00:00:00Z
Nous avons passé un très agréable séjour chez Marcel et Véronique . Le gite est vraiment très chaleureux, ce genre d'endroit où l'on se se sent très vite, très bien :) . Le gite est très bien équipé. ( Gros coup de coeur sur la chambre à l étage) Quant à sa localisation, juste parfaite, calme, au rythme de la nature, à quelques pas de Canal de Bourgogne pour les amateurs de running, VTT où balades dans un cadre magnifique. Marcel et Véronique ont toujours été disponibles pour répondre à nos questions et très accueillant dès notre arrivée tout en respectant notre intimité. Nous recommandons ++++++ Gilles et Céline
Gilles
2016-12-30T00:00:00Z
Room Type
Entire home/apt
---
Property Type
House
---
Accommodates
3
---
Bedrooms
Tanlay, Bourgogne, France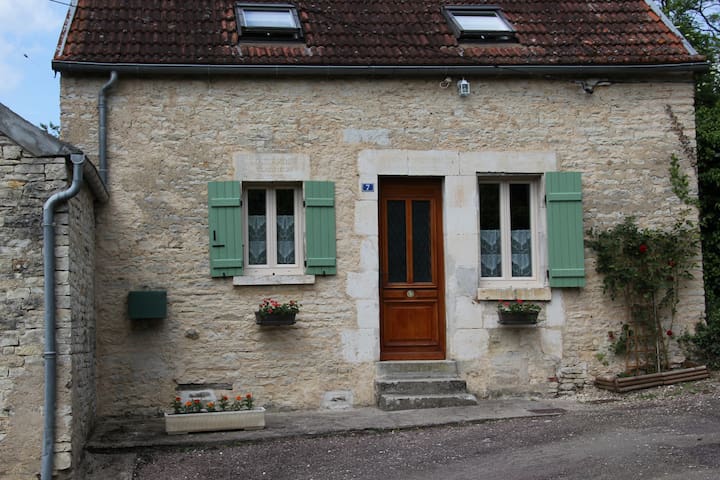 De huurprijzen in huis ind. Onlangs gerenoveerd binnen, een kamer met een 140x190 bed, met badkamer / toilet gescheiden. Village een paar kilometer van Chablis / Auxerre / Troyes, langs het Canal de Bourgogne.
I had a good stay in the room in the beautiful house of Corinne. The bed was very comfortable, the room and bathroom clean and nice. The breakfast was really good! I wanted to leave early in the morning, which was no problem for Corinne. She was a very friendly and gentle host.
Judith
2016-09-21T00:00:00Z
I enjoyed my stay with Corinne. Her house is very comfortable and attractively decorated. It is spotlessly clean. Though close to a major road traffic noise is non existent. Corinne is helpful and friendly. I was very well looked after. She is located on the edge of the village but one has to drive to the nearest supermarket and facilities.
Barry
2016-05-14T00:00:00Z
Encore un grand merci pour votre accueille, votre discrétion et votre gentillesse. La cerise sur le gâteau fut le petit déjeuner. Au besoin, nous reviendrons sans hésitation. Bonne continuation
Céline
2016-05-06T00:00:00Z
Alles prima, ontvangst is vriendelijk en discreet, kamer en badkamer proper en comfortabel.
Leen
2016-07-29T00:00:00Z
Séjour réussi : chambre et salle d'eau impeccables et propres, le tout dans une maison pleine de charme. Corinne nous a très bien accueilli, discrète, elle est néanmoins toujours pleine d'attention pour ses hôtes, c'était un plaisir. Les petits plus : Petit déjeuner, parking, environnement, cuisine et salon à disposition, calme et convivialité. Adresse à recommander !! Encore merci David & Karine
David
2015-09-22T00:00:00Z
Je remercie Corinne pour son accueil et sa gentillesse. J'ai passé un excellent moment en sa compagnie. Je la recommande vivement !
Julie
2015-12-07T00:00:00Z
Corinne nous a très bien reçu en cette veille de réveillon. Ce fût un plaisir de partager le petit-déjeuner ensemble et de discuter un peu avant de reprendre la route. Le logement est très bien tenu et se situe à proximité de plusieurs belles villes de Bourgogne. Un très bon accueil. Merci.
François
2016-12-31T00:00:00Z
Chambre et salle de bain très propres et fonctionnels, idem pour la cuisine et les ustensiles gentillement mis à disposition. Merci à Corinne pour ce séjour qui m'a permis de m'immerger dans la vie Tonneroise !
Guillaume
2015-10-20T00:00:00Z
Room Type
Habitación privada
---
Property Type
House
---
Accommodates
2
---
Bedrooms
Flogny-la-Chapelle, Bourgogne, France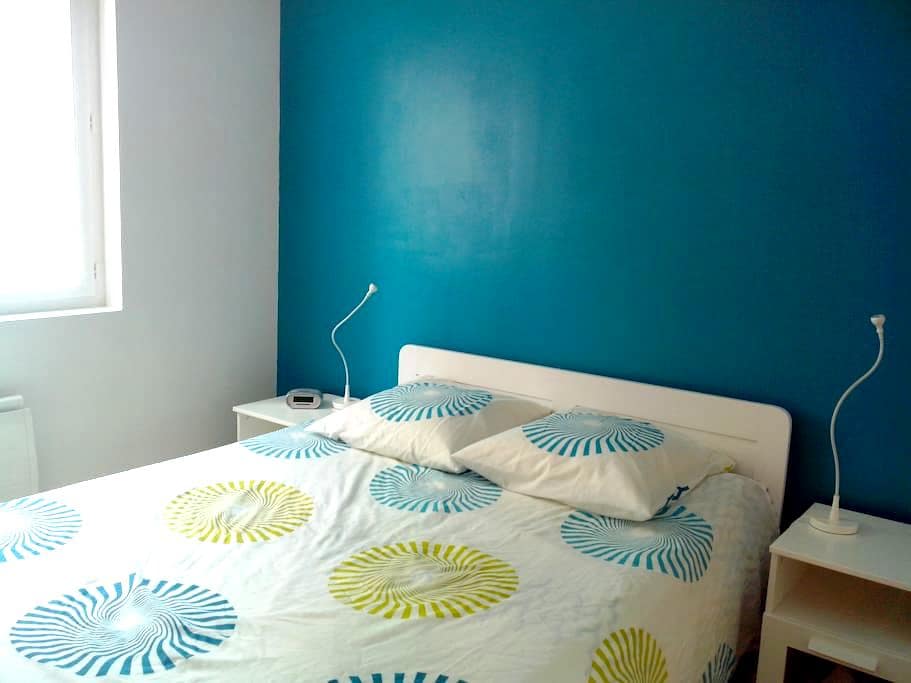 A 12 km de Tonnerre, non loin du canal de Bourgogne, Lelmer est un lieu singulier pour les découvreurs de patrimoine naturel et historique. La chambre, sobre et confortable, est prolongée par une terrasse dominant la forêt toute proche.
En campagne forestière, entre Tonnerrois et Pays d'Armance, vous disposerez d'une chambre équipée d'une salle d'eau ; entrée indépendante - TOILETTES SECHES (extérieures et intérieures) - accès libre au vaste jardin naturel.
Room Type
Habitación privada
---
Property Type
House
---
Accommodates
2
---
Bedrooms
Lignières, France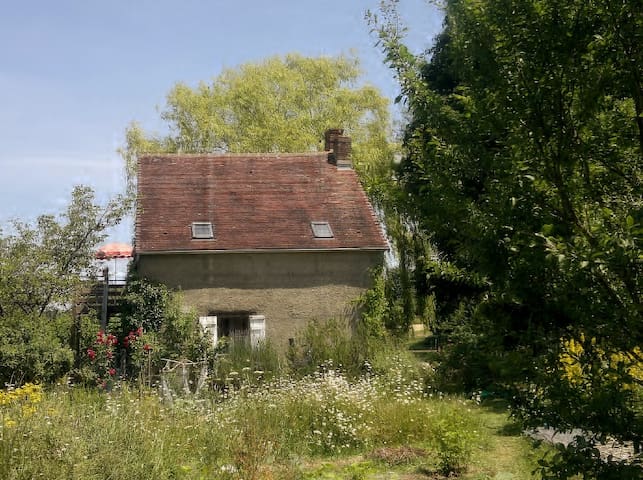 Welcome to my house, warm and friendly to share a good meal, a pool table, a discussion by the fireplace or in the hammocks, a stroll in the garden. You can borrow bicycles. So, Travelers, See you soon !
Hello & Welcome home! * * * First, to give you an idea of places: 2 hours from Paris, 2h45 from Lyon and 15 / 20min from Chablis, in a small quiet village, our little nest is located in a quiet and peaceful cradle of nature at the edge of the Burgundy Canal. Here, life teems, (SENSITIVE CONTENTS HIDDEN)s and is ongoing with the seasons while it is active in all sorts of occupations: gardening, crafts, cooking, sports, music, reading or meditation ... all without lose an opportunity to celebrate and toast with a glass of Chablis! * * * To reach and locate you geographically: - This is the third house on the right arriving in front of the lock - 2 steps from the Coffee Road "Chez Meme" where you eat very heartily for around € 12 (expect a nap coming out ...) - 5 minutes from the Château d'Ancy le Franc and the beautiful park (the most beautiful Renaissance castle in the region) - 10 minutes from Tonnerre Small town character with Fosse Dionne and the old Hospital Margaret of Burgundy - 10 minutes from the Castle of Tanlay and Golf course 9 holes - 15 / 20min from Chablis vineyards, fields and cellars - 30 minutes from Montbard - TGV - 45 minutes from Troyes, Auxerre, Avallon * * * From a practical standpoint, the house comprises: - A large kitchen - A dining room for 10 people - A large living room with fireplace - A pool table and a reading corner - 5 double rooms - 1 shared room - 2 Bathrooms - 2 toilets - 2 parking spaces - 1 Table tennis - Garden furniture - 1 barbecue - 2 Hammocks * * * The price for the night includes: - A room "beautifully decorated" with double bed - The sheets (and blankets) - Towels, shower gel & shampoo - A simple breakfast with tea, coffee, biscuits and jams - Access to Wifi (functional, I use it every day) - The various facilities of the house at your disposal and listed in the description of the house - And "the energy expended" to welcome you in the best conditions * * * Clarification breakfast: A small simple breakfast is offered, included in the price of the room, with tea and / or coffee, biscuits and home-made jam. If you want a full breakfast, consider me clarify, I can offer you, for a small fee 5 € / person - Fresh home-made bread, - Fruit juices, - cereals, - A wider choice of jams and side dishes - Possibly pancakes or waffles Most of the products are organic when possible. * * * To welcome you: I will be a joy and a pleasure to welcome you most warmly and simply as possible! However, I should point out that the house is not a hotel but "a nice home-stay room and breakfast". I have no training in "hotel / restaurant" but I love travelling and welcome! I want to share with everyone my roof passage open exchange around the table (and incidentally a drink or coffee), in the original spirit of couch-surfing. I like meeting new people, I expect this to be the occasion of discussions on our respective life experiences. * * * To make the experience richer for everyone and leaves us great memories of each other, it will be appreciated that each : - Be respectful of beings living in the house (plants, animals, people ...) as well as equipment and spaces available to you - Ensure keep them clean and pleasant places * * * To get out and have fun: I shall recommend you the good output places in the area: - Walking or biking - Cultural & historical heritage tours (varied in the area: castles, remarkable sites, museums, art galleries, cinema, concerts, Land Art ...) - From the simplest to the most gourmet restaurants - Bike paths and roads for auto rally - Swimming and corners likely to lay his coverage - Local events, empty attics, feast of St Vincent Chablis, Fires of St. John Vinées Tonnerroises, Aperitif concerts on summer evenings ... * * * And if after all that, you have other questions, do not hesitate! I will try to answer you as soon as possible! Wishing you a pleasant stay at home. Looking forward to welcoming you ! See you soon !
- "Ancy-le-Libre" is a quiet, pretty small village at the edge of the Burgundy Canal where there are more animals than people ... - There is still a small roadside cafe named "Chez Mémé/At Granny" (very filling meal with coffee and drink for € 13.50, plan nap after leaving ...) Many walks are possible, the canal, around the laundry, along the ru to the pond, in the small alleys, and at the source ... I can be your guide to pleasant strolls: - Canal - To source for some ricochets - In forest including Argentenay where we can do the walk to the "Green Giant" and discover the works of LandArt or rather "ForestArt". I can also take you to see the city of Tonnerre (That means Thunder) and the Fosse Dionne, mythical laundry horseshoe iron eighteenth century, and the various castles and monuments nearby (Castles of Ancy-le-Franc, Tanlay, Maulnes, Abbey Quincy, Forges Buffon ...)
The setting for the home was very good, it was a quiet village with a lovely canal at the bottom of the drive. Sadly we didnt have a good stay however as the host wasn't aware we were arriving despite making the booking and paying in advance. As we were new to Airbnb and had various accommodation booked on this holiday I assumed they would remember we were coming and be there to welcome us. The home was completely closed up, shutters and the home was very musty and not ready for guests. We had to visit a number of neighbours, make calls and eventually we tracked down the host. With 3 children and after a very long drive this was not ideal. The cleanliness was lacking and I suspect this was due to them not making a note of our booking. When the host did turn up she was pleasant and stayed the night with her partner, leaving very early in the morning.
Lisa
2016-08-11T00:00:00Z
Valérie is very friendly and helpful. She gave great insiders tips and even organised a meeting with a local wine producer!! The house location is fantastic! There are loads of things to do. Loved the proximity to the canal. It is worth staying there for a week.
Miguel
2016-08-03T00:00:00Z
Tt c'est très bien passé comme la dernière fois hôte presente et très.sympathique.
Jm
2016-05-14T00:00:00Z
Séjours très agréable dans pavillon au calme dans petit village de Bourgogne. Valérie a été soucieuse de nous rendre le séjour le plus agréable possible et a pris du temps pour échanger avec nous sur de nombreux sujets et pour nous indiquer quelques curiosités à ne pas manquer. Nous recommandons cette étape.
Paul
2015-10-30T00:00:00Z
Nous avons passé un weekend vraiment très agréable dans la maison de Valérie, qui nous à accueilli très chaleureusement et fait sentir tout de suite chez nous. Le soir, il est possible de jouer au billiard, faire de la musique, déguster ses super infusions... et découvrir la cuisine de Mémé, très bon restaurant routier juste à coté. Le jour, se balader le long du Canal de Bourgogne qui est juste en face, et découvrir la région qui est merveilleuse. Nous allons revenir!
Michele
2016-01-31T00:00:00Z
Des amis et moi avons passé le nouvel an chez Valérie. La maison est vraiment superbe et le lieu très agréable pour se réunir entre amis. Valérie a été très sympathique avec nous!
Benjamin
2017-01-01T00:00:00Z
Très bon accueil,grande communication on se sent à l'aise complètement voir comme chez a la maison la maison du bonheur quoi...
Jm
2016-04-28T00:00:00Z
Très bon accueil et hôte très sympa. Possibilité de jouer au billard tous ensemble. Maison chaleureuse et spacieuse située dans un environnement calme propice à un sommeil apaisant. Nous recommandons vivement de séjourner dans la maison de Valérie.
Baron
2015-10-25T00:00:00Z
Room Type
Habitación privada
---
Property Type
House
---
Accommodates
16
---
Bedrooms
Ancy-le-libre, Bourgogne, France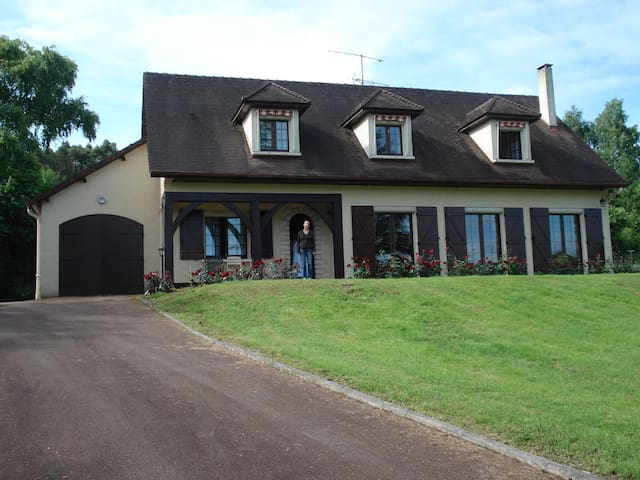 We fell in love with this stone home built in 1850 nearly 3 years ago. In the heart of Chablis wine country, the location on the Burgundy Canal and its proximity to so many wonderful sites left us breathless. We bet you'll fall in love with it, too
We have been restoring this home since purchasing it a few years ago. One of our favorite moments of the day, is having a coffee or glass of wine on the front terrace for a front-row seat of all the boats going through the lock. Christophe, who manages the lock, is a friend and great neighbor always happy to help. Just behind the lock, there are great walks to be had on the more than 100km of trails in the region in either direction. Behind the house, we have a large terrace (100sqm) and a large garden of 1000sqm. Both are full southern exposure.
Boat-watching is a must, as are long bike rides along the Canal de Bourgogne. The only business in our village is called Chez Mémé, a restaurant just 2 doors down from our home. Sunday brunch Chez Mémé is a regional institutation: at 12 euros/person including wine and dessert, don't forget to reserve! For sightseeing nearby, don't miss the castles at Ancy le France as well as Tanlay. The Abbaye de Fontenacy, a Unesco site, is 30 minutes away and an absolute must! We have lots of recommendations for wine-tasting in the area, for Chablis as well as a delicious local red wine, Irancy, which is not as well known outside of France.
Lauren offered so many good tips for experiencing the local life and was very helpful in tips for planning our days during our stay. She was also very accommodating making the reservations for our rental. Quick to respond and easy to work with.
Amy
2015-07-20T00:00:00Z
Lauren was a perfect host. She responded quickly to the few queries we had, and provided suggestions for things to do and the local hidden gems. The property was as described and shown. Our party consisted of four kids (aged four to ten) and five adults, and the house provided a perfect base for exploring the surrounding area, and also for relaxing in the summer sun. The garden is massive and was perfect for the kids to run around and play in. Also, we enjoyed eating outside in the sheltered patio area most evenings and made good use of the host's barbeque. The host's four bikes were perfect for cycling along the nearby canal cycle path, which allowed us to visit the neighbouring villages where there are small cafes. We enjoyed a lovely Sunday lunch in the friendly, unpretentious and good-value Chez Meme café/bar/restaurant which is located in Ancy-le-Libre a short walk from the house. The location is quiet and the adjacent canal lock provided an interesting focal point, with a handful of barges and boats passing thorough it each day. The kids enjoyed fishing in the canal. We used the supermarkets in nearby Tonnerre, which is a ten minute drive away. The house provided a perfect base for a couple of day trips - one to southern Champagne, and one to Chablis.
Martyn
2016-07-28T00:00:00Z
Lauren was a fantastic host, very easy to communicate with. House was ideally suited for small children.
Eliza
2015-07-24T00:00:00Z
Lauren's house is the perfect combination of antique charm and modern convenience. We especially loved our cozy bedroom and the spotless and totally modern upstairs bathroom. But our favorite room by far was the kitchen, tastefully designed and beautifully equipped. We came to this quiet corner of Burgundy to ride our bicycles along the historic Canal de Bourgogne, and this was the perfect starting point. The house sits by a bend in the canal; from the front door you look directly across the canal to the lock-keeper's house - yes, this lock is still hand cranked open and shut - while from the kitchen window you have a long view down the canal to the west. The pleasure boats that use the canal are few and far between, so when a boat approaches and passes through the lock, it's quite a thrill - like stepping back in time to the 1830's when the canal first opened. Many thanks Lauren for opening your house to us; we look forward to our next visit!
Jamie
2015-07-29T00:00:00Z
Nous avons passé un excellent weekend dans cette belle maison qui a été rénovée avec beaucoup de goût. L'emplacement est idéal pour ceux qui ont envie de se couper du monde et déconnecter.
Cristina
2016-06-06T00:00:00Z
Nous sommes restes un week end et c'était trop court. La maison est très agréable, bien équipée. Le jardin est superbe même si octobre n'est pas la meilleure période pour en profiter ;-) Lauren et son mari Nicolas sont des hôtes très accueillants et également très disponibles, ce qui est très appréciable. Les plus pour nous qui avons deja "testé" plusieurs maisons en Bourgogne : les lits faits à l'arrivée, les serviettes et tapis dispos . Nous recommandons cette adresse pour des week end ou vacances en famille ou entre amis.
Cécile
2015-10-19T00:00:00Z
Nous avons passé un excellent Noël en famille dans cette charmante maison au bord du canal de Bourgogne. Nous avons beaucoup cuisiné, discuté au coin du feu et l'espace était favorable à la cohabitation de notre grand groupe. L'environnement immédiat est d'une grande douceur et le temps magnifique sur cette belle campagne. Face à l'écluse nous avons emprunté le chemin de halage pour de délicieuses promenades digestives. Merci à Lauren et sa famille.
nadia
2015-12-28T00:00:00Z
L'host ci ha accolti con gentilezza e disponibilità. Come detto l'unico problema serio sono state le camere del piano di sotto, cioè 4 posti letto francamente meno godibili, per questo abbiamo preferito stare tutti e 8 al piano di sopra in 6 posti. Ma le camere ci sono e ci si può dormire. Lauren è stata molto gentile quanto l'ho chiamata per soccorrere un turista che si era perso nella zona e chiedeva aiuto. Lei si è adoperata per aiutarci. Grazie ancora. Per il resto sempre molto gentile e ci ha omaggiato con due belle bottiglie di vino. Casa consigliata per la sua posizione, tranquillità. Ottimo giardino per i bambini e di fronte alla casa prati e canali per pescare.
Fabio
2016-08-14T00:00:00Z
Room Type
Entire home/apt
---
Property Type
House
---
Accommodates
10
---
Bedrooms
Ancy-le-libre, Bourgogne, France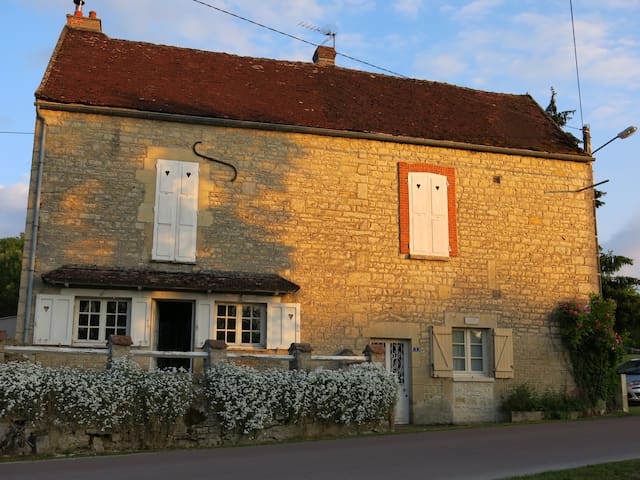 Tonnerre - Airbnb
:
Average

4.51

out of

5

stars from

254

guest reviews
1

–

18

of

81 Home Rentals
Enter dates to see full pricing. Additional fees apply. Taxes may be added.