Enter dates to see full pricing. Additional fees apply. Taxes may be added.
This is a lovingly refinished 1910-era folk victorian rescued from demolition and relocated to the banks of the Cannonball River near Mott, N.D., near the Badlands, Black Hills and in grassland prairie country. The west view to sunsets is so restful and wildlife abounds on the river.
This is a "saved" property, circa 1920, that was scheduled for demolition and moved to the present location. Every attempt was made to renovate this wonderful property and maintain the existing character of the dwelling _ there are some signs of its age _ chips in the old enamel sink, for example _ but those are part of the charm. The entire property is available for guest use. I'm very available by cell phone, but do not live in the community where the property is located. Please feel free to reach out with any questions, or if you need localized information.
You'll find that you have plenty of privacy, but feel to walk around and stop in a say hello to whoever you meet. The downtown is small, but friendly. Mott is a sweet little North Dakota town and the cottage overlooks the Cannonball River that runs through it. Lovely and very pastoral. The local grocery closes at 5:30 p.m. and is not open on Sundays. The local Pheasant Cafe serves wonderful breakfasts and is open through supper. Nearby Regent (15 miles west) has a Cannonball Saloon with a good steak and burger.
The host canceled this reservation 31 days before arrival. This is an automated posting.
Rebecca
Cute place with plenty of room. Would love ton return in the summer to enjoy the river (mere steps from the front door!) and some of the natural surroundings.
Jessica
May 2015
The stay at the Cannonball Cottage was just fine. Lauren provided us with ample information and precise directions and we found the place without difficulty, even in the dark. The place itself is a charming, converted farm house that reminded me of my grandma's. The town itself doesn't offer many food options, though, so make sure and bring your own.
Lindsay
November 2015
This cottage is adorable, a great getaway! The host was very helpful. Due to weather we did not get to experience the fire pit or much outdoors but the cottage was a great place to be for us. Thanks!
Danae
April 2016
Lauren was great at communication and the cottage was lovely. The porch faces a small river and it is very beautiful. The cottage is in a remote location, so if you are looking for a quiet retreat spot, this is the place to go.
Lynn
July 2014
I was hoping for a night of peaceful quiet seclusion and this was *almost* that except for the stormy weather! Perfect location and view from the back porch was even more gorgeous than I expected. But for the heat when I arrived and the noisy windy rainstorm this was a fantastic stay!
Carrie
July 2016
Cozy, welcoming cottage on a peaceful little river. Loved the view from the porch! Great communication from Lauren. Thanks for a restful stay!
Katie
July 2016
Lauren was great at communicating with us before our arrival. We really enjoyed our stay and felt like real North Dakotans. The cottage is cute, but the back porch was a wonderful place to sit out overlooking the river. We loved the quiet and peacefulness. A couple Rolling Rocks were welcome after our long drive. Thanks, Lauren(URL HIDDEN)
Kathleen
August 2016
Room type
Entire home/apt
---
Property Type
---
Accommodates
4
---
Bedrooms
2
Mott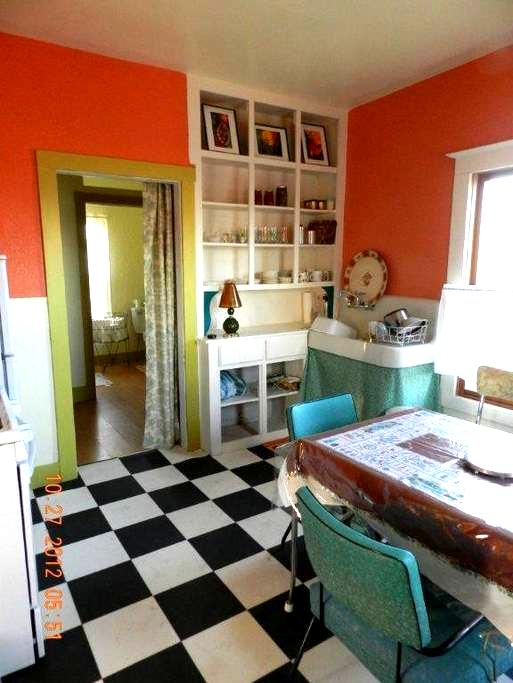 Renting a cozy room with a queen size bed in a 2bedroom condo. Close to major pubs, Frwys, shopping complex, gyms, Restaurants, Museums, and gas stations. Condo, has a kitchen, dinning room, living room, cable, stereo, washer/dryer, etc. A real home away from home!
A homey feeling. All amenities in the Condo. Whenever l'm home
Accessibility to lots of interesting things in the neighborhood. Yes
There was last minute construction in Emmanuel's neighborhood, disrupting traffic and knocking out utilities. This made it very difficult at the last minute for him to host me. He paid for a hotel room instead, which worked out fine. Other than the fact he came through for me, which I really appreciate, I can't rate his place. Thanks, Emmanuel!
Nathan
August 2016
We had a nice stay thank you
Crystal
June 2016
Nice location close to the highway. A little noisy, but the windows block most of the noise.
Matthew
June 2016
I didn't get the chance to meet Emmanuel, but I can tell he's a very kind and nice host. He was on the phone all he time, making sure I had everything I needed. The house is great. Big and extremely tidy and clean, I had a lovely time there. Would definitely stay here again!
Lydia
December 2015
The host canceled this reservation the day before arrival. This is an automated posting.
Kevin
Room type
Private room
---
Property Type
---
Accommodates
2
---
Bedrooms
1
Dickinson