My place is close to the major roads of University Heights, Shaker Heights, and Cleveland Heights along with their restaurants and shopping areas. You'll love my place because of It provides all the comforts of home in a safe neighborhood with lots of charm and convenience. My place is great for couples, business travelers, and families (with kids).
We recently purchased this house, and we love it. We will be happy to give you any tips or points of advice on getting around or places to see.
University Heights is full of colonial style red brick houses. It is right next two Shaker Heights and Cleveland Heights which have large, beautiful houses from the 1920s.
Room Type
Entire home/apt
---
Property Type
Apartment
---
Accommodates
6
---
Bedrooms
University Heights, OH, United States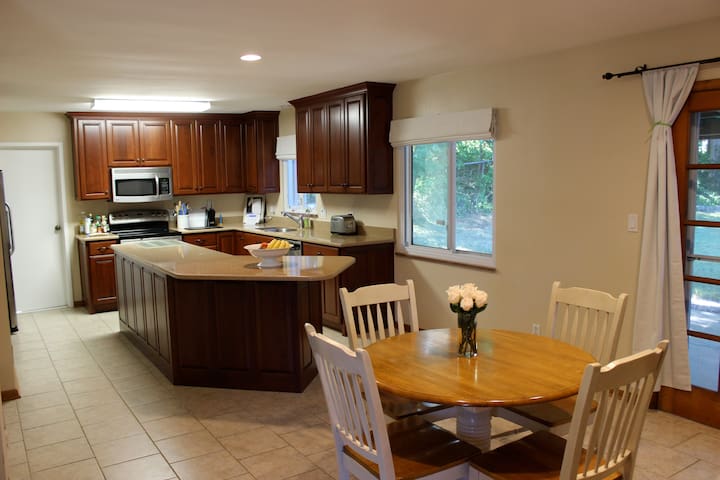 One-bedroom apartment for rent, conveniently located in Shaker Heights. Easy access downtown via public transportation (rail station within walking distance, direct line to Tower City) or via car. Within walking distance of John Carroll University, Whole Foods, Target and many restaurants. Easy access to Cleveland Clinic, University Hospital and Case Western Reserve University. Short drive to numerous shopping options, including Beachwood Place and Legacy Village.
I really enjoyed staying at Jeremy's spacious and well-equipped condo. It had everything I needed for a long-term stay, including a comfortable bed and garage parking. I especially appreciated all of the kitchen amenities and supplies. The communication with Jeremy was great, and he made the check-in/check-out easy. I would definitely stay here again.
Amanda
2017-01-27T00:00:00Z
Fantastic stay - Jeremy's place was clean, large, and perfectly located in Shaker Heights. The parking spot was also a plus -- a garage attached to the building, so you didn't have to go outside when its raining. Jeremy was a pleasure to deal with, super easy. Highly recommended.
Jonathan
2016-09-30T00:00:00Z
Jeremy was an excellent host during my stay. The apartment was quiet, safe, clean, and the indoor parking was a huge bonus. Overall a great experience!
Aaron
2016-09-17T00:00:00Z
Very nice apartment in a great location.
Yuri
2016-08-22T00:00:00Z
Nice, quiet, clean apartment in good neighborhood. Very basic but a great place for the price.
Chris
2016-11-18T00:00:00Z
Jeremy is an excellent host and the apartment was just as advertised. Very clean, very well-maintained. The building and the attached garage are secure. The full-size bed (not queen/king) was very comfortable. The kitchen is fully equipped, and the refrigerator, microwave, stove/oven and coffee maker provide all you'd need for an extended stay. A few additional amenities -- which may be in place by the time this is published -- would be useful: a full-length mirror and bedside reading lamps. For those unfamiliar with the neighborhood, it's a terrific, suburban environment with tons of restaurants and shopping nearby -- including what may be the very best French bakery you've ever been in, outside of France: "On the Rise." Be sure to ask Jeremy about it. Overall I was very pleased and would definitely return. Thank you, Jeremy!
James
2016-09-02T00:00:00Z
Great experience. Jeremy was prompt, polite, and helpful in navigating the neighborhood. The apartment was very clean and met my needs well. I have no complaint or concerns. The parking garage was an unexpected benefit.
Darryl
2016-12-05T00:00:00Z
Exactly as advertised. Great location! Jeremy was a great communicator and very accommodating. Highly recommended.
Kevin
2016-12-29T00:00:00Z
Room Type
Entire home/apt
---
Property Type
Apartment
---
Accommodates
2
---
Bedrooms
Shaker Heights, OH, United States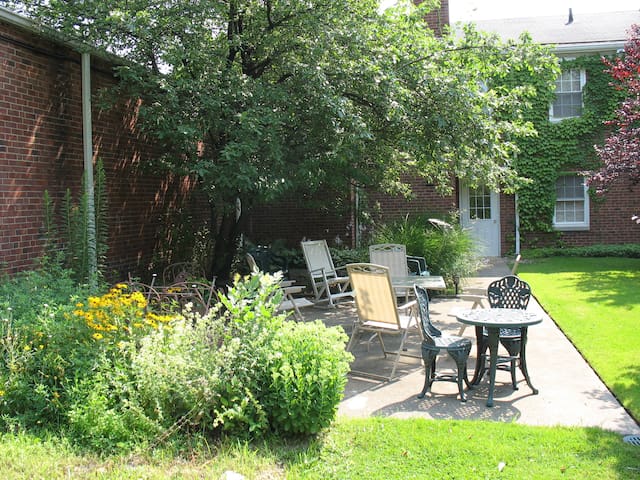 Updated basic two bedroom one bathroom 3rd floor attic apartment with private entrance. Located on the 3rd floor of a 1930's home in Shaker Heights. Queen bed, small living area with small double futon, flat screen tv, desk, and small *kitchenette. (Please note there is not a full kitchen) *see details. Single bed & flat screen tv second room. Public transit 3 blocks away. Driveway parking for one car. Access to basement laundry.
I welcome children and families, however, it is not child proofed in any way so may not be suitable for children under two. There is a wooden stairwell within the unit. It is on the third floor in a converted two bedroom attic space so there are stairs to consider. In the bathroom there is a claw foot bathtub so for showereing/bathing this is also something to consider if you have difficulty climbing in and out. The space has a large main room with queen bed and full futon...also has the kitchenette and small living area in it. Down the hallways is the second smaller room with the twin bed that has the one closet for the apartment. The full bath is located off the hallway and is easily accessible to both rooms. There is a cat living in the apartment downstairs but it is an indoor pet and never has access to the third floor apartment. This house is shared with two other tenants who live in the apartments below. This space could possibly accommodate 4 if someone wanted to use the futon to sleep on.
Shaker Heights is a beautiful family suburban neighborhood full of diverse interesting people. The public transit can't be beat.
The apartment was nicely decorated & clean. Very cute and cozy! The coffee and snacks are a nice touch. Liz's husband was friendly & helpful. He responded promptly to any questions or problems. It probably should be noted that there is only parking for one car in the driveway & you can't park on the street between the hours of 2-6am. No problem if you only have one car, but we had two. After booking it was mentioned that we could only park one car in the driveway, but no mention of the ban on overnight street parking - we didn't find that out until we arrived. Just wish it had been made clear up front, perhaps in the listing. That way we could have avoided the late-night trips out to move the second car.
Jill
2016-11-14T00:00:00Z
We loved our stay here! The space is so incredibly beautiful - decorated so serenely and a diffuser by the bed made everything smell amazing. The apartment had everything we needed, including the cutest snacks and easy instructions for wifi. Elizabeth was so sweet and was home whenever we were, so she was easy to reach when we had a question! We will definitely look to stay here again the next time we find ourselves in Cleveland!
Rachel
2016-10-09T00:00:00Z
The place is wonderful for everyone between 4 and 70. Since the steps are steep, it might be challenging for the old and very young. The apartment is lovely, very airy, bright, perfectly clean and seems larger than it is by means of the white walls, floors and bright textiles. The linens and towels were fresh and clean, just as everything else. There was WiFi, two flat screen TVs, one in each bedroom, and a fridge with snacks and drinks. A coffee machine plus coffee was also there and very appreciated. There was a parking spot on the property. The neighborhood seemed to be upscale and peaceful. I can't say much more, because we used the car more than we walked. It's definitely a place I would go to again and I can wholeheartedly recommend it.
Jo
2016-11-27T00:00:00Z
Elizabeth's place is very comfortable. There are 2 spacious rooms, which makes it very suitable for 2 people. The location was great for us . We stayed for 9 nights and every evening It was like coming back home .
iris
2017-02-16T00:00:00Z
This place is really a steal - Its great for one or two people. The neighborhood is "old Shaker Heights" - residential great old houses with lots of character. It's very convenient to the freeway and eastside cultural stuff. I was actually visiting family in Twinsburg and it was an easy 15 minutes from either 271 or Richmond Road. Elizabeth is also great - she was more flexible than I deserved as I was dealing with a lot of family drama that kept delaying my check in. I hope to stay there next time I'm in town
Daniel
2016-12-30T00:00:00Z
This location is SO clean and comfortable. Completely exceeded my expectations. Highly recommend it!
Diane
2017-01-01T00:00:00Z
Elizabeth's place is gorgeous - right out of a design magazine - as well as comfortable, clean and has absolutely everything you need. The location is quiet and pretty, near major roads for access to all parts of Cleveland. We were really happy to have a fridge and utensils and things to eat in the house, and also she so kindly allows access to laundry! A score for traveling with kids. As others have noted, the stairs and the shower may be tricky for anyone with limited movement.
Beth
2017-02-23T00:00:00Z
Great space in a really interesting neighbourhood. Liz was very welcoming and always available if needed. The apartment is replay nicely decorated and located in easy reach of all the parts of Cleveland you'll want to see. Area is quiet but lots of things going on just down the road. Would definitely go back next time I'm back in Cleveland.
David
2016-10-30T00:00:00Z
Room Type
Entire home/apt
---
Property Type
Apartment
---
Accommodates
3
---
Bedrooms
Shaker Heights, OH, United States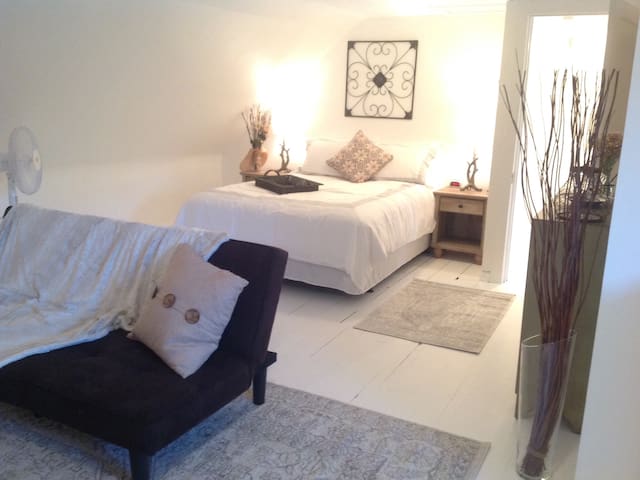 Newly updated 2-bedroom apartment in Shaker Heights. First floor unit in a 2-family duplex.
All new appliances, granite countertop, cooking utensils. New washer & dryer in the unit. Private secure location in quiet Shaker Heights neighborhood. Near library, grocery store, beverage store & other shopping. Short walk to RTA and access to downtown Cleveland or medical facilities. Two bedrooms--one with queen bed, one with full-size bed. Free wi-fi.
Exactly as advertised. Sherrill was excellent with communication before and during the stay and very accomodating to our needs. It appears as though the entire unit has been recently updated including very nice appliances in the kitchen, a desk with a provided printer to work, a nice bathroom, and very comfortable mattresses. If we ever have to return to Cleveland for a short stay we would not hesitate to stay here again
Brian
2017-03-17T00:00:00Z
Great space and a wonderful Shaker Heights location! Sherrill made everything easy from beginning to end and I thoroughly enjoyed my stay!
Natasha
2017-03-23T00:00:00Z
Room Type
Entire home/apt
---
Property Type
Apartment
---
Accommodates
4
---
Bedrooms
Shaker Heights, OH, United States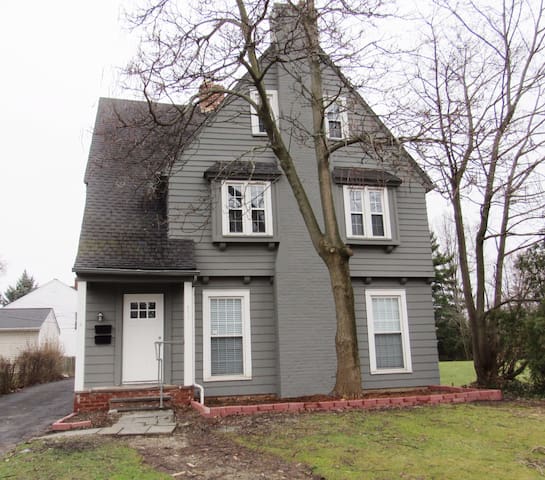 Room Type
Entire home/apt
---
Property Type
Apartment
---
Accommodates
2
---
Bedrooms
Shaker Heights, OH, United States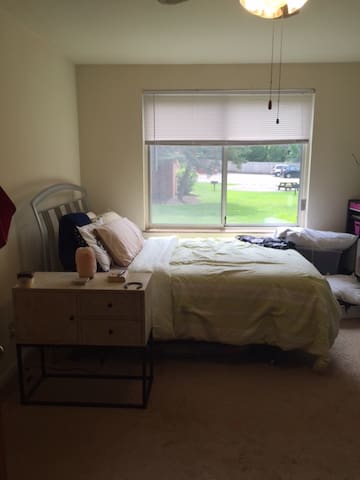 Just minutes from Downtown Cleveland by public transport with plentiful street parking, my spacious, just remodeled apartment is the perfect, cozy get-away from the noise of the city. Enjoy the historic charm of Shaker Heights while soaking in CLE.
Fully renovated 1 bd, 1 ba apartment with stainless steel fixtures, hardwood floors, crown molding, art deco tiles, and mood lighting in every room. Kitchen: Modern with granite counter tops, wood cabinets, stainless steel Frigidaire and Whirlpool kitchen appliances, dishwater, electronic stovetop, deep sink with detachable sprayer kitchen faucet and self-closing drawer system. Fully stocked with dishware, glasses, tools and utensils for nights when you'd like to stay in. Bedroom- Automatic summer fan, electric air conditioning and spacious, lighted walk-in closet and linen closet. Connected to the main living space with double doors for ultimate privacy. Queen-sized bed with memory foam mattress, set of 2 memory foam pillows and 100% goose down pillows for a best night's sleep. Bathroom- stone tub with shower head, tri-fold bathroom mirror, stone counter-tops with updated brass fixtures and additional storage below.
The Shaker Heights neighborhood, founded in 1912, is one of Cleveland's first suburbs. Now, it is home to multitudes of shops, eateries and restaurants, with Shaker Square, and its many fine dining establishments such as Edwin's and Fire, as the heart of town. My apartment is directly in front of the Shaker Heights Country Club. The tree-lined streets of the suburb are safe, clean and quiet.
Room Type
Entire home/apt
---
Property Type
Apartment
---
Accommodates
2
---
Bedrooms
Shaker Heights, OH, United States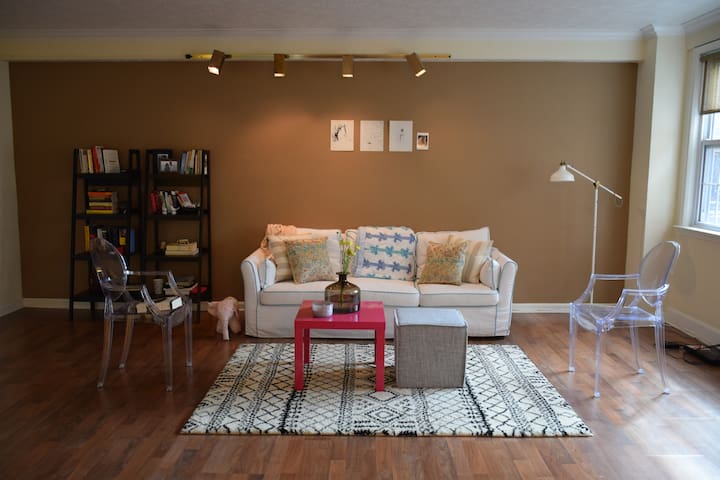 Need last minute housing for the RNC? Look no further. Beautiful 3,000+ square foot house located 20 minutes from downtown. A 5 minute walk to the RTA train station, the house is fully furnished and comfortably sleeps 6 to 8 guests. Updated and very clean with plenty of space, the house has central air, 5 TVs with cable, a gorgeous backyard with patio, a sunroom and more - all on a safe and quiet street. Includes: washer/dryer, WiFi, and off-street parking.
Room Type
Entire home/apt
---
Property Type
Apartment
---
Accommodates
6
---
Bedrooms
Shaker Heights, OH, United States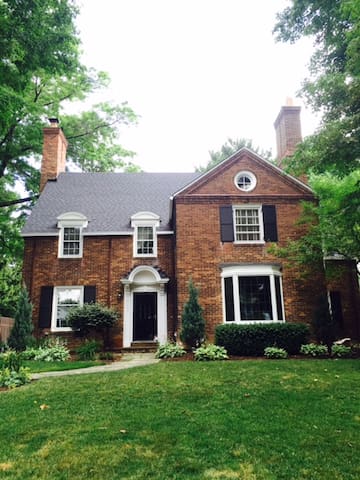 Excellent location, in one of the best and safest residential neighborhoods in Cleveland area (Shaker Heights), with easy access to major highways, and public transportation to Downtown, Cleveland Convention Center, Cleveland Clinic, Case Western Reserve, South Point Hospital, and University Circle.
Private and comfortable room with private bathroom. with all amenities included,
Shaker Heights is one the best neighborhoods in Cleveland area, with one of the best architecture, safety ratings, and public services in the metropolitan area, with friendly street and services to enjoy a stroll. Shaker residents have easy access to the resources of a vibrant Cleveland. All neighborhoods are located within walking distance of one of Shaker's two Rapid transit line connecting to downtown and Cleveland Hopkins International Airport. Shaker is Cleveland's only eastern suburb with this amenity. Abundant cultural riches including many museums and the Cleveland Orchestra at University Circle Ever-growing business community and world-class health care institutions Exciting professional sports teams: the Indians, Browns and Cavaliers
Desde el primer día, Victor se mostró muy agradable y atento en todo momento. Él es un host ideal! Por otro lado, la ubicación de la vivienda es excelente, al lado de la parada de tren y localizada en una zona bastante segura, tranquila y muy agradable. Altamente recomendable!
Daniel
2016-08-31T00:00:00Z
Room Type
Habitación privada
---
Property Type
Apartment
---
Accommodates
1
---
Bedrooms
Shaker Heights, OH, United States
Beautiful, spacious, 2000 sq. ft. apartment in one of Shaker's most desirable buildings. Open and airy floor plan with tons of light from large picture windows on tree-lined boulevard. All rooms are immaculate and unusually large. Rapid transit stop literally outside your door where train takes you to downtown and Convention Center. Free and convenient parking available. Absolutely perfect for any and every RNC need.
Room Type
Entire home/apt
---
Property Type
Apartment
---
Accommodates
6
---
Bedrooms
Shaker Heights, OH, United States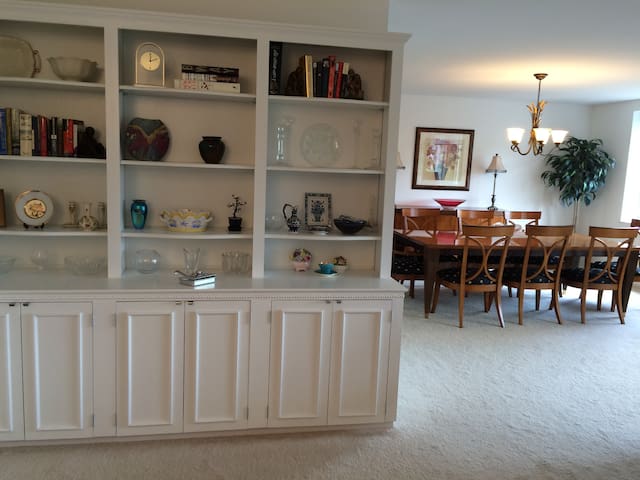 RNC guests welcome! This four bedroom, 2.5 bathroom house is located just outside Cleveland proper. It's a five minute walk to the rail line that takes you to the city center, making it perfect for anyone who needs to get into the city quickly and efficiently.
Room Type
Entire home/apt
---
Property Type
Apartment
---
Accommodates
8
---
Bedrooms
Shaker Heights, OH, United States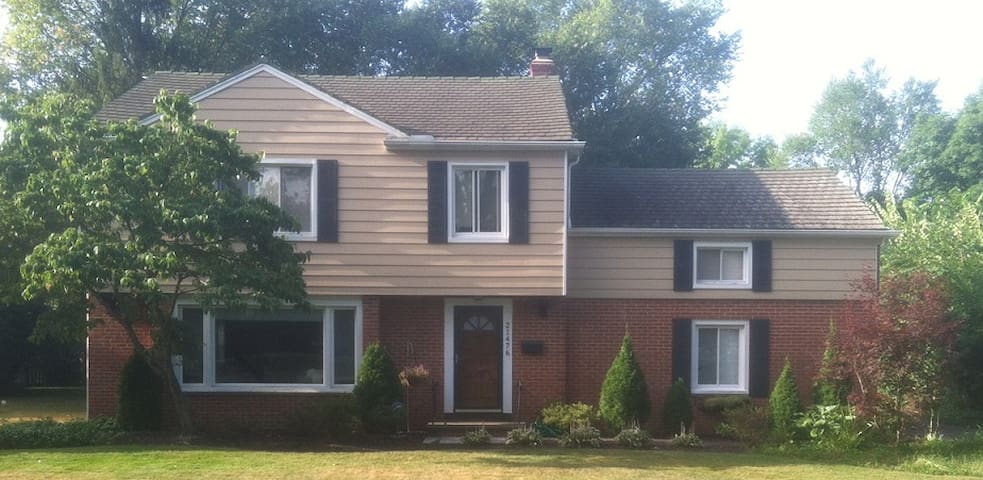 Charming Flat in Shaker Heights, Ohio perfect for the RNC. 5 minute walk to public transportation with a 20 minute ride on the Rapid to downtown Cleveland. Walking Distance to Local Restaurants. Private Bathroom and Kitchen.
Room Type
Entire home/apt
---
Property Type
Apartment
---
Accommodates
6
---
Bedrooms
Shaker Heights, OH, United States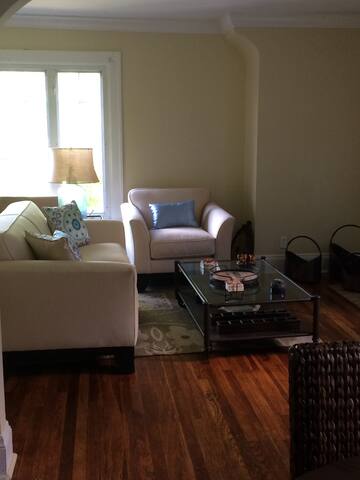 This RNC condo comes with complimentary transportation to the RNC convention daily. ( Roundtrip). My place is close to parks, art and culture, and restaurants and dining. You'll love my place because of the ambiance, the neighborhood, and the comfy bed. My place is good for couples, solo adventurers, and business travelers.
Room Type
Entire home/apt
---
Property Type
Apartment
---
Accommodates
2
---
Bedrooms
Shaker Heights, OH, United States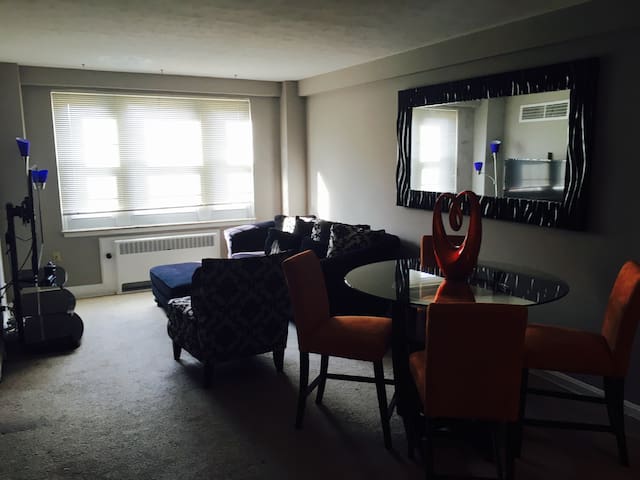 My place is close to art and culture, restaurants and dining, and parks. You'll love my place because of the location. My place is good for couples, solo adventurers, and business travelers.
Room Type
Habitación privada
---
Property Type
Apartment
---
Accommodates
2
---
Bedrooms
Shaker Heights, OH, United States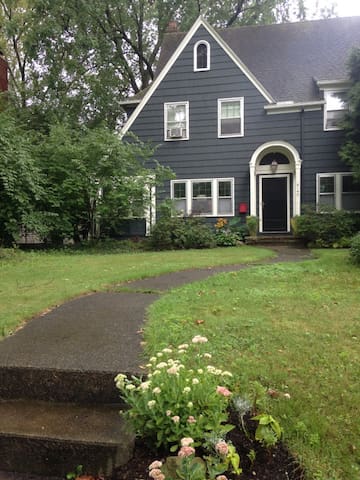 Our lovely apartment is located in a secure safe historic suburb of Cleveland. The Shaker Club is a five minute walk to Rapid Transit. Train is a 20 minute ride to downtown and can continue on to the airport. $ 2.25 each way. No need to rent a car.
Comfortable,immaculate,pretty,lovely neighborhood only available July 16 -23 2016
Beautiful tree lined streets. Historic homes.
Room Type
Entire home/apt
---
Property Type
Apartment
---
Accommodates
4
---
Bedrooms
Shaker Heights, OH, United States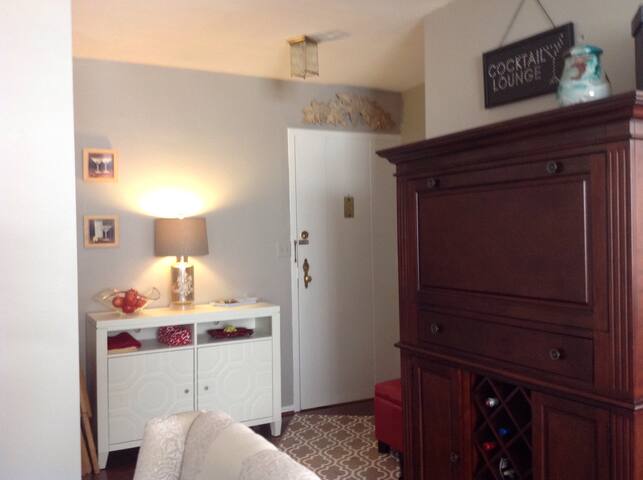 Great, big apartment available before, during and after the RNC. Take the light rail downtown and avoid driving and parking fees. Much more info available when we talk.
Room Type
Entire home/apt
---
Property Type
Apartment
---
Accommodates
8
---
Bedrooms
Shaker Heights, PA, United States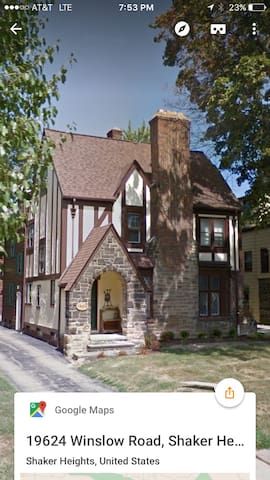 Located in the heart of Montrose with easy access to I-77, you are walking distance of major shopping, entertainment, fine dining and all the other conveniences you've come to expect. For your security this property requires a background check.
This unit has 1 queen size bed in the bedroom.
Good experience, basic but clean and with enough room for a short stay.
Diego
2015-11-21T00:00:00Z
Great value, professionally managed and maintained unit. Will try to book again for the third time next holiday season!
Chad
2016-12-30T00:00:00Z
Very clean, easy to access. Great value. Corporate listing, be prepared to deal with a paid contact that was tough to reach around the Christmas holiday.
Chad
2015-12-28T00:00:00Z
I'm very satisfied staying at this place. It's quite spacious for a one-bedroom apartment. I liked the direct access to my own one-car garage downstairs. Amenities were completed with everything I need, such as plenty of towels, kitchenwares as well as a washer and a dryer. The deco and furnishings are all very nicely done.
Yao-Min (Mina)
2016-12-22T00:00:00Z
Room Type
Entire home/apt
---
Property Type
Apartment
---
Accommodates
2
---
Bedrooms
Copley, OH, United States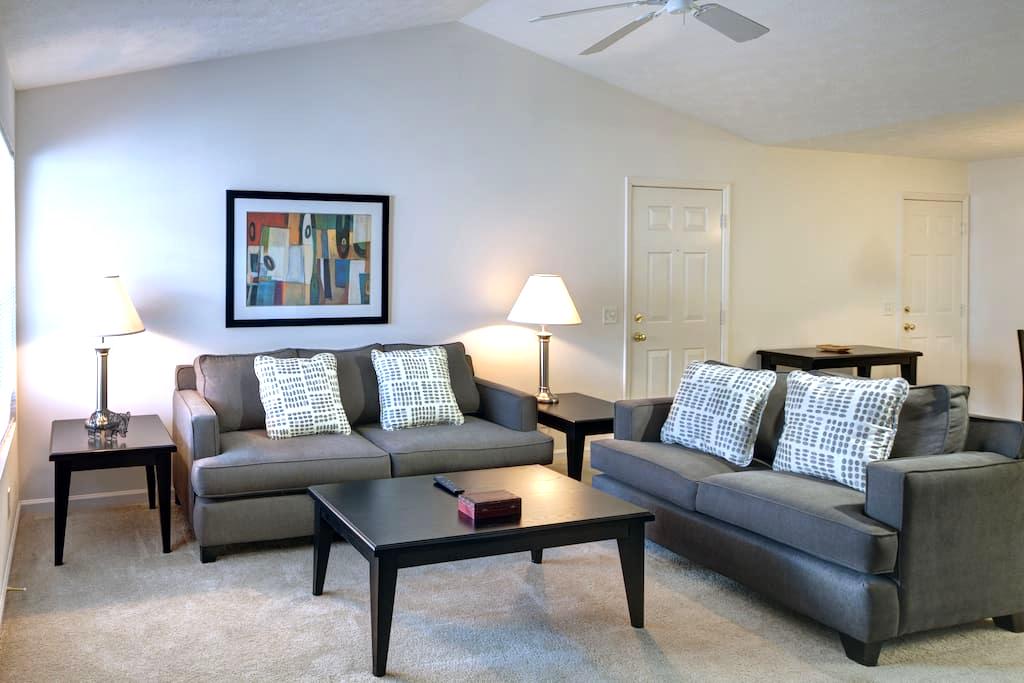 This is a first floor apartment (Unit 1) with simple amenities like microwave, toaster, coffee maker and electric stove and a small fridge for light cooking. There is a small fenced patio. A short drive away, you will find fine eateries like Lock Keepers, Shula's 2 Steak & Sports, Bonefish Grill, Red Robin Gourmet Burger and Quaker Steak and Lube. An assigned garage parking is included.
Wifi and Chromecast information are posted in sitting/dining room wall. You have total privacy; to check out just leave RFID access tags on dining table. If you smoke, you are welcome to use the patio. If you have service animal, do not leave it alone in the apartment.
Cuyahoga National Park is in biking distance. There are bicycle rentals and boat rental (Cuyahoga River) within 3 miles of the apartment. Cuyahoga Scenic Railroad station is about 3 miles away off Rockside Road. There are many Cleveland premier fine eateries within a short drive away on Rockside Road.
Room Type
Entire home/apt
---
Property Type
Apartment
---
Accommodates
3
---
Bedrooms
Maple Heights, OH, United States
My place is close to restaurants and dining, art and culture, great views, the city center, Kent State University. (Akron is 14 miles South West; Cleveland is 41 miles North), Parents of Kent State students, visiting Kent State Professors, couples, solo adventurers, business travelers, and families (with kids).
Our home, is surrounded by very tall and old Maple, Oak and Cherry trees. The attached guest apartment is completely private, with individual driveway apart from the main house and guests may come and go as they want. The guest apartment opens up to the living room (where there is a futon which flattens into a Double bed. This main room leads to the kitchen area (both tiled areas), a full private tiled bathroom with a shower. The carpeted bedroom has a queen sized bed and a ceiling fan. All areas are furnished with antiques and antique furniture. The guest apartment is the coolest area of the house in the summer. There is air-conditioning and the bedroom has a ceiling fan.
Our guest apartment is located in Kent. The area is family friendly and filled with professors and other professionals that work at Kent State or nearby downtown businesses. Acme grocery store, Discount Drugs and Sheetz Gas are only 2 blocks away. It is a mile east of the downtown area of Kent OH, which has the Kent Free Library, the riverwalk, Acorn Alley, Kent Stage 9 featuring jazz, folk and second tier celebrities), coffee houses, Kent Natural Foods and wonderful restaurants. A half a mile west and on the south side of the street (Main Street/59), is Kent State University (listed as one of the 100 best colleges in America and top three in Ohio) (Main Street/59) The famous May 4th Kent State Memorial is on the campus, and is well worth the visit. Also, on the campus, is the Fashion Museum, one of two in the nation. They have a gift shop which carries clothing designed by the students, etc. In the summer, you can rent canoes and paddle down the Cuyahoga River. The Farmers Market is downtown every Saturday morning from 9-1pm.
I had a great stay at Cheryl's place. I was exactly as pictured. Clean and comfortable.
Todd
2016-09-20T00:00:00Z
I spent 4 weeks in Cheryl's guest apartment and I thought it was great! The apartment was comfortable, well stocked, and Cheryl was very accommodating and made every effort to make my stay enjoyable. Overall, it was a very quaint, peaceful place to spend 4 weeks, and I would definitely recommend to others!
Patrick
2016-08-27T00:00:00Z
Cheryl was very kind, nonobtrusive, and very welcoming!
christian
2016-09-17T00:00:00Z
Cheryl and Bill were the best hosts. They were helpful and available for anything I needed. The apartment is the perfect space, private, quite, and clean. I would definitely recommend the place to anyone!
Jill
2016-12-10T00:00:00Z
I had a great time staying at Cheryl's house. The house is very clean and as pictured. Cheryl was very kind and welcoming. I would definitely stay here again and I would definitely recommend to stay here too.
Abdul
2016-10-03T00:00:00Z
Cheryl and Bill are very friendly and warm hearted Americans. My wife and I live in their beautiful and convenient house more than on month. We have a wonderful memory here. this house is near the Acme and restaurant with walking distance. Perfect for long time rentals. Highly recommend.
liang
2017-04-02T00:00:00Z
Very sweet and always available.
Hillary
2017-02-11T00:00:00Z
My fiancé and I spent our time in Kent for my brothers graduation from Kent State University. Cheryl was very accommodating with our schedule, especially with getting in. This beautiful and cozy guesthouse made us feel right at home and enjoy our trip/stay. The location is amazing with its proximity to the school and also not too bad of a drive to another city (i.e. Cleveland) for the day! I would definitely recommend this place! Thank you Cheryl!!!
Mazen
2016-12-18T00:00:00Z
Room Type
Entire home/apt
---
Property Type
Apartment
---
Accommodates
2
---
Bedrooms
Kent, OH, United States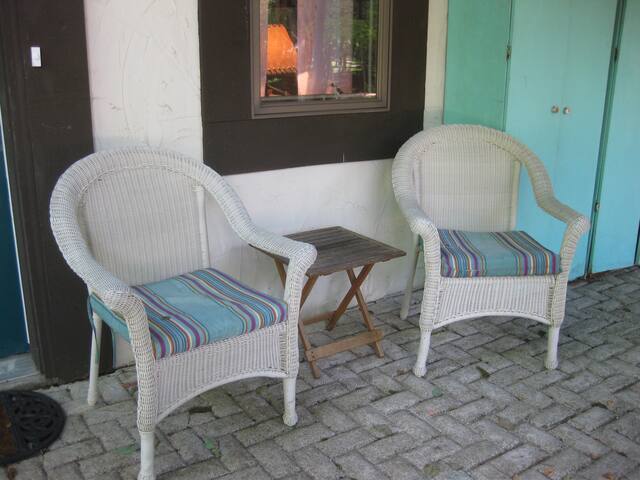 Streetsboro - Airbnb
:
Average

4.44

out of

5

stars from

45

guest reviews
1

–

18

of

112 Apartment Rentals
Enter dates to see full pricing. Additional fees apply. Taxes may be added.