Brightly colored, Breezy apartment with your own private room & feel free to treat the kitchen and living room as your own :) I am a traveler renting the space for a month and just looking to split the bills! The house is great! Great Location~ only 2 blocks from the beach and close to all the bars and restaurants and a block off of the main drag so you don't get all the crazy noise! If you need a different check in time and I can accommodate, I will~ Thanks :) Aly
Great surfer's room. Aly is an excellent host, she's a great communicator, very responsive and very accommodating at short notice. This is value for a popular beach town, but that means the plumbing isn't quality and the bunk-bed merely does the job. Location is above a surf-shop in a quiet part of town but little stores and restaurants are on the same street, and the center of town is only a three minute walk.
Chris
2017-04-06T00:00:00Z
Room Type
Habitación privada
---
Property Type
Apartment
---
Accommodates
1
---
Bedrooms
Sayulita, Nayarit, Mexico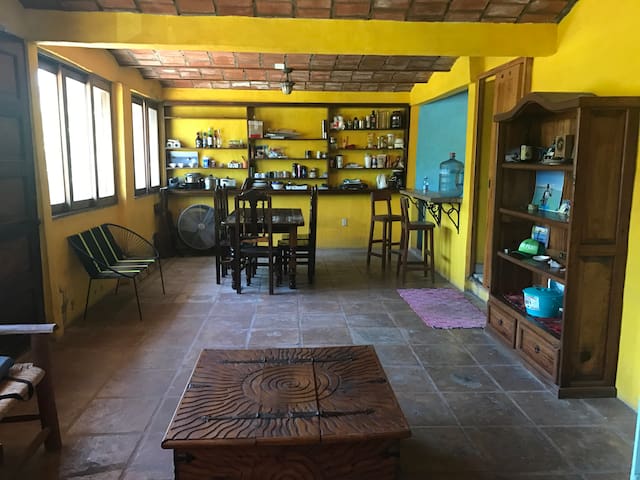 2 spacius bungalows. Fully furished. Located in a very quiet area. Close to the beach (400m). Beautiful view to the jungle. Private garden and deep pool. Ideal for couples. We have a nice golf car if you don´t like to walk (for an aditional small rate).
The host canceled this reservation 58 days before arrival. This is an automated posting.
Andi
2016-11-06T00:00:00Z
¡Hola a todos! Les recomiendo ampliamente ese alojamiento. Es muy lindo y tiene todo lo necesario para pasar unas bellas vacaciones en Sayulita. Angelica y su esposo son súper atentos y te ayudarán en todo. Si van recuerden minimizar el uso de desechables de preferencia al máximo posible de preferencia NO los lleven y cuidar su consumo de agua. Sayulita es un sitio muy bello y muy sensible a los Efectos negativos del turismo...
Sihara
2017-04-01T00:00:00Z
Room Type
Entire home/apt
---
Property Type
Apartment
---
Accommodates
4
---
Bedrooms
Nayarit, Nayarit, Mexico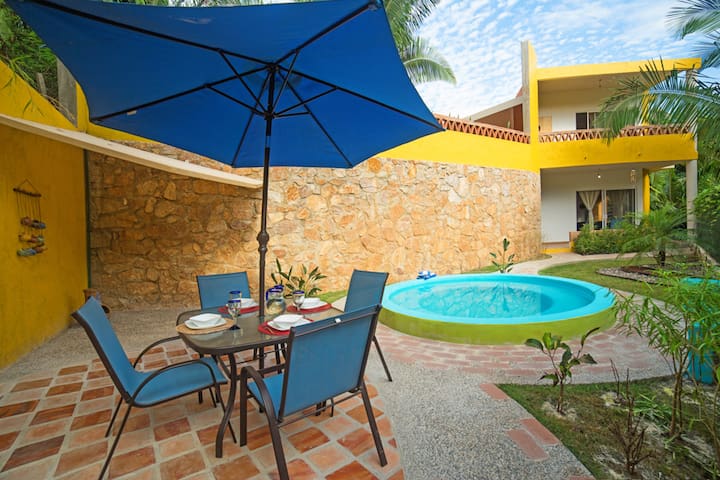 Located in Sayulita, Mexico; 45 min. north of Puerto Vallarta, Casa Roja is close to everything yet a world away! Just a couple of blocks to the village plaza, known for great restaurants, or a 10 minute walk to the beach for the best surfing!
Casa Roja is perfect for the laid back traveler wanting simple, clean and comfortable accommodations. Whether you want to surf and enjoy the beach, or spend a day relaxing by the pool, you are guaranteed a beautiful stay! Sayulita is known for great restaurants, great beaches, and the best surfing, not to mention several easy transportation options. Conveniently located on a dirt road in a settled South Hill neighbourhood made up of mostly locals, Casa Roja is a 10 minute walk from the beach, and just a couple of blocks to the village plaza, where you can experience the vibrant local night life. The Casa houses 2 units; Casa Roja Upper and Casa Roja Lower The Upper suite is a large 1100 sq ft with high ceilings, arches, well designed shared tropical garden with grill, balconies off each bedroom and a large balcony /patio area looking down to pool area. Casa Roja upper has 2 spacious, bedrooms with comfortable beds - one queen and one king (two twins), one bath with large walk in shower. Open floor plan to large covered outdoor tiled kitchen with full-size appliances, microwave, coffee maker, blender and table that sits four. The Lower suite is a large 1100 sq ft with high ceilings, arches, well designed shared tropical garden with grill, walk out to pool area. Casa Roja lower has 2 spacious, bedrooms with comfortable beds - one king and one queen, 2 baths, the ensuite has bathtub – the other with large walk in shower. Open floor plan to large traditionally tiled kitchen with full-size appliances, microwave, coffee maker, blender, lots of counter space, and large family sized table. The 2 or 4 bedroom options make it an ideal Casa for people who want to vacation together but still enjoy their own space and privacy. Traveling alone, no worries, the Casa feels like a home away from home. Upper and Lower features a beautiful pool, sundecks and grill area surrounded by a lush tropical garden. Many guests spend at least one day during their visit just enjoying the pool. Casa is perfect for 4 couples, family or friends. It comfortably sleeps 8. We provide purified drinking and cooking water. Bacteriacida is included as well for washing fresh fruit and vegetables. Housekeeping service is provided once per week. Your unit will be clean and supplied with fresh towels and linens. Free secure wireless Internet service is available throughout the property. Beach towels, beach blankets/mats, and a boogie board are available for guests to use as well. The area is mostly local Mexican which gives an authentic feeling to the neighborhood. Relaxing here promises a perfect ending to your day at the beach. Cold cervezas are waiting for you! Vacation Information packet to help on arrival and with house and village. To pay use Paypal or credit card
Being far enough away to avoid the night time noise that can sometimes disrupt the peaceful nights in other areas of Sayulita. There is a small tienda nearby the house that carries the basics for you. Our neighbourhood area is safe, peaceful and usually quiet –once in awhile there's a party or you can hear roosters and dogs in the background – more often than not you will enjoy a really peaceful escape. We are steps away to great restaurants and you can easily walk to the plaza, all conveniences and a vibrant local nightlife. You can visit stands, fishing, snorkelling, sightseeing opportunities, horseback riding, sports shops and board rentals, yoga, Spanish lessons, tango lessons, salsa night, blues, gypsy music, stand up paddle boarding, hiking, biking, party boats, seasonal whale watching, trips to near by surfing breaks, board rentals and much, much more.
Was a incredible experience in Casa Roja. It´s a great spot, perfect for take a good holidays in Sayulita. All the rooms in the house were clean and in perfect conditions, the swimming pool as well. About the house, this is located in a good place, close to the beach and the main streets like Revolución St. Is easy arrived there in any transportation (bus, car or taxi) David and Traci were a great host, thee offer all the information about the house (off course) and about Sayulita. They gave us the best recommendations for our trip.
Nicolás
2016-03-30T00:00:00Z
Harvey was very kind and nice. Place was great, location is very convenient, it is very close to the beach and the food places. There was some miscommunication when we arrived causing the delay in receiving the keys of the place but apart of that, attention was great.
rocio
2015-08-01T00:00:00Z
For the price with a pool and two bedrooms, casa rosa is a good value. Some things to be aware of, there are bunk beds in the room with the king size bed. There is a lot of construction happening a couple of doors down and lots of neighborhood noise. It was nice to have air conditioning in the bedrooms. If you care about a hot shower with water pressure, you may want to look at other places or take a shower in the middle of the night or if you are lucky in the morning. Do not wait until evening to take your shower! I didn't wash my hair for 5 days and several nights went out for dinner with no shower lol. A dip in the pool helped though. We met the people staying in the lower unit which was nice. They just got a couple of new pool lounge chairs which we enjoyed. Also discovered toward the end of our trip that the woman across the street sold very yummy homemade popsicles...she makes them for a place in town. We were here in December too and stayed in the south side of town which we enjoyed. The walk into town is short from casa rosa but very dusty because of traffic. One thing to consider is we have now gotten very sick both time we have been here and think it was a virus. Sayulita is working on their sewage issue but until it gets fixed we will probably pick another location. That's really hard for us because we love sayulita. One more thing is that the bathroom flooded...the drains need some work. If the owners get one of those water tanks on the roof, fixed the drains...that would be a great improvement. And when the new road into town opens, the walk into town will be a lot less traffic and dust.
Julie
2017-04-05T00:00:00Z
David And Traci were fantastic as was their Kitty in residence Pancha! They provide a great instructions and the house was beautiful (pictures do not do it justice). The town was charming and it was easy toget around on foot! Thank you!
Stephen
2015-06-05T00:00:00Z
Te staying was awesome , the house is beautiful the pool is at the perfect temperature and always clean the view is spectacular, couldn't be more grateful for the experience !!
Charly
2015-10-03T00:00:00Z
We had such an amazing trip staying at casa roja! We would definitely stay there again. The suite is spacious with beautiful patios and a great pool. It was a 7 minute walk to the plaza and 10 mins to the beach. Perfect location for us, not too many tourists around and quiet. Highly recommend this place!
Mahsa
2015-05-14T00:00:00Z
We were in town for a week + for a friend's wedding -- the place was great for our group of four gals. Dave and Traci were incredibly welcoming - (helped us with our very overpacked bags), and made sure we had everything we needed, including directions to some of the more secluded beaches. Their place is clean, comfortable and in the midst of a neighborhood (so you get more of a local vibe), but at the same time a 7min walk to the center of town. We really had a blast in Sayulita and would certainly come back!
Katy
2015-02-16T00:00:00Z
Traci was great about being in communication prior to my visit and answering questions. There was a little mix up getting into the house on arrival but it was resolved within the hour. The house is cute and very open to the elements. Nice patio and kitchen stocked with necessities. It's about a 10 minute walk from the center of town along dirt roads. Bring a light if you plan to walk back from town after dark. I think this would be a great place to stay during the busier season. I was there in summer right after a tropical storm and it was so hot and humid that I couldn't get a good night's sleep. It didn't cool down at night and the bedroom I slept in was really stuffy even with two fans running. There are two small windows and the only way to cool down more would have been to leave both doors to the bedroom open to the outside. I didn't feel comfortable doing this for two reasons. One, I was traveling alone and nobody else was staying on the property. And two, a stray cat that has been kind of adopted by the hosts/previous guests kept trying to come into the room and up onto the bed. Having a few stray cats around the property wasn't an issue for me but I didn't want one in the bed.
Heidi
2015-06-20T00:00:00Z
Room Type
Entire home/apt
---
Property Type
Apartment
---
Accommodates
4
---
Bedrooms
Sayulita, Nayarit, Mexico
CASITA VILIANO is a studio with a well-equipped kitchen and private terrace on the first floor of Casa Viliano. Walk to village & beach. Share pool and pool terrace. Minimum 5-night stay.
CASITA VILIANO has a queen bed and twin-size day bed to comfortably sleep a family of three or two amigos who don't want to share a bed. The private terrace includes table and chairs to seat four and chaise lounges for reading or taking your siesta. A door separates the casita terrace from the common stairwell for safety and privacy. Small dogs are also welcome. The kitchen is equipped with a 4-burner stovetop, small fridge, microwave, toaster and coffee pot. Evening and night views from both Casa Viliano and the Casita are particularly spectacular, with the twinkling lights of the village below, and excellent views of Sayulita's frequent fireworks displays. High quality linens and towels. Beach towels, chairs and umbrellas are provided. Maid service, including a change of sheets and towels, is provided twice weekly. SEVERAL REVIEWS ARE PROVIDED UNDER: Casa Viliano
We live up the street from a rustic, traditional Mexican neighborhood, at the top of a hill -- the street going up to the house is not a pristine, resort-like setting it is "real" Mexico. (I include this information because I want people to be happy when they are there and if this is not your cup of tea, our house is not the place for you.) There are two other rental homes at the top, all frequently rented as it is a safe, comfortable environment.
Nice little room, small but has everything you need. It's a hike up the hill to get there so you definitely want to plan your outings to not go back and forth constantly.
Lyndsay
2016-07-13T00:00:00Z
Our stay in the casa and casita was absolutely amazing! This top of the hill locale was a great place to relax and take in the views of Sayulita. We enjoyed cooking quite a few meals in the casa's spacious and well-appointed kitchen, which included all of the tools needed for making margaritas from scratch! The decor is cute and comfy with many places to unwind, including the dipping pool. While the hill is a bit steep, a dip in the pool is a treat when you reach the top. We loved the neighborhood and its welcoming residents. Many thanks to Donna, Cal, Alex, and especially Roy for making our trip truly memorable!
Jules
2015-11-12T00:00:00Z
We had a wonderful time staying at Casa Villiano. Donna and Cal were very gracious hosts. they gave us some great tips on the best places to eat and how to get around in town. They made sure we were comfortable and had everything we needed. The casita was spacious and well-appointed with a lovely patio to relax on in the evenings and a pool to cool-off during the hot afternoons. It is located just a short walk from town and the beach. The hill is definitely steep, but not prohibitive. We would definitely stay here again.
Jami
2015-04-22T00:00:00Z
Lovely apartment, close to all.
joel
2017-01-13T00:00:00Z
Lovely home, gorgeous pool! Would love to rent the whole house with a bigger group in the future.
Brooke
2017-03-19T00:00:00Z
It was wonderful!
Marina
2017-03-06T00:00:00Z
The casita was clean, quiet, and well equipped as promised in the description. The pool and patio areas are relaxing, comfortable and a nice space for keeping cool in the heat! If you plan on staying during the rainy season, make sure to get a 4-wheel drive vehicle if you plan on renting a car. When we arrived, the road leading to the house had recently washed out from heavy rains. Donna was proactive in getting the house manager and the neighbor's together to fix the road well enough to get up and down in our non-4-wheel drive SUV, which was much appreciated. Overall, we very much enjoyed our stay and welcomed the leg workout you get when climbing the hill up to the house.
Tessa
2016-09-15T00:00:00Z
Room Type
Entire home/apt
---
Property Type
Apartment
---
Accommodates
3
---
Bedrooms
Los Almendras, Sayulita, Nayarit, Mexico
2 blocks walk to the main beach in Sayulita! Quiet, comfortable, sunny apartment in the tranquil north end of town. *Air conditioning *Large private patio with table, chairs and hammock *King bed with memory foam mattress *Double bed with pillow-top mattress *High speed internet and work space *Dining table for 6 *Kitchen with coffee maker, 2 electric stove tops, blender, large fridge, spices, and all utensils *Guest closet and drawers *Library *19" TV/DVD *Blackout curtains in all rooms
Sunny, comfortable apartment just a minute's walk to the beach and a flat 5 minute walk into the plaza and downtown. We are located on the quiet north end of Sayulita, right across the street from the local bookstore and coffee shop. The beach is only 2 blocks away. There is a local yoga studio around the corner, a massage studio, taxi office, restaurants, and stores all within a minute's walk. The street is quiet and safe. I live in the apartment during the winter months and it has all of the comforts of home - cozy memory foam mattresses, books, movies, high speed internet, air conditioning in all rooms and ceiling fans. Apartment is incredibly sunny but also has blackout curtains for a restful sleep. The living area and sunroom has a desk for work and a double bed to sleep additional guests or serve as a comfy couch to watch movies. The TV has an HDMI cable which so that you can stream movies from your Netflix. The bedroom includes a king-sized bed with memory foam, guest closet to hang clothes, bathroom with guest shelving and drawers, and a wrap-around balcony surrounded by plants and trees. Each room includes an AC machine controlled by remote and high powered ceiling fans. There are mosquito screens on all doors and windows perfect for taking in fresh air but keeping any bugs out. This is one of best locations in town because it is perfectly quiet at night, only 5 minutes walk downtown, and 2 minutes walk to the ocean. This is the neighborhood where most locals prefer to live.
Quiet north end of Sayulita where you can find the most tranquil part of the main beach and local coffee shops and restaurants. We are a 5 minute flat walk to the town plaza, 1 minute walking to the beach. Neighboring places include a breakfast cafe, a bookstore, a yoga studio, a massage studio, several small grocery stores, a sushi restaurant, and a taxi office all in only 1 to 2 minutes walking. The bus stop on Calle Revolucion is right around the corner, 5 mintues walking, and you can take buses to neighboring villages, banks, larger stores, and the Puerto Vallarta airport. I lived in this apartment for several years without any sort of vehicle and loved it! There is some street noise during the daytime hours only as we have local farmers and vendors who pass buy selling their products. We do not have any noise from roosters. I am a light sleeper so really treasure this quiet apartment in what can be a very noisy town.
Cool and fully equipped place Close to the beach and very calm by night . Chelsea is a very nice host !
alexandre
2017-04-11T00:00:00Z
Chelsea's place is incredible, it has pretty much everything if you want to stay there for a long period of time, great book and movie selection, huge spaces to hang out, big kitchen with spices and supplies and the main room has a huge bed. There are a ton of windows in this apartment, so if you enjoy a nice lid place this is perfect for you. The deck is really comfortable for breakfast, you can sense the vibes and morning weather of Sayulita, there's even a beitiful cat hanging out there. The location is great too, it's really close to the beach and to downtown, both great walks. Neighbors are really friendly and Chelsea even welcomed us with a couple of beers in the fridge -very nice touch. We had a little water pressure issue during our stay, but besides that everything was perfect.
Marlon
2017-04-06T00:00:00Z
Room Type
Entire home/apt
---
Property Type
Apartment
---
Accommodates
4
---
Bedrooms
Sayulita, Nayarit, Mexico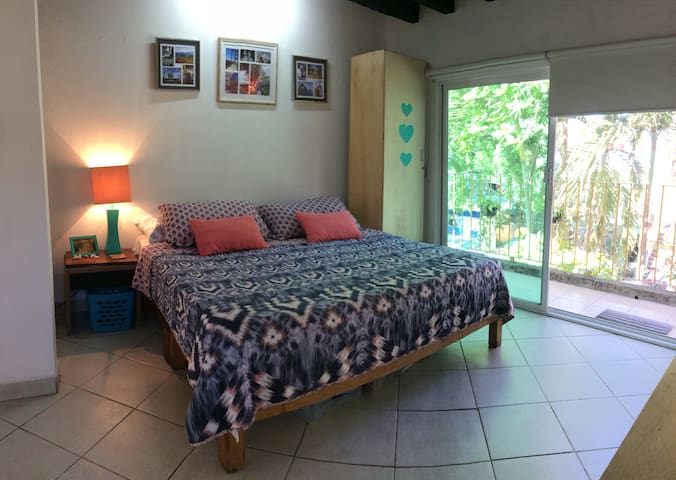 This private room is decorated with fun bohemian features and offers two single beds that can be joined together if required. The room offers access to the opened planned spacious lounge and terrace, full kitchen and a bathroom that is shared with one other bedroom.
This space is unique as you have everything you need within walking distance. The communal space is also a great place to relax or enjoy the company of fellow travelers. The apartment is only 3 bedrooms so you don't have to worry about sharing the communal space with too many people.
The apartment is very central and is on a very hip street with boutiques, restaurants, hotels, organic supply stores and a wine shop
Lucy's place was perfect for our visit. It's in a convenient location with easy access to the beach, restaurants and shops. The apartment is very clean and the beds are comfortable. We had a wonderful time and look forward to checking Lucy's availability on our next visit.
Francesca
2016-11-21T00:00:00Z
This place was nice. I liked the central location and how neat and tastefully decorated it was. It would be fun to rent out all of the rooms with friends and family.
Joshua
2016-07-18T00:00:00Z
Very nice stay and really centric, restaurant, bars, beach at walk distances
Juan
2017-02-19T00:00:00Z
A beautiful home to stay in while visiting Sayulita, thank you!
Sarah
2017-01-06T00:00:00Z
My only regret is not staying another day. The room was perfect for two people. The entire apartment was super comfortable and clean. It felt private while also overlooking the street and restaurants. I definitely recommend staying at Lucy's!!
Ibiza
2016-11-29T00:00:00Z
It was wonderful staying at Lucy's and as a single woman traveling alone it was great to meet other travelers staying at the same place. Beautifully and thoughtfully decorated in an ideal location. I would for sure return!!
Kelly
2016-08-18T00:00:00Z
It's a very lovely apartment in the center of Sayulita... Bars, restaurants and the beach are very close and easily reachable by foot. The restaurant next to the house (la esperanza) offers delicious, fresh and healthy food. I highly recommend the apartment I'm for young people and coulpes who want to experience the day and nightlife of Sayulita.
Rahel
2017-02-26T00:00:00Z
Fun place to stay in Sayulita! Very centrally located with an easy walk to everything. The room was very charming and had lots of character. We stayed for only one night, I don't have any complaints.
Lauren
2017-02-08T00:00:00Z
Room Type
Habitación privada
---
Property Type
Apartment
---
Accommodates
2
---
Bedrooms
Sayulita , Nayarit, Mexico
We're a couple of artists who have spent the last 9 years in Sayulita, and the last year creating art in this beautiful space we call home. It's hard not to be inspired by our surroundings — we are located up a small hill, tucked away from the busy pueblo, in the jungle of Sayulita. Though we're not far from town, just a short 5 min walk to both the plaza and the beach, it feels very secluded and private. We wake up to bird songs, and hang out in the evenings on the hammock in the front patio.
The host canceled this reservation 130 days before arrival. This is an automated posting.
Amy
2016-08-23T00:00:00Z
We loved our stay at Casa Chulada! The house is very open and colorful - and the terrace with hammock was fantastic! Definitely spent a lot of time out there with a book and glass of wine. I loved hearing all the birds - it feels like a tree house. The kitchen is well equipped and has everything you need! The house is very private and just a 5 mins walk from the very center of Sayulita. But we found lots of great little spots for breakfast/coffee just at the bottom of the hill. Also I preferred going to the beach on near Casa Chulada as it's nicer/quieter than the very center of town. The house is up a fairly steep hill which was fine for us but I would suggest renting a cart if you have any guests who have trouble walking. Overall we loved Casa Chulada and although we didn't meet Alex, communication with him was very easy. I would definitely recommend this place to anyone looking for a nice house just slightly off the beaten path but still near everything you could want! Thank you Alex!!!
Kasia
2016-12-31T00:00:00Z
Alex's place is awesome and really unique - love all the surf decor across the house. Truly living like a local. Communication was easy with Alex and he made sure his neighbor was there to greet us when he wasn't. Highlights: - Laying in the hammock mornings and evenings that overlooks the jungle. - The views of the ocean from the roof and the sounds of the birds - Stargazing at night lying on the roof while sipping tequila and mezcal Things for you to consider: - it is a bit tight for four adults as you can't sleep on the couch (wire), but totally doable (we did) - there isn't a true "lounge" area that is seated. On a cloudy day, we made the most of it and created a nest on the roof. :-) - the trek up the hill multiple times a day will surely tone those calves but could be tricky for those who have mobility issues Thank you so much for your hospitality. I would love to return!
Carol
2016-12-28T00:00:00Z
My friends and I found our stay here very enjoyable. Casa Chulada is up on a hill side away from the noise of the town (depending on time of year) with a beautiful view (south facing) of the sayulita beach. The neighbors are very sweet also. Nice short walk to anywhere in town. Can accommodate 4 but much more comfortable for a couple. Would definitely stay here again. Thanks Alex!
peyton
2017-03-03T00:00:00Z
Small Cozy guest house, conveniently located at Sayulita. Very close to the plaza area, but far enough so you don´t get any noise. Kathryn, the lady that help us out to settle into Casa Chulada, was very helpful and attentive during our stay. We would definitely stay again whenever we get back into Sayulita.
ana
2016-10-22T00:00:00Z
The Alex had a friend, Katie, greet us on arrival who has been most helpful. She has been so kind to provide us with extra towels, empty our bins, cleaning products and friendly advice for where to go and what to do. Alex has been prompt on his emails prior to our stay regarding any enquiries we had so we knew what we were in for. The location is in a very private part of town away from everyone else which makes us feel safe as there is one way in, one way out. It also has the benefit of being super close to the beach and town all for a very fair price. As you can see by the photo's the place is super cool so all-in-all is everything you would want in an airbnb on your little getaway. Thank you Alex and Katie for making it such an awesome trip. Its really made the difference.
Andre
2016-10-06T00:00:00Z
Room Type
Entire home/apt
---
Property Type
Apartment
---
Accommodates
4
---
Bedrooms
Sayulita, Nayarit, Mexico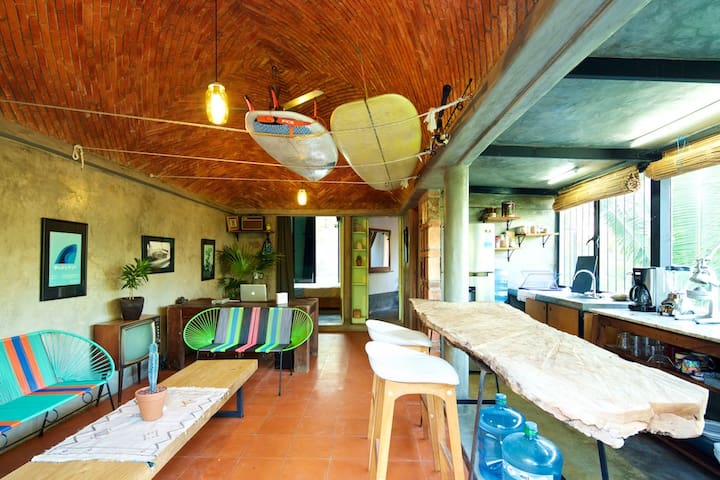 Casa Toscana's one bedroom casita has a queen size bed, private bath, a full kitchen and a inside and outside living and dining area adjacent to a very private courtyard with a cozy covered reading nook. Less than five minutes to the beach, 10 minutes to the village.
For a family with an infant we can provide a pack'n play with sheets and pillow, a big-wheel stroller, and a booster chair. For small children we have air mattresses.
La maison et les jardins sont splendides. C'est une des plus belles maison de Sayulita (selon moi)! Elle se situe près de tout, à deux coins de rue de la plage, ce qui est très pratique. C'est très propre et il y a tout ce qu'il faut dans la cuisine. Notre séjour a été parfait à Casa Toscana!
Alexandre
2017-04-08T00:00:00Z
Room Type
Entire home/apt
---
Property Type
Apartment
---
Accommodates
2
---
Bedrooms
Sayulita, Nayarit, Mexico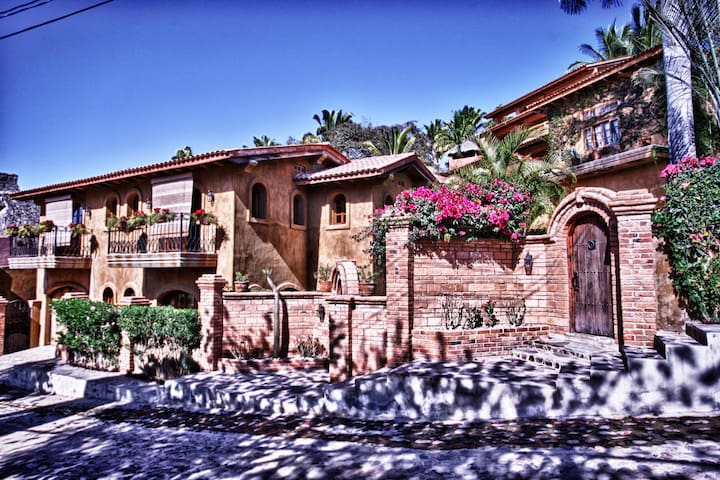 Beautiful casita with saltwater pool and private rooftop patio! This is a very special unit with everything you would need for a short or long term stay. King size bed with Egyptian cotton sheets, high ceilings, full kitchen, coffee maker, microwave, A/C, TV/DVD player. Two private outdoor patios. One with outdoor dining, bed and hammock. The rooftop is a HUGE private space for sunbathing, sunrise coffee, sunset cocktails, yoga, etc.. Property full of mature palms and colorful jungle plants
We have recently remodeled and updated this open architecture casa to create a unique blend of luxury and "bohemian comfort". You will find Casa Bohemia to be a very relaxed environment without sacrificing the refinements you are used to at home. All units at Casa Bohemia have their own outdoor patio space with hammocks (this unit also has a private rooftop patio with ocean views) as well as access to the pool. The property is very secure (gated, security walls) as well as the individual casas. You will feel very secure and we have never had an incident of break in or theft.
Casa Bohemia is located atop the area affectionately referred to as "Gringo Hill". The neighborhood is very quiet, safe and full of helpful and friendly locals and expats alike.
Tom was an amazing host, very helpful with check in and suggestions for where to go/what to do. The accommodations were perfect. Comfortable bed, beautiful space. Walking distance to everything. We would highly recommend Casa Bohemia. We will definitely be back.
Angela
2017-02-07T00:00:00Z
Wow. What an incredible experience my stay here was. I'll start by talking about Tom. From the minute I requested to stay at his place, he was responsive and extremely accommodating in answering my questions in detail about my upcoming trip. I knew basically nothing about Sayulita but he totally went out if his way to take the time to answer my questions in great detail, and make suggestions to me regarding transportation logistics, food recommendations etc. it was also awesome that he and his wife live across the street because he was always there if I needed anything. Regarding the unit itself... absolutely incredible. In my opinion the pictures don't even do it justice. This place rocks. It's the perfect apartment for its surroundings. Settled atop "Gringo Hill", the views overlooking the jungle/ocean are stunning. And there is a constant sound of exotic birds, roosters and even a local donkey in the distance. The house was also very clean. Tom has a maid come through and clean around 11am mon, wed, fri, unless you request to decline the service. The comfort and beauty of this home were second to none compared to any other Airbnb I've ever stayed in. I highly recommend jumping all over this place if it's available, you will not be disappointed! Thank you, Tom! I cannot wait to come back some day!
Ross
2016-12-30T00:00:00Z
We absolutely loved our stay at Tom's Bohemian Penthouse. It's a charming, spacious dwelling adorned with local art and supplied with practical comforts, like a fully stocked kitchen. Our highlights were the very comfy bed; the patio hammock you could just melt in; and the private, rooftop deck with sweeping views of the ocean, the hills, and the starry night sky. At check in, Tom greeted us warmly and gave us a quick tour of the space. Even before we arrived, he was incredibly responsive with messaging and continued to be throughout our stay, providing helpful insider tips that improved our experience in Sayulita. Having lived at Airbnb homes in 6 different countries now, I can honestly stay this was one of the best ones with one of the best hosts.
Farzad
2016-12-24T00:00:00Z
Casa Bohemia's penthouse is wonderful! The perfect place to chill during our week in Sayulita. It is a beautiful space with lovely views. Quiet and serene, yet close to town and the beach. Casa Bohemia was well-equipped with just about everything we might need to enjoy a comfortable stay. Tom is a superb host, pleasant and prompt with all responses to questions. He goes above and beyond in accomodating his guests!
Amanda
2017-03-01T00:00:00Z
Casa Bohemian is a good centrally located property. It was a bit loud on the weekends, with music from the bars that filters up from the town. We discovered running the outside fans on high at night helped to cut this disturbance. Sayulita has definitely been discovered and it is not the quiet little beach town anymore. The walk up Gringo Hill was not a factor at all. Just wear comfortable shoes. I loved being able to workout daily on the rooftop patio. It was very private and a wonderful retreat to look over the town, bird watch, workout, and star gaze. Thank you Tom and Lindsay!
Kim
2017-03-11T00:00:00Z
Everything at Casa Bohemia was as described and we loved the serenity of the place. We enjoyed getting a little excercise to and from the town centre and the view was lovely. Tom was helpful with suggestions or any concerns we had and was very quick to respond when needed. We loved the village of Sayulita and were thoughroughly relaxed by the end of the week. A note to make sure you take lots of pesos as most places deal in cash. There are no banks but there are ATMs, although you have to make sure you use a secure one and there are times they run out of cash(URL HIDDEN) We highly recommend Casa Bohemia!
Terry
2017-04-03T00:00:00Z
Great place close to everything! The biggest concern was whether to hang out on the awesome deck or the amazing rooftop! Definitely coming back and recommending Tom's place to friends!!
Mojtaba
2017-02-20T00:00:00Z
Staying at Tom's Bohemia Penthouse for a week was our first trip to Sayulita, ...and it won't be our last! My wife and I were delighted as to how clean, spacious, and well-equipped the Penthouse was, ...together with our private rooftop patio -- VERY private, ...with wonderful tropical mountain views! In addition, our main-floor tiled patio, hammock, 5 powerful fans, and the saltwater pool all worked together to keep us cool and comfortable. Thanks Tom, ...we'll be back!
Michael & Leslie
2017-01-13T00:00:00Z
Room Type
Entire home/apt
---
Property Type
Apartment
---
Accommodates
2
---
Bedrooms
Sayulita, Nayarit, Mexico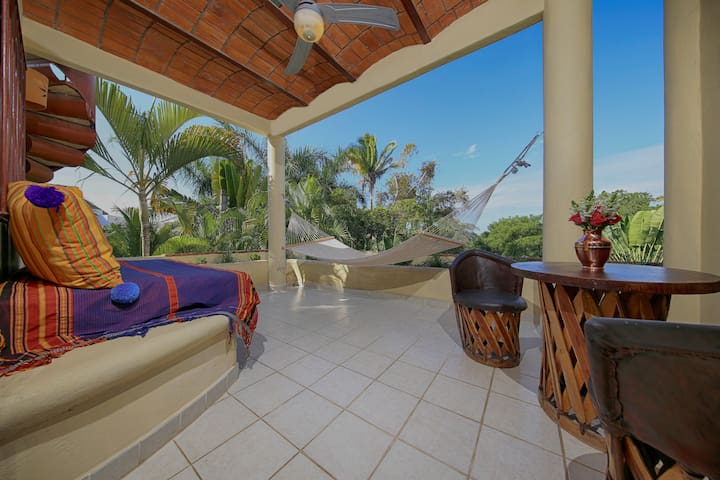 Villa Los Corales is a brand new 3 story building and is situated just 5 min. walk from the north sayulita beach and 10 min.walk to plaza. On the 3rd floor. small kitchen just installed has a full bathroom a queen size bed, shelf space  and a nice size window with mountain view for fresh air. AC and new ceiling fan.  A small table and chairs in rustic style, safe and 2 sqr. feet refrigerator. Maximum occupancy 2 persons
All of our guests have full access to our rooftop terrace with pool, Palapa and sunbathing area. Also one parking space on our private weather protected garage.
The view from the rooftop pool and terrace with its palapa and hammocks is superb after a day exploring the town and beaches. The room was perfectly appointed with local handmade furniture that created an authentic experience. David and Jeanette were very helpful with recommendations, travel, etc.
Robert
2017-03-06T00:00:00Z
David and his family have done a wonderful job with their sweet little abode. They are very welcoming and have the most adorable, loving pets. The place itself was very clean, quiet, and easily had some of the best views of Sayulita. It's up a fairly steep hill, but it's great exercise everyday and it's far enough from town that you don't have to hear all the wild commotion at night. David is also very communicative which is so important! Highly recommended and a lovely experience overall. I will refer my friends to this place when they visit Sayulita!
Andrea
2016-12-17T00:00:00Z
We took the bus from Puerto Vallarta to Sayulita (1:15 hours to get there). The main road into Sayulita (the bus usually takes) is under construction. And so we humped our stuff up to the villa (backpacks are better than wheeled carry on lol). Ultimately there are two ways (if you take the bus) to get there. We took the dusty track (where (SENSITIVE CONTENTS HIDDEN) maps leads you astray slightly). Once there David and family were really welcoming. Everything lived up to our expectations. The Villa is slightly out of the way (quiet) but within easy walking distances for everything from the beach to downtown. As has been mentioned its a bit of a hike up the hill but you'll love the view once you gain the rooftop. One thing to note is wifi is not up and running yet. Though many restaurants provide internet access. I wasn't put out as I grabbed a sim card but my girlfriends phone wasn't "jailbroken" and so she relied on updating her family and friends from the places we ate.
Chris
2016-12-24T00:00:00Z
My partner, 3-month old and I just returned from a week's stay at David and Jeanette's place. It was incredible. First of all, David and Jeanette (and Nala!) are wonderful hosts - patient, helpful and kind. Secondly, the place itself is beautiful. The rooftop area and infinity pool were highlights. We rented a car for a few days and having the parking garage was an added bonus! As a few people have mentioned, there is a hill to climb in order to access the villa - so if you have any ability issues, you may want to rent a golf cart. We didn't mind the hike - it was good exercise and it lead to a view from the villa that was breathtaking. All rooms looked great. If you can, book a room with a balcony so you can enjoy the view with a coffee in the morning. If not, no big deal. The rooftop is there :)
Vanessa
2017-03-27T00:00:00Z
David is a very friendly and fast replying host. He will do everything to help you and give good recommendations. The room was amazing: very new and clean and interesting/nice furniture. The pool and the view on top of the bulding is incredible beautiful, like the picture shown on his page. If you cannot speak spanisch don't worry, it seems that almost everyone in the town can speak english. Walking in the town is like an adventure if you expect straight pedestrian walks:) Now I know why a Pick-Up 4x4 offroad is very popular in that area:) Walking on the beach, relaxing, doing some sport, having delicious food and cold drinks...this is what you can find there. I love this place and I will come back and recommend this one.
André
2016-09-15T00:00:00Z
The VIEW at the pool was very nice and a relaxing place to be in the afternoon after a hot day of activity in the city/beaches. This room was more simple and had what we needed. The water jug and mini-fridge in the room was very helpful. One of the unfortunate parts of this room is the full sized bed felt small because the headboard takes off about 6inches of height from the bed. If you are over 5-ft 10-in then your feet will stick off the bed certainly. You are a short walk from the city center and it is quiet/safe. We took the bus from puerta vallarta which saved a lot of money, but walking to his place with our bags was challenging. There is some major road construction going on. Maybe catch a taxi from the bus stop (bus doesnt go all the way into town). We found an AC suburban taxi to take us to the airport for 600 pesos (or $40 USD) at the end of the trip which was nice. People respect the quiet hours, but the rooms do seem to have somewhat thin walls. David is professional and responsive. He offers rentals for the boogie boards and some other beach stuff at about the same price as what they offer at the beach. I recommend taking a sunset horse back ride (about $30 USD) and taking the short walk to Muertos Beach for relaxing and playing in the water (not for surfing). Sayulita is a lot of fun and seems like a great place any day of the week with a lot going on during the weekends.
Mark
2016-11-23T00:00:00Z
A beautiful, recently built property that's on the quieter north side of Sayulita but still within easy walking distance of the beach and center of town. Perched on a small hill so the views are incredible, especially from the rooftop deck - We loved the infinity pool and hammocks. Room was modern and comfortable with a solid bed (great mattress!) and nice bathroom with large shower. David and Jeannette were very welcoming and helpful but also gave us and other guests plenty of space to unwind and relax. Would like to return soon!
David
2017-02-21T00:00:00Z
Excelente lugar y anfitrión. Recomendado totalmente.
Frida
2016-09-19T00:00:00Z
Room Type
Habitación privada
---
Property Type
Apartment
---
Accommodates
2
---
Bedrooms
Sayulita, Bahía de Banderas , Nayarit, Mexico
apartment overlooking ocean and village. Great view of sunset. 1bedrooms, full kitchen, living room, bathroom, walk in closet , and spacious covered terrace. Close-in location, 2 blocks to beach and 3 blocks to town center. King size bed plus sofa bed in living room.
apartment overlooking ocean and lively village of sayulita mexico. 3 blocks to beach, and same to town center. bus ride to puerto vallarta and airport leaves every 20 minutes.
VIEWS VIEWS VIEWS... Need I say more!!...We stayed at Casa Gracious from April 1st till April 8th. Paulino was super nice and met us on time to give us the keys. We had the ground floor that was 2 basic suites with a bar fridge, as well as the second floor that had a huge kitchen, beautiful views of the town and ocean, king size bed and living room. We had a issue with one of the toilets and texted Paulino and it was fixed within a hour. The Casa had quite a few steps up from street level and this property would not be suitable for families with small children (open rails), nor would it be suitable for people with mobility issues. The street was also quite a elevation to walk up. We didn't mind the walk up at all because the views were breath taking. Golf carts are available everywhere if you need. We would love to stay there again and will be our first choice when we return to Sayulita.
Eve
2016-04-08T00:00:00Z
Daniels place was great. Very clean, comfortable king sized bed, beautiful terrace and an amazing view. They were very welcoming and always available if we needed anything. Wish we stayed longer, can't wait to go back!
andrea
2016-02-22T00:00:00Z
I was trying to wait for a response before I left this review but the time limit is ticking before I will be unable to leave a response. The place was nice, easy to find and spectacular views. Huge beautiful patio to lounge about after spending long days out in the sun. Unfortunately we had some guys break in and steal some money from us. It happened while 2 of my girlfriends were napping. They woke up to find 2 men digging through their bags!! It was terrifying but no one was hurt. The guys actually broke in a few times before, there had been times money had gone missing but it was just $20 at a time so we couldn't tell if it was stolen or we were just being irresponsible, but I had budgeted very responsibly for this trip and was quite perplexed. The problem with this rental is there is no front gate to keep people off the property. Every other place I have stayed in sayulita has had a gate. Another problem with this place is there is no safe for you to put your belongings. You are supposed to "lock it in the closet" which doesn't help much when the keys to the closet have been stolen halfway through your vacation and you have difficulty contacting anyone because there is no wifi at the house. We kept the house locked at all times, they pulled the barbed wire away from the wall and came in that way. I wrote a message to the owner of the property and his response was very dismissive that this situation has never happened before, we should have locked out valuables in the closet (they where in the locked closet which the thieves had stolen the keys to) etc etc... Well I am politely letting you know it may have never happened before but it has happened now. These aren't criminal masterminds yet simple opportunist, they are finding the easiest most accessible house to burgle and going for it. So if you have never been to sayulita before I say definitely still go! It is overall safe and I'd go back in a heartbeat. I just wouldn't stay here unless I saw some updates regarding security. We actually didn't feel safe and stayed the last two nights at a friends place. I do not feel comfortable recommending this place. Now that thieves know it's an easy opportunity they will continue to go back there. If you want the best vacation possible rent "pata salada" (the blue house) and surf at wildmex. Do not stay here unless they have renovated and upgraded their security. Honestly if the property owner wouldn't have been dismissive and then completely ignored my message I probably wouldn't have left a bad review. We didn't want our money back we only wanted a confirmation that he would try to prevent this from happening to other guest in the future.
Kelsey
2016-05-02T00:00:00Z
I did enjoy the place. It's a 10,15 mins away from the beach a bit outside of the core of the town which is perfect for quiet sleep. The view is amazing from the patio. It's a simple place and cute, nothing fancy. It was perfect for is. We loved it and we strongly recommend it.
Sebastien
2017-01-14T00:00:00Z
Great, large patio with excellent views and comfy hammock. The furnishings are basic but met our needs. Check in was easy. It's about a 10 minute walk to downtown. The last block is a steep hill so caution to those with mobility problems. An easy walk but also far enough to have quiet at night. Very comfy king bed!
Krista
2017-04-10T00:00:00Z
We had the best experience at this beautiful house in Sayulita for two weeks - we pretty much bragged about the place to anyone who asked about it! The huge, covered patio was a necessity for us to escape the midday sun, and the views from the patio have to be among the best in all of Sayulita. King size bed was very comfy, and because there were only two of us, we didn't need the pull out sofa in the living area, though the house could quite comfortably fit four, maybe more if you want to get cozy! The kitchen was very well stocked with tons of dishes and cutlery, a full-sized fridge, and a very new looking oven. The neighbourhood is quiet and far enough away from downtown that you escape the noise, but close enough that it's a three to five minute walk to restaurants, shops, and the beach. No AC, but multiple fans were perfect for keeping the house a comfortable temperature, and I hear AC is incoming anyway! Regarding security, we felt 100% safe in this house, and never once worried about our belongings. The locked room is more than adequate to store valuables, and protects important items better than a safe would, in my opinion. Finally, the property manager Paulino is absolutely wonderful and extremely helpful. He's always available and a great source of information on Sayulita and the surrounding area. I'll be planning my next trip to Sayulita based on the availability of this house!
Kristyn
2016-05-19T00:00:00Z
My girlfriend and I stayed on the second floor of Daniel's place for a week and we absolutely loved it!!! The views were amazing, the bed was incredibly comfortable, and the place was so cute with lots of fresh open air and plenty of room to move around or just relax. Dan and his wife, Anna, were really sweet and helpful, and and we loved staying at their place. I would go back again in a heartbeat, and also recommend it to anyone looking for a great spot to spend a few days in paradise. Oh and as far as location, it is just about two blocks to the beach, has a couple of little markets and convenience-type stores just a block away, and is about five minutes (just over a short bridge) from the downtown area. Perfect location I thought, close to everything but still very quiet!
Britton
2016-03-19T00:00:00Z
I stayed on the second floor of Pad in Paradise just prior to spring break. Daniel's property manager met me with the key at the correct time and ensured I had everything I needed. I did meet Daniel too, he seems like a nice guy and ensured I was settled and had everything I needed too. The unit is big, bright, clean and the front patio is amazing, looking out over the town and the ocean. There is a full kitchen where you could certainly cook your meals. The town and beach are only blocks away and the neighborhood was very quite. I would recommend Pad in Paradise and would stay there again, myself.
Scott
2016-03-11T00:00:00Z
Room Type
Entire home/apt
---
Property Type
Apartment
---
Accommodates
3
---
Bedrooms
Sayulita, Nayarit, Mexico
Offering free WiFi and a sun terrace, MBoutique Hotel Sayulita is situated in Sayulita. Rincon de Guayabitos is 24 km from the property. Free private parking is available on site.
New beautifully designed and furnished hotel boutique located on the south side of Sayulita just a ten minute walk to downtown Sayulita and Sayulita's main beach and surf break. Is designed boasting with amples living spaces, large fully equipped kitchens, dining area & bedrooms with ensuite bathrooms.
Great experience overall. The address may take you into town but this place is located across the bridge away from town just about 1/4 mile on Revolucion across from a little bar (I think it was called Trabajo). Staff was awesome and there is a hottub right out in the patio with a hell of a view! Would definitely stay here again. Attached is a screenshot of about where it is on the map if you have trouble finding it.
Melissa
2016-02-20T00:00:00Z
It was incredible ... Since we walked in !! Beautiful place! Waking distance to town! Always clean and so bright!!! You can actually watch huge iguanas on the trees from your windows!! Loved it!
Barbie
2016-03-08T00:00:00Z
This place does not disappoint, pretty much as pictured. WIFI worked, AC worked and furnishings were newer for a place in Sayulita. I was very comfortable staying here three nights and had no problems at all. The only downfall is that it is not in town, it is on the main road about a ten minute walk or a two minute drive to town.
Jan
2016-04-28T00:00:00Z
The room is nice and has great amenities, but it is a way out from the downtown area. Can be a sketchy walk at night.
Cody
2016-02-17T00:00:00Z
Great! Everything we needed
Essie
2017-03-16T00:00:00Z
We had a great stay! It was just sad that we could never use the hot tub cus it was never warm.
Beau
2017-03-28T00:00:00Z
MBoutique has several of units that they Airbnb in the building. I rented the top apartment which was lovely. It was very clean, comfortable big bed and has a simple yet well equipped kitchen and good bathroom. It felt private even though the patio and hot-tub area is for the whole building. Since this apartment is at the top be ready for lots of stairs, so if you cannot manage that then do not book here. So the Cons: It was hard to understand where the building was located since there is no # for the building on Airbnb and when I tried to contact Ariel she did not respond since its not the correct number. For future Airbnb's that rent this place: Here is the address: Avenida Revolución 70, Sayulita, NAY, Mexico. Look for a large yellow house, its across from a local bar called Trabajo and a street called Calle Manuel M. Plascencia and Av Revolucion. Once you get there you will need to call a lady called Paula so make sure you have an international phone with you. I think she lives there but after we got the keys we never saw her again. Check out was confusing too since she also doesn't answer her phone. There is an office downstairs that took out keys when we left. Despite the communication issues, this place was good. It's not in the heart of Sayulita - you will need to walk about 5/8mins to get into town but its nice to see the old area thats not touristy and it is a lot quieter than the main street where most of the hotels are. If they can sort out their communication issues this place would have been full stars.
Victoria
2017-02-13T00:00:00Z
The place is beautiful and spacious. Secluded at the top of the building, with an awesome view of the mountains. The common area has a hot tub that's covered and plenty of seating to enjoy morning coffee. The bed is big and comfortable, the AC and Fan work great making for a comfortable nights sleep when it's warm. It is about a 10 minute walk from town, so I recommend getting a golf cart. They're inexpensive and a great way to see the town. Overall, I loved my stay, and would definitely stay here again.
Mathew
2016-03-13T00:00:00Z
Room Type
Entire home/apt
---
Property Type
Apartment
---
Accommodates
2
---
Bedrooms
Sayulita, Nayarit, Mexico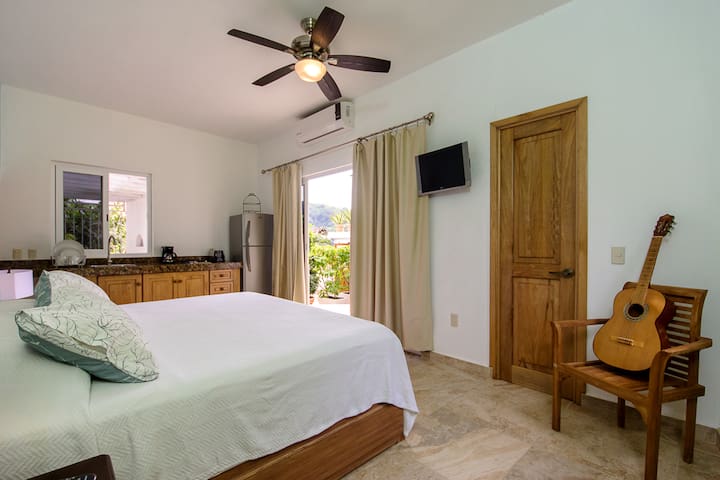 El apartamento esta localizado en la zona norte de Sayulita , a unos 150 metros de la playa . Excelente zona , el departamento se encuentra en optimas condiciones de uso , agua caliente , cocina al aire libre , wi-fi . Es un complejo de diferentes apartamentos , para llegar al Studio Paraiso # debes de subir escaleras ( 20 ) ya que es el ultimo apartamento del complejo , muy seguro y tranquilo al mismo tiempo .
Ofrezco un Studio privado , este incluye ventilador de techo , closet , baño privado con agua caliente , wi-fi . La cocina es de uso exclusivo ( se encuentra al aire libre ) Es un espacio bien cómodo, rodeado de verde y tranquilo . Se encuentra a unos 150 mts. de la playa ( Excelente ubicación )
La casa se encuentra en la zona norte de sayulita , a unos 150 mts. de la playa ... particularmente esta zona es de mi preferencia , ya que es más tranquila , segura ... se encuentra todo cerca =) es una ubicación ideal .
Clean and cute!
Donna
2017-04-05T00:00:00Z
Great indoor/outdoor studio space surrounded by sweet locals.This is the perfect side of town, out of the busy nights.... but super close to walk to beqch and town. Bruno was so kind to me... very helpful.️
Bonnie
2017-04-09T00:00:00Z
Bruno's place was perfect for our stay! It is perfectly situated with a 3 min walk to the nicest part of the beach and another 3 minute walk to the heart of Sayulita. It is also far away enough, our stay was super quiet and relaxing. I would stay there again!
Audrey
2017-04-01T00:00:00Z
We loved our stay in Bruno's studio in Sayulita. A quiet place tucked away in northern Sayulita but only a four minute walk to downtown. Very clean and well decorated! The bed was huge and comfortable. It was everything we hoped for! Bruno was a marvelous host! He offered many suggestions and was always available. We will be staying with him again!! Thank you so much!
Katie
2017-03-21T00:00:00Z
Great place!! Fantastic location, perfect for our needs. Sayulita is lovely and Bruno was kind and helpful!
Natalie
2017-03-24T00:00:00Z
Terrific space and terrific host. Thank you again amigo!
Kyle
2017-02-19T00:00:00Z
We had a wonderful time staying here! Bruno was such a great host, always available and checking that everything was right for our stay. Really nice studio, loved the outdoors kitchen and the really friendly neighbors. Really easy walk to the beach and to downtown, easy parking too! A whole package. We will definitely come back and stay here again.
Marlon
2017-04-03T00:00:00Z
Awesome place. Close to everything but quiet and tucked away. Super clean and very safe. Bruno was always available to answer questions or help me out in any way I needed. He went out of his way several times to make sure I was having a good time. Very cool guy. Highly recommended.
Ryan
2017-03-18T00:00:00Z
Room Type
Entire home/apt
---
Property Type
Apartment
---
Accommodates
2
---
Bedrooms
Sayulita, Nay., Mexico
Just two blocks from the beach, the northern area of Sayulita near reataurants, shops.
The studio is perfect for a person since it has a single bed, and also includes an inflatable mattress with bedding for someone else. A very safe place with everything you need to spend an incredible holiday in Sayulita
We are two blocks from the beach, it is a very quiet area ready to enjoy
Very cozy accommodations, and extremely clean. Sabrina is a fabulous host!!
Hauna
2017-01-02T00:00:00Z
The studio is a great stay for the solo traveller who wants a clean, quiet place that is close to the beach, town and all amenities.
Sam
2017-02-24T00:00:00Z
This place is tiny and cute, great for one (maybe 2?) people. It is really close to the beach and a 5 minute walk to the town. My only complaint, and this has nothing to do with the host, is that it was really loud at night even though it is not "downtown" but I guess if I had been out partying myself, I wouldn't have cared.
Sarah
2016-12-26T00:00:00Z
The host canceled this reservation 57 days before arrival. This is an automated posting.
Jennifer
2017-01-30T00:00:00Z
I enjoyed staying in this apartment! It's only a five minute walk from town and the main square but the perfect location on the beach (the apartment is located on the quieter, less crowded side of the beach).
Laura
2017-02-20T00:00:00Z
It was my first time to Sayulita and was quite charmed. Sabrina was a very nice and communicative host. She was available but left you alone. The place was close to the beach and a 10 min walk to the plaza. I liked being out of the thick of things. Her studio is good for a single person or a couple not minding to share a small bed. She does have a blowup mattress if needed.
David
2017-01-07T00:00:00Z
Great spot, clean, well furnished, nice mattress. Close to the center and the beach but a few blocks out so it's quiet. I would definitely stay here again.
Keith
2016-12-22T00:00:00Z
Nice little studio close to town. The location is great as it is very close to everything, but away from the noise of town. It is a minimal setup, but everything one needs. Bed is big enough for one only so we used the provided blow up mattress.
Ryan
2016-12-28T00:00:00Z
Room Type
Entire home/apt
---
Property Type
Apartment
---
Accommodates
2
---
Bedrooms
Sayulita, Nay., Mexico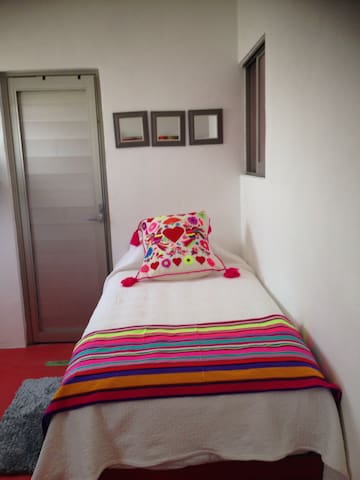 Our ocean view studio, on Gringo Hill, has just had a mini-makeover and is now ready for short term, magical Sayulita experiences. Minimum 5 night bookings, to ensure you've had enough time to process all the goodness. Estudio Platanito is located in the center of Sayulita just a few blocks from the beach. It features a private bathroom, fridge with freezer, small and very basic kitchenette and sliding glass front that allows you to enjoy the view from your king size bed.
We loved Kyra's place! Can't wait to come back and stay there again (though I'm scared it may be booked out all the time, we were lucky enough to get in as the first guests!) It's well situated on a hill above the main square of Sayulita, super clean and spacious with an incredible view out to the ocean. The deck out the front is a lovely place to have a beer and watch the sunset. Kyra herself is super welcoming and easy to deal with. Couldn't recommend it higher!!
jack
2017-03-21T00:00:00Z
Kyra, was such a ray of light and truly an original, cool and amazing person. She went above and beyond as a host and i feel like a gained a new friend during my stay in Sayulita. Our abode was so cool and an easy walk down the steps into the hustle and bustle of the quaint plaza area. One entire wall is a glass sliding door that opens to banana plants and looks out over the ocean and feels like you are in the canopy of the trees. The simple, streamlined place is clean and offers all you need for a unique stay. Sayulita can be a loud place but here, that was not an issue....We met Kyra's family, hung out at an art exhibit on the stairsteps with other neighbors and artist's businesses, went to Vallarto with her for an event and just thoroughly enjoyed her insights and suggestions giving us an insider's edge as to what to do. My friend and i definitely want to go back and stay with our new friends!!! Can't Wait!!!! Thanks so much Kyra!!! Miss you!!!
kelly
2017-03-27T00:00:00Z
The host canceled this reservation 281 days before arrival. This is an automated posting.
Jacqueline
2017-03-24T00:00:00Z
Kyra's House on the Hill was a slice of heaven. It is located just above town so you have an escape away but easy access to the beach, shops and restaurants. It is beautifully minimal but you have all you need. Kyra is so helpful and knowledgeable about the town and history of Sayulita. Whatever you need I believe Kyra can lead you in the right direction. She went above and beyond as a host. We loved sitting on our private deck and watching the sunsets over the ocean. I hesitate writing such a good review because I would like for Estudio Platanito to be available whenever we go back. But it deserve the 5 stars I am giving it. Enjoy a unique and lovely place!
Joelle
2017-04-11T00:00:00Z
Room Type
Entire home/apt
---
Property Type
Apartment
---
Accommodates
2
---
Bedrooms
Sayulita, Nayarit, Mexico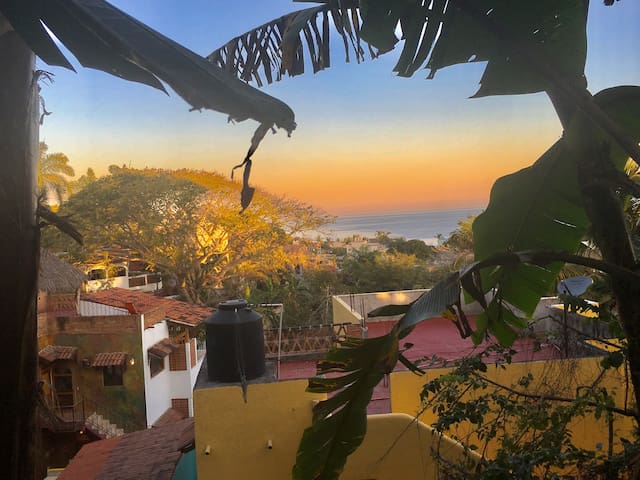 Perfect little apartment for 1 or 2 people, completely furnished with a full size refrigerator, stove-top and private bath. A patio overlooking the dipping pool runs across the front and and provides a great space to enjoy the garden or share a meal
A sweet one room apartment ideal for one or two guests with a double bed, a private bath, full size refrigerator, stove-top, ceiling fan and a lovely patio overlooking the dipping pool.
We are adjacent to Sayulita Animals and very close to Costa Verde International School. Both of these offer wonderful opportunities to volunteer. There is a carpenteria next door.
She's a great hostess, they're nice people, the place is good.
Lobo
2016-11-20T00:00:00Z
Jennifer and her hubby have a wonderful property located in a quiet neighborhood a bit out of the sayulita center of town. There is a main road being constructed near their place, so it can get dusty and busy, since their street is a detour route for the connstruction. Jennifer and husband were so nice and accommodating. Very friendly to talk to and were always around to answer questions or give out ibuprofen for an aching head. The property is beautifully landscaped, and comfortable. All their units are simple, comfortable, and well appointed. The only thorn was the shower. Not much water pressure and no warm water. But not a huge deal in warm Mexico.
Ryan
2016-12-24T00:00:00Z
We truly enjoyed our time at Jennifer and Gary's. The place is a cool oasis just outside the crowds. They were both kind, attentive and relaxed. I enjoyed our chats and Jennifer took good care of me when I didn't feel well. Such a lovely week. Thank you!
Daniel and Lanna
2016-12-31T00:00:00Z
Nice welcome, cute quiet apt. Pleasant short stay. Nice 8 minute walk towards the beach. Thanks!
Valeria
2016-10-28T00:00:00Z
Jennifer's place was lovely. My son really enjoyed the pool. Jennifer and her husband were extremely helpful with all of our questions and needs. The home is next to a cantina, so get used to a little music in the evenings!
Tess
2016-11-30T00:00:00Z
Awesome place to stay not too far from the hussle and bussel but far enough that it's quiet. Jennifer and her family were awesome. Kathy got ill on the last day and we were able to check out later so that she could rest up a bit.
Carlos
2017-03-12T00:00:00Z
Jennifer's place was perfect and she was a perfect hostess. Smooth sailing getting in, great value and tended to whatever I needed.
Nadav
2016-04-22T00:00:00Z
Jennifer and Gary were amazing hosts. Made me feel right at home since the first day. They answered all my questions, give me recommendation for things to do in town, and even helped with my laundry. The studio was a really good size with kitchen, nice bathroom, and super clean. The wireless internet was really great to have too. The yard is really relaxing and cozy with a little swimming pool to cool off during the hot days. The location is nice and quite at night, away from the busy part of town. About 10 minute walk to the downtown Sayulita and the beach. I will definitely be coming back here next time I visit Sayulita.
Shawn
2016-04-15T00:00:00Z
Room Type
Entire home/apt
---
Property Type
Apartment
---
Accommodates
2
---
Bedrooms
Sayulita, Nayarit, Mexico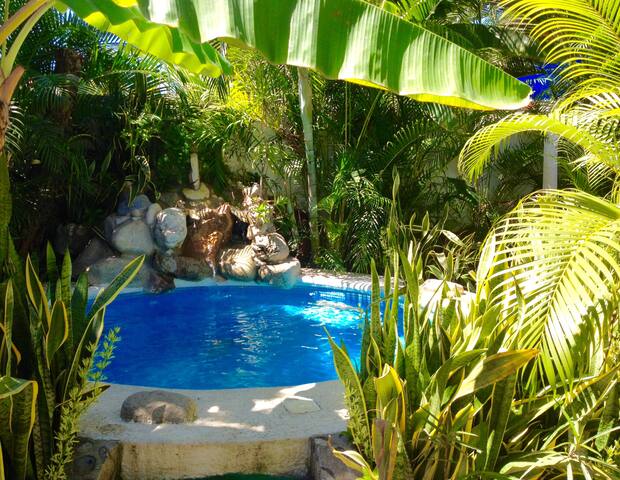 Stunning modern home located in one of the premier locations, walk to fantastic restaurants, shopping, surfing or just sitting at cafes for people watching. Beautiful ocean views from private dipping pool!! If you're new to airbnb, use this link to register and receive a discount... www.airbnb.com/c/dnall
Casa Brava Sayulita Large one bedroom private guest house with stunning ocean views and private dipping pool. Stunning modern home located in one of the premier locations, walk to fantastic restaurants, shopping, surfing or just sitting at cafes for people watching. Yet the property is just far enough away and totally private to still offer 180 degree views of the Pacific Ocean, unspoiled jungle, and the quaint village of Sayulita. You might not want to leave the crystal clear water of the salt-water dipping pool which seems to flow endlessly into the sea, or you might fall into the hammock or just and read or nap. It's easy to watch the ocean for hours. There is amazing bird watching from the house: the little green parrots, the Black-throated Magpie Jays, Macaws and even Chachalacas ( if you never see one, you'll definitely hear it); these are a few of the 336 species living in the area. Let us arrange for an incredible whale watching tour from December until early March. The tour is led by a research oceanographer who follows their migration patterns up and down the North American coast and knows every whale's name by sight. Hike through the jungle to secluded beaches and picnic before jumping into the surf. The home was designed by a well known Mexican architect in true contemporary style using concrete and entire walls of glass with wonderful inside/outside living areas. Handcrafted custom Parota wood louvered doors open onto the covered patio, and pool area. Every individual detail was carefully chosen to compliment and enhance the unique and comfortable design, such as the onyx walls, honed granite counters, and custom made furniture. The king sized bed features 600 thread count Egyptian cotton sheets, and makes a perfect spot to relax and watch one of the 300 DVD titles in the media library. If you can't completely leave the outside world behind, there is WIFI throughout and unlimited calls to the United States and Canada. Full time English speaking manager will answer your questions and help with all of your needs We also provide housekeeping and laundry service. Want to have a private cook come in to prepare Mexican meals some of the time you are there? Or have a masseur set up a table on our terrace for an ocean view massage? These and even private yoga instruction can easily be arranged. Designed with a deep appreciation for the natural beauty of Sayulita, Casa Brava is a bold and stunning contribution to Mexican tropical modern architecture and must be seen and experienced to be truly appreciated. It brings contemporary living into balance with its spectacular tropical setting. It's just a 10 minute walk to both the plaza and the beach but returning home you'll have a very steep hill for the last block so give yourself a couple of extra minutes for that:) - 1 Bedrooms and 1 Baths (sleeps 2) - King sized bed with 100% Egyptian cotton high thread count sheets - A/C in bedroom and ceiling fans throughout - Full kitchen with stainless appliances, blender, microwave, coffee maker - Plunge pool and covered view terrace - DVD player in bedroom with access to 300 titles - Built-in stereo - Ocean and Jungle views from every room - Purified water system throughout the entire house - High speed WiFi Internet access with unlimited calls to the States and Canada - 100% cotton towels, and beach towels provided - 10 minute walk to beach and town (bit more returning uphill) - Full time English speaking manager and housekeeping staff - Private chef and masseur available * Mountain Views * A/C * DVD Player * Chef Available * Ocean View * Parking * Stereo/CD Player * Full Kitchen * Full Time Staff * Panoramic View * Private Pool * Internet * Microwave * Housekeeping * Town View * DVD Library * Telephone * GLBT Friendly
Dale's place was fantastic!! It was a perfect location, close enough to the beach but secluded enough we could (and did) spend almost an entire day at the pool. Yes, there is a hill but it wasn't so bad and was a welcome (minimal) workout after all the beers and tequila :) Also, in the booklet in the house, he recommended some fantastic remote beaches that were not only fun to get to but virtually private once we did! Oh! And Felipe and his wife were so nice and helpful. It was such a treat to have someone there to answer questions if we needed. I cannot recommend this place enough, we can't wait to come back!
Chelsea and Joe
2013-12-08T00:00:00Z
We arrived easily to Sayulita with a rented car and were greeted by Dale's local manager, Felipe. The casita was even more beautiful than we imagined. As we settled in, we found only pleasant surprises. We ended up making friends with the guests in the casita above us, who were very outgoing. Fortunately the building left us both the privacy we wanted and the opportunity to socialize. As well, at our request, Felipe's wife prepared a wonderful meal for us one evening. Note that the road to the casita is as dark and steep as Dale says it is. A headlamp or flashlight is required packing but none of this was a problem for us and only added to the charm. As private as you can get this close to town! Dale also provides extremely detailed information on the restaurants and other surroundings, I felt like we had the local perspective. I highly recommend Dale's casita and Sayulita.
JP
2014-11-01T00:00:00Z
We had such an amazing time in Sayulita. Casa Brava was absolutely beautiful! Gorgeous views, clean, comfortable and very private. Short walk to town and the hill wasn't that bad. The pool is definitely a great touch. We didn't rent a car and walked it multiple times a day. The hosts were also two people I'm very happy I met. Thank you so much!!
Krista
2015-12-06T00:00:00Z
We stayed in the one bedroom apartment with the dipping pool and it was a lovely pied-a-terre for Sayulita. A ten minute walk away from the thick of things makes one feel far enough away to have a wonderful getaway. If you have a car it's the perfect base to explore the Nayarit coast to as far up as Tepic and San Blas. The caretaker and his wife are very helpful (she's a fabulous cook as well - her vegetarian chile rellenos were possibly the best we've had in Mexico). Thank you Dale for a lovely experience!
John
2014-10-24T00:00:00Z
Our stay at Casa Brava was wonderful. We were there for a week and both of us were really sad to leave our paradise vacation. Sayulita is a hip small beach town with great people, great restaurants, and beautiful beaches. But what made our trip to Sayulita over-the-top amazing was staying at Casa Brava (and meeting our lovely, generous, kind, and funny hosts)! Casa Brava is located just outside of the center of Sayulita, so, we had the best of both worlds: we got to walk into town and experience the lively atmosphere of Sayulita and then, head back to the house to experience the quiet serenity of the beautiful surrounding forest with a view of the beach from the living room. Our stay at Casa Brava was nothing short of perfect. It was truly one of the best vacations we've ever been on and we can't wait to book our next trip here! We also want to give a big shout out to the hosts of Casa Brava. They were SO kind and generous and AMAZING, so, thank you so so SO much. You made our vacation so memorable and you all will always have a warm place in our hearts(URL HIDDEN)Additional Items: - Water is triple purified! This was first trip I had to Mexico where I didn't get sick! - Beautiful house! - Great location, short walk into to town - Beautiful views of the ocean and the town - Warm host and great professional staff - Dipping pool in our terrace is great after a long day in town and beaches! - Hammock to rest and relax during the warm nights
Maribel
2013-11-21T00:00:00Z
We immediately fell in love with Sayulita and Casa Brava. The Guest House is airy, spacious, and modern, and provided a welcome respite after days spent on the beach in the hot sun. The views are spectacular, and there are a lot of little touches in the apartment to enhance your stay such as hammocks, ceiling fans, and the small dipping pool. Felipe and Susana will take good care of you and you will be greeted with a giant bottle of tequila and snacks. It is a bit of a journey to town/beaches due to the Casa's location at the top of a steep, windy, cobblestone road, but we did fine walking most of the time. We did tend to grab a taxi at the town plaza when returning to the house in the afternoon as that was the hottest time of day. We never regretted spending the 50 pesos on a cab! Overall, this is a very special place to stay in Sayulita and we would highly recommend it.
Camille
2014-02-06T00:00:00Z
Casa Brava deserves 5 stars, without question. Beyond being convenient and spotless, it is a stunning architectural space with a magnificent view. The staff is friendly and available to answer / assist with any possible needs you may have, and the owner is responsive and accountable. My partner and I were blown away when we woke up our first morning and saw the view. The hammock and pool are awesome after a day at the beach (about a 10 minute walk from your door). Sayulita is a lovely town with tons of sincerity and charm. Good food, friendly people, fun surf. Honestly, Casa Brava is incredible. We couldn't have imagined a more romantic place to call home for five days. It far exceeded our wildest expectations.
Stef
2014-03-14T00:00:00Z
This place is fantastic, large common areas, very attentive hosts and a fantastic view. I would highly recommend renting a car. The town is not really walking distance specially during hot days.
Alvaro
2013-01-15T00:00:00Z
Room Type
Entire home/apt
---
Property Type
Apartment
---
Accommodates
2
---
Bedrooms
Sayulita, Mexico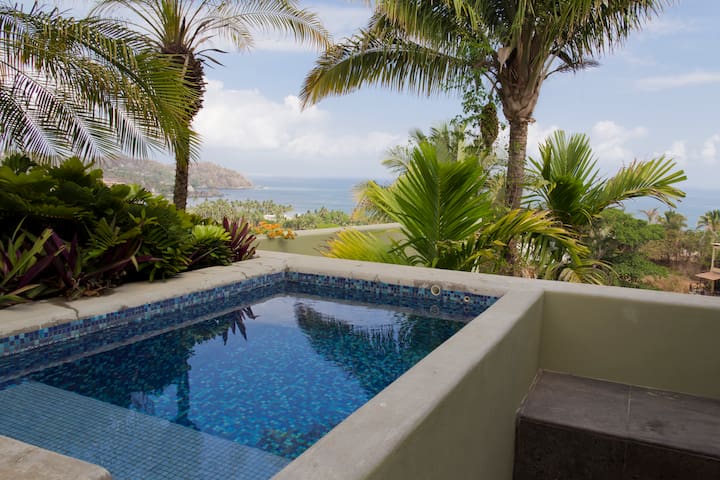 You'll love my place because of the ambiance and the outdoors space. My place is good for couples and solo adventurers.
Fantastic view and very quiet. Lovely place not too far from downtown Sayulita but without the noise.
Andre-Marie France
2017-01-07T00:00:00Z
Amazing stay and well worth the steep walk into the hills from town:)
Kayla
2017-03-18T00:00:00Z
Endroit très agréable, accueil super. Je recommande!
Isabelle
2017-02-13T00:00:00Z
Room Type
Habitación privada
---
Property Type
Apartment
---
Accommodates
2
---
Bedrooms
Sayulita, Nayarit, Mexico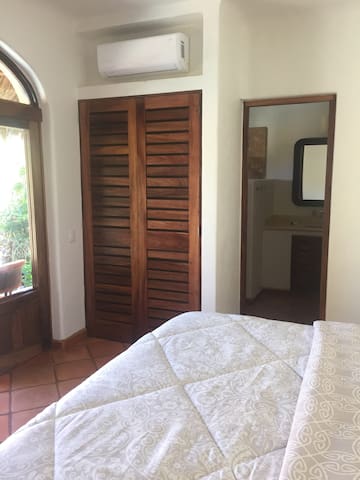 Sayulita River - Airbnb
:
Average

4.6

out of

5

stars from

192

guest reviews