My accommodation is close to nature, restaurants, spa areas. You will like my accommodation for these reasons: The house is located in the historic center of the small village of Sasso Pisano, in the metalliferous hills. To the town center, the property offers a thermal pool. The place is very peaceful and relaxing. . My accommodation is suitable for couples, business travelers, families (with children), large groups and furry friends (pets).
The house includes a double bed and a single bed, a small bedroom with a single bed, a room with 3 single beds a kitchen and two bathrooms and a terrace
It is nice big flat in the old building as part of a medieval fortress, so typical for this part of the Tuscany, out of mass tourism, ideal for relaxation. Carla and his husband was very friendly and helpful, never mind that we didn't understand Italian enough.
Miroslav
2016-08-16T00:00:00Z
The apartment is lovely and very well equipped. Carla and her husband were very welcoming and friendly. Sasso Pisano is very traditional from Toscan and ideal for family and entertainment village. We spent nice time!
Fabrice
2016-08-07T00:00:00Z
Carla and her husband were very kind and caring hosts. When we had trouble with the washing machine, they immediately responded. Their apartment is beautifully located, with lots of beds and a balcony.
Tobias
2016-07-24T00:00:00Z
L'appartamento di Carla è nel centro storico del borgo di Sasso Pisano, caratteristico borgo toscano dal cuore fumante. È il classico paesino da cartolina dove tutti si conoscono e ti salutano, le chiavi ancora nella toppa senza paura degli sconosciuti. L'appartamento è bello grande ed offre una bella vista dalle camere e dal terrazzino del bagno. Ha tutti gli accessori necessari per trascorrere una buon soggiorno. Decisamente una vacanza da ripetere con la bella stagione per scoprire di più i dintorni di Sasso Pisano. La zona è famosa per l'attività geotermica.
Valentina
2017-01-02T00:00:00Z
Siamo rimasti molto contenti dell'appartamento e del posto . Ottimo per chi come me aveva molti bambini al seguito. La piscina poi è un toccasana . Il paesino e' molto carino ed ottimo punto di partenza per gite a San Galgano , Volterra , eccetera. Carla ed Ennio sono padroni di casa molto gentili e disponibili .
Luca
2016-08-10T00:00:00Z
Room Type
Entire home/apt
---
Property Type
Apartment
---
Accommodates
7
---
Bedrooms
Sasso Pisano, Toscana, Italy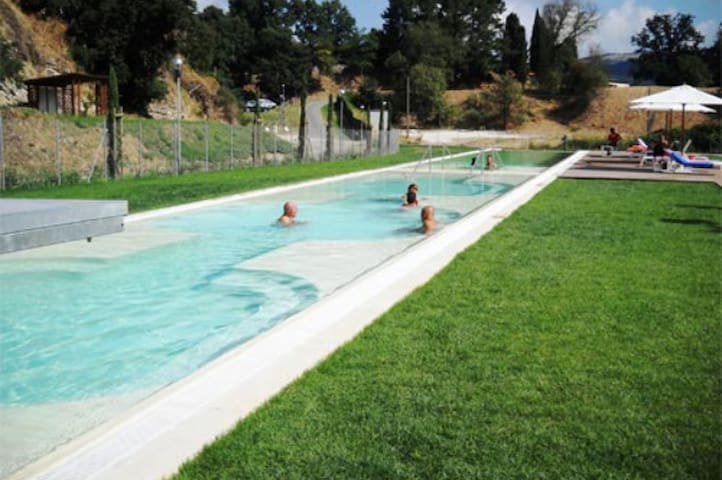 There are two big rooms: a bed room and a kitchen, and privat bathroom. Ci sono due grandi stanze, una adibita a spazio notte e l'altra a cucina con due letti matrimoniali. Bagno privato.
In the apartment are two double-beds but it is possible to host maximum six persons. The apartment is situated in the historical centre of the village. Si tratta di un appartamento con uso cucina, situato nel centro storico del paese.
First time we took my cat with us to vacation in airbnb, and that was simply amazing! First of all because of the house, that was fresh, build of natural materials so you feel there calm and relaxed. Filippo left for us local beer, oil and mirto, pasta... that was a very nice surprise, to come like at home of your friend and feel cozy and welcomed. We chose this location to escape from the mass of people in august that move around of the seaside, and to feel more chill in the evenings. There is a nice restaurant under the house and during the week there is a car the bring fruits (Friday) and fish (...may be Wednesday??).You can make a massage session (you need to book it in biolago), to have degustation in organic birreria... so there are some nice little thing in the town and sure many things to go around it =) back to the house - we found it as very nice, clean and friendly =) Filippo knows everything about local concert, events and things to do. We would definitely stay there again!
Natalia
2016-08-28T00:00:00Z
We completely fell in love with this place. It's so beautiful and it's nice to get lost in the little streets around the village. We didn't met Filippo, but he gave us all informations we need to find some amazing places and he and his girlfriend took care of us. We are so grateful for the time here. For us a very new point of view of the Tuscany in a very nice apartment. Beautiful renovated and perfect slim decorated. Thank you Filippo for every thing,
Isy
2016-09-08T00:00:00Z
Filippo's apartment is extremely spacious and beautiful. It provides every equipment that you need and is located in the heart of Sasso Pisano above a delicious restaurant and very near to the thermal bath. Filippo and his girlfriend are extraordinary friendly, hospitable and helpful and welcomed us so warmly! Filippo even drove us with his car to a natural thermal spring in the woods and provided us with very good activity tips - as well as fantastic organic cheese, honey, capers and myrtle liqueur! Paradise with attitude! Thank you again for the very pleasant stay at your's, Filippo! Best wishes, M&C
Marcel
2016-07-17T00:00:00Z
Un super logement et proprio pour ceux qui veulent découvrir la Toscane plus sauvage et moins touristique. Bcp de choses à découvrir dans la région, mais il ne faut pas avoir peur de prendre la voiture. Le propriétaire Filippo et sa compagne sont très sympas, aidant et plein de bons conseils pour les visites alentoures.
Antoine
2016-08-13T00:00:00Z
tutto ok
Carla
2015-08-16T00:00:00Z
Appartamento curato ed accogliente, spazi ampi con soluzioni d'arredo suggestive, molto belli i pavimentii soffitti e soluzioni delle muratura in pietra. Un sentito grazie a filippo che con gentilezza e professionalità ci ha accolto e reso il nostro soggiorno piacevole, indicandoci i vari luoghi di interesse naturalistico e turistico, che i dintorni offrono. Consigliatissimo
simone
2015-08-23T00:00:00Z
Room Type
Entire home/apt
---
Property Type
Apartment
---
Accommodates
4
---
Bedrooms
Sasso Pisano, Toscana, Italy
Cozy house and well organized in the ancient village of Sasso Pisano (PI). Dal Sasso Pisano you can reach the most beautiful cities in a short time, and in just 20 'may come to the coast. If you do not want to move you can enjoy a picturesque Bio Lake thermal waters as well as finding free natural hot springs just a short walk from the village.
Room Type
Entire home/apt
---
Property Type
Apartment
---
Accommodates
5
---
Bedrooms
Sasso Pisano, Toscana, Italy
Sleek, simple apartment in the quiet of metalliferous hills, in Tuscany, in the province of Pisa. The apartment has a large terrace beside the spa biolake Sasso Pisano. Nearby are the beautiful medieval Etruscan town of Volterra, Siena, San Gimignano and Massa Marittima. Within thirty kilometers, or a little more, you can reach the beaches of Punta Ala, Cala Violina and Follonica.
Room Type
Entire home/apt
---
Property Type
Apartment
---
Accommodates
3
---
Bedrooms
Castelnuovo di Val di Cecina, Toscana, Italy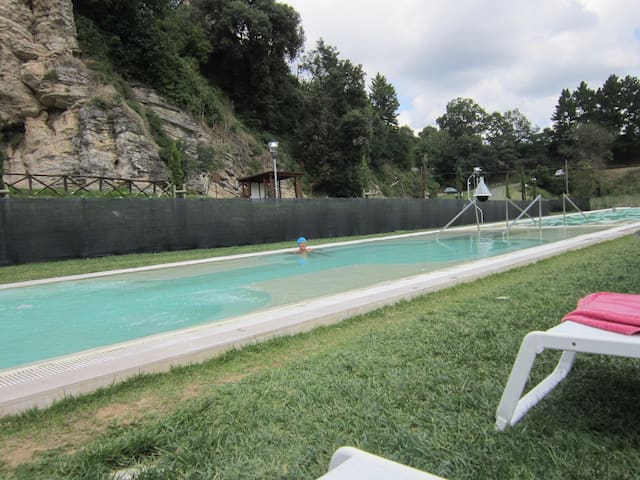 The house is located in an ancient village, near Volterra, San Gimignano, and the seaside of Follonica. The enviroment is known to be the most important center for the geothermal energy production. Therefore the house is heated by district heating.
La casa è inserita in uno dei più antichi borghi medievali della Val di Cecina e della Toscana. All'interno vi accoglie un ampio soggiorno, con cucina a vista. Le camere da letto sono due, una con due letti a castello e un'altra con due letti singoli che possono essere avvicinati a formare un letto matrimoniale. In tutto ci sono 6 comodi posti letto. I bagni sono due, di cui uno dotato di doccia. L'arredamento è semplice, ma curato e ricercato, a sottolineare i materiali caldi e naturali, come il legno e il cotto, le pietre locali alle pareti. Ideale per famiglie o coppie di amici. Il borgo è chiuso al traffico e solo pedonabile. Si trova al limitare di un bosco di castagni, immerso nel silenzio e nella tranquillità della natura, dove si possono fare delle belle passeggiate. I negozi sono nel paese costruito negli anni '70, a soli 10 minuti a piedi dall'abitazione. Tutto l'abitato è riscaldato con il teleriscaldamento alimentato dall'energia pulita geotermica, che caratterizza tutta la zona fin dall'antichità. Nelle vicinanze, infatti, si trovano i soffioni boraciferi che, opportunamente incanalati, alimentano alcune zone termali sparse su tutto il territorio circostante il borgo di Castelnuovo in Val di Cecina.
La zona è molto selvaggia, tranquilla, rilassante, piena di luoghi da esplorare e di gite da fare anche in giornata.
Hermoso lugar!
Julieta
2016-08-19T00:00:00Z
Annuncio: L'arredamento è semplice, ma curato e ricercato- non corrisponde, in quanto la cucina è sommariamente arredata con stoviglie vecchie, spaiate, impresentabili; la doccia non ha un getto, ma sgocciola . Difficoltà a reperire forniture e negozi, per la posizione che costringe ogni volta a salire e scendere dal borgo a gradini, veramente difficoltoso in caso di carico ( es. cartone di acqua minerale spesa etc).
Ciro
2016-08-20T00:00:00Z
El pueblo es muy bonito y muy auténtico, y la casa, un lugar muy agradable y tranquilo. Además, las piscinas naturales de Sasso Pissano y Volterra, que merecen una visita, quedan muy cerca.
Adela
2016-08-16T00:00:00Z
Insieme al mio compagno e la nostra cagnolina abbiamo trascorso una settimana all'insegna del relax immersi nella tranquillità di questo borgo medioevale molto suggestivo. Essendo pedonale bisogna lasciare la macchina fuori dalle mura e fare qualche passo a piedi per raggiungere l'appartamento...consiglio però di non portare molti bagagli per evitare di fare troppi viaggi su e giù... essendo il tragitto in salita potrebbe risultare faticoso. L'appartamento si è rivelato molto più grande di quello che ci aspettavamo, molto ben riscaldato e accogliente. Nel paese nuovo c'è una Coop comoda x spese quotidiane e a due passi dall'appartamento parte un sentiero nel bosco di castagni per fare passeggiate senza bisogno di dover muovere la macchina. Silvia non c'era ma abbiamo incontrato Maska una signora molto disponibilie che ci ha lasciato le chiavi. Mi piacerebbe ritornarci e consiglio vivamente questo posto soprattutto a chi ha voglia di rilassarsi e godere di un paesaggio pittoresco!
Eileen
2016-01-07T00:00:00Z
Room Type
Entire home/apt
---
Property Type
Apartment
---
Accommodates
6
---
Bedrooms
Castelnuovo di Val di Cecina, Toscana, Italy
RELAX E NATURA La Tana del Brigante si trova nel borgo medioevale di Monterotondo M.mo nell'Alta Maremma. Il paese, immerso nei boschi delle Colline Metallifere e circondato da una natura incontaminata è la meta ideale per una vacanza da relax .
La Tana del Brigante is a studio apartment located in Monterotondo Marittimo, a small medioeval town in the Upper Maremma region of Tuscany. The village is surrounded by the beautiful forests of the Metalliferous Hills and by the Biancane's enchanting landscape which was declared UNESCO World Heritage Site. La Tana del Brigante is few kilometers away from the seaside and it is the perfect solutions for anyone looking for a relaxing holiday in the Tuscan countryside. Located on the border of the provinces of Grosseto, Pisa, Livorno and Siena, Monterotondo Marittimo is the ideal place to easily reach the main cities and tourist attractions of Tuscany. La Tana del Brigante is a charming studio located on the ground floor of an ancient building placed in the old town centre of Monterotondo Marittimo. The cosy studio was entirely renovated and decorated in the Tuscan style. The studio, equipped with heating, is composed of several areas: -room with table, bookcase, wardrobe, TV, stereo and DVD player; -fully equipped kitchenette with sink, oven with 4 burners, electric oven and fridge / freezer; -sleeping area with a very comnfortable double sofa bed ; -a large storeroom; -a fully equipped bathroom with shower;
La Tana del Brigante si trova in un caratteristico scorcio del borgo medioevale di Monterotondo Marittimo nell'Alta Maremma Toscana. Il paese, situato a 539 m s.l.m., è circondato da sterminate distese di castagneti e macchia mediterranea e rappresenta il luogo ideale per trascorre una vacanza all'insegna del relax durante tutte le stagioni dell'anno. Presenti a Monterotondo ristorazioni di cucina tipica toscana, un supermercato e parco giochi per ragazzi. La vicinanza della costa permette di raggiungere in poco tempo alcune tra le più belle spiagge della zona, situate nel Parco costiero della Sterpaia e nel Golfo di Follonica. Alcune bellissime spiagge come Torre Mozza, Riva Verde, Mortelliccio, Carbonifera sono raggiungibili in macchina in 30 minuti circa. Il mite clima maremmano consente vacanze piacevoli anche in primavera e inizio autunno, stagioni ideali per escursioni nelle riserve naturalistiche o nei siti archeologici della zona. La naturalità completamente incontaminata del luogo offre la possibilità di effettuare rilassanti escursioni per i numerosi percorsi segnati presenti sul territorio: a piedi, in bicicletta e a cavallo. Il Parco delle Biancane (dichiarato Patrimonio dell'Umanità dall'U.N.E.S.C.O.) che sovrasta il paese è un luogo altamente evocativo, nonchè un punto di grande interesse dal punto di vista scientifico e naturalistico. Le manifestazioni endogene che fuoriescono naturalmente dal sottosuolo, creano un panorama suggestivo che richiama l'Inferno Dantesco e regalano al visitatore dei tramonti indimenticabili sulle Colline Metallifere.
What a great man! And lovely appartment. Good temprature and everything you need. Bed is a bit hard.. Lovely village. Thanks for a bellisomo time:)
Fleur
2014-06-30T00:00:00Z
A really charming apartment in a beautiful Tuscan village! The hosts were friendly and our stay was extremely pleasant.
Sólveig
2014-04-24T00:00:00Z
The little studio where we stayed was in the middle of a fascinating medieval town which happened to be celebrating their holiday when we were there. It was such a nice experience! However, the town is at the top of a hill an not quite close to major tuscan cities. If you want to visit the Toscana and avoid all the turism rush that there certainly is near the major attractions and you dont mind driving an hour or so to get anywhere, this is the place: quiet, calmed and nature close. Note also that being a medieval town, there is little bit of natural light in the room. I would not recomend this place to people looking for a base from which to visit the rest of the province. Our hosts were nice and although we made contact with the daughter, the father and the mother received us, though they did not live close to us. We did not have a lot of contact with them except for arrival and check out.
Valentina
2011-08-14T00:00:00Z
I stayed at Latana Del Brigante in Monterotondo for 10 days in July and it was one of my best holiday experiences ever. The apartment was fantastic. For a couple of Australians we loved it as it was authentically Italian, located in the heart of a picturesque hilltop village. The locals were all amazing and super friendly. We were greeted by the owner with a cold drink and we were left with homegrown tomatos which was a nice touch! The area was amazing too. Loads of wineries, cheeseries etc. Hopefully one day we will be back to stay here in Monterotondo and I would definitely recommend it to anyone else.
Daniel
2011-07-17T00:00:00Z
I had a fantastic stay and met most of Orano's wonderful family! I was greeted with fresh tomatoes and fruit from his vegetable garden and lovely olive oil. Orano is very welcoming and warm, and very helpful too...He has a vast knowledge of the area and is willing to share it! Will come back to his stunning area of Tuscany, which is less known than Chianti and other areas, but just as beautiful if not more! SDV
Ideacinema
2011-08-06T00:00:00Z
The place is very special. Located in a very local, non touristic, quiet village ( during October at least). It is a studio appartment made of bricks that gives it a rusty feeling. The host was very nice and inviting. And was very understanding ehen we wanted to make schedual changes.
Eyal
2014-10-14T00:00:00Z
A cute little place in a small italian town. We felt like we were in the real italy. The appartement is small but has everything you need. It is situated in the middle of the town so the store is in walking distance. At first we couldn't reach our host so we called airbnb, they did get him on the phone. Our host came right away and was very sorry. He was very kind and explained everything about the apartment. He spoke mostly italian but we could understand each other. The town was great, we would certainly recommend it!
Klaas
2012-11-01T00:00:00Z
it was a pleasant stay. the little mountain Village is cute and a nice getaway from busy cities and crowded beaches. i would defnetly recommend to visit the biolago in Sasso Pisano. it a beautiful place for a cold swim beneath the little medival village. the view from Monterotondo was also a Beauty. The apartment was clean and welcomming, arrival and departure very easy.
Elena
2016-07-28T00:00:00Z
Room Type
Entire home/apt
---
Property Type
Apartment
---
Accommodates
3
---
Bedrooms
Monterotondo Marittimo, Tuscany, Italy
L'appartamento si trova nel Castello del piccolo paese storico di Sasso Pisano. Completamente ristrutturato, travi a vista, arredi della tradizione toscana, camino funzionante, due camere, 50 mq. Intorno il Castello, il laghetto termale e i castagni.
L'appartamento si trova in un piccolo paesino sulle colline metallifere della Val di Cecina. E' nella parte più alta del paese da dove è possibile avere un bella vista sulle colline di castagni. L'appartamento è stato da poco ristrutturato, dotato di tutti i conforts e ammobiliato con mobili della tradizione toscana. Il camino è funzionante. Ci sono due camere: una camera matrimoniale e una camera con due letti singoli. Il bagno è stato fatto con la tecnica del marmorino in giallo ocra. All'appartamento si accede tramite una scala interna di pochi gradini.
L'appartamento si trova nella parte alta del paese Sasso Pisano, chiamato anche Castello dove si trova una chiesa del XIX secolo, intorno antiche abitazioni e una bella vista intorno sulle colline dei castagni.
Wir hatten ein paar wunderbare Tage im Appartment von Bina! Man wohnt in einer mittelalterlichen Castelloanlage und fühlt sich manchmal in diese Zeit zurück versetzt. Ein schöner Ort mit allem was man braucht, eine schöne Wohnung, wo wir uns sehr wohlgefühlt haben und es an nichts gefehlt hat! Für Unternehmungen jeglicher Art, von Besichtigungen der wichtigsten Städte und Dörfer, Spaziergänge, Ruhe und Erholung, sowie ein einsames Bad in den heißen Quellen, ist Sasso Pisano ein guter Ausgangsort. Bina und ihr Mann standen uns am Ankunftstag sehr gastfreundlich und mit vielen nützlichen Tips zur Verfügung! Wir kommen gerne wieder! Mille grazie per tutto! Thomas, Caro & Ashra
Thomas
2015-10-24T00:00:00Z
L'appartamento è fantastico, spazioso, appena ristrutturato e molto pulito. Bina è stata veramente molto disponibile ed accogliente. Il parcheggio gratuito non è lontanissimo ma preparatevi ad affrontare a piedi una bella salita con i vostri bagagli. Purtroppo ogni mattina siamo stati svegliati verso le 7.00 da un cantiere proprio sotto casa. A parte questo, l'abitazione è indubbiamente in un luogo molto bello e tranquillo, a circa 30 minuti in auto da Follonica.
Simone
2015-08-15T00:00:00Z
Bina è stata una padrona di casa speciale: ci ha mostrato tutte le particolarità della casa e aiutato ad orientarci nei dintorni. Gentile e disponibile, ci ha permesso di avere un soggiorno meraviglioso!
Virginia
2016-08-21T00:00:00Z
Difficile descrivere il fascino di questo borgo medievale incastonato come un gioiello in una vallata meravigliosa .
Angelo
2016-08-15T00:00:00Z
Room Type
Entire home/apt
---
Property Type
Apartment
---
Accommodates
4
---
Bedrooms
Sasso Pisano, Pisa, Italy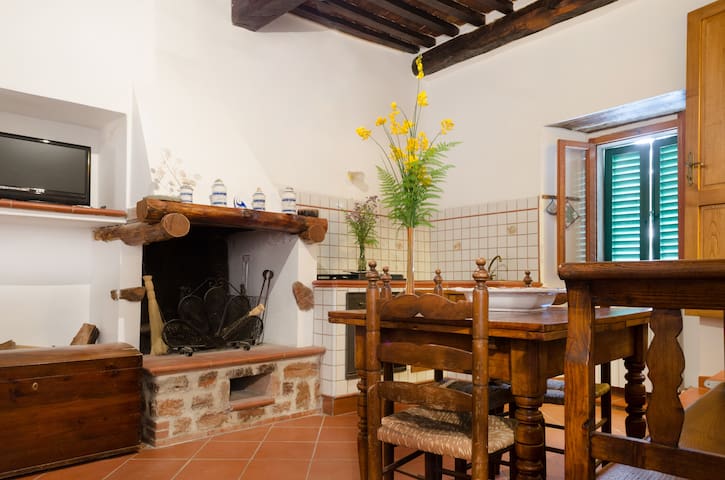 Apartment on the top floor of an ancient building, in the medieval village of Leccia. From the windows you enjoy a magnificent view. The apartment consists of a bedroom, a spacious kitchen with a fireplace and a living room with a sofa Appartamento all'ultimo piano di un antico edificio, nel borgo medioevale della Leccia. Dalle finestre si gode una vista magnifica. L'appartamento si compone di una stanza da letto, una cucina spaziosa con camino e uno spazio ad uso soggiorno con un divano letto.
The apartment is located on the last floor of what was once the castle tower of Leccia, an ancient fortified village surrounded by a beautiful and unique nature. In the tiny village the houses are built with the rocks offered by the territory and separated by a bunch of narrow, twisted lanes. L'appartamento si trova all'ultimo piano di quella che un tempo era la torre del castello della Leccia, un antico borgo fortificato immerso in una splendida e particolare natura. Nel minuscolo paese le case sono costruite con le rocce offerte dal territorio e separate da un intrico di viuzze strette e contorte.
Room Type
Entire home/apt
---
Property Type
Apartment
---
Accommodates
4
---
Bedrooms
Castelnuovo di Val di Cecina, Toscana, Italy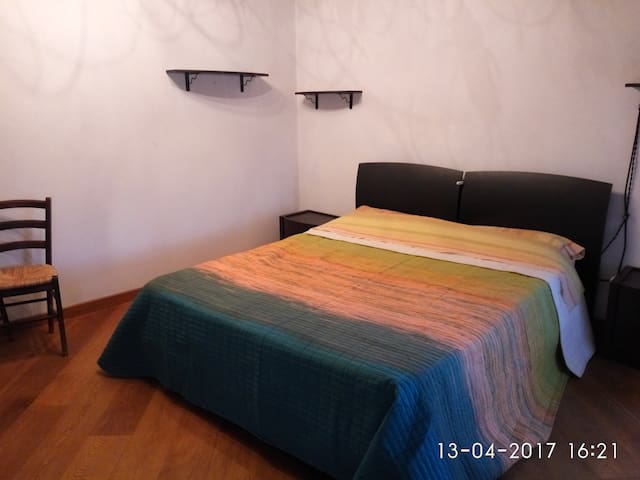 COUNTRYSIDE RELAX Completely surrounded by an uncontaminated nature, La Tana del Brigante is located in the small medieval town of Monterotondo Marittimo in the Tuscan hills. It is a perfect location for absolute relaxation and reconciling with the world and nature. YOUR HOME IN TUSCANY Tana del Brigante is a charming apartment located on the ground floor of an ancient building placed in the old town centre. The cosy studio was entirely renovated and decorated in the Tuscan style creating a very evocative and welcoming atmosphere. THE PERFECT HOLIDAY La Tana del Brigante is few kilometers away from the Natural Park Biancane and the seaside. For those who love visiting historical or archeological places this area is really interesting as well.They can visit Volterra, Massa Marittima, Populonia... Studio La Tana del Brigante is a charming studio located on the ground floor of an ancient building placed in the old town centre of Monterotondo Marittimo. The cosy studio was entirely renovated and decorated in the Tuscan style. The studio, equipped with heating, is composed of several areas: -room with table, bookcase, wardrobe, TV, stereo and DVD player; -fully equipped kitchenette with sink, oven with 4 burners, electric oven and fridge / freezer; -sleeping area with a very comnfortable double sofa bed ; -a large storeroom; -a fully equipped bathroom with shower;
L'atmosfera e' quella del paese e l'accoglienza da parte dei cittadini fa parte di un tessuto culturale che va scomparendo.
If you want a proper Tuscan off-the-beaten track experience, this will be perfect for you! The town is small, beautiful, and very quiet. We didn't see any other tourists here, making it one of the highlights of our trip. The studio looks great, perfect with all the essentials you need. We highly recommend staying here!
Alex
2015-08-28T00:00:00Z
Un luogo accogliente e confortabile, complimenti Oriano e a presto! Ingrid e Riccardo
Ingrid
2015-11-27T00:00:00Z
Vi havde blot en enkelt overnatning i Monterotondo Marittimo, hvilket vi fortryder da det er en rigtigt charmerende by. Lejligheden havde alt hvad vi havde brug for og er placeret rigtigt hyggeligt midt i byen. Da vi ankom blev vi ekskorteret i bil ind til hvor vi skulle være da det var svært at finde selv, og vores vært havde sørget for lidt forfriskninger i køleskabet. Desværre var der ikke mange spise- og indkøbs-muligheder i nærheden, så det er et krav at man er i bil hvis man tager dertil.
Stephanie
2015-07-27T00:00:00Z
c'è stato un disguido sulle date in calendario disponibili. Tuttavia il signor Orano è stato gentilissimo a trovarci un'altra sistemazione per quelle date e ha provveduto a metterci in contatto con un altro host. Siamo stati trattati benissimo, ci siamo sentiti ben accolti in questo paesino toscano ultraospitale dove speriamo di ritornare presto :)
Myriam
2015-08-24T00:00:00Z
Buona l'accoglienza, la casa è molto carina e nel vecchio borgo, tutto perfetto... grazie!
Gabriella
2015-04-20T00:00:00Z
De verhuurder was een aardige man, die ons opving op het dorpsplein. Hij bracht ons naar het appartement dat er goed uitzag. Het bed is een uittrekbare slaapbank, waar mijn zoon goed maar ik slecht op geslapen heb. Het grootste probleem dat wij hadden met het appartement was het feit dat er maar 2 minuten warm water was en dat daarna de boiler weer 10 minuten moest opwarmen. Dit, het slechte bed en de ligging was voor ons de keuze om niet na drie maar na twee dagen weg te gaan Monterontondo Marittimo is een klein dorpje ongeveer 45 minuten van overige plaatsten. er is één bar restuarant dat behoorlijk duur is.
Arjan
2014-07-27T00:00:00Z
Room Type
Entire home/apt
---
Property Type
Apartment
---
Accommodates
3
---
Bedrooms
Monterotondo Marittimo, Tuscany, Italy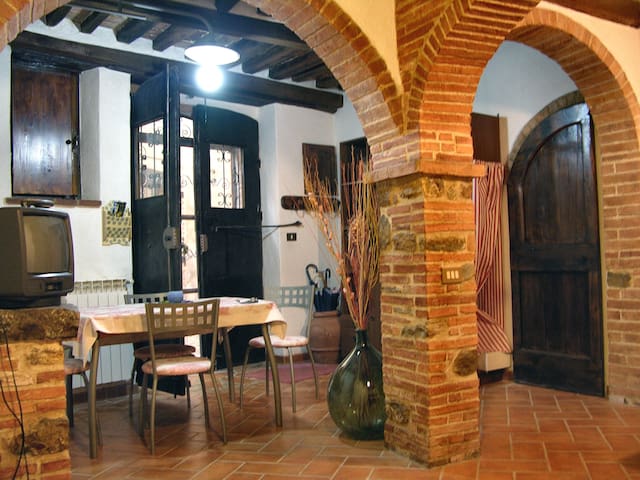 miniappartamento composto da soggiorno con divano lettoper 2 persone, TV possibilità di collegamento internet, cucina con fornelli gas, forno, frigorifero, camera matrimoniale in soppalco a vista con scala in legno e parquet, bagno con doccia piccolo soppalco con scala estraibile e con cameretta minore. L'appartamento molto raccorto ed isolato è ideale per luna di miele ma anche per una vacanza riposante e tranquilla. Dalla località è possibile vedere le isole Corsica, Elba, Montecristo ed altre minori. A meno di 1 Km. dal parco naturale delle Biancane recentemente inserito nel patrimonio dell'umanità dall'UNESCO. Immerso nei boschi con circa 400 km di strade bianche segnalate per escursioni a piedi ed in MTB. A 35 Km. dal mare, molto vicino a città etrusche e medioevali Populonia km.45, Vetulonia Km. 40 Volterra Km. 50 Massa Marittima Km.18 Campiglia Marittima Km. 30 Siena Km.60 San Gimignano Km.70 Firenze km.100
We spend one night at Cesare's place. His son Julian and Julian's mother were very helpfull and nice. Julian helpt us parking car, arranged breakfast in the local cafe and showed us around. Perfect host. Beautiful surroundings and beautiful appartment. Very nie experience. Recommend!!
Edite
2013-07-29T00:00:00Z
Room Type
Entire home/apt
---
Property Type
Apartment
---
Accommodates
5
---
Bedrooms
Monterotondo Marittimo, Tuscany, Italy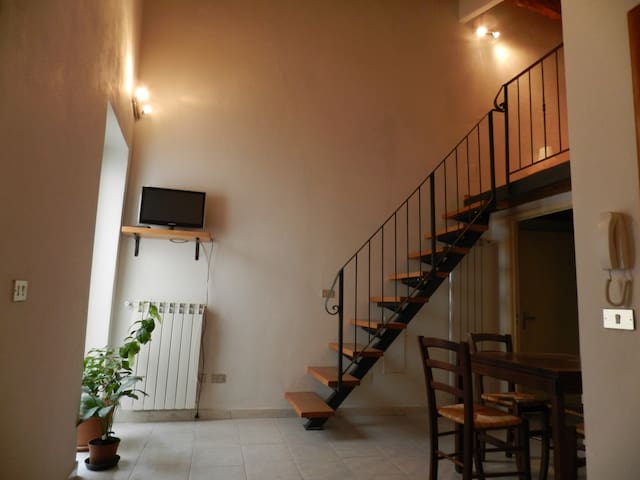 studio, composed of: living room with sofa bed, TV, possibility of internet connection. kitchen with gas stove, oven, refrigerator, double room, bathroom -car park at 50 m. bus to train station and the sea. Biancane Park, a UNESCO World Heritage Km.1 City of Interest: Florence Km.100 Siena Km. 63 Volterra Km.48 Populonia Km.45 Massa Marittima Km.20 San Gimignano Km.70 characteristic area for its nature walks with the possibility of mountain bikes and trekking between wild boars, deer and other animals
Nice host! Nice place. The village lost in Tuscany was very interesting point in our 2-week-journey through Italy. Little language problems didn't disturb us. The flat in the storic center - new prepared, clean, with everything we need. Close to nice local restaurant with fantastic food and service. Cesare - arrivederci!
Adam
2013-07-07T00:00:00Z
Room Type
Entire home/apt
---
Property Type
Apartment
---
Accommodates
4
---
Bedrooms
Monterotondo Marittimo, Tuscany, Italy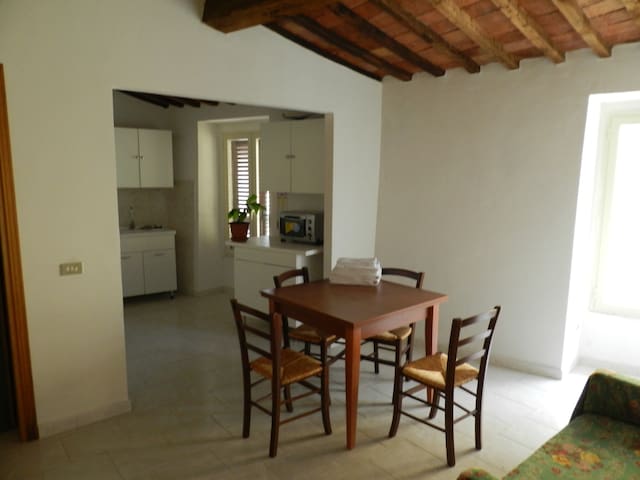 Il soggiorno in questo locale è perfetto per chi desidera stare lontano dal turismo di massa e visitare il luoghi importanti della Toscana siano essi le città d'arte quali Pisa Firenze, Siena oppure la costa marina come l'Isola d'Elba ,Donoratico .
"Casa delle rondini",so named for the flight and cries of swallows before the windows on summer evenings, is a perfect place to stay for lovers of nature and light. Casa delle rondini" is located in the pretty medieval village of Lustignano ,near Pomarance , set in the green and unspoilt hilly area of Tuscan Colline Metallifere. in the Pisa province. It is a recently refurbished 50-square -metres one-room flat on the ground floor with private entrance. It offers confortable and quiet accommodation to short or long-term guests. The interior includes two distinct areas : a sleeping zone with a double bed , bed -tables and a wardrobe , separated from the sitting/dining area. by a piano and a reed curtain and furnished with a single sofa- bed and a dining table with four chairs. The bathroom with shower is separate. Lustignano is only 30' drive from the coast .This allows guests to combine daytime bathing activities and evening relax in the cool of the hills. The nearest beach is Parco della Sterpaia ((URL HIDDEN) a protected marine area rich in lush mediterranean vegetation. Further South, the Follonica area offers bathing establishments , cafes, restaurants, pubs and clubs. If you drive North, at Terme di Caldana ( (URL HIDDEN) you can bathe in natural swimming pools of sulfur water A renowned spa is located in Donoratico.( (URL HIDDEN) An amusement park for children is also available in Donoratico.
Il paese è piccolo e tranquillo. Gli ospiti possono godere della tranquillità e della vista di un paesaggio selvaggio.
If you're looking for a delightful place for a wonderful stay in Tuscany, you will need to choose this apartment. It has everything to feel at home. The apartment has all the amenities. The kitchen is well equipped with everything you need, and you can cook what you want. It's delicious when you have the window beautiful view of the valley and hear the birds singing. Patrizia is wonderful and very interesting person! During our stay, she tried to make our stay as comfortable! On the first day Patrizia arranged for us a small tour of Lustignano, she told about the history of the city and advise where you can buy food and where to go on tour. We recommend this apartment! This magical place will not leave you indifferent!
Ekaterina
2015-06-27T00:00:00Z
Our family had a wonderful time staying in "Casa delle Rodini". Patrizia and Damiano made us feel welcome in the village and its power regenerating beautiful region. We look forward to visit Lustignano again....
Honoré
2016-09-08T00:00:00Z
We felt very welcomed in Patrizia, she is a very kind and welcoming person. She made us feel at home, even better than home. Thank you so much, we are so grateful to you. You made our vacation the best one yet!
Josef
2016-07-23T00:00:00Z
We had a nice stay at Patricia's place, they are very nice people. We had a bit trouble finding Lustignano with our GPS. Make sure to get the coordinates from (SENSITIVE CONTENTS HIDDEN) maps for your GPS that should erase all troubles to get there. Lustignano is a very authentic and cute village with a beautiful view and friendly people.
Philipp
2014-09-20T00:00:00Z
During August 2013 we had a great stay in Patrizia's appartment in Lustignano. The appartment is conveniently located in the heart of Tuscany. Major sights and the beach are within a 1hr - 1.5hr drive. When we arrived the appartment was tidy and very comfortable. Patrizia made sure there was nothing more to wish for us, the fridge was full with breakfast supplies and on the counter she put a bottle of her homemade olive oil for us to use. We also had the pleasure of having dinner with Patrizia and her husband Damiano twice, and all we can say is that she really knows how to cook and they are both very good hosts. If you are planning to stay in Tuscany for holiday purposes we would absolutely recommend a stay in this appartment.
Michel
2013-08-18T00:00:00Z
Our stay in Tuscany was wonderful, not least because of Patrizia's hospitality and her cosy apartment. There was everything we needed and every morning we woke up with a stunning view over the surrounding hills. The location was perfect for us to explore the area by bike and car. I can highly recommend a stay in Lustignano at Patrizia's place.
Corinna
2014-10-19T00:00:00Z
Very welcoming and generous hosts; Patrizia and her family are lovely people. The house is very spacious with a great view. The itself town is very small, but within reasonable driving distance of many of areas you will probably want to explore. Thank you Patrizia, we had a fantastic time.
Jonathan
2016-08-16T00:00:00Z
Patrizia and her family are wonderful and loving hosts. We have been invited to have dinner with them on their balcony overlooking the countryside and share beautiful stories about food and life. Their love for food reflects in their selfmade olive oil, tomatoes and wine, which they graciously shared with us. The appartment is quiet, nice and had everything we needed to cook our dinners and prepare our breakfast before exploring Tuscany. Lustignano was wonderfull and grew at us. It is very small, but the people are friendly and always smiled at us and greeted with a buon giorno or buona sera. For people who look for tranquility and a good place to explore tuscany, great hosts, we highly recommend Patrizia's place.
Oliver
2014-07-04T00:00:00Z
Room Type
Entire home/apt
---
Property Type
Apartment
---
Accommodates
3
---
Bedrooms
Lustignano, Tuscany, Italy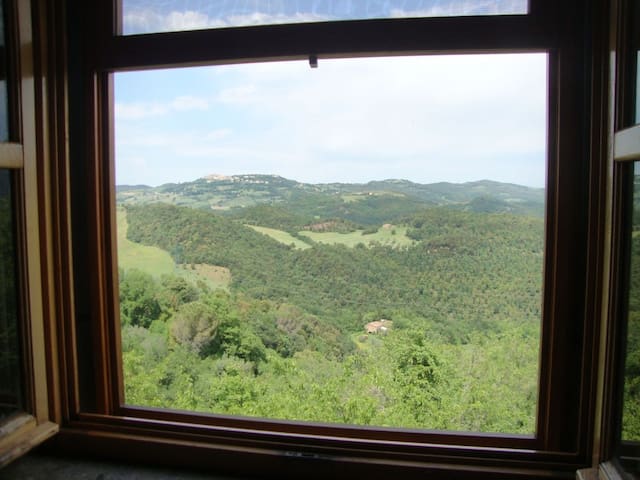 My place is one of very few with a balcony and a garden terrace with grill. The view is fantastic, early mornings with the mist slowly receding, starry nights with a high sky, no disturbing city lights. A silence to remember forever! The apt. is geothermically heated, every room has a radiator, the main room also a wood stove/fireplace for those romantic evenings indoor. Services available are cleaning, luggage transport and preparing grill. Jacuzzi installed april 2017
56041 Castelnuovo di Val di Cecina (PI) with its medieval borgo is in the middle of Toscana. It is perfect just for relaxing, or reaching historical places such as Pisa, Volterra, Siena and Firenze. From our apartment in the upper borgo, you can enjoy your morning coffee on the balcony, with the sun warming and with a gorgeous view over the valley. In the garden, you sit on a rattan sofa on the terrace, under a pergola with vines and of course grapes. It is a very private place for total relaxation, and the same fantastic view over the valley. After grilling (wood or coal) your favorite steak, you may remain, watching the stars above, undisturbed by city lights. The apartment has a big kitchen / living room. In winter, you may fire up the cozy fireplace after a day trip to Siena or one of the other famous attractions. The kitchen is new, in chestnut and have all facilities. You are welcome to our wine, and you may replace it with something good and interesting. The master bedroom has a double bed and the second bedroom has 2 singles (or a double). There is a third room on the ground floor with 2 single beds (or a double). You may reach it over the external staircase (not directly connected with the apartment ). Therefore it is possible to host 6 guests. A little office with a comfortable reading chair by the window has an antique desk. The main bathroom has a big shower. The second bathroom is connected to the master bedroom. We love old historical furniture, and have them in all rooms for that special unique feeling. You need a car to come to Castelnuovo. The bus connection is not very good. The medieval borgo was not built for cars, they had donkeys in those days. When you enjoy your holiday in our apartment, we are not there. But a young Italian couple will help you to check in. It is up to you: if you want to enjoy a more relaxed and comfortable holiday, you may arrange it with them directly; for example that the grill is ready when you come back after a day of sight-seeing. Yes, sight-seeing: you may want to visit Siena (1hr), Pisa (airport, 1,5hr) and Firenze (1,5hr), Volterra (45min). To the beach: 45min. You may want to combine the beach with an Etruscan excavation site. Welcome and enjoy!
Living in a historical medieval borgo with all modern facilities. Placed in the middle of Toscana, only a short way to all the famous historical places.
I had a vague idea of what a borgo was, but no idea of how magical staying in a ancient car free section of an Italian village would be. The apartment overlooks a nature reserve, wild boar can be seen from the garden in the morning and owls can be heard calling out at night. The apartment is very nicely furnished with a fully equipped kitchen. We were very happy here and couldn't have had a better stay.
miles
2017-04-01T00:00:00Z
The host canceled this reservation 76 days before arrival. This is an automated posting.
Magdalena
2017-02-03T00:00:00Z
Room Type
Entire home/apt
---
Property Type
Apartment
---
Accommodates
6
---
Bedrooms
Serrazzano, Toscana, Italy
Podere Botrona situated 1.5 Km from Lustignano, in the province of Pisa, a small medieval village welcomes you in a quiet family atmosphere. The Quercia apartment, furnished in a simple and welcoming hotel is located in a large fenced garden with mature trees.
The Quercia apartment can accommodate 5 people. In the large fenced garden there is a children's corner and an outdoor circular pool uncovered. Spending your holidays in relaxation and tranquility you can visit the World Geothermal Museum in Larderello, the beautiful town of Massa Marittima and Siena, in the north the superb Volterra and San Gimignano, and finally south along the Etruscan Coast the beaches of the Gulf of Baratti , the Etruscan necropolis of Populonia, the sea of San Vincenzo, Marina di Donoratico and Cecina Mare the medieval village of Bolgheri famous for producing excellent wines. Nearby you can admire the natural manifestations of the earth heat in a quiet area and still "primitive". The park of biancane awaits you m.mo Monterotondo, in the small village of Sasso Pisano you can enjoy the hot springs in large swimming pools and enjoy the beer brewed on site. A Monteverdi M.mo you can visit the old town and purchase of typical local products with game specialties in a historic small shop in the center of the country.
In the third week of August there is the "village festival" with musical events with free admission, in a beautiful park of old oaks "Municipal Park The POGGIOLO" an outdoor restaurant welcomes you lunch and dinner with homemade specialties. June 2 "Feast of taste"; The small village with its cellars open porches and you will taste and buy local products such as cheese, honey, jams, Cinta Senese meat and pomarancino lamb, all eaten with good wine and extra virgin olive oil in the area.
Maria and her sister are very nice and friendly hosts. If you need something you get everything, if you want to be on your own, they just let you.
Jenny
2016-07-22T00:00:00Z
The host canceled this reservation 47 days before arrival. This is an automated posting.
Justine
2016-05-16T00:00:00Z
Maria Giovanna and her sister Angela are wonderful ladies.. Before our coming to Podere Botrona we received enough information about the house and locality! That's a pity that we hadn't that much time to stay together to talk with them because Tuscany is so beautifull and we had so much to do till the late night:) The atmosphere in the house is very comfortable and even a bit misterious..there are the old photos of the members of the family on the walls ...... there are all the things you need for cooking and having a rest. We recomend it definitely to all the people travelling through Tuscany, it's a good starting point to go everywhere. Feeling like coming back again in the future!!!
Vladimir
2015-08-23T00:00:00Z
Miejsce zdecydowanie godne polecenia, zdjęcia nie oddają w pełni jego uroku. Dom i jego otoczenie były na tyle atrakcyjne, że czasami nie mieliśmy ochoty ruszać się nigdzie dalej :) Gospodynie bardzo sympatyczne. Będziemy miło wspominać pobyt - spokój, atmosferę i widoki jak z pocztówki.
Agnieszka
2016-08-23T00:00:00Z
Luogo splendido, casa ricca di fascino , accoglienza perfetta . Per chi desidera un'immersione nella natura , silenzio, calma, in un contesto tipicamente "toscano", ma anche in prossimità dei centri storici/artistici ( Volterra, Populonia, Massa Marittima,... i percorsi Etruschi,...) e delle spiagge ( golfo Baratti, S.Vincenzo,...). Il nostro gruppetto formato da due italiani, una tedesca e un parigino, quindi cultura e gusti differenti, è stato unanimamente entusiasta e il desiderio comune è di ritornare presto.
Vera
2016-08-25T00:00:00Z
Un endroit hors du temps dans une belle maison typique Toscane avec des hôtesses accueillantes et agréables. Un séjour paisible dont toute la famille gardera d'heureux souvenirs.
sandy
2016-07-27T00:00:00Z
Maria Giovanna et Angela ont été des hôtes plus qu'accueillantes, cela a été un plaisir de faire leur connaissance. Leur maison est magnifique et entourée d'un immense parc dont nous avons pleinement profité.Maria Giovanna et Angela ont été très attentive à notre bien- être et ont eu de nombreuses attentions.Merci pour l'huile d'olive délicieuse, les tomates et tout le reste. Lustignano ne manque pas de charme même si c'est un peu petit, un bar accueillant est ouvert à partir de 20 h et tout le monde y est accueillant. La mer et Ceccina sont à quarante minutes en voiture, si nécessaire un bus pour Ceccina part de Lustignagno. Un grande grazie per quest'incontro. Esperiamo, Valérie, Vincent,Simon e neige vedervi una prossima volta.
Valérie
2016-08-11T00:00:00Z
Room Type
Entire home/apt
---
Property Type
Apartment
---
Accommodates
5
---
Bedrooms
Lustignano, Toscana, Italy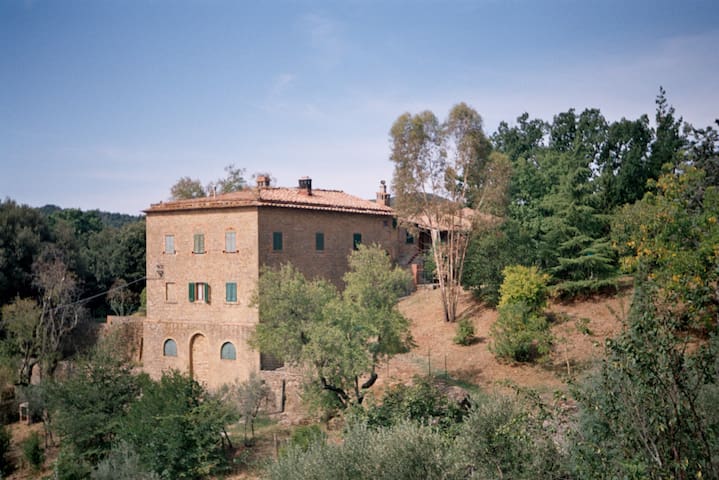 Castelnuovo di Val di Cecina is an old medieval village in Tuscany's "colline metallifere", the metal-bearing hills, exploited already by the Etruscans and important today for the geothermal energy from its hot springs. The medieval borgo of Castelnuovo is located on the slopes of a hill (600 m asl), in the midst of chestnut forests. It is absolutely car-free. The independent apartment (70 m2) is situated at the end of Via Garibaldi in the upper part of the borgo. It consists of a living room, 2 bedrooms, a dining room with a huge fireplace, a fully equipped kitchen and a bathroom. It has also a private sunny garden and a shady pergola, with garden furniture, parasol, sunloungers and barbecue. From here you have a delightful panoramic view on the Tuscan rolling hills. Free public parking, grocery, restaurants, etc, are at about 300 m, in the modern part of Castelnuovo. Distances from Castelnuovo to Massa Marittima: 25 km – Volterra: 40 km – Siena: 60 km – Florence: 90 km. To the beach (Follonica): 40 km.
This rustic apartment is located in a quiet old village. It is very spacious and has a gorgeous view that you can enjoy from your window every morning. The garden with the barbecue is an added bonus. I would highly recommend it to anyone who is not looking for an overly elegant place to stay in.
Vlad
2014-06-01T00:00:00Z
We are in a group of 3 spending 3 days in Castelnuovo. It is in the middle of Tuscany and it is one of the many towns on the beautiful Tuscany hilly landscape, but I have to say this is one of the most stunning one. We really enjoyed our stay there, and spend very good time drinking wine in the apartment :) We felt very welcome, Chris' assitant, Inselmo was very helpful although we could not really communicate with him very well due to language barrier. But Chris was very responsive. I would highly recommend this experience to stay in his house, which is a very very very old house, but yet very clean and tidy :)
Kah Peng
2015-07-31T00:00:00Z
The apartment was all right. Castelnuovo is a beautiful town in a tranquil part of Tuscany. It's easy to get to lots of nice places from here.
Morten
2015-08-11T00:00:00Z
Nous avons passé 2 agréables journées à Castelnuovo di Val di Cecina. Chris était absent mais il a été plein d'attentions (petit déjeuner, cadeaux, bouteilles d'eau) et la maison, située au coeur du village, est très agréable.
Xavier
2012-06-28T00:00:00Z
Notre séjour d'une semaine était formidable, la fraicheur de la maison dans la journée ; la douceur du jardin la matin et en soirée. L'accueil était parfait. Belle coupure dans un paysage somptueux. Merci à Chris et à Anselmo, Gb
gaelle
2014-07-21T00:00:00Z
Nous avons passé un super séjour en famille. La maison a beaucoup de charme, avec ses poutres, sa cheminée et elle est très agréable à vivre. L'extérieur bénéficie d'une terrasse, d'une pergola magnifique avec sa vigne qui donne une ambiance fraiche pour déjeuner, un jardin avec chaises longues pour les farniente de l'après midi. La vue est magnifique. La maison se situe en plein dans le bourg médiéval pour des ballades pleine de charme, les voisins sont très sympas et l'ambiance chaleureuse! Pour notre part nous avons vraiment beaucoup aimé! notre fils de 3 ans en partant a dit "à l'année prochaine la maison en italie!"
elsa
2013-08-17T00:00:00Z
Hej! Vi fick en bra vägbeskrivning och information om var vi skulle parkera.Chris hade också ordnat så vi fick hjälp med att transportera resväskorna till lägenheten eftersom det inte gick att ta sig ända fram med bilen. Vi möttes av en vänlig man som skjutsade oss på sin ape moped och visade oss lägenheten. Lägenheten var precis som beskrivningen fantastisk. Vilken uteplats vilket fantastiskt läge att få sitta ute och äta frukost med en sådan utsikt och vindruvor som växte där, vi njöt av varje sekund. Lägenheten var rymlig det fanns olika sängar både mjuka och hårda. Man var helt ostörd inomhus och lugnt utomhus. Trevliga grannar och en fin medeltida stad med prång och gränder som man kunde gå på upptäcktsfärd i. Bra standard med fräsch dusch och toalett. Vi saknade heller ingenting av husgeråd. Vi fick en välkomstgåva vin och kakor och egenodlade tomater. Vi kan varmt rekommendera det här platsen och boendet ,skulle gärna kommer hit igen!
Kimmo
2014-09-20T00:00:00Z
Room Type
Entire home/apt
---
Property Type
Apartment
---
Accommodates
5
---
Bedrooms
Castelnuovo di Val di Cecina, Tuscany, Italy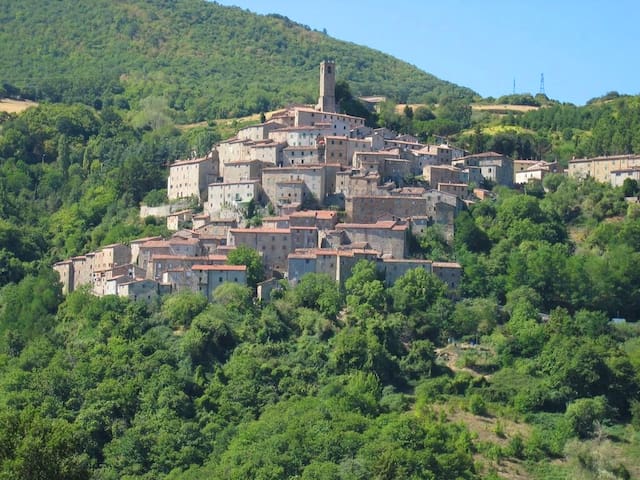 Comodo appartamento situato nel centro storico del piccolo paese di Lustignano. Lontano dal traffico e dalla routine cittadina. Dalle finestre possiamo ammirare un meraviglioso paesaggio naturale metallifero.
Appartamento composto da grande camera matrimoniale che può ospitare fino a 3 persone; camera singola, bagno, cucina e soggiorno. L'appartamento è riscaldato con teleriscaldamento autonomo. Su richiesta disponibilità di un lettino per bambini 0-4 anni. L'appartamento dispone di frigo, frizer, forno, piano cottura, macchina caffè espresso e televisore.
Appartamento situato in centro storico con vista sulle colline metallifere.
Casa molto bella stanze spaziose dalla finestra della camera si ha una vista a perdita d'occhio :)) le persone sono molto cordiali e disponibili per chi cerca pace e tranquillità è immerso nella natura è il luogo ideale
Federico
2016-08-12T00:00:00Z
lontano da tutto, ma immerso nella natura, non posso dimenticare la gentilezza e disponibilità del proprietario.
Michele
2016-07-26T00:00:00Z
Il contatto con Marusca era concreto. La casa era pulita. Il posto bellissmo,
Marek
2016-08-07T00:00:00Z
Lustignano è un piccolissimo paese davvero molto bello e tranquillo. La cosa che ha reso la nostra vacanza spettacolare è stata l accoglienza,la gentilezza e la simpatia della gente del posto. Valerio ,il figlio della signora Marusca, è stato molto gentile e sempre disponibile. L appartamento ha rispettato appieno le nostre aspettative e ,aspetto importantissimo, di una pulizia e precisione unica. Nel periodo in cui abbiamo soggiornato a Lustignano abbiamo partecipato anche alla festa del paese molto molto carina ,divertente e ottimo cibo. Trovare posti in cui la gente si adopera di comune accordo per la riuscita di un evento è una cosa troppo bella e sicuramente da vedere. Concludendo possiamo solo aggiungere che torneremo di sicuro a Lustignano e consigliamo sinceramente di visitarlo perché merita davvero.
Lucrezia
2016-08-24T00:00:00Z
Marusca és a családja nagyon kedvesek és segítőkészek voltak. A hirdetés korrekt, a valóságnak megfelel. A lakás kényelmes és tágas négy ember számára. Lustignano egy bájos, szép település. Nincs átmenő forgalma, ezért csendes és biztonságos is. Mi szívesen visszatérnénk újra.
Réka
2015-08-27T00:00:00Z
Room Type
Entire home/apt
---
Property Type
Apartment
---
Accommodates
5
---
Bedrooms
Lustignano, Toscana, Italy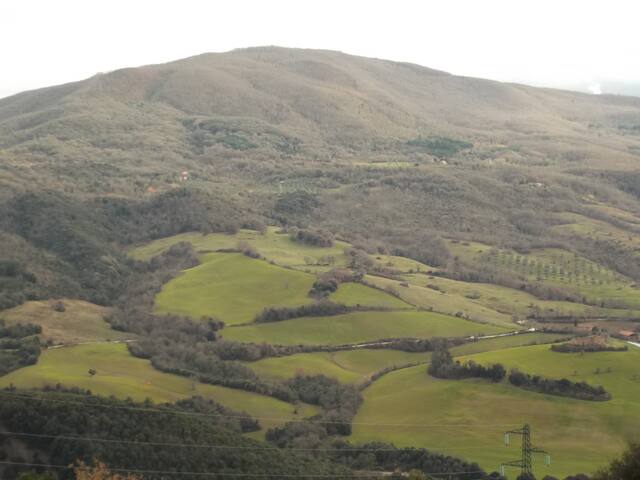 Castel nuovo se trouve en Toscane à 1h30 de Florence, à 40 minutes de la mer . C,est un petit village de 600 mètres d,altitude avec une flore et une faune magnifique. Les thermes de Sasso pisano sont à 8km . la gastronomie est simple et varièe.
L'entrèe ,est indèpendante. L'appartement est composè d,une cuisine, toilette, douche. 2 chambres à coucher, dont une avec divan lit. un salon , salle à manger.machine à laver
la piscine olympique. la campagne et les thermes de sasso pisano
Room Type
Entire home/apt
---
Property Type
Apartment
---
Accommodates
4
---
Bedrooms
Castelnuovo di Val di Cecina, Pisa, Italy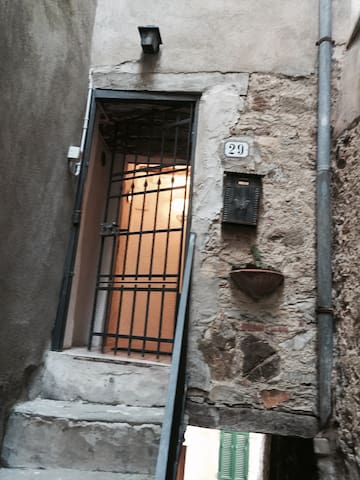 Appartamento composto da due camere di cui una matrimoniale e una doppia, soggiorno e sala da pranzo, cucina, bagno
Il paese è piccolo e tranquillo, immerso nella natura L'appartamento è situato nel centro storico lontano dal traffico e dalla routine cittadina
Alloggio spazioso e silenzioso sito in un piccolo borgo medioevale ideale per chi cerca la tranquillità e non solo la vita di spiaggia. Il mare cmq è a 45 minuti di macchina
Giulio
2016-08-14T00:00:00Z
Alberto è stato un host sempre disponibile e gentile. La casa era accogliente e pulita.
Simone
2016-08-15T00:00:00Z
Accoglienza e descrizione ottima, paesino silenzioso e tranquillo, la casa spaziosa e comoda. Abbiamo partecipato alla festa del paese ed è stato come immergersi nel passato, persone amabili e accoglienti. Siamo stati benissimo!
Silvia
2016-08-20T00:00:00Z
Room Type
Entire home/apt
---
Property Type
Apartment
---
Accommodates
4
---
Bedrooms
Lustignano, Pisa, Italy
1

–

18

of

27 Apartment Rentals
Enter dates to see full pricing. Additional fees apply. Taxes may be added.