Double bedroom with balcony, comfortable wrought iron bed, crisp cotton sheets, towels, large closet, mirror and flowery decor. Perfect for relaxing on the balcony and enjoying the view. Shared bathroom. Breakfast is included!
The apartment is furnished for comfort. The kitchen has a Nespresso machine, oven, microwave, electric kettle, toaster and more, all of which are at your complete disposal. The living room has cable television for your entertainment and some magazines.
Sant Gervasi is an upscale residential neighborhood, just 2 metro stops from the center, with great boutiques, bakeries, cafes, restaurants, a beautiful 19th century parc with a lilly pond and a fabulous covered market. The apartment sits just above Diagonal and Plaça Francesc Macià near El Corte Ingles department store. Mercadona, the largest supermarket chain, is two blocks away. There is a 24h bakery, a 24h pharmacy and many 24h supermarkets close by.
Circe is a nice and available host. We felt comfortable and spent a good night as the environment is quiet.
K
2016-02-13T00:00:00Z
Circes Place was really nice and clean and near to the citycenter. She had two cats and three dogs, so you should not be afraid of animals.
Lily
2016-09-17T00:00:00Z
There are two more dogs than in the description, 3 dogs + 2 cats, I think it should be written, although they are nice there was often urine in the living area and fur, it could be an hassle specially if you eat in the house. The host sometimes was very picky/choosy about small things. The breakfast included was good, near the house there is a good supermarket, the house is 9 minutes walking from the underground.
nicola
2016-08-11T00:00:00Z
Super friendly and helpful host! Great apartment! And amazing pets as a bonus! I recommend walking to the center, it's really close and you'll see a lot of nice places on your way.
Ira
2016-11-15T00:00:00Z
The bedroom is really nice and Circe was great and very toughtful since the begining. We had everything we needed thanks to Circe.
Cristiana Alexandra
2016-10-19T00:00:00Z
Circe was a great host, she is very helpful and thoughtful, and very quick for answer any requirement or doubt that we had, she gave us very detailed instructions for how to arrive her place. The house is very well located, and is exactly as described. Additionally, the pets was lovely company. We only regret not to had spent more time in Barcelona.
Juan
2015-12-13T00:00:00Z
Our experience at Circe's place was one of the best we have had on air bnb. She was very welcoming and helpful with questions we had about Barcelona. Her apartment was clean and homely, her pets were a very exciting addition as we miss ours at home. Would 100% recommend.
Charleigh
2015-12-03T00:00:00Z
We have received a perfect welcome from Circe. The flat is really well located: great to get Barcelona spirit! We really enjoyed our stay in her flat and in Barcelona, so we highly recommend it. Caroline and Maxime
Max
2016-02-28T00:00:00Z
Room Type
Habitación privada
---
Property Type
Apartment
---
Accommodates
2
---
Bedrooms
Barcelona, Catalunya, Spain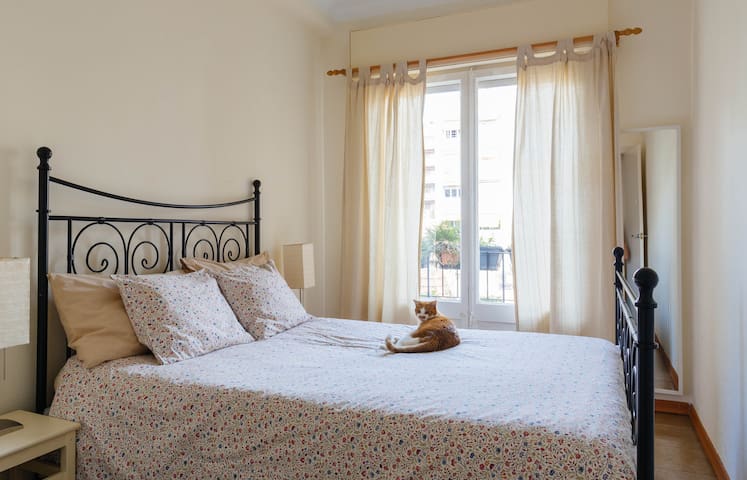 Habitacion de matrimonio amplia soleada con terraza WC compartido. Ubicada en la zona de San Gervasio ( putxet ) a un minuto de metro Lesseps, a 7 minutos de P. Gracia y Rbla. Catalunya, comunicado con ferrocarriles y autobuses .
friendly welcome, quiet neighborhood
Iva
2016-09-14T00:00:00Z
My first three nights in Barcelona I stayed right in the heart of the city. It was fun but loud. Maria's place is much quieter, a little more out of the way but not at all too far out. The metro stop and bus stops are very near by and the surrounding neighborhood has some nice offerings of its own. I only met Maria briefly but she seemed very warm and concerned for my comfort. Also, Maria's place is impeccably clean!
dana
2016-10-06T00:00:00Z
Really beautiful and clean appartement. Il was a pleasure to meet Maria, she was so nice and did everything to make us comfortable. She even made us cake for breakfast :). Also, the appartement was in a quiet neighborhood at only 5 min from the metro stop which facilitates travel in the city.
Catherine
2016-06-03T00:00:00Z
The hostel was fantastic. Maria was extremely hospitable and nice. I would stay there over and over if I went back. Very accurate description in a great location!
Alex
2015-10-25T00:00:00Z
Maria made us feel really welcome. Her place is lovely and really close to the metro and parc guell.
Clare
2016-10-24T00:00:00Z
The stay in Marias apartment was very comfortable and relaxed. The apartment and bedroom was as described. The whole apartment was very clean and cozy. Maria is a very friendly, funny and caring person. She was waiting for us until we arrived late in the evening althoug she had to work the next day. We appreciated it very much! The last day, before we had the flight, she prepared us a hearty breakfast that we also appreciated very much! If you search something easy and cozy, we strongly recommend you Marias apartment for a trip in Barcelona!
Manuel
2016-10-10T00:00:00Z
+ Location nearby metro Quiet neighbourhood Good shower Friendly owner, although we did not really meer each other - Temperature in the room (no airco) No conversation in english possible to get to know Barcelona better
Lorenzo
2016-09-05T00:00:00Z
My boyfriend and I had a great time in Barcelona, Isabel made us feel very welcome. Our plain was 2,5 hours late eventually arriving about midnight. Isabel was not able to receive us but she had arranged her nephew to greet and show us around. The room with the little terrace and the whole flat was lovely, comfortable and spotlessly clean, accurate to the description. Isabel is a very thoughtful host, there was a bottle of water with glasses for us, a warm extra blanket and a little extra heater in the room in case we were cold. We shared the flat with Isabel and one other person without any problems. Isabel was a great host ready to provide us with any information we needed. We did not speak each other's language still understood each other well. She was very kind to offer us to have some of her cake which was delicious! The neighborhood is very nice with shops and very good transport links. Warmly recommended.
Terez
2016-05-04T00:00:00Z
Room Type
Habitación privada
---
Property Type
Apartment
---
Accommodates
2
---
Bedrooms
Barcelona, barcelona, Spain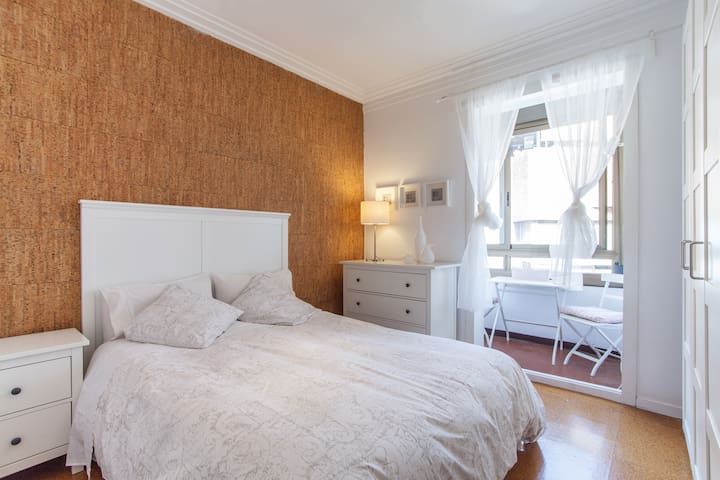 This cozy and bright attic is open to any guest who wants to enjoy a magical stay, and its atmosphere is intended to make every guest feel at ease.
The attic, an apartment of 50 meters with lounge, kitchen, bathroom and bedroom, has a spectacular 70 meters terrace allowing you to enjoy unforgettable moments in any season. Located in the central neighborhood of Sant Gervasi, 5 minutes from the heart of the city.
Sant Gervasi está considerado un barrio muy tranquilo, con sus propias infraestructuras que recuerdan que antiguamente era una Villa de veraneo de la alta burguesía catalana, pero bohemio y moderno a la vez. Se puede ver el Tibidabo y sus alrededores. Muy cerca de la Diagonal, Paseo de Gracia y Rambla Cataluña, dónde están ubicadas las mejores tiendas, restaurantes y bares de la ciudad. Junto a la Calle Balmes, una de las más importantes de Barcelona, que cruza toda la ciudad desde el Tibidabo hasta Plaza Cataluña, en ella se encuentran todos los transportes públicos que existen en la ciudad y a 10 minutos andando del corazón de la Vila de Gracia.
Just come back from a 3 night stay in Angeles flat. It is an amazing flat mainly because of the huge terrace which completely makes it. She was very helpful and arranged for a taxi to pick us up from the airport as we arrived quite late. She also left cakes and drinks so scored highly with my daughter. I would strongly recommend staying here. It is clean, comfortable and fairly central , basically exactly as described in the listing. Thank you for a really enjoyable stay!
Jane
2016-06-10T00:00:00Z
Very friendly and helpfull! Beautiful terrace and apartmet =)
Andre
2016-04-23T00:00:00Z
We loved the place so much that we don't want to recommend it out of fear it will be booked next time! That's how special it is. An L-shaped wrap terrace with an amazing view was perfect for breakfast and for relaxing in between outings. The neighborhood had shops to buy groceries for cooking at home, too. We live in Spain, and enjoyed eating in on a rooftop terrace instead of out in a restaurant. Angeles was very accommodating and patient when we were a bit later than we expected. The bottle of wine was a very nice touch.
Michelle
2015-05-23T00:00:00Z
The flat was excellent for what we wanted, and real value for money. The highlight is the fantastic terrace with views of Tibidabo hillside and the rooftops of Sant Gervasi district. And very refreshing to be in a characterful residential neighbourhood away from the main tourist centres. The flat was relatively quiet, with the sound of traffic pretty well muffled by double glazing. The one possible drawback is that the kitchen is a bit too cramped for guests who want to cook anything more than a very basic meal - but for a weekend stay, this was not a problem at all for us. Although we never met her, Angeles was very helpful and welcoming. There was a bottle of wine and basket of croissants waiting for us, and she provided good advice by text on places to eat nearby (we enjoyed La Bodega restaurant - not cheap, but very good traditional food, and just round the corner). All in all, an excellent place to stay and thoroughly recommended.
Anthony
2014-11-23T00:00:00Z
The view! The view! The view!!!!! Great apartment and the view is the cherry on top. Angeles greeted us and made us feel very welcome. The flat is right near the subway, which helped quite a bit. Also, the view is amazing!
Thomas
2016-04-26T00:00:00Z
Very nice apartment, just like in the pictures. Clean and cosy and with a fantastic view. Very good location, near the Gracia-area.
Ellinor
2015-02-09T00:00:00Z
What can I say that everyone hasn't? This apartment will exceed your expectations. It's only made better by having such a nice host
Kristen
2016-06-07T00:00:00Z
WE enjoyed our stay in a comfortable neighbourhood close to Metro and a few nearby cafes. The apartment was charming and probably more appealing in Summer when the vast terrace area could be better used.
Geof
2016-12-30T00:00:00Z
Room Type
Entire home/apt
---
Property Type
Apartment
---
Accommodates
2
---
Bedrooms
Barcelona, Barcelona, Spain
Apartment with little terrace perfect to live in Barcelona. 30 m2 modern and totally equipped, with terrace with a view to the skyline of Barcelona, in a building with elevator, placed near of Gracia neighborhood to 100 m of the Market.
My apartment have a really good recommendation. There's one guest that suggest to change the bed so I decide to do it. The apartment have a new comfortable bed for my new guests:).
The apartment was great, super clean and cozy! Location was great to Park Guell, and the metro was easy to use to get closer to downtown and the water. Ivan let us check out a little later as our flight was later in the day! Overall a great experience and would stay here again. Wifi was great as well.
Kacey
2016-10-30T00:00:00Z
Ivan was a great host! My husband and I flew in really late (with a delay) to BCN but despite this, Ivan still met up with us. He provided us with beers, some pasta (since we didn't eat dinner) and recommendations to restaurants in the city. The apartment is cozy and clean--perfect for two people. The kitchen is fully equipped if you want to do some cooking. The bedroom and bathroom are small but comfortable and functional. It's located in a good area with supermarkets, restaurants and two metro stations within walking distance. I would highly recommend this apartment to others.
Morie
2015-09-28T00:00:00Z
Ivan is an excellent host, he was quick to reply,gave us lots of directions and information about the place, and there were cold beers awaiting us when we arrived! Ivan was kind enough to let us leave the suitcases at his flat last day as our flight was in the evening and we wanted to do some sightseeing. The flat is well located, nice and calm area, quick walk to the metro and 4 stops to the centre of the city, the area has got lots of shops open till late, bars and restaurant so it is quite convenient. The flat is very clean and bright, has got huge fridge and all necessary if you wish to stay in and cook one night. The view is amazing. The bed is noisy and very soft so we did not have the best sleep ever, but it was ok for few nights. The shower is small, and although we did not have any issues with the water coming out it of it , it was a bit difficult to turn around or grab shower gel from the floor. Overall I would recommend the place 100% as you will find some flaws everywhere you stay, it is a good value for money and I would stay again for sure!
Mags
2016-09-30T00:00:00Z
The Apartment is perfect for a short stay in Barcelona! The place is tiny but for 2 people it's enough. The view of the balcony is amazing!! In the morning it can be a little Bit hot but in the evening there is no Sun on the balcony side and it's windy so it's perfect to sit outside and look at the view (: Ivan was a very nice host!
Kamila
2016-08-01T00:00:00Z
Ivan was a great host, who offered advice about anything from the subway to dinner places. The apartment was small, but perfect for a couple. It had anything you could ask for, and a lovely small terrasse with a great view. The apartment was also in close distance to the City center, and to the beautiful Park Guell. We really enjoyed our stay and would gladely visit the apartment again.
Freja
2015-07-03T00:00:00Z
We (my boyfriend and I) truly enjoyed the stay in Barcelona and at Ivan's beautiful flat. Ivan was always very quick to respond to our questions and sent a detailed guide how to best take the Metro to his place. Him and his lovely wife welcomed us at the flat with 2 cold beers in the fridge. The kitchen is equipped to cook food if you would like to and clean bedding and towels were provided. The apartment was exceptionally clean and if we were to go back for a visit in Barcelona we would book Ivan's flat again. Should you wish to visit Park Guell for some downtime it is a close walk. 2 metro stations are also very close to the flat and numerous shops are close to the place. Thank you Ivan for the lovely time!!!
Florentine
2014-05-07T00:00:00Z
Everythings fine...
Norman
2014-07-27T00:00:00Z
Ivan was a wonderful host and I had a lovely stay in his apartment! My flight was ridiculously late, but he stayed up for me and settled me in with kindness. The apartment was super clean and comfortable. The view is amazing. As mentioned, the shower is super small. I made it work by soaping up with the water off and then using it just to rinse off. Some people might have trouble with it though. I would definitely stay here again though!
Bibi
2016-07-27T00:00:00Z
Room Type
Entire home/apt
---
Property Type
Apartment
---
Accommodates
2
---
Bedrooms
Barcelona, Catalonia, Spain

Apartment very comfortable and quiet, well connected by public transport to the city center and 15 minutes walk from Diagonal and Rambla Catalunya. Perfect for families, children and groups of friends.
This apartment located in a residential district of Barcelona has everything you need. AT A GLANCE: - Double bedroom - Single bedroom - Living room of 25m2, with three sofas, one of them is a double sofa bed. - Dining area with a large table on which lengthen your meals with family and friends - Big modern bathroom with a large shower - Fully equipped kitchen - Small office As regards the aspects of equipment: - Wifi - TV - Air conditioning and heating system - Elevator - Set of commodities in bathroom and kitchen _ Nespresso machine - Washing machine and dryer - Cutlery and crockery - Bed linen and towels - Iron and ironing table - Hairdryer No doubt that in the moment you walk through the door of our house, we will resolve any doubts you may have and we will offer you infinite information so you do not miss a single detail of this beautiful, cosmopolitan city.
NEIGHBORHOOD: This cozy apartment is located in the safe neighborhood of Sant Gervasi - Galvany. Being well connected (bus, subway or train), it only takes 10/15 minutes to get to the famous Plaza Catalunya, the very center of our city which also accumulate most "must-see's" of Barcelona. However, it is necessary to depart from the hustle and craziness of downtown occasionally, and around those places that only the locals know. This neighborhood is perfect for this. A 4 steps have the Mercat de Galvany, an old market where you will find more fresh food and delicatessen. Plus you'll find a wide selection of delicious restaurants. Nearby are many clothing and shoe stores local brands with things that never find elsewhere. There are options for every budget, and you will also find many convenience stores. Finally, for those families with children there is a park just 30 meters from the house.
I have passed a great time in the apartment. Very clean, spatious and comfortable. Ewa was very nice and available in welcoming me in Barcelona! Hope to come back soon. Stefano
Stefano
2016-11-06T00:00:00Z
We would like to thank Ewa for being so helpful with everything before and during our stay in Barcelona. The guide you provided was full of good advices, the appartment was well located, very comfy and had everything you need to spend 3 days (sheets, towels, soap, even liquid detergent). Ewa couldn't welcome us herself so we met with the cleaning lady, who was also very helpful and showed us around the house. We arrived early and left our luggage in the appartment while she finished cleaning so we didn't have to drag them with us around the city. The appartment is well located, with bars and restaurants around. I would recommend Pau and Ewa to anyone! Thank you for everything, and I hope we can meet on our next trip to Barcelona ;)
Clemence
2016-04-25T00:00:00Z
My son and I very much enjoyed staying in this flat. It was a spacious and good space. The location is probably what we appreciated most. It is a bit away from the tourist areas and we really enjoyed this. It was not so far as to be inconvenient and one lovely afternoon we even walked "home" from the La Rambla area. Our hostess was helpful with recommendations and information. We would enjoy staying here again when in Barcelona.
Charmaine
2015-05-04T00:00:00Z
Pau and clara s apt was in a great location, with supermarkets and a bakery, and a fresh vegetable shop, and a deli all within a few mins walk. The apt is spacious and clean and has everything you would need. If you have children there is a small park just nearby for the kids to play in. Clara was on hand to help us out when we wanted to go places, she advised us the best way to get to places. If you are going to Parc guell, a taxi was the best option for us and it is only about 8euro. I would highly recommend staying at this apt with a great location.
Ruth
2014-04-03T00:00:00Z
We spent two nights at Pau's lovely apartment. It's centrally located in a very quiet building. The apartment is quite spacious, very clean and brand new. Pau and his wife were amazing hosts. They were very flexible with the checking in/checking out and they also let us stay at their parking spot! Just perfect, we really enjoyed it! Would definitively stay there again and would recommend anyone looking to stay in Barcelona.
Vlasta
2012-10-21T00:00:00Z
very good experience in such lovely apartment. Very clean and very quiet.ideal for family who come to Barcelona. A apartment near the station, train station and metro. So very convenient for travelers. So it's will a good choice for you.
Chao
2016-09-05T00:00:00Z
It was our first time of holiday with air bnb. Wonderful, we had the possibility of living as real barcelona people and made us changing our mind about next vacations. We will repeat for sure the experience of travelling with air bnb. Pau has been so kind with us and a perfect host. he has picked up with the car in plaza Catalunja cause it was raining and has equipped the apartment with childbed and highchair for our little kid. The apartment is confortable and clean as from the pictures, fully equipped with all you need. The only weakness can be the sight from the windows, but for a 5 days journey it is not a problem. Strongly suggested, 5 minutes walk from the metro.
Michele
2013-05-01T00:00:00Z
Our stay in Barcelona in this appartment was really nice. The location is quite convenient. The neighbouhood is good and well connected to yhe city centre by public transport. Also you find a lot to do just walking around the area. Paul and Clara were very kind and helpful giving us advise and tips to enjoy the city. The appartment has everything you need to make your stay confortable. Recommended!
Flavia
2014-05-17T00:00:00Z
Room Type
Entire home/apt
---
Property Type
Apartment
---
Accommodates
5
---
Bedrooms
Barcelona, Catalonia, Spain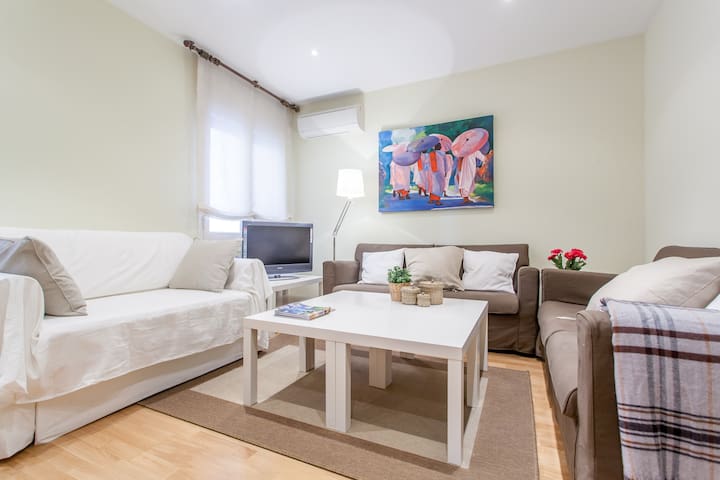 We are 7 minutes by subway from the city center. The price is the same for one or two people, we do not charge cleaning costs.Our spacious and bright apartment is also our studio, we like to cook, we have traveled a lot, we love to meet people, guide them and help them to know Barcelona with secrets for shopping, special neighborhoods, orientation of cultural visits, near walks by beach and mountain, restaurants with good price and quality, markets and shops.
We share our sunny home.Spacious room with very sunny outdoor balcony, attached bathroom, double bed, table, wardrobe to store your clothes and personal belongings. During the night our guests have privacy, as they are independent from the rest of the house with the exclusive bathroom for them.We include towels, soap and toothpaste. We have another personal WC, we only share the shower.
Our neighborhood Sant Gervasi, is safe and quiet, is not a tourist district, it is very well connected by metro, buses and taxi. Close to home you have, supermarkets, shops of varied commerce, restaurants, cafes, bars, hairdressers, bakeries, fruits and vegetables.
+ Luciano & Paula were very welcoming, check-in and check-out were very smooth and we were greeted with a nice cold bottle of water upon arrival + The apartment looked better than in the photos and has an amazing old fashioned lift to get to the 3rd floor! + Great sized towels, comfortable bed and all the rooms were very clean. + Lots of leaflets and map of the area It was really hot during our stay and unfortunately the apartment does not have air con but we were given a small fan which helped a little. The location for us was a little bit characterless but you are within walking distance of the centre and near the subway and local buses. There were a few too many house rules which stopped us from feeling relaxed during our stay like cleaning the shower after every use - made us feel more like we were staying free of charge rather than paying guests. Also to use the washing machine there is a 5 euro charge which seems a little steep but we were able to wash some things by hand. Overall a nice apartment but lacking some of the perks of staying in an airbnb.
Alexandra
2016-07-10T00:00:00Z
Our stay at Paula´s and Luciano´s apartment was exceptional! The apartment is sunny and beautifully designed and Paula and Luciano were the best hosts you can imagine. They were exceptional friendly and warm-hearted and gave us many tipps were to go in the city and the neighborhood and helped us with booking a table at a restaurant and organizing a taxi to the airport. We felt like staying at friends and hope to have the chance to come back one day!
Florian
2016-09-26T00:00:00Z
Luciano and Paula are very nice hosts. The room is well-prepared, very clean and lovely. Paula also recommend us the restaurant and sightseeing route. I will strongly recommend their accommodation.
Hou Yuan
2016-01-03T00:00:00Z
Paula and Luciano are wonderful and caring hosts! They made us feel like at home and were always ready to help us with anything we needed. Regarding the apartment, it's very clean and nicely decorated. It is also located at fantastic location near city centre that can be reached within few minutes. We are very grateful to be able to stay at Paula & Luciano's place, as they made the whole trip to Barcelona even more special to us!
Kieu Trinh
2016-07-30T00:00:00Z
We really enjoyed our stay with Paula and Luciano in Barcelona! They were incredibly nice cute couple and made us feel like home! Room was clean and cozy with a little balcony.... Everything about this flat was perfect and they were so kind to us. We talked a lot and Paula was being very thoughtful all the time. We will miss them!
Ziying(Viviane)
2016-06-21T00:00:00Z
she is very nice to us! next time, i will stay here again
이경
2017-03-15T00:00:00Z
From the moment I opened the door I felt I was at home! Their house is very clean, inviting and well organized. I really enjoyed my time staying here and they treated me as if I was their daughter. I enjoyed the space itself and the location!
Ashley
2016-03-09T00:00:00Z
It was amazing! Thx so much it was a pleasure meet with Luciano and Paula. Hope to see you soon. Luca and Seedy
Seeda
2016-08-09T00:00:00Z
Room Type
Habitación privada
---
Property Type
Apartment
---
Accommodates
2
---
Bedrooms
Barcelona, Catalunya, Spain
Double room in a big house in Gracia neighbourhood.
The house is completely renewed, two floors, a beautiful garden and a big terrace, confortable living room, 2 bathrooms and a cleanliness and equipped kitchen.
We are just 15 minutes walking from the Parc Guell, one of the best touristic places in Barcelona. The zone is full of markets, restaurants, bakeries and shops.
It was such a relief when I found Ricardo's place. I was booked into another Air bnb which felt uncomfortable and needed to change accommodation at an affordable cost. Ricardo accommodated me at the last minute with genuine ease. The place was quiet, clean and airy with a beautiful garden. Ricardo and his siblings had an irrepressible, relaxed happiness about them, they were just a pleasure to be around. On a practical level the area was well connected to the metro and everywhere I needed to be. If I am back in Barcelona Ricardo's place would be my first choice
Penelope
2016-11-21T00:00:00Z
I liked everything from spacious house to good room. Kitchen space and cabinets are well defined and allotted per room for the guests comfort. There is lot of common food likes spices and stuff in the kitchen for everyone to use. The hosts are warm and friendly and the whole house has a chilled out vibe to it. Spacious backyard and laundry facilities are available. I quiet enjoyed my stay here.
Puja
2017-01-19T00:00:00Z
Ricardo's place is great, very nice house in Gracia. I stayed for nearly two weeks, can't fault it at all, thoroughly enjoyed my stay. Great location, Lesseps metro is only around the corner, with access to everywhere you need to go. Park Guell is only a few minutes walk away too. Gracia is a lovely neighbourhood and i would definitely recommend staying at Ricardo's place. He has been extremely welcoming and accommodating. Thank you Ricardo
Derek
2016-10-22T00:00:00Z
This is a bit of a hidden gem for a Barcelona stay. The Gracia neighborhood and the hills are a relief from central locations that have beautiful sights, shops, and people. Ricardo's place is welcoming and easy. Everything was just as expected and a bit more. Thanks again!
Ian
2017-03-07T00:00:00Z
I had one wonderful time in Barcelona, in that wonderful house with even more wonderful hosts. Ricardo and his brother are both very kind and welcoming and have created a cozy spacious place with a good mixture of modern and vintage interior (plus lemon and mandarine trees in the garden!). A great place & hard to leave ;)
Franziska
2016-11-14T00:00:00Z
Our stay at Ricardo's place was a fantastic experience. The house is beautiful and clean, the host and his siblings are really heart warming and welcoming. They were keen on helping us with everything. We would definitely recommend this place!!
Katharina
2016-08-24T00:00:00Z
La casa está muy bien muy limpia prácticamente todo nuevo, las habitaciones también muy limpias y nuevas, los dueños son muy amables te ayudan en todo lo que pueden , el ambiente es tranquilo, el vecindario también es bastante trabquilo, la ubicación esta mas o menos cerca de centros comerciales , tiendas y todo lo que necesites, no está muy alejado del centro, tiene buenas conexiones con trasporte público, en definitiva , me ha gustado mucho la estancia a cumplido todos los requisitos y mas que le pido a un alojamiento ,estoy muy contento de haberme alojado alli fue un auténtico acierto.
Daniel
2017-01-22T00:00:00Z
Hemos estado tres amigas muy agusto y cómodas. La casa esta muy bien y esta limpia. Dispone de todo lo necesario. Amabilidad y buen trato por parte de los anfitriones. Muy recomendable.
Miren
2016-08-14T00:00:00Z
Room Type
Habitación privada
---
Property Type
House
---
Accommodates
2
---
Bedrooms
Barcelona, CT, Spain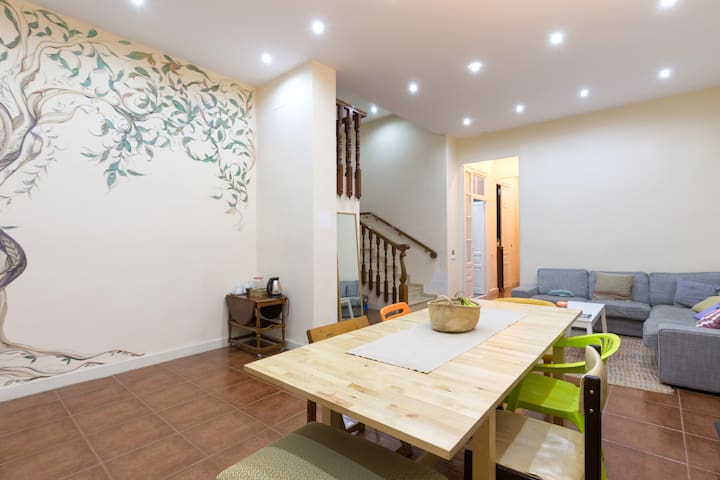 Te va a encantar mi lugar debido a su fabulosa ubicación, todos los transportes en la puerta, el ambiente tanto de dia como de noche con discotecas y pubs para todos los gustos. Mi alojamiento es bueno para parejas, viajeros de negocios, y familias (con hijos). Lugares de interés: Barrio de Gracia , Camp Nou (5 min en tranvía), la calle comercial Passeig de Gracia destacada por su arquitectura modernista con las famosas Casa Batlló y Casa Milá y el centro comercial l´illa.
You will feel like in your own home, don´t hesitate if you need something.
Rich area in Barcelona, close to Paseo de Gracia, Camp Nou and busy Gracia Quarter.
Lucia was a great host and made her place a home away from home! She was easy to get in touch with before and during the stay if there were questions. Great location! All of the main sites to see are in walking and/or metro distance. The place was clean and my belongings were safe. Breakfast is a nice added touch! Thank you!!
Kaitlyn
2016-08-17T00:00:00Z
Lucia and Xabi were excellent hosts - warm, kind and very helpful. I was very new to Barcelona and they helped me to settle in very quickly. The location near Diagonal is excellent - you can reach to all important destinations in Barcelona within 15 to 20 minutes. A lot of eating options near the house.
Samarth
2016-09-04T00:00:00Z
The hosts make all the difference: they help with whatever you need while you still can keep your privacy. For instance they went to buy a heater right away since it was pretty cold (even though it was not specified in the room, so they didnt have to), Lucia lent me a coat, they went above and beyond. The room is spacious and bed comfortable, plenty of linens provided. The location is excellent, super easy to get public transport in a lovely neighborhood, but still a block away from the noise.
Vanessa
2017-01-25T00:00:00Z
Lucia and her boyfriend are super nice couple. They gave me a grand welcome, and the place is very tidy and clean. I will recommend people to stay in the place.
Kathy
2016-09-30T00:00:00Z
Both Lucia and Xabi are very nice hosts. Kind persons with lots of personality in a good way. I rented the double room which gives you privacy. By buss get to Pl Catalunya easily. From there you get anywhere. close to the house there are lots of restaurants walking distans. Lots of shops as well. you are in the middle of Barcelona and yet its a quiet street at night so you can easily sleep. Presented in another way. The flat and The area is very safe and pleasant.
Marianne
2016-09-14T00:00:00Z
She nice and helpful, I'm happy stay there
Louis
2016-10-11T00:00:00Z
Lucia et son copain ont vraiment été adorables et aux petits soins !! Peu d'hôtes nous accueillent avec une bonne tortilla et nous dise au revoir avec une paella ;) ils ont été très disponibles et gentils ! On reviendra les voir ça c'est sûr ! :) je vous les recommande ! Le logement est correct et bien entretenu ! Nous n'avons manqué de rien :) A bientôt ;) Catherine et Loic
Catherine
2016-08-15T00:00:00Z
Lusia и ее парень Xabi замечательные гостеприимные люди! Нам очень понравилось быть в гостях у них! Комната чистая, светлая, в комнате нас ожидали по два полотенца на человека, фрукты и две чашки с блюдцами. Xabi нас встретил, показал квартиру, угостил кофе, выдал карту с маршрутами. Возвращаться вечером можно в любое время, для нас это большой плюс, так как гуляли по Барселоне с утра до ночи! В квартире приятная атмосфера с ароматическими свечами и приятно пахнущими сухими цветами. На кухне для жильцов было много свежих фруктов, печенье, джемы, кофе, в холодильнике много еды, посуда чистая и в отличном состоянии, новая техника, есть все для комфотного проживания. Мы жили в комнате три дня и фактически приходили только спать ночью, один раз готовили завтрак, но было приятно находиться в квартире. У нас был поздний вылет, мы попросили задержаться до вечера, и Lusia была не против. Расстояние от метро Hospital clinic 15 мин пешком, квартира на четвертом этаже, но для нас это не проблема. Нас встретили, проводили, помогли донести тяжелые чемоданы. Спасибо вам, рады были познакомиться!
Maria
2016-10-04T00:00:00Z
Room Type
Habitación privada
---
Property Type
Bed & Breakfast
---
Accommodates
2
---
Bedrooms
Barcelona, Catalunya, Spain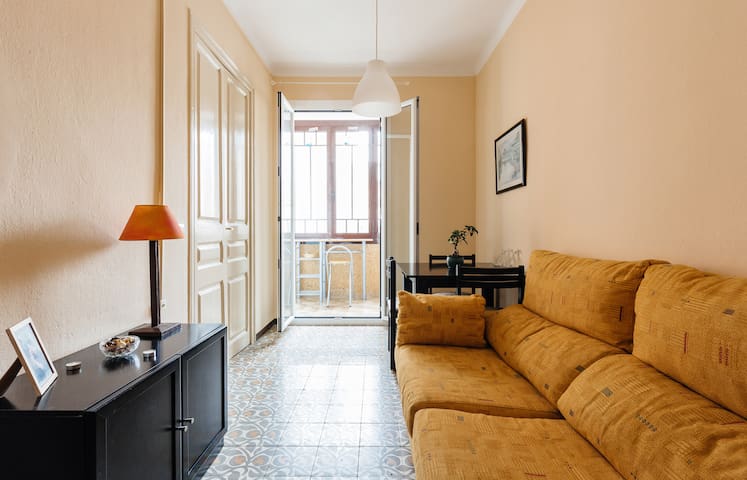 Apartment of 80m with 3 bedrooms, 1 bathroom. Keeps 10 people. Very close from city center.
.
Sergi is very friendly.The Apartment is very nice.
Lei
2016-03-23T00:00:00Z
The apartment is very handy to transport, lovely delicatessen and patisseries near by. Sergi is very helpful and always available to assist with any problem. Gr8 place for a group of friends as there are many bunk beds available. Living area is a wee bit small so plan your days out site seeing!
Rebecca
2014-07-20T00:00:00Z
Sergi was kind enough to accept our request one day in advance, and let us in early as well. With 2 kids and parents, this was a real godsend! The flat has loads of beds, and is great for large groups of people who want to explore Barcelona and have a clean and convenient place to sleep. Good value for money, and an interesting neighborhood. Quite noisy with school in the backyard, but this didn't bother us as we have 2 noisy ones ourselves!
Meesun
2015-07-04T00:00:00Z
Sergi is a great host. The accommodation was great. We have been living there for few days and everything was perfect - even though we were 10 people' group. The localization is very convenient, you can get to the centre of the city in few minutes by tube or fast train (the stations are just few minutes walking from the flat). I can fully recommend this apartment! Regards, Mateusz
Mateusz
2017-01-04T00:00:00Z
we had a Nice stay at sergi's place. Close from the Town center, quiet location. think you Sergi!
Héloïse
2016-05-17T00:00:00Z
This place was just like the pictures and very clean. Sergi was extremely fast at responding to inquiries and had extra towels and blankets dropped off when we needed them.
Caitlin
2016-08-29T00:00:00Z
everything good! perfect for bigger groups
Joschka
2017-03-28T00:00:00Z
Sergi's place was exactly what a group of 10 people in Barcelona could ask for.
Jalomi
2017-02-12T00:00:00Z
Room Type
Entire home/apt
---
Property Type
Apartment
---
Accommodates
10
---
Bedrooms
Barcelona, Catalonia, Spain
This room is cosy and functional for travelers willing to stay in a residential neighborhood in the upper area of Barcelona but totally close to public transportation, convenience shops, supermarkets, pharmacies and services. It only takes 12 minutes to reach downtown by underground. This location is only 5 minutes away from the Science Museum (CosmoCaixa) and connected to the Leisure Park Tibidabo and highway exits by car from the city.
This room is located within a family apartment in a residential building where natural light and absence of noise are main qualities. There are two natural parks nearby 5 and 15 minutes away with an amazing sightseeing views from the city!
The neighborhood is called Sant Gervasi - Putget. It is considered one of the best neighborhoods in the city as it has a perfect match between services, privacy, public transportation, shopping, restaurants & gastronomy and city entry - exit road connections.
The flat is about 5~8 minutes walking from metro station Vallcarca. It's an uphill road from the station.We ask local residents to find the way, we found that's the best way to travel in Spain.Jaume is very nice.He is there ready to help us.He happened to be home when we needed him.Just knock the door if you have any question.The room is small,with it's own bath room,you can keep your privacy and it's enough for two people who just need a place to sleep and take a rest.It 's a quite convenience neighborhood,You can find supermarket and bakery for breakfast on the way to metro station.If you are here to explore the city,and just need a place to sleep. Jaume's flat quite fits your need.
eliza
2016-11-11T00:00:00Z
Jaume and his family welcomed us at his apartment for two nights. It was a small room with a private bathroom and a balcony. It is perfect for 2 people and can also fit a third one inside. They were extremely friendly and even explained how to get to all the different sights he suggested us to go to. He also recommended us places to eat breakfast or lunch for cheap. I'd definitely recommend this accommodation.
Huihua
2016-09-12T00:00:00Z
Jaume and his family made my daughter and I feel so welcome. The room was perfect size for us and our requirements. The apartment is close to a metro and a train station, there are shops at the bottom of the road, including a supermarket. Jaume was so polite and friendly and really did make our stay lovely, thank you so much. We will definitely be back again.
Harriet
2017-01-04T00:00:00Z
Super welcoming and gave us great recommendations for getting around in Barcelona as well as what places to visit. The room is a little separate from the rest of the apartment so that we had our own private space. We loved our stay!
Debbie
2016-10-02T00:00:00Z
Jaume's apartment was really nice and clean. The location is perfect for me. Its near the Park Guell. It only takes about 8 mins to the metro station. There is some shops nearby. It was so convenient for everything. And Jaume is a really nice guy. He had recommend many famous local spots for us! Even we checked in so late on first day. Really thank you to Jaume!
King
2016-09-29T00:00:00Z
Jaume was an excellent host! As soon as we arrived he recommended the most popular places for us to visit along with recommending excellent priced restaurants and cafes for breakfast. Our room was perfect, the location is ideal, only a 3min walk to the nearest metro station which takes your to the city centre in minutes. I was very impressed with our accommodation and Jaume did everything he could to insure we had a great weekend in Barcelona. Would definitely recommend staying here!
Sarah
2016-09-25T00:00:00Z
La habitación es tal cual se la describe, con baño privado y camas muy cómodas, Jaume y su familia son encantadores y nos ha encantado estar allí. Los recomiendo al 100%
Matilde
2016-10-09T00:00:00Z
Todo muy bien, muy cercano al metro, Jaume y su familia son muy amables y la habitación com baño privado está perfecta. Los recomiendo 100%!
Matilde
2016-09-16T00:00:00Z
Room Type
Habitación privada
---
Property Type
Apartment
---
Accommodates
2
---
Bedrooms
Barcelona, Barcelona, Spain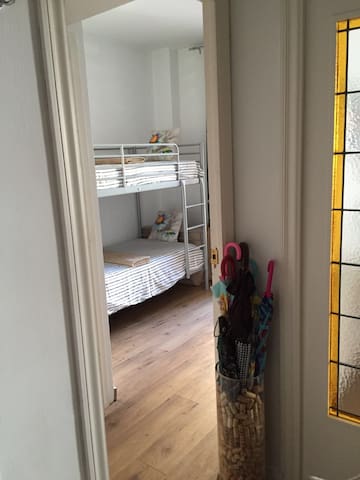 Hello!I am renting this double room located in one of the best neighborhoods of Barcelona, only 5 minutes from plaza cataluña and sagrada familia. located only a 5 streets from park guell. WI-FI conexion
Everything was fantastic. Clea and Iván were the loveliest hosts with great recommendations and really accommodating with our needs. The flat was clean, tidy, with everything we needed. It's just a shame that we were only there for one weekend.
Kerry
2016-06-28T00:00:00Z
Clean was warm and welcoming and very flexible. I had to leave early and she accommodated.
Melinda
2016-12-02T00:00:00Z
My host was great! They treated me like a long known friend. They let me join them for a beer and invited me to hangout with their friends as well. They gave me the ins and out of the city as well. The room was nice and the bed was comfortable. I really enjoyed my time. I would definitely stay again. Great host! Great new friends!
Richard
2016-02-23T00:00:00Z
Everything was great. Clean and quiet. Good location
Dima
2016-10-09T00:00:00Z
Clea was a great host! She gave us great directions for getting to her apartment, even offered to meet us at the metro station. The room was clean and comfortable. She made us feel welcomed in the space. She was also a great help for getting us around in Barcelona and for finding the right transportation to the airport the next day. I highly recommend her hospitality and room.
Lesslie
2016-05-16T00:00:00Z
I would highly recommend staying at this lovely apartment for the hosts alone. Clea and Ivan are amazing, amazing people and our biggest regret of our stay in Barcelona was not spending more time with them. They were so accommodating to our super late arrival and late check out, and went so above and beyond to make our stay comfortable and enjoyable and make us feel right at home. The room has everything you need and it is in a good, central area. Thank you Clea and Ivan!
Birdie
2016-06-05T00:00:00Z
Nice place with very nice people. Clea and Ivan are lovely and really made us feel at home. The neighborhood is great, with lots of hip restaurants close by, as well as the metro station. We would definitely come back!
Ralph
2016-09-29T00:00:00Z
Excellent all round. Clea is a lovely host is very flexible to accommodate needs.
Daniel
2017-03-01T00:00:00Z
Room Type
Habitación privada
---
Property Type
Apartment
---
Accommodates
2
---
Bedrooms
Barcelona, Catalunya, Spain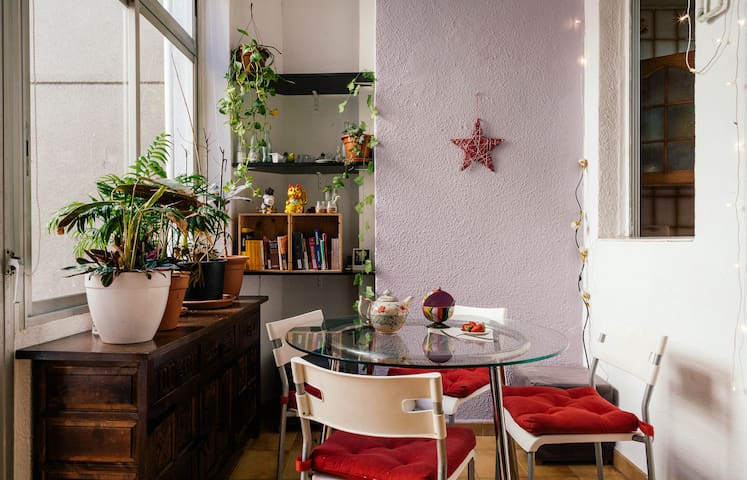 Bright and sunny top-floor duplex penthouse in centric location in Calle Muntaner (upper part of Barcelona). Very bright apartment with light all day. Large terrace with spectacular views to Barcelona (Sea and Tibidabo Mountain). Cozy, renovated, comfortable and quiet. Very close to the city center and direct line to the most important points of interest of Barcelona. Fully equipped: they have everything you need to make you feel at home. Additional discount for stays longer than 2 months.
Top-floor Penthouse Duplex (6th and 7th floor) in Calle Muntaner (upper part of Barcelona). Very bright apartment with light all day. Large terrace with spectacular views to Barcelona (Sea and Tibidabo Mountain). Cozy, renovated furniture, elegant, comfortable, quiet, washing machine, small kitchen, equipped with ceramic hob and all the essentials. 24-hour access control service. Fully equipped: it has everything you need to make you feel at home. It has flat TV, elevator, WIFI included, heating, Air conditioning, etc.
Best location: in Bonanova-Mandri, It´s known as the upper part of Barcelona full of nice Restaurants, shops and close to the city center. It´s the residential part of Barcelona away from the touristic part, here you can explore real Barcelona life. Bus stop to the center at the door of the building, the nearest metro station is just a few minutes from the apartment. The area is full of exclusive shops, nice restaurants, squares, ... Combining all this with our great climate, you are ready to have an ideal stay in Barcelona! The "city" of Barcelona is practically in a radius of 1,000 meters.   Perfect for your Business stay, internship, spanish course or simply exploring Barcelona.
Room Type
Entire home/apt
---
Property Type
Apartment
---
Accommodates
4
---
Bedrooms
Barcelona, Catalunya, Spain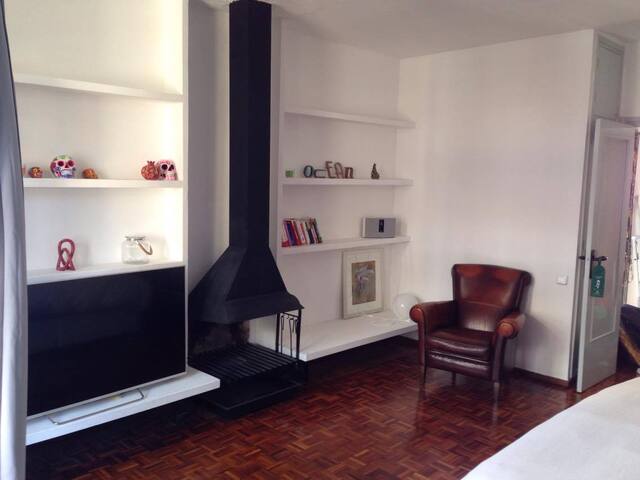 Between Avda Tibidabo and Park Güell this charming quiet apartment is well located with all the transportation nearby. Bus, train and Metro 5 min walk from the house. 10-15 min to city centre on the public transport.
It was our first time to stay in real flat ! Luisa was a super host. She's been most accommodating, and has really done her best to make us feel at home. Her flat is lively, me and my mother really enjoyed our stay. The place is really near the center, and 5-6 minutes from metro station. We were very happy to stayed there! Muchas gracias! Это был наш первый опыт по проживанию в квартире!Луиза-отличная хозяйка!Она сделала все, чтобы чувствовали себя,как дома.Квартира большая, с уютной домашней обстановкой. Мне и моей маме очень понравилось у Луизы. Дом расположен близко от центра города, и в 5-6 минутах пешком от метро. Большое спасибо за гостеприимство Луизе!
Павел
2015-08-14T00:00:00Z
Luisa is very kind person,she is very lovely and helpful. The house is very clean. Apartment located very silence area and you can reach the city center with metro only 15 min. Thanks for everything Luisa, hope we can meet again in Turkey or Barcelonaaa :)
Nil
2016-02-24T00:00:00Z
We spent wonderful week in Barcelona in Luisa's appartment. The appartment is located in a quiet district near Tibidabo and Park Guell. In walking distance there are two metro stationts: Av.Tibidabo (L7) and Vallcarca (L3) so you can easily reach the city center and other worthseeing places incl. Camp Nou. Luisa was very nice and helpful host. We felt comfortable. We got our own keys to the appartment and could use all equipment. Our room (the blue one) was a little bit dark because of very small window but comfortable and furnished with all necessary equipment. We recommend this appartment for those focused on sightseeing who are looking for a nice place in a reasonable price.
Alicja
2016-05-20T00:00:00Z
Luisa was a perfect host! The house was very clean and we were welcome to use the kitchen and hang out in the common areas. She was well prepared and incredibly kind.
Shane
2016-06-10T00:00:00Z
Luisa has been very professional and kind host, she gave us all the informations about the facilities and the neighbourhood, me and my girlfriend really liked the position of the apt and the single double bed room.
andrea
2015-09-18T00:00:00Z
Our host was very nice and welcoming. Located in a nice neighbourhood not far from restaurants and interesting shops.
jeff
2015-10-18T00:00:00Z
She is really lovely woman, so I was really happy to spend my time in her house. She did her best to offer us what we need, so I was truly thankful for her kind. Thanks Luisa!
Jiyun
2015-08-17T00:00:00Z
The ad is pretty much exactly as it is. Me and my brother stayed in the twin room. Was nice tidy and cosy. Wifi connection was great and the bathroom, next (URL HIDDEN) almost ensuite haha. Luisa was very friendly and helpful, and at the same time left us to our own devices with no intrusion...great host. The location is a very good, if you don't want to be in the central areas where it would be loud and busy but you want to be easily connected to the central areas. We got a T10 travel card that will last you 2/3 days. There are 2 metro station within about 10mins walk that are 15/20mins from central areas (Ramblas). Also Parc Guell is a walkable 25mins in the locality. The bunkers, and Parc de Montjuic are not too far also, can grab a short bus. Would stay again.
Mathew
2016-11-27T00:00:00Z
Room Type
Habitación privada
---
Property Type
Apartment
---
Accommodates
2
---
Bedrooms
Barcelona, Barcelona, Spain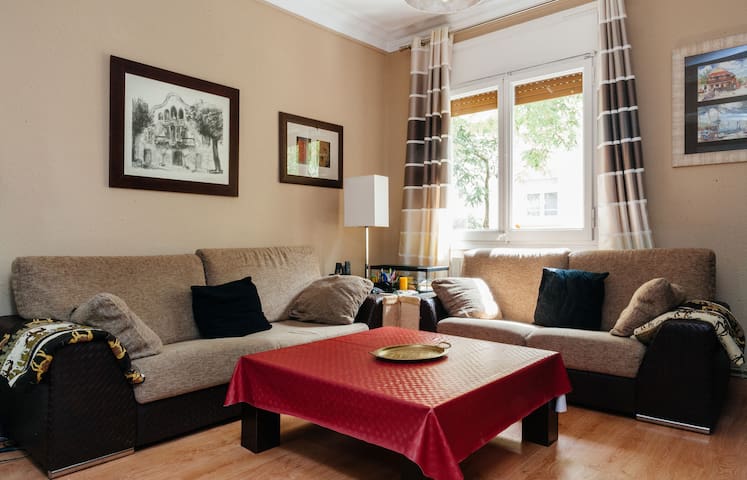 Big and bright double room, located just between the neighborhoods of Gracia, Eixample and Sant Gervasi. Comes complete with a gorgeous cat! ;)
Big and bright double room in a beautiful big 3 bedroom apartment of 85m²/915ft² in the center of Barcelona for one or two guests (one bedroom is mine and 2 bedrooms are available for rent). The room is big with an exterior window. Due to my profession, I keep rotating in the apartment pieces of furniture, decoration objects and lamps from my store. So objects in the room and the apartment may differ from the photos... :) The room is lived in, so the closets will have things in them, but you'll have room in drawers that I keep empty for your use. Wifi connection and city travel guides available, coffee and tea. There's also a washing machine available for use if you come for a longer visit. Shared kitchen, shower and toilet. I live in the apartment with my cat Archie and he loves having strangers around. I work most of the day, but always available if needed. The apartment is situated just on the border of Gracia and Eixample Neighborhoods. It's 5 minutes walk from the intersection of Diagonal and Paseo de Gracia, 20 min walk and 5 min by Bus or Metro to Plaza Cataluña and Las Ramblas. Great connection by Bus or Metro to anywhere in the city. Lots of restaurants, bars and cafes in the area - see my guidebook for my favorite places!: https://www.airbnb.com/rooms/198335/guidebook I'm more than happy to give tips and advice to help make your visit to the city the best it can be!
A good stay with Alon for 7 days in Barcelona. He was very nice and his cat was super cute! Alon provided everything I needed during the stay and he did clean the room and wash the sheets and bedding. The apartment was at a good location with a supermarket downstair and just 2 minutes walk away from the gracia subway station. We did enjoy the stay!
Hugo
2016-09-29T00:00:00Z
Very stylish space with fast internet and good shower. We enjoyed hanging out with Archie (cat) and took many of Alon's recommendations for places to go/eat in the area. Highly recommend!
Heather
2016-10-26T00:00:00Z
Apartment was very clean and communication all went very well. Alon is a very welcoming and nice guy.
Sanne & Leo
2017-03-02T00:00:00Z
Both Alan and the Archie(the cat)are very nice and adorable. Alan is very patient and try best to satisfy your requests,and he gave me good suggestions for visiting. The room is very clean,quiet and comfortable. I am very enjoy my stay everyday !but It take time for me to go back.
Gilly
2016-10-16T00:00:00Z
Alon's apartment couldn't have been better and even though we weren't able to spend a lot of time with him, whenever we needed help he was always there.
Christian
2016-07-01T00:00:00Z
We could not have had a better place to stay in Barcelona, I'm so happy we found Alon's place! The room is exactly as pictured and the apartment was so charming and full of beautiful furniture and artwork. Alon was so hospitable and very responsive to all of our communications, and is also just an all-around nice person. We felt right at home!
Janessa
2016-05-17T00:00:00Z
Alon is really a nice host! Archie the cat is so friendly and cute. I love the lights, furniture, and the decoration in the room and the living room. The bed and blanket are so comfy, I had good sleep.
潔
2017-03-24T00:00:00Z
We really enjoyed staying in Alons appartment. Alon is a great host, he answerd all our questions and had great advices --- pleasently straightforward. The apparment is very clean and friendly. You have the freedom also to cook if you want. And ... he has a super-cute housemate ;) - Archie the cat! The location is perfect - near to the sights and to transportation (metro Diagonal) etc. Thx a lot once agian to Alon!
Claudia
2016-06-27T00:00:00Z
Room Type
Habitación privada
---
Property Type
Apartment
---
Accommodates
2
---
Bedrooms
Barcelona, CT, Spain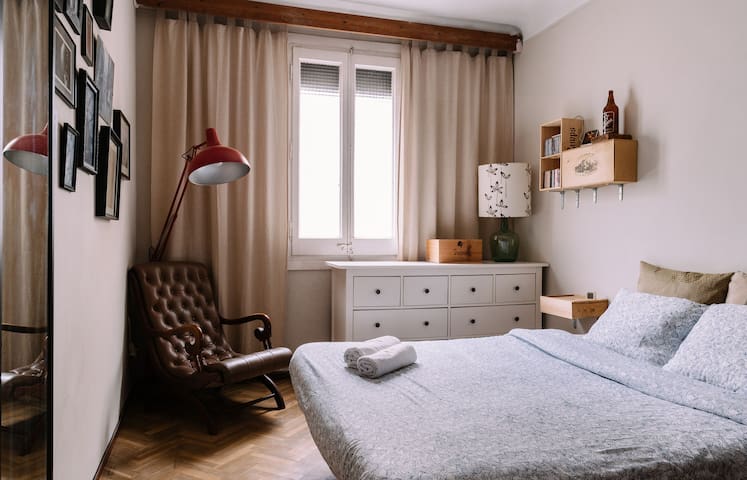 A newly refurbished large double room with private bathroom available in the Sant Gervasi neighbourhood of Barcelona. This spacious bright room is part of our family home, but completely self-contained on a separate floor, and a micro kitchen for total privacy. It has a lovely balcony with new furniture and breath-taking views over the Enric Sagnier park and Tibidabo on the horizon.
A newly refurbished large double room with private bathroom available in the Sant Gervasi neighbourhood of Barcelona. This spacious bright room is part of our family home, but completely self-contained on a separate floor, and a micro kitchen for total privacy. It has a lovely balcony with new furniture and breath-taking views over the Enric Sagnier park and Tibidabo on the horizon. The room boasts a huge glass French Constantine window which can be opened to its fullest for an unrestricted access to the balcony. It also has two large cupboards and a micro kitchen with a microwave, sink, toaster, kettle and cutlery. The double bed is found in the centre of the room, specially positioned to be able to enjoy the view while lying in bed. A table and two modern designer chairs are provided, there is wireless wifi and even a hammock to use on the balcony. The large private bathroom has a bathtub and a separate shower, with a powerful showerhead creating a waterfall effect. The bathroom has a double sink with all toiletries and towels provided, all newly refurbished and very comfortable. Children and babies are welcome, as we have travel cots and futons that can be used for them to sleep on. We can even provide toys so you don't have to pack them! A changing table can also be placed in your room if needed. Guide books about Barcelona can be found in the library headrest of the bed and as we are locals we are also very happy to give you touristic advice or where the best restaurants are.
helen and her husband were incredibly warm, attentive and communicative from the moment we arrived to checking out. the "room" (if you could even call it that) was above and beyond my expectations, even after viewing the photos. There are more amenities than you could think of (a hammock!), incredibly comfortable and well designed space. the terrace, the space itself, and the hosts are so inviting that it is an issue because you don't want to leave. yes, the location is little far from city-center chaos and some tourist attraction but that is part of the beauty of this space. the neighborhood also has everything you need, beautiful architecture, public transportation and endless shops and restaurants. if you want to experience Barcelona while simultaneously feeling like you are on a relaxing secluded retreat than you would be stupid not to stay here.
natalie
2016-10-12T00:00:00Z
Very nice people and great hosts, we would love to stay there again. The appartement is very comfy and beautiful.
Mehtap
2017-03-20T00:00:00Z
A truly lovely apartment with nice balcony overlooking a children's park and a view up to the basilica in a good and convenient part of town. Good restaurants and shops all around. Helen and Andrew were there if you needed them but allowed you privacy and peace as much as you like. A plus for us was the little shop opposite which made excellent local dishes ready to microwave to save eating out every night.
Nigel
2016-10-30T00:00:00Z
Helen was a fabulous host and we felt very welcome. The room is beautiful and the view of Tibidabo incredible! Thank you Helen!
Vicky
2016-10-02T00:00:00Z
WOW! Just one word can described our experience. Me and my wife decided for a first time to find a room from airbnb and it was great choice. We stayed in Helen and Andrew room 5 days. Everything was totally perfect; accommodation, stay and depart- we had flexible time! The big bedroom has amazing view, small kitchen and bathroom only for our use. Basically even more than we needed. In the fridge was milk, small champagne and some snacks; in that case owners totally surprised us. Overall it was great stay and hopefully we can back there if we will be in Barcelona again!
Tomasz
2016-09-23T00:00:00Z
Fine place, clean and near metro. Nice wiew.
Tom
2017-03-01T00:00:00Z
My favorite Airbnb ever. Going back actually! Fantastic place and such lovely people.
Susanna
2016-10-21T00:00:00Z
The host canceled this reservation 51 days before arrival. This is an automated posting.
Mardhiah
2017-02-22T00:00:00Z
Room Type
Habitación privada
---
Property Type
Apartment
---
Accommodates
2
---
Bedrooms
Barcelona, Catalonia, Spain
In the flat, we live a parent with two children, a boy of 23 and a girl of 21. We like to share our experiences with our guests. We talked about many things: economics, politics, culture and sports specially Barça. Oriol is the father and he works from home, which allows us to help guests who are staying at home offering all the necessary support
The room has a comfortable bed 110 cm wide, with a window to a terrace and closet.
The neighborhood is quiet, just 20' from the center by public transport, and a 5' walk to bars & restaurants, cinemas, supermarkets, etc ...
Oriol and his family are kind and respectful. The apartment is at a great location; safe, close to public transport, hospitals and clinics, bars restaurants and grocery shops. You can walk around the whole neighborhood with no worries.
Miro
2017-03-23T00:00:00Z
I strongly recommend Oriol's house! Everything went right since I arrived in Barcelona until I moved out. His family is awesome as well, and their hospitality makes you feel like at home. The house is big, the room is comfortable and clean, the location is perfect and they REALLY help you with anything you need. Since it was my first time living abroad, this help was extremely important. Another good thing is that the whole family likes soccer and they are all passionate by Barcelona's team. I went to a game with them as well hahaha. Really would like to thank Oriol, Laura, Pau and Marc for everything.
Lucca
2017-02-10T00:00:00Z
Volveré. Adecuado para lo que preciso. Felicidades
Jose
2017-01-24T00:00:00Z
Oriol ha sido un host estupendo y muy disponible! El piso y la habitación son muy bonitos. Lo recomiendo sin duda :)
Adele
2017-01-04T00:00:00Z
Room Type
Habitación privada
---
Property Type
House
---
Accommodates
1
---
Bedrooms
Barcelona, Catalunya, Spain
Mi alojamiento es bueno para parejas, aventureros, y viajeros de negocios.
We had a great time staying in Alejandro's flat. His mother was really good about meeting us. It was a nice quiet location with a nice short walk to Park Guell. Would recommend.
Amy
2016-08-12T00:00:00Z
Great experience :)
Tatiana
2016-12-30T00:00:00Z
Our host Alejandro was very accommodating with the check In/Out times. My flight there was delayed for a number of hours and I didn't get into Barcelona until after 2 am but he had no problem with me checking in so late. The apartment is exactly as advertised. It's located within a secure building and is very spacious with nice decorations over the bed. It has a large bathroom with good water pressure in the shower. The property itself is located north of the city centre. Theirs isn't any metro out this way but there is a good bus service with a stop a few minutes' walk. It takes about 15/20 minutes to get into the city centre. Or alternatively a taxi will cost between €10-€15. My only real issue with the apartment was the bed. It had a slight dip in the centre which you kind of rolled into and can be very annoying if sharing the bed, but we made do. The apartment also has no proper kitchen facilities or any wi-fi. The lack of Kitchen facilities could be an issue if you are staying there a long stay and wi-fi is definitely something you will miss. However for the price you are paying the property is still good value for money.
Peter
2017-02-06T00:00:00Z
Had a lovely stay here. Would recommend. Close to buses and metros. Very welcoming, only issue was with the shower where it turns cold if using for a long time.
Jamie
2017-02-28T00:00:00Z
We had an amazing Journey at alejandro's place. The appartement was perfect with Nice décoration in a very Nice neighborhood. The building has an impressive entrance with an inside garden. The ferro Caril station is 1 minute away from the appartement and brings you directly to plaça catalunya in 10 minutes. Otherwase walking was a very pleaseant option and not to far from the Rambla. Thank you Alejandro we would certenly lové to Côme Back at your place.
Doriana
2016-07-26T00:00:00Z
Alejandro is a pleasant person. The apartments are like on the photos. The only troubles we've faced - no connection to internet. (There was a WI-FI point but without access to internet). And Alejandro didn't help to solve this issue - no feedback from his side after I sent him message.
Sasha
2016-12-06T00:00:00Z
Very nice flat in nice neighborhood. Very quiet. Alejandro has been a serviceful and discreet host. Recommended!
Marco
2016-11-17T00:00:00Z
The room was really clean and beautiful, nothing to say. we've been very kindly welcome. we suggest this apartment and we would be very happy to go there back.
Anais
2016-07-05T00:00:00Z
Room Type
Entire home/apt
---
Property Type
Apartment
---
Accommodates
2
---
Bedrooms
Barcelona, Catalunya, Spain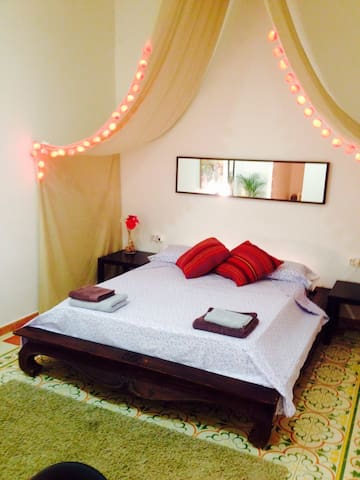 Apartamento grande , cómodo y tranquilo con terraza. Tiene una habitación con baňo incorporado tipo suite. Permite alojar a dos personas y se encuentra en zona exclusiva de Barcelona, Upper side, con acceso muy fácil a cualquier medio de transporte.
La ubicación, transporte facil, bonito
Es una zona exclusiva de Barcelona UPPER SIDE TOWN
Great stay in Barcelona with Monserrat! Thank you once again.
Ryan
2016-06-28T00:00:00Z
My next stay in Barcelona will definitely at Montserrat's place. A wonderful host, nice locality and definitely recommend a stay
Raj Sundar
2016-10-16T00:00:00Z
Montserrat was a very nice host who greeted us with snacks and wine. Her home was very clean and private. We had a great stay and would recommend it to others!
Tessa
2016-07-17T00:00:00Z
Montserrat was an amazing host. Very helpful with questions, recommendations and quick to respond. The room was perfect and has an attached full bath which was perfect! The apartment is close to restaurants and the metro that is pretty easy to navigate to get around Barcelona to all the different touristy parts! Highly recommend staying here we had such a great visit!
Heidi
2016-10-04T00:00:00Z
Very nice stay. Great hoster, Monserrat is a very kind person, give us huge private in her apartment, clean, great location, free parking, 10mins drive to Camp Nou, 15mins for shopping.
Yupeng
2016-10-11T00:00:00Z
Montserrat is a very kind person, very respectful of the privacy. She let you enjoy the living room, which is exclusively for you, so at the end is like having a full apartment for you. Montserrat is an artist and all the paintings in the house are made by herself. There is a feeling of energy and harmony. The bedroom is so nice and so well furnished, with your private bathroom with a comfortable shower. The position is good for moving around Barcelona and if you have a car she also offers her own parking, so I had no problem at all. I will definitely choose again Montserrat place when back to Barcelona.
fedra
2016-10-27T00:00:00Z
Monserrat was a great host, we felt very welcome. We unfortunately do not speak Spanish and she did a great job helping us out and speaking English where she could. The place was just as described, clean, quite and spacious.
Chloe
2016-07-15T00:00:00Z
We strongly recommend this place! The apartment is super cozy, clean and located in a good neighborhood. Montserrat is a great host and helpful to make your stay as comfortable as possible.
Jonas
2016-07-24T00:00:00Z
Room Type
Habitación privada
---
Property Type
Apartment
---
Accommodates
2
---
Bedrooms
Barcelona, Catalunya, Spain