L'appartamento è molto pulito e ben tenuto. Toni è stato gentilissimo e molto disponibile. La colazione è stata sopra le mie aspettative, con marmellate, yogurth e frutta fresca! La posizione è comoda per chi vuole soggiornare vicino a Verona ma senza il caos della città nei giorni di fiera.
Caterina
2017-04-10T00:00:00Z
Alloggio pulito in contesto residenziale tranquillo e rilassante, host disponibile e non invadente!
Norma Andrea
2017-04-11T00:00:00Z
Room Type
Habitación privada
---
Property Type
Apartment
---
Accommodates
1
---
Bedrooms
San Bonifacio, Veneto, Italy
Il mio splendido e accogliente appartamento può ospitare 2 o più ospiti!posizionato in una bella zona residenziale a 2 passi dal centro. Grande parcheggio e possibilità anche di garage con doppio posto auto! Graziosa location tra i vigneti veronesi
Room Type
Habitación privada
---
Property Type
Apartment
---
Accommodates
2
---
Bedrooms
Monteforte d'Alpone, Veneto, Italy
The Abbey Court is a splendid residence of 1131. The structure was recovered from an ancient Franciscan building as a result of a careful restoration resulted in nice apartments apartments have been built to accommodate up to 4 people
It is two-composed of: entrance living room with kitchen, bedroom and bathroom and some with a terrace, complete with all amenities. Each unit is tastefully furnished and is complete with all accessories. A comfortable sofa bed can accommodate up to 4 people. Free outdoor parking and garage.
Although the settlement lies behind the big streets and roads to the highway exit Soave San Bonifacio accommodation units are "protected" by the Franciscan court to which they have access only to residents.
Appartamento bello e comodissimo all'autostrada e ad altri servizi come il supermercato e il bar. Sicuramente torneremo e pertanto lo consiglio a tutti. Il sig. Fulvio è cortesissimo. Un vero piacere
Ilaria
2017-02-06T00:00:00Z
Room Type
Entire home/apt
---
Property Type
Apartment
---
Accommodates
3
---
Bedrooms
San Bonifacio, Veneto, Italy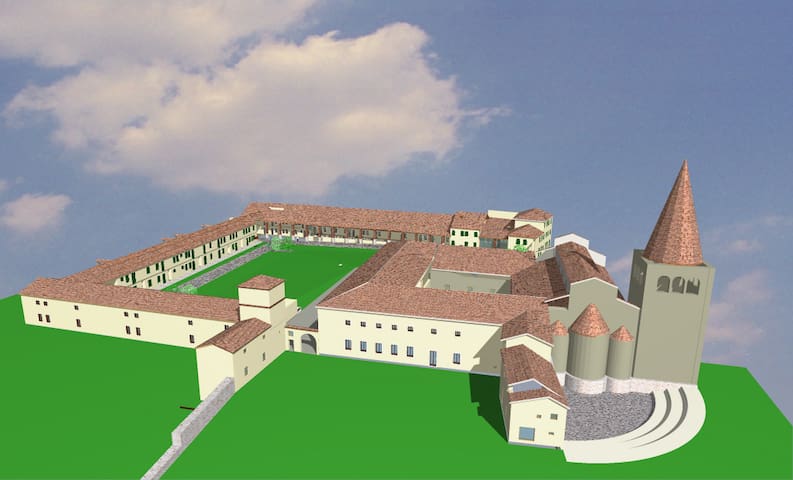 In San Bonifacio, 20 min. from Verona and Vicenza, you rent a single room in an apartment, spacious and bright, surrounded by greenery. The accommodation is near the center, to transportation and the motorway exit. Large bathroom with shower. Wi-fi. Tea and coffee available. Next to Bar and good pizzeria. The minimum stay is two nights. They are available for any eventuality. For longer stays there is a bail. Je parle français, I speak Inglese, hablo espanol.
Room Type
Habitación privada
---
Property Type
Apartment
---
Accommodates
1
---
Bedrooms
San Bonifacio, Veneto, Italy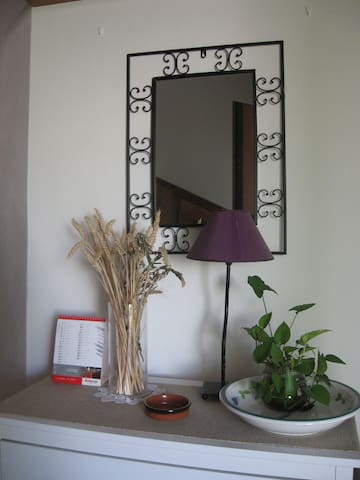 Grazioso appartamento in stile con porticato a un chilometro dal casello autostradale di soave a 15 minuti da auto da Verona e Vicenza a mezz'ora da auto da Venezia e dal lago di Garda , 2 camere matrimoniali , 1 camera sing cucina salotto open space un bagno completo di lenzuolo , stoviglie piatti tutto l'occorente necessario per un soggiorno .Entrata indipendente . nice apartment romantic to a km from the exit of Soave 15 min drive from Verona and Vicenza, 30 minute from Venice and Garda
two bedrooms kitchen living bathroom nice apartment romantic to a km from the exit of Soave 15 min drive from Verona Vicenza 30 min from Venice Garda two bedrooms kitchen living bathroom . All this including linen, dishes everything needed for an enjoyable stay. Indipendent entrance.
Nel cuore del veneto ,
Very welcoming
Dan
2016-10-31T00:00:00Z
Tutto come presentato pulito ed ordinato
Alessandro
2017-03-26T00:00:00Z
Ho alloggiato in questo appartamento la notte del 31 Dicembre, la casa era molto pulita e ordinata, ha un comodo parcheggio ed è vicinissima a Verona e al lago di Garda. Il proprietario è molto gentile e disponibile. Consiglio questa casa a chi vuole visitare la zona.
Ilaria
2017-01-01T00:00:00Z
Corrado war ein freundlicher Gastgeber. Einzig die über der Wohnung befindliche Pizzeria raubt einem etwas den Schlaf ( Mi- Sa)
Franz
2017-02-23T00:00:00Z
Estaba todo muy bien, lo unico que kos falto eran mas adaptadores para los enchufes. Solo estuvimos una noche pero es muy agradable
Iñaki
2016-11-26T00:00:00Z
Room Type
Entire home/apt
---
Property Type
Apartment
---
Accommodates
5
---
Bedrooms
Monteforte d'Alpone, Veneto, Italy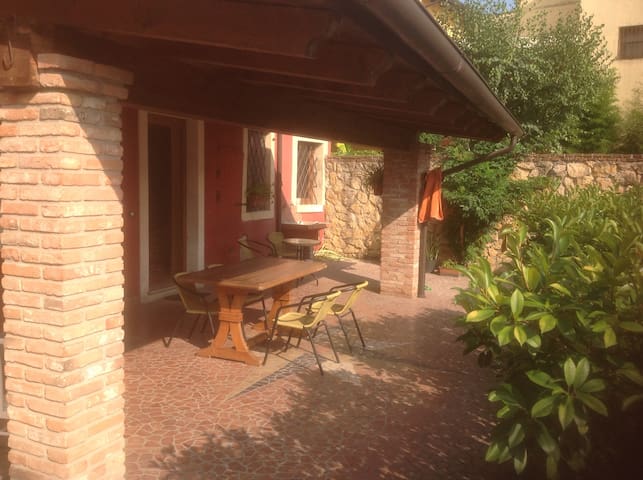 The apartment has everything you need to stay at home, the kitchen has dishwasher, electric juicer to fruits and blender. The bathroom has a shower and bath. The master bedroom has a balcony and living room has a sofa bed and a large terrace. Very bright and comfortable can accommodate up to max. 4 people. Also always available to guests there are oil, vinegar, salt, sugar, coffee and tea. Free parking.
It has flat screen TV 37 ". It Comes with everything you need for cooking and with linen and towels, shower gel and shampoo. It is located about 2.5 km from the highway exit Soave San Bonifacio. It is 1.1 kilometers from the the train station (12 min. walk) and 2.5 km from the hospital. to get to the center of San Bonifacio takes about 10 min. walk, 3 min. by car, reached the center of the town there are many shops also of famous brands, supermarkets, restaurants, bars, pizzerias and bakeries.
I enjoyed my stay in the apartment. It was ideal to work (what I did): a large table, good working internet and a quiet place, all important to me. A comfortable bed, a very convenient bathroom and all clean, made it perfect. Unfortunately I haven't met Roberto, but we e-mailed during my stay. And his sister Daniela welcomed me when I arrived. The apartment is very central. It is a 10 minutes' walk to the railway station, 5 minutes to the centre and 5 minutes to a large supermarket. I would recommend this apartment.
Everdiene
2016-11-02T00:00:00Z
Roberto was very welcoming, helping me with all my bags and made sure I was settled in before leaving. The apartment was extremely clean and well looked after. It was only a short walking distance from the train station and a big grocery store which was very convenient. There isn't much to do in the town itself but it is a good location to base yourself in whilst traveling around northern Italy, I would recommend staying here for that reason.
Carly
2016-10-04T00:00:00Z
Roberto was a wonderful host! My arrival time kept changing but it was no problem what so ever! I arrived on a Sunday in the evening so all the shops were shut, Roberto offered to take me to the supermarket to pick up some essentials. The flat was gorgeous, homely, very clean! 2 balconies front and back great for sun catching! Coffee provided was amazing! Plenty of storage, facilities and space. The bed was great! Only 5/10 mins walk from the train station which has regular links to both Verona and Venice. I needed some washing powder, Roberto organised his sister to bring some over for me. Really suggest staying here, nice to be out of the busy busy but still with great links to get anywhere you need even lake Garda. Roberto was contactable all through my stay and really did make me feel very welcome! Thank you x
Sasha
2016-08-10T00:00:00Z
Appartement dans un quartier calme et facilement accessible, à peu de distance de Verone. L'intérieur est propre et bien agencé, avec tout le nécessaire pour un séjour agréable. Roberto, quant à lui, est d'une grande disponibilité et gentillesse. Bref, une adresse à recommander !
Frederic
2017-02-24T00:00:00Z
Roberto é uma pessoa querida, disponível e acessível. A sua casa é espaçosa, tem as comodidades que anuncia. Uma família de quatro pessoas pode habitar nela sem problemas de adaptação, com os utensílios necessários e as comodidades suficientes. Falta-lhe uma regulação da temperatura. A casa tem uma boa exposição solar e ganha tendência a ser quente no verão. Por isso necessita de uma boa regulação dessa temperatura, que uma ventoinha somente não permite. O local onde se insere é uma aldeia de subúrbio operário de Verona, num bairro de casas com ambiente de dormitório, que permite o acesso à cidade grande com muita facilidade, em tempo e em espaço. Esse é o seu grande ponto forte, a acessibilidade.
Antonio J.
2016-07-30T00:00:00Z
Host molto corretto e disponibile. Appartamento molto carino e dotato di tutto il necessario, ubicato vicino alla stazione e al centro della città. Consigliato.
Roberta
2016-07-21T00:00:00Z
L'appartamento è molto carino, pulito e ben tenuto. Si trova in un posto tranquillo e che permette di raggiungere il centro in poco tempo. Roberto è una persona gentilissima e disponibile. Di sicuro ritorneremo!
Angela
2017-02-11T00:00:00Z
Esperienza positiva! Roberto è gentilissimo, sempre disponibile e tempestivo nel rispondere ai messaggi. La casa è spaziosa, luminosa e con tutto quello che serve per trascorrere un soggiorno piacevole senza spendere troppo. Consigliatissima!!!
Giorgio
2016-05-30T00:00:00Z
Room Type
Entire home/apt
---
Property Type
Apartment
---
Accommodates
4
---
Bedrooms
San Bonifacio, Veneto, Italy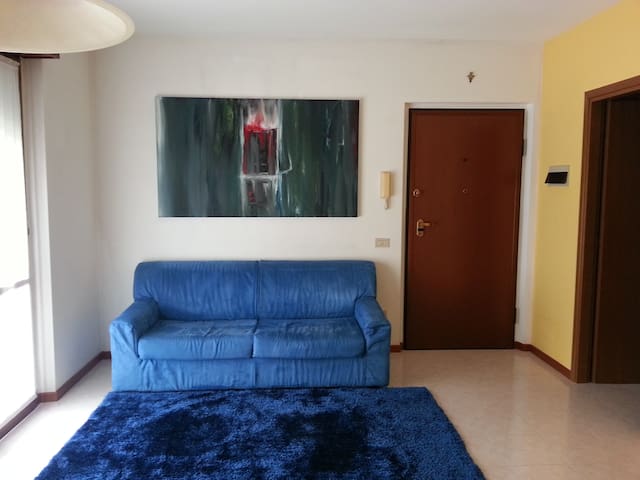 A stress free fully organic appartament.
Fully furnished apartment with kitchen, living room, terrace, a bedroom, bathroom and laundry in a rural ambience. A quiet organic holiday farm placewhere you can find wine, fruit, vegetables, home backed bread, cooking and wine classes and live music show, ideal starting point for the tour of the Palladian Villas. The house is 500 meters far from the Lonigo railway station and about 2 km from the A4 motorway exit of Montebello. Quiet organic farm surroundings full of culture.
Siamo immersi in un'oasi di pace
Carlo and Michela has been fantastic ! Always here when needed, very preventing and benevolent. We spent 10 great days at there place ! We would come back anytime ! The place is clean, very quiet, and well located (500m from the station with trains to Verona, Vicenza and Venice). Carlo and Michela produce very good wines, fruits and vegetables so you don't really need to go to the supermarket. Each day they had an attention for us. We also had good threads and nice time in music. Carlo is found of music and the blues is everywhere in the house ! I recommend and thank again Carlo, Michela and Flora !
Fanny
2013-08-14T00:00:00Z
Merci pour cet accueil souriant et sympathique ! Carlo et sa femme sont très accueillants, disponibles et généreux. Excellent repas italien le samedi soir : nous le recommandons chaleureusement.
Dominique
2014-07-17T00:00:00Z
Un séjour très agréable des le premier soir avec un repas frais et local ! Que de bon conseil et de bons moments partages
Romain
2014-04-10T00:00:00Z
Dans une super propriété au milieu des vignes , le gîte de Carlo et Michela est un super point de départ pour du tourisme et de belles excursions en Vénétie ( Padoue , Vérone, Venise et le lac de Garde) Un couple agréable et sympathique proposant des produits bio : vin, pain, fruits et légumes . Entièrement satisfaits nous recommandons cette adresse.
Jean-Baptiste
2013-07-29T00:00:00Z
Room Type
Entire home/apt
---
Property Type
Apartment
---
Accommodates
3
---
Bedrooms
Lonigo, Veneto, Italy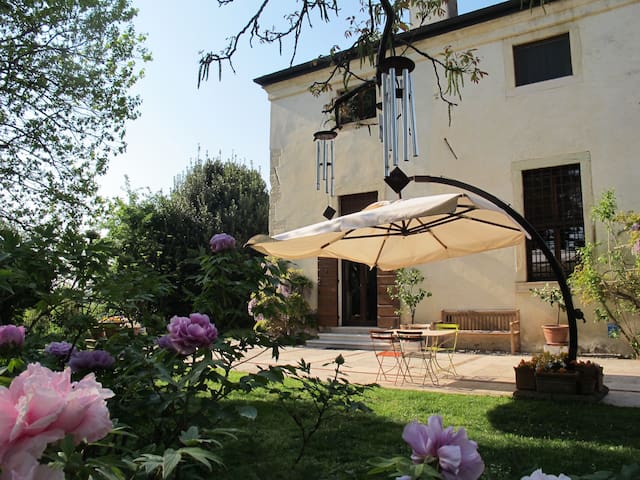 The apartment is in the centre of the Medieval Village of Soave (Near Verona). You can join an amazing view of the Medieval Castle. You can also taste the excellent white wine! Two minutes from the "A4" expressway to Milan - Venice.
The accommodation is well stocked with linens and dishes. It's possible cleaning every 3 days with an additional cost of € 30.00.
E' situato vicino alle antiche mura medievali, a piedi si possono reggiungere diverse Cantine prodruttrici del vino Soave nelle quali si possono effettuare degustazioni e acquisti.
We had a warm welcome at the place of Federica. The studio is very clean and modern and has a great view on the castle of Soave. Recommended!
Veerle
2016-10-14T00:00:00Z
Frederica and her daughter were fabulous! They cheerfully,and very kindly picked me up at the train station in Verona and drove me to Soave. I had a wonderful stay, really enjoyed the grape/wine festival. The view from the apartment of the castle, made me smile every day . The town is charming and the tour of the castle is such a treat. It is a short and convenient bus trip into Verona to see and enjoy all of the sights there. This was a great experience and I highly recommend Frederica's Hospitality in the hills of Verona !
Jill
2016-09-29T00:00:00Z
Frederica's appartment was amazing. Very well designed, modern in a fortress cité with all the comfort you need to take rest after endless tasting of the Soave (honestly very good). Frederica and her daugther were very nice and helpful, and they kindly offered a bottle of Soave, and many other things we really appreciated. We look forward coming back!
Nicolas
2014-08-13T00:00:00Z
Great experience!! in the center of everything with lots of shops and restaurants open within the walking distance. The room was nice and clean. thank you for letting us staying at your place.
Constantin
2016-06-13T00:00:00Z
If you stay in Soave, you MUST stay with Frederica. I don't speak enthusiastically regularly, but this is the exception. The pictures do not fully portray how amazing this place is. Minutes away (walking distance) from the castle, grocery, bars, historical sites, and (URL HIDDEN) is truly the perfect location. On top of the location, Frederica and her amazing daughter Linda, were the perfect hosts. They offered their thoughts and great suggestions for our Soave trip and our other trips in Italy, including Venice and Naples. You will be hard pressed to find better hosts in Italy. They were attentive and very charming. My wife and I couldn't have had a better time in Soave! Thank you Frederica and Linda!
Jeremy
2015-05-24T00:00:00Z
Fererica and her daughter, Linda were good hosts. We were late for the appointment (my smart phone didn't work on the road so I wasted my time to find out the way) but they waited for us for a long time. This place located very close to the old castle wall and gate 'Porta Aquila' in Soave. We could look at the castle through the window, it was beautiful especially at night! There was a large parking place over the wall (just 1min. walk away). The Apartment was very cozy, clean and well equipped. Outside was quite hot in daytime but I could feel cool breeze coming through the window. You can find out a fantastic gelato shop and many good wineries near the apartment. There is weekly local market on every Tuesday morning. I strongly recommend this place to feel and enjoy Soave.
Mi Kyung
2015-07-01T00:00:00Z
Federica and her apartment are fantastic! Super clean and stylish with everything you need in one space. The view out the balcony to the castle is stunning and Cafe Monic downstairs is fabulous for breakfast. Parking is free just out side the gate house and go visit Pieropan for the best wine (book in advance for tours).Hope to visit again one day
Rebecca
2017-02-17T00:00:00Z
We really enjoyed our stay in Federica's studio in Soave. It is small, but perfectly equiped. The bed is very comfortable. The studio is situated on a quiet street (no problem leaving your window open at night) and has a wonderful view of the medieval castle. Soave itself was a great discovery for us. It is just lively enough, with a bakery, supermarket and several really good restaurants within a less than five minutes walk. It is a great place to stay to visit the surrounding area. Mantua and lake Garda are within an hour drive, Verona and Vicenza less than half an hour, and if it gets too hot you can be in the mountains in an hour or less as well. Highly recommended!
Joni
2015-07-24T00:00:00Z
Room Type
Entire home/apt
---
Property Type
Apartment
---
Accommodates
2
---
Bedrooms
Soave, Veneto, Italy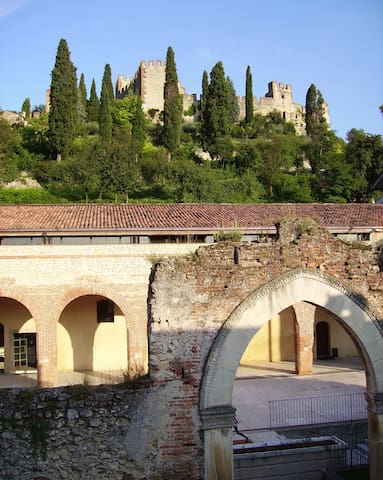 A Soave (20 minutes from Verona and Vicenza, 30 minutes from Lake Garda and Mantua, 1 hour from Venice), restored ancient dovecote 800. The house offers bellisisme views of the castle and is a 5-minute walk from the historic center. We offer this solution for 4/5 persons composed of: Ground floor fully equipped kitchen, bathroom with window and shower, living room with sofa bed; going up, the first floor another bedroom and bathroom with window, shower and bath.
Room Type
Entire home/apt
---
Property Type
Apartment
---
Accommodates
5
---
Bedrooms
Soave, Veneto, Italy
Prestigious and large apartment on a hill in the cloister of an ancient monastery of the twelfth century, carefully restored. Charming, has access to a large communal garden with a gazebo and picnic area with games for children. It is located a few hundred meters from the exit of Montebello (A4). The apartment is suitable for couples, lone adventurers, business travelers, families (with children) and furry friends (pets).
Room Type
Entire home/apt
---
Property Type
Apartment
---
Accommodates
5
---
Bedrooms
Montebello vicentino, Veneto, Italy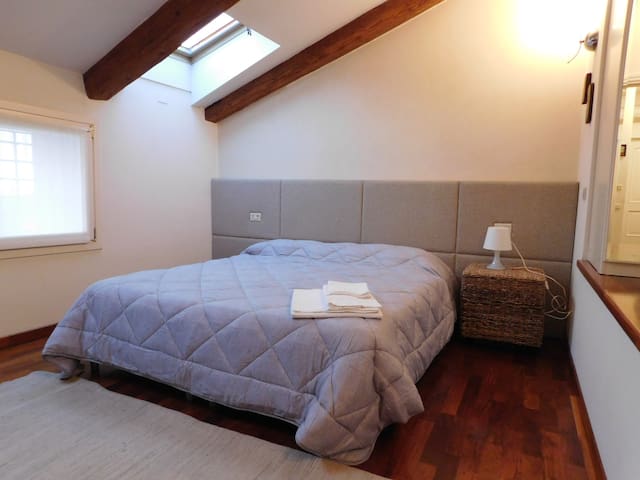 Two rooms of 60 square meters, intimate and rustic décor with warm colors, bright and spacious open plan with sofa bed, romantic attic bedroom and bathroom. The picturesque building where it is located is situated in one of the most beautiful medieval towns in Italy, rich in history and nature. You can stroll in the countryside, visiting wineries and the beautiful city of Verona, easily accessible by highway. My accommodation is suitable for couples, solo travelers or families (with children).
I'll be happy to host you in my two-room apartment of 60 sqm., It consists of a bright and spacious living room-kitchen (complete with microwave, coffee machine with waffles, oven, fridge / freezer, utensils and pots and pans) with sofa-bed one and a half, a comfortable bathroom with a shower and a romantic attic bedroom with Velux window, window with shutters and comfortable double bed. The apartment is decorated in rustic style, with wooden finishes, parquet floors; the warm colors of the walls create a cozy and charming. The living area is very bright thanks to large windows overlooking the inner courtyard of the building, has a TV LED color, a DVD player and a stereo system. In the apartment you will find, on your arrival, linens for bed and bath, you need for breakfast and a starter kit for cooking.
The apartment is located in a XVII century building, completely renovated, located in a picturesque and historic village of Soave (municipality that has earned the Orange Flag), at the foot of the castle and along the medieval walls. You will have plenty of free parking right in front of the house, you will have nearby bars, pizzerias, supermarkets and pharmacies and a renowned restaurant where you can taste regional specialties. Every third Sunday of the month at Soave, takes place a characteristic antiques market and in the year alternate festivals and historical and cultural events. You can visit the many and emblazoned wineries, tasting the wines produced with local grapes.
Appartamento molto accogliente e pulito con un prezzo ottimo
Veronica
2017-03-04T00:00:00Z
Marilù è stata molto gentile e disponibile sin dal mio arrivo. L'appartamento è grazioso e situato in centro. Rapporto qualità prezzo eccellente! Assolutamente consigliato.
Marta
2016-11-30T00:00:00Z
Bella, spaziosa, accogliente la casa, in pratica sotto le mura del borgo medievale. Delizioso il paese. Molto ospitale, disponibile e simpatica Marilù. Esperienza da ripetere e consigliare.
Marco
2016-09-19T00:00:00Z
Room Type
Entire home/apt
---
Property Type
Apartment
---
Accommodates
3
---
Bedrooms
Soave, Veneto, Italy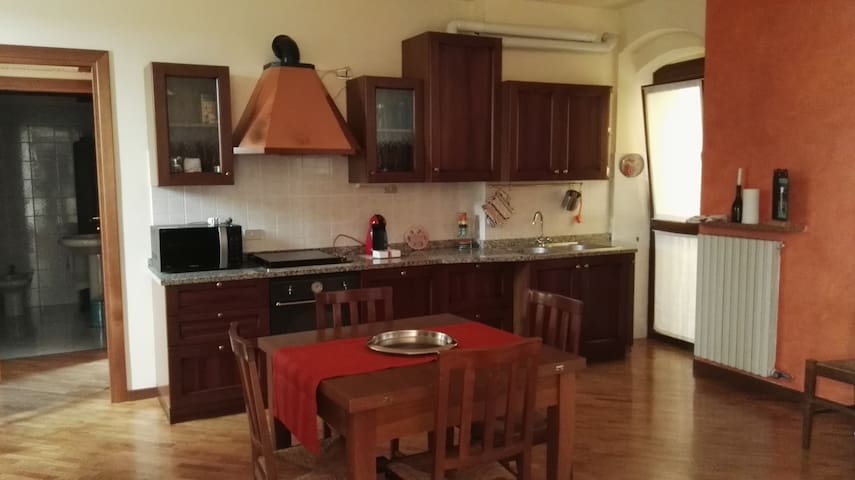 Prestigioso e ampio appartamento in collina, all'interno del chiostro di un antico monastero del XII secolo sapientemente ristrutturato. Elegante e tranquillo, ha a disposizione un ampio giardino in comune con gazebo e area attrezzata con giochi per bambini. Si trova a poche centinaia di metri dal casello autostradale di Montebello (autostrada A4). L'appartamento è adatto a coppie, avventurieri solitari, chi viaggia per lavoro, famiglie (con bambini) e amici pelosi (animali domestici).
L'appartamento è particolarmente adatto a ospitare famiglie con bambini, in quanto è molto spazioso, dotato di un'ampia camera da letto matrimoniale per i genitori, e di una cameretta con due letti singoli per i bambini. Su richiesta, quando nella famiglia degli ospiti ci sono neonati o bambini molto piccoli, forniamo gratuitamente una culla e un seggiolone. Per famiglie particolarmente numerose c'è inoltre la possibilità di aggiungere un letto singolo extra, o di aprire il divano letto, per accogliere fino a 6-7 ospiti. Ricordiamo però che l'appartamento è dotato di un solo bagno, e non suggeriamo pertanto una occupazione di così tanti ospiti, riservandola solo su precisa richiesta da parte dei clienti. Inoltre, nel giardino comune, liberamente accessibile ai nostri ospiti, oltre al gazebo sotto il quale gli adulti possono rilassarsi stando seduti all'ombra, ci sono anche un'altalena e uno scivolo a disposizione per i momenti di gioco all'aria aperta dei nostri ospiti più piccoli.
L'edificio in cui si trova l'appartamento sorge su di un pendio, proprio alla base delle prealpi venete, dove le colline incontrano la pianura. L'area circostante è prevalentemente campagna coltivata, e in particolare è un'importante area di produzione vinicola, e i vigneti si estendono a perdita d'occhio in ogni direzione. Ma nei dintorni non c'è solo la campagna. A pochi km distanza, sono presenti importanti aree produttive e industriali, per cui l'appartamento è spesso scelto da uomini d'affari che viaggiano per lavoro. La zona circostante offre inoltre numerose testimonianze di una storia ricca e affascinante. Entro 10 chilometri, si trovano numerosi castelli e resti medievali, come il castello di Soave, i castelli di Romeo e Giulietta a Montecchio Maggiore, il castello di Arzignano, la rocca di Brendola, l'abbazia di Villanova a San Bonifacio, e il campanile di Lonigo, che era una torre ed è tutto ciò che resta dell'antico castello. In meno di mezz'ora di strada, possono essere raggiunte importanti città d'arte come Vicenza, Verona e Padova, e in meno di un'ora si arriva a Venezia, al lago di Garda, e alle piste da sci in montagna.
Room Type
Entire home/apt
---
Property Type
Apartment
---
Accommodates
7
---
Bedrooms
Montebello Vicentino, Vicenza, Italy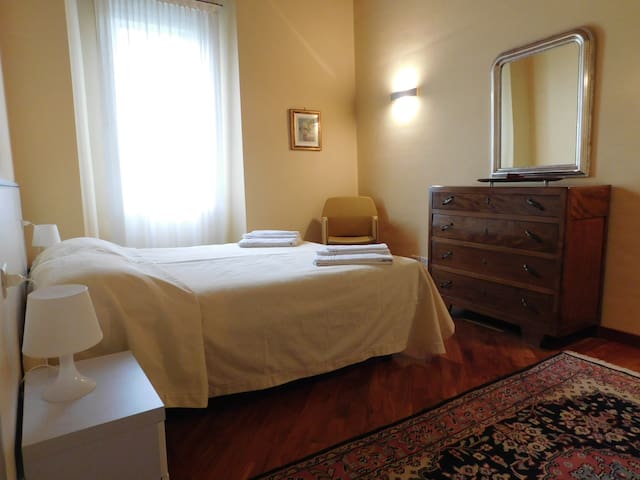 New and spacious apartment. All furnishings and new appliances. Quality finishes and you have all the comforts (air conditioning, mosquito nets, wi-fi, alarm). Located in a green and tranquil setting. Just 2 minutes walk presence of the gym, eating, pizzeria, post office, ATM, car farmacia.Parcheggio this frontestrada.
Apartment on the first floor.
All major services in the immediate vicinity and can be conveniently reached on foot. District recently built entirely private and quiet, with a large presence of green spaces.
The host canceled this reservation 14 days before arrival. This is an automated posting.
Galilee
2017-04-04T00:00:00Z
Room Type
Entire home/apt
---
Property Type
Apartment
---
Accommodates
2
---
Bedrooms
Asigliano Veneto, Veneto, Italy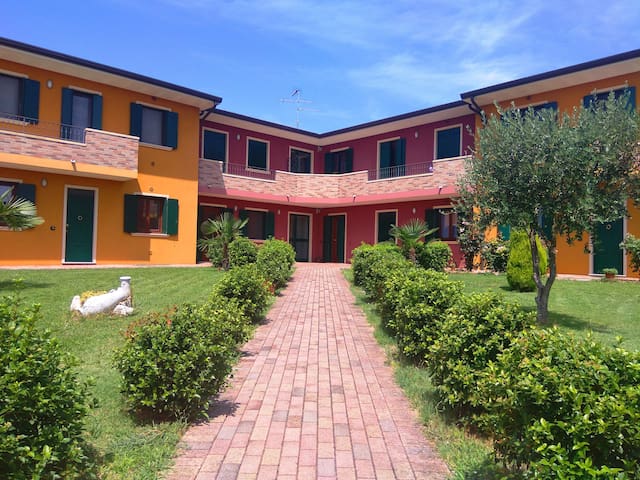 Romantic apartment located in a renovated old court, with exposed wood beams and furnished keeping the marks of the past, bedroom with a canopy bed and exposed wood beams. The outdoor terrace for sunbathing in the morning e relax in the afternoon.
Romantic apartment located in a renovated old court, with exposed wood beams and furnished keeping the marks of the past, as you enter you find a room wtih a vintage living room sofa and TV, kitchen very handy for breakfast. The second room is a 'large room with a canopy bed, designer lamps and practical wardrobe. The bathroom completed with shower box and washing machine included.The outdoor terrace and fully immersed in nature, and due to the location of the house allows, sunbathing in the morning and in the afternoon you can relax in the shade The country Belfiore has an ideal location for your visits and walks 10 minutes found Soave with its famous scaligero castle where you can taste local dishes and the famous wines that are produced, Verona is located about 20 minutes by car, all connected by freeways and highways to facilitate your travel
After our stay in Firenze me and my girlfriend were quickly looking for something else in Italy, one night before departure. Gianluca responded immediately and was willing to host us. We were amazed of how quiet and beautiful the apartment and it's surroundings were. The apartment itself was beautiful, but the decoration gave it an even better feeling. Verona was easy to reach by car, and the nearby place Soave is also great to see. We had a perfect time and would recommend it to anyone. Gianluca and his friend Cesar were very friendly and helpful when we had questions. We would have loved to stay longer. Thank you both!
Jurgen
2014-07-31T00:00:00Z
Such an amazing apartment to stay in :) modern and has everything you would need for a relaxing romantic stay. Would definitely recommend. Host went above and beyond.
Emma
2014-09-30T00:00:00Z
We stayed in this appartment for two weeks. It has a nice and quiet location between the appletrees and vineyard. You can take the train from S. Bonifacio or easily take the car to Verona. The appartment itself was nicely decorated and well equiped for a comfortable stay. We could use two bikes which was a nice bonus. We didn't have much contact with Gianluca and his sister, but they we're nice when we did. Gianluca responded quickly when we had questions through the airbnb app.
Marion
2015-06-13T00:00:00Z
Gianluca and his sister were very nice and welcoming. We couldn't find the street on our GPS, so they picked us up in the Belfiore. The apartment locates in a nice field area, next to a apple field. There were some lady bugs in the apartment, but it was not a big problem for us. The apartment is cosy and spaceful.
Yun
2015-04-05T00:00:00Z
We really enjoyed our stay in this renovated apartment, it's spacious, stylish and very cozy. Gianluca was very welcoming and provided us with all the amenities like bedding, towels, soap etc as well as gifting us two bottles of local Soave wine:)
Alexey
2014-10-26T00:00:00Z
The reservation was canceled 30 days before arrival. This is an automated posting.
Antoine
2015-02-19T00:00:00Z
We stayed for 3 nights over New Years and had such a wonderful time! The apartment is absolutely beautiful, it's immaculate and arty while being very cosy. It has both a bath and a shower, and a fully equipped and working kitchen. Although we didn't meet Gianluca himself as he was away for work, he ensured that everything went smoothly with our arrival and departure, and was also kind enough to leave the fridge stocked with water and various other drinks, and the cupboards full of the basics for cooking....salt, oil, vinegar, coffee, teas etc, as well as a couple of bottles of local wine! :) There are also towels, soaps, shower gel and bubble baths in the bathroom. The location is extremely peaceful as it is surrounded by apple fields and you can see the most spectacular sunsets from the apartment. We very much look forward to coming back in the spring when all the trees should be blossoming.
Luana
2015-01-02T00:00:00Z
Beautiful apartment that is stunningly decorated throughout. Never actually got to meet gianluca but his sister guided us from Belfiore and was very friendly. We had a car rented so the apartment was in a good location to visit Soave, Verona and Mantova. It was very warm during our stay and there is no air conditioning which was the only negative but we knew that when we booked. A lovely apartment and a very good host, we would recommend it to anyone.
Eamon
2015-08-11T00:00:00Z
Room Type
Entire home/apt
---
Property Type
Apartment
---
Accommodates
2
---
Bedrooms
belfiore, Veneto, Italy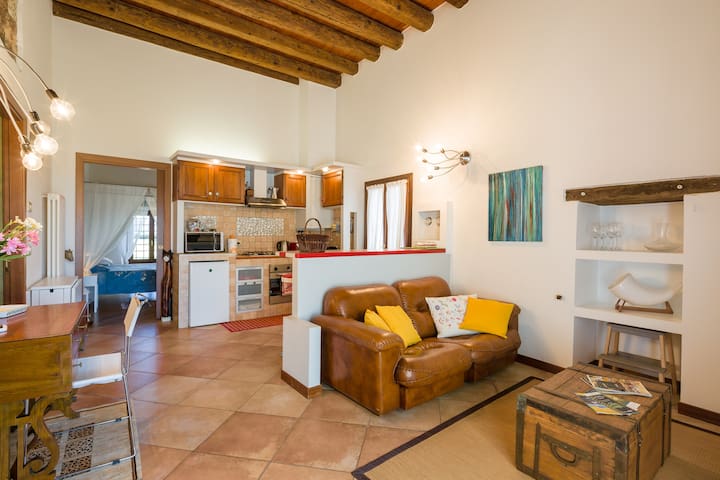 Soave, renovation of an ancient dovecote of 1800, offering stunning views of the castle and located just 200 meters from the town center, in a quiet, green neighborhood. Soave you can easily reach the city 'of Verona, Vicenza, Padua, Venice, Mantua and Lake Garda, as well as the whole area and the Palladian Villas of the Veneto. Also ideal for business and reach the fairs in Verona and Vicenza. Managers, experts and tasters ONAV art history, they will offer tastings of local wines and suggest interesting cultural and gastronomic routes.
Besides making service B & B, we rent to guests of the Airbnb apartment on the second floor with attic, without breakfast service. The house is spacious and comfortable, impressive renovation of a 800 dovecote, 200 meters from the center of the town of Soave, in a green and quiet neighborhood. Beautiful views of the castle and the medieval walls. Open spaces for relaxing. Free private parking for one car. The apartment is on the second floor of the house and is on two levels, consists of: living room of about 12 square meters with kitchenette and new sofa bed and a half square 1 large bathroom with tub, shower, toilet, bidet, sink, 1 double bedroom of about 14 square meters and a second double bedroom of about 14 square meters, in the attic, climbing a staircase from the living room / kitchen. Recommended for couples or families of 4/5 people. Ability to add cribs for small children and another single bed in the master bedroom.
The area where the property is located and 'quiet and close to the city park. In front of the hotel runs the river Tramigna that washes the city 'of Soave and you can admire the perfectly preserved medieval walls. The area is surrounded by green hills covered with vineyards landscape.
Very well situated for easy walking distance to Soave town center. Much appreciated gated parking for car. Host very helpful even though we arrived late evening. Very knowledgeable and informative of area. Apartment clean and well-furnished. Did not need nor want for anything. Great views of walled city and castle from apartment.
John & Marie-Ange
2016-10-09T00:00:00Z
We were made to feel most welcome - especially the nice touch of juice and milk in the fridge on our arrival. Christina provided us with plenty of things to do. Soave has plenty of history to immerse ones self in, it is located in s beautiful walled village, amongst plenty of vineyards. Soave is very close to the autostrada where you can access lake Garda, the Dollarmites, Venice and Veronica.
Andrew
2016-07-19T00:00:00Z
Finestra sul Castello is a great place to stay with very good comfort and excellent access. The rooms were very clean, big enough and nicely furnished . Within walking distance ware shops for food, fruits and vegetables, bakery to achive . There is a large, shaded playground about 100 m from the house. Alfonso was an excellent host, he has prepared some nice extras to make our stay perfect. There was something to eat for the next few days and prosecco as a welcome gift! Alfonso put together some useful information and brochures about the local area for us . I recommend Finestra sul Castello for peaceful and pleasant holiday and as a base for excursions to Verona, Terme Giunone, Milano (EXPO 2015!), Garda Lake, Vicenza, Padova and the Valpolicella Region.
Katarzyna
2015-07-18T00:00:00Z
We had an enjoyable stay. Very well located for exploring the Veneto. We took the 1:10 min train to Venice one day which was very easy. Soave is very nice and the old town is just across the street. Well worth exploring the vineyards around town. The kitchen is good for simple meals but there is no oven. Secure parking provided.
Thomas
2016-10-14T00:00:00Z
Great location and comfortable apartment. 5 minute walk to the old town.
julie
2016-09-24T00:00:00Z
The house was beautiful and Alfonso & Cristina were wonderful hosts. They provided us with everything we needed and more! We definitely recommend!
Allison
2015-08-12T00:00:00Z
We very much enjoyed our stay in Soave. Our family of five was amazed by hospitality of Alfonso, Cristina and Nadia. They provided all what we needed for one week of very comfortable stay. Additionally, we was equipped with information on local shops, restaurant, pizzerias, places to visit etc.. A bottle of vine, juice, milk and cookies were a surprise from host and was very much appreciated by everybody. The house is only 100 meters from the old town walls and 5 min walk from the town centre. A top room added charm for the whole apartment Soave can offer a lot for exploration such as the Castle, old town, great children playground, street market, very tasty ice-cream and of cause a very good wine. Soave has a nice location in Veneto within only a 30 min drive to Verona and about 50 min to Garda Lake and Padua. We enjoyed all of them. We use a train from San Banifacio (10 min drive from the house) for visit to Venice and spent the unforgettable day there.
Alex
2016-04-08T00:00:00Z
The house was lovely. It was very clean and spacious for the two of us. Its located just outside the town walls overlooking the river. There is space to park your car if needed, but there is plenty of free parking near by. We were greeted by Christina who showed us round the house and explained everything and was available should we have needed her. Soave is a lovely town to visit and stay in and if you are the area then do stay here. Its easy to get round, very friendly and has lots of good restaurants to choose from. We used it as a base to visit Soave and Verona being only 20mins away. Its worth visiting the castle for the views or walking through the vineyards on the hills.
Sue
2016-05-31T00:00:00Z
Room Type
Entire home/apt
---
Property Type
Apartment
---
Accommodates
5
---
Bedrooms
Soave, Veneto, Italy
Between Verona and Vicenza, in the middle of nature, but close to highway,accomodation for till 6 guests! With full equipped kitchen,free wifi,few breakfast stuff and also meals in our restaurant that is 3 km from the apt!with discounts!Have to try!
All apartment available for you as your own house, because I don't live there!!! Is between Vicenza and Verona, perfect if you want visit Garda lake, Verona, Vicenza, Padua and obviously Venice!!! The minimum stay is 3 nights, for just 1 night please send me a message and I will inform you the price and the availability !!! The whole apartment has air conditioning system, kitchen with all facilities (microwave, dishwasher, and everything you might need) TV, Dvd player, washing machine and steam iron alsto at your disposal ! Car park exclusive for the apartment just in front of it. Supermarket is just across the road.
Henrique was the perfect host. The apartment is modern, spacious and clean while the kitchen is well equipped. The weather in Italy was in the mid-30s when we were there, but the living room was air-conditioned - we almost couldn't bear to leave the apartment! And yes, have a meal at Henrique's restaurant - they serve wonderful Italian cuisine at a reasonable price, and Henrique so kindly gave us a discount on the bill too. All in all, a wonderful experience and we would love to come back for another stay. Thank you Henrique!
Patrick
2014-06-13T00:00:00Z
Dear Henrique, Property in Italy in the first airbnb experience of good memories. Was the best hostel in Venice and Verona travel too. The use of two toilets in our family too good gaera Sorry, you can not not visit the restaurant was. So next time I hope to have a good meeting CHUNG YOO CHAN
Yoo-Chan
2014-06-29T00:00:00Z
Apartment represents exceptional value. Family enjoyed the week spent exploring the area, with Verona only 20 minutes away.
Justin
2015-07-17T00:00:00Z
The apartment was very spacious for 2 of us, located between Verona and Vicenza, each 30min driving. Perfect also if you want to visit Venezia, which you can drive to Vicenza and take the train, which takes 45min. Henriques has a pizzeria place located 10min away by car from the apartment, which we visited during our stay and it was pretty delicious.
Yuliya
2015-08-10T00:00:00Z
Thank you, Henrique. The place is wonderful and so is your taverna. We planned just a short stop-over, but the countryside and the vineyards definitely deserve a longer holiday.
Vid
2014-04-28T00:00:00Z
Henrique is a great host! His apartment is large, with everything you might need. He even provided food for breakfast. Location is great - close to Verona and Vicente, very convenient. Visited his restaurant - were treated like VIPs, great food. If you think of where to stay in this region - outside of big cities but conveniently close - this is the best place.
yelena
2014-06-19T00:00:00Z
Comfortable and clean apartment with spacious bedrooms. The kitchen is fully equipped with everything you need. Very easy to find the building when coming by car from the highway. Great location between Verona and Vicenza, and Padua is 20 minutes drive away. Venice and Lago di Garda are near. The apartment is located in a quiet part of town, with lots of parking, and near is the supermarket. To recommend to the visitors who come by car. The host is very friendly, helpful, timely answers all of your messages and questions. Thank Henrique for a lovely stay, and we hope to see you again.
Nebojsa
2014-05-27T00:00:00Z
Henrique is a wonderful host - obliging, friendly, welcoming. The listing is a good description of the apartment. We found the apartment to be immaculately clean, more spacious than expected and really comfortable. Henrique's restaurant is well worth the visit too.
Michelle
2014-08-04T00:00:00Z
Room Type
Entire home/apt
---
Property Type
Apartment
---
Accommodates
6
---
Bedrooms
Montebello Vicentino, Veneto, Italy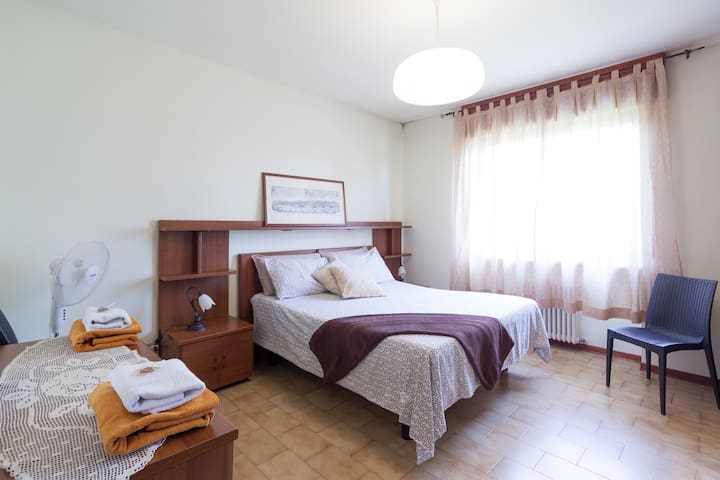 Fully furnished apartment with one bedroom. Located in the town center of Gambellara, in an area famous for wine production, and surrounded by hills. The apartment is equipped with a large kitchen, living room with sofa bed, bathroom with shower, washing machine, clothes horse, iron. On request, the bedroom can be prepared with 2 single beds instead of one double bed. Perfect for 1 or 2 people, but thanks to the sofa bed it can accommodate up to 4 people.
The kitchen is stocked with dishes, glasses, cups, cutlery, pots ... Fully equipped, it has a large refrigerator, a freezer, 4 gas hobs, an electric oven, a microwave oven, an electric kettle. The TV is connected to a satellite decoder box, that is needed to view the channels: as a result of the particular shape of the surrounding hills, the area does not get the signal from the normal digital TV.
At 50 meters from the apartment, in Piazza Marconi, there is a coffee bar, a small supermarket / tobacco shop where you can buy everything (and even bus tickets), and an ATM. Below the apartment there is a florist. Along Via Martiri della Libertà you will find a newsagent, a fruit and vegetable shop, and a hairdresser. At 100 meters, at the corner of the square below the church, there is a good pub with a great selection of beers.
SUPER!!!
Malki
2017-01-26T00:00:00Z
Room Type
Entire home/apt
---
Property Type
Apartment
---
Accommodates
4
---
Bedrooms
Gambellara, Veneto, Italy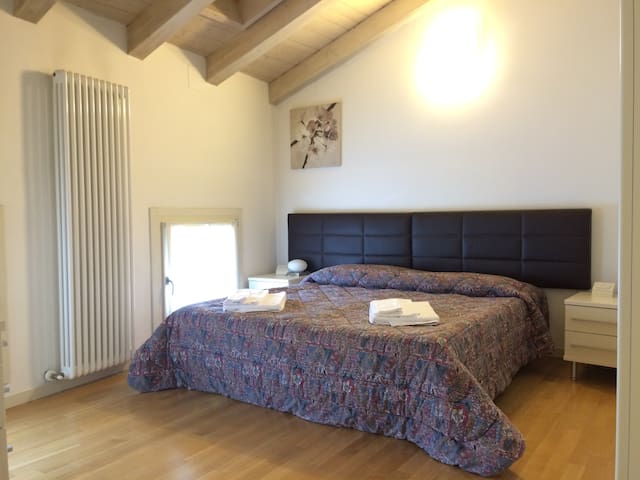 our home is siutable for couples, singles, businessmen, families and small pets
the apartment is situated in a strategic position, between two valleys, the soave and the illasi valleys, between Venice and Verona. It is just 2km from Soave Castle. Next to our home are a mini market, a bar and a couple of restaurants-pizzeria.
The small village of Costeggiola is a quiet place, but with basic comforts.
Appartamento non ancora completamente arredato ma già funzionale, confortevole e molto bello. Per la verità qualche aggiunta (alcuni complementi d'arredo, quadri o cose del genere) spetterebbe senz'altro dei miglioramenti ma l'appartamento, che è forse una villa a 2 piani (ci siam fermati 1 sola notte e non chi abbiamo badato) di può assolutamente considerare completo. Francesca è stata gentilissima e molto disponibile quindi un bel 10 e assolutamente meritato!
Elio
2017-02-26T00:00:00Z
Room Type
Entire home/apt
---
Property Type
Apartment
---
Accommodates
4
---
Bedrooms
Cazzano di Tramigna, Veneto, Italy
1

–

18

of

42 Apartment Rentals
Enter dates to see full pricing. Additional fees apply. Taxes may be added.