Villa in Salou rents for weeks only to families. The house has air conditioning, 5 bedrooms, 2 bathrooms, barbecue, terraces, parking space, ... just 300 meters from the beach. 6 km from Port Aventura. Ideal Families.
Terraced house with 5 rooms, with maximum capacity of 10 people, 2 bathrooms, kitchen, terraces, parking ....
residential area, 300 meters from the beach, 6km from Port Aventura ...
The house was everything that it says it is. Hector and his family have been excellent and helped with anything that we needed. We, a team of 8 guys working in Tarragona, found our stay was all that we needed. The house is well situated for amenities and life in general. No complaints whatsoever, superb value for money. Thanks Hector!
jason
2016-05-25T00:00:00Z
hector et sa compagne ont tout fait pour facilité la communication entre nous ses parents qui vivent a coté nous ont également bien aidé le quartier est tres calme et reposant à 5min du centre ville et de port aventura la maison est a 100 % fidèle à sa description
karine
2016-10-26T00:00:00Z
totul la superlativ...foarte frumos, foarte curat, foarte primitor, zona foarte sigura.Gazdele extraordinare.Rudele lui Hector stau in casa de alaturi si te ajuta sa iei legatura cu el daca apare vreo urgenta,Ne-a vizitat sotia lui si ne-a dat indicatii de restaurante, cluburi, magazine. Casa este exact cum este prezentata. foarte curat cu multe utilitati(vesele, masina de spalat, masina de cafea), exelenta pentru familii cu copii. Noi am fost trei familii si ne-am simtit extraordinar, Tot ce am avut nevoie Hector ne-a ajutat. Curtea este destul de spatioasa , atata tot ca noi aveam doua masini si nu incapeau in curtea casei, dar am rezolvat parcarea celei de a doua undeva in apropiere. Va recomand sa mergeti cu (URL HIDDEN) veti regreta nici o secunda daca alegeti casa lui Hector. Multumim Hector pentru linistea si siguranta casei tale. Bafta.te recomand cu placere tuturor.
Cristina
2016-09-04T00:00:00Z
Двухэтажный дом в тихом районе Кап-Салоу на границе с Ла-Пинедой рядом с очень широким пляжем. На первом этаже кухня со всем необходимым (и даже больше), большая гостиная, большой санузел и спальня с тремя кроватями. На втором этаже – четыре спальни и ещё один санузел. У дома есть две большие открытые территории с противоположных сторон + длинный балкон на втором этаже, если захотите позавтракать или поужинать на свежем воздухе, всегда можно выбрать солнечную или теневую сторону. На территории есть барбекю, детская площадка, парковка на одну машину. Все фото соответствуют действительности. Да, через дорогу отель, в котором по вечерам громкая анимация, но репертуар хороший и разнообразный :) Чистота в доме идеальная. Посуды более чем достаточно. Чистое постельное бельё и полотенца раз в неделю. Хозяин, Гектор, общительный парень. Отвечал на все вопросы до поездки и во время отдыха. Несколько раз объяснял как нам доехать из Барселоны. Что говорить, у нас даже был личный велосипед! Я ездил на нём в Салоу за свежей рыбой :) Во второй половине дома проживают родители Гектора. Они не говорят по-английски, но они очень гостеприимные. А мамина улыбка вообще не нуждается в переводе. Очень рекомендую это место для отдыха. Пять звёзд по всем пунктам.
Andrey
2016-06-16T00:00:00Z
Расположение дома очень хорошие, около 400 м до городского пляжа. Хозяева очень приятные и вежливые. На втором этаже 4 спальни на 7 человек и на первом этаже 1 спальня на троих. Очень рекомендую и хочу вернуться снова сама. Единственное предупреждение для любителей полной тишины - рядом отель и вся анимация фактически у вас в доме, нам не мешало, но может кому пригодиться инфо. Кафе и магазины рядом, парковка есть на улице и для одной машины на участке. Дом фактически является одной из части дуплекса.
Inna
2015-06-26T00:00:00Z
Отличный дом! Все фотографии соответствуют действительности. На первом этаже: большая гостиная, кухня и спальня с тремя кроватями. На втором этаже 4 спальни. Хотя дом и на ходиться на окраине городка, тем не менее добраться до магазинов и до моря оч легко, мин 10 пешком. Рядом находится остановка Bus Plana и на этих автобусах можно добраться до любого близлежащего города или заказать экскурсию. Так как мы отдыхали с детьми, нам важны были большой дом, доступность к морю, и налаженный контакт с хозяином дома. Все это мы получили. Рекомендую это место, дом и очень гостеприимного хозяина. Из минусов анимация в соседнем отеле.
Ekaterina
2016-10-04T00:00:00Z
Logement correspondant bien à tout ce qui est décrit dans l'annonce, très bien équipé, très propre... Idéalement situé près de la plage, commerces et restaurants. Il n'y a qu'une seule place pour se garer à l'intérieur, le plus compliqué était donc de trouver une place à proximité car nous étions 2 voitures. A l'arrivée, Hector et son épouse étaient très accueillants et avaient prévu des boissons fraîches, bien appréciées ! La cafetière est tombée en panne un matin, nous avons appelé Hector pour le lui signaler et le jour même, nous avons été dépanné par une autre...Le seul point négatif, peut-être, est l'animation de l'hôtel d'en face qui est très forte en soirée...mais ça fait partie des vacances et on ne se couchait pas tôt non plus, donc cela ne nous a pas vraiment dérangés. Nous conseillons donc cette maison sans problème.
thierry
2016-08-21T00:00:00Z
Room Type
Entire home/apt
---
Property Type
House
---
Accommodates
10
---
Bedrooms
Salou, Tarragona, Spain
Lovely house situated in seafront, perfect for relaxing. With a fantastic terrace, beautiful views and direct access to an intimate cove, at a distance of 15 meters. Services: Swimming pool - WiFi - Parking - Linen and towels *. HUTT- 009814
· Fabulous 25m3 terrace with beautiful sea views and direct access to the beach. · Living room with sofa bed, and a fully equipped kitchen. · Bathroom with shower. · One double room and one triple room. · The house is in a private Ibiza style building.   With parking, gardens, and 2 communal swimming pools, 1 of them for children.
The house is located in a quiet area of family tourism, perfect for relaxing. Less than 5 minutes walking distance, you will find transportation services, supermarkets, restaurants, ice cream parlors, and much more.
We really enjoyed a week in this lovely house - 2 adults and 2 kids. The terrace is fabulous with a fantastic view and the house is great. Just below there is a fantastic little beach which is great for swimming and playing.
Line
2016-06-19T00:00:00Z
Nous avons profité de cette maison à 3 adultes et 4 jeunes. On s'est régalé de la vue magnifique, de la crique en bas de la maison par un accès direct. L'endroit est calme. La description et les photos mises sur le site sont conformes. Nous avons également découvert Salou et Cambrils, endroits animés et sympas pour les enfants.
Nathalie
2016-07-31T00:00:00Z
Bon accueil de martha la soeur de cristian. Bon séjour maison conforme à la description. Terrasse petite mais suffisante pour se relaxer et manger. point de vue sublime avec accès à la petite crique des crancs. Très reposant. Nous recommandons.
Sonia
2016-04-30T00:00:00Z
Лучшее месть в Салоу для тех, кто любит тишину, солнце и море. Отличные апартаменты! Полностью соответствуют тому, что вы видите на фотографиях. Апартаменты со вкусом обставлены. На кухне вы найдете все, что необходимо. Симпатичный хозяин. Отдыхали 3 взрослых и 3 детей. Все остались очень довольны!
Майя
2015-08-10T00:00:00Z
Cette petite maison est très jolie et la vue est fabuleuse ! Même si les photos donnent une bonne représentation du logement, elles sont en dessous de la réalité. Prendre son café le matin sur la terrasse au dessus de la mer est un plaisir intraduisible. La maison est très propre et bien équipée. Elle est décorée avec soin. Comme elle est située au Cap Salou, en dehors du centre, elle est au calme, ce qui est très appréciable. Nous avons été bien reçus par Cristian et sa soeur qui étaient disponibles pour répondre à nos questions et résoudre nos petites difficultés. Le seul inconvénient pour nous avec nos trois grands ados, était la taille des lits dans la deuxième chambre - ils étaient nettement trop petits. Avec des garçons remuants il faut également faire attention aux objets décoratifs ! Dans tous les cas, c'était un excellent séjour et on y reviendrait avec plaisir.
Frances
2016-04-15T00:00:00Z
Vielen Dank für den schönen Aufenthalt. Dieses Haus hat den schönsten Ausblick den wir bisher im Urlaub hatten. Dieses Fleckchen in Cap de Salou ist nur zu empfelen. Wir kommen gerne wieder.
Beate
2015-10-17T00:00:00Z
La casa de Cristian es maravillosa, esa terraza te permite vivir en la calle todo el tiempo y disfrutar de unas vistas inmejorables, la zona es muy tranquila, pero si quieres más movimiento hay una línea de autobuses muy bien comunicada desde la casa para ir a Saou, Cambrils, Tarragona, etc., y naturalmente en coche estas a un paso de todo. La atención y disponibilidad de Cristian y de su hermana han sido perfectas, mejor imposible. La casa es muy cómoda y agradable, dispone de todos los servicios y estaba impecable, muy limpia y bien organizada. La recomendamos sin dudar. Gracias Cristian por compartir tu casa con nosotros. Saludos Miren y Brian
miren
2016-04-04T00:00:00Z
Notre hôte nous attendait patiemment, avec les clefs d'un séjour-bonheur; l'appartement nous a enthousiasmés et correspond bien à la description, l'emplacement est idyllique et l'appartement très agréable, le quartier tranquille, et la région extra !
Christine
2016-04-10T00:00:00Z
Room Type
Entire home/apt
---
Property Type
House
---
Accommodates
6
---
Bedrooms
Salou, Catalunya, Spain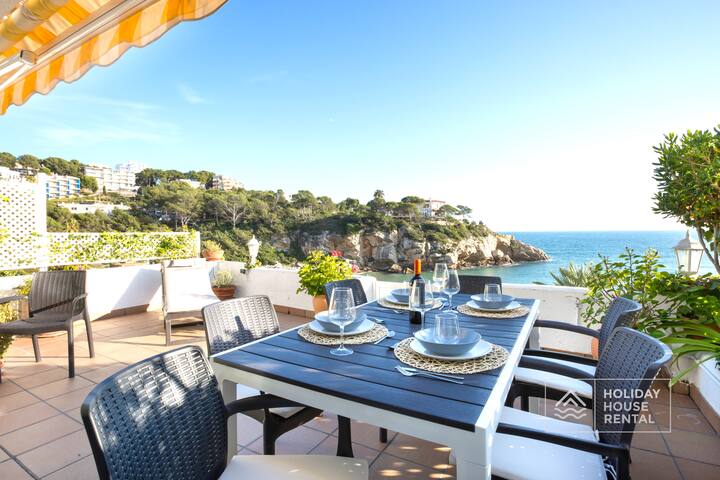 Villa located in the heart of Salou, restored 2016 to provide comfort to visitors. Its 120 m2 are spread over 3 floors. It has 3 bedrooms, for 6 and a sofa bed in the dining room to accommodate 2 people. Its patio and solarium offer visitors a place to rest and get some fresh air on hot summer days. It has a fully equipped kitchen and 1 bathroom and 1 toilet. It has wi-fi for customers.
Room Type
Entire home/apt
---
Property Type
House
---
Accommodates
8
---
Bedrooms
Salou, Catalunya, Spain
Single-storey house, fully furnished, 3 bedrooms, 1 bathroom and a toilet with hydromassage shower and Turkish sauna. Garden with barbecue and terrace. In summer you can enjoy the beach Pineda 4 minutes walk. Lumine golf courses is within walking distance. Salou as well as tennis, where you can rent tracks. By Aventura is relatively close
The house has hydro massage cabin, Turkish Sauna, Garden Barbecue, Terrace and Parking. Cot available for babies. Several bicycles available to customers free of charge. Recommended for 6 people, using the sofa bed in the dining room seats 8 people.
The price includes. Water, electricity, sheets and towels (ask for stays shorter than 6 days), Wi Fi, Satellite TV, DVD, TVE screen TV, air conditioning, final cleaning. Does not include the tourist tax € 0.45 person / day (maximum 7 nights) The climate is moderate in summer and warm in winter.
Just arrived back from Salou. Albert is more than friendly host- he was waiting for us to arrive until 1 am and communicated immediately when we could not find the house in sat nav system House have even more than essential including an iron, hair dryer and hair straightener, also Perfectly clean with spare towels. House located just 5 min walk from promenade , but still in quiet area. 2 bikes were lovely addition. WiFI, terrace at the front and barbecue corner at the back made our stay very comfortable. Deferentially recommend to stay in Albert's house
oksana
2016-09-15T00:00:00Z
Very pleasant stay at Albert's house in Salou / Pineda. House was easy to find and perfectly located for our needs (close to the beach, the Lumine golf club and local shops and restaurants). Good kitchen, Wifi worked well and the washing machine and dryer were put to good use before we left! Happy to recommend this host. Thank you
Shaun
2015-11-11T00:00:00Z
La casa coincide con las fotos y descripción. Esta muy bien. En una zona tranquila y próxima a las playa. El jardín y la barbacoa son un complemento ideal. Albert es un anfitrión difícil de superar. Se ocupa de sus invitados y hace lo posible por ayudar y hacer la estancia lo más agradable posible
Santiago
2016-03-29T00:00:00Z
Merci pour ce séjour, je recommande la maison, Albert est un hôte chaleureux qui en plus parle français. Je recommande vivement.
Yohann
2017-04-07T00:00:00Z
Nous avons passé une agréable semaine dans la maison d'Albert, qui nous a très bien accueilli. La maison est idéalement située, très proche de la plage et en même temps très calme. Nous y reviendrons avec plaisir!
Marie
2016-04-24T00:00:00Z
Confortable estada a casa de l'Albert. Va ser molt atent i va procurar que no ens faltes res. La casa és una molt bona opció per famílies amb nens de cara al bon temps pel generós espai exterior i l'equipament interior. No faltava de res.
Joan
2017-03-05T00:00:00Z
Excellent séjour maison ultra fonctionnelle restaurant et supermarchés à moins de 10 min à pied et Park aventura à 10 minutes en voiture . Très calme et hôte chaleureux accueil très agréable.
solange
2016-10-28T00:00:00Z
Albert nous a très bien reçus et accueillis. Il est serviable et plein de bons conseils. Le logement était très propre, bien ordonné et vraiment conforme au descriptif. En plus il est idéalement situé: très près des plages mais dans un quartier calme et à 5 min en voiture de Port Aventura. Vraiment idéal pour notre séjour. Nous y retournerons avec grand plaisir si nous revenons sur Salou. Merci encore pour tout.
nicolas
2016-11-02T00:00:00Z
Room Type
Entire home/apt
---
Property Type
House
---
Accommodates
6
---
Bedrooms
Salou, Tarragona - Catalunya, Spain
It is a spacious room with ocean view in a detached house with garden next to the forest. It has double bed and single bed. Desk. Maximum 4 pax
The house is situated in the area of Cap Salou. quiet area next to the forest, 5 min walk to the coves in the area. 7 min drive center Salou and La Pineda 2 min. Ideal for relaxing after a fun day at the beach or Port Aventura. As optional can opt for breakfast and dinner.
The area is ideal for relaxing feeling that you are in the countryside but with the advantage of being close to the most touristic places in the area. The whole house is oriented to the sea next to the beautiful Cala Cran. The guest can go into the forest and enjoy pleasant walks along trails with breathtaking views of the cliffs in the area. Very desirable as well as the viewpoint of Faro. Definitely a paradise of tranquility just 5 minutes from Salou, one of the most tourist towns in Spain
One word .... "Wonderful" Wonderful place ... wonderful hosts wonderful beaches. I really enjoyed my stay with Diego and Eric, hours of pleasant discussions on the terrace, in front of a amazing view of a big round moon dancing on the see! I will come back soon, be prepared :)
Chakib
2016-07-20T00:00:00Z
Diego y Eric Are lovely hosts who were able to provide us with a comfortable and tranquil place to stay. The house was apart from the hustle and bustle, making us feel in and amongst nature, and the ocean views added a nice touch. We much appreciated the hospitality and we would recommend this place as a great way to escape and feel welcomed. Thanks! Thank you very much!
Andrew
2016-03-23T00:00:00Z
Diego y Eric we're welcoming hosts that gave us a wonderful place to rest after much traveling. Their home is lovely and the location is great.
Taylor
2015-12-29T00:00:00Z
This place was just unbelievable, you have to try it. Diego and Eric were very nice, the place is amazing, and perfectly clean. Me and my friend had some trouble to find the entrance, and we were scared by the 5 dogs that ran into us when we got into. But they were nice dogs, and when Diego and Eric finally came out we were relieved ! When we woke up next morning, we were very impressed by the view. Once again, you have to try it.
Adrien
2016-11-06T00:00:00Z
We have very much enjoyed our stay at Eric's and Diego. They were adorable, welcoming and the diners were really good. I recommand you take a diner with them. However breakfast is nothing special. The house is in a very quiet area, few km away from city, you need to take the bus or taxi to go out. The view is perfect : taking the breakfast on a sunny terrace by the sea is just so relaxing.
Alice
2015-04-13T00:00:00Z
We three girls had a great stay at Casa Diego y Eric. The communication with those sympathic guys was very easy and they welcomed us warmely. As shown in the photos of their announcement and described in the other reviews, the entire house and yard are amazing. The view from the terraces is priceless and even Salou is nice (touristic) holiday location. We have to thank Diego and Eric a lot, because they provided the perfect location for our weekend trip and I could recommend this lovely accommodation to all alternative travellers which love to feel like home while being on a trip. All the best, Diego and Eric 3
Anna
2016-07-17T00:00:00Z
Very nice experience. Diego and Eric have a lovely home, comfortable and very clean. They were friendly, attentive and generous hosts. The place is a gem well hidden between big houses and some beautiful nature. Don't hesitate staying at their place if you have the chance!
Eva
2015-01-13T00:00:00Z
Great host, beautiful house with stunning views looking over the sea, especially the sunrise. Bedroom was clean and spacious. They were very accommodating (example, let us cook our healthy food in there kitchen). But above all, they have gorgeous dogs who are extremely friendly and cute.
Danny
2016-05-10T00:00:00Z
Room Type
Habitación privada
---
Property Type
House
---
Accommodates
4
---
Bedrooms
Salou, Tarragona, Spain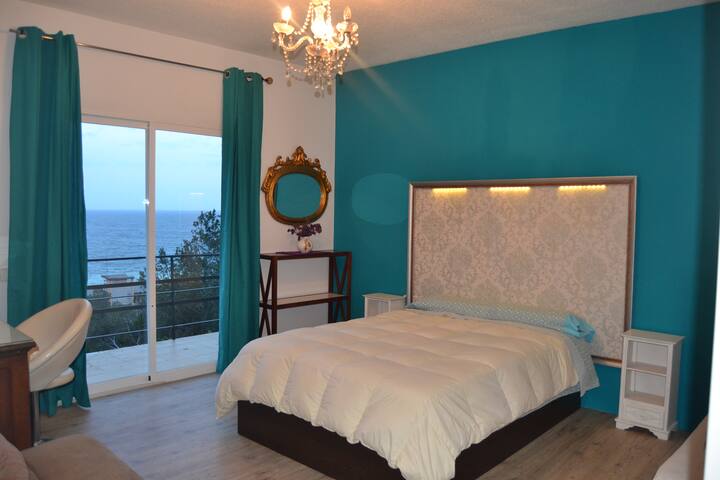 House Chalet located in a quiet and exclusive resort of Salou with very good access to the beach, Port Aventura, tourist walk and play area, all on foot. The house is furnished and equipped mainly for families to enjoy a holiday near the coast.
House villa in an enviable setting in the town of Salou, Tarragona, equipped and prepared for maximum capacity of 8 + 2, on two floors, with 4 bedrooms, bathrooms with bath, dining-living room with fireplace and enabled work area, fully equipped kitchen. Dishwasher, oven, microwave, range hood, hob and American fridge. Entrance with private garden, with barbecue and enough space for two parking spaces. cots are available on request. Very quiet, yet well situated: 700mts from the beach, 500 meters from the leisure, commercial and 10 kms from Tarragona, a city with an important historical heritage. 1 km from Port Aventura theme park and Costa Caribe water park, 200 mts Golf Club Lumine.
House located in one of the most exclusive neighborhoods in Salou, Barrio Covamar, quiet residential area surrounded by houses with green and equipped with equipment areas. Good access and easy communication with the recreational, commercial and coastal area of the municipality.
Maria and her husband were nice and flexible hosts. We had to arrive later than expected because of traffic and they were very understanding. They provided us with the sheets, and towels. The house is very comfortable and near the beach, supermarkets, bars and very close to port aventura. The swimming pool is very nice and the garden too !
clara
2016-06-20T00:00:00Z
Very well located house, walking distance to Port Aventura. We have been very well received by Maria and her husband. They have responded very fast to our requests and have given us good advices about what to do/see in Salou region.
frederic
2016-11-01T00:00:00Z
Perfect house near everything we need, supermarket, night club The nicest host i've ever met, always here to solve the problem and we feel at home If you want to enjoy your holidays, go to this house!
Victor
2016-08-07T00:00:00Z
Lovely home, Maria and Eugeni are really nice. Quiet neighbourhood and very close to supermarkets, night clubs and beaches.
Aurélie
2016-05-31T00:00:00Z
Very beautiful house, completely equipped. We never used our cars as the house is located near the center of Salou. The hosts are very nice and available. It is very quiet and peaceful. Très jolie maison, avec tout les équipements nécessaire. Nous n'avons pas eu besoin d'utiliser notre voiture la maison se trouve proche du centre de Salou. Les hôtes sont très sympa et disponible. Le quartier est calme. Nous avons passé un super séjour à Salou ! Merci ! Thanks !
Vincent
2016-05-09T00:00:00Z
Очень приветливые и отзывчивые хозяева, по приезду нас ожидали две бутылочки холодного брюта! Спасибо, было очень приятно. Мы договорились на ранний заезд и поздний выезд, за что большое спасибо Марии. По просьбе предоставили 2 комплекта ключей и заменили неисправный телевизор. Когда у нас выбило электричество, моментально все исправили. Месторасположение очень хорошее, с детьми самое то. В то же время не далеко от кафе, ресторанов и магазинов. Не понравилось, что нет кондиционера и на первом этаже нет санузла, мало пригодной посуды для приготовления пищи. Есть кофемашина, что супер, холодильник с функцией приготовления льда очень удобно!
Ann
2016-09-18T00:00:00Z
Très belle accueil de la part de Maria et son Mari qui nous ont montré les bons endroits de Salou, nous avons passé un super séjour dans cette somptueuse villa. Quartier silencieux et très proche du centre ville ! Je recommande fortement !!
Laura
2016-09-28T00:00:00Z
Tot molt correcte, recomendable i al costat de la festa.
Jordi
2016-06-13T00:00:00Z
Room Type
Entire home/apt
---
Property Type
House
---
Accommodates
10
---
Bedrooms
Salou, Catalunya, Spain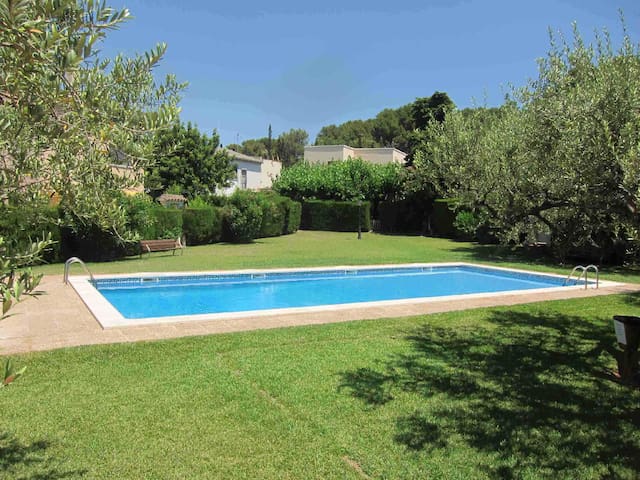 House in the countryside Cap Salou. 4 bedrooms, 2 bathrooms. equipped kitchen. Living room. Fantastic terrace overlooking the sea. Surrounded by pine trees and large green area where you can enjoy the space.
In the countryside and close to the sea. Relax Zone. Ideal to disconnect.
Raul was very accommodating in our time of arrival (and we changed it several times XD). The vila was fine with very nice views and fearly close to the beach. Overall if I ever go back to Salou I will make sure to reserve a vila hosted by Raúl.
Albert
2014-07-22T00:00:00Z
Very nice place to stay if you are looking for calm and beach. The host, Raúl, seems a good person and he will try to make your stay comfortable. There are no time limits to checkin and checkout, so make sure that you make an agreement with Raúl in order to avoid possible troubles. The beach "Cala Cranc" is only 15 minutes walking, Port Aventura theme park is 10 minutes by car, there are supermarkets at 10 minutes walking and Salou city center is 15 minutes by car. At the end, if you are looking for beach, calm or Port Aventura theme park this apartment is perfect for you.
Héctor
2016-08-22T00:00:00Z
Raùl a été un très bon hôte, présent, il répondait à nos questions et n'hésitait pas à se déplacer. Les photos de la maison sont conformes à la réalité, seul petit bémol : la piscine n'était pas remplie donc pas d'accès à la piscine pendant notre séjour d'une semaine en août. L'emplacement de la maison est très tranquille et s'apparente à un quartier pour les familles, et reste un peu loin du centre de Salou. Conclusion quand même très positive de notre séjour, merci Raùl.
Adèle
2016-08-20T00:00:00Z
Maison très bien située ( a proximité des boites de nuits et autres bars), piscine parfaite et peu fréquentée ! Toutefois, manque d'équipement de cuisine (casseroles et poêles, ustensiles de cuisine etc)
Elliott
2015-08-11T00:00:00Z
Super séjour dans un cadre idylique la vue sur la mer, la maison dans la pinède nous ne voulions plus partir. L'accueil a été au top. La cuisine est un peu vieillote mais pour le reste tout fonctionne bien (climatisation, machine à laver...). A recommander merci Raul!
Secteur Jeunes
2016-09-02T00:00:00Z
Raul a été un hôte super accueillant.. L'appartement correspond aux photos. Bon rapport Qualité/prix.. Pensez cependant à prendre des affaires pour la cuisine, toilette (choses qui ne sont pas prévus dans la location)
Eulogia
2015-09-07T00:00:00Z
Raúl es un tío muy majo y muy amable. Todo correcto por su parte. La zona muy tranquila lejos del bullicio del centro de Salou (pero con transporte público cercano) y con unas calitas cercanas muy recomendables.
Sergio
2014-08-25T00:00:00Z
Assez déçu du logement. Les photos ne reflète pas vraiment les lieux. Une chambre se trouve isolé et nous devons sortir dehors pour y accéder. Le logement reste agréable malgré le manque de ménage à notre arrivée. La vue reste Magnifique et très agréable le matin. Bref Sejour mitigé.
Jeremy
2016-10-23T00:00:00Z
Room Type
Entire home/apt
---
Property Type
House
---
Accommodates
10
---
Bedrooms
Salou, Cataluña, Spain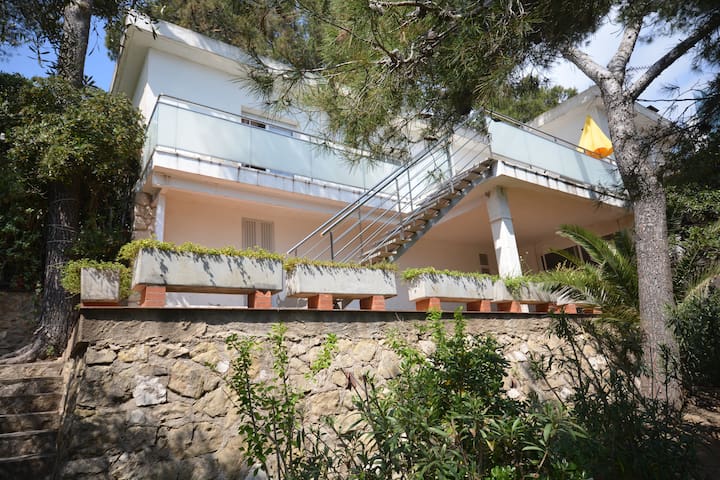 Comfortable house located at a 10 minutes walk from the main beach in Salou and 5 from the touristic center. Ideal accommodation for families with kids, there are 4 double bedrooms, one of them for children with bunk beds and a slide.
It is a comfortable and spacious house of 2 floors, decorated in a zen style. Beautiful garden with sofas and table for eating outside or doing a barbecue. Ideal accommodation for 6 adults, two children and a baby, we can offer for free a cot, a high chair and a trolley... Closed parking included. Very well located, close to the beach (10 min walk) and to the town center (5 min walk), but at the same time in a quiet residential area of houses. 1km distance from the theme park Port Aventura. Es una casa amplia y cómoda, decorada con estilo zen, de dos plantas. Precioso jardín con sofás y mesa para comer fuera o hacer barbacoa. Alojamiento ideal para familias de 6 adultos y 2 niños e incluso algún bebe. Disponemos de cuna, trona, carrito... Se incluye una plaza de parking cerrada. Mejor ubicación imposible, cerca de la playa, del centro con sus bares, restaurantes, tiendas, todo para ir caminando, pero a la vez en una zona tranquila y residencial de casas y chalets. A 1km del parque temático Port Aventura.
Located in a peaceful area of houses, called Covamar, it is quiet all over the year but very close to the touristic center. All surrounded with beautiful gardens and trees. Ubicada en la urbanización de casas y chalets de Covamar, es una zona tranquila todo el año a la vez que muy céntrica. Abundan los jardines y los arboles, pinos, palmeras, moreras, olivos...
We have stayed in this house during 2 weeks in September 2016. House was even better than we expected. I would propose Elisabet to make a plan of the house. It would allow to have a better idea. We asked 2 baby beds and 2 baby chairs, everything was provided. In addition there was a great baby trolley for our 6- months old son and it was so comfortable I would like to have the same). A distance to the sea and to touristic center is exact as in house discription. We could get everywhere including Port Aventura without a car with little children. So everything was great.
Victoria
2016-10-01T00:00:00Z
We had a fantastic stay with the family at Elisabet ' s place. The house is perfectly located close to everything yet outside of the hustle of the town. The house is very modern with latest equipment and it is a very liveable place for up to 8 people. We very much enjoyed the common areas as well with a beautiful garden with olive trees and swimming pool. I would definitely recommend Elisabet 's place to friends. She was always available and helpful throughout our stay. Well done ! Guillaume and family.
Guillaume
2015-07-24T00:00:00Z
Everything was perfect! Location is great! House is perfect for kids!
Elena
2015-07-01T00:00:00Z
This is a wonderful house, it is very modern and beautiful and had everything we needed. The community area is nice and well maintained and it has a large swimming pool. While we were there, only a few other people used the community area and some days we had it completely to ourselves. Location is great, just a short walk to restaurants and the beach. Several supermarkets are also close by.
Bjorgvin
2015-07-18T00:00:00Z
Simplemente un fin de semana perfecto! Una casa genial, amplia, y con muchas comodidades! El trato con ellos, increible!!!
Deejay
2016-10-09T00:00:00Z
La maison très bien est contemporain. Nous avons rien manqué et passe une semaine très agréable pendent notre séjour à Salou.
Dmitriy
2015-08-23T00:00:00Z
La casa es espectacular y muy cómoda. Tiene todas las comodidades posibles y está perfectamente equipada. Hemos estado de viernes a domingo ya que veníamos a pasar el fin de semana en Port Aventura y no queríamos hotel. Elisabeth nos ha tratado fenomenal y dado consejos muy útiles. hemos estado 4 adultos y 4 niños (1 de ellos en cuna, aunque había camas para todos) y hemos estado fenomenal, para nada agobiados por espacio ni nada. ¡Enhorabuena! ¡Volveremos sin duda!
Violeta
2016-11-20T00:00:00Z
Nous avons passé un agréable séjour dans cette villa mais n'avons pas assez profité de l'extérieur (il manquait un peu d'espace et de verdure à notre goût). Cette maison est bien pensé pour 4 adultes et 2 enfants aux maximum.
Béatrice
2016-08-13T00:00:00Z
Room Type
Entire home/apt
---
Property Type
House
---
Accommodates
8
---
Bedrooms
Salou, Catalunya, Spain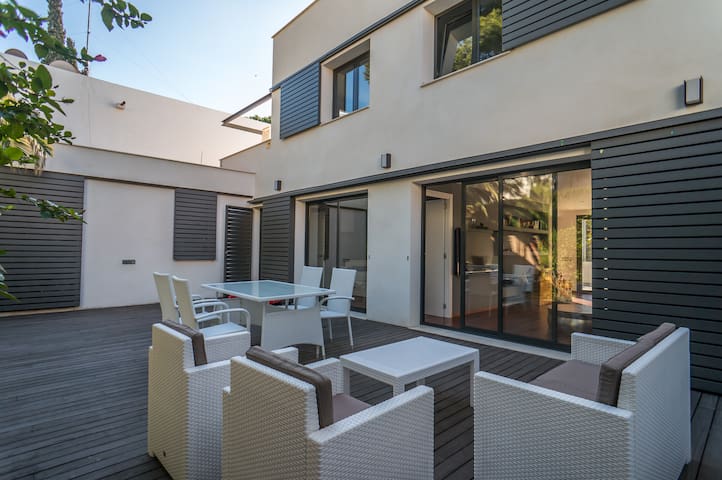 To rent a single room with double bed and a bunk bed, plus ensuite bathroom. It is located in the center of Salou, 10 minutes walk from the beach, near Port Aventura and opposite the bus stop. We are a family of 3 people and a puppy. Responsible and educated. It includes wifi, pool, water and electricity. Attractions: the city center, beach, bus stop, Port Aventura.
The week-end was very good. Loli and her husband are very nice and helpful! The room was very clean as the bathroom. There is also a swimming pool ! ☺ The sea is about 10-15 minutes walking from the appartment and the place is very quiet. We recommand strongly this place and we will be happy to come back again! muchas gracias Loli and Manolo!
Isabelle
2016-07-17T00:00:00Z
Wonderful host. The place was beautiful and so clean. There's a pool for much needed cooling off. Beautiful bathroom.
Jianna
2016-07-26T00:00:00Z
La habitación de loli es tal cual se ve en las fotos. Tiene baño en la misma habitacion. Puedes usar la piscina que hay abajo. Manolo la pareja de Loli te explica todas las dudas que tengas y esta siempre disponible ayudarte. No puedes usar la cocina para cocinar pero fuimos con nuestra hija pequeña y pudimos usar el frigorífico y micro para hacer los bibes.
Carmen - Daniela
2016-08-30T00:00:00Z
Appartement bien situé dans le centre de Salou (pas loin de la rue Barcelona), possibilité de se garer à proximité et ensuite de se déplacer uniquement à pied ( pour la plage, commerces, restaurants...). Nos hôtes ont été très disponibles et de bons conseils. Piscine et jeux pour les enfants au pied de l'immeuble.
Yolaine
2016-07-28T00:00:00Z
Anfitriones encantadores. Hacen agradable y fácil la estancia. Hay un perrito encantador y silencioso, todo está superlimpio. Piscina estupenda. Playa fantástica a 10min. El baño es grande y completo. Tienes donde guardar ropa y maletas. La zona muy tranquila y con aparcamiento. Para visitar Port Aventura estupendo. Repetiremos.
Jose
2016-07-21T00:00:00Z
Excelente la habitación con baño propio y inmejorable el trato recibido. Sin duda para repetir.
Dani
2016-07-09T00:00:00Z
Une très agréable accueil une dame très gentil .nous a bien renseigné sur les restaurant une chanvre agréable a vivre comme sur l anonce très propre dans un quartier très calmes .
Laetitia
2016-07-05T00:00:00Z
Nous avons été ravies de notre séjour à Salou. Bon accueil , chambre agréable, relativement proche du centre ville et de port aventura. C'était vraiment de bonnes vacances avec un lieu douillet pour passer la nuit. Merci de l'accueil.
Sara
2016-09-04T00:00:00Z
Room Type
Habitación privada
---
Property Type
House
---
Accommodates
4
---
Bedrooms
Salou, Catalunya, Spain
Lovely residence of adjoined holiday houses, located in one of Salou's nicest coves, the Cala Crancs. There is a beautiful community garden with a large swimming pool. The house consists of 2 floors. The spacious living/dining room exits to the large patio which has a breathtaking view of the sea and the beach.
Lovely residence of adjoined holiday houses, located in one of Salou's nicest coves, the Cala Crancs. There is a beautiful community garden with a large swimming pool. The house consists of 2 floors. The spacious living/dining room exits to the large patio which has a breathtaking view of the sea and the beach. Your relaxing beach holiday is sure to be a succes here!
Room Type
Entire home/apt
---
Property Type
House
---
Accommodates
6
---
Bedrooms
Salou, Tarragona, Spain
For perfect relaxing time with friend or family enjoying Costa Dorada with style and good ambience :-) If you are a group, we also have the house next door with a capacity up to 5 guests, so you can rent both.
The house is located on the seafront in Salou, the most important town of the "Costa Dorada" in relation to tourism and holiday activities. It is well connected with trains, airport and highways. It is also located very close to secluded beaches, fishing villages as Cambrils, and entertainment venues such as Universal Studios Port Aventura Amusement Park and Costa Caribe Aquatic-park. Who can imagine a better situation than sitting in your garden in front of the sea? It has two double bedrooms and one single and private garden. Beds have quality mattresses and linens, ensuring a full rest and sleep. There is a bathroom, living room open to the garden with a fully equipped kitchen and a large terrace shaded by several mulberry trees. Distances to places of interest: -Tarragona: World Heritage City, Roman monuments, cathedral, 10 to 15 km / 15 min by car. -Cambrils: authentic fishing village, food, shipping, bicycle, 7 km / 10 minutes by car. -Royal Monastery of Santa Maria de Poblet: World Heritage Cistercian monastery of great historical interest, 40 km / 45 min by car. Reus: Commercial City, modernist buildings (Art Nouvaux), 8 km / 10 min by car. -Reus Airport, 10km / 15min. -Barcelona: City business, architectural, commercial, 125 km / 1h 05 min by car. Summary: Two double bedrooms (one with double bed A single room a bathroom private garden Parking (A square) The apartment is fully equipped with: Refrigerator, Kitchen, Toaster, Kettle (water heater), Washer, Hairdryer, TV - DVD If you're a tour guide, personal shopper, special adventures in Barcelona and we can help you organize your activities.
Distancias a lugares de interés: -Tarragona: Ciudad Patrimonio Mundial, monumentos romanos, catedral, 10-15 km / 15 min en coche. -Cambrils: Pueblo auténtico de pescadores, gastronomía, transporte marítimo, bicicleta, 7 km / 10 min en coche. -Real Monasterio de Santa María de Poblet: Monasterio cisterciense Patrimonio Mundial de gran interés histórico-artístico, 40 km / 45 min en coche. -Reus: Ciudad comercial, edificios modernistas (Art Nouvaux), 8 km / 10 min en coche. -Aeropuerto Reus, 10km / 15min. -Barcelona: Ciudad de negocios, monumental, comercial, 125 km / 1h 05 min en coche.
The location of this house is in a lovely quiet spot on the beach front making it ideal for going onto the beach or sitting on the decking with a glass of wine. The house it's self is very clean and perfect for 5 people staying on holiday. We were met on our arrival at the house and taken through everything we needed to know. We loved our stay here and would recommend it to anyone wanting a break by the sea.
Donna
2014-04-15T00:00:00Z
Perfect location! Cosy house. Parking suitable only for a very small car, but there is a plenty of public parking place for a small fee.
Mark
2016-07-10T00:00:00Z
The house is exactly as you see it in the pictures: right in front of the beach, simply amazing! The landlady was very nice and funny, she welcomed us in the best way possible and we had no problem checking in and checking out. Would definitely come back!
sandro
2015-06-30T00:00:00Z
Eberhard was very prompt and helpful in his communication before the arrival date. The house is in a fantastic location, literally just across the road from the beach, and a short walk to shops, restaurants etc. The house was clean and well presented, and the locals who met us with the keys and helped us with check out were lovely and accommodating as well. Thank you Eberhard for having us!
Jessica
2014-07-22T00:00:00Z
Great communication with Eberhard and Aurelie before arrival. The landlady Emma was so very nice and talkative, even though there was a bit of a Spanish/English language barrier. They supplied beach mats and a parasol, which was great. A tip for the owners: more mirrors, including a full-length one. There was only the bathroom mirror and that got a bit tricky when you are a few more people. Other than that, everything was great. Great location right on the beach and SUCH a nice little garden/terrace. We had a great time, thanks! Y gracias Emma! Regards, Olivia
Olivia
2015-06-14T00:00:00Z
The apartment is very nice, clean, cosy. Location is great, the sea is really in 15 meters. All equipments worked. Our staying was wonderful and unforgettable. Everything was as we expected. We would recommend this apartment 100%.
Nikolai
2016-06-24T00:00:00Z
Sweet little cottage in an otherwise heavily populated touristy area. It was walking distance to the center of Salou and the beach access was perfect. We had the pleasure of speaking with the hosts several times, they were lovely and we hope to be back.
Sage
2015-06-01T00:00:00Z
This place was better than we expected. Fantastic spot right on the beach just out of the busiest part of Salou which suited us perfectly. The house was perfect - very clean, comfortable, very well equipped and included a few extras which was lovely - beach chairs and mats, a clothes airier and sweets which made the kids day. Communication with the hosts was always prompt and very friendly. They were very flexible when we changed our check out time. Emma even dropped in to say hello when she couldn't make it for check in (she sent someone else to help which was fine). Comfortable beds, quality linen and towels. A great little up market beach shack! Highly recommend hiring bikes and riding to Cambrils along the beachfront for coffee - just lovely.
Kate
2015-10-27T00:00:00Z
Room Type
Entire home/apt
---
Property Type
House
---
Accommodates
5
---
Bedrooms
Salou, Catalonia, Spain
Two one-floor semi-attached houses with garden, ideal for families and groups of friends.
Each house has a large living room, two bedrooms, bathroom and equipped kitchen. You can enjoy the magnificent sea views with the whole tranquility and peace which offers Cap Salou, not far from the town center but enough to escape from the noise of the nightlife.
Room Type
Entire home/apt
---
Property Type
House
---
Accommodates
10
---
Bedrooms
Salou, CT, Spain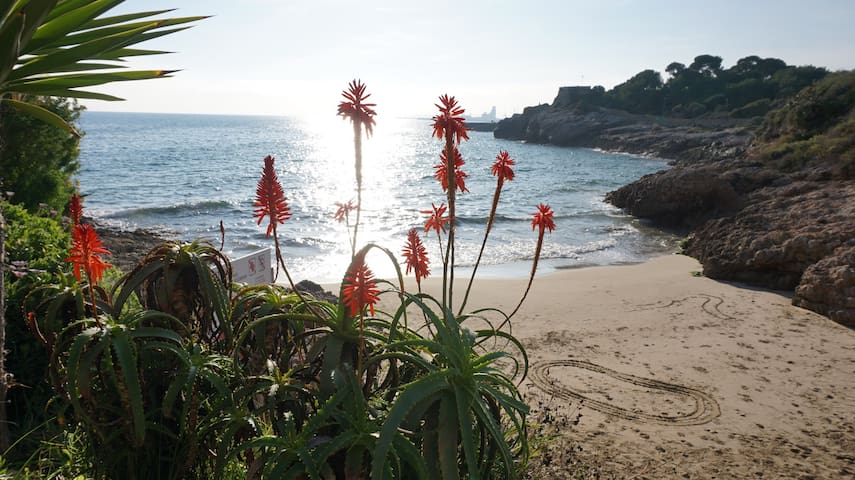 BEAUTIFUL VILLA WITH PRIVATE POOL AT 600M FROM BEACH
Beautiful villa with a private swimming pool in Cap Salou at 500 metres from the sandy beach of La Pineda, at only few minutes of the best coves of Cap Salou and surrounded by Port Aventura golf courses. The villa has 5 spacious rooms: 1 suite with dressing room and bathroom and 4 double bedrooms (2 with king size beds and 2 with 2 single beds), 3 complete bathrooms, a modern fully equipped kitchen and a large living room overlooking the garden and the pool. Outside, you will find a barbecue area, a private parking for several vehicles and a big garden with a private swimming pool. It´s an exceptional location at 50 meters from a bus stop and at only few meters from all services like supermarket and restaurants.
In 1858 the lighthouse was inaugurated, located in Cabo Salou. Monument to Jaime I, At the beginning of the 19th century, the port of Salou is in decline and by mid-century its operation is forbidden. The city then begins a process of conversion from commercial port to tourist center. Thus, in 1863 the bathhouses are authorized on the beach of Poniente and in 1865 the railway station is put into operation. In 1867 the famous "Carrilet" was inaugurated, the Reus-Salou tram (now in disuse), which takes the first vacationers to the village. During the 1920s, the modernist chalets of Jaume I, such as the "Bonet", "Loperena", "Marisol / Solimar", "Llevat", "Enriqueta", "Miarnau" and "Banús" By the architect and collaborator of Gaudí, Doménec Sugrañes i Gras. Since the 60's, Salou has experienced spectacular urban growth brought about by tourism. In 1965 the monument to Jaime I was erected, the work of the Catalan sculptor Lluis M. Saumells Panadés, which can be considered a symbol of contemporary Salou. In the 1970s a large popular and organized movement will promote the process of segregation of Salou from Vilaseca, which will culminate on 30 October 1989 with a judgment of the Supreme Court granting the administrative independence of Salou. In 1995, as a culmination of the urban development of Salou, the Port Aventura theme park is built in the vicinity of the town.
Très belle villa, spacieuse et bien équipés. Idéal pour un séjour en famille ou entre amis. Très bien situé. Je reviendrai avec plaisir.
abibou
2017-04-09T00:00:00Z
Room Type
Entire home/apt
---
Property Type
House
---
Accommodates
12
---
Bedrooms
Salou, Catalunya, Spain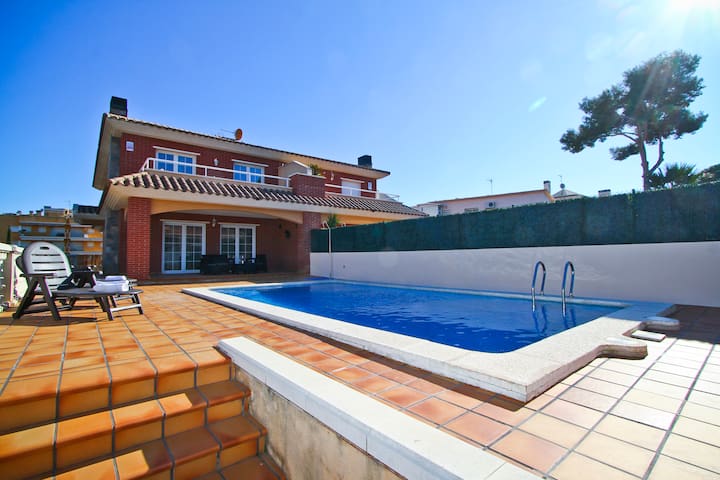 The villa is in a unique environment in the area of Cabo Salou 200m from the paya with sea and mountain ideal for a holiday (URL HIDDEN) area is very quiet and has a beautiful garden surrounded by palm trees with private pool
The property has a main house with living room TV dining room 5 bedrooms 3 bathrooms kitchen and oficce separate from the main house and next to the pool is a summer house with living room, and a porch with garden furniture and deck chairs for the pool beside the barbecue all surrounded by grass and palm trees
In the urbanization neighbors live all year are sympathetic to the noise if not done late at night and vacationers are accustomed to are very nice the area is very quiet close to supermarkets and cafes will find restaurants
We have spent a very good week-end, and have appreciated the house as well as the welcoming of Helena and her availability. We do recommand this house!
Emmanuel
2015-05-04T00:00:00Z
Elena fue muy amable en todo momento y facilito enormemente tanto la entrada como la salida de la casa. La casa estaba todo perfecto. Pasamos un fin de semana fantastico.
Jose
2016-09-05T00:00:00Z
Супер! Отлдичный дом! Шикарная вилла недалеко от моря. Имеется все необходимое. Чистый бассейн и ухоженная террритория. Очень красивая обстановка. Мы просто влюбились в этот дом. Спасибо Елене! Хотели бы вернуться в него еще раз!!!!
Anton
2014-06-27T00:00:00Z
Magnifique villa, exactement comme sur les photos, séjour incroyable notamment grâce à la piscine. Elena est une hôte très accueillante et qui répond très rapidement aux messages, de façon précise et amicale. Cartier très tranquille à 10 minutes de la plage.
Sarah
2015-07-03T00:00:00Z
Un fin de semana genial, la casa cumplió con nuestras expectativas. Helena, muy amable y atenta. El jardín, la piscina y la barbacoa de 10. Seguro q repetimos
Lalo
2016-05-30T00:00:00Z
La villa es impresionante.Ideal para grupos. Hemos pasado el fin de semana en la piscina y la casita de ésta. Por sacar una pega, quizás un poco antiguas las habitaciones y camas.el wifi tampoco nos funcionó. Quitando este par de temas todo bien. La luz de la piscina hace que sea un lugar especial por las noches.
Iban
2015-09-28T00:00:00Z
La casa de Elena cumplió con nuestras expectativas, apenas estuvimos dentro del edificio principal, pasamos toda nuestra estancia en la zona de la piscina y la casita de la piscina. Esta zona en sensacional, amplia y cuidada. Hay espacio para aparcar los coches dentro de la propiedad. Elena fue muy flexible con nuestros horarios de entrada y salida. Fueron unos días muy agradable!! Solo nos queda dar las gracias!!
Adrian
2014-07-22T00:00:00Z
La maison est grande. Elena accueille très bien. Jardin agréable et belle piscine. La maison est dans son jus... Ancien !
VINCENT
2015-12-28T00:00:00Z
Room Type
Entire home/apt
---
Property Type
House
---
Accommodates
12
---
Bedrooms
Salou, Catalonia, Spain
This house is unique !!! Located in the heart of the residential area of Salou, with private pool and 6 double rooms. On the ground floor is a modern fully equipped kitchen, a living room that leads to a beautiful veranda with garden furniture and private pool. On the ground floor there is also a large room with double bed and a modern toilet. On the first floor there are 5 bedrooms, 1 en-suite bathroom and a second bathroom. On the 2nd floor is a loft with 2 beds. Terraces everywhere.
There are very few properties in the area of the coast that have 6 double rooms which accommodate 12 people in beds and private pool. You can walk to the beach
The area where the house is in a residential area ... close to shops, restaurants and supermarkets.
Room Type
Entire home/apt
---
Property Type
House
---
Accommodates
12
---
Bedrooms
Salou, CT, Spain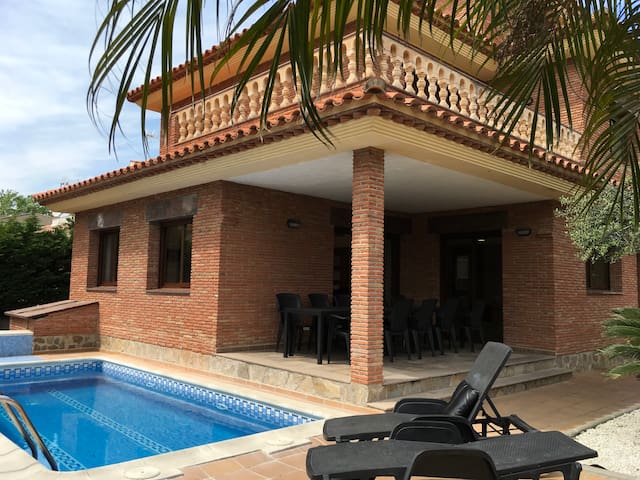 Modern luxury comfortable villa for 10 people close to the beach and all services. This villa is situated in quiet residential area of Salou, and within walking distance from the center, shops, restaurants. Close to the beach
There are 4 big double bedrooms with en suite bathrooms and 1 bedroom with two beds, fully equiped kitchen with direct access to the porch and pool and big living area with the direct access to the porch and pool. The villa has an air conditioner,WI-FI internet.There is a barbeque in the garden
There are several supermarkets around the villa. Distance to Port Aventura 5 min driving.
Room Type
Entire home/apt
---
Property Type
House
---
Accommodates
10
---
Bedrooms
Salou, Catalunya, Spain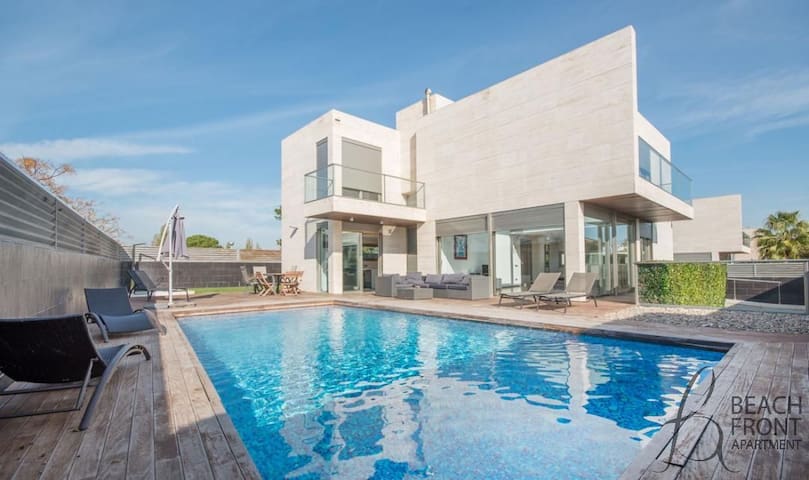 CASA CONSTRUIDA ENCIMA DE LAS ROCAS, EN UNA SITUACIÓN ÚNICA. TIENE UNA TERRAZA DE 36 M2 DONDE PODRÁ DISFRUTAR DE UNAS VISTAS AL MAR IMPRESIONANTES, DIFÍCILES DE OLVIDAR. LA PLAYA ESTÁ A 30 M DE LA CASA, PUEDE ACCEDER DIRECTO A LA PLAYA DESDE LA MISMA TERRAZA. ESTA CASA SE PUEDE DISFRUTAR TODO EL AÑO, GRACIAS A SU TERRAZA QUE DA EL SOL TODO EL DÍA CON UNA TEMPERATURA MUY AGRADABLE INCLUSO EN LOS MESES DE NOVIEMBRE A MARZO. LA TERRAZA TIENE BARBACOA, MESA CON 6 SILLONES MUY CÓMODOS Y 2 SOMBRILLAS.
House with 2 bedrooms and 2 bathrooms sleeps 6 with possibility of up to 7. There is a living room, kitchen, 2 bathrooms, 2 bedrooms, one with double bed and balcony, and one with two single beds. Plus a sofa bed for 2 people and additional bed. All rooms have sea views. The terrace has 36m2 and spectacular views difficult to forget. In this you will find 1 barbecue, 1 table with 6 comfortable chairs, 1 large parasol, and 2 comfortable chairs to enjoy the sun.
The house is in a quiet area of family tourism. Where you can contemplate the calm of the place starting at 9 pm. Port Aventura: 6km Salou center is a 15 to 20 minute walk in the can find, supermarkets, pharmacies, restaurants, ice cream shops, pub's and more. If you want to enjoy something without taking you away too. Creek next to the house every night mounted a chill-out area with hammocks and torches, where you can relax and enjoy more intimate way.
The house was nice but I was absolutely shocked by the rules and conditions of these house. Especially by the rules which I faced directly on the place when I met the owner. I'm regular user of Airbnb service and it was my first time I faced with such absurd conditions. First of all electricity with strict limits. It forced customers control situation during all the holidays. Beside this we can't use several electronic devices at the same time (for example two ring stoves) because it knocked out the electricity! Cleaning condition - "the house should be in the same condition as you received" (including barbecue, dishes, trash and etc.) Alternative - 80€. Usually cleaning included in the cost of service, otherwise it must be described in the rules on the web site. Finally - limited check in/check out hours. Later check in and earlier check out cost extra 100 €. Important that we can't find any information about the payment of extra costs on the web site or in the rule description. I believe that all this rules including payments should be published on the web site. I'm absolutely unsatisfied with the service because agent's approach shows that they are looking for extra earnings by the way around Airbnb!
Ramil
2016-05-07T00:00:00Z
Increïble casa con unas vistas al mar únicas y espectaculares. La casa es mejor que en las fotos, no falta ni un detalle. Un lugar idílico en un paraíso natural para unos días de vacaciones de relax y desconexión total. Repetiremos seguro. Altamente recomendable. Anfitrión perfecto.
Pep
2016-11-06T00:00:00Z
Nous avons passé un excellent séjour dans la maison. La vue est féerique. La maison est très agréable et bien située en première ligne. Un petit chemin mène à une plage juste à côté et c'est très agréable. On peut faire de belles promenades à pied. Je recommande ce logement qui nous a pleinement satisfaits. Cristian et sa sœur Marta ont été des hôtes très réactifs et ont répondu rapidement et très gentiment à nos demandes. Nous reviendrons sûrement !
Bénédicte
2016-04-15T00:00:00Z
Une très belle réservation , un petit coin de paradis à Salou , la mer en dessous de la terrasse , la plage très bell(URL HIDDEN)Superbe semaine de détente
henri
2016-06-19T00:00:00Z
Room Type
Entire home/apt
---
Property Type
House
---
Accommodates
7
---
Bedrooms
Salou, Catalunya, Spain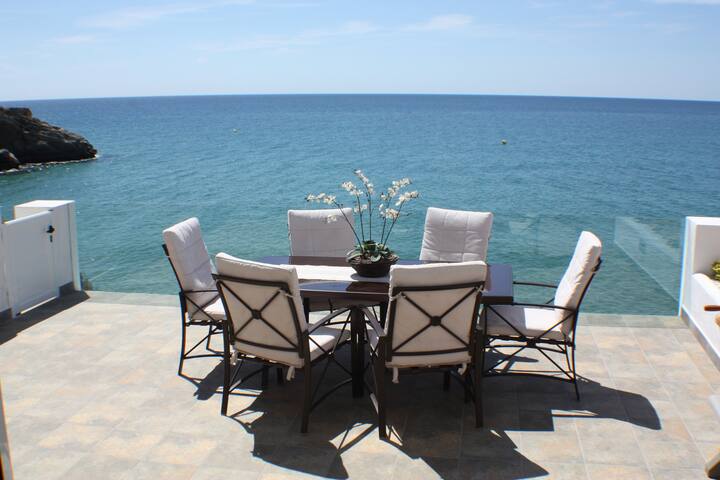 Townhouse located in Salou, area Covamar ... about 700 meters from the beach. The property has 3 large bedrooms with terraces, 1 bathroom + toilet, air conditioning and parking, fireplace and WIFI It has a communal swimming pool with green areas. My accommodation is good for couples, adventurers, families (with children), large groups, and pets.
Room Type
Entire home/apt
---
Property Type
House
---
Accommodates
10
---
Bedrooms
Salou, Catalunya, Spain