We have the best of both worlds. Our home is location down a long country road in Willamette Valley, yet we are only 4 or 5 miles to town. There you can have a great dinner, shop for groceries, take a trip to a winery or see a see a movie.
Spring and Summer is a great time to experience the wonderful State of Oregon. Come and enjoy beautiful wine country. When you day of site seeing, shopping, wine tasting, etc. is done, come back to relax with breath taking views of the Willamette River. Our home is about 3-4 miles from the city of Newberg. We love living in the country where you can sit on our deck, drinking your morning coffee or evening wine, while you watch the water activities as the boats drive by. Ready for a quiet walk? Our mile long road is just what your need, where you will only hear a tractor or occasional horse whinny. During the summer one of our favorite treats living here, is waking up to the hot air balloons that pass right by our house. They drift down the river thru this amazing countryside every weekend, and go where the wind carries them. The apartment is located above our garage with a private entrance. There is a queen size bed, bathroom, and complete kitchen. There is also a futon for an extra friend, or child. The refrigerator is always stocked with bottled water, and most condiments. We also have coffee and tea available. We just got new chicks ( in May ) so fresh eggs will be available again, in September. We want you to feel comfortable and welcome at our home. There is a deck off the apartment that leads into our backyard. There you will find our family deck which also overlooks the river, the BBQ, and gardens. During the summer you can choose from a variety of berries and fresh vegetables to pick and enjoy. We also have a washer and dryer available to you located in the garage. We enjoy meeting and getting to know our guests, and stories about their homes and travels. Since the apartment is not located inside our house, there is quite a bit of privacy. Should you need anything, we are always available in the house, or by phone. Of course, our dog, Sadie is always here to Welcome You! She's a barker, but big baby too. Newberg is a small town with a small town feel. Book stores, antique, bakery, and coffee shops line the streets of old town. There are also many attractions available near us. The Vista Hot Air Balloons, Evergreen Air Museum & Waterpark, Spirit Mountain Casino, Woodburn Outlet Mall are all within 30-40 miles. Of course the Oregon coast is just a little further, and an easy day trip from here. Above all, wine tasting is the most popular... and Yamhill country proudly represents the largest amount of wineries and vineyards in Oregon. There are over 80 wineries to visit and 200 vineyards! Please check out this awesome website: (website hidden) If you are visiting for a special occasion, please let us know. It could be your birthday, anniversary, retirement, or just celebrating No Kids Weekend! We would love to have a romantic room ready for you with wine and roses! Just email us for detail and additional cost.
Hi jack and Tracy! The Airbnb system is asking me to write another review for my second night so I'm plopping this in here too just so your review will show for me. I hope the first review I wrote for you is showing for you! Thanks again for being wonderful hosts and for providing a great place to stay!
Jess
2016-09-10T00:00:00Z
Tracy and Jack's place was a lovely and memorable experience. Perfect location for a wine country expedition or a romantic getaway, we loved the sunset over the river and they were great hosts.
Tamara and Michael
2016-07-12T00:00:00Z
They were so accomadting with our hectic schedule. And the place was so peaceful and cozy!
Margo
2016-07-10T00:00:00Z
Loved the place. It felt really clean, bed was super comfy. We were only there 1 night, so not a lot of time there. In nicer weather, I bet the backdoor patio would be really nice. We couldn't figure out how to get the heater working, but it's most likely user-error, as we didn't try for more than a minute. We chose this place because we wanted to go to several wineries in the area, and this place was in a great spot. Even though it's on a garage, it felt very private. would stay again!
Jessica
2017-03-26T00:00:00Z
Our Valentine's Day getaway was short but so very sweet! We visited a few local wineries in the area before taking the short drive out to the house. The location was perfect. Upon entering the cozy and warm apartment, we found heart balloons and chocolate awaiting us. The fridge was filled with basic condiments and spices, and the kitchen was set up with the necessities to cook our morning omelettes. We totally appreciated the coffee and assortment of creamers. Although we didn't need them, the personal touches like extra toothbrushes made it even more special. What a delightful place to stay! We will definitely be back to stay here when we are in the area.
Amanda
2016-02-15T00:00:00Z
They made us feel,very welcome in spite of our never actually meeting face to face. That was simply because we were gone so much. The property, the grounds were beautiful. From a gardeners point of view it was lovely.
Ruth
2016-06-11T00:00:00Z
Tracy & Jack's above-garage apartment was cute and cozy. We were able to sleep three people in comfort - two on the queen-sized bed and one on the futon. The futon folds into a bed with sheets and a quilt. The space heater kept the apartment comfortable. We were able to cook a full breakfast with the pans and cookware provided, and enjoyed some coffee in the morning. Kona the puppy greeted us enthusiastically and made us feel at home. We didn't need to contact Tracy and Jack at all, but were comfortable knowing that we could text or call them if we needed anything. Overall it was a perfectly comfortable stay!
Amy
2016-12-11T00:00:00Z
My wife & I spent two evenings and were VERY happy with our experience. Tracy & Jack have done a remarkable job creating a beautiful home for themselves and they did not cut any corners with the studio unit which is located above their large detached garage. They were easy to stay in touch with prior to our arrival, the studio was clean, comfortable, and well provisioned. The AC worked great but the cross breeze off the river was more than comfortable. Locals described the area of town as "the French Prairrie" and while you must first drive through a fairly commercial zone to get there, once you get to the neighborhood it is a very comfortable mix of agricultural and residential properties.. In other words the Willamette Valley. Access to downtown Newberg is very easy.. 5 minutes by car. Working in the wine biz, we are certain to be back in the area soon and we would gladly stay with Tracy & Jack again.
John
2015-08-31T00:00:00Z
Room Type
Entire home/apt
---
Property Type
Apartment
---
Accommodates
3
---
Bedrooms
Newberg, OR, United States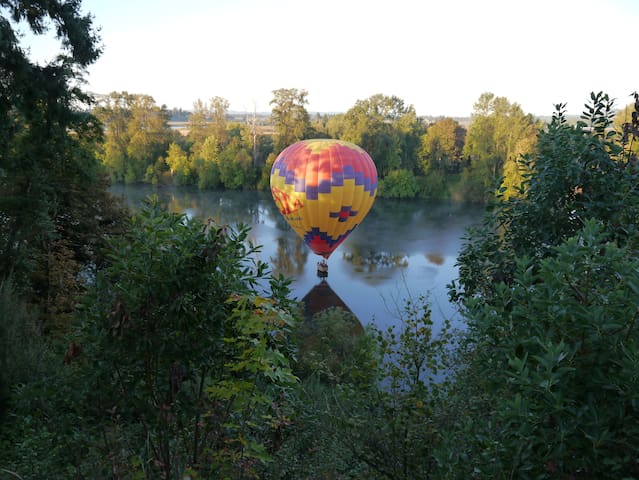 Steps away from world class tasting rooms & directly above local hotspot, Red Hills Market, our loft is located in the center of it all. Decorated with a blend of rustic wine country and industrial modern elements, our great room style studio, includes a living room area with a sleeper sofa. Measuring 600+ square feet, it is quite spacious and comfortable. Residing above Red Hills Market adds to the appeal & offers endless opportunities for fun... Bocce ball, wood fired pizza, wine & more!
This is one of two Market Lofts available above The Red Hills Market. This unit features a beautiful great room studio layout with a grand king sized bed and a living area with a sleeper sofa. Measuring over 600 square feet, this unit is perfectly sized for 2-4 people. Our cozy lofts come fully furnished and decorated with a blend of rustic wine country and industrial modern elements. They boast all of the same amenities you would expect in a high-end hotel and more... luxury bed linens and towels, modern kitchenettes and bars, private bathrooms, and complimentary internet. We have paid special attention to the comfort of the bed, offering a luxurious king sized feather bed and a glorious bed frame. The sofa bed is a full sized bed, perfect for two kiddos or one adult. Luxury bedding is supplied to make it extra comfortable. Our custom made kitchenette features a large eating bar, small fridge, microwave, sink and kuerig with complimentary coffee & tea. There is shared laundry room available for your convenience, right outside your door. Residing above the Red Hills Market adds to the appeal of The Lofts and offers endless opportunities for entertainment and fun. Grab a glass of local Pinot Noir and play some bocce on the full sized court out back. Pick up a Cup-of-Joe before heading out on your Willamette Valley adventures. Stay in and have some wood-fired pizza delivered to your room!
The Market Lofts are located in the center of Downtown Dundee. You can walk to numerous tasting rooms... Argyle, Fox Farm Vineyard, Panther Creek, Dobbes, Purple Hands, Lange & Co - just to name a few. And you are also steps away from great restaurants... Tina's, Dundee Bistro & Bubble Bar, Red Hill Provincial and more. Less than a mile away brings you into the Dundee Hills where you will be surrounded by vineyards and is easily one of the most beautiful places in the world. Dundee is also home to hiking trails and a paddle launch to the Willamette River.
Great locating, loved the loft and ability to get yummies at the market. Great host.
T
2016-11-20T00:00:00Z
We loved the location and being right above the market with delicious food makes this a fantastic place to stay. The loft was clean and well furnished, and little touches like the black out curtains made it feel comfortable. We loved it!
Jackie
2017-03-02T00:00:00Z
The loft was amazing. Beautiful and perfectly located for your visit to Dundee.
Danielle
2017-02-19T00:00:00Z
Great spot! Convenient to many wineries!
Kelly
2017-01-21T00:00:00Z
Excellent location for enjoying wine country. Loft is clean, spacious, comfortable and a great restaurant and market below!
Lindsey
2017-02-12T00:00:00Z
The Market Lofts are a great location if you are looking for a unique loft experience close to tasting rooms, cafes, and shops in wine country. The sidewalks are being redone in Dundee which will help with the walkability of this property. The food downstairs is delicious and the people are very welcoming. The owners clearly were very thoughtful when creating this space. The lighting is great, the finishes are nice, the linens and towels are good quality, there are plenty of charging outlets, the bed is huge and cozy, there are little treats like popcorn, candy and coffee, great information on local wineries, easy check in, good communication, very clean and great detailed instructions on the space. The TV could be slightly bigger for the size of the room but I suppose we shouldn't be watching TV on vacation anyway. :) I'd suggest an eye mask for a bright room in the morning if you like to sleep in. I'd recommend the Market Lofts to anyone looking to explore all the Oregon Wine Country has to offer. I'll be back!
Sadie
2016-12-03T00:00:00Z
Very good room at great location! The only reason I gave four star was that I was travelling with a baby, who had to sleep on the floor (with a blanket under her.) The restaurant downstair - which has fabulous food, btw - was playing music, which was little loud for my baby sleeping with her ear on the floor :) If you are not travelling with a baby who usually goes to sleep on the floor, then I would definitely recommend this place for you. The room was large and clean, and exceeded my expectation.
Dongmin
2016-12-30T00:00:00Z
Great place, great location, great hostess!
Toke
2017-03-05T00:00:00Z
Room Type
Entire home/apt
---
Property Type
Apartment
---
Accommodates
4
---
Bedrooms
Dundee, OR, United States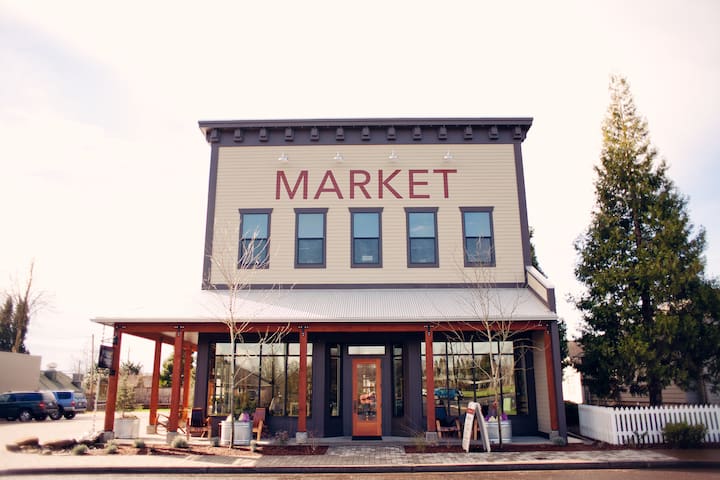 1

–

2

of

2 Apartment Rentals
Enter dates to see full pricing. Additional fees apply. Taxes may be added.