The house is located in the center of the historic half-timbered town of Stolberg. In the village there is a castle, a leisure pool, a cabaret theater, various museums and beautiful hiking trails. The catchment area is the Joseph Cross and one of the largest walk-Gipshöle that Heimkehle. The A38 is 10 km away. Set in a historic half-timbered house with modern facilities incl. Garden, tree house and BBQ. The house is good for couples, families with children and Huastiere.
Andrea ist ein toller Gastgeber. Wir bekamen schnell Antworten auf unsere Fragen und konnten gut unsere Reise planen. Das Ferienhaus ist unglaublich schön. Die Einrichtung ist neu und heimelig. Wir haben uns sehr in dem gemütlichen und niedlichen Haus wohlgefühlt. Alles passte zu unserer kleinen Familie. Meine Tochter, im Kleinkindalter, hatte viel Platz zum spielen und hat sich schnell und problemlos eingewöhnt. Auch wir großen wollten nicht mehr weg als der Urlaub zu Ende war. Wir würden einen Urlaub (bei uns war es ein 4-tägiger eher spontaner Kurzurlaub) in Andreas Ferienhaus immer weiterempfehlen. Man hat dort wirklich eine gute Zeit.
Anne
2017-03-19T00:00:00Z
Room Type
Entire home/apt
---
Property Type
House
---
Accommodates
4
---
Bedrooms
Südharz, Sachsen-Anhalt, Germany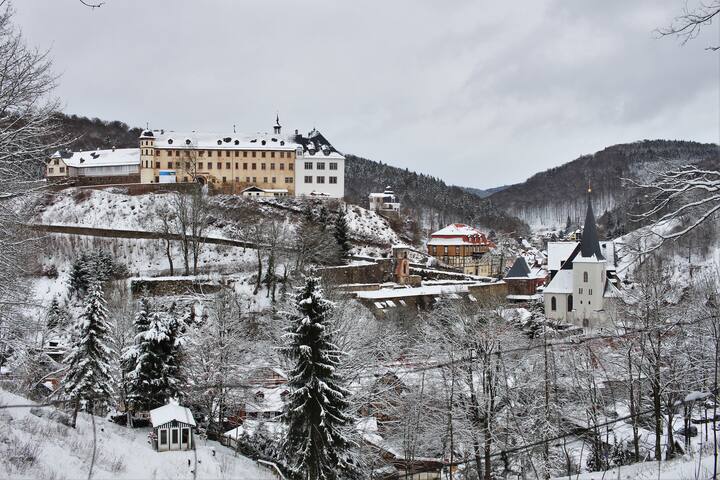 Onze onlangs gerenoveerde appartement in het hart van de zuidelijke Harz biedt een combinatie van traditie en moderniteit. Centraal gelegen in Stolberg in de 2 verdieping van een gerestaureerde vakwerkhuis is het ideale vertrekpunt voor wandelingen, fietstochten of gewoon om te zitten en te ontspannen in het charmante stadje met zijn kasteel, thermale baden, cafés en restaurants
Vanaf medio november 2016 is het appartement uitgerust met internet en Wi-Fi. De grote slaapkamer heeft een groot dubbel bed voor 2 á matrassen 90x200 cm (totaal 180x200 cm). De kleine slaapkamer is ingericht met een stapelbed / stapelbed. De onderste verdieping biedt 140x200 cm oppervlak, de top 90x200 cm.
De woning is gelegen in ons appartement gebouw. Er zijn 3 andere appartementen in het huis. Het is een vrij rustige buurt.
The house in Stolberg is very nice. Situated in the most beautiful fairytale medieval town, the house is very old as well. However, it is very nicely restored, albeit with a bit of a too modern touch for our tastes. It's clean, quiet and very comfortable and communication with both owner and keyholder was flawless.
Eric
2016-08-08T00:00:00Z
Ja es war wirklich Super. Die Wohnung ist toll ausgestattet. Schöne Betten, saubere Handtücher und alles in der Küche was man braucht. Das Haus sehr ruhig. Stolberg ist sehr interessant auch die Umgebung einfach schön um Urlaub zu machen. Vielen Dank. Gott segne Joachim.
Dieter
2016-10-14T00:00:00Z
Super schöne Wohnung in mitten von Stolberg. Parkplatz direkt gegen über in einem abgeschlossenen Hinterhof. Kommunikation war schnell und unkompliziert. In der Wohnung ist alles was man braucht. Jeder Zeit gerne wieder.
Jens
2016-11-27T00:00:00Z
Alt fungerede fint. Kommunikationen var opmærksom og præcis.
Jesper
2016-07-18T00:00:00Z
Es war ein toller Urlaub, in einer schön renovierten, modern eingerichteten, gut ausgestatteten Wohnung in einem alten Fachwerkhaus. Der Parkplatz liegt direkt gegnüber. Im Ort gibt es mehrere Restaurants, kleine Cafés, ein tolles Schwimmbad (unser Sohn war begeistert) und es gibt viele Ausflugsziele in der Nähe. Wir haben uns dort sehr wohl gefühlt.
Stephi
2016-07-31T00:00:00Z
Wir hatten einen sehr guten Aufenthalt in Stolberg. Es fehlt einem an nichts in der Wohnung. Sie ist bestens ausgestattet und die Lage ist optimal. Mitten im Ort hat man kurze Wege zu Museum, Restaurants, Freibad oder einen guten Ausgangspunkt für Wanderungen. Die Kommunikation mit dem Gastgeber war ausgesprochen freundlich und sehr entgegenkommend. Unbedingt zu empfehlen!
Paula
2016-10-31T00:00:00Z
Uns hat diese Ferienwohnung sehr gut gefallen. Sie ist hübsch eingerichtet, mit allen Annehmlichkeiten, die eine Familie heute so braucht. Das WLAN war ebenfalls klasse und schnell, ... ist ja heute immer wichtiger. Alles ist neuwertig und gleichzeitig sehr gemütlich. Außerdem war alles sauber, prima. Abschließbarer Parkplatz inkl. gegenüber. Der Kontakt zum Vermieter war jederzeit sehr freundlich, zuvorkommend und schnell, einfach klasse. Wir können es sehr empfehlen.
Marco
2017-01-31T00:00:00Z
Room Type
Entire home/apt
---
Property Type
Apartment
---
Accommodates
5
---
Bedrooms
Südharz, SA, Germany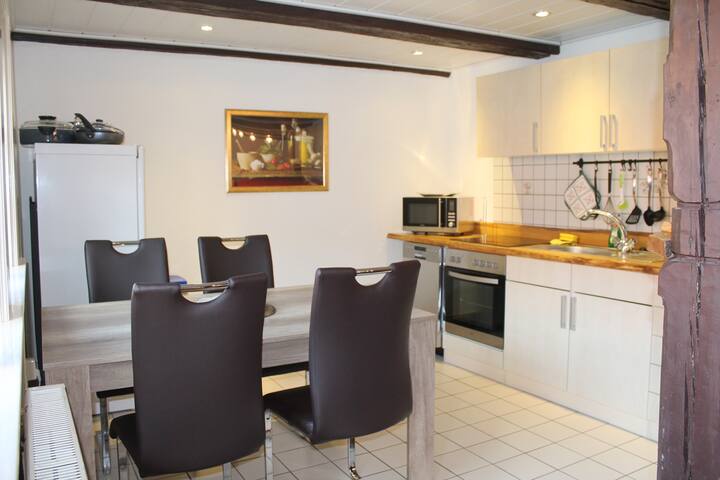 Tel.: (PHONE NUMBER HIDDEN)
Holiday apartment / lodging separately in a two family house for tourists, holiday-makers, official travellers, assemblers, bicycle travellers, bikers among other things(others) the flat exists(consists) of sitting room, bath with tub, shower and washing machine, WC, 3 bedrooms and is completely furnished. Sat/TV, Internet wireless, HIFI, DVD, kitchen(cuisine) with Kühl-Gefrierkombi, cooker(range)/oven, water cooker, coffeemaker, toaster, pizza stove. Hayn is a small municipality in the south resin with approx. 600 inhabitants(residents). In the place gives a small food store with baker and Fleischer. There are bulk purchase possibilities in the vicinity of approx. 15 km. Two restaurants(inns) exist. In places of interest are to be recommended the Joseph's cross (the biggest passable iron double sharp of the world - 6 km), Pullman city II (the biggest west town of Germany - 20 km), the biggest two-pronged mattock cave of Germany (home throat - 15 km), Europarosarium Sangerhausen (the biggest rose collection of the world (30 km), show mine Wettelrode (20 km), the lump (50 km), witch's dance floor in Thale (30 km). Very nice outdoor swimming pools are in wolf mountain (4 km) and Harzgerode (12 km). Otherwise there are a lot of signposted footpaths and some possibilities(opportunities) for the fishing (when required hinge map can be procured). public means of transportation: Train binding in Rossla - 17 km; the next airport in Leipzig/hall(Halle) and Erfurt in each case 90 km
.Hayn ist eine kleine Gemeinde im Südharz mit ca. 600 Einwohnern. Im Ort gibt einen kleinen Lebensmittelladen mit Bäcke, Fleischer und kleinem Imbiss. Großeinkaufsmöglichkeiten gibt es im Umkreis von ca. 15 km. Es sind zwei Gaststätten (URL HIDDEN) Sehenswürdigkeiten sind zu empfehlen das Josephskreuz (größte begehbare eiserne Doppelkreuz der Welt - 6 km), Pullman City II (größte Westernstadt Deutschlands - 20 km), größte Karsthöhle Deutschlands (Heimkehle - 15 km), Europarosarium Sangerhausen (größte Rosensammlung der Welt (30 km), Schaubergwerk Wettelrode (20 km), der Brocken (50 km), Hexentanzplatz in Thale (30 km).Sehr schöne Freibäder befinden sich in Wolfsberg (4 km) und Harzgerode (12 km).Ansonsten gibt es sehr viele ausgeschilderte Wanderwege und einige Möglichkeiten zum Angeln (bei Bedarf kann Angelkarte besorgt werden).öffentliche Verkehrsmittel: Zuganbindung in Rossla - 17 km; nächster Flughafen in Leipzig/Halle und Erfurt jeweils 90 km
Thank you very much for your attention! We have been very good in your house, very nice and comfortable. Until next.
javier
2013-10-01T00:00:00Z
The home was very comfortable, cozy and well located in a beautiful village in the Harz region. It was actually much more pleasant than what one can see in the pictures. The house was very very clean and well equiped, the forniture was lovely and Internet was available upon our request. Upon our arrival, we found tourism brochures and everything we might need.
Víctor
2015-07-29T00:00:00Z
Great stay! Clean place, nice surprise on arrival and all facilities available. If we come in the neighbourhood we will certainly book again.
Donald
2013-07-28T00:00:00Z
Everything was fine and clean. The kitchen was great and well equiped. God place for driving around in Harz. Danish family. Easter holliday. Brian
Brian
2016-03-28T00:00:00Z
The house is perfect for a family or a group of friends. The location is perfect to go hiking and to enjoy the nature. They are very kind and available to help all the time. I would totally recommend this house!
Alicia
2016-10-03T00:00:00Z
es war alles rundum zum besten sehr nette gastgeber alles super sauber und sehr groß wir werden auf jeden fall nächstes jahr wieder kommen
Andreas
2016-08-07T00:00:00Z
Het is een prima ruim appartement gelegen op de eerste verdieping. De bewoners zijn bijzonder vriendelijk en behulpzaam! De buurt zelf is vrij rustig, met in het dorp slechts één supermarktje. Al met al is het een mooie plek om tot rust te komen en er met regelmaat op uit te trekken naar omliggende bezienswaardigheden in de Harz.
Alex
2014-08-05T00:00:00Z
Wir hatten ein wunderbares Wochenende bei Steffi und Detlef, vielen Dank! Wir waren 2 Familien mit zusammen 4 Kindern, davon 2 Kleinkindern, und die Wohnung war super und bestens für uns ausgestattet. Steffi und Detlef sind tolle Gastgeber und stets hilfsbereit. Wir hatten viel Schnee und Detlef hat uns noch einen Schlitten geliehen, so ging es kräftig rodeln, allen hat es sehr gut gefallen! Wir können die Unterkunft und die Gastgeber allen weiter empfehlen!
Julian
2015-02-01T00:00:00Z
Room Type
Entire home/apt
---
Property Type
Apartment
---
Accommodates
6
---
Bedrooms
Südharz, Sachsen-Anhalt, Germany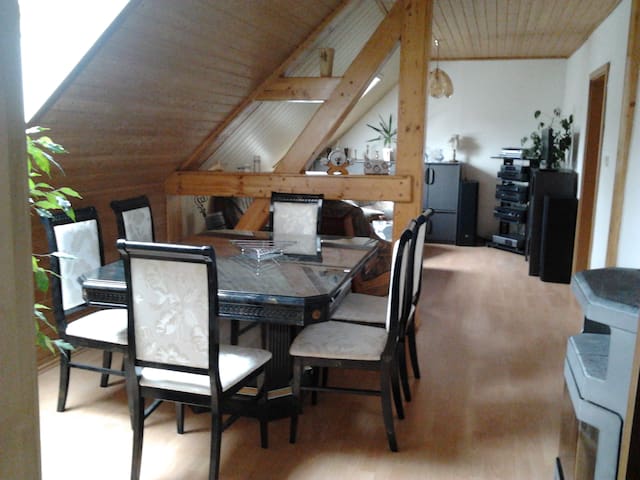 一個舒適的地方待在家中。 從主入口,我們的客房是五個步驟達到正殿,第一門左側。 共享的廁所是整個左邊的大廳。 淋浴可達47步,右邊第一個門。 WLAN。 Freifunk哈茨 如果你有時間,看看(URL HIDDEN)
在下streetcorner的折扣超級市場 在大門口右轉,約三分鐘。 步行距離到我們的景點。
Asad was easy going, friendly and gave some great recommendations for places to eat and visit. The house was amazing and the room has everything you could need - fridge, stove, TV etc. Really great value for money and very close to supermarkets, the center, the train station and bus stops (to take you to Teufelsmauer and Thale).
Natalie
2016-07-24T00:00:00Z
Asad is a nice host. Everything is clear with him. The room is clean and comfortable it has a small kitchen in the back of the room very useful. Thank you Asad.
Juan
2016-06-28T00:00:00Z
I'm excited to stay for two more weeks.
Christoph
2017-02-15T00:00:00Z
This is a mansion. Perfect location in Quedlinburg. Stay here definitely!
Nicholas
2016-08-12T00:00:00Z
Asad provided extremely clear directions - and a list of Contact numbers in case of emergencies. he was waiting to meet me at the house, and gave me a guided tour of the Villa and provided some good hints and tips on attractions to see in Quedlinburg - and the best places to eat in the neighbourhood. He was friendly and very welcoming, the room was a good size ( with en-suite Kitchenette ) - a welcome pack of hot and cold drinks was provided - as were many brochures and maps of the area. He was a wonderful host and always ready to answer my questions and assist with directions. The location was very convenient for the Railway Station / Bus Station ( 350 meters away ) and the town centre was an easy 10 minute walk away......although it can take you a lot longer, if, as I did, you end up stopping every 2 minutes to gawp at all the wonderful buildings and to take photos ! The Villa is set in an extremely quiet residential area, with hardly any traffic and for visitors with their own transport - parking is not a problem. The Villa itself is a work of art in it's own right - and there is also a nice big garden where you can relax. Asad's mother was also a fount of local historical knowledge and an extremely interesting and very kind and welcoming lady - it's well worth having a chat with her about the history of Quedlinburg. Michael was also very knowledgeable and helpful with directions - and tips on where to go and what to see.
Jon
2016-06-01T00:00:00Z
The place was exactly as described ,Asad was very friendly ,and everything went well.
johan
2016-11-11T00:00:00Z
Beautiful house.
Christoph
2017-02-25T00:00:00Z
I stayed in Quedlingburg for work for two nights and am really happy I picked this place, because thanks to Asad I got a whole city tour for free at the end of it! The house is pretty amazing and the room is small but has everything in place. There's even a small kitchen attached (with free coffee). I can recommend this place to everyone visiting Quedlingburg!
Jana
2016-10-13T00:00:00Z
Room Type
Habitación privada
---
Property Type
House
---
Accommodates
1
---
Bedrooms
Quedlinburg, Sachsen-Anhalt, Germany
Our newly furnished 2-bedroom apartment is located in Nordhausen Thüringen It is a Non smoking apartment is located in Erdgeschoss.mit separate entrance Parking directly at the house pets are not allowed
In the modern kitchen is equipped with cooker, refrigerator, dishwasher, coffee maker, kettle and toaster In the spacious bathroom you is a shower and hair dryer, washer and dryer available
The host canceled this reservation 18 days before arrival. This is an automated posting.
Danny
2016-03-07T00:00:00Z
The host were extremely kind to us, rooms even exceeded expectations in terms of equipment and comfort. The lawn outdoors is impeccable and most refreshing. Great place for rest and relaxation!
Mariya
2015-09-03T00:00:00Z
Was great to spend my time at this wonderful place, the apartment itself is very clean and convinient. However, getting to town centre is a bit hard.
Minh
2017-02-17T00:00:00Z
Very Beautiful place........and a peaceful place.......Surely a place to be!!
vandit
2017-02-07T00:00:00Z
Mein Sohn (11 Jahre) und ich hatten uns kurz zu einem Wanderwochenende im Harz entschlossen. Wie sind sehr froh, dass wir für diese Zeit die Wohnung von Reimund bewohnen durften. Wir hatten nicht nur ein wunderschönes Wetter und tolle Erlebnisse sondern genossen die sehr schön und praktisch eingerichtete und für Ausflüge optimal gelegene Wohung. Alle Kommunikation funktionierte prompt und sehr gut. Es ging schon damit los, dass uns Frau Döring - Reimund nennt sie zu Recht "die gute Fee" - vom Bahnhof mit dem Auto abholte. Aber nicht nur die Wohnung ist toll, auch ein Garten, der zum Haus gehört und mitgenutzt werden kann trägt zum Ambiente bei. Wir würden jederzeit wiederkommen und wünschen allen Nachmietern viel Freude. Ein kleiner Tipp für Liebhaber der Schmalspurbahn: Nur 5 Minuten Fußweg muss zurückgelegt werden, um an der Station "Nordhausen - Schurzfell" in den Dampfzug Richtung Harz einzusteigen.
Andreas
2015-10-26T00:00:00Z
Die Wohnung ist sehr schön und gemütlich eingerichtet. Es ist alles vorhanden, was man benötigt. Ein Parkplatz ist direkt am Haus. Die Anreise -Zeit ist sehr flexibel gestaltet. Ich habe mich sehr wohl gefühlt und empfehle diese Wohnung gerne weiter.
Kristina
2016-11-13T00:00:00Z
Super gemütlich und alles was man braucht. Hochwertige Einrichtung und eine super Küche lässt keine Wünsche offen für einen Aufenthalt in Nordhausen.
Tim
2016-04-03T00:00:00Z
Sehr schöner Bungalow,ruhig gelegen und was bei den Temperaturen nicht zu verachten ist: wunderbar kühl! An-und Abreise problemlos. Gerne wieder :-)
Sabrina
2015-07-06T00:00:00Z
Room Type
Entire home/apt
---
Property Type
Apartment
---
Accommodates
2
---
Bedrooms
Nordhausen, Thüringen, Germany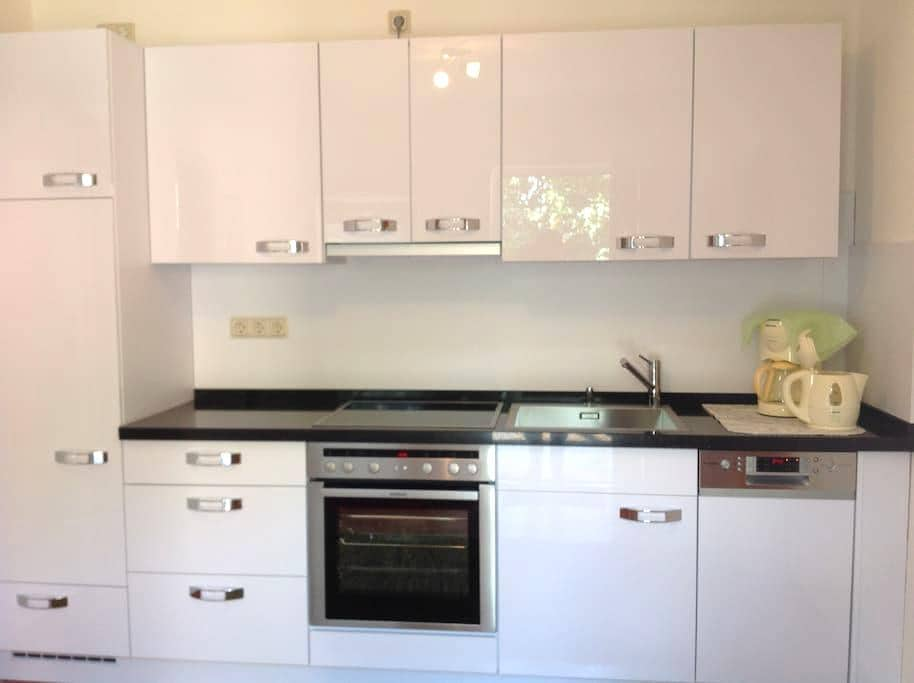 Unsere Wohnung ist sehr gepflegt und gemütlich! Maximal drei Personen haben genügend Platz um sich wohl zu fühlen .Die Wohnung liegt im Zentrum von derenburg 200m von unserer Wohnung befindet sich die Schloßvilla in der man auch gut speisen kann!
Die Wohnung liegt super günstig,ihr seid in 10 min in WERNIGERODE ,ILSENBURG , HALBERSTADT, BLANKENBURG oder Quedlinburg sowie Thale. Von uns aus könnt ihr super Wanderungen starten. Zum biken ideal, ob auf dem Rad oder Motorrad . Alles ist möglich.Die Umgebung mit ihrer einzigartigen Natur macht alles möglich und ist eine Reise wert . Auch geführte Touren sind möglich und machen euren Urlaub zu einem unvergesslichen Erlebnis . Hier in derenburg haben wir ein tolles Freibad , eine glasmanufaktur mit Cafe und einem tollen erlebnisspielpatz für Kinder und man kann sogar ein indianermuseum besuchen und vieles mehr...
The place couldn't have suited us better. It's comfortable, quiet, and perfect for those looking for a relaxing time in such a cute country-sided German village. Sylvia was an excellent host, well communicative, prepared the flat as neat as it could be for us, and was always available to be contacted. Would definitely go back.
Arthur
2016-11-20T00:00:00Z
Well furnished and cozy appartment. Sylvia was lovely and gave good recommendations for dinner.
Skorri
2016-10-21T00:00:00Z
The host was very nice and friendly, and tried to make the most to make us feel comfortable, helping on any issue and question, including a map of the region, offer to do laundry, and printing some pages upon request. The apartment is very nice and clean and has everything promissed and more. The specific part of the little town seems to be very old with very narrow roads, which make it a bit tricky to park. On the streets it looks a bit shabby. But it is a very quiet and safe area, and rather close (carwise) to the Harz mountains' attractions.
Irith
2016-09-05T00:00:00Z
Sylvia was very helpful in accommodating our needs and gave us an almost overwhelming welcome. She already knew all our first names before we arrived. She walked to the nearby restaurant while we unpacked to make sure they had a table for us. The appartment is nice and light. The bathroom is nice and new.
Morten Fabricius
2016-08-04T00:00:00Z
Sylvia is most suited to being a host. She is extremely warm, friendly and ready to help. Her lack of English was not a disavantage as she more than made up with her lively expressions and manner. Her place is lovely and she was waiting for us even though we turned up later than planned. The neighbourhood is quiet and typical of a small European town. We wish we could have stayed a few days more. My wife and I enjoyed the night and we highly recommend her place.
Jun
2016-10-19T00:00:00Z
Sylvia's place was just wonderful. We used this spot as a jumping off point to the Harz mountains since it's only 40 min away from the slopes at Braunlage. The house is very clean and well-appointed inside with very good WiFi. Sylvia has great attention to detail and left us some delish chocolate and coffee for us to enjoy. While the house suited our needs perfectly, undoubtedly the best part of the experience was Sylvia herself. She was very warm, patient with my rudimentary German skills, and was there as we pulled in. In sum, she is the host that all other airbnb hosts should emulate. Will definitely make a return journey down the road
Greg
2017-02-04T00:00:00Z
Everything was great. Sylvia's apartment is located in a very quiet town, strategically located in between everything what one must see in Harz: Quedlinburg, Wernigerode, the Witch mountain, etc.
Alexei
2016-07-27T00:00:00Z
Sylvia helped us drop off our bags early in the morning before checking in in the afternoon so we could do some sightseeing in Quedlinburg without worrying about having our valuables in our car. This was very kind of her! She is a very warm, welcoming and friendly host, whose main concern is that her guests are happy. The apartment is also tip top, clean, spacious, with a fantastic couch and comfortable beds. Everything you need is here. The apartment is also on the main road through the village of Derenburg, so you need to expect there will be quite a lot of traffic going through, and therefore quite a bit of noise. If you don't mind this, then it's the perfect place for accessing every part of the Harz, such as Thale, the Teufelsmaurer, Quedlinburg, Wenigerode and more. Thank you!
Hildegunn
2016-11-18T00:00:00Z
Room Type
Entire home/apt
---
Property Type
Apartment
---
Accommodates
3
---
Bedrooms
Derenburg, Sachsen-Anhalt, Germany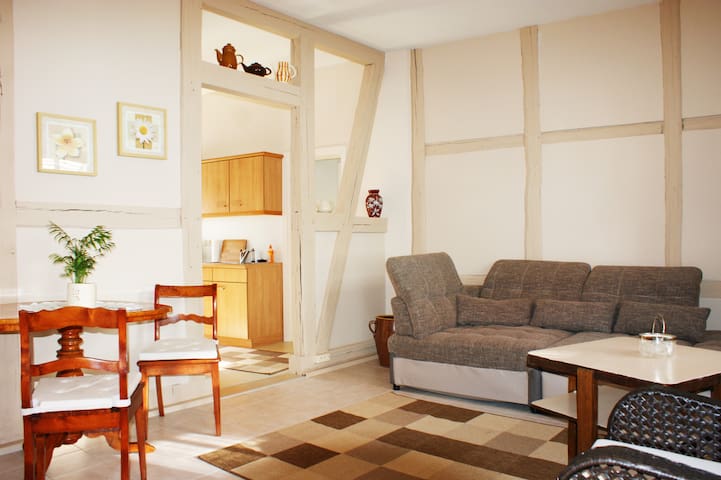 Our ecological reorganized half-timbered house offers approximately 60 m² living space. Room for 6 people. The house is divided into four rooms, living room, bedroom, kitchen and bathroom. From the kitchen you reach the stone terrace where you can comfortably eat and rest without being disturbed. The living room is equipped with a Full HD TV, a music system, a double bed, a sitting area and a wardrobe. The furniture and beds in the bedroom are made of solid wood.
Room Type
Entire home/apt
---
Property Type
Vacation home
---
Accommodates
6
---
Bedrooms
Thale, Sachsen-Anhalt, Germany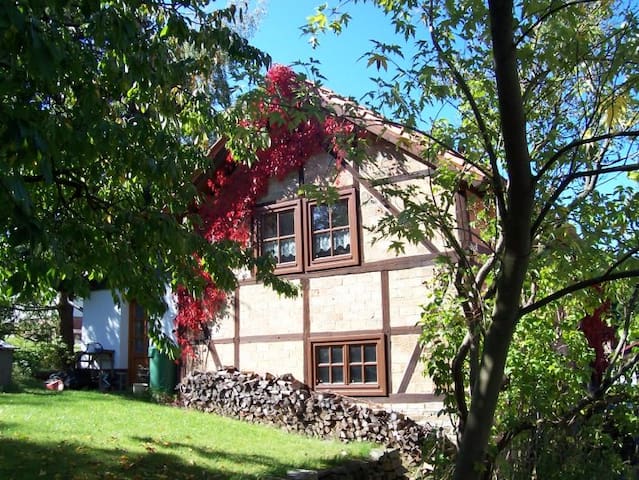 AccomodationNumber1 Nr.1 is a room to the streetside, it means there can be some noise from cars. Our Art Residence is opened not only for project working artists, also for normal travellers, who want to stay for some time. There is a shower, toilet, little kitchenline with refrigerator.
The complete room is 16 squaremeter, including the separated part for toilet and shower with 4 squaremeters. In every acommodation is a bed 200 to 140 cm size. It is good for two persons also, if the two persons want to sleep together in one bed. Bedlinen available. Included in the room is a separated bathroom with toilet and a kitchenside with kooking place, washing place, some dishes, refrigerator, table, chairs......
Quedlinburg is an old historic middleaged town with different architecture styles, the center most with framework houses. The town is listed in the UNESCO world heritages. Important by art is the gallery of Lionel Feininger, the Bauhaus teacher. Direct on our side of the town begins a big forest district good for walking. Near us are some very interesting geologic formations and after 15 Km distance the Harz mountains.
KunstAsyl is a very inspiring and cosy base for exploring beautiful Quedlinburg. Conveniently close to the medieval city center, and with kitchen and bathroom nicely fitted inside the room. Plus there's art everywhere. Thomas and Narine are really nice hosts!
Iben
2014-07-19T00:00:00Z
Thomas was friendly and his place while small was comfortable and very close to the small town. We stayed in the unit facing the street, it was a little noisy with the window open.
Robin
2016-07-16T00:00:00Z
Beautiful town and very original arty house! Kitchen is very small with one electric stove top - great for cooking breakfast but probably not dinner. We had a great stay. Very clean apartment.
Sophie
2014-07-26T00:00:00Z
We had a fantastic stay. The room included everything we needed and Thomas was very welcoming. Thank you again!
Jo
2016-03-21T00:00:00Z
Thomas was very welcoming and friendly. The accommodation is very close and walkable to the centre of town. It's also well-equipped with a small fridge, hot plate and kettle for preparing small meals to save money (or when you're in a pinch because everything closes early here!!). We had a great stay.
Lisa
2015-01-09T00:00:00Z
The apartment is very nice and clean and adjacent to the city center. Just about anywhere you would want to go in Quedlinburg is within easy walking distance. Parking for the apartment was free and on the street just alongside the apartment. Quedlinburg is a very beautiful. Would not hesitate to stay in Mr. Schindler's apartment again!
Richard
2014-09-25T00:00:00Z
Well located accomodation in Quedlinburg. Renovation has been carried out in a uniqie wax resulting in a real artists haus. Thomas was very helpful.
Andrew
2015-08-29T00:00:00Z
Very nice place close to the city centre. The room itself was really nice with some basic equipment to make yourself some breakfast and lunch. Great stay in a beautiful village.
Wessel
2016-09-04T00:00:00Z
Room Type
Habitación privada
---
Property Type
Apartment
---
Accommodates
2
---
Bedrooms
Quedlinburg, Saxony-Anhalt, Germany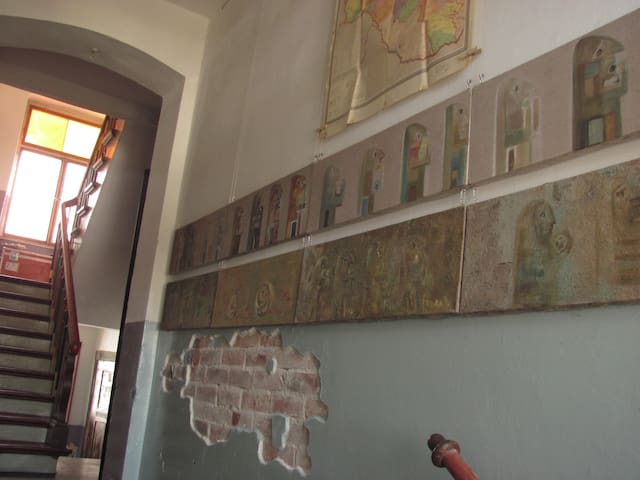 Die Ferienwohnung kostet für 1-2 Personen 36€, (also bei der Buchung einfach 1 Person angeben). Aufpreis für die Aufbettung im Wohnzimmer ist 18€ pro Person. Ein Parkplatz steht zur Verfügung. Der schöne Garten kann mitgenutzt werden. Die Küche ist voll ausgestattet, mit allem was man zur Selbstversorgung braucht. Ein Festnetztelefon steht ebenfalls zur Verfügung. Handtücher und Bettwäsche sind inklusive.
Harzgerode ist eine über 1000-jährige Fachwerkstadt im Herzen des Unterharzes! Bekannt als Wanderparadis im Sommer und Winter, für Skilanglauf, die Harzer Schmalspurbahn (bis zum Brocken, nach Nordhausen, nach Wernigerode und seit 2006 auch bis Quedlinburg quer durch den Harz), beheiztes Freibad mit Minigolf und Riesenrutsche, Mehrzwecksporthalle. In der näheren Umgebung von Harzgerode befinden sich viele sehenswerte Ausflußsziele. Zum Beispiel die Fachwerkstäte Quedlinburg, Stolberg, Wernigerode, Goslar. Oder das Bodetal und das Selketal laden zu Spaziergängen oder ausgedehnten Wanderungen ein. Zwei Sommerrodelbahnen gibt es in der näheren Umgebung, Reiterhöfe in Stangerode oder am Fuß der Burg Falkenstein, Sessellift und Kabinenbahn bringen sie zur Roßtrappe und zum Hexentanzplatz mit dem Bergtheater. Auch Mountain-Biker und Motorradfahrer kommen auf Ihre Kosten. Vom Kyffhäuser bis zum Hochharz alles gut mit dem PKW und Bahn erreichbar.
Room Type
Entire home/apt
---
Property Type
Vacation home
---
Accommodates
4
---
Bedrooms
Harzgerode, Sachsen-Anhalt, Germany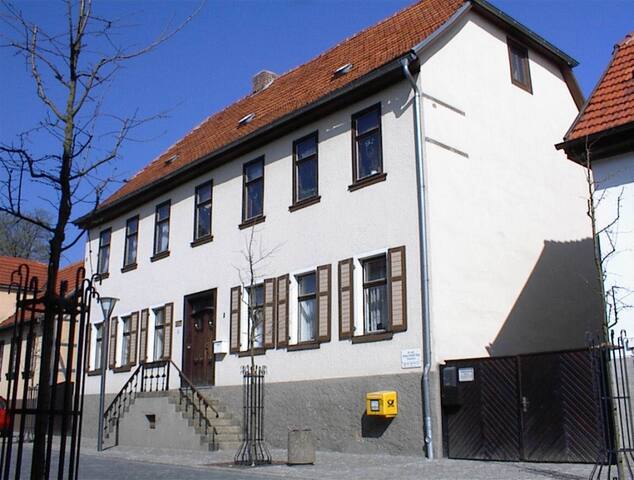 Einzigartige Übernachtung im Rittersaal wie vor 1000 Jahren. Landschaftlich ideal gelegen für Ausflüge und Erholung. Ausgebaute Radwege vor Ort. Separates Bad vorhanden. 2-4 Personen. Preis bezieht sich auf 2 Personen zuzüglich 10 Euro jede weitere.
Ein Aufenthalt hier ist wirklich nur zu empfehlen, die Besitzer kümmern sich ausgezeichnet, das Frühstück war Spitzenklasse, auch so wurde an alles gedacht, es war alles sehr modern eingerichtet und sehr sauber. Insgesamt einfach spitze!
Christoph
2017-03-05T00:00:00Z
Room Type
Habitación privada
---
Property Type
Apartment
---
Accommodates
4
---
Bedrooms
Ichstedt, Thüringen, Germany
Harzlich willkommen! Unsere Fewo verfügt über ein großes Wohn-/Schlafzimmer (mit Schlafsofa für 3. Person) Küche, Flur und Bad. Die Räume sind mit allem ausgestattet, was Sie zum Wohnen benötigen incl. voll ausgestatteter Küche, alle Kleingeräte wie Kaffeemaschine, Wasserkocher und Toaster. Bad mit Dusche & WC. Geschmackvoll und wohnlich eingerichtet. Idealer Ausgangspunkt für Wanderungen und Ausflüge. Wir freuen uns auf ihre Anfrage. Der Preis bezieht sich auf 2 Personen pro Nacht.
Astrid und Detlef haben eine neu renovierte, gemütliche Wohnung, die wir mit der Familie bewohnt haben. Unser 14jähriger Sohn hat auf dem Schlafsofa im Wohnbereich geschlafen. Da wir zum Langlaufen in den Harz gefahren sind, haben wir viele Tips von Astrid und Detlef bekommen. Die Wohnung, besonders die Küche ist unglaublich gut ausgestattet. Die Kommunikation mit Astrid und Detlef war entspannt und sehr freundlich. Wir werden bestimmt wiederkommen.
Beate
2017-01-31T00:00:00Z
Wir waren 3 Nächte bei Detlef und Astrid und haben uns sehr wohl gefühlt. Sollten wir nochmal in der Gegend sein werden wir bestimmt wiederkommen.
Ricardo
2017-03-14T00:00:00Z
Es ist nichts an der Wohnung zu bemängeln. Alles ordentlich und sauber, man hat viel Platz und kann sich auch in der Küche ausleben.
Christiane
2016-12-30T00:00:00Z
Der Aufenthalt bei der Familie Müller war wirklich toll. Wir wurden sehr herzlich empfangen. Die Wohnung ist sehr schön eingerichtet, sehr sauber und mit allem ausgestattet was man bracht (Toaster, Kaffeemaschine, W-Lan etc.) Die Lage der Wohnung ist sehr günstig, da von hier die Altstadt Blankenburgs, oder das Schloss schnell zu erreichen sind. Die Gastgeber sind sehr freundlich und zuvorkommend. Sie haben sich bemüht, uns den Aufenthalt so schön wie möglich zu machen. Alles in allem war es eine wirklich tolle Zeit hier.
Simon
2017-01-01T00:00:00Z
Mein Freund und ich waren zu zweit in der Ferienwohnung "Harz und Herz" und unser Aufenthalt hat uns sehr gefallen. Die Wohnung ist sehr schön, sauber und modern eingerichtet und gemütlich dekoriert, man fühlte sich direkt wie zu Hause. Was uns auch gefallen hat ist, dass uns sämtliche Küchengeräte zur Verfügung standen und im Bad saubere Handtücher ausgelegt waren. Also musste man dies nicht alles von zu Hause mitbringen. Die Lage der Wohnung ist sehr schön und ruhig. Man kann dort schön spazieren gehen und das Wetter und die Landschaft genießen. Außerdem kommt man von dort sehr schnell nach Blankenburg und kann sich dort die Stadt und seine Sehenswürdigkeiten anschauen. Detlef und Astrid waren sehr gastfreundlich und haben uns jede Frage die wir hatten beantwortet und uns bei Problemen weitergeholfen. Dafür möchten wir uns nochmal bei beiden bedanken. Wir würden jedem die Ferienwohnung empfehlen und würden selbst gerne wieder kommen.
Jacqueline
2017-04-02T00:00:00Z
Wer sich erholen möchte, eine ruhige und dennoch gute Ausgangslage für Ausflüge im Harz sicht, dennoch aber nicht auf Kompfort versichten möchte ist in der Ferienwohnung bei den freundlichehn und sehr hilfbereiten Gastgebern, Astrid & Detlef bestens aufgehoben. Die Unterhaltungen mit Ihnen sind sehr herzlich. Der Hof hatte mich sogher etwas an meine Kindheit erinnert, obgleich sich hier alles in einem top Zustand befindet und den Kindern eine Rasenfläche im Garten zur Verfügung steht. Unsere wärmste Empfehlung für Familien bis zu 2 Kindern.
Dirk
2017-03-26T00:00:00Z
Room Type
Entire home/apt
---
Property Type
Apartment
---
Accommodates
3
---
Bedrooms
Cattenstedt, Sachsen-Anhalt, Germany
Welcome to the Upper Harz in stairs. Fw has 2 beds 1 sofa bed kitchen with refrigerator, microwave and 2 hobs. The bathroom has a shower. The lake view from the window is unique.
Apartment for 2 people. Costs 45 euros. Any additional costs 15 euros. Up to 2 people. (Couch). Cleaning for free
just one word. good :)
Aurimas
2016-11-20T00:00:00Z
Room Type
Entire home/apt
---
Property Type
Apartment
---
Accommodates
2
---
Bedrooms
Stiege, Sachsen-Anhalt, Germany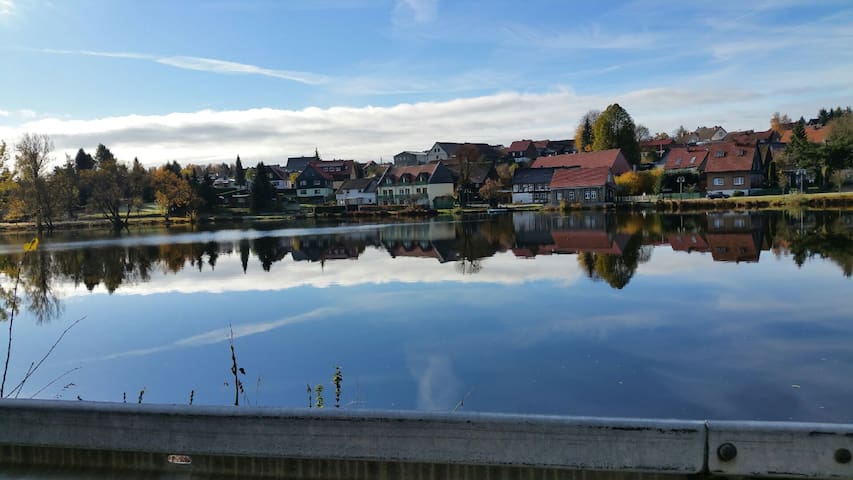 The living area of the cozy 3 bedroom apartment covers 98 square meters and is located in the heart of Quedlinburg. The highlight is the 30 square meter roof terrace from which one has a great view of the Nikolai Church. Special emphasis was placed on the quality of the beds, put mattresses and mattress toppers. The kitchen is fully equipped and provide you with everything you need for daily life. The bathroom has a shower XXL, washing machine and iron.
The apartment is located in the upper floors. In the apartment are also stairs, thus the apartment is unsuitable for giving prevented people. The booked beds are for you as a guest, at a minimum. Occupancy use of more beds is not provided.
The proximity to the marketplace. Along the way you walk through the historic old town of Quedlinburg. The Quedlinburger- Castle is of course also be reached within walking distance. In the immediate vicinity one finds an excellent baker, butcher, medical center with pharmacy and numerous and really good restaurants and bars.
Wenn man die Stadt erkundigen möchte, super geeignet.
Kerstin
2016-12-04T00:00:00Z
Wir hatten einen wunderbaren Aufenthalt in Quedlinburg. Die Wohnung ist ausgesprochen schön und sehr geschmackvoll eingerichtet mit viel Liebe zum Detail. Die Ausstattung lässt keine Wünsche übrig. Wir können sie uneingeschränkt weiterempfehlen.
Fabian
2017-03-12T00:00:00Z
Sehr schöne Unterkunft, geräumige Wohnung auf mehreren Etagen. Sehr stilvoll eingerichtet und sauber. Alles da, was man braucht! Die Wohnung ist sehr zentru(SENSITIVE CONTENTS HIDDEN)ah und man kann alles in wenigen Minuten erlaufen. Ein Parkplatz wird kostenfrei zur Verfügung gestellt. Kinderbett, Hochstuhl und Malsachen für unsere Kleine waren auch da. Es war ein sehr schöner Urlaub, auf jeden Fall zu empfehlen!
Matthias
2017-01-08T00:00:00Z
Wir haben uns in der Unterkunft sehr sehr wohl gefühlt. Die Wohnung war neu, gemütlich und liebevoll eingerichtet. Auch die Lage war sehr gut - zentral und inmitten vieler weiterer Fachwerkhäuser. Der Kontakt mit Markus war freundlich und die Schlüsselübergabe hat problemlos funktioniert. Wir würden jederzeit wieder gern dort übernachten...
Robert
2017-02-19T00:00:00Z
Room Type
Entire home/apt
---
Property Type
Condominium
---
Accommodates
4
---
Bedrooms
Quedlinburg, SA, Germany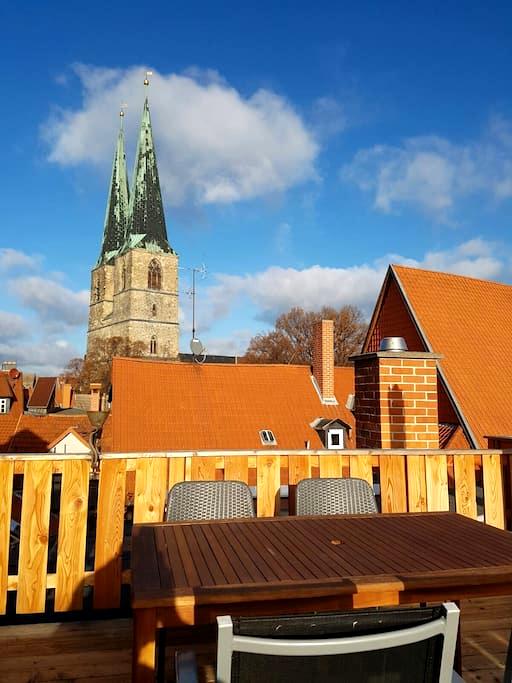 We are a Hiking and Pilgrim Hostel and for small Money, we offer you the possibility of a quaint and comfortable Accommodation in the old half-timbered House, whether for one or several Nights. There are two shared Bedrooms; A triple Bedroom and a twin Bedroom. In addition, a common Kitchen with Fireplace and a shared Bathroom with Bioclo, Shower with Zinc Trough, just like old Times. Our large Garden offers some small seating areas and also play areas for Kids.
Our Hostel is a separate Guesthouse and can accommodate 5 People. There are two Sharedrooms, a 3 -Bedroom and a 2 -Bedroom. We rent per Bed, but it is also possible to Book all Beds. The Beds are provided with covers and varnishes, so you would have to bring a Sleeping Bag. Should you require Bedding, these can be booked. There is also a communal Kitchen with a chipendale and a communal Bathroom with an organic toilet, a Shower with a Zinc Bath, as in the Old days. This is what Guests will be sharing during their stay. The Kitchen is fully equipped for Self-Catering and Coffee & Tea is available free of charge. On request, we offer a bread delivery service in the morning. From the Balcony my has a great view whether by Day or Night. You have a direct View into the Green, into the Health Resort or in the Forest. For Children the Garden has a Play Area with Swings, a Treehouse with a Slide or a Sandbox, but also many seating Areas.
In our Village Bad Suderode there are: Four Restaurants & a bar / a Savings Bank / Pharmacy / drink market with small Shopping Corner / two Bakers / a Butcher / Tourist Information. In the Neighboring Village Gernrode 1,5Km: Supermarket: Netto / Edeka - Butcher etc. A bar Irish PUP Our health Resort also offers a beautiful Spa park right next to the Forest and some small excursion destinations; Prussian Tower, Stubenberg, Bathing Pond. From Bad Suderode you can also get to Quedlinburg, Thale, Ballenstedt or Friedrichsbrunn. For special excursion destinations, we will gladly advise you.
Room Type
Shared room
---
Property Type
Hostel
---
Accommodates
5
---
Bedrooms
Bad Suderode, Sachsen-Anhalt, Germany
This quiet and centrally located apartment offers complete equipment for 2 people to make a few pleasant days in Quedlinburg. Fast Wifi and satellite TV are also included. Also, my parking space can be used behind the house for the car.
From the windows of apartments, the view opens onto the garden with a pond and old trees. The house in which live several people, was built in 1860 and was the first house in the Bahnhofstrasse. The apartment is located near the station from which the miniature railway travels to Brocken, but do not worry, the station can not hear. On foot you are in about 8 minutes on the marketplace. In the immediate surroundings apartment you are well looked after with a bakery, post office, ATM and pharmacy doorstep. Other shops are within walking distance in about 5 minutes.
Your lives are not isolated in a pure holiday. The apartment is located in a house that is occupied in the other flats of ordinary Quedlinburgern and Quedlinburgerinnen. If you wish, you can therefore get first-hand tips;). If you rather want to enjoy the tranquility of the small medieval town, then that goes well; no one comes to mind.
We had a great time staying at Robert's place. It was in a perfect area that allowed us to walk around and see all the sights. The home was very clean and comfortable beds! His mother was very kind and greeted us when we arrived. Overall, we had a fun time and great experience.
Lisa
2016-04-07T00:00:00Z
We had a great stay at Robert's apartment, Although he was not there himself his mother made sure we had everything we needed. The place is ideal and we defiantly recommend it and the area. Overall a really lovely stay.
Simon
2016-11-25T00:00:00Z
Robert's apartment was the perfect place to stay for my weekend in Quedlinburg. The apartment was pristine--no dust, no dirt on the floors, no weird smells--and the bathroom was totally clean as well. The kitchen has a refrigerator/freezer, stove, oven, toaster, dishwasher, and all the pots, pans, plates, and silverware you'll need. Robert's mother checked us in, and was very friendly. She gave us some directions on a map in the room and told us where we could buy groceries. While there, we got a message from Robert with a cafe reccommendation and asking us if we had any questions. My only complaint is that the wifi wasn't fast enough to stream Netflix. I would absolutely recommend!
Abby
2016-07-26T00:00:00Z
Great location from where you can start seeing Quedlinburg and the surroundings. Roberts mother was very kind and helpful. Private parking space behind the house. The appartment was clean and tidy. Bathroom looked like it was never been used. Wifi was very good and fast. Watching Netflix was no problem.
Etienne
2017-02-18T00:00:00Z
Everything was fine, the apartament is very clean. The host was frendly.
Kamil
2016-03-18T00:00:00Z
Robert's mother welcomed us and showed us around the apartment. She called Robert's sister who speaks English fluently so she could give us further information. When we had questions is mother provided answers. The apartment is very clean, comfortable, and the kitchen is well equipped for cooking. The apartment is in a quiet neighborhood within easy walking distance of the cathedral, the Markt, and the many lovely residential streets. There was information on the area in the apartment. The WiFi was very reliable. We enjoyed out visit very much and would return in the future.
James and Patricia
2016-07-21T00:00:00Z
Very nice apartment in Quedlinburg. It looks exactly like the pictures, its clean and is very well located. The communication with Robert was very good, he is a very nice host. I recommend this apartment.
Katja
2016-02-13T00:00:00Z
Es war unser erster AIRbnb Aufenthalt . Wir sind absolut nicht enttäuscht worden . Leider war Robert nicht anwesend , aber alles weitere war sehr gut geregelt . Schlüsselübergabe lief über Roberts Mutter . Auch die Schlüsselabgabe am Abreisetag war kein Problem , konnten den Schlüssel in den Breifkasten werfen . Was wir auch als sehr angenehm erfahren haben , war das Fahrzeuge ( wir waren mit Motorrad unterwegs ) gleich h interm Hausin einem Hinterhof abgestellt werden können . Das gibt ein sicheres Gefühl . In unserer Vorbereitung zur Reise hatten wir dann doch noch Fragen . Robert war sehr freundlich , hilfsbereit . Communicatie war einfach toll.
Simon
2016-05-22T00:00:00Z
Room Type
Entire home/apt
---
Property Type
Apartment
---
Accommodates
2
---
Bedrooms
Quedlinburg, Sachsen-Anhalt, Germany
Einfache Ferienwohnung im Harz-Luftkurort Hasselfelde im Ortsteil Rotacker, 2 km vom Ortskern entfernt in einer ruhigen Waldsiedlung. In der Nähe befinden sich das Waldseebad und die Westernstadt. Im Winter beginnen Skiloipen direkt vor der Haustür.
Das Tolle an der Unterkunft ist die zentrale Lage von Hasselfelde. Von hier kann man schnell alle Sehenswürdigkeiten wie Westernstadt, Rappbode-Talsperre, Rübeländer Höhlen, Waldseebad, Harzköhlerei und vieles mehr erreichen, hat aber auch in unmittelbarer Umgebung ruhige Wander- und Skiwege, einen Spielplatz und Restaurants.
Ich habe eine sehr schöne Woche in das Gartenhaus verbracht. Die Beschreibung des Hauses war genau, und die Gastfamilie immer freundlich und hilfsbereit. Meine viele Fragen um den Harz und das Leben dort haben sie auf beste Weise beantwortet. Die Lage in der Mitte vom Harz gab viele Möglichkeiten sehr vieles zu erleben, als Ich mit mein eigenes Auto da war. Ich gebe das Gartenhaus und die Gastfamilie an andere Besucher meine beste Empfehlung.
Kirsten
2015-08-18T00:00:00Z
Wir hatten eine sehr schöne Zeit im Ferienhäuschen. Uta und ihre Mutter haben uns freundlich empfangen und konnten uns viele Tipps und Infos für Unternehmungen im Harz geben. Zu zweit war die Größe der Ferienwohnung ideal. Wir haben uns wohl gefühlt.
Ann-Cathrin
2015-12-31T00:00:00Z
Die Ferienwohnung entsprach genau den Beschreibungen und hat uns sehr gefallen. Wir hatten ein Gartenhäuschen für uns allein und fühlten uns sehr wohl. Uta hat uns sehr herzlich empfangen, viele Tipps gegeben und Infomaterial zur Verfügung gestellt. Es ist ein idealer Ausgangspunkt um den Harz zu erkunden, wie z. B. eine idyllische Bodetalwanderung, Hexentanzplatz, Roßtrappe, Brocken uvm. Besonders beeindruckt waren wir von dem unvergleichlichen Sternenhimmel (Milchstraße, Sternschnuppen - und das im Oktober!) Wir kommen gern wieder und können die Ferienwohnung unbedingt weiter empfehlen.
Stefan
2015-10-13T00:00:00Z
Wir haben uns in dem Ferienhäuschen sehr wohl gefühlt, alles wie beschrieben, einfach und funktional. Es ist alles vorhanden, was man braucht, wir konnten auf der sonnigen Terrasse essen und für unsere Tochter wurde sogar der Sandkasten wieder in Betrieb genommen! Ideal für einen Kurzurlaub zu zweit mit einem Kind.
Sophia
2016-05-09T00:00:00Z
Wir hatten ein wundervolles Wochenende im kleinen Gartenhaus. Für zwei Personen ist es sehr komfortabel, zu dritt könnte es kuschelig werden. Die Lage ist optimal, wenn man mit dem Auto unterwegs ist; viele schöne Wanderrouten in der Nähe. Wir können die Unterkunft wärmstens weiterempfehlen.
Inken
2016-05-17T00:00:00Z
Es war eine schöne Unterkunft, klein aber fein. es war alles schön sauber und im Garten kann man sehr gut frühstücken :)
Jan
2016-06-06T00:00:00Z
Wir haben uns wohl gefühlt in der Waldsiedlung. :-) Die Unterkunft entspricht voll und ganz den Angaben und ist wirklich beeindruckend ordentlich sowie sauber. Es ist alles vorhanden, was macht braucht! Wir haben die Ruhe dort sehr genossen. (Und bei etwas besserem Wetter hätten wir sicherlich auch die Terrasse genutzt.) Über die Blümchen, die Schokolade, das Wasser und das Abschiedsbriefchen haben wir uns sehr gefreut. Utas Mutter hat uns mit Informationen über die Umgebung versorgt. Lieben Dank nochmals auf diesem Weg an sie. Gerne empfehlen wir die Unterkunft weiter.
Daniela
2016-08-06T00:00:00Z
Alles hat super geklappt. Die Kommunikation mit Uta war bestens, nett und sehr angenehm, obwohl wir uns persönlich nicht begegnet sind. Dafür durften wir aber Utas Mutti vor Ort kurz kennenlernen. Ein sehr netter und liebevoller Mensch. Der Bungalow war wie beschrieben - einfach und sehr, sehr sauber, wirklich sehr sauber. Das hat uns am besten gefallen. Was nützt die schönste und größte Villa, wenn man sich darin nicht wohlfühlt. Wohlfühlen kann man sich in Utas Bungalow bestens, und das auch noch zu einem kleinen Preis. Uns hat es sehr gefallen und wir denken bestimmt als erstes daran, hier wieder nach Quartier zu fragen, sollten wir mal wieder in den schönen Harz fahren. Wir empfehlen Uta, ihre Mutter und den Bungalow wärmsten weiter. Es ist ein kleiner Geheimtip.
Renard
2015-10-29T00:00:00Z
Room Type
Entire home/apt
---
Property Type
Apartment
---
Accommodates
3
---
Bedrooms
Hasselfelde, Sachsen-Anhalt, Germany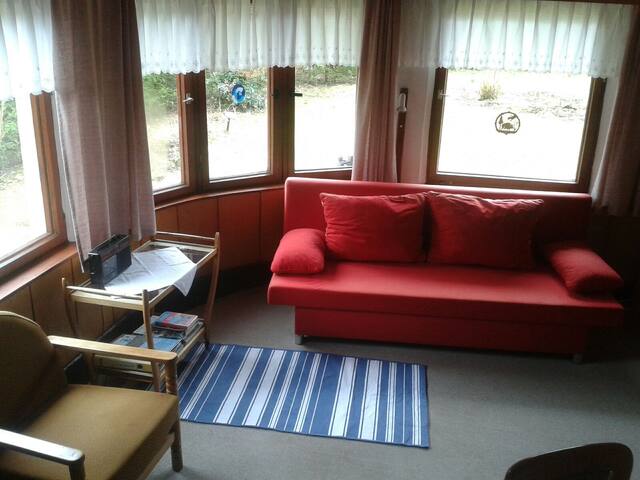 Мы приветствуем все сердце в нашу квартиру «To Ellernmühle» в кальциевой Soleheilbad Bad Зудерода, в Гарце приеме. Мы будем рады приветствовать Вас в качестве гостя в нашем доме, он должен был выпустить болтаться в нашем курортном городе души и хорошо провести время или принять меры и множество культурных и спортивных возможностей области, чтобы обнаружить.
Небольшой уютный курорт приютился в бассейне на северо-восточном склоне смолы и ограничивается севернее Kalkhöhenzug, так что преимущественно защищенный климат. Он также называется солнце страна смолы. Самое старое здание, старая церковь от романского периода, свидетельствует о традиции этого места. разработан евроремонтом и новой, это один из культурных центров муниципалитета. Уже в 1480 году, источник упоминается как «хорошая вода.» Но до 1914 года, в городе Бад-Зудерод мог позвонить и узнал, в то же время значительный подъем. Bad Suderode превратился в курорт для природного Kalktherapie. Стильные гостевые и пансионаты с их запутанными деревянными балконами еще доказательство от бума спа и дать место сегодня свой особый шарм. Предпочтительные формы, близкие к курортным парком, вновь разработанные, с его замечательными деревьями и лугами немедленный переход к хорошо развитой и обозначены пути в лесу смолы. Но Bad Suderode также является отправной точкой для многих, интересных моментов в окрестностях: город ЮНЕСКО Кведлинбург (около 7 км) Замок, где Кведлинбургский Domschatz Feininger Галерея более 500, фахверковые дома некоторые очень хорошо сохранились Тале - город дикой природы, романтический Боде долина (ca.7km прочь) Природный заповедник Бодеталь Hexentanzplatz с зоопарком, горный театр, летний бобслейной трассы, подъемники Funpark и Kletterwald Rosstrappe Интересное в природе С полимерного листа к Brocken - это не идет выше, Дьявола Стена Пещеры Rübeländer Песчаные пещеры в Regenstein Замки, дворцы и сады Замок Валькенштейн Gartenträume Роузбург Regenstein развалины замка Замок сады Бланкенбурга Замок Вернигероде романский роуд Монастырская церковь Gernrode Романский Монастырская церковь Св Серватия Кведлинбурге собор Хальберштадта Основные моменты для детей Строительство Pielhaus в Тале Вестервилль City Pullman City в Хассельфельде Krodoland Bad Harzburg
Room Type
Entire home/apt
---
Property Type
Condominium
---
Accommodates
2
---
Bedrooms
Bad Suderode, Sachsen-Anhalt, Germany
I offer a comfortable room for 1-2 people in a bright, modern apartment with panoramic views over the entire Nordhäuser Undercity.
I offer a room in a spacious 3-bedroom apartment. I live here with another roommate, because I work in the theater and even often'm traveling, it may be that he is your local contact here. If I myself am there, you have the room anyway for you alone, I sleep in the living room. The specified check-in time is please to see only as a guideline, it would be nice if the exact time is agreed with me with every stay. Since I often have evening samples, I have to organize namely exactly whether I or just my roommate let in you every time.
The apartment is on the top floor of an apartment building (no elevator), the neighborhood is quiet and familiar.
Stefan und sein Mitbewohner waren sehr nett, die Kommunikation hat super funktioniert. Das Zimmer war gemütlich und ruhig. Wenn man möchte erfährt auch einiges über die Theaterlandschaft in der Region.
Christin
2017-01-06T00:00:00Z
stefan ist sehr nett, das Zimmer und alle sind sehr sauber. die Wohnung ist ganz ganz gemütlich. wenn ich nächstes mal nach Nordhausen fahren muss, ich will bei Stefan noch mal bleiben
Lala
2017-01-31T00:00:00Z
Alles super, gerne wieder...danke für ein unkomplizierten Aufenthalt...
Roger
2017-03-11T00:00:00Z
Stefan war sehr freundlich, die Kommunikation verlief reibungslos. Die Zimmer sind sehr sauber und gepflegt. Stefan hat sich auch erkundigt ob alles in Ordnung ist.
Jennifer
2017-01-13T00:00:00Z
Stefan und deiner Mitbewohner sind sehr freundlich. Ihre Unterkunft ist sehr sauber und ruhig. Außerdem ist die Lage in der nähe vom Bahnhof und Studienkolleg. Für mich ist das sehr gut.
Khải
2017-01-30T00:00:00Z
Stefan ist sehr nett. Die Wohnung ist sehr sauber und angenehm. Ich empfehle es absolut.
Doğuş
2017-02-20T00:00:00Z
Ich war nur eine Nacht da. Das Zimmer ist in einer 2-er WG. Stefan ist freundlich, hilfsbereit und kommunikativ. Absprachen, Ein- und Auschecken haben problemlos funktioniert.
Stefanie
2017-01-10T00:00:00Z
Sehr netter und unkomplizierter Kontakt. Hat alles reibungslos geklappt! Herrlicher Ausblick. Vielen Dank!
Tobias
2017-04-05T00:00:00Z
Room Type
Habitación privada
---
Property Type
Apartment
---
Accommodates
2
---
Bedrooms
Nordhausen, Thüringen, Germany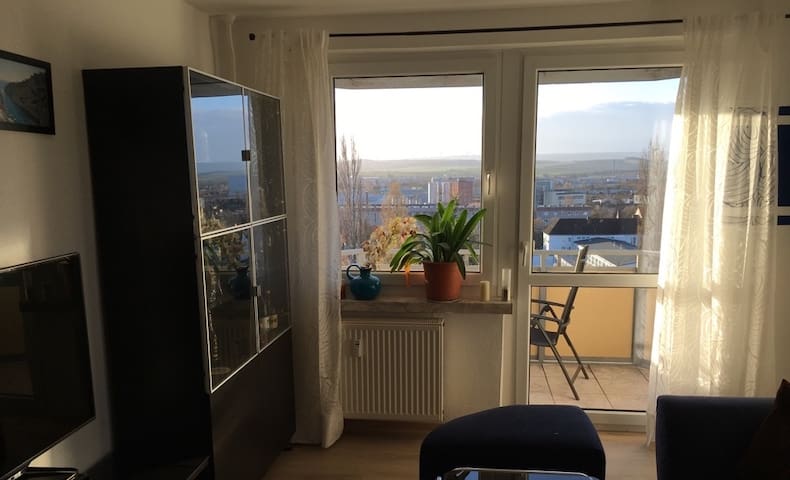 Enter dates to see full pricing. Additional fees apply. Taxes may be added.