My property is close to downtown Mons on a pretty square (Place de Cuesmes), park at the rear of the property and a multitude downtown, art and culture is to go through the house of Van Gogh is Cuesmes and the breathtaking view of a place that can be accompanied by a hot drink and good company. My accommodation is perfect for couples, solo travelers, business travelers and families (with children).
Room Type
Entire home/apt
---
Property Type
Apartment
---
Accommodates
3
---
Bedrooms
Mons, Wallonie, Belgium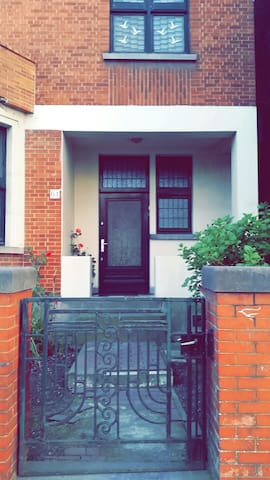 Charmante chambre indépendante et sa salle de bain privative, situé a 50 mètres de la grand place de Mons dans une rue piétonne. Idéal pour visiter Mons en amoureux et particulièrement en 2015 ;-)
The room is a independent part of the building. the access is the same as the other apartments.
Immeuble répertorié situé dans une des plus vielles rues de Mons. Rue entièrement piétonne débouchant sur la grand place (50m) d'un coté et sur le beffroi de l'autre (50 m).
Fabrice and Bernadette were very helpful and flexible. I reserved at the last minute and had trouble finding their home because of technical difficulties but they adapted and made me feel at home. Their apt is wonderfully situated and it was so nice to stay in a clean, cozy, well heated studio so close to the historic center of town! Merci a vous deux!
Natalie
2016-04-27T00:00:00Z
A last-minute trip to and booking in Mons turned out fabulous. Fabrice responds to messages quickly and was very welcoming. He recommend us a very tasty restaurant, coincidentally right next to the venue we were visiting later. The studio is easy to reach, right in the centre. Recommended!
Maria
2015-10-28T00:00:00Z
Our stay in Fabrice's apartment went very well. Fabrice kept in contact and made the check in/out easy and convenient. We felt very comfortable in the room, there was plenty of space for our things and it was clean. The room matched the pictures and description very well. Very convenient location as well. No complaints, exactly what we were looking for. Thank you Fabrice :)
Elise
2016-07-19T00:00:00Z
The host was very welcoming and understanding! He was helpful and the room is as described and as in the pictures. It was clean and tidy and very good looking. The room is no more than 5 minutes away from the Grand Place and 10-12 minutes from the Train Station. It is a perfect location. I would recommend the host.
Vladimir
2015-09-17T00:00:00Z
All was as promised. Fabrice was a fine host. We plan to return to Mons in November, 2018 and would be glad to stay here again.
Jerred
2016-07-12T00:00:00Z
Great little apartment in an excellent location! The apartment is located almost on the top of the hill, around 20 minutes walk from the station. It is right near the main square and shopping street, but still on a quiet street. It's a short walk from all of the attractions. The apartment is newly renovated and very self contained. It has its own washroom, microwave, fridge, and coffee and tea facilities. The bed was comfortable and the room was quiet at night. The only only issue I had was that the curtains aren't blackout and the neighbours' lights were on quite late (but I prefer to sleep in very dark rooms). Fabrice was very friendly and helpful. He gave some great recommendations for places to see and eat. I think this is a great apartment to see Mons from.
Alex
2016-12-28T00:00:00Z
Fabrice's apartment is in the best location in Mons, centrally located and surrounded by charming cobblestone lined streets. Our small flat had an in-suite bathroom with shower. The room was clean and comfortable. Would recommend this apartment if in Mons.
Thomas
2015-09-23T00:00:00Z
This was a brilliantly located litle studio, about one minutes walk from the Grand Place and very near some good restaurants. As said in the listing, there is no kitchen, but Fabrice and his girlfriend had provided tea and coffee facilities. The studio was very clean and pleasant. Though there were guests staying the day after us, Fabrice was very helpful in allowing us to store our baggage in the building during that day. This listing wouldn't be necessarily what you'd want for a stay of more than two nights but for us it was perfect!
Chris
2015-11-07T00:00:00Z
Room Type
Habitación privada
---
Property Type
Apartment
---
Accommodates
2
---
Bedrooms
Mons, Région wallonne, Belgium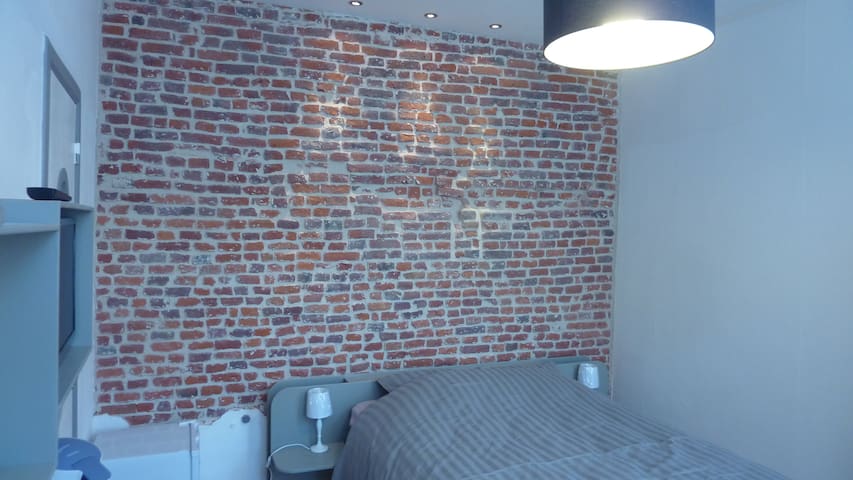 Friendly apartment located in a room on the 3rd floor of a building right on the main square of Mons. Exceptional view of the belfry and the town hall. Recently renovated, it offers all the comfort for a pleasant stay. Located in the city center, it will give you access within minutes walk to all the museums and other attractions montoises. Close to restaurants and shops and 5 minutes from the station. Public parking (fee) nearby.
Besides the basic need (bedding, towels, shower products, kitchen starter set) you will also find in the fridge fresh for breakfast for several days. Moreover, housing is equipped with a high speed internet connection, private and secure.
In addition to all the shops and restaurants you will find in the apartment 1min an apartment (GB Express) Open daily from 07 am to 20h (except Sundays and public holidays: from 09h to 20h)
A perfect place to stay! Marylin was extremely helpful and very responsive. Her place is located right in the center so it was easy walks to restaurants, sight seeing and about a 10min walk to the train station. I unfortunately didn't get the chance to meet Marylin personally as she was out of town. However, she had us meet with her nephew Alexander. He gave us a tour of the house, amenities and they even provided some snacks and their local beer (which was good). Our week in Belgium was to be rainy, but Alexander had us rub Mons good luck charm just a few yards from Marylin's house. It did work! Rest of our stay was sunny and warm. I would recommend Marylin's place to anyone, was a perfect stay!
Derek
2017-03-13T00:00:00Z
Marilyn was extremely accommodating even when we were a little late for check in due to trains. You truly will not find a better, more central location in Mons than Marilyn's apartment...and that's coming from someone who has lived here for years. Highly recommended.
Adam
2017-03-01T00:00:00Z
Très bel appartement sur la Grand-Place de Mons, très bien aménagé et agréable. Parfait pour découvrir cette belle ville de Mons. Marylin est très réactive et a tout mis en place pour que notre séjour se déroule au mieux.
Francois-Olivier
2017-04-02T00:00:00Z
nous vous conseillons ce studio bien adapté pour un séjour de visite de la ville. Sa position centrale est très pratique. Marylin est accueillante et pense à tout.
daro
2017-02-07T00:00:00Z
Appartement bien placé ! Jolie vue sur la grande place ! L'hôte est très serviable, aucun soucis à signaler !
Arnaud
2017-02-11T00:00:00Z
L'accueil est vraiment chaleureux. La situation de l'appartement ne peut pas être meilleure, voir depuis les nombreuses fenêtres la grande place de Mons est un must. L'appartement est fonctionnel et très agréable. On a aimé les petits plus (bières dans le frigo, jus d'orange, petit déjeuner,...) Nous étions 3 adultes mais l'appartement est idéal pour un jeune couple.
Geoffrey
2017-02-18T00:00:00Z
Marylin est une hôtesse charmante, qui aime sa bonne ville de Mons. L'appartement, un grand studio au coeur de la ville, donne sur la Grand Place. On se croirait dans un conte de fée du moyen âge. Le confort de l'appartement, lui, est d'aujourd'hui. Marylin a pensé à tout, même aux oeufs pour le petit déjeuner.
Christophe
2016-12-18T00:00:00Z
Appartement super à tous points de vue, propre, bien agencé, bien équipé. Situation idéale au coeur de la ville. Hote hyper sympathique, gentille et disponible. Que du bonheur pour ce beau week end avec mes petites filles. Week end excellent dans un endroit excellent et une hote excellente. Merci. Vraiment à recommander et conseiller sans aucun à priori.
Jeanne de Chantal
2017-03-26T00:00:00Z
Room Type
Entire home/apt
---
Property Type
Apartment
---
Accommodates
3
---
Bedrooms
Mons, Wallonie, Belgium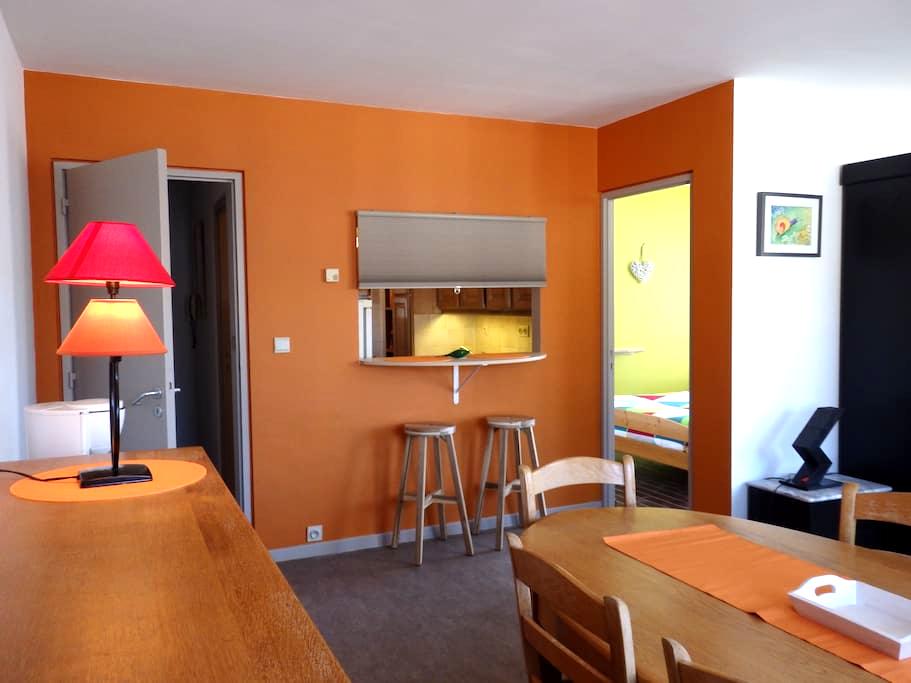 A cosy and independent studio in the centre of Mons, very close to all the town's touristic, cultural attractions and shops. The studio is in an area of historic buildings and interest.
Comfortable studio in the centre of Mons with a view over the garden. Lodges a family of up to 4 people. Close to the BAM and the Mundaneaum. Near the Manège de Sury and the Manège Theatre. 5 minutes walk to a supermarket.
Very central with the calm of a walled garden.
Danielle and Peter were very nice hosts and explained us everything in detail including how to enjoy the very nice Mons2015 opening night! The flat is lovely and very cosy and we had a very nice stay there! Thanks!!!
Benedetta
2015-01-26T00:00:00Z
Nice small apartment in the centre of Mons. The hosts are very kind and hospitable. They offered us even to book a restaurant for us for dinner. The hosts gave us great recommendations on the good restaurants in the town. The apartment is small but very cosy and clean. It is perfect for a couple. The sofa in the living room can be transformed in a comfortable bed and additional up to 2 persons could accommodate. Free parking spots are available on the street.
Kiril
2016-09-25T00:00:00Z
Danielle & Peter were so friendly!! And funny :) The house is also very beautiful and the garden too! You have privacy because the guesthouse is separated from the main house. We also got a lot of tips to explore the city. We had a fantastic stay!!
Hadewijch
2015-09-06T00:00:00Z
Danielle and Peter is one of the best host ever ever in Airbnb!!! The house is very cozy and we met them when we arrive. They greet us with the smile on their face and they tell us a lot about the history and where to go around Mon. They also book the restuarant for us for dinner. Before we go to dinner , they also give us little time for a drink and nice chat. The room is very comfortable, clean and lovely. In the morning, they also have time to give us info about where to go and tell us more on the history of the space. This is a very lovely stay and we would love to be here again :)
Pim
2016-11-26T00:00:00Z
The flat was excellent and had everything we needed. It was very well located, being only a few minutes walk from the centre of town. Danielle and Peter were brilliant and very helpful. Would definitely stay again.
David
2017-04-09T00:00:00Z
Danielle and Peter are very warm and friendly hosts. The studio was clean, cozy and had everything we needed for the stay, to include kitchen essential allowing us to prepare meals, and books and videos for our four year old! The location is very central with adequate parking. We highly recommend this place if visiting Mons.
Ryan
2015-12-05T00:00:00Z
This was our first Airbnb visit and experience was exellent. Danielle and Peter were very friendly and gave us a lot of great tips of Mons, Belgium and France. The studio and garden were beautiful and peaceful way to live in the old city centre. Thanks for the lovely week.
Markku
2015-07-10T00:00:00Z
Our stay with Danielle and Peter couldn't have been better. The studio was recently renovated, clean and had everything we needed. The bed was comfortable! Even our three month old baby fitted in fine, though we brought his travel-bed with us. The hosts were very nice to us and helped looking for places to eat and to visit. We recommend this place to everybody that wants to visit Mons, a cosy town! Thanks again! Regards Niek, Marieke and Bas
Niek
2015-11-06T00:00:00Z
Room Type
Entire home/apt
---
Property Type
Apartment
---
Accommodates
4
---
Bedrooms
Mons, Région wallonne, Belgium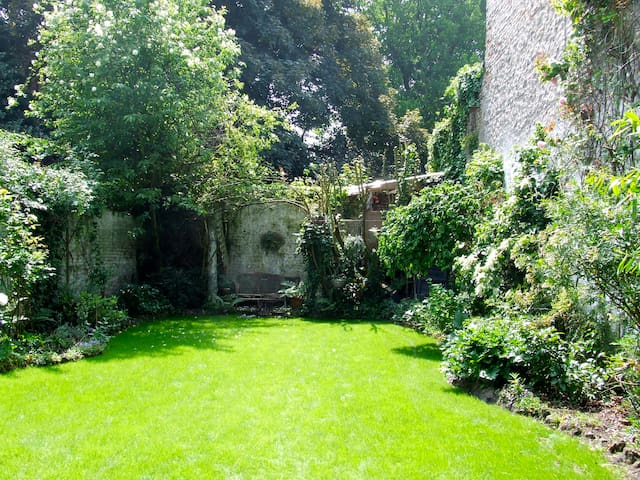 This ground floor 12m2 studio room is located within the walls of the historical and elegant city of Mons. The room has a separate shower and wc in the adjacent corridor. There is another Airbnb apartment on the top floor of the building. There are two single beds but if you would like just one and a desk do let me know. There is a fridge, an electric stove for making espresso, a sink & wardrobe. The room is blue and yellow on a Van Gogh theme and the interior styling is eclectic and quirky.
The studio would make a good pied à terrre for a weekend in Mons. Please note there is little kitchen in the studio.
The apartment is easily accessible by car on the circular boulevard, by foot from anywhere in the centre and from the main railway station. It is a 10 minute stroll into the centre or La Grande Place where everything is at hand; museums, galleries, music, shops and lots of places to eat and drink. There is a lovely bakery named Millefeuille a short stroll away. Please see the Guidebook I have prepared for you with my recommendations.
Ginette was the perfect host. Everything was as announced. She did even pick me up from the train station and cooked some dinner to share with her and her husband. The room was convenient, clean and warm. Located near the centre and with shops around. The surroundings were safe. The only cons could be that one night it a bit noisy (people partying outside somewhere near the place) and that the WiFi Internet wasn't very stable, although it was enough However, Ginette and her accommodation are a good recommendation
Raúl
2016-02-13T00:00:00Z
Hello, This is a cosy flat with good bed and the host is very friendly and welcoming. The room was heated before I arrived and everything was clean with some nice attentions (water, fruits…) I just have to recommend this place, indeed I'll go there again for sure.
Pierre-jean
2016-03-09T00:00:00Z
I`m actually a very communicative person. Before my trip I just was in very professional stress and therefore I did not communicate very much prior my arrival. However I informed Ginette and have apologized me by Ginette before my journey about that. At her wish we also agreed a late Check-In. I have no allergy against Flowers. If I had an allergy, I would have informed my host about it prior to my arrival. That problem was, that the hyacinth had a strong mildew and that there was a large-scale flood damage with a black mold infestation in the apartment (hall). Black mold infestation in the scale is very toxic and harmful. And this means is not the black mold that can be sometimes hide in the bathroom / shower... I think I am easygoing, sociable person and good guest what is surely confirmed by the feedback of 50 of my previous hosts. This includes for me that I arrange me, set me up with other people and make compromises. Otherwise, you can't go through the life... I find Ginettes review unfair and I think she unfortunately forgot to mention, the circumstances and her part why I made my decision. My decision was not hasty. The reason was not only the black mold in the apartment. And Yes, if my health is at risk, I don`t know compromises. I have only this one... By the way, I lie now with an inflammation of the respiratory tract and fever in bed…
Martin
2015-12-12T00:00:00Z
Ginette's apartment is a really nice and cozy place to stay in for few days. It is reasonably close to the center of the city (7min walking distance). If you are passing by Mons i would recommend you staying here.
Jaroslav
2016-10-31T00:00:00Z
I enjoyed my stay with Ginette in Mons. She welcomed me, explained how to get around the city and what was going on. The location is good, with everything in Mons within a 15 min. walk. Especially in 2015 it is worth a visit as there are many festivals, expositions and other events within the European Capital of Culture theme. The room itself has everything you need (and a lot of bric-a-brac :)), including a little kitchen, and it was nice there were some basic supplies for me to use already. It is not very modern and new, which meant there were some issues with electricity, the neighbour and wi-fi, but Ginette offered solutions to everything. Overall, especially considering the price, it was decent value. Thank you Ginette and hopefully we will meet again.
Pim
2015-07-16T00:00:00Z
Ginette gave us a wonderful tour of the European Cultural City of Mons. She is very nice and interested in the wellbeing of her guests.
Lenka
2015-04-06T00:00:00Z
The host canceled this reservation 3 days before arrival. This is an automated posting.
Alexandre
2015-05-12T00:00:00Z
I spent a wonderful 5 weeks in Mons, in Ginette's beautiful studio. Since the studio wasn't ready the day I arrived, Ginette hosted me in her house for the first night and she and her husband prepared a wonderful breakfast and dinner and shared them with me. Then I moved to the studio, which is a 20-minute walk from the train station, 10-minute walk from the Grand Place, and 3-minute walk to the Polytechnic campus on Boulevard Dolez, where I was visiting a lab. There is a grocery shop on the same street and there are various supermarkets within a 20-minute walk radius. The studio is very beautiful and cosy and equipped with everything. There is a fridge with freezer, sink, kitchenette, big moka machine, and all sorts of kitchen utensils. Since I was there by myself, I asked to have a desk instead of one of the beds, and Ginette and I put the desk in place. There is also a wardrobe and plenty of mirrors and towels (and a hair dryer!). The studio has a private entrance and private toilet in an adjacent corridor. The corridor is shared with the tenants of the upper floors, who use another entrance door located in the same corridor. I absolutely loved my stay and every day I looked forward to returning to the cosiness of the studio. I would definitely recommend this place and Ginette's hospitality! I am only sorry that I didn't manage to see Ginette before my departure.
Ilaria
2016-10-03T00:00:00Z
Room Type
Entire home/apt
---
Property Type
Apartment
---
Accommodates
2
---
Bedrooms
Mons, Région wallonne, Belgium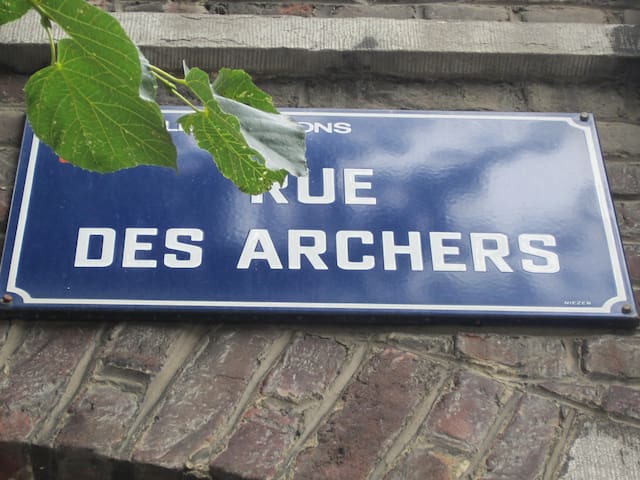 Apartment located 20 minutes walk from the place of MONS, 15 minutes walk from Mons Railway Station; comprising: 2 individually furnished rooms; Italian shower, toilet and kitchen facilities. Wireless, landline, basic materials (towels, iron, kitchen utensils ...) available.
The apartment was exactly like as seen at the pictures. The room, kitchen and bathroom were clean, tidy and well equipped. Joe is a perfect host. The apartment is located on a main street and in walking distance to the center. I highly recommend the place to singles and couples without children.
Oguz
2016-10-28T00:00:00Z
Nice flat in Mons! The kitchen is well equipped! Big and comfortable room! The flat is quite distant (by walk) to the city center and even more to the train station, almost 30 min by walk, but if you take a bus you resolve all the problems! The flat got 3 floors, in each of them there are the services (kitchen 2nd floor, bathroom and shower 3rd floor) you get there through big stairs. Only for this a bit uncomfortable for luggage and if you need to move, you should go up and down. Not recommended for disability people or with problem of walking. For the rest all perfect! Owner available, friendly and gentle! :)
Giulia
2017-02-14T00:00:00Z
Great guy, really funny! The place was very good.
Mathias
2016-07-12T00:00:00Z
It was one of my best airbnb experiences so far, joe is such a nice guy and his house is awesome, I'm definetely coming back if I'm ever back in Mons.
Luan
2016-06-20T00:00:00Z
Very good room! We were a bit later but Joe was very kind and helpful!
Matti
2016-11-03T00:00:00Z
Joe was really nice, he explained me everything before my coming because he was working on my arrival. He was really available to answer every of my questions. His apartment is well equiped and very clean. I recommend his room without hesitation.
Oscar
2016-05-06T00:00:00Z
Joe was very welcoming and helpful. The appartment is nice and clean. One thing to improve would be the bed which is not very comfortable.
Laura
2016-08-19T00:00:00Z
Am on a cycling expedition across Europe. This was my best stay so far. What wonderful private and comfortable room. Great night's sleep. And Joe is a wonderful host.
Roi
2016-05-26T00:00:00Z
Room Type
Habitación privada
---
Property Type
Apartment
---
Accommodates
2
---
Bedrooms
Mons, Région wallonne, Belgium
newly built appartment. room with view on town + balcony Only 10' walk from the station, 15' from the city center. Multilingual owner. Possibility to cook and wash.
Bernard is a very interesting person, he can surprise you with his experiences and his knowledge!! Very helpful and Friendly!!! His place is cosy,clean and organized, perfect for a trip to Mons!!
Nasos
2017-02-20T00:00:00Z
I stayed with Bernard for about two months as part of my Eurotrip. He was flexible with my comings and goings and made me feel right at home. I had my own space, a fridge for my food and was able to use the washer and dryer which was amazing since I packed light. He gave me tips on neighbouring cities to visit and was very relaxed about my weird schedule (I work freelance and had to be up at crazy hours in the night) His house is chic, modern, clean and comfy. It's super close to the station and donwton Mons, which may not look like a lot considering other medieval towns but has a killer cathedral and great student night life! I loved Mons and would fully recommend a long term stay with Bernard.
Regina
2016-11-16T00:00:00Z
Bernard communicated and responded immediately when I had questions. He seems to be a genuine nice person. Accommodation was good with access to everything I needed. As I know the area from earlier on, I did choose this residence deliberately, and it was perfect for my needs, and perfect for a trip to The European City of Culture 2015. (Mons)
Edgar
2016-06-01T00:00:00Z
The host canceled this reservation the day before arrival. This is an automated posting.
malek
2016-02-07T00:00:00Z
Very nice room, excellent host, good talking, perfect location. I would recommend it to anyone.
Claudiu
2017-02-03T00:00:00Z
Everything went well! I felt comfortable at Bernard's house.
Joëlle
2017-01-08T00:00:00Z
Room Type
Habitación privada
---
Property Type
Apartment
---
Accommodates
1
---
Bedrooms
Mons, Région wallonne, Belgium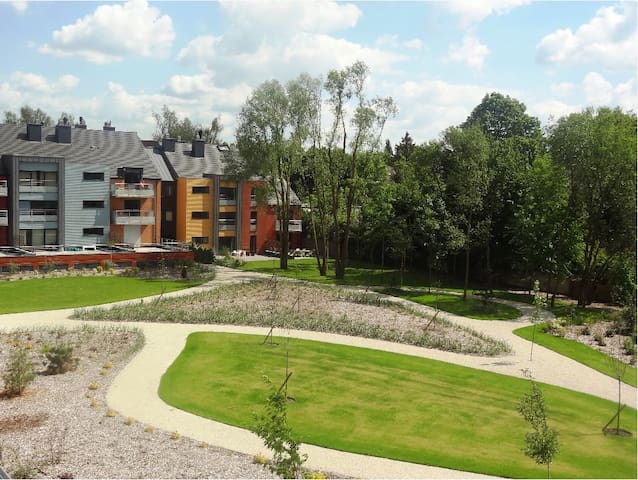 1 bedroom apartment of 45m2 2 minutes from the train station and the Grand Place. Kitchen fully equipped, living / dining room, bedroom, shower room. TV, Wifi. Local biking.
Room Type
Entire home/apt
---
Property Type
Apartment
---
Accommodates
2
---
Bedrooms
Mons, Wallonie, Belgium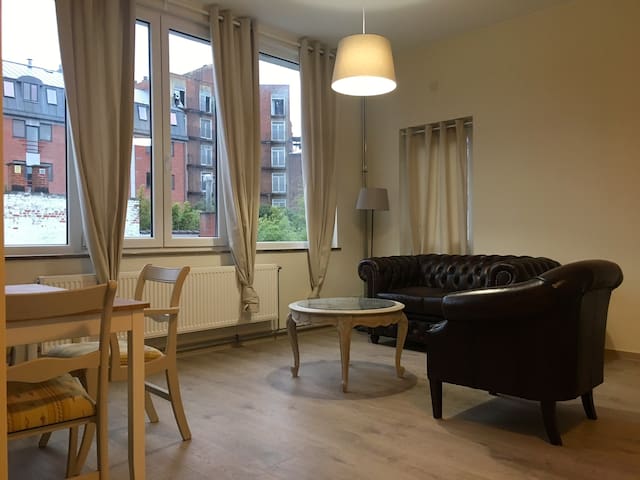 You are in a bright apartment, close to the Collegiate, the Grand 'Place and the Belfry (visible from the lodge's living room), a street dotted with houses XVI S. Easy to walk there: on foot, bicycle or by public transport.
Un appartement très lumineux dans une rue charmante de Mons. Sara est aux petits soins pour ses hôtes.
Vincent
2017-04-08T00:00:00Z
Logement très propre et lumineux avec entrée indépendante situé à proximité du vieux centre d'un cachet architectural et historique certain. Propriétaire fort dévouée, sympathique et humaine. À recommander les yeux fermés !
Pascal
2017-04-09T00:00:00Z
Room Type
Entire home/apt
---
Property Type
Apartment
---
Accommodates
4
---
Bedrooms
Mons, Wallonie, Belgium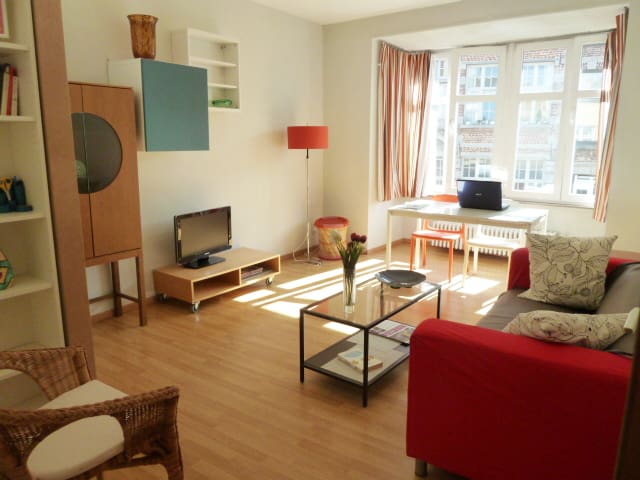 This accommodation is perfect for couples, solo travelers and business travelers. Located 5 minutes walk from the Historical Centre of the City, in a quiet and secure place.
Accommodation located in a secure courtyard. The accommodation comprises three floors with every comfort.
Located in the heart of town MONS. A 5 minute walk from the Grand Place in Mons and the City's Historical Center. Located 10 minutes walk from the Gare de Mons. mall near the "Grands Près".
I stayed here for 2 weeks on my business trip, and it was really enjoyable, with everything needed in the apartment, as well as a food shop next door. The access to sauna and gym in the hotel is definitely a big plus :) Highly recommended!
Anais
2017-03-24T00:00:00Z
It was a long time for me, the apartment has a good atmosphere, cleaning and very good location, u can do everything by walking
Emmanuel
2017-03-01T00:00:00Z
Correspond parfaitement à la description. Spacieux, propre et confortable, le logement est idéalement situé dans la ville et facile d'accès. Aussi, le service est excellent!
Maïté
2017-04-05T00:00:00Z
De accommodatie was verrassend ingedeeld, met keuken-, woon- en slaapgedeelte, alledrie op een eigen verdieping De accomodatie ligt heel gunstig in Bergen en beschikt over een eigen parkeerplaats met toegangshek.
Emma
2017-01-02T00:00:00Z
Super recomendo !
thiago
2017-02-16T00:00:00Z
Room Type
Entire home/apt
---
Property Type
Apartment
---
Accommodates
2
---
Bedrooms
Mons, Wallonie, Belgium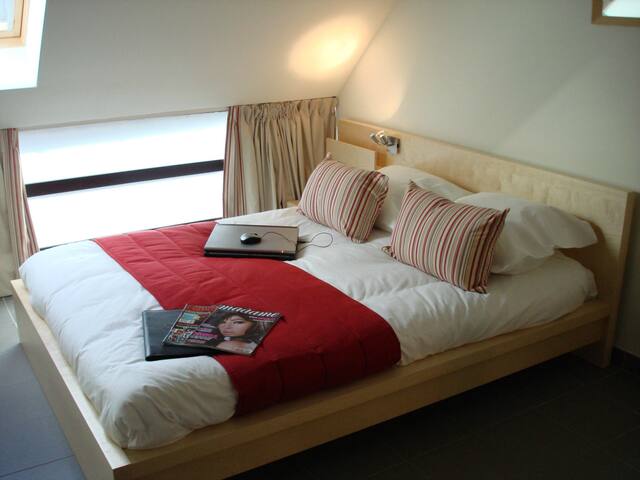 Adossé à notre maison familiale, ce studio vous garantit une totale indépendance. Entièrement équipé, il a été aménagé cette année (2015). Tout est neuf. A 15 minutes en voiture de Mons (Capitale Culturelle européenne), arrêt de bus à 25m, gare à 4km
Tous les meubles sont neufs, salle de bain composée d'une douche, lavabo et wc. Les fenêtres sont toutes occultables (stores). Une garde robe, un porte manteau, petite table à manger et 3 chaises. Le canapé lit est de très bonne qualité. Draps et serviettes de bain fournis.
Frameries, petite ville animée mais aussi tranquille propose un choix de commerces et de promenades à pied ou à vélos. Le PASS (Parc d'Aventures Scientifiques) est un lieu atypique qui mérite le détour (ancien charbonnage).
Carlos and his wife are perfect hosts ! The appartment was comfortable, clean, well equiped, very cosy and quiet (even the fridge was prepared for us with nice food and drinks.) We had our own little terrace with a view on the beautiful garden. We felt very welcome and at the same time there was a lot of privacy. With all our questions about the area we could go to Carlos. We can definitely advice you to stay there! (And Paco is the most lovely dog you can imagine)
K
2016-05-09T00:00:00Z
Hôtes très sympathiques et avenants. Tout était prévu dans le studio, jusqu'aux produits de douches et boissons dans le frigo. Studio neuf et lumineux. Absolument à conseiller!
Li
2015-08-04T00:00:00Z
Un accueil parfait, des gens charmants aux petits soins. Absolument rien à redire. C'était parfait
Jonathan
2016-03-12T00:00:00Z
Charmant petit studio dans un quartier calme, très bien équipé, tout est neuf, c'est joli et pratique. Les hôtes sont très accueillants et pleins de petites attentions à votre égard. Un séjour à recommander sans aucunes hésitations. Budget plus que correct pour la qualité proposée. Si nous repassons dans la région nous y retournerons avec grand plaisir !
Delphine
2016-04-18T00:00:00Z
Carlos est très accueillant et sympathique. Le studio est neuf, calme et très confortable. Diverses boissons fraîches et gourmandises nous attendaient à l'intérieur ! Merci pour tout Carlos, nous avons passé un très bon séjour !
Anaïs
2016-04-09T00:00:00Z
Carlos a été particulièrement disponible et attentionné a mon egard, c était parfait
Domaine de
2016-02-27T00:00:00Z
Room Type
Entire home/apt
---
Property Type
Apartment
---
Accommodates
2
---
Bedrooms
Frameries, Région wallonne, Belgium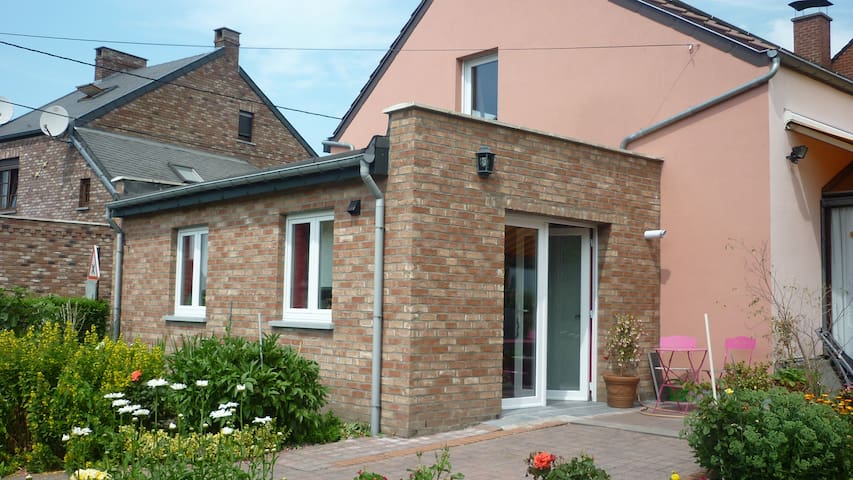 Everything was great and the room was exactly as it appears in pictures! This was a stop on our honeymoon and it was a very nice experience. Bil was easy to get in touch with and was responsive. We arrived earlier than our check in time but we were able to put our bags in the hotel while we explored the city until we could check-in. The hotel is very nice and there is a very cute backyard area to hang out. The location was great and within walking distance to all the main sights of Mons.
Carolyn
2016-09-17T00:00:00Z
Super Unterkunft! Die Zimmer sind sehr gut ausgestattet. Und das Frühstück, welches es aufs Zimmer geliefert gibt zu der gewünschten Uhrzeit ist der Wahnsinn. Wir werden es wieder besuchen!
Felix
2016-09-05T00:00:00Z
Room Type
Entire home/apt
---
Property Type
Apartment
---
Accommodates
2
---
Bedrooms
Mons, Région wallonne, Belgium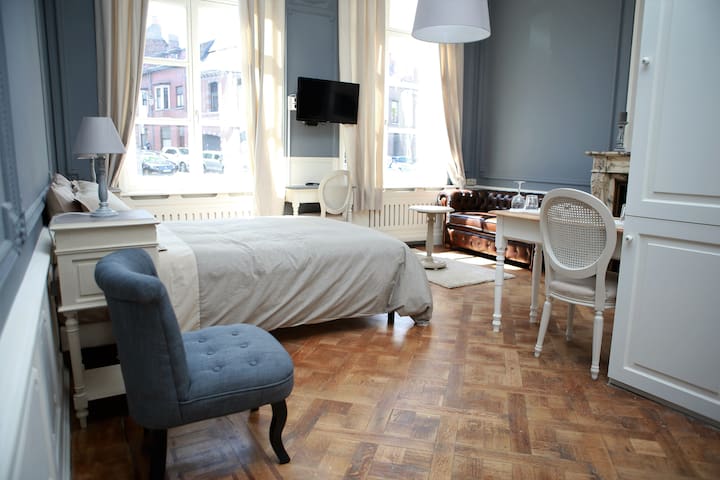 If you have special needs for sleeping, please advance, we will try to arrange for you. The bathroom is hot type intelligent water heater, Arrow large bathtub. In order to enjoy the convenience of travel, the room has a refrigerator, drum washing machine.
Room Type
Habitación privada
---
Property Type
Apartment
---
Accommodates
2
---
Bedrooms
蒙斯, 埃诺省, Belgium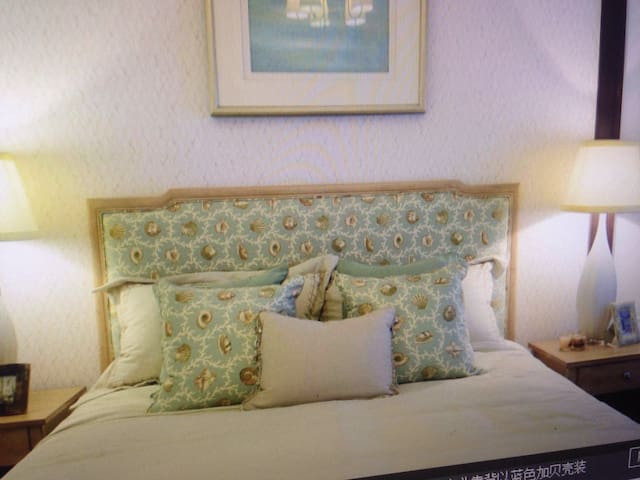 Gelegen in het hart van de Grote Markt in Bergen, dit appartement is licht, ruim en comfortabel. Geniet van de sfeer door het installeren van op het terras, dat een adembenemend uitzicht op het stadhuis en zijn aapje geluk heeft (zie!). Neat decor. Het bouwen van high-end, veilig. Ideaal voor een verblijf met vrienden of familie.
L'appartement est très bien situé, sur la grand'place avec la vue sur l'hôtel de Ville. Il est fonctionnel et permet d'accueillir les hôtes dans de très bonnes conditions.
Lucie
2016-09-17T00:00:00Z
Room Type
Entire home/apt
---
Property Type
Apartment
---
Accommodates
4
---
Bedrooms
Mons, Région wallonne, Belgium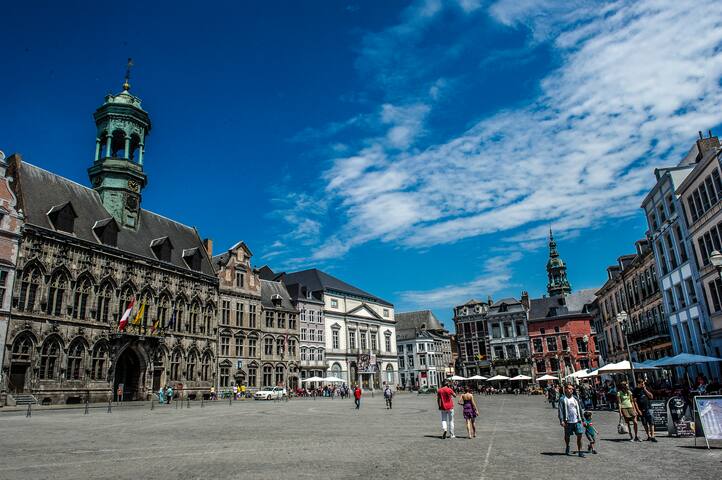 Large studio about 30m2 decorated tastefully and originality have sitting area, kitchenette and dining room, double bed and sofa bed with ensuite bathroom and private sauna in the city center and very quiet, close to all facilities, animations and transport network
"The Swedish Room": beautiful tourist studio for 2 (3) persons on the 1st floor of a residence of the 18th, 30 m2, with its bathroom with shower and large sauna, fully renovated decorated (solid oak floor, new paint, complete makeover), kitchen (2 electric rings, fridge, oven) and complete equipment, lounge area with flat screen TV, 2 single beds that can form a double bed, double bed armchair, high speed ADSL. Calm because on the back of the house.
We are in the historic area of Mons, near the Grand Place and entertainment venues. A large food store is in front of the house, the market on Friday morning down the street. Everything is on foot!
Sonia is the best host that I ever met: kind, funny and always available in case you need something. The apartment is great: clean, close to the center and has everything to make you feel at home. If I need to comeback to Mons I will definitely book again!
António
2016-06-02T00:00:00Z
This is a nice apartment with a perfect location. Sonia is quite easy to work with, and made the stay wonderful. I would gladly stay there again. Thank you!
Amy
2015-09-17T00:00:00Z
Sonia couldn't be there to welcome us, but organized the things perfectly well, so that we didn't have any problem to enter the flat. She answerred all my questions during and before the trip. The flat itself is quite nice.
Pauline
2016-08-22T00:00:00Z
L'appartement est très bien aménagé, fort joli et situé en plein centre-ville de Mons. Sonia nous a accueilli chaleureusement et a tout fait pour faciliter notre séjour. Je le recommande fortement.
Anne-Marie
2015-04-11T00:00:00Z
Conforme aux photos et à la description. Situation excellente !
Benoit
2016-08-13T00:00:00Z
Logement très bien situé et propre, cependant l'absence d'essentiels (tapis sortie de douche, essuie main cuisine, sac poubelle) s'est fortement faite remarquer.
Margaux
2016-09-11T00:00:00Z
Cet appartement est joli, fonctionnel, calme, central et très agréable à vivre. Juste à côté des anciens abattoirs où j'ai profité d'une belle exposition, et d'un bar à salade avec un gérant très gentil. Sonia est à l'écoute et réactive. J'ai passé un très bon séjour à Mons.
Laure
2017-04-05T00:00:00Z
Aucun mot de bienvenue, pas de papier indiquant le code wifi que nous n'avons donc pas pu utiliser... nous n'avons pas rencontré Sonia
Serge
2015-12-31T00:00:00Z
Room Type
Entire home/apt
---
Property Type
Apartment
---
Accommodates
3
---
Bedrooms
Mons, Région wallonne, Belgium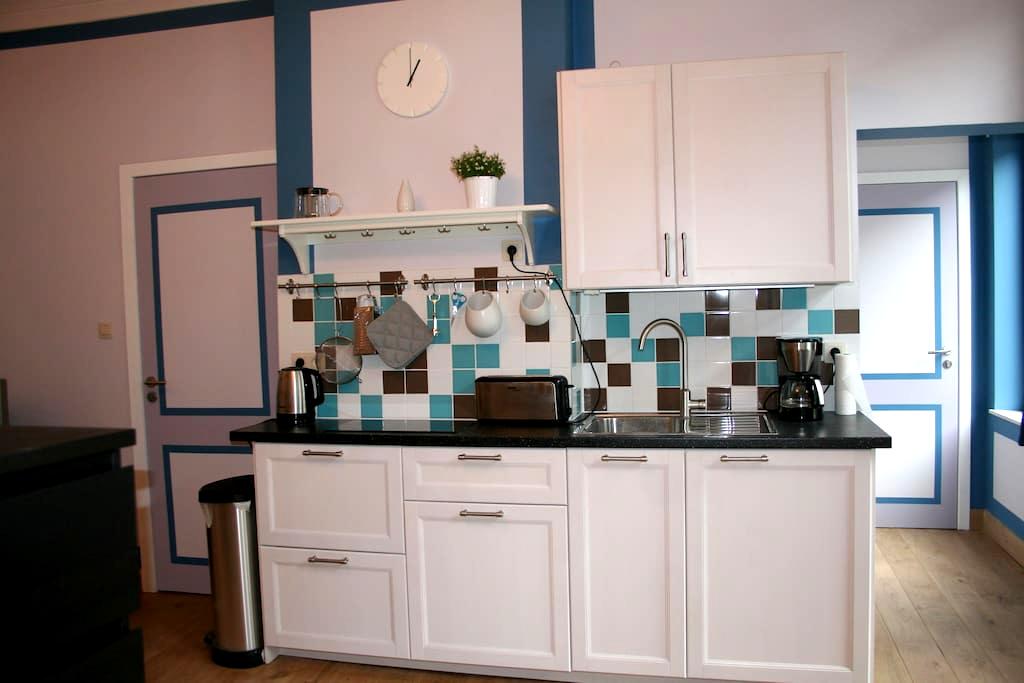 KOT A SUB-RENT - Available from April 10 to June 9 (2 months, dates to be negotiated) Roommate 5 people located in the center of Mons (in a quiet street near the Rue d'Havre, Rue de Nimy, the Grand Place, 10 minutes from campus Nimy), kot renovated with large bedroom, living room / kitchen, bathroom shower, outdoor courtyard to bbq on the occasion ... Ideal for somebody who loves life in community! 400 € / month incl
Room Type
Habitación privada
---
Property Type
Apartment
---
Accommodates
2
---
Bedrooms
Mons, Wallonie, Belgium
Very nice and flexible host. The appartment is modern, clean and with everything needed. The appartment is right in the centre of Mons. Very recommendable :)
Louise
2015-04-06T00:00:00Z
Nous avons été très bien accueillis chez Chantal. L'appartement est très beau et était dans un état impeccable. Tout au long du séjour Chantal a répondu à nos demandes avec une très grande gentillesse.
Anne-Marie
2015-09-22T00:00:00Z
Room Type
Entire home/apt
---
Property Type
Apartment
---
Accommodates
4
---
Bedrooms
Mons, Région wallonne, Belgium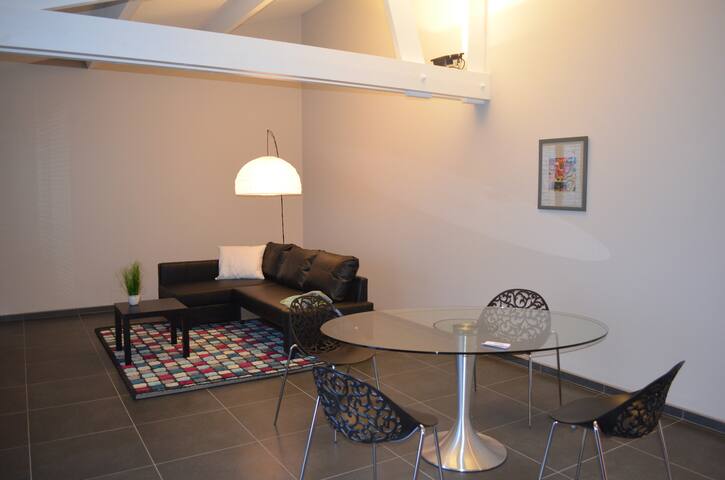 Bright flat in a quiet and tree-lined area, 10 min walking distance to Mons centre. Available for up 5 to 6 people: 3 bedrooms, fitted kitchen, wifi, easy car park. Perfect for discovering Mons with your family or friends.
Bright flat on the 2nd floor of a large house, with a clear view. One large bedroom with 2 single beds, one room with one double bed and one room with one large single bed. Baby/toddler amenities (bed, high chair and small bathtub) and extra mattress available on demand. Fitted kitchen, bathroom with shower, wifi and computer in the small living room.
Quiet area, 10 min walking distance to Mons centre. The house is at the end of two streets, in front of a park with a pond. Various shops (bakery, minimarket, chip shop), Waux Hall park and a museum at the end of the street.
Claudine and her husband were great- they were excellent communicators regarding our arrival, were flexible with arrival time, and met us on the street in the middle of a very busy festival to help us with parking. The flat was just as described, and in a great location.
Maurine
2016-05-22T00:00:00Z
The host canceled this reservation 27 days before arrival. This is an automated posting.
Jérôme
2015-05-31T00:00:00Z
We enjoyed our stay at this apartment. Claudine and her family were very accommodating and answered any questions we had. If are staying for just a few days out a longer period of time I highly recommend this place.
OBUN
2017-03-31T00:00:00Z
Great appartement, on walking distance from everything you want to see. Claudine couldn't welcome us herself, but her daughter did a great job. We had a wonderful sunny weekend and enjoyed Mons a lot. I warmly recommend this place to everyone who wants to discover Mons. We were five and had plenty of space and felt very much at ease in this charming appartment. So don't hesitate :-)
Noemi
2015-10-04T00:00:00Z
Charming appartment, nice neighbourhood, walking distance to the city centre, with bakery, little shop and Chinese restaurant around the corner. Very good price if you're with 6 people, for us with 2 kids I found it a bit too expensive though. But all in all - very positive!
Maja
2015-08-23T00:00:00Z
The host canceled this reservation 17 days before arrival. This is an automated posting.
Bec
2015-12-05T00:00:00Z
Location was very good but the house is very old and the bathroom smells terrific. Claudi was very kind and helpful. She provided high chair, toys and crib. It is preferable because of fair price.
ertan
2017-01-20T00:00:00Z
Good and quite big place to stay a few days to discover Mons and its surrounding. Everything you need is available in the apartment.
Stijn
2017-02-05T00:00:00Z
Room Type
Entire home/apt
---
Property Type
Apartment
---
Accommodates
5
---
Bedrooms
Mons, Région wallonne, Belgium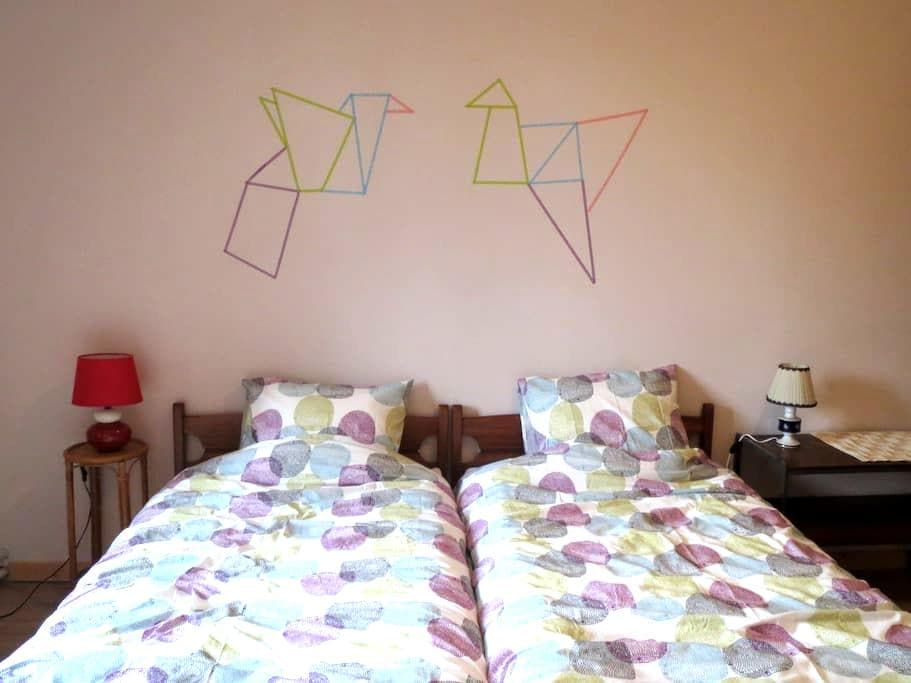 1

–

18

of

45 Apartment Rentals
Enter dates to see full pricing. Additional fees apply. Taxes may be added.