Set in a typical Alentejo estate just 5 mins outside Beja, between Vila Azedo and Neves, the apartment has a living room with kitchenette, bathroom with shower, a bedroom and a mezzanine, both with double bed (with breakfast).
Outside features carport space and a terrace where you can relax in hammocks and loungers. You can have an outdoor meal, cook on the barbecue and use the aromatic herbs from the gardens to flavor your cooking. In the pool with lawn area you can enjoy the sun loungers. Under the shade of oaks, there are inviting places where you can read, write, paint, draw, listen to music, practice yoga, or just do nothing. With a stunning view of the Alentejo landscape, where in the distance, Serra de Ficalho makes us lose the horizon. The tranquility associated with the birds singing, silence for the welfare that may invite you to hike the trails in this area, that if you like, will guide you to the river Guadiana. Just follow along the abandoned railway line…
Wonderful place, really pretty and relaxing. Fab decor and really well-equipped. Lovely breakfast delivered to the door by the friendly owner.
Cherry
2016-03-18T00:00:00Z
Lovely place to relax and enjoy the view on the landscapes of Alentejo. The residence, the apartment and the pool correspond to the description, we really had a great time at Monte Do Gafanhoto and would definitely recommend this place!
Mathieu
2015-07-23T00:00:00Z
Beautiful place! We were in Portugal in winter and a lot of places were quite cold, it was a treat to get to a nice clean warm place to stay here. Breakfast was a nice touch!
David
2017-01-02T00:00:00Z
An Amazing place managed by Amazing people who remind you that the best things in life are still the simplest ones. Everything about the place is well thought of and beautiful, the near village is very little and quiet. We had a 4 night stay and from door served breakfast to a simple good morning smile from the owner Heine, always ready to support if anything was missing, we had some of the best vacations in many years, in some cases reminding me of my teenager trips to the hidden landscapes of Portugal. We loved Monte do Gafanhoto and can't wait to get back :) João Queiroz
João
2016-07-25T00:00:00Z
A great place to stay when you are on a road trip or for wine tasting. Many wine yards around. Don't forget to visit Cuba where to find a great restaurant with outdoor sitting. Heine, the owner, is very friendly. Each morning she serves you in a basket a great breakfast that includes eggs, cheese and ham, jams, fresh orange juice and coffee. We'll come back one day with our kids.
Melanie
2017-02-17T00:00:00Z
The host canceled this reservation 2 days before arrival. This is an automated posting.
João
2017-03-30T00:00:00Z
Monte do Gafanhoto is a wonderful place, placed in a privileged spot, with views all over the Alentejo. Me and my partner couldn't feel more comfortable. The house they offer is comfortable, well equipped and with a swimming pool that you can use. Last, but not least, the owners: a wonderful and welcoming couple that will do your best to make you feel at home. We'll come back again!
Isaias
2014-05-05T00:00:00Z
We had a great time at Monte Gafanhoto. Peaceful area. Local restaurant suggested by the host Heine was a delight. The breakfast delivered every morning was lovely. We would definitely recommend this place.
Marie-Claude
2016-05-06T00:00:00Z
Room Type
Entire home/apt
---
Property Type
Apartment
---
Accommodates
4
---
Bedrooms
Vila Azedo, Beja District, Portugal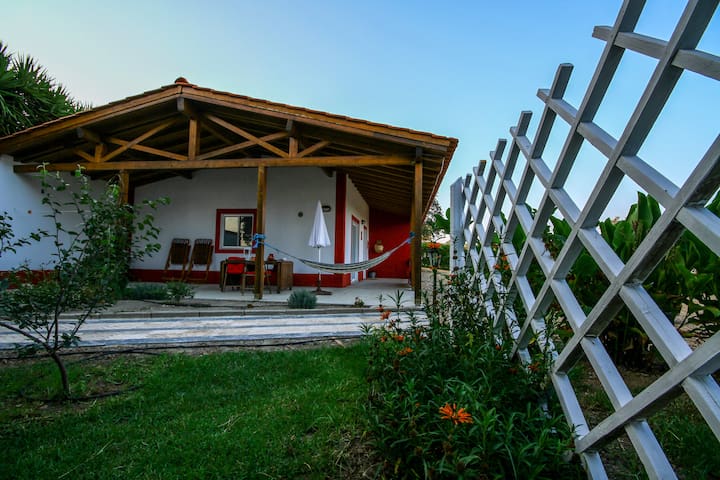 House in the historic center of Beja, five minutes walk from the main monuments and places of interest (Castle Museum, Queen D ª Leonor, Casa das Artes Jorge Vieira, Misericordia Church, Church of Santa Maria ...) as well as the best restaurants and bars. Our house has 2 bedrooms with double bed and sofa bed in the lounge (if they ask arrange cot) bathroom with shower, kitchen with all the essentials for preparing meals and Patio The house is ideal for those seeking to know the Beja walking. If you ask us we indicate the best places to buy regional products, to go out...
Most places on Airbnb are in fact smaller (and often not as appealing) as the photos published. But Pedro and his family house is exactly the opposite! This is a old house with very large rooms. In the old part of Beja and close to all attractions. The house is cool and well furnished. Nothing missing. Great place!
Georges
2016-06-26T00:00:00Z
Jose Pedro was excellent at accommodating our last minute booking. And he welcomed us with wine, cheese and bread. But the house is so amazing. A true Alentejo house, ideally located. It was so cozy, all the amenities and a lovely patio to ourselves. It was our favourite of all the places we stayed on our trip. LOVED IT! easy to access everything in the city. And the Beja people were so welcoming.
Denise
2017-03-20T00:00:00Z
We had a very nice stay in the heart of Beja. José and his wife were very nice and flexible and welcomed us to the their house even though we booked at the very last minute. A great old house that was recently renovated, with plenty of space. I'll most certainly be back.
Jasper
2014-07-01T00:00:00Z
Jose & Isabel were very welcoming and low-profile during our stay. Lovely spacious apartment in an traditional town-house right by the square. Simple and unsophisticated equipment but everything we needed for our 6 day stay. Beja is a good central base for exploring the gorgeous towns, countryside and vineyards in the area, as well as the national park and Rio Guardiana. Thankyou so much.
Tom
2014-10-17T00:00:00Z
Amazing design in the middle of rural Portugal. We stayed her for two nights and fellt so possitive surprised by this well designed house! Please check it out yourself!
Fransje
2014-07-29T00:00:00Z
Waiting for us in this charming 2 bedroom apartment was bread, wine and cheese, the gifts of Jose and Isabel, the gracious owners. Jose walked us through the apartment, showing us each room as well as the backyard. They made us feel welcome and attended to, and we really felt like we had made new friends. The neighborhood is an older one, with restaurants, a pastry shop, and other interesting shops just steps away. It became our base camp for s few trips down to the Algarve, and we were delighted with it!
Andrea
2015-05-25T00:00:00Z
One of the nicest places that I have ever stayed in. Whitewashed walls, high ceilings, well decorated, a spacious bedroom and a stunning backyard - perfect for a lazy breakfast in the morning. The location of the house is a plus. Right in the center of the city, near to all the interesting sites and you won't even need a car as you can just walk to all the places. José and Isabel are great hosts. On our arrival they had wine, fresh Alentejo's bread and some portuguese treats waiting for us. They were also very helpful giving us some tips on what to visit, what to do and especially where to eat, because Alentejo is all about gorgeous food. I would definitely recommend this place to everyone wishing to visit the Southern Alentejo.
Nuno M.
2016-07-08T00:00:00Z
We had a very-very good stay here. José was a very good host and Beja is a small, but friendly and beautiful town. But best of all was the apartment which might easily be the best where I ever stayed with Airbnb.
András
2016-08-25T00:00:00Z
Room Type
Entire home/apt
---
Property Type
Apartment
---
Accommodates
4
---
Bedrooms
Beja, Beja, Portugal
The house is a new house, but also our marriage room, formaldehyde free, clean and tidy, living facilities equipped, also provide you free parking. It is a high quality commodity, mobile broadband telecommunications, to meet all aspects of your daily life
Room Type
Habitación privada
---
Property Type
Apartment
---
Accommodates
2
---
Bedrooms
贝雅, 贝雅区, Portugal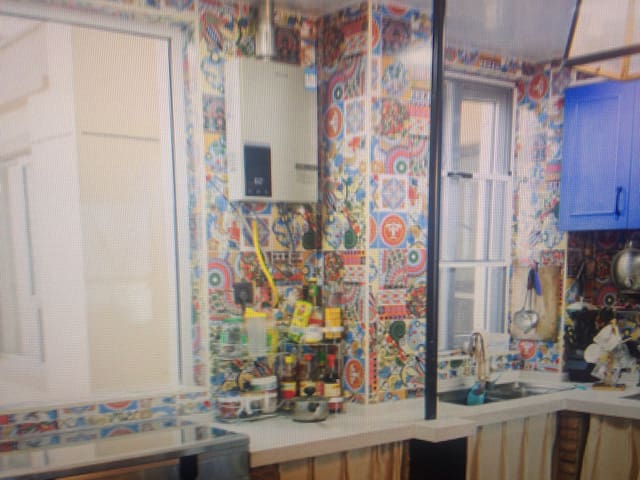 Room facilities, comfortable and clean, 42 inch LCD TV, independent kitchen, European style romantic, the overall feeling is quiet, elegant temperament and sense of quality of life.
Room Type
Habitación privada
---
Property Type
Apartment
---
Accommodates
2
---
Bedrooms
贝雅, 贝雅区, Portugal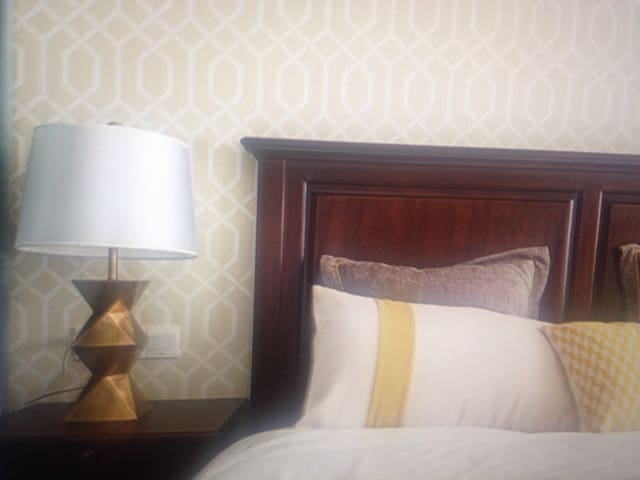 Room facilities, comfortable and clean, 42 inch LCD TV, independent kitchen, European style romantic, the overall feeling is quiet, elegant temperament and sense of quality of life.
Room Type
Habitación privada
---
Property Type
Apartment
---
Accommodates
2
---
Bedrooms
维迪盖拉, 贝雅区, Portugal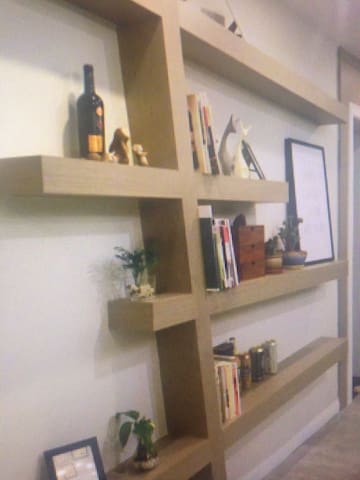 Ideal to romance in Alentejo...
Romance House In Alentejo - the time Just Stop in this House
Room Type
Entire home/apt
---
Property Type
Apartment
---
Accommodates
3
---
Bedrooms
Vidigueira, Beja, Portugal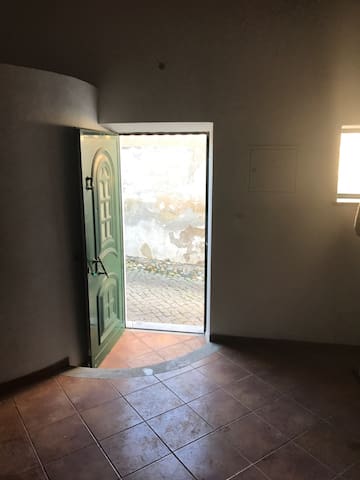 Cosy first flour apartment, 83 m2, stairs access only, it has what it needs to help you discover the secrets of Beja and its surroundings.
Feel free to use all our appliances, read our books and play with our boardgames. Make yourself at home!
Museums, restaurants, bars, etc. at walking distance.
The host canceled this reservation 66 days before arrival. This is an automated posting.
antonio
2017-02-20T00:00:00Z
This is a nice place in the heart of Beja. Maria took all the time to explain the facilities. The place is nice and clean and Maria is very flexible regarding the check-in and check-out, which worked very well for our working schedule. There are three bedrooms, which are nice and clean with good beds. There's a fast internet connection which was very useful for our work. She is preparing a second apartment next door and since we had to sleep during day and work during night she asked the workers to begin a week later! Very generous of her. Maria, thank you for a pleasant stay in your apartment.
Jasper
2014-11-15T00:00:00Z
Room Type
Entire home/apt
---
Property Type
Apartment
---
Accommodates
5
---
Bedrooms
Beja, Beja District, Portugal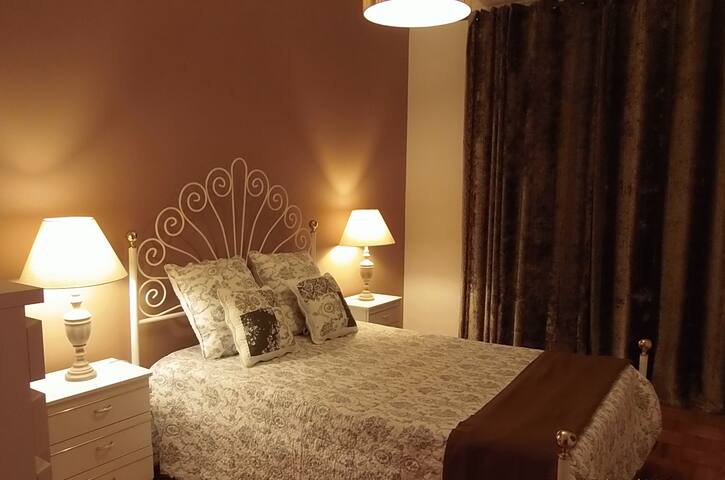 Our apartment is the best place to stay while discovering the treasures of our city. We have a fully equipped kitchen where you can prepare your meals, and we'll be happy to help you with any tips needed on the best restaurants,bars,monuments to visit etc
The Space is comfortable and spacious in a calm street close to the Park and the monuments.
Awesome apartment right next to the center. Everything was very clean and perfect. Carlos was very communicative via mail because he himself was out of town. His super nice family showed us the apartment and left very good recommendations for restaurants.
Philipp
2016-08-14T00:00:00Z
We had a lovely stay in Beja. Carlos' mother and sister welcomed us at our arrival. Everything fits the description, and Carlos is always ready to help us if needed. Staying in Beja has been a good choice: its location allowed us to spend time on the south coast and to visit Beja, Evora and a few other cities. We recommand this place.
Pauline
2016-07-27T00:00:00Z
The apartament was perfectly clean and much more spacious than on the pictures. The owners helpful and friendly. Very close from the center and near of shops and with the restaurant in front. I recomand it without second thoughts :)
Ula
2016-09-23T00:00:00Z
Simpatiquíssimos apesar da hora tardia a que chegamos, casa limpa e bem arranjada. Obrigado pela estadia.
Ricardo
2016-10-09T00:00:00Z
A casa do Carlos corresponde exactamente ao que está no anúncio. É simples e cómodo. Fica bem localizado. O Carlos foi prestável e a comunicação foi fácil.
Susana
2016-08-29T00:00:00Z
Bom acolhimento, senti-me como em casa ! A casa é muito asseada e acolhedora ! Experiência a repetir e recomendar ! Good reception, I felt like I was at home ! The house is very clean, friendly ! Experience to repeat and recommend!
Pat
2016-08-25T00:00:00Z
Casa espaçosa, limpa e com (URL HIDDEN) muita centralidade. E simpática (o café soube mesmo bem)...
anibal
2016-10-26T00:00:00Z
Room Type
Entire home/apt
---
Property Type
Apartment
---
Accommodates
3
---
Bedrooms
Beja, Beja, Portugal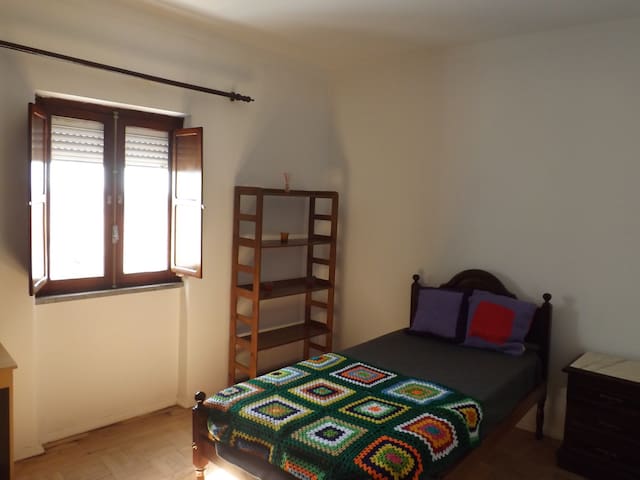 The house is a new house, but also our marriage room, formaldehyde free, clean and tidy, living facilities equipped, also provide you free parking. It is a high quality commodity, mobile broadband telecommunications, to meet all aspects of your daily life
Room Type
Habitación privada
---
Property Type
Apartment
---
Accommodates
2
---
Bedrooms
Vila de Frades, 贝雅区, Portugal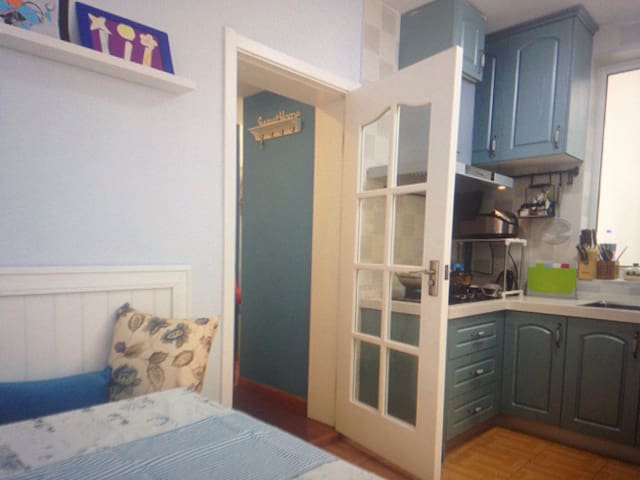 Min bolig lægger tæt på Beja, restauranter og spisesteder, offentlig transport. Du vil elske min bolig på grund af hyggen og udsigterne. Min bolig er god til par, soleeventyrere og forretningsrejsende.
Monte do Gafanhoto was a very positive experience. We loved the quiet and relaxed atmosphere of the Monte. The studio is enough for two people. It has plenty of storage space and has the necessary cooking facilities for two. It's nice and comfortable. The snack area could be more comfortable. The table has no leg room on the side of the chairs. Some all round cleaning aspects can be improved, as well. The pool is literally steps away and the whole outer space is very inviting, with hammocks and lounge chairs, inviting for an afternoon of pure relaxation. A little more is heard besides silence and nature. It's a great place to rest and still be near the city of Beja. By car, in a few minutes, we are in the center of the city.
Carolina
2016-08-25T00:00:00Z
La demeure Monte Do Gafanhoto est en pleine campagne, l'arrivée se fait entre 2 haies de lauriers roses, la première impression est agréable. Un petit parking gravillonnée devant un groupe de petits studios. Nous sommes accueilli par une souriante jeune personne. Très bon accueil ! Une vrai piscine fait face à notre studio spacieux et bien équipé. Un regret malgré tout c'est l'absence de climatisation (les températures à cette époque dépasse les 40 degrés). Cette dernière remarque n'enlève rien au plaisir que nous avons eu à séjourner à Monte Do Gafanhoto, d'autant plus que pour le prix très raisonnable nous avions un panier très fourni pour notre petit déjeuner. Une étape que nous recommandons vivement.
Alain
2016-09-06T00:00:00Z
Room Type
Habitación privada
---
Property Type
Apartment
---
Accommodates
2
---
Bedrooms
Beja, Beja, Portugal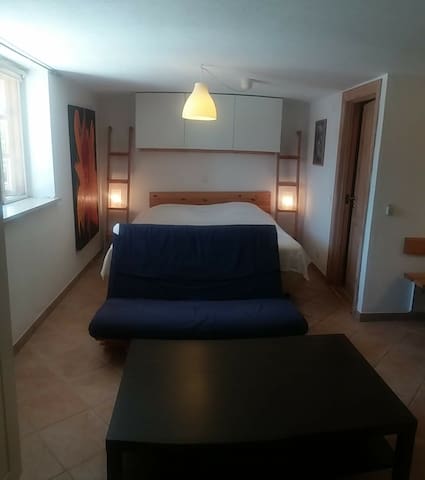 Quarto Duplo com WC Privativo e Ar Condicionado
Room Type
Habitación privada
---
Property Type
Apartment
---
Accommodates
2
---
Bedrooms
Achada do Gamo, Beja District, Portugal
Experience a unique decoration inspired in our flowers and country side vegetation along with typical bedrooms + kitchen appliances. You'll be surprised by the nicely painted bedroom walls and the beautiful trees in the external área. Accomodates 6.
Maria is very helpful and friendly host - she speaks & writes English very well. The appartment is bigger than we expected from the pictures - which was actually quite nice, and the terrace is comfortable as well, with a view overlooking the nearby rooftops. It was clean and well equipped. The appartment is close to the city center (walking distance) & super markets. We had a good time in Beja, at the appartment, at the big outdoor public swimming pool and having dinner at "Adega de 25 do Abril".
Maria Louise
2015-07-28T00:00:00Z
Maria was a great host. She went over and above, picking us up from the train station, the Internet didn't connect on our arrival, she worked on the problem till it was fixed even made alternate plans if she couldn't fix it. The apartment was lovely, with everything we needed, very clean and tidy and lovely little homely touches!
Vaiva
2015-09-12T00:00:00Z
A Maria estava a recuperar de uma intervenção cirúrgica, então, fomos levados à casa por uma senhora muito simpática que, infelizmente, não me recordo o nome, só a simpatia. Em casa fomos recebidos por um ambiente cuidado e muitos detalhes deliciosos. Vamos regressar a Beja em breve e já temos um sítio para ficar. Aconselhamos vivamente a estadia na casa do Aurélio e da Maria quando forem a Beja.
Fernando & Pilar
2015-09-28T00:00:00Z
Très bel appartement décoré avec goût, très grand et proche de toutes commodités à pied. Très bien équipé avec lave linge, cafetière ect... Piscine municipale à proximité pour les grands et les petits.
Erwan
2015-07-31T00:00:00Z
Room Type
Entire home/apt
---
Property Type
Apartment
---
Accommodates
5
---
Bedrooms
Beja, Beja, Portugal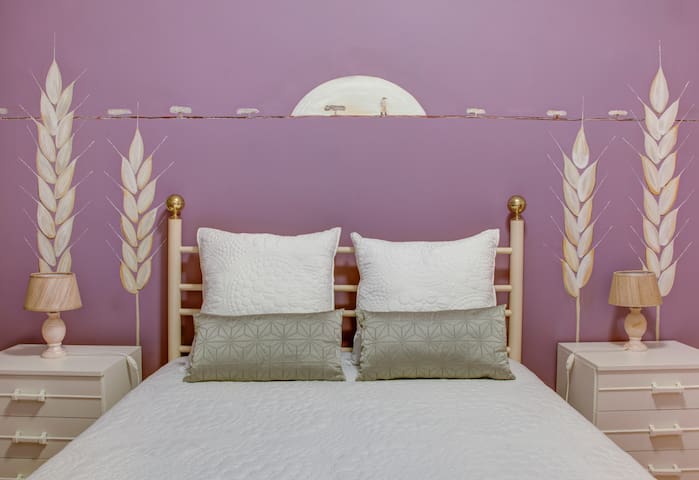 Confortable and very well located house in the center of Mértola with a beautiful view to the river. Everything that matters in a walking distance. 10 minutes to the Castle, 2 minutes to the river. Air conditioning included.
Very spacious apartment in the small town of Mertola, clean and good WIFI signal. Marisa was very responsive and her friend Teresa and son was waiting for us at our arrival.
Ben
2014-11-25T00:00:00Z
The view was amazing as we can see it in the description and you'll have a great area for 2/3 people.
Aurore
2015-08-01T00:00:00Z
The room has a great view over the river and is a very comfortable place to stay. It is right in the heart of the town but still quiet at night. The kitchen had most things that we needed and we enjoyed our stay there.
Oliver
2015-10-07T00:00:00Z
Everything was exactly like planed, the place is very beautiful
David
2016-08-05T00:00:00Z
Beautiful apartment with private bathroom and a second room with TV. Fantastic view! All very clean. Would have loved to stay longer.
Stefan
2015-05-19T00:00:00Z
After an initial mix up with bookings, we quickly settled into our new room with a lovely view of the river. Marisa gave lots of info on what was good to see and do in the Mertola area. Very relaxed, chilled and friendly place with amazing castle and church. Good restaurants all reasonable and near by
Greg
2014-09-04T00:00:00Z
The apartment was very nice with a stunning view. Very clean and fully equipped.
Frédéric
2015-05-07T00:00:00Z
Everything fine for the price, but the beds were not very good.
Sissel
2017-03-18T00:00:00Z
Room Type
Habitación privada
---
Property Type
Apartment
---
Accommodates
3
---
Bedrooms
Mértola, Beja, Portugal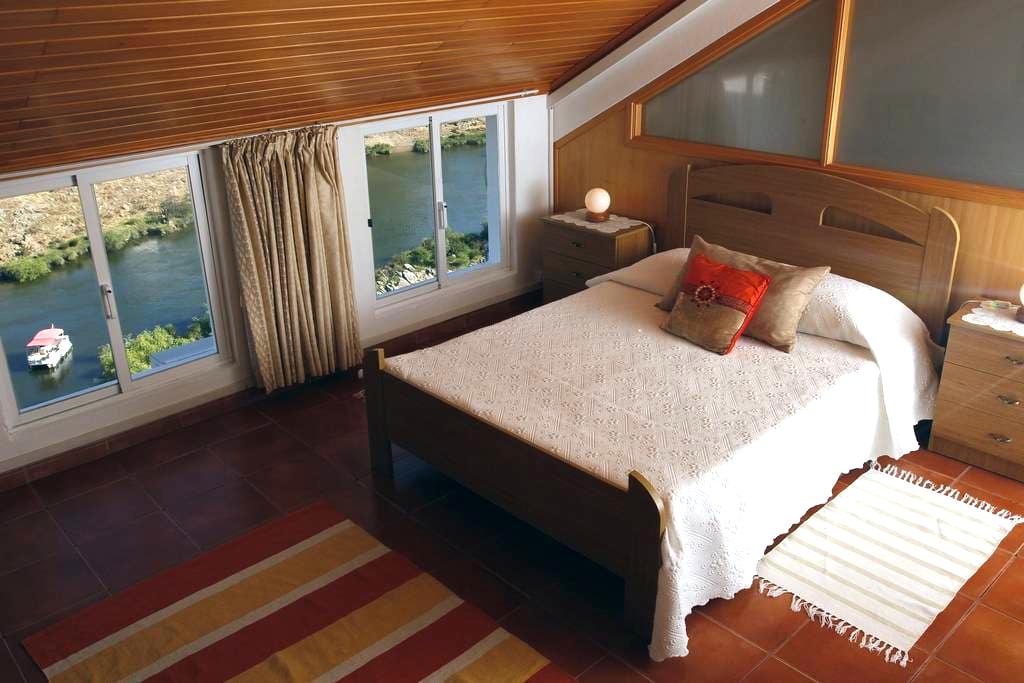 Typical house in Alentejo. Ideal for those who appreciate nature and for who need to rest or to take inspiration. Have neighbors. Ideal for hiking and Btt / Birdwatching. On the river you can fish, canoe, swim and boat trips.
Typical Alentejo house . Ideal for those who enjoy nature and the need to rest or for inspiration. Have neighbors. Ideal for hiking / mountain biking and bird watching. On the river you can go fishing , boating, swimming and boat routes.
Its must be said that the house was not easy to find as it is on the opposite side of the river to the main town but when we did it was a nice surprise. Real peasant style home renovate with just the right sensitivity to provide a proper local experience. OK there was air conditioning as the (necessary) luxury. The appliances are not new and in the case of the fridge could have been cleaner. But the price is very reasonable and we could have slept 5 in the two rooms we got. My message to the host is - don't change it, it has authentic charm.
Patrick
2015-09-03T00:00:00Z
Really nice house with an astonishing view over Mertola. 15 minutes walk to the village from Casa Amarela. Our host was helpful and his staff was very kind and social. Don't miss the breakfast (must be ordered in advance) at the restaurant that is located in the same house. They are also open for dinner/cocktails Wednesday - Sunday.
Johan
2016-07-07T00:00:00Z
The Casa da Tia Amalia is across the river from the village of Mertola with terrific views of the town especially at night from the adjacent restaurant. We ate in the restaurant both nights and also had the breakfast. Great food and very reasonable. Despite the closeness of the restaurant and bar there was no noise to disturb our sleep. We would definitely stay here again.
Richard
2016-10-15T00:00:00Z
Nice and pleasant place in beautiful settings.
Clement
2016-10-20T00:00:00Z
We had initially reserved Casa do Castelo, but the host changed our reservation on the day of arrival with no explanation. The house is located in a nice location across the river, and the hosts were lovely. The house itself is spacious and might be pleasant in the summer months, however it was very cold and damp for our stay in January and the heating didn't really seem to heat the room up at all. There was not enough gas for the stove, so we couldn't use the kitchen.
Kate
2017-01-09T00:00:00Z
We booked the Casa da tia Amalia but ended up staying in the Casa Amarela. Totally fine for us as both houses were next to each other, nice and had a good atmosphere. Everything was clean, bathroom was rather small but nicely decorated. Kitchen had everything we needed. We could have our own food and drinks there but also eat at the restaurant in the same building or get wine from there. Breakfast is available for 5€. Donna Maria was wonderful and helpful, gave us a map and showed us everything. The village itself offers a wonderful view over the river and to Mertola while walking there only takes 15min. We had a perfectly sunny day to enjoy Mertola. It was so picturesque, we would stay there again.
Sarah
2017-02-06T00:00:00Z
Apartamento Casa Amarela is a very charming place right by the river of Mertola. Hosts were very welcoming and shared with us some tips of restaurants, bars and what to visit around Mertola. We also had dinner at their place which is by far the best restaurant in town. Breakfast was also very good. We enjoyed our stay with them and I recommend this place to everyone.
Juliette
2015-06-28T00:00:00Z
The appartment is nice, and it is easy to park the car. It is located in front of Mertola, on the other side of the river. Outside the appartment, we have a great view on Mertola !
Mickael
2016-05-12T00:00:00Z
Room Type
Entire home/apt
---
Property Type
Apartment
---
Accommodates
5
---
Bedrooms
Mértola, Beja, Portugal
Apartamento totalmente equipado con aire acondicionado, aparcamiento privado y WiFi. Destacan sus impresionantes vistas a la Sierra de Aroche. Prioridad de alquiler para profesores y maestros durante el curso escolar. Precio/ mes: 250€
Respira aire puro en la Sierra de Aroche, rodeado de tranquilad a tan sólo dos minutos del centro del pueblo
Esta muy bien situada, rodeada de tranquilidad y naturaleza. Ademas el trato que nos dispensaron fue excelente. Volveremos.
DAVID
2016-08-14T00:00:00Z
Tuvimos una estancia muy agradable,Mari Carmen, nos tenía preparadas una bebidas frescas para la llegada y además un jarrón con plantas naturales. Dos detalles muy de agradecer. Ya tenemos un lugar de confianza en Aroche para cuando volvamos.
Pepa
2016-08-15T00:00:00Z
Mari Carmen es una magnífica anfitriona. Te hace sentir en casa desde que llegas a su coqueto apartamento, con unas vistas magníficas del precioso pueblo de Aroche, y todo lo necesario para pasar unos días. Una experiencia muy recomendable
Jesus
2016-08-16T00:00:00Z
Room Type
Entire home/apt
---
Property Type
Apartment
---
Accommodates
3
---
Bedrooms
Aroche, Andalucía, Spain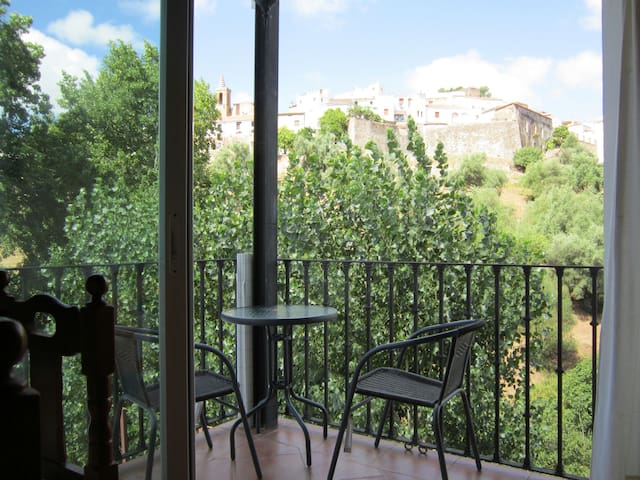 A minha casa fica na maior freguesia Rural do concelho de Évora, pero da gruta do escoural, cromelec dos almendres, anta do Zambujeiro. Há ligação de transporte público para évora, Beja, Lisboa. Perto da vila histórica onde pela 1.ªa vez, há 500 anos, se dividiu o mundo entre Portugal e Espanha. tenho internet 24h e TV por satélite. Gosto de receber e cozinhar para muita gente! Tal como todos os alentejanos!
Room Type
Habitación privada
---
Property Type
Apartment
---
Accommodates
1
---
Bedrooms
Beja, Beja, Portugal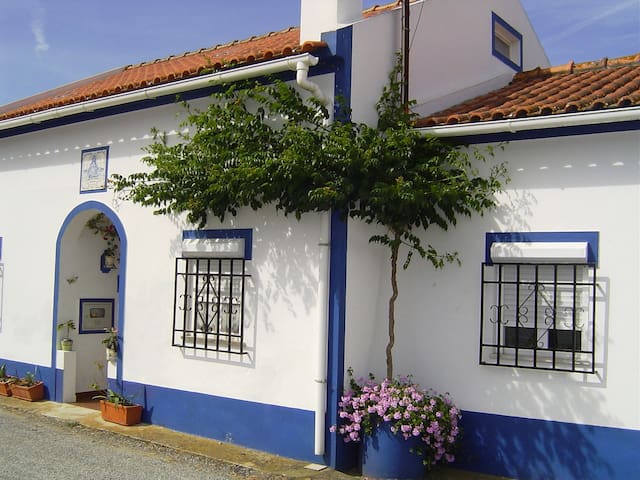 Private Studio for 2 persons in the center of Reguengos de Monaraz, with small kitchen, stoven, fridge, Micro wave, terrace can be used. Private WC with shower. Baby/Children/ Extra bed available. Sorry, no pets allowed. The Region: Close to our house you find a lot of excellent restaurants, Coffees, Bars, Discos, small Supermarkets, shops, banks, post office etc. The climate in this area of the Alentejo is very comfortable during all the year, dry and warm summers, equilibrate winter month with some rain and a lot of sun, fantastic spring and fall... Close to the historic castle of Monsaraz and the largest lake, the Alqueva dam, you have a perfect base to discover this region. The lands around the Alqueva lake offer unique sensations and opportunities to visitor, In a breathtaking way the "new" water is embedded in the landscape very naturally and offers an environment free of any pollution. For the tourist the visit of the small villages like Amieira, Alqueva and Estrela directly on the water is a wonderful destination, where a lot of activities can be done: boat trips, sailing, horse riding, swimming, fishing... Visitors wanting to enjoy archaeological and architectonic patrimony can visit Alandroal, Portel, Monsaraz, Juromenha and Terena.
Close to the main square, to restaurant, to the night life of Reguengos, but very calm
Great host and great flat. Very clean in calm village. However we must to have a car if you want to visit the Castelo de Monsaraz, there isnt any buses!
Alvine
2016-08-05T00:00:00Z
Pleasant hosts, helpful with any questions.
André
2012-10-01T00:00:00Z
Robert is super friendly. He even helpt us with our parking ticket and Gave us great tips on where to go. The appartment was even better than on the pictures. It had even a new kitchen! We would definetly recomment it!
Liza
2015-06-27T00:00:00Z
A good place to stay near from the beautiful village of Monsaranz. The studio is very clean and confortable. Al the equipment that You need in one only room: kitchen, plates, coffee, hi-fi, tv.... So complete! Thanks for everything Robert! It was a pleassure to meet You!
Míguel
2014-01-04T00:00:00Z
Very nice place, all we needed. Friendly hosts and in the heart of Reguengos.
Annie
2014-11-16T00:00:00Z
Robert and Sandra's studio is located right in the middle of the city, with easy access to restaurants, bars, etc… It is easy to park next by. The studio is independent from the rest of the house with all privacy, and has all what you need, including area where to cook, small terrace, and bathroom. It is very clean. The studio is actually quite nicer than showed on the pictures. Michel and Sandra are very nice hosts, they invited me to be with them at a local bar and restaurant where they were having dinner themselves with friends. Robert also gave me a lot of information and maps of the area regarding what to do, visit, etc… Monsaraz at 15 kilometers is a major attraction and very beautiful place to visit, and all the lake with the dam over the Guadiana river offers very nice sceneries.
Philippe
2016-10-14T00:00:00Z
Excelente espaço para o Verão.
Jesus
2016-12-31T00:00:00Z
A hospedagem na casa de Sandra e Robert, foi muito boa e tranquila, o local é super limpo, espaçoso e muito bem localizado. Diria até que o local "in loco" é melhor do que pode-se ver nas fotos.
Nara
2015-09-24T00:00:00Z
Room Type
Habitación privada
---
Property Type
Apartment
---
Accommodates
2
---
Bedrooms
Reguengos de Monsaraz, Évora, Portugal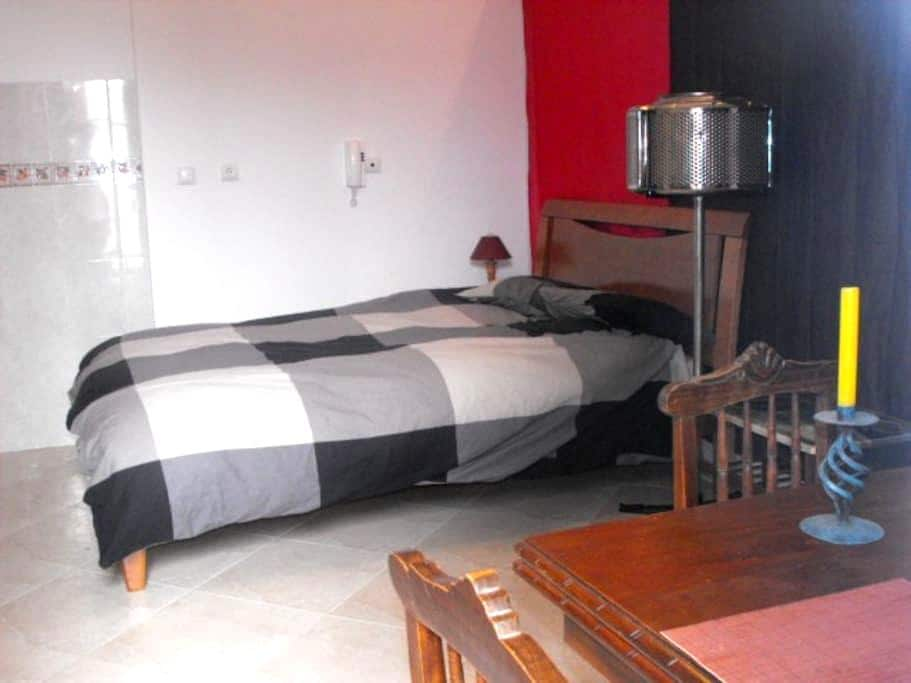 Near Moura. Simpático apartamento no 1º andar de uma casa com pátio e piscina. O apartamento é novo e tem 2 quartos de casal, uma casa de banho, cozinha e uma sala ampla com mesa de snooker.
Por desgracia no pudimos conocer a Ana Paula ya que tenia mucho trabajo, pero nos atendió su marido Edgar muy amable y atento. Hemos estado muy a gusto y no hemos tenido ningún problema.
Daniel
2015-06-29T00:00:00Z
Foi uma estadia muito agradável. A casa era muito acolhedora e a Ana Paula foi muito atenciosa e prestável. Sem dúvida uma experiência para repetir. Obrigada.
Leila
2016-08-20T00:00:00Z
Muy buenas sensaciones nos ha dejado Barrancos y su gente, todo amabilidad y bien hacer. Buena comida y buen tiempo garantizado. La casa, perfecta, con su patio y su piscina. Espectacular.
Luis
2016-08-04T00:00:00Z
Ana y su marido fueron muy atentos y amables y nos atendieron estupendamente. la piscina estupenda y el piso también, con la única salvedad de que no hay aire acondicionado y hacía muchiiiisimo calor.
Sheila
2016-08-13T00:00:00Z
Room Type
Entire home/apt
---
Property Type
Apartment
---
Accommodates
4
---
Bedrooms
Barrancos, Beja District, Portugal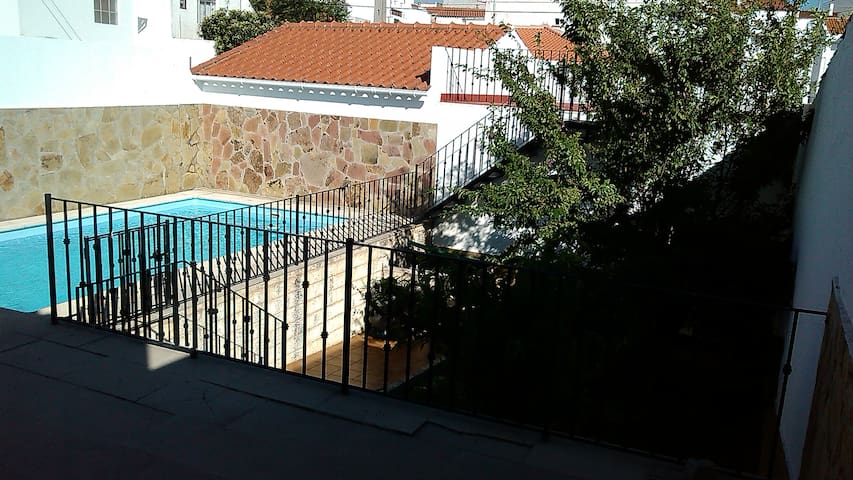 Pias - Airbnb
:
Average

4.45

out of

5

stars from

222

guest reviews