Casa acolhedora para casais ou famílias pequenas. Uma típica casa portuguesa num bairro típico de Lisboa.
Rita´s Appartement ist neu renoviert, sehr sauber und liebevoll ausgestattet. Sie selber konnte uns leider nicht begrüßen, hatte aber jemanden organisiert und wir haben sogar eine Kostprobe der berühmten Pastel de Nata zur Begrüßung erhalten! Das Appartement befindet sich etwa 25 Gehminuten nordwestlich von Lissabon´s Altstadt entfernt und der Weg zu Fuß lohnt sich! Dadurch kommt man durch typische alte Straßen und an den bekannten Pastellarias vorbei. Selbst die berühmte Linie 28 kreuzt den Weg, buchstäblich hautnah, auf jeden Fall ein Erlebnis. Rita war jederzeit erreichbar und die ganze Kommunikation lief sehr entspannt. Für einen Städtetrip und aufgrund des unschlagbaren Preis-Leistungsverhältnis, ist Rita´s Appartement in jedem Fall zu empfehlen!
Persephone
2017-03-24T00:00:00Z
Très bon accueil chez Rita par ses parents avec une gentille attention pour notre arrivée (de pasteis de nata spécialité locale) et qui ont pris le temps même si nous sommes arrivés tard. Nous n'avons pas vu Rita mais nous avons communiqué durant le séjour où elle me répondait très rapidement. L'appartement est spacieux pour un couple avec tous les elements nécessaires ainsi qu'une terrasse. Appartement avec metro à proximité surtout n'oubliez pas vos baskets! Merci pour cet accueil très chaleureux Rita Je recommande pour visiter Lisbonne si envi d'avoir un nid douillet où se poser le soir.
Barbara
2017-04-04T00:00:00Z
Room Type
Entire home/apt
---
Property Type
Apartment
---
Accommodates
4
---
Bedrooms
Lisboa, Lisboa, Portugal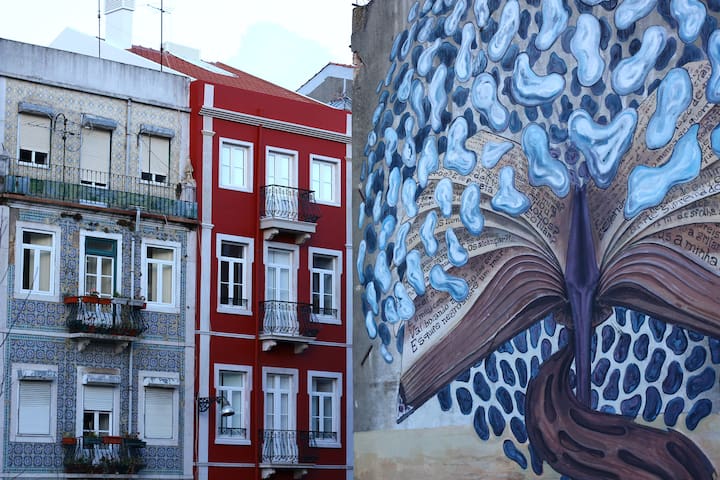 Studio with 50 square metres and outside terrace in downtown Lisbon. Nice residential area very close to the historical centre.
Studio (50 square metres) in downtown Lisbon for 2 guests, with an outside terrace.
Quite residential and central neighbuorhood in downtown Lisbon, the studio is 5 minutes away from the metro station.
Room Type
Entire home/apt
---
Property Type
Apartment
---
Accommodates
2
---
Bedrooms
Lisboa, Lisboa, Portugal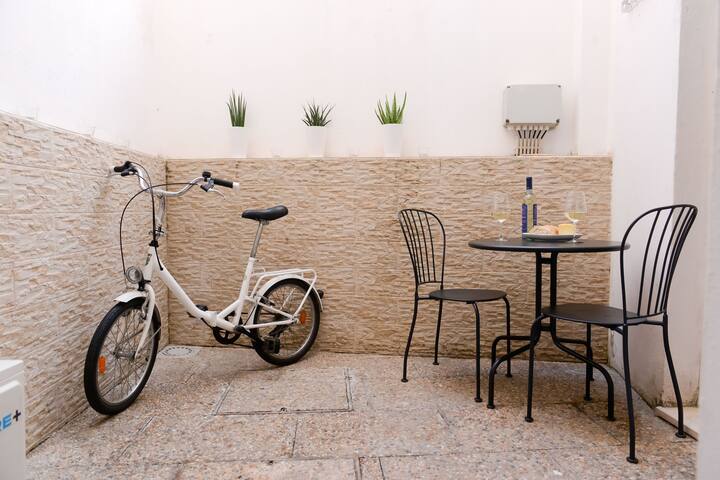 This lovely private double bedroom has a closet, a double bed, a table, a chair, a mirror and an electric heater or a fan in the summer. This is a shared apartment with a total of 4 bedrooms so you might share the house with other guests. With Grace House - 17666/AL
This is your private bedroom. The flat is just 15min away by walk from downtown. We provide you house and bedroom keys. The house has 4 bedrooms, 2 living rooms, 2 bathrooms, kitchen and balcony. We have maintained the architectural features of a typical Lisbon old home. This cozy house is near of 3 sight seeings and in a multicultural environment. Public transportation in the area such as: subway around 7min by walk, tram at the corner plus buses, very accessible.
The apartment is located in "Anjos" neighberhood (has subway), which is quiet and residential. There are traditional Portuguese cafes and restaurants all over the house and all type of stores, including 24hours stores. It is only 3 metro stations away from the city center and the nightlife areas beyond that like Bairro Alto and Cais do Sodré are less than 3Km away.
We really enjoyed our stay in Lisbon! Ana is super friendly and the apartment is perfect! Definitely a good place to stay!
Julia
2016-09-02T00:00:00Z
Flat clean and pleasant, the room was perfect for two. Very well situated and Ana was very nice and heapfull ! Thank you, we will talk about your place ;-)
LOUISE
2016-02-29T00:00:00Z
I enjoyed my stay at Ana's place. It was a great experience talking to her when checking in - she was very friendly, showed me around the flat and kindly provided me an extra blanket and heater because it was a bit cold in Lisbon when I arrived. The room was spacious for one person, the building has characters and period features, and the location was ideal: it's close to underground station and super markers; city center is just a few stops away. Thanks Ana!
Jill
2016-11-13T00:00:00Z
It was a Nice Stay at Ana's Apartment. Metro Stations are nearby, so it's a good Place to Discovery the City.
Sebastian
2017-03-24T00:00:00Z
Contact with Ana was very good, she provided all the information that you need to get there and to stay there. Room its quite small, but we were coming back there only to sleep. Beside that you have two living rooms and nice half-balcony when you can chillout in the evenings. Location it's quite convince, 15 minutes walking and you are in heart of the city. It's hard to find parking place for your car, but that's Lisbon :)
Rafał
2016-09-30T00:00:00Z
Easily found her place with the directions she gave, Ana was waiting in the house for my arrival. She was very helpful and settling in was very fast. Had a comfortable 2 nights here with good facilities, and hot showers. Also very close to 2 metro stations, which is very convenient! Would definitely recommend Ana's place to anyone visiting Lisbon.
Richard
2016-02-25T00:00:00Z
We were welcomed and shown around right away. Our hosts were very polite and we had a great time.
Rochana
2016-11-27T00:00:00Z
Ana's place is lovely, very characteristic and with a good vibe. Nicely decorated apartment, modern. Ana was very helpful and friendly. Recommendable
Maurice & Elena
2014-08-19T00:00:00Z
Room Type
Habitación privada
---
Property Type
Apartment
---
Accommodates
2
---
Bedrooms
Lisbon, Lisbon, Portugal
Spacious room (14 m2) located in Anjos, 7 min walk to Rossio, Marquês do Pombal and Alameda. 10 min away to vibrant nightlife areas of Intendente and Bairro Alto. Nearby one of Lisbon best kept secret "Miradouro" with an amazing view over the city.
Properly decorated and fully equipped charming flat in building from 1930.
PLACES CLOSE BY Miradouro de Monte Agudo – One of the best sight seeing places with an amazing view over the city. Padaria Saudade – Nice bread store with amazing homemade lemonade, cakes & pies just across the street. Brick Café – The Best Brunch in town in Rua de Moçambique 2. Also great for lunching everyday- Closed on Mondays. Fábrica do Gelado – Homemade Ice Cream in Rua do Forno do Tijolo 28. Closest supermarket: Minipreço, in Rua Forno do Tijolo, 75, on the second street left in direction to the subway station ANJOS. Open everyday from 10 am till 9pm.
Ana is very nice and kind, the apartment is great and in an interesting neighbourhood.
Francesco
2016-09-15T00:00:00Z
I loved staying in this place. The room was exactly like the pictures and the apartment also had a porch on the back where you could sit and eat a relaxing breakfast. When I first arrived Ana gave me many suggestions of what I must see while in Lisbon. Her advice was extremely helpful. There was some miscommunication about my departure time, but Ana was helpful throughout the process.
Jill
2016-09-14T00:00:00Z
Anna was a openminded & very symphatic person! We enjoyed our stay, the appartement was really nice. It was situated in the center, so no far ways. A lot of greetings to your baby, we hope Lucas already got better :)
Juliana&Kay
2015-08-16T00:00:00Z
It was a nice stay with Ana and there family. They've been very helpful. And our baby's liked each other, this was nice to see.
Lisi
2016-02-22T00:00:00Z
Ana is a really open and friendly person, she is very nice and interested for different cultures and opinions. was a pity that my stay in Lisboa was just for one day. i totally recommend Ana's house. is easy to find and good located.
Leonardo
2016-02-20T00:00:00Z
My boyfriend and I enjoyed our stay in Lisbon. Ana was a helpful and accommodating host and the apartment is in a great location.
Melanie
2017-03-25T00:00:00Z
Staying at Ana and Igor's was a pleasure. The home is well located, and very homey. The hosta provided a thorough guide upon booking. Ana was extremely welcoming and kind during my stay. Thank you!!
Elizabeth
2017-01-06T00:00:00Z
The private room is nice and as shown on the pictures. Please be aware that they don´t have a heater. The room was quite cool in december. I bought a second pair of sweat pants because I was freezing at night. During my stay the family was moving from one appartment to this apparment. Therefore the appartment was very messy. Unfortunately they didn´t tell me in advance. Besides they had a worker in their appartment for the first couple of days during my stay. You can hear almost everything through the walls - so bring your earplugs. I got some from the pharmacy. After I bought them my sleep was a lot better. If you need a kitchen to prepare your food, i would not recommend that place. During my stay (10 days) it was dirty and didn´t meet my cleanliness requirements. The apparment is close to a metro station, which is really nice. I guess it´s only 4 minutes to walk. The bus is also very near. I would not recommend that place if you would like to stay for more than two nights. I think it is okay if you stay only for one or two nights.
Vanessa
2016-12-08T00:00:00Z
Room Type
Habitación privada
---
Property Type
Other
---
Accommodates
2
---
Bedrooms
Lisboa, Lisboa, Portugal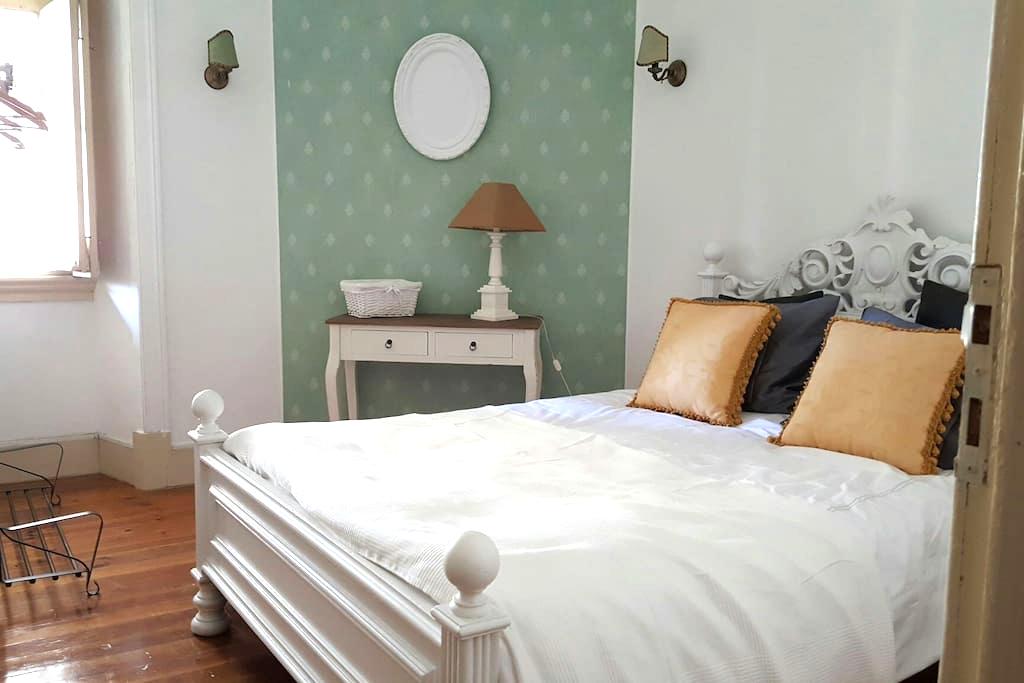 Bright & cozy apartment in Lisbon with all amenities and wi-fi. We believe you will find it comfortable. It has a bedroom with wardrobe; living room with a comfy sofa bed, TV and DVD; full equipped kitchen (fridge, toaster, microwave, stove, oven, coffee machine, dish washer, laundry washer, etc); bathroom with a tub. Free & reserved parking in the building. In the surroundings you can find restaurants, pharmacy, supermarkets and so on. You can easily access the City Centre.
Our place is good for couples, solo adventurers, and families (with kids) to discover and enjoy the beautiful city of Lisbon. The apartment is bright and cozy. We believe you will find it comfortable and pleasant. It's located in one of Lisbon neighborhoods' and you can easily (public transportation or car) access the City Centre. In the surroundings you can find restaurants, pharmacy, supermarkets and so on. The building has several lifts and we can assure you that the Tejo River view is magnificent.
Penha de França tops one of the seven Lisbon hills, perched 110 meters above sea level. Some of the best views of the city are available from this vantage point as one looks out over the city to the Northeast. Conversely, the Penha de França church's domes appear on Lisbon's horizon. As a lesser-known area, Penha de França's excellent location, good social facilities and a good public transportation network support quiet yet active lives.
Recommended apartment for when you are staying in Lisbon. It's closeby the old centre and Alfama. Joao was very kind to let us use the garage in the apartment building before our scheduled check in. So we could park our car early. He also gave us lots of tips for spending time in Lisbon and there is even more info in the house.
Stefan
2016-09-12T00:00:00Z
My wife and I had the pleasure of staying at João's apartment, Casa da Rio (River House). The apartment is fully equipped and catered to all our needs; the apartment also has a dedicated parking bay inside the complex, which was especially useful since we had arrived by car. Our stay at the apartment was great, João went out of his way to accommodate us and to make our stay most enjoyable. He had several helpful aids on what to do, what to see and how to get there. Would highly recommend.
Grant
2016-09-30T00:00:00Z
Joao is the best host we have ever met. Apartment looks exactly as on the pictures and is fully equipped. We loved our staying in Lisboa and Casa do Rio contributed much to it :). Highly recommended!
Bohdana
2016-11-10T00:00:00Z
I had a great time at Joao's River House. He was there to welcome me and show me how to access the building and get in/out of the parking garage. There were multiple handmade tourist books with ideas for day trips and things to see in the city and surrounding area. The kitchen had all I needed to cook and condiments on hand for breakfasts. The apartment is a bit of a walk from the main sights in the old part of Lisbon but is worth the stroll (or take a bus). Also the walls were not super soundproof so you could hear doors closing next door but nothing that kept me up. With that said, if you are looking for a place outside of the old part of Lisbon with underground parking and easy access to the airport then this your place!
Sandy
2016-10-10T00:00:00Z
Our family of three stayed at Casa di Rio for a week during our trip to Lisbon and the experience was excellent! Joao greeted us on our arrival and helped us with any information regarding the building, transportation and visiting the city. The apartment was clean, had good wi-fi, a washing machine and all kitchen amenities. It is in a quiet neighborhood with a bus stop just at the door and easy access to the metro. The beautiful bairro Alfama is just close by, with a Tram 28 stop. You can watch the sunrise over the river from the apartment window, it's a great way to start a Lisbon morning! Joao is a truly excellent host and I recommend the apartment to anyone visiting the city.
Anna
2016-10-08T00:00:00Z
Flawless
Armando
2016-07-21T00:00:00Z
I cannot imagine a better host than Joao! I was a bit scared as the add had no reviews but I decided to trust the photos and I could not make better choice! The apartment was absolutely brilliant, good position, new and very clean (and the view is pretty cool too). Joao and his partner are lovely people, kind and thoughtful. They gave me any kind of information I could possibly need on how to get to the flat and what to do in Lisbon. At the flat we found maps, suggestions on the greatest attractions of the city and surroundings, even bulbs in case a lamp broke! I am not too good in answering the phone (I often forget I even have one) but Joao was really patient and always helpful, and his english is A+. If I could give him 7 stars I would!! Thank you very much for making our stay in Lisbon so simple!! Wish you the best. C
Cinzia
2016-07-12T00:00:00Z
Great family, great guest. The location is in a very quite neighbourhood, not to far from the city centre. The house is perfect for 4 people, very clean and you find everything you need, is better than a hotel. Joan gave as all the details we needed to have the best holiday ever. The view from the window is the real one :). We won't hesitate to contact them every time we will come to Lisbon.
adina
2016-07-08T00:00:00Z
Room Type
Entire home/apt
---
Property Type
Apartment
---
Accommodates
4
---
Bedrooms
Lisboa, Lisboa, Portugal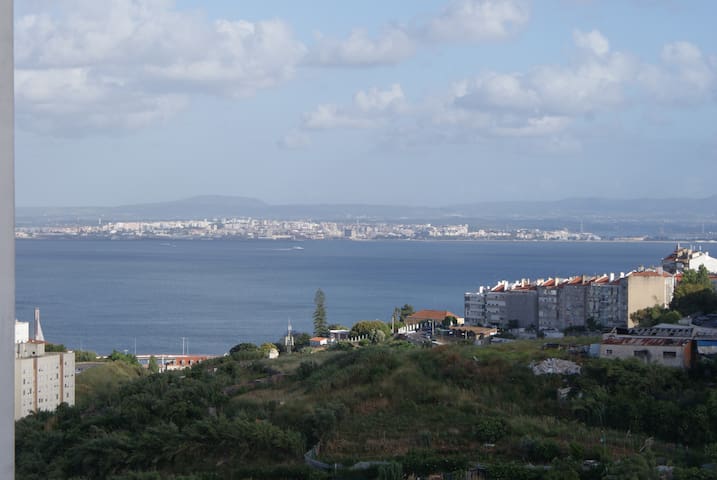 A bright double bed in the heart of Lisbon.
At our home we share two of our rooms. So sometimes you'll find moments of sharing with other guests.
With the tramway just a few steps away (28 career), Anjos is one of the old Lisbon typical neighbourhood. You can get, just in a few minutes walking, to Graça or Mouraria, to Alfama, Intendente Square or downtown. You're really in the heart of Lisbon.
What a great time we had in Lisbon, also thanks to our lovely hosts! The accomodation was perfect, good location and Rui and Lily were very pleasant and helpfull. When in Lisbon, we would definitaly go back there. Muito obrigado et merci beaucoup
Jochem
2016-07-25T00:00:00Z
Rui and Lily are a truly lovely couple. They treated us like friends from the moment we arrived, we were wonderfully looked after and felt very at home. They were very helpful with advising where we should spend our time in Lisbon, what we should do etc, and also with our taxi booking to the airport. We felt very grateful to be staying with Lisbon locals as their help was truly invaluable. We hope to stay in touch with them, it was great fun meeting them. As for the apartment itself, it is very nice and you are made to feel as if you can really make yourself at home and use all the amenities. The room was exactly as expected, very clean and nicely presented. It was very warm in the evenings (August weather!) but with the windows open throughout the apartment and the use of Rui and Lily's fan, we were able to keep relatively cool. One of us found the bed very uncomfortable, it is very hard, but that is a matter of personal preference - the other one of us found it perfectly comfortable. The rest of the apartment is lovely and the little garden is a great addition. We weren't aware there would be other guests coming and going in other rooms in the apartment throughout the week, but this didn't bother us too much. The location of the apartment is great, it's on the green metro line which is perfect if you want to spend time in the centre and go out in Barrio Alto in the evenings, as well as visit Cascais and Sintra, as the necessary metro stops are all within 5 stops on the green line. It would have been nice to be a little closer to the Barrio Alto/Alfama areas so that we could walk everywhere all the time, but you cannot fault the apartments convenience if you are happy to use the metro. Overall a really great stay and we really enjoyed spending time with Rui and Lily. We highly recommend staying here - thank you Rui and Lily!
Araminta
2016-08-14T00:00:00Z
Rui and Lily are great hosts, they are super friendly and will help you with everything you need to know about the city and how to travel around. Great apartment, confortable and clean with a very relaxed atmosphere. The apartament is quite close to metro station and the city center and main attractions are reachable even by foot
Alin
2016-10-23T00:00:00Z
We loved staying at Rui and Liky's. The room was cozy and clean, the appartment is big, comfortable and in a great location to discover Lisbon. We enjoyed the chats with Rui and Lily, who are very welcoming and fully available to make the most do your trip. Thanks!
Germán
2016-07-04T00:00:00Z
Rui&Lily´s place was exactly and even better than in the pictures. Very comfortable room, beautiful and well-located apartment (tram & metro close by if your feet need rest of all up & down walking in Lisbon :) Rui& Lily are also very easy to communicate with and very flexible, had my return flight at a strange time but I could keep the key for a little longer and stay until very late at their place even after checking out. Extra nice things were the cat and great music!
Viivi
2017-03-16T00:00:00Z
If you go to Lisbon you should stay at Lily's and Ruis Place! We've travelled a lot with airbnb so far but never had such nice hosts as Lily and Rui! They are very friendly, hospitable persons and gave us many insider tips for Lisbon! The location of their flat is very near to the city center, many "miradores" and sights but you can also take the tram or bus next to the house! The best thing: next to their house is a small bakery that sells those nice "pasteis de nata", you should try them, they're delicious!!!
Bernhard
2017-03-01T00:00:00Z
This was an experience of Lisbon life. Living in the old part of the city with public transport on the door step. There are lovely cafes and shops nearby. Rui and Lily are very welcoming and flexible people. I messed up the dates, my payments took time coming through...they were very patient and found alternative arrangements within their house. They helped us find our way around the city with all kinds of tips. They are musicians and their music is great!
Mary
2016-12-28T00:00:00Z
Rui and Lily were great host, very friendly and helpful
Mychelle
2017-02-25T00:00:00Z
Room Type
Habitación privada
---
Property Type
Apartment
---
Accommodates
2
---
Bedrooms
Lisboa, Lisboa, Portugal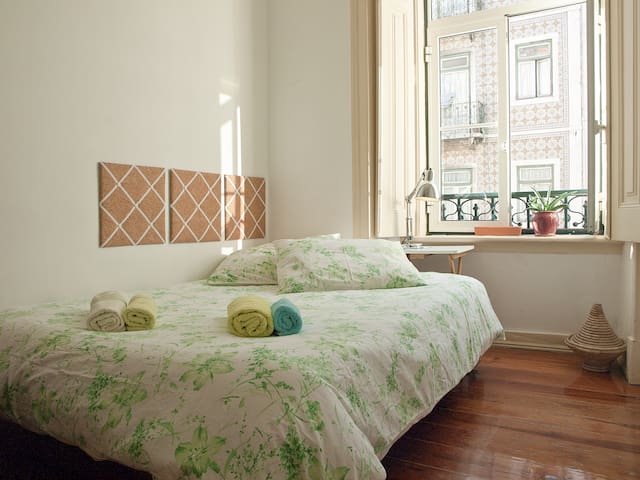 Great new apartment located near Graça neighborhood. We are 5 min walk from the famous tram 28 ; 10 min walk from the metro Anjos ; bus 735 stops in our street. At 10mn walk, the nearby "rua da Graça" leads to the two best city viewpoints and towards Castelo St Georges and Alfama, the oldest Lisbon areas. The room, with its own private bathroom, has two single beds, ideal for travelling alone, with a friend or as a couple.
Bus 735 will take you from our doorstep to the key Lisbon touristic areas (Feira da Ladra, Praca do Comercio, Rossio, Cais do Sodre, etc.). Tram 28 will take you to the heart of the old town centre. Transport from the airport is about 15 minutes by car or 30 minutes with public transport.
Monique and her husband welcomed us warmly and were full of great advice on what to do and where to go in Lisbon. We had a great time experiencing the Portuguese capital thanks to their tips. The room itself was very clean and spacious with its own private bathroom, exactly like the description. The location is amazing, right next to the Graca neighbourhood.
Benjamin
2017-03-16T00:00:00Z
Room Type
Habitación privada
---
Property Type
Apartment
---
Accommodates
2
---
Bedrooms
Lisboa, Lisboa, Portugal
Apartamento T0 Zona histórica a 1km do castelo. Estúdio com sofá cama muito confortável para 2 pessoas. Cozinha equipada. Aquecedor. A 50 metros do autocarro e 400 metros do metro. Vai querer voltar.
Maria's place is only 10-15 mins walk from the metro station which is quite convenient. Although my friend and I rented a car, the area of the Airbnb is quite close to the city centre and only 15-20 mins away by car. I will definitely recommend this place for those who would love to spend quality time in Lisbon over the weekend.
Chia Jung
2017-03-13T00:00:00Z
Lovely place & great value for money!
Francesca
2017-02-23T00:00:00Z
I certainly recommend staying at Maria's place. Everything is walkable distance and the flat's neighborhood is beautiful.
Alex
2017-02-16T00:00:00Z
The studio is nice, in a quiet district and not far from the city center. The thing that I appreciated most of all was Maria's and Nuno's disponibility. Our plane had a delay and we arrived very late (around one o'clock a.m.) and they were so nice and prompt to come to the apartment so late.
Cristina
2017-01-01T00:00:00Z
A minha estadia em casa de Maria foi otima!
Aurélie
2017-02-27T00:00:00Z
L'appartement de Maria est situé sur les hauteurs de Lisbonne; un peu excentré mais très calme, près d'une école. Tout est très propre et reposant quand on découvre Lisbonne à pied... Maria est très disponible par mail si on veut avoir des infos sur le quartier.
Annelyse
2017-03-03T00:00:00Z
L'appartement est conforme à l'annonce, bien situé proche du métro, resto et des magasins. Cependant il est un peu bruyant la nuit, le bruit de la porte d'entrée peu parfois déranger et on entend bien les gens aux alentours. Maria n'est pas contraignante, elle nous a attendu pour nous remettre les clés (avec des sardines, spécialité de la ville) et nous sommes parti quand on voulais. Nous avons bien profité de notre voyage. On recommande.
Fabrice
2017-03-18T00:00:00Z
Room Type
Entire home/apt
---
Property Type
Apartment
---
Accommodates
2
---
Bedrooms
Lisboa, Lisboa, Portugal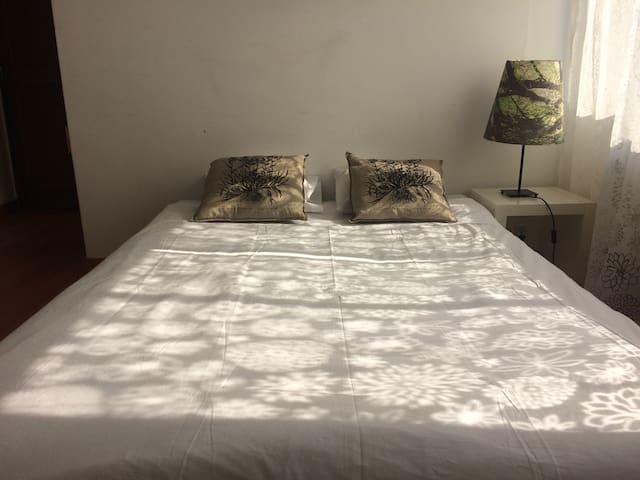 This friendly apartment is ideal for a couple with a child or two friends, but can sleep 4 people. It is situated in the district of Penha de França (close Graça) in one of the seven hills of Lisbon
This friendly apartment is ideal for a couple with a child or two friends, but can sleep 4 people. It is situated in the district of Penha de França (close Graça) in one of the seven hills of Lisbon. The apartment consists of a bedroom with 2 separate beds, which together turn into a double bed. The living room has a sofa bed that can sleep 2 people and a nice kitchen fully equipped. We thought in each detail, decorating the space with simplicity, tasteful, to provide a warm atmosphere
The Penha de França and Graça get on the hill of Santo André (one of the 7 hills of Lisbon). In this hill there is 3 viewpoints you shouldn't loose: the viewpoint of Monte Agudo (near the apartment with a nice terrace and view of the city) and the viewpoint of Nossa Senhora do Monte and da Graça (10 and 15 minute walk respectively and from where you can enjoy one of the most beautiful views of the city, river and castle). You have several options bus near the apartment. But if you prefer to take the subway and do not care to climb the hill, there is a metro station (Anjos) 10/15 minutes walking away. The famous 28 (old tram/electric and most popular between the tourists, which runs the city's historic district) is 800m from the apartment (10 minutes walking). In the neighborhood there is traditional shops, a supermarket 5 minutes, small "cafés" and pastries shop, restaurants and taverns with very economical meals. The district of Penha de França: Is one of the seven hills of the city and is integrated in all the Eastern Neighborhoods Lisbon. It is situated at 110 meters above sea level and is one of the viewpoint of the city. At the top of its crest stands the church, place where you get beautiful landscapes. It is an area with a great development from the late nineteenth century, but especially in the 30 to start being built various neighborhoods. The neighborhood of Graça: On this side of the hill you can see almost the whole city. With their viewpoint and their electrical (tram), Graça is a resting place for tourists and gives refuge to the traditions of Lisbon. As an important strategic area, they founded two convents of major proportions. It is a well-demarcated district for at least three centuries. Graça who grew up in the fifteenth century until the 1755 earthquake only survived the Augustin convent, situated in the Largo da Graça In the late nineteenth century formed other two, the Estrela D'Ouro and Chapel. Thus, the ruins of old palaces had given way to the typical villages inhabited, at its foundation, a working population. The view in Graça: - Viewpoint of Nossa Senhora do Monte; - Viewpoint of Graça; - Making the trip from old electric/tram 28; - Building at Rua da Senhora do Monte, 46, including the garden; - Palace of the Condes de Figueira; - Chapel of Nossa Senhora do Monte; - Convent of Mónicas; - Church and Convent of Graça and garden; - Building the Voz do Operário; - Church of São Vicente de Fora; - Church of Santa Engrácia or the National Pantheon; - Villages "workers": Berta and Estrela d'Ouro
We had an amazing stay! The apartment is in a quiet neighborhood, but pretty well connected. And she's also available to answer our questions.
Lei
2015-11-09T00:00:00Z
I think that this is one of the best apartment I've ever rented in my life. The bathroom is delicious. Very close to Graça.
Alessandro
2015-09-04T00:00:00Z
The apartment is cosy and comfortable, conveniently located and has all the necessary household appliances and kitchen utensils. Sonia is an exceptionally helpful and friendly host. We were welcomed most hospitably by Sonia's friend Teresa who gave some practical advice on the surrounding area and how to get tickets to the Lisbon derby. The apartment made our stay in Lisbon a never-to-be-forgotten experience, and we would definitely recommend it to those who want to explore the city and feel the unique Lisbon spirit.
Vladimir
2014-09-06T00:00:00Z
Just a great place! Would definitely recommend it to others. The apartment felt like a home to us.
Jorik
2015-09-14T00:00:00Z
Sonias apartment perfectly located. in 10minutes walk downhill you can reach the central plaza, the Rossio, but you can also walk down another of the different colourfull streets an disocover Lisbon in way no guidebook can offer to you. Downside is - who does not like walking hills might get tired quit quickly. The aprtemnt is neat, it had everything we needed, even warm extra blankets and a small heater (caus the apartment like in other warm countries does not have a central heating).
Karolina
2014-04-02T00:00:00Z
Sonia was a great host who was in contact with me before we arrived. She was always very prompt at responding to me. The apartment is really cute and very homely. The kitchen had everything you need to cook and there is a washing machine as well. It is located a bit out of the city centre, but about a 10 minute walk to a metro stop which goes straight into the centre. This was fine for us, but if you do not like walking then the hill back up to the house might not work for you. The apartment is also close to the 28 tram which is a cute old tram that goes through Alfama and all around the city - great for tourists wanting to see the whole city! The one down side was there was no air conditioning or fan, so it was quite hot some nights since the apartment is on the second floor of the building. I would definitely stay here again! It was modern and comfortable for the two of us, far enough out of the city so it was relaxing and quiet, but not too far that it was a hassle to get around.
Louisa
2016-07-15T00:00:00Z
Very nice apartment, we loved it a lot. Our stay was very comfortable. For the cold ones maybe one thing: in wintertime, this place may be a bit cold with only one little electric fire? Definitely a commended place!
Karen
2013-12-15T00:00:00Z
Sonia is very kind and her apartment is amazing! Nice distribution of the space. Lovely to open those windows and take a drink, easy to walk down to downtown and all the info she and her dear friend Teresa offered was useful. Thank you so much for your kindness Sonia! Obrigado! Hans
Hans Peter
2016-06-29T00:00:00Z
Room Type
Entire home/apt
---
Property Type
Apartment
---
Accommodates
4
---
Bedrooms
Lisbon, Lisbon, Portugal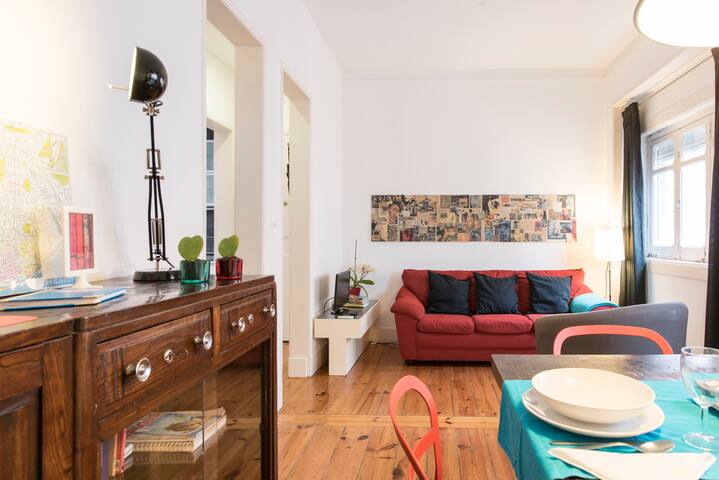 A bunk bed room for solo travelers or two friends with a balcony where you can feel the Lisbon breeze, take a breath with beautiful view and stay ready for the new day in you journey!
Hey! This is one of the three rooms we have at our home to receive guests, like you. They are private and lockable rooms, totally 'renewed and trendy decorated' with love by us. It's a top floor! (4th - no elevator) so make sure you can do it :) Our choice for this flat was to make it comfortable, stylish, promoting the well-being for our guests, as well as our own living. We basically have everything necessary for comfort and are always searching for solutions in order to improve the house in comfort and style. We have a balcony with a great view of Lisbon where we grow lot's of plants. Sometimes we have beautiful flowers! Also to the back side, in the kitchen, we have some urban wasteland full of dense vegetation witch gives an idea of 'wild' because of the birds that gather to gossip early morning. Enjoy! :) -------------- we can pick you at the airport or train station for 20€. Luis' TUK TUK DELICIOUS TOUR with discount for our guests!
Estamos entre duas estações da linha verde do metro e também poucos metros da paragem de eléctrico 28! Restaurantes e lojas são quase demasiado muitos ... Ao redor há um todo monte de Lisboa para ver. Estamos instalados bem no meio de 2 pontos de vista, e nós temos uma visão de nossa própria. Minutos você chega no coração dos dois bairros mais antigos de Alfama e Mouraria, onde a cidade é apreciado por seus cidadãos ao máximo através das várias tradições e celebrações. Também a uma distância a pé-capazes (15 min) você tem a mais famosa parte do centro (Rossio / Baixa-Chiado) com ele é grandes praças e atrações arquitetônicas. Um passo a mais e você chega a outro bairro alta dos juros chamado Bairro Alto, onde a população jovem sai maciçamente na rua durante a noite, aproveitando a alta concentração de locais de diversão nocturna.
Had a very good stay. Luis and isabela were very kind and provided all information and tips regarding what to see and do in lisbon. The house is also located very close to tram 28 line and also metro. Overall a very positive and pleasing stay. Thank you luis and isabela
Adarsh
2016-06-01T00:00:00Z
Luis and Isabella was a very kind host! They make you feel at home, their daughter is so cute, she never scream! She is so educated, but this think don't surprise us because is logical with these two beautiful and educated too. Their house is so comfortable and they gives you the towel, and you can use the kitchen and the living room and they is always at home or on line if you have any questions! Perfect!
Valentina
2015-11-19T00:00:00Z
My stay was great. Very nice place, quick communication, accommodated my last minute reservation. Would definitely stay there again. Great value.
Max
2015-07-04T00:00:00Z
The couple is very considerate and easy-going. They offer us lots suggestions on sightseeing and food. Their home is FULL OF pleasant surprise for example, a cute cat, and a angle-like little girl. Nice experience!
Sixue
2016-01-18T00:00:00Z
We really loved our stay at Luis and Isabela. Wonderful and helpfull hosts. The flat is marvelous. Great location, good conditions, you get everything you need, very clean and comfortable. The flat design is so cool, hosts are very creative. The view from balcony is charming on the quiet Lisbon street and on Lisbon itself. Tram 28, bus, metro stop is near. Historic center is in 15-20 minutes walk. Little Luisa added to our stay charm. And Simba the cat is very friendly. Thanks to Luis, Isabela. Luisa and Simba to wonderfull days we spent in Lisbon! Olga and Luda, Ukraine
Olha
2016-09-22T00:00:00Z
Luis and Isabela are both very nice and they will gave you all the informations you need (and more). I really enjoyed my days in Lisbon :)
Pauline
2016-03-02T00:00:00Z
we had a lovely stay at Luis's place, the room had a small balcony with an amazing view of Lisbon. the apartment was clean and had everything you need. the apartment is in a old neighborhood, the metro station is like 5 minutes away, city centre is also nearby and an amazing lookout of the Lisbon is also some 15 minutes of walking away. Luis was a great host and if there is anything you need he will help you.
Mihael
2014-07-08T00:00:00Z
Isabela and her family has truly made a house into a beautiful home. My stay was an amazing trip that I won't forget.
Sierra
2015-04-02T00:00:00Z
Room Type
Habitación privada
---
Property Type
Apartment
---
Accommodates
2
---
Bedrooms
Lisbon, Lisbon District, Portugal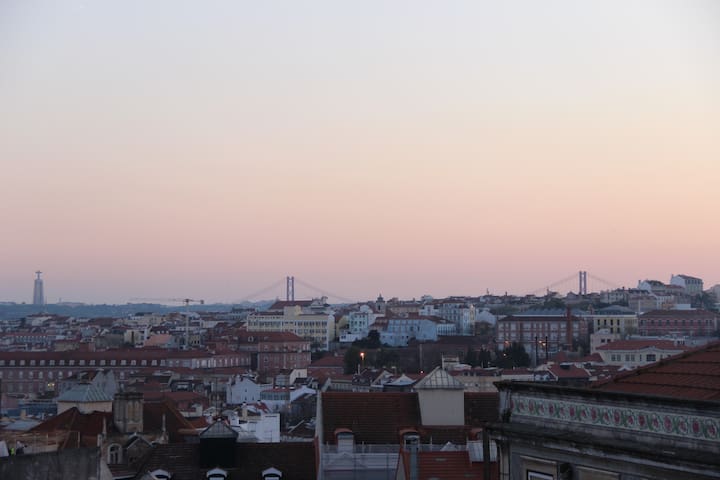 The apartment is located on one of Lisbon's 7 historic hills at Penha de França, a traditional and calm neighborhood. Cozy room, in spacious apartment, wooden floors, high ceilings, plenty of light and located 15 min walking from the famous 28 tram.
The apartment is on the 2nd floor (last floor) without elevator, but with a spacious staircase and plenty of natural light. The apartment is spacious, wooden floors, high ceilings, flooded with light all day, decorated with some unique vintage items which perfectly fits the historical building, with 4 bedrooms, 2 bathrooms, a fully equipped kitchen and corridor/entrance hall. Lovely, cozy and spacious bedroom for 2 people. The bedroom has a double bed and a large sunny window. CHOOSE LEGAL APARTMENTS! Take a Break -> Lisbon is a reputable, legally registered and recognized rental, fully registered at Turismo de Portugal, under the number 15394/AL and supervised by the local authorities, Camara Municipal de Lisboa and ASAE. This accreditation can be checked any time at Turismo de Portugal database. Of course, the best independent proof of our quality is the reviews from our previous guests, which you are invited to read in our page or when making a reservation.
I love my neighborhood. It's not touristy but it's quite traditional, calm and very safe. It has everything you need within walking distance, Cafes, Bakeries, Restaurants, Supermarkets (including two mini markets open until midnight on the street), Pharmacies, Post Office, Banks, ATM's, Police Station and a traditional market (Sapadores market, full of fresh Portuguese products). Take a break Lisbon is very close to the most typical and old neighborhoods of Lisbon. It's only 15 min walk from the elegant Graça, there you can take the unique yellow tram nº 28 and enjoy an historical route in a famous Lisbon vintage tram. It will take you to the best points of interest that you can't miss, such as: Feira da Ladra, Castelo de S.Jorge, Alfama, Mouraria, Martim Moniz, Biaxa/Chiado, Bairro Alto, and many other. Also, It's close to the charismatic Alfama, the old and unique area around the castle, where you can enjoy Fado and nightlife; It's also close to the Lisbon cathedral, riverside, downtown historic squares (Praça do Comércio, Rossio, Restauradores and Praça da Figueira) so you may opt to explore the city by walking through this wonderful neighborhoods, it will take you 1 hour to reach the center. I absolutely love the fact that one can walk everywhere or take a metro, bus, tram or cab to enjoy all the city has to offer and come home to a quiet environment where one can enjoy a good night sleep. This is impossible in other areas of the city which are crammed with night life.
We stayed three nights in one of the rooms at Agostinha's place. The apartment and the room were very nice and clean. We enjoyed the use of the well equipped kitchen and the good sleep due to the quiet neighbourhood. Grocery stores like Lidl or Pingo Doce are close by. It was nice to meet other travelers in the kitchen for a chat, and because there are two bathrooms, it's still enough space for everybody. Location: We already did everything by foot or took the Tram 28 (which is most of the time crowded). The price is very very good for the package you get at Agostinha's place. We would definitely recommend it :)
Sophie
2017-02-22T00:00:00Z
Agostinha was very nice and helpful. The room is the same as in the pictures. I would recommend.
Aneta
2017-02-13T00:00:00Z
very nice and calm neighbourhood, not many tourists on the streets. Beautiful appartment, equipped with everything you need. little shops, supermarkets and cafés near by. Very nice and friendly host.
L
2017-01-28T00:00:00Z
Amazing really clean and just what we needed. On a steep hill but worth the climb. The host is really friendly and would reccomend people to stay here.
James
2016-11-12T00:00:00Z
Agostinha is a fantastic host, very friendly, open and helpful. She's like a human version of (SENSITIVE CONTENTS HIDDEN) maps, so don't hesitate to ask her about places to visit. The place is located within walking distance of the metro, a great viewpoint and a supermarket. Also, a well taken care of place where you find everything you need :) Great experience overall and can totally recommend Agostinha and her place! Bogdan
Bogdan
2016-05-10T00:00:00Z
Agostinha was super friendly and careful host. Everything was prepared carefully to welcome me, from the thorough explanation of Lisbon map to the fresh home-made ice tea. It just made me feel like home. I got more than what I expected. And it feels so pleasant to stay in the neighbourhood. It is not so crowded but you will find whatever you need there. The location is convenient to travel where ever you want to. Everything was decent.
Kim
2015-12-08T00:00:00Z
I found that Agostinha was not a welcoming person. Smily but cold and requiring very obeying clients.
Marie
2017-03-01T00:00:00Z
I can see that Agostinha put a lot of effort into making her guests comfortable. And it paid off :) She was very informative and friendly when I arrived, she gave me a pack of information and a map and took time to tell me about the city. The apartment was comfortable and looked good. I'd go back.
Sheena
2016-01-29T00:00:00Z
Room Type
Habitación privada
---
Property Type
Apartment
---
Accommodates
2
---
Bedrooms
Lisboa, Lisboa, Portugal
Comfortable double bedroom with private entrance in an oldie but nice big apartment in the city centre, close to everywhere, 3 minutes walking distance to (Anjos Metro Station), 15 min walking to Baixa Pombalina (Down Town), historical Alfama and so on. You can enjoy your morning coffee or a sunset drink in the Miradouro Monte Agudo 1 min away from home. Near all sorts of shops, the renewed Intendente Square and the Mercado de Fusão in Martim Moniz.
We loved our stay with Sara and Francesco so much that we are going back for more. We felt relaxed and so much "at home". It was clean and beautifully decorated, easy to share the bathroom and kitchen, fun playing with their delightful dog, nice conversation, advice and help when we needed it. Location excellent for nearby shops and food and metro.
Lauchlan
2016-10-15T00:00:00Z
We had a very good time in Lisbon, and found the stay with Sara and Francesco like being with members of our family. All felt natural and spontaneous. Their house is lovely and super clean, the room was good value for money. The area is up and coming and developing quickly. Sara provided us with several tips which were tailored on our budget. We recommend this lovely experience into Portuguese life to whom is interested in simple, sincere and caring time. Sammy and Pri
priscilla
2016-10-23T00:00:00Z
A great apartment with a cozy room. Conveniently located. Only met Francesco — a very nice guy who gave me great restaurant suggestions.
Josh
2016-10-12T00:00:00Z
Lovely apartment and lovely room, neighbors can be a little noisy in the stairwell at times, otherwise quiet. Easy location to access Lisboa by metro. Didn't meet Sarah on our trip, Francesco was a very nice host.
Sarah
2016-10-08T00:00:00Z
We enjoyed our stay very much. We felt very welcome when we arrived and got many information about what to do and where to eat. The metro station is just a few minutes from the house by feet it is quite a walk to the town centre. I enjoyed my chattings with Sara in the kitchen, they both a a lovely couple. The flat provided all we needed. And there is this nice viewpoint just five minutes from the house we really spend hours there.
Margarete
2016-09-06T00:00:00Z
Sara and Francesco are very friendly. We had a great time with them. Thanks to them we discovered nice places in Lisbon. Their appartment and the room are very comfortable. We greatly recommend their home. We hope to see them again soon.
Amandine & Nicolas
2016-09-02T00:00:00Z
Great experience staying here: they are lovely hosts, very friendly and easy to chat with, they also made arriving and leaving very easy and the room itself was great. Also their flat is in a nice location to walk around, with easy access from the metro.
Anne et Robert
2016-09-07T00:00:00Z
Sara and Francesco were great hosts. The apartment is lovely, well located and the room is great. Sara and Francesco gave us great advices about places to visit and restaurant (excellent restaurants!!) to go to. We were so sad to leave so early. Thanks for making our stay such a nice moment. Flora and Sidney
Sidney
2016-08-21T00:00:00Z
Room Type
Habitación privada
---
Property Type
Apartment
---
Accommodates
2
---
Bedrooms
Lisboa, Lisboa, Portugal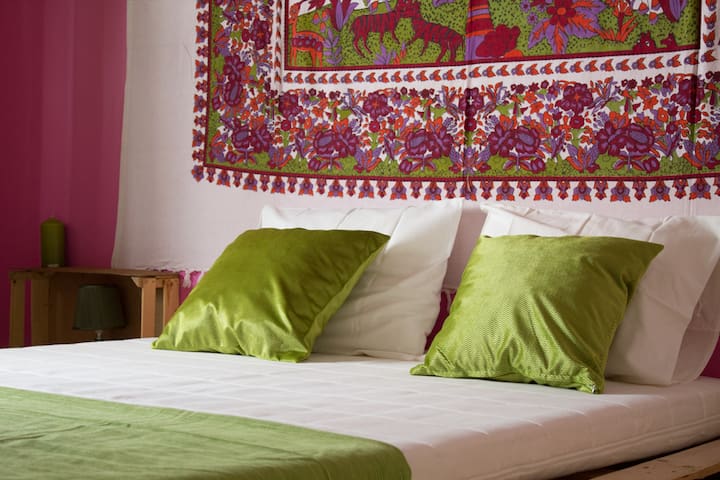 This 2 bedroom spacious apartment as just been refurbished and is located in one of the few neighborhoods that are still authentic in the city. The famous yellow Tram 28 is 150 meters away and downtown is less then 30 minutes by foot. This is the oldest hill of Lisbon with the best viewpoints, miradouros as we call them, the Castle (castelo de Sao Jorge), Feira da Ladra and the traditional Bairro de Alfama. There are many supermarkets around as well as the local market.
This 2 bedroom apartment both with double beds (140cm and 160cm) as just been refurbished. There is a large living room with an open view over the hill with a small view of the river. Because of the apartments orientation the light is amazing and the temperature as well.
This is still of the few authentic neighborhoods of Lisbon. The majority of residents are local and you'll get the genuine interactions with them. There is a local market at the end of the street but if you prefer there are 3 good supermarkets very close as well. If you are coming in June be prepared for the one of the best parties you'll ever see inside a city center!
Claudia was very helpful and informative and made us feel welcomed and she gave a lot of information regarding the city and bus information to and from the city. The apartment was conviniently located and the bus to get to the city was right outside so just one bus and a few stops we were at the city center in no time same goes for the bus back to the room. We really enjoyed our stay.
Suhas
2016-12-04T00:00:00Z
exactly as described, very spacious and Joao made sure we had everything for our stay, very clean apartment :)
Abigail
2016-11-01T00:00:00Z
The flat was lovely - very clean, light and lots of room. The shower, wifi and general amenities all worked superbly. The flat was located a 30min walk from the town centre which was a nice walk to make.
Bruno
2017-02-27T00:00:00Z
We had the most pleasurable experience of staying at Claudia ad Joao's apartment. Claudia welcomed us into the apartment and provided all the useful information on public transport, must-see in Lisbon. The information was well organized and available in a folder in the living room. The house was simple and beautiful. The best part of the house was the balcony in the bedroom. Quiet and peaceful. Almost felt like staying at home.
Sai Prasad
2017-04-02T00:00:00Z
The apartment was perfect for what we needed, very close to public transport. 735 Bus stops right outside the apartment, and the 28 Tram was just down the road. The hosts were attentive and helpful, we had such a great trip! Thanks to Claudia & Joao!
Glenn
2017-03-13T00:00:00Z
Very clean and cosy place.
Simon
2016-11-11T00:00:00Z
Really nice people, very nice place! The appartment has been renovated only recently and is very close to the center. Everything is in walking distance. The building is a bit run - down and was a shock at first, but wasn't a problem after moving into the apartment. Would definitely come here again!
Amin
2016-05-24T00:00:00Z
Everything was great! We had a nice time at Joãos and Cláudias apartment :)
Christin
2016-10-28T00:00:00Z
Room Type
Entire home/apt
---
Property Type
Apartment
---
Accommodates
4
---
Bedrooms
Lisboa, Lisboa, Portugal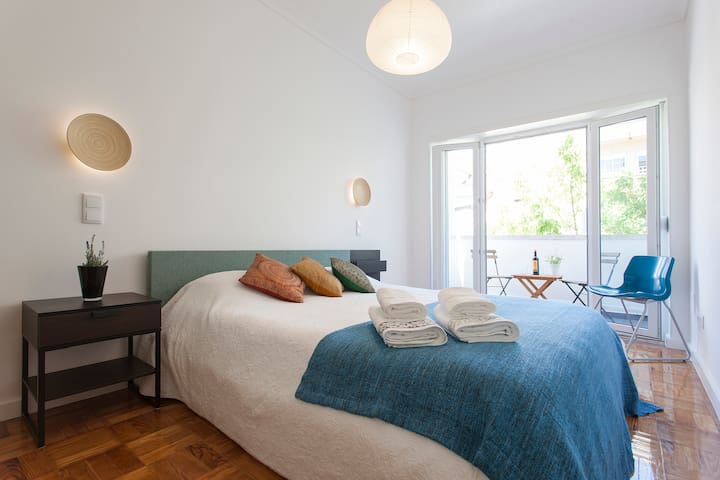 My apartment is near the Flea Market, Largo da Graça, Electrical 28 (2 minutes), traditional Fresh market Sappers, Alfama, restaurants and supermarkets. You will enjoy staying because the lighting, ceilings altoa comfortable bed, the decor and the garden were created for me to live surrounded by good energy, now I can partilh them. It is good for couples, solo adventures, business travelers and couples (with 1 child). I was very happy here for 8 years, now share
The host canceled this reservation 16 days before arrival. This is an automated posting.
Guillaume
2017-01-02T00:00:00Z
Joana was a fantastic host. Very helpful.
Francisco
2017-01-06T00:00:00Z
Patricia's house is lovely and quiet. We enjoyed coming bac k to the house after a long day of sightseeing. Joanna, Patricia's friend, welcomed us and gave us many tips of restaurants, and places to visit. She was also readily available by (SENSITIVE CONTENTS HIDDEN). The neighborhood was conveniently located, relatively close to Palacio San Jorge, Alfama, and the center. The best thing was that TRAM 28 runs half a block from the flat! Thank you. We'll be back next year. Hasta pronto!
Elvira
2016-11-14T00:00:00Z
Really nice apartment!We were staying for a week and it was the perfect spot for us. The flat is comfortably equipped, has all what's needed, near to city center and close to historic Alfama.Joana who was help host was really helpful.I would highly recommend this fantastic, very spacious and comfortable apartment.
tomasz
2016-10-25T00:00:00Z
El apartamento es espectacular, muy bien cuidado, nos recibió una amiga de patricia, Joana, muy agradable, quien intento en todo momento que estuviéramos a gusto y se ofreció a darnos toda tipo de informacion que necesitaramos. Os lo recomendamos!
Laura
2016-11-17T00:00:00Z
Aluguei este espaço para meus pais, eles amaram. A Maria Joana foi super atenciosa, prestativa e muito amável com eles. Respondeu a todas as nossas perguntas, tanto antes como durante a estadia. O apartamento é lindo, bem espaçoso, equipado e está localizado em um ótimo lugar. Eles amaram e certamente recomendam este lugar!
Aline
2016-11-10T00:00:00Z
Apartamento muito fixe e com espaço num bairro típico de Lisboa.
Clemence
2016-10-29T00:00:00Z
El piso es estupendo, amplio, limpio, acogedor y con todo lo necesario. Joana se portó estupendamente explicándonos todo lo necesario de esta fantástica casa y sus alrededores. El centro se encuentra a unos 5-10 minutos andando. Sin duda, si vuelvo a Lisboa algún día, regresaré a este lugar.
Sergio
2016-11-27T00:00:00Z
Room Type
Entire home/apt
---
Property Type
Apartment
---
Accommodates
3
---
Bedrooms
Lisbon, Lisbon, Portugal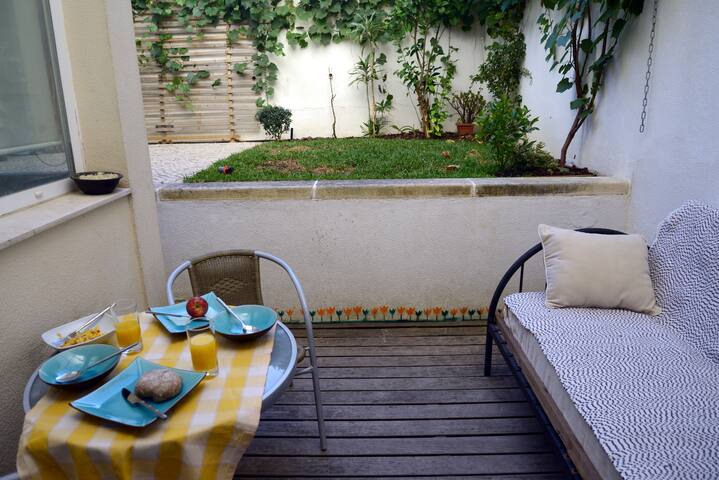 The house is located in a quiet street of a typical neighbourhood, a few steps away of the most vibrant places inLisbon!Walking distance to some of the most beautiful sights of the city. 5 min way from the metro(Anjos) and 5 min away From the famous 28 tram
Very confortable and bright 2 bedroom apartment, set in a recently refurbished building full of Lisbon's character! The flat is equipped with all the facilities for you to relax after enjoying a day discovering Lisbon. There is a master room with a big and super comfy king size bed, and a second room with a super comfy double bed. The street is very quite so you can have very a good sleep after a busy day What makes this place so special is the large and comfortable living space with a lovely and long balcony that connects the kitchen and the living room, with sun exposure from morning to evening!
The best neighborhood of Lisbon! Very typical neighbourhood. You will enjoy lisbon like a local! The flat is in a perfect location, is exactly in the middle, between the downtown and the historical/ old part of the city , so you can actually walk everywhere!
Ricardo and Helena are very kind hosts! It was a cosy stay for us, unfortunately only for 1 night! But next time we will stay for longer if we can... The welcome by Ricardo was very friendly and we had an uncomplicated key handover. The flat is just like the description: - absolutely quiet and safe neighborhood - very clean, stylish and enough space for 2-4 persons - big and comfortable beds - wlan - central location and many hotspots just around the corner - very good infrastructure like supermarkets and the historic cable car line 28 Greetings from Munich Jana, Patrick y Amélie
Patrick
2016-04-29T00:00:00Z
Helena and Ricardo were the best hosts ever! Ricardo waited us in the apartment when we arrived and gave us very useful tips about where to go and what to see in the city! They were always available if we needed anything. The flat is 10 minutes walk from the metro and 5 minutes from tram 28. Also close to the city center on foot if you prefer walking. The flat is equipped with everything, it was extremely clean and neat, very modern and it felt like being home. We recommend it to everyone! Ricardo, thank you for the suitcases!:)
Dora
2015-10-24T00:00:00Z
The apartment was amazing! Good location, spacious, easy access to city center and to supermarkets. Ricardo helped us when we arrived, explained everything and was very helpful. We really enjoyed the apartment and had nice breakfasts at the balcony. Really recommend this apartment! :)
Kari
2015-08-21T00:00:00Z
The appartment is one of the best airbnbs we have stayed in clean and modern. A lovely relaxing base after a long day site seeing. We were met by Natalie who was friendly and very helpful. Highly recommend .
Karen
2016-09-25T00:00:00Z
The host canceled this reservation 38 days before arrival. This is an automated posting.
Maryam
2016-11-17T00:00:00Z
Helena was away from home but her delightful sister Paula welcomed us and was on hand to deal with any problem and with recommendations for restaurants etc. - she also helped carry our cases upstairs! The apartment is large and airy with a balcony, and very quiet. Everything was modern very clean and comfortable - wifi was efficient and speedy. Although we chose not to cook, the kitchen was very well equipped should we have wanted to. We found the neighbourhood safe, convenient (tram 28 stops just down the road) with a variety of restaurants, cafes and fruit and veg shops plus a supermarket within a few minutes walk. I used the local hairdresser (a choice of two locally) for a quick blow dry! It was very easy to catch a bus into the centre of Lisbon. We had a lovely stay.l
Frank and Janette
2016-09-22T00:00:00Z
We stayed 5 nights at Helena's apartment and it had everything that we needed for our city break. Spacious with two large bedrooms, airy and light and loved the quiet balcony for an evening glass of wine. Wifi, great shower, hairdryer and lovely modern furnishings. There was some early morning noise from building works in the apartment across the street which you noticed with the bedroom windows open, but this was through no fault of Helenas. Very easy to get to on the Metro from the airport and we found everywhere walkable distance from the apartment. We were met by her friend Ricardo who was very helpful and his recommendation of a day trip to Sintra was the highlight of our holiday. We did not need to really contact Ricardo over our stay as had no issues with the apartment, but it was nice to know he was avaliable if needed and Helena was very fast with her response to any messages. Would stay here again on a return to Lisbon.
Lisa
2015-07-18T00:00:00Z
Beautiful, clean well located apartment. We loved staying in this area as you get to walk past all the main sights and past many fantastic viewpoints to get to the seafront. You wouldn't experience these if you stayed more 'central'. We had a Fantastic stay at this beautiful - clean newly refurbished apartment .... Enjoy your morning coffee on a sun facing balcony and coming back to the sunshine yellow facade of this typical Portuguese home. Pictures on the listing don't do this apartment justice, it's very spacious. Hosts were friendly - informative and available 24/7 for any requests. I would highly recommend you stay here.
Angela
2015-11-23T00:00:00Z
Room Type
Entire home/apt
---
Property Type
Apartment
---
Accommodates
4
---
Bedrooms
Lisboa, Lisboa, Portugal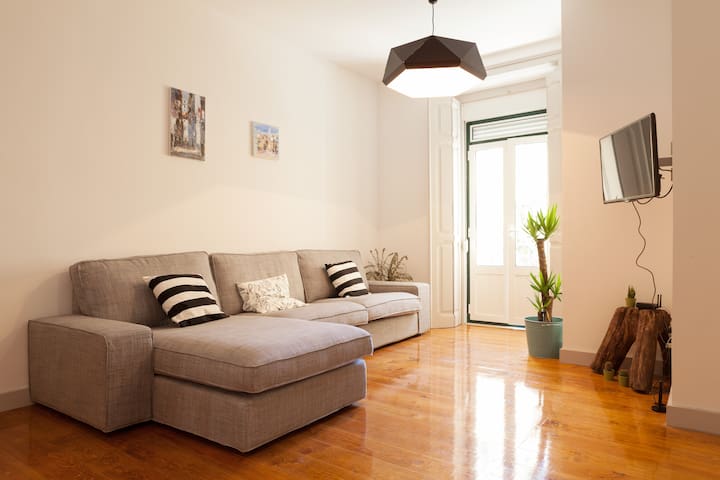 Private room with natural light in an apartment with outdoor garden, located in the heart of the city, with excellent access, 2 minute walking to transports, coffeeshops and grocery stores. Guide and tips for an alternative and less touristy experience in Lisbon!
The room has natural light and is airy. The house is clean and large, equipped kitchen, wi-fi access and has a beautiful natural light coming from the outside garden (at this time still under renovations). It has two bathrooms, one with a shower.
The apartment is located in the Anjos (metro-green line) 2 minutes walk from the Metro, Tram 28 and Buses, with several grocery stores, typical pastries and coffee shops on the street. It is located near historical areas of Lisbon such as Castelo, Alfama, Intendente, Martim Moniz, Baixa Chiado and Cais do Sodré, making the whole trip on foot.
Modern apartment in a good location, nice room, would recommended !!
Phyllis
2017-02-22T00:00:00Z
Surrounding - residential , cafe& bakery Apt - less is more , fresh air Room - for two , theres a window Bathroom - clean , peach aroma Kitchen - open , well equipped i would definitely recommend this airbnb !! ! Thank you.
tracy
2017-03-30T00:00:00Z
All in all, Marie is a great host and a wonderful person. Her place is a gem.
Teyeb
2017-01-30T00:00:00Z
Marie's place is just lovely, spacious and extremely clean! Only a couple stops from the centre of Lisboa and less than 40 mins away on the metro from the airport. Marie was wonderful and always fast in communicating us, defintely recommend her and her lovely flat!
Bijou
2017-03-06T00:00:00Z
Very clean flat, in a nice area very close to public transport and walkable from the city centre. In winter it is a little cold and dark (I'm sure in the summer heat it's fantastic!) but other than that is a good place to stay, especially on a budget.
Grace
2017-01-20T00:00:00Z
Marie's apartment is beautiful, clean and very well located. Anjos is a fun neighborhood (TRY BRICK CAFE!!) and close to public transportation and the centre. Ideal for a city trip and even a longer holiday-- the apartment is spacious and the wifi fast. Would definitely come back here next time.
Roos
2017-01-04T00:00:00Z
it was a nice trip. Marie is super cute, friendly and helpful. the flat is clean and cozy. the only one important minus is that it was too cold in the flat (maybe cos it's February but anyway..)
Inna
2017-02-12T00:00:00Z
The host canceled this reservation 8 days before arrival. This is an automated posting.
Quitterie
2017-03-25T00:00:00Z
Room Type
Habitación privada
---
Property Type
Apartment
---
Accommodates
2
---
Bedrooms
Lisboa, Lisboa, Portugal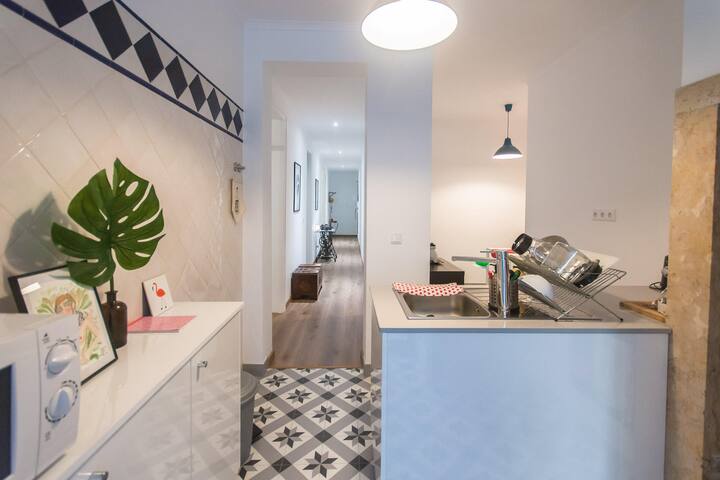 Original family house, refurbished with vintage furniture and keeping with the look and feel that the apartment had originally. A true traditional Lisbon apartment.
There is 1 bedroom with a couples bed. On the living room there is a sofa bed that can sleep 2 persons. There is a dining room with a dinning table and chairs. The kitchen as all the necessary basics and you should be able to cook your meals at the apartment. Fresh bed linen and towels are provided. The apartment also has wifi and a television. Please note that the house is located on the 4th floor and the building does not have a lift.
Room Type
Entire home/apt
---
Property Type
Apartment
---
Accommodates
4
---
Bedrooms
Lisboa, Lisboa, Portugal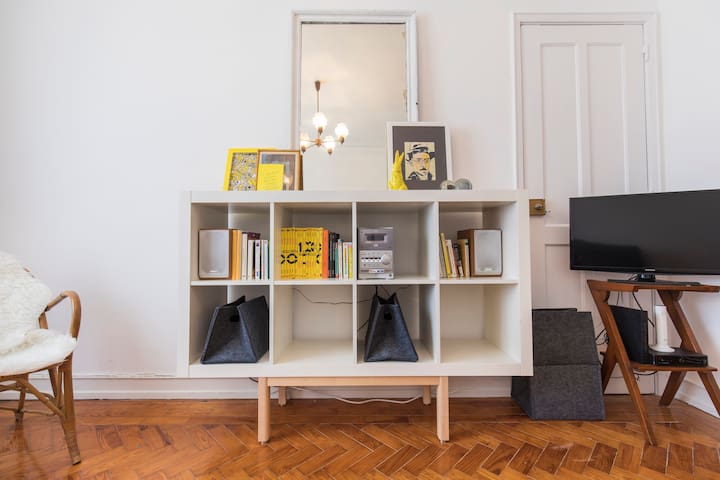 we are at Graça in front of the most famoust viewpoint Senhora do Monte. Cannot have better location! Recheck the adress: Calçada do Monte!
The apartment is located on one of Lisbon's 7 historic hills at Graça a traditional and calm neighborhood Graça is the "mother "of historical tram 28 and full o great viewpoints Relaxed atmosphere, the most beautiful viewpoint over the city nearby in 1 minute!!!Welcome!
Ordinary flat, good location (on the top of a hill, near nice viewpoint), Sardinhas is a kind host, had no problems during my stay.
Petr
2017-03-19T00:00:00Z
Súper recomended! Ana is a really nice person and the location of the apartment is great for eating local food and for viewing the whole city. I had a really good time in Lisboa.
Martín
2016-12-15T00:00:00Z
A nice and cosy room, fanstastic localisation with great views and a friendly host :) I really enjoyed my stay.
Bartosz
2017-03-06T00:00:00Z
I had a relaxed and well organized stay at Sardinhas house. She is attentive and wants to make your stay as pleasent as possible (pick up from the airport, show around the area, suggestions what to visit in Lisboa, a clean room, ..). I had a great evening with Mike (her roommate) who showed me some nightlife of Lisboa. If you want to party, he guides you well! All in all a very pleasent stay with the hosts and still enough free space to do my own thing. Recommended.
Kamil
2016-12-12T00:00:00Z
Ana is a great host - practical and down to earth, with good taste and useful tips. Her place in Graça, close to the centre on the highest hill in Lisbon, is well worth the slog as the neighbourhood is pretty and historic yet calmly residential with some wonderful bakeries. Oh and round the corner is the best view of and in town!!
Mark
2017-01-01T00:00:00Z
Ana's place was good. It had everything you needed for a good stay and Ana was also friendly. The view was great, but keep in mind that if you plan on walking to her place there is a very big hill you need to walk up, so it might be worth it to take a taxi if you have a lot of bags or are really tired.
Jacob
2017-04-04T00:00:00Z
Beautiful, cozy and homely!
Marco
2017-02-14T00:00:00Z
You get what you pay for.
Frank
2016-11-30T00:00:00Z
Room Type
Habitación privada
---
Property Type
Apartment
---
Accommodates
1
---
Bedrooms
Lisboa, Lisboa, Portugal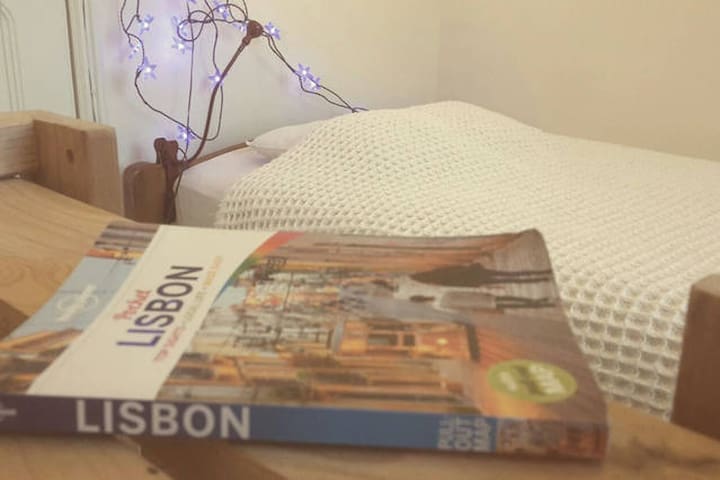 Enter dates to see full pricing. Additional fees apply. Taxes may be added.