Come enjoy this 1 bedroom, 1 bath home walking distance to beautiful downtown Paso Robles where you can choose to indulge in fine wines and elegant dining or belly up to the bar at the local saloon. The bedroom has a queen size bed with a top end mattress topper, very comfortable. The living room has a convert-couch-bed that is slightly smaller than a full when opened up that is perfect for 1 adult, two children or two adults that like to snuggle. My place is only large enough for 4 people
I do live here, but I only rent when I am out of town. So you will have my home all to yourself. Whatever speaks to your heart, you'll find it here in San Luis Obispo County. Hike, surf, or mountain bike in the morning, wine taste in the afternoon, and spend the evening dining on fine cuisine. "SLO" is home to artists of every medium and weekends are a great time to catch some local musicians!
Walking distance to downtown Paso Robles. Great for walking to fabulous restaurants, evenening dancing at D'Ambinos, the Pour House, and Pine Street Saloon and wineries. No worries of needing to drive.
The listing description was accurate and the host was very accommodating. Check in and check out times were flexible and she even left me a little treat for my birthday!
Julia
2015-09-07T00:00:00Z
Mindy's place was exactly as described, cute and perfect. We send the booking request to the last moment and Mindy answer very quickly. Despite late arrival, we enjoy sitting on the porch with beverage that wanna girl request. All Mindy's touch are really pleasant ! Thanks for your hospitality !!
Florent
2015-09-29T00:00:00Z
Mindy's home made for a good "home base" while wine tasting in Paso Robles. The location was convenient and centrally located in relation to many of the spots we planned on visiting. The check in/out was extremely easy, as well.
Kara
2016-02-15T00:00:00Z
Our stay at Mindy's home was very comfortable. She provided clear instructions to find her place and plenty of helpful tips for our stay. Her home was clean and she left clean towels and even toiletries we could use. Her place was centrally located and the places we visited were only a couple miles away from her home. I would definitely stay in Mindy's home for my next Paso Robles visit and would highly recommend to others for a pleasant, comfortable, and affordable stay.
Gemalee
2016-01-08T00:00:00Z
Mindy's place is ideally located near downtown Paso Robles. It's about 10 minute walk into town and a 5 mile drive to the best wineries in Paso. Her place is clean, cute, and equipped with a super comfortable bed.
Graeme
2016-11-20T00:00:00Z
Mindy's place was perfect for our stopover in Paso. So happy to park the car, relax on the porch with a local beer and stroll to dinner. Comfortable and funky in a great way. She's a great host.
Andrea
2016-08-06T00:00:00Z
Mindy's place was a fantastic spot for my girlfriend and I to spend our two nights in Paso Robles. It was an easy walk to the restaurants and market, and the place itself was well-kept, cozy, and cute. Mindy has a nice touch for design and decoration and she was very responsive and helpful for any questions we had. Absolutely would stay here again.
David
2016-05-02T00:00:00Z
We loved everything about our weekend at Mindy's! The location was perfect, just a short distance to the center of everything. Our accommodations were clean, and the amenities made us feel right at home. We will be back!
Michelle
2016-06-13T00:00:00Z
Room Type
Entire home/apt
---
Property Type
House
---
Accommodates
4
---
Bedrooms
Paso Robles, CA, United States
Open and airy 750 Sq Ft living area with lots of natural light. The space is located at the front of our house with a private entry. We offer a queen size bed and an entertainment center with a 47" TV. The TV has basic cable and is Net Flixs ready. In addition you can relax with a high quality stereo system with CD, DVD, and Blue Tooth capabilities for easy synching with your own devices. Wireless Internet access included. Lic#14226
The space comes supplied with a single cup coffee maker, electric teapot, microwave, and mini-refrigerator. Coffee, assorted teas and bottled water provided for your convenience along with plates, bowels, cups and utensils. The private bathroom has a one-person shower equipped with basic toiletries. Access to the bathroom is through an unoccupied office that shares a common wall with the main house. Outside the entrance is a nice seating area with a bistro table and 2 chairs for you to take in some morning sun. At the front of the house is another small seating area for your enjoyment.
We are located in a quiet neighborhood less than a mile from downtown Paso Robles. The area has a great selection of restaurants, shops, wine tasting rooms and breweries to choose from. The neighborhood is centrally located to US 101 and Highway 46 (East and West).
Wow, this place is huge ... good value .... I could live here. We were here on business ... just off a road that leads the the heart of downtown ... maybe 1 mile. Private entry ... access to guest Netflix and cable ... 100 DVD's to choose from ... small fridge ... popcorn for microwave ... and the most convenient thing? ... light switches are labeled (for all the fancy dimmers etc.!
Scott
2017-01-12T00:00:00Z
Loved the easy access to downtown Paso, the extra space and layout with separate sitting areas, high end furnishings were great, keyless lock is so convenient. Highly recommend.
Beth
2017-01-23T00:00:00Z
Carol and Ron were amazingly friendly people, in addition to also being helpful. We really enjoyed how welcoming they made us feel and will be staying there again.
Tino
2017-01-06T00:00:00Z
Very nice room with really good attention to detail. Clean, fun room and great hosts. Close to town, but in a quiet area.
Michael
2017-03-05T00:00:00Z
I booked Carol's place for my parents as a Valentine's Day getaway. My mother is quite picky with where she stays/ accommadations so I was a bit nervous because this was her first time staying at a BnB but she was absolutely amazed. She said the room was very spacious and open and extremely clean. She mentioned the little details that really made their stay great like a bottle of wine waiting on the table and then Carol bringing them her delicious homemade cream puffs! Overall an amazing stay and if they go back to Paso Robles would love to stay there again. Thank you Carol and Ron for being such great hosts and providing and warm and welcoming place for my parents.
Laila
2017-02-15T00:00:00Z
Great value! Large, clean and private. Thank you!!!
Ben
2017-03-22T00:00:00Z
Carol and Ron were an excellent hosting duo! Ron met us outside later in the night to greet us before allowing us to enjoy the space. He was always available in case we had any questions. Their space is tasteful and well decorated. You can tell that they put careful thought into the design and layout of the room and it shows beautifully. The art that hangs on their walls is lively and thought-provoking. You can tell that some of the pieces were local commissions as well; the scenery depicted is a perfect local match. The amenities in the room were plentiful and the options for entertainment were endless. We played their animitronic music DVD while playing board games on their coffee table; we brought our own board game. The lighting was perfect and just as bright as you want it to be. Lastly, the place was very clean and and everything was in perfect condition. I highly recommend a night at Carol and Ron's place!
Brian
2017-03-31T00:00:00Z
Great place so spacious and near downtown. Totally comfortable and convenient. 5 stars!
Debra
2017-04-11T00:00:00Z
Room Type
Habitación privada
---
Property Type
House
---
Accommodates
2
---
Bedrooms
Paso Robles, CA, United States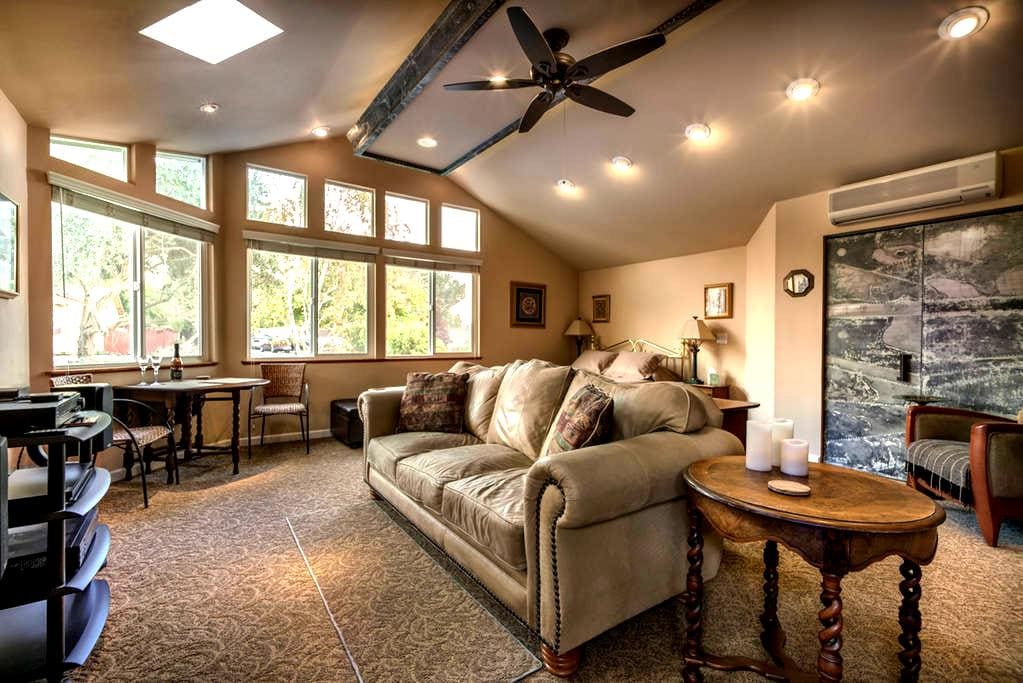 A working alpaca and organic almond ranch just minutes from downtown Paso Robles and wine country. Your room is cozy with a private entrance. Easy access-no steps. Park right next to the entrance. Private patio with enclosed grass area. Acres of space for walking. A variety of breakfast food is set out for you to prepare yourself. Bagels, cream cheese, eggs, bacon, fresh fruit, cereal and omelette makings. Fire pit for enjoying the night sky.
Your room has a computer table, WiFi, Direct TV, a closest, luggage racks, extra blankets, and a clothes rack. There are several board games, playing cards and books to read in the room. There is a coffee pot, tea pot, coffee, tea bags, small refer with O.J., waters, yogurt and creamers for your use. Full variety of breakfast food provided in the main kitchen as well.
Capaldi Ranch sits on top of a hill giving a 360 degree view of all surrounding mountains, cattle ranches and wineries, but just a few miles (5 minutes) from downtown Paso and easy access to great wine tasting. 40 minutes from beaches, Hearst Castle, San Luis Obispo, Cal Poly and more. Fairgrounds are 10 minutes from the ranch.
We really enjoyed our stay. Daphne & Ray were very accommodating. It was fun to see the alpaca's and chickens. Very peaceful with a beautiful view and lots of photo opportunities. Breakfast was great. We'll be back.
Ernie
2016-11-14T00:00:00Z
I had the best time last night at Daphne's ranch in Paso! They have a beautiful room and clean, well stocked bathroom with an incredible view late at night. I appreciated her knowledge of the area- she gave me directions and recommendations to a great winery, the Mission, and farmers market. She was incredibly welcoming and her space was very comfortable after a long day. I would come back again anytime I was in town!
Virginia
2016-06-17T00:00:00Z
Daphne and her family are amazing hosts. My friend and I had such a wonderful stay on the farm with all the animals. It is quiet and picturesque with beautiful views. I highly recommend staying here and would love to again!
Allison
2016-11-20T00:00:00Z
It feels like home, and owners like family
Andrzej
2016-11-01T00:00:00Z
Thank you Daphne and Ray for a wonderful visit! We were greeted by Ray's friendly warm smile as he opened the gate for us in the windy rain, led us to our private entrance and introduced us to Daphne. They helped us feel right at home and Daphne shared tips for how to enjoy the area. The breakfast spread was pleasantly surprising and delicious. We thoroughly enjoyed getting to know them both and look forward to visiting again. Thank you so much! Highly recommended!
Jane
2017-01-08T00:00:00Z
Amazing hosts and amazing place to stay. My wife and I loved the ranch so much. We can't say enough nice things are about our stay or our hosts Daphne and Ray. We just had so much fun!! We'll be back soon!
Tony & Tess
2017-02-05T00:00:00Z
Daphne and Ray were very kind. Getting to feed and pet the alpacas was an unforgettable experience. The room was clean and very comfortable with many amenities and if not for the weather, I would have enjoyed sitting on the patio that night. I hope to return again. Thank you!
Genessee
2017-01-07T00:00:00Z
My friend and I came to Paso to try amazing wines, delicious foods and to get some rest and relaxation. We got just that and more!! Daphne lives on a beautiful property with 360 degree views of rolling hills that show case her almond orchard and Alpaca herd. The room where we stayed had the most comfortable bed and great amenities. She treated us like family. We had a delicious breakfast in her amazing kitchen made from fresh local ingredients that she laid out for us. After that we got to feed the Alpaca by hand and check out her cool shop where she sells handmade scarves, hats, almonds, soaps and such. We enjoyed so many things about our stay and I can't wait to come back with my family!!
Rebecca
2017-01-22T00:00:00Z
Room Type
Habitación privada
---
Property Type
House
---
Accommodates
2
---
Bedrooms
Paso Robles, CA, United States
A beautiful home, custom built in 2007 in the heart of the wine country. The home has a breath taking views and plenty of space and privacy. Sitting on 10 acres and next to a vineyard, this property is great for relaxing or even events! My goal is to continue to improve the property with the funds earned from airbnb. The house has 2 queen beds, 1 bunk bed and a crib with a changing station.
The house is extremely comfortable. The home was customer built in 2007 in a 10 acre parcel. There is plenty of room to enjoy your quiet time or host an event. Events need to be approved prior. The large driveway can accommodate countless vehicles. The property has 5 bedrooms and 3 1/2 bathrooms. We are focusing on renting the whole house. We currently only have 3 bedrooms and 2 1/2 bathrooms available. There are 2 bedrooms and one bath on one side of the house and another bedroom and a bath on the other end of the house, giving guests more privacy. The bedrooms are carpeted and the rest of the house has Italian travertine flooring. The property is well insulated and has an average of 20 degrees temperature difference from the outside temperature. The house has a central heating system, but if you prefer, you can get cozy and warm yourself in front of a great looking fireplace. The gourmet kitchen is custom built with granite counter tops and high end appliances. Washing dishes can be relaxing while enjoying the view.
The neighborhood is great! The drive alone is amazing since you drive through several wineries to get to the property. This in turn will make the roads very dark when arriving at night. You have a great amount of privacy since the houses are in acreage. Please purchase all necessities, prior to arriving to the house since you will be in a remote area. There are only 2 additional houses in the street, so you don't feel so alone, but at the same time there are not right next to the house. The view to the next door vineyard is beautiful in the morning.
Klauss did a fantastic job setting up the house with a special touch for my twin 5 year olds (Spiderman and Barbie sheets). Highly recommend this cozy get away with a fantastic view.
Michael
2017-01-16T00:00:00Z
This is a beautiful home in the hills/valley's of wine country. Everything was beautiful in the home, especially the kitchen. The views are spectacular. I would definitely recommend this home to anyone with children. It will accommodate multiple families or multiple generations, as was our case.
Rita
2017-03-26T00:00:00Z
Lovely home that was perfect for our needs. My wife and I met another couple for New Years Eve along with our 1 year old daughter. The fully equipped baby's room saved us in many ways. Klauss, the owner, was awesome. There were many amenities that Klauss went out of his way to ensure we had a great time. The home is definitely in a secluded part of Paso but very close to wineries and you cant beat the beautiful view. Kitchen had everything you need to do some cooking. No cell service this far out, but it was nice to disconnect for a little and the wifi worked great. Would definitely stay here again
Ben
2017-01-01T00:00:00Z
Very nice home. Klauss is a very communicative host.
Ted
2017-03-19T00:00:00Z
The home was really good very scenic and would stay again if Iam in that area. The place is neat and very well maintained.
prithi
2017-04-03T00:00:00Z
Quiet, secluded, scenic location, comfortable house, suited our needs really well. Driving to it takes a little time, but, if you like seclusion and quiet as we do, then the drive is easily worth it. House is relatively new, furnishings are not extravagant but more than acceptable. Beds are comfortable, linens are fresh, house is very neatly organized and maintained. We didn't need Klaus' help with anything, but it was reassuring that he was available if we had. Would happily stay there again. One slight negative, but not enough to deduct a star: Klaus has a security camera trained on the entry and living room. While this makes sense in many situations, especially for such a remote house, it made one of our group uncomfortable. I covered the camera with a towel while we were at the house, uncovered it when we left.
Jim
2017-03-22T00:00:00Z
This beautiful home is spacious with incredible views all around. We strongly recommend this home for anyone with children. Our two children slept well through the night while my husband and I enjoyed a glass of wine overlooking the hills. All and all a perfect evening. Klauss is a wonderful host. We will definitely be staying here again.
Jason
2017-04-04T00:00:00Z
The home was beautiful inside and out. It was spacious, with very comfortable beds. The views from the back patio/deck are amazing, and the perfect place to start your morning with coffee, or end your night with star gazing! The location is remote, with a bit of a drive on a winding country road from the freeway. But, the drive is peppered with wineries, many of which are beautiful and have great wine. Our favorite near the house was Villa San Juliette. Not only are the grounds beautiful, but every wine on the tasting menu was delicious! Overall, we had a lovely stay in this home!
Shital
2017-03-12T00:00:00Z
Room Type
Entire home/apt
---
Property Type
House
---
Accommodates
6
---
Bedrooms
Paso Robles, CA, United States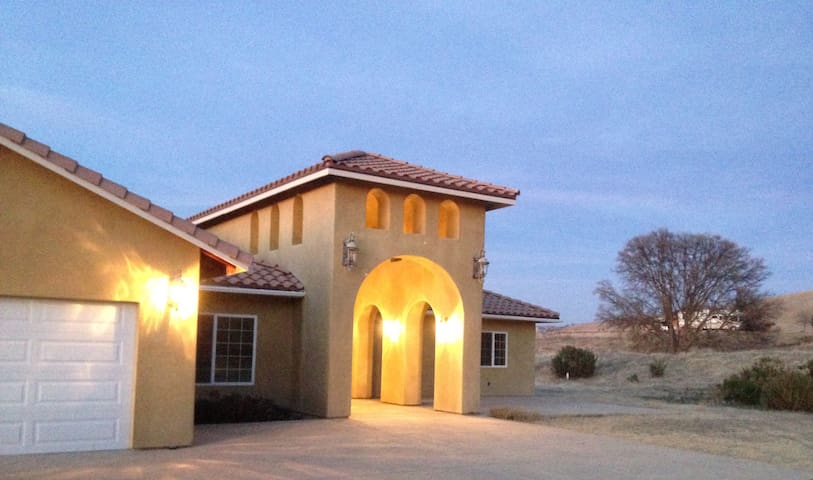 Walk to the picturesque park surrounded by restaurants, or taste some of the best wine in the world just a few miles drive into Adelaida. You'll have this large 2-br house all to yourself, including a fenced backyard. Very quiet – no Vine St. noise!
This large 2-BR, 1-BA house is clean, cozy and well-stocked with kitchen and bathroom amenities. Very charming with two bedrooms, each with a queen-sized bed. The couch pulls out into a double bed (futon-style, not spring mattress). The house comfortably sleeps 6. ONE pet under 25-lbs is welcome upon request. Excessive dog hair will be deducted from deposit. No pets on the furniture. Children allowed by request (babies/toddlers not recommended due to glassware on shelves).
Walk to restaurants, bars and downtown tasting rooms, or drive around the corner to Peachy Canyon Road and Vineyard Drive for plenty of wine tasting at some of the best tasting rooms in California. The neighborhood is quiet without the Vine St. noise.
The house is very quiet and clean, we all very like it!
Zhongtian
2016-08-22T00:00:00Z
We (the five of us) arrived at Katie's cottage on a tow truck late in the evening because our car started to develop some serious issues and was no longer safe to drive when we were still 25 miles away on Highway 1. (The car suddenly lost power steering, and both the battery warning light as well as the brake warning light were lit up on the dash.) Katie's cottage literally became our temporary shelter while we tried to get our car fixed. And trust me when I say that it was the best shelter that we could have stayed in. It felt just like home and really gave us a peace of mind. The cottage was well equipped and fully stocked with all kinds of stuff. And the fireplace was fun since we had hardly used one before. The bathroom had all kinds of skin care products. You could tell that Katie used to live here and she is still taking great care of it. Katie was very communicative and informative before and during our stay. She offered us another night of stay (luckily, since it was available) at a very reasonable price due to our car problem, which we gladly accepted and reserved through Airbnb. We actually got the car fixed on the first day, but we decided to stay for another night anyway so we could relax for a little longer. (We towed the car to Paso Robles Auto Repair on Paso Robles St. and it was determined that the pulley belt had worn out. They were very nice and honest by the way. And they got my car fixed in just a few hours.) Although we didn't get to meet Katie, we did meet her aunt who lived in the back. She was very nice and friendly. When we were leaving, she also recommended us to go to the Elephant Seal Rookery on Hwy 1, which we did and it was amazing as we saw hundreds of seals. Lastly, I will end my review by saying that although we had a negative experience with our car, our positive experience in Paso made up for it. We would like to thank Katie for such a comfortable and soothing stay. Hope I will have the opportunity to return one day.
Benjamin
2016-02-17T00:00:00Z
Katie did make us feel like home. Everything was provided and we enjoyed our stay there. Highly recommended. Niousha
Niousha
2015-08-09T00:00:00Z
We enjoyed staying Katie's home; We didn't find much to comment simply it feels like home. Central California is beautiful which I haven't realized before. Katie's home is ideally located to explore and enjoy beautiful California.
Joe
2016-08-01T00:00:00Z
Great house, the accommodations covered anything you could want, it's like being at home and the location is a short walk to downtown. I cannot recommend it enough. Katie, thank you and it will be my go to whenever am in town.
Robert
2016-08-10T00:00:00Z
We had an amazing time at Katie's Paso cottage. The place is a perfect weekend getaway... close to downtown and wineries. To top it off, Katie left us a bottle of wine, two tickets for free wine tasting and recommendations for restaurants and wineries to check out... it was perfect! Can't wait to go back!
Evan
2015-10-12T00:00:00Z
Cute cottage in convenient location. I would definitely stay there again.
Esther
2017-03-19T00:00:00Z
The house was so comfortable and great for a weekend get away. Comfy living space made hanging out with friends really fun.
caleb
2016-05-02T00:00:00Z
Room Type
Entire home/apt
---
Property Type
House
---
Accommodates
6
---
Bedrooms
Paso Robles, CA, United States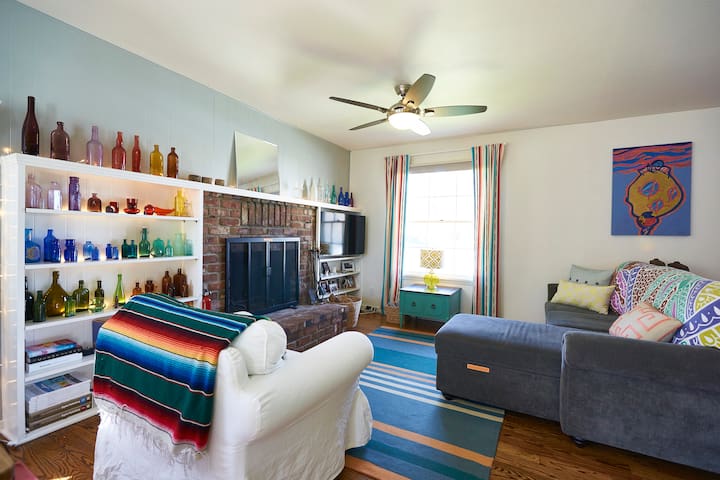 We are located in a beautiful country setting surrounded by vineyards and tasting rooms -- 15 minutes to a charming downtown where you will find an abundance of culinary delights.
The Gold room is a private room in our home, with a private bath adjacent to room. The room overlooks acres and acres of rolling vineyards. The evening offers perfect views of the rising moon while the morning horizon flirts with unforgettable sunrises. If you're a morning person, this is your spot. The bed is a very cozy, queen bed with a beautiful four poster cherry wood frame. The room has a dresser and closet space. Vintage Hills House has 2,500 square feet of living space. Guests have access to the kitchen, breakfast room, family room, porch, patio, WiFi, and two acres of outdoor space. We are in a country setting - and less than 5 minutes from the Vina Robles Amphitheatre. Our guidebook shows additional fun and interesting spots. The neighborhood is wonderful for walking as it is surrounded by vineyards. Most of the neighbors have horses -- and a few that love apples and carrots. By car, we're about 15 minutes from the downtown square. Paso Robles is an exciting town filled with events and music every weekend. If you enjoy eating out, you'll be pleasantly surprised with the array of fabulous culinary delights downtown Paso offers. Other nearby attractions within 30 minutes from the house: San Luis Obispo - home of CalPoly; Hearst Castle in San Simeon; Cambria, a quaint small ocean town with a boardwalk along the beach; and more than 250 tasting rooms! We enjoy the human spirit and welcome all walks of life. Please see "About the Hosts."
The neighborhood is wonderful for walking as it is surrounded by vineyards. Most of the neighbors have horses -- and a few that love apples and carrots.
Carmen met us as we arrived. First impression was that it looked better than described. The view was breathtaking. The house was gorgeous and very well kept. We also met Billy and Hallen. Everyone was friendly. Carmen gave ideas for dinner, things to do and even wine recommendation. Breakfast was perfect. We ate on the porch looking out at the vineyards. My husband loved the hammock and chickens. It was such a great experience that it was hard to leave. We definitely plan to stay there again and highly recommend it. It was a perfect way to enjoy Paso Robles.
Denise
2014-07-28T00:00:00Z
Staying at Carmen's was perfect, as always. Her home is always inviting, clean, and beautiful. We love being able to chat with her and her husband and if you are looking to explore the East Paso Wineries this is a perfect place to stay. We look forward to returning again next year!
Kamilah
2016-12-18T00:00:00Z
This was my FAVOURITE place we stayed all honeymoon. Carmen was super accommodating and the house is beautiful. A key selling point is all the outdoor areas which are lovely. A very relaxing stay and highly recommended.
Katrina
2014-09-16T00:00:00Z
My husband and I enjoyed our stay at Carmen and Hallens' Vintage Hills House. The room was large, and the bed was super comfy. We had traveled to Paso for a wine event as we had several times before but had always stayed with family or a hotel. This location beats both of our other options. We enjoyed the quiet pooch Elsa, the delicious coffee and breakfast prepared by Billy in the morning and the conversation with Hallen as we enjoyed our coffee on the porch overlooking the winery.
Robin
2017-03-19T00:00:00Z
We had a lovely time at Carmen's house. They are very gracious hosts, always looking to make our stay as comfortable as possible. The bedroom and bathroom were impeccable. Highly recommend.
Bernard
2017-01-08T00:00:00Z
Carmen's place is situated among a lovely vineyard setting only 15mins from the gorgeous Paso Robles. The experience of staying with Carmen was great: a real home-away-from-home feel. It was also great to chat to Carmen and Hallen into the night after our night out in town. A beautiful spot with good company. Thank you guys!
Stephen/Kerrin
2015-01-11T00:00:00Z
Carmen and her family were great hosts. They have a beautiful house in Paso Robles with a view of vineyards all around. They gave us some really good suggestions of local wineries and it was nice starting the day with wine, chocolates and cheese! We would definitely recommend staying here, and would love to come back and explore Paso Robles further.
Aliya
2014-04-18T00:00:00Z
Carmen's home was very lovely and accommodating. All our needs were taken care of and it served as a perfect resting spot to help us enjoy our weekend in wine country. We couldn't have asked for more! We will definitely be staying with her again if we find ourselves back in the area.
Christopher
2014-08-25T00:00:00Z
Room Type
Habitación privada
---
Property Type
House
---
Accommodates
2
---
Bedrooms
Paso Robles, CA, United States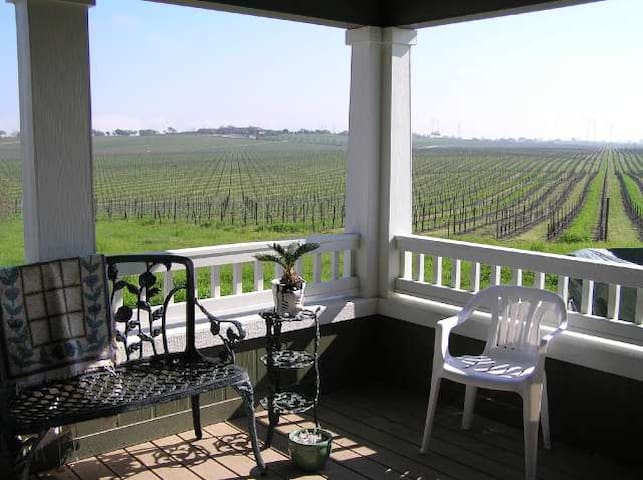 The Tree Top Cottage is a private suite with a view of the rolling hills of Paso Robles. 1 bedroom, kitchen, bathroom, and large private patio deck country setting on the acres retreat center. With the serenity of nature
The Tree Top Cottage is one of four private Serenity Retreat Cottages on the five acres estate over looking the rolling hills of Paso Robles Barely outside of the city limits given you the best of both worlds. Access to complete rural sitting and yet in minutes you can access near by wineries, bike trails, walking paths, and the historical town down... Suite has queen size bed with feather pillows all linens are 100% cotton towels and sheets. As a wellness center we are mindful of health and we use all natural products to clean rooms and linens... As well as we provide you with Eco shampoo, shower gel and conditioner, ionic hair dryers in the bathroom. Full size kitchen has granite counter tops and is fully stocked. Prefect for guest wanting to stay by the month. Weather on vacation, doing a provide you with Eco shampoo, shower gel and conditioner, ionic hair dryers in the bathroom. Full size kitchen has granite counter tops and is fully stocked. Prefect for guest wanting to stay by the month. Weather on vacation, doing or hangout. Ottoman in siting area makes into small bed for extra guest. Private Deck prefect for relaxing on the out door patio furniture, dining on the patio table or star gazing, or watching the sun set. Cook your own meals in the large kitchen suite or dine down town Paso Robles a few miles away. Chickens and farms cats roam the grounds. We provide farm grown eggs in suite when available Feed the chicken and pot belly pig your scraps.
The Estate ground are just barely outside the city limits making it the best of both worlds country and seclusion and yet minutes away from wineries the heart of down town shops restaurant, art galleries and tasting rooms. Pubic walking and bike trails close by. Great area for biking....
We really enjoyed our stay at the Tree Top Cottage. It is beautifully decorated, has a complete kitchen and the most comfortable, luxurious bed of any Air B and B place we've stayed! Lovely grounds to explore, pool, cats, chicken and a pig. Convenient to town but quiet and with a view of vineyards.
Julie
2016-08-26T00:00:00Z
Dian and Jay have an amazing place! Peacefull and gorgeous! We loved stay there and hope come back soon!!
Rodrigo Celso
2016-10-23T00:00:00Z
We really loved our experience on that place. The house was very beautiful, cozy and charming! The location was great, with a great view of the city, and near downtown by car. The bedroom was large, clean and very charming, as the the bathroom. The kichen was cute, and well equipped! It's a perfect place for couples!!! The comunication was perfect, and really easy to found the house.
Liliana
2016-05-10T00:00:00Z
Fabulous accommodations! Information, directions, everything was perfect! Location was ideal, property was beautiful, quiet, Serenity! Dan & I love Paso..we will be back and would love to stay with Dian and Jay again.
Michelle
2015-07-27T00:00:00Z
This was my first time using this site and the Tree Top Retreat didn't disappoint. Getting into the place was smooth, with the given directions. We were left alone and able to enjoy the quite life of Paso. The apartment was so cute and exactly what was described. I will definitely keep Dian and Jay in mind next time I'm going to Paso Robles.
Kat
2016-11-20T00:00:00Z
A most charming cottage in a beautiful area in Paso Robles, with very friendly hosts. I would love to return sometime.
James
2016-10-07T00:00:00Z
Unfortunately, we didn't have a great time staying here. Paso Robles was lovely and we had a fantastic time touring around. The air bnb was as described. The walls are "paper thin" and so we had to listen to the terrible fighting of another couple in the unit. We tried to make the best of it but the screaming went on for hours. It isn't an over exaggeration to say that it ruined the ambiance and what was supposed be a relaxing stay. It was really really disappointing.
Liz
2016-09-26T00:00:00Z
We enjoyed our stay at the Tree Top Retreat. Everything was as described in the listing. Small unit but very cozy,quite and comfortable. The hosts even provide robes and slippers which was a nice added amenity. Very close (10)minutes to town and all the great restaurants and shopping but when you are on the property it seems so secluded and serene. The unit was immaculate. The bed very comfortable. The kitchen has everything you need. Highly recommended.
Paul
2016-06-01T00:00:00Z
Room Type
Entire home/apt
---
Property Type
House
---
Accommodates
2
---
Bedrooms
Paso Robles, CA, United States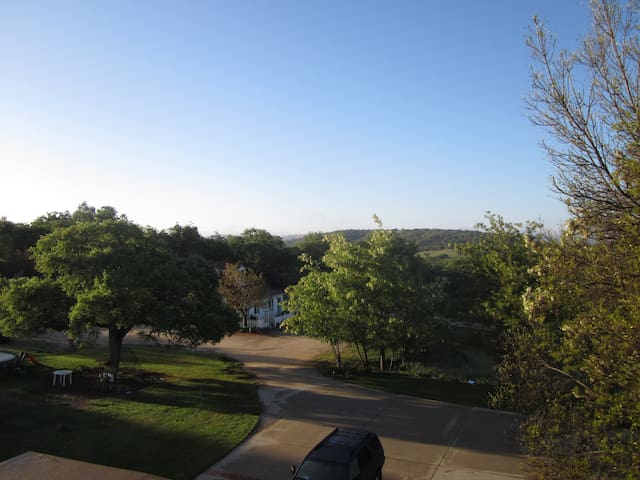 Welcome to "Casita Vino," where elegance and historical charm combine with sophistication and modern amenities to make a truly one-of-a-kind property. Walking distance to downtown Paso with it's adorable park, gourmet restaurants and vintage stores.
This entire property has been completely remodeled inside and out. Old house charm with original hardwood floors (built in 1941). Central air conditioning for hot summer nights and heating for the chilly winters. Bedrooms: Each of the two bedrooms includes a King size mattress, crystal chandelier ceiling fan, black out curtains for sleeping in, full length mirrored closet, and vanity station for hair/makeup. Living room: Crate & Barrel queen sized sleeper sofa, rustic wooden bench for two, wingback chair with stool, faux fireplace and flat screen Smart TV (Netflix ready). Free high speed Wi-Fi. Cable service includes movie channels (HBO, Showtime, Encore, Starz, Cinemax) and NFL ticket. Bathroom: Five foot high beadboard lines the bathroom walls, while hand blown Italian glass pendant lights hang from the ceiling. White subway tiled shower and a hexagon floor complete the space along with the American Standard fixtures and chrome finishes. Kitchen: New kitchen includes beautiful white cabinetry, butcher block counter tops, farmhouse sink and full sized appliances. Microwave, toaster, blender and coffee maker with complimentary coffee. Dining area has seating for 6+ people with its antique solid Mahogany table that has two built in leaf extensions.
Downtown Paso Robles is a charming community full of historical homes and quaint cottages. You could easily spend an entire weekend without using your car and simply walking to everything from the house. From tasting rooms, to restaurants, to antique stores, and spas....and did I mention the 24 hr donut shop on the corner?
This house was a perfect place to stay for the weekend with our friends. Cozy 2 bedroom home with comfortable beds and pillows, light and bright, had everything we needed. Even coffee in the morning and a 24hr donut shop steps away from the front door. The walk to downtown was maybe 5 minutes and the restaurant options are fantastic. We really had an excellent weekend, thank you Sheryl for letting us share your home. We will be back!!
Katie
2017-03-19T00:00:00Z
Wow! What a lovely place. Sheryl was quick to respond to any questions or concerns and was kind enough to help us find some local eateries. Sheryl's house looks and feels like your in a house that belongs in a design magazine (think "Dwell" or Southern Living.") The house is just a few blocks away from the downtown restaurants and tasting rooms, so it made our trip even more enjoyable. We look forward to staying here next time we are in town.
Cameron
2016-04-20T00:00:00Z
Sheryl was amazing and the house was perfect! Five of us stayed at this little cottage a few walking minutes from downtown Paso Robles. She is very understanding and considerate of any request that you may have. The beds are very comfortable and the pillows are so amazing you sink into them. The kitchen has everything you may need from a silverware to pots and pans. The neighborhood is so nice. There is also a 24-hour donut shop across the street which is perfect for breakfast. Sheryl always responds to any messages very fast and is very helpful. We plan on staying here again.
Brittney
2016-03-24T00:00:00Z
Clean and cozy and a kitchen well equipped to prepare a good meal with a good local bottle of wine.
Francois
2017-01-05T00:00:00Z
Super cute house, clean and bright. It was perfect for our group of 6 Gavin a girls weekend at the wineries nearby! Also very close to downtown nightlife.
CHrystine
2016-11-06T00:00:00Z
Really enjoyed our time at this place. Very cute with comfortable sleeping spaces for 6 (2 Queens and a pull out couch). Few blocks walking from downtown Paso in a comfortable area. Excellent 24-hour doughnut shop across the street. $2 for a dozen doughnut holes is quite the selling point. Sheryl was super helpful, very responsive and great when we let her know of an issue (nothing big...) we noticed. Good time!
Amanda
2016-03-15T00:00:00Z
House was very clean and accommodating. The house have everything from cable tv , dishes, towels and much more. I felt like home from the moment we walked in.
Glen
2016-05-23T00:00:00Z
Sheryl's home is one of our favorite Airbnb places yet! The location was absolutely perfect for our Thanksgiving getaway. Our son loved the playground at the park down the road and there were wonderful places to eat, have coffee, and drink wine! The tree lighting ceremony with Mrs. Claus, cookies, and hot cocoa was an amazing bonus! So many fun things were within walking distance. Although Paso Robles is a nice-sized city, it felt like we were in a small town. The home is extremely cozy and well-equipped. We would come back to this spot in a heartbeat!
Kelli, Christian & jack
2016-11-26T00:00:00Z
Room Type
Entire home/apt
---
Property Type
House
---
Accommodates
6
---
Bedrooms
Paso Robles, CA, United States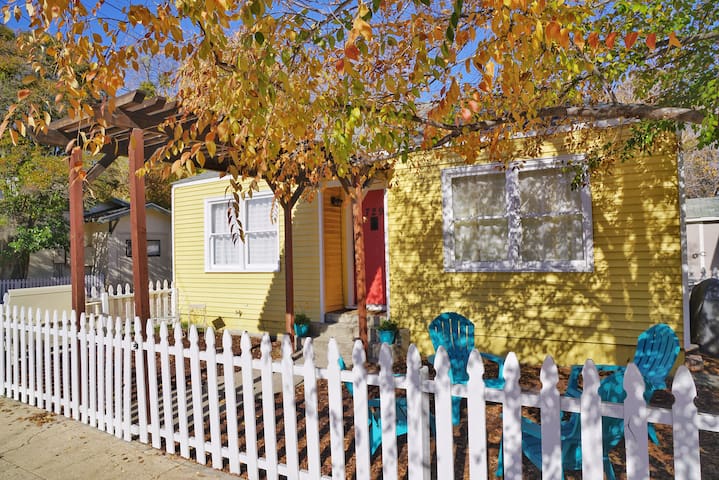 Ultimate downtown location! 2.5 blocks to the town center park, stores, restaurants. This historic victorian home was built in 1898 and just remodeled top to bottom. Comfortable beds, stylish decor with an unbeatable location. 2 bedrooms with a bonus room and extra bed. Large back yard porch with gas grill. *We hold a vacation rental license. 11% county bed tax is included in the listed price
810 charming sq ft. This place is perfect if you want an alternative to expensive downtown hotels. The beds are so comfortable and we have blackout curtains to make for a good nights sleep. The house is a very easy walk to Paso's fabulous restaurants & shops. Perfect for two couples or couples with kids. Most comfortable for 4 adults THINGS TO NOTE The Bathroom: The Queen and King bedroom have a Jack & Jill bathroom. It is the only bathroom in the house. You must walk through one of the bedrooms to get to the bathroom. The Bonus Room has a full size bed and must go through one of the bedrooms to get to the bathroom. Thus, the house is best suited for two couples or couples with kids or very close friends who don't mind those who sleep in the bonus room walking through their bedroom to get to the bathroom. Please take a look at our floor plan picture. Bonus Room: Is small and located off the laundry room, it has full day bed, but no bathroom access without walking through one of the official bedrooms. Dining: The eat in kitchen island is the only inside dining area.It can seat 4 very snuggly. There is an outside patio table that seats 6. Great for when the weather is warm, not the best for winter. Kitchen is probably best for breakfast/lunch.Eating out dinner is a delicious option for the foodies!! Floors: The floors are 119 yrs old. I just refinished them, so be kind to them! They are made of pine which is a softer wood, so please consider taking of your healed shoes when inside to keep them in good shape and tread delicately with your suitcases. TV: We have an Apple TV only which means that we do not have regular live TV channels, it is on demand/Hulu or Netflix. Fun: Have fun and enjoy your stay!
Cute residential area with historic homes.
Crystal's house was in the perfect location. It was easy to navigate and very comfortable and homey. I'd stay here every time I'm in Paso Robles if I could. 5 stars all around.
Thomas
2017-03-26T00:00:00Z
It's obvious that Crystal has gone to great lengths to make this location an exceptional one. Our stay was made only better due to how close this is to local attractions and restaurants. Very nice and clean older home with plenty of pillows, blankets, and amenities one would need. This was our first experience/stay with airbnb. Definitely recommend staying here. Looking forward to staying here again.
Jose
2017-03-19T00:00:00Z
Great comfortable home close to downtime. It was a charming, clean home with everything that you would need.
Julia
2017-04-10T00:00:00Z
Crystal put a lot of attention to detail in rehabing this property. The beds and bedding are super comfortable and super clean. There's a great vibe throughout the place. There were plenty of towels in the bathroom and the water pressure was great. We loved the efficient kitchen for making up some bites to have with our local wine purchases. We were traveling with my 6 month old grandson who enjoyed using the back room to play. The living room is cozy and I was happy to unwind with watching some old Seinfeld episodes on the internet TV. The weather was rainy, but I'd imagine it would be great to grill outside and enjoy the patio. A few short blocks to downtown Paso Robles, made for an easy walk to get the paper and morning coffee and when it's warmer I could see ditching the car and just walking down there for dinner. Crystal was easy to communicate with and again, really put a lot of work into making this a comfortable place for me and my family.
Bob
2017-02-20T00:00:00Z
Room Type
Entire home/apt
---
Property Type
House
---
Accommodates
6
---
Bedrooms
Paso Robles, CA, United States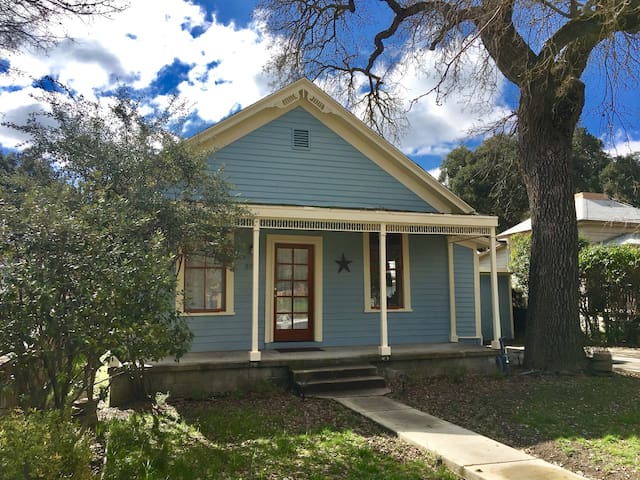 Wine country living at your fingertips! This 600 sq. ft. guest house - with one bedroom, bathroom, family room, and full kitchen - is conveniently located off the 101 and Highway 46 West, and is perfect for your next getaway or extended stay vacation.
This charming 600 square-foot guest house is perfect for your next weekend getaway or extended stay vacation! The guest house provides one bedroom, one bathroom, a family room, and a full kitchen with an adjacent dining area. Outside the back door is a patio equipped with a barbecue and outdoor seating. Accommodations feature wireless internet, television, patio, propane barbecue and parking area with electrical access that can accommodate two vehicles or, for a minimal fee, an RV. We even have a basketball & hoop!
Conveniently located off the 101 and Highway 46 West in a quiet neighborhood, we are within walking distance from a range of casual to high-end shopping and dining experiences, and within short driving distance from San Luis Obispo Countys' most coveted destinations, including downtown Paso Robles, Hearst Castle, Vina Robles Amphitheater, California's Mid State Fair, the Central Coast's most pristine beaches, and over 100 wineries. Sitting "at the intersection of surf culture, cowboy culture and California cuisine," come experience what The New York Times calls "a fine place to be."
Amy's place in Paso Robles was perfect. She made sure there was coffee for us and even put chocolate out for us as a nice added touch. Amy was helpful and receptive. Her home was clean and spacious. The neighborhood was nice and it was close enough to the main highways for easy access. Overall, it was a perfect choice.
Marcy
2015-06-16T00:00:00Z
Amy's place was great! Very private and comfortable. Close to lots of wineries, shops, and places to eat. I would definitely recommend staying here.
Jake
2015-05-12T00:00:00Z
While I did not have the opportunity to meet Amy herself, my family and I had a lovely weekend staying in her guest house. Amy made us feel very welcome and the guest house was full of useful information for our stay. Everything was clean and comfortable and exactly as shown in the photos. If I am back in Paso Robles I would definitely stay again.
Zoe
2016-02-01T00:00:00Z
We only stayed overnight but found the place very comfortable and clean. It is a nice place to stay for a couple of days since it has a nice size kitchen and living room. It was conveniently located and hosts were very friendly. I would recommend it. Only drawback was it didn't have a TV and we just wanted to lounge after our wine tasting. But you can bring in your tablet since wifi is provided for free.
Lou
2014-09-29T00:00:00Z
We had a wonderful New Year's stay at Amy's place. The house was clean, spacious and comfortable! The house is 5 minutes away from downtown Paso and easy to find. We would definitely recommend Amy's house for anyone looking for a quick easy get away! Diana and Steve
Diana
2015-01-02T00:00:00Z
Great location for Paso fun! It's close to the West side wineries AND downtown. It's right by a Target (in case you forget anything - like we did) and just off the freeway. AND Amy left us water and chocolates...can't beat that!
Jen
2015-06-08T00:00:00Z
Amy was a great help coordinating our late arrival. The space was exactly as listed, and very clean, comfortable, and quiet. We didn't get to stay long because of business commitments, but we did take time to cook and enjoy breakfast on the patio. We were able to walk around the corner to the shopping center to get food and supplies. Nicely done, Amy. Thanks!
Craig
2016-07-01T00:00:00Z
Amy made us feel very welcome, even leaving us a nice note and chocolates when we arrived. She had everything ready for us and it was nice to have coffee and tea assortments available.
Carol
2015-03-25T00:00:00Z
Room Type
Entire home/apt
---
Property Type
House
---
Accommodates
4
---
Bedrooms
Paso Robles, CA, United States
Charming ranch style home with open living areas, lovely patios with breathtaking sunset views, a fully equipped kitchen and large backyard for entertaining. Perfect for those looking for a quiet spot in the country with easy access to wineries and 10 miles from all the amenities of downtown Paso Robles. The house is 30 miles from the city of San Luis Obispo. Bring your horses! Horse stalls available.
Enjoy your stay in a charming, three-bedroom, two-bath, ranch-style home with plenty of outdoor space. Situated along Paso Robles' beautiful 'Back Roads' countryside, the house sits on a five acre-parcel 10 miles from downtown Paso Robles and five miles from the small town of Creston. The large master bedroom includes a king size bed and private bathroom. Across the house are the two additional bedrooms and shared bath. Each bedroom contains a queen size bed and walk in closet. Enjoy two separate family rooms as additional living space or to accommodate more guests . The first contains a fire place and a sectional couch with a full size sofa bed. The second living room contains a flat-screen TV, large dining room table, and another full size sofa bed. The large dining room table sits six people. An additional table sits four.
We are located in the BackRoads wine district- east of Paso Robles, ten miles from downtown. We are within 5 miles of at least 19 wineries, all very unique boutique, family owned and operated.
This was an absolutely beautiful home, very well kept, very clean. The drive there was very scenic, and in such a great area. Would definitely recommend and stay here again!
Leticia
2017-04-07T00:00:00Z
Nathan was a great host! Always available and very accommodating. The house was amazing! Spacious and rustic but modern inside. It is a great house for a longer stay, which I wish we did! Perfect for animals too. We had a great time and will definitely come back soon.
Isabella
2017-03-26T00:00:00Z
Nathan's home is beautiful. I look forward to staying here again. Everything needed for a comfortable stay was provided. Went above and beyond my expectations. The pictures don't do this place just.
Jean-Marie
2017-04-10T00:00:00Z
This place is A-M-A-Z-I-N-G!!! Nathan is great and very accomodating!! Great communication!!! My favorite part is waking up in the morning with a great view of dusk!! Next time I will arrive early so I can have a great sunset view from the living room!!! The amenities are great!! Next time I will bring my dog because she would have a huge place to run around the property!!! If you want to have a serene getaway, I highly reccomend this place!! You won't regret it!!
Rizza
2017-03-19T00:00:00Z
this place is really cool and spacious and full of open spaces like back yard and front yard. lots of parking space, barbecue & patio place, Nathan as a host he is very prompt in replying all the queries and made sure that we are not having any issue during our stay. lots of extra bedding and bathing stuffs. place is very clean and hygiene. lots kitchen utensils with silver cutlery. our stay was more then expected, i would love you recommend this place to everyone.
Ravi
2017-04-02T00:00:00Z
Communication with Nathan was clear and smooth; he is super friendly. His place is spacious and very clean. We really enjoyed our stay.
Gökhan
2017-04-01T00:00:00Z
This has been the best air bnb experience I've had so far! The location is quiet and beautiful. The house is open and comfortable. Everything was clean and the kitchens/bathrooms were stocked with all the comforts you could ever need. Check in/out was easy and Nathan was very easy to get in touch with. Can't recommend enough, everyone had a great time!
Liz
2017-03-31T00:00:00Z
Nathan has a lovely home! This was my first air bnb experience and I am very pleased. There were 10 of us total that came down for my birthday weekend and there was plenty of room for us all. Nathan was very easy to deal with and accommodating. He offered suggestions on local wineries and activities. Definitely want to stay again next time I'm in the area.
Jenny
2017-04-09T00:00:00Z
Room Type
Entire home/apt
---
Property Type
House
---
Accommodates
10
---
Bedrooms
Paso Robles, CA, United States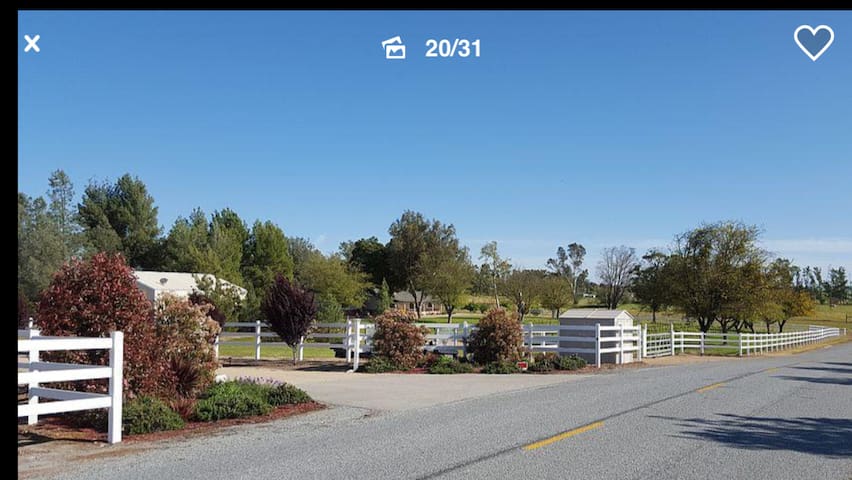 The Restful Retreat is a Spacious Suite w/Private Keyed Entry, the Perfect Couples Getaway! Separate Sitting Area w/Convertible Sofa, Private Bath, Bedroom w/Queen Organic Pillow Top Mattress & Front Patio. TV, Cable, WiFi, Netflix, Keurig w/Supplies, Mini Fridge, Micro, Robes, Towels. New This Season: VIP 2017 Vina Robles Tickets Available, Please Inquire! All Located in a Quiet Neighborhood Close to Town. Please Read Our Full Description Below! City Tax: Charged as Cleaning Fee. Lic. # 13593
The Restful Retreat, a private wing in our home, is the perfect location for a rejuvenating trip to Wine Country. Designed for the couple who wants to getaway from it all, yet still have the comforts of home. Sip coffee or wine on the patio or enjoy a stroll thru the greenbelt. The refreshment station includes a Keurig complete w/supplies, a microwave, mini fridge, toaster, filtered water, glasses, mugs, bowls, silverware, disposable items, wine opener, knives, cutting board and more HOWEVER IT IS NOT a full kitchen. The bedroom includes an electric fireplace w/thermostat, ceiling fan and two cozy robes. The bathroom is stocked w/professional salon products, soap, makeup remover, tons of towels, hairdryer, curling iron, and other incidentals. An iron and small ironing board are also in the suite for your use.
Located in a popular neighborhood with large, private lots in a quiet yet centrally located area. Downtown is about 7 minutes from our location. Our neighborhood has great walking and biking trails.
Lisa and Kirk were wonderful, we had a great experience. Both of them greeted me upon my arrival, Lisa showed me around and gave me a list of her favorite restaurants in the area. It is a very clean, lovely decorated and comfortable space and everything is arranged with great attention to detail. We had everything we needed and more and downtown Paso Robles is only an 8 min drive away. All in all, friendly and courteous hosts and a beautiful space in a great location. Definitely recommend staying with Lisa and Kirk!
Daniela
2016-03-14T00:00:00Z
Our stay at the Restful Retreat exceeded all expectations! Kirk and Lisa were the perfect hosts and made sure we had everything we needed for a great weekend. The accommodations were above and beyond what you would receive even at a nice hotel. Located in a lovely and quiet neighborhood, we felt like we were in a home away from home. Highly recommend to anyone staying in the Paso Robles area. We had a great experience and would come back in a heartbeat!
Alyssa
2016-06-20T00:00:00Z
We had a great experience in this apartment. Lisa was there to meet us and hand the keys to us. The apartment was very nice and clean. The area is close to many wineries and restaurants. We will definetly stay in this place again. Thank you Lisa and Kirk
Margarita
2016-07-10T00:00:00Z
My friend and I stayed at this Air BnB location and it exceeded our expectations. The place was impeccable, decorated nicely, and has more amenities than a standard hotel room. The hosts, Kirk and Lisa, are extremely friendly and very responsive to messages. I highly recommend this place. It will make you feel like you are at home. This was my first Air BnB experience and Kirk and Lisa set the bar really high.
Cindia
2016-07-15T00:00:00Z
Kirk and Lisa could not have been more friendly and welcoming. The space is beautiful and incredibly clean and they helped us to find the perfect vineyards to visit during our trip. Only thing I would make note of is to be aware that this is a one bed space and that the second "bed" is an inflatable mattress. We were not quite expecting that, but we were glad to have met and enjoyed such gracious hosts.
Tiffany
2016-07-03T00:00:00Z
We had a great time at Lisa and Kirk's Restful Retreat. The retreat was comfortable and spacious, just as pictured. Lisa and Kirk were super friendly and on site (the retreat is connected to their home) for any questions. The location is good, located in a nice subdivision within a 10 min drive of the cute downtown and within 5 mins of Hwy 101. I highly recommend the Restful Retreat when visiting Paso wine country!
Allison
2016-08-02T00:00:00Z
I had an awesome experience to stay their house. My suite was impeccably clean and furnished in a great taste. The area was so convinced to go to downtown Paso Robles and other regions. I definitely will come back here if I visit Paso Robles again. Thanks s million to Lisa & Kirk!! Let's definitely keep in touch!!
Mihoko
2016-07-11T00:00:00Z
Perfect! Such a great location and super great hosts. Everything was clean and it was great having cable and wifi! Lisa & Kirk you guys are a hard act to follow. Katherine & Doug
Katherine
2016-05-16T00:00:00Z
Room Type
Entire home/apt
---
Property Type
House
---
Accommodates
3
---
Bedrooms
Paso Robles, CA, United States
HammerSky is a beautiful vineyard property with a 1904 restored 3 bedroom restored farmhouse. We are located on one of the areas premiere wine trail. A rustic country road leads to HammerSky Vineyards. We are about 30 minutes to Hearst Castle, Cambria, beach and San Luis Obispo. . HammerSky is a perfect place for a wine country getaway for 2 to 6 guests or small wedding with less than 50 guests. Wedding prices differ from rental.
HammerSky Vineyards is a boutique winery and vineyard in Paso Robles. We are located on the westside amongst some some of the area's most highly acclaimed wines. HammerSky is one of the area's most beautiful properties. We restored the century old farmhouse with updated decor and many details to welcome our guests. Some describe it in the likes of Ralph Lauren & Restoration Hardware, but we like to say the decor is just a work in progress of what we like. Guests of HammerSky have the privacy of the home, while on the same 50 acres as the tasting room, it provides privacy as well as the fun of owning a vineyard. There are many great places to dine, golf and shop as well as a breathtaking 30 minute drive to Hearst Castle. Most guests just love to stay at the house and just relax in the afternoon on the patio, hot tub or lounge by the barn and watch the painterly light across the vines and meadow. Some guests love to cook and others bring in a chef. The area is known for farming so whether it be grass fed beef, fresh seafood, organic vegetables, all are within your fingertips. We will even pick up and deliver for you.
Our stay at Hammersky was immaculate. Kim has thought of every detail. The place is clean as a whistle, beautifully decorated, an amazing retreat and one of the best Airbnb values we have ever had. We would highly recommend staying here.
Jordan
2016-08-24T00:00:00Z
Our weekend at Hammersky Vineyards was the perfect setting for a birthday celebration. Kim was such a great host and took great care of all our needs. The house is amazing with a luxurious kitchen and great amenities. The setting feels like a movie set and the Hammersky wines are fantastic!
Jessica
2016-02-15T00:00:00Z
If you find this listing, book it!! Then, just sit back and enjoy the beautiful landscape!!
Amy
2017-01-02T00:00:00Z
Beautiful location, beautiful home. We had such a lovely time walking to tastings and enjoying the gorgeous setting. Ron and Kim were available to accommodate any request and went out of their way to insure our comfort!
Kim
2016-04-25T00:00:00Z
Lovely house and location!
Delaney
2017-03-12T00:00:00Z
We stayed at Hammersky for a couple nights before Christmas and couldn't have been happier. The house and the tasting room are modern and clean and the property is beautiful. We could have stayed on the property the whole time and have been happy. Chef's kitchen, hot tub, and comfortable beds to go along with the views and the hospitality. Great Zin and Champagne also. Kim was great throughout the reservation process with suggestions and tips on the in house chef you can hire to where are the best places to ask my girlfriend to marry me. Ron, the winery manager, was super accomidating when we got there. Book with confidence, you will not find a nicer place in Paso.
Nima
2016-12-22T00:00:00Z
Kim was a wonderful host. Her home is charming, peaceful and beautiful. I loved the property!
Claudia
2016-09-12T00:00:00Z
The most beautiful place you could imagine. Set in the vineyards with sweeping views. The house was amazing, complete with everything to make the stay comfortable. We had a cheese plate waiting for us upon arrival. All the decor was superb and the kitchen was amazing for cooking and enjoying a quiet night at home. Hot tub under the stars. This was by far the best AIRBNB I have ever stayed in and will look forward to coming back!
Mark
2017-02-15T00:00:00Z
Room Type
Entire home/apt
---
Property Type
House
---
Accommodates
6
---
Bedrooms
Paso Robles, CA, United States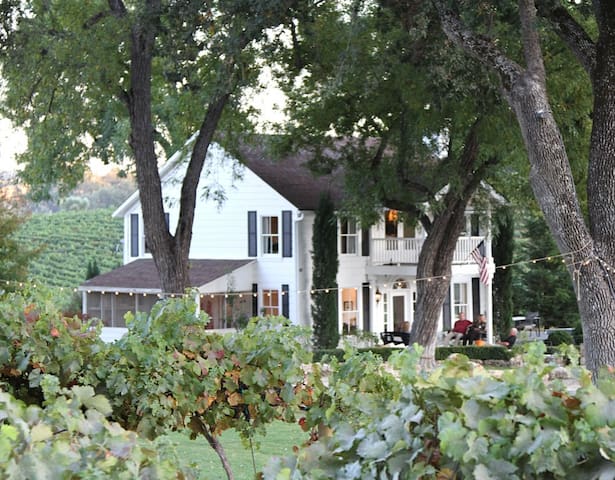 Come retreat in the Cornerstone Cottage. This remodeled 1930's house has the charm of an old house but the updates and amenities of a new custom home. Located in center of town it's walking distance to downtown, restaurants and the Mid State Fair!
Treetop Cottage offers you a relaxing retreat nestled in native oaks trees. Wide-open views take you beyond nearby rooftops to the vista of Black Mountain in the far off distance. The cottage is private, yet, only a 15 minute walk to the heart of the historic Paso Robles downtown. The two story cottage is full of charm! From the custom remodeled kitchen to the large stone back patio the house it truly a relaxing retreat!
Quiet small town neighborhood!
Great house in a great location!
Eric
2016-09-19T00:00:00Z
Fantastic luxury house
Kay
2017-04-02T00:00:00Z
Overall I was very pleased with our stay. Beautiful comfy home with everything you could need.
Mike
2016-10-03T00:00:00Z
This place is perfect, and we have no complaints! We will be staying there again!
Grace
2017-02-26T00:00:00Z
Great place. Close to lots of things to do, including downtown Paso Robles, Cambria, Hearst Castle, and Lake Nacimiento. We will stay here again.
Mike
2016-08-12T00:00:00Z
This cottage is just the cutest! Everything is clean and super cute, I want to live here! My husband, mother and I came for a weekend with our newborn and our stay was perfect. Caroline and Casey have setup their home for an easy and comfortable stay. Everything you need from a stocked kitchen, to towels, to wifi and television. And did I mention it's so cute! :) And the back yard is so great for relaxing...tables, BBQ, even corn hole! It really is the best little place with the best hosts, I recommend it to anyone staying in the area.
Danielle
2016-06-06T00:00:00Z
The cottage was absolutely delightful. The interior was e trembly clean and organized. The kitchen was well stocked with kitchenware and was ideal for cooking. Overall the space was charming and exceeded our expectations. The hosts were fabulous and even left us a bottle of local wine. We would highly recommend this home if you are ever in the area.
Amy
2016-07-30T00:00:00Z
The cottage was adorable and everything we had hoped it would be. The neighborhood was safe, cute and even had deer wandering around every day. The hosts left us a bottle of wine to welcome us and it was a wonderful experience!
Ami
2016-07-25T00:00:00Z
Room Type
Entire home/apt
---
Property Type
House
---
Accommodates
6
---
Bedrooms
Paso Robles, CA, United States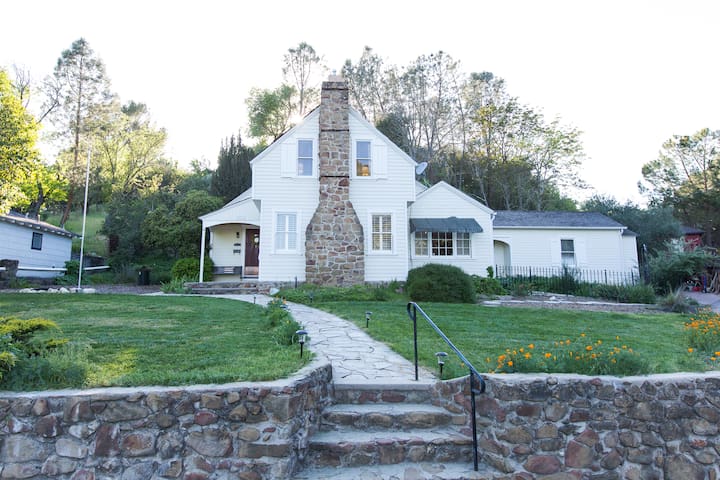 The farmhouse is cute, cozy, charming, and a staple for our large family gatherings. We call it "the yellow house," as it's always been yellow since our family bought the property in the '70s. Enjoy the views from the front porch with a glass of wine or your morning coffee. Good for couples who don't mind sharing a bathroom. Close to westside wineries as we are located very close to 46W and Vineyard Drive. Instagram: farmhouseonoakdale
The view of oaks and vineyards never gets old. We are very close to wineries. It's quiet here. Only a few cars pass our street every hour, yet we are close enough to some action (about 10- 15 minutes from Templeton/Paso and 25 minutes from San Luis Obispo).
Room Type
Entire home/apt
---
Property Type
House
---
Accommodates
4
---
Bedrooms
Paso Robles, CA, United States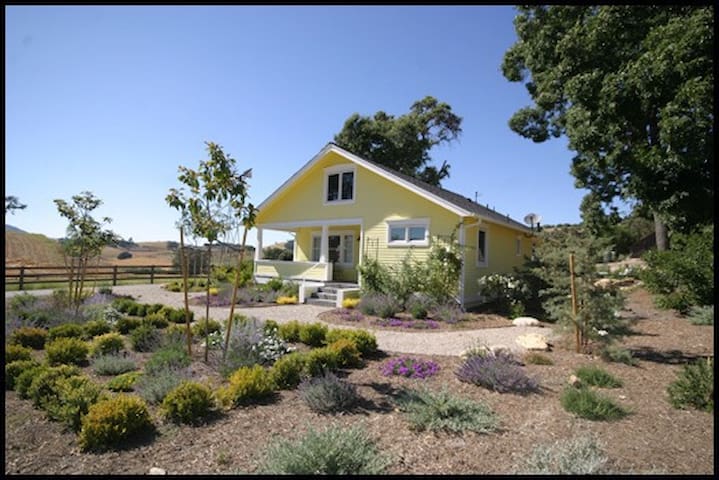 Beautiful cottage in the amazing Paso Robles country. Breathtaking views from your 3/4 surround porch. Enjoy the sunrise over the Paso vineyards. Play a relaxing game of bocce on your own private court. Away from the distractions of daily life, feel your stress melt away...
Your own private cottage on 4 acres in the Paso Robles country. 800 Sq foot open floor plan cottage. Sunken living space with 12 foot ceilings. Individual bedroom and full bathroom. Kitchenette for light cooking and small refrigerator too. Additional trundle bed in open area for extra sleeping. Recently renovated in 2016.
Secluded, private cottage on elevated 4 acres above and setback from highway 101. Quiet stress free environment. Owner on Property.
Awesome place! Beautiful view! Ryan made sure everything was perfect!
Bryan
2017-03-14T00:00:00Z
Great place, very nice with outside bocce and bags set up. Great expirence
Nathan
2016-06-06T00:00:00Z
This little house was great! We stayed for the weekend with our two kids and they had a blast running around outside while it was also convenient to the downtown area where we grown ups went for the Paso Robles wine festival.
Ginger
2016-05-23T00:00:00Z
We had a fantastic stay at Ryan & Jenn's, who made all arrangements so easy and were available should we need them. Very comfortable for three people, with everything as shown and more. Beautiful views and great location. Will absolutely be recommending it to friends/family, and hopefully coming back soon!
Jenna
2016-08-01T00:00:00Z
We had a great time! The cottage has thoughtful details, in addition to being relaxingly quiet with spectacular view, and conveniently close to everything. Ryan and Jenn are very helpful. Thank you!!
Wai
2016-12-27T00:00:00Z
Ryan and Jenn were great hosts. They were very friendly and accomodating. The house was nice, open and had beautiful views.... A great place to wind down and relax.
Holly
2016-03-11T00:00:00Z
This was our second stay we love the location and the house is perfect. Every detail is thought of and they even make using the amenities like bocce ball easy with rules. The house is clean and well kept. Thank you Ryan and Jennifer we will be back !!
Sandra
2016-09-06T00:00:00Z
This place was wonderful, a lovely place for a couple, but space enough for a family of 4 or 5. Beautiful views of the Paso Robles rolling hills, along with a cozy interior. Would definitely recommend this cottage and will be staying here again next time we are in the area. Just as described, couldn't ask for more.
Alex
2017-01-16T00:00:00Z
Room Type
Entire home/apt
---
Property Type
House
---
Accommodates
4
---
Bedrooms
Paso Robles, CA, United States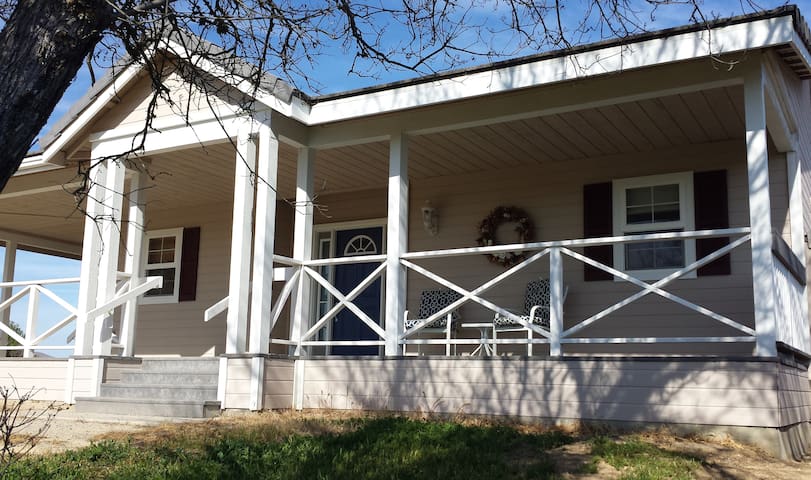 Lovely detached cottage just blocks from downtown Paso. A delightful front patio, cozy indoor seating area, full kitchen and bathroom make this the perfect home away from home. Amenities include plush queen bed, parking, wifi, TV, Keurig, and more!
The Cottage on Chestnut boasts tons of historic charm without the downsides of an old home. The space has been completely remodeled to make your stay comfortable, relaxing and enjoyable. New windows, new heating and air, a completely renovated bathroom and brand new kitchen are just some of the improvements we've made. The plush queen bed comes with high quality sheets and a selection of pillows. There are two flat screen TVs (one in the bedroom and one in the sun room) and free protected wifi. We pride ourselves on providing the most clean and comfortable space possible so you can completely enjoy a stress-free stay. We hope to host you soon!
A mere five blocks from the historic Town Square, our cottage is extremely accessible to downtown Paso. We're just a short walk away from world-renowned restaurants, fantastic wine tasting rooms and inviting coffee shops. We're happy to provide recommendations on where to go and what to do!
Our stay here was absolutely wonderful! Jess and Brendan made it very easy to check in and left a bottle of wine for us upon our arrival to enjoy. The space is extremely clean, spacious and close to downtown. We were so happy we decided to stay here and will absolutely return!
Katia
2016-08-22T00:00:00Z
Great place and location. We hope to come back soon.
Todd
2016-08-16T00:00:00Z
Great experience. Great hosts and great little cottage.
Matt
2016-09-02T00:00:00Z
Small cottage is perfect for a couple wanting to get away. A short walk to everything you could want downtown and the cottage itself is wonderful. Definitely would recommend!
Jeff
2016-10-30T00:00:00Z
Such a cute place! We walked into the main area of town each night from our little cottage. Very convenient, clean, nicely decorated, and private. They left us some yummy coffee and wine. We would definitely stay here again.
Rose
2016-09-12T00:00:00Z
Had a wonderful stay, beautiful quiet and friendly neighborhood. The cottage met and exceeded all expectations with no skipping on any of the details for a comfortable stay.
Nicholas
2016-10-16T00:00:00Z
Really enjoyed our stay. Everything was as advertised. Really like the front seating area to enjoy our morning coffee.
Darin
2017-03-13T00:00:00Z
Gorgeous house in a wonderful town. We loved every second of it. Thank you.
Mette
2016-06-14T00:00:00Z
Room Type
Entire home/apt
---
Property Type
House
---
Accommodates
2
---
Bedrooms
Paso Robles, CA, United States
Our private room offers guests rest and relaxation in a quiet and beautiful Paso Robles neighborhood close to wineries, breweries, and restaurants. Comfortable queen sized memory foam mattress, private bath. **PLEASE READ YOUR CONFIRMATION EMAIL FOR THE ACCESS CODE AND OTHER IMPORTANT DETAILS ABOUT YOUR VISIT** WE DO NOT PROVIDE: cable or satellite TV (we do provide a smart TV with limited streaming ROKU channels and DVDs and a DVD Player), beverages, utensils, cups.
Experience Paso Robles like a local! We'll be happy to provide you with recommendations for restaurants, wineries, and activities during your stay in our guest room. We do not provide all the amenities of a hotel and our price is reflective of that. We offer clean and comfortable sleeping accommodations along with a small updated bathroom. If that is what you are looking for, perfect! We'd love to host you. If you're looking for more amenities, I'd be happy to offer recommendations for you. We offer comfortable overnight accommodations and a nice, updated bathroom for your use. We hope you come to Paso to enjoy all that it has to offer...not wish to spend all your time in your room. Please review our list of amenities prior to booking and let me know if you have any questions about what we offer in advance of your stay.
Our friendly neighborhood is conveniently located close to wineries, shopping, golf courses, and downtown (driving distance). It is a beautiful neighborhood for walking or running.
Tracy's place is great. Your own private apartment with separate entrance. Decorated nicely and Like a high end hotel room. Unfortunately we never met.
Mark
2015-08-24T00:00:00Z
Great, modern, cozy and super comfy room in a beautiful area. We would def stay here again. Thanks Tracy for having us!!
Lena
2017-03-28T00:00:00Z
We felt realy well. It's a nice, calm and very clean place. Tracy is kindly and uncomplecated.
Michael
2015-10-07T00:00:00Z
We didn't get to meet Tracy because we got in pretty late, but she was able to help us check in no problem. The room has a nice view of the landscape outside with no obstruction of other houses. Just sky, mountains and trees. True serenity. The bed was super comfortable, and although there is no cable, Tracy has lots of board games and movies to keep you company. The bathroom was clean and felt very luxurious. The only thing that may had been a downside was that I could hear the host (or host's family) sleeping in the room next to the bathroom/room. We were extra cautious to not be too loud, and put on the movies at a really low volume, afraid that the host may be awaken. But overall great experience, would stay again!
Jeannie
2015-11-03T00:00:00Z
This setup was a great alternative to staying at the Marriott for a friend's wedding at a nearby winery. Check in was simple: we let ourselves into the unit with the key code. The unit was clean and comfortable. The bathroom was stocked with full towel sets (including one for makeup removal), shampoo, conditioner, and body wash. The mattress was also very comfortable!
Janet
2016-07-11T00:00:00Z
This private casita was our very first Airbnb experience! It was a very cozy room with an attached bathroom. We loved the fireplace and the fact that there is an open field across the street. The room was private, it's in a quiet neighborhood, and was close enough to the downtown area for us. They have a nice collection of DVDs to watch that came in handy (Finding Nemo was our fave)! Shampoo/conditioner/body wash were provided which was also a plus. Thank you for giving us a great first Airbnb experience!
MrnMrs
2016-04-01T00:00:00Z
Great place to stay for a quick trip around wine country. Location and cleanliness met our needs. Traci recommended some great wineries
Amanda
2017-03-16T00:00:00Z
This room was a beautiful getaway. The bed is extremely comfortable, the fireplace sucked me in and created a serene ambiance, and the privacy gave me exactly what I needed for my stay for some good R&R. Unfortunately I was unable to meet Tracy, but look forward to returning to Paso Robles and their beautiful casita! Thank you again!
Megan
2015-12-04T00:00:00Z
Room Type
Habitación privada
---
Property Type
House
---
Accommodates
2
---
Bedrooms
Paso Robles, CA, United States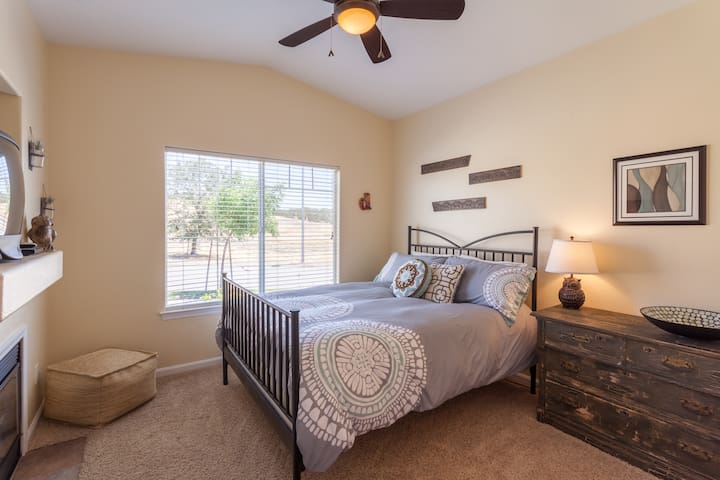 Paso Robles - Airbnb
:
Average

4.99

out of

5

stars from

1180

guest reviews
1

–

18

of

300+ Home Rentals
Enter dates to see full pricing. Additional fees apply. Taxes may be added.