20 mins walk from Metro-North Mt. Vernon East station or take 7 bus, stops right in front of building. Next to Hutchinson & Cross County pkwy's. Few miles away from the Bronx and 2, 5 train. Private room with foam mattress, futon, smart TV Netflix, Amazon TV, YouTube, etc. AC/heat/mini fridge/meals, beverages & snacks for sale in the room. Shared bathroom. Laundry room access. Street parking ONLY! All guest must be over the age of 18, no exceptions, sorry.
There is a single bed and a single size futon. Easily accommodates 2 guests. Wireless internet and color laser printer (.10c pp). For your convienence mini-fridge, microwave, (water, soda & snacks for sale in room.) Iron & board in room. Bathroom is shared with occupants.
Fleetwood is located in the City of Mount Vernon. Its a suburb of NYC, in what is considered upstate. Its about 30 minute train ride from Grand Central Station using the Metro North. Its an upper middle class neighborhood, home of the former mayor of Mount Vernon and a few celebrities. Fleetwood is a quiet neighborhood adorned with beauty. Our building is well maintained, with manicured lawns and extremely clean. There is a beautiful fountain located on premises and the complex is decorated for holiday. Its quiet at night. Street parking does have alternate side regulations on Wednesday and Thursday.
Comfort
Oscar
2017-02-07T00:00:00Z
Nice quiet room! Very good experience.
Sushmith
2017-03-24T00:00:00Z
I stayed one night. The space was clean and the communication was clear. I'd stay again if I was going to be in Westchester again
Darrell Ann
2017-03-03T00:00:00Z
Awesome place
Loi
2017-04-02T00:00:00Z
Enjoyed the stay with Nicole & Eli!!
Jason
2017-03-29T00:00:00Z
Clean, quiet, and comfortable room in quiet neighborhood with accessible on-street parking. Clean bathroom. Accommodating hosts, thank you for the stay.
Marie-Eleana
2016-12-30T00:00:00Z
Great host, Great place and was all I Needed to be comfortable.. I slept like a 2yr old. Love the turtle
Zazik
2017-03-06T00:00:00Z
Nicole and Eli (hope I spelled that right) were great hosts! It was like being over my best friend's house. They made us feel so welcomed and are very active with the guests. I would definitely recommend Nicole as a host anytime. They are very clean, it was home away from home. I could go on and on about them I would definitely stay here again! Awesome
Rachel
2016-09-11T00:00:00Z
Room Type
Private room
---
Property Type
Apartment
---
Accommodates
2
---
Bedrooms
Mount Vernon, NY, United States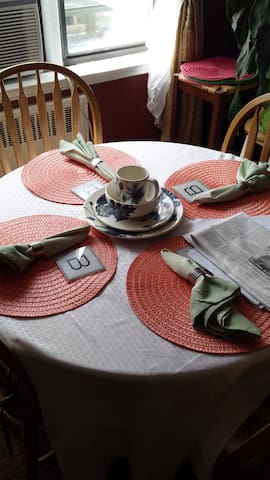 Enjoy a relaxing stay with a home away from home; in this 1 bedroom studio apartment. Equipped with a comfortable bed, clean bathroom, kitchen, fridge, microwave, sink, counter top & stove. - 1 bedroom apartment with open floor plan (Fits 1-2 adults) - Private Individual Entrance - Convenient & easy street parking, in a quiet neighborhood. - 5 minute drive from Metro North Railroad (Mount Vernon East station) which gives access to other parts of Westchester, Manhattan, and Connecticut areas.
Includes an HDTV, premium cable, wifi and couch for your leisure.
Nearby: Wilson Woods Park/Pool (1 min) Local Highway: Hutchinson River Parkway- (1 min) Shopping: Target, CVS, Bestbuy, Post Office, Dunkin Donuts, Subway, Five Guys, Panera Bread, Laundromat; etc. (5min drive)
Staying at Nicole's place was FANTASTIC. She really has the most beautiful studio to stay at. We have traveled and stayed at others places offered through Airbnb but this has been the most amazing place that we have seen. Nicole was really great and her service was awesome. She took care of us better than anyone else-even better than a hotel. The neighborhood is also fantastic. She made sure my fiancé and I felt at home . Which made our trip unforgettable. Thank You from the bottom of our hearts.
ANGEL
2017-04-02T00:00:00Z
Room Type
Entire home/apt
---
Property Type
Apartment
---
Accommodates
2
---
Bedrooms
Mount Vernon, NY, United States
Walk to Manhattan train! Light-flooded sanctuary: This fully updated studio features a queen-size bed, a sleeper sofa, a dining area, a spacious bathroom and a brand new kitchen. Kitchen is fully equipped with pots and pan, large refrigerator, cooktop, blender, Keurig coffee maker, toaster, and microwave. Blend your smoothies, and brew your fresh Keurig coffee in the morning. Living room features a cozy electric fireplace & dining table with 4 chairs. Total privacy with separate entrance.
Oversized studio with lots of light. Fully remodeled. Airy and modern with all amenities.
Easy access to Parkways and major Highways. Close to Mount Vernon Montefiore Hospital, Bronxville Lawrence Hospital, Sarah Lawrence College. Shopping and restaurants close by.
Very hospitable and great communication. Warm and personal and even adding small touches to the studio to make it feel like home. Highly recommended.
Christy
2016-12-23T00:00:00Z
We loved exploring the city! So much fun! The place was in great vicinity to everything we wanted to see!
Holly
2016-12-30T00:00:00Z
The studio is very clean and comfortable with great light. The kitchen is well equipped. Although it is a studio, there is a door between the kitchen and bedroom, so you don't have to worry that the smoke and smell will go into the bedroom. It's a perfect place if you want to cook by yourself on a daily basis. The entire studio is absolutely private, with an separate entrance. Sophia and Darwin are very friendly hosts. They responded every quickly and got everything we need. We really enjoyed our stay and will definitely come back if we need to stay in New Rochelle in the future.
Anqi
2017-01-15T00:00:00Z
Room Type
Entire home/apt
---
Property Type
Apartment
---
Accommodates
3
---
Bedrooms
Mount Vernon, NY, United States
Great area,grocery store laundry,supermaket,restaurants,pharmacy near.
Room Type
Private room
---
Property Type
Apartment
---
Accommodates
1
---
Bedrooms
Mount Vernon, NY, United States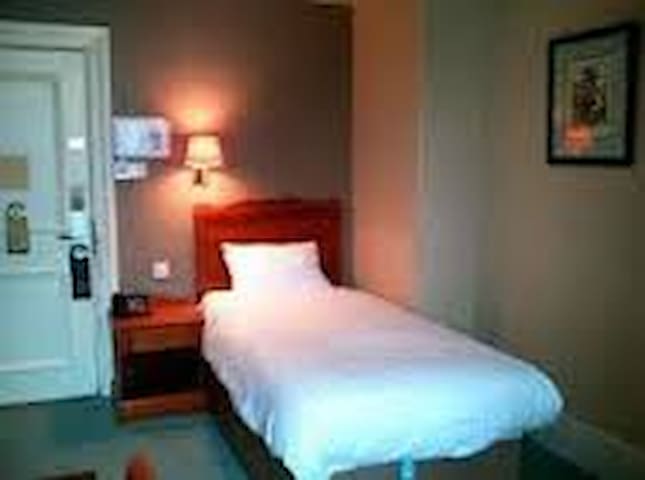 My ground floor apartment is in a quiet residential area just 5 minutes from the commuter train. The outside area is unique and and quite inviting Everyone says it is the 'Best Room in the House'. The space is a bit 'Boho', very relaxed and comfortable for guests. I hope you will feel at home. A small shopping area is also only minutes away with all services & great restaurants. As your host I will do everything I can to make your stay fantastic!
Large king sized bed in spacious bedroom. Your own bathroom has a large built in shower. Use of another bathroom, with tub, is also available. Kitchen, living room and wonderful patio are also available to guests although shared with me as I do live there full time.
This is a quiet residential neighborhood. The nearby small business district has lots of restaurants, banks, grocery store etc. just 5 minutes walk away - it's really a beautiful little spot.
Janis is a truly lovely lady with amazing tastes in cool stuff. She's flexible, accommodating, and laid back. She makes you really feel at home. The apartment is right off the bus line and by the Main Street in Fleetwood, which is a huge bonus. I'd definitely recommend Janis' place to anyone who is looking for a place in the area.
Christie
2016-08-13T00:00:00Z
Lovely lady! She welcomed us and made us feel like it was our house.
Ahmed
2016-08-18T00:00:00Z
Janis She is what you are looking in a host. this kind of person its what every city needs. Se is someaone who make your stay feeling like you are staying over at a friends house for visit. She is the one who make an extra effort to help you, help you with local tips, even helping moving your luggage. She would be sure you have everything to make it a comfortable and memorable stay. She is a nice lady with a very interesting conversation. She even received me the day before my birthday with a juicy steak for dinner. She is the kind of host that every city should have. NYC is just a short train ride away...
Gaston
2016-09-08T00:00:00Z
Fantastic stay! Clean, cozy, and Janis is a great host!
Sasha
2016-11-01T00:00:00Z
Our host, Janis, was very welcoming and helpful. She wasn't able to be there for our stay but her next door neighbor was super nice and helpful as well. Janis was very responsive to our messages and was accommodating when we ended up arriving a couple hours later than expected. The listing seens small due to the King Size (comfy) bed and best for one or two people. She is a collector! So the listing is full of interesting things. Janis had been traveling when we made our reservation so her place was set up as one who wouldn't be there for a while. There were sheets covering a lot of the things and areas in her house. She offered us her personal parking spot in a covered garage below the building which was SO CONVENIENT. The commuter train was a few minutes from the listing and very easy to get to. There was no TV or WIFI so if you absolutely need those things then that's something to think about. We were only there for one evening so it wasn't a big deal for us. Overall, for as short of a stay as we had we did enjoy our stay.
Jake
2016-08-21T00:00:00Z
Janis was very kind and welcoming. She's a warm and delightful host, who goes out of her way to enrich and make your stay comfortable. The convenience of the location is perfect for going to White Plains and New York City. I will definitively return.
Khalil
2016-09-25T00:00:00Z
Janis is very hospitable and helpful throughout our stay. She took extra effort for us and made us feel home. The place is clean and cozy and just one minute walk to the Fleetwood station. The neighborhood is quite and safe. The experience has been great and we would like to thank Janis for her hospitability and help.
Ashok
2016-06-12T00:00:00Z
The listing was as advertised and everything we could have reasonably expected. The host communicated instructions very well and was very respectful of our privacy. Even came with a private parking spot in a garage. Overall a very good expedience
Katie
2016-09-05T00:00:00Z
Room Type
Habitación privada
---
Property Type
Apartment
---
Accommodates
2
---
Bedrooms
Mount Vernon, NY, United States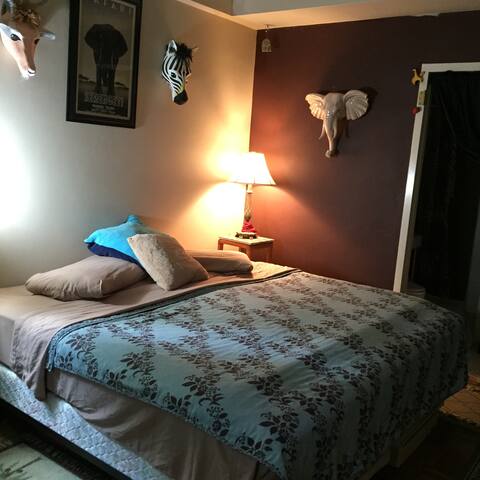 Walk to Bronxville or Fleetwood train - 25 mins to Grand Central NYC. Spacious, clean, comfy and convenient - close to markets and charming restaurants and all that gorgeous Bronxville and Fleetwood have to offer. Enjoy NYC and relax in this oasis.
You will really enjoy the access to NYC and also the fabulous local area with great restaurants and lovely ambiance. There is on street parking and also train transportation to Midtown NYC. Great for professionals and vacationers looking for a short term rental. It is also convenient to Sarah Lawrence and Concordia College, as well as Columbia and Fordham University.
We were Kelly's first guests, and she was very welcoming and accommodating. It was easy access, lovely neighborhood, and she even offered to make dinner reservations for us! Will stay here again when visiting my daughter at SLC!
Julie
2015-09-09T00:00:00Z
We had a great month at Kelly's apartment. She has a great personality, and we had a warm welcome. The apt is well equipped, clean and tidy in a safe neighbourhood. You can easily park your car around here. It is not in the city but the public transport is close to the accomodation. We will definetely come back again.
Zoltan
2015-10-20T00:00:00Z
The host canceled this reservation 91 days before arrival. This is an automated posting.
Joanne
2016-02-18T00:00:00Z
This was an ideal location with great accommodations! This apt was perfect for my needs - was clean and great for our long weekend in NY. The beds are comfortable. Walking distance to trains and food/bar. Would definitely stay here again. Highly recommend!
Molly
2015-09-15T00:00:00Z
Room Type
Entire home/apt
---
Property Type
Apartment
---
Accommodates
4
---
Bedrooms
Mount Vernon, NY, United States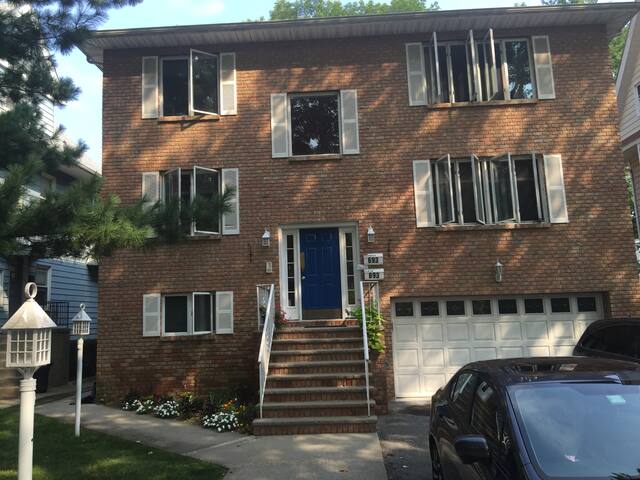 Vibrant & Comfortable spacious escape 1 private bedroom & bathroom. Natural light serene view. Metro North (walking distance) 20 minutes to 42nd Street. Luxury building near countless restaurants and dining, and art and culture. You'll love my place because of the neighborhood, the comfy bed, and the coziness. My place is good for couples, solo adventurers, and business travelers.
I had a great experience at michele's. Great location for me;I visited family in the Bronx, and it's only 40 minutes drive to Manhattan..the room was as advertised: clean and big, with lot of sunlight. I had a little problem finding a parking spot on my first two nights, but relatively easy the last three nights. Michele was kind enough to reserve a parking spot for me on one night (thanx michele )..I was always cared for and asked if I needed anything just to let her know. I will definitely stay at michele again, and I will recommend it to anyone.
Kally
2016-08-28T00:00:00Z
Our stay was perfect. Michele is one of the most welcoming people I have ever met. The room and bathroom were clean and the bed was really comfortable. It should be noticed that we didn't get a key to the apartment but Michele was always there to open the doors for us. The location is ok. It's only 3 stops away from Grand Central Station with Metro North (which is much more expensive than the subway in New York City itself though). All in all we can definitely recommend staying here.
Natalia
2016-09-25T00:00:00Z
Words can't describe the awesomeness ,but Michelle was very warming and welcoming made sure I was good no matter what time of the day it was made sure I was comfortable , even stacked the fridge omg! Just so gear place was very clean and the natural light was a blessing comin in early in the morning
Orlando
2016-07-20T00:00:00Z
My daughter enjoyed staying with Michelle and her son. She said that they were very friendly and welcoming. She would have liked to have had a key to get in and out on her own, but Michelle or her son were always available to let her in.
Kira
2016-09-03T00:00:00Z
Great place to stay. It had plenty of space, clean and safe. Close to metro north which takes about 3 stops to get to Times Square.
Toronto
2016-08-08T00:00:00Z
Room Type
Private room
---
Property Type
Apartment
---
Accommodates
2
---
Bedrooms
Mount Vernon, NY, United States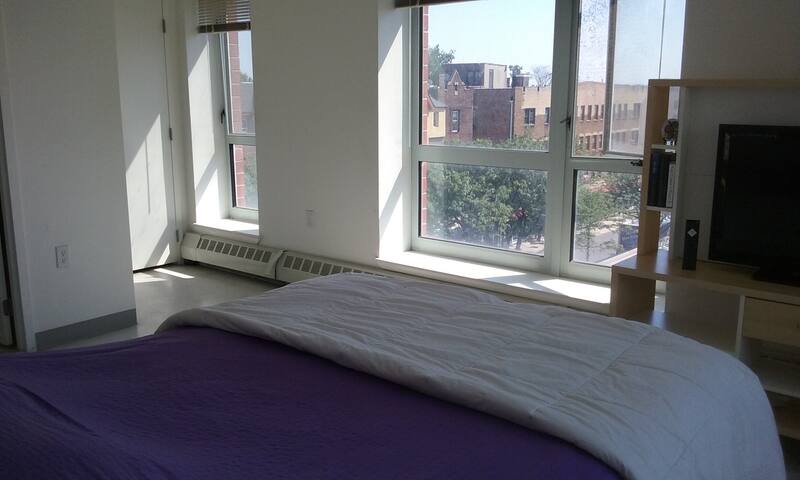 This is a small leather sofa. It's located in a room, next to another sofa, where there will be another guest.
Our home is very welcoming. We strive to make everyone feel as comfortable as possible. There are many stores near by for any necessity you may have.
Van cortland park is a few minutes away. Financial district on south Broadway has many stores. Downtown Yonkers in not too far away. There are many shops there.
This place had all I needed. A comfortable setting for me to sleep, a very good hot shower, strong wi-fi, and a safe neighborhood. You'll be treated like family. Something else I liked: it has a Dunkin Donuts 2 minutes away, so you can grab a coffee and a bite and head to the big city for your adventures.
oswald
2016-11-28T00:00:00Z
Jonathan is an AMAZING HOST!!! He was so kind and generous through out my stay at his place. Location was great even though it was little further away from the city. Commute was real easy from the city to his place and around his place, there are so many convenient store and restaurants where you literally won't miss anything for daily needs. Place itself was very safe and clean. Kitchen and bathroom was spotless!! Couch is as comfortable and room has big window for natural light. Communicating with Jon was fast and smooth.Once again Jon was super polite and kind with his words. I have to say Jon definitely made my trip so much better by him just being that nice. Roomier also was great and cool guy.Highly highly recommend to stay at his place if anyone is traveling to NYC!!!!!
Maxim
2017-01-20T00:00:00Z
I have stayed here before. There are a few little spots to grab a quick bite: South American, Asian and New York deli-style foods with drop-off or self-serve laundromat in the area. As tidy as the place already is, guests should try to be courteous and be sure to also clean up after themselves. It is overall pleasant here.
Gail
2017-01-30T00:00:00Z
I have been 13 days in Yonkers in the house of Jonathan for Christmas holidays and everything was perfect, very clean house, good wifi connection, and you can reach Manhattan with Bee line bus and subaway in 50 minutes.Jonathan and Loreal are polite and kind guest. (the last night it was nice to have dinner with their family)
pasquale
2017-01-02T00:00:00Z
Jonathan was extra helpful when my flight was delayed and i was going to be checking in late. I also greatly appreciated the flexibility when it came to amending my reservation. Jonathan and his step father were very polite and made me feel comfortable. This room is warm and located very close to many bus routes, delis, 99cent store, little caesars and plenty of laundry mats. I had a great stay here and will return!
Isaac
2017-03-01T00:00:00Z
Friendly host, safe neighborhood, clean and comfortable space.
Corey
2017-03-09T00:00:00Z
My host, Jonathan took very good care in helping me feel welcome during my stay. I never mentioned it, but this is my first Airbnb booking. He was a perfect gentleman and made sure everything in the room was neat and in order. I had access to the fridge for my cream and cocoa. Everyone was so polite and respectful.
Gail
2016-12-02T00:00:00Z
The host canceled this reservation 126 days before arrival. This is an automated posting.
Julius
2016-12-28T00:00:00Z
Room Type
Shared room
---
Property Type
Apartment
---
Accommodates
1
---
Bedrooms
Yonkers, NY, United States
This apartment has a breath taking view of the Hudson River and the Manhattan Skyline. Wake up every morning gazing at the Big Apple. Few steps away from the Metro-North Station (30 mins to Grand Central). Very comfortable Queen AirBed!
Spacious 1 bedroom home. The very comfortable Queen AirBed is in the living room where you will have your personal space. The apartment is always kept clean and a perfect location right next to the Metro North station with an amazing view of the city that you came to see.
-Street parking is easy to find until 8PM -The location is friendly for travelers that are going to the City or have a car, there are not many restaurants around the home. (Food delivery services are available)
Vaibhav was very welcoming, hes place is clean and VERY close to the metro station(couldn't be closer actually). If you're looking for something close to Manhattan at a good price, Skyline & River View is the place. He cooks some good indian food too :)!
Cassio
2016-02-01T00:00:00Z
Via was very welcoming. Although he was not around much he still was more than willing to share his knowledge of the area and some great places to visit. He was very personable and I very much enjoyed our interaction with him. His apartment was very clean and inviting, with a great view and close to the water front for some great river walking.
Lisa
2015-10-25T00:00:00Z
Vaibhav is really good in response whenever needed. He apt is Awsome .. Beautiful view . He is cool and friendly in greetings. I recommend to stay at his apt if you visit new York . 100% satisfied
Ravi
2016-08-08T00:00:00Z
Great experience clean apartment
Jeremy
2016-05-02T00:00:00Z
Vaibhav's apartment was perfect for what I needed. He is extremely respectful, friendly, and engaging in conversation. He works at a local hospital so is pretty busy (but was on top of everything with regard to making me feel comfortable. The layout is an air mattress in the living room. You have access to a large screen tv, bathroom, kitchen, and the view is great (you can see the Manhattan skyline). I used a car and surprisingly didn't have trouble parking. If train is your option, you can't get better. The station is literally downstairs, 10 steps away. This is a nice stay with a very nice host.
Alvita
2016-03-21T00:00:00Z
Vaibhav was helpful, flexible and an easy person to talk too. He has a lovely apartment, nice day bed with a beautiful view.
Sean
2016-02-03T00:00:00Z
Vaibhav is an excellent host. Super friendly and welcoming. Made my stay very enjoyable and easy. The whole apartment was spotless, bed is comfy, and it also has an amazing view of new york city. I recommend this room to anyone looking for a cool spot to stay.
Matteo
2015-12-12T00:00:00Z
Had a great amount of privacy and the train station is basically a foot out the front door which was wonderful.
Marisa
2017-03-15T00:00:00Z
Room Type
Shared room
---
Property Type
Apartment
---
Accommodates
2
---
Bedrooms
Yonkers, NY, United States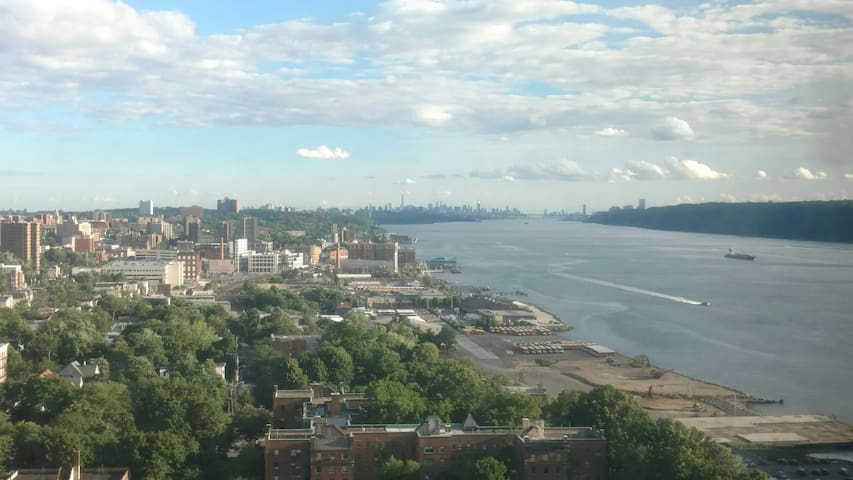 Full 2 bedroom apartment, with great views of the Hudson River right from your living room, both bedrooms, and your kitchen. Private apartment all to yourself including a clean bathroom. Wifi and utilities are included! FULL DESCRIPTION BELOW
A massive 2 bedroom apartment. It is estimated to be 1200 sq ft. 2 Queen sized bed and separate bedrooms with closets/Dressers And also with River views. Full sized Bathroom that will be scrubbed clean and look brand new before you arrive. A living room with a large flat screen smart TV with complementary Netflix. 2 couches and dinning table. A full kitchen with Microwave, Stove, sink, refrigerator, cabinets, oven, utensils, plates, snacks, and water. Toiletries will be included when you arrive like toilet paper, toothpaste, soap, and shampoo! Towels and linens will also be included.
The Apartment is 1/2 mile away from the Greystone Train station, and is walking distance with a sidewalk along the river with lights all night. The area is safely patrolled because it is a scenic beauty. There is a park across the street of the apartment because the area is very family oriented. Plenty of amazing restaurants are right in the area. 2 Miles north on the same road, ( Literally just drive straight north on the same road ) you will arrive in Hastings on the Hudson. Which is loaded with restaurants that are all Zagat rated. An Applebees, Dunkin donuts, and an Italian restaurant are within a mile. And a deli/market and a pizzeria are 2 blocks away. Besides NYC which has endless things to do. Yonkers offers a lot of exciting things to do as well. Empire Raceway Casino has recently been renovated and is an amazing horse-track and digital casino. Multiple outdoor and indoor malls with bowling alleys, movie theaters, golf ranges and many restaurants. And NYC is so close you can go there for lunch. Amazing Sunsets views are at your doorstep!
Joe's apartment was really great, it was huge, located in quiet neighborhood not so far from the grand central station (30-45 minutes by train). Joe was really friendly host, who would do everything to satisfy you! I can just recommend this apartment, for this price in New York!
Tomáš
2015-06-29T00:00:00Z
We ended up checking in late, but everything was set up and ready for us once we arrived. Joe gave us places to check out and let us know where the train was. We were worried about the listing once we got there at night, though it came to be a very nice place. We thought that because it was dark when we arrived and it was unfamiliar to us. The only thing that was bad was the bathroom sink leaking a lot of the time, though we kept using the kitchen one instead.
Michael
2015-09-30T00:00:00Z
My husband and I stayed here while we looked for a permanent residence. Joe was awesome and made us feel very comfortable and welcome. The apartment is very spacious and the beds are comfortable. Having washers and dryers on the premises made things so much easier. Each apartment also comes with a garage or a parking spot. The few minor issues that we had in the beginning were promptly taken care of by Joe. He even brought by a bottle of wine to make up for any inconvenience. There is a nice view of the Hudson River and the A/C's blow cold. The location is close to transportation and grocery stores. You won't find anything better in this area for the price. All in all, it was a great stay and I would highly recommend this rental!
Michelle
2015-06-19T00:00:00Z
Nice place
Jinhee
2016-01-21T00:00:00Z
Joe is very welcoming and available to assist at any time. The place was 100% accurate as listed.
Karla
2016-08-21T00:00:00Z
This a wonderful place to stay. Spacious, clean, and close to public transportation. Beautiful site of a river. Joe is an excellent host!!
ShaRon
2017-01-15T00:00:00Z
Great deal
Khadine
2017-03-10T00:00:00Z
Overall it was okay Joe was a good host has minor problems here and there older building but Joe was there to fix them also the wifi never worked properly
Karandeep
2017-03-03T00:00:00Z
Room Type
Entire home/apt
---
Property Type
Apartment
---
Accommodates
6
---
Bedrooms
Yonkers, NY, United States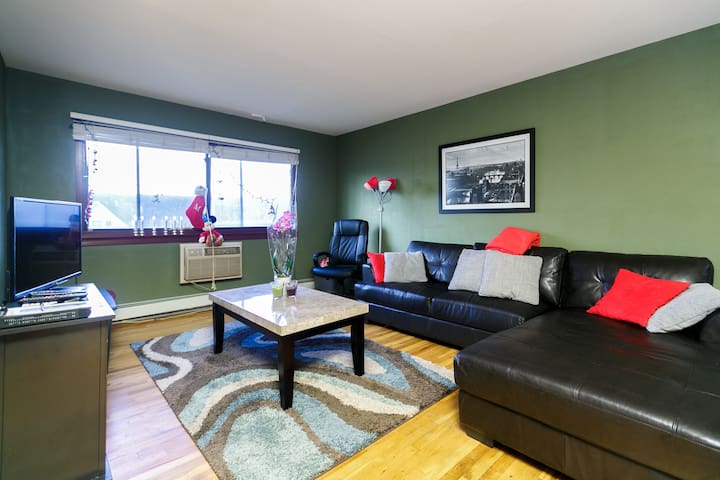 The apartment is located in the entrance of Yonkers, NY. There is a bus stop (BX9) just 1 block away that will take you to the Train #1 (Red) station in the Bronx where you can transfer and get anywhere in Manhattan.
Comfortable Studio Aparment, with one Bedroom, and kitchen and bathroom separate.
Room Type
Private room
---
Property Type
Apartment
---
Accommodates
4
---
Bedrooms
Yonkers, NY, United States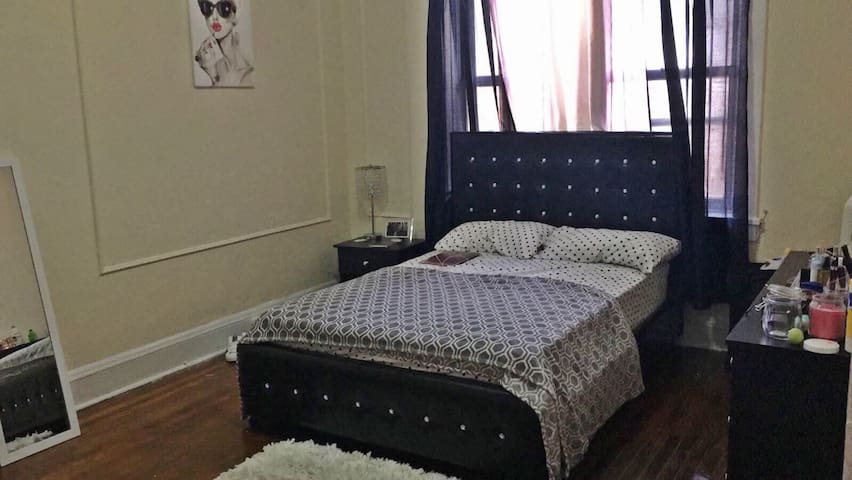 Located on a quiet cul-de-sac, this separate 1 bedroom apartment on the lower level of a private home is perfect for anyone wishing to have a space to themselves. We offer WiFi and full cable TV access. We're only minutes away from the Yonkers Executive Blvd office complex, Hastings-On-Hudson, Ardsley and Dobbs Ferry. Plus, its only a short ride to all New York City has to offer.
This fully and recently renovated apartment features a large living room, a full dining room and fully equipped kitchen. A selection of Keurig coffee, juice, soft drinks and bottled water are provided as is a selection of hot or cold breakfast cereals. There is also a small reading alcove to enjoy your favorite book or just relax. Guests enjoy direct access and use of our 2 large outdoor decks and also the backyard space. During the warm weather the decks are furnished with a sofa and two club chairs for lounging and ample dining space. There's also two charcoal barbecues (charcoal included) if you enjoy some outside grilling.
The home is located on a quiet dead-end street and you are surrounded by our friendly neighbors. For joggers, cyclists and strollers we are within walking distance to the South County Trailway. This fully paved 14 mile greenway is built atop the old Putnum Rail Line. It runs South-North from the Bronx's Van Cortlandt Park to the Town of Mt. Pleasant. There it joins the 22 mile North County Trailway. We are only 8 minutes or so from the quaint village of Hastings-on-Hudson. Set on the Hudson River, there you will find a pleasant mix of boutique shops, delightful restaurants and essentials such as a supermarket, pharmacy, etc.
We absolutely loved our stay here. It was so cozy! They left us cereals and drinks. So nice of them! The pictures don't show how beautiful everything is in person. Will definitely look here first if we need to stay near the city again! :)
Victoria
2017-01-21T00:00:00Z
This place was great! The pictures don't do it justice. It is a nice cozy private one bedroom apartment. Nicely renovated and fully equipped. Maud and her husband were so kind and friendly. If I ever come back to that part of New York, I would definitely plan on staying here again.
Minette
2016-12-14T00:00:00Z
Maud's basement apartment is great! It's beautifully decorated, light, and very comfortable. The kitchen was stocked with snacks, and toiletries were provided. Both a nice surprise! Maud was very easy to work with and met me at the house. I will be staying here again.
Jamie
2016-12-21T00:00:00Z
We want to thank Maud and her husband for everything. As soon as we arrived, they met us and we felt like a family. Their apartment is very comfortabke, nie, clean and they are exceptional. If I can rate them with diamonds instead of stars, definetly they will have 10 diamonds. Thanks for made our Christmas vacations an unforgettableexperience. Thanks.
Yahaira
2017-01-01T00:00:00Z
My wife and I were very comfortable and enjoyed the nice neighborhood. Maud was an excellent host and the quiet setting minutes from the city was just what we needed.
Anthony
2017-01-04T00:00:00Z
Maud and John's place was fantastic. So great that I extended my stay! They are wonderful hosts and very accommodating, even when I had to make some last minute changes to my reservation. Their place is very quiet, peaceful, and comfortable. Exactly what I was looking for.
Ruthie
2017-02-18T00:00:00Z
Everything about this place was amazing. So spacious! So beautiful! So clean! Complete privacy! & the hosts were super kind and friendly! We will definitely be back! Thanks for having us!!!!!
Daniella
2017-01-09T00:00:00Z
An adorable apartment. Both Maud and John are very communicative, friendly, and accommodating. If we're ever in need, we will definitely stay here again.
Bernard
2017-01-29T00:00:00Z
Room Type
Entire home/apt
---
Property Type
Apartment
---
Accommodates
2
---
Bedrooms
Yonkers, NY, United States
My apartment is located on the top floor of my three story home. There are about 20 stairs to climb up and free parking across the street at any time, which is one of benefits of NOT living in the heart of NYC. Inside the apartment, you'll find all necessary items for a comfortable stay. We have a hair dryer, an iron, towels, shampoos and toiletries. The kitchen is supplied with a microwave, coffee machine, toaster, blender and stove. The living room has a TV cable channels
My apartment is located on the top floor of my three story home. There are about 15 stairs to climb up and free parking across the street at any time, which is one of the benefits of NOT living in the heart of NYC. Inside the apartment, you'll find all necessary items for a comfortable stay. We have a hair dryer, an iron, towels, shampoos and toiletries (in the bathroom) and the kitchen is supplied with a microwave, coffee machine, toaster, blender and stove. The living room has a TV with cablevision channels and free-wifi is included free with your stay. If you prefer anything else, like a crib, extra pillows, extra blankets or anything of the sort, please inform me via messages prior to arrival. There are 2 bedrooms and one living room in the apartment. One bedroom has a queen bed and the other, a full-sized bed. The living room has a full-sized sofa bed that also sleeps 2 people. The apartment is perfect for a group of 6 people, super for family trips and groups trips! Or anyone else looking to be close to NYC without having to deal with the hustle and bustle of living in the middle of the city. It's only takes about 30 minutes one train ride and you are in the center of NYC.
ENTERTAINMENT Just a quick 5-7 minutes away you'll find Empire City Casino at the Yonkers Raceway for those who are wondering what to do here in town, as well as the Cross County Mall Walk Shopping Center (with a movie theater), the Plaza Shopping Center on Central Avenue, Ridge Hill Shopping Center with a movie theater, and just in case, St. John's Hospital with urgent care just down to road for those unexpected emergencies. We are also located a quick 5 minute drive from Downtown Yonkers, which has recently been renovated and has day-lighted the Saw Mill River, along with a new harbor boardwalk along the Hudson River. FOOD In case you get hungry, there is a pizza place just down the road with delivery options, Chinese place and nice restaurants on this street, like Giulio's down the street, as well as Zuppa's, X20s and the Dolphin, less than a 5 minute drive towards downtown Yonkers. I have included take-out orders in this folder for your convenience.
Amina lives downstairs and met me at the door. The apartment was great and she had great things in the refrigerator and Freezer, which was unexpected and appreciated. The location was great for my short trip and would be a great way for a larger group to experience New York, while being outside the city
Mike
2016-09-11T00:00:00Z
Nice and friendly host, apartment is nice too. A little bit far from NYC and all the places to have fun but the price is nice so I do recommend Amina's place.
Quốc Anh
2017-01-03T00:00:00Z
The place is very clean and nice. Amina is very helpful and nice. She helped us a lot during the stay. Without her, we might not have done the trip easily. She even gave us some gifts on the last day. If I had a chance to visit NYC, I would stay by her again. Thank you very much for everything.
Naphat
2016-09-28T00:00:00Z
Amina's apartment was great for my family of four. We stayed four days and Amina was warm, hospitable and responsive. Arranging the keys was easy and she had a pantry/fridge of staples which was very helpful since we had been moving from place to place during a renovation. The third floor felt more like an apartment and the rooms were all very clean and comfortable--sizable rooms. Definitely recommend and would stay here again.
Jen
2016-09-01T00:00:00Z
Very much enjoyed staying at Amina's place! She was very flexible with checking in and out and met us when we came there and when we left. Very friendly and accomodating. The pictures matched the place perfectly and the description matched too. Definitely would consider staying there again!
Crystal
2016-11-20T00:00:00Z
The host/Amina was very welcoming, and very accomodating as well. We had couple additional requests, like early check-in and kid related, and she helped out. My friend's family was also very pleased, as this was their first experience in NY city and especially regarding stay in Amina's place as against a hotel or something. I'm sure kids' running around would have caused noise downstairs, but Amina and her family were accomodating. thanks.
KAMAL
2016-09-06T00:00:00Z
We are very new to airbnb but this stay was such a treat and even better than the last stay we had (which we couldn't imagine!) Amina is so friendly and accommodating, she drove us to the subway station that would take us directly to the Yankee Stadium (which is what our trip was for) and helped us navigate around. We took a walk around the area when we first arrived and it was so clean and quiet, just perfect. The apartment was tip top shape. Spacious rooms, several spots to unload your luggage and feel at home with a pantry stocked with some items for when you're not out all over the city. Would highly recommending staying here for anyone. Thanks for EVERYTHING Amina! :)
Haylee
2016-09-29T00:00:00Z
We arrived at her placer very earlier than the checking provided, but Amina really made us fell very wellcome. She help us a lot with the Welcome book and in some times she took us to the subway station. All the things are as the photos shows, we will return soon we love this place.
Arturo
2016-09-19T00:00:00Z
Room Type
Entire home/apt
---
Property Type
Apartment
---
Accommodates
6
---
Bedrooms
Yonkers, NY, United States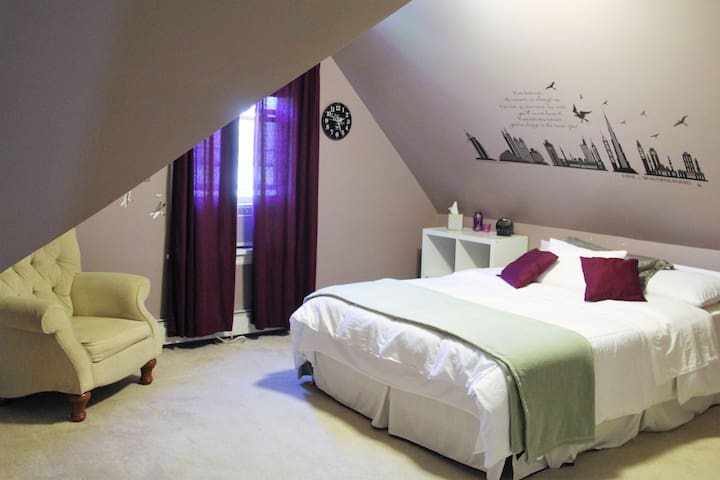 Welcome to Yonkers NY. Private one bedroom with a wonderful "King Size" memory foam bed. A large living room with Smart TV, fully equipped kitchen. The apartment is located in a quiet one way street with lots of street parking. Conveniently only two blocks away from the Yonkers Raceway casino where you can take a bus and train into NYC Manhattan area. Metro North Station is about 13 minutes away. About 10 minutes walking distance form Cross County Mall.
The listing was very accurate. The place is clean and spacious. Lourdes was very polite and accommodating.
John
2016-11-08T00:00:00Z
We loved this little apartment! First of all the price was right. And the location was convenient and felt safe. If you're looking for a place to stay that's affordable but not too far from the city this place is great. It was perfect for our week long stay. We went to and from NYC using the beeline bus to the subway station. (Get on the 7 bus at the Page St. bus stop to downtown Yonkers then walk a block to Riverdale Ave and catch the 1 or the 2 bus to 242st van courtland park subway station for the 1 subway line) Then on the way back to the apt at night we'd usually get an uber ride from the 242 st subway station for around $14. You can get an MTA metro card that's good for bus and subway, down the street at dan's smoke shop. The amenities of the place are comfortable, especially the memory foam mattress. The laundry will cost you $2 for each washer and dryer cycle, but the hardware store was generous about exchanging cash for coins as was the "ideal market" down the street, which also carries fresh bagels. Besides the market there's also a great little bake shop down the street with amazing pastries, as well as a hole in the wall pizza place with friendly service, and a Chinese restaurant all within a couple of blocks of the apartment. The one thing that was kind of a pain was the kitchen sink's super slow drain. It made me wish I'd picked up paper plates at the market. Oh and don't forget toilet paper when you get your groceries. There wasn't any extra rolls supplied for us. But I've had worse things to complain about. Overall a wonderful place to stay.
Robin
2016-10-18T00:00:00Z
This apartment was fantastic! Very clean. Everything you could want for a stay. The bed was comfortable, the shower was clean and great water pressure, nice kitchen and sitting area with cable tv and wifi. All was as promised and Lourdes was easy to work with. We would definitely stay again if we're in the area.
Linda
2016-10-30T00:00:00Z
This apartment is in a funky, old building. Because of this, neighbors could easily be heard. Lourdes has made a few basic upgrades, like a nice TV and new kitchenware, but overall the place is a bit funky. The décor is also stiff. The bedroom was comfortable to hang out in, but the living wasn't very inviting. There was no thermostat to control the temperature. It was 40 outside, and I was in shorts and a t-shirt. A few windows were cracked, but others (including in the bedroom) were covered and taped shut. The temperature in the shower fluctuated randomly. I was constantly jumping in and out of the water as it become very hot and then dropped again. The only view was onto the complex dumpsters. The kitchen is well stocked in terms of cookware, but doesn't have cooking basics, so bring everything you need. Lourdes was easy to work with though.
Jamie
2017-03-28T00:00:00Z
A nice apartment, clean, quite, except a little bit old (so humidity). We didn't meet Louders, but we call her. She is a nice person. The best way to get to the apartment address is to take train from Grand Central station to Mt vernon station (66$/10trip. One ticket can be used by more than one person) than you have to walk about 25 min through the Yonkers St.
Khalid
2016-09-23T00:00:00Z
Very nice and clean-centrally located
Stella
2016-11-20T00:00:00Z
If you have a car, parking is difficult. Not worth the money. I would not use it again. I stayed 2 nights and moved to a regular hotel because of issues with parking,no signal for TV and bathroom was very small.
Samia
2016-10-28T00:00:00Z
Everything was great for my short stay at Lourdes place. Smooth check in and check out, Clean, convenient, close to highway, exactly as described in listing.
KCee
2016-10-23T00:00:00Z
Room Type
Entire home/flat
---
Property Type
Apartment
---
Accommodates
4
---
Bedrooms
Yonkers, NY, United States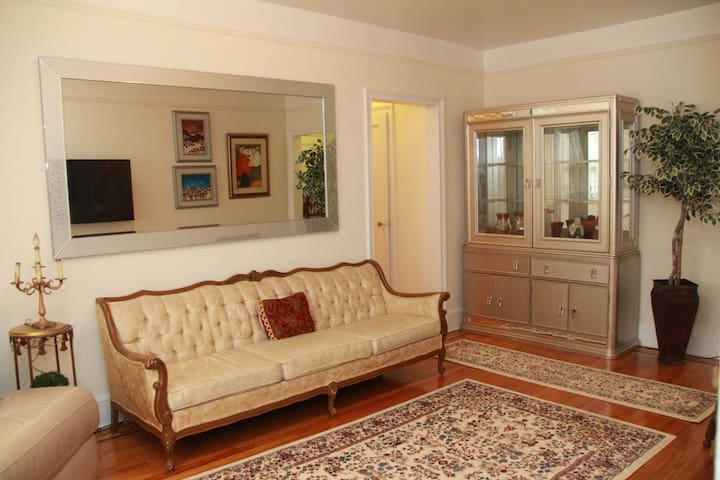 Peaceful evenings on this street. Second-floor walk-up in the heart of downtown Yonkers. Entire 1000 sq. ft. live/work loft w/ 1 bedroom, 1 bath, sunroom and high-end kitchen. 1 queen + 2 twin beds. Walk to all, including renowned restaurants, museums, train station and Hudson River activities.
This is a beautifully renovated space in an historic Blacksmith building built in 1891. The apartment sleeps 4 comfortably. There is a queen-size bed in the bedroom, a twin bed in the riverside alcove off the main living area and another twin bed in the sunroom.
Did you know that Yonkers was recently voted the "Hippest Town in Westchester"?! And the best of Yonkers is located downtown. Hear live outdoor jazz on Fridays, visit our new Yonkers brewery, Beczak Environmental Center, The Science Barge and historic Philipse Manor Hall. Fantastic Cuban, Italian, and Mexican cuisine are merely steps away, as well as Peter Kelly's famous X2O restaurant on the Hudson.
We stayed here for eight nights and had a very nice experience. The apartment is centrally located in Yonkers near many restaurants. The apartment is of a nice size, clean and with a kitchen large enough to do some cooking. Robert is a very gracious host and was kind enough to have us see apartment beforehand.
Renato
2015-09-13T00:00:00Z
great host , very helpful; wonderful very European style apartment with all amenities you need; just 2 minutes to the train station we stayed 4 weeks and already felt at home
Petra
2016-10-03T00:00:00Z
These hosts were very likable, for the little bit of time we saw them. The loft was roomy with nice views for the area. The immediate neighborhood was fine and the proximity to the train station was ideal. The bathroom was warm and toasty (almost too hot to stand in bare feet) with nice towels provided and the kitchen was surprisingly industrial sized. My hope is that the host adds a few more necessities like a hair dryer, a mirror or two outside of the bathroom and some smaller pots for cooking that aren't so huge that making some morning porridge isn't so comical. Overall, I think the kitchen could be better equipped to actually cook something, however if microwaving a packaged meal is your thing, then you are set. If you need a secure place to stay with amazing ease into the city with views of the Hudson at your door, then this is the place for you.
Gayle
2015-11-27T00:00:00Z
The place is beautiful. Just what I was looking for. Just steps from the train station and the waterfront. A couple of nice places to eat in the neighborhood and one right at the corner. You do have to park a block and a half in a parking garage, but the walk is short and the car is at least off the street and safe. And the day rate is cheap.
Mark
2015-10-18T00:00:00Z
Robert was a very gracious host! His loft apartment is perfectly appointed, very comfortable and in a very convenient location. Little touches like stocking the kitchen with the basics made this a special experience! My family loved Yonkers and the Riverfront area. We highly recommend thIs listing!
Michael
2015-09-25T00:00:00Z
Great place, very spacious - would stay again!
Steve
2015-09-22T00:00:00Z
My family of three stayed here for 8 nights total while our apartment in the Bronx was being renovated. Overall it was Avery positive experience. The apartment is centrally located in Yonkers in a very safe neighborhood close to many restaurants. The apartment itself is a nicely sized one bedroom that easily accommodated the three of us. The kitchen is nicely appointed and there are enough utensils to do some basic cooking. The bathroom is of normal size but more than adequate. The host, Robert, was very gracious and even let us have a look at the apartment beforehand. Overall I can highly recommend this apartment,
Renato
2015-09-16T00:00:00Z
Robert and Carrie were fabulous hosts, from the moment we arrived to after we left. The apartment was spotless, well-furnished, and had a comfortable kitchen stocked with snacks and breakfast ingredients (including great coffee that was refilled when we ran out!). I was in town for an intensive recording session, and being able to stay so comfortably just blocks from the studio made a huge difference. I highly highly recommend this apartment should your travels take you to Yonkers!
Michael
2015-08-18T00:00:00Z
Room Type
Entire home/apt
---
Property Type
Apartment
---
Accommodates
4
---
Bedrooms
Yonkers, NY, United States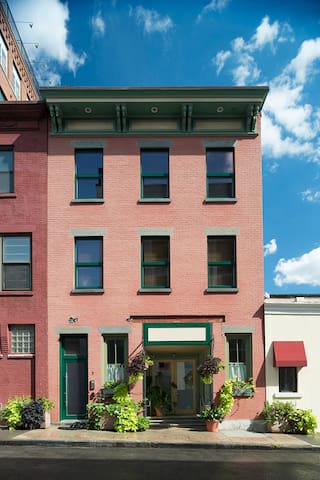 Cozy room in a modern apartment that will make you feel like home.
Located one block away from Ludlow Metro North train station. It will take you to downtown New York in 30 minutes.
The room was clean and tidy. Fabio is a great host. He is very friendly, supportive and gave me very good advices about driving in and around NY.
Mostakim
2017-03-27T00:00:00Z
Fabio is a great host. Very welcoming and accommodating. I'd stay there again for sure.
Bernard
2017-03-25T00:00:00Z
Fabio est un hôte très accueillant et aux petits soins Bouteilles d'eau, sodas et même jus de fruits et oeufs étaient à disposition. Il nous a même emmener faire un tour en ville. Fabio est flexible sur les horaires . Je recommande vivement si vous voulez être tranquille le soir notamment et voir un peu la banlieue de Yonkers. Autre point fort ,son appartement est situé à 2mn à pied de la gare et vous avez une vue sur le fleuve .
Matthieu
2017-03-16T00:00:00Z
Room Type
Private room
---
Property Type
Apartment
---
Accommodates
2
---
Bedrooms
Yonkers, NY, United States
Lovely 1 bedroom apartment with spectacular waterviews, across the street to the Yonkers train station. Yonkers to Manhattan is a 20 minutes train ride on Metro North. Parking available on side street. 15 minutes to Manhattan by car.
Yonkers is a lovely town on the Hudson River with restaurants, shopping and public transportation. Only 15 minutes to Manhattan.
Nadine's Yonkers apartment was located in an extremely well kept apartment building. My daily commute to the city was seamless and the parking garage was an added bonus. I would recommend this place to anyone who just needs a quick getaway from the hustle and bustle of the city...You will not regret it!
LaMika
2017-03-25T00:00:00Z
The host canceled this reservation 6 days before arrival. This is an automated posting.
Lydia
2017-03-20T00:00:00Z
Room Type
Entire home/apt
---
Property Type
Apartment
---
Accommodates
4
---
Bedrooms
Yonkers, NY, United States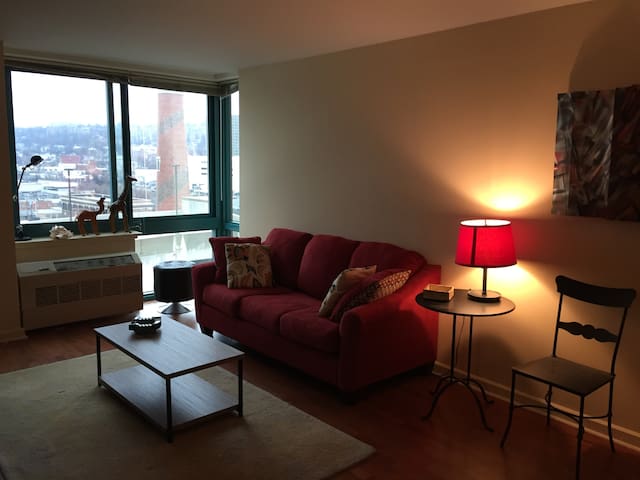 A very tiny room in the Cedar Knolls section of Northeast Yonkers, steps away from the beautiful small villages of Tuckahoe and Bronxville.
This is a very tiny (4.5x12), but nice and comfortable furnished room (European twin-size wall bed, desk area, armchair, small closet area, small fridge, microwave, small cabinet, wall shelves, lamp, table fan and heater), available on the third floor of a garden-style condominium complex very close to the nice villages of Tuckahoe and Bronxville in Southern Westchester, less than 30 minutes away from NYC by car, express bus or Metro North train. Free parking available anytime on a quiet residential street only two blocks away. You may also find parking right in front of our building before 5 pm. Close to the Tuckahoe Metro North station (10-15 min. walk) which takes you straight to Grand Central Station in 25 min. There are many major highways nearby: Cross County Pkwy, Major Deegan (route 87), Hutchinson Pkwy, Sprain Brook (Bronx River Pkwy), and the Saw Mill. There are also express and local buses to Manhattan and White Plains only one block away. This is a very safe and quiet location close to everything (malls, movie theaters, restaurants, a park with stream, etc). ONLY FEMALE GUESTS WILL BE ACCEPTED AS THE BATHROOM IS SHARED. Perfect for female college students and visiting professionals.
Cedar Knolls is a very safe place with tree-lined streets steps away from the beautiful towns of Bronxville and Tuckahoe, and just three blocks away from a beautiful park with stream where you could jog, walk or ride a bike.
I highly recommend staying with Yadira! She is an exceptional host and maintains an excellent AirBnB. Yes, the room is small but it's very well designed and comfortable! I really enjoyed my stay with Yadira and her daughter and wish I could have stayed longer but there was a glitch with AirBnB's site that showed her calendar as booked, and I ended up booking elsewhere. So, I suggest emailing Yadira to check before you do the same. Commuting to and from the city was quite easy with a couple of options... Take the 8 bus or walk 10 min to the Metro North Tuckahoe stop, take the BXM4C commuter bus, or take the scenic route and do the 8 heading west to the end of the line and transfer to the BX7 to the 1 Train. Super simple!
Irene
2016-05-27T00:00:00Z
Perfect spot to stay, just a 10 minute walk to Tuckahoe and public transit. Small but cozy room perfect for just myself. Safe and quiet neighborhood.
stephanie
2017-03-25T00:00:00Z
Yadira's place is an oasis of calm and cleanliness in a rough and tumble world. Tuckahoe is clean and safe, and I felt completely comfortable there. The room is comfortable and has its own microwave and refrigerator, along with a set of plates. I thoroughly enjoyed my stay there and would recommend the place to anyone.
Joann
2016-10-31T00:00:00Z
The room was exactly as described. Yadira was a good host, she even helped me with my suitcase which was quite heavy. The neighborhood is nice and quiet, the room was cozy and the bed was very comfortable. I would definitely stay here again
Tina
2016-08-26T00:00:00Z
I had a great experience staying here. Yadira was a friendly, welcoming host. The room was comfortable and essentials were conveniently provided. It was located close to the train station and bus stops making commutes easy. Recommended.
Laura
2016-03-15T00:00:00Z
Yadira's place is very nice, clean and more importantly, Yadira is a sweetheart. The description is accurate and Yadira is very prompt with communication.
marianne
2016-04-01T00:00:00Z
El sitio es tal cual como se anuncia, la habitación es pequeña pero cómoda, el lugar muy limpio y Yadira una gran persona. El sector bastante tranquilo y seguro, tiene acceso a rutas de buses que te conectan con el Subway y el Metro-North queda cerca también.
Laura
2017-02-17T00:00:00Z
Room Type
Private room
---
Property Type
Apartment
---
Accommodates
1
---
Bedrooms
Yonkers, NY, United States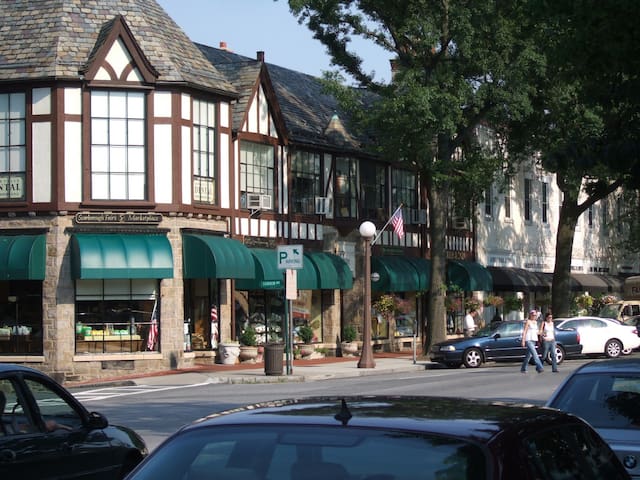 Mount Vernon - Airbnb
:
Average

4.77

out of

5

stars from

306

guest reviews
1

–

18

of

300+ Apartment Rentals
Enter dates to see full pricing. Additional fees apply. Taxes may be added.