Very well furnished and equipped apartment. Very calm and strategic location (20mins from Tunis, 30mins from Hammamet, 15mins from beach). Ideal to spend quality holidays. There's a kitchen, a bedroom, a living-room, a bathroom and a private terrace.
This place can accommodate 2 to 4 people: there's a bedroom and big sofa (able to fit 2 people). You can stay in summer and in winter: the apartment has 2 air-conditioner and 3 heating systems. To distract yourself, there's a 40 inch TV, 3 bookshelves at your disposition, Internet and WiFi access. The kitchen is VERY well equipped to fulfill all your needs (fridge/freezer, electric plate, dishwasher, washing machine, microwave, coffee machine, toaster, juicer, utensils, plates, glasses...)
We live in the countryside so we do not have a real "neighborhood". It's a great place to relax and to recharge after a long day in the city. We have a swimming pool and there's a beach 15mins away. Also, Tunis (the capital) is 20mins away and Hammamet (famous touristic city) is 30mins away.
The host canceled this reservation 2 days before arrival. This is an automated posting.
Nahim
2016-07-11T00:00:00Z
The host canceled this reservation 4 days before arrival. This is an automated posting.
Robert
2015-08-28T00:00:00Z
C'est un des meilleur logement que nous avons eu en Tunisie, proche en voiture de multiples villes touristiques (Tunis, Hammamet, Carthage, la plage..). L'appartement dispose de tous le nécessaire (lit très confortable) et même plus (accès au chaînes françaises sur la télé). L'accueil par la famille est très chaleureuse, nous avons apprécié la beauté du verger , le calme, la dégustation de fruit, la mise a disposition de bouteille d'eau et l'ensemble du nécessaire pour le petit déjeuner. Je recommande fortement ce petit havre de paix.
Lucie
2016-10-08T00:00:00Z
Room Type
Entire home/apt
---
Property Type
Apartment
---
Accommodates
4
---
Bedrooms
Mornag, Ben Arous, Tunisia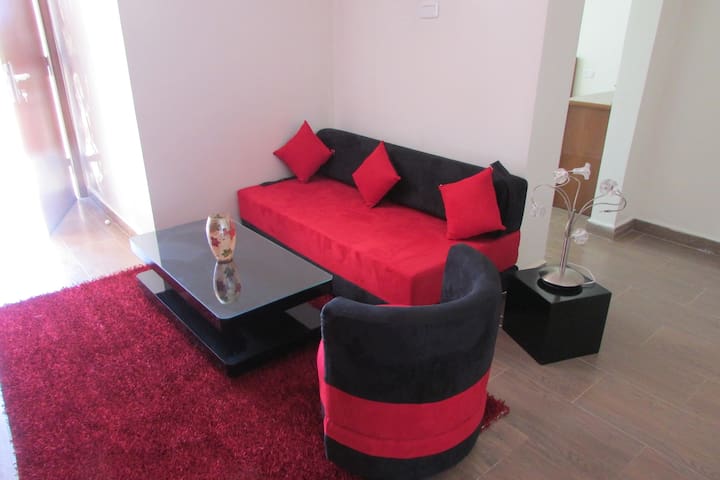 La mer dans un cadre verdoyant! Il s'agit d'un appartement situé au 1er étage de Dar Beya, une grande maison ancienne de style colonial. Une terrasse de 30 m2, où vous pourrez vous relaxer et profiter d'une magnifique vue sur la mer et sur les montagnes de l'autre versant du golfe de Tunis, un salon-salle à manger donnant sur cette terrasse, une cuisine, 3 chambres à coucher et une salle de bain. Le site antique de Carthage, Sidi Bou Said, la Médina de Tunis sont à 10 mns.
Dar Beya est une demeure ancienne typique du style colonial de la Goulette. Elle se situe en front de mer et, à l'arrière de la bâtisse se trouve une citadelle nommée "La Karaka" où ont séjourné, en leur temps, Charles Quint et Barberousse! Le cadre est très verdoyant puisque la maison est entourée d'un jardin. L'appartement a une superficie de 120 m2. Sa terrasse, dont une partie est abritée sous un auvent traditionnel, est le grand atout de l'appartement. La vue sur la mer et sur les montagnes qui entourent l'autre versant du Golfe de Tunis, est magnifique.
La Goulette est le point de départ idéal pour entreprendre quelques visites culturelles ou tout simplement des promenades réjouissantes. Tunis, la capitale, est seulement à 10 mns en voiture et à 15 mns en train (le TGM s"arrête à la station "Goulette Vieille", à 8 mns à pieds de la maison). La superbe médina de Tunis, ainsi que la beauté de l'architecture des années 20 de la partie "européenne" de la ville sont incontournables. Le musée du Bardo, qui recèle un nombre inombrable de mosaïques en très bel état, vaut également le détour! En banlieue nord, La Goulette est toute proche de Carthage la mythique (8 mns en voiture et 10 mns en train) avec ses fameux sites archéologiques (les termes d'Antonin, les ports puniques, les premiers lieux de culte chrétiens du Maghreb/présence de Saint Augustin...). La vue depuis le musée de Carthage et de la basilique située au sommet de la colline de Byrsa, est un ravissement! En poursuivant dans la banlieue nord, vous pourrez également vous promener dans le fameux village blanc et bleu de Sidi Bou Saïd, accroché à une colline qui domine la mer. Visite de la maison du Baron d'Erlanger, café des Nattes, café des Délices....!!!! Promesse d'un enchantement!
What an unbelievably beautiful spot in Tunis! The house is amazing, with traditional features including high ceilings and open, airy rooms. The ambiance of the neighborhood is amazing and Christel did everything to make it feel comfortable and at home. The view from the balcony and roof is spectacular and are a great spot to watch the busy harbor and beach. A wonderful listing and a wonderful hostess! Would recommend to anyone who wants to experience the best of Tunis!
Christopher
2016-05-27T00:00:00Z
'Back home' for a short business trip, so much better than a cold hotel. Thx Margaux!
Giorgio
2017-02-22T00:00:00Z
Host was welcoming. She offered clear directions to reach the location and offered her help with couple of other things I though I might need. Apartment is in line with what is advertised: a bit old style, very well located, beach front and fairly well equipped.
Riadh
2016-05-30T00:00:00Z
Being à La Goulette at Margaux's apartment is poetry. The apartment is probably the most charming of La Goulette, pictures speaks by themselves, and reality is better. The neighborhood off season is invaluable: extremely lay back, safe, charming, quite, inspiring and in touch with an excellent vegetable and fish markets. Honestly i could have not wished anything better. We have already another booking for January and can't wait to return there. Margaux is also very kind, relaxed and helpful.... a great host.
Giorgio
2016-12-10T00:00:00Z
Un super séjour d'une semaine avec mes amis dans un très bel appartement
Monji
2016-08-07T00:00:00Z
Maison toujours aussi agréable même en hiver car elle est bien chauffée. Les hôtes sont toujours hospitalier. Ce sera un plaisir de revenir à l'occasion.
Aurélien
2017-02-17T00:00:00Z
Très bon accueil quasi familial À refaire
Slim
2016-07-31T00:00:00Z
Le séjour s'est très bien passé.
Aurélien
2016-09-17T00:00:00Z
Room Type
Entire home/apt
---
Property Type
Apartment
---
Accommodates
6
---
Bedrooms
La Goulette, Gouvernorat de Tunis, Tunisia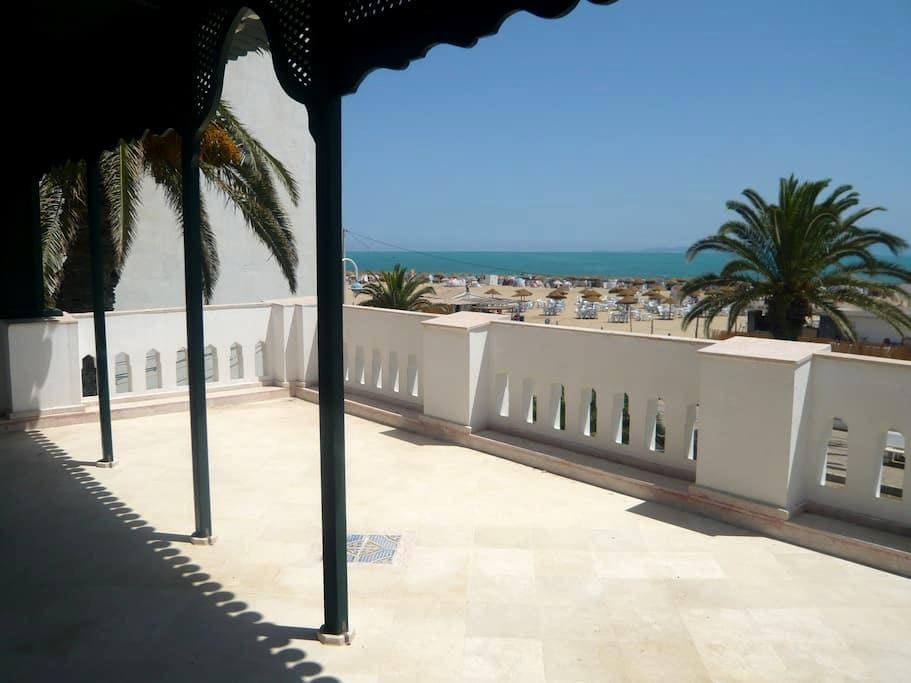 Situé au coeur du quartier mythique de la Goulette dans un immeuble neuf, l'appart est à mi chemin entre Tunis et Carthage 10'. Quartier commerçants, Il se situe à 50m de la station de tram, à deux pas de de tous les célèbres restos de poissons réputés de la Goulette. Hyper accessible en transport. Dans l'appartement : abonnement adsl, téléphonique, abonnement aux chaînes internationales. Au niveau des équipements : tv, lecteur dvd, home cinéma, machine à café nespresso, vaisselle complète.
Très peu de location dans ce quartier. Vous profiterez, au calme, du bouillonnement de ce quartier pittoresque, anciennement peuplé par la communauté juive et italienne de Tunis. Situé dans un immeuble neuf dans le centre névralgique du quartier de la goulette, l'entrée se fait par l'avenue principale ; Avenue Habib Bourguiba et l'appartement donne dans la rue tranquille de la rue Marrakech. Orienté plein sud, il a l'avantage d'être lumineux, ensoleillé et de profiter d'une situation dans un quartier animé donnant sur une rue calme.
Tout est au pied de l'immeuble : boucher, charcutier, boulanger, pâtissier, vendeur de journaux, vendeur de glaces, pharmacie, taxi phone, hammam, coiffeur, location vidéo, droguerie, pressing, couturier, primeur, marché central et station de métro à 50m de la maison. Mythique rue commerçante du quartier, l'avenue Franklin Roosevelt, connue pour ses innombrables gargotes et restaurants de poissons chics, se trouve à 200m. La jetée et la croisette, qui compte son nombre de pizzerias, snacks et cafés est également à 200m. Tous les ingrédients sont réunis pour passer un agréable séjour au cœur d'un quartier qui ne manquera pas de vous charmer. Ambiance à la fois familiale et touristique. Surnommé « la petite Sicile », le quartier de la Goulette abrite encore des familles juives et italiennes propriétaires de magnifiques demeures. Profitant d'une situation géographique idéale, La Goulette est à mi chemin entre Tunis et le célèbre site de Carthage (10' en Taxi pour chaque destination).
The house is very clean and also with modern comfortable furniture. Dalila made sure that everything was alright and she was always friendly I will book this place again, when I go back tu Tunis!
Alaa
2016-10-29T00:00:00Z
Hi! Our stay in Donia's place was absolutely amazing , the house is very clean with modern comfortable furniture . The location is really perfect if you are a tourist (easy to catch a taxi, near Carthage and Sidi Bou Said, loads of restaurants, beach is 5 min of walk from the flat ). Donia was a great host , and Dalila (housekeeper) made sure everything was alright and always offered help . I highly recommend booking this property , I know I will do that for sure next time I visit Tunisia. P.S. For everyone who will stay in Tunisia summer time, be careful with an air-conditioner, you might end up with paying high electricity bill (higher then in England for sure)
Irena
2016-07-17T00:00:00Z
The apartment was clean, modern, central, well equiped and very secure, madam Dalila the caretaker was helpful and charming, madam Donia was well organized and very attentive to details, I WILL BE BACK.
M.A.
2017-04-04T00:00:00Z
Donia's apartment is a great place to stay while visiting Tunis. The apartment itself is great, though it could get cramped depending on how many people you have. But it's very clean and looks like it was renovated recently. The kitchen comes fully equipped with plates, bowls, cups, mugs, and pots and pans, as well as some spices and tea. The TV gets a wide range of channels in several languages and the WiFi works great. The neighborhood is quite authentic, not a lot of tourists, and tons of typical Tunisian restaurants. It looks a little dingy at night, but we never once felt unsafe. The people are kind and inviting, if a little noisy. The beach of La Goulette isn't really usable because of how dirty it is, so it would be better to go to La Marsa or Sidi Bou Said if you want to get in the water. Also important to note that La Goulette is also about a 10 minute taxi ride from downtown Tunis, so if you want to see the sites there or access the train station or louages it'll be a bit of a ride, but taxis are so cheap it wasn't really a problem. Overall, Donia's apartment was a great home base for an enjoyable trip to Tunis.
Adam
2015-10-25T00:00:00Z
We stayed at Donia's flat for 3 weeks. The flat was as described, very cosy and excellent for 2 people. We never met Donia however Dalila who has a shop right outside of the flat entrance was extremely helpful and lovely. There were many shops and restaurants on our door step and the area was safe and the people friendly. Taxis were very easy to find, it's about 15 mins to the city centre. We would definitely recommend Donia's flat and would stay again in the future :)
Tariq
2016-02-28T00:00:00Z
Appartamento molto ben situato a due passi dal mare, dai ristoranti e dal TGM. Buon rapporto qualità prezzo, consiglio sicuramente
Antonio M.
2017-02-24T00:00:00Z
Logement propre, bien situé, proche des moyens de transport et des restaurants et en même temps , calme.
Claudine
2016-12-16T00:00:00Z
Apparemment calme et charmant .À proximité de tous le commerces .
Andreas
2017-02-12T00:00:00Z
Room Type
Entire home/apt
---
Property Type
Apartment
---
Accommodates
4
---
Bedrooms
La Goulette, Gouvernorat de Tunis, Tunisia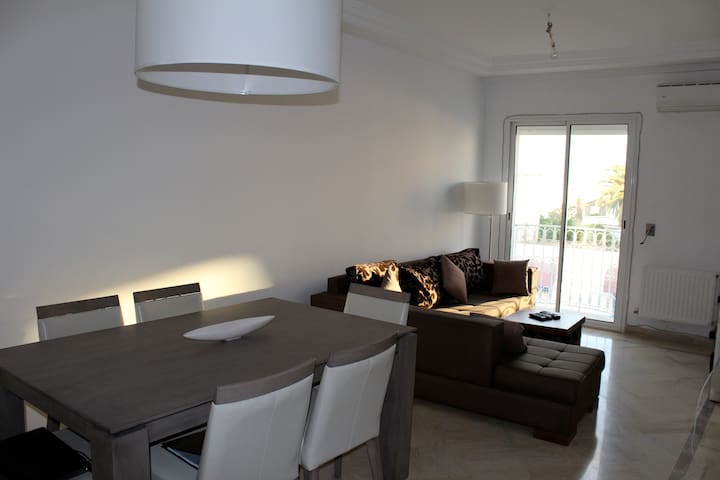 Very Tunisian but, modern, newly constructed apartment in 24/7 guarded building next to police station and directly to beach. Easy walking distance from commuter train station. Many good restaurants, cafe's and local indoor food market. Good wifi, 2 tv's. (All international and French channels).
Modern, newly built, guarded, year-round apartment ideally for 2 adults and 2 teenagers or 4 adults with shared bathroom including direct access to large outdoor court yard (patio) overlooking the beach.
The neighborhood is well known to all Tunisians because the beach is the closest to Tunis town centre. La Goulette is famous for the many excellent restaurants. La Goulette harbor is where the first president Habib Bourguiba in 1955 arrived by sea from France after securing the independence. A statue to this day commemorates the event. The harbor is where the ferry boats from Italy and France docks.
Room Type
Entire home/apt
---
Property Type
Apartment
---
Accommodates
4
---
Bedrooms
La Goulette, Tunis, Tunisia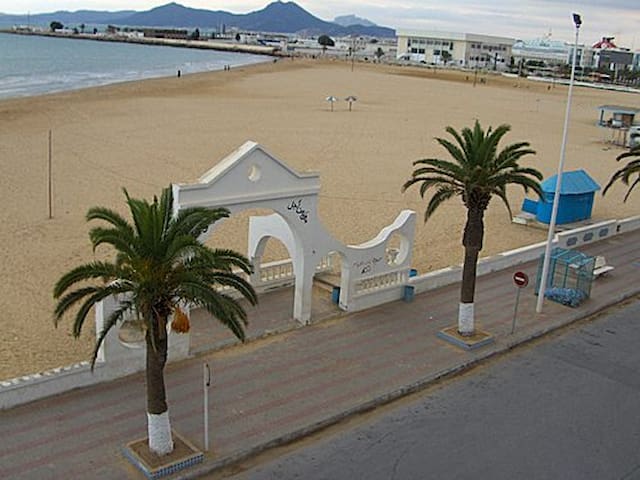 spacious LR, 1 double BR, equipped kitchen, bathR . location near public transport & retaurants. On the 4th floor without elevator! but offering an exceptional sea view ; at 5mn to Carthage & the famous village of sidi Bousaid
appart sleeps 2 to 4 persons
(URL HIDDEN)
Monia is a perfect host. The apartment is great with a unique location/panorama.
Sofiene
2017-01-08T00:00:00Z
Very cool apartment with amazing view in a lively and safe neighborhood. Rooms were comfortable and clean. The area has a lot of great cafes and fish restaurants and of course you are right on the beach!
Chantal
2015-11-21T00:00:00Z
Everything went very smooth. The apartment looks as amazing as described. Very clean, quite and safe. Have all the basic commodities for a comfortable stay. The communication with the host was very good all a long the way. It's a place , I'll be pleased to stay in it again.
Sofiene
2016-01-05T00:00:00Z
Danke Monia für deine Gastfreundschaft. Die Wohnung ist ein Traum. Der Blick auf das Meer ist fantastisch. Wir haben uns sehr wohl gefühlt. La Goulette ist ein toller Ort, der abends zum Leben erwacht. Es ist alles fußläufig gut zu erreichen. Viele Restaurants befinden sich in der Nähe wo man sehr lecker für wenig Dinar Fisch essen kann. Wir haben eine tolle entspannte Woche bei Monia verbringen dürfen. Wir kommen wieder.
Ivonne
2016-07-16T00:00:00Z
formidable accueil de Mounia , avec même des petites courses dans le frigo . Appartement splendide avec sûrement la plus belle vue de la Goulette . D'un côté la mer de l'autre le canal , aucune circulation de voiture . Bref le bonheur. Merci encore . Amélie
amelie
2016-10-31T00:00:00Z
Monia est attentionnée et prend soin de ses locataires. Le logement est spacieux, propre et la vue du balcon magnifique surtout le matin au réveil.
Anthony
2016-09-21T00:00:00Z
Superbe séjour, dans ce très chouette appartement au dessus de la mer. Tout était parfait et la Goulette nous a enchanté. Le temps n'était pourtant pas au rendez-vous. Merci beaucoup Monia pour ce partage de votre petit palace flottant.
Mathieu
2015-03-31T00:00:00Z
Bonjour Monia, nous avons bien apprécié votre appartement. La vue est superbe. Il est grand bien éclairé et la vue sur la mer est très inspirante. Nous avons aussi bien apprécié la proximité des restaurants. Il est bien agréable d'y sortir le soir à pied pour aller manger. L'appartement et tout ça proximité de l'aéroport et à quelques dollars du centre-ville. Nous espérons y revenir en avril ou dès que nous en aurons l'opportunité.
Vincent
2016-02-17T00:00:00Z
Room Type
Entire home/apt
---
Property Type
Apartment
---
Accommodates
4
---
Bedrooms
La Goulette, Tunis, Tunisia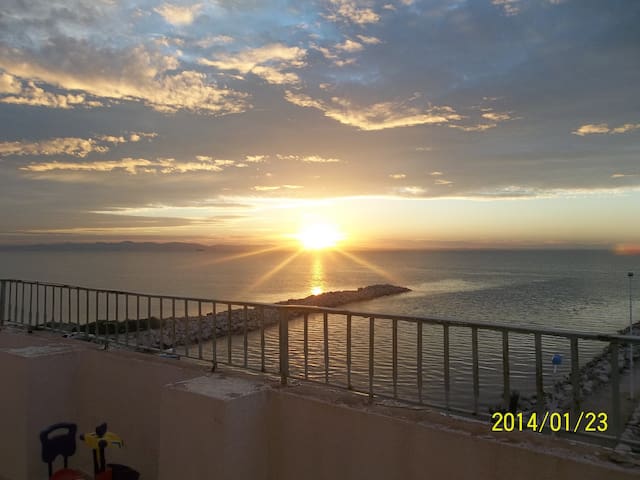 Beaucoup de charme, à 200 m de la plage. 2 chambres, un double séjour, une salle de bain, et une cuisine, terrasse aménagée. A un 1/4 d'heure de la médina et du site antique de Carthage et de Sidi Bou Said.
Il s'agit d'un étage de villa entouré d'un jardin. Il est agréable et richement décoré . Il est composé de deux chambres, d'un double séjour et d'une terrasse. Il dispose d'une télévision câblée, d'une connexion wifi et se situe à proximité d'un quartier vivant, la Goulette, beaucoup de commerces et de restaurants.
We had a wonderful stay at Nomen's house. The place is very clean and comfy and the flat is really amazing. Nomen's family is very kind and they were happy to see us. I will consider to go back there when I'll visit Tunis next time.
Fatima
2015-12-07T00:00:00Z
Comunicativos eita Nomen was excelente, He grave good direciona on how to gel to the house. There, Mr Sadok, his father welcomed us warmly And madele US fel very well takes carne of. This is beatiful house, very spacious and very good taste, really felt like a home. Photos reflect the "Artists home" since it is decoarated with nice paintings made by the family members. One needs a car to get there from the Medina or elsewhere, but it is an oasis in Tunis. Wonderful stay!
Reico
2016-05-09T00:00:00Z
second stay just as great as first!
Heba
2017-02-04T00:00:00Z
Great stay here. What you see is what you get. Taxis are cheap and you can reach most tourist attractions by hailing a cab on the busy road just a few blocks away. Also close to the beach. Apartment is spacious and clean. Good value for the price. Thx for a great stay!
Andre
2016-12-29T00:00:00Z
The experience at this home has been truly wonderful with Nomen and his family premiere hosts and truly lovely people. The apartment is lovely and fully stocked with everything necessary for a comfortable stay.
Sue
2016-04-16T00:00:00Z
The host canceled this reservation 26 days before arrival. This is an automated posting.
Pierre
2015-09-20T00:00:00Z
Beautiful flat in charming villa - very comfortable: huge master bedroom, lovely terrace over the garden, cats and dog and sculptures in the garden.. Location is great because quiet leafy neighbourhood but two min from a road where you will always find taxis and a small grocery store for basics. Cleaning lady who would come and make the flat beautiful once a week. Noman and his family were fantastic hosts - highly recommend as a wonderful place to stay
Heba
2016-12-02T00:00:00Z
We made the right choice staying at Noman's. The apartment with well-equipped, comfortable and, above all, cosy, with a laid-back, lived-in feel. Noman and his parents are all talented artists and their artwork hanging everywhere adds a tasteful touch to the place. The family is also extremely welcoming and friendly, and Noman's son became good mates with ours. Highly recommended
Khaled
2017-02-26T00:00:00Z
Room Type
Entire home/apt
---
Property Type
Apartment
---
Accommodates
4
---
Bedrooms
La Goulette , Tunis, Tunisia
c'est un appartement ; s+1 de 70 m²,meublé, avec ascenseur Il a une belle vue sur la mer , très dégagé et haut standing . Quartier très calme près de toutes les commodités. Vous êtes les bienvenus, on vous accueillera à bras ouverts .
I am so sorry for not getting here to write this review sooner. I want to thank Aicha Gasmi for the wonderful and beautiful accommodations! Clean, attractive, and conveniently located, this accommodation contributed to my sister and her husbands time in Tunis. Thank you so much. Hope to see you again in the future.
Pamala
2015-11-25T00:00:00Z
The host canceled this reservation the day before arrival. This is an automated posting.
Chtioui
2016-02-03T00:00:00Z
nice apartment but not well maintained
Giuseppe
2016-12-23T00:00:00Z
Good location, very close to the train station, easy to reach Tunis center, Aicha is a very nice and helpful host. The apartment is as in the photos, nice, quiet, sunny. Internet is only available via usb stick modem, you'll need a laptop.
Barış
2016-02-01T00:00:00Z
Aicha est une hôtesse agréable et souriante. Le fait quelle habite l'immeuble est pratique pour la remise des clés. L'appartement est conforme à la description, agréable et très bien situé dzns un quartier calme et sécurisé pour profiter de la Goulette mais aussi de Tunis et la banlieue nord grace au TGM tout proche. Bref venez chez Aicha vous ne le regretterez pas !
Marine
2016-01-21T00:00:00Z
Nous avons passé un séjour très agréable à la Goulette. L'appartement de Aïcha a tout le confort nécessaire. Il est situé à proximité de nombreux restaurants et magasins. Aïcha s'est montrée très disponible et a su répondre avec spontanéité à nos demandes. Nous recommandons vivement ce logement.
Jean-Marie
2016-03-09T00:00:00Z
l appartamento e molto carino ed puo ospitare anche sei persone. standard europeo
diego
2017-03-05T00:00:00Z
Séjour très agréable appartement spacieux et bien équipé localisation idéale entre mer et centre ville Icham particulièrement efficace pour installer les chaînes françaises sur la tv Les photos correspondent à la réalité Je recommande particulièrement cette adresse et espère bien y résider une autre fois
Mohamed Ali
2017-01-03T00:00:00Z
Room Type
Entire home/apt
---
Property Type
Apartment
---
Accommodates
4
---
Bedrooms
La Goulette, Tunis, Tunisia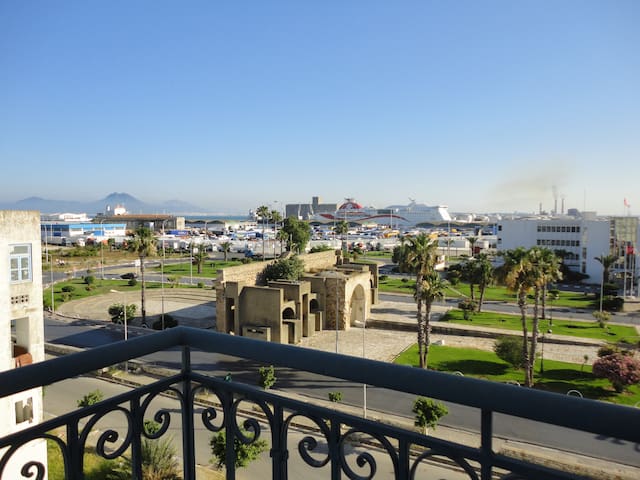 Appartement d hôte 50 m de la mer entièrement neuf et équipe pour votre confort. Petite terrasse extérieure mise à disposition avec tout le mobilier nécessaire vous pourrez profiter du calme du lieu situé en plein centre de la goulette à proximité des restaurants , du port , du marché ...
The apartment is very good, with a nice terrace. I recommend it especially for people who arrive in Tunis Port, La Goulette, which is very close to Lili's apartment. Close to the apartment there is the tram, in 5 minutes you can be in Tunis Marine which is 10 minutes walking from La Medina.
Davide
2016-03-21T00:00:00Z
Excellent communication with Lili , i found easily the appartement is in very good location , easy access to everything , few meter from the beach ....
Abdessalem
2016-07-10T00:00:00Z
Super séjour chez Lili, sa maman est juste géniale et très agréable. Mon mari et moi avons été très bien accueilli Je recommande vivement cette appartement. Propre et très cosy Merci encore :)
Nanou
2016-03-24T00:00:00Z
Logement fonctionnel et propre dans un quartier calme de la goulette et proches de toutes commodités
Line
2016-05-02T00:00:00Z
Room Type
Entire home/apt
---
Property Type
Apartment
---
Accommodates
3
---
Bedrooms
La Goulette, Gouvernorat de Tunis, Tunisia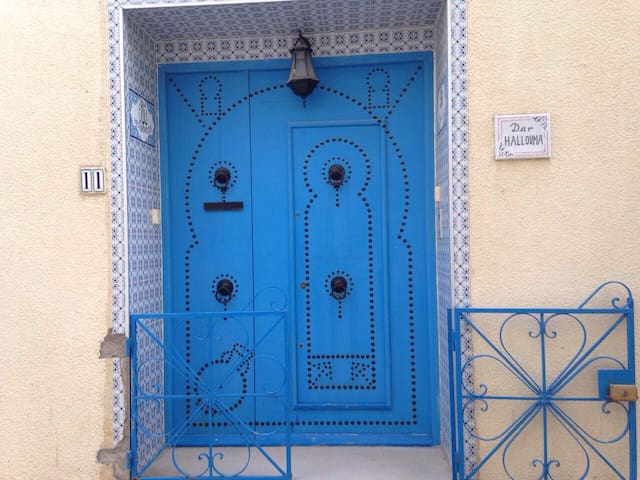 Mon logement est proche de les restaurants, la plage et la vue exceptionnelle. Vous apprécierez mon logement pour le quartier et le lit confortable.
Room Type
Entire home/apt
---
Property Type
Apartment
---
Accommodates
3
---
Bedrooms
La Goulette, Gouvernorat de Tunis, Tunisia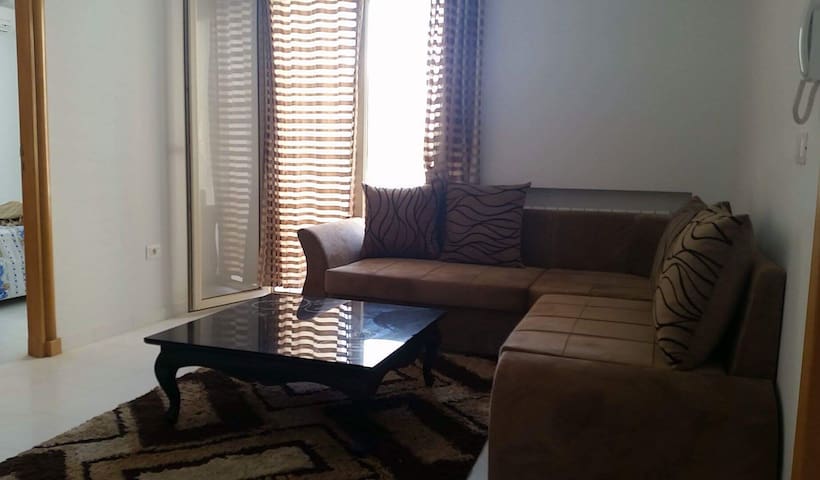 The apartment offers the nicest view with the comfort of a 5 stars hotel. In the neighborhood, you will find the best seafood restaurants and the friendliest bars. Tunis city center and Marsa are 15min drive. The accommodation is perfect for couples, groups of friends or families (with children).
The apartment has modern architecture with an open kitchen and large windows to enjoy the amazing sea view. The apartment is of high standards and offers all the comfort for a pleasant stay. The apartment occupies half of the top floor of a a 5 floors building with elevator.
La Goulette is a piece of land wedged between the sea and the lagoon. It is the most lively district of Tunis, offering a hundred restaurants, cafes and bars. Throughout its history, it has attracted all the conquerors of the Mediterranean; Turks, French, and Spaniards who built there the height of the Carraca in the 16th century. The Italians have formed the majority of the inhabitants of the city during the 19th century.
Fortifying stay in a very nice flat. We came to Tunis to visit some friends and we decided to book Khalil's flat in La Goulette. How can we describe our stay in few words ? just amazing. First the area was very cool, in front of the sea with a lot of bars and restaurants in the neighborhood. More than the area, the flat was really nice. With a large living room and a nice view on the sea to enjoy a beer at sunset on the terrace. The two bedrooms are spacious and you can enjoy two bathrooms. The kitchen was well equipped to cook. In addition, You will enjoy the sunrise in front of the sea and from your bed. We went there to spend the New Year Eve's and it was definitely the best option. Tunis is a lovely city where you are more than welcomed by fantastic people
Antoine
2017-01-04T00:00:00Z
Room Type
Entire home/apt
---
Property Type
Apartment
---
Accommodates
4
---
Bedrooms
La Goulette, Gouvernorat de Tunis, Tunisia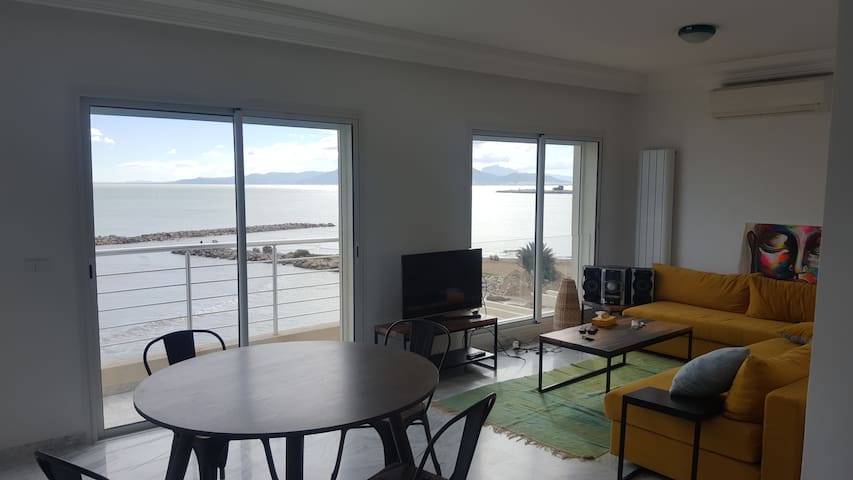 du bonheur
Room Type
Entire home/apt
---
Property Type
Apartment
---
Accommodates
4
---
Bedrooms
La Goulette, Gouvernorat de Tunis, Tunisia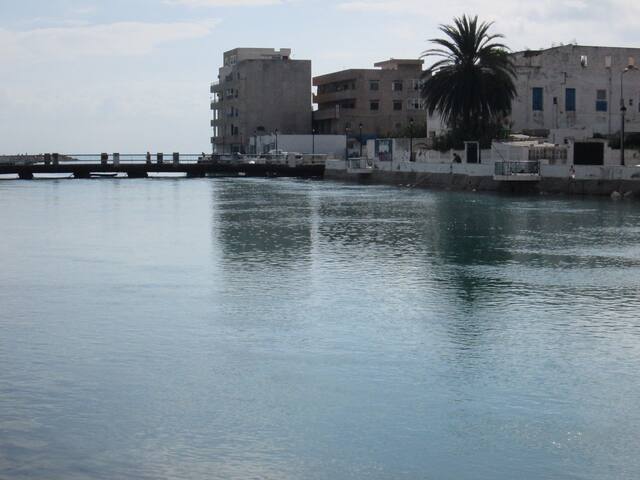 Une maison avec des équipement high technologie et des meubles contemporain avec une grande cuisine équipé un séjour, une chambre qui peut accueilli un bébé et un enfant ou adolescent(e) et une chambre parental avec un lit King size, salle d'eau et salle de bain spacieuse.Un salon et une salle a manger.
Room Type
Habitación privada
---
Property Type
Apartment
---
Accommodates
4
---
Bedrooms
La Goulette, Tunis, Tunisia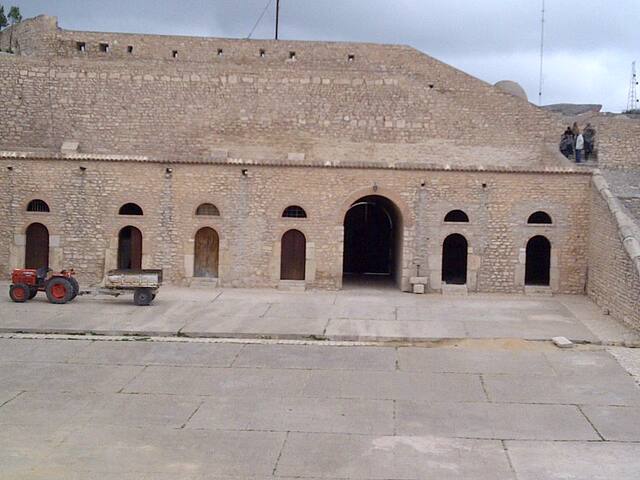 A large apartment of 120m2 at the seaside with a breathtaking view on all the gulf of Tunis including a bedroom, a master suite and 2 bathrooms. A living space with a TV and two lounges, a dining room and its lounge and the strong point of the apartment, its veranda which overlooks the Gulf of Tunis! A well equipped kitchen with a dryer. This apartment also gives you access to a terrace on the upper floor with a 360 ° view of the sea.
Med Ali was the ultimate host he went to extreme measures to accommodate me, he made my trip allot easier, also the apartment was clean and fully equipped with everything you need. Definitely coming back on my next trip.
Hesham
2017-03-07T00:00:00Z
Stunning view indeed at Med Ali's! Breakfast facing the rising sun makes you feel you're on a boat. Very bright and spacious flat, nicer than on the pictures. Med Ali is definitely the most reactive host when it comes to addressing little issues that may arise. The location is at the Southern fringe of Salambo, very quite and really on the beach.
Christophe
2017-01-28T00:00:00Z
اولا نحن دفعنا رسوم نظافة ووجدنا الشقة غير نظيفة مفارش السرير ذات رائحة سيئة وكذلك الأغطية وطلبنا تغييرها ولكنه لم يبالي ولم يستجب لطلبنا وقال هذه الرائحة نتيجة تخزينها في الدولاب ثانيا المطبخ فيه كثير من المشاكل ابرازها واخطرها شعلة البوتاجاز بها تالفة وبمجرد إشعالها ترتفع السنة اللهب عالية جدا وطلبنا منه تغييرها و لم تبالي مما ترتب عليه إصابة زوجتي ببعض الحروق اثناء الطهي وكذلك فرن البوتاجاز بها مشاكل أبرازها باب البوتاجاز مكسور يقع عند فتحه وأثناء محاولة الطبخ به كان هناك دخان ورائحة كريهة والتدفئة لم تعمل لعدة ايام والحمام كان هناك تسريب ماء وهو يعلم مما أدي الي انزلاق والدتي نتيجة تسرب الماء واصابتها بردود وكدمات واخذنها للطبيب ومازالت الي الان تعاني من الآلام نتيجة هذه الإصابة ثالثا هو حصل علي رسوم خدمة ولم يقوم بواجبه ولم يعطي الاهتمام المطلوب وابرز المواقف لذلك سألناه عن كيفية عمل الغسالة وهو قال لا يعلم وذهبت وقلت ان والدتك تعلم ولم تتصل بنا لتعطينا معلومات عن كيفية عملها ولم يعير اهتمام رابعا الانترنت كان ضعيفا جدا وسرعته بطئية مما ترتب عليه عدم القيام ببعض الأمور الضرورية وتم انقطاع الانترنت وتم الاتصال به وقال انه مشغول بمشاهدة مباراة في كرة القدم ولم يقوم بشحنه الا بعد يومين ونصف عندما اتصل بنا لطلب بعض المعلومات عن الرواتر لتشحنه بعشرة دينارات فقط وأثناء هذه الفترة قمت انا بشحن الانترنت من جيبي الخاص فاعتقد اني دفعت مقابل الحصول علي خدمة ولم احصل عليها الشيء الوحيد الجيد هو موقع الشقة يطل علي البحر مباشرة ولكننا لم نستمتع لما حدث لنا من عدم اقامة مريحة نتيجة لاهمال المالك وعدم احترمه للنزلاء بالتقدير والاحترام الائق
farid
2017-01-19T00:00:00Z
Jai passe un sejour d ouf
Hamza
2017-02-18T00:00:00Z
Room Type
Entire home/apt
---
Property Type
Apartment
---
Accommodates
6
---
Bedrooms
Carthage, Gouvernorat de Tunis, Tunisia
Appartement meublé luxueux centre ville bien équipé bien ensoleillé 3 chambres, suite parentale, séjour, spacieux salon avec salle à manger, deux cuisines sdb et WC douche séparé. Clim, hydromasseur, cuisine équipée... Au troisième étage sans ascenseur
Room Type
Entire home/apt
---
Property Type
Apartment
---
Accommodates
6
---
Bedrooms
Tunis, Gouvernorat de Tunis, Tunisia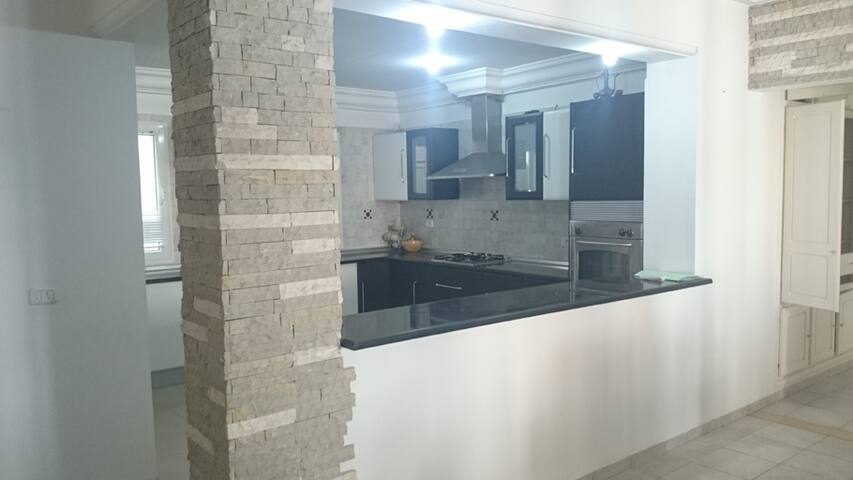 le studio est situé à Carthage la ville historique et tourisitique de banlieue nord de Tunis, sur la grande rue de Tunis Habib Bourguiba qui méne au palais présidentiel et se prolonge jusqu'a la ville bleue et spirituelle Sidi Bou Said, placé à côté du Port Punique et les ruines romaines de Carthage et les sites archéologiques, 10 minutes à pieds pour aller à la plage, 5min par train ou taxi pour aller à la goulette ville ancienne connue pour les bars et les restaurants de poisson .
le studio est situé à Carthage la ville historique et tourisitique de banlieue nord de Tunis, sur la grande rue de Tunis Habib Bourguiba qui méne au palais présidentiel et se prolonge jusqu'a la ville bleue et spirituelle Sidi Bou Said, placé à côté du Port Punique et les ruines romaines de Carthage et les sites archéologiques, 10 minutes à pieds pour aller à la plage, 5min par train ou taxi pour aller à la goulette ville ancienne connue pour les bars et les restaurants de poisson ,10 minutes de transport pour aller à la Marsa, Gammarth les villes nocturnes, pour les plages les restaurants les cafés et les bars, 10 minutes à proximité du train qui traverse toute la Banlieue-nord de la Marsa à Tunis centre ville. un emplacement stratégique au cœur des sites touristique, vous pouvez même balader à pieds entre les sites touristique , un quartier calme résidentiel et conviviale .
You have to cross living room & kitchen in order to get to the studio (limited privacy). WLAN not available in the Studio. Friendly & helpful family!
Markus
2017-01-27T00:00:00Z
Bon séjour, je recommande
Hedi
2016-12-23T00:00:00Z
Endroit confortable, Nesrine elle trop sympa et honnête. Très chaleureux et bon séjour
Jules
2017-01-12T00:00:00Z
Petit logement certes mais confortable et tout equipé. Vous serez tres bien reçu pas Nesrine et sa famille qui seront disponibles a tout moment pour vous et feront en sorte que votre sejour se passe bien. A carthage, 10 min de la marsa et sidi bou said des taxis passent regulierement, des commerces a proximité vous ne manqueree de rien. Merci Nesrine pour ta reactivité
Stephen
2017-02-11T00:00:00Z
Room Type
Entire home/apt
---
Property Type
Apartment
---
Accommodates
2
---
Bedrooms
Gouvernorat de Tunis, Gouvernorat de Tunis, Tunisia
Un S+1 richement meublé prêt de tout commodité peut loger deux personnes. Sis au 1er étage avec deux balcons dans une résidence calme et une place de parking garder
Résidence calme et sécurisée
Room Type
Entire home/apt
---
Property Type
Apartment
---
Accommodates
2
---
Bedrooms
El Mourouj, Ben Arous, Tunisia
Very nice apartment with a beautiful sea views and on the hill of Sidi Bou Said, the 5th floor of a beachfront building (1st position). This apartment consists of a living / dining room and 3 spacious bedrooms each containing a dressing room, a separate kitchen and equipped (hood, gas oven, fridge, washing machine and TV).
Apartment very well equipped luxury. Clean, new, quiet.
guarded residence with garden. Very quiet, beside the sea, close to shops and services
amazing place, super confortablw, with elevator and easy stroller access- right on a cute Tunis beach and close to stores etc in a very sweet and convenient neighborhood / Rima is an amazing friendly, super approachble and easy, very approachable, and flexible and i sttongly recommend her beautiful place with a stellar view.
Tanja
2016-09-12T00:00:00Z
The flat is located right on the beach in le kram and it's walking distance to restaurants and a supermarket but there is not much going on in le kram. You need to take a taxi to reach more popular areas such as La marsa and Lac. However, it's good value for the money you pay. Rima was a nice host, she met us when we arrived at midnight to give us the key and she was very flexible when we had to adjust our dates without extra charge.
Karolina
2016-10-18T00:00:00Z
The host canceled this reservation the day before arrival. This is an automated posting.
Gabriele
2016-11-19T00:00:00Z
Amazing spacious apartment in a very secure building. Beautiful balcony views and a perfect location. Rima our hostess was was very kind and helpful. Highly reccomended!!
Brandon
2016-10-08T00:00:00Z
Super
Mehdi
2016-08-14T00:00:00Z
malheureusement rima est en déplacement à l'étranger mais on as eu le contact avec son père il est super gentil rima a accépter ma demande le jour méme avant 2h de notre arrivée l'appartement correspond parfaitement a la discritpion
Mar
2016-08-05T00:00:00Z
Très agréable séjour l'appartement est très bien placé et spacieux. merci Rim pour ton accueil!
FENDRI
2017-03-19T00:00:00Z
J'ai passé un agréable week-end calme et vous remercie
Mohamed
2017-01-11T00:00:00Z
Room Type
Entire home/apt
---
Property Type
Apartment
---
Accommodates
6
---
Bedrooms
Tunis, Tunis, Tunisia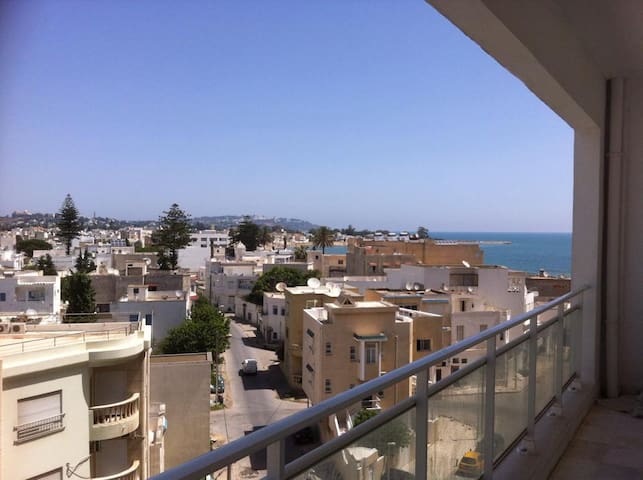 An apartment on the ground Tunis city center ready to all amenities (metro, bus station super market coffee school college faculty lounge of the ...) Well equipped room slept lounge and ate dirty kitchen and shower dirty team The apartments are located in the first floor in a new building under construction k
Room Type
Entire home/apt
---
Property Type
Apartment
---
Accommodates
3
---
Bedrooms
Tunis, Tunis, Tunisia