App.to trilocale di 80m2. A 15 min. dal centro di Bologna, 5 min. da San Lazzaro, autostrada e tangenziale. Immerso in un'oasi di verde, lontano dallo smog della città. Un ambiente silenzioso e tranquillo adatto per soggiorni d'affari e di vacanze.
Situato nel Parco dei Gessi a soli 15 minuti dal centro storico di Bologna, immerso in un'oasi di verde, lontano dallo smog della città. Un ambiente silenzioso e tranquillo adatto per soggiorni d'affari e di vacanze. Facilmente raggiungibile dalla fiera di Bologna, dall'ingresso dell'autostrada/tangenziale e dagli ospedali Bellaria e Sant'Orsola. Appartamento di 80 m2 con entrata e giardino indipendenti. L'appartamento è composto da: - Una camera matrimoniale o doppia a scelta - Una camera doppia con possibilità di letto aggiuntivo - Soggiorno con divano, TV e area pranzo - Cucina attrezzata - Bagno con doccia Lavatrice, ferro a vapore e asse da stiro. Facilità di parcheggio.
Very nice apartment away from the noise of the city, but not too far away. Amalia was very kind and she speaks a very good English, which helps when, like me, you don't really speak Italian. There are nice walks to do around in the park. Having a car is compulsory however. The only thing that is not very nice is that the double bed is not a real double bed, but rather two single beds put together. I ended in a single bed, which I personally dislike.
Isabelle
2015-05-05T00:00:00Z
Mi sono trovata benissimo nell'appartamento di Amalia. Assolutamente pulito e con ogni confort (anche il Wi-Fi). Un angolino carino per chi vuole visitare Bologna e nel contempo vuole stare fuori dalla confusione della città e vicino al parco naturale. Posso solo consigliarlo. Grazie mille per l'ospitalità
annalisa
2015-04-03T00:00:00Z
Difficile dare un giudizio. Con poche attenzioni in più si renderebbe il soggiorno molto più confortevole, soprattutto per chi viaggia per lavoro! Ragnatele e ragni intorno alle finestre, fuori e dentro, negli angoli della cucina e della cameretta, sotto la caldaia. Altri insetti vaganti (ma d'altronde siamo in aperta campagna). Acqua marrone dal Water. I km dalla tangenziale sono pochi, ma mattina e sera la strada è molto trafficata e il tempo di percorrenza raddoppia. La strada per raggiungere la casa è un po' stretta e a tratti dismessa, almeno dal mio punto di vista, che sono abituata alla città. Inoltre danno molto fastidio i cani dei vicini che abbaiano giorno e notte (ho dovuto usare i tappi). La casa è davvero grande e calda, presenti tutti gli accessori, utilossimi, però il forno a gas non è comodissimo. Credo sarebbero graditi shampoo/bagnoschiuma in boccettine monouso quantomeno piene. Dal Water è uscita acqua marrone per un po'. Da migliorare il segnale wifi, scarso e quasi non arriva. La Vodafone non prende affatto. Per chi viaggia da solo e volesse la stanza matrimoniale, dovrebbe comunicarlo, io all'arrivo ho avuto a disposizione la singola, non dormivo in un lettino da quando ero bambina :) Il letto comunque molto comodo. Ci tornerò volentieri se viene migliorato qualche aspetto, perché in generale è una bella casina, spaziosa ed accogliente!
Olena
2017-03-21T00:00:00Z
super week-end et Bologne est vraiment une très belle ville
nadine
2017-03-19T00:00:00Z
Room Type
Entire home/apt
---
Property Type
Apartment
---
Accommodates
5
---
Bedrooms
Montecalvo, Emilia-Romagna, Italy
Appartamento di nuova costruzione con aria condizionata, termoautonomo, Posta a 50 mt, stazione a 150 mt, presente linea 96 per bologna
Il faut envisager l'appartement de Danilo que comme une solution spartiate en dernier recours...
Christophe
2017-03-18T00:00:00Z
Casa pulita e Danilo un host cordiale, disponibile e pronto a far fronte a qualsiasi esigenza degli ospiti!!
Federica
2017-03-19T00:00:00Z
Room Type
Entire home/apt
---
Property Type
Apartment
---
Accommodates
6
---
Bedrooms
Rastignano, Emilia-Romagna, Italy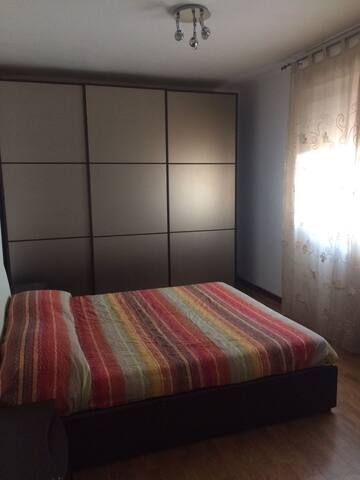 Nice and comfortable independent apartment ideally for 2 people. Fully equipped even for longer stays. Nice and enjoyable fireplace for relaxing. Located outside the city center in a calm area but well served by frequent running bus. Small grocery store at 5 minutes walk for quick food purchases.
Calm and quite place at a short distance from the city center. Ideal for people with car because of easy parking facilities.
Elena is one of the most helpful Airbnb hosts we've ever had. She made her self available for any questions we had about the city, was very communicative during our entire stay and even offered to help as a translator with local agencies that we needed to get in touch with. Elena's apartment is comfortable and cozy, with everything a couple might need to have a great stay. She even provided a welcoming gift. Public transportation is a 5 minute walk down the street and there are small local shops for groceries nearby. Her home is off of a main road however, the apartment is well insulated from sound.
Briana
2017-02-01T00:00:00Z
We had a lovely time at Elena's flat! We followed her instructions from the webpage to get there from the airport, and once there was greeted by her mother, a lovely friendly woman. She was all smiles, and although we didn't speak Italian, nor her English, she showed us round and pointed out where everything we needed was. We were delighted with the place :) Elena had even been so kind as to leave us a bottle of wine on the table, and a couple of beers in the fridge, and some general food stuffs which were a bit of a lifesaver as we hadn't had time to suss out where the supermarkets were yet :) later Elena came by to check that everything was fine and that we had understood where to find everything. It felt very secure as the front door is situated in a private garden which is also locked. We didn't spend much time there during the day as we were generally out sightseeing, but it was great to come back to at night. As it is slightly underground it was always lovely and cool, and it is a great place to just relax- it really is a very friendly and nice apartment! :D
Gabriella
2015-09-21T00:00:00Z
Great flat outside Bologna. Easy transport into town and some great shops and cafes on the way if you choose to walk in. Cool flat when the days got hot. Brilliant kitchen to cook in! Wonderful welcoming host, always available to help. Grazie!
Toby
2015-06-03T00:00:00Z
Very nice and cozy apartment. All necessary things were available (kitchen equipment, washing machine etc). Personal parking place in the yard was very convenient!!! I would say that style on the kitchen is very stylish and added a lot of personal memories to our family dinners in the evening:) All our family (me, my wife and 1,5 yo son) are happy about that place and definitely would recommend it to our friends!
Dmitry
2015-10-11T00:00:00Z
Great host! Cute apartment, perfect location. Very friendly, the house was very clean. My wife and I would stay there again!
marco
2015-07-12T00:00:00Z
The apartment was clean and comfy,Elena was nice and welcoming.The house is 15 minutes from the (URL HIDDEN) overall it was a good experience staying there.
cenk
2016-09-15T00:00:00Z
Elena was there to meet us . with a big smile. And a welcome package. Wine. Juice.water. and more. Elena's apartment is packed with little nic nacs. To make you feel at home. Clean. Nice kitchen with all what you want. Good bathroom. And nice bed. Elena has made sure everything that you want is there. Make sure to do your homework on the local buses. It's a big city and and can be very intimidating on the first day.. We went to Ferrara by train and if we had the time would have gone to more places in Italy by train . this was our first experience of airbab . And I must say that Elena contacted us every night to make sure we were OK.. She is an absolute fantastic host. And the next time we do airbab. She will be hard to beat. Thank you Elena. From steve@ kay
Steve
2015-10-18T00:00:00Z
Elena was out of town when I arrived but her mother was there to greet me and made me feel very welcome. They were both very accommodating and helpful and had some great recommendations for restaurants and sights to see. The listing is exactly as described. It's warm and cozy and the entrance is through a garden when was very nice. It's easily accessible to the center of Bologna by a frequent bus which stops near the house. It was nice to come back to this safe and quiet neighborhood. I would definitely recommend staying here.
susan
2016-01-24T00:00:00Z
Room Type
Entire home/apt
---
Property Type
Apartment
---
Accommodates
2
---
Bedrooms
Bologna, Emilia-Romagna, Italy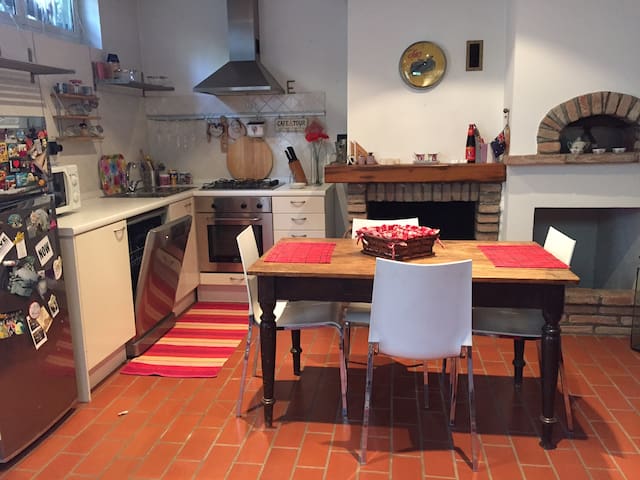 My home is situated on the hills surrounding Bologna and San Lazzaro di Savena, inside the Gessi Bolognesi e Calanchi dell'Abbadessa Park, in a panoramic position, 5 minutes far from San Lazzaro di Savena city and 10 minutes far from Bologna, by car. We are in a wonderful location: surrounded by green of a big garden, with trees and fields, my home is perfect for those who love to stay out from smog and traffic, but want to reach in a handful of minutes supermarkets, shops, pharmacies, hospita
The apartment is on the ground floor of a three family house, with direct access to the garden. It's composed by an ample living room (with sofa bed for 1-2 people), kitchen area, tv, bathroom with shower box, another living room with french door on the garden, double sofa bed , another tv, bookcase, and a little room with two single beds (also to join). On request you can have baby crib and high chair for children. The house is surrounded by a wide tree-lined park, with corners of absolute calmness, completely fenced, with a big parking with automatic gate.
Per ferie o per lavoro, un soggiorno nel verde e nel silenzio, con zone esterne per relax, abbronzatura, colazione, pranzo sotto al pergolato e zona meditazione.
Giulia was a wonderful host. Provided us with great recommendations and was easy to communicate with. The house is situated in a pleasant area with a lovely garden with a view. Very nice place,
Lars
2017-03-19T00:00:00Z
Laura è un host ideale, sempre disponibile e veramente accogliente dall'inizio alla fine del soggiorno. L'appartamento è in ottime condizioni, ben accessoriato è situato in un luogo incantevole sopra Bologna, a due passi dalla città.
Andrea
2017-01-01T00:00:00Z
Room Type
Entire home/apt
---
Property Type
Apartment
---
Accommodates
5
---
Bedrooms
San Lazzaro di Savena, Emilia-Romagna, Italy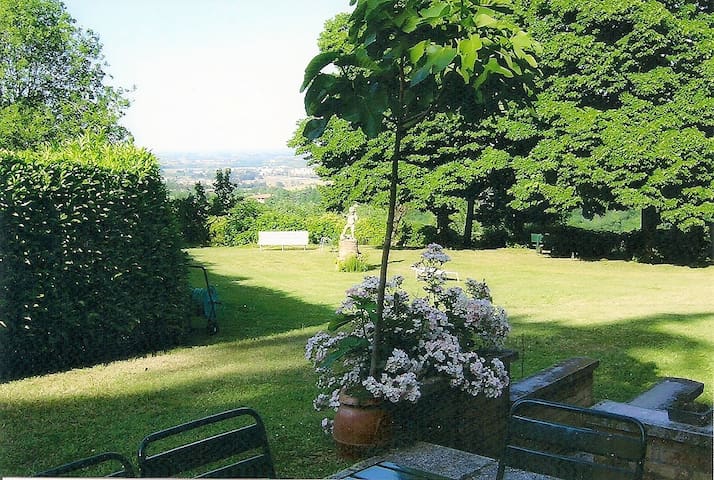 Affitto splendido bilocale recentemente ristrutturato. Situato sui colli bolognesi a pochi minuti dal centro, a 10 minuti dall'ospedale Bellaria e a 15 minuti dalla tangenziale. Ideale per chi necessita di soggiornare x periodi brevi ( giorni, settim
Affitto splendido bilocale recentemente ristrutturato. Situato sui colli bolognesi a pochi minuti dal centro, a 10 minuti dall'ospedale Bellaria e a 15 minuti dalla tangenziale. Ideale per chi necessita di soggiornare x periodi brevi ( giorni, settimane, mesi ) in totale relax. Composto da ingresso soggiorno, cucina, camera matrimoniale e bagno. Ingresso indipendente. Per eventuali chiarimenti chiamare Cristina.
L'appartamento è inserito in zona di parco naturale dove scoiattoli, fagiani,daini, volpi ed altri animali ti possono attraversare la strada. C'è la possibilità di fare passeggiate e godersi il panorama il tutto a soli 15 minuti dal centro.
L'appartamento è come descritto, arredato in stile vintage che regala un tocco d'altri tempi e in contrapposizione bagno e cucina nuovi rendono il tutto molto funzionale. Nel complesso pulito e confortevole. L'ubicazione inoltre dà un valore aggiunto, a pochi passi di distanza si possono godere degli scorci dei colli stupendi. Raggiungibile senza problemi seguendo le indicazioni dell'host tramite strada panoramica ed effettivamente non lontano dal centro. La signora Cristina, sebbene non presente all'arrivo, è stata sempre disponibile sia prima che durante il soggiorno accertandosi via sms che andasse tutto bene. Sono rimasta soddisfatta del soggiorno e della cortesia trovata. Consigliato!
Mara
2015-04-20T00:00:00Z
Room Type
Entire home/apt
---
Property Type
Apartment
---
Accommodates
2
---
Bedrooms
Rastignano, Emilia-Romagna, Italy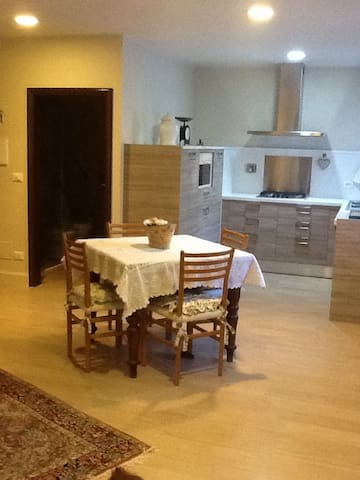 apartment, easily accessible by public transport, quiet, bright, equipped with wi fi, tv, hi fi, coffee machine, kitchen, fridge. It is 500 meters from the railway station of San Rufillo, 300 meters from the bus stop and in 15 minutes you are in City
The apartment is spacious and bright and has been recently renovated. The decor is contemporary, especially with attention to the comfort and home gardening. The spaces are functional and comfortable. In winter and summer, the climate is comfortable . The house is in the first hinterland of Bologna , in a convenient area and can bring the highway and the ring road ( 10 minutes from the ring road District Mazzini - 12 minutes from the highway exit Bologna San Lazzaro ) . The parking under the house is free and there are no access restrictions . In a few minutes you are in the center . On foot you can go to the market to do the shopping . Within walking distance there are banks , bus, pharmacy, tobacconist , bakery , post office , take aways , restaurants , laundromat , etc .. Nearby Health Center-Hospital Toniolo .
The apartment is located in Via Vivaldi 3. Nearby Casa di Cura Toniolo .
Pier Federico was very nice and very helpful with us. The apartment is great!!!. Nice decoration, bigger than expected, big and very comfortable beds. Kitchen is big and has everything you need: Pier Federico left water, cakes, coffee....a Nespresso.... so What else????? This is a 5 stars place. You can park your car in front of the door and the bus will take you downtown in 10 minutes. Wifi is perfect!!!! I have to say you will be very lucky if you choose this place. 5 STARS!!!
TARA
2016-06-25T00:00:00Z
Everything was great in this short trip. The Federico's apartment was really cosy and nice. Federico was always present online and Edoardo, Federico's father was a real help when we arrived in helping us find something to eat (was quite late). Thumbs up!
Stefan
2016-10-09T00:00:00Z
Favorite Airbnb I've ever been too! The decor is simple and beautiful, and we loved all the plants in the apartment. Pier was very accommodating, and was willing to check us in whenever it worked best for us. His friend came to check us in, he was friendly and left us his number. Also, he left us check out late because there was no one checking in that evening. The kitchen is stocked well with things to cook plus some drinks in the fridge! So nice! The distance is exactly as advertised. Bus of about 15 minutes to center. Not bad, and usually on time. The stop is about a 2 minute walk from the flat. We did not find it to be a problem. Also, less than a 10 minute bus ride to a beautiful park!
Amber
2016-06-06T00:00:00Z
Such a big apartment in a most convenient area. Access to both the bus and the train are so close. And there were lots of extras in the kitchen like oil, vinegar, paper towels, napkins. Beds were comfortable and a great internet connection. A very good week.
Veronica
2016-10-23T00:00:00Z
The host was very friendly welcoming us with great hospitality. The atmosphere was cozy and the neighbourhood was cute near all the means of transport and baker´s, supermarkets, etc. Internet connection was perfect and the rooms were very spacious, even more than what we expected.
Sergio
2016-04-06T00:00:00Z
This apartment was amazing. I highly recommend it to anyone traveling in Bologna or nearby. It's perfectly situated 3 blocks from the train - one stop away from the main city center in a beautiful residential town. Friendly locals, beautiful flowers and parks. The host was AMAZING. Super responsive and friendly. The place was very, very clean. Has so much space. Coffee. Water. Comfy beds. Nice shower. Cool radios and plants. Literally an ideal AirBnB situation. If you're lucky enough to snag this place while it's available I would not hesitate to book! I hope to return soon!
Mel
2016-04-15T00:00:00Z
We got a warm welcome by Federico his father. Although not speaking English he really did his best to help us feel at home. As it was late he personally guided us to a take away restaurant. Beautiful spacious apartment. We always had free parking in the street. Federico prepared documents with a good manual for the use of the house, with wifi code, bus info, phone numbers. And he answered message really fast. Top host!
Mieke
2016-10-05T00:00:00Z
Federico's apartment is beautiful, big and very comfortable. It's a bit far from the center of bolonia but it's easy to get there by bus. You can contact him at any time and he always replies as soon as possible. He provides slippers, clean towels, coffee... and useful information about bolonia such as the taxi number or what bus to catch. We really enjoyed our stay in his house, totally recommended.
María
2016-12-05T00:00:00Z
Room Type
Entire home/apt
---
Property Type
Apartment
---
Accommodates
4
---
Bedrooms
Bologna, Emilia-Romagna, Italy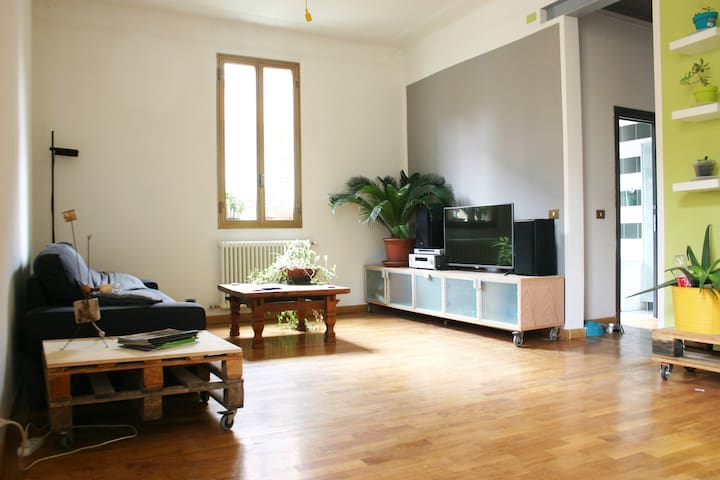 My apartment is near the Hospital Bellaria, on the first few hills, despite being only 8 km from the center of Bologna, and served by local bus at 800 meters. The house and 'surrounded by greenery, quiet and very bright, with parking inside the garden. My accommodation is suitable for couples, lone adventurers and business travelers. The published price is for one / two guests, a small increment for additional guests, max 5.
And 'near the highway, the San Lazzaro exit and Bologna's ring road with parking in the garden. The fair and '15 min. by car.
Earliest sunito hills outside Bologna The house 'into the territory of the Parco dei Gessi Bolognesi. The cave Spipola is two km away.
La casa è grande, pulita e confortevole. Posizionata nel verde, comoda da raggiungere e a soli venti minuti dal centro. I padroni di casa sono disponibili e ospitali. Ideale per un soggiorno a Bologna nel relax. Consigliatissimo!
Paolo
2016-11-13T00:00:00Z
Room Type
Entire home/apt
---
Property Type
Apartment
---
Accommodates
6
---
Bedrooms
Martiri di Pizzocalvo, Emilia-Romagna, Italy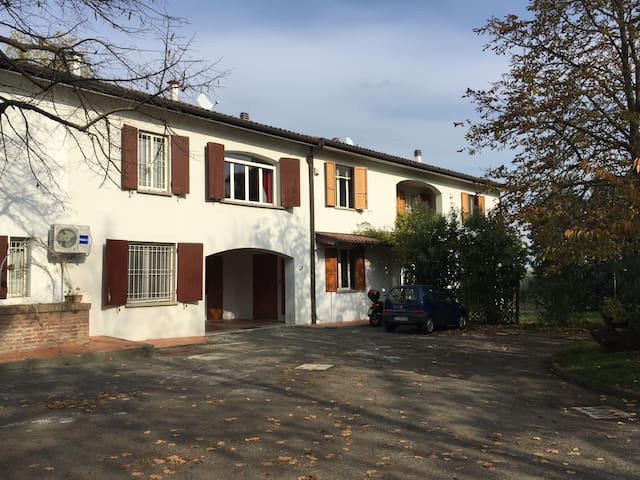 Appartamento in villa sui colli Bolognesi a soli 15 minuti dal centro storico con mezzi pubblici, Open space 70 mq più uso bagno, cucina extranuova, camera da letto e terrazza panoramica. Servizi nolo bici elettriche
Il nostro appartamento è il luogo ideale per rilassarsi, immerso nel verde e distante quel che basta dal fragore della città.
A pochi passi dall'alloggio c'è un struttura Ippico-Sportiva, per passeggiate a cavallo corsi e campi da tennis e calcetto.
Room Type
Entire home/apt
---
Property Type
Apartment
---
Accommodates
5
---
Bedrooms
Rastignano, Emilia-Romagna, Italy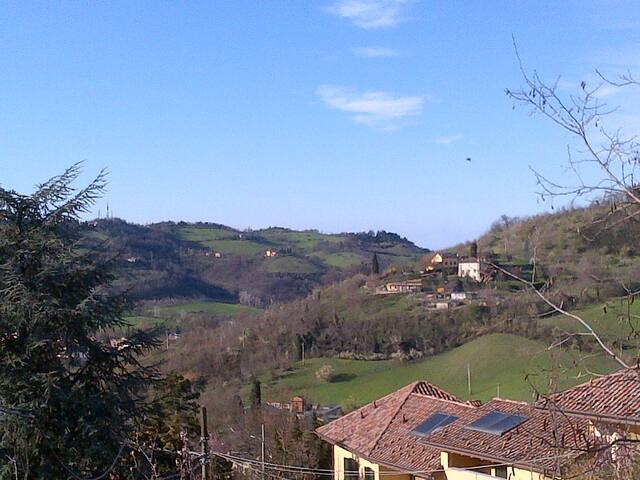 New apartment, in a quiet, green area connected with Trattoria Croara. On the hills of San Lazzaro a few steps from the Parco dei Gessi. Convenient to the hospital and Bellaria Gruppioni. 15 minutes drive from the Fair and to the historical center
I really liked the place I stayed, it was the same as on photos, clean and nice. I was wellcomed and if I had any questions or requests, the host helped out without any problems. I highly recomend this appartment, and during my next visit to Boligna want to stay there again.
Sergey
2016-10-01T00:00:00Z
L'appartamento è perfetto, esattamente come indicato nell'annuncio, nuovo, ampio, pulito e luminoso. Siamo stati accolti puntualmente, la colazione è stata servita nella locanda e il frigorifero era fornito di acqua e bibite. Davvero nulla da osservare, ringrazio Barbara anche per la flessibilità sull'orario del check out che ci ha permesso di fare tutto con calma. Sicuramente tornando a Bologna utilizzerò questo appartamento. Lo consiglio a chi vuol stare fuori Bologna nella tranquillità
elena
2016-10-08T00:00:00Z
Una piacevolissima sorpresa. Siamo capitati a Bologna in un momento di bassa disponibilità ed abbiamo scelto di spostarci dal centro. Siamo stati accolti in una gradevole atmosfera familiare a pochi minuti dalla città. Accoglienza e pulizia super.
Luca
2016-11-20T00:00:00Z
Room Type
Entire home/apt
---
Property Type
Apartment
---
Accommodates
4
---
Bedrooms
Ponticella, Emilia-Romagna, Italy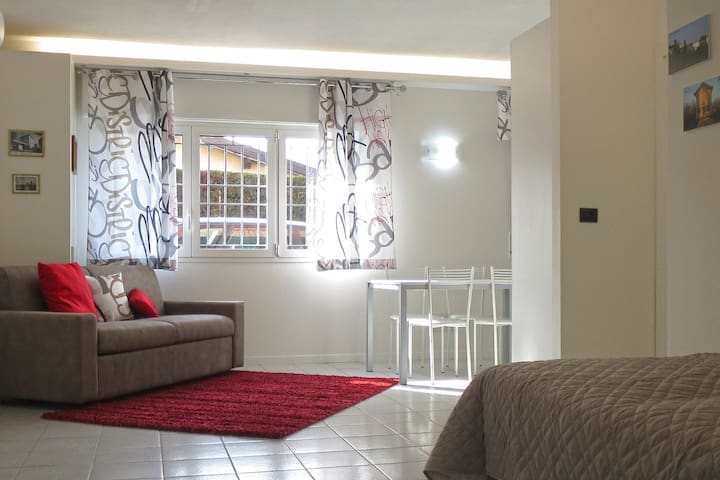 Modern apartment surrounded by nature, close to Bologna. Located at the entrance of the beautiful Gessi Bolognesi Park, along the road of wine and flavors. Perfect solution for those who want to visit the city staying in the countryside!
The apartment is on the ground floor of a building of 3 floors in a peaceful, quiet and green surrounding. My street is called Rio Fabbiani as the small stream that flows through the property. Nearby lies a garden with Mediterranean shrubs and quince, medlar, plum and cherry trees. You can frequently spot wildlife such as roe deer and pheasants, especially at dusk and in early morning. The accommodation is clean, tidy and equipped with all the amenities including free wireless internet and air conditioning. Renovated in 2014, is furnished with new furniture, new kitchen, new flooring and good quality fixtures. It consists of: - Large living room divided into living area with sofa and stereo and kitchen area with refrigerator, oven, gas hob, electric kettle, juicer; - Double bedroom with wardrobe, window and electric warmers; - Bedroom / office with two desks, window, bookstore, bed inflatable; - Bathroom with washing machine, shower and window. In the accommodation can sleep four guests in two bedrooms.
The district is located along the Road of Wine and Food of the Apennines Bolognesi, typical area of food and wine production, with many excellent restaurants. Try The Cavallino Bianco really close to the apartment or Grillo Parlante 10 minutes on the hills towards Sasso Marconi. The location is strategic because it allows to reach both the natural attractions of the hills and the Apennines as the city of Bologna. Among the destinations that are worth visiting is certainly the Parco dei Gessi Bolognesi, crossed by paths of varying difficulty for hiking or mountain biking. The Oasis of San Gherardo is only 15 minutes and is a spot internationally renowned for bird watching. The lawns of Mugnano are recommended for a picnic in summer as in winter. Nearby are also historical sites like Sasso Marconi and Marzabotto. Not far you can also drive or go by train to the beautiful city of Florence.
Really good house with two bedrooms, people can do everything in the kitchen. And Maddalena is a good host and she prepare all the things you need!
Jiayi
2014-12-23T00:00:00Z
Maddalena's place was clean, very well equipped and comfortable. It was within easy driving distance of Bologna. There were builders there when we visited, which caused some disturbance, but this would not normally be the case I imagine.
Katherine
2015-10-01T00:00:00Z
Maddalena is a very good host. It is a nice appartment and we liked the ice tea, fruit and biscuits. The appartment is near bus and train station so bologna, ferrara, firenze and modena are one train trip away.
Gijs
2015-07-30T00:00:00Z
The host canceled this reservation 59 days before arrival. This is an automated posting.
M Anne
2015-06-02T00:00:00Z
Maddalena and Roberto are a very nice, young couple who welcomed us with a homemade cake. we loved to stay in their modern appartment. The interior is exactly the pictures show, even better ! we felt right at home, free and comfortable . For one week, their house was our house. Everything was there. Even the fruit bowl and things for breakfast and cooking . we could use everything. We were Lucky to have very good weather so we good also enjoy the space around the house. The atmosphere is quiet and peaceful. Especially in the mornings The only sound we heard was the song of birds. Pionoro is about 20 min. drive from the centrum of Bologna. (Nearby is a railwaystation so you can even go by train) We had hired a car for visiting other places like Ferrara, Faenza , Ravenna. Italy has an overkill of culture, beautiful city's and nature . So beware !! For sure we recommend very much the place of Maddalena ! Maddalena and Roberto thanks again. There is one thing we want you to know : Between your cd's we discovered the " Italian Cantautori " Fabrizio de Andre. Every night , before sleeping (in your kingsize bed) we listened to the songs of this wonderful singer , so we could even more recover from the days with lots of impressions . with warm regards from Gerhard and Melani(URL HIDDEN)
Melanie
2015-04-12T00:00:00Z
Maddalena e Roberto sono gentilissimi, spero di tornare presto a trovarli. La casa è fantastica, un sogno: è quasi meglio delle foto e l'esterno è davvero suggestivo, è appena fuori dalla città ma sembra di essere in una dimensione parallela. Consigliatissima!
Marco
2015-03-22T00:00:00Z
La casa di Maddalena è Roberto è comodissima e accogliente, tutto molto organizzato e ordinato. Semplice da raggiungere in auto da Bologna, si è a dieci minuti dalla città e allo stesso tempo immersi nella natura.
Elisa
2017-02-13T00:00:00Z
Room Type
Entire home/apt
---
Property Type
Apartment
---
Accommodates
4
---
Bedrooms
Pianoro, Emilia-Romagna, Italy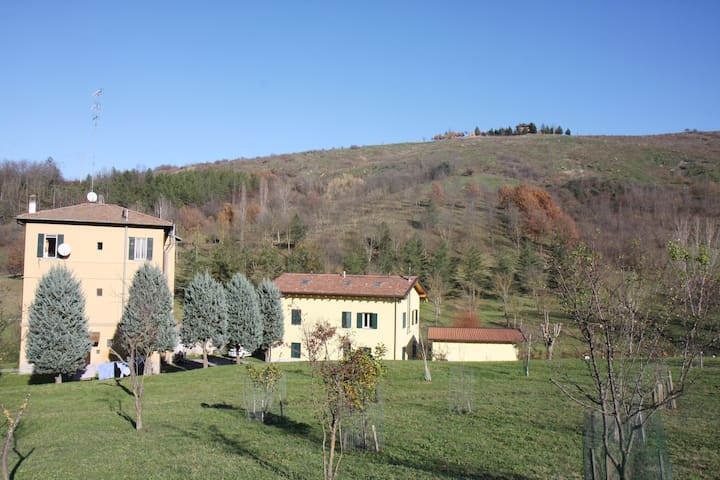 Attico luminosissimo di 85 mq con terrazzo di 30 mq, ottimo per cene d'estate con vista sulla città: ingresso, ampio salone con tv, cucina abitabile, ampia camera doppia o matrimoniale (adattabile a seconda delle esigenze), seconda camera matrimoniale con letto a una piazza e mezza, bagno con doccia e vasca e un piccolo terrazzo. Wifi con router. Comodo per raggiungere Ospedali, Fiera, Aeroporto e Stazione F.S. Non è consentito fumare. Inviare C.I. alla prenotazione
L'alloggio è prenotabile per un minimo di 6 giorni.
A 4,3 km dal centro raggiungibile in 15 minuti in autobus, posto in zona residenziale con adiacenti tutti i servizi (il centro commerciale di San Ruffillo con supermercato, negozi, servizi vari e un parco giochi).
Un'ottima accoglienza da parte della proprietaria Roberta che pur non riuscendo a presentarsi in prima persona ci ha fatto accogliere da due sue simpatiche e disponibili parenti. La casa molto bella e pulita. Abbiamo trovato una tapparella rotta ma il problema é stato risolto prontamente da Roberta che ha mandato un tecnico per aggiustarla. L'appartamento si trova in una zona ben servita sia per i negozi (troverete una Coop a 100 m di distanza) sia per mezzi pubblici che passano frequentemente e nel giro di 10 minuti portano nel centro di Bologna. Giudizio ottimo!!!
Angelo
2016-10-24T00:00:00Z
Pierwszy raz korzystałam z portalu airbnb, więc mnie mam zbyt wielu porównań. Osobiście Casa Beddy spłeniło moje i mojej rodziny oczekiwania.
Joanna
2016-09-29T00:00:00Z
El piso es estupendo y amplio, la atención recibida de Roberta ha sido genial, es muy simpática y muy agradable. Desde luego, muy recomendable. Pepe desde España.
José
2017-03-21T00:00:00Z
Room Type
Entire home/apt
---
Property Type
Apartment
---
Accommodates
4
---
Bedrooms
Bologna, Emilia-Romagna, Italy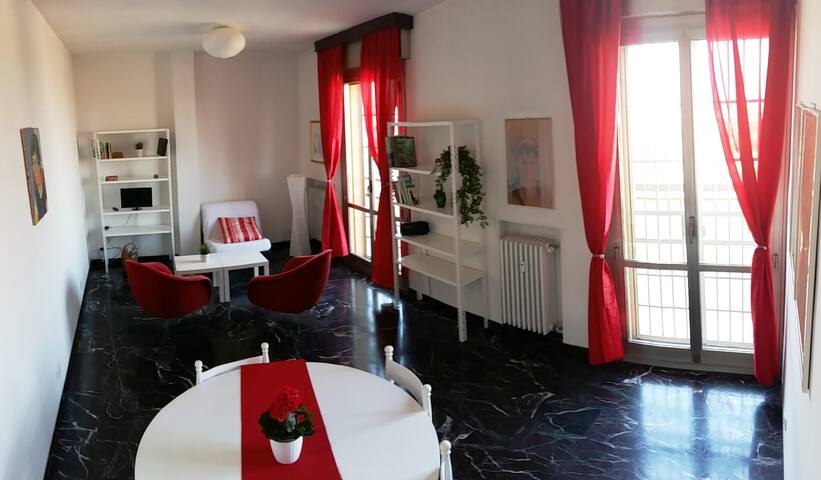 Spazioso e luminoso appartamento appena ristrutturato per 2(+2) persone nel tranquillo quartiere Murri, una delle migliori zone residenziali della città, ai piedi dei colli e nell'immediata prossimità del centro storico e del quartiere fieristico.
L'appartamento è ampio, luminoso e soprattutto garantisce silenzio e tranquillità. Sito al terzo piano di una palazzina anni '60 ha una superficie di 45 m2, è stato recentemente ristrutturato ed è ammobiliato in stile moderno e funzionale. L'alloggio può accogliere un massimo di 2 persone nella camera da letto con un letto molto confortevole, più 2 persone su un divano letto nella sala/cucina. The apartment is spacious and bright and above all guarantees peace and tranquility. Located on the third floor of a building 60 has an area of 45 m2, has recently been renovated and is furnished in modern style and functional. The apartment can accommodate a maximum of 2 people in the bedroom with a very comfortable bed and is equipped with a sofa bed to accommodate 2 more people if necessary.
Very comfortable and airy house. It's located in a very quiet neighbourhood and sunny. We have a blissful 4 day stay here. Location wise, it's easy to take bus to the city center. If you want to walk, it's about 30 mins walk. Host Fabio is friendly and quick to welcome us upon our arrival. Overall, a recommended stay.
Ken
2015-09-13T00:00:00Z
The host canceled this reservation 11 days before arrival. This is an automated posting.
Marta
2016-05-13T00:00:00Z
Our stay in Bologna was perfect - Fabio was an excellent host, incredibly helpful and responsive. He answered all our questions quickly before and during our stay. The apartment is just as described and everything was spotless. All in all, it was the ideal choice to explore Bologna and we would come back without hesitation.
Alice
2016-07-01T00:00:00Z
The apartment was the perfect place for our stay in Bologna. Clean. Organized. A place for our kids to sleep in a separate room. Fabio was a great host who kept in touch to see if we needed anything. He also provided some basics for us when we arrived like ground coffee, laundry detergent, and extra toilet paper. The next time we plan to come to Bologna, we will contact Fabio to see if this apartment is available.
Geoff
2015-05-25T00:00:00Z
Fabio was a really helpful and friendly host.
Kertész
2015-12-15T00:00:00Z
The apartment was very clean and it had everything you needed. Being the first time using Airbnb it was a great experience. Fabio was more than helpful answering all sort of questions and trying to help us. The city center can be reached via bus in 10 minutes. Great place to stay in a very quiet neighborhood.
Octavian Adrian
2015-09-21T00:00:00Z
It's a very clean and lovely apartment. Fabio is very nice and tries to help with any concerns.
Christina
2015-04-16T00:00:00Z
Fabio is a great host and the apartment is very well furnished and organized. I felt at home and I had everything I needed. I recommend this apartment to everybody!
Valerio
2016-07-09T00:00:00Z
Room Type
Entire home/apt
---
Property Type
Apartment
---
Accommodates
2
---
Bedrooms
Bologna, Emilia-Romagna, Italy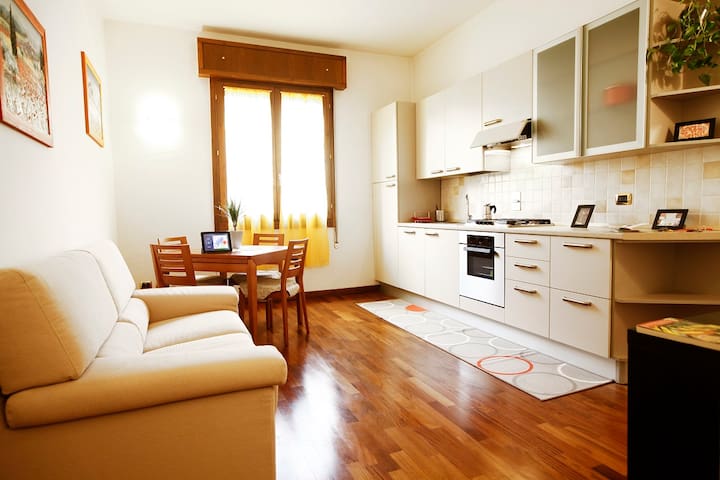 Acantohouse vi accoglierà in una graziosa camera doppia con bagno e ingresso indipendente in una residenza immersa nel verde e silenziosa. Ben collegata con mezzi pubblici al centro della città e alla Stazione, di facile accesso in automobile e parcheggio libero vicino a casa. Camera luminosa e silenziosa con piccola scrivania, frigo bar e forno microonde, bagno confortevole con doccia. Possibilità di colazione in giardino e uso del tavolo da ping-pong e angolo relax fresco e ombreggiato.
Value for money , right next to a bus stop , amazing helpful host !! Thanks for all the help !!
Nimit
2016-09-27T00:00:00Z
Laura was just amazing! Her apartment cozy, clean, comfortable and easily accessible from the city. It was the first time I used Airnbn service, but certainly not the last ( couse of Laura ) She was helpful, warm and very pleasant lady. We could not expect to be so great. This was a working trip, but Laura 's concern and helpfulness moved to the next level. We got more than asked. I highly recommend to choose stay in hers apartaments, you will be pleasantly surprised as we were. Laura thank you for everything! Hugs and kisses!
Neringa
2016-03-22T00:00:00Z
Excellent place, we can recommend this place. The room is really beautiful and clean. The neighbourhood is green and quiet. There is a bus-stop around the corner so it is very convenient to go into town. Laura made a really nice breakfast and is very friendly and made us feel at home. Thank you.
Zsuzsanna
2017-04-06T00:00:00Z
Siamo stati ospitati dal pomeriggio del 31 alla mattina del 2, il centro è a 5-6km, noi ci spostavamo in macchina e in circa 15 minuti (ZTL aperta per i festivi e serali) eravamo parcheggiati a 5 minuti a piedi dalla piazza centrale, appartamento facile da trovare e zona veramente tranquillissima, ci siamo veramente trovati bene con Laura, ottima persona sempre disponibile e gentile, tutto funzionale, torneremo sicuramente qui!
Alberto
2016-01-03T00:00:00Z
Perfetta!!!Laura è stata gentilissima ed il nostro soggiornoeè stato molto confortevole. Grazie ancora, alla prossima!
Jessica
2015-10-02T00:00:00Z
Room Type
Habitación privada
---
Property Type
Apartment
---
Accommodates
2
---
Bedrooms
Bologna, Emilia-Romagna, Italy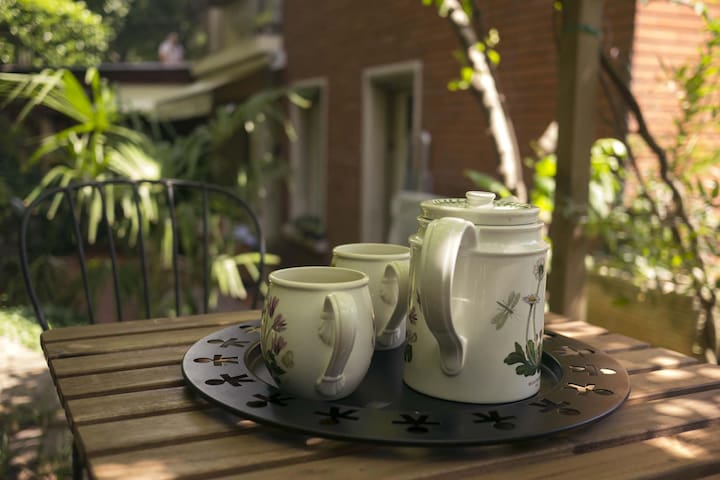 A due passi da Bologna, in un'incantevole posizione nel Parco dei Gessi e Calanchi dell'Abbadesssa e riserva Natura 2000, l'atmosfera di pace e relax avvolge gli ospiti già al loro arrivo.
Room Type
Entire home/apt
---
Property Type
Apartment
---
Accommodates
4
---
Bedrooms
Montecalvo, Emilia-Romagna, Italy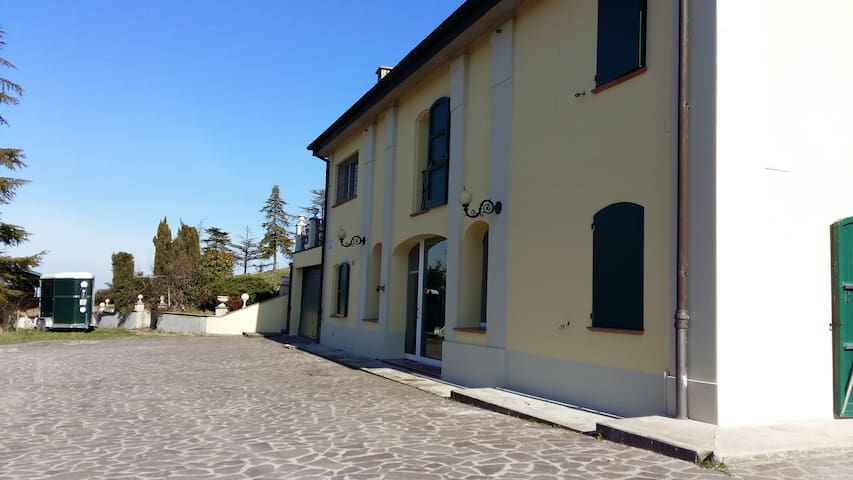 Il mio alloggio è vicino a trasporti pubblici e stazione dei treni di Rastignano, collegata alla Stazione Centrale. Ti piacerà il mio alloggio per questi motivi: pur essendo sulla strada principale è molto silenzioso perché ha le finestre con vista sul parco del Paleotto. Situato al secondo piano, senza ascensore. Il parcheggio, non pertinenziale, è su strada pubblica senza limiti di accesso o pedaggi, a 200m parcheggio coperto. Il mio alloggio è adatto a coppie e famiglie (con bambini).
Quartiere molto tranquillo.
Room Type
Entire home/apt
---
Property Type
Apartment
---
Accommodates
4
---
Bedrooms
Rastignano, Emilia-Romagna, Italy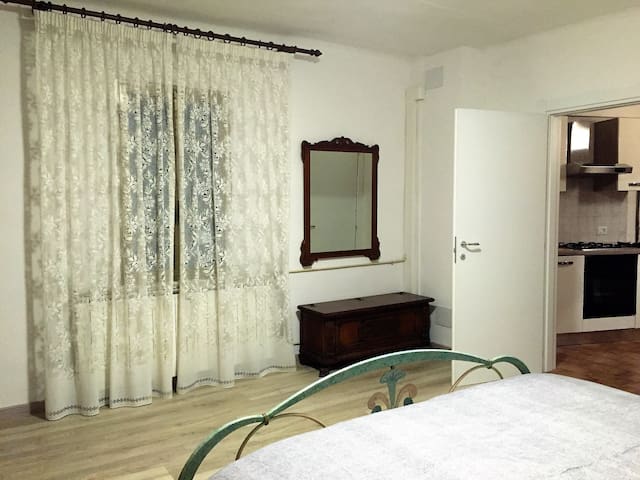 In zona precollinare a 300mt dall' Ospedale Bellaria e 200mt dalla Fondazione Seragnoli hospice Bellaria, appartamento di 91mq appena ristrutturato in contesto signorile. L' unico all'interno del Parco della Resistenza (17ha) con entrata privata dalla Residenza e parcheggi personali numerati. La Residenza si trova a: 1 Km dalle principali tangenziali Bolognesi e autostrade Italiane per Firenze, Venezia, Roma, Milano, Rimini ecc. 5 Km dal Centro di Bologna (15 min in Bus) 7 Km Fiera di Bologna
Residenza Bellaria può ospitare fino a 4 persone ed è composta da ampia camera da letto matrimoniale con possibilità di ulteriore letto singolo. Salone di 30 mq con divano letto da 1 piazza e mezza di ultima generazione, TV al plasma da 50" e DVD. Terrazzo abitabile e riservato con vista sul parco. Cucina completamente attrezzata e sala da pranzo. Elegante bagno con vasca/doccia.
Il Comune di San Lazzaro di Savena è il Comune più ricco dell'Emilia Romagna, la zona Residenziale più ricercata di Bologna e dove si vive meglio (Fonte il Sole 24 Ore) per: Aree Verdi, servizi e ambiente Tenore di vita Ordine pubblico Tempo libero Affari e lavoro
Location was excellent. 15 minute away from the fair. Also we had parking space. Apartment was nice and comfortable but does not sleep 4 persons as stated in the listing. The beds were a bit uncomfortable.
Marica
2016-10-01T00:00:00Z
We had a great stay at Pier Paolo's apartment
Kristian
2017-01-09T00:00:00Z
Our host gave us a very warm welcome. He had a friend with him to assist with translation. He provided us with information on local places to eat that were with in walking distance. Everything is was within walking distance to make our stay comfortable and relaxing. The apartment in very well located and is in a fantastic town that is a must see. The description doesn't do it justice.
Patti
2016-06-23T00:00:00Z
Really nice spacious appartment in a very convenient location to the city. Pier paulo was very welcoming and helpful.highly recommended
BRUCE
2016-10-14T00:00:00Z
The apartment was in a lovely area, very green and inviting. It was within walking distance to shops, restaurants and had everything we needed. We enjoyed our stay very much. Pier Paolo was an outstanding host. He greeted us at the gate, showed us everything about the apartment and provided us with homemade sauce from his Mom. How much better could it get?
Marie
2016-06-04T00:00:00Z
Pier Paolo is a very kind host. The appartement is tasteful furnished and a good base to discover Bologna by car or public transport.
Klaus
2016-08-27T00:00:00Z
It's a very comfortable apartment just like ours in China!my family enjoy it very much!we enjoy cooking there,everything in the kitchen is clean and beautiful!it's green any quite around,parking easy and perfect distance drive to ancient city.thanks for guide us to the pasta restaurant,its very delicious!ps:we forget the wine from Verone in the refrigerator,would you like to try?don't forget to let me know your opinion!thanks!
震
2016-10-04T00:00:00Z
Casa correcta, wifi insuficiente ,cuarta cama pequeña (para niño, no adulto).dueño muy agradable y simpatico
Esther
2016-08-16T00:00:00Z
Room Type
Entire home/apt
---
Property Type
Apartment
---
Accommodates
4
---
Bedrooms
San Lazzaro di Savena, Emilia-Romagna, Italy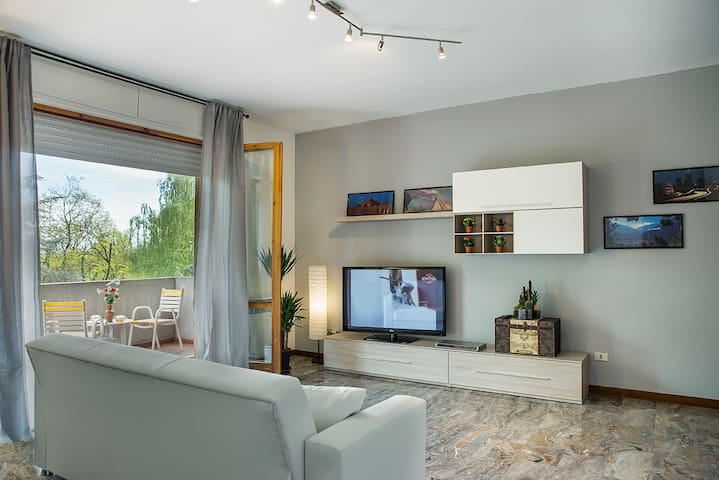 Bilocale appena ristrutturato, costituito da camera letto, bagno, soggiorno con cucina a vista, due balconi con vista sui colli circostanti. Fermata di bus e taxi di fronte all'edifico. Nelle immediate vicinanze bar, ristoranti e centri commerciali. E' dotato di connessione wi-fi, televisore a schermo piatto, lavastoviglie, lavatrice, forno a microonde, cucina completa. Al piano terra è disponibile per gli ospiti una piccola palestra. La biancheria da letto e da cucina sono incluse.
The apartment has been recently renovated and is equipped with every comfort: LCD TV, WiFi, air conditioning, washing machine, dishwasher, microwave, full kitchen. The bedroom has a balcony overlooking the surrounding hills. The living room has a small balcony overlooking the green hills. In front of the buildig there is a public park with gardens and children's games.
The neighborhood has many green areas and parks. well served by public transportation and rich in commercial activities, cafes and restaurants.
Stefano was an excellent host. His flat is fully equipped, very comfortable and clean. We had a very pleasant stay in Bologna and can absolutely recommend this accommodation.
Stefan & Inga
2016-08-18T00:00:00Z
The Apartment was perfect- everything is new, clean and you find absolutley everything that you need (including 2 bikes ) Stefano welcomed us personally and it was really easy to communicate with him before and during our stay. Again, thank you very much for everything, Stefano!
Lea
2016-09-11T00:00:00Z
Stefano was one of the greatest and friendliest hosts we ever had. We arribed late and he even cooked something for us. Everything was clean and proper and we would like to return to Bologna as soon as possible.
Hanna
2016-08-26T00:00:00Z
Stefano was a wonderful host, he was accommodating with our early arrival. The appartement was fantastic as advertised, right beside the bus stop. Great place to stay in Bologna, highly recommend.
David
2016-09-23T00:00:00Z
Bättre värd än Stefano kan man nog inte ha. Stefano var behjälplig att lotsa oss fram till korrekt adress, och fanns på plats när vi anlände. Kylskåpet var försett med välkomst dricka, frukter etc. Olika brochyrer och citymaps fanns tillgängligt, och olika tips delgavs av Stefano. Kommunikationerna in till city var enkla, busshållplats strax intill bostaden.
Tommy
2016-08-27T00:00:00Z
El apartamento estaba completamente limpio y tiene todo lo necesario para tu estancia. Tal cual como muestran las fotografías. Es perfecto para dos personas. La ubicación es buena, no está en pleno centro pero en 25 min puedes llegar y tiene muy buena conexión con el transporte público a cualquier hora del día. La zona es muy tranquila y tienes supermercado cerca. El recibimiento y el trato por parte de Stefano y Micaela fue estupendo, además de todas las explicaciones. Sin duda hemos pasado una semana estupenda en Bolonia y volvería a repetir en el mismo alojamiento.
Araceli
2016-08-12T00:00:00Z
Stefano und seine Frau sind sehr sympathisch. Alles war in Ordnung. Klimaanlage, wlan Zugang. Sogar Satelliten Fernsehen (deutsche Kanäle) hatten Sie im Angebot. Eine sehr helle und moderne Appartement. Für paare oder einzelner ideal geeignet.
Ersin
2016-08-05T00:00:00Z
Le logement était parfaitement conforme à la description, très propre, dans un environnement calme et très simple d'accès vis-à-vis du centre ville. Stefano a quant à lui été un hôte parfait! A refaire, on choisirait ce logement sans hésiter!
Anaïs
2016-09-20T00:00:00Z
Room Type
Entire home/apt
---
Property Type
Apartment
---
Accommodates
2
---
Bedrooms
Bologna, Emilia-Romagna, Italy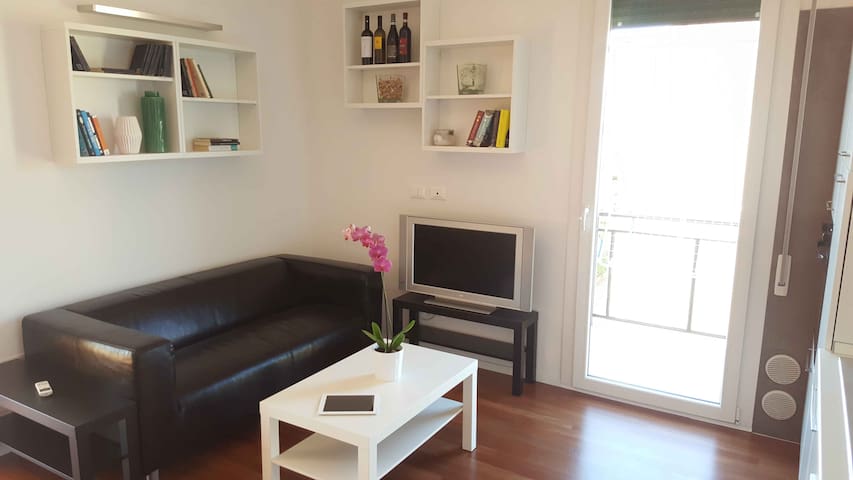 L'appartamento è situato in un vecchio edificio tipico degli anni '60 bolognesi, arredamenti nuovi e elettrodomestici perfettamente funzionanti. L'ospite avrà a disposizione una camera con letto matrimoniale, armadio, TV e terrazzino;
L'appartamento è situato al terzo piano (purtroppo senza ascensore), si gode di una bellissima luce per tutta la mattinata.
A pochi passi dal parco dei Giardini Margherita,
Room Type
Private room
---
Property Type
Apartment
---
Accommodates
2
---
Bedrooms
Bologna, Emilia-Romagna, Italy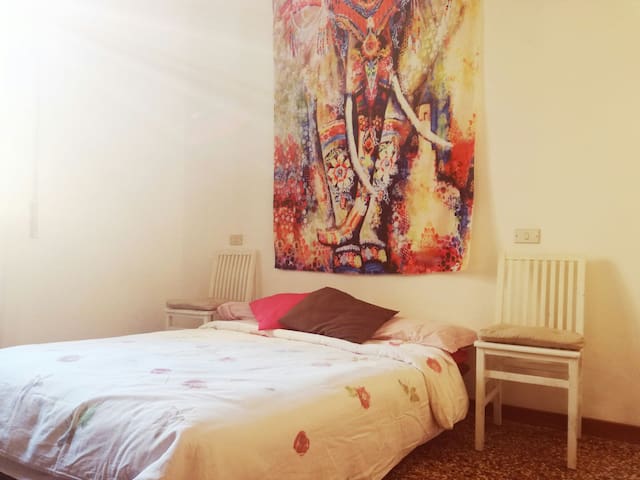 1

–

18

of

300+ Apartment Rentals
Enter dates to see full pricing. Additional fees apply. Taxes may be added.