All yours: entire house in the heart of McKinney's Historic District. Thisrenovated 2 bd/2bath 1942 home has full kitchen, washer/dryer, cable TV & WiFi. Pet-friendly. A short walk through lovely neighborhood to downtown shops & eateries.
Mid-century charm, recently renovated. Mockingbird Cottage, 1300 sq. ft, honors its vintage character while providing a lovely, modern accommodation. Renting to adults and families with children over 12. Ideal for a writer, artist, or student study retreat, for a honeymoon getaway, or for a visiting business person wanting to have a sense of home. Perfect for those waiting to close on their own new homes, for groups of friends visiting McKinney, or for housing extra family during holidays or special events. -=-House Features-=- Mockingbird Cottage has two large bedrooms, a full bath with original Art Deco tile/tub, and a second ensuite bath with a shower. Fully-appointed kitchen. Additional appliances: ironing board & iron, washer/dryer, blow dryers. -=-Kitchen=- Refrigerator/freezer, dishwasher, stove/oven, microwave, blender, toaster oven, tea kettle, coffeemaker, French press, corkscrew, cookware (pots, skillets, baking pan, utensils), and complete table service for six. Theatre-style popcorn cups for movie night in. Window herb garden has rosemary, sage, and thyme for your use! -=-Comforts-=- Hardwoods w/area rugs. New cork tile in second bathroom and in kitchen is soft underfoot. Central heat and air upgraded w/new system in Sept. 2013. Ceiling fans in every room. Sleeping: Front "Goldfinch" bedroom has a new American queen bed and a twin. Large bathroom just a few steps away. "Dove" bedroom has a new queen four-poster bed and a twin, with an ensuite bathroom. Eating: Antique dining table seats 4-6. Eat-in kitchen bistro table seats two. Living: House features an assortment of indoor and outdoor spaces in which to work or telecommute comfortably. Upgraded cable 200+ channel TV, Wi-Fi / internet access. Clock radio in living room has USB for charging devices, alarm, line jack for music playback, and Bluetooth capability. Takeaway library. If you find a book you can't put down -- don't! Just take it with you and note it in the guest book. If you have a book you've finished and want to leave for the next guest, pay it forward. Feel like a game night? Mockingbird Cottage has playing cards, Monopoly, Scrabble, Clue, and Yahtzee available for play. -= Children =- We love children, but Mockingbird Cottage is most appropriate for babies in arms and children ten and older. We cannot host crawlers, toddlers, and children under ten. -=-Pets-=- We are one of the few properties in the area that is pet-friendly. Please see our pet acceptance policies as described in House Rules prior to booking. The entire property has been certified as a Wildlife Habitat by the National Wildlife Federation (we provide food, water, cover, and places to raise young for birds). If you are a bird-watcher, we are on the migration route for many species and in the nesting area for quite a few. A female mockingbird routinely nests in the flowering quince in the front of Mockingbird Cottage, which is named for her.
McKinney's beautiful Historic District features many Queen Anne and Carpenter Gothic Victorians and Arts-and-Crafts-era homes--from grand mansions to tiny bungalows. We love and are proud to share our neighborhood, just a short distance from the downtown square, ca. 1848. On some evenings, music from restaurants on the square can be heard on the front porch. Horse-drawn carriages often pass --and rides are available for hire. On calm days, hot air balloons may fly over. (Hot air balloon rides available locally, as well.)
Great location. Nice, well-kept property. Would stay here again and recommend to others.
Robert
2016-10-31T00:00:00Z
C.J. was on her way to the hospital and still managed to call us just prior to our arrival to make sure that we could settle in even though she could not be there. Everything was self explanatory with thoughtful notes left around the property. We were comfortable and relaxed right from the start.
William
2016-06-10T00:00:00Z
Ellen had a snacks and drinks ready for us along with a special breakfast surprise! My friends and I loved the house and enjoyed hanging out. It couldn't have gone better and I highly recommend staying here.
Shannon
2016-08-01T00:00:00Z
We just finished a four-day stay at the cottage. Our expectations were exceeded all around. All the rooms were very spacious. It was very homey. All the treats and basic grocery items in the kitchen were very much appreciated. We plan on returning in the summer!
Wanda
2015-01-03T00:00:00Z
C.J and Ellen's house is absolutely beautiful. The house had little helpful notes everywhere to help with the TV and things around the house. She was very sweet to leave snacks in the refrigerator and it was so helpful having paper towels and kitchen supplies. Everything was very calming and relaxing.
Natalyn
2015-07-11T00:00:00Z
The cottage is a well-decorated, 2 bedroom house only 15 min walk from historic downtown McKinney. We were left great snacks including a nice cake, sodas, orange juice, teas, chocolates, and bags of chips. There is an extra charge per day for pets ($15) which you will have to bring cash for. One of our family members decided to join us last minute too and there was an extra $20 per person per day fee. However, due to a glitch with the Airbnb system which would have charged us a lot more than the normal fee, the owners kindly waived it. All in all, it was a great stay and we appreciated the ability to bring our dog and the extra person!
Mai-Ly
2016-04-17T00:00:00Z
Mockingbird Cottage is such a lovely home! So comfortable, cozy, and CJ is a wonderful host. She made sure we had snacks and breakfast treats for our first day in town. It was such a great experience! Would definitely stay again! Thank you for everything!
Meredith
2015-08-23T00:00:00Z
Had a lovely stay at the cottage. The house is clean, well decorated, and very lovely. The kitchen had everything we needed, the house is cozy and comfortable, but spacious enough for my family of four. Also, the neighborhood is a wonderful place to walk and see nice houses and pretty landscaping, with many good local restaurants.
Joshua
2014-08-13T00:00:00Z
Room Type
Entire home/apt
---
Property Type
House
---
Accommodates
6
---
Bedrooms
McKinney, TX, United States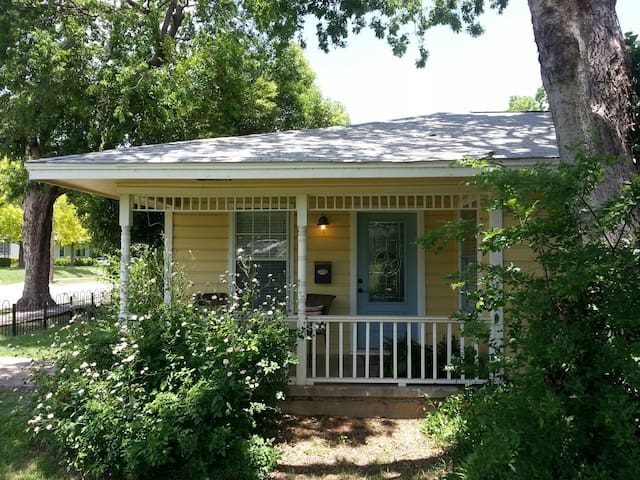 Behind our main home in historic McKinney, we have refurbished a 1920's arts & craft style guest house. This 570 sq. ft. house has been completely redone inside to now include a living area, full kitchen, bedroom, and full bath. We welcome guests for an overnight stay, or an extended stay over weeks or months. Amenities in the guest house include: Fully furnished rooms with all sheets, towels, kitchen utensils/dishes, and modern appliances Heating and air conditioning A spacious, fully equipped IKEA kitchen that we installed in 2011. New Whirlpool appliances include range/oven, microwave, toaster/oven, dishwasher, refrigerator, disposal, and washer/dryer. Included local TV and Roku (Netflix/Amazon Prime/streaming), secured wi-fi internet access, DVD/CD player, and sound system A full bathroom Iron, ironing board & hair dryer Onsite parking by the guest house, or on the street Basically, you can walk into our guest house with your suitcase(s), unpack them, and you're home. We invite our guests to enjoy the flagstone patio and grill between the guest house and our main home. Guests also enjoy relaxing on the spacious front porch of our main home. We live in the heart of McKinney's Historic District. In addition to seeing the many older, picturesque homes in this area, we are a short 10 minute walk from McKinney's Historic Downtown Square. Many of our guests enjoy the variety of restaurants, entertainment, and unique stores on the Square. McKinney is 30 miles north of Dallas. Access to North Dallas is about a 25-30 minute drive on US75 or new tollways. We are long-time Dallas and McKinney residents, so we can assist guests with directions and suggestions for attractions, entertainment, restaurants, and shopping in the Dallas-Ft. Worth area. We will respect your privacy. Come enjoy McKinney and stay with us in our quiet, relaxed neighborhood.
This is our fifth or sixth stay in Gary & Mary Jo's bungalow, so it has become our home away from Guadalajara. It is a very pleasant experience staying there and the house is just as they say it is.
Lynn and Celia
2016-06-02T00:00:00Z
Gary and Mary Jo are excellent hosts, and the bungalow is just right for a couple to enjoy. It is located in McKinney's historical neighborhood consisting of Victorian and turn of the century homes. It is on a very quiet street and just a 4 block walk to the town's historic plaza. This is our third stay and we will return again next year.
Lynn and Celia
2015-12-01T00:00:00Z
A charming guest house that is well-furnished and spotless. The bed is comfortable, bathroom stocked with plenty of towels and amenities and the kitchen had everything we needed. Gary and Mary Jo thoughtfully supplied tea/coffee, bottled water and a welcoming bottle of wine. The guest house is tucked away behind their own vintage home in a quaint neighborhood, walking distance to historic downtown McKinney. The area was very quiet and Mary Jo and Gary were great hosts--left us to our privacy, yet invited us to spend some time with them on their lovely front porch to enjoy a summer evening.
L C
2013-09-06T00:00:00Z
This guest house was the perfect "home away from home" for me. The house is nicely appointed, clean, and located in a lovely historical neighborhood. Gary and Mary Jo were right there offering true Texas hospitality. I cannot imagine a better accommodation in McKinney.
Judy
2016-07-29T00:00:00Z
The apartment was delightful and so were the hosts. They graciously accommodated our floating arrival time and were very helpful in providing information about local attractions and restaurants. The guesthouse is a 15 minute walk from a charming downtown area, with a good selection of eating places and antique stores, and the walk to downtown goes past numerous well-maintained historical homes that were interesting to observe. We enjoyed drinking the bottle of wine our hosts provided and we regret that our mutual scheduling conflicts prevented us from spending an evening on their front porch getting better acquainted. We really enjoyed our stay and feel lucky to have found this charming place.
Nancy
2014-09-24T00:00:00Z
This town is AMAZING! We loved McKinney and part of what made us love it was this cottage and this couple! They were so welcoming and kind, with tons of info on the area and terrific restaurant recommendations in McKinney. (Siciliy's, Snug, and Square Burger are a MUST have!) The cottage was cool, clean, and so comfy (we love the couch) with a full kitchen and a laundry. Convenient to the Historic Downtown, we walked the neighborhood most days to get to the shops. One beautiful memory of McKinney is sitting on the main house front porch with Gary and Mary Jo, chatting about life and learning about the area. We love this place and WILL BE BACK!
Heather
2013-07-06T00:00:00Z
Absolutely loved our stay at Mary Jo and Gary's bungalow! Wonderful, thoughtful hosts, cozy home with all the amenities we needed, walking distance to the square downtown - could not have asked for anything more!
Kaitlin
2016-04-20T00:00:00Z
Mary Jo and Gary are the perfect hosts. And the bungalow is very comfortable. We consider it "Our home away from Mexico", and we stay there twice a year.
Lynn and Celia
2015-06-01T00:00:00Z
Room Type
Entire home/apt
---
Property Type
House
---
Accommodates
2
---
Bedrooms
McKinney, TX, United States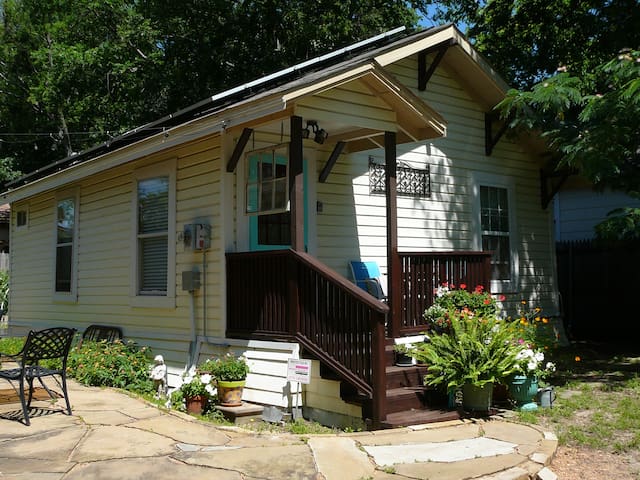 A delightful bedroom, twin bed, designer bedding, private ensuite 3 pc bath, TV in room, personal beverage center stocked for Keurig, private refrigerator, an additional roll-away bed available Access to the outdoor space with pool & deck Home is in the historic district just walking distance to the downtown square McKinney is known for having a vibrant downtown area and If it's any testament to the town, Money Magazine rated McKinney #1 place to live!
Home is quite and private. This private room has a twin bed with available roll-away at no charge 3 pc ensuite bath, closet, TV in room personal frig, personal coffee maker & dry bar
Our downtown square is with in walking distance and has several wonderful restaurants (URL HIDDEN) (URL HIDDEN) (URL HIDDEN)
Amazing Stay! Carol & Larry are just wonderful people! I had a great time in this "artist lives here home" bed was comfortable, yummy banana bread, and absolutely great company. The area is really nice and would love to stay again!
Monica
2016-04-05T00:00:00Z
My second visit with Carol and Larry and my experience was, again, perfect. I have come to think of the room I stay in as my sanctuary. I am working on my 200 RYT and when I am done for the day I come to this adorable, comfortable room and collapse. Larry and Carol are the perfect hosts, making sure all is taken care of and being friendly and helpful to make me feel at home. A great place with great people.
Karin
2016-03-23T00:00:00Z
I've been hosting for 2 years, but this was my first time using airbnb while traveling. Carol & Larry were extremely nice, the house was wonderfully done, and the room is very clean. I would stay, and probably will stay again next time i am in McKinney for work. Thanks guys!
Ivan
2015-11-18T00:00:00Z
The most wonderful place we've stayed! This was our 5th stay! We will go back!
Linda
2017-03-15T00:00:00Z
Comfortable and a great location. Carol, Larry and Cocoa are wonderful hosts. Highly recommend !
Shirley
2017-01-27T00:00:00Z
This was my second time at this house. Great again!
Tommy
2016-12-03T00:00:00Z
Being a MacKenzie-Childs fan Carol had me at hello with the photograph of her beautiful kitchen highlighted in her AirBNB listing. Her home is spectacular. She and her husband are so comfortable and enjoyable to be around. I promise you will not be disappointed. They have thought of everything. The historic downtown location is charming. There is even an adorable travel trailer on the property available for bookings as well. Definitely a notch above the average listing. Carol is such a talented artist. The claw foot tub made for a nice after work luxury. Such a pleasure.
melissa
2017-03-09T00:00:00Z
What an incredible stay. Caring, friendly, open, yet open to providing me privacy when needed. Carol and Larry are wonderful hosts. A gorgeous home. A lovely stay.
Victoria
2017-03-31T00:00:00Z
Room Type
Habitación privada
---
Property Type
House
---
Accommodates
1
---
Bedrooms
McKinney, TX, United States
¡Mi casa es su casa! This cozy and colorful 2 bedroom/1 bathroom is perfect for an overnight oasis or weekend getaway. This is my primary home, but I often hit the road on weekends and fill my summers with travel. There is nothing better than finding that charming 'home away from home' and I hope my 'casita' can be that for you!
Amenities include: -Fully furnished rooms with sheets, towels, etc. -Kitchen utensils/dishes, and modern appliances--range/oven, microwave, toaster, refrigerator, disposal **Note: Dishwasher does not work (For looks only ;) -Washer/dryer. -Heating and air conditioning -Wifi available throughout the home and the living room -TV has access to Netflix, Amazon Prime, and Hulu. -Full bathroom, hairdryer -Onsite parking
I dreamt for years of living in a little home in the Historic District of McKinney. I would often drive around the neighborhood and get lost in the details of the beautiful old homes. Now I live just 1.4 miles from the square and am surrounded by artists and wonderful, warm people. The McKinney square is idyllic--shopping, spas, gallery hopping, wining and dining, live music--you name it!
The colorful casita is amazing...super cute, quiet, eclectic neighborhood close to everything in McK. Laura is an amazing host who responds quickly and makes her house your home for your stay. she even told us about the 2017 Arts in Bloom festival, which was awesome. ...and be sure to hit up Bill Smith's Cafe and Dow town while you're there!!!
Kimberly K
2017-04-08T00:00:00Z
Laura is an amazing host! Her house is lovely; bright, clean, and very comfortable. She had great communication, responded quickly to questions, and checking in was easy. We were staying in town for an event at the Allen Center and Laura's house was just 15 minutes away. I hightly recommend staying here if you can. We had a wonderfu time. We already reserved her house again for our next trip to town!
Tara
2017-01-29T00:00:00Z
Laura's was an excellent AirBnB host. The house is cozy and comfortable. The Mckinney square is only a few minutes drive down the street, which was great for us. I would highly recommend this home to anyone looking for an inexpensive but nice place to stay!
Bryce
2017-02-12T00:00:00Z
Comfortable, convenient, charming colorful casita. Laura was a spectacular communicator. We enjoyed our stay!
Bessie (Don)
2017-02-18T00:00:00Z
I strongly recommend Laura's house if you need to be anywhere close to McKinney. Quick and responsive with a simply wonderful house, I'll sure be staying again!
Sean
2017-02-04T00:00:00Z
Great little house. Very clean and comfortable. Laura was an excellent host. Five stars.
Garrett
2017-03-05T00:00:00Z
Our stay at Laura's was great! The house was exactly as described, very clean, and just the right amount of space for 3-4 people. She was very kind and responded quickly to messages. This house is conveniently close to the things we wanted to see, like the historic square, and there is a big grocery store nearby. I recommend staying here!
Brittany
2017-03-26T00:00:00Z
We were coming into town for a wedding and picked Laura's place since it was so close to the venue. She's very nice and accommodating, and her place has been one of the best I've stayed at. I'll definitely be back next time I'm in town.
Jimmy
2017-03-11T00:00:00Z
Room Type
Entire home/apt
---
Property Type
House
---
Accommodates
4
---
Bedrooms
McKinney, TX, United States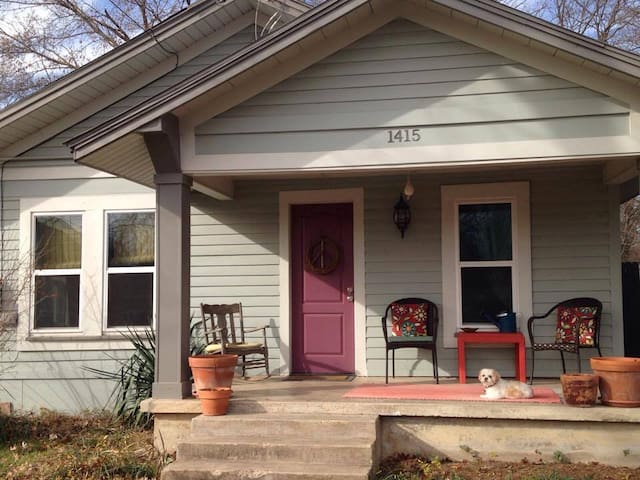 My wife Georgia, our son Henry and I would be excited to welcome you into our home. You'll have a private room and bathroom and use of common areas. The McKinney square, with live music, food, shops and bars is walkable, and access to DFW is easy. We are excited to welcome people from all walks of life. People of color and LGBT folks are always welcome in our home.
You'll have your own full bathroom, closet, and queen-sized Tempurpedic bed and bamboo pillows. The bedroom has two sunny windows that allow you to see the porch and front yard.
McKinney is an old community increasingly surrounded by the Dallas sprawl. Fortunately, its historic charm has been maintained. You'll see lots of early twentieth century homes. I've been told its the porch capital of the United States. Everyone has at least one - our house has two! Within walking distance, you'll find the McKinney Square, a resurrected town center that is full of restaurants, bars, live music and plenty of shopping. It takes my wife and me about 5 minutes to walk there. We're happy to share our favorite spots with you - pizza, burgers, clothing and jewelry stores, beer, steaks, French cuisine, antiques, and of course, Mexican food are all within a 10 minute walk! There are plenty of chain restaurants and fast food within a short drive. We're a three minute drive from HWY 75.
I can't say enough about this wonderful couple and their cozy home! Georgia and Ryan, along with Henry, their little boy, are the perfect hosts. If you want to feel like you are with family, here is the place to be. They are laid back, relaxed and ready to help you or answer any questions you need. But also, if you need your privacy and quiet time, they sense when to leave you to yourself. My room was so neat and clean I almost hated to leave it. I would recommend their bungalow to anyone and will be using it again in the future.
Shelley
2016-08-29T00:00:00Z
I need to spend two weeks at a time in the Dallas area for business and very grateful that this home and these folks are there each visit to host me. Makes my time away from my home far more civil and soulful than opting for some generic hotel room. And the close proximity (within walk distance) of the McKinney historic square is a huge plus. Can't recommend it highly enough.
Dan
2017-01-20T00:00:00Z
Great location. Very pleasant walk to downtown McKinney with plenty of see and do!
Joseph
2017-02-19T00:00:00Z
Another great stay at our go-to place in McKinney.
Ed and Brenda
2017-03-28T00:00:00Z
Ryan and Georgia's space was perfect for our needs. It is within walking distance of downtown McKinney, yet on a fairly quiet street. The bed was very comfortable. Although we didn't actually meet Ryan, Georgia was very kind and hospitable. Their child is quite friendly (and active) as well. Overall an enjoyable experience!
William
2017-01-29T00:00:00Z
Ryan and Georgia are fantastic hosts. They are very hospitable and their home is wonderful. Highly recommend!
David
2017-03-31T00:00:00Z
Great little bungalow in downtown McKinney!
Vince
2016-01-15T00:00:00Z
My Girlfriend and I decided to spend a few days in McKinney to celebrate her birthday weekend. The Millers were gracious enough to allow us in to their home. We absolutely loved their cozy home, and we felt like it was the perfect location. The Miller's home is within walking distance to the McKinney square. The square is a lively place with great food, drinks and live music. We highly recommend this this home. The hosts were very accommodating and respectful. We will definitely stay here again!
DC
2016-09-06T00:00:00Z
Room Type
Habitación privada
---
Property Type
House
---
Accommodates
3
---
Bedrooms
McKinney, TX, United States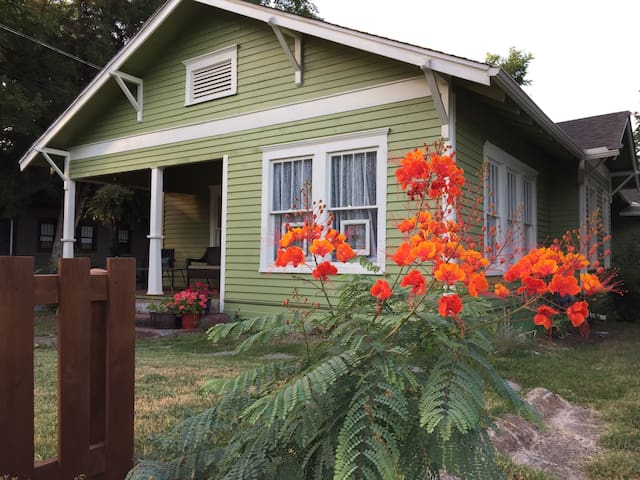 Formerly an artist's studio, this fully furnished 500-square-foot efficiency apartment has a country feel but is located 5 miles from the charming Downtown McKinney area.
Formerly an artist's studio, this fully furnished 500-square-foot efficiency apartment has a country feel but is located 5 miles from the charming Downtown McKinney area. Its proximity to Dallas and the sports mecca of Frisco makes it ideal for the guest who desires a comfortable home-style setting away from home. There is a roomy living/bedroom area, with a queen sofa sleeper and a day bed with a pull-out twin trundle. There is one small bathroom with a shower and a dressing area. The kitchen is fully stocked with dishes and utensils, one full-sized and one half-sized refrigerator, apartment-sized washer/dryer combination, garbage disposal, microwave, and small range with oven. The living/dining area features a 40" flat-screen TV and an ample dining table which can seat four. Wireless Internet allows the businessperson to create a functional and comfortable workspace for telecommuting. There is a shaded entry porch with picnic table and a gas grill for the guests' outside enjoyment. Ideally suited for two people, Studio G will sleep 4 for short stays. There is a 2-night minimum stay. Convenient to McKinney, North Dallas and Frisco shopping and dining, as well as the economic boom areas of these growing cities, and the sports venues of the area. Guests will be presented with informational and helpful instructions about the apartment, as well as instructions about locating the key for after-hours entrance. Studio G is a free-standing apartment adjacent to our home, so we are available to assist in any way we can. A country feel in the city. Horses and cattle are easily seen from the location.
Studio G is situated in a rural area, in a beautiful site shaded by old pecan and oak trees.
Great location:) very calm We felt like home, the studio was very clean. We definetly recommend studio G and hope to stay there soon
Viri
2016-11-27T00:00:00Z
Georgene did a great job of communicating with me and making me feel welcome. She even popped over to make sure I had what I needed the first morning. Studio G was clean and exactly as described. The neighborhood was also as described, a little bit of country in the midst of the city. Albertsons off of 75 was only a 5 minute drive. It was a great location. I used the Studio for a little retreat and it was just what I needed.
Kristen
2016-05-29T00:00:00Z
Georgene was always attentive and accessible, but never intrusive. The studio is comfortable, clean and functional and a million times better than a hotel suite. Everything we needed for a comfortable extended stay was there. Our hosts not only run their business in the most professional manner, it is readily apparent that they are good people that are concerned about the welfare of their guests and go out of their way to make their guests feel comfortable. Thank you for making a temporary dislocation feel like an extended vacation! Ken and Ruby
Charles
2016-09-04T00:00:00Z
Excellent stay! Perfect small home living space! Comfy beds, wonderful kitchen,easy laundry, enough food space and quiet! Loved staying with Georgenne as she made everything so simple!
Megan
2016-07-16T00:00:00Z
Warm and gracious hosts With all amenities. Happy to return.
Sherry
2015-04-28T00:00:00Z
Georgene may be the sweetest AirBnB host ever. The place was immaculate and had everything a traveler could want or need. In addition, I love how the place was decorated and furnished. No complaints! The only thing I found odd about the Studio was that the refrigerator seemed to be where the Washer/Dryer should be and vice versa. Maybe that is just my personal opinion though. I look forward to staying there again.
Austin
2016-09-11T00:00:00Z
My time at Studio G with Georgene and Woody was amazing. The accommodations exceeded my expectations and were in impeccable condition. The apartment was the perfect size and the view makes you feel like you're out in the country. The Woods went above and beyond, making me feel like an extension of the family during my two month stay. The apartment was is only 10 minutes from downtown McKinney, which is a huge plus. The atmosphere in the square downtown is vibrant and quaint, and since I interned with an engineering firm down there, Studio G was the location was perfect for me. The Woods were right next door and quickly answered any questions I had. I would rent Studio G again in a heartbeat if I had the chance. Staying with the Woods was one of the biggest blessings of my summer. It's the perfect home away from home.
Karen
2015-08-02T00:00:00Z
Amazing place and very clean.
Courtney
2017-03-15T00:00:00Z
Room Type
Entire home/apt
---
Property Type
House
---
Accommodates
3
---
Bedrooms
McKinney, TX, United States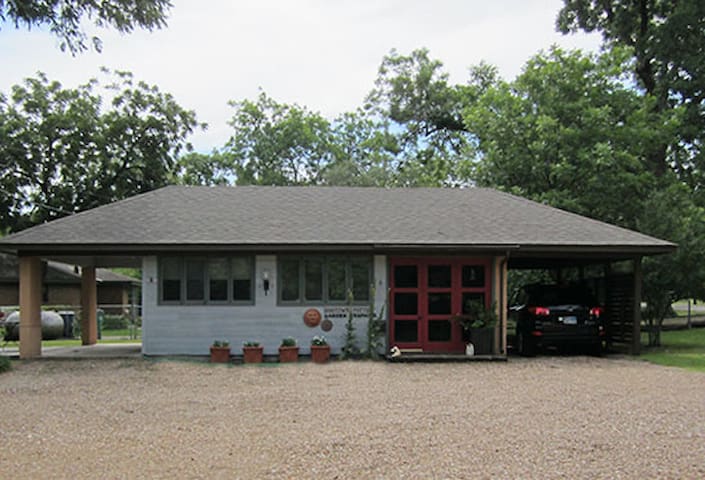 Beautiful remodeled 3 bedroom, 2 bath home just 7 minutes from downtown McKinney. Quiet neighborhood located near main highways (75 and 121) for easy access to Dallas.
Beautiful 3 bedroom, 2 bath home located in a quiet neighborhood in McKinney. This 1,319 sq. ft. house includes a gorgeous remodeled kitchen, living room, master bedroom with full bath, spare bedroom, office (with pull out futon) and full spare bath. Amenities include: -Fully furnished rooms with all bedding. -Full baths with towels. -Completely remodeled kitchen with utensils/dishes, coffee pot, toaster and modern appliances. -Heating and air conditioning. -Washer/Dryer -Cable TV -Secured wi-fi internet access -Onsite parking in the driveway or on the street. House also includes a beautiful backyard with green grass, patio and grill.
You will be just 10 minutes from McKinney's Historic Downtown Square where you can enjoy a variety of restaurants, entertainment and unique stores.
It was such a pretty well cared for house! It was wonderful! Definitely would book again. Easy check in and out.
T.
2016-02-01T00:00:00Z
This was my third stay with Andrew & Jan and the house is impeccable! They are wonderful hosts and I plan to return.
Todd
2015-05-04T00:00:00Z
This was totally a surprise. The pictures does not reflect reality. The pictures are nice but the place is AMAZING. Much bigger than expected, decorated and equipped with style and class. We have always been happy with our Airbnb-bokings but this house really is a perfect 10. The only sad thing is that we only booked two nights....
Jonas
2015-07-14T00:00:00Z
Good value nice neat well equipped home for your stay in McKinney.
Maureen
2017-02-28T00:00:00Z
Andrew and Jan couldn't have been easier to work with and the home was exactly as it is described in the pictures. We'll definitely be contacting them again!
Ryan
2014-08-26T00:00:00Z
Great hosts. Very helpful and welcoming. Home was well maintained and well stocked.
Mike
2016-05-23T00:00:00Z
Andrew was amazing from the start. Greeting us as we arrived and making sure we understood all the details about the house. It was comfortable and perfect in every way. Anytime we had any questions, the host answered right away.
Aleem
2016-08-08T00:00:00Z
The home was warm and inviting! It was exactly as described and Andrew was extremely easy to work with and very accommodating. I would highly recommend this home to anyone looking to stay in the McKinney area.
Todd
2014-11-09T00:00:00Z
Room Type
Entire home/apt
---
Property Type
House
---
Accommodates
6
---
Bedrooms
McKinney, TX, United States
-centrally located in Mckinney, yet on one of the last remaining undeveloped roads within city limits in private setting surrounded by farmland, with the authentic feel of living in the country. -large back patio and deck with hot tub, and country air. -less than 10 minutes drive to four major highways (Hwy 5, Hwy 380, Hwy 75, Hwy 121) -this is a smart home, with a nest thermostat, high speed internet, keyless touchpad entry, applet tv, and blue tooth surround sound on the back deck.
-Private master bedroom with queen sized bed, ceiling fan, chest of drawers, armoire for hanging clothes, laundry basket, nightstand, chair, and small desk /workspace. -Private bathroom (not shared). -Towels, hair dryer, body wash, conditioner, and shampoo are provided.
- quiet, country life in the city. - only one neighbor, - otherwise surrounded by open farmland. - 5 minutes to historic downtown with lots of shops and dining / bar options. -Less than 10 minutes drive to four major highways (Hwy 5, Hwy 380, Hwy 75, Hwy 121)
Luke is great host, responds quickly and politely. Great stay again at his lovely place!
Natalia
2017-01-27T00:00:00Z
I have stayed at Luke's place for several times and was always happy with accommodation! House is cozy, clean and welcoming! Luke is always available by text or phone and responds immediately. I will definitely book again ones in the area.
Natalia
2017-01-17T00:00:00Z
Staying at Lukes was a great experience and I will stay there again if I ever come back to Dallas. The internet was fast, the people were friendly, everything was clean and the stay far exceeded our expectations. My girlfriend and I lived there for a full month and had no bad experiences during our stay. The house is far enough from town that there is no noise pollution or worry of crime, but close enough to still go out and do stuff. Book it.
Ryan
2017-03-05T00:00:00Z
The home is extremely clean and exactly what we needed while visiting family in the area that don't have the extra room for guests.
Debra
2016-12-06T00:00:00Z
I can't say enough good things about Luke and our stay at his home! First of all, our schedule was strange & slightly unpredictable while we stayed with Luke, but he didn't flinch a bit. He stayed in contact with us the whole time we were traveling to the area. The accommodations were spotless, comfortable, inviting & PERFECT. The location couldn't be better. It is close to historic downtown McKinney and all the fun that offers, but it is in a peaceful country setting away from the noise & lights of town. My only regret was that we weren't able to take advantage of his beautiful back deck. We have already decided we will be back! Luke's home is beautiful & inviting. Luke is an absolute treasure!
Rebecca
2016-01-25T00:00:00Z
Awesome find! Will definitely stay agin when we are in the area. If cleanliness is next to Godliness, then this place is holy. No detail was overlooked, including beautiful twinkly lights in the backyard upon arrival. Plenty of coffee, complete privacy and just all around fun. Luke is an excellent communicator and genuinely cares about his guests.
Christina
2017-04-02T00:00:00Z
I have been staying at Luke's place several times and it always clean, nice and friendly space! Luke is amazing host,always available to answer questions and accommodate guests. He adjusted my stay for early check in due to my unpredictable schedule without any problems. I will highly recommend his place for everyone in the area!
Natalia
2017-03-09T00:00:00Z
This is awesome house, room and place! Around are fields and forests, only silence and nature. House is very beautiful and cozy, not big, automated, with all amenities, very stylish. Large and comfortable veranda with great relaxing views. Separately want to note the thoroughness with which everything is done. You have signed the shelf in the kitchen and in the refrigerator. In the bathroom plenty of towels, soap, shower gel, shampoo, cotton buds and even a hair dryer! A five minute drive shops and restaurants. In the room a lot of space, a small desk, a wardrobe and a chest of drawers, two windows with mosquito nets. We really love this house!
Aleksei
2016-05-20T00:00:00Z
Room Type
Habitación privada
---
Property Type
House
---
Accommodates
2
---
Bedrooms
McKinney, TX, United States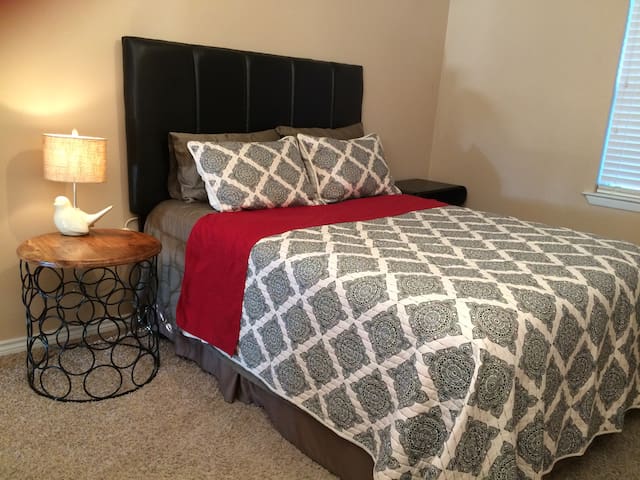 -Large room with a comfortable queen sized bed -Spacious full bathroom -3 miles west of Downtown McKinney -2.5 miles from Baylor Medical Center in McKinney -7 miles from Allen Premium Outlets -Dozens of great restaurants nearby
Our home offers plenty of space and privacy if desired. -Queen sized bed with soft bedding -The bathroom is shared only with other guests
We live in a quiet, established neighborhood with quick access to both Highway 75 and US 380 and SH 121 (Sam Rayburn Tollway). Downtown McKinney, which boasts great shopping and food choices, is 3 miles away. Shopping and restaurants, both privately owned and chains, are within a 10 minute drive.
The home was very nice with everything one would need to be comfortable. Check-in was very simple with information detailing virtually any question one might have regarding the amenities. Would definitely recommend for anyone needing a quiet and comfortable place in the McKinney area.
Eric
2016-11-17T00:00:00Z
Matthew was a great host. Simple check in and check out. The bed and linens were very comfortable. Would definitely stay again!
Kevin
2016-06-06T00:00:00Z
A friendly and nice couple. Willing to help for our trip. Quiet home and comfortable bed. Happy to stay in this house.
Zhangxi
2016-04-05T00:00:00Z
Matthew and Kelly are the epitome of excellence when it comes to hosting. We arrived on a holiday and they went out of their way to make sure we were welcomed at the home - despite the fact that we arrived earlier than I initially told them. The neighborhood is safe, the home is beautiful, and the room is spacious. We only stayed for one night, but their hospitality makes us wish that we stayed there for a week. If you ever want a room in the McKinney area, Matthew and Kelly is the only way to go.
Kelvin
2016-03-31T00:00:00Z
Having just been there for a couple of days I can say it was clean, comfortable, convenient and communication was great. I was able to meet up with Matt a Kelly. Amazing couple to say the least. Friendly, inviting and hospitable. Will be back. Thanks guys.
Kevin
2016-10-31T00:00:00Z
Matthew & Kelly are super friendly and always willing to help out new-to-town people. We enjoyed their company & felt more like new friends than anything else. It was like home and we would stay again!
Michelle
2016-05-11T00:00:00Z
Matthew and his wife were extremely great host!!! They were very accommodating for our check in and out. We were only in town for a short period of time only needing a pillow to crash but John and I can tell that they have everything thing to be "Super Host" All in all it was a wonderful experience and we would recommend them to any future guest!!
Elizabeth
2016-11-26T00:00:00Z
Amazing Host who are very accommodating to needs of their guest. Excellent communication with quick response time. It's clean, quiet neighborhood for comfortable nights rest. Highly recommend these host. We were here for a wedding in the area and booked this place and enjoyed it so much, we booked for several more nights.
Jen
2016-10-12T00:00:00Z
Room Type
Habitación privada
---
Property Type
House
---
Accommodates
2
---
Bedrooms
McKinney, TX, United States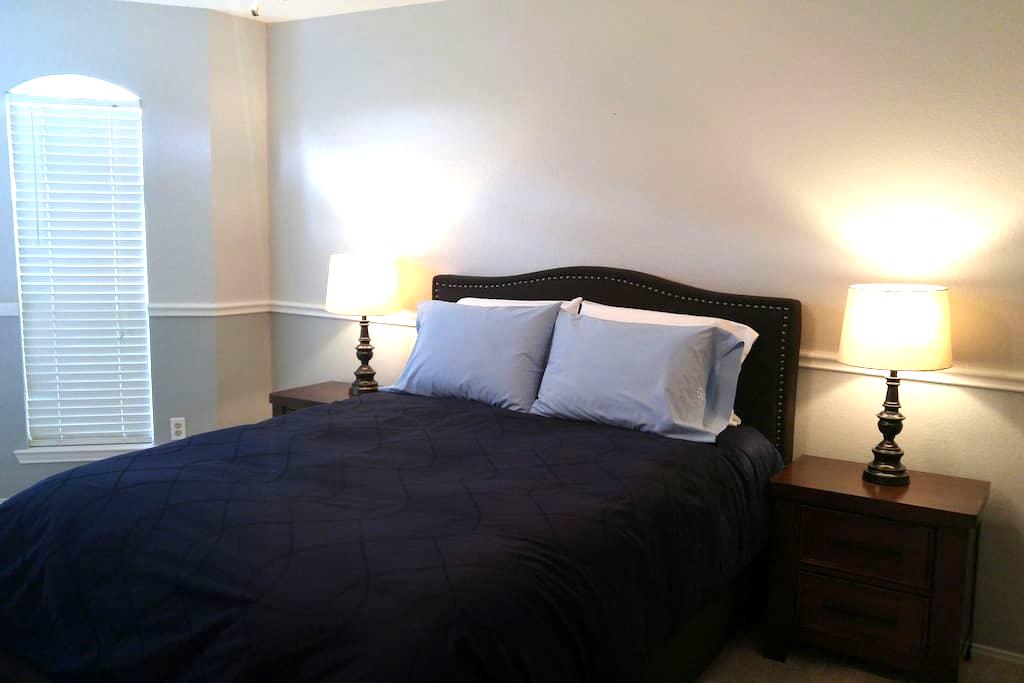 Great place to stay if you want some company with a total dog lover ( I have 4) - but I keep my house very clean and no dogs allowed in the bedrooms :) There is a community pool down the street, outdoor fireplace.
I love my home! Very serene. Feel free to cook, use the main areas. I have guest room and another room I can add a queen size air mattress to (I do keep personal belongings in the closet of this room as well as on a bookshelf).
Quiet neighborhood with lots of walking trails
Room Type
Habitación privada
---
Property Type
House
---
Accommodates
3
---
Bedrooms
McKinney, TX, United States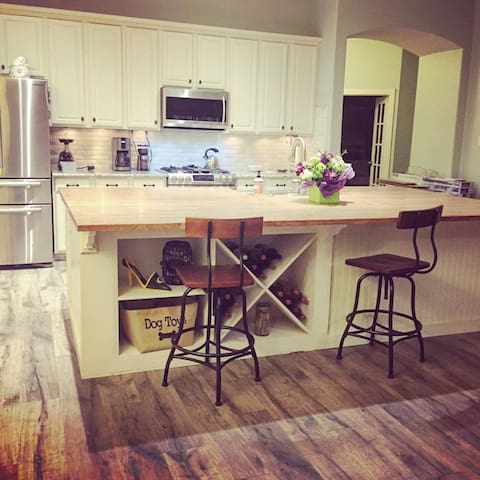 Money Magazine ranked McKinney as the #1 Best Place to Live in America! 30 Minutes to Dallas Quiet neighborhood Very close to highways. 121/Sam Rayburn/I-75 Minutes from the Allen Outlet Mall Minutes to Plano/Frisco/Allen/Fairview
This house has a very open, spacious, clean, airy and sunny look. All bedrooms are upstairs with a common area in the middle. Both full bathroom are upstairs too. Downstairs is all gathering area where you can entertain a large group of people with two living rooms, open kitchen and plenty of dining area. Nice, private backyard with large patio table and chairs where you can enjoy your evenings outdoors.
This is a very family friendly neighborhood, so please refrain from being loud and noisy outside.
The host canceled this reservation 53 days before arrival. This is an automated posting.
Nigah
2016-04-17T00:00:00Z
The host canceled this reservation 27 days before arrival. This is an automated posting.
Prusha
2016-04-17T00:00:00Z
Beautiful home, perfect for a family. Host, Nosheen, was very friendly and prompt to respond. I highly recommend this place and would stay here again!
Nina
2016-12-31T00:00:00Z
The host canceled this reservation 20 days before arrival. This is an automated posting.
Anthony
2016-04-17T00:00:00Z
The host canceled this reservation 33 days before arrival. This is an automated posting.
Ashley
2016-04-17T00:00:00Z
The host canceled this reservation 66 days before arrival. This is an automated posting.
Pamela
2016-04-17T00:00:00Z
The host canceled this reservation 13 days before arrival. This is an automated posting.
Cheryl
2016-04-17T00:00:00Z
The host canceled this reservation 6 days before arrival. This is an automated posting.
April
2016-04-17T00:00:00Z
Room Type
Entire home/apt
---
Property Type
House
---
Accommodates
12
---
Bedrooms
McKinney, TX, United States
Private entrance to a 1 bedroom suite (200 sf) just steps away from one of the oldest thriving historic downtowns in Texas w/ over 100 unique shops & restaurants. TV, mini-fridge, microwave & beverage center. Home baked sweet treat upon arrival.
As a life-long resident of the McKinney area- I can help you live like a local. Let me suggest a fabulous restaurant off the beatin' path that only the locals know about. Are you a craft beer kind of person? Or more of a wine person? Either way - I can recommend a truly unique way to spend a Saturday afternoon enjoying a local glass of wine or local brewed beer.
Walk through the neighborhood, listen to the birds and catch up on the latest neighborhood news and weather. A stroll through McKinney's historic district takes you to another time when things were slower and people had time for neighbors and the outdoors. Meander past mature trees, lush, colorful gardens and houses dating from the 1890s to the present, but not too fast! The eclectic mix of architecture and landscape tells the remarkable story of the people who built and have lived in McKinney over the decades. Explore Downtown - McKinney has one of the oldest thriving historic downtowns in Texas. The downtown commercial district offers more than 100 unique shops and a dozen or more unique restaurants. Art galleries, furniture stores, antique, gift and home décor shops and apparel boutiques offer treasures for your shopping pleasure. Business hours for many of our shops are Monday-Saturday from 10 a.m. to 5 p.m. and Sunday from noon until 5 p.m. Historic Downtown McKinney is a true destination. Stroll the square and see a show, taste a new wine and enjoy the live entertainment. Discover Downtown McKinney and enjoy the new, the unique and the fascinating. It's our specialty.
Christie made sure I had all I needed! Her room has a private entrance and it's own driveway. It was perfect and a great value for the money. I will be using it again! Thanks Christie.
jim
2016-08-12T00:00:00Z
It was very clean, my wife and I enjoyed our stay at christie's place and like the other reviewers said the treat in the fridge was great!
Matt
2016-06-28T00:00:00Z
Christie was very warm and welcoming and the sweet treat upon arrival was amazing...the plane is clean/quiet and private which is all i could have asked for.
Alex
2016-05-12T00:00:00Z
Christie was very responsive and on top of everything. When I arrived at the house, I had some issues with the wifi that she resolved immediately even though she was busy with a work conference. I didn't get to meet her during my trip as we were both busy but she still made me feel very welcome. I would love to stay with her again.
Sharlene
2016-11-05T00:00:00Z
My week long stay was perfect. The place has everything you need and much better than staying in a hotel. The bed is super comfy and the area is nice and quiet. Quick access to the highway and downtown is just down the street. I would definitely stay here again. Christie is a wonderful host and answered all my questions promptly.
Ashley
2016-06-07T00:00:00Z
Another great stay at Christie's.
Gloria
2017-01-29T00:00:00Z
Christie, personalize notes and lock code was awesome. Private entrance, private bath, and a few blocks from downtown.
Tracy
2016-06-25T00:00:00Z
I could not think of a better experience for my first usage of Airbnb. Everything about Christie and her house were exceptional. I had previously lived in Mckinney for 13 years and had always admired the older part of town. Christie's house is a fine example of the places built in the early 1900's. The location; a 10 minute walk from Mckinney square with all the restaurants, wineries and shops, could not have been more convinient. I am also an avid bike rider so the quick access to the rural roads within 10 minutes made my early morning rides easy. As far as the room, I have stayed in few hotels nicer. Everything needed for a comfortable stay, from the Keurig coffee maker to the water in the fridge, made me think 5 star all the way. Christie even went so far as to purchase a new small window air conditioner to replace the older one. This definitely helped with the occasional Texas heat/humidity. The easy private access through the backyard gate, personal combo on the door and sole use of the driveway had me thinking all that was missing was the valet. Also, if you are a calorie counter throw it out the window. Christie's banana nut bread rocks and should not be missed. Christie herself is quite the sweetheart and was always available when any minor concern arose. I travel to Mckinney every 4 months or so and plan on scheduling my trips around availability of Christie's house. You can not go wrong staying here.
James
2016-07-20T00:00:00Z
Room Type
Habitación privada
---
Property Type
House
---
Accommodates
2
---
Bedrooms
McKinney, TX, United States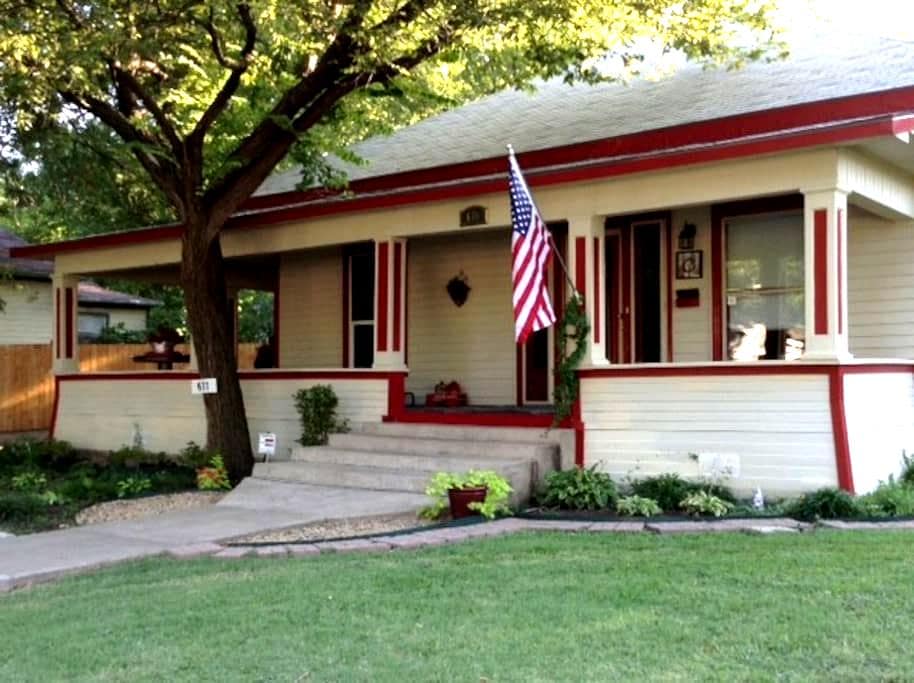 A unique and comfortable room in my modest 1930's home in a beautiful historic district. McKinney is a warm community with it's best parts within a mile from my home, including the town square, parks, grocery, movies and freeways.
The room is crisp black & white with red. Fully furnished with a double bed, mini fridge, microwave, couch, dresser, desk and closet. Windows overlook a large shaded backyard filled with birds & squirrels. We share the bath and you may use the kitchen.
I choose this neighborhood for it's historic homes and close knit community atmosphere where it's easy to get to know my neighbors. I'm surrounded by beautifully restored homes and friendly streets filled with joggers and dog & baby walkers. You can walk to so many fun things on the town square, where there's always live music, a play, concert or old movie as well as distinct restaurants and shops. McKinney is 'Unique by Nature' and has been voted among the top best towns in America by Money Magazine repeatedly over the last several years. Come find out why for yourself!
This was our first time trying AirBnb and Chrisy made it easy and welcoming! The neighborhood was very safe. The separate entrance made it easy to come and go but we also felt perfectly comfortable entering the main part of the house to get to the shared bathroom. We were in McKinney for their Home for the Holidays Christmas festival and her place is convenient to the downtown square. We could have walked (about a mile) or used Chrisy's bikes that she offered to us. Would stay here again if we're ever back in McKinney!
Leslie
2016-11-27T00:00:00Z
Chrisy made my stay feel like a home away from home! She helped me get my bearings in McKinney and was extremely helpful in me finding my next place to stay!
Zach
2016-10-14T00:00:00Z
I had an amazing stay with Chrisy. Her and her father, Joe, were so very welcoming and kind. Everything was exactly what Chrisy said it would be, and I wouldn't have changed a thing. I felt so incredibly comfortable, and Chrisy was so very knowledgable with things to do around the area. Her home is in such an adorable, historical area and I loved just walking around the neighborhood. Would recommend her and her home to anyone traveling through that part of Texas.
Dominique
2016-05-19T00:00:00Z
Chrissy welcomed us warmly to her home. she had suggestions and magazines of things to do around the historic downtown mckinney area. We came here for a wedding just for the night- and it was perfect! Both the location and hospitality were wonderful!
Stevie
2016-09-18T00:00:00Z
I had a wonderful stay. The host is kind and very helpful! Loved talking with her. She goes out of her way to make sure you are comfortable and is a terrific ambassador for her neighborhood and town. The room is clean and comfortably furnished. It's an excellent value. You have your own entrance, contol of your AC/heat, and use of the house, a well-maintained arts and crafts bungalow. Bathroom is clean and stocked with everything you might need. The neighborhood is architecturally varied and interesting. It's worth exploring. You can walk to the square in 10 minutes, where there are excellent restaurants and shops. If you are staying in McKinney, you really couldn't hope to find a nicer setup.
Joe
2017-04-02T00:00:00Z
Chrisy's home was comfortable and inviting. A great place to stay!
Elisabeth
2016-11-13T00:00:00Z
Chrisy's place is a wonderful, quiet, comfortable one-room place to stay. I was very comfortable there and would definitely stay again if in the area.
Linda
2017-03-04T00:00:00Z
I thoroughly enjoyed my stay. Very friendly and accommodating folks.
David
2017-03-29T00:00:00Z
Room Type
Habitación privada
---
Property Type
House
---
Accommodates
2
---
Bedrooms
McKinney, TX, United States
My place is close to many restaurants and retail stores Target (3 min), Walmart (5 min), etc. Close to highway 75 and SRT 121, providing quick access to highways. how spacious and clean it is. The second floor is entirely for guests, ensuring near full privacy. If more space is needed (extra bedrooms or couches), then please be sure to inquire! We can work out a deal. My place is good for couples, solo adventurers, business travelers, families (with kids), and big groups.
This listing is in a newly renovated house, so everything is clean and in great condition. The bed fits two but we can provide extra blankets to larger groups so guests can sleep on the floor (there is lots of floor space in the bedroom). The TV in the game room upstairs is fully equipped with dish satellite, netflix, and surround sound. It also has lots of floor space and we have plenty of board games, so its a great room to hang out in with large groups.
The neighborhood is right across and down the street from the Mckinney police department, so it's as safe as could possibly be :) VERY friendly and open neighborhood in a nice part of town.
Very nice stay! Clean, quite and peaceful. I had a very comfortable stay, They even guided me about the local restaurants and other places around. I had a great time. I would highly recommend their place if you're on a business trip and need a quite environment . Thanks again.
Shachetan
2017-02-22T00:00:00Z
Room Type
Habitación privada
---
Property Type
House
---
Accommodates
1
---
Bedrooms
McKinney, TX, United States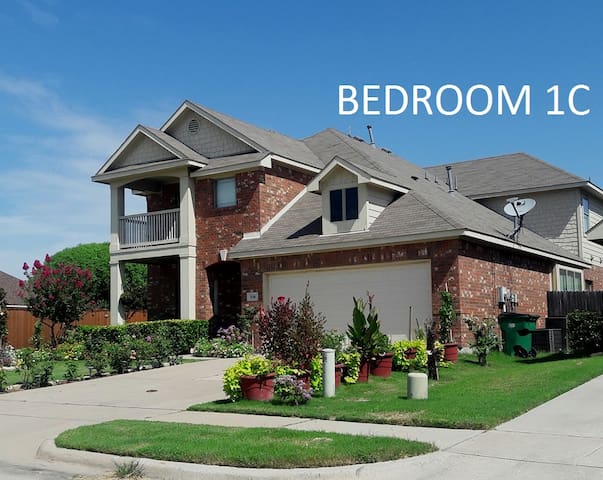 Family friendly Craftsman home near Downtown McKinney's Historic District. Our 4 bedroom, 2 bathroom home has been completely updated. Cozy living room, brand new furniture throughout, including all of the amenities of home. Located near local Wedding Venue's, Shopping, Parks, and recreation!
Beautifully furnished craftsman style home near Historic Downtown McKinney. McKinney has one of the oldest thriving historic downtowns in Texas. The downtown commercial district offers more than 120 unique shops and over two dozen restaurants! Discover Downtown McKinney with eclectic shopping from independently owned stores and rising culinary scene. If you are in town for a wedding located at one of McKinney's rustic locations, you are in luck ~ we are centrally located to all of them! Just a short drive to Gather (wedding venue), The Cotton Mill, The Bingham House, The Sanctuary, and many more. About Our Home _______________ Inside the home: The home has been updated, and all of the furniture is brand new! The living room is furnished with a sectional (comfortably seats up to 6-7 at a time), two chairs, high speed wireless internet, and a large 60" flat screen TV (with ROKU). The dining room seats 6, and has 2 bar stools in the kitchen bar area. The Kitchen is fully stocked, with 2 sets of dishes, plenty of glasses/coffee mugs, pots/pans, tupperware, plastic kids dishes, a brand new Ninja blender, toaster oven, and coffee machine, cutting boards, quality knife set, and more! The laundry room has a full size brand new washer & dryer, and an ironing board/iron. We supply laundry detergent, dryer sheets, trash bags, dishwasher detergent, and all other necessities. The master bedroom (bedroom 1) has an attached master bathroom with double sinks, stand up shower/tub combo, and walk in closet. There is a king size brand new memory foam mattress & a 40" flat screen TV also with ROKU. The guest room (bedroom 2) has a queen size brand new memory foam mattress and dresser. The guest room (bedroom 3) has a queen size brand new memory foam mattress and dresser. The guest room (bedroom 4) has two twin beds with brand new memory foam mattresses. This is our child friendly room, which includes a play kitchen, child size table/chairs, legos, train set, duplo blocks, books, and a basket of toys in the closet. There is a hallway guest bathroom between the three guest bedrooms. Back of house has a car port, where you can park and enter through the rear of the house. The open grassy area to the left of the house is part of our property, feel free to use this space! Extra's: We have a pack & play, a high chair, child friendly bedroom with toys, ironing board, hair dryer in bathroom, wireless high speed internet for guests on business trips. We also have starter items for guests when they first arrive (enough for the first few days of your stay) which include: laundry detergent & dryer sheets, hand soap, toilet paper, paper towels, kitchen condiments, brand new sponge for each guest, dishwasher detergent, dish soap. We also provide unlimited trash bags. We think it's really important to provide our guests with the same experience you get at a hotel, but with the comfort and space of an entire home. That's why we have the home professionally cleaned between all guests, have extra pillows/blankets available, include extras such as hair dryers & an ironing board, and all the basic comforts of 'home'. Since this is our vacation home, you won't find any of our personal items or clutter. The space is completely organized and the drawers and cabinets are open for guests. The Experience _____________ Before you arrive the house will be professionally cleaned. We will have the a/c or heater running and the house at a comfortable temperature for you. Community __________ The home is located near the Historic Downtown McKinney District, where you can shop & dine. Finch Park is directly across the street from the house, and within walking distance. We ask that there is no noise after 10:00 pm to be courteous to our neighbors. Guest access Entire Home, we provide guests with complete privacy and are available for any assistance they need. Interaction with guests We will be available to help address any issues, otherwise we provide guests with total privacy. Getting around Uber is always an option, and rental cars are available. Other things to note Absolutely no parties or smoking. This is a family friendly home and neighborhood. No loud music or noise. Please remove shoes inside the home. Please keep food and drinks inside the kitchen/dining room. Any spills or damage to carpet will require professional cleaning and be charged to the guests deposit.
Room Type
Entire home/apt
---
Property Type
House
---
Accommodates
8
---
Bedrooms
McKinney, TX, United States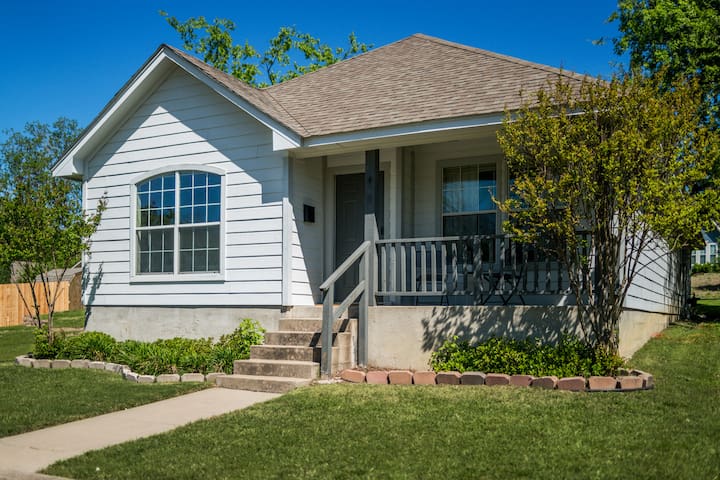 Our home is a 1940's Craftsman, 1400 sq.ft, 2 bedroom, 2 bath bungalow with sweet front porch and swing, back deck, and yards in a phenomenal, quiet, gorgeous walking neighborhood, only six blocks from coffee, wine, shopping, galleries, and other neat meeting places in historic downtown McKinney.
Being a short walk to the center of historic McKinney is one of the best things of our little home. Also, having a front porch to watch the rain and the world. and a small deck in the back is nice too. Kids still ride their bikes around the block here and play outside which we love!
We think our neighborhood is priceless. Quiet, very pretty, walkable, bike rideable, and close to downtown.
Room Type
Entire home/apt
---
Property Type
House
---
Accommodates
4
---
Bedrooms
McKinney, TX, United States
I'm offering two rooms for the price of one; plus a private bathroom. One room features a queen-size bed, and the other room has a sleeper sofa and tv. I am located less than 3 miles away from the historical Third Monday Trade Days in McKinney; perfect place to stay if you'd like to enjoy a weekend of shopping! And I'm less than 2 miles away from the Baylor Medical Center; I'm open to longer stays to accommodate an extended medical emergency.
This private room rental is actually TWO rooms: a sleeping room with a bed and a living room with a sleeper sofa and TV. This space is ideal for guests who would like to visit for Third Monday Trade Days ((URL HIDDEN) or for anyone who may need an extended stay in proximity of the Baylor Medical Center.
My neighborhood is well-maintained, safe and family friendly.
Karla is a kind and helpful host. The house is incredibly clean and welcoming. The bed was comfortable with top quality sheets and the bathroom had lots of extra personal items and fluffy towels. One can tell that Karla takes pride in her house and in making sure that her guests are well taken care of. We appreciated the complimentary coffee and the chocolate in the room. We enjoyed talking with Karla and getting to know her. The cat..... ah the cat..... We are in love with him :)
Jania
2016-12-04T00:00:00Z
Karla is a wonderful host! We did not get to meet in person but she was great at communicating and making sure I had everything I needed. Her home is beautiful and very clean, complete with all travel size toiletries in the bathroom. Highly recommend her!
Jenny
2016-09-30T00:00:00Z
Great place! Great host! My second stay at her house. Highly recommended!
Gary
2016-09-27T00:00:00Z
Karlas space was wonderful! Clean, tidy, inviting, and comfy! I brought my children for a change of pace and a day of shopping in McKinney. Wonderful location too. Very close to shops and restaurants, but nestled in a quiet community.
Amy-Ellen
2016-08-07T00:00:00Z
Karla was there to check me in and answered all my questions. I was busy all week but it was a great place to come back to and sleep. Comfortable bed and a nice bathroom. I definitely recommend staying here!
Scott
2016-08-13T00:00:00Z
Karla is a very sweet and gracious host! I enjoyed staying with her and would recommend her to anyone. Extremely kind, and has the rooms available in the most efficient manner. I give Karla a 5 out of 5 on the awesome scale. Thank you Karla!
Andrew
2016-09-14T00:00:00Z
My second time staying with Karla. She is a wonderful host and a laid back and fun personality. Her place is immaculate and offers plenty of space to relax. I would recommend her place to any and all travelers.
Andrew
2016-11-19T00:00:00Z
Karla's place was great. She is very kind and welcoming and check-in was super easy. Her place gives good privacy with bedroom, bathroom and 'lounge' room (with TV and couch) in it's own little area of the house for guests. Her place is immaculately clean and the bathroom is even stocked with extra travel toiletries. My husband and I keep joking that we miss 'Aunt K' because we feel like we were staying with our Aunt. We will definitely use her again.
Ebony
2017-01-29T00:00:00Z
Room Type
Habitación privada
---
Property Type
House
---
Accommodates
4
---
Bedrooms
McKinney, TX, United States
Enjoy a private bedroom and bathroom in McKinney, TX. Home is on a beautiful wooded lot. Convenient to historic downtown McKinney as well as Allen Outlet mall. I would love to have you come visit our town!
Private bedroom and bathroom. Bed is full-size.
My home is on a cul-de-sac, near a small, shaded park with exercise equipment.
Ann was a great hostess. Her home was beautiful, super clean, and comfortable. She communicated very well with us as we were travelling to her place while driving through Tropical Storm Bill in Oklahoma and Texas. Ann even made me coffee and left us a continental breakfast. Her back yard is an oasis of forest; with just a really inviting patio where I enjoyed my coffee. If we have further occasion to stay in the DFW area, I will definitely contact her again.
Nellie
2015-06-18T00:00:00Z
This is my second time staying with Ann and I will be back in a day or so again. Great location, price, privacy. I consider Ann a friend and her house a home away from home.
Mack
2015-11-06T00:00:00Z
Ann's home always welcomes us back with its comfortable and relaxing feel. Ann is always gracious and warm. Thanks for another great stay!
Nellie
2016-07-16T00:00:00Z
Ann's place is perfect.
Larry
2017-01-31T00:00:00Z
Ann's place was very comfortable, nice and clean. It was perfect for me. Unfortunately because of my schedule we barely met. Still she made always sure that I had access and everything I needed. I am very pleased and strongly recommend you stay with her if you are considering it.
Poncho
2016-08-15T00:00:00Z
Ann has a beautiful home and the accommodations were perfect for my needs. Ellie is a friendly dog, too.
John
2016-09-29T00:00:00Z
The GPS found this location with ease. To our surprise the home was snuggled into a neighborhood that is quiet, peaceful and in a lovely up-kept, modern area of McKinney. The house and its' surroundings are well manicured. As for our host, Ann is everything we hoped to find in a host; warm, welcoming, and respectful. The accommodations were comfortable, private, clean and cozy. Just like being at home, but more inviting. There is a nice little park less than a block up the road if you are in the mood to relax after a long drive. Perfect for a brief, brisk, bout of exercise. We found that the location of Ann's house was perfect for our needs. It seems if we had had a little more time to stay we could have easily entertained ourselves for days by driving 30 minutes in any direction. Overall, our stay was far better than we anticipated and we look forward to visiting in the future. I realize by writing this review that our chances of Ann's home being available the next time we are in town, might diminish a bit; however, we can't travel every day and our best wishes go out to Ann in her new endeavor and to all you travelers. It is nice to stay in a place that feels like home. Thank you for having us, Jim and Karen
Karen
2015-06-13T00:00:00Z
Serene accommodations - exceptionally clean and fresh. Ann and her pet pal Ellie we're warm & welcoming. Anne's lovely home is in a quiet neighborhood next to a small park, that served nicely for either a before or after work stroll. Internet, comfy bed and private bath made this spot one of my all time favorites. Thanks Anne!
Denise
2016-04-30T00:00:00Z
Room Type
Habitación privada
---
Property Type
House
---
Accommodates
2
---
Bedrooms
McKinney, TX, United States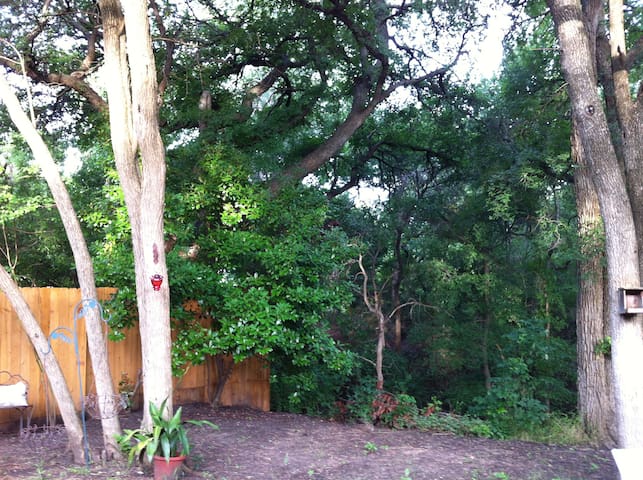 McKinney - Airbnb
:
Average

4.95

out of

5

stars from

652

guest reviews
1

–

18

of

300+ Home Rentals
Enter dates to see full pricing. Additional fees apply. Taxes may be added.