My room is 1 km from the port of Symi and 800 meters from Pedi bay. It has two bathrooms, two kitchens, two living rooms with sofas and two comfortable bedroom with double bed. There klimatismos, TV, hot water. It is close to shops, restaurants, bars and bus stops
Room Type
Entire home/apt
---
Property Type
House
---
Accommodates
6
---
Bedrooms
Σύμη, Δωδεκάνησα, Greece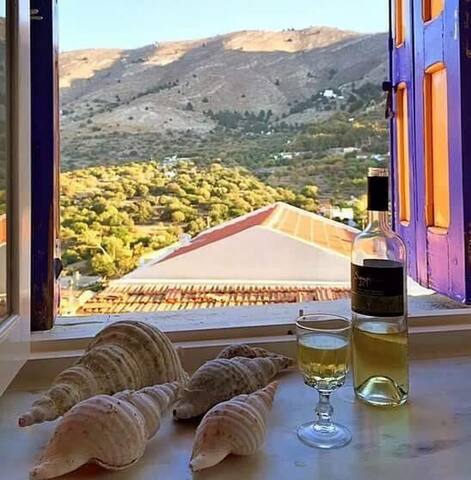 Traditional, old house at Chorio of Symi, recently renovated. The house is sunny, cosy and fully equipped, with astonishing view to Pedi bay. It has a mezzanine, a big garden and a yard. The house is reachable by car.
Room Type
Entire home/apt
---
Property Type
House
---
Accommodates
6
---
Bedrooms
Rhodes, Greece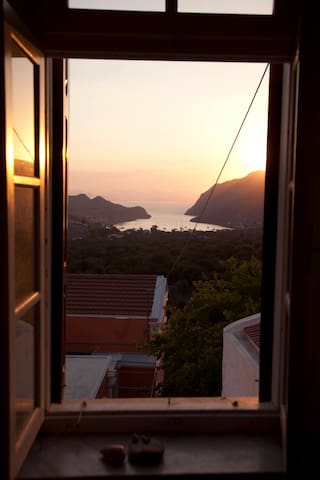 Ο χώρος μου είναι ένα άνετο σπίτι με κουζίνα ,μπάνιο σαλόνι και κρεβατοκάμαρα. Απέχει 1χλμ από το λιμάνι της Σύμης και 800 μέτρα από το λιμανάκι Πέδι.Είναι σε κεντρικό σημείο του Χωριού κοντά σε παραλία, νυκτερινή ζωή και δημόσια συγκοινωνία. Ο χώρος μου είναι κατάλληλος για ζευγάρια, δραστηριότητες για ένα άτομο, επαγγελματίες ταξιδιώτες και οικογένειες (με παιδιά).
Ομορφη αυλή , εύκολη πρόσβαση , καθαριότητα , άνεση
Ήσυχη αλλα και κοντα στο κέντρο
Room Type
Entire home/apt
---
Property Type
House
---
Accommodates
2
---
Bedrooms
Σύμη, Δωδεκάνησα, Greece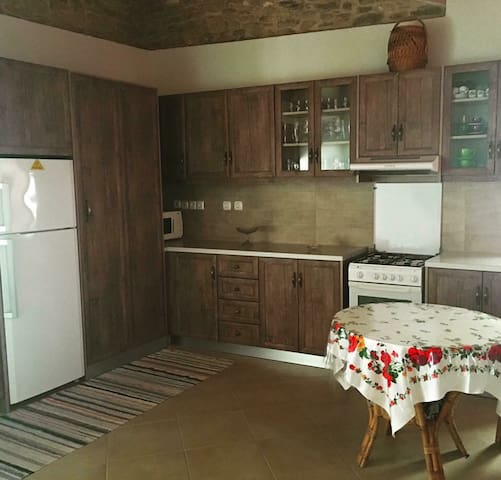 A wonderful house with a large yard on the sea, in a beautiful little harbour with marvellous view on the surrounding mountains and the traditional village of Pedi Symi
Lefkadio studio is located in the picturesque Pedi bay and is three meters from the sea (with lovely waters, suitable for swimming).
It's a quiet neighborhood, there are 2 traditional restaurants by the sea (50m and 150 meters away from the apartment) and 2 mini markets.
We spent 3 fantastic days in this village in the beautiful Symi Island. We found Silence, tranquility and owners' delicate courteousness. Helen and Filomon received us with fresh water and fruits after a long trip. This small apartment is well equipped and very well finished. It reachable easily in bus from Symi (1 every our till midnight) or in scooter. In front of the small port of Pedi, a little paradise, let yourself be lulled by the sound of the waves and drink a ouzo at light of candles in the patio. We wished we spent more time here. Hope to come back! Abbiamo passato tre giorni fantastici in questo villaggio della bellissima isola di Symi. Abbiamo trovato silenzio, tranquillità e la delicatissima cortesia dei proprietari, Helen e Filomon, che ci hanno accolto con acqua e frutta fresca, dopo un lungo viaggio! Questo piccolo appartamento ha tutto ciò di cui si ha bisogno ed è curato fin nei minimi dettagli. È facilmente raggiungibile da symi porto con il bus ed è facile noleggiare dei motorini. Pedi a un paio di km dal porto principale ed è un piccolo Angolo di paradiso, ci ero già venuta in barca e l'ho scelto apposta. Fatevi cullare dal rumore delle onde e bevete un ouzo alla luce delle candele nel patio della casetta sul mare! Grazie tante! Avremmo voluto rimanere di più! Federica Marco Lorenzo Sara
Federica E.
2015-08-18T00:00:00Z
Had a beautiful three days in Symi. Helen and Filimon were amazingly helpful and friendly hosts. The studio was perfectly clean and had everything we needed. Symi is just gorgeous, and as a family we enjoyed being out of the main harbour in quiet little Pedi. Pedi had restaurants, a small pebbly beach with deck hairs, and a couple of supermarkets. The bus was easy to catch. Highly recommend.
AJ
2016-09-13T00:00:00Z
Words can not describe how we enjoyed Filimon and Helen studio! A superb apartment, extremely clean with all needed facilities. We particularly liked the traditional bed and the large open space + terrace. Lefkadio Studio in lovely Pedi bay proved to be a excellent base to explore the beautiful island of Symi. No 5 stars hotel in the world give you complementary hand made jam and fresh vegetable just picked up from the garden! Thank you Helen! *********
Francesco
2016-07-31T00:00:00Z
I don't know how we can thank you for this wonderful stay in Pedi bay on Symi island! Helen and Filimon are very friendly and helpful people! They organized everything very well, Helen picked us from the ferry with the car, helped out with the internet, baked us a very tasty cake, there was selfmade marmalade... We felt more then welcome and had a phantastic stay! The apartment ist very clean, tidy, cosy, quite and has a very good matrasse. Everything for cooking is there what you need to eat afterwards in the big terasse directly at the water in the harbor. The bus brings you every hour to the two main villages on the island, who are very pretty. We had also many nice walkes, for example to the 2 nearby beaches; for one of them (Agia Marina) you have to use hiking shoes because the way to is very stony. Thank you so much for a very special, wonderful holiday!
Marion
2016-10-29T00:00:00Z
A nice to stay environment. Hellen and Filimon are very kind host. They give us homemade jam, still water and product from their vegetable garden. You feel at home with them. The house was clean and everything looks like you expected to be. Dinner in the garden over the sea has been a pleasure! Pedi is a very peaceful place where you can spend your holiday.
Giacomo
2016-08-14T00:00:00Z
This apartment is in the stunning and serene location of Pedi Bay, a short bus ride/drive from the main port of Symi. Buses go to the main port every hour at one euro fifty per way. The pictures do not do this place justice - the apartment is in excellent condition being recently refurbished overlooking the bay. We were provided with everything we needed including home made marmalade, fresh eggs and salad from the garden! Helen was a great host and kindly picked us up and dropped us back to the port for our ferry. She provided extra information we needed and was always approachable. If you are looking for a quiet spot to relax in and a base to explore Symi, this is perfect.
Rachel
2016-04-10T00:00:00Z
Super welcoming and helpful couple that received us. The studio is amazingly charming and the location is really incredible.
Pia
2016-08-20T00:00:00Z
Filimon e Helen sono stati molto gentili e ospitali. La casa è bella e comoda. La posizione è splendida: zona tranquilla e in riva al mare.
Norma
2016-07-05T00:00:00Z
Room Type
Entire home/apt
---
Property Type
House
---
Accommodates
4
---
Bedrooms
Ano Symi, Egeo, Greece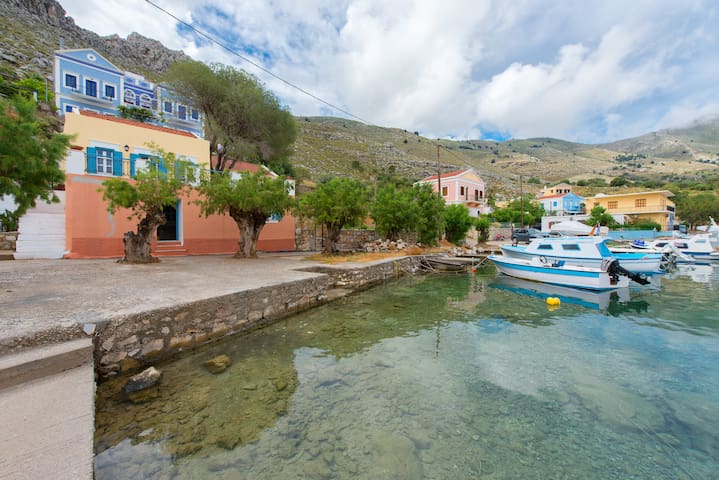 .Would you like to start your day in this place ? Yes its possible !!!! Ask for our offers !!!!
The place is very quiet and is only five minutes from the port of Symi with the bus or taxi.
This room is at the rear of the house . No view The place is very quiet .
Very nice apartment with kitchen. Good location in Horio with easy access to the bus or a 20 min walk down about 400 stairs to the port. Dimitris was helpful and accommodating.
Becca
2016-07-26T00:00:00Z
Dimitris is such a great host. He helps with everything. The room is really good with a unique view. I liked it a lot.
Nicole
2016-10-10T00:00:00Z
the house is on the high part of Simi and it is very well located close to the restaurant of this part of the town. Dimitris was very kind to come taking us at the arrival at the port. The apartment satisfied all our needs during our 4 nights and the AirCond was crucial, in aug Simi nights are very hot!
Valerio
2016-08-10T00:00:00Z
Dimitris and his wife are lovely host. They are very nice and helped me in everithing I asked. The last day I had to leave in the afrternoon and Dimitris was very helpful to manage my luggage. The room is very nice and the kitchen well equipped with everithing. Air condition works very well and is very good to have it beacuse Symi is very hot. The village, Chorio, is very nice and quite, much more better then staying at the harbour. And you can reach easily the harbour walking (10 minutes) and come back with the bus whch is every hour until late in the night.
Sara
2015-08-17T00:00:00Z
Dimitris was in constant communication with us before our arrival and provided clear instructions on how to get to his place, which is made a little hard because of the lack of a formal address system in Symi. The studio was really comfortable and ample enough. The internal separation of the kitchen space and the bed space make it more homey. The location is good, really close walking distance to a mini market and to the bus stop in Horio. A bakery and a meat shop are on the way from the studio to the Kali Strata. You can also walk 15 minutes down the Kali Strata to Yialos, or through the main road to Pedi, though in both cases walking back is uphill and takes a little bit more time and conditions, but if you don't feel like walking uphill then you can take the yellow local bus which will drop you back in Horio. The studio was clean and had all the needed kitchenware for cooking your own meals, as well as a good amount of bed clothes and towels. The AC worked really well. In general Dimitris studio has all you need for a short or long term stay in Symi, which is a wonderful destination in Greece.
Ely
2016-07-21T00:00:00Z
Dimitris has been a great host. He was in regular contact with us before and after our arrival to make sure that everything was fine. He was also very helpful with any questions we had. The room was exactly as expected, very comfortable and with everything we needed. The fully equipped kitchen made it really homey. The location is perfect as it has an amazing view, gives a real feeling of how it is to live on the island with the locals and has great access to Pedi, Gialos and Horio either by bus or walking. I'd definitely stay again! Ο Δημητρης ηταν αψογος - ηταν σε συνεχη επικοινωνια μαζι μας πριν και μετα την αφιξη μας φροντιζοντας να κυλησουν ολα καλα. Επισης μας βοηθησε με οτι αποριες ειχαμε. Το δωματιο ειναι οπως φαινεται, πολυ ανετο, με οτι χρειαζεται κανεις και με πληρως εξοπλισμενη κουζινα, που σε κανει να νιωθεις σαν στο σπιτι σου. Η τοποθεσια ειναι φανταστικη - εξαιρετικη θεα, σου δινει την αισθηση του πως ειναι να μενεις στο νησι με τους ντοπιους κι εχει πολυ καλες συνδεσεις για Γιαλο, Πεδι και Χωριο ειτε με λεωφορειο ειτε με τα ποδια. Σιγουρα θα το επελεγα ξανα!
Elena
2016-08-24T00:00:00Z
My boyfriend and I spent 3 wonderful days on Symi island - in the beautiful, peaceful, and charming village of Ano Symi. Dimitri and his lovely wife only made our experience better. Dimitri was quick to replay and inform us about our stay through text messages, which made all communication easy and straight forward. He explained and guided us on how to find the bus leading from the port to the village (a 5 min drive) and when we arrived here was there waiting to welcome us. There isn't much to say about the room - it had everything we needed! Functional kitchen, plenty of space, and most importantly great air con!! The walk up and down from port to the village isn't too bad. It took us about 15-20 min and of cause it is hot in the sun but it is a great way to get a feeling of a true greek village with all its little narrow streets, colourful houses, and without the hustle and bustle of all the tourist. But if the energy is low the bus drives all the way to the front porch for 1.5 euro pr person. We can nothing but recommend a stay at Symi Sunshine - great room, great location, beautiful view and sweet and helpful hosts.
Annie
2015-08-15T00:00:00Z
Dimitris is really kind and helpfull. Although I finally couldn't visit Symi, I will book again at his place If I come back.
Ana
2015-08-18T00:00:00Z
Room Type
Private room
---
Property Type
House
---
Accommodates
2
---
Bedrooms
Ano Symi, Egeo, Greece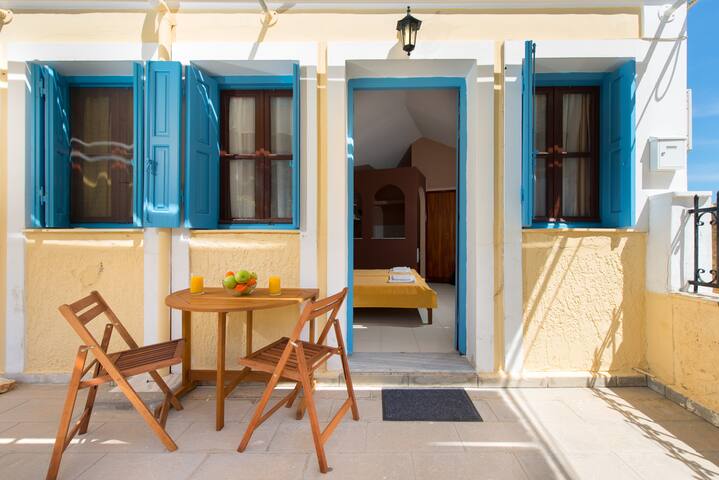 Enjoy privacy and space to reflect, relax and revive. You can spread out in this large house rebuilt from an old stone ruin by an architect born in Athens. It lies on the upper edge of the village that climbs the hill above the harbor. The house is a rustic/modern mix with original stone walls, open steel beams, and traditional elements such that make the most of airflow, light and space. From the rooftop patio, watch the sun rising over the mountains of Turkey across the sea.
Prokos house was lovingly rebuilt from an old ruin 20 years ago by Greek/Canadian architect Dimitri Procos. Dimitri designed the house in a mix of rustic and modern styles, taking care to incorporate details that are traditional both to Greek and local homes. He sought out local artisans to lay the stone and craft the wood and metal work. The house is now owned by his two sons. The house is made up of two wings- each has a moussandra (a traditional sleeping loft with a queen sized bed) and a lower living room area with a couch that may fold flat to serve as another bed. Each wing has a full bathroom, and a kitchen with burners and sink. There is one large refrigerator with freezer in the larger wing. Each wing has it's own patio with table and chairs, and the larger one has access to the rooftop patio. There are many windows and doors, with shutters to close during the day to keep out the heat, then open to catch the cool evening breezes that we get at the top of the hill. Each wing has it's own air con unit, to cool the house in the heat of summer. There is plenty of closet space to put your things. The larger wing also has a large bathtub - the reason is so that one has lots of space to shower and shave (Ladies, I know you understand how nice this is!). The island has no natural water source besides winter rainfall that is collected into cisterns, so everyone is expected to conserve water. *Be advised that the house has many steep stairs- up to the beds, and down to the bathrooms. If you are not comfortable going up and down stairs, you will not feel comfortable in this house. *This house is located at the upper periphery of the village. This affords lovely views, and a beautiful open feeling, it also means that walking to shops and restaurants is difficult in the maze of narrow streets, especially in the heat of summer. While the house is not remote (there are other homes all around ours) it is some distance to the harbor, and we advise all of our guests to rent a scooter. This will allow you the freedom to come and go from the harbor and Pedi Beach/Bay at any time. The house is 10 minutes drive from the harbor. There are shops to rent scooters near the ferry landing.
While all of Symi is charming and well worth exploring, when looking for a place to stay, the harbor is full of hustle and bustle. Chorio is caught in a tangle of streets, but the village at the top of the hill- Lieni- sits above it all. Overlooking the mountains of Turkey in the distance, the green Pedi valley with it's bay below, and of course, the sea. Our house on the hill catches the breezes. It's quiet. Serene and private. There is a short level walk (with a few steps) about the length of one city block from the road where a bus or taxi would drop you off. Along the way you'll see our smiling neighbors, and a kitty or two. Between the stone houses are pathways that wind up and down the hill, and eventually lead down to Chorio and the harbor below. This makes for a great morning walk.
This is a lovely property which is located in the old town of Chorio up in the hills above the port of Yialos. You can actually walk up from the port to Chorio via the Calistrata, and then walk to the house from Chorio. Chorio is lovely, we went during the festival in August and on our first night saw live music in the main square at the top of the Calistrata steps. This is also a nice area to visit in the day, and the architecture on Calistrata is amazing. Closer to the property, there are lots of lovely lanes and alleyways to explore. It's like a maze! Be wary that finding your way back to the property through the lanes can be tricky, I recommend using GPS! Overall we enjoyed the place which has been lovingly restored. This would suit a big group as there are several bedrooms/bathrooms. And hiring a vehicle to get up and down to the port/beaches is essential as the property is located on the very periphery of town.
Joshua
2016-08-10T00:00:00Z
Wonderful and relaxing location in the high part of the main village. The house is big but developed in vertical then ok if you like the stairs. Basic equipment and furnitures. Lovely cat in the courtyard.
giulia
2016-08-18T00:00:00Z
Μας παρέλαβε ο Ian, πολύ φιλικός, λιτός και κατατοπιστικός, με taxi, από το λιμάνι και πήγαμε στο σπίτι. Όμορφο, άνετο, πέτρινο σπίτι με πολλά επίπεδα και χώρους. Έχει γίνει καλή αποκατάσταση του κτιρίου, ενταγμένο σε αντίστοιχο περιβάλλον. Η συσσώρευση της ζέστης στα επίπεδα των υπνοδωματίων αντισταθμίζεται από πολύ καλές κλιματιστικές μονάδες και διαμπερή αερισμό. Είναι ψηλά στο Χωριό, σχεδόν στο τέρμα της Καλής Στράτας...απολαμβάνεις ησυχία και περπάτημα Ο Ian μας βοήθησε με τα πράγματα, οταν φεύγαμε (με τα πόδια μέχρι το λιμάνι!)
Kiriakos
2016-09-02T00:00:00Z
Room Type
Entire home/flat
---
Property Type
House
---
Accommodates
5
---
Bedrooms
Ano Symi, Egeo, Greece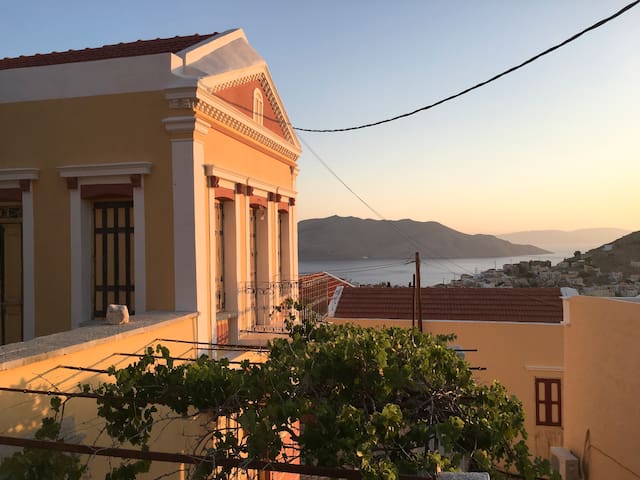 MILIAS HOUSE, LITERALLY ON THE BEACH The latest super news for Milias house is that from now on there is free WiFi, beach parasols, beach towels, and baby cots, as well as a washing machine. So therefore during your staying in MILIAS HOUSE you do not need to carry a lot of luggage. Milias House is located in the seaside village of Pedi in the homonymous bay, 3,5km from Yalos, Symi's harbor. Available for rent is the ground floor. Ideal for families with children and suitable for peo
It is an old, neoclassical house (built in the late 19th century) fully restored, with its traditional elements mixed with modern features and amenities. It is just 3 m from the sea, with no road interposing between the sea and the house. There is a small jetty in front of the house, hosting a settee carved out of an old wooden boat, which belongs to the apartment. Visitors can place long-chairs or a dining table on the jetty for dinner 'on' the sea. The apartment is 70 sqm. The main room is a studio of 50 sqm,with two twin beds, a sofa (also made from an old wooden boat), dining table and fully equipped kitchen. Adjoining door leads to the second bedroom (15 sqm, one double bed),while a third door opens to a private backyard and the toilet. The toilet is accessible from the backyard and is located next to the second bedroom. The house has thick stone walls, high ceilings and is really cool. Although it provides air-conditioning, usually the two ceiling fans just above the beds suffice for a pleasant stay.
It is in front of the beach, with no cars between the house and the sea. No bars or restaurants with loud music are to be found in Pedi. Quietness is a given -and most enjoyable-especially at night. Also at some 70 meters, there is a picturesque waterside taverna with good food and very reasonable prices. The place is so close to the house, that, if you happen to have children, you can easily monitor them through intercom, whilst they sleep back at the house.
Very kind host, well organised, good communication, great apartment, lovely renovated directly on the sea bay. good taverna around the corner and bus connection to the main village. lovely beaches to reach by fishermen boats in a couple of minutes for swimming and snorkeling. we enjoined it a lot! Mario and Marianne
Mario
2014-09-22T00:00:00Z
This is a very charming and quiet place. Our arrival was well managed and we had a good stay there. Thanks.
Laurent
2014-09-05T00:00:00Z
The apartment is really wonderful! Well organised, directly on the sea and well connected to the other beaches (with bus and taxi-boat). The rooms are beautiful and the location is really perfect. I would suggest to anyone who wants to enjoy a holiday in Symi!
Federico
2015-09-29T00:00:00Z
Wir (Familie mit 2 Kindern) haben wundervolle Tage in Pedi verbracht! Die sehr schöne und saubere Wohnung ist liebevoll und mit viel Stil eingerichtet. Sie liegt traumhaft, direkt am Wasser, in der verträumten Bucht von Pedi. Aleka half uns sehr bei allen Fragen vor der Anreise. Während unseres Aufenthalts sorgte sich die grosse Familie rund um die benachbarte Taverna Tolis um uns. Auch andere einheimische Nachbarn waren enorm gastfreundlich und hilfsbereit. Wir freuen uns auf ein Wiedersehen in Pedi und im Milias Haus!
Claudia
2014-10-13T00:00:00Z
Room Type
Entire home/apt
---
Property Type
House
---
Accommodates
4
---
Bedrooms
Symi, Dodecanese, Egeo, Greece
The Asterope House of Symi is a traditional, stone built spacious family house, clinging on the foot of a hillside, just 40 steps above the sea level, offering breathtaking views of the superb natural harbour of Symi and the Aegean Sea.
The Asterope House of Symi is a traditional, stone built spacious family house, clinging on the foot of a hillside, just 40 steps above the sea level. Offering breathtaking views of the superb natural harbour of Symi and the island beyond from its balconies and windows, the house seems "floating" over the Aegean Sea. Accommodating up to 4 persons, it provides the perfect setting for families and small groups of people to enjoy the island's unique beauty and sense of time-forgotten mystery. Originally built in 1891 during the island's era of prosperity by our ancestors, the house in now completely renovated retaining the elegant lines of the local architecture and its harmonious palette of ochre, terracotta and pastel blue. The house is equipped with all the facilities for self-catering accommodation and modern in-room amenities. While modern it is still traditional as its interior decoration features elements & items of our grandmother Asterope and our grandfather Giannis, just to give you a sense of the simplicity of past everyday life. The Asterope House is at the same time so close and so far from the busy area of Symi harbour (Gialos). Located at a central part of the harbour, the Pytini neighbourhood which is a peaceful and buzz-free area, it is not more than a 5 minutes walk from all the bars, restaurants, supermarkets and taxi boats(URL HIDDEN)On opening the over a hundred years old wooden door you immediately sense the welcoming warmth of the house. Upon entering into the large living room you can fully enjoy the endless views of Symi harbour through its large windows and two balconies "floating over the sea". The spectacular views of the Aegean, one of the best features of the house, can also be enjoyed from the 2 bedrooms, one with a double bed and one with bunk beds. The newly built-in kitchen is fully equipped with an electric stove & full size oven, fridge, coffee machine, kettle, toaster providing the opportunity of preparing a meal while getting a glimpse of the amazing Aegean blue through the kitchen window & balcony.
Pytini neighbourhood is a quiet area of the harbour of Symi, only 5 minutes away from all the bars, restaurants, supermarkets and taxi boats. The location of the Asterope House is ideal as it is only 40 steps above the sea road providing endless views of Symi and the Aegean Sea. Imagine blending ease and beauty, relaxing in the verandas to enjoy the beginning of the day when the sun shines upon the beautiful colours of the Symian houses and the evening breeze, watching the yachts and fishing boats entering the harbour.
The house is even nicer than in the photographs, have all necesary you need for stay and the best the gorgeous views. We spent 4 days and we felt like at home thanks to Maria is a great host, always available and valuable recomendations. 100% recommendable!!!
Silvia
2016-10-30T00:00:00Z
Maria came to meet us and took us to the house, which was in an excellent location close to the port but away from the main tourist strip. The house was beautifully decorated and presented, with a great view over the harbour from the balcony to watch the passing boat traffic. This was our first experience with Airbnb and it was very positive.
Peter
2016-10-07T00:00:00Z
My stay at Asterope turned out to be one of my best choices I made while visiting Greece. In a word, fantastic. I had the pleasure of meeting Maria along with her entire family the day before my arrival over in Rhodes Town. The house is beautifully restored but in a very traditional way. Perfectly located in town, but not at the busy part of the town. I spent countless hours on the balcony just watching the world and harbor life go by. The ferry landing is just a 5 minute walk or 30 minute walk, depending on which ferry line you use. Symi island is a gorgeous place to visit. Thanks Maria for making Asterope available to me.
David Steven
2016-09-17T00:00:00Z
Asterope house was an excellent place to stay. It felt like the second home, a place to spend holidays. Decoration was really nice and carefully thought. And the balcony and the view were just amazing. The location was good, close to the central area but far enough to be peaceful. Maria was an excellent host and she had arranged help when we arrived to Symi. I highly recommend this place and if I visit Symi again, I would definitely book this house again.
Maija
2016-10-03T00:00:00Z
Wir wurden am vereinbarten Ort abgeholt. Unser Gepäck wurde uns zu unserer Unterkunft getragen und in der Wohnung erwartete uns ein Willkommensgruss mit Retsina und einen köstlichen Snack. Die Wohnung war großzügig und sympathisch von der Athmosphäre und einfach nur zum Wohlfühlen.
Marita
2016-09-22T00:00:00Z
Το σπίτι ήταν το τέλειο σπίτι για διακοπές στην Σύμη...τα πάντα ήταν προσεγμένα , μέχρι και την τελευταία λεπτομέρεια......η οικοδέσποινα μας ενημέρωσε προκαταβολικά για ό,τι αφορούσε το νησί και το σπίτι.........μας υποδέχτηκαν με welcome drink and food ........το σπίτι ήταν σε ιδανική τοποθεσία,πολύ κοντά στα λεωφορεία, κοντά στο κέντρο αλλά μακριά από την νυχτερινή κίνηση και με θέση parking ακριβώς από κάτω......αν ξαναπήγαινα στη Σύμη , πάλι εκεί θα έμενα.....αυτό το μπαλκόνι,ήταν όλα τα λεφτά...........
Dimitris
2016-07-31T00:00:00Z
Room Type
Entire home/apt
---
Property Type
House
---
Accommodates
4
---
Bedrooms
Ano Symi, Egeo, Greece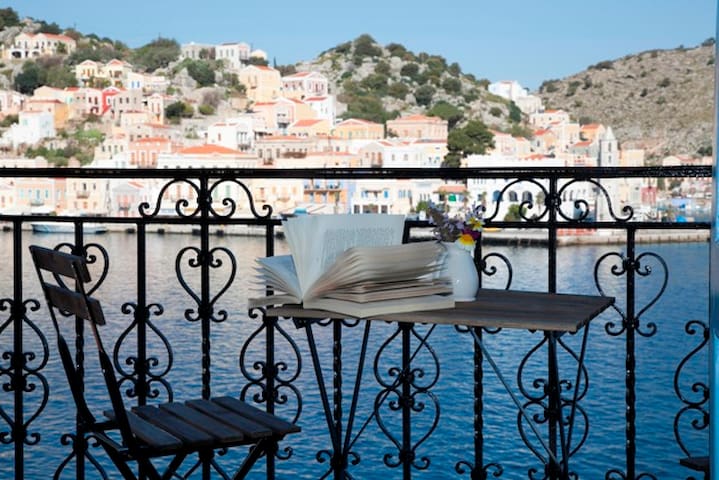 Hello everyone! Our house is located in Symi, close to St. Eleftherios, across the street from Symi's Vocational Senior High School (EPAL) and within walking distance from everything (15' from the harbor and restaurants/bars!). If you don't feel like walking there's also a bus stop next to the house and the beach is only 5' with the bus! The house is perfect for 4 people and is cosy, very sunny, quiet, with a great view to the island and the Aegean sea. Welcome to Symi!
The house is quite spacious, it can accomodate up until 4 guests and it is equiped with a tween bed in the bedroom and a sofa which converts into a double bed in the living-room also.
The neighborhood is calm and quite but really close to everything you might need during your stay: supermarkets, restaurants, bars etc.
we had a wonderful time in irinis house,although we havent met her she took care of all our needs and was very helpful. the house is beautiful and has a great view onto pedi bay.it is compared to the harbor village very quiet and located very central so you can reach all parts of the island really easy. she provided food and drinks ,everything you need for a pleasant stay. i would always come back ,thank you!
Andreas
2016-08-16T00:00:00Z
The host canceled this reservation 4 days before arrival. This is an automated posting.
Jonah
2016-09-16T00:00:00Z
Ευρύχωρο, γραφικό διώροφο σπίτι ιδανικό για ζευγάρι. Πλήρως εξοπλισμένη κουζίνα (και με το παραπάνω ), και οι παροχές όπως περιγράφονται από τον ιδιοκτήτη.
Μαρία
2016-09-02T00:00:00Z
Room Type
Entire home/apt
---
Property Type
House
---
Accommodates
4
---
Bedrooms
Ano Symi, Egeo, Greece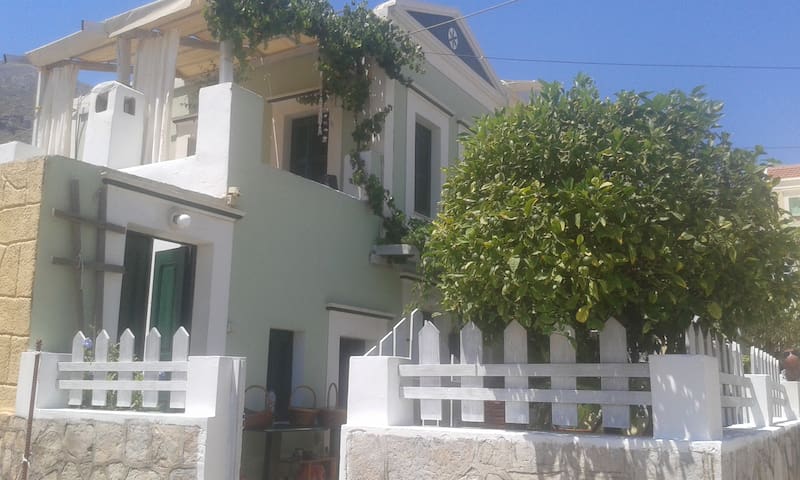 Our home is traditional built but modernized so it can make your stay more than pleasant! Located in Symi's heart, 7 mins. from where the boat will leave you, right across from a grocery store, the cafes, bars and the ferry boats station to explore the island. There are no long steps for you to climb in the summer heat so it is ideal for the elderly or a family with kids. In case there are no available dates in this house, please check my other listing https://www.airbnb.com/rooms/13227924?s=V
The house is traditionally built with stone and it has air condition to ease up your stay during the Greek summer. It has fully equipped kitchen so you can prepare your breakfast and meals, a dinning room that can accommodate up to 6 people, a cozy sitting room with 2 couches that can be turned into double beds, a bathroom and a fabulous double bed.
The neighborhood is quiet and please keep in mind that siesta time in Greece is from 15:00 to 17:00 and after midnight.
Symi is one of the most beautiful islands in the Dodecanesus. This nice house is locate very close to the touristic port in a much convenient an strategic position. In the range of few minutes walking you will find everything you need, restaurants, bar and stores. At the same time this house in a very quite Position, overlooking a small noiseless square. The apartment is fully equipped with everything needed, you can also get in contact anytime with the owner Aiden who is always kind and helpful. I recommend this accommodation as one of the best choices in town.
(EMAIL HIDDEN)
2016-07-10T00:00:00Z
We stayed here for one week and had a wonderful time. The apartment is very spacious, ideally located for visiting everything there is to see on Symi and it has everything you can possibly need. Aiden is a very friendly and responsive host. We recommend this apartment very highly!
Stacey
2016-09-08T00:00:00Z
Lovely flat. Friendly Aiden - help with pick up. Always asked if things were Ok and wether we needed anything.
Mary
2016-09-21T00:00:00Z
My boyfriend and I stayed at Aiden's beautiful house on the island of Symi for a few days last week (late June) and it was an absolutely magical experience!! Aiden made everything so so easy for us - we even had someone to greet us when we got off the ferry from Rhodes - and we had everything we needed in the house. The air conditioning was a God-send at times. It was only a few steps from the sea and great restaurants (would recommend Pantelis - a few minutes round the harbour - waiters and food both amazing!) and there's a sweet little beach about a 10 minute walk away. The town itself was so lovely and all of the locals were so friendly to us! We definitely want to go back - thanks Aiden!
Katie
2016-06-24T00:00:00Z
Amazing location in Symi, very well positioned & quiet location. Great space & great value. Enjoy the most beautiful island in the world!
Yannis
2016-08-15T00:00:00Z
I stayed two nights in Aiden's house with my husband and 3 children. The house is small but very charming, and really close to the waterfront/shops/restaurants and just a short walk from where the ferries arrive. A friend picket us up and walk with us to the house. We hired a car for one day to see the rest of the island and the remote beaches, if you're travelling with children I really would recommend that. We had a really, really, really nice time in Symi and Aiden's house.
Esther
2016-07-29T00:00:00Z
Our staying in Symi was (URL HIDDEN) is a beautiful island , perfect to rest and the most picturesque place I have ever been. We didn't have the chance to meet Aiden but one friend of him took us from the port to his place. We spoke on the phone with him though and he helped us with everything we needed.The house is very pretty and the best thing about it is its location.Everything is so close to it, we couldn't believe it. Certainly recommended to everybody !
Roula
2016-08-27T00:00:00Z
Ideal spot, very central and quiet at the same time. Thank you for a very nice stay. Hope to come back soon.
Marianna
2016-08-30T00:00:00Z
Room Type
Entire home/flat
---
Property Type
House
---
Accommodates
5
---
Bedrooms
Ano Symi, Egeo, Greece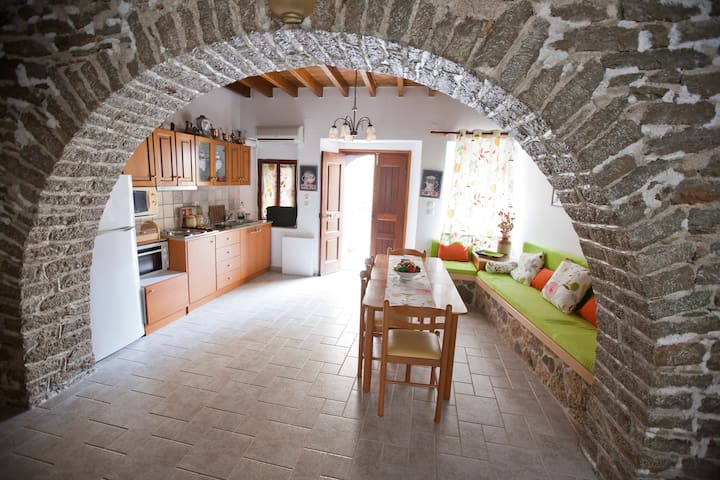 Typical house completely renovated few years ago, keeping the style and peculiarities of greek . The house is spread over two floors and has a panoramic terrace where you can relax on warm evenings and starry. The house includes two double bedrooms, two shower rooms, a reading room with an armchair sofa bed, a fully equipped kitchen with stove, oven, dishwasher and washing machine. The kitchen also looks out onto a small habitable terrace and shaded, with the Pedy bay view. The house is also equipped with heating and air conditioning. It is located in the heart of Chorio, the historical part of the island, namely in a quiet area. The area is pedestrian and characterized by many flight of steps with many peculiar cafes and excellent restaurants. Because of its location is particularly popular with people who enjoy to walk inserting in the landscape. Cars and motorcycles stop about 50 meters from the house.
The host canceled this reservation 328 days before arrival. This is an automated posting.
David
2015-09-17T00:00:00Z
Ruggero is a warm and friendly host and I can only give the best of recommendations, also to Marina who met up with us when we arrived in Chorio on a dark night, showed us the way to the house and how everything worked and was very helpful in spite of her very poor english. The house is(URL HIDDEN) and goes straight to the heart with its clean, simple, natural atmosphere and its very welcoming neighbourhood (except for the crazy dog on the corner ;-)). We feel so lucky to have found such a lovely base for our holiday on Symi and would very much like to come back one day.
Ida
2015-05-18T00:00:00Z
We had a gorgeous time at Ruggero's home. The house is stunning and the views are delicious for the eyes. I cannot recommend this place enough. Thank you for everything, Ruggero!
Emily
2015-10-24T00:00:00Z
The house is absolutely charming and well equipped, with A.C in the rooms (you'll need it in Symi in summer believe me !). The house is located in the Chorio (the old town) so you must be prepared for a little bit of walking and climbing (stairs!). There's a bus every hour going to the port and to the quiet Pedi beach (the village closeby). Fabio recommended to have breakfast at the Olive Tree café near the house and that was an excellent advice (fresh juices, good coffee, homemade cakes and granolas : a gem on a greek island !).
Pauline
2013-07-31T00:00:00Z
We've just spent 8 nights in this wonderful house in Symi. We were made so welcome by our host. The house has everything, and more, that you could wish for. Situated in a quiet area in the upper part of Symi (Chorio) which we love. Amazing views from the balcony. We have been visiting Symi for many years and we will definitely hope to book this house again.
Helen
2015-10-17T00:00:00Z
Sono stato in vacanza a Symi con la mia famiglia ad agosto 2014, l'isola è meravigliosa e la casa di Ruggero è ancor più bella che nelle foto. Il pezzo forte è senza dubbio la terrazza, da cui si gode di una bellissima vista sul porto e sulla spiaggia di Pedi. La casa è ben attrezzata e piacevolmente arredata, i bagni e la cucina sono provvisti di tutto il necessario. Siamo stati accolti con gentilezza e professionalità, consiglio vivamente!
Antonio
2014-08-11T00:00:00Z
Siamo stati a Symi i primi 15 giorni di agosto 2013 in due coppie. La casa è deliziosa, addirittura più carina di quello che si vede nell'annuncio, e anche i due bagni, di cui non ci sono foto, sono nuovi, curati e di buon gusto. Il fatto di essere in alto è decisamente un "plus": fuori dal caos si gode una vista impagabile con indimenticabili aperitivi al tramonto sulle 2 terrazze disponibili. Sotto casa c'è il vero paese greco con negozietti, bar e taverne. Se si vuole poi godere la vita del porto, con lo scooter in 5 minuti si arriva. Non per ultimo Manuela, la proprietaria, è una persona squisita, precisa e molto corretta. Ritorneremo appena possibile!
Valentina
2013-08-13T00:00:00Z
nous avons séjourné 8 jours à Symi, en début septembre 2014. nous avons particulièrement apprécié la maison de Fabio pour de multiples raisons : son emplacement dans la partie la plus authentique du village, par la vue qu'offrent les deux terrasses, par le calme et la sérénité qu'y règnent dans ces lieux, par le charme de la maison et le souci du détail, par le confort de la literie et la fonctionnalité des salles de bain; un accueil très chaleureux et haut en couleur de Marina, en résumé un séjour inoubliable dans une île superbe, à découvrir sans hésiter ! nous recommandons chaleureusement la destination et la maison.
Marie
2014-09-11T00:00:00Z
Room Type
Entire home/apt
---
Property Type
House
---
Accommodates
5
---
Bedrooms
Ano Symi, Rhodes, Dodecanese, Egeo, Greece
The 120 sq.m independent, tastefully decorated house is located in  Pireotisa/Agia Triada, a  peaceful and noise-free environment area of Symi's upper town (Chorio) overlooking undisturbed views to Aegean sea, Pedi Valley and islands beyond.
The house can easily accommodate up to 6 persons (+ children) without extra charge. Built in 2000 according to Symi traditional architecture style and standards, the house is situated behind the Museum, within walking distance from tavernas, bars, shops and the local bus route. The house is located in a peaceful and noise-free environment area overlooking undisturbed views to Aegean sea, Pedi Valley and islands beyond. The house is arranged on two levels. Downstairs there is a kitchen, a large living room and a toilet (60 m2). Upstairs there are two bedrooms (a double bed and two single beds), a bathroom and a balcony (50 m2). Outdoors there is a large pergola and a small garden. The house is suitable for children of all ages. On the other hand, it is unsuitable for people with restricted mobility. Finally, there is a ping pong table available, for those who love sports.
Very quiet neighborhood, with a square located next to the house. In general, the area is suitable for nice walks.
Room Type
Entire home/apt
---
Property Type
House
---
Accommodates
6
---
Bedrooms
Symi, Dodecanese, Greece
The property is in the ancient village of Chorio. This part is connected to the ancient port of Yialos with magnificent and spacious marble paths on which envisage the beautiful and important neoclassical houses typical of the island of Symi.
The property is in the ancient village of Chorio. This part is connected to the ancient port of Yialos with magnificent and spacious marble paths on which envisage the beautiful and important neoclassical houses typical of the island of Symi. In the privileged location of the house are placed terraces open to the amazing view of the sea. On the horizon you see the skyline near Asia. The house, an ancient Byzantine ruins, is situated near the archaeological museum. Its refined restoration, respecting the monument, it is not devoid of contemporary innovation, thereby meeting the requirements of modern taste and comfort. They are bright bedrooms and the living room. The three levels correspond three terraces. The house will be delivered furnished with kitchen. Visit the website (URL HIDDEN)
Room Type
Entire home/apt
---
Property Type
House
---
Accommodates
10
---
Bedrooms
Symi, Greece
A lovely traditional house for 1-2 persons (or possibly 3rd person) on the highest part of Chorio, the oldest part of the village, with a beautiful panoramic view of the whole island and the two ports, from a theatrical square with an ancient plane tree. Entering the house, you will find an internal yard where you can take your breakfast and lunch, covered by the cooling shade of a vineyard. A terrace on the top of the house can give you the pleasure of a panoramic view of the whole island. A welcoming main room with a typically local wooden-carved attic (moussandra) equipped with two beds. Another bed option on the main room. A fully equipped kitchen (big fridge & ceramic cooking plates) to prepare your meals and drinks. A toilet with shower and WC to refresh yourself. Access from the main road, 5 minutes walking (Lieni or Piraiotissa Church).
Staying at Peb and Marias apartment has truely been one our most favourite Airbnb experiences. Symi is an absolute gem and it has been a real pleasure to be able to feel at home in the place my family once lived. Pebs mum Maria and cousin helped us arrange our arrival and getting our heavy bags down to the apartment which is situated a little down from the church above Horio. Maria gave us a great intro into the house and some recommendations for Symi. It was a real pleasure to stay in such a beautiful traditional home - everything was so lovingly considered but we were also super grateful for the new aircon and washing machine. We hired a moped for several days which saved us the many steps down to Gialos but it was also great to explore Horio on foot (and work off some of the food). We were able to get to most beaches via bike expect Nanou which requires a water taxi. Supermarkets were well stocked and we had some excellent meals at the seafood restaurants in Gialos and local restaurants in Horio. We spent one week in Symi but easily could spend many more and hope to be back next year!
Katrina
2016-08-05T00:00:00Z
We were made to feel very welcome, the host's mother Maria met us off the ferry in Symi harbour and helped us find the house. The house is located quite far up in the old town of Chorio, halfway between Pedi and Symi town. It has a very well stocked kitchen and comfortable mattresses on the mezzanine bedroom.
George
2015-09-24T00:00:00Z
We stayed 3 fantastic weeks at Pebus' family house on Symi in July 2015. Having visited many islands in Greece we have to say that Symi is something out of the ordinary. Entering the quaint harbor with the ferry at night time is a quite spectacular sight with the beautiful architecture and lights. This small island is really lovely and also full of interesting contrasts, with everything from luxury yachts to houses in ruins and from the more barren northern parts of the island to the forests in the south. The house is located high up in the village above the harbor, with an amazing view. It is a beautiful traditional house which the pictures do not really do justice to. The patio overgrown with vines is really tranquil and the roof terrace is wonderful in the evening light. Although the house is old it has all modern amenities. Plenty of clean bed linen and towels were also provided. It is easy to stroll down the stairs to the harbor for a meal or a drink or to Pedi bay for a swim. You soon get to find your way around the many meandering alley ways and if you get lost you won't be for long! If you don't want to walk all the way back up there is a bus which stops fairly close to the house or you can take a taxi, which is only marginally more expensive and will go all the way to the close by church. For swimming the beaches of Pedi and St Nicholas can be reached by foot, the later by traversing the mountain which is not hard but best done in the early morning or late afternoon. All other beaches are accessed by taxi boat from either Pedi bay or the harbor. We liked in particular the beach of Nanoy. There is also much culture and history on the island, not the least the many monasteries and churches. Great hiking as well, but perhaps not for the hottest summer months unless for very early mornings walks. Everything was perfectly arranged, and Pebus and his family were more than welcoming and helpful. A special thank you to Pebus' mother Maria who very kindly took us in on Rhodes, and spent days showing us around on Symi with her friend Susanne. We would definitely highly recommend this beautiful house, this island and this
Sanna
2015-08-01T00:00:00Z
Accoglienza ottima e premurosa da parte della proprietaria.Ritardo iniziale da parte dell'host nel riscontrare le comunicazioni. Casa originale,gradevole e silenziosa. Posizione panoramica, ma alquanto lontana dal centro. Prepararsi a delle belle scarpinate per raggiungere le spiagge a piedi!
Franco
2015-09-17T00:00:00Z
La maison de Pébus est magnifique. Authentique et très bien équipée, elle est bien située dans l'ancien village, offrant une belle vue sur les baies. Pébus nous a très gentiment accueillis, renseignés sur Symi, en restant disponible à tout moment. Merci encore !
Emilie
2015-07-11T00:00:00Z
Room Type
Entire home/apt
---
Property Type
House
---
Accommodates
3
---
Bedrooms
Ano Symi, Egeo, Greece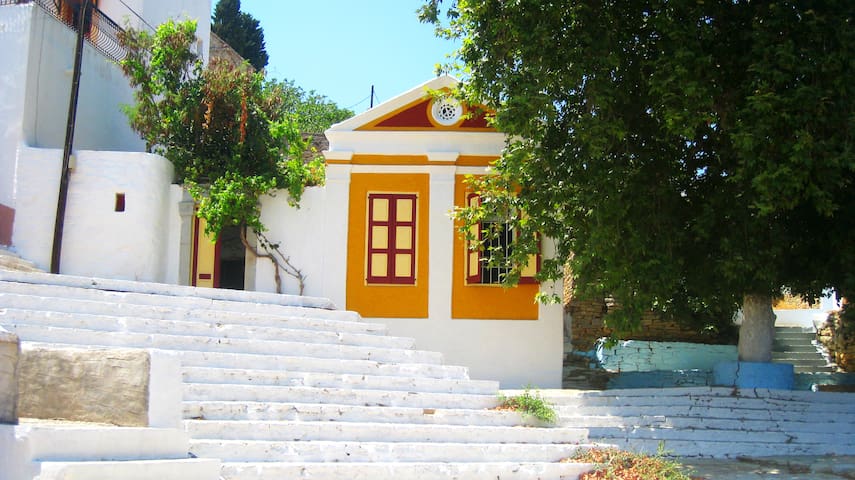 'AN nice house for 2 in the picturesque island of (URL HIDDEN) balcony has unrestricted views thalassa.TTo home is near the harbor
The area of the house consists of two levels, the upper floor is the bedroom with two single beds, TV and A / C.Sto Downstairs is the bathroom, the kitchen and amazing balcony with panoramic views.
Our neighborhood is unique because it is near the port and the market of the island
The host canceled this reservation 73 days before arrival. This is an automated posting.
Jo
2017-04-02T00:00:00Z
Loved staying in symi balcony great location close to port clean and host was very friendly
Larry
2016-07-09T00:00:00Z
This small apartment, set on 2 floors, has a lovely balcony right opposite the clock tower where all the major boats dock, so that one could watch the amazing comings and goings of the ferries and marvel endlessly at island life. The view from the balcony is really magnificent. The apartment itself is fairly basic, much like other island accommodation we have stayed in (wysiwyg). Mrs Fotini could not have been nicer either before or during the stay and she is very quick to respond and help, if ever help is needed. It should be noted that there is in fact no wifi hotspot in this house, although every café (3 minutes walk to the centre of town and 1 minute to the nearest cafe) has free internet access. The access to other amenities is easy and very convenient (the supermarket will deliver to your door), though living in a bustling harbor is necessarily a little noisier than choosing to live in the top town (Chora) or a remote and more cut-off bay. There are also steps up to the apartment that are not suitable for the very old or very young. Symi is a wonderful, hospitable island and overall we had a lovely time, thank you very much Mrs Fotini.
rebecca
2016-07-05T00:00:00Z
Split-level, two-room apartment right above the Simi marina, one of the most beautiful spots in the Aegean Dodecanese. It's about 40 steps up to get the view you see in the pic; no prob if you're not traveling with the very young or very old. Host picked us up at the ferry, which was a nice plus with all the luggage and toddler equipment. Nice value proposition for a great location!
David
2016-09-06T00:00:00Z
The property is exactly as it looks on the photographs with an amazing view from the balcony. The stairs to reach it (and within the property) may not be suitable for anyone old or very young. The property is well equipped with effective air con in the bedroom. We didn't expect to be cleaned during our stay so that was a nice bonus. Symi has a surprisingly busy harbour but watching the comings and goings from the balcony was endlessly entertaining. We were met from the ferry by Fotini's son and Fotini herself popped in to see us a couple of times during our stay to check everything was OK. If you have a choice the Sea Dreams ferry docks very close to the apartment. We recommend using the water taxis to take you to quiet beaches and the round the island trip is a must. If you want to visit the top village without a hard uphill walk then the bus to Pedi goes up to it hourly (on the hour) from very near the property. There are so many lovely places to eat that it's hard to pick any out but we particularly liked the International and Meraklis. I also recommend the Mohitos at the Alegrito which had excellent free wifi.
Jacqui
2016-07-21T00:00:00Z
The host canceled this reservation 3 days before arrival. This is an automated posting.
pasi
2016-08-06T00:00:00Z
The Fotini family was very friendly. They picked us up from the ferry boat by car (400m) and took us to the house. They advised us a very nice boat trip (Poseidon) which we enjoyed very much. Also they recommended a restaurant which was very good. The house has steep stairs which was not a problem for us. The house was clean, had everything thing what we needed and it has a stunning view. We can recommend this house very much and we hope you'll have a good time like we had.
Erik
2016-07-25T00:00:00Z
Excellent rapport qualité-prix, mais l'appartement est un peu bruyant
Jean-Paul
2016-08-26T00:00:00Z
Room Type
Entire home/apt
---
Property Type
House
---
Accommodates
2
---
Bedrooms
Ano Symi, Egeo, Greece
this is a independent fully equipped house in the village of Symi ideal for people who love to be far away from the noise of the busy Yialo(port) and appreciate the nature and love walking
unique house build in 1890 renewed in 2008 brings you to the life of past century
quite, clean nature , village type life small supermarket near by , visit the area , lots of churches village square with local coffeshops and tavernas within 10 minutes walk
The reservation was canceled 128 days before arrival. This is an automated posting.
Sofia
2015-03-25T00:00:00Z
Communication with Melina couldn't have been better. All our questions were answered promptly and accurately.
jon
2015-08-31T00:00:00Z
Wonderful host Melina welcomes you in a very nice house on Symi. The house is in Ano Symi, the upper side of the town and you should know, that it's not located in the beautiful harbour - you need to walk the nice Kalistrata with about 400 steps up to the hill to reach the very good and nice apartment (a whole house!) in a very quiet and non touristic part of upper Symi. You don't have a view to the sea from this house, but it has a nice patio! Melina is a perfect host and wants you to have a wonderful time on Symi. Compared to prices in Gialos (Harbour) the price of the apartment is of very good value! We liked it!
Holger
2016-09-07T00:00:00Z
Room Type
Entire home/apt
---
Property Type
House
---
Accommodates
3
---
Bedrooms
ΣΥΜΗ ΔΩΔΕΚΑΝΗΣΑ, ΔΩΔΕΚΑΝΗΣΑ, Greece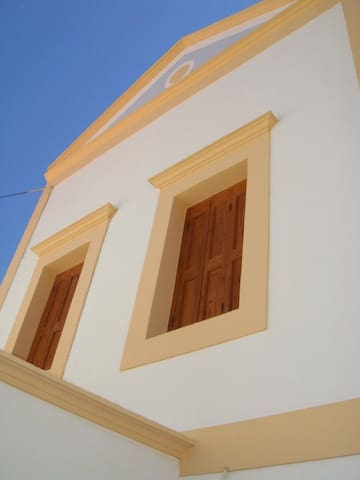 Fantastic view of pedi beach !!!! Would you like to start your day in this place ? Yes its possible !!!! Ask for our offers !!!!
The place is very quiet and is only five minutes from the port of Symi . The view is fantastic. You can have your breakfast on the balcony and you can enjoy the sunrise !!!!
The place is very quiet and in the night time you can enjoy a glass of wine on the balcony !!!
Dimitris was very kind and helpful to find the better solutions for the staying and the trip. He speaks well english so the communication was easy. The room is nice, quite spacious and with a good plan to cook, but there were no tools to do it, so I recommend to ask him if you want to cook by yourself. The position is good if you want relax, not in the main center but in a quite and airy part and with a great view for the sunrise. You can go in Gialos with 10-15 minutes of a nice walking… but the come back it's too hard to do walking under the sun and you need a bus or a taxi (the cost is quite the same if you are more than one). In 15 minutes you go also to Pedi port to take the boat to the beach. The air conditioned (important!) works well, as the internet connection by wi-fi.
Enrica
2015-06-24T00:00:00Z
Good value. Nice terrace. Quick responds from the host.
Jonatan
2015-07-05T00:00:00Z
An ace place to stay - beautiful views from the balcony, well presented/well equipped studio, nice local part-of-the-village feel, welcoming and helpful host. Once you get to grips with the location, everything is walkable - twenty mins down to Pedi beach and on to St Nics, and the same down Kali Strata via hundreds of steps to arrive at the harbour. Bit of a workout coming home in the heat, but easy in the cooler mornings/evenings (or there's always the bus for e1.50!) Will have lasting memories of watching the sunrise from said balcony - if you've ever wondered what it might be like to live on a Greek island, staying here will have you pondering what's possible.
James
2016-07-15T00:00:00Z
Despite us getting on the wrong bus and ending up at the other side of the mountain (only take the yellow bus) once we finally arrived, we had such a warm welcome from Dimitris wife, we forgot about the journey and just enjoyed the most beautiful view from the balcony. The apartment had more than we wished for and we had a great time exploring symi Island from this amazing base. Would defiantly recommend and will 100% stay again when I bring my family with me next year. Great host, great stay.
Rhys
2015-09-23T00:00:00Z
Well situated, spotless, with a perfect view, we stayed very confortables.
Ignacio
2015-07-25T00:00:00Z
Functional and well located appartment. Dimitris's wife welcome us very nicely and give us useful informations. Pleasant time here.
Julia
2015-08-16T00:00:00Z
The stay at Dimitris's apartment was a pleasant experience. We found it fully equipped and perfectly clean when we arrived. The view from the balcony can just be described as amazing. We enjoyed eating breakfast there and watching the beautiful sunrise. The Check-In was easy due to Dimitris perfect instructions. He is a very attentive host and even offered getting us to the harbour when we arrived in Rhodes Town. During the whole stay he was very quick in responding to messages and problems of any kind. The apartment is conveniently located between Yialos and Pedi. We only used the bus on the day of our arrival, because most locations are walkable. Walking the Kali Strata to the harbour takes about 15 minutes and it offers you a magnificent insight on the daily life of a traditional Greek town (you might even see donkeys walking down the Kali Strata). Same with Pedi, about 15 minutes by foot. From Pedi you can reach St. Nikolaos beach (this was our favourite beach) over a small path with a splendid view of the sea. There are also two Mini Markets very close by to the apartment. Overall I would warmly recommend staying at Dimitris apartment especially for those who want to experience a traditional Greek town. We will definitely come again.
Bettina
2016-08-13T00:00:00Z
Communication and checkin were a little bit complicated but the room is really great value. Very clean, with internet and a nice view, its a really good island deal. You need to take a bus to get from the centre to the house or else have a car/scooter to get around.
Beth
2015-08-22T00:00:00Z
Room Type
Private room
---
Property Type
House
---
Accommodates
2
---
Bedrooms
Ανω Συμη λιενι, δωδεκανησου, Greece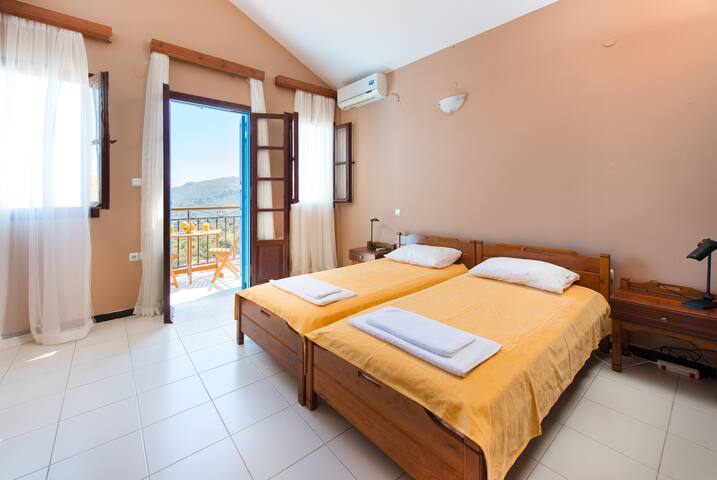 My room is 1 km from the port of Symi and 800 meters from Pedi harbor. It features a luxurious bathroom, equipped kitchen, living room and comfortable bedroom with double bed. Features klimatismo and TV. It is centrally located in the village of Symi, nearby shopping, restaurants, bars and bus stops
Comfortable, clean, quiet, large courtyard
It is quiet and at the same time close to shops bars restaurants. Access to the shore is easy either on foot or by bus
Room Type
Entire home/apt
---
Property Type
House
---
Accommodates
2
---
Bedrooms
Συμη , Δωδεκανησα, Greece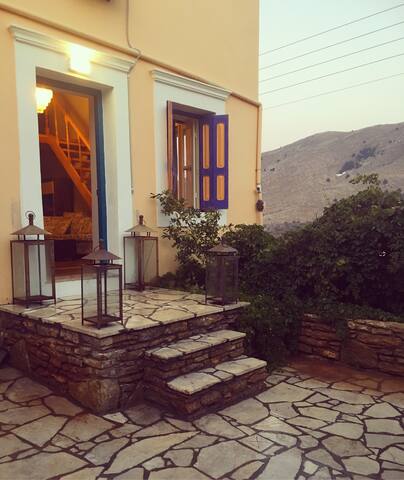 Marathounta - Airbnb
:
Average

4.57

out of

5

stars from

96

guest reviews
1

–

18

of

49 Home Rentals
Enter dates to see full pricing. Additional fees apply. Taxes may be added.